Leavenworth Tiny House Village – Petite Retreats & Thousand Trails Campground
This post may contain affiliate links and I may be compensated for this post. Please read our disclosure policy here.
The Leavenworth Tiny House Village is located in the Cascade Mountains just 30 minutes away from the darling Bavarian town of Leavenworth, but within minutes of a wealth of outdoor activities for any season.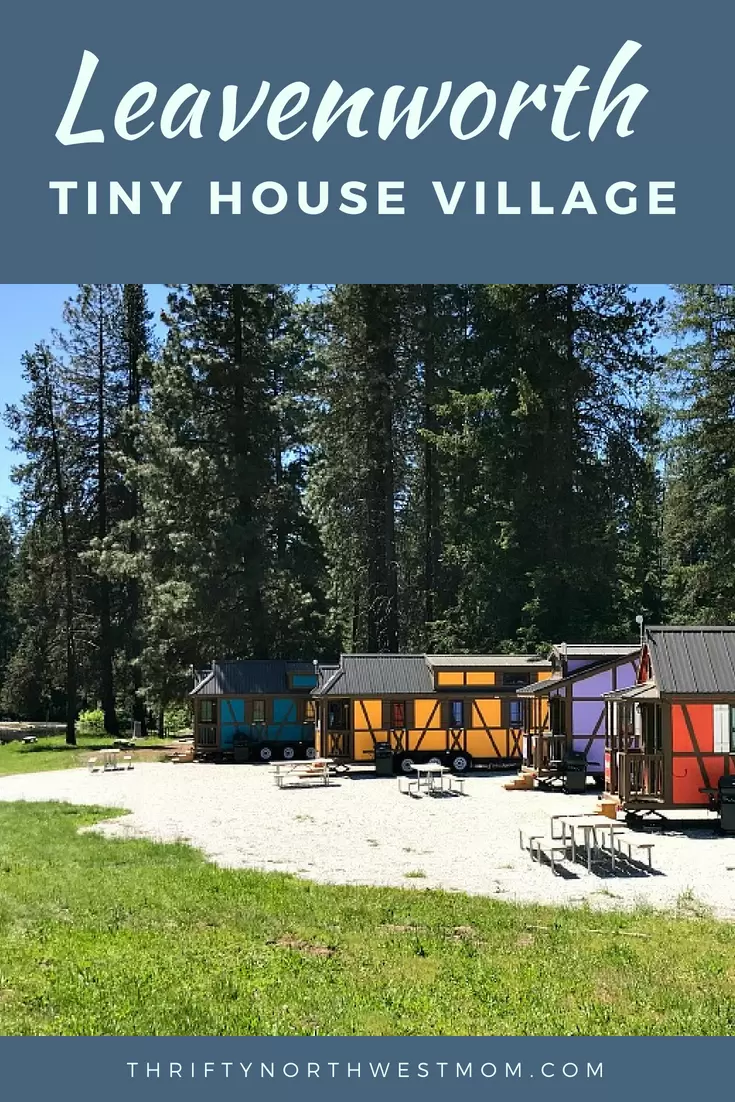 Leavenworth Tiny House Village – Petite Retreats
One of our favorite things to do in the summer is to go camping but, as much as I love spending time outdoors with my family, I am not as much of a fan of tent camping as my family. My favorite way to camp is what I consider "glamping" – where we can experience all of the wonderful parts of camping (relaxing by the campfire, lazy afternoons around the picnic table eating & playing cards & more) but without all of the work! So, I was excited to partner with Petite Retreats recently, a company that offers fun and unique getaway options in beautiful locations around the country.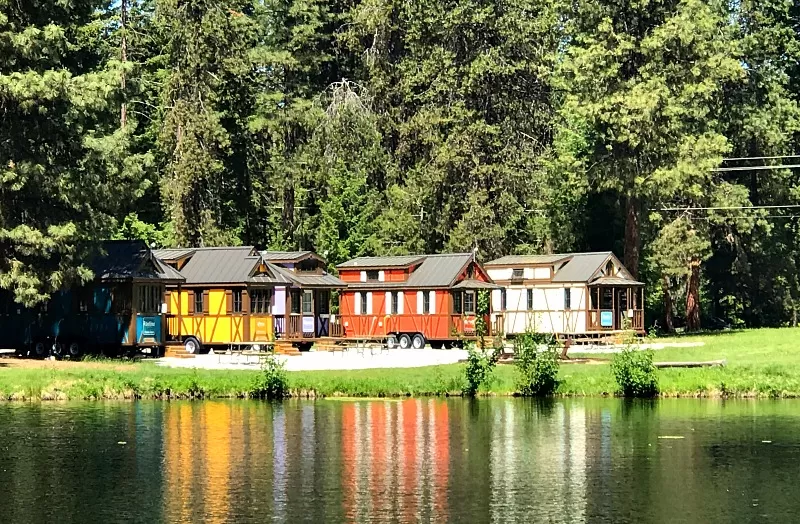 Petite Retreats offers glamping-style accommodations, which include cabins, yurts, tents, teepees or tiny houses. When I first checked out their website & saw that they offered tiny houses, I knew this was definitely what we needed to try! The tiny house movement is so popular these days and they all just look so cute, so we thought it would be a fun experience to try it out with our family. No better spot than a tiny house nestled in the mountains by a lake and close to the darling Bavarian town of Leavenworth.  The Leavenworth Tiny House Village definitely fit the bill for just what we needed – a relaxing weekend, perfect after a hectic month!
Leavenworth Tiny House Village: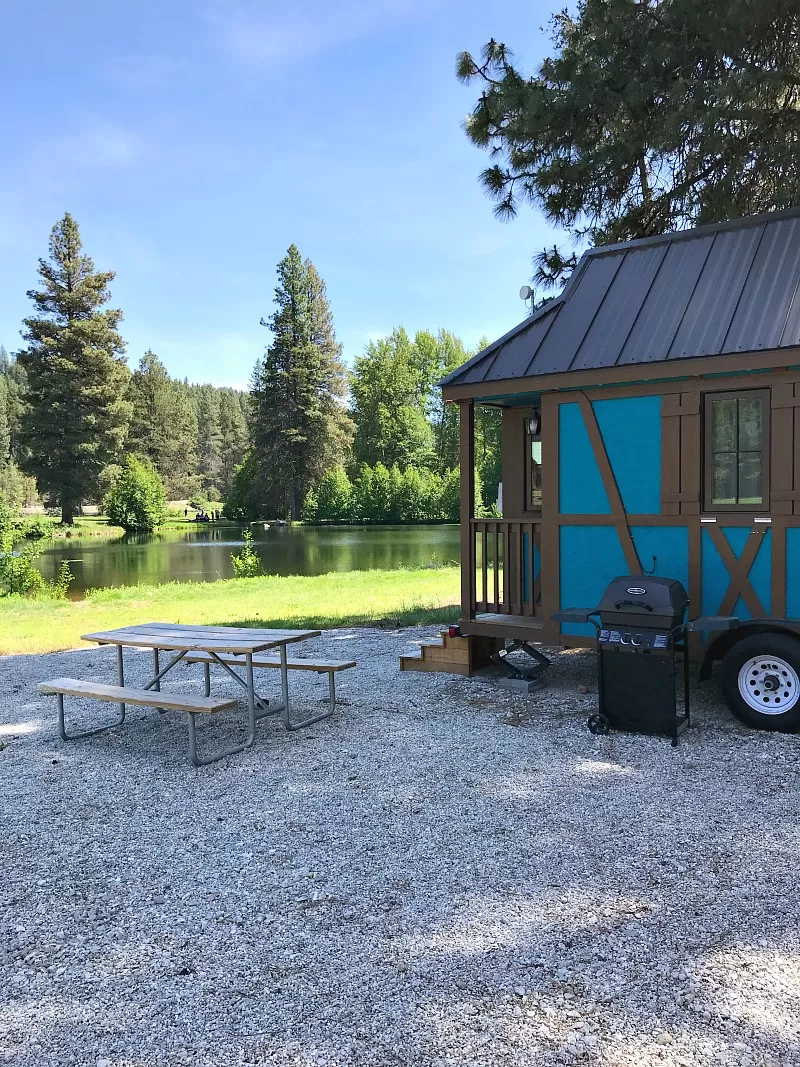 The Leavenworth Tiny House Village is less than a year old and located at the Thousand Trails RV campground about 30 minutes outside of Leavenworth & near Lake Wenatchee, WA.  There are 5 tiny houses located at this campground and they are situated all together by a peaceful lake.  The tiny houses are all Bavarian themed and each are tastefully and uniquely decorated to give them such charm as miniature little alpine chalets. They range in size from 180 – 300 feet, sleeping anywhere from 2 people to 5 people. Our tiny house, the Otto house, is also pet friendly if you'd like to take your pooch up to the mountains for some outdoor recreation.
We picked the Otto house as we loved the floor plan of the tiny house for our family of four, giving us the option of our girls sleeping together on the couch or each girl having their own bed. I also loved the adventure-themed decor, which was so cute throughout the tiny house.
Video Tour of the Tiny House:
Head on over to our Thrifty NW Mom Instagram page & click on the Tiny House Instagram Stories highlights (circles at the top of the page) to see the Tiny House video tour.
Features of the Otto Tiny House: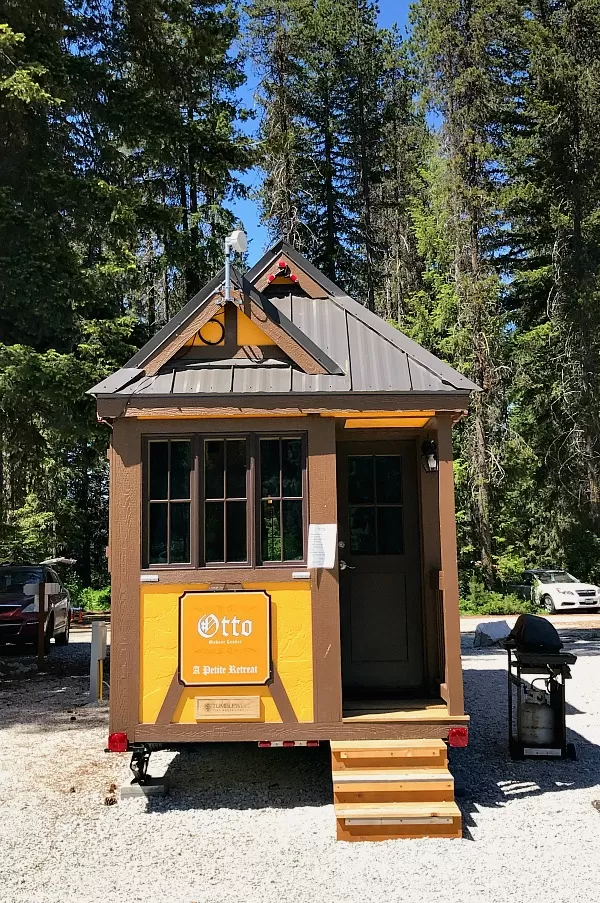 Sleeps 4 – 5 – they have a queen size bed up in the loft, along with an additional twin size mattress. Downstairs, there is a pullout couch that technically can sleep 2 (our girls preferred to sleep with one on this bed & one on the upstairs twin as there is a fold that runs down the middle of the pullout couch). For younger kids, though, you could fit 2 on this couch & then the single bed holds another kiddo, too.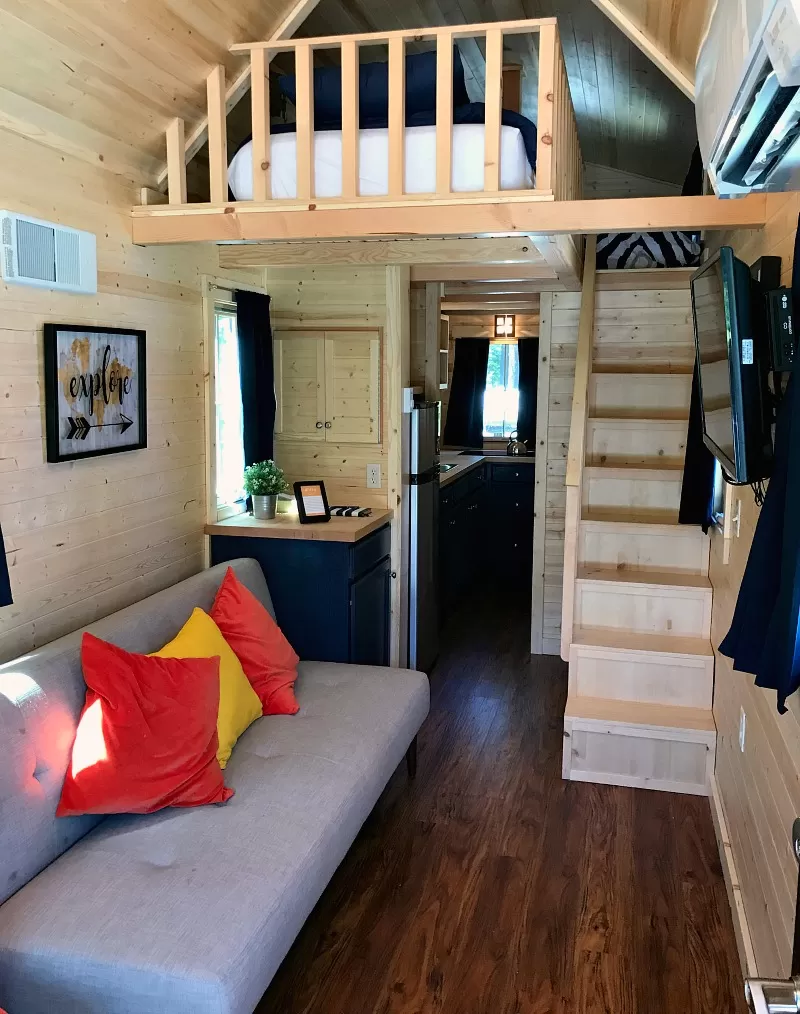 Bathroom with a shower – This is a must for me & I was so thankful to not have to leave the cozy home to trek out to the bathrooms in the middle of the night as you would when tent camping. Plus, it had a shower, too! The bathrooms are tiny, even the sink was mini-sized, which makes it all so cute but still very functional. Just know that there is no counter space (just a small sink) so you'll need to be able to keep your toiletries portable.
Kitchen: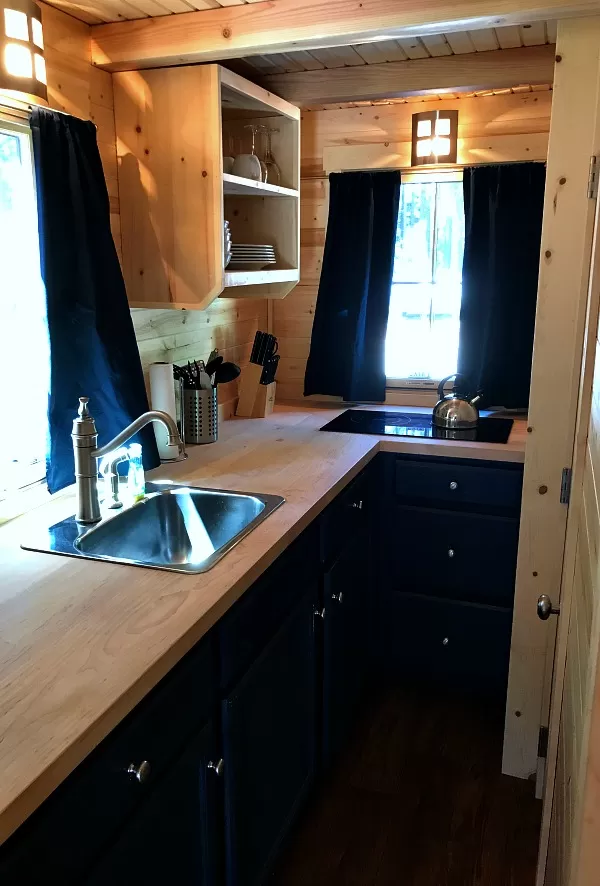 Having a kitchen inside the Tiny House really makes this such an ideal option when you are choosing where to stay. This is a huge money-saver to be able to bring food to make your own meals, especially for breakfast & lunches on the go if you are heading outdoors for an activity. They also have an outdoor grill and a fire pit with a grate you could use as well (there is only one fire pit, though, for all 5 houses). Not only is having a kitchen/grill a money-saver, but  it also can be a big timesaver as well. There are very limited restaurants out by Lake Wenatchee and it's  a 30 minute drive to Leavenworth, so it was so nice to be able to fix some quick meals so we didn't take away from our activity & outdoors time.
Refrigerator – I was surprised to find that the refrigerator was larger than a typical hotel-size fridge. It is not full size, but it did have at least 4 shelves & a freezer as well to hold supplies for your meals.
2 Burners – This is especially nice to have these burners if you are visiting the campground during rainy or snowy weather, but also just so we could cook multiple items for a full meal. We'd cook the main dish/meat on the grill & then speed up the process with the side dishes on the burners.
Toaster
Kitchen Tools – the kitchen had everything we needed  as far as basic tools to cook our meals
Dishes & Utensils – they also stocked the kitchen with a full set of dishes and utensils, as well as serving utensils
BBQ Grill
You will need to make sure to bring items such as saran wrap/foil & ziploc bags for leftovers to reheat the next day, bringing home food in the coolers so you don't waste food, snacks on hikes, and more. On my wish list would be to have a small microwave, at least for the times the weather isn't decent for grilling to help with cooking for a family.
More Items Found at the Tiny House:
Picnic table (plus 2 seats with a table inside) – this was so nice to have the picnic table outside so we could all eat as a family & not be limited to the tiny house seating
Fire pit with 4 adirondack chairs for the Tiny House village – the best part of camping to me is sitting around the fire pit and relaxing. (I'd love to see them get another fire pit or two as this was a popular spot in the evenings). However, it's a great way to get to know your Tiny House neighbors sitting around the campfire
Heat & Air-Conditioning – I was thankful for the A/C as it did get a bit warmer up in the loft the first night, but we were able to turn the A/C on the next day & it kept it nice & cool, which is important for this area in the summer when it can get quite warm
Toiletries & Supplies – they did have extra toiletries on hand if you forgot yours as well as extra paper towels and more. The only thing that we did forget to bring were foil/saran wrap or plastic baggies for leftovers/cooking.
Staying in a Tiny House:
The only tip I would share about what to think about when staying in a tiny house is to pack lightly – we learned this lesson as we definitely brought too much stuff . The square footage of these houses does not allow for much storage space (although they did get creative utilizing areas such as under the stairs for storage for extra bags/shoes, etc). I'd bring a bag over a small suitcase next time as it was much easier to stuff bags in the storage spaces.
But that is also the beauty of the tiny houses – with less space, it is so functional & cute & you don't have to spend much time to keep it tidy & clean.
Honestly, it was such a relaxing weekend, which was just what we needed in the midst of a crazy last 2 months of school & activities. We just felt the stress melt away when we entered this relaxing location & stayed in these cute little houses.  We were able to focus exclusively on reconnecting together as a family with relaxation time around camp & also enjoying the beautiful outdoors on several hikes and a visit in to Leavenworth.  The same types of experiences we would have had if we were camping, but without the stress & work of setting up & taking down camp. Plus, our sleep was so much better than if we were on air mattresses in a tent, so we would wake up feeling refreshed for a new day of adventures.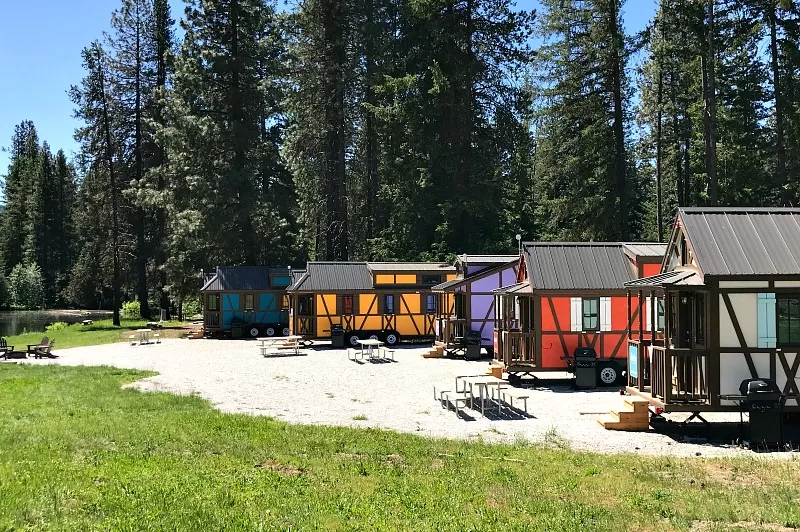 The Lake Wenatchee area is up in the Cascade mountains, so this is an area that does see bear activity. We saw signs posted all around camp to make campers aware of proper food storage in this area  (using bear containers or storing food inside cars). So, I was very thankful to experience the beauty of this location, but also not have to worry about bears at all in our tiny house! :)
Leavenworth Thousand Trails Campground: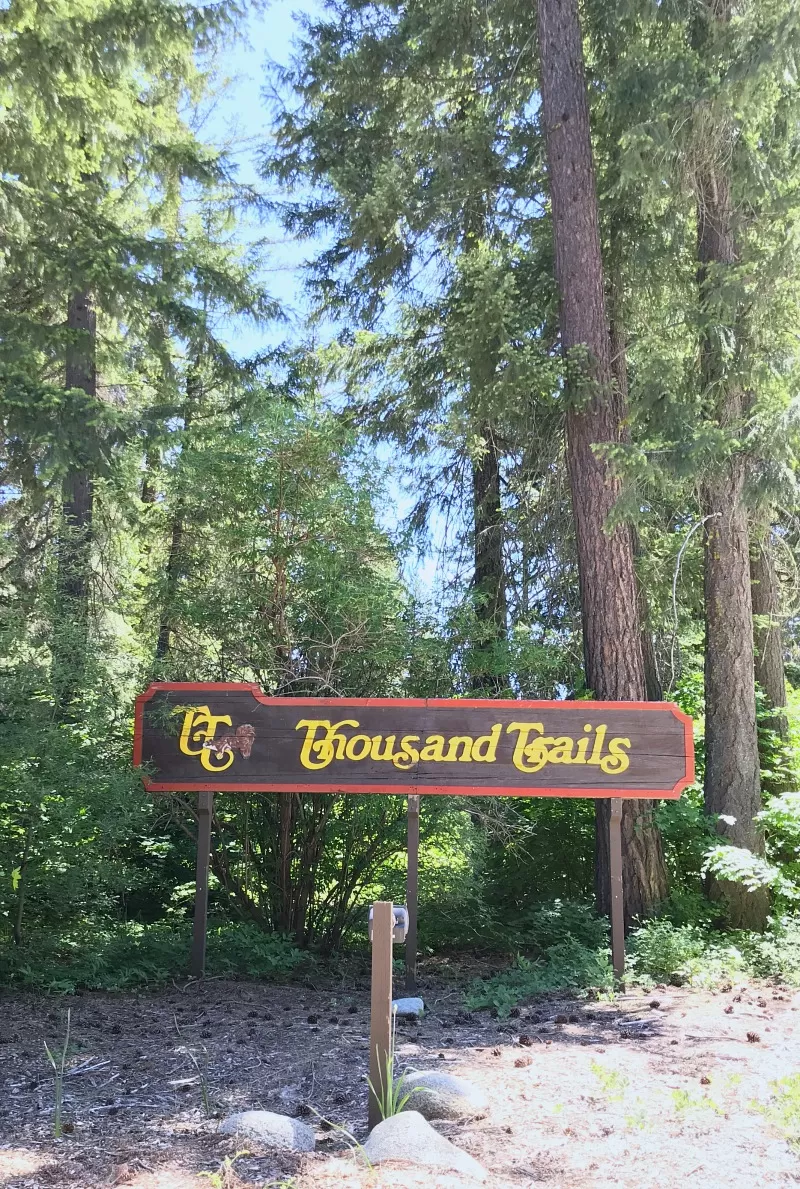 This was our first experience staying at a Thousand Trails campground and we were definitely impressed.  We could have spent the entire 3 day weekend just relaxing around the Leavenworth Tiny House Village and Thousand Trails campground as they had such a wide variety of activities for families to enjoy.
They also provide some structured kid-friendly activities during their busy seasons, with free activities such as s'mores around the campfire, movie nights in the clubhouse, ice cream sundae socials & more. Plus, some low-cost activities such as shirt tie-dye and other crafts.
Activities:
Outdoor: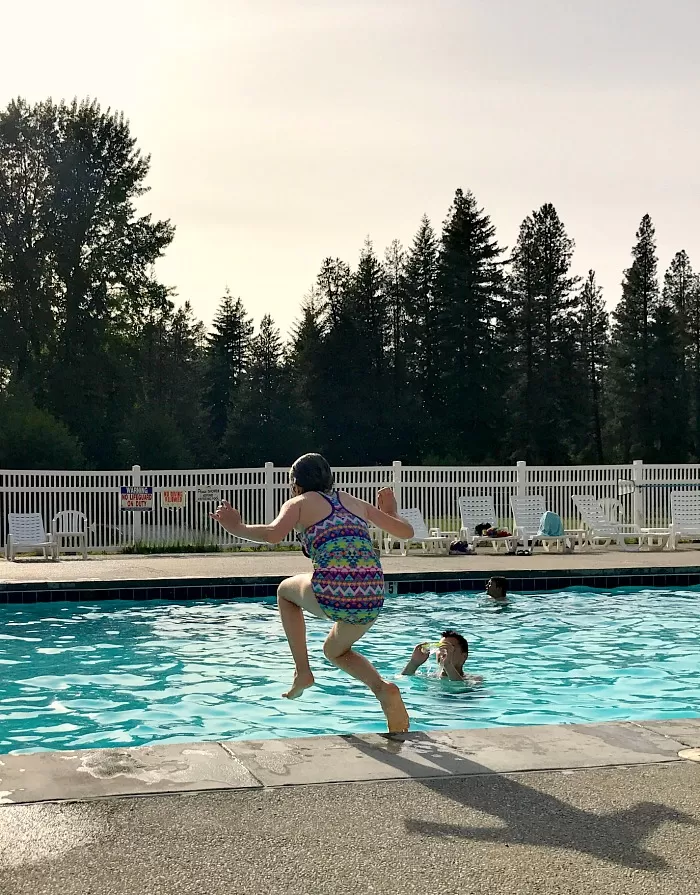 Pool – it is rare to find a pool at a campground in the NW so this was a huge hit with our girls! So much so, they were eager to swim regardless of the fact that it was only low 60's when they jumped in. I enjoyed time on the lounge chairs bundled in my towel, while they had a blast in the pool! :)
18 Hole Mini Golf Course – this is totally free & even though it's an older course, it definitely gave us some challenges & kept us entertained!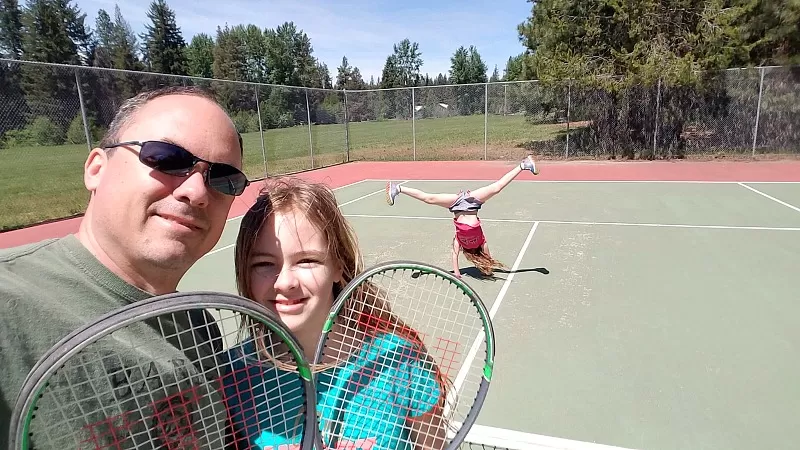 Tennis Courts – when you're trying to teach your kids tennis, but one just wants to do what she loves! Ha!
Community Fire Pit
Indoors:
Upper floor – adults' only reading area/lounge with fireplace
Lower Floor – Foosball, Table Tennis, Tv & movie lounge, Mini Basketball Arcade Game & more
Laundry – several washers & dryers – which can be so helpful when you are camping & kids are having a blast playing in the dirt! Ha!
Store – for necessities / gift shop
Thousand Trails Camping Pass:
If you are interested in Thousand Trails campgrounds, it costs $575 for a Thousand Trails Camping Pass. You can camp for 12 months (30 nights of camping) with no nightly fees in one of 5 camping zones around the country with this pass. *Currently there is a Father's Day sale with $99 off the Camping Pass, making it just $476 (valid thru 6/17/18)
For the Northwest zone, there are 18 campgrounds in Washington, Oregon & British Columbia, so that gives you a wide variety of places to try. You can also add an additional geographical zone for an extra $49. Thousand Trails campgrounds are first-come, first-serve (for the campsites) so you don't have to worry about the best spots filling up months in advance, but you can have your pick of sites the earlier you get there.
The Surrounding Area:
What I loved about staying a bit out of town is that we could head into Leavenworth for the day to visit the stores, enjoy delicious food & listen to live German music in the park. But, we were away from all the hustle & bustle around the town during this very busy weekend. Most weekends are very busy in Leavenworth, thanks to all the fun festivals, art shows & more.  The area of Plain & the Leavenworth Thousand Trails campground was a much slower pace of life & perfect for a weekend of relaxing & spending time outside in this gorgeous area of the Cascade mountains.
You won't have to go far from the campground to find the necessities as the tiny town of Plain has many of the basics you might need for your stay.  The Just Plain grocery store is a good stop for purchasing an groceries to keep on hand for basic meals to cook in your tiny house (or head to Safeway in Leavenworth if you have a number of groceries to stock up on).
The Plain Hardware store is a unique, multi-functional home & garden store with cute adventure -themed boutique items, coffee shop & breakfast goodies such as scones & muffins, as well as a hardware store in the back. Plus, the Old Mill Cafe is right next door if you want a delicious, local restaurant serving breakfast, lunch & dinner. You can always head into Leavenworth for lunch or dinner, too, when you're checking out the events or the shops as they have such a wide variety of restaurants to try.
The wealth of outdoor activities is another reason to consider staying outside of Leavenworth. You are within minutes of miles of hiking trails, swimming or boating at Lake Wenatchee, ziplining, horseback riding & more. A visit during the wintertime will feel like a winter wonderland & you'll have snowshoe & cross-country trails, miles of snowmobiling trails & sledding hills all right outside your door from the Tiny House Village to experience.
Have you ever stayed in a tiny house – how did you like it?
Disclosure: Petite Retreats & Thousand Trails hosted our stay so we could review it & share our experiences. All opinions are my own. See our disclosure policy for more details.