Weekend Getaways In Washington – So Many Fun Ideas!
Looking for Weekend Getaways In Washington? We have many of our favorite ideas, that will not cost a fortune. We have visited these spots ourself, so include detailed reviews as well, so you can determine if they are a great fit for your travel style!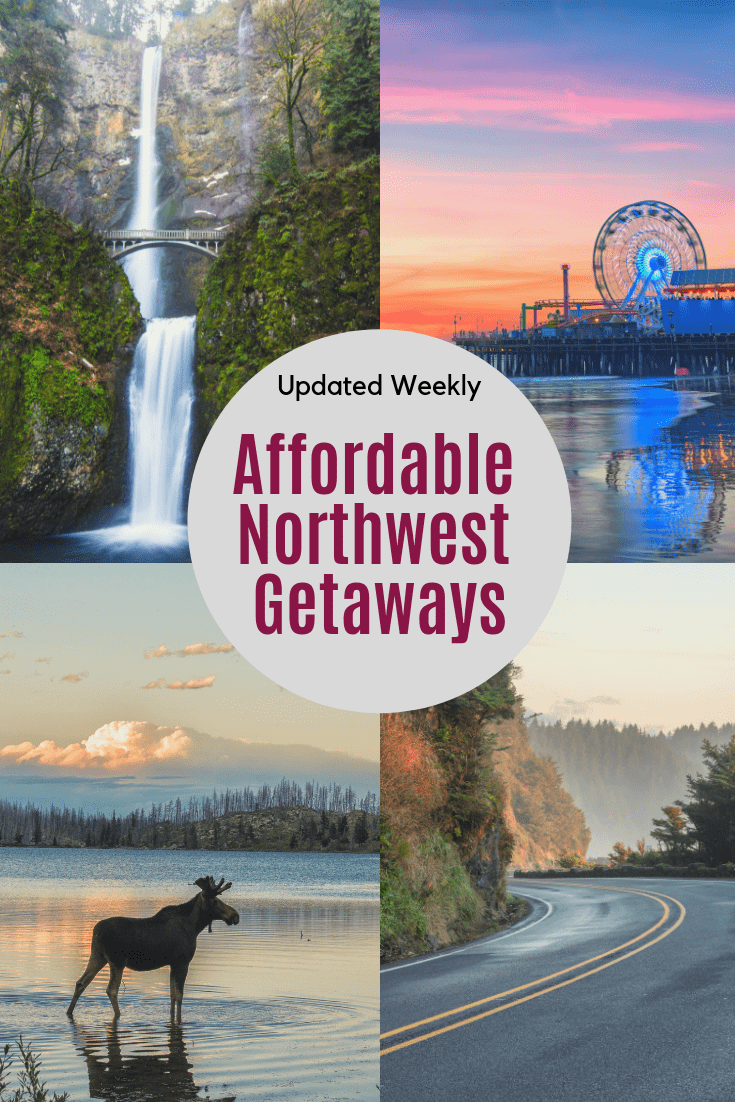 Weekend Getaways In Washington – So Many Fun Ideas!
Living in the Northwest we have so many wonderful options for budget friendly or cheap weekend getaways. Within driving distance we can see the mountains, wine country, beaches, and city getaways. We have access to family vacations, romantic escapes, outdoor vacations or urban site seeing. Plus, you can do many of these things on a budget too!
Here are our favorite picks for some great deals you can get on weekend getaways in Washington (or really anytime of the year)! Be sure to bookmark this page (or pin it to your travel board) as we will be updating it regularly with new ideas!
If you want to know what some of these destinations are like, be sure to check out our northwest travel reviews page for some of our favorite affordable getaways (and savings tips). And if you are looking for a great indoor pool, check out this article on 6 Washington Hotels with great indoor pools for the family!
We know these days more folks are interested in stand alone rentals too, so we have a big list of cabin rentals in the NW that you can find here too.
Weekend Getaways from Seattle (& Surrounding Areas):
Suncadia / Cle Elum Area:
Distance from the Seattle area:: Approx. 1 hours 15 minutes
I love this spot, since it is so easy to get to from the Puget Sound areas. It is also a 4 seasons destination, with lots to offer year round. You can plan your trip to include the Suncadia Resort, with lots of high end amenities, or stay at the Best Western and just enjoy the local restaurants and outdoor activities. It is one of my families favorite getaways if we are looking for someplace we can get to quick, but feels like we really got away. I cannot think of a single trip we have had to this area that we did not thoroughly enjoy!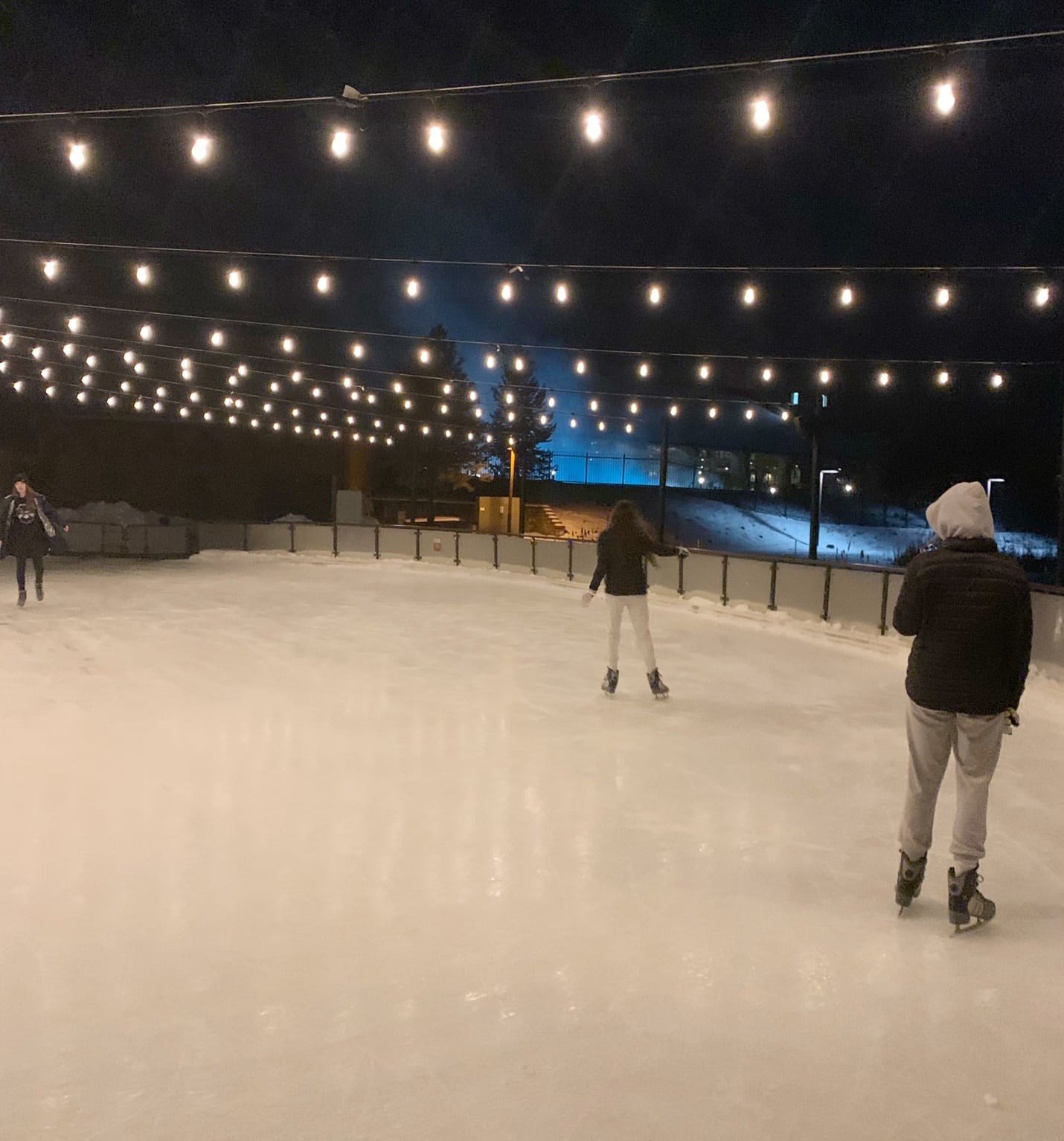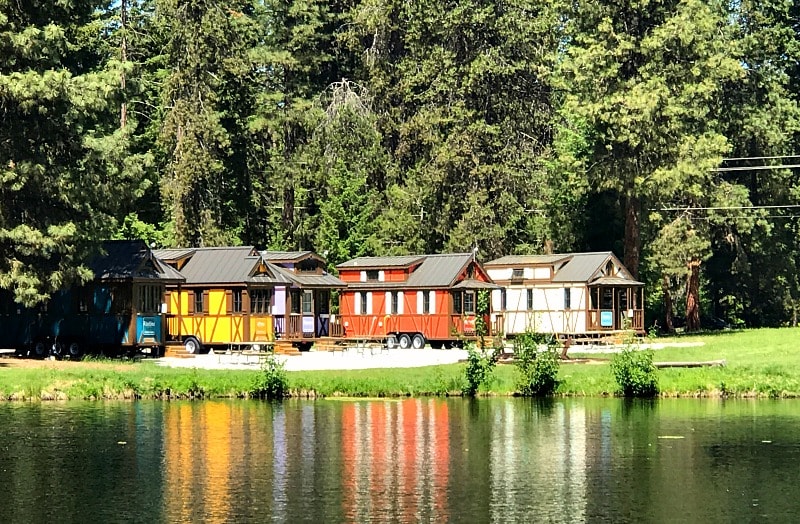 Leavenworth & Wenatchee Area – 4 Seasons Destination!
Distance from the Seattle area:: Approx. 2 hours 15 minutes
I just love the Wenatchee and Leavenworth during so many seasons of the year! They both are really 4 season destinations. There is beautiful sunshine in the summer months, snow in the winter, foliage in the fall and wonderful hikes and flowers in the spring. Here are a couple of our reviews of a fun places to go for families in these areas.
Not only do you get your very own tiny house to stay in here, but this place also offers mini golf, tennis courts (bring your own items to play with), sits on a lake and is right in between Leavenworth and Wenatchee for lots of day trip fun!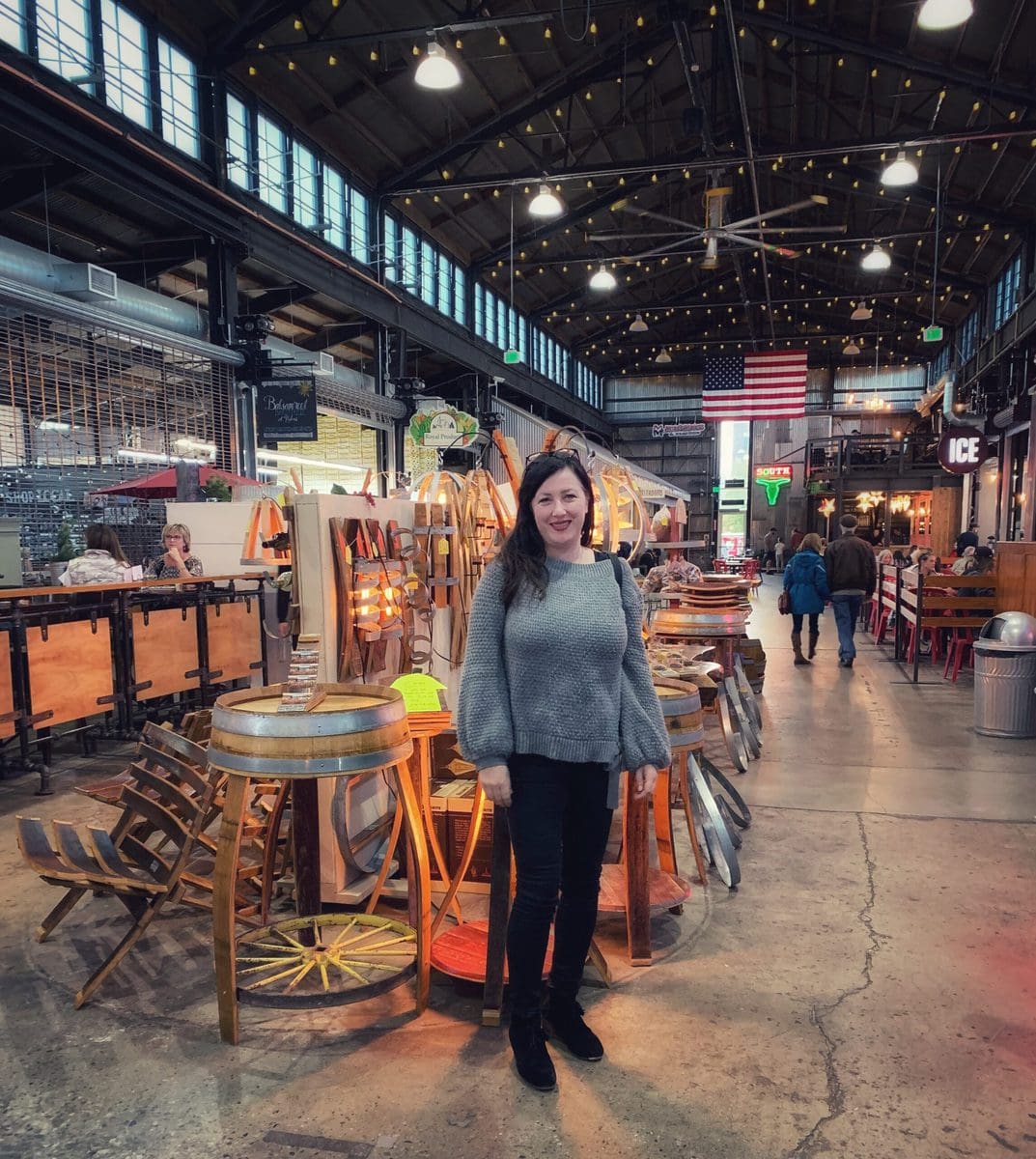 If you want to explore beyond Leavenworth, and into Wenatchee, be sure to check out our review here. The Pybus Public Market is so fun, as well as so many other things for families to do in that area too.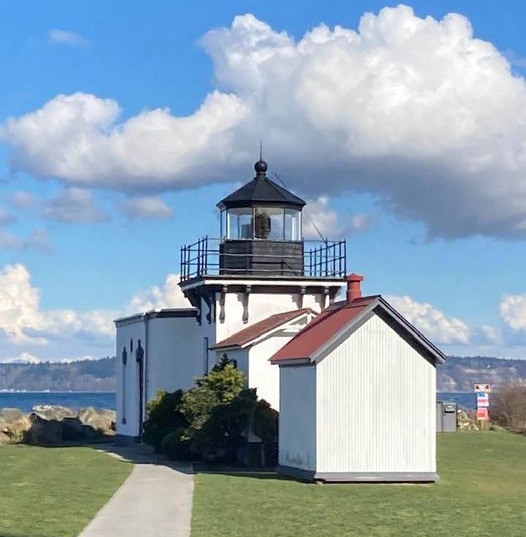 Explore the Kitsap Peninsula from $81 / nt (stay in Silverdale)
Silverdale Distance from the Seattle area:: Approx. 1 hour 15 minutes
The Quality Inn and Suites in Silverdale has double queen beds for as low as $81/nt.
This spot includes free hot breakfast, and is pet friendly. I have not stayed here, but we did stay nearby, and so I know that this spot is in walking distance to the water.
The Best Western, and Oxford Suites are two spots that are both usually affordable and are waterfront too, if you want something a little nicer (we share our review of our Best Western stay below). There are also a number of beautiful resorts on the Peninsula if you want to pay a bit more, and we share some of those ideas below too.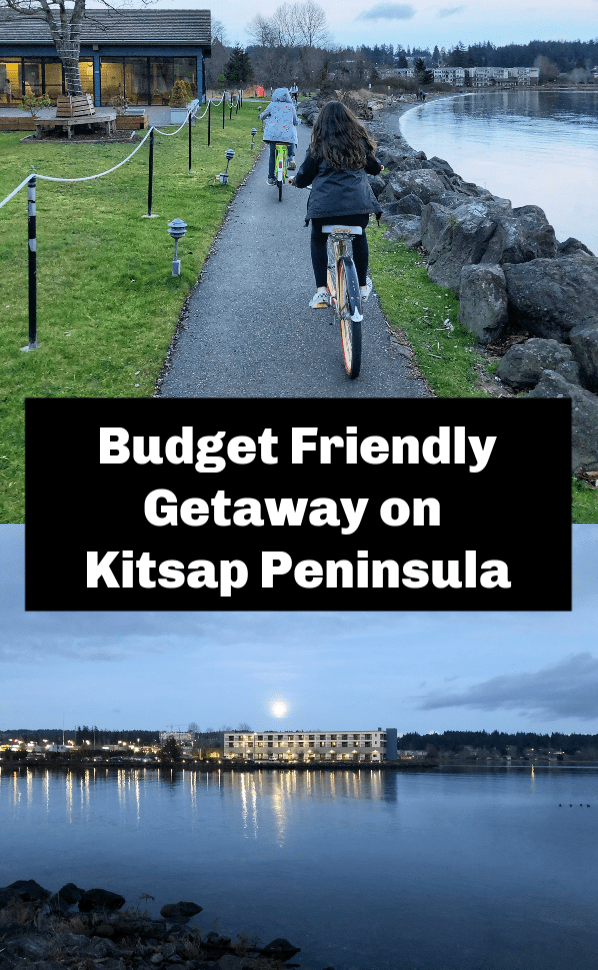 The Kitsap Peninsula is fun to explore, and we have spent lots of time in this area. If you are wanting to turn a trip to the Kitsap Peninsula into something more than an overnight trip, we have an itinerary here that you can use to plan a weekend trip, as well as a week long trip! I love this area because in my experience it has always been budget friendly, full of outdoor adventures, quintessential Northwest experience with all of the beach access, as well as some great lodging experiences activities and dining.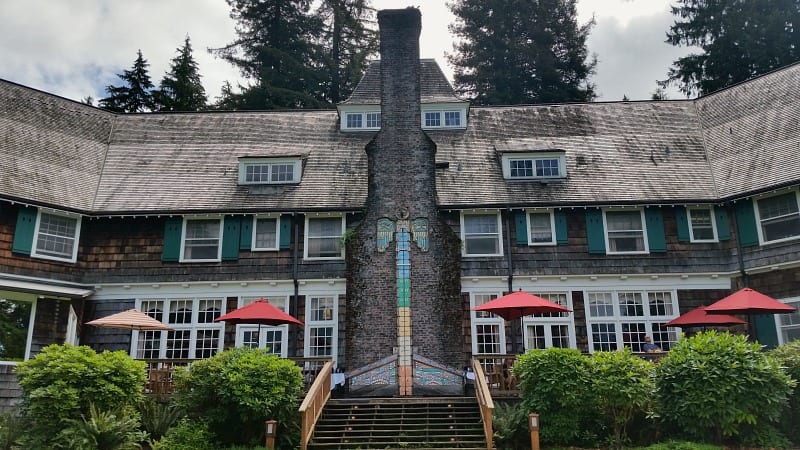 The Olympic Peninsula
Distance from the Seattle area:: Approx. 1 hour 15 minutes (ferry time will add to this possibly). 
If you want to continue past the Kitsap Peninsula, the Olympic Peninsula is famous for its beaches, Hoh Rainforest and so much more! This is one of the most popular areas of Washington to explore by tourists, and if you can you really should make a trip out here at least once in your lifetime.
Two very popular spots to stay in this area are the Quinalt Lodge and the Kaloloch lodge. The Sul Duc Hot Springs is also another fun option. Both will need to be booked months in advance most likely. There are also many hotel/motel options you can find for the area here.
We have a list of beaches you can explore on the Olympic Peninsula as well here!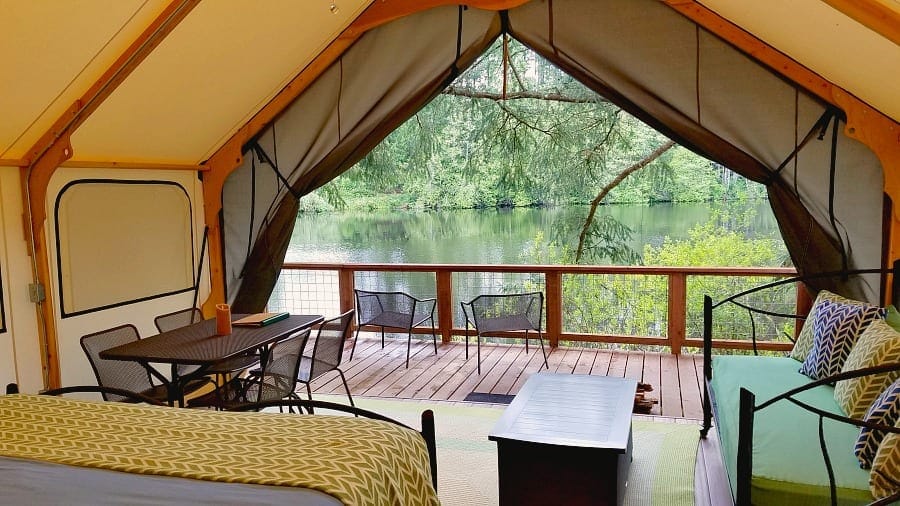 The San Juan Islands!
Distance from the Seattle area:: Approx. 1 hour 15 minutes
The San Juan Islands will require a ferry ride, but really highlight the best of the Northwest. With everything from Whale Watching to leisurely picnics, it is one of the spots we get the most requests about in our Pacific Northwest travel group here.
There are a number of island here and a number of spots to explore, but one of our favorites is this one:
Camp at Lakesdale Resort in the San Juans –
Lakesdale Resort is open for Spring Break dates with up to 30% off. Campsites start at $39, RV sites for $49 and if you want to spend more you can glamp in a or stay in the lodge too! 3-night minimum stay in any RV or campsite is required. Check out Jens review from her summer stay, to get a better idea of what this resort offers.
The Washington Coastline – Beaches, Beaches, Beaches!
Distance from the Seattle area:: Approx. 1 hour 15 minutes (just to reach the closest beach area…destinations will vary from this depending on where they are). 
The Washington Coastline is full of opportunities to stay on the beach, It can take you anywhere from 1+hours to 3+ hours, depending on where you are traveling from, and where your destination is to. But there are so many fun options to explore in this area. Some of our favorites include:
Long Beach Washington – this is a wonderful option if you are looking for some beach access and lots for families to do! Read our full review here of where to stay, what to do, and where to eat in the area.
Ocean Shores Washington – this is a fun spot with families, with everything from go kart to kite flying. It is easily accessible from the Seattle area, and offers camping to motel and hotel lodging options. You could even stay in the Olympia area and easily make a day drive over as well.
Seabrook Washington – Seabrook is a vacation hub that is perfect for families. Stay in a unit rental, and get walking access to the village with restaurants and shops as well as beaches. This is our favorite pick for families.
Other Getaways:

If you are wanting to take a trip to Great Wolf Lodge check out our article here on the current promo codes available to help you save more. 
Other Articles to help you plan cheap weekend getaways include:
Save