Things to Do in Long Beach WA + Where to Stay & Eat!
This post may contain affiliate links and I may be compensated for this post. Please read our disclosure policy here.
Disclosure: We partnered with Boardwalk Cottages for lodging; however, all opinions are our own.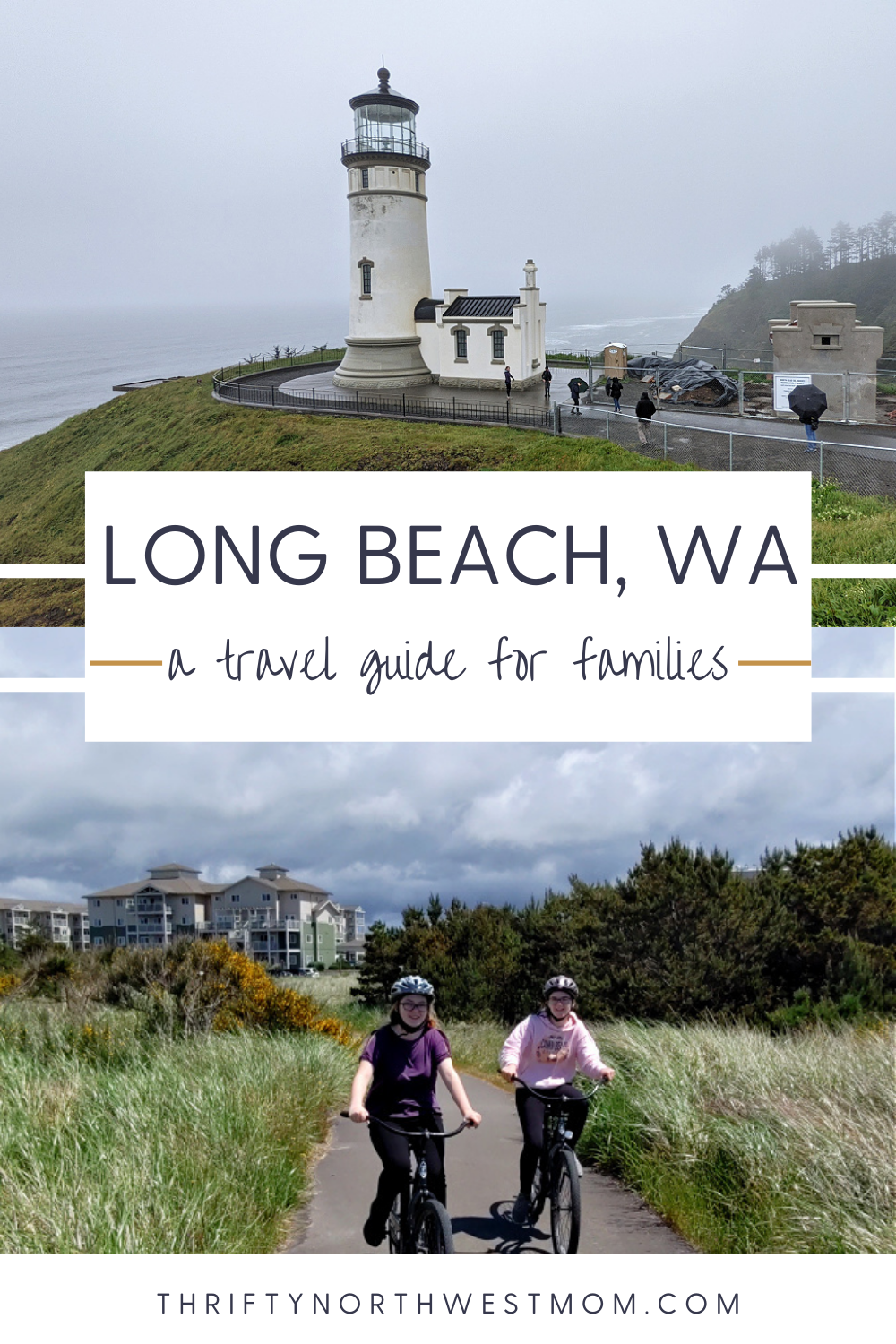 Long Beach WA Guide
Long Beach, Washington is located on a peninsula just north of the river border of Washington from Oregon. Cape Disappointment is at the border on the Columbia River & Pacific Ocean & Long Beach is just north about 15 minutes. Long Beach is a wonderful destination any time of year – storm watching & exploring the 8 miles of hikes, old military bunkers & Lewis & Clark interpretive center at Cape Disappointment. Biking the Discovery trail, flying kites on the wide, sandy beaches & playing putt-putt in town. Plus, there are some great Long Beach WA restaurants & places to stay, too.
If you are visiting the Oregon Coast, Long Beach is also just 30 minutes across the bridge over the Columbia River & north of Astoria, 45 minutes away from Seaside. So, if you are looking for things to do when you're visiting Astoria, Seaside or Cannon Beach, this makes an excellent day trip to see Cape Disappointment & check out the town & the beaches in Long Beach.
There are such a wealth of outdoor adventures all around the Long Beach peninsula. Plus, you'll love the classic beach activities & unique activities like horseback riding & biking along the 8+ mile Discovery trail on the beach. Here's our guide for everything you need to know when visiting Long Beach, WA.
Long Beach WA Weather & How to Pack: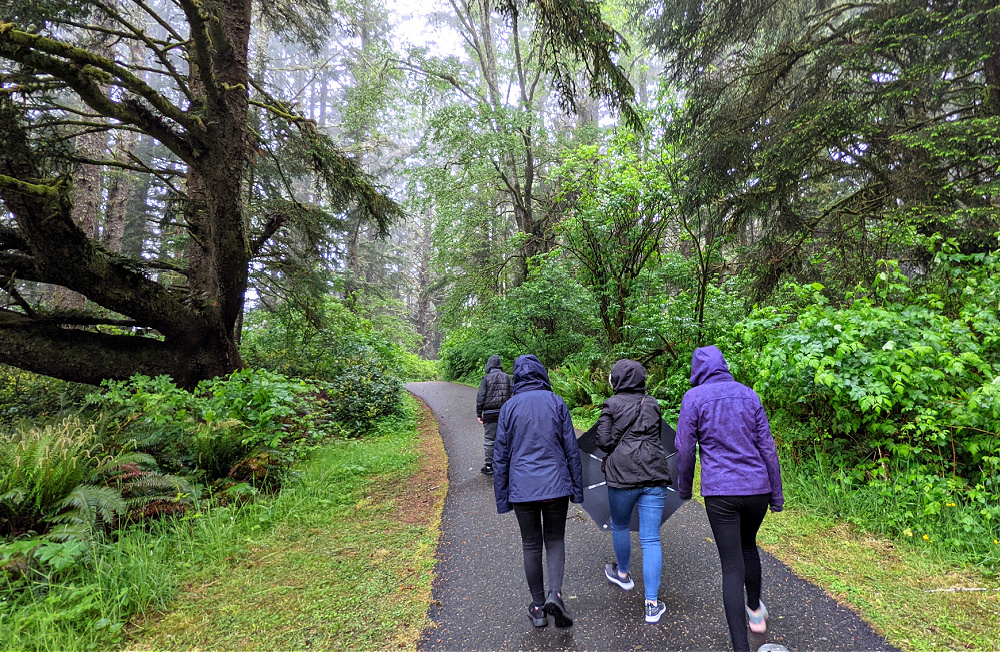 A typical wet day at Cape Disappointment – rain gear, layers and/or umbrellas are key! 
The most important thing to know when visiting Long Beach WA is that the weather can be very variable and can really change at any time. Summertime the weather can be sunny, beautiful & warm, but the evenings could still get cool next to the beach, so always keep a jacket or hoodie with you.
An umbrella or good rain gear is a must in the off-season (fall, winter or spring), as they do get some big storms out on the coast & you'll want to enjoy the storm watching, especially if you head to Cape Disappointment state park to watch the waves crash against the cliffs. So, just make sure you're prepared with good rain gear so you don't let the rain stop you from enjoying this beautiful location.
Layers, layers & more layers is the key when you visit the Washington coast – whether it's sunny summer weather or rainy, stormy weather, the more layers you have, the best as you can peel off the wet layers & change into dry clothing. But then you can still all the outdoor adventures around the area.
Long Beach WA Hotels:
If you're looking for Long Beach WA lodging, these are our top places to stay during your visit:
Boardwalk Cottages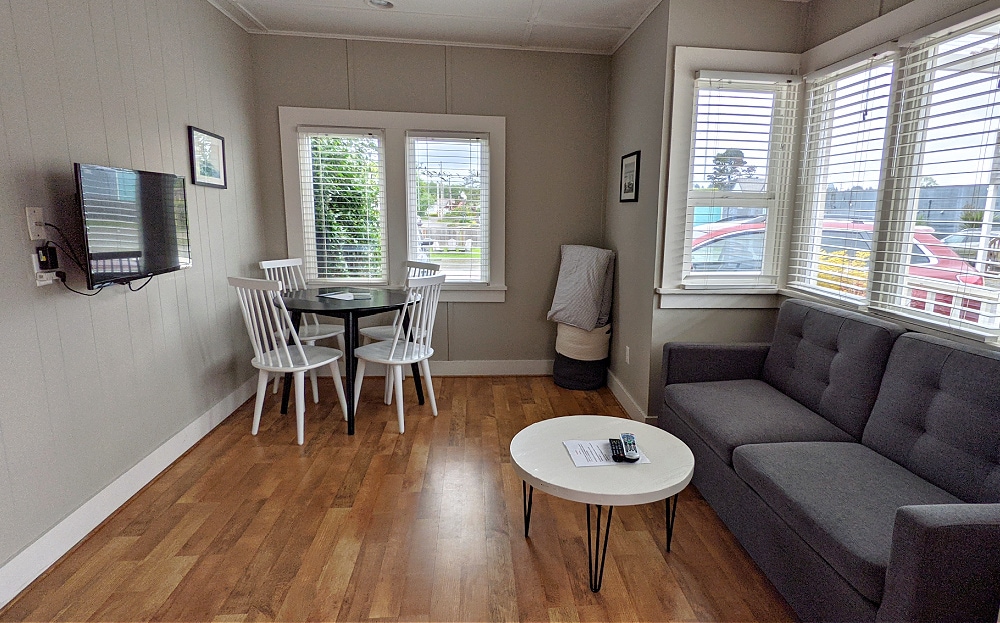 If you're looking for a home away from home, we loved these little cottages at the Boardwalk Cottages. These cottages are the perfect blend of cottage charm with a minimalist, clean style.  They offer everything from deluxe studios to a 3 bedroom townhouse to fit any size family.  They are just a few blocks from both the beach & the town, so it's all within easy walking distance either direction. What I love about staying in a cottage like this is having a full kitchen as well as a living/dining area. The full kitchen is such a great way to save money by bringing some of your own food for meals & snacks. And it saves time to not have to wait to dine in restaurants, but bring your meals with you when you're out on your adventures.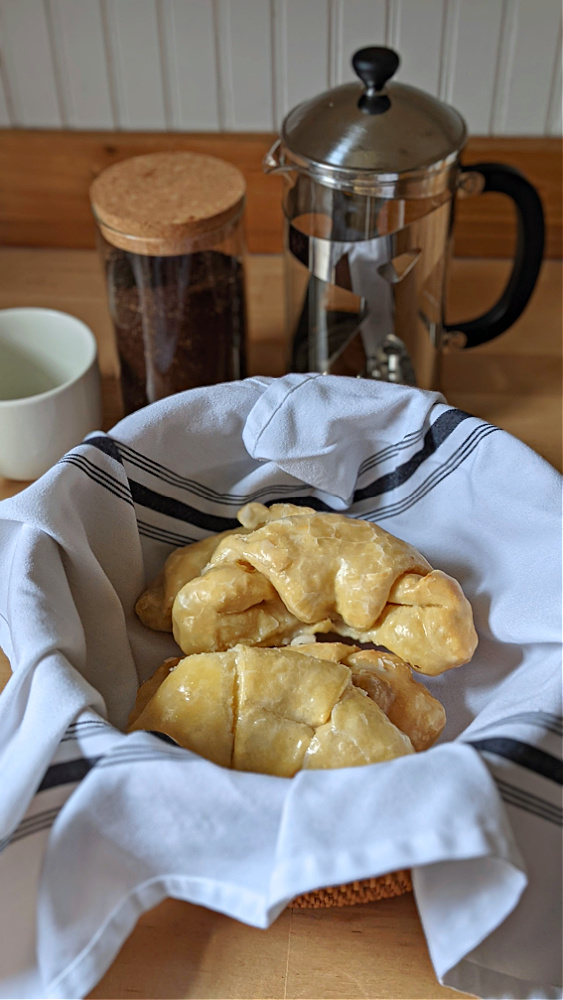 You'll also enjoy pastries & donuts on your doorstep each morning from the local bakery in town, which was always a treat to see what it was each morning. They also have bikes you can borrow to take out on the Discovery Trail along the beach or to cruise around town. And best of all, it's dog-friendly, so you don't have to leave your pup with a dogsitter but bring him/her with you to enjoy exploring the beach & town together.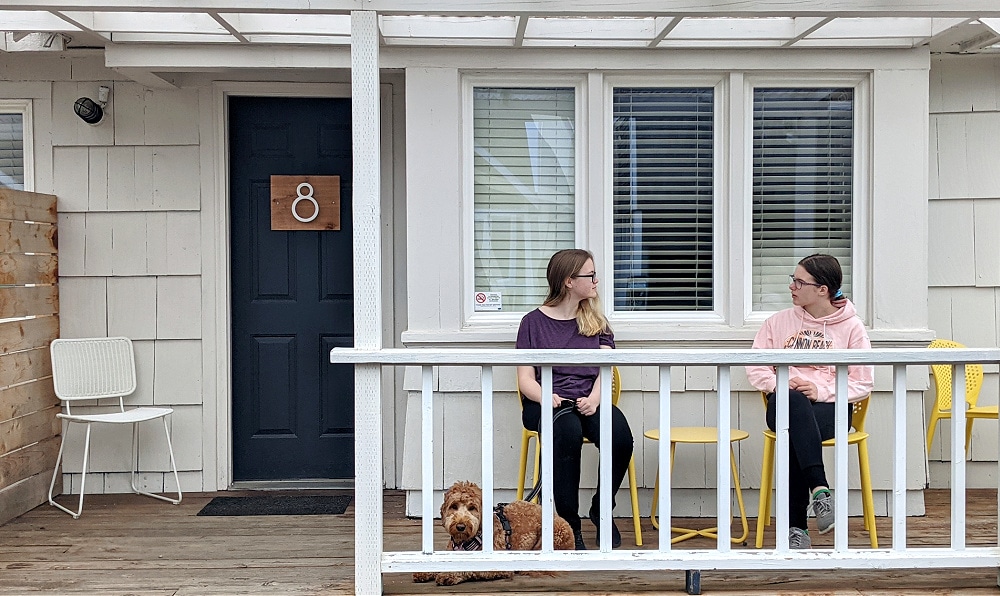 What I love most, though, is that you have the best of both worlds by staying at the Boardwalk Cottages as you can take advantage of all of the amenities of both the cottages & the Adrift Hotel, just a few blocks away on the beach. We enjoyed using the heated & covered pool, warming up in the barrel sauna & playing a couple games of ping pong & room at the Adrift.
Boardwalk Cottages Discount Offer: Make sure to use the promo code: thriftynwmom at checkout to save 10% on your stay at Boardwalk Cottages!
Adrift Hotel 
If you'd like to stay right next to the beach at a hotel with a variety of family-friendly amenities, the Adrift Hotel is the best option we found for waterfront lodging in Long Beach WA.
This hotel features modern & minimalist decor paired with amenities such as outdoor heated & covered pool, barrel sauna, game room, restaurant, fire pits & more. It's also very dog-friendly, we saw a number of dogs all around the property, welcome in any of the spaces & they even have dog supplies in their gift shop in the lobby in case you forgot anything at home.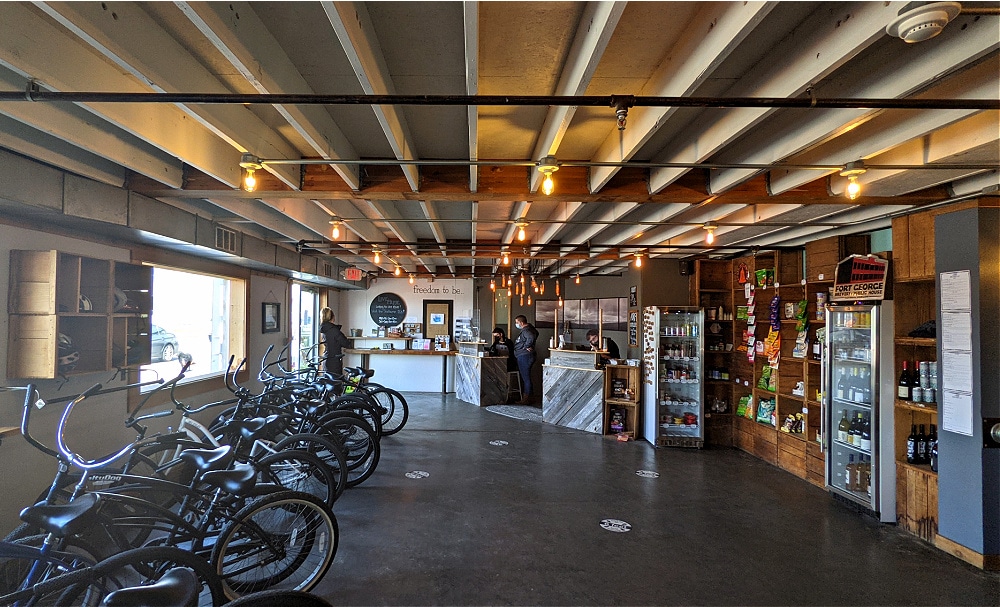 One of the best features is that you can access their fleet of bike cruisers to take right outside the door onto the Discovery Trail & ride along the coast (this will end up being a major money-saver if you use this regularly as the cost of the bikes for a family would add up very quickly). And make sure to check out their restaurant, the Pickled Fish, located on the 4th floor, with incredible views of the beach (more info below). This hotel really has everything you need & the perfect getaway location!
Long Beach WA Camping:
Cape Disappointment State Park – this is a great Long Beach WA campground to visit and there are options for standard tent campsites, full/partial hookup sites, yurts, & a few cabins.  Camping is available year-round although be prepared for the elements as it gets very windy & can be quite rainy here in the winter. The campground is more protected though in the forested area & you'll be close to check out some awesome storm watching.
Here's a list of more private RV campgrounds to check out, too, if the state park is booked.
Things to do in Long Beach WA:
Enjoy the beach
The highlight of Long Beach, of course, is the gorgeous, soft, sandy beach. Whether you like to just sit & relax & listen to the waves, build sandcastles or walk & see gorgeous views of the beach, there's plenty of ways to enjoy the beach in Long Beach WA.  There are 28 miles of coastline, sometimes a mile or more wide, so it provides so much room to spread out & relax on the beach. In Long Beach, there are 2 ways to access the beach – either walking on to the beach or driving on to the beach. They have both areas, so you can pick which you prefer.
We preferred staying on the side without cars since we brought our dog with us and this way we could head back & forth to the water freely & not have to worry about cars heading that way. But, if you want convenience, the car is very nice to be able to take right on the beach if you have a lot of beach supplies, so you don't have to lug them back & forth.
If you prefer a car-free beach, take the Sid Snyder beach entrance – just turn down the first light once you enter Long Beach. This is the entrance that is right next to the Adrift Hotel & there is access to both the boardwalk & Discovery trail, bathrooms, plenty of parking & trash cans. If you prefer to drive, you can take Bolstad Ave, which is the second light in Long Beach. This is where you will find the World's Longest Beach Arch and where you can enter the beach with your vehicle. There are also bathrooms, plenty of parking, boardwalk & Discovery trail access.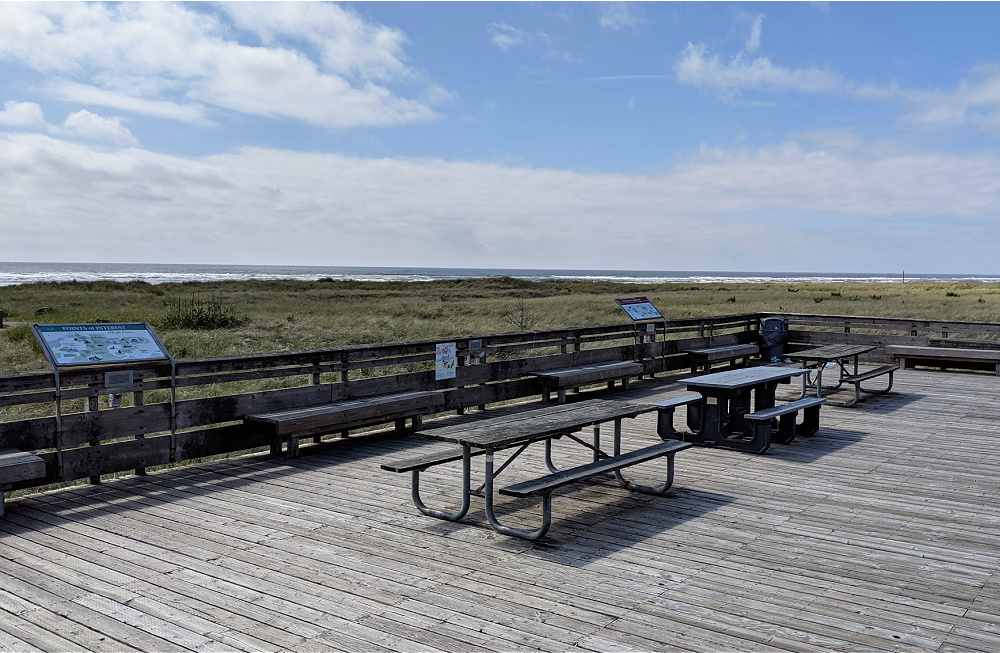 If you'd like to get some exercise while you gaze out at the beach, walk along the Boardwalk, which is about 1/2 mile long that runs between the two main beach entrances in Long Beach. This is an elevated boardwalk & wheelchair & stroller friendly, so it's a great way to see the beach & grab some picturesque photos. Plus, they have some great interpretive signs sharing more about Long Beach history & places to take a break & take in the view, too (as you can see in the picture above)
Fly a kite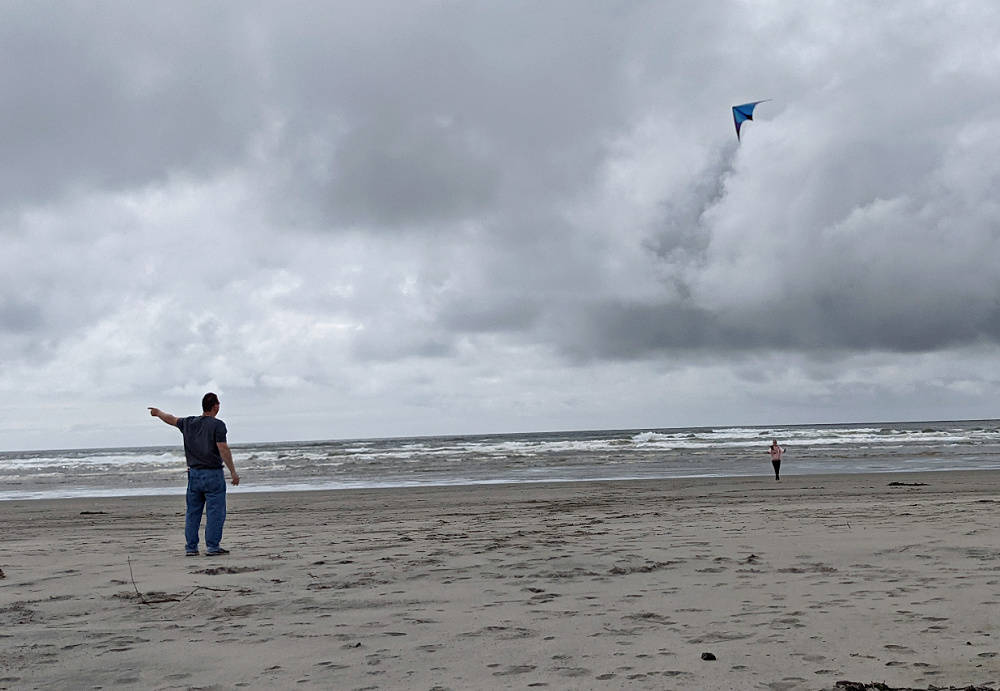 Did you know that Long Beach is the headquarters for the Washington State International Kite Festival, held in the 3rd week of August every year? This festival brings in kite flying competitors from around the world typically (it will be back again starting in 2022).  This is one of the prime destinations in the US for kite flying because of perfect conditions with its location that create some awesome winds for kites. Bring a kite with you on your trip or if you forget, they actually have a kite museum and shop in town.
The World Kite Museum is located just a block or so from the Adrift hotel & a few blocks from the beach. They have over 1500 kites on display from around 26 countries, so you can see the history of kite flying in different cultures around the world.  There are also hands-on activities for kids, too. Unfortunately it was closed during the week when we were there, but that's definitely on our list for when we return.
Rent bikes for riding on the beach trail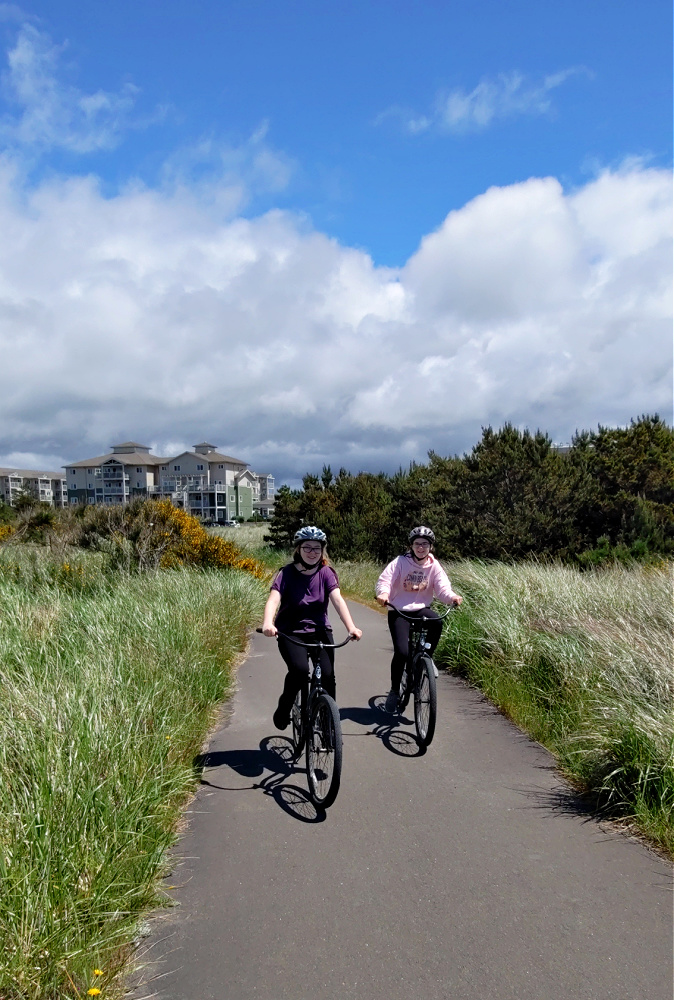 One of the most popular activities to do in Long Beach is bicycling. This is because they have the amazing Discovery Trail running along the coast, from the little port town of Ilwaco on the Columbia River, through Cape Disappointment State Park & then ending in Long Beach. This hiking & biking trail is over 8 miles long, named after Lewis & Clark's Corp of Discovery,  with several interpretive signs & art installments along the way to learn more about Lewis & Clark's journey. The trail runs along the grassy dunes next to the beach, so you will have gorgeous views of the ocean the entire time & then also be able to see the forest when you hit Cape Disappointment & you can take a slight detour to visit the North Head lighthouse.  You can go as little or as far as you'd like on this trail.
We stayed at the Boardwalk Cottages, so we were able to use their bikes on the path, so didn't need to rent bikes. But I'd recommend you bring your bikes with you from home (if you have a bike trailer/carrier). If you don't want to bring them from home, there are several places in town to rent bikes such as Long Beach bicycles & Beachin' Bicycle.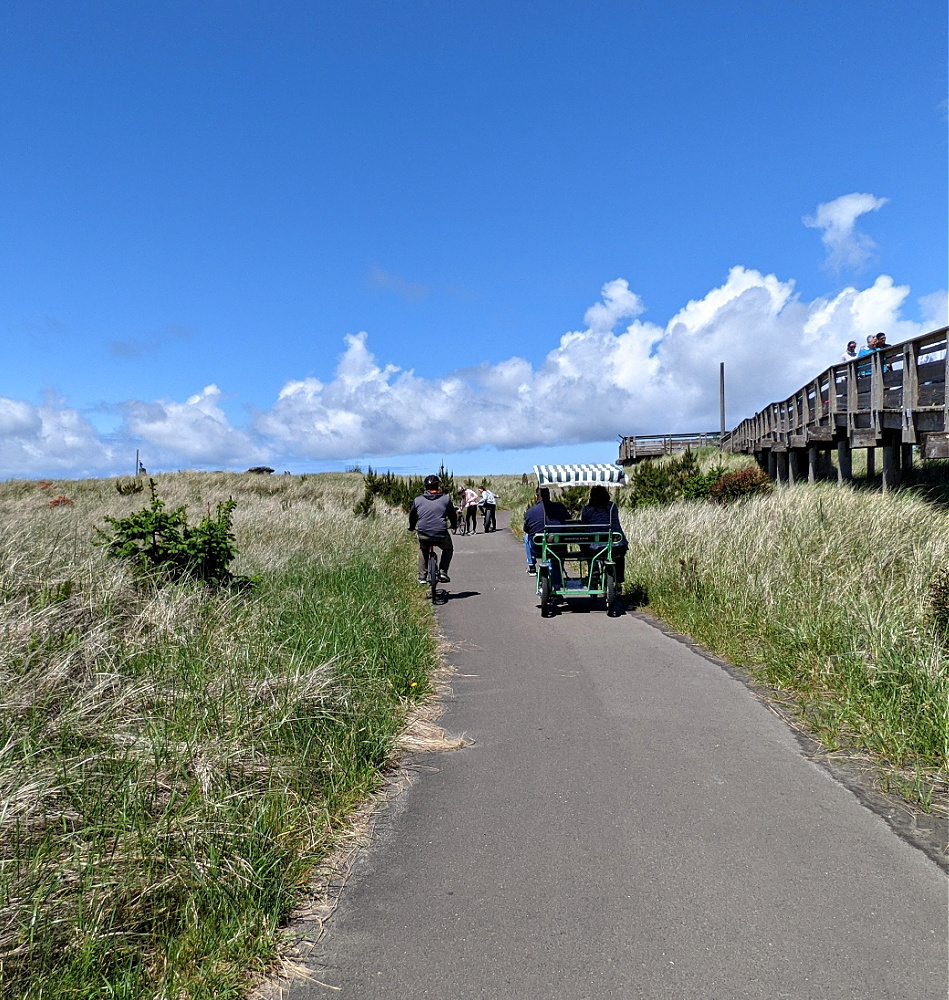 We met up with friends there & they rented both an e-bike & a surrey from Long Beach Bicycles shop. They have 2 & 4 person surrey bikes, which are so fun, especially for the kids & teens (just make sure to always test the bikes & ride them around the block or so to make sure everything's working properly before heading out on the trail). The e-bikes are a blast to try out, especially if you have been considering a purchase of an e-bike as there are few places to find around the PNW to rent them.
Bonfire on the Beach with S'mores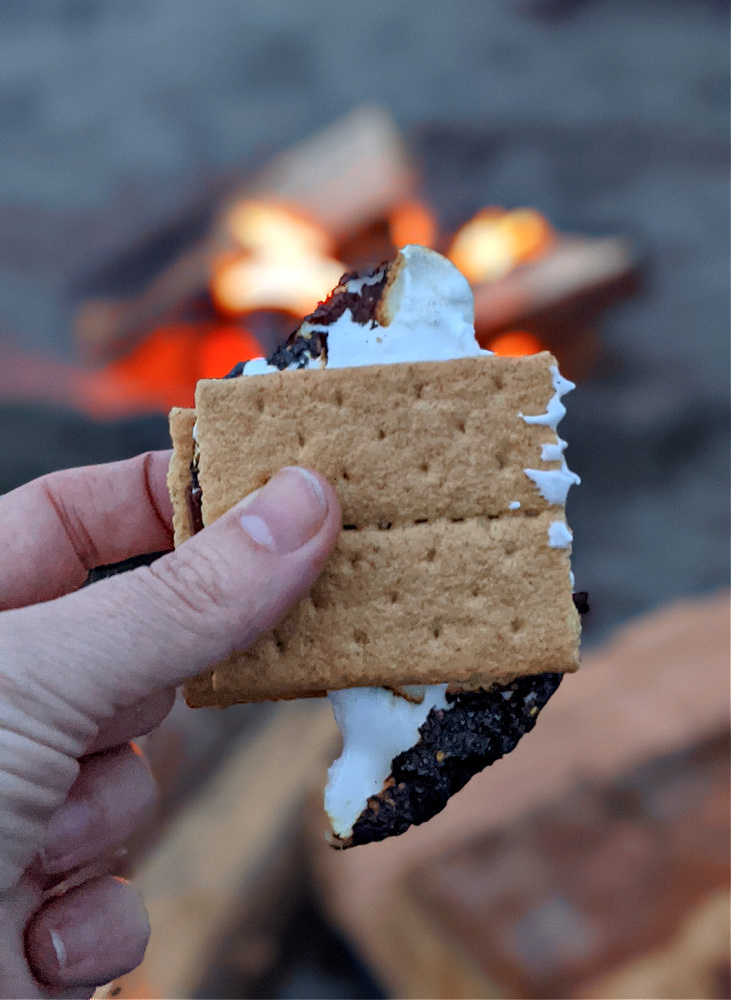 In case you're wondering – yes burnt s'mores are the best! (my family disagrees!)
One of my favorite things to do at the beach is to have a bonfire & s'mores at the beach! Long Beach is the perfect place to do that since you can drive on the beach in certain areas. This makes it much easier to haul the wood & other supplies you need when you can drive right to your location. We weren't quite that smart, though, as we accessed the beach from a non-driveable area so still had to walk it all in, but we didn't have to walk far to have a nice fire (just make sure you are at least 100 ft away from the dunes on the beach).
You'll want to do this on a nice day, though, as the wind can definitely get blustery in this area & it wouldn't be as fun to try eating s'mores with big gusts of wind. We lucked out with the perfect weather on our first night, though, so this was a great way to start our trip to Long Beach.
Photo Opps around Town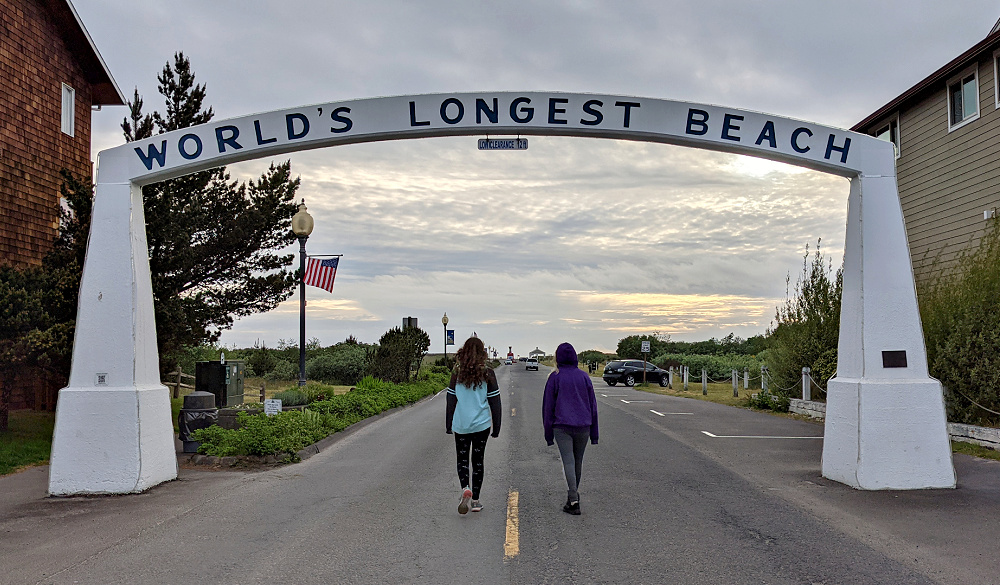 Long Beach has some well-known photo opps that are always fun for the teens especially and great family photo spots. The most popular spot is the arch titled "World's Longest Beach". Grab your photo here & then take your car & you can enter the beach at this spot to drive right on the beach. Great way to save the walking thru the sand, to park & unpack right there.
The other popular photo opp spot is at the extra large frying pan. This is located right across the street from Marsh's museum in a little tiny park. There is also an orca statue & a "spitting" clam (if you stand in just the right spot, you'll get wet) in the same park.
Visit the Quirky Museum / Store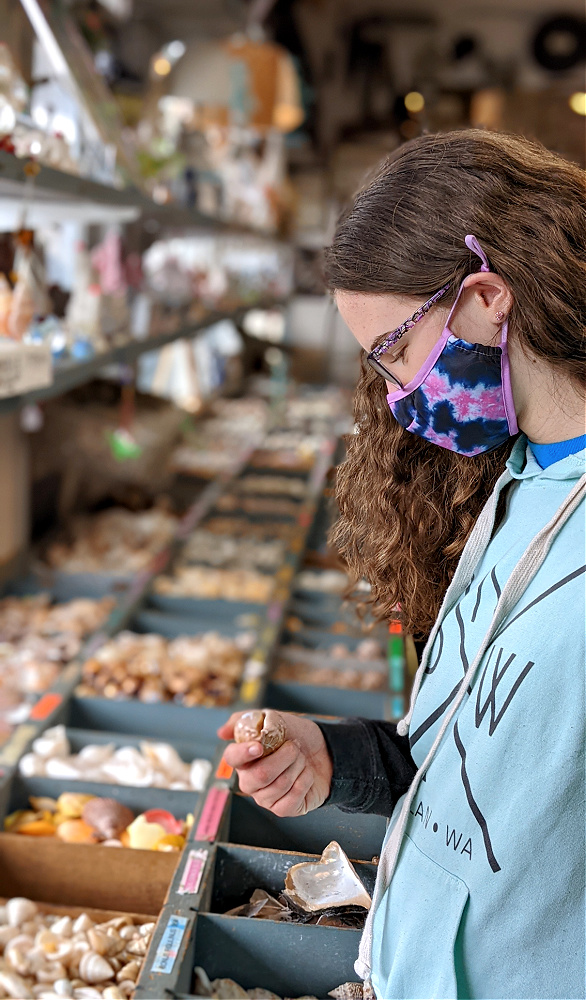 If you like quirky places that will make you laugh, you definitely want to make a stop at Marsh's museum & shop. This is part museum – part gift shop and they have anything & everything at this store. It is packed – every wall space, ceiling space & more is filled to the brim. You'll find a huge assortment of antiques, seashells (kids will love this area), gifts & more.  It reminds me of the Ye Old Curiosity shop at the Seattle waterfront.  Make sure to head to the back of the store to see Jake – the Alligator Man.
Horseback Riding – Long Beach WA 
The long & wide beaches at Long Beach makes it the perfect place to go horseback riding on the beach & they have several places where you can take guided horseback rides on the beach. West Coast Rides & the Long Beach Horse Rides offer reasonably priced options starting at $40. These are both located a few blocks up from the Sid Snyder beach entrance (near the Adrift hotel)
Visit Cape Disappointment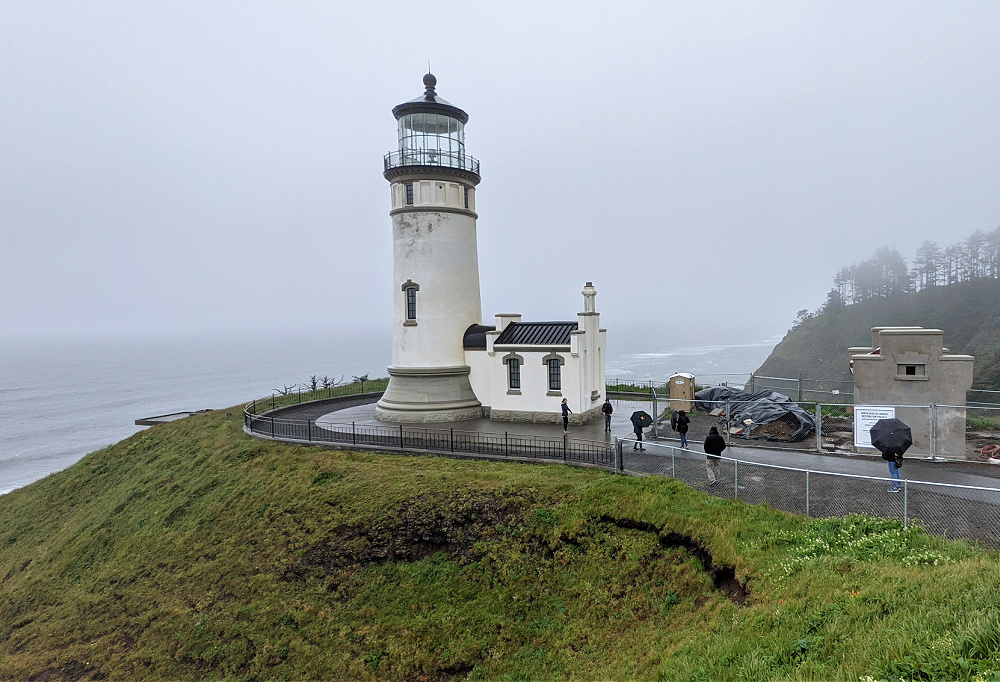 One of the best highlights of our trip to Long Beach was visiting Cape Disappointment State Park. This state park is perched at the southwest corner of the state, with the Pacific Ocean & the Columbia River as two of its borders. It was named for Captain John Meares' voyage trying to find the mouth of the Columbia, which he mistook for just a large bay.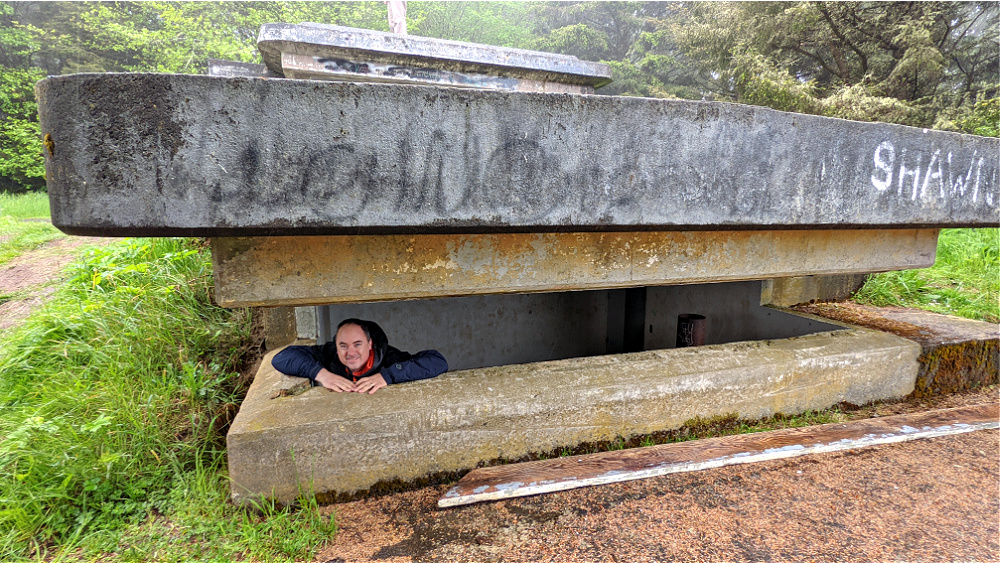 This state park is such an intriguing place to visit as there are 8 miles of hiking trails, 2 lighthouses, huge rocky cliffs, old growth forest, freshwater lakes, ocean tidelands & so much more. It is known for its moody weather any time of year, but especially in the winter when King tides & storms can produce some dramatic storm watching & photo opps with waves crashing against the rocky shore. It's also one of the foggiest places in the US, so just be prepared for the changing weather & fog. On our visit, it was a downpour of rain, the wind was howling & one of the 2 lighthouses was totally enshrouded in fog, but oh how beautiful it still was! So, don't let the weather stop you if it does happen to be raining, still totally worth the visit!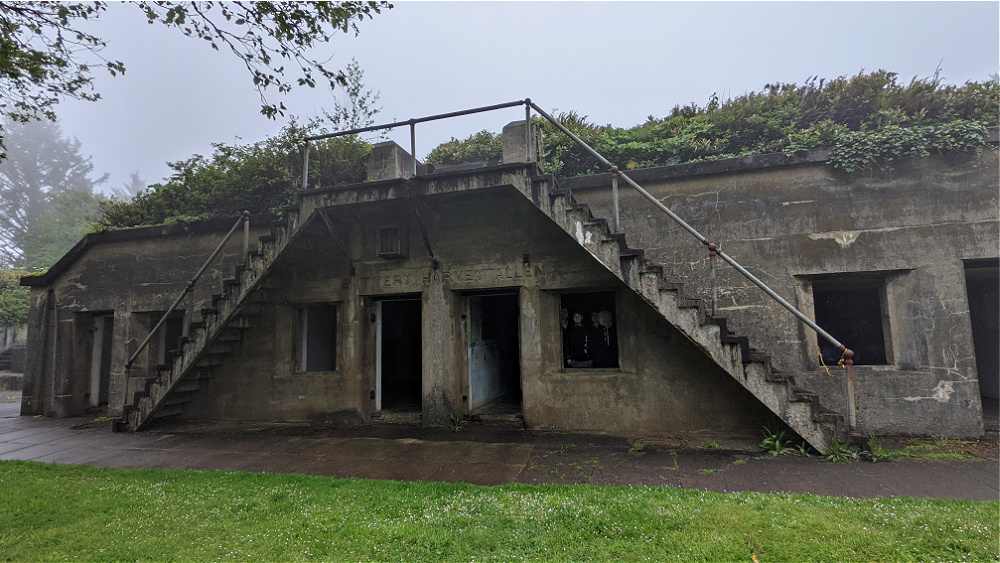 On the grounds of the state park, there is also a Lewis & Clark Interpretive Center with interactive exhibits and right around the Interpretive Center is an impressive area of military bunker ruins that are so fun to explore – teens will love this place especially! You'll find more bunkers to explore on the Bell's View Overlook hike, which is an easy, flat 1/2 mile trail to the overlook. Make sure to also take the short walk to the North Head lighthouse to get up close & check it out. It's normally open for tours too (although not during 2021).
Another popular spot to visit is Waikiki Beach, which can be good storm watching to watch the waves crash on the cliffs beyond in the winter. And in the summer, you can head there for a picnic or possibly wading/swimming.
More Things to Do in Long Beach WA:
Long Beach WA Restaurants:
Scoopers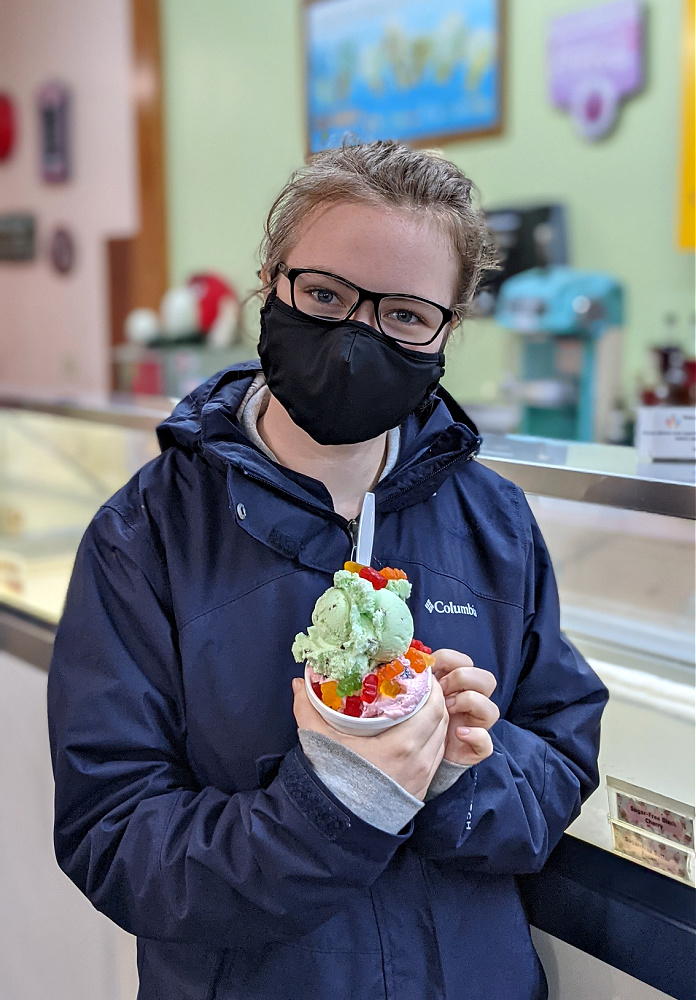 We heard from many readers that Scoopers was the place to go for ice cream & they were right! What's a trip to the beach without a delicious ice cream cone? This candy & ice cream shop is so fun as it has over 60 ice cream flavors, tons of homemade fudge flavors, salt water taffy, and so much more to enjoy.  The scoops were huge & we loved trying a variety of different flavors and had to grab some saltwater taffy to take home from our beach trip.  It's located right on the main highway as you're heading north out of town – you can't miss it!
Pickled Fish
The Pickled Fish on the 4th floor of the Adrift Hotel is absolutely the restaurant with the best view in Long Beach. The Adrift is located right next to the beach & so the restaurant is situated perfectly to see the beach, dunes & Discovery trail so well.  Whether it's a gorgeous day of sunshine or moody, blustery day – you'll enjoy gazing out at those views you can see from any seat in the restaurant.  They offer creative seafood & local cuisine dishes, as well as small plates & pizzas, too. The fish & chips are some of the best around the area!
Dylan's Cottage Bakery 
Staying at the Boardwalk Cottages, they brought us delicious pastries or doughnuts every morning from this delicious Long Beach, WA bakery –  Dylan's Cottage Bakery. What a fun treat to find these in a basket on our doorstep every morning, with a different option each day to try.  This bakery with delicious homemade goodies offers huge doughnuts, as well as muffins, pastries, cookies, breakfast sandwiches & more. Unfortunately they only have a few gluten-free items, but they did have a breakfast sandwich option. My favorite option were the cream cheese croissants we had delivered – they were so light & flavorful & a unique offering I haven't tried before.
The Depot Restaurant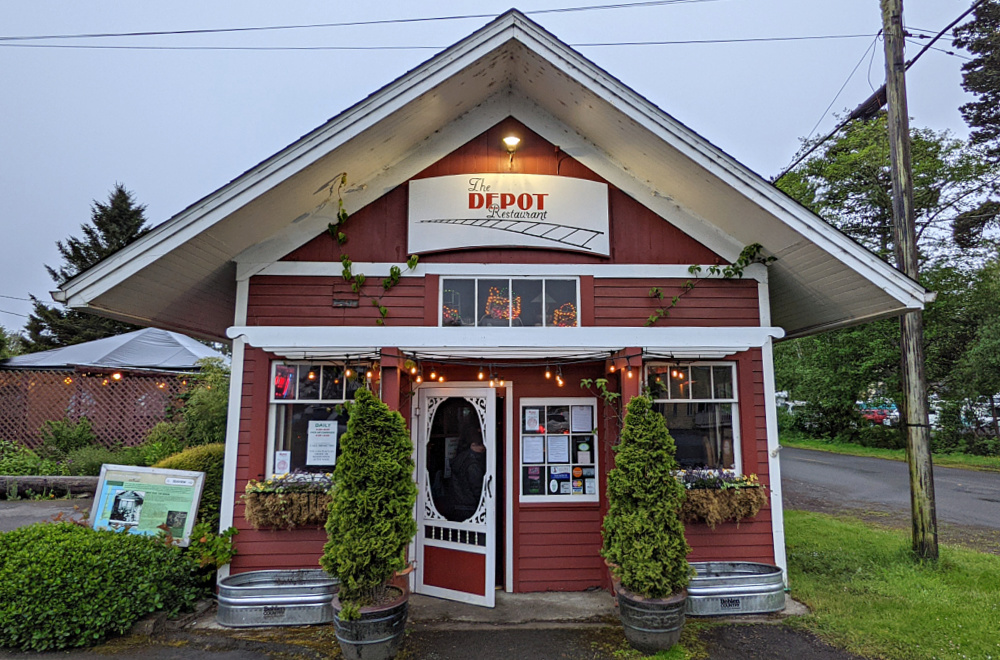 If you are looking for an incredible restaurant for a date night or just a nicer dinner out, the Depot restaurant has such mouthwatering food! The restaurant is located in Seaview, just right next door to Long Beach & it's in the 120 year old train depot. The decor is charming & the food so creative & delicious. This place is not very big, and so popular, though, so make sure to get reservations before you go. It has won many awards & accolades, much deserved when you try this farm-to-table food.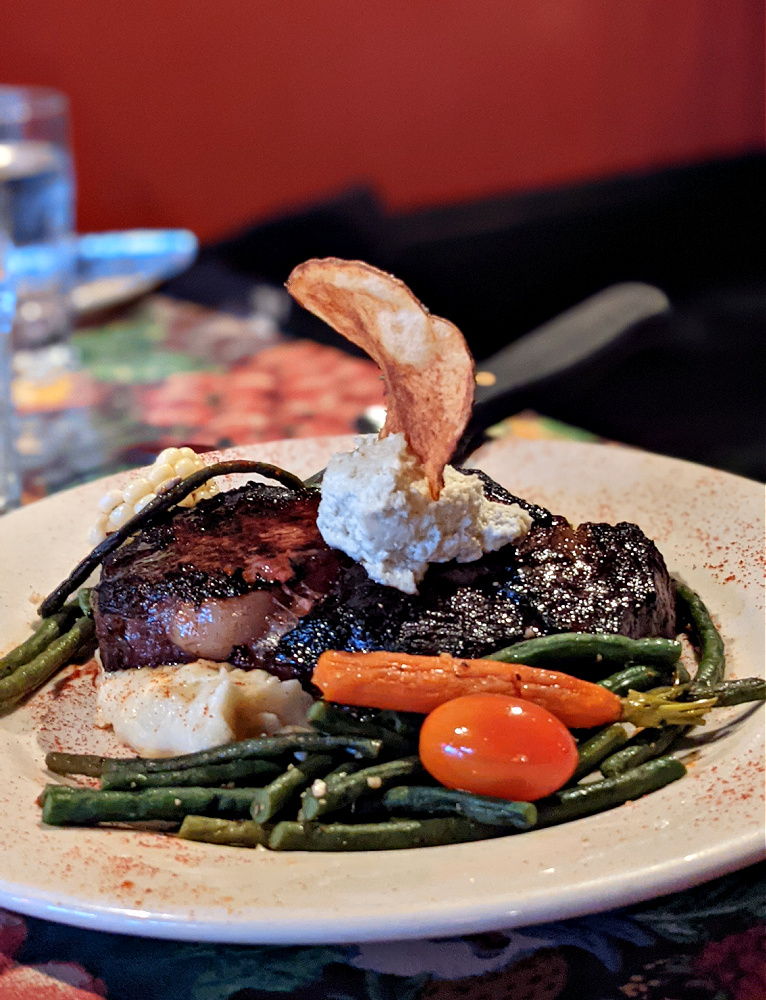 My husband had the amazing steak special & & I had the parmesan chicken which was on top of mashed potatoes. I wasn't quite sure of that combination, but oh, it was so good! Such creative presentation for the dishes, too!
I will say that the restaurant is one that will not be as kid friendly with fine dining prices & a small menu, but it would make a fun dinner out with friends or for a date. We were looking for gluten-free options for our daughter & they did have several options on the menu.
Galletti's Restaurant
Galletti's restaurant is also located in Seaview, right on the main highway. It's an Italian restaurant with an extensive menu that's sure to please everyone & the portions are huge, so be prepared to take home a box. We loved the classic Italian dishes (the Chicken Carbonara was definitely my favorite) & we were very pleased to find out they had quite a few gluten free options of pasta & bread, too, which was so nice to find more choices there.
More Restaurants recommended:
The Lost Roo – this restaurant was recommended by so many readers but unfortunately it was not open during our weekday visit. This looks like it has a lot of options for great food (& gluten free options too)
The Chowder Spot – the chowder was raved about from readers, so we definitely want to visit on a future visit
A few tips for visiting:
If you're visiting during the off-season (non-summer season), make sure to call first to make sure activities and/or restaurants are open. Some of the activities such as horseback riding, Funland, etc are only open on weekends or just a few days a week during the off-season.
Call ahead for reservations for restaurants – many of the restaurants are on the smaller side, so make sure to call ahead to make sure you can get a spot in the restaurants you are wanting to try
More Destination Options nearby: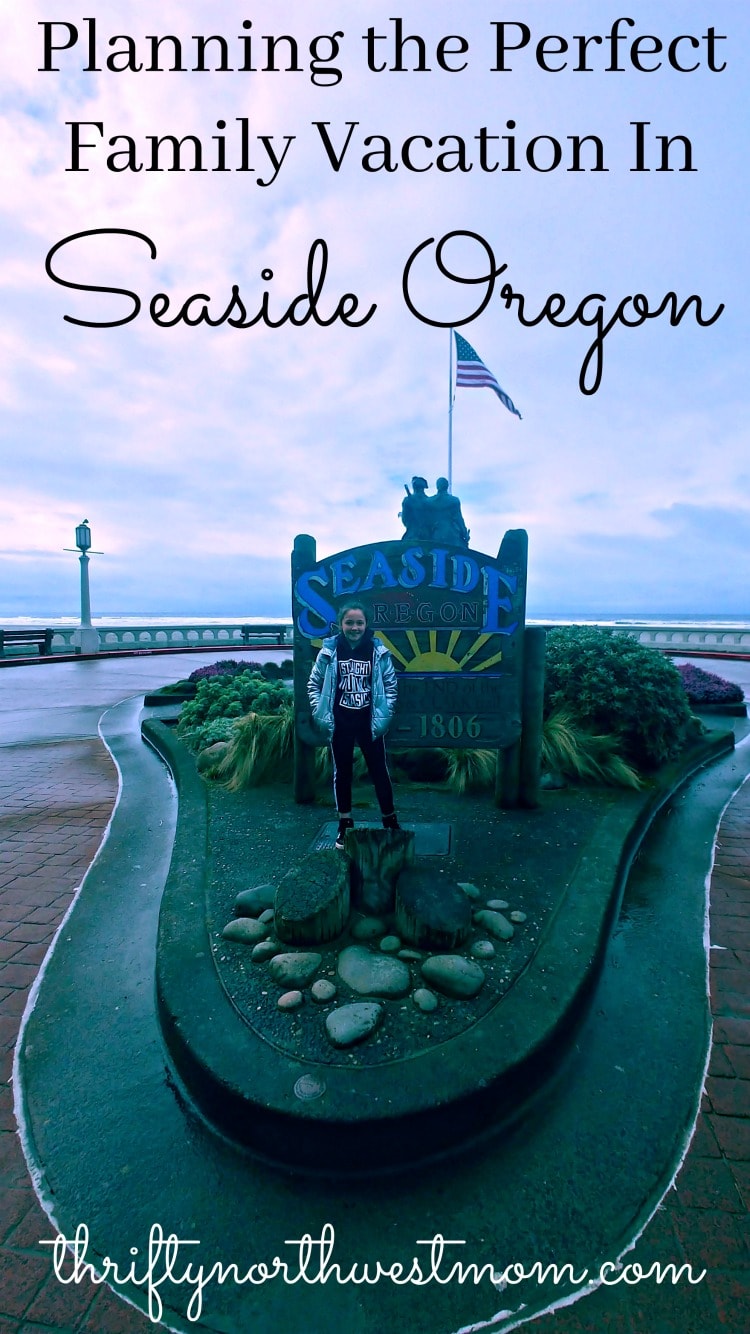 Seaside Oregon – Where to Stay, Things to Do & More – Seaside is just 45 minutes to the south & over the Columbia River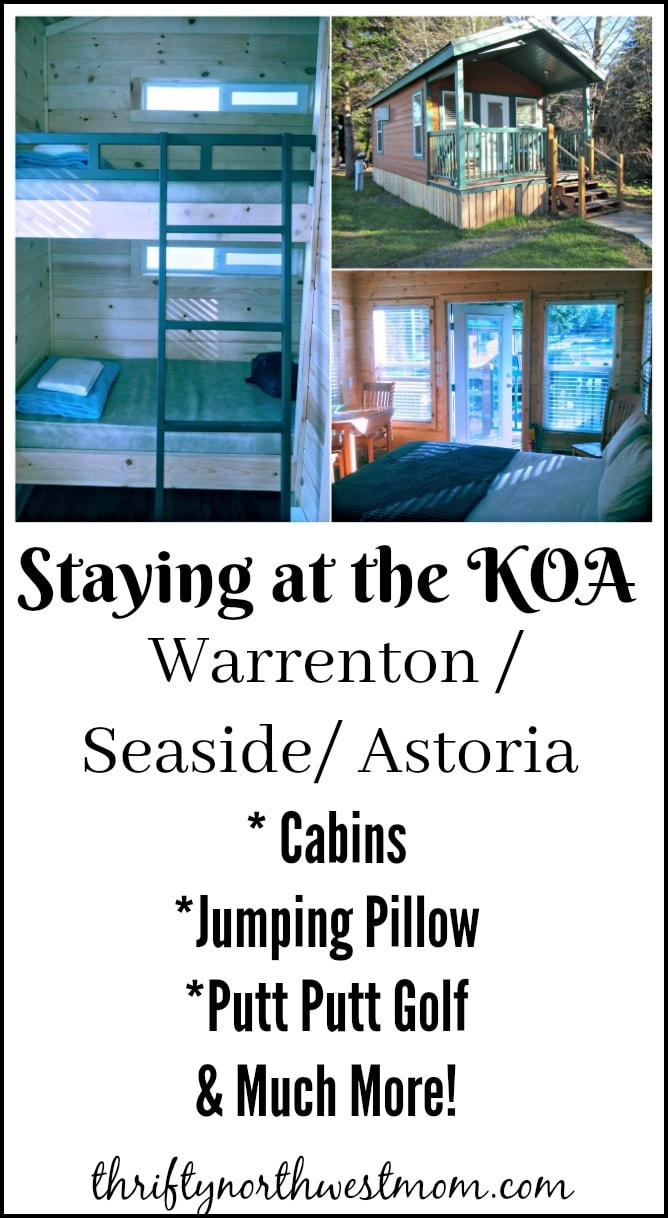 KOA Astoria/Warrenton – this KOA is a great location to stay as it's right across the street from Fort Stevens State Park in Oregon in between Astoria & Seaside & about 30-40 minutes from Long Beach