KOA Seaside / Warrenton / Astoria Review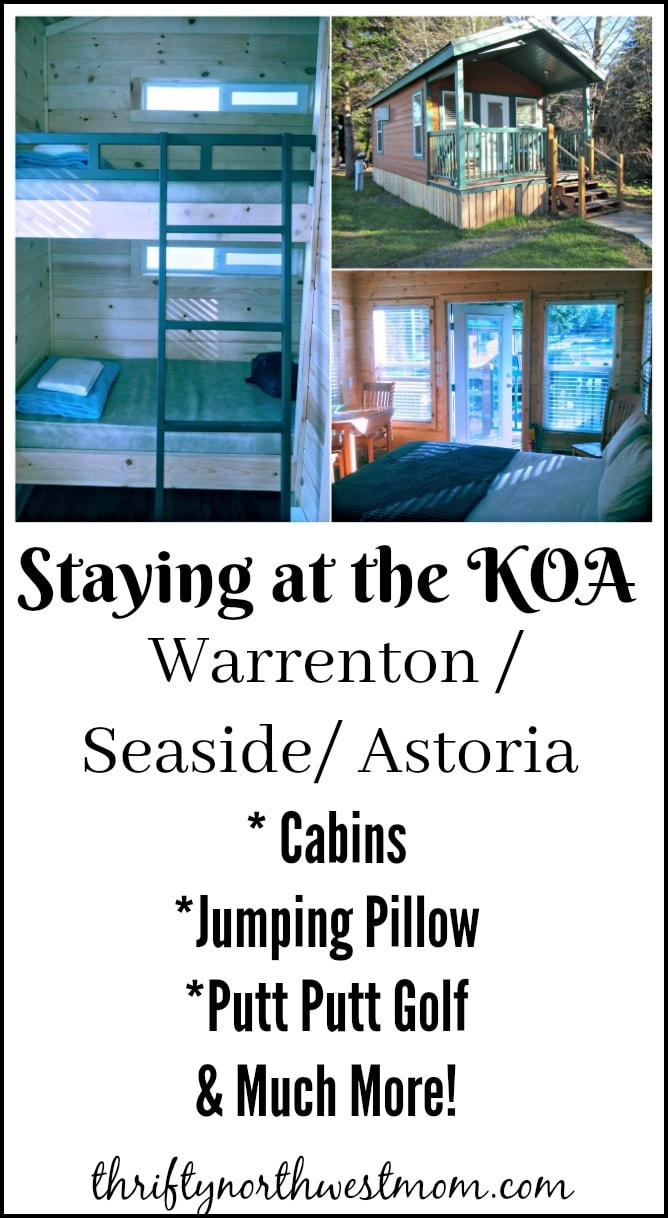 We recently took a month long venture through Oregon and California, and stayed at a handful of KOA's along the way. While we found that KOA's can really vary by location, some of our very favorite parts of that vacation where staying in a couple of the KOA Cabins (verses hotels). We staggered our stays between both, and they were a nice break that often times offered us more room and amenities (again, depending on location). So, when we recently planned a getaway to Seaside Oregon, we decided to kick our short getaway off by staying a night at the KOA Seaside / Warrenton / Astoria (it is actually located in Warrenton, but is the KOA for all of those areas).
We love staying in cabins at campgrounds. We found that it can be an affordable alternative to hotel stays sometimes, that often provide more space for us to spread out, then a standard hotel room. We recently visited the KOA in Warrenton, which is located in between Astoria and Seaside, and can be a great base camp option for many day trips. It is considered a KOA resort, so there was lots to do onsite. We will share below about the campground itself, and then some about the area around to explore too.
You can find out more information on things to consider when staying at a KOA in this article here, to see if it might be a good option for your family too.
The campground itself offers many different accommodations to stay in. Tent camping is the most affordable, but there are also rustic cabins that can be very affordable (no bathroom in the cabin, but there are restroom and shower facilities onsite, and you have to bring your own bedding for those). There are also larger, multi-room cabins if you are traveling with another family, or have a larger family.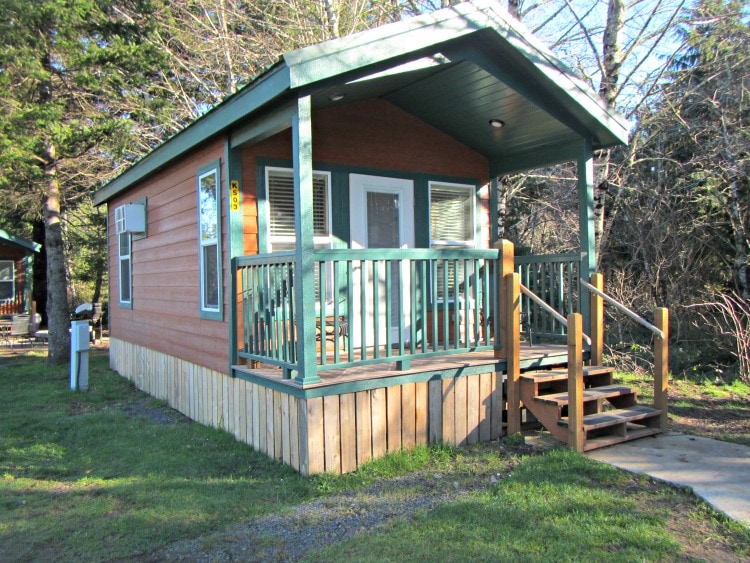 For this stay we chose this deluxe studio style cabin for $85/nt + tax. They do usually charge a $10 resort fee per night, but this was waived for us since the pool was closed. We did multiple KOA stays this year, so I joined their rewards program and saved an extra 10%, which made our cabin $76.50 per night + taxes (we explain how that works, and if it is worth it or not here).
There was a nice little porch area we would sit out at and have our coffee in the morning. There was also a nice fire pit ring and some chairs in front of the porch if you want to build a fire. We love this option to have the outdoor seating spaces when we are traveling, and a nice fire at night (our neighbors cooked breakfast over their fire each morning, and it was a great smell to wake up to). It allows our kids to be able to get out and stretch their legs, and we can watch them from the porch, rather then keeping them cramped in a hotel room at the end of the night. The outdoor spaces are one of our favorite things about staying in the cabins.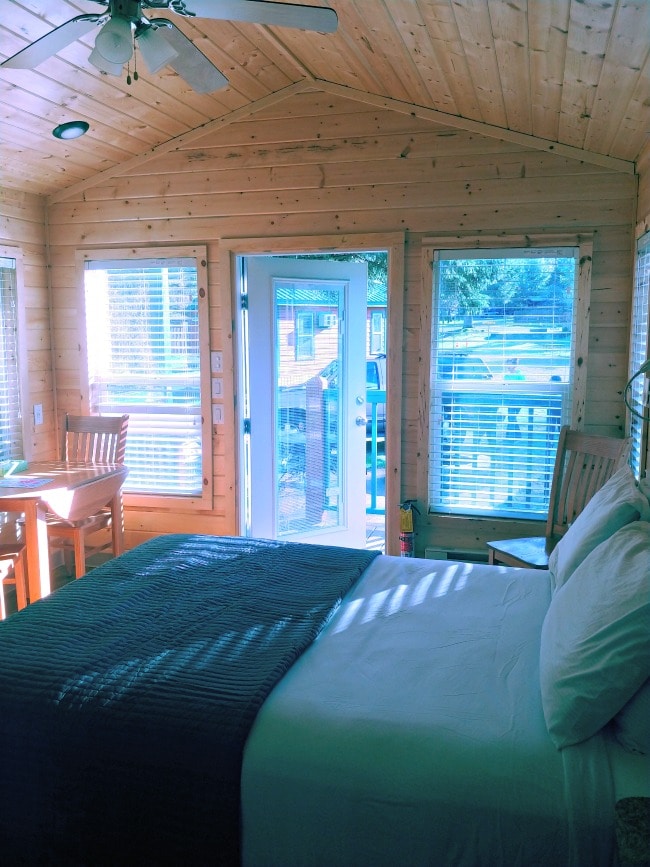 The main room of this cabin style had a nice double bed, a table to eat or play games out, a flat screen tv mounted to the wall, and a small kitchenette.
The kitchenette had a microwave, small fridge, and sink and was stocked with some dishes and utensils. You could make some simple meals here. There was also a coffee pot, to make some coffee in the morning with, so it does provide the option to save money on eating out if you want to plan your own meals. There was a countertop area too, so you could easily bring your crockpot and keep meal preparation simple that way. When we are doing more travel we find this to be another big perk, as we can decide if we want to eat out or in – and that can help save a lot of money.
This cabin was light and bright, and was heated as well, so we stayed toasty warm even in the off season. It also came with all the linens you need for your stay, just like a hotel will.
One thing to note here, is that unlike a hotel, it does not come with a daily cleaning service, so that is something to consider if you are staying over multiple days.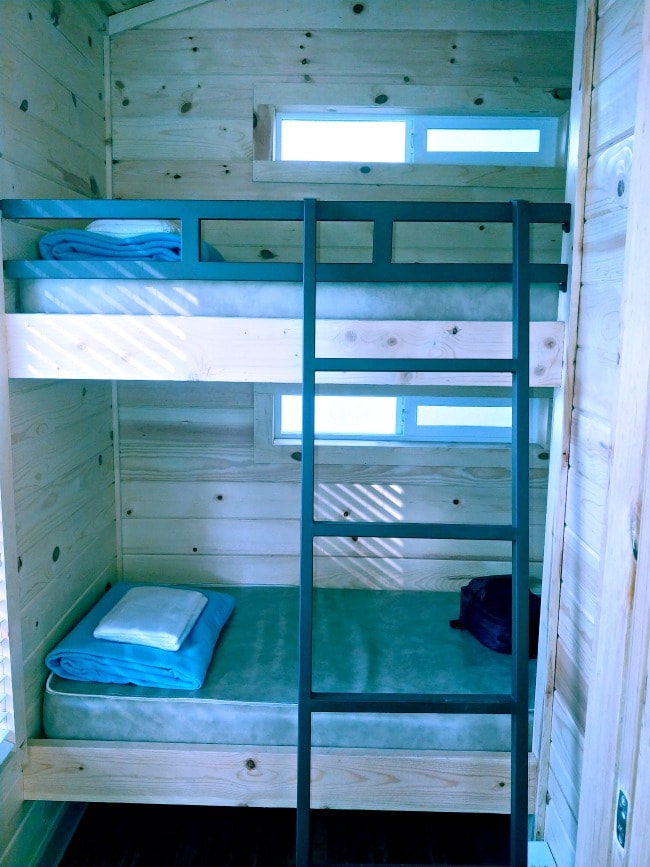 And this is one of my favorite features of these cabins. The kids can have their own separate space. Since the kids are never ready to go to bed at the same time we are, this is a huge perk for us. In this particular cabin, there are these cute bunks tucked into this niche (the pocket door closes, to give them their own space). My kids always love this, and it sure makes things easier on us as well.
We have stayed in other models that have an actual loft area for the kids (which my kids really love), but those are generally a little bit more.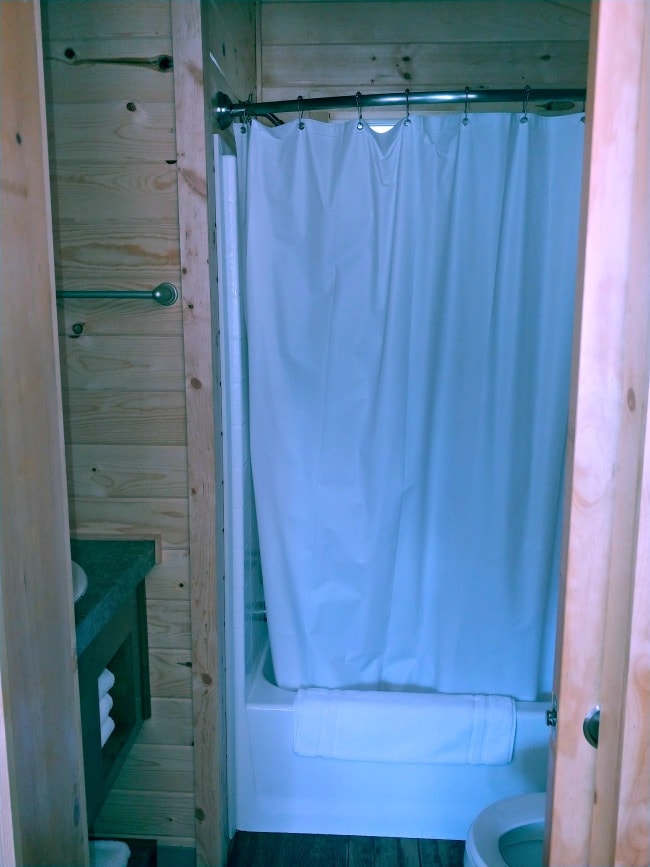 Our little cabin had a bathroom with a shower and bath tub in it. It also comes equipped with towels, and small soaps and shampoos.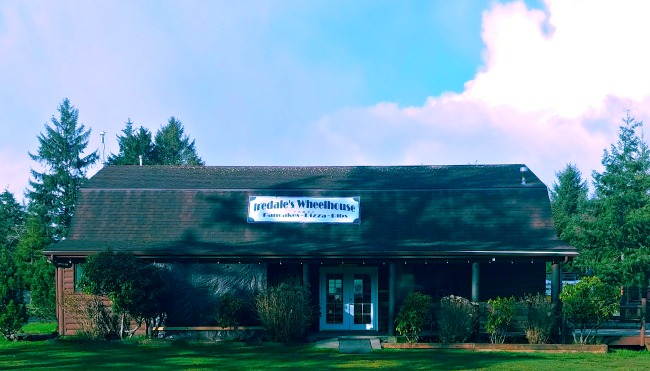 There is a restaurant that is open seasonally (so during the summer season) on-site. It was not open while we where there, but I did hear that during the summer you can get a free pancake breakfast there!

This is the outdoor pool, which is closed until the summer season. They do have an indoor pool as well, that was being remodeled when we stayed, but otherwise it is suppose to be open year round. I recommend you call before booking if the pools are important to you, as we did not receive notification it was not open until we arrived at the park.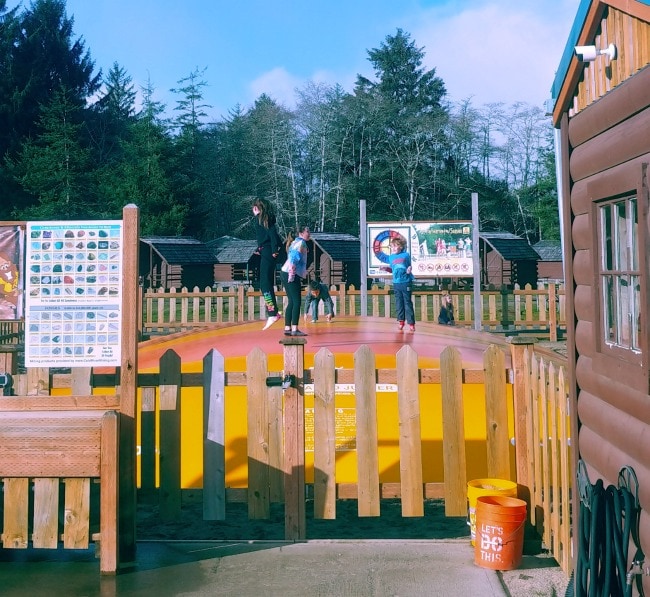 If you have stayed in a KOA resort before you are probably familiar with these jumping pads. They are similar to bouncy houses, only its is a large pad kids can jump on and have fun. My girls love them, and they are usually the first place they run to once we get settled in.
There is also putt putt golf, bike rentals, basketball court, and more activities for the kids to enjoy in this area.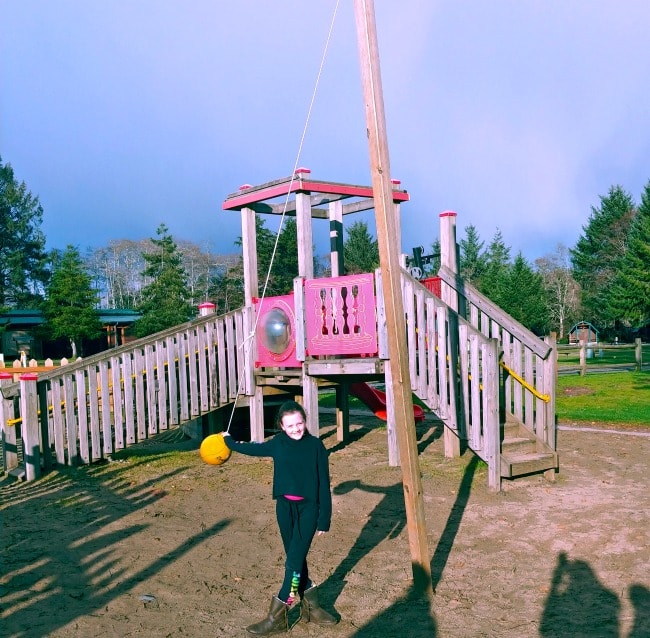 One of my daughters loves tether-ball, so we had to spend some time here playing! There is also a wooden structure kids can play out, and get all of their wiggles out.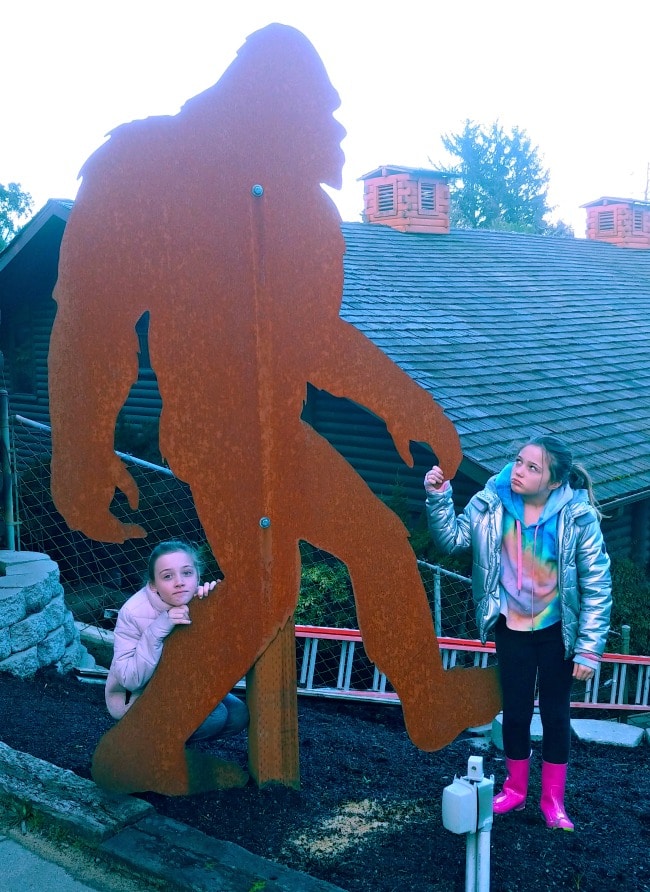 Photo opps abound in the park. My kids found Big Foot. There is also giant KOA Adirondack chair in the large game room that the whole family can climb into for a picture, or some fun scenes where the heads are cut out, and you pop yours through for a fun picture!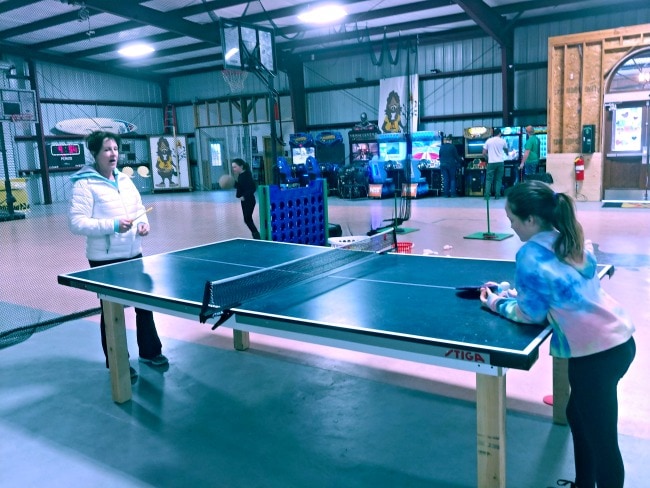 They have a large indoor game room, so that there is something to do year round if you plan to travel in the off season. We played ping pong, foosball, basketball, connect four and there are even some arcade games the kids can play for quarters. There is a second much smaller game room below the store as well, that has a few more arcade style games, and then a number of movies you can watch. You are able to borrow board games from in here to play with your family as well.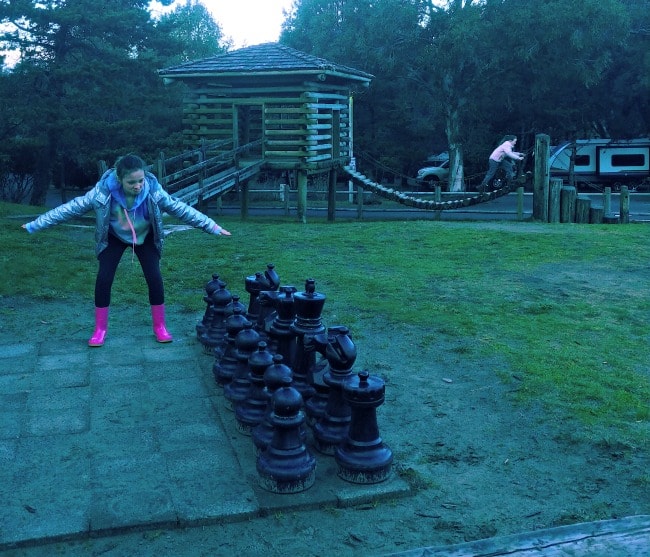 Here is a separate playground area, we discovered at dusk – so it was getting a bit dark out. There was a wood fort the kids can play on, and this large chess game. This area is located near the indoor pool (which was closed for remodeling while we were there). There was also a large outdoor kitchen area you could use to prepare meals in this area.
What to do in the area:
This is a great base camp if you want to explore multiple destinations in this area of the Oregon Coast. To start with Fort Stevens is right across the street from this KOA campground. Fort Stevens is miles long, so you will want to drive through it, but one of the entrances is directly across from this campground. You will also find Astoria to be a short drive to the North and the popular Seaside town a short drive to the South. There is also Cannon Beach a bit further down, and the Lewis and Clark National Historic Park to mention a few ideas. Here is a little more information on a few of these ideas.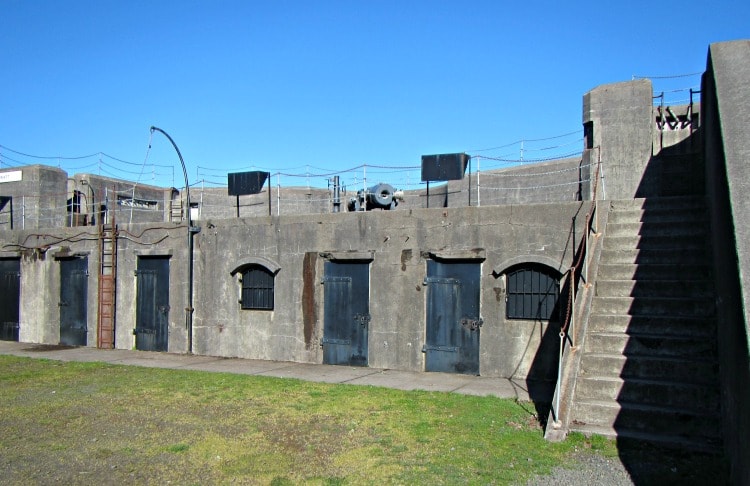 Fort Stevens is an old Military Installation that used to guard the Columbia River. It is an Oregon state park, and fun to visit. It will cost $5 to park there if you do not have a pass, but it was fun to explore for a few hours. There are a couple of different sections (and you will need to drive between them). There is an old shipwreck, as well as beach access in the section that is across from the KOA. They do also have camping and cabin rentals over here too, if you prefer a more natural setting. We spent most of our time exploring the old military installation area.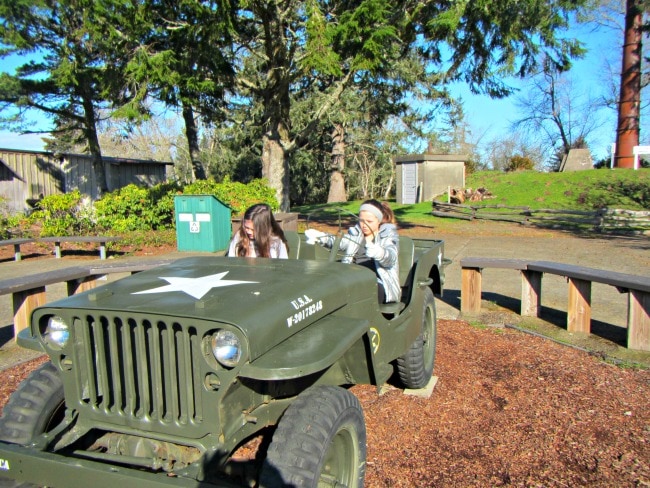 There were buildings to walk around, cars to climb in and a small museum you can visit..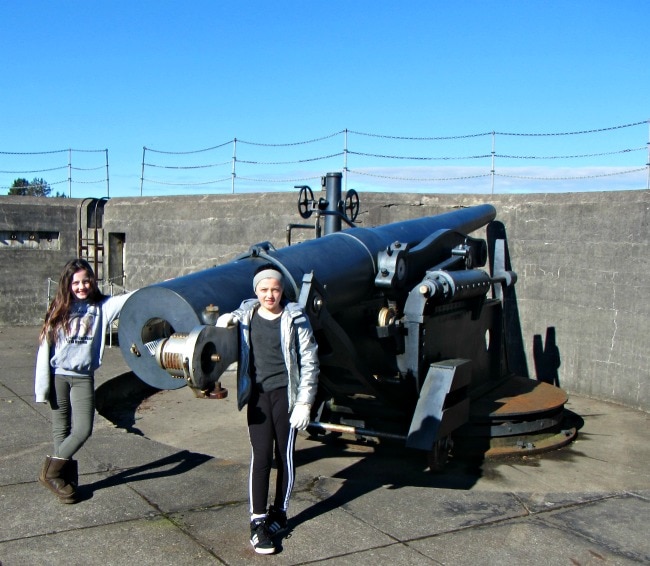 There is so much history built into the fort, and it is a great learning opportunity for the kids as well as having lots of fun while they are learning.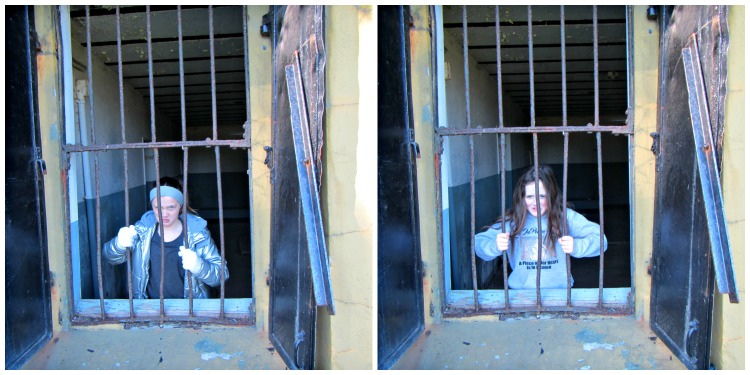 My kids where misbehaving, so I had to lock them up for awhile when we were visiting. Of course I am kidding here, just one more area for them to have fun in this bunker that was built into a hillside. It was so neat to see the bunker from the front, but it just looked like a hillside from the back.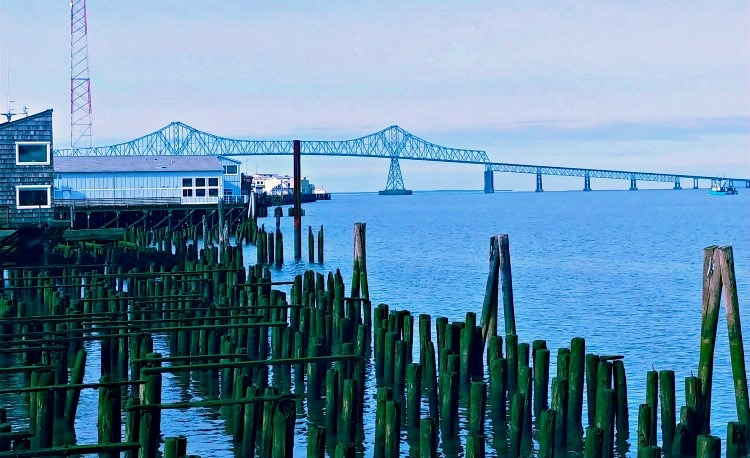 Astoria – 
We stopped in Astoria for lunch one day, and had a wonderful time. We ate at the Astoria Brewery, and loved our meal, plus we had a view of the waterfront. You can take a trolley ride along the waterfront, or walk it. There is a Maritime museum that looked like lots of fun, as well many other shops, a harbor and more to explore.
One restaurant that was recommend to us by many people, was Bowpicker Fish & Chips. It sits across from the Maritime museum, and was closed when we were there. They serve the Fish & Chips right out of this boat, so you can eat in your car or head over by the waterfront and eat picnic style. We heard they had great fish and chips.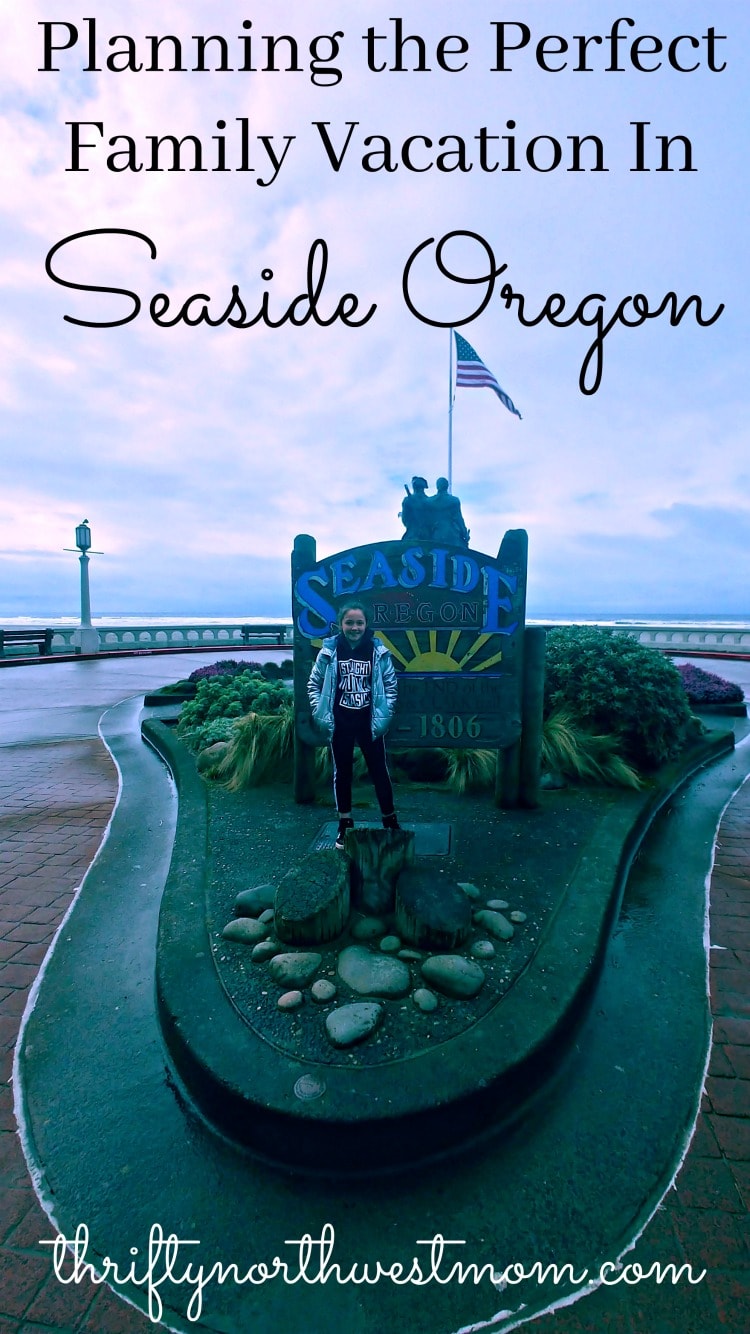 Seaside is about a 10 to 15 minute drive from the campground (it is an easy drive), and it is a spot you will definitely want to visit if you are in the area. Not only is there a nice sandy beach to play out, but it is full of things to do for the whole family. There is an arcade, bike riding, peddle boat rentals, restaurants, shops, carousels and much more.
Be sure to check out our article here on What to Do With Families in Seaside Oregon. My family loves this spot. There is so much to do, and it is more affordable then many beach type vacations.
In general we really enjoyed our stay at this KOA. If you want to explore multiple locations, I think its a great spot in between many of them, but also someplace that offers family fun right on-site. If you are planning on spending most of your time in one location (like in Seaside), then you might want to consider lodging options closer to town.