Seaside Oregon Family Guide (Where To Stay, Things To Do & More)!
This post may contain affiliate links and I may be compensated for this post. Please read our disclosure policy here.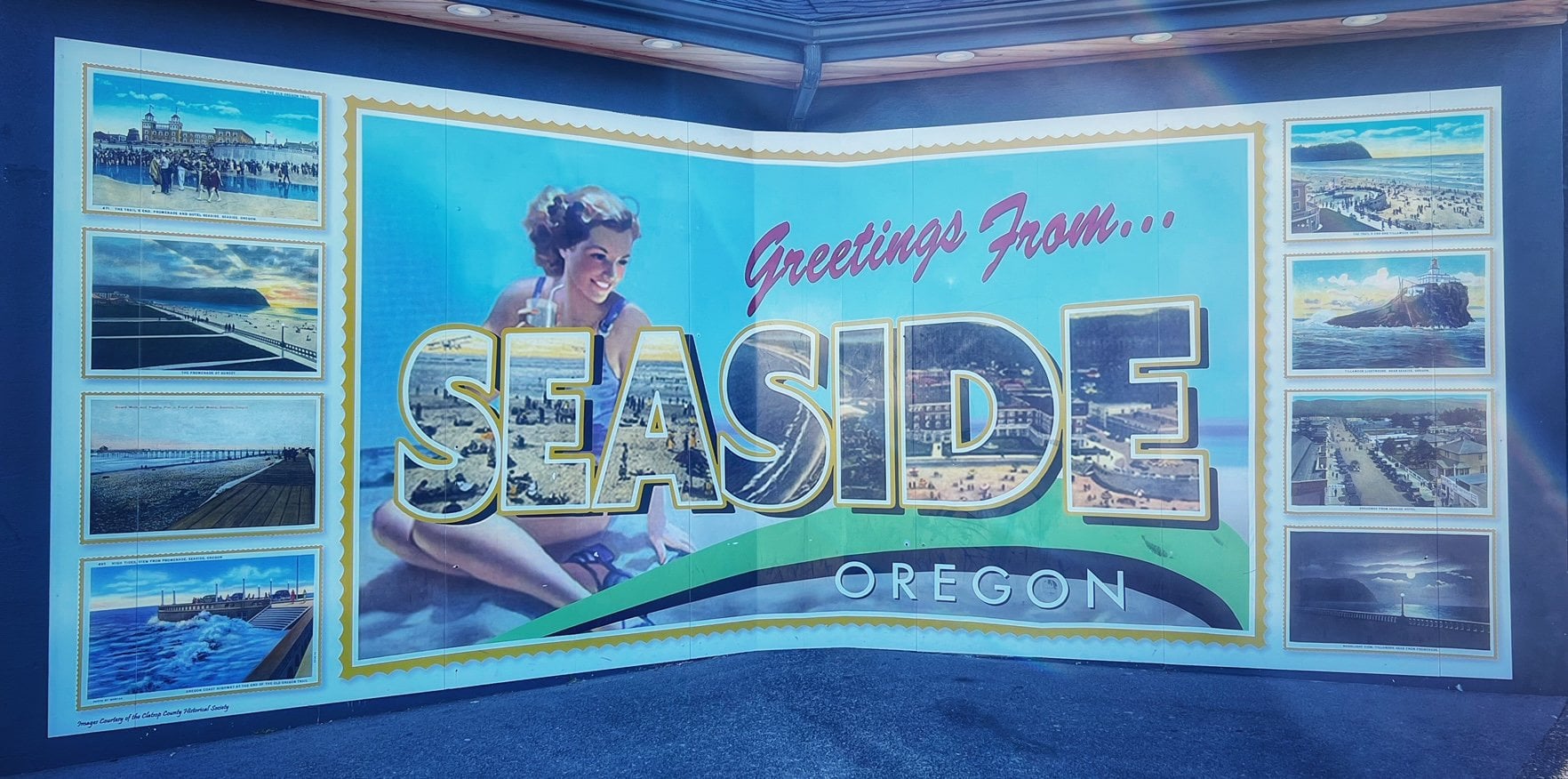 Seaside Oregon – The Perfect Ocean Destination for Families!
We love to visit Seaside Oregon. I visited for the first time as a teen for the beach volleyball tournaments and immediately fell in love with this ocean side town. We stopped through on our way back from California this summer and decided we had to come back for a longer stay as soon as we had the opportunity. Since then we have made multiple trips here, including our favorite – summer time, as well as during the off season when you can get the best rates (like winter break in February). This destination provides those of us in the NW with a spot that is not too far away, not too much money, and provides lots to do for the entire family. Seaside fit the bill perfectly if you are looking for a fun beach getaway, that is going to feel like you had a true beach vacation. While it's an ideal summer getaway, there is fun to be had all year long.
One of the keys to keeping a Seaside Oregon vacation budget friendly is to plan ahead a bit and decide where you want to spend your money. There are many budget friendly lodging options, and if you get one with a kitchenette, you can cook your own food. There are many low cost activities, but you could also spend more than you planned on these if you do not make a plan and stick to it.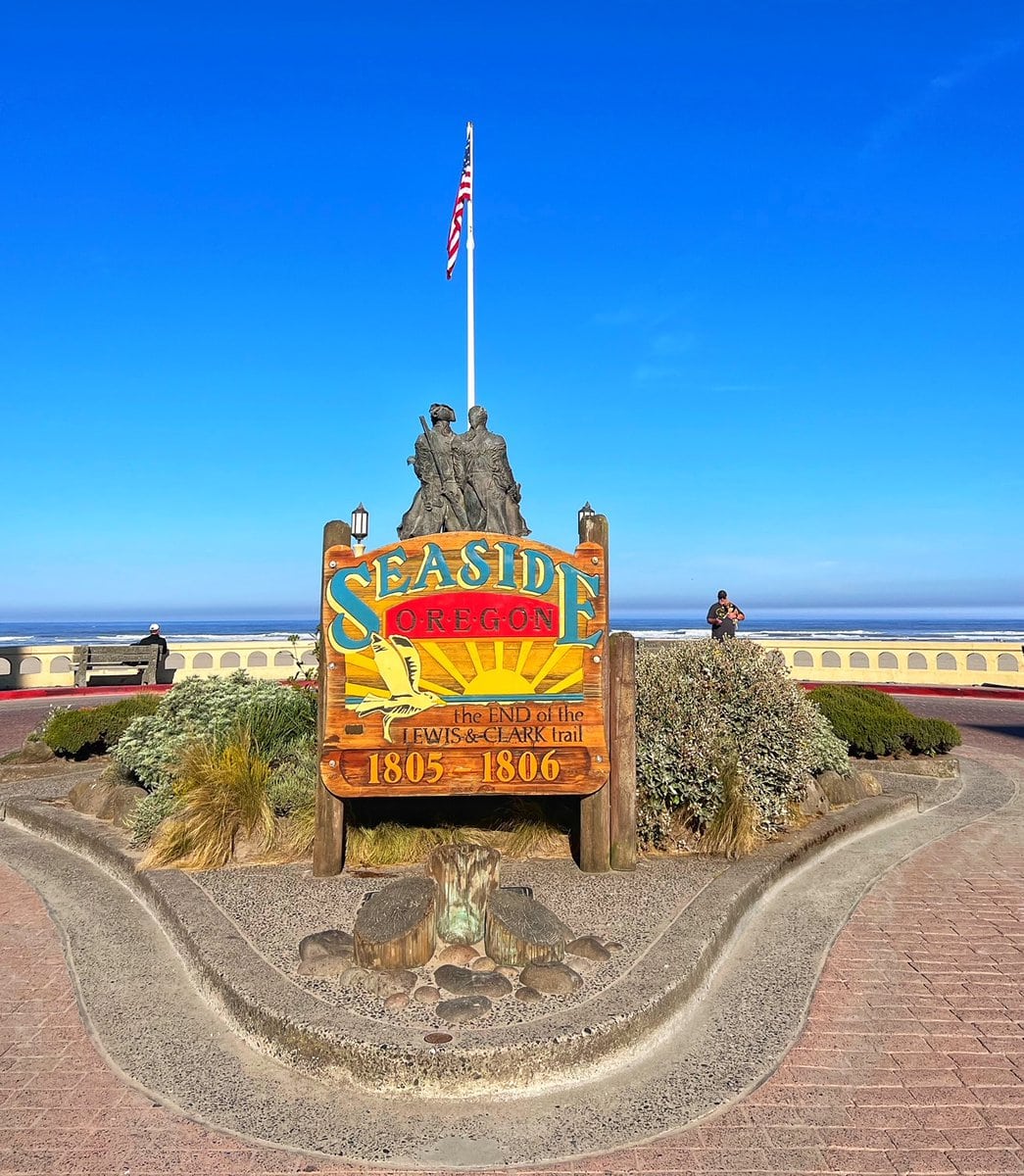 Things I love about Seaside:
It is in driving distance from many NW cities. It is about a 3.5 hour trip from the Seattle area, and about an hour and half from Portland.
You can often find great room rates.
Besides the ocean (which is awesome), there are many activities for the family to enjoy – so it is great for all ages!
There are other great day trips you can enjoy, using Seaside as your base.
Hotels In Seaside Oregon, Cabins & More – Where To Stay:
Seaside has fun spots for all different kinds of family sizes, and travel styles. You will find the best deals in the off season, but summer is an amazing time to visit, and with a little hunting you can usually find a deal then too.
A few hotels in Seaside + other options, we have stayed in, and loved include: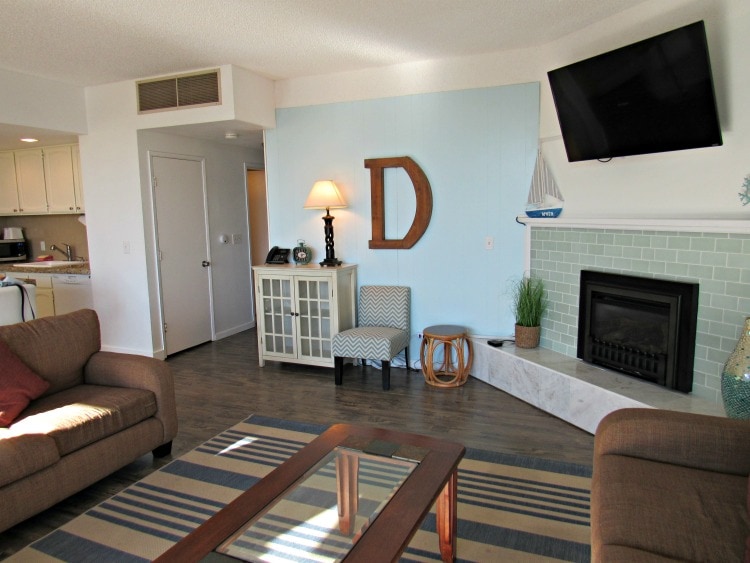 Sea & Sand Condos – on the Promenade –
The Sea and Sand Condo, which is right on the promenade in Seaside, with ocean front views, is one of our favorites. We loved our stay here, and you can read our full review on it here. This was a great option, if you want to stay right in the heart of it all, with ocean front views and an indoor pool too.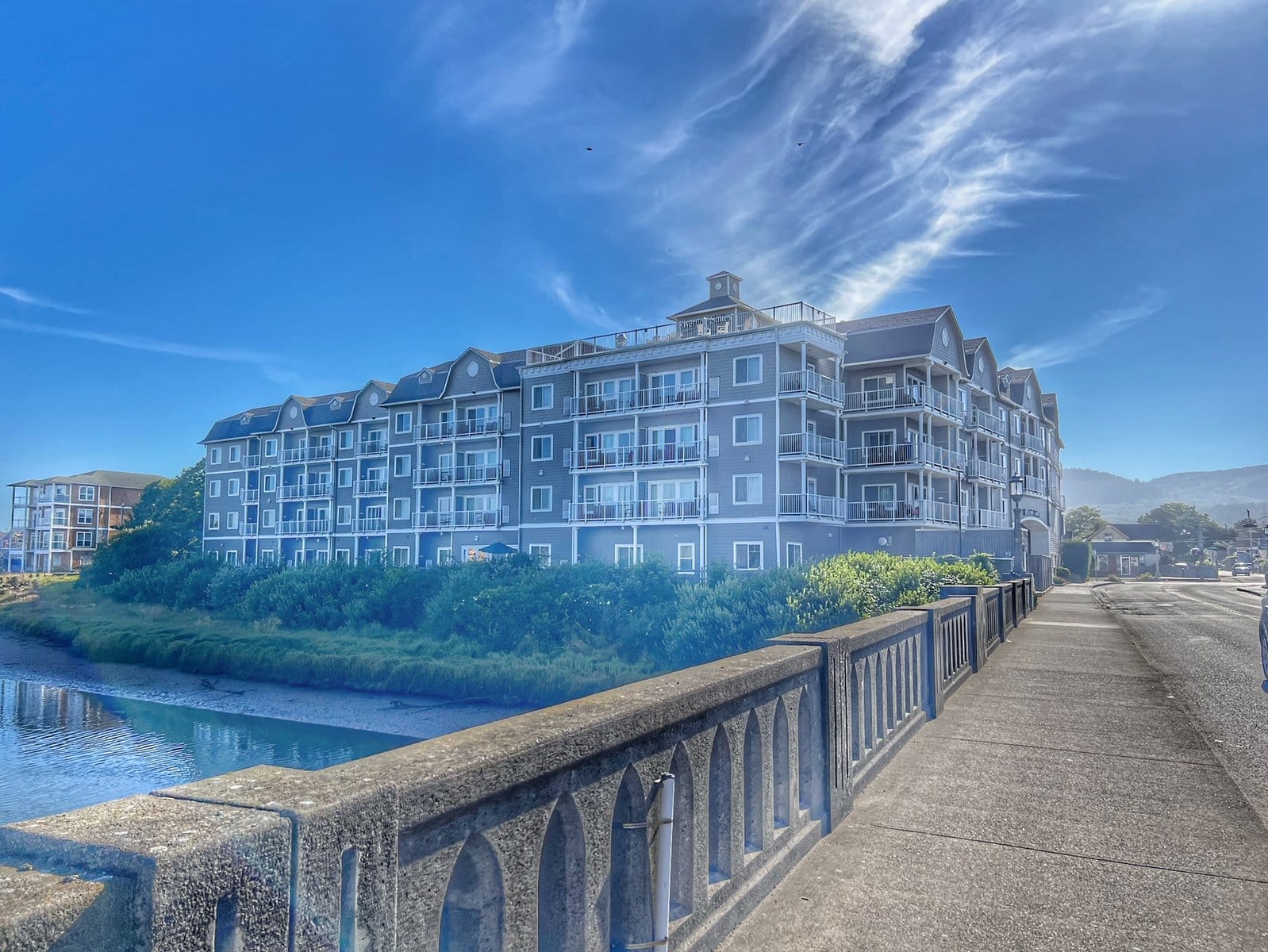 Rivertide Suites
This is an all suites hotel up on the river. The rooms are spacious, and include a kitchen to cook in – which we loved. We got a unit with a balcony overlooking the river, and it was very nice to have a water view. There is free breakfast (which we enjoyed) and indoor pool and free parking too. It is about a block off the main street (leading down to the promenade), so the location was very convenient to everything in Seaside (beach, shops, restaurants and more). I would stay here again in the future for sure!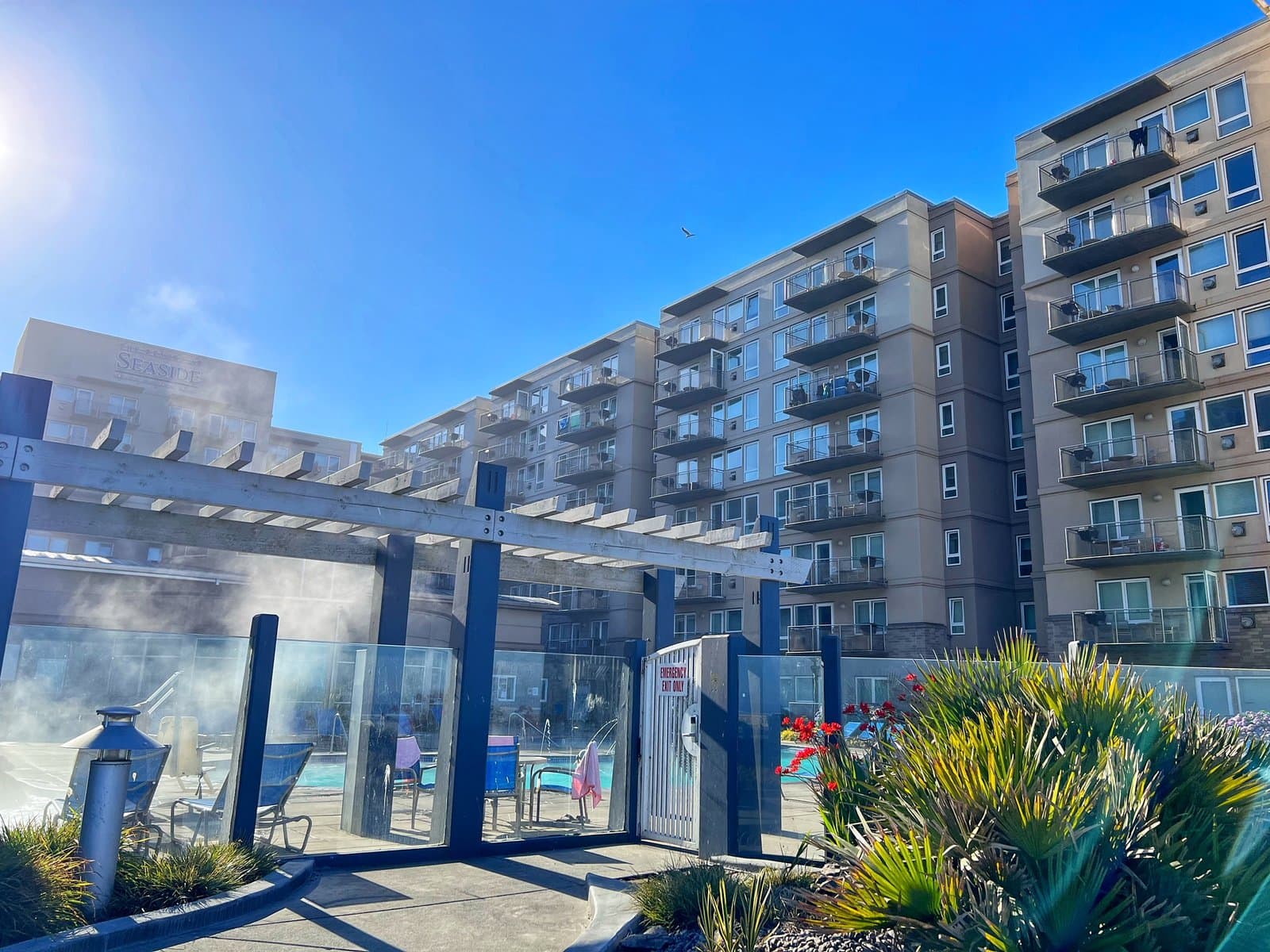 If you're looking for something a little nicer in the area, the Wyndham Resort is right at the end of the main street drive, where all the action is, and they offer family sized condo options too. They had a nice outdoor pool, so it would be great for a summer stay. This spot was more expensive than most of the others we looked at, so keep that in mind too.
Rentals –
Beyond Hotels, there are a number of home rentals available in the area (through vacation rental locations or AirbNb etc). These are wonderful options if you want a little more room to spread out, don't care about hotel amenities (like pools and breakfast) and don't mind a short walk (although some are pretty close). The town is full of these options, and they will vary quite a bit in size, price and location – so look around for the right fit for your family.
Campgrounds & Cabins –
You will also find a few campgrounds and cabin options in the area. Camping can be one of the most affordable options in the area. A few ideas include….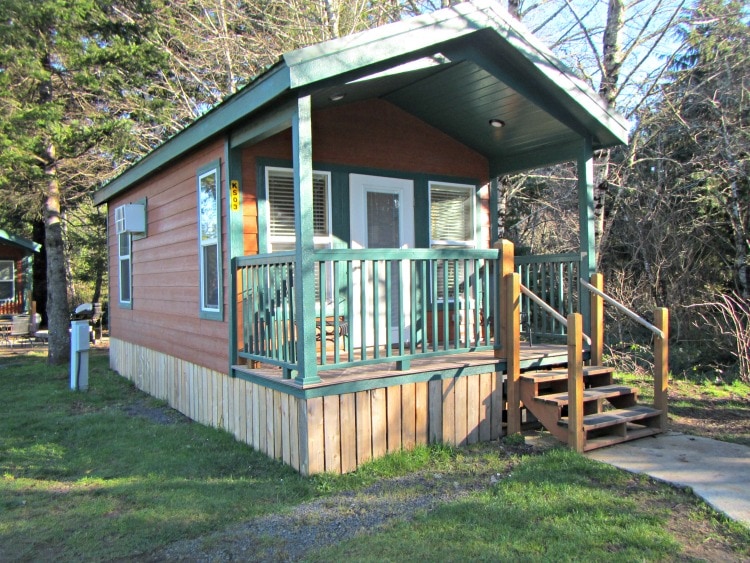 KOA in Warrenton – this location is situated between Astoria and Seaside, so it is a good option if you want to visit both places. We also loved it, as it is right across the street from Fort Stevens, and has plenty of family friendly activities. We love to rent their cabins. You can find options with heat and little kitchenettes. We stayed at a number of KOA's during our travels this summer. Not all KOAs are created equal, some locations we love, and some are just ok. We really enjoyed our stay at this location.
Some highlights include: 
Indoor and outdoor swimming pools (there was some remodeling going on, so be sure to make sure they are open when you book your stay).
Great cabin options!
Game room
Outdoor amenities include: Putt Putt, bikes you can rent, jumping pillow, playground and more!
Right across the street from Fort Stevens
About 20 minutes from Seaside, and 10 to 15 from Astoria if you want to explore both
This spot sits just outside of town, and offers camping sites, RV sites, and multiple cabin options – so it is a nice option if you want to be close to all the action.. They have an indoor pool, clubhouse, playground and sports courts and more.
Things To Do In Seaside Oregon –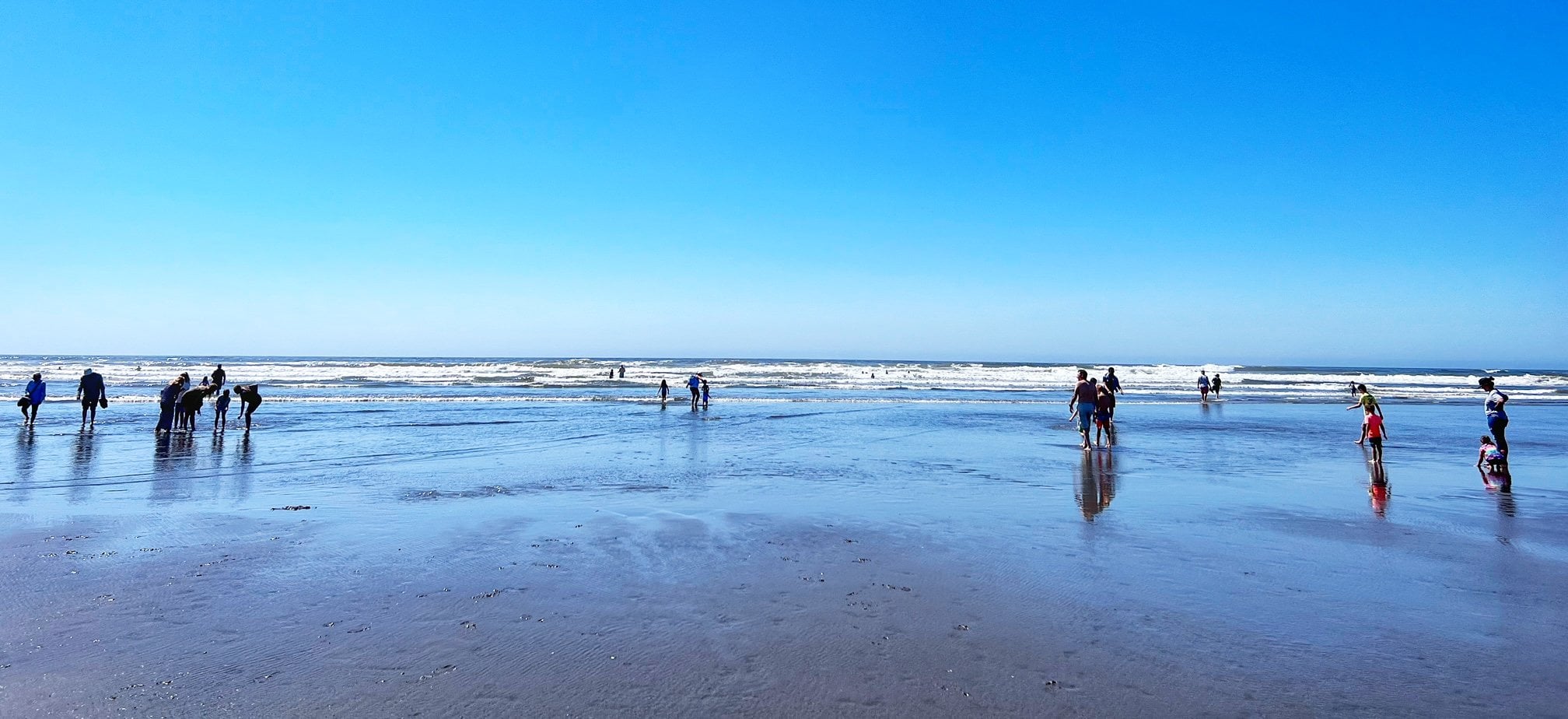 Enjoy the Beach!
This is the best part of visiting Seaside, and its completely free once you are there. Pack all of the things you love for a great beach day, and enjoy the sand and surf. There are volleyball courts if you want to play in the sand, swing sets for kids, and lots of room to spread out and enjoy a wonderful day at the beach with your family.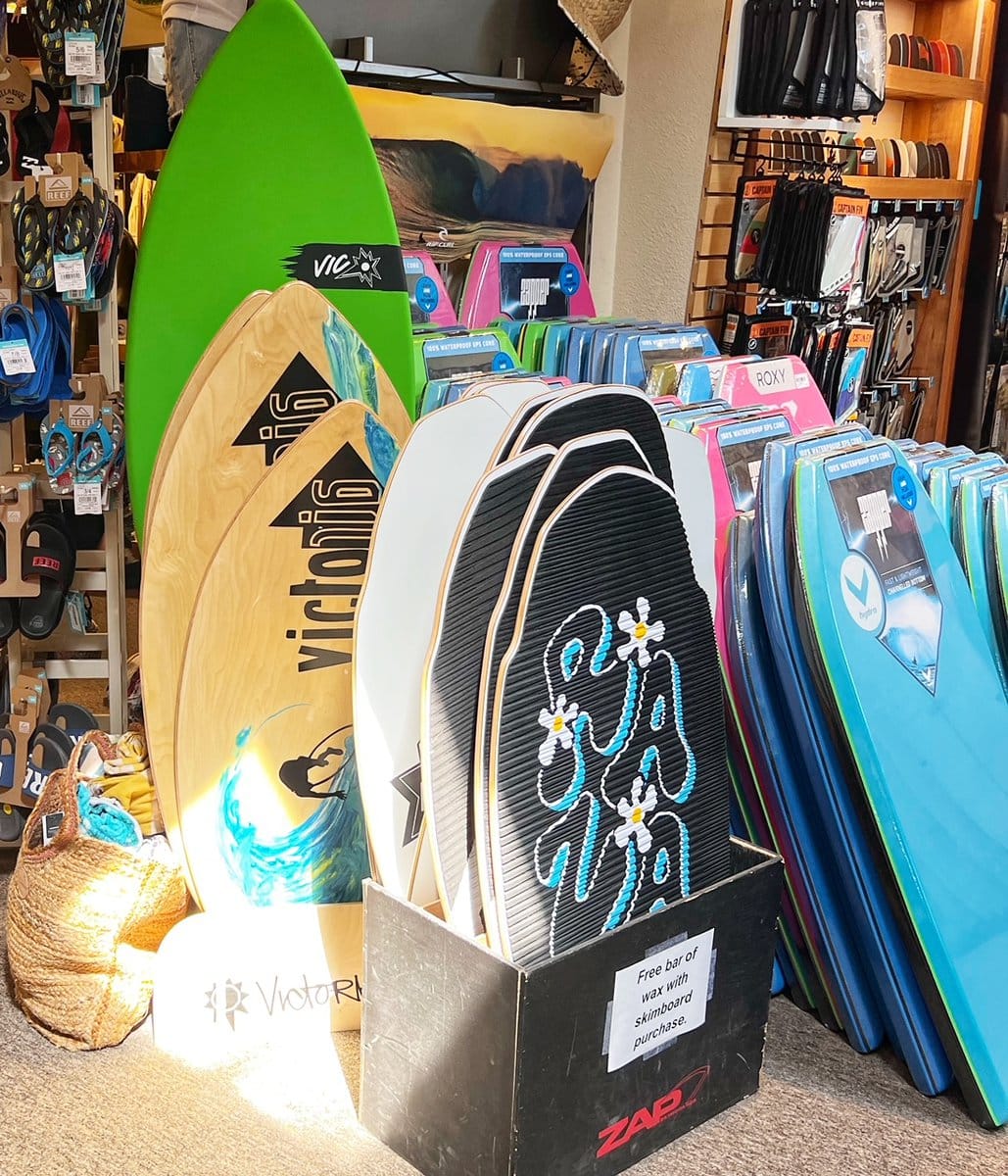 Rent Skim Boards or Surf Boards –
This was one of the more affordable options in the area. Head up to the surf shop, and you can get a skim board for $20 for the day (you can pay $5 more dollars to keep it overnight and return it the next morning). That is a pretty good value for a days worth of fun. You can use the skim boards on the sand right in the Seaside area, or if you want recommendations for better beaches in the area to use these just ask in the shop. They were great about providing all the info you need.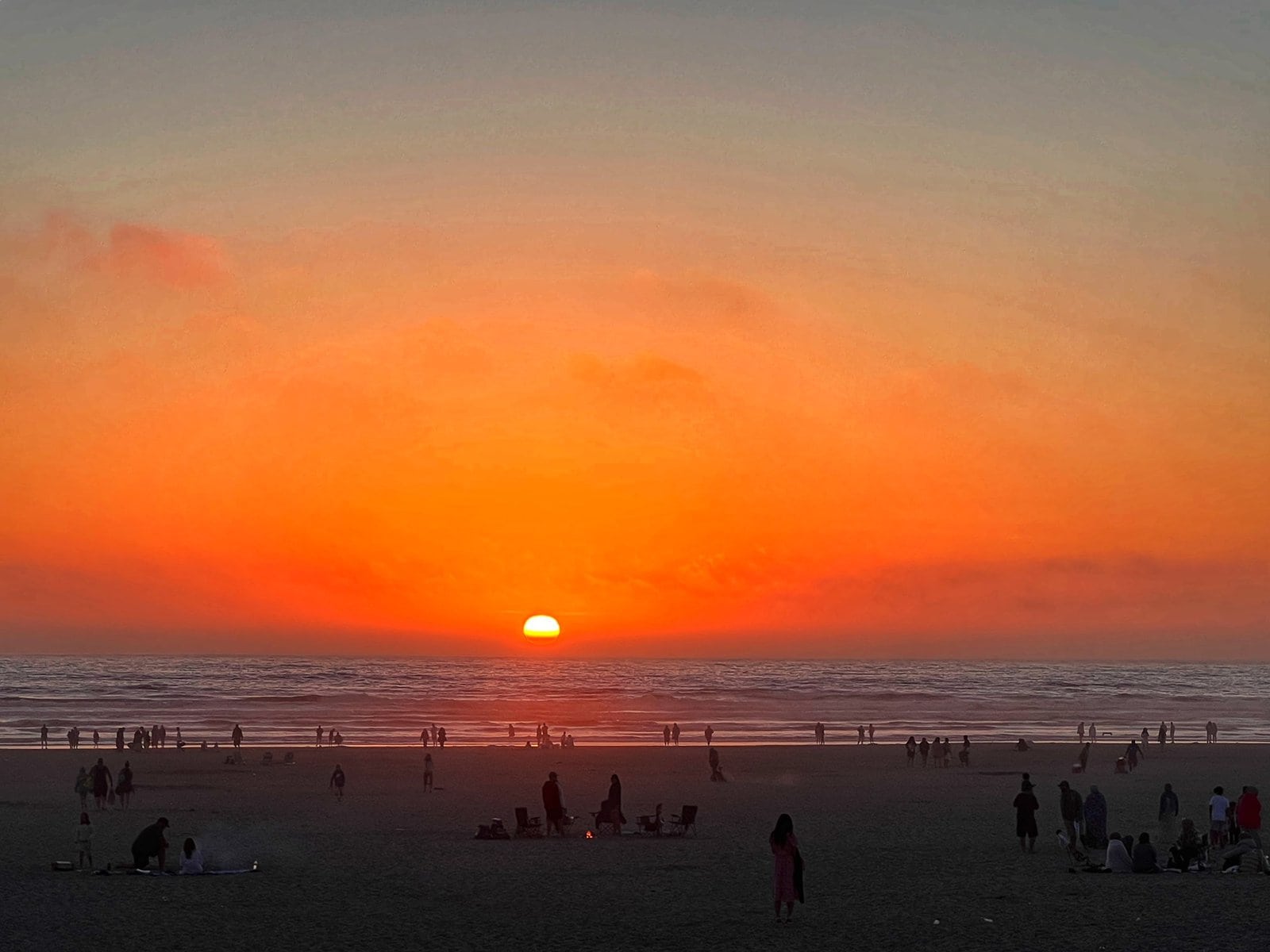 Take in a Sunset!
The sunsets here were gorgeous. My kids where at the beach every single night to watch sunset. You can also easily watch it from the promenade if you do not want to walk down into the sand. The weather here can be a little unpredictable (a layer of fog will set in some days), but for the most part the sunsets in the summer are pretty amazing. Definitely worth the trip just for these.
Once the sun has gone down, the town lights up and you can enjoy a beautiful dinner out, hit one of the many ice cream shops for a treat, or head over to the arcade for lots more excitement too.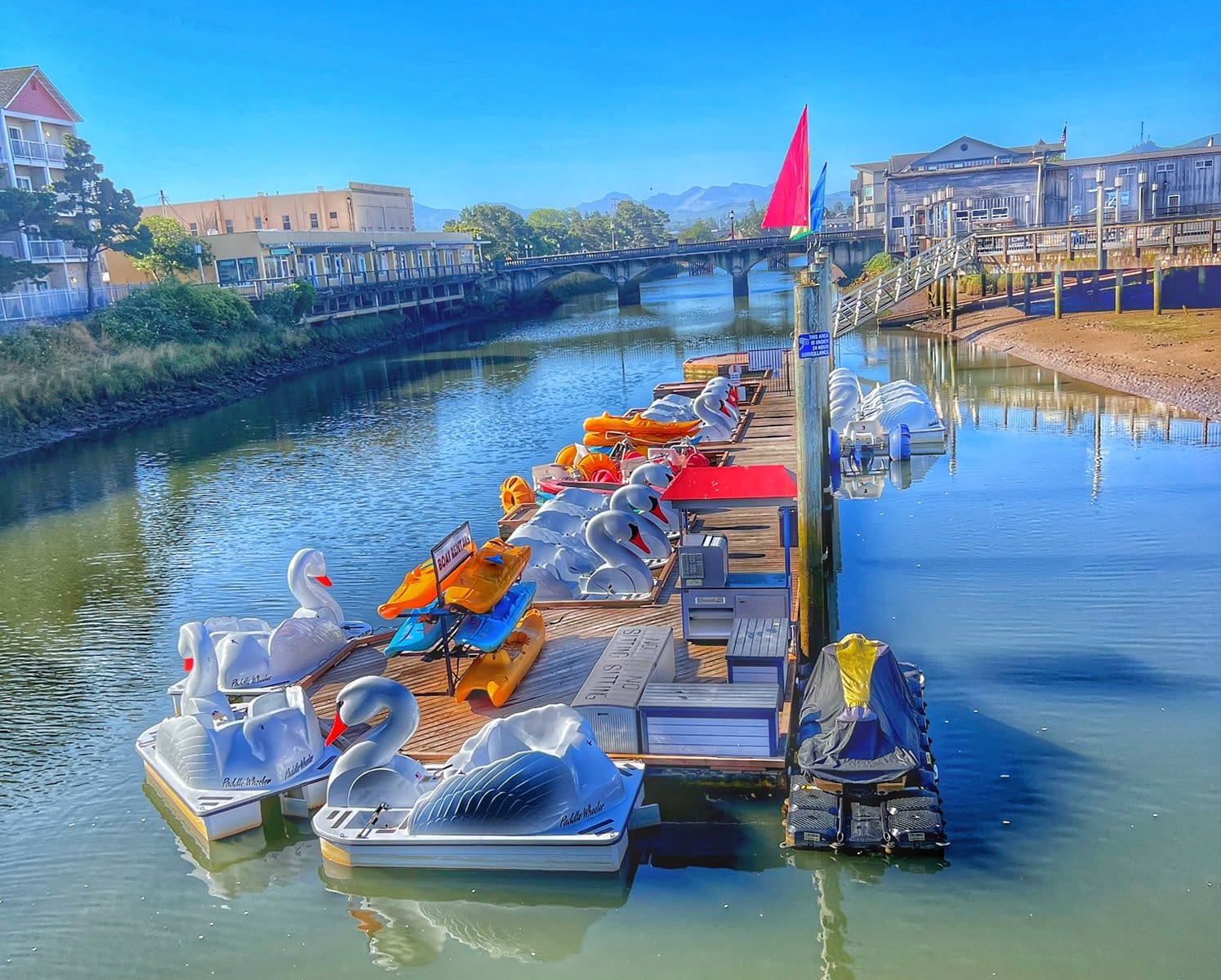 Rent a Paddle Boat, Paddle Board, Kayak or Ski Doodle!
Head a few blocks up from the beach to the river, where there are a number of fun rentals to enjoy. This was one of the least crowded areas during our recent summer trip, and is a great way to spend an hour or two. Find rental options and prices here.
The town is full of shops and eateries, and so spending a day just going through all of that is always fun. There are a number of candy stores, and we always stop in for salt water taffy and Australian licorice!
There is a Sharkies store on the main strip shopping area, that is a favorite spot of ours to find sweatshirts. They also have some fun VR pods too. Not only do they sell various sweatshirts and tees, but you can also customize them in the store by mixing colors and patterns at no extra cost..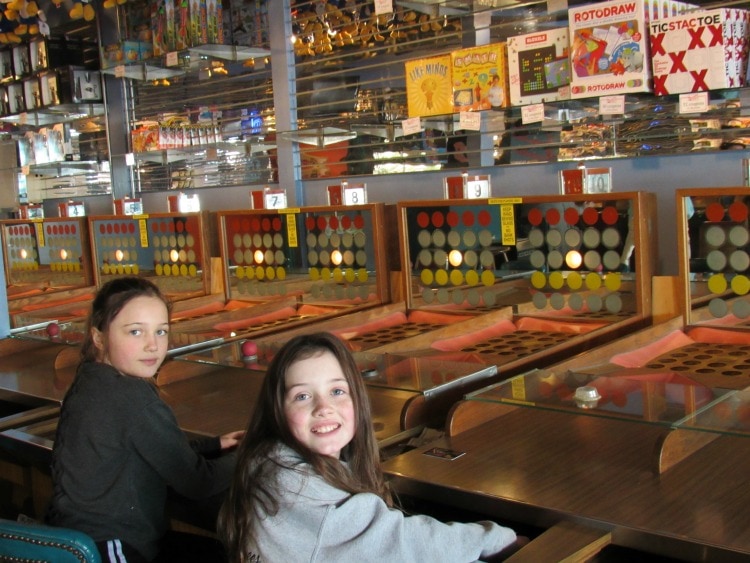 There is a full blown arcade, but we did not find the games to be cheap in general. Many of them will run you about $1 per game (you load a game card that you use). One great exception was the Fascination Roll Em game.
Our favorite thing was the Fascination Roll Em game, where you can play for just $0.25 cents a game (even less if you go during their specials!). We all played together, and you can actually win quite a few tickets this way (we won around 9,000), that can be redeemed from prizes at the prize counter. This game is not open during all of the arcade hours, so be sure to check out the hours during your visit. It was one of our favorite spots to have some family fun indoors.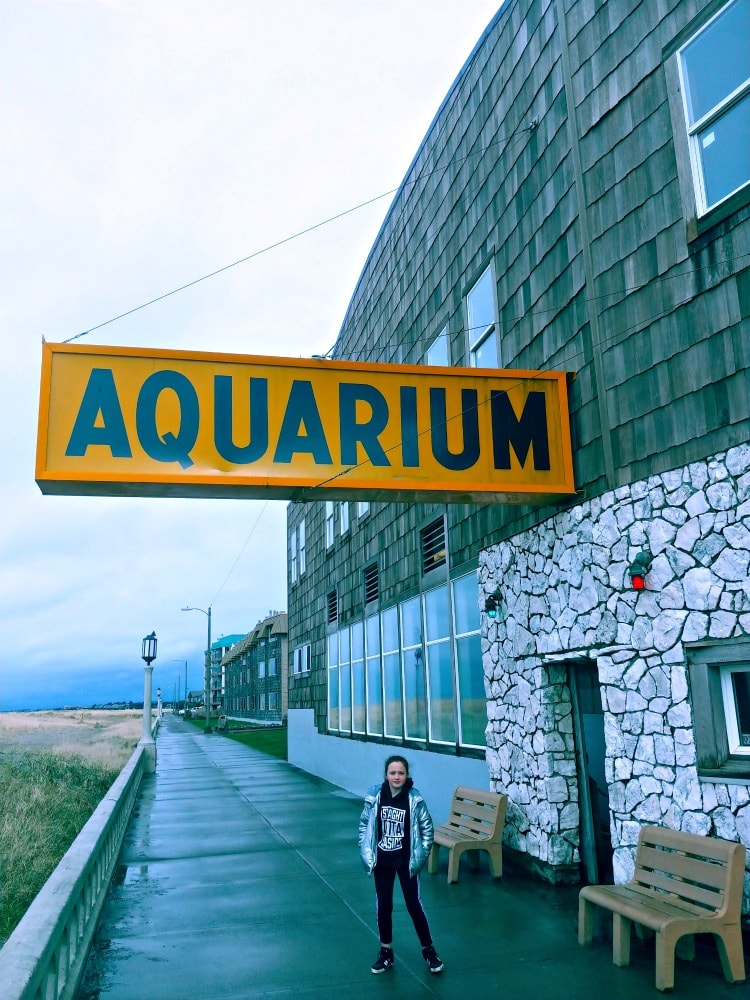 The Seaside Aquarium is small (but also not too much money). The highlight of the aquarium for my kids was definitely feeding the seals. They splashed around and put on quite a performance for the kids, making lots of noise and performing for the food. It was a lot of fun. You can find free food coupons in some of the flyers in Seaside (see below) or go at 4pm when they feed the seals and watch them perform.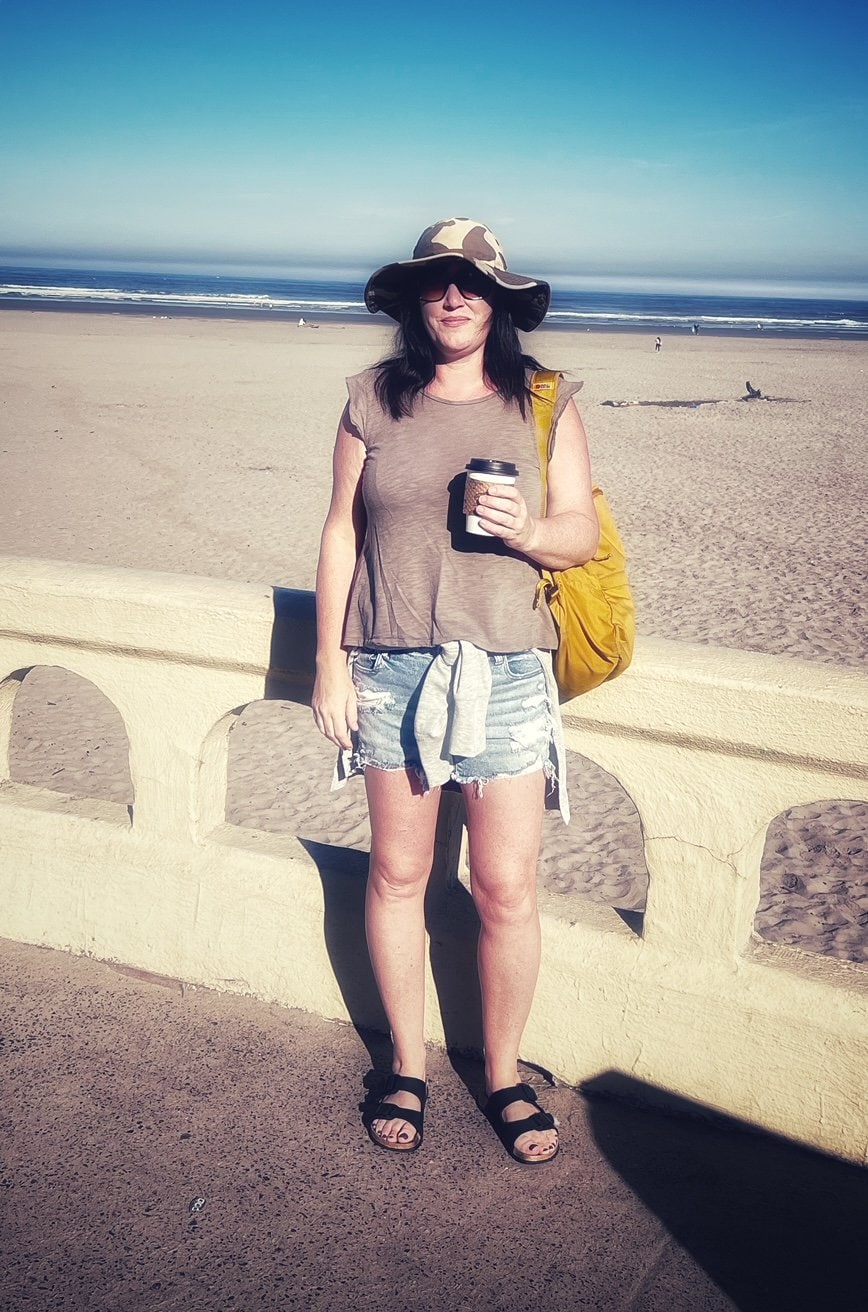 Ride Bikes, Scooters, Walk The Prom & More!
This option is perfect if you visit in the summer or the off season. The seaside promenade is 1 1/2 miles long from end to end, and all of it ocean front! There are many trails leading down to the ocean, and it is a nice paved walk way with plenty of room to walk, or ride bike, scooters and more. We love to start each day off by grabbing a cup of coffee and enjoying a nice morning walk.
In the summer there will be many people out enjoying it, but if you head over in the off season you might end up having it to yourself!
There is also another little piece of history that you can explore when you head down the promenade to G street. It's the Salt Works park.
Enjoy rides (like bumper cars or tilt a whirl) or play Putt Putt Golf
It's only open seasonally (and we missed the open hours), but there are a few carnival type rides, as well as putt putt golf right in town. There are also bumper cars across the street at the arcade as well.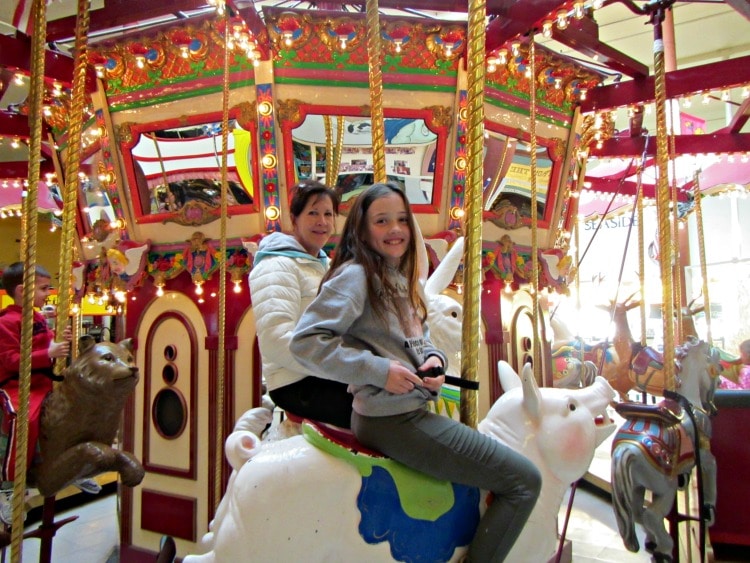 Visit Carousel Mall and ride the carousel, and check out the shops
The Carousel Mall is not large, but it is full of charm. There is an old carousel you can ride for just a couple off dollars. There are also a number of stores to visit (including a fun toy store the kids will want to check out). There was a hat store we loved, and a wall full of pamphlets and notices about things like free pancake breakfasts and whatever happens to be going on in town during your visit.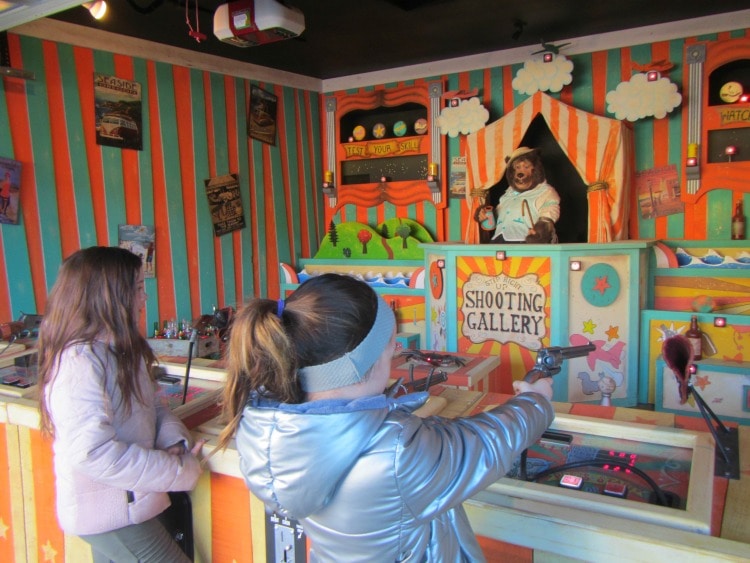 Enjoy the Carnival Style Attractions Here!
There are some fun things for kids to do, that are reminiscent of visiting the carnival. We found a shooting gallery, bumper cars, tilt a whirl, and putt putt golf, right on the main strip area.

Most of these attractions are set up to pay as you go, and they can add up, so I suggest setting a budget before taking the kids here. You will also find delicious corn dogs and elephant ears to enjoy as well!
Restaurants In Seaside – Where to Eat!
Maggies on the Prom
This is a great spot for fresh food, like their Strawberry Hazelnut salad, or Charcuterie Board and a drink. We always head in here without kids, as it is a bit pricier, but they do have a kids menu too if you want to bring the whole crew.
Finns (Outdoor and Indoor Seating)
We really liked the outdoor seating around the firepits at Finns. The Crab Melt was delicious, and their menu is pretty big and full of options. It is a great spot to stop for drinks too.
Sams Cafe 
Ok, all the kids agreed this spot had the best fries and onion rings. If you are looking for a great beach cafe, this is one to try for sure. This is also my favorite spot to grab fish and chips (I prefer it over Mos).
Mos Sits on the Beachfront at the Shilo Inn, if you like this spot. Mos are popular up and down the coast here, and are a good spot to grab some fish and chips or chowder if you want.
Pig N Pancake 
This is another spot that seems to be popular in many of the Oregon Coastal town, and they serve up quite the breakfast. There was a wait out front each day we walked by, so be sure to get your name in here early if you can.
Toras Sushi Lounge
We did not make it in here – just ran out of time, but it was packed every time we walked by, so I figured it must be great. In fact, outside of Pig N Pancake at breakfast time, it was one of the busier restaurants we saw. It looked like they served a variety of Asian food, so if you are looking for Sushi, or more you might want to check this one out.
Ice Cream, Ice Cream and more Ice Cream…
We make an ice cream stop a daily habit when we visit. It is one of the best things about beach vacations. There are a few options in Seaside, so be sure to save room for Ice Cream!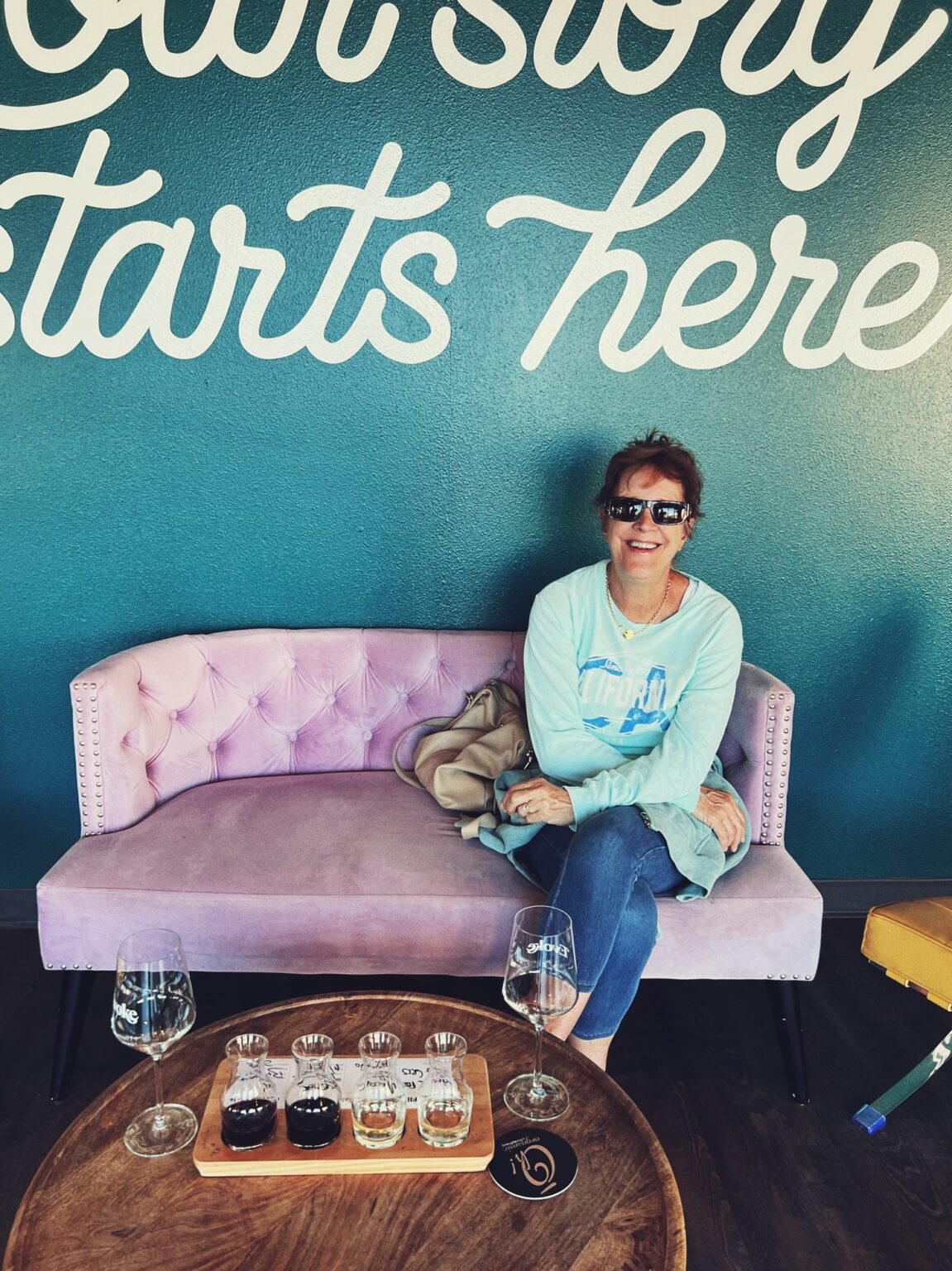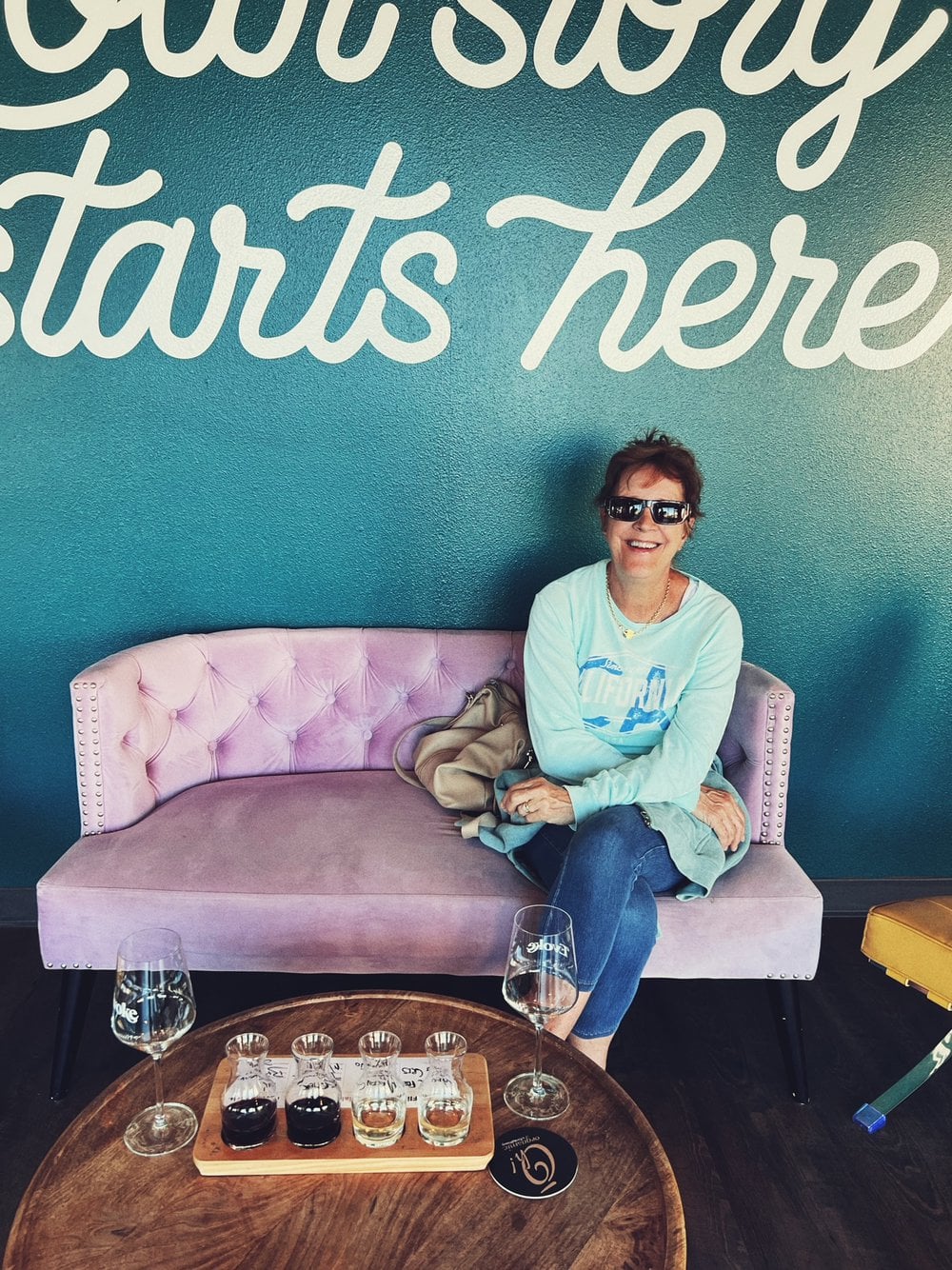 My mom posing for our wine tasting at Evoke – was so fun!
Wine Tasting
If you have the opportunity to break away from the kids, there is a small wine tasting room right around the corner from the theater. It is called Evoke (their winery is in the Hood River area and they only have a few tasting rooms). It was one of our favorite tastings, the wine was just so smooth. There are other spots in the area, but this you can simply walk to, and we loved it here.
There are a number of options to eat at while in Seaside. You can hit the grocery store and cook at your room, if it has a kitchen. There are lots of spots to grab a bite and go, as well as sit down restaurants to enjoy too. Here are some of our favorites.
Tips for visiting:
Be sure to check the hours of any restaurants or attractions you want to visit. During the popular summer season, most places will be open. However, during the off season, many local businesses are closed during the week, and then open on the weekends. If you want to enjoy these attractions and shops, it is important to pay attention to when they are open or you may be disappointed.
Look for coupons – we found many during our trip, including some that will get you into attractions for free! We asked a couple of stores, where we were making a purchase, if they had any coupons for the other sites around. We were given FREE VIP tickets to the Inverted Experience (but it was closed while we were there unfortunately), and free coupon to feed the seals (you still have to pay the aquarium admission fee, but the food to feed the seals with was free). We also found many restaurant coupons for the area too, so keep your eyes peeled for these (and don't be afraid to ask in the shops where you might find them)!
Day Trip Ideas from Seaside:
Astoria
Astoria is about a half hour North of Seaside. We stopped for lunch on our way back home, and look forward to heading back for a day trip soon. The views where beautiful, and there was a great Maritime museum that I look forward to visiting. It is also home to the filming of many movies (like Goonies), and more museums to explore.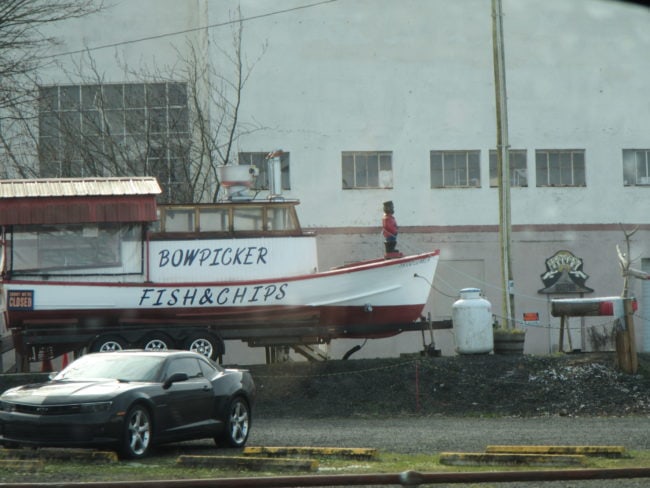 If you're looking for a recommendation on where to eat, we loved the Astoria Brewery with the waterfront views. Many also recommended that we try Bowpickers for fish and chips (it was closed when we were there) but it's a boat you drive up to and order what I heard was great fish and chips. It looked fun!
Fort Stevens
Fort Stevens is a historical fort that is now run as an Oregon State Park. We spent about an hour there looking around, but you could spend longer. It was a $5 parking fee, but well worth exploring the old fort and learning about the history. There is a small museum here, and you can drive to some beach front areas as well as an old and well known shipwreck monument! It is located in the Warrenton area, so about 20 minutes outside of Seaside.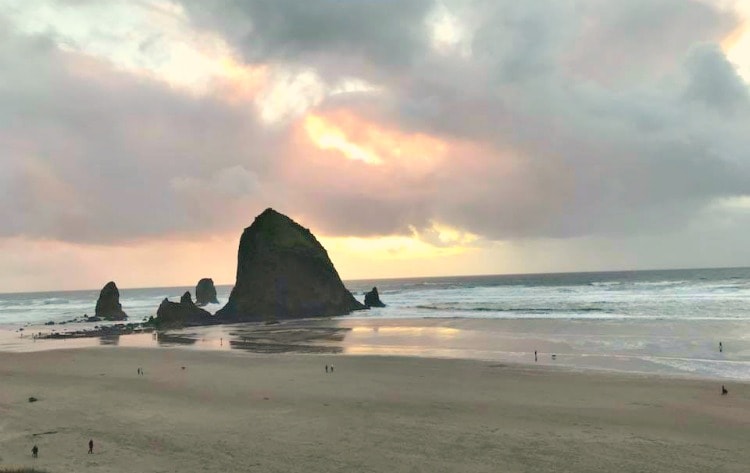 Cannon Beach
Cannon beach is home of Haystack rock and a pristine beach area just a bit further down the coast from Seaside. If you're looking for more beach space to explore, head down and enjoy lunch here.
Do you have favorite things to do in Seaside that we missed? If so, we would love to hear from you!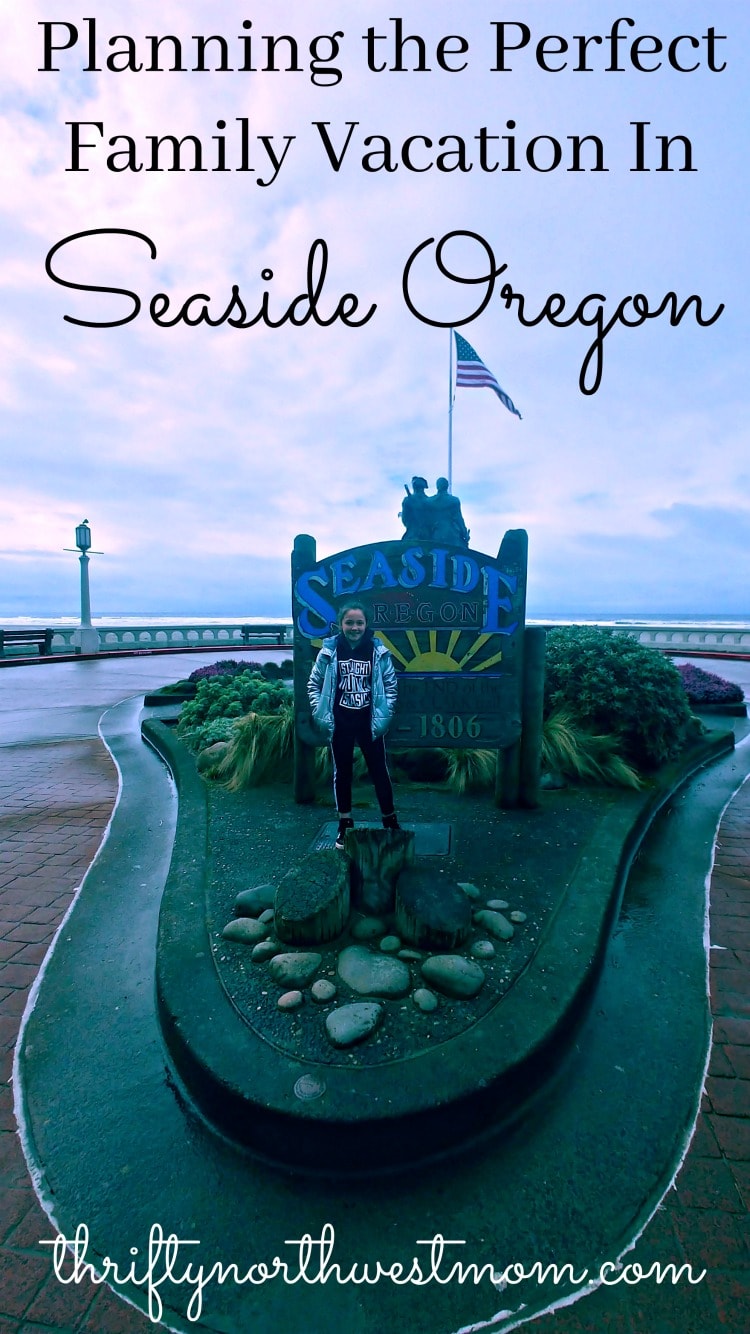 More articles you might be interested in: