Seaside Oregon – Planning a Family Getaway (Where To Stay, Things To Do & More)!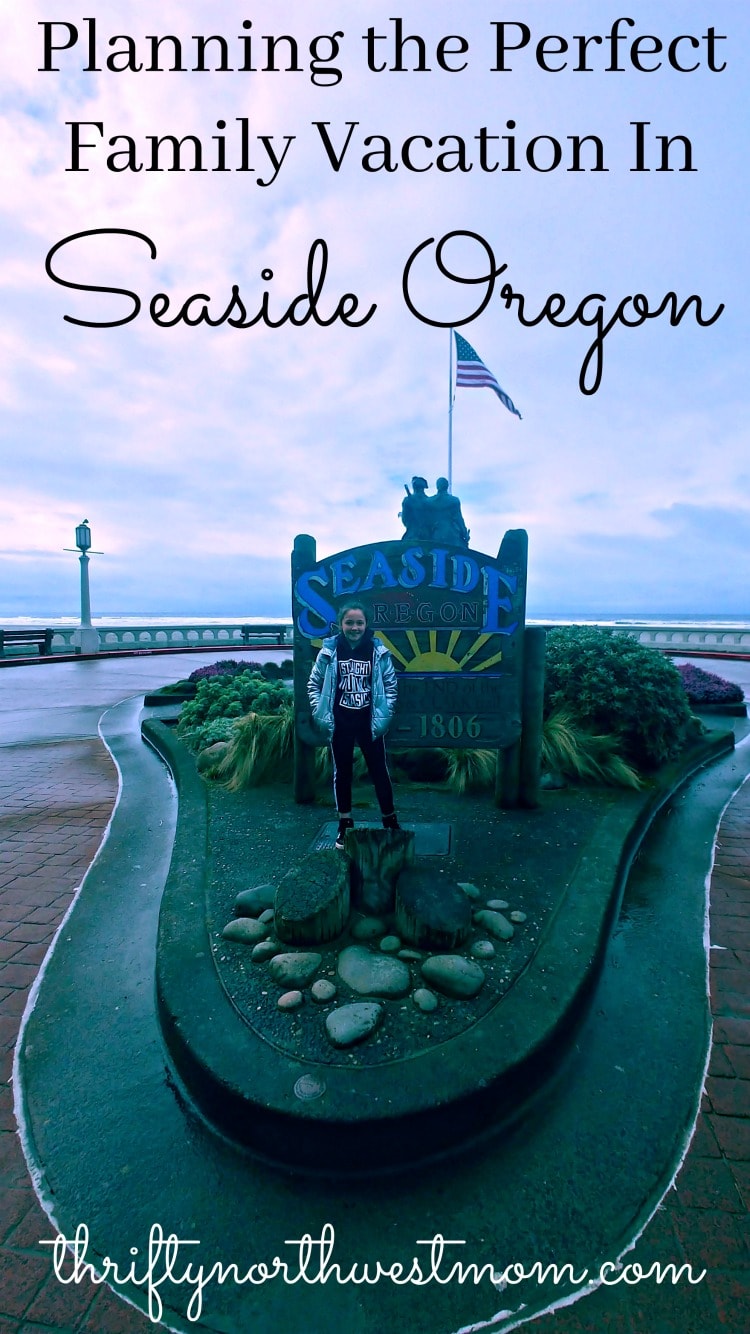 The Perfect Seaside Oregon Family Vacation!
We love to visit Seaside Oregon. I visited for the first time as a teen for the beach volleyball tournaments and immediately fell in love with this ocean side town. We stopped through on our way back from California this summer and decided we had to come back for a longer stay as soon as we had the opportunity. That opportunity presented itself recently during the kids recent Winter break in February. We were looking for someplace that was not too far away, not too much money, and provided fun for the entire family. Seaside fit the bill perfectly. While it's an ideal summer getaway, there is fun to be had all year long.
One of the keys to keeping a Seaside Oregon vacation budget friendly is to plan ahead a bit and decide where you want to spend your money. There are many budget friendly lodging options, and if you get one with a kitchenette, you can cook your own food. There are many low cost activities, but you could also spend more than you planned on these if you do not make a plan and stick to it.
Things I love about Seaside:
It is in driving distance from many NW cities. It is just over a 3 hour trip from the Seattle area, and about an hour and half from Portland.
You can often find great room rates (as low as under $50/nt)!
Besides the ocean (which is awesome), there are many activities for the family to enjoy.
There are other great day trips you can enjoy, using Seaside as your base.
Where to stay:
Seaside has some great deals this time of the year.  I recommend checking Groupon for discounted rates on local hotels. We found hotels for as low as $44/nt. Note that many of the hotels in this area are more like hotels (and some a bit dated), so be sure to read reviews and make sure it's a good fit for how your family likes to travel.
A couple of current deals, with dates through Winter Break or Spring Break include:
We stayed at two locations during our last trip, to give you an idea of some more fun options in the area: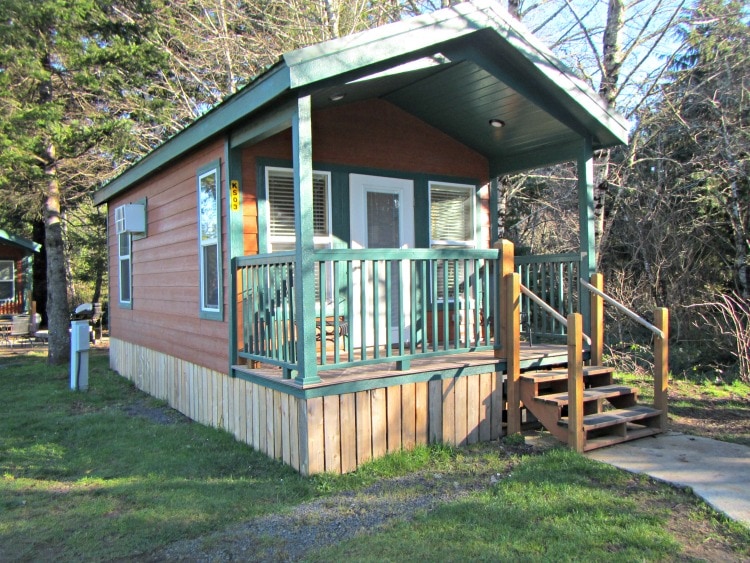 KOA in Warrenton – this location is situated betweeen Astoria and Seaside, so it is a good option if you want to visit both places. We also loved it, as it is right across the street from Fort Stevens, and has plenty of family friendly activities. We love to rent their cabins. You can find options with heat and little kitchenettes. We stayed at a number of KOA's during our travels this summer. Not all KOAs are created equal, some locations we love, and some are just ok. We really enjoyed our stay at this location.
Some highlights include: 
Indoor and outdoor swimming pools (there was some remodeling going on, so be sure to make sure they are open when you book your stay).
Great cabin options!
Game room
Outdoor amenities include: Putt Putt, bikes you can rent, jumping pillow, playground and more!
Right across the street from Fort Stevens
About 20 minutes from Seaside, and 10 to 15 from Astoria if you want to explore both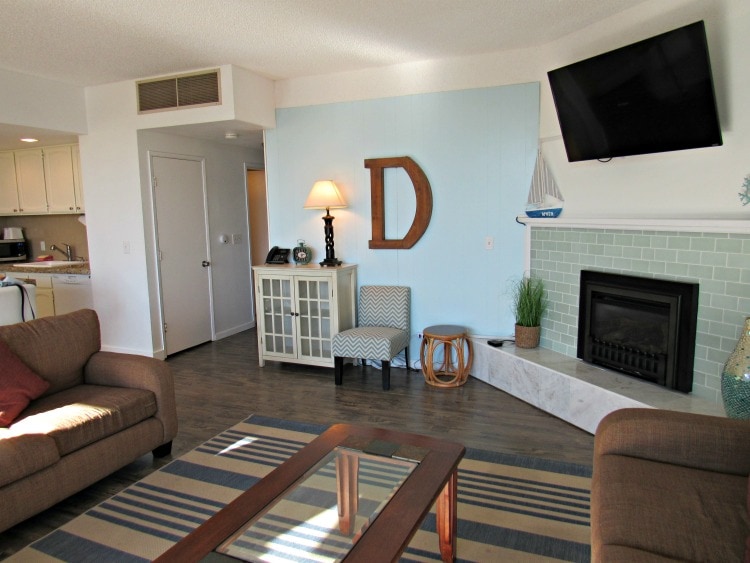 We moved from the KOA to the Sea and Sand Condo, which is right on the promenade in Seaside, with ocean front views. We loved our stay here too, and you can read our review on it here. This was a great option, if you want to stay right in the heart of it all, and not have to do much driving.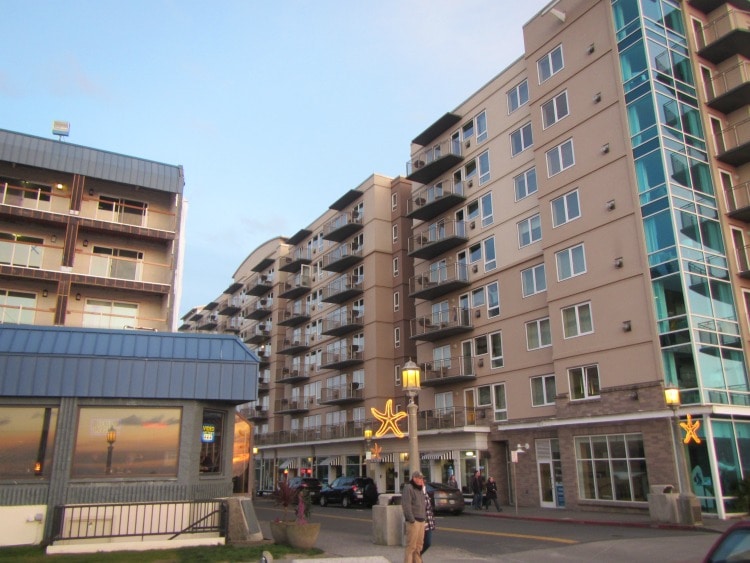 If you're looking for something a little nicer in the area, the Wyndham Resort is right at the end of the main street drive, where all the action is, and seemed to be one of the most updated hotels in the area. They had a nice outdoor pool, so it would be great for a summer stay.
What to do:
There is a Sharkies store on the main strip shopping area. Not only do they sell various sweatshirts and tees, but there is also a mechanical shark that you can ride (like riding a mechanical bull).  This was $10 per person, but you do get 5 rides for that price. They go quick, so it's not a cheap one, but my kids thought it was pretty cool.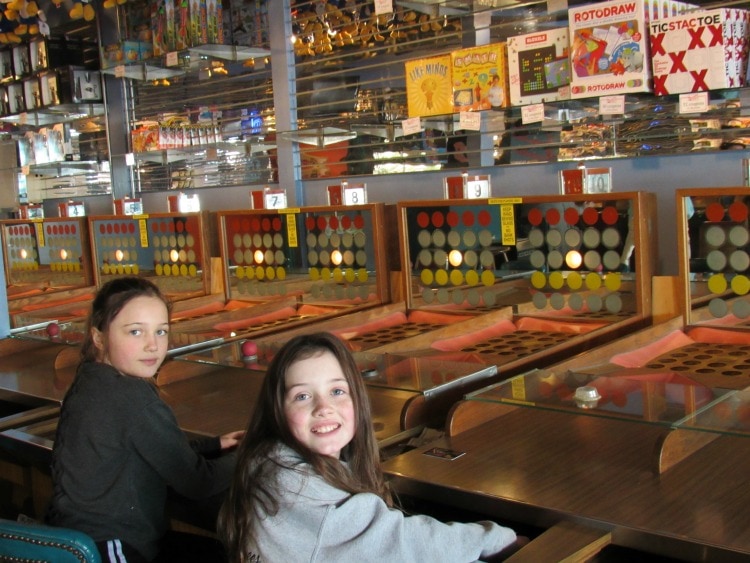 There is a full blown arcade, but we did not find the games to be cheap in general. Many of them will run you about $1 per game (you load a game card that you use). One great exception was the Fascination Roll Em game.
Our favorite thing was the Fascination Roll Em game, where you can play for just $0.25 cents a game (even less if you go during their specials!). We all played together, and you can actually win quite a few tickets this way (we won around 9,000), that can be redeemed from prizes at the prize counter. This game is not open during all of the arcade hours, so be sure to check out the hours during your visit. It was one of our favorite spots to have some family fun indoors.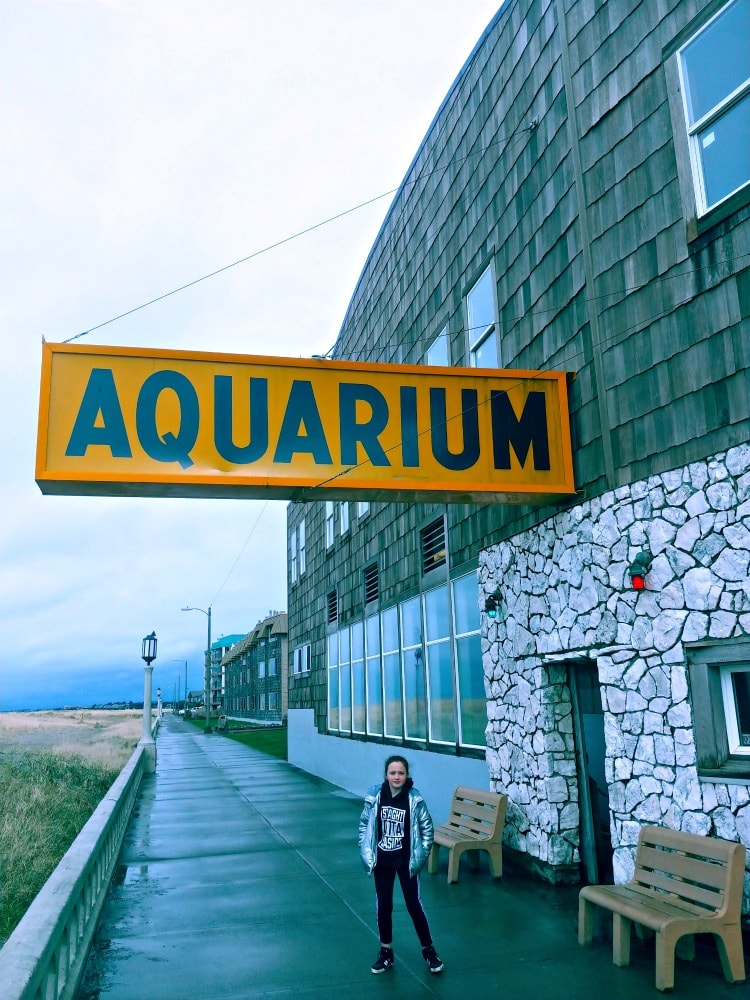 The Seaside Aquarium is small (but also not too much money). The highlight of the aquarium for my kids was definitely feeding the seals. They splashed around and put on quite a performance for the kids, making lots of noise and performing for the food. It was a lot of fun. You can find free food coupons in some of the flyers in Seaside (see below) or go at 4pm when they feed the seals and watch them perform.
Ride Bikes, Scooters & More!
We were there in the winter, but in the summer there are many places you can rent bikes, or even paddle boats to use on the river. My kids had a little fun with hoverboards on the Promenade. We loved getting out for a morning stroll (or hover in their case)!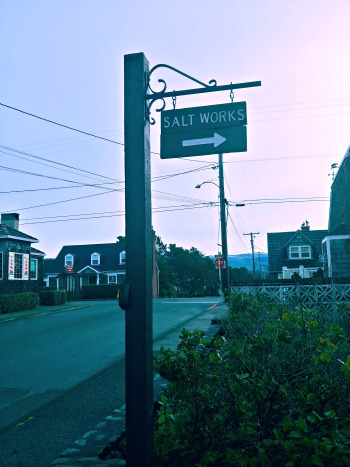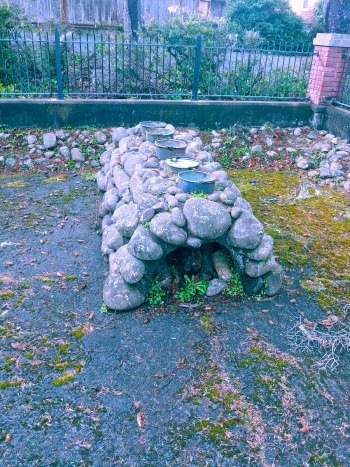 There is also another little piece of history that you can explore when you head down the promenade to G street. It's the Salt Works park.
Enjoy rides (like bumper cars or tilt a whirl) or play Putt Putt Golf
It's only open seasonally (and we missed the open hours), but there are a few carnival type rides, as well as putt putt golf right in town. There are also bumper cars across the street at the arcade as well.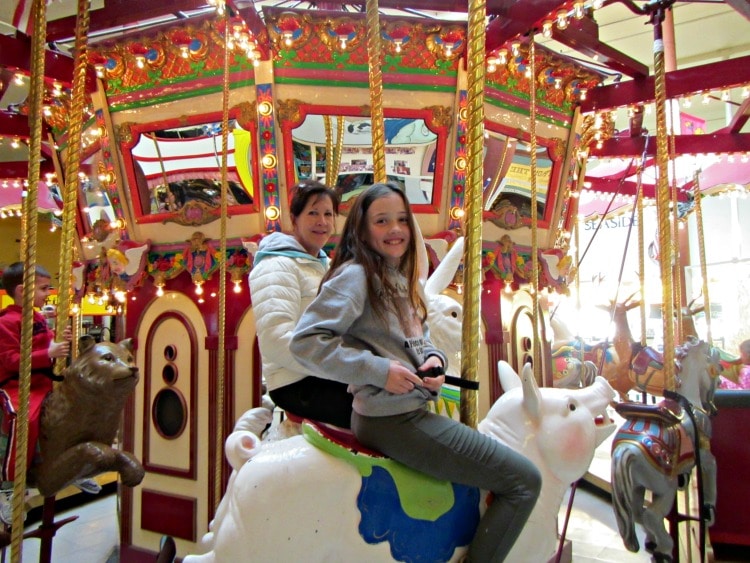 Visit Carousel Mall and ride the carousel, and check out the shops
The Carousel Mall is not large, but it is full of charm. There is an old carousel you can ride for just a couple off dollars. There are also a number of stores to visit (including a fun toy store the kids will want to check out). There was a hat store we loved, and a wall full of pamphlets and notices about things like free pancake breakfasts and whatever happens to be going on in town during your visit.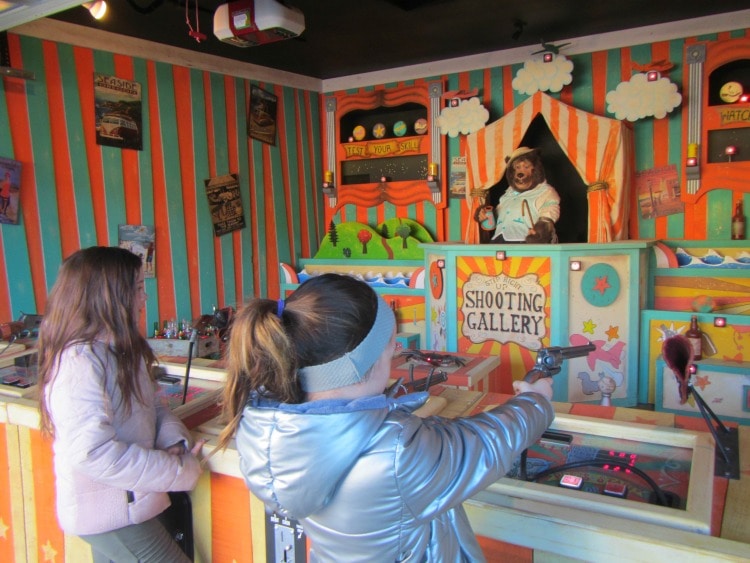 Take aim at the Shooting Gallery in Seaside
The shooting gallery was $3.00 per game, $5 for 2 game or 5 games for $10 (so as low as $2 per game), so this could add up too. I let the girls each have one go round, and they loved it (we did the 2 games for $5)! You can make unlimited shots for 1 minute or take your time and do 24 shots. My girls took their time.
Play on the Beach
Playing on the beach during the summer is a highlight. During the Winter, it can be cold but beautiful. We chased waves and watched sunsets, and looked for shells. It is something you can have fun doing year round.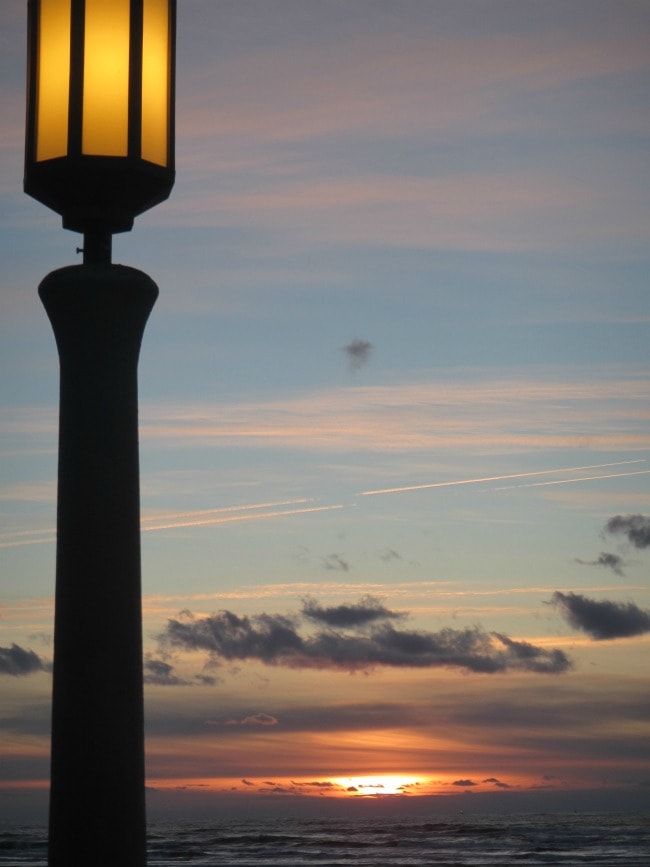 Enjoy beautiful Sunsets
Seaside had beautiful sunsets when we were there this Winter. We would head out to watch them each evening and it was such a wonderful way to wind day from the days events.
Tips for visiting:
Be sure to check the hours of any restaurants or attractions you want to visit. During the popular summer season, most places will be open. However, during the off season, many local businesses are closed during the week, and then open on the weekends. If you want to enjoy these attractions and shops, it is important to pay attention to when they are open or you may be disappointed.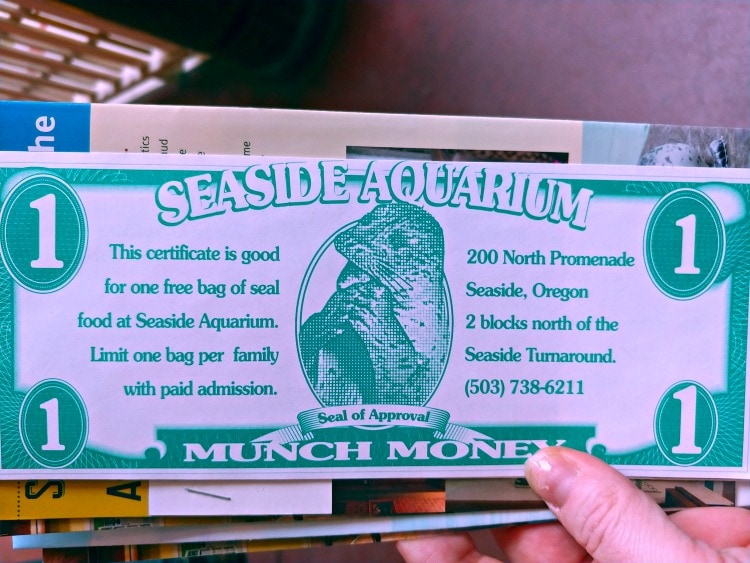 Look for coupons – we found many during our trip, including some that will get you into attractions for free! We asked a couple of stores, where we were making a purchase, if they had any coupons for the other sites around. We were given FREE VIP tickets to the Inverted Experience (but it was closed while we were there unfortunately), and free coupon to feed the seals (you still have to pay the aquarium admission fee, but the food to feed the seals with was free). We also found many restaurant coupons for the area too, so keep your eyes peeled for these (and don't be afraid to ask in the shops where you might find them)!
Day Trip Ideas from Seaside:
Astoria
Astoria is about a half hour North of Seaside. We stopped for lunch on our way back home, and look forward to heading back for a day trip soon. The views where beautiful, and there was a great Maritime museum that I look forward to visiting. It is also home to the filming of many movies (like Goonies), and more museums to explore.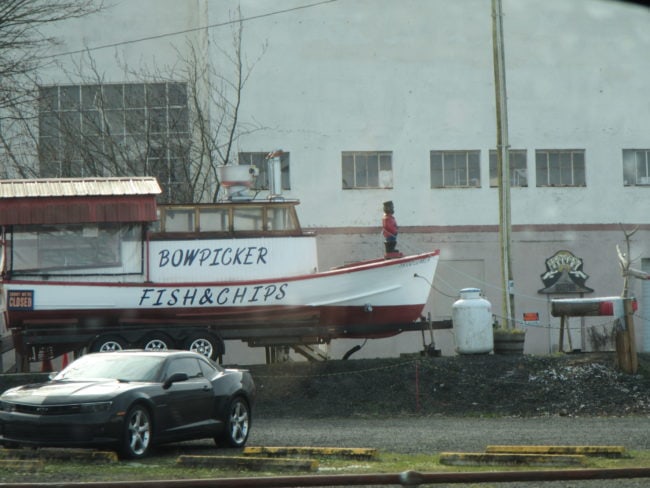 If you're looking for a recommendation on where to eat, we loved the Astoria Brewery with the waterfront views. Many also recommended that we try Bowpickers for fish and chips (it was closed when we were there) but it's a boat you drive up to and order what I heard was great fish and chips. It looked fun!
Fort Stevens
Fort Stevens is a historical fort that is now run as an Oregon State Park. We spent about an hour there looking around, but you could spend longer. It was a $5 parking fee, but well worth exploring the old fort and learning about the history. There is a small museum here, and you can drive to some beach front areas as well as an old and well known shipwreck monument! It is located in the Warrenton area, so about 20 minutes outside of Seaside.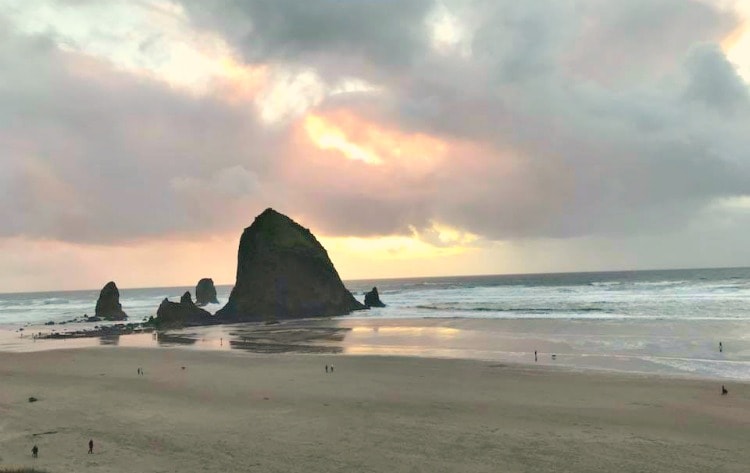 Cannon Beach
Cannon beach is home of Haystack rock and a pristine beach area just a bit further down the coast from Seaside. If you're looking for more beach space to explore, head down and enjoy lunch here.
Do you have favorite things to do in Seaside that we missed? If so, we would love to hear from you!
More articles you might be interested in: