Rainy Day Activities for Kids In The Northwest!
This post may contain affiliate links and I may be compensated for this post. Please read our disclosure policy here.

Rainy Day Activities for Kids In The Northwest!
Looking for the best Rainy Day Activities for kids? We have a big list here of things do in the Northwest with kids.
Living in the Northwest we have plenty of rainy days. When we have weather like we have this year (with an exceptionally high number of rainy days), the kids start to get a bit stir crazy. We have put together some of our favorite ways to get the kids out of the house and burn off some of that energy on a rainy day. You may also want to check your local community centers. Many of them offer indoor gym days, swimming fun, and even rock climbing walls! Here are some of our favorite things to do on a rainy day for families.
Most of these rainy day ideas won't break the bank either – with a little planning. Some are even free! Let us know if you have a favorite spot you love, that we have not included.
There are the standard go to options for Rainy Day Activities for Kids :
Lets start with some obvious ideas, and then we will dive down into some more specific NW recommendations.
Go to the Movies (find $2 Summer Movies here)
Roller Skating (Sign up for free roller skating for kids here)
Ice Skating (Groupon often has deals on local Ice Rinks)
Bowling (Sign up for Kids Bowl FREE here)
Arcade Fun – Check out Chuck E Cheese for young kids or Dave & Busters for all ages  (and other local arcade options too)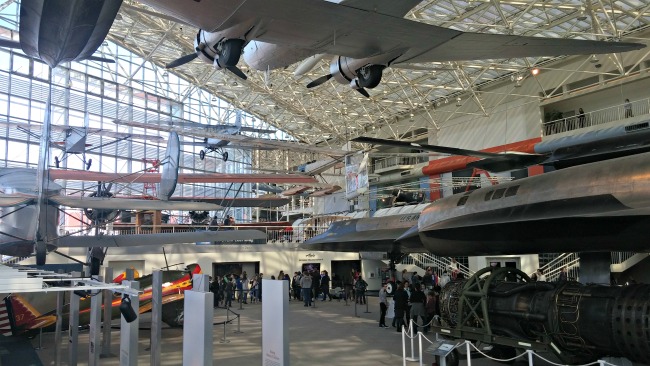 Explore a Museum – there are a number of free day opportunities for families in the northwest too (most often the first Thursday of each month, but check the website at the museum you are interested in for details)! A couple of our favorites are the Museum of Flight and Burke Museum, but there are so many great options in the area.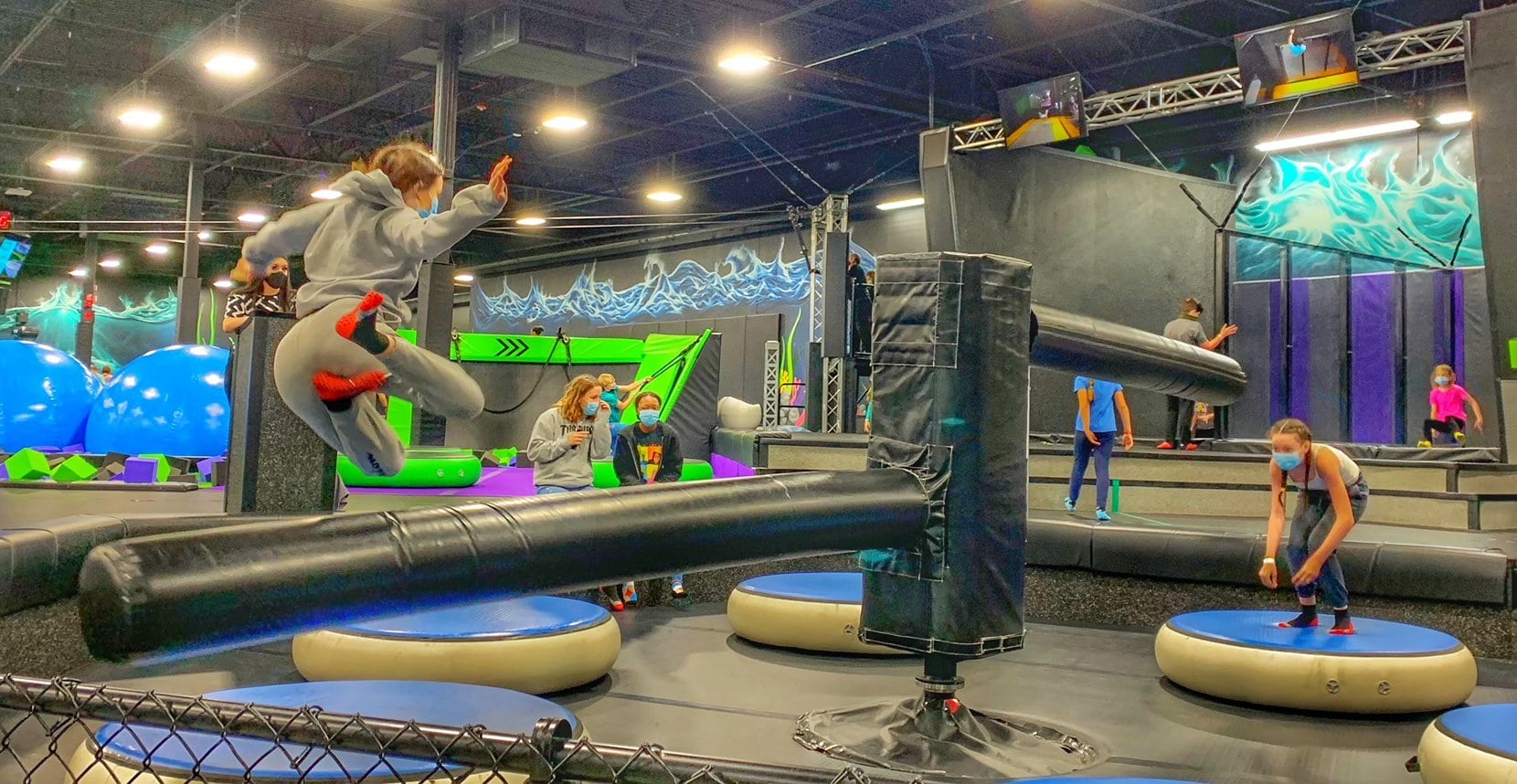 Trampoline or Bouncy House fun – one of our favorite spots in the Northwest is the Defy Trampoline Parks. We share why here, as well as how to get discount tickets!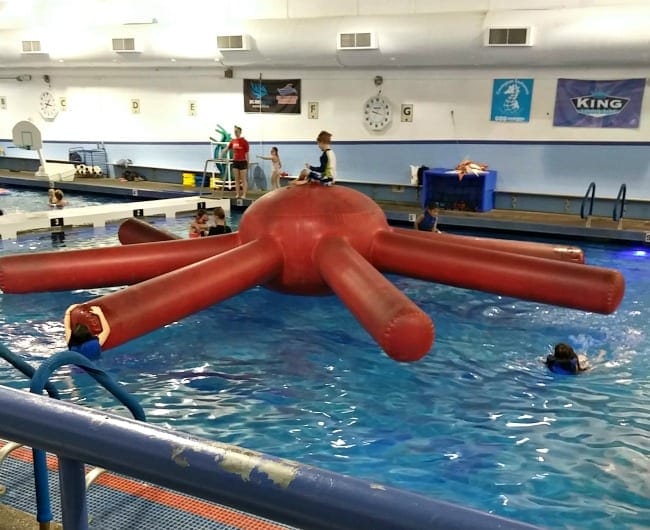 Swimming (we have a round up of places with great Washington hotel pools here or Oregon hotel pools here,  or water parks (includes indoor pools) here). But also, be sure to check out your local swimming pool and community centers. Some in our area have lazy rivers, water slides and more – and usually at a great rate!
If you want more of a splurge experience, you will also find great indoor water parks at Great Wolf Lodge and they also offer day passes here (Washington), Silver Mountain Lodge and indoor waterpark & Raptor Reef with Triple Play Park (Idaho), and Wings & Waves (Oregon).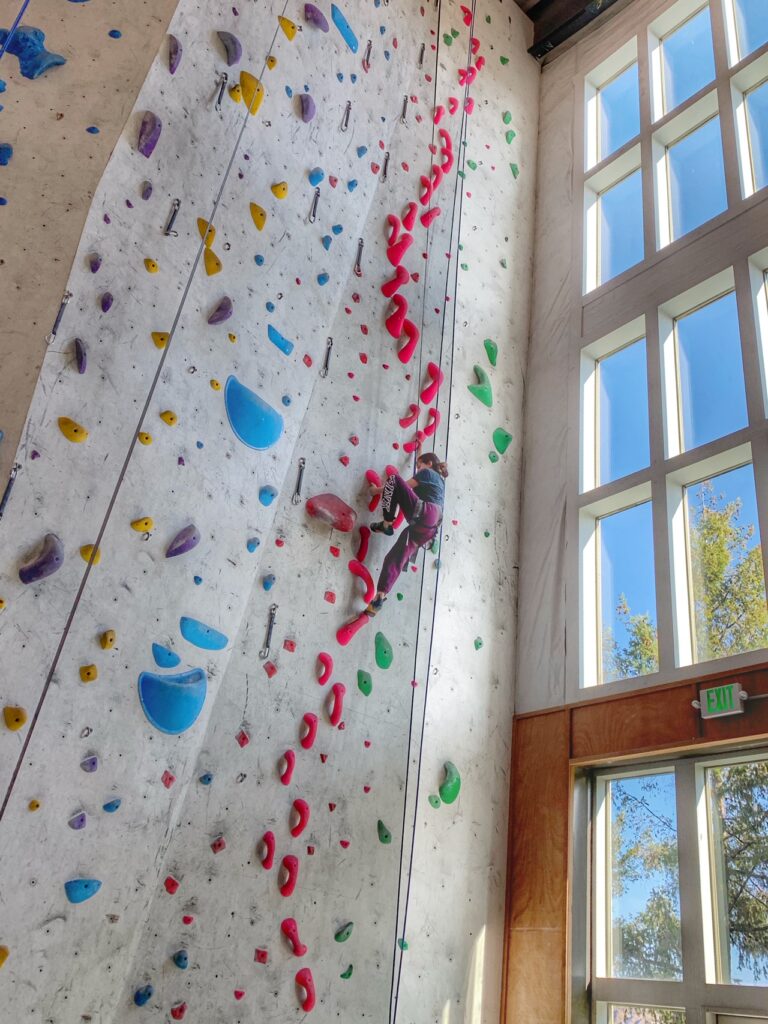 Rock Climbing – we are fortunate to have some great rock climbing walls across the state. I have enjoyed them with my kids in many different locations. If you want to find a way to save on them, be sure to check out Groupon here too – as they often offer discount tickets.
Here are some of our favorite indoor places to entertain the kids, that won't break the budget:
If you want to get the kids out and enjoy something a little different than what I call the "go to" options we listed above. here are a few places my family has really enjoyed over the years.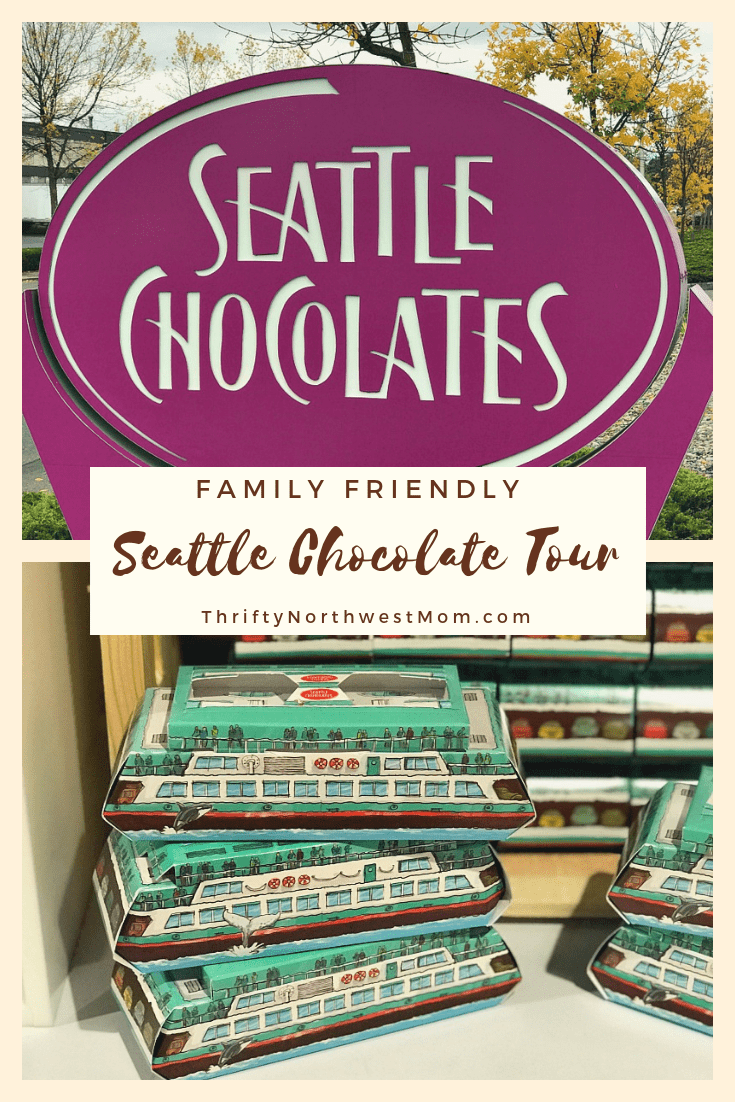 Things to do in the Downtown Seattle area: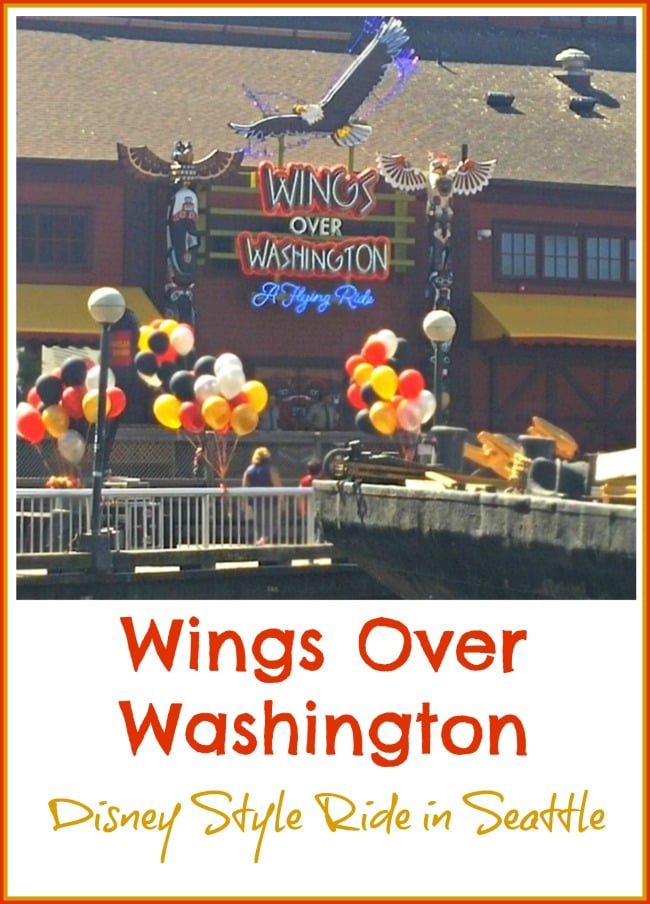 Wings Over Washington down on the Seattle Waterfront! This is like a Disney ride (similar to the Soarin ride if you have done that one), and is lots of fun. We have a full review here with more information on it.
Visit the Understory at the Spheres in Seattle, that sit below the Amazon Spheres. If you want to plan out ahead, you can book a visit to the Amazon Spheres too, but those must be reserved in advance. If you want to stay busy on a rainy day, the Understory provides free to access to a 3,383 square foot exhibit that sits at the base of the Spheres and will tell its story through various exhibits. If a rainy day falls on a Tuesday or Thursday you can even schedule a 90 minute tour of the Amazon HQ. Be sure to head next door to grab something to eat or drink from the Amazon Go store before heading out. No check out at a kiosk required…simply download their app, scan what you want on your phone, and go!
Spend an afternoon exploring the Bill and Melinda Gates Foundation Discovery Center. It is free, and sits right across the street from the Space Needle. There are interactive experiences throughout the center that are fun, and they will also help you learn how they are helping around the world too. The Seattle Grind, one of my favorite coffee shops, sits next door. Their cardamom lattes or lavender lattes are heavenly (with syrups made in house!). If you want to make a full day of it, the MoPop museum, Space Needle and Chiluly are across the street, or take a RT ride on the monorail. Since most Seattle rainy days are more drizzle than downpour, your kids might want to venture over to the Artists Playground across the street, with some of the largest climbing structures and slides in the city!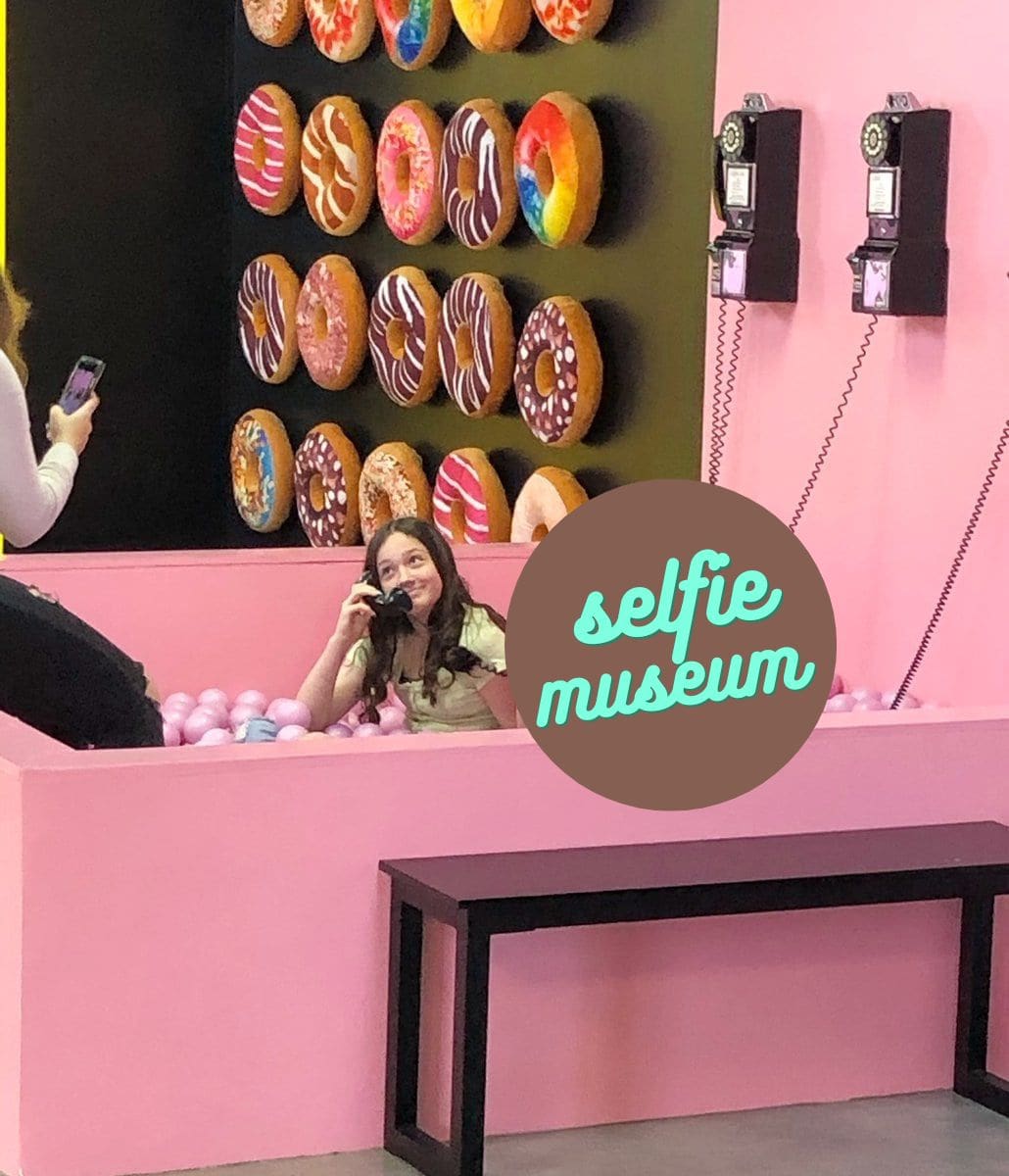 Selfie Museum –
Spend some time exploring the Selfie Museum, and get lots of fun pictures too. This one is fun for tweens and teens especially, if you are looking for a way to keep them entertained!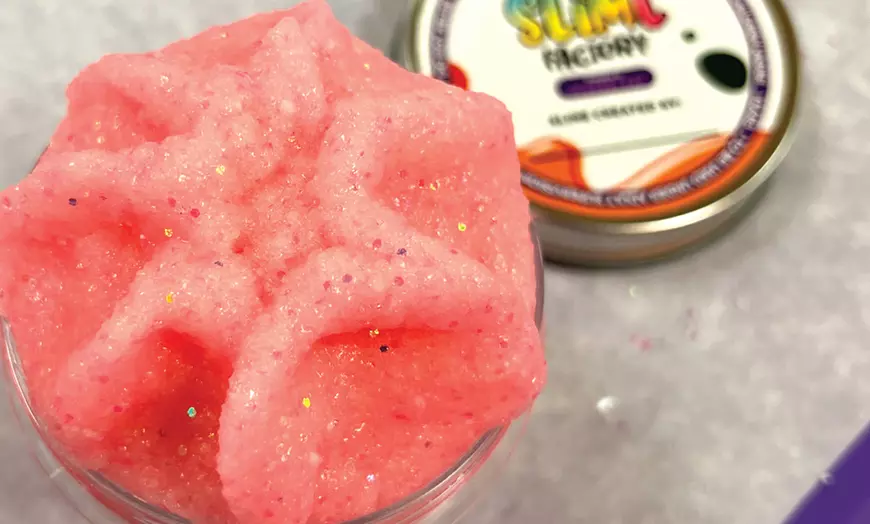 If your kids like making slime, here is a great spot to take them to have some fun! We share more about this spot here.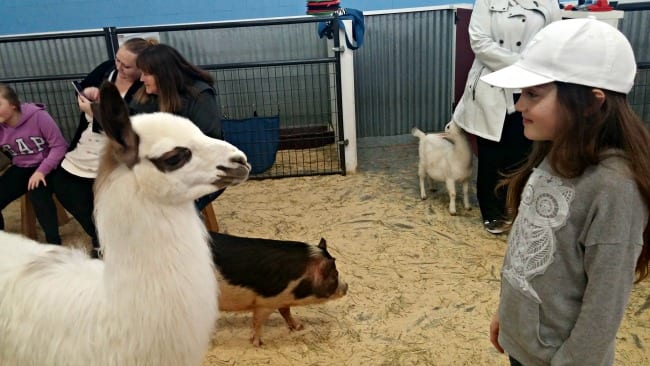 One of my girls having a stare down with one of the animals!
We visited when this was Jozee Rooz Indoor Petting Zoo. It is now Debbie DoLittles, and looks like it is even bigger and better! They now offer pony rides, donkey rides, parties, and much more!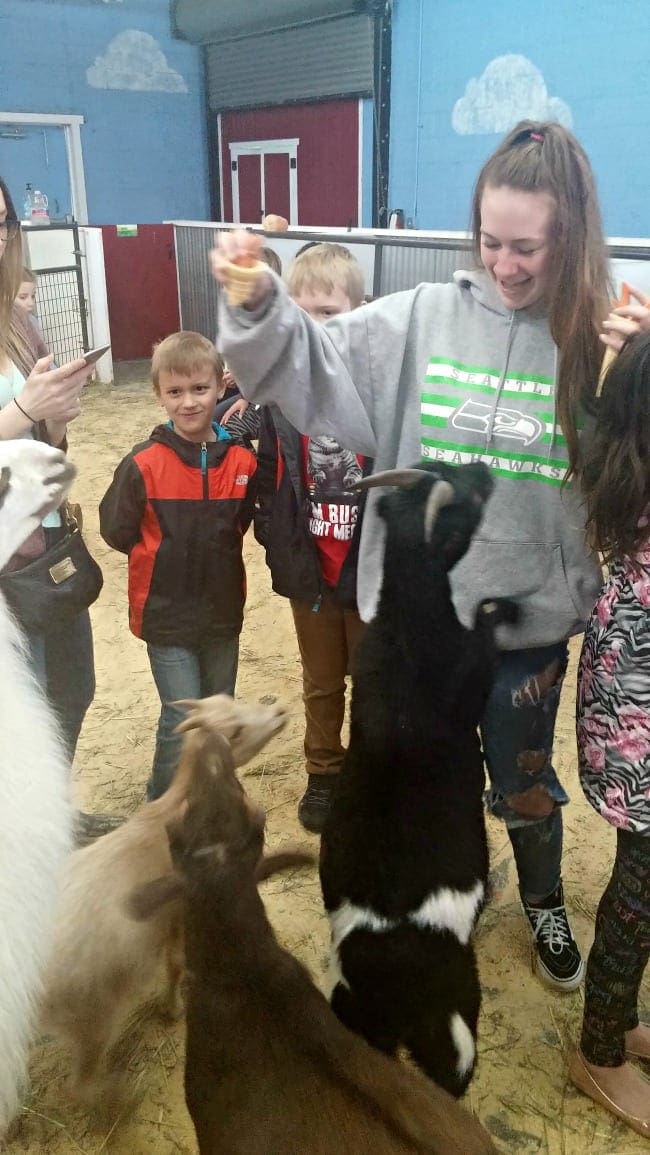 My crew feeding the animals! Warning, the animals will charge you and even climb on your when you have the food. 2 of the kiddos loved this, one not so much, so just be aware of that fact.
There are different areas the kids can go in and hold some of the animals too. One of my girls spent lots of time cuddling with the rabbits. There was also a fox the kids were able to hold (and they loved that), plus snakes (eek!).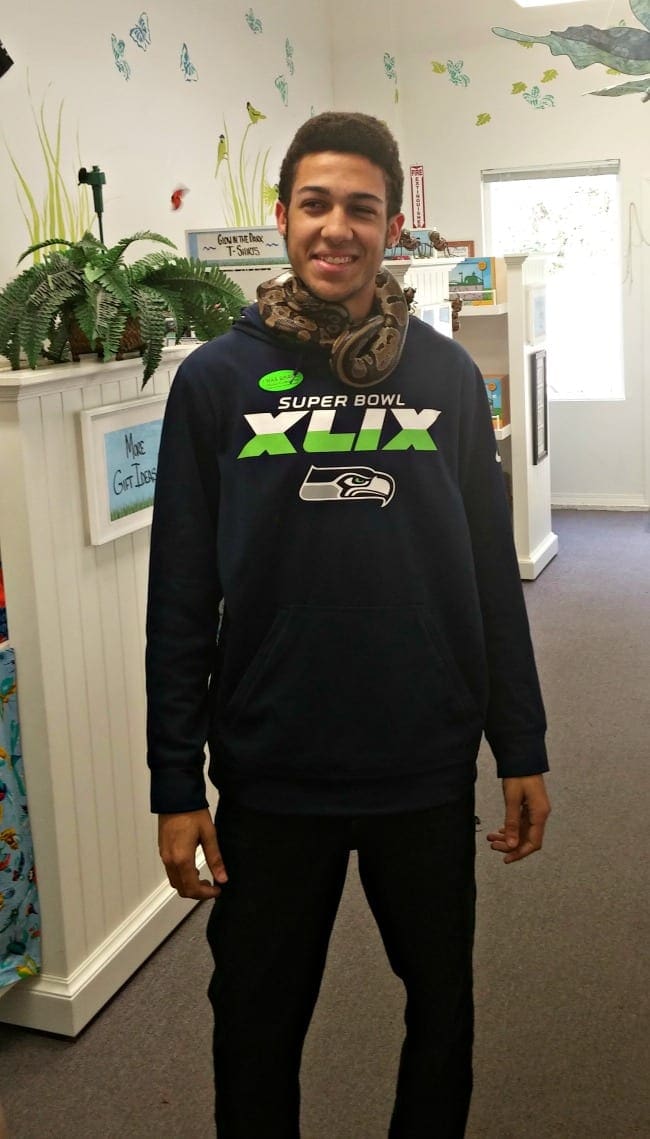 This small bug museum in Bremerton is one of our favorites. They have a scavenger hunt the kids can pick up at the entrance and find their way through the small bug zoo with that. This is fun for the younger kids.
They also have a reptile room in the back, and each time we have been in they have brought a snake out for the kids to hold. Creeps me out, but my kids young and old have all loved this! Plus, its FREE.
You can find a big list of more Aquariums & Zoos in Washington (plus lots more ideas on where to see animals) here too, for some other ideas. 

You can also stop over at the USS Turner Joy Naval Museum with is nearby too, if you want to make a day out of the visit!
Tinkertopia – Indoor Creation Station Fun!
Don't let the rain damper your creativity. Rainy days are perfect for visiting a creative reuse spot, and create just about anything you can imagine with their materials and tools onsite. What is more "Seattle like" than being creative and green? One of our favorites is located in the Tacoma area, called Tinkertopia, and it can provide a full afternoon of creative fun. My kids have made pencils bigger than they are, signs, toys and more with their floor to ceiling bins of supplies you have access to create from. If you or your kids like to build or do crafts – you will love this spot!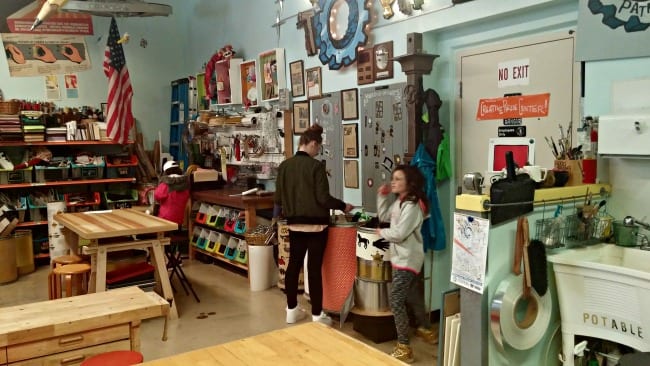 Tinkertopia is lots of fun if your kids like to create. The shop is full of tons of reuse items, tools, and supplies. The kids go in and get 1.5 hours to just create whatever their young minds can come up with. There are other store fronts and museums near too, so you could make a full afternoon of the visit.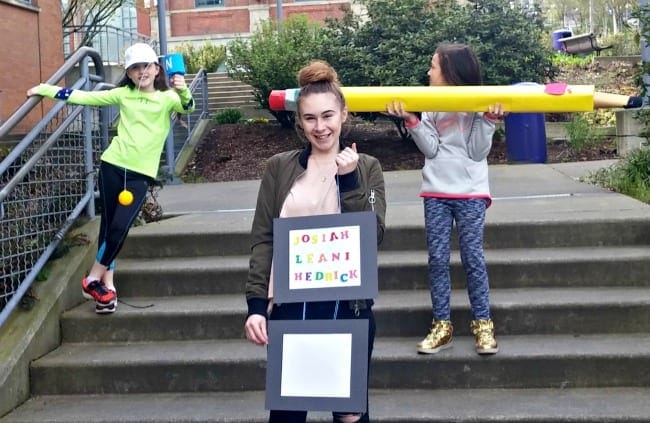 Everyone that I took had a great time (from 8 to 17 years old)! They all made different things, but each one was great. One of them made a cup and ball game, the other a giant pencil, and the oldest made a beautiful Mothers Day gift (she plans to put her baby brother's footprint in the bottom frame). I loved how each of their creations was so different from the other. I thought this place was a great bargain, as it would have cost more then $7 per kid to have the craft supplies for such diverse projects on hand!
There is also a similar place in the Greenwood area of Seattle called Seattle ReCreative. We have not personally been there, but it looks like a great alternative if you live on the North end!
5) Karaoke Fun – Rent a room to sing away – Round 1 in Tukwila, Wa.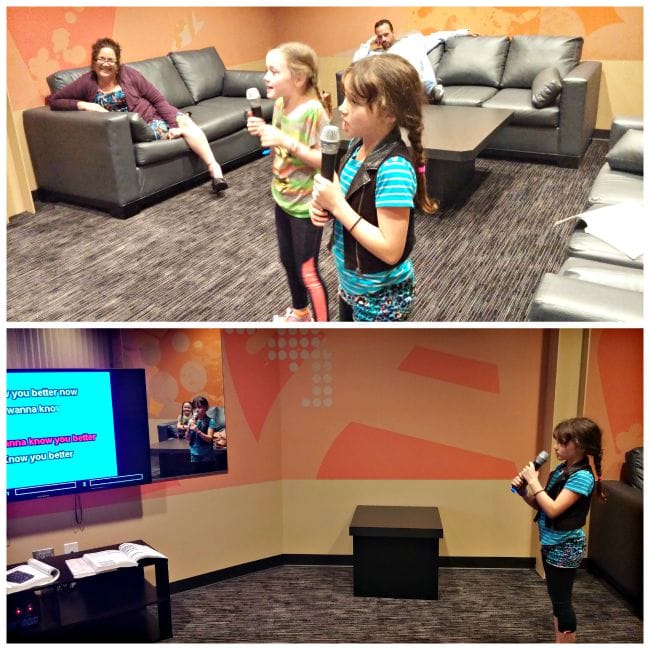 It is attached to the Southcenter Mall. Round 1 itself also has bowling, games and more, but you could head into the mall for the play structure, library and more too. If you head out here, you might want to check out our review of fun in this area, as there is also a fun Virtual Sports spot, iFly and more nearby.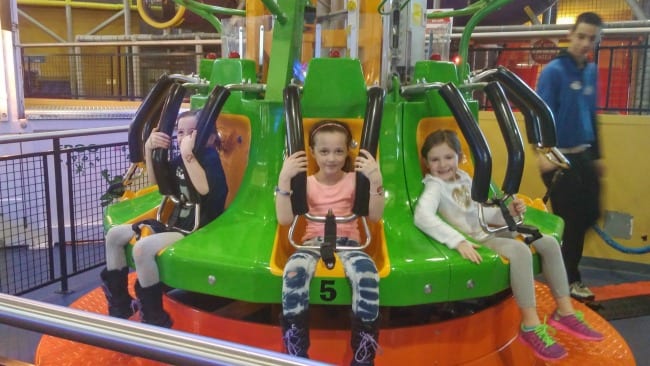 The Family Fun Center is packed full of things to do (bowling, laser tag, games, small rides a play area and more), and if you plan ahead and grab a Groupon it can make it more affordable. The deals on Groupon come and go, but grab them when they do and its a great way to save for a spot the kids really love.
Here is the Frog jumper. There are also video games, bowling, 3-d movie rides, bumper cars, laser tag, putt putt and more for the kids to enjoy. More ideas near here can be found in this article too!
The Outlet Collection Mall in Auburn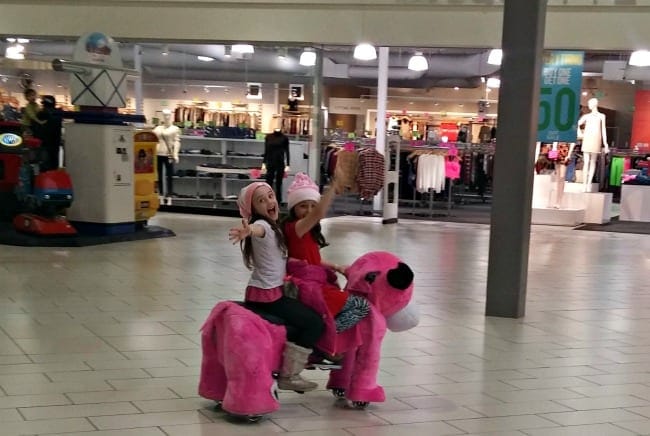 The mall is not the first place you might think of for outdoor fun, but it's one my kids love. At the Outlet Mall in Auburn (formally SuperMall), there is a play structure for little kids, but they also have mechanical animals you can rent to ride around the mall (and you can put two kids on one), some games you can play for free (like ping pong and giant chess) you can play for free, as well as other paid attractions – all in one spot.
There is also a Dave and Busters in the mall, and the Field House. At the Field House you can find various sporting opportunities, as well as the Big Air Trampoline Park.
You can also sign up for their kids club here, and kids will get a free drawstring backpack, as well as access to free events throughout the year.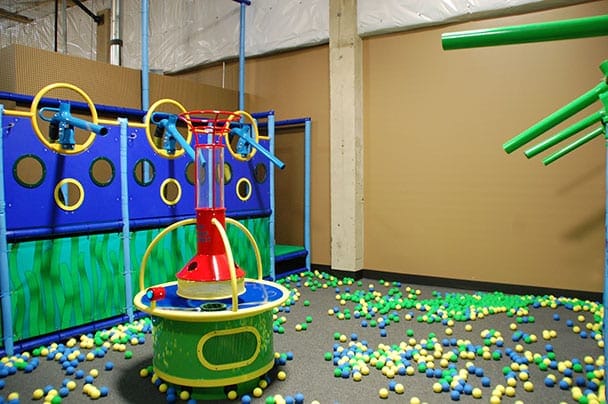 Photo Credit: Playdate Seattle
Playdate Seattle is an 8000 square foot indoor playground + cafe for lots of kid fun, and a spot for parents to relax. There are free puppet shows Friday evenings at 6:30 pm too.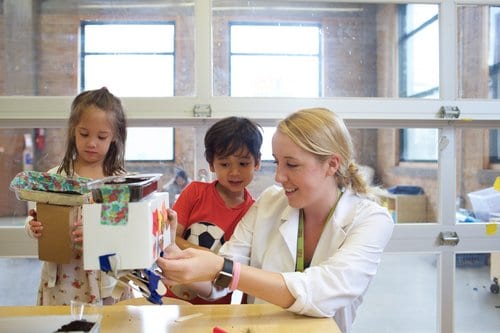 Photo Credit: Kids Science Labs
They offer science classes that make learning fun for kids! all classes are 75 minute, drop-off classes as long as the child is potty trained.
A few extra ideas for indoor fun if you have older kids include: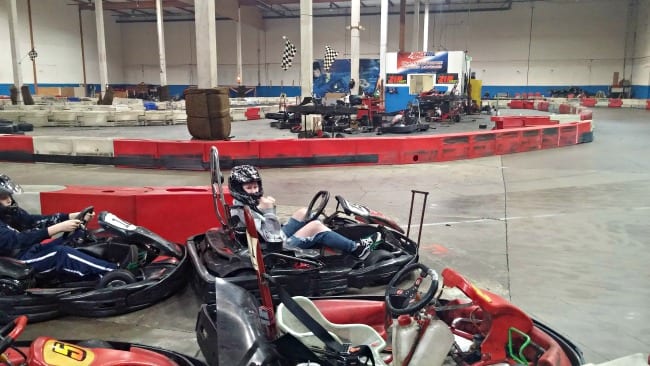 Indoor Go Karts
These are not cheap, but you can often find them on Groupon to save. This is a good option for older kids. We recently visited GrandPrix Raceway in Tacoma, and had a blast. You have to be 5 feet to ride their karts (and you will want to call ahead to make sure they are not closed for a private party before traveling out there).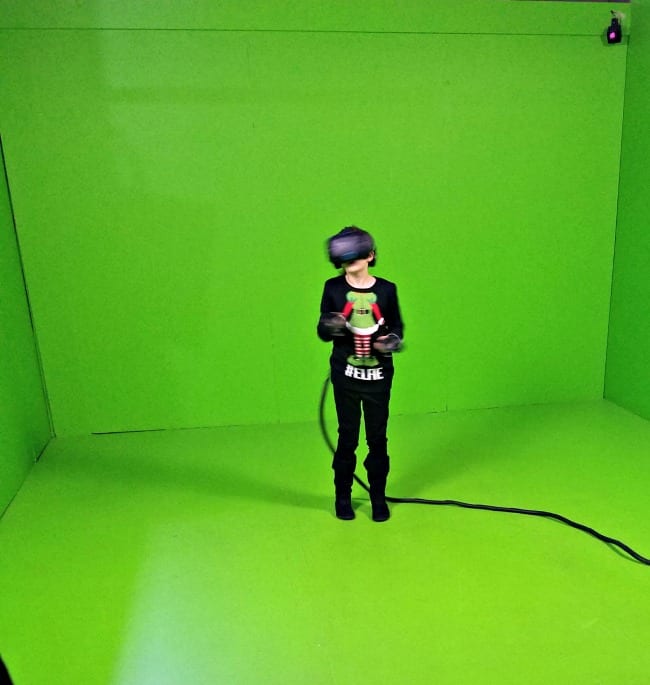 My kids love Virtual Sports, and they often have discount packages available on Groupon. There are VR fun, often combined with access to Laser Tag too, at various locations throughout the NW. You will find a couple listed here on Groupon.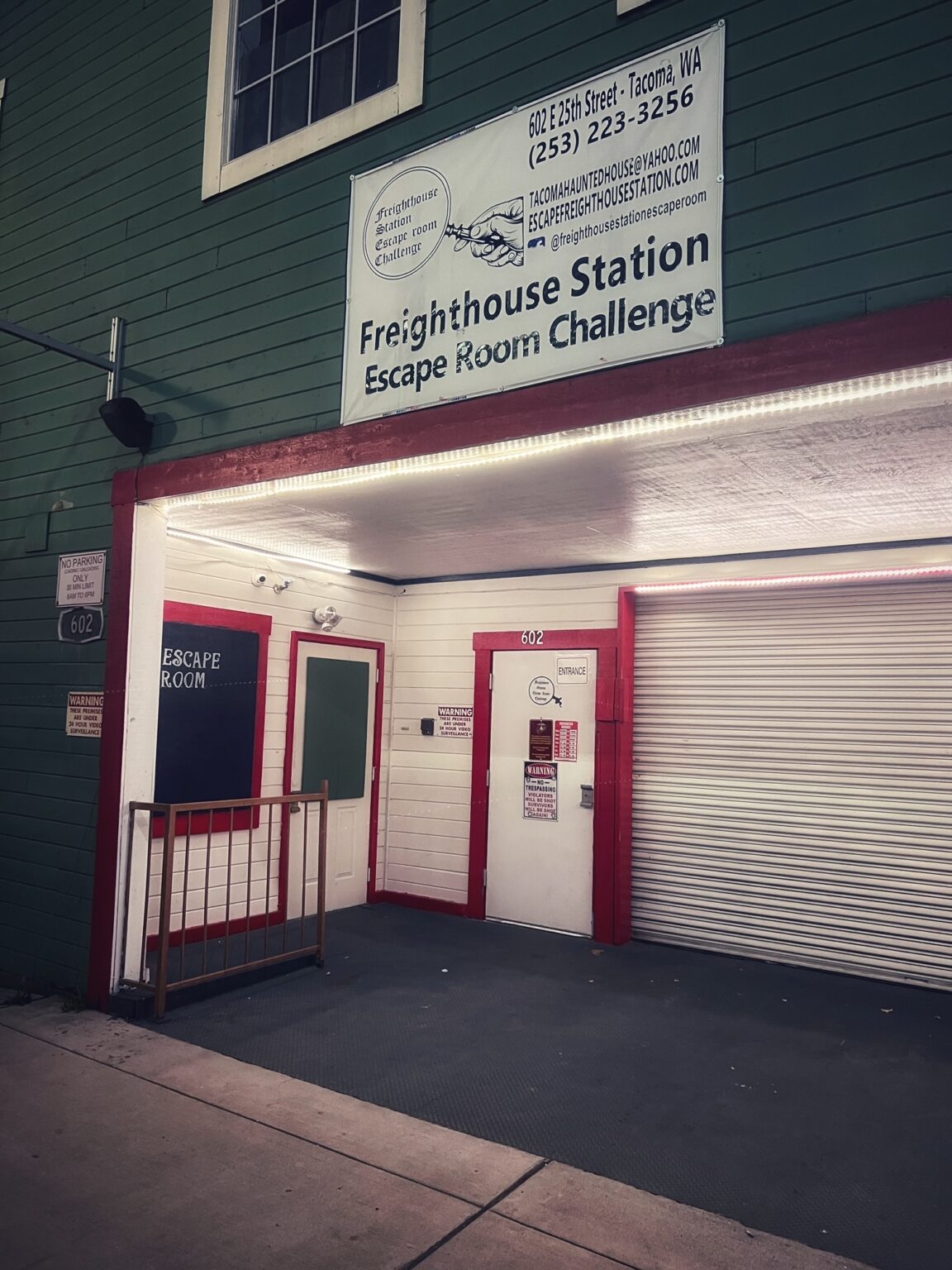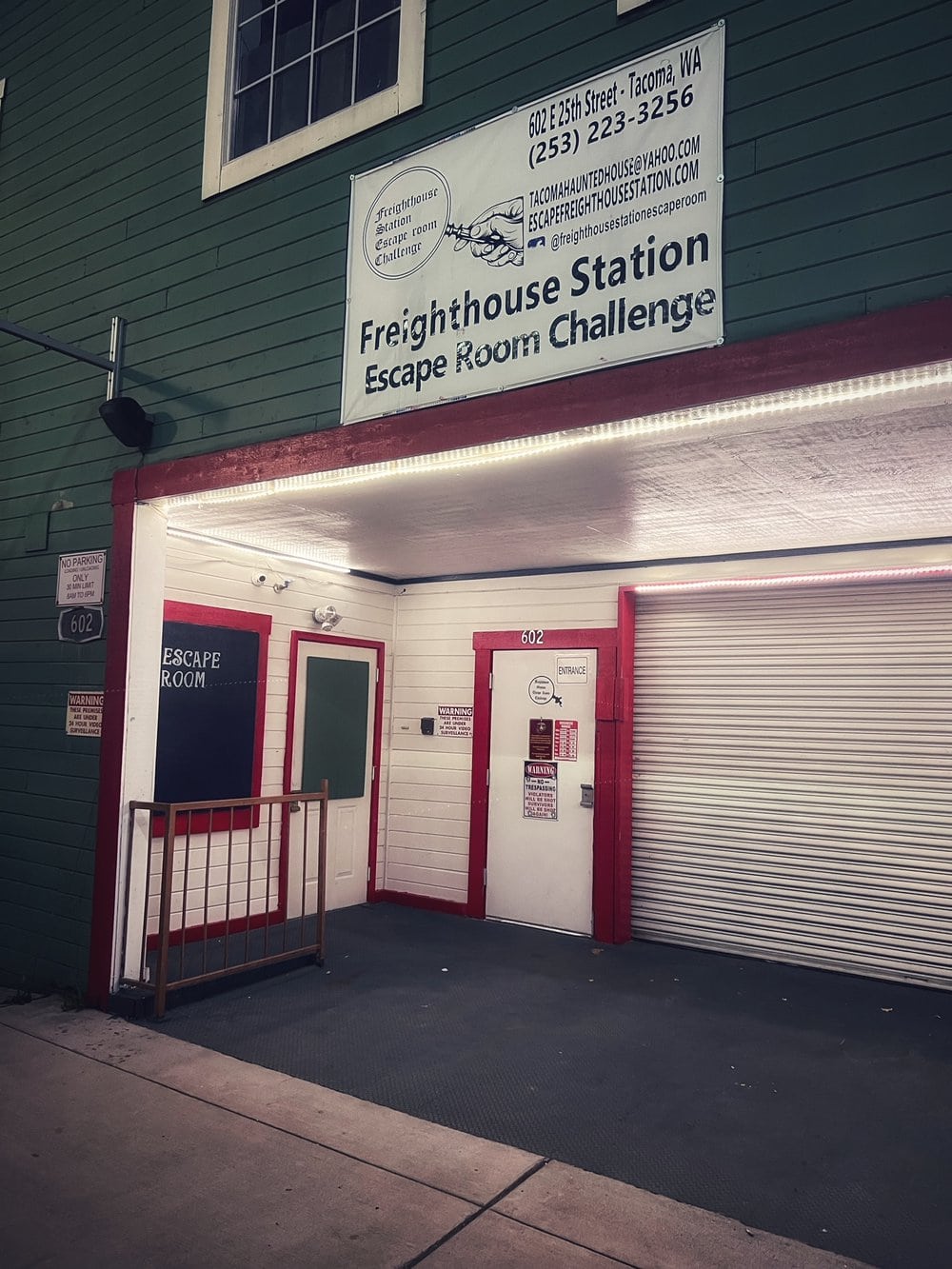 Escape Rooms
This is another idea for older kids. Escape Rooms are a great way to keep kids busy and working together for a fun outing, but they can be pricey!
We found a great offer
on one in Tacoma at Freighthouse Square
& it is significantly less than most of the escape rooms you will find. There are many around the Northwest, but the reason they are able to keep the costs down on this one is that they are all volunteers who work there, and 80% of the profits go to the local food bank (which many of them also volunteer at too).
Rainy Day Game Ideas for Kids!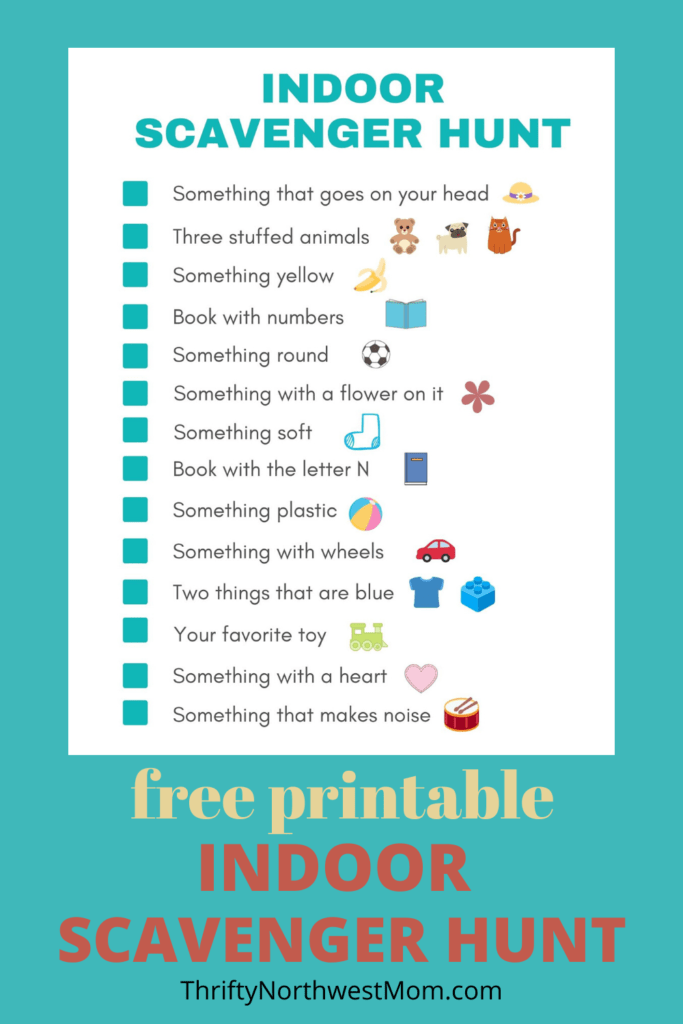 If you are looking for more fun ideas for a Rainy Day in the Seattle area for all ages, be sure to check out this article on the Best Rainy Day Activities in Seattle here too!
Save