8 Oregon Hotels with Indoor Pools Kids Will Love + a Few Unique, Year-Round Outdoor Pools & Aquatic Centers!
This post may contain affiliate links and I may be compensated for this post. Please read our disclosure policy here.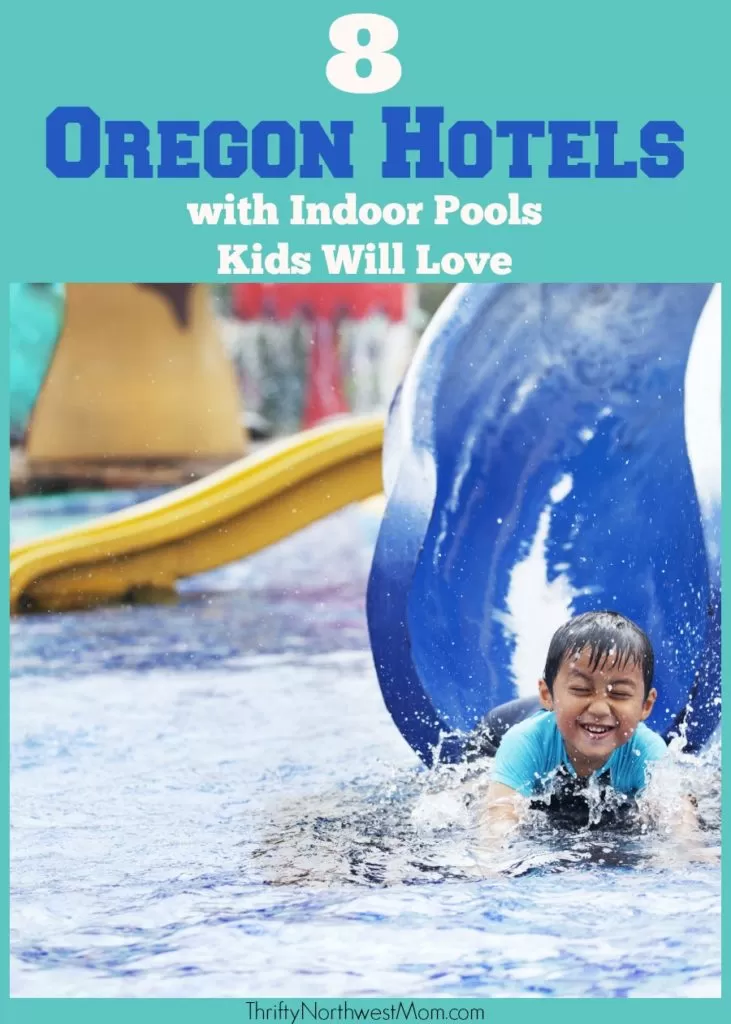 In the Northwest during the rainy season, kids (& moms and dads) can go a little stir crazy, so it's nice to find a few options for getaways to enjoy some fun in the water and get some of that pent-up energy out.  We shared recently about 6 Washington hotels with kid-friendly indoor pools and today we are sharing about Oregon hotels with kid-friendly pools, which would be great to check out in the winter, spring or fall. The western side of Oregon is typically only warm enough for outdoor swimming in the peak of the summer, so these make for great options year-round.
Of course, the most well-known option for Northwest Families (not in Oregon, but not too far north in WA) is Great Wolf Lodge in Grand Mound, WA & you can check out our tips for saving at Great Wolf Lodge here:
However, if you're looking for more options for getaways that kids will love the indoor pools, we have some ideas for you of locations around Oregon. We've tried to find a wide variety of locations all around the state for you to check out on your next vacation. Most kids love the opportunity to get out into a pool & swim & let off some energy, so these are great ways to get the wiggles out & have a fun vacation for kids even if the weather is not cooperating outside.
Don't forget to check out our round up of Waterparks in the NW for summer fun too (there are some great indoor water parks or community pools that provide family fun year-round)! And if you have a favorite local hotel with a fantastic pool that we missed, be sure to share it!
Oregon Hotels with Indoor Pools Kids Will Love: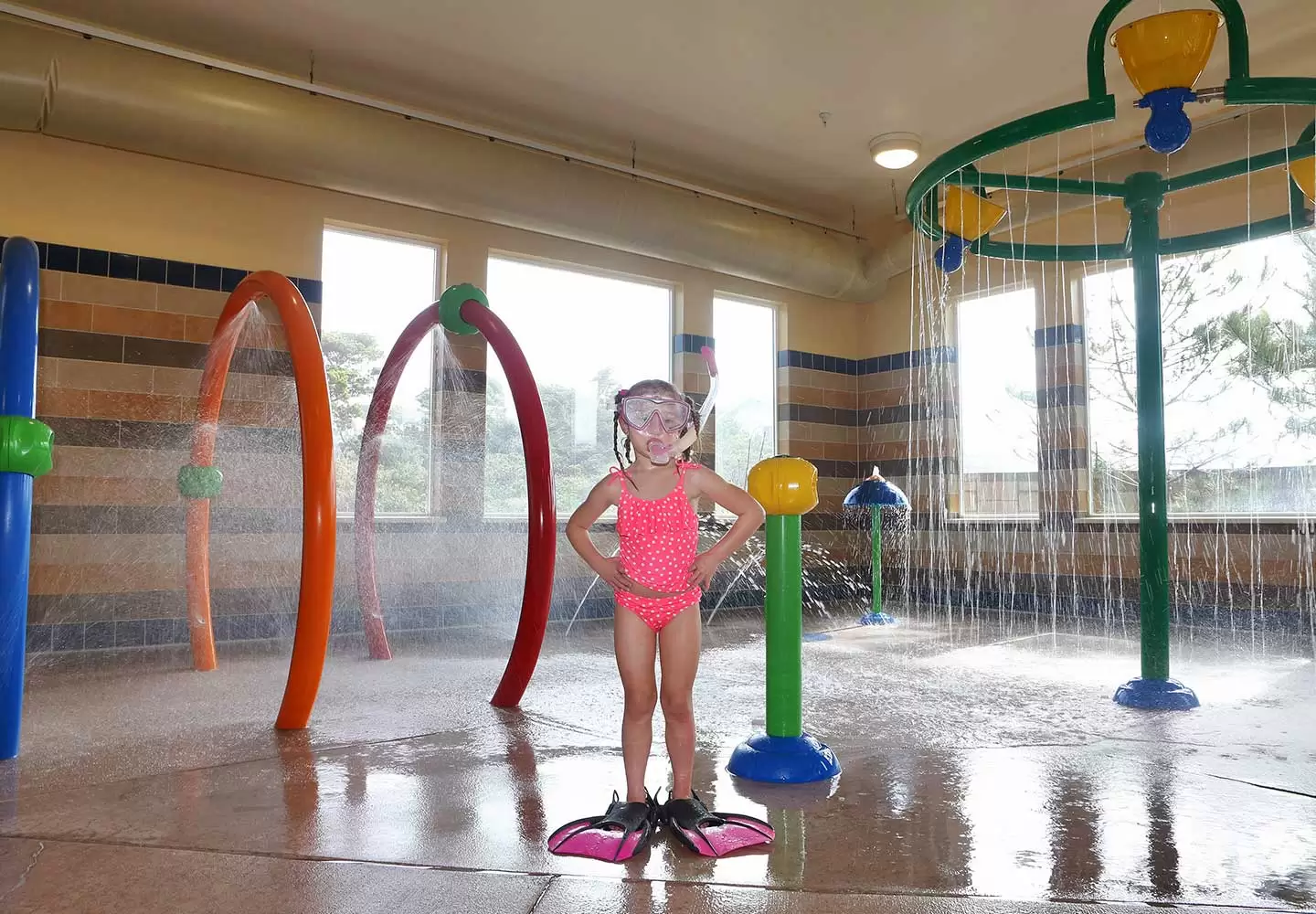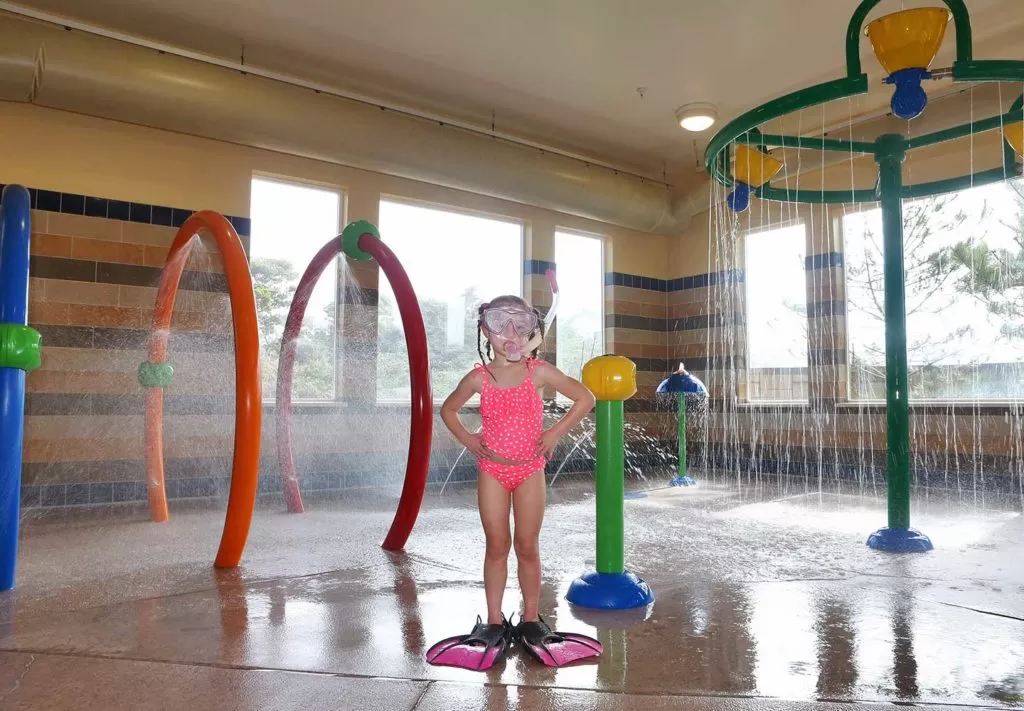 Images courtesy of Driftwood Shores Resort
If you're looking to head to the beach for a vacation with your family, the Driftwood Shores resort is one you'll want to check out. Not only do all the rooms have an ocean view and a private balcony or deck if you want to watch the storms on the ocean or head to the beach for easy access and beach combing fun. But, this resort also features an awesome indoor pool area that your kids are sure to love.
The indoor aquatic area has an awesome splash pad area that is perfect for the kids, especially the little ones, but I bet my elementary age girls would enjoy it, too. There is a water tunnel filled with splashing toys and even the always popular water buckets that kids love to stand under to get dumped on. There is a kiddie pool for the wee little ones to hang out in the water. And don't worry parents,  there is plenty of relaxation to be had in the indoor hot tub and heated pool! The oversized whirlpool hot tub holds up to 15 people so there is plenty of room to stretch out!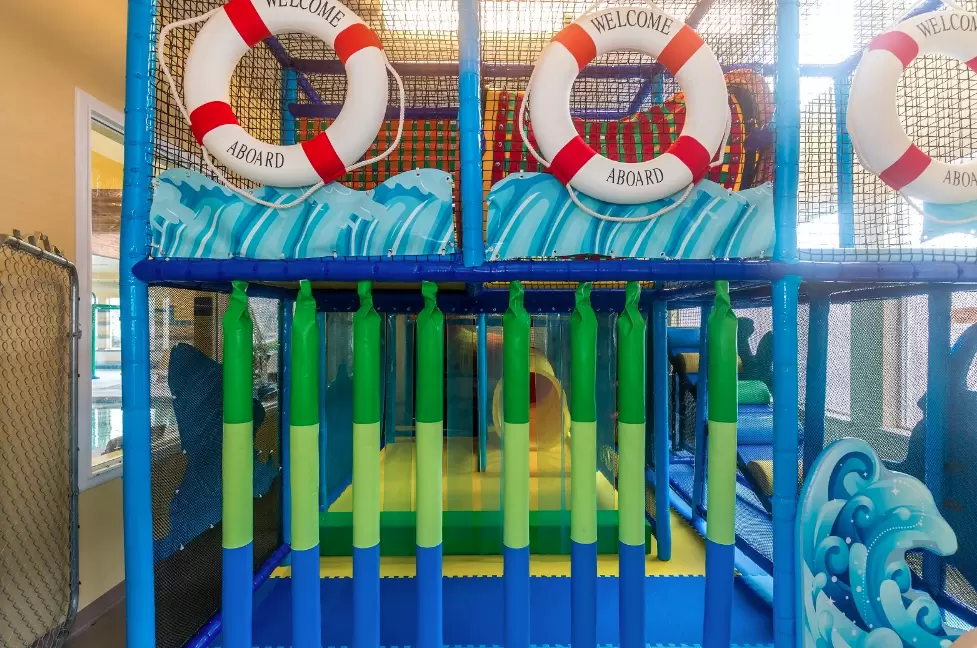 We just learned that Driftwood Resort has also recently added an indoor playground right next to the pool, too, so even more fun available for your kids when the weather is not cooperating.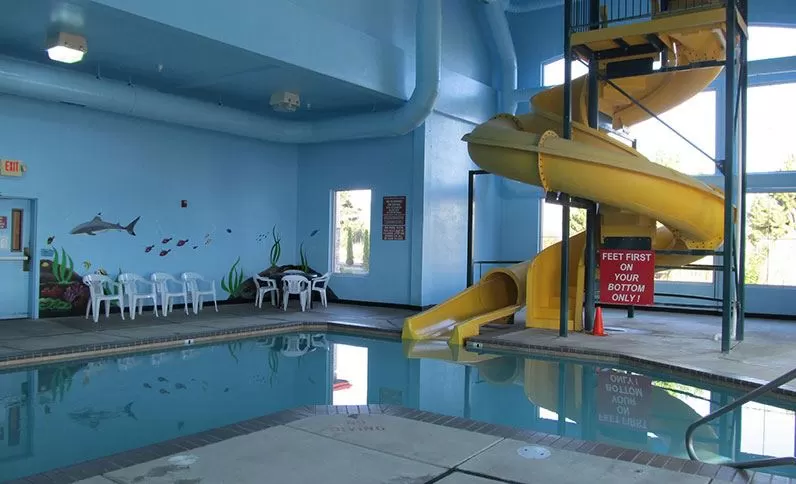 Image courtesy of Super 8 Motel
The Super 8 Motel is an ideal location off I-5 if you're headed to California on a road trip –  we often stop in Grants Pass or the Medford area when making our way down south to help break up the trip. Medford is a good base if you're visiting Crater Lake or the Redwoods National Park, too, as it's around 1 1/2 – 2 hours to either destination. The kids will love if you make this your stop, too, as this hotel has a water slide that is 80 feet long. 80 feet! Plus, the indoor pool is heated for more swimming adventures. With a lifeguard on duty, I know I am covered with kids in tow. This place is an affordable option for families  (free continental breakfast included too) and you can bring your pooches as it's pet friendly.  If you are flying in or out of the area, take advantage of the free shuttle to the Medford airport.
Image courtesy of Black Butte Ranch
Black Butte Ranch is located in Central Oregon on the eastern edge of the Cascade Mountains, a few miles outside of Sisters, a charming little Western-themed town (similar to Winthrop in WA). This is more than a hotel, but really a resort community with the Ranch & vacation rentals,  offering so many things to do as a family on-site as well as around the area. The Hoodoo Ski area is just 13 miles away from the ranch, making it a fun winter destination & there are numerous lakes, rivers & hiking areas for outdoor recreation the rest of the year. Kids will love the actual resort itself with its large indoor pool with a small slide, which features large floor to ceiling windows that looks out to the outdoor pool (which is open in the summer only).  There is also a hot tub & steam room that the adults will enjoy. When kids finish swimming, they  can head to the Lakeside Activity & Game room for more recreation and scheduled activities throughout the week.   Summertime offers both pools, the indoor & outdoor, in addition to another large outdoor pool, plus a wading pool, children's splashground area & a snack bar for food & drinks near the outdoor pool.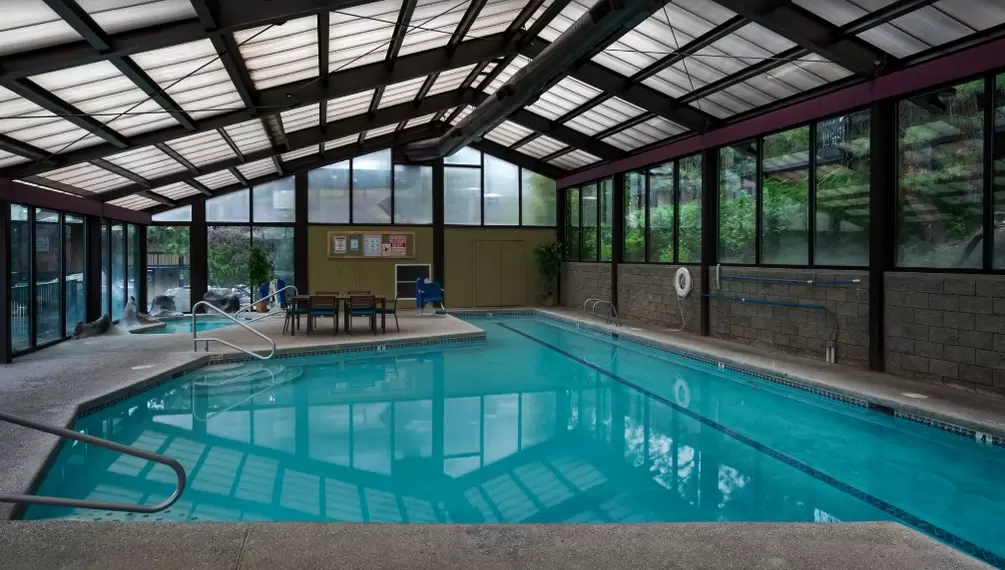 Photo Credit: Riverhouse Hotel
The Riverhouse hotel in Bend is sure to be a popular spot with the kids with its location right along the Deschutes River.  Not only does it have a prime location in Bend, but this family-friendly hotel also offers some great amenities including a beautiful, large, atrium-style indoor pool and hot tub for the winter. They also offer an outdoor pool with a large deck and fire pits, as well as a poolside cafe for the warmer, summer months. This hotel is  pet-friendly if you're wanting to take your pet along with you on your vacation, too.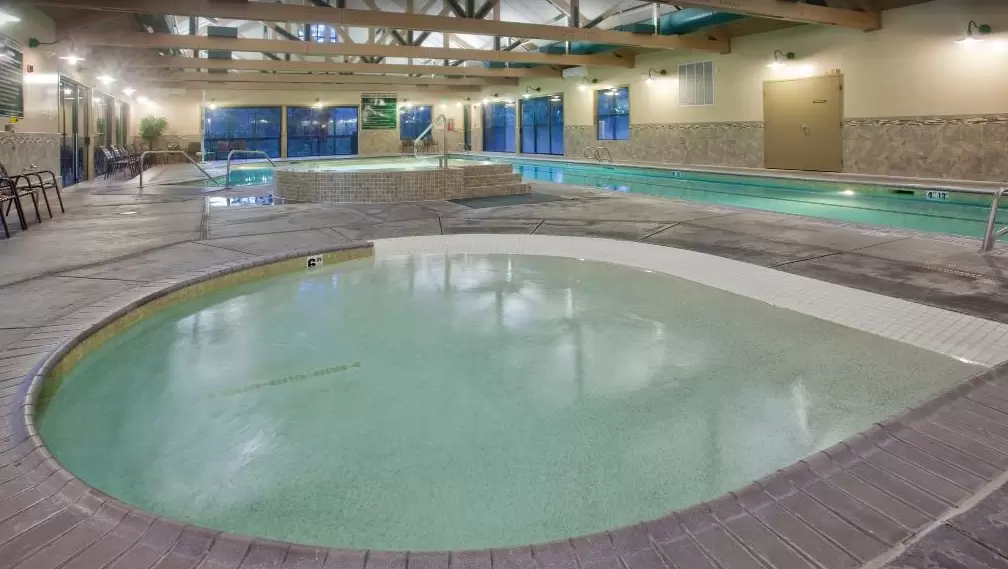 Photo Credit: Running Y Ranch
If you're looking to visit the breathtaking Crater Lake National Park with your family, it can be difficult to find lodging as there are not a lot of options nearby. One option that is less than an hour away from Crater Lake in Klamath Falls, Oregon, is the Running Y Ranch.  This lodge is not only beautiful, but it's full of fun indoor and outdoor activities the whole family will enjoy. Kids will love the large indoor pool and they have a wading pool for toddlers, too, which is rare to find for indoor pools. Right next to the pool is a hot tub that can hold quite a few people, so the parents can relax in the hot tub while keeping an eye on kiddos in the pool.  There is also an outdoor pool in the summer, complete with a large deck with fire pits close by and a poolside cafe for food & drinks.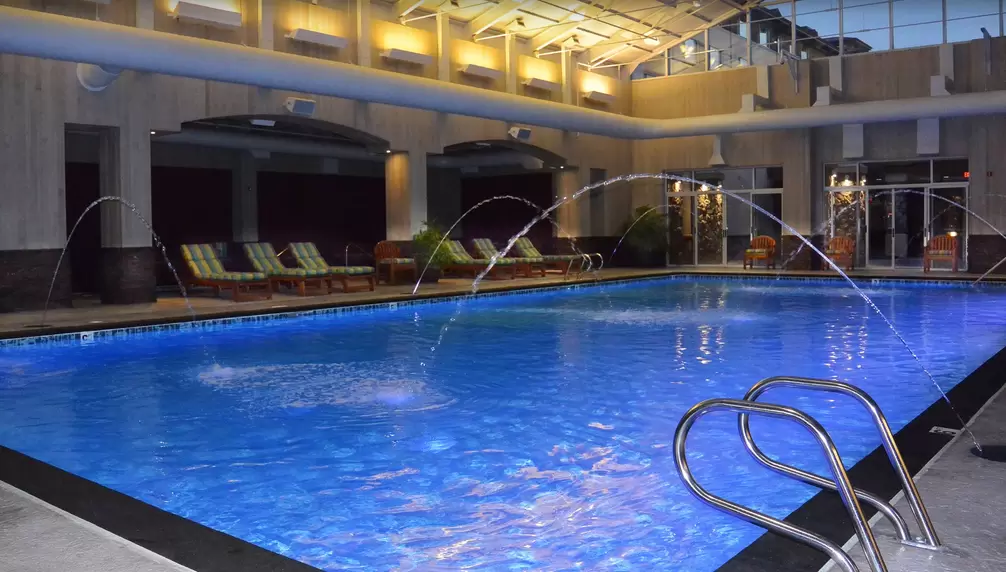 Photo Credit: Seven Feathers Casino Hotel
Another great option if you are traveling or looking for a central location in Oregon is the Seven Feathers Casino Hotel in Canyonville, OR. Canyonville is located between Roseburg and Grants Pass, OR, right off I-5, so another great stop if you're traveling along I-5. This hotel offers a beautiful atrium-style pool, which makes it bright & airy, and a welcome site for the whole family after a long day day of traveling or sightseeing. Several hot tubs surround the pool so the adults can have some relaxing time while the kids enjoy a dip in the pool. Kids will love the fountain sprayers and the lights in the pool at night.
We also enjoy the Seven Feathers RV Resort (with Yurts & Cabins + shuttle service to the casino). Their pool is nice as well, and a bit quieter than the one in the main resort area.
Photo Credit: Embassy Suites Portland
If you're headed for a little getaway to Portland with your family, the Embassy Suites by Hilton is a great option for families, especially larger families, as every room is a two room suite. Included in your lodging is a free made to order breakfast, as well as free appetizers and beverages during the Evening reception. The hotel is centrally located in historic downtown, not far from the waterfront and only two blocks from the Max light rail, which makes it very convenient for families to get around, even heading as far as the Oregon zoo and Portland Children's Museum. This was our top pick in Portland for families who want more space & the complimentary breakfast, but who are still looking for a fun indoor pool for the kids to enjoy when you're taking a break from exploring or on your downtime. The pool is larger than most of the downtown indoor pools and has a more regal feel to it, which would appeal to kids.
Image Credit: Brasada Resort
The Brasada Resort is a gorgeous resort hotel that families will love in Bend.  Bend is such a family-friendly destination in any season and then when you pair it with this resort & its 17,000 sq ft Athletic Center, there is sure to be a number of activities to keep your family entertained and active. The large indoor pool has (almost) floor to ceiling windows, which show off the gorgeous mountain views in the distance. Plus, they have 5 year-round outdoor hot tubs that the adults will enjoy unwinding in after a busy day on the slopes at Mt Bachelor or exploring the fun community of Bend. There is also a large recreation room called "The Hangout" for kids and especially teens who will love this room with their ping-pong table, rock climbing wall & more.
Honorable Mentions: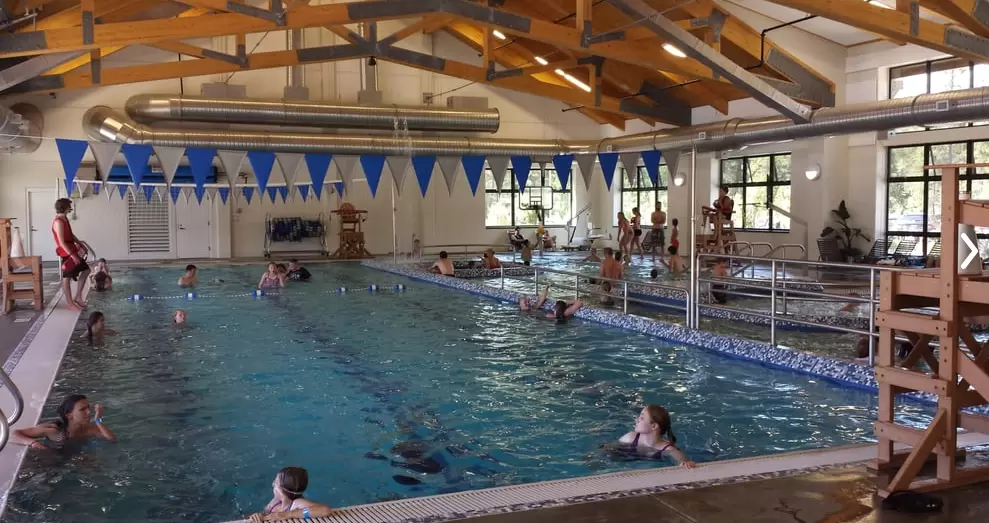 Sunriver Resort in central Oregon is one of the most popular family destinations for the Northwest for anytime of year, but especially in the winter with all the fun winter sports to take part in around the area. For swimming, when you visit Sunriver Resort in the fall/winter/spring time, you will get one complimentary day access pass to the SHARC Aquatic & Rec center.  T
In the wintertime, the SHARC center offers an indoor pool and hot tub, as well as admission to the Outdoor Tubing Hill, when it is open. This is the reason we have chosen it as an Honorable Mention since it is not specifically part of the Sunriver Resort, but you will get that one day of admission to use to check it out. The idea that kids can go from tubing for several hours to swimming later in the day makes for a fun-filled day of kids activities all in one location.
Sunriver Resort also offers a 3 lane indoor lap pool for kids ages 14 & up, which is ideal for those teenagers wanting a little more independence or exercise in the wintertime.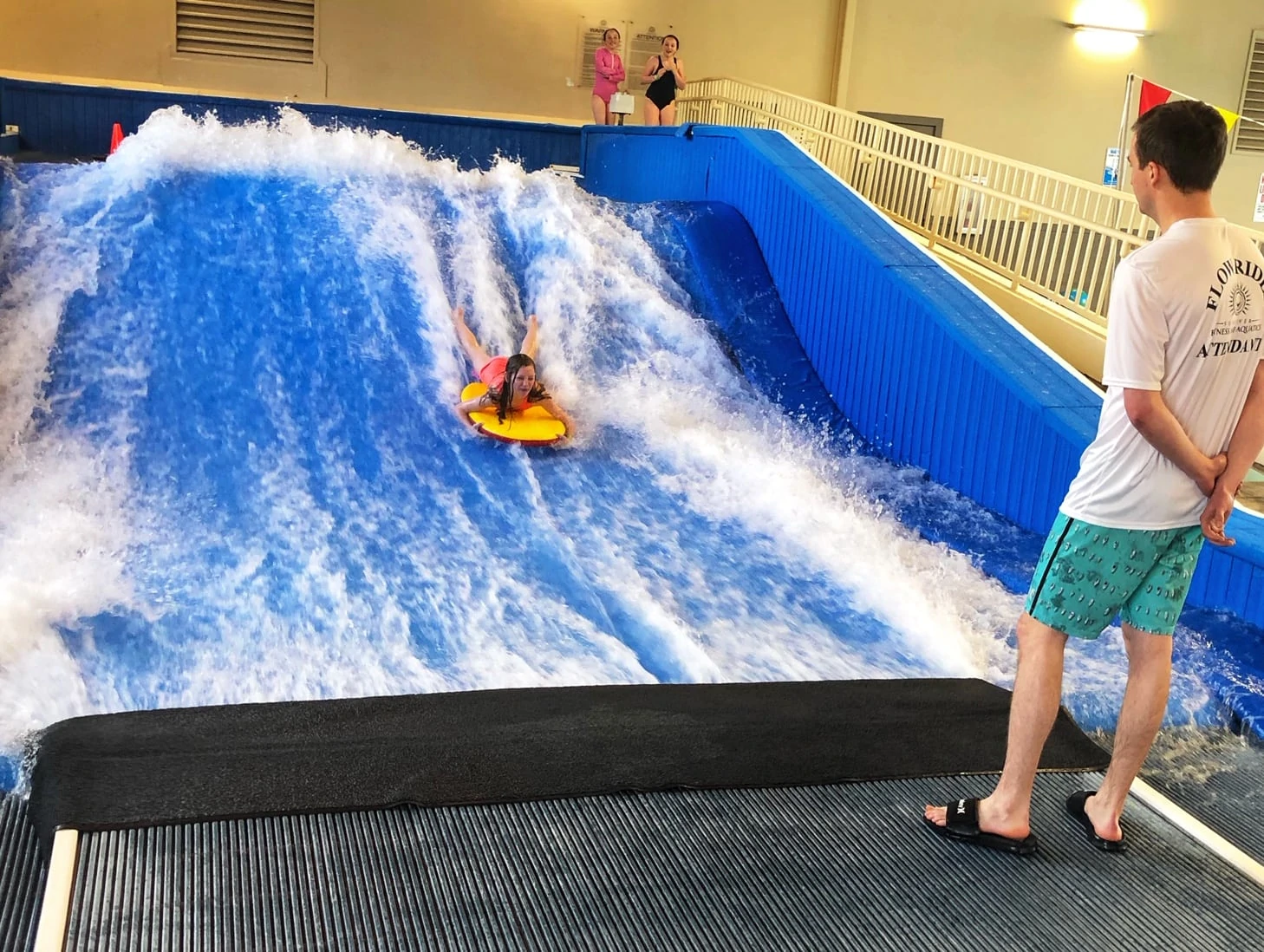 Another favorite in the Sunriver area, is the Sunriver Aquatics and Fitness Center. Their is also a spray area for the kids, and a nice long pool (and rock climbing too)! We include more about the fitness center in our review of things to do in Sunriver in the Summer here.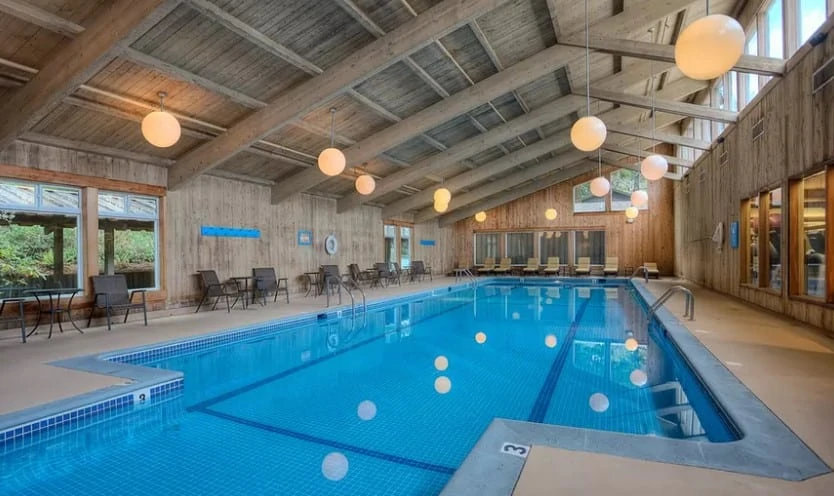 We love this resort in general, but their indoor pool area is beautiful and very comfortable to use.
Belknap Hot Springs Lodge – McKenzie Bridge, OR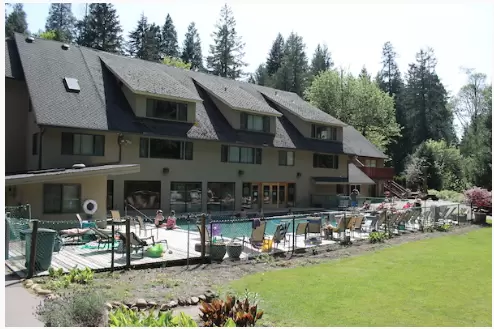 Image thanks to Road Trip for Families
This is another hotel pool we wanted to include as it can be used year-round for families since it is a heated, hot springs pool, located up in the Cascade mountains about an hour's drive from Eugene. My husband and I used to live in Albany before we had kids and we actually visited this lodge by accident many years ago when we stumbled upon it when looking for a camping spot in the mountains. We tent camped, but loved the rustic lodge .  They offer camping spots (RV & tent camping), cabins, vacation rentals & the lodge where you can stay. We were just enchanted by this lodge and pool, as it offered this fantastic outdoor hot springs pool & then beyond the pool, they had beautiful gardens and grounds you could wander around as well. The whole family would enjoy the warm pool & and exploring this beautiful area.  Check out Road Trip for Families' review of Belknap Hot Springs Lodge for more information about this cool lodge.

Image Credit: Timberline Lodge
Timberline Lodge is located right on the side of Mt Hood, Oregon's tallest mountain, and this rustic lodge is a gorgeous National Historic Landmark filled with history as it has been around since 1937. This is a very popular spot to come year-round as the Timberline ski resort typically offers the longest ski season in America (dependent on the year) as you can often ski into the summer up at Timberline. They only offer an outdoor pool & mountain hot tub – but it is heated, which creates a very fun atmosphere as you are fairly high up on the mountain surrounded by snow & the gorgeous views of Mt Hood as you swim, which would be quite the experience for kids.
More Oregon Waterparks:
Here are more Oregon waterparks we found that are not part of a hotel, but you could book a hotel nearby so you can take advantage of these awesome waterparks around western Oregon.
–Wings & Waves Waterpark at the Evergreen Aviation Museum (this does not have a hotel attached to it, but does have a number of hotels nearby)
–North Clackamas Aquatic Center –  this Aquatic park is located in the Portland suburb of Milwaukie. It has a huge, 400,000 gallon wave swimming pool, three waterslides, a toddler splash area, 13 foot diving well, and a 6 lane lap pool. When kids need a break from the water, they can check out the 29 ft rock climbing wall, too.
Astoria Aquatic Center –  This center in Astoria offers four large pools including a huge 25 meter lap pool, a rec pool for kids with a lazy river and a tall waterslide. There's also a kiddie pool for the little ones and a large hot tub for the parents to take turns with the kids and relax for a bit. Astoria is a popular spot to visit as the start of the Oregon Coast, so you could stay at a local hotel & head to this Aquatic center on a rainy day.
Shute Park Aquatic Center – This Aquatic center is located in Hillsboro, a suburb of Portland and features 3 pools, one of which has a slide, as well as a spa pool and sauna too for the parents.
Splash at Lively park – Springfield – This Aquatic center offers a wave pool, large waterslide that will provide thrills for the kids, a sprayground area for the little ones and a lap pool if you want to get some swimming in. There is also water basketball for those active kiddos. Adults can relax in the spa area or the sundeck if the weather is cooperating.
Mount Scott Community Center – This Aquatic center in Portland offers a lazy river, a twisting/turning slide, and a kiddie area with splashground for the younger kiddos, as well as a large pool for swimming.
More Posts You'll Love: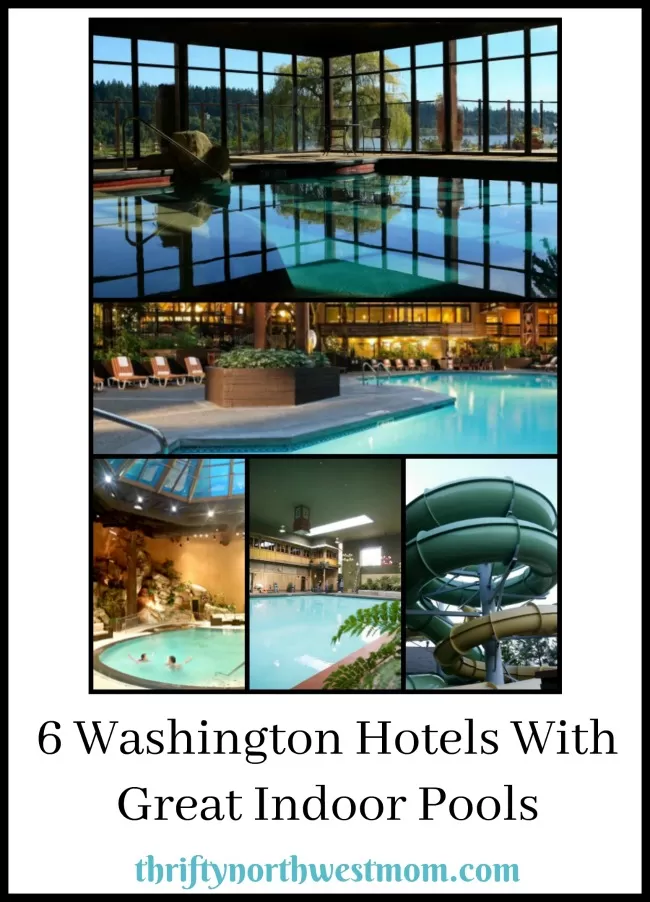 6 Washington Hotels with Kid-Friendly Pools
Waterparks around the Northwest
Save
Save
Save
Save
Save
Save
Save
Save
Save
Save
Save
Save
Save
Save
Save
Save
Save
Save