Seven Feathers RV Resort – New Yurts & Cabin Rentals in Oregon!
This post may contain affiliate links and I may be compensated for this post. Please read our disclosure policy here.
Disclosure: Seven Feathers hosted us at their RV park to provide you a review of the grounds. All opinions are 100% my own. See our disclosure policy for more details. 

Seven Feathers RV Resort – New Yurts & Cabin Rentals in Oregon!
If you are interested in Oregon campgrounds with yurts rentals, or looking for cabin rentals in Oregon, you will want to check out the Seven Feathers RV Resort. They just added a number of brand new yurts and cabins, and they are both gorgeous. We recently stayed in one of each, and loved them both. More details are provided below, so you can see which one might be the best fit for you. For the quality of facilities, I think the rates are great too (plus you can save money cooking in your own kitchen if you want).
Both the yurts and cabins are new (yurts just recently opened), and include beautiful finishes. The grounds themselves have plenty of amenities, and they sit in close proximity to lots of really fun activities that this area has to offer (like the Wild Safari Park, and National Forests)!
My family was on a road trip to California, so we stopped for one night on our way down I-5, as it makes a wonderfully convenient road trip stop. Because of that, we were only able to stay one night. I cannot wait to get back there, when I can enjoy more time in the park – as it is worth a longer stay if you are able to do that.
The RV park was exceptionally clean, quiet, and provided easy access to everything we needed for a fun stay. It is about as convenient as it gets, in terms of easy access on and off the freeway.

Why Choose the Seven Feathers RV Resort For Your Trip?
This location is great for many reasons. Here are a few reasons why my family loves it:
If you want to experience beautiful (and brand new) yurts or cabins, this spot is a great place to do that – you will not be disappointed. I prefer a spot like this, over a hotel room, and really enjoyed our stay here (everyone has their own space, there is lots of outdoor areas to explore, you can cook your own meals, etc).
It is located right off of 1-5, for quick on and off if you are doing a road trip and need a great place to stay. Once you are on property, you would never know how close you are – as it is beautiful and quiet. This is in the Southern Oregon area, so makes a great stop if you are heading into California.
It is a wonderful destination in itself, if you want to visit local area attractions.
If you are traveling as a mixed group of parties – where some have RVs and others need someplace to stay, this could be the perfect option.
It is a very nice option if you are traveling with folks who like Casinos, but you do not want to stay in a Casino environment (it offers the best of both worlds)
Check out the New Cabin and Yurts You Will Find at the Seven Feathers RV Resort:
These cabins and yurts are just gorgeous. They are all new, and perfect for couples, families or groups traveling together. Here are some details to help you decide whether to book a cabin or yurt for your stay (or one of each like we did)! I loved them both. My kids chose the yurt to stay in, as that was their favorite.
There are six cabins, and three yurts currently available for rental. I would expect that these are going to be very popular as more people learn about them, so would recommend booking as far in advance as you can if you are interested in a stay.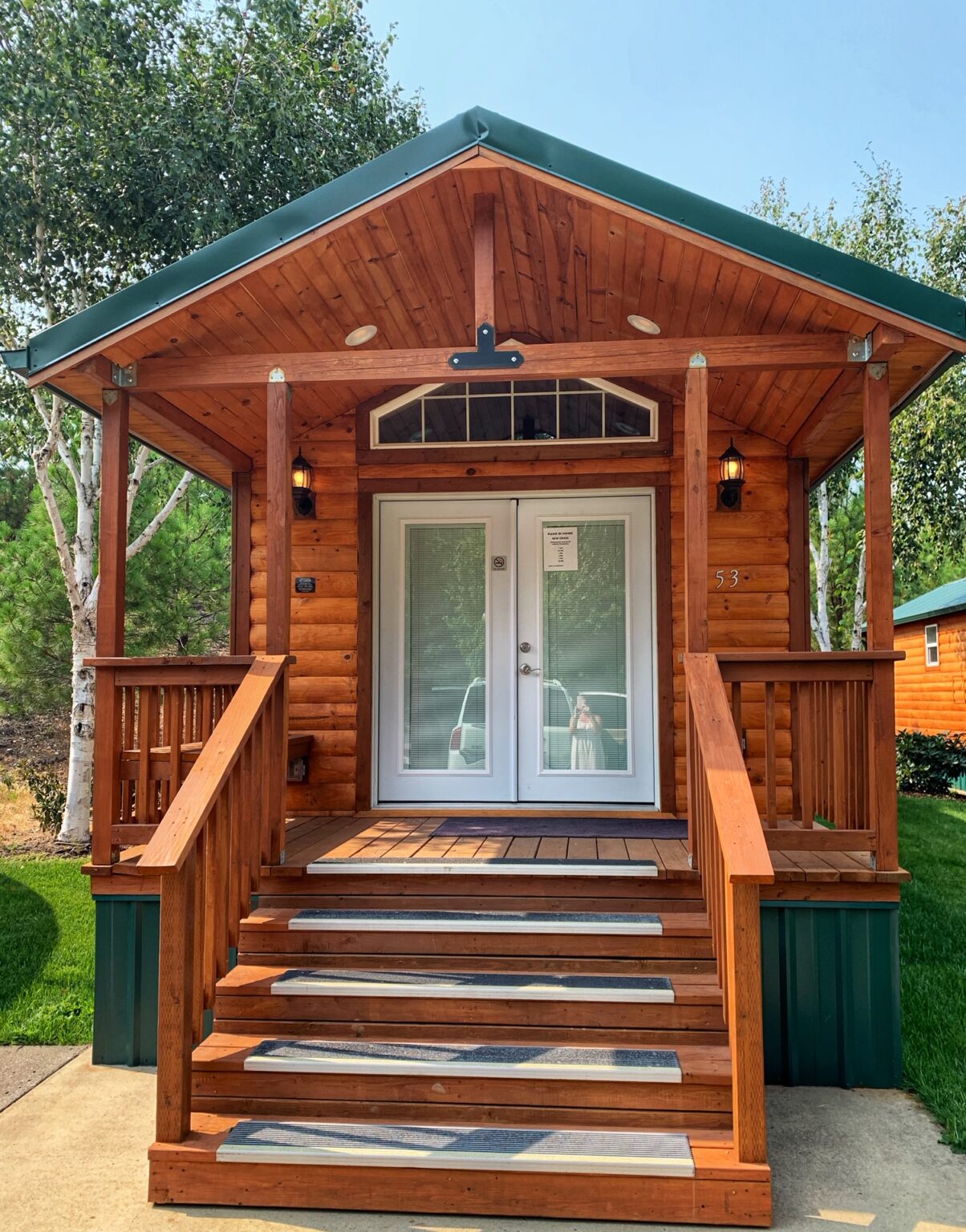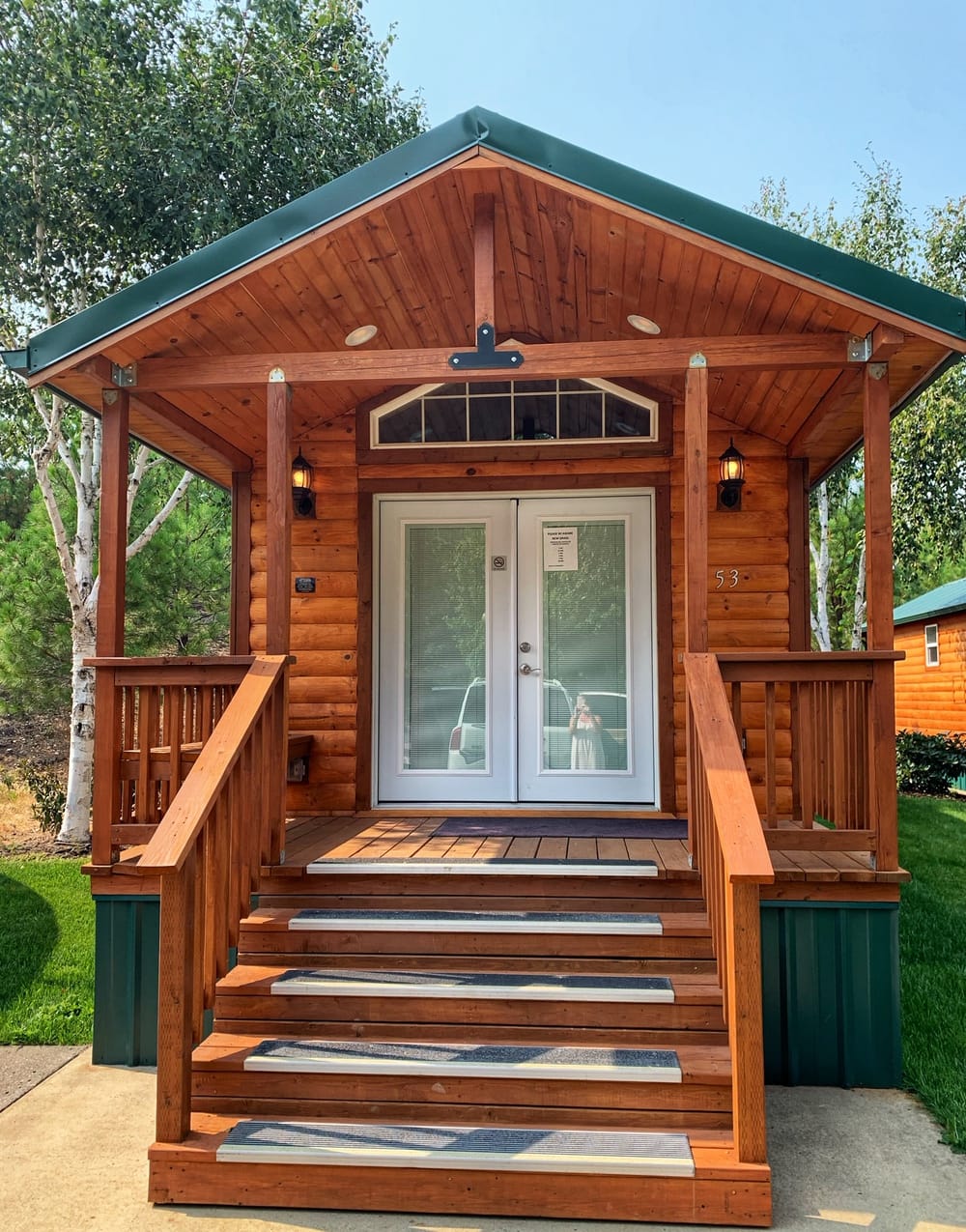 The cabins at Seven Feathers RV resort will sleep up to 5 people. There is a bedroom with a double bed, a single bed in the front and a pull out futon. I think the futon might only be comfortable for younger kids though (I would probably not sleep adults on that one).
There is a second style of cabin that does not include the extra single bed, but does have a porch off the back too, if you need to sleep fewer people.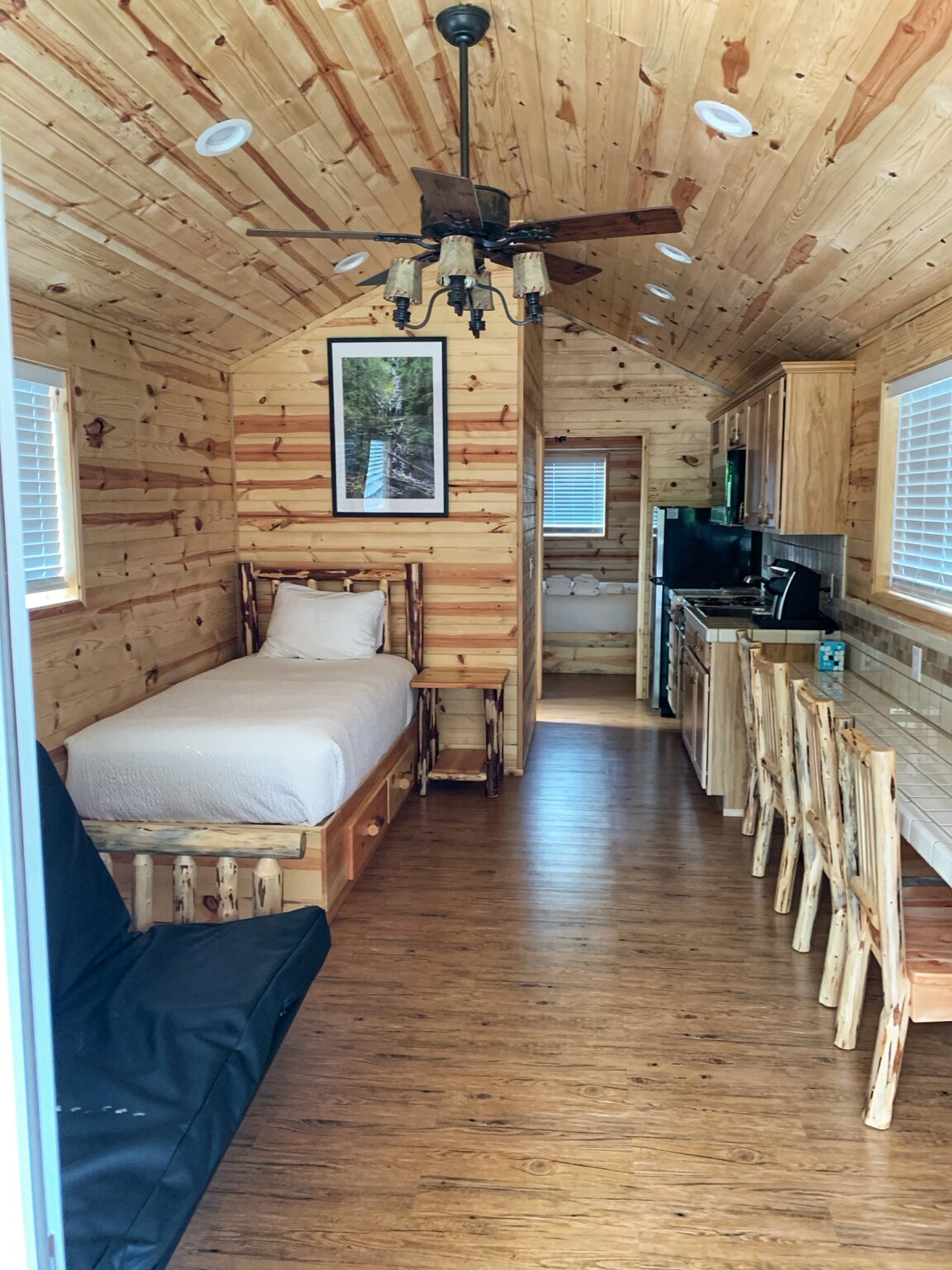 Here is the full view of our main living space in the cabin. You will find a kitchen, full bathroom and bedroom towards the back. Everything was exceptionally clean in our units.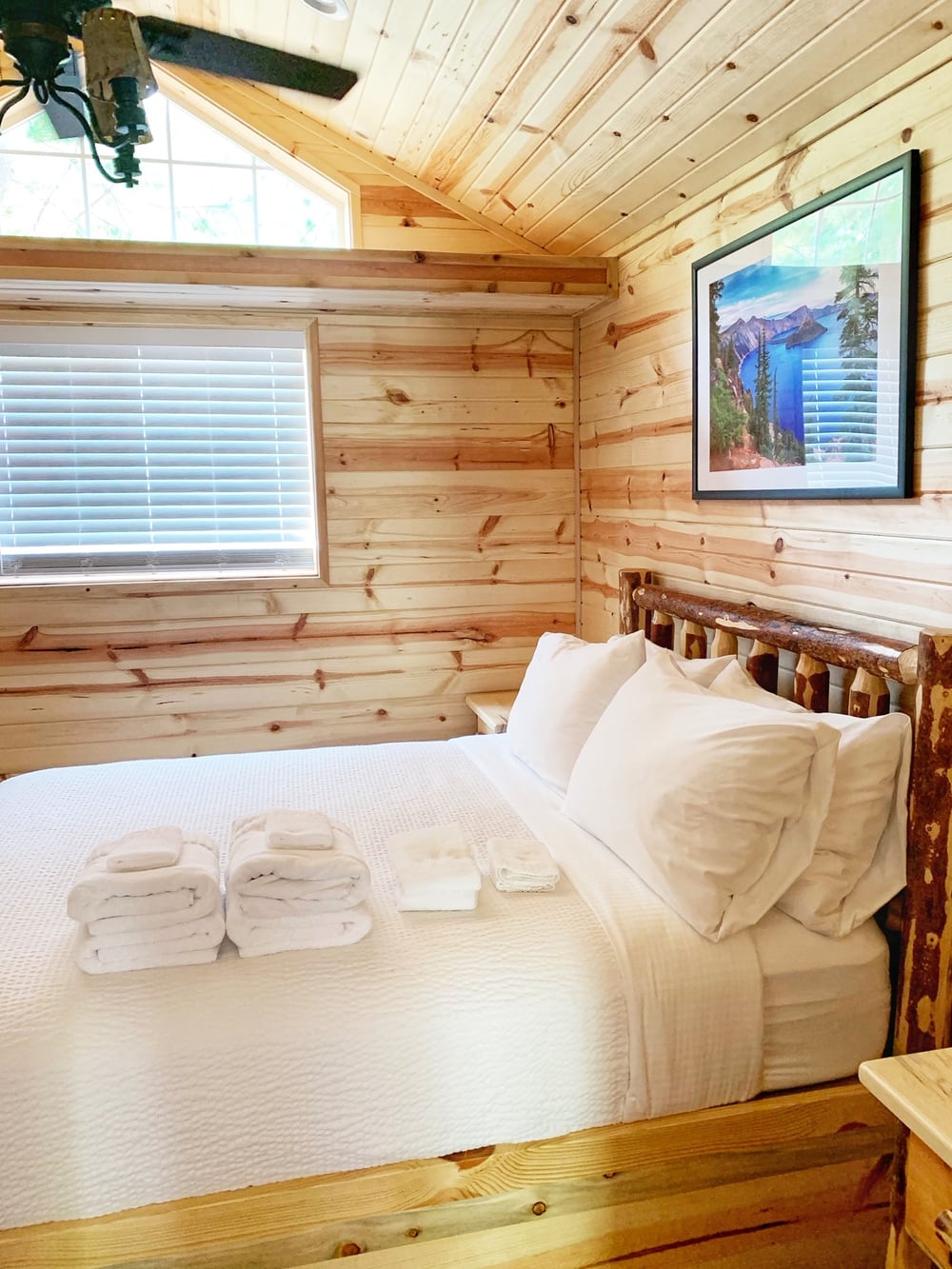 The bedroom with linens provided. It also had a tv if you like to watch that at the end of the night, and some good closet space.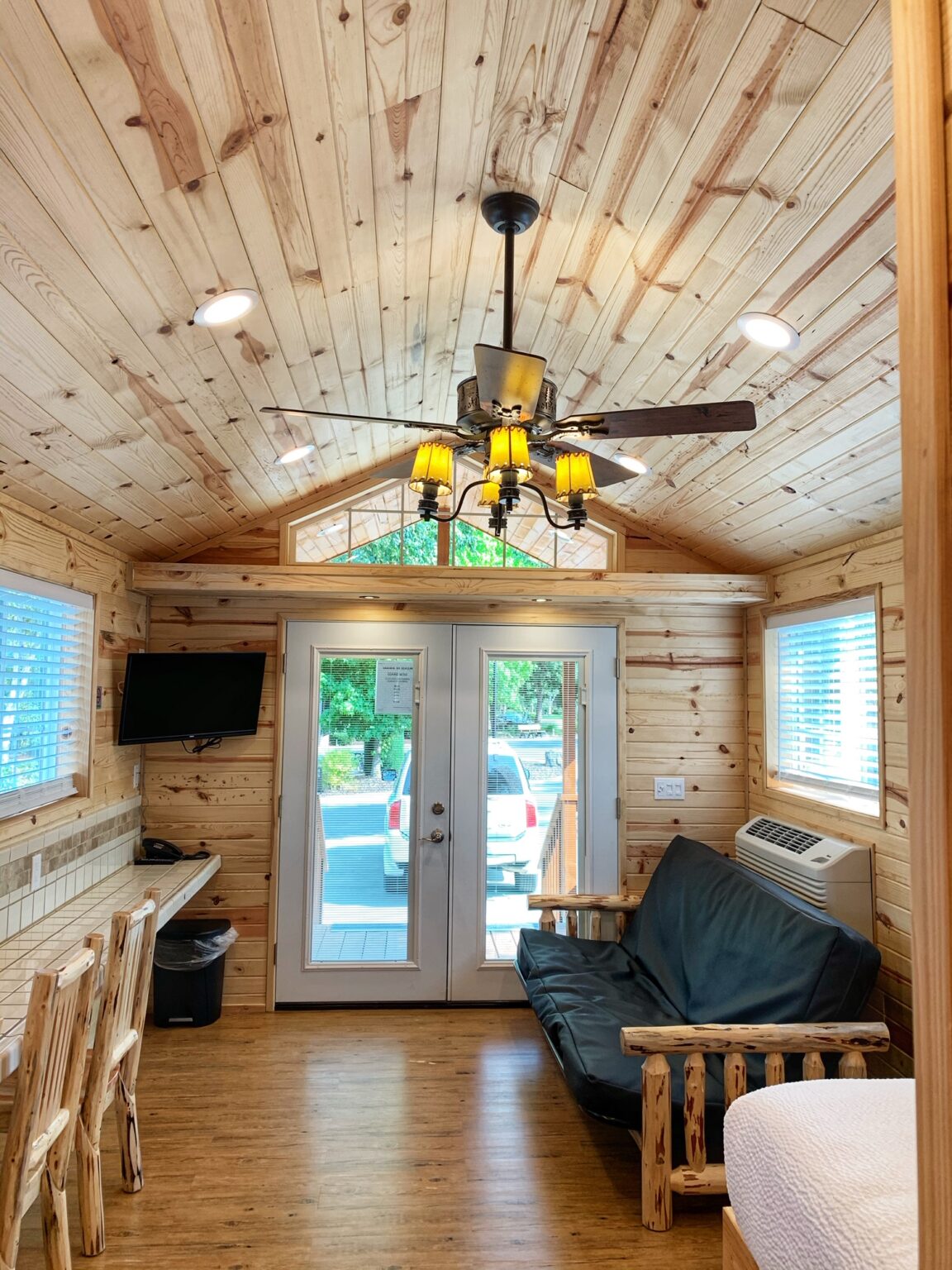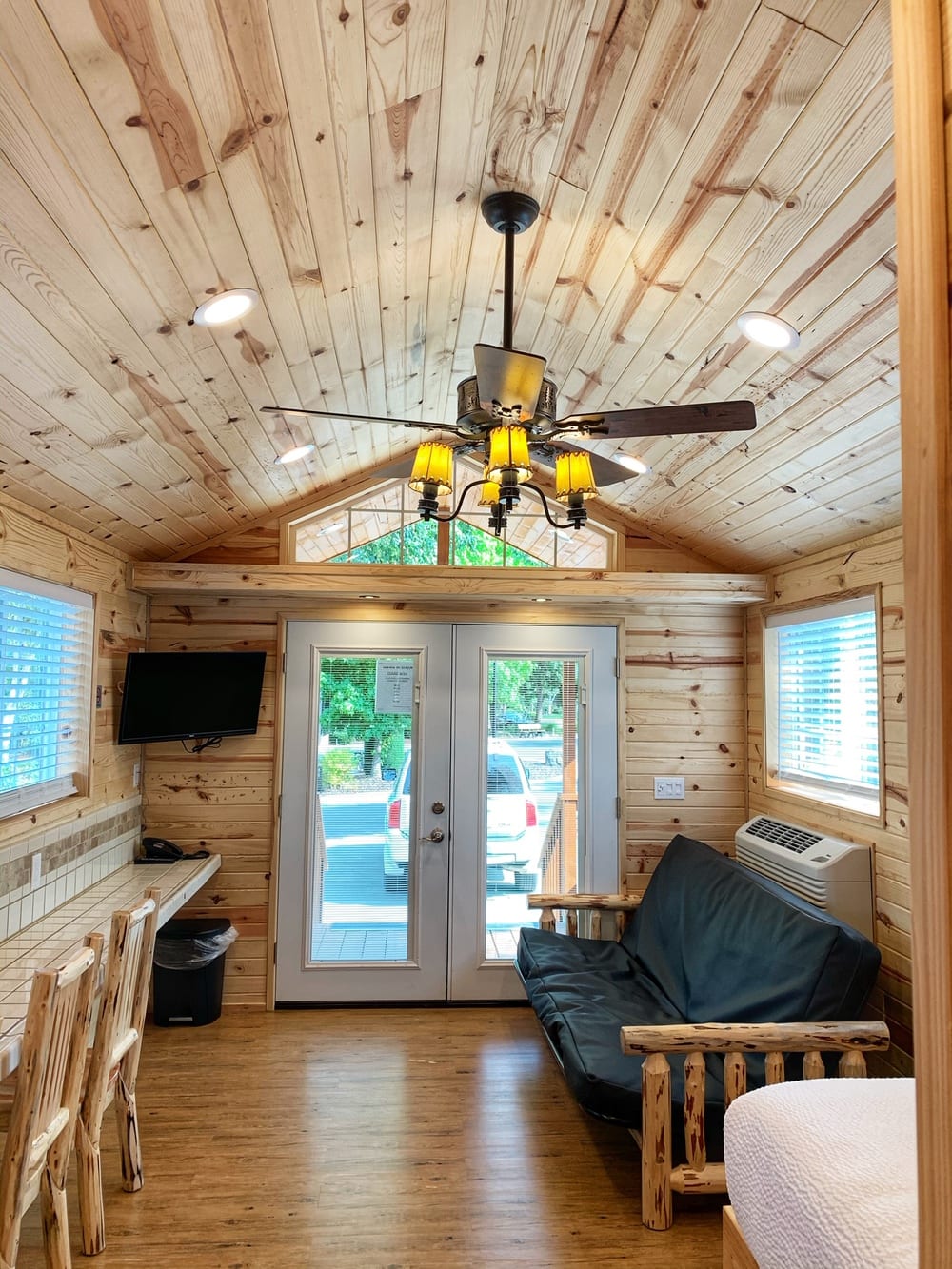 The cabins where light and airy, and you had heat and air conditioning too.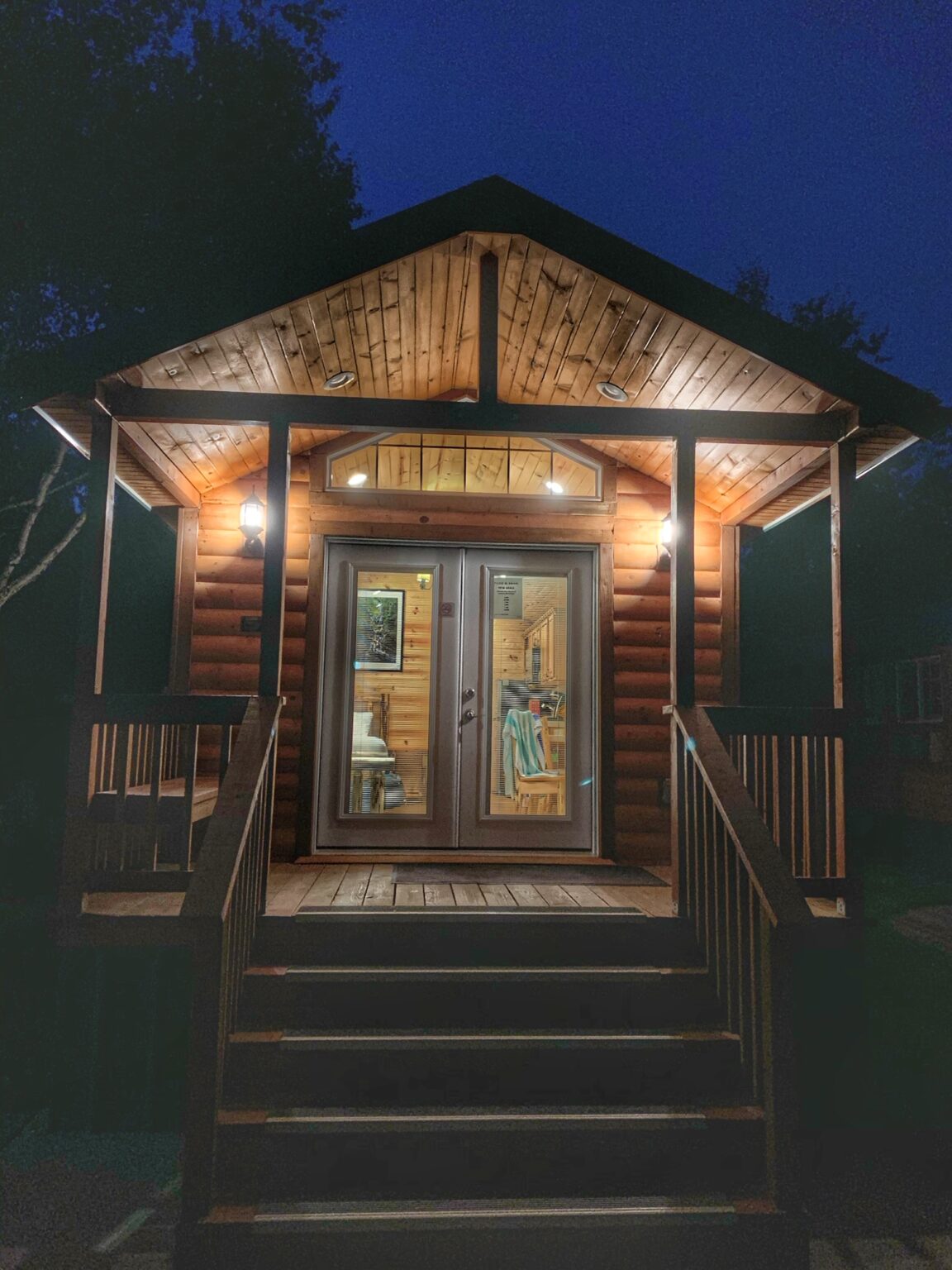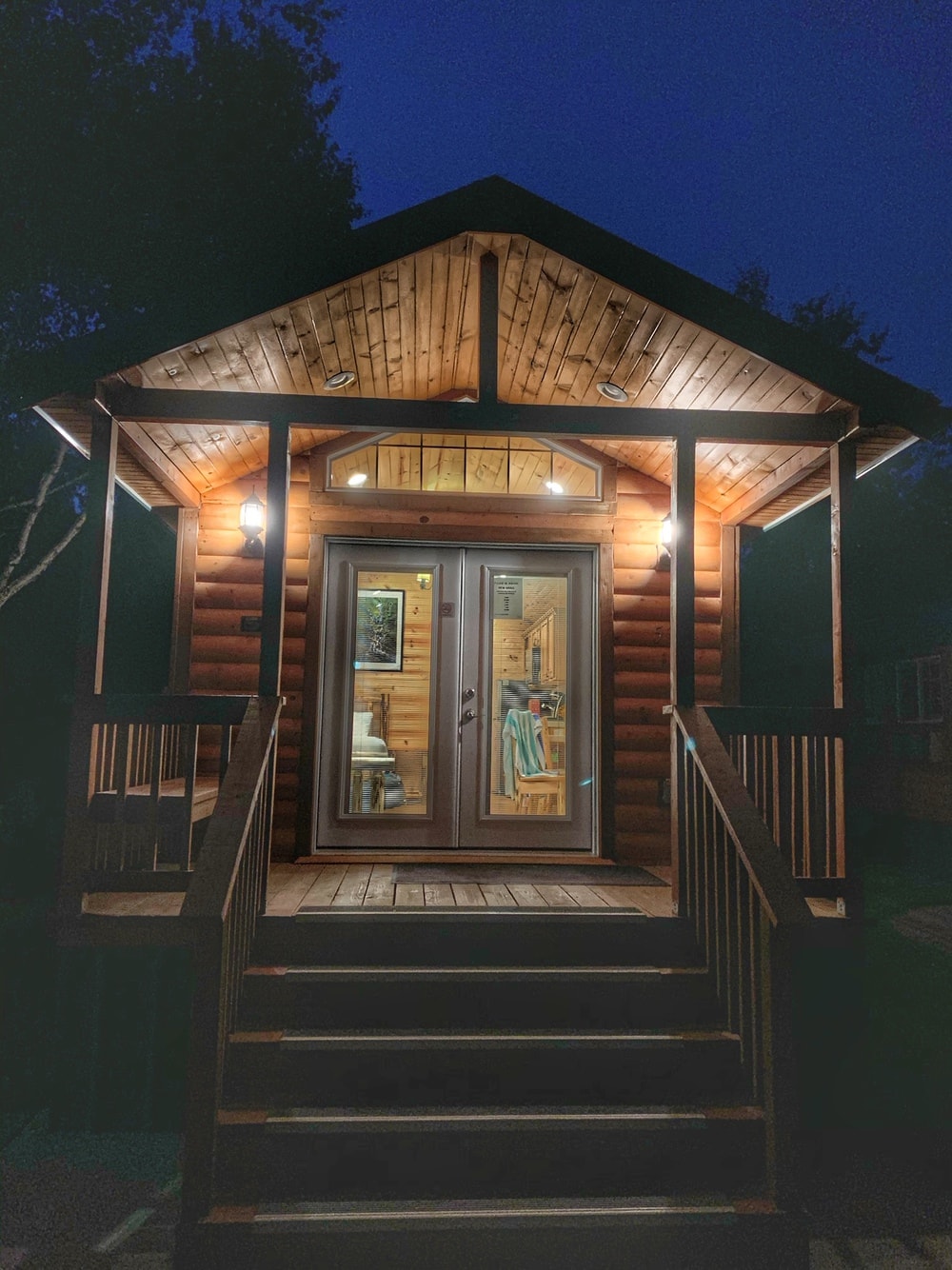 The entire park was beautiful in the evenings, and I loved sitting out on my porch enjoying the warm summer air. Things were lit up well, and we felt very safe here at all times.
Yurt Rentals, Oregons Seven Feather RV Resort –
If you want to try a yurt, this is a spot to consider for sure. They were really nice, and sleep 4 people. My teens loved the yurt, but it would also make a really nice couples getaway.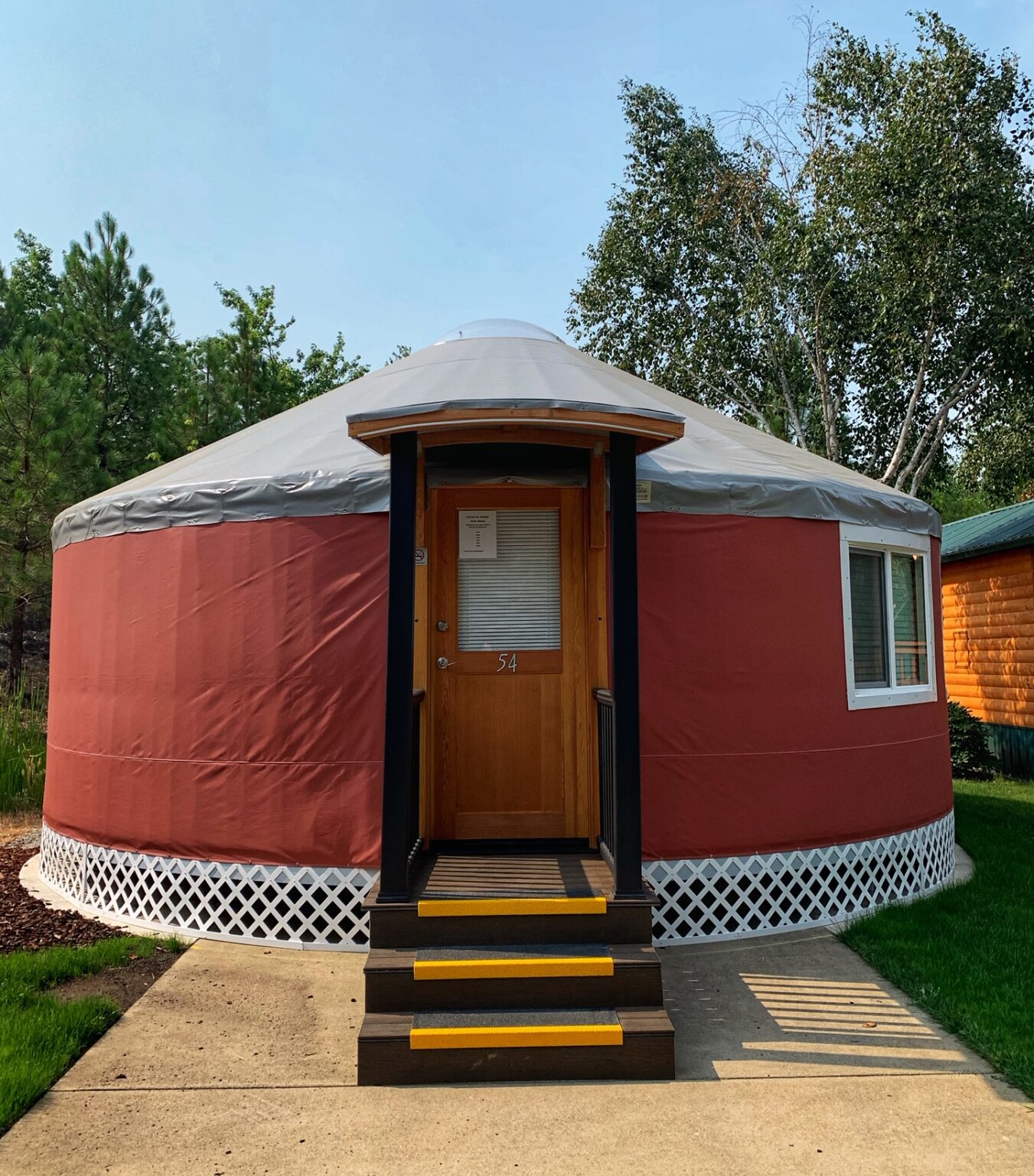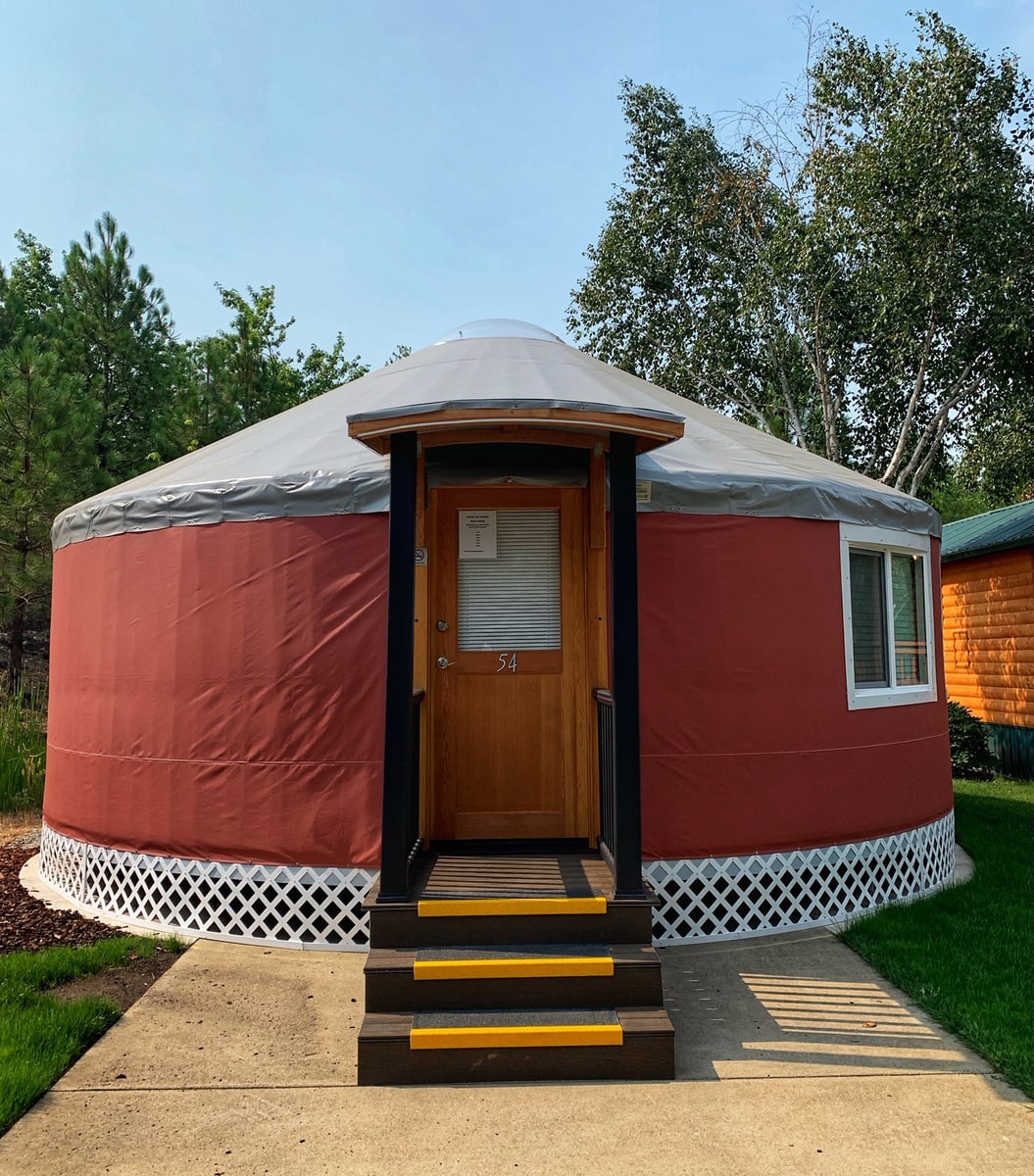 The yurts come with locking front doors, just like the cabins, and are also fully equipped with heat and air conditioning, as well as a kitchenette and bathroom (and linens)! This is a fun way to glamp too, if you have been wanting to try that. Many yurts you will find at state parks and such, do not include all of these extra amenities, so these are very nice for a yurt!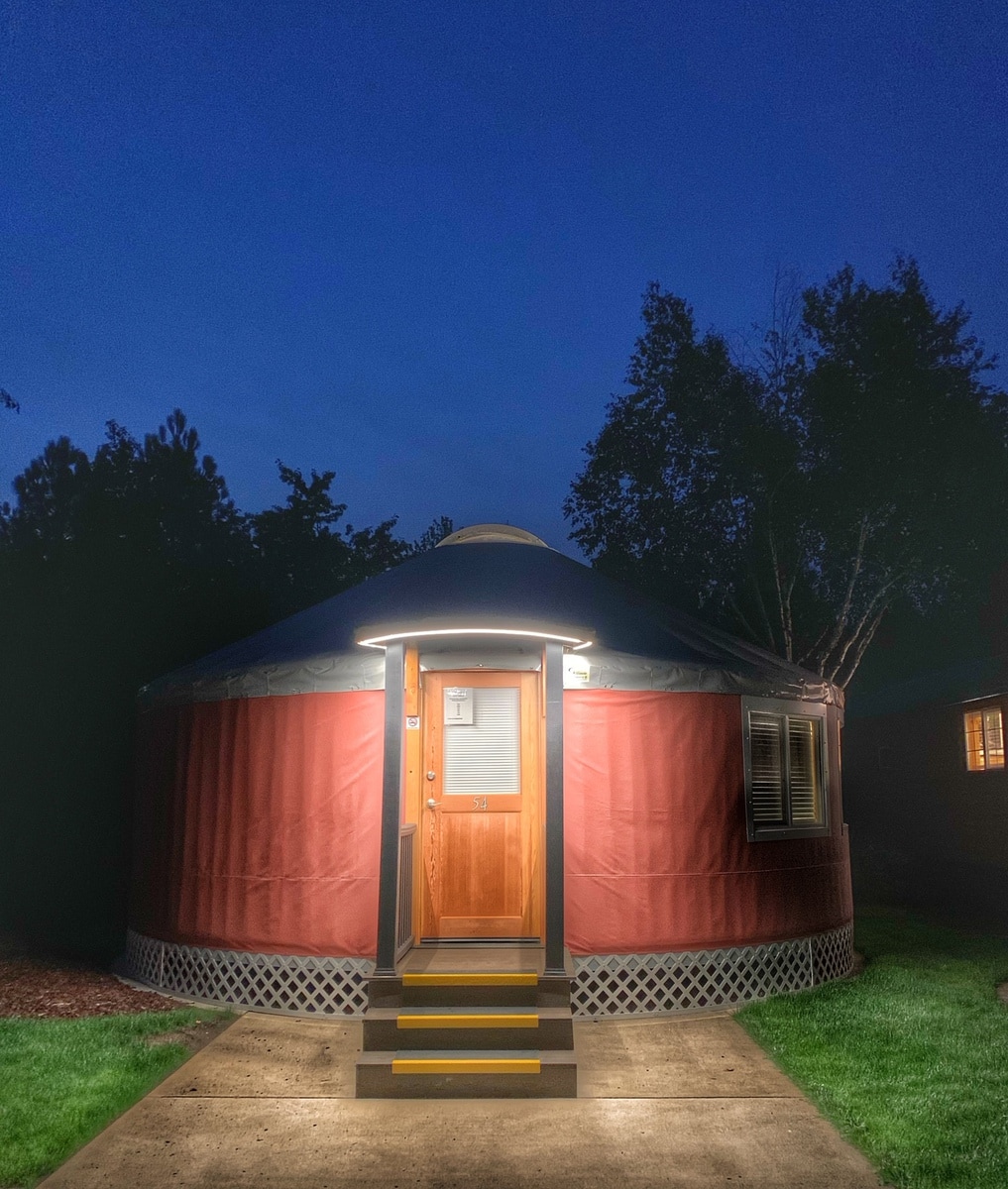 They glowed so beautifully at night time too. There is a picnic table off to the side, so there is some outdoor seating if you prefer that too.
The dome at the top, keeps them very light and bright.  In addition to the bed you see here, there is a couch that pulls out to sleep on too. The full bathroom is around the corner as well.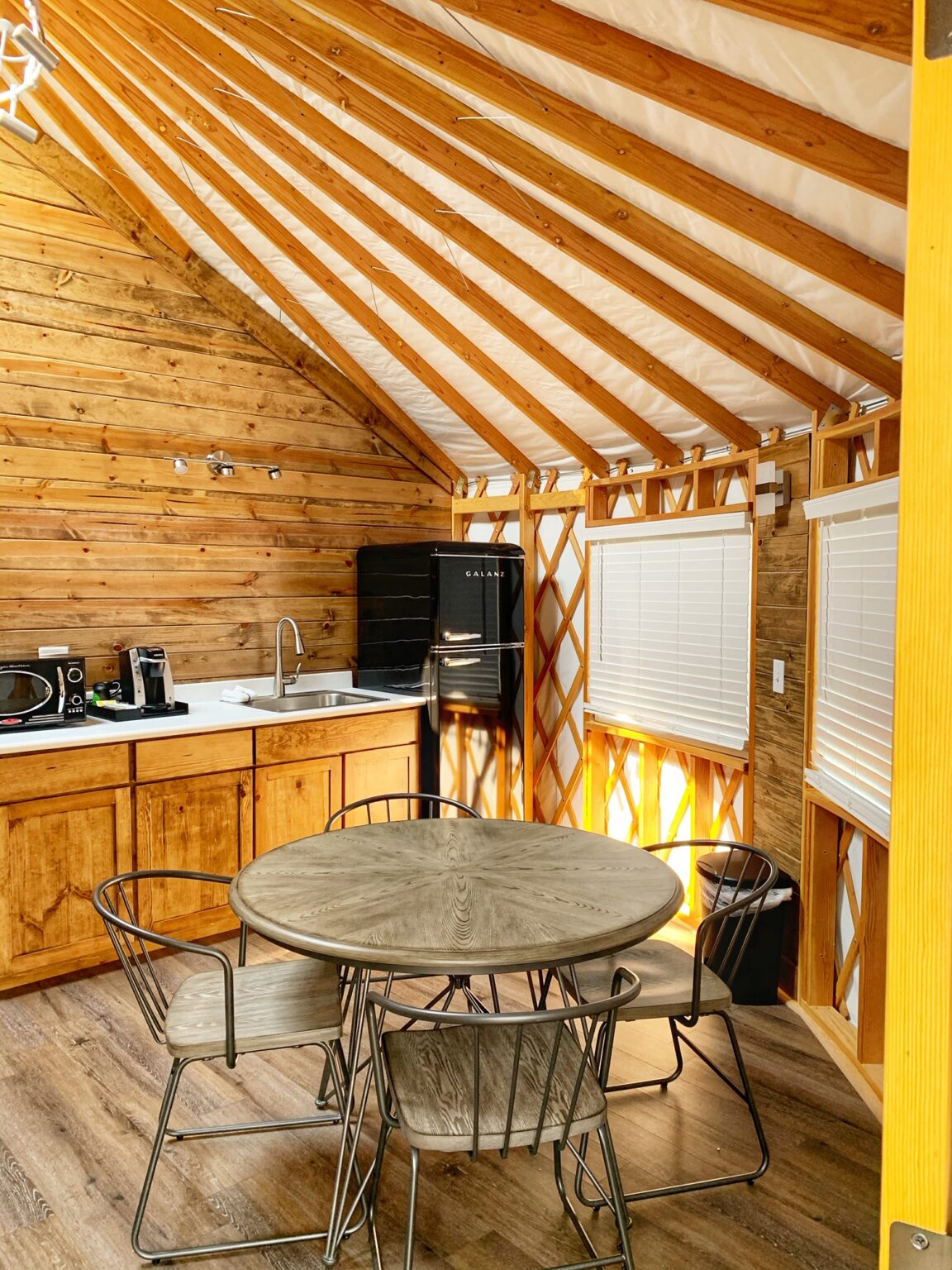 They also paid attention to the details, with these fun retro style kitchen appliances.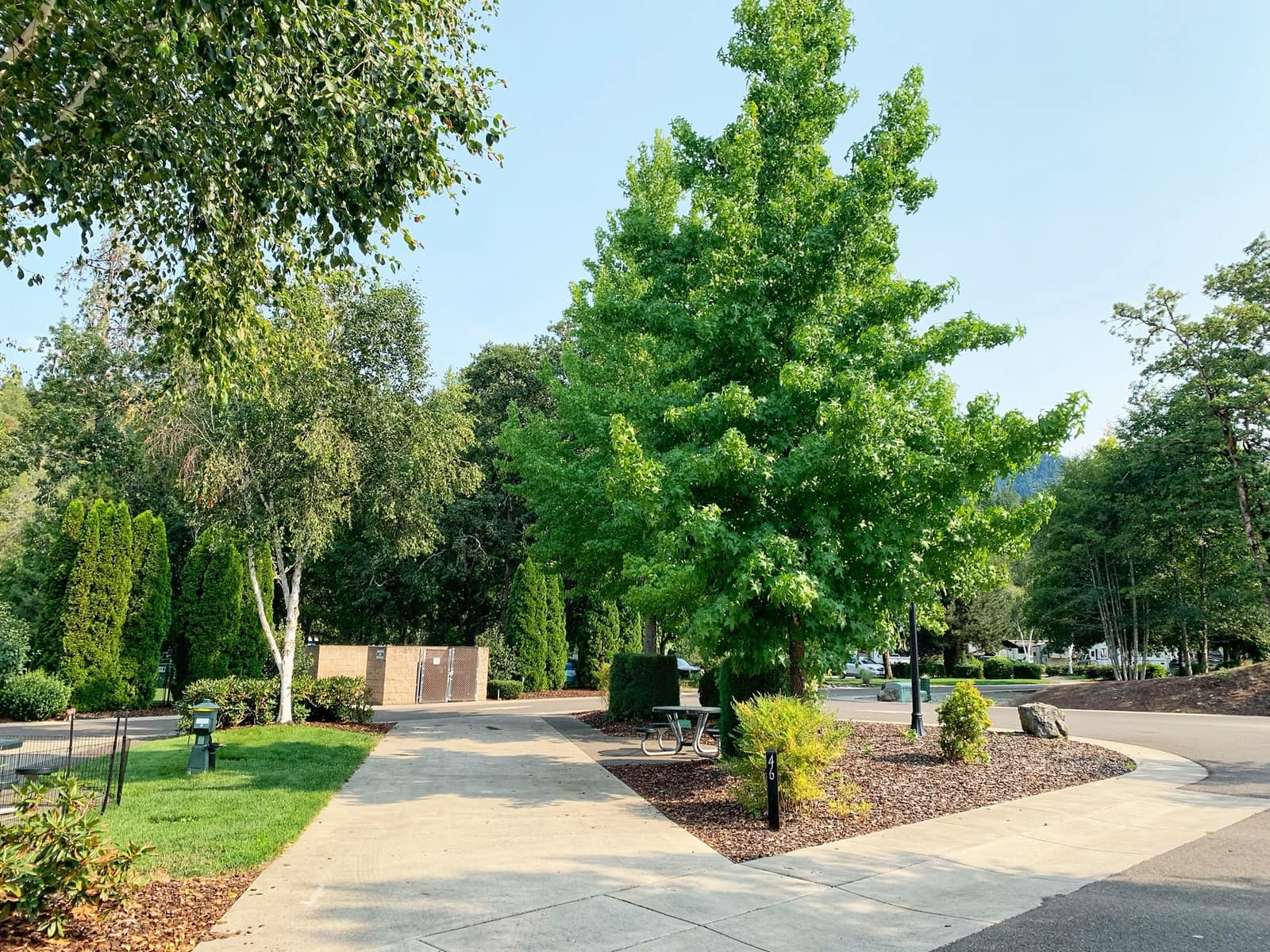 If you have an RV, there are a number of clean and beautifully maintained RV spots, including quite a few pull through spots. All sites have level, concrete pads and aggregate patios, and beautiful landscaping around them.
(Side Note – if you need to work during your stay, you may want to be prepared with a hot spot, to make that as easy as possible. Kids had no trouble getting internet on their phones, but if you need high speed internet for work, I recommend having your own hot spot to work from). 
Amenities At Seven Feathers RV Resort:
Not only is the park clean and beautiful, but it also provides some really nice amenities to enjoy during your stay.
The pool area was very nice. It is indoor, and offers a heated pool and hot tub for year round use. It was well maintained during our visit, and again nice and bright. I really loved this pool area.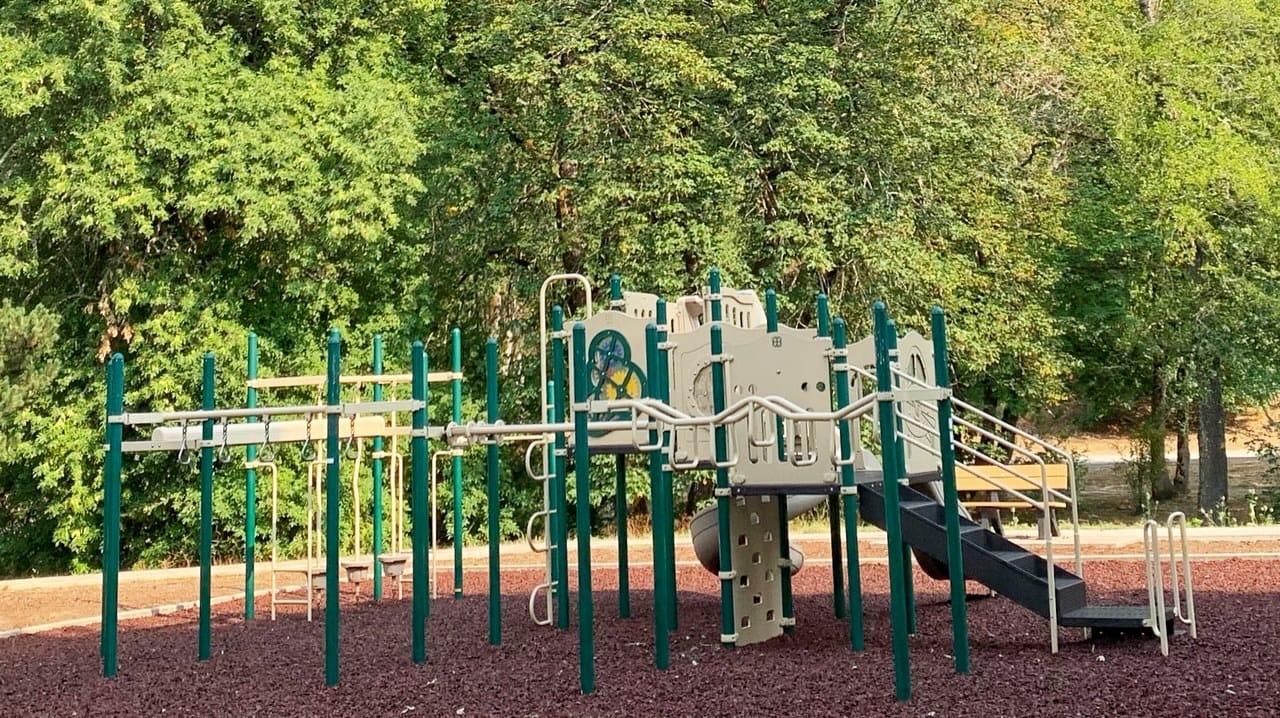 They have many nice outdoor areas, including a park for kids, another park for dogs, a firepit area and more. The mountain backdrop in this area is beautiful too.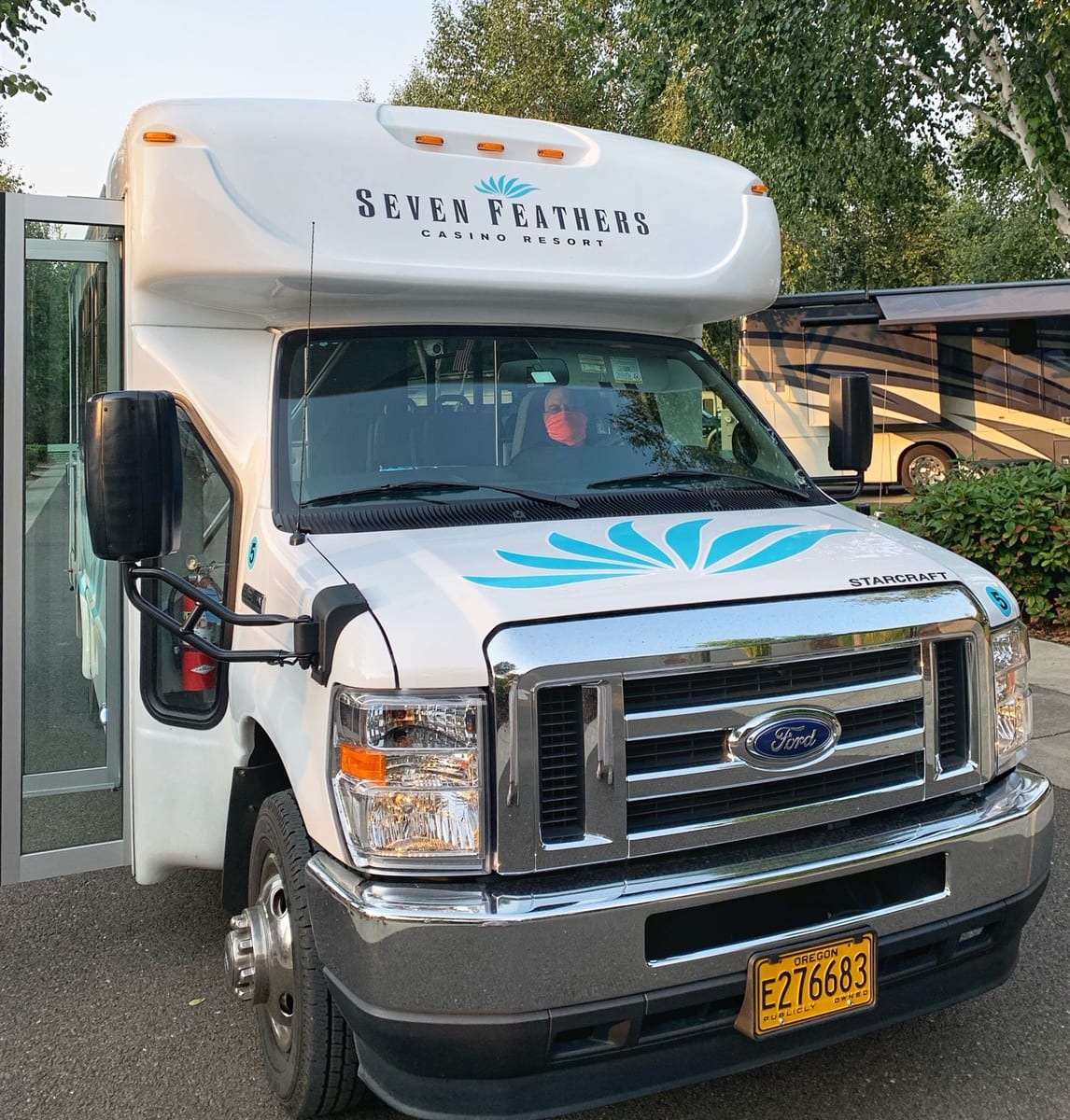 They offer a free shuttle service that you can take down to the Casino, or to their truck stop store. You call them, and they pick you up and drop you off right at your spot.
This is convenient, even if you do not gamble (I was traveling with my teens, and we were not gambling, but used the shuttle to go down and enjoy some of the amenities and eat there for the evening). It is also a great way to pick up any supplies you might need at their truck stop, if you want to cook in your own kitchen to save money. The shuttle service is completely free, but we did tip when using it.
(Tip – they also have a gas station right there, with some of the best gas prices we saw in the area, and a convenient spot to fill up before hitting the road again).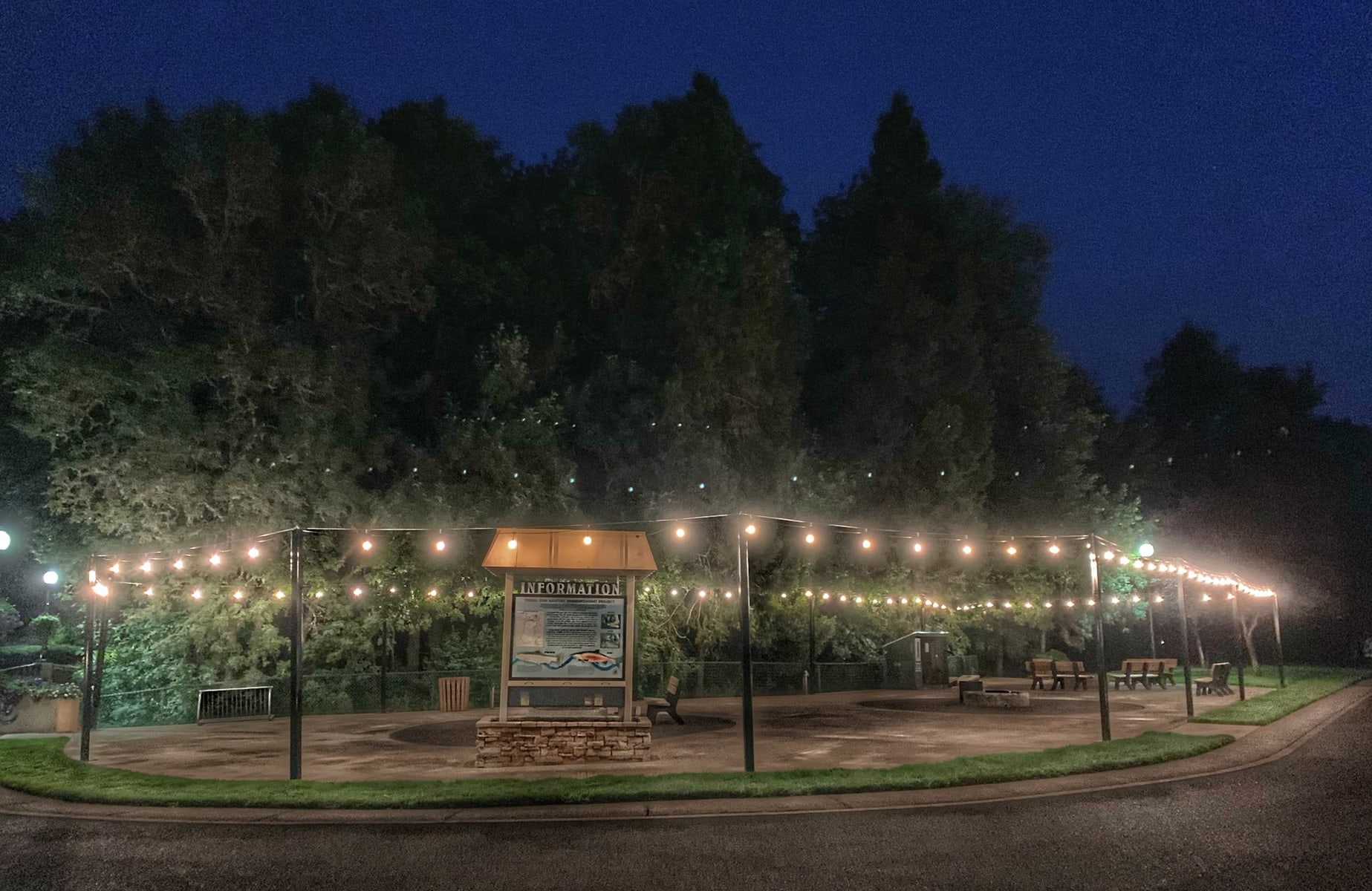 The entire park is well lit at night time too, and was very quiet during our stay. I took an evening walk, and loved the opportunity to do that and feel safe.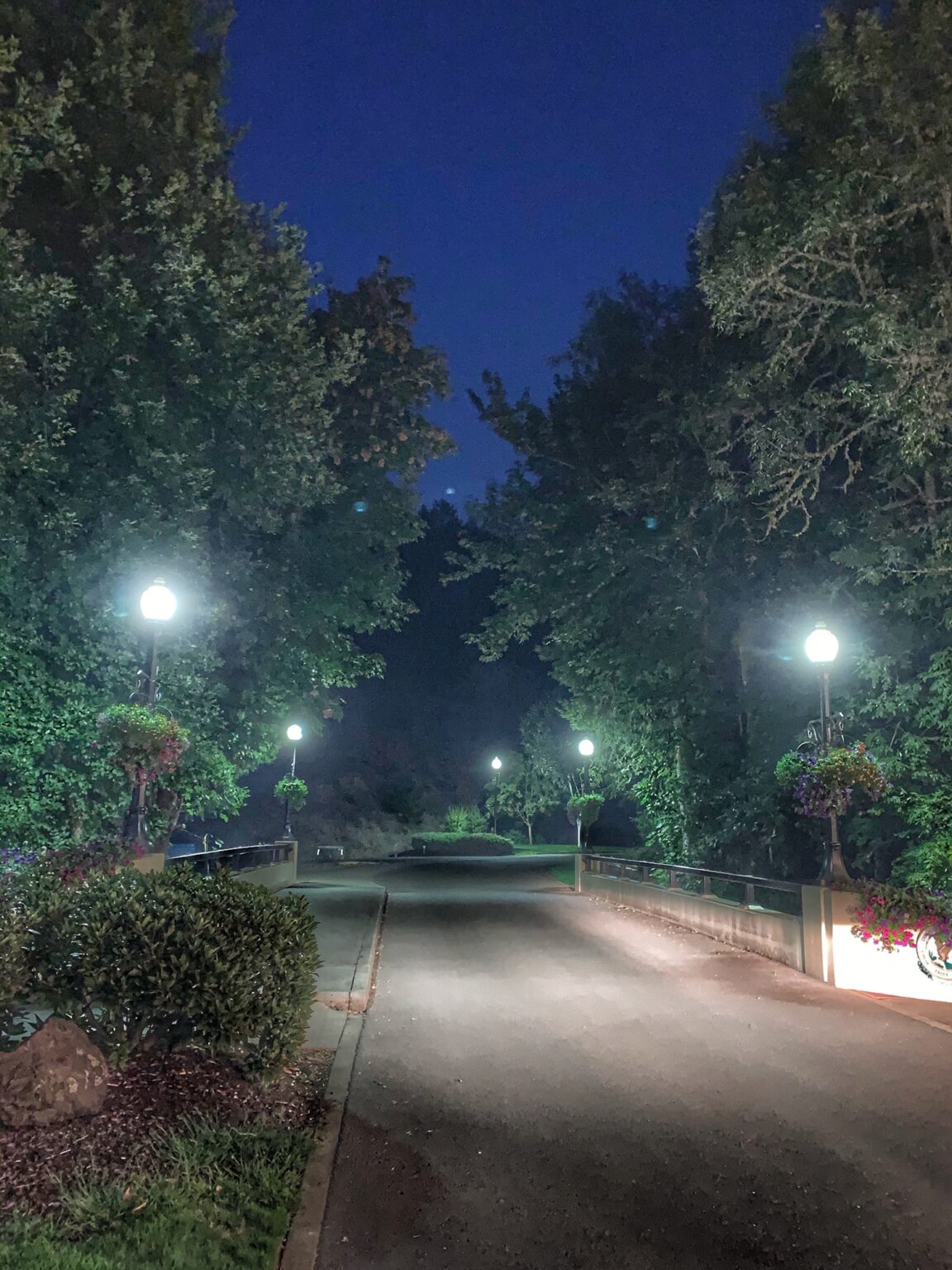 More examples of how well lit it was through the park in the evenings.
You will also find a garden walk through their Jordan Creek area, horseshoe pit, fitness room, clubhouse area with access to free coffee, books, computers and more too.
Things to Do in the Area:
There is something to do in the area for all ages. You can enjoy everything from a Wine Country Trolley Tour, to visiting the Wildlife Safari park!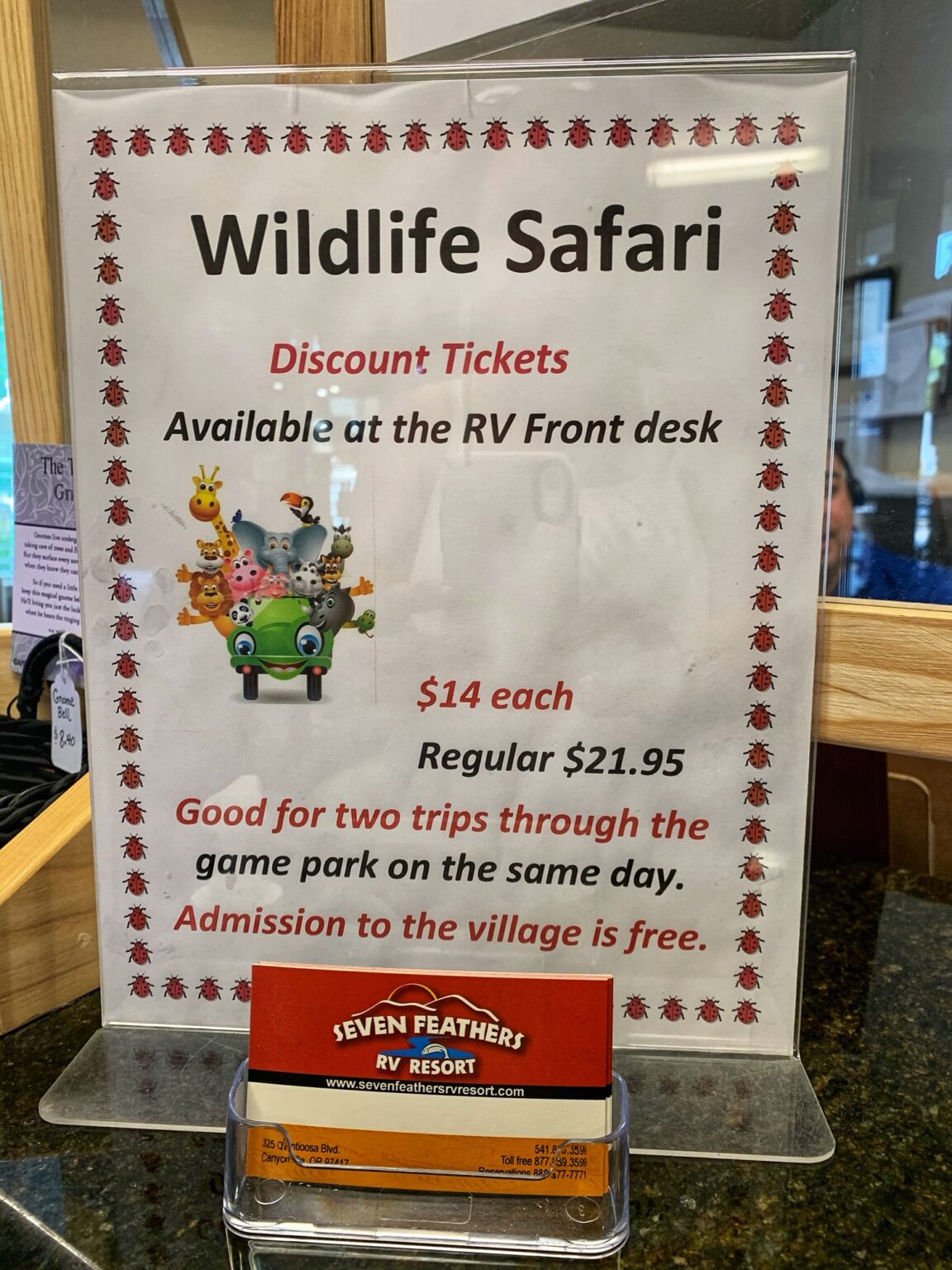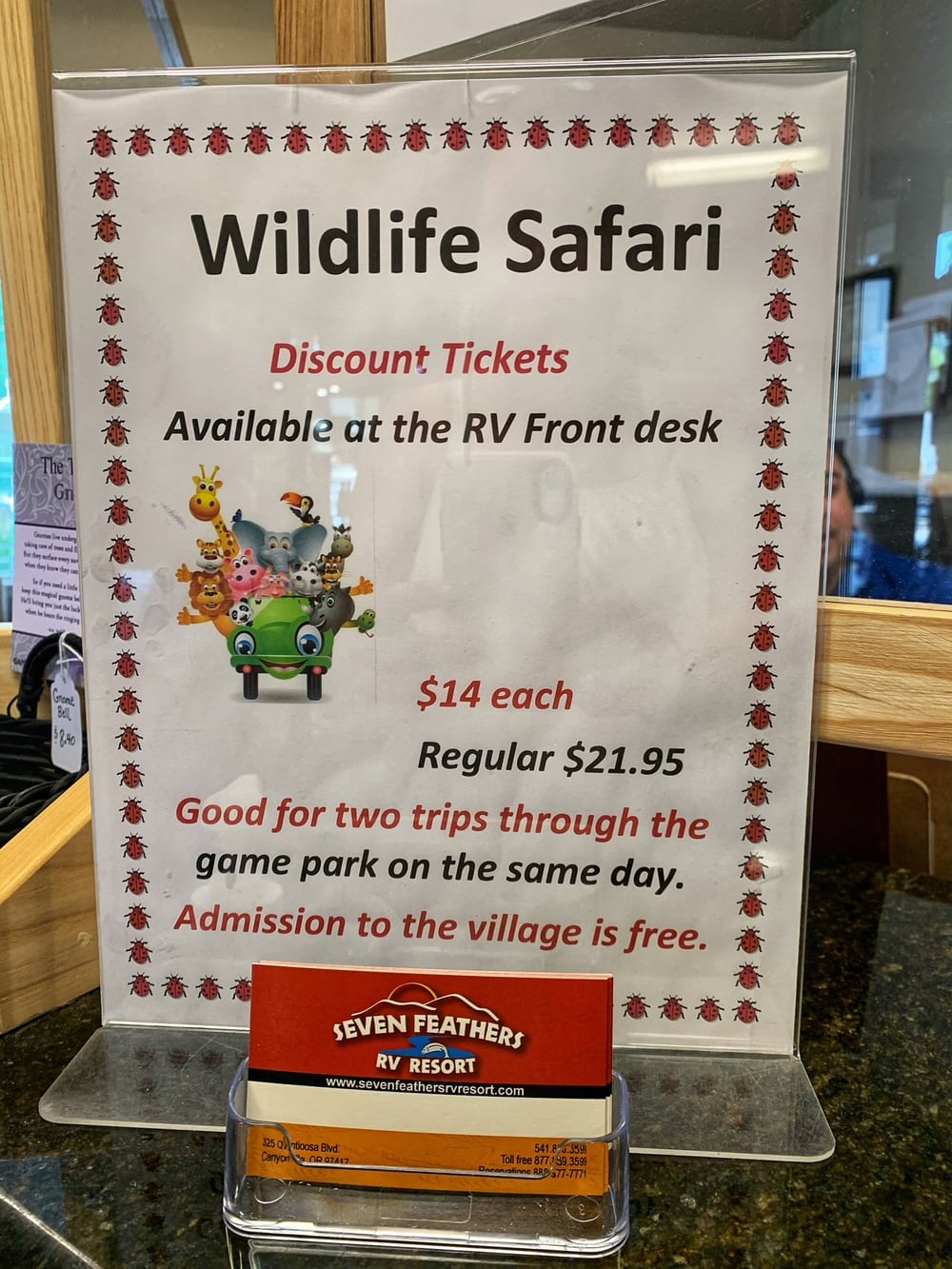 The Wildlife Safari Park is always very popular, when we share about it, and you can get discount tickets right on-site when you check in. Groupon also often offers discounts, so you can check to see if those are available too. Wildlife Safari is a 600 acre Drive-Thru animal park. Driving your own vehicle, It takes about 1-1/2 hours to complete.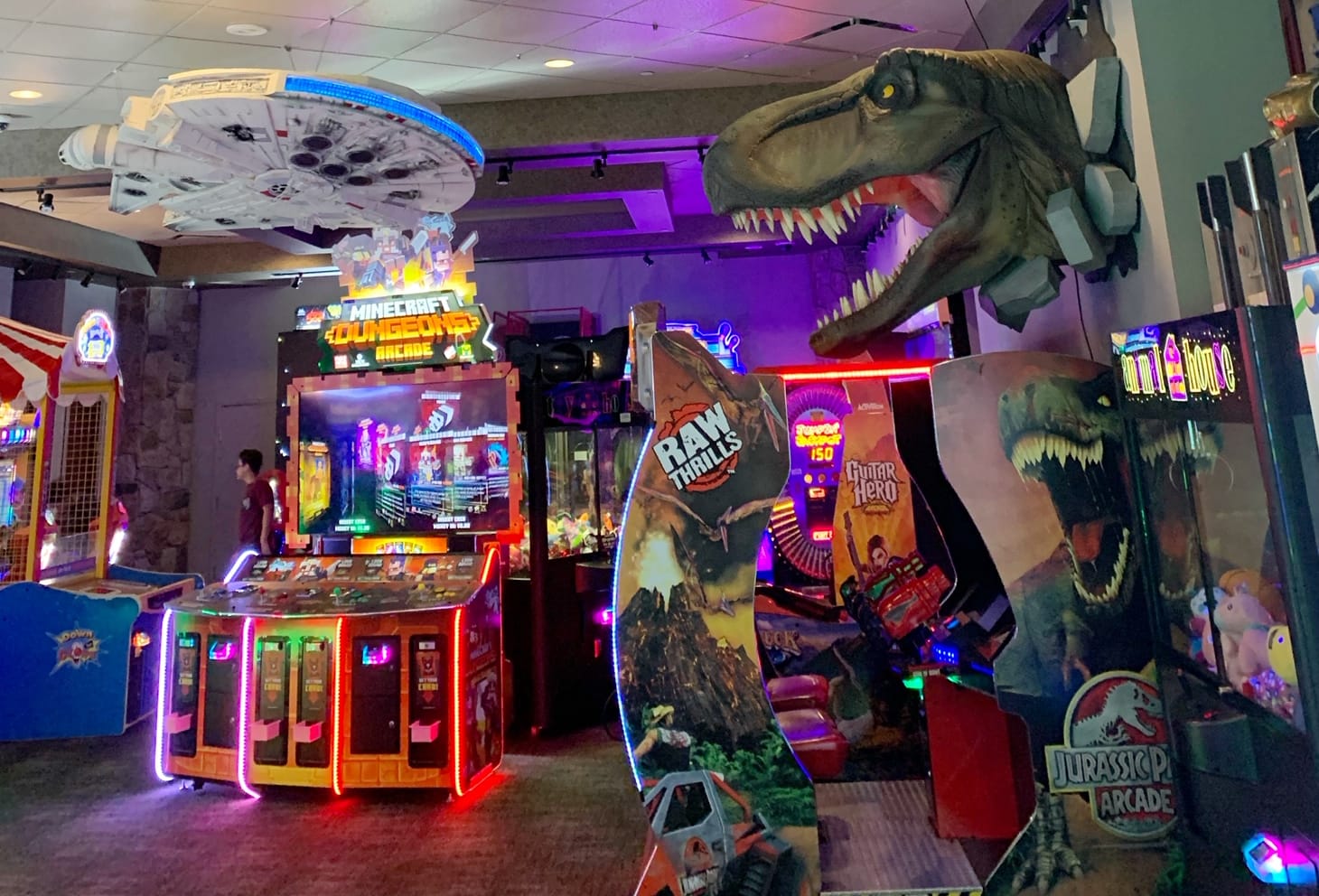 There is an arcade over at the Seven Feathers Casino, that will keep kids entertained for quite awhile!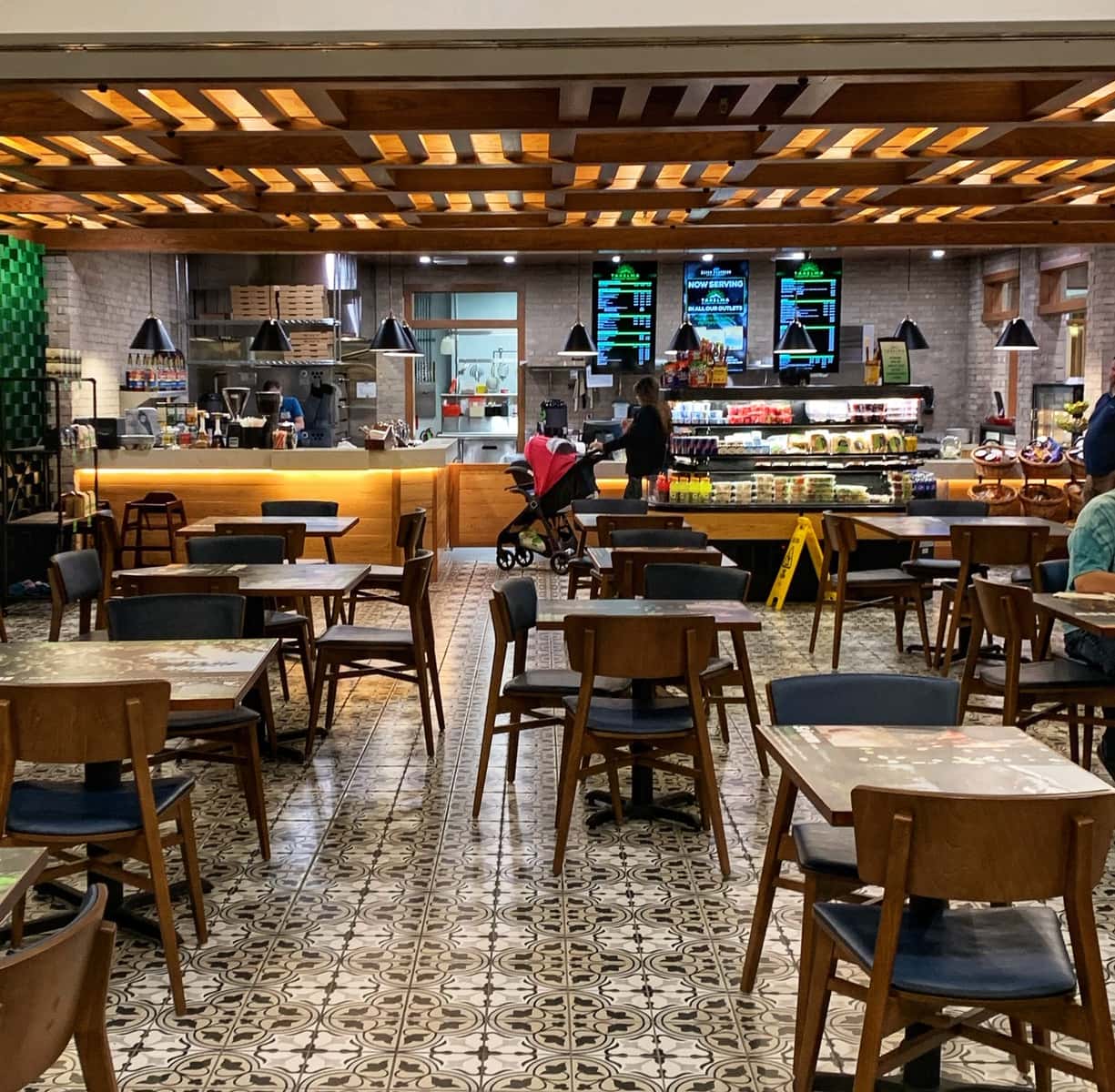 You will also find everything from fine dining options, to walk up counters at the casino to grab a meal at. If you prefer, the truck stop offers ice cream, and a deli area, as well as convenience store. Or cook your own meals in your kitchen.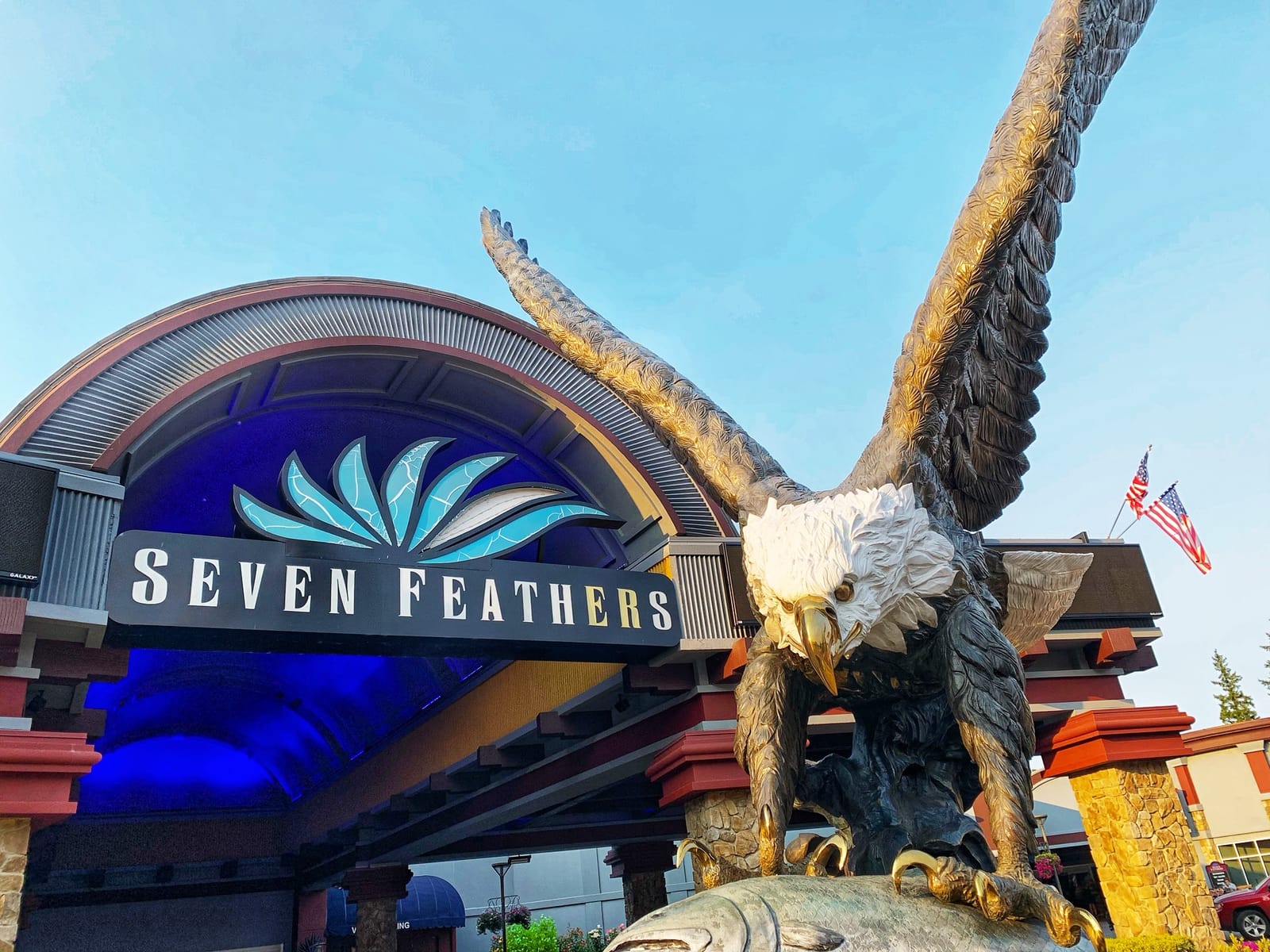 If you like to gamble, the casino is right down the street, and the shuttle runs free 24 hours.
It also makes a great central location, to use as a base camp for visiting some of these fun tourist spots:
Hiking in nearby National Forest
Fishing in the town creek and the South Umpqua River
Take a scenic drive that includes a covered bridge, and more.
Bike riding on the Umpqua Trail
Enjoy the Umpqua Food Trail
Crater Lake is a couple hours away, but could be another day trip idea.
Find more ideas here as well.