Wildlife Safari, Oregon – Big Ticket Discounts! Drive Through Park

Wildlife Safari, Oregon – Big Ticket Discounts! Drive Through Park
Here is a fun deal for the Wildlife Safari in Oregon, if you are looking for family friendly activities to do with your kids right now! We found a couple of savings opportunities for the Wildlife Safari,Winston Oregon – a drive through attraction great for families . This is one that might interest families right now, as you can enjoy the park and animals from the comfort of your vehicle, and could be a fun idea for Spring Break or Winter Breaks for families.
Current promotions available for Wildlife Safari, Oregon:
*Special Groupon offer right now (thru 6/26) – Extra 20% off!
Regular prices at the Wildlife Safari website to compare to : Adults: 21.95 | Children: 15.95 | Seniors: 18.95
Groupon is selling adult tickets for $14.50 right now.
Sales promotion (good through Sat 6/26 only)
Final price is $11.60 per adult ticket after extra savings!
If you buy in quantities of 2, the adult tickets are $24. (but will drop down to $19.60 with promotion), making them just $9.80 per adult ticket.
Groupon is selling Kids tickets for $11.50 and you can get them for $9.20 per ticket in this sale
If you buy in quantities of 2, the kids tickets are $17.50. (but will drop down to $14 with sale), making them just $7 per kids ticket.
Get 2 for 1 tickets for the Wildlife Safari (Drive Through) in Winston OR.
Get My Perks is offering two adult tickets for $26.50, making them just $13.25 per ticket! 
Just head to My Perks, and make sure you have Portland Selected as your city to find the offer.
We were looking for a deal to visit on our last trip to OR, and could not find anything – so this looks like a great offer to me!
Jen's Family has been in the past and here are her comments on the Wildlife Safari:
My husband and I visited the Wildlife Safari years ago before we had kids and we had a blast. There is a section where it's similar to a zoo that you can walk around and see the animals. And then the really fun part is where you drive through the park and some of the animals can come right up to your car. I'll have to look for pictures later of when we had an ostrich become obsessed with our car  – it was hilarious to watch! You definitely get to see the animals very close up & personal!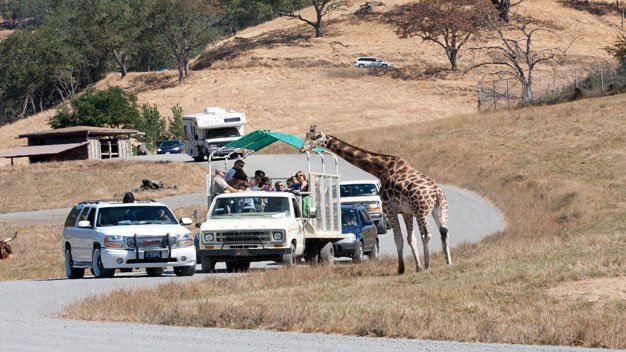 More Details on this Wildlife Safari Offer:
Wildlife Safari is home to more than 600 animals from over 80 different species – come and see them all!
Wildlife Safari is a 600 acre Drive-Thru animal park. Driving your own vehicle, It takes about 1-1/2 hours to complete. You will receive a map of the park upon arrival to enhance your experience and help identify animals.
Be sure to check out our Pacific Northwest pages for deals and things for families to do in the area.