Wildlife Safari Oregon – Discounts Tickets! Drive Through Zoo Park
This post may contain affiliate links and I may be compensated for this post. Please read our disclosure policy here.

Wildlife Safari Oregon – Discounts Tickets! Drive Through Zoo Park
Here is a fun deal for the Wildlife Safari in Oregon, if you are looking for family friendly activities to do with your kids right now! We found a couple of savings opportunities for the Wildlife Safari, Winston Oregon – a drive through attraction great for families . This is one that might interest families right now, as you can enjoy the park and animals from the comfort of your vehicle, and could be a fun idea for Spring Break, Summer Vacation or Winter Breaks for families.
It takes about 1 to 2 hours to make your way through the Wildlife Safari in general, but there are other activities onsite too if you want to make a day of it.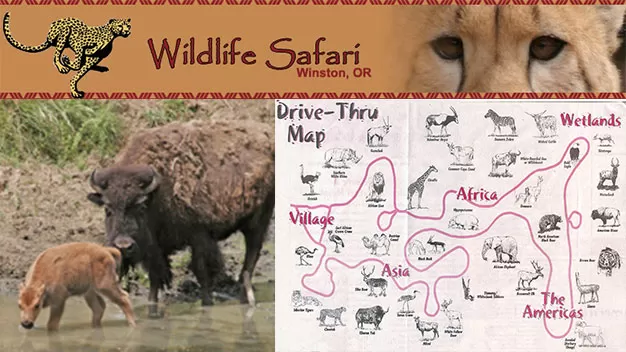 Wildlife Safari Discount Tickets:
Here are the regular prices for their tickets to compare the discount ticket offers too:
Regular prices at the Wildlife Safari website – Adults: 23.95 | Children: 17.95 | Seniors: 20.95
Wildlife Safari Groupon Offer
One of the best deals we find on discount tickets here, is the Wildlife Safari Groupon offers, when Groupon also offers an extra coupon code. They already generally offer Wildlife Sarari discount tickets at most times here (generally they are $16 per child ticket and $20 per adult ticket).
Get an Extra 25% off the Wildlife Safari Groupon Tickets right now with promo code: SAVE (good through tomorrow 2/22)
Groupon is selling adult tickets for $20 right now, making the final price is $15 per adult ticket after extra savings!
Groupon is selling Kids tickets for $16 and you can get them for $12 per ticket in this sale
We were looking for a deal to visit on our last trip to OR, and could not find anything – so this looks like a great offer to me! They do sometimes offer discounts for special attractions and viewings too on Groupon, so check for those as well.
Check nearby businesses –
We were staying at the Seven Feathers RV resort a couple of years ago, and they offered discount tickets if you bought through them. I had heard that other businesses nearby had discount tickets available too, so let us know if you run into more of those opportunities.
Where to Stay when Visiting The Wildlife Safari Oregon
You can find a number of lodging options near the Wildlife Safari here. These will be good options if you are looking for the closest spot.
But, If you want to turn it into an overnight getaway, as well as maybe explore some other areas – and have some fun ammenities, we loved our stay at the Seven Feathers RV Park! They offered discount tickets through their office too (although the discount was not as good as the Groupon one at the time – so call ahead to confirm what it is during your visit). It is about a 30 minute trip from this park, and then you can relax before and after your visit (and the RV park has plenty of amenities too, see our full review here).
Jen's Family has been in the past and here are her comments on the Wildlife Safari:
My husband and I visited the Wildlife Safari years ago before we had kids and we had a blast. There is a section where it's similar to a zoo that you can walk around and see the animals. And then the really fun part is where you drive through the park and some of the animals can come right up to your car. I'll have to look for pictures later of when we had an ostrich become obsessed with our car  – it was hilarious to watch! You definitely get to see the animals very close up & personal!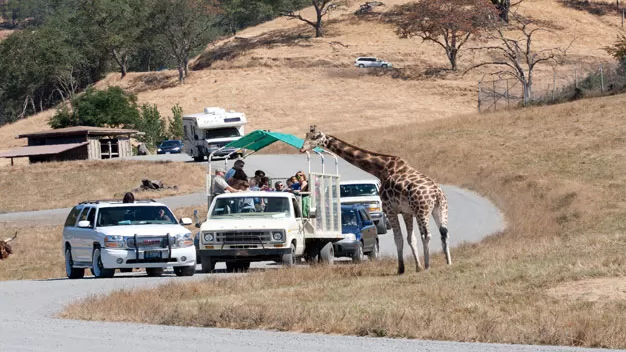 More Details on this Wildlife Safari Offer:
Wildlife Safari is home to more than 600 animals from over 80 different species – come and see them all!
Wildlife Safari is a 600 acre Drive-Thru animal park. Driving your own vehicle, It takes about 1-1/2 hours to complete. You will receive a map of the park upon arrival to enhance your experience and help identify animals.
Find the Groupon deals for it here.
Be sure to check out our Pacific Northwest pages for deals and things for families to do in the area.