Get Out Pass Washington & Oregon – Price Discounts & More!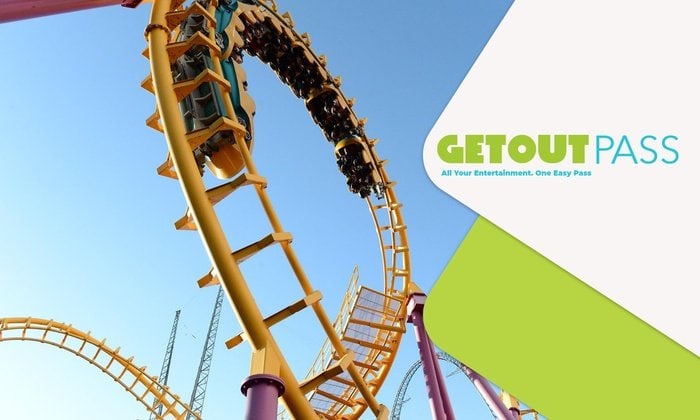 Get Out Pass Washington & Oregon – Deals on Groupon Right Now (Includes Wild Waves, Family Fun Center & More)!
Have you heard of the Get Out Pass Washington or the Get Out Pass Oregon yet? It is a way to buy an annual pass to get into multiple attractions / venues in Washington & Oregon for one price. If you are a family who likes to get out and do a lot of activities at various attractions and venues in the Puget Sound area, then this could help you save quite a bit. It includes visiting places like Wild Waves, Family Fun Center, Race Tracks, Escape Rooms, Paint Ball, Bowling and so much more.
Here are a couple of current deals for the Get Out Pass:
If you plan to visit some of these spots more than once, it can save you over the course of the year (versus paying for each attraction or venue each time you visit). This is a per person rate, so we break down an example below of how often you would have to visit spots before you are saving. If you do a couple of the big ones, it will be saving you by the third visit.
Many of the attractions are a one time use, and some have multi-visits available, so you will need to do the math to find out if it will be a good deal for your family.
For Oregon, it is a steal right now. It includes spots like Oaks Park Amusement Park, Wild Life Safari, bowling, mini golf and so much more!
Here is one scenario of when a Get Out Pass Washington might save start saving you:
Pay $60 per person for a Get OutPass. You will just need to use it two or three times, to more than pay for it!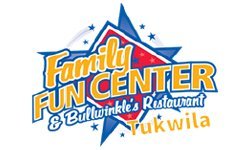 Use it for the 250 point card at Bullwinkles Family Fun Center = the closest comparison they have is for a 320 pt card for $65 (you do get a free activity of your choice weekly, so if you live near there and will head there more often, this could be of higher value to you).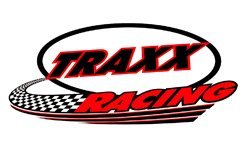 Use it once for a free race at Traxx racing – $21.95
Total for 3 activities: $118.94 (this is more than the $89 you'd pay right now for the Get Out Pass)
After this second event you have started to save money. It would cost you more than $87 for just these two activities on their own and so everything you do beyond this is free, essentially.
It also includes things like Mariners Tickets, paintball, Quest Factor Escape Rooms, Ice Skating, bowling and so much more. It even includes a free scoop from Full Tilt!
It is an annual membership, but I am thinking it would pay itself off easily after a few visits in the summer.  If you will be doing some of these things anyway with your kids while they are out of school, then it could be a great deal for you.
Tip – Many of the regular activities (meaning the ones you can do more than one time) are only available on weekdays. Most of the larger one time uses (like Mariners Game) are available on weekends too. Check the details to make sure it is a fit for your family!
How it Worked for Us:
We were given Get Out Passes by the company to try it out & see how it worked to share the experience with you. My family used it for the first time at a Mariners game. They have select dates you can attend a game.
The way it works is that you choose to attend one game & you will have to make sure to request (redeem) your tickets at least 24 hours ahead of time through Get Out Pass.
Several days before the game (must be at least 24 hours), I redeemed the Mariners tickets under my account on the Get OutPass site.  You only get 1 Mariners ticket per person with the Get Out Pass, so you choose which game you want to attend out of 5 possibilities (there are 3 dates available now in the summer). The day of the game, we then received an email from Ticketmaster with our tickets around 10:30am (the game was a night game).  You just have to accept the tickets to your account. Then, we were able to use our phones to show the tickets at the game.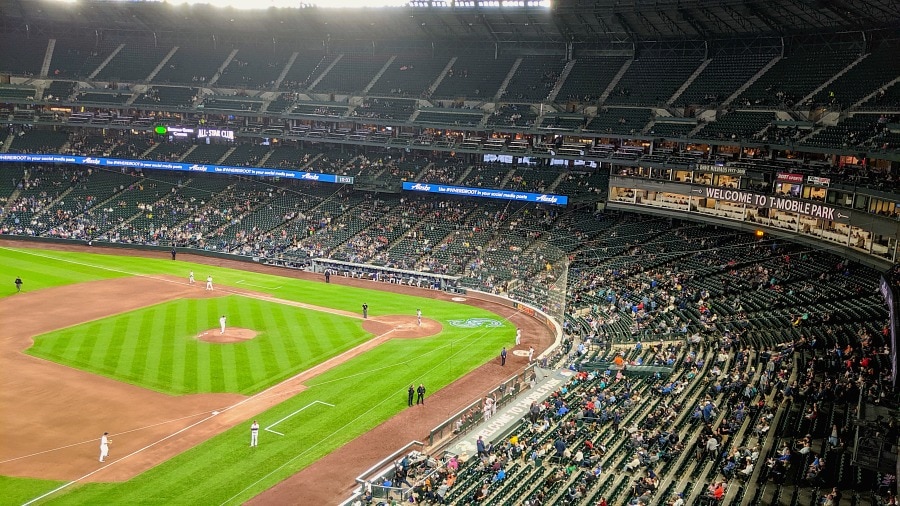 Our seats were up on the View Level (3rd level) & off past 3rd base but ours were down near the bottom of that level (it was light attendance the day we went, so it may vary). But they are actual seats (as compared to bleacher seats) & any seat in Tmobile Stadium is beautiful, right?!
We actually ended up upgrading our tickets once we got to the stadium at the Mariners ticket booth (I'd try calling first to ask if you can do this or just go in with the expectation that it may or may not work). These ticket dates are on Mariner Value Days, which means that View level & bleacher seats are $15 & Main Level & Root Sports Terrace Club level are only $30. So, we decided to pay the extra $15/person to splurge & sit on the main level as my husband hasn't been to a Mariners game in a few years, so he was really excited to sit down closer for this game.  So this is an option if you'd like closer seats but you still won't be paying full price.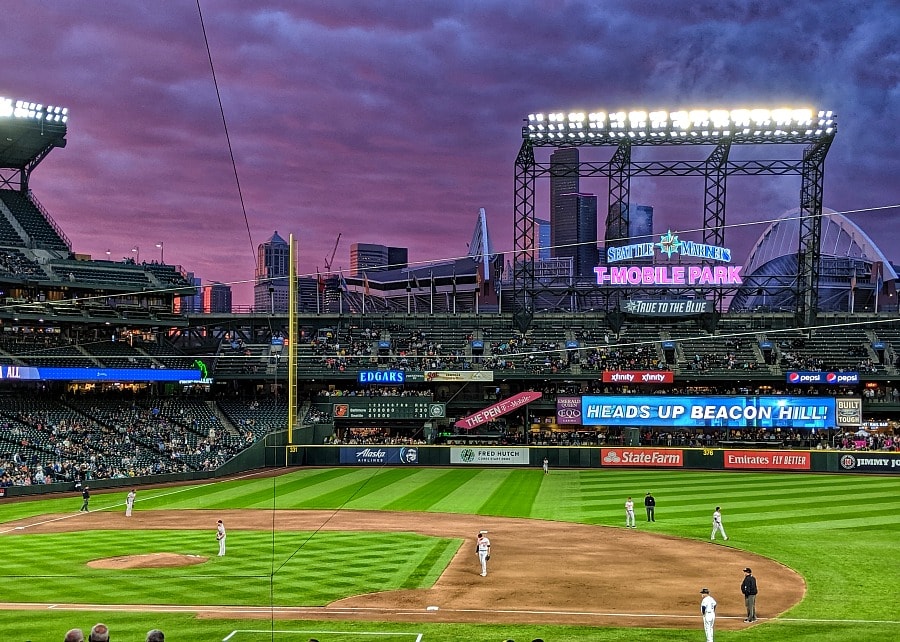 We were so blessed as the night we went to the Mariners game was the evening of that crazy beautiful sunset in the Puget Sound area! Everyone was posting their sunset pictures – it was just gorgeous! And we were able to enjoy it watching the Mariners with this gorgeous view! (the seats we upgraded were on the first base side)
If you are headed to the Mariners game with the Get Out Pass, make sure to check out all of our tips on ways to save at the Mariners game, too!
We're excited to use our Get Out Pass at more locations for family fun this summer!
Looking for more ways to have fun with the kids this summer on a budget? Check out these deals::