Tukwila Family Fun Center & Bullwinkle's Restaurant Deals & Review
This post may contain affiliate links and I may be compensated for this post. Please read our disclosure policy here.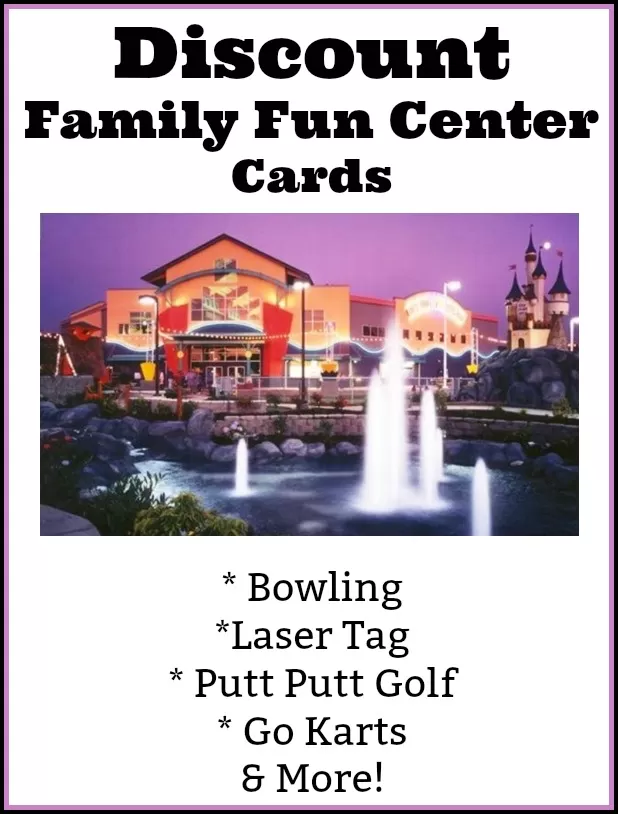 Tukwila Family Fun Center & Bullwinkle's Restaurant Deals & Review
The Tukwila Family Fun Center & Bullwinkle's Restaurant is loads of fun for families, especially if you have kids of multiple ages you want to entertain. This spot has been a favorite of my families both for rainy days and sunny days. The reason is that they have indoor and outdoor activities, making it fun year round. I also love that it has things that appeal to young kids as well as older kids. It was perfect for me when I had pre-school kids and teens, and needed to find a way to entertain them all.
Plus, they often has some great ways to save on their attractions. Here are the ones I have been using for years now.
Family Fun Center Tickets Prices + Ways To Save
The way that the Tukwila Family Fun Center pricing works is that you purchase points, and then spend them how you want to. You can find their current pricing schedule here.
My favorite deal though is the Family Fun Center Groupon offer, and I have been buying these cards for years to visit with my kids (from toddlers to teens). It is even better when they offer extra discounts on the Groupon offer (and that is available right now)!
Family Fun Center Tukwila Groupon Offer – 
Get this Family Fun Center Tukwila Groupon Offer currently available:
Buy a discount card deal right now! You can purchase a 165 pt card for $26.39 (reg. $41), through today only, on Groupon. There is an extra discount available on this deal that will expire tonight (dropping it to $26.39, making it an even better deal than usual.
Important – It does state that they are not valid until 24 hours after purchase – so be sure to grab yours ahead of time!
Note – they say valid Monday through Thursday, or any day they are open. That is a bit ambiguous, if you are hoping to use it Fri. – Sun. I have used them on the weekends, but I would recommend that you call Bullwinkles Family Fun Center first to confirm you can still use it on the weekend if that is what you are hoping for. Once you redeem your Groupon with them, they give you the points card which should work at any time (but you may have to redeem Mon- Thurs. so call just to double check if you want to use other days.
These are great for rainy day fun, but we also love to visit in the sun and play some putt putt golf and enjoy the outdoor activities. They are also great with families who have kids across multiple age groups. I have taken all my kids from the toddler years through teens and they all love it. There is a fun play area for little ones, as well as laser tag and race cars and much more for big kids!
This is a great way for the family to enjoy a fun day of play, without paying full price!
I used these cards to throw one of my kids birthday parties years ago on a budget too! I was able to collect a few of them over the year, and then just brought in our own cake. You will need to head in to cash in the Groupons to get the cards (you cannot buy multiple Groupons and cash them all in for the cards on the same day), but if you live close enough to do this it can be a real money saver.
You will only get one card (per voucher), but you can each card it for multiple people if you have more then one kids. You can find prices for activities at the fun center here, to see how far the card will get you.
Plan A Visit Around Their Special Offer Days
Bullwinkles Family Fun center offers a number of special discounts. These do change from time to time, so check their specials page here for current offerings. Examples of offers at the time of publishing include:
$10 off Unlimited Bracelets on Wed.
$19.99 Thursday Specials and
$29.99 Family Fridays
The Get Out Pass Washington inlcudes offers for the Tukwila Family Fun Center, as well as other northwest activities. When you purchase this annual pass it includes – Yearly Offer: Free Game Card with 250 points + Weekly Offer: Free activity of your choice! You can find out more how the Get Out Pass for Washington works here.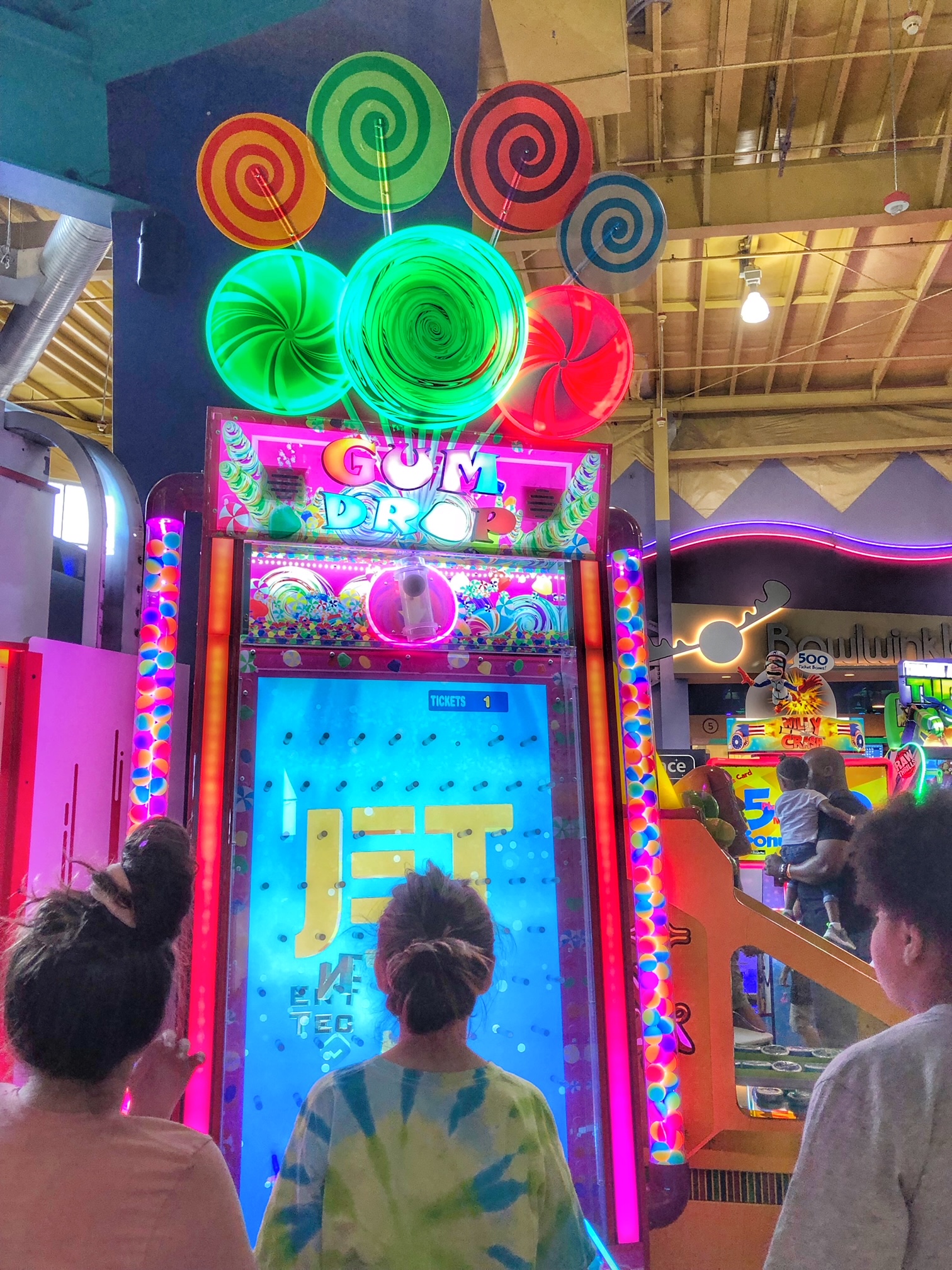 Tukwila Family Fun Center & Bullwinkle's Restaurant Review
If you do head to the Family Fun Center Tukwila, we have an article here with many more ideas of things to do in the area, if you want to make a full day out of your visit!
They used to have a family fun center Edmonds location as well, but that one has sinced closed down and no longer exists. So your only option in Washington is the Tukwila location now. It offers lots to do for all ages too.
There is an indoor and outdoor space, as well as Bullwinkles restaurant onsite. Parking is free (and they have a pretty sizable parking lot), so that is not an issue.
You will find a number of arcade games, as well as other activities indoors. The arcade games win you points that are added to your card, and you can redeem them for prizes at the prize counter before you leave.
Outdoors you will find some of the larger attractions like Go Karts and Putt Putt too.
Some of the things we love at this location include: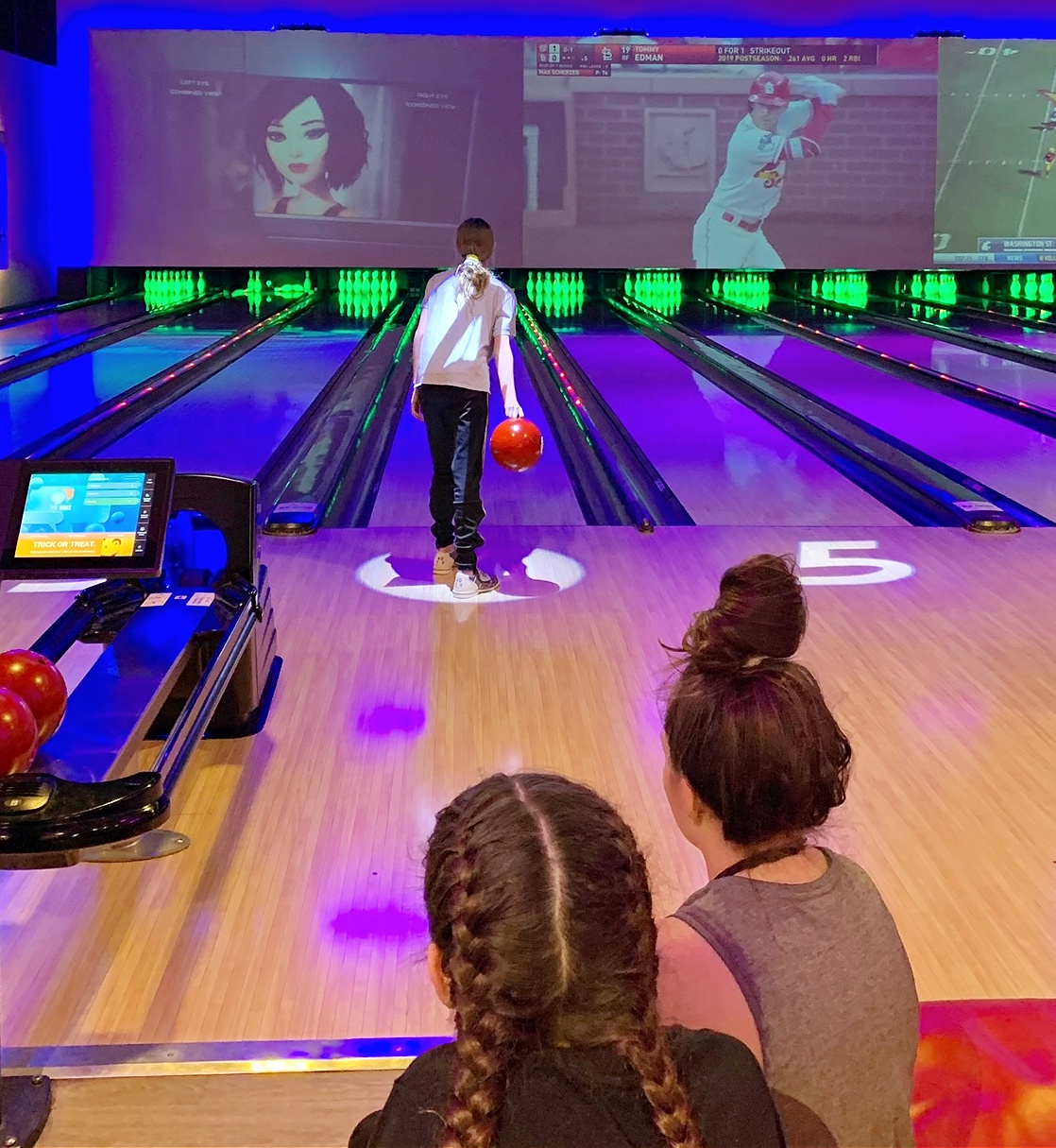 Bowling – The Tukwila location added a bowling alley (its nice). I bought one of these discount cards for the Family Fun center and used it to take my family bowling and got shoe rentals with it. It was one of the most affordable bowling games we have played, and we even had a few points left over for the kids to play a couple of the arcade games.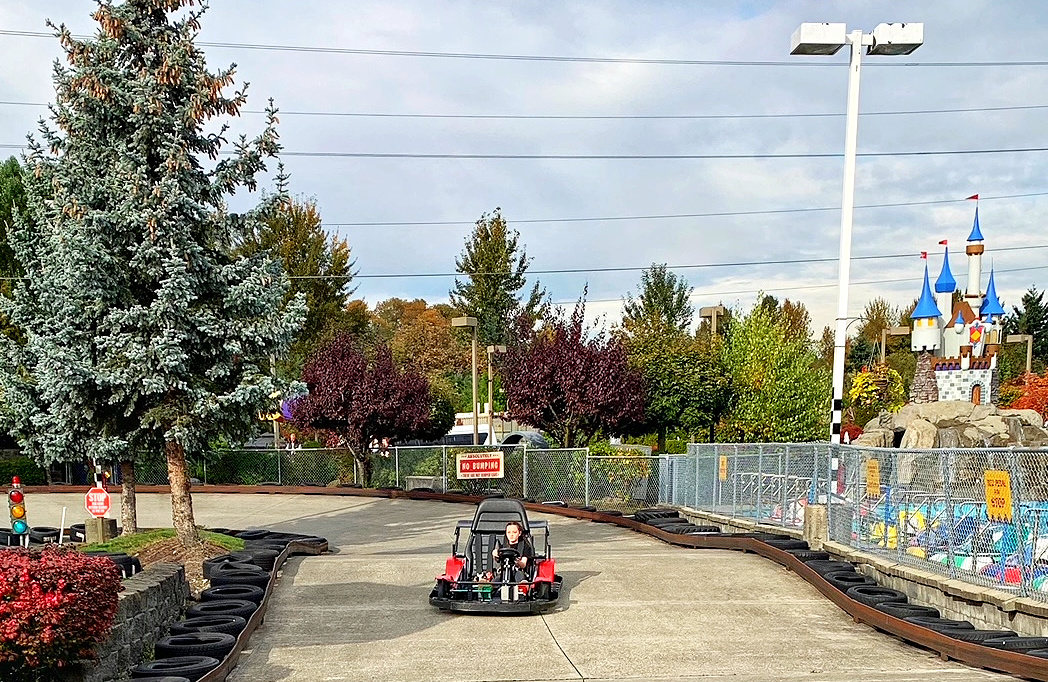 The Go Karts have always been a favorite of my kids during all stages! They have smaller ones for younger kids, or two people can fit in these carts if you want to drive smaller kids.
Next to the Go Karts you will find bumper boats to ride around in the water.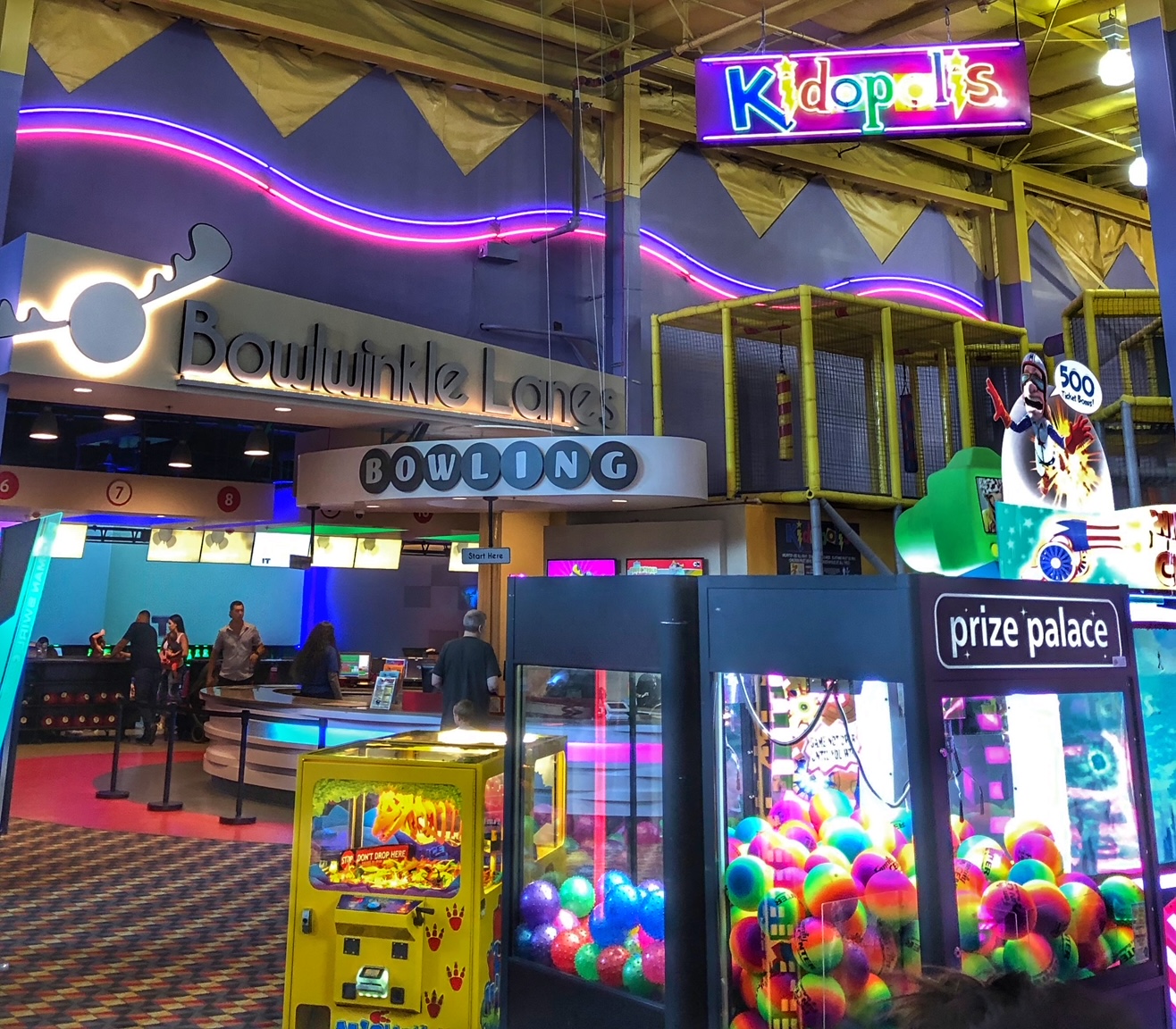 Kidopolis is a large play structure the kids can enjoy for one cost to get in. It is a great space to entertain younger kids.
Plus find…
Putt Putt Golf
Laser Tag
Bumper Boats
Batting Cages
Trampoline fun
Frog Hopper ride
and some other virtual reality attractions too.
Bullwinkle's Restaurant
They also have a restaurant on site called Bullwinkle's restaurant. It can be fun for families, as it is themed. It is standard arcade fair (pizzas, chicken nuggets, fries, etc). It is not gourmet food but does the trick for hungry kids. I often would skip the food and just let the kids go in for their sunday bar for a treat (or get a bucket of fries to share).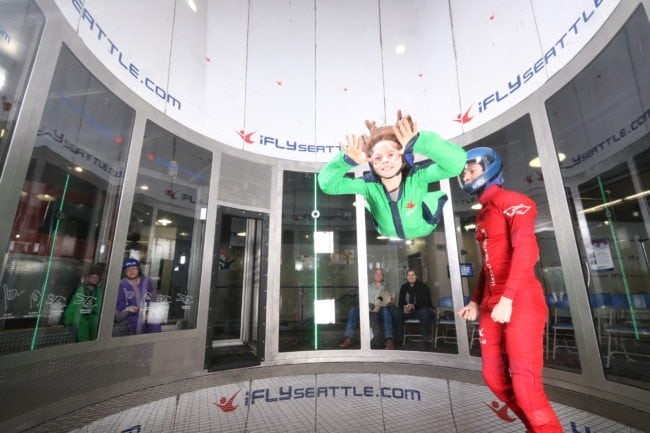 More Fun Things To Do In The Area :
There are many more fun things to do in the Tukwila area too, if you are looking for more ideas for a visit. Here are some things my family enjoys to do near the Tukwila Family Fun Center.