Defy Trampoline Park – Discount Tickets & Everything You Need to Know About A Visit!
This post may contain affiliate links and I may be compensated for this post. Please read our disclosure policy here.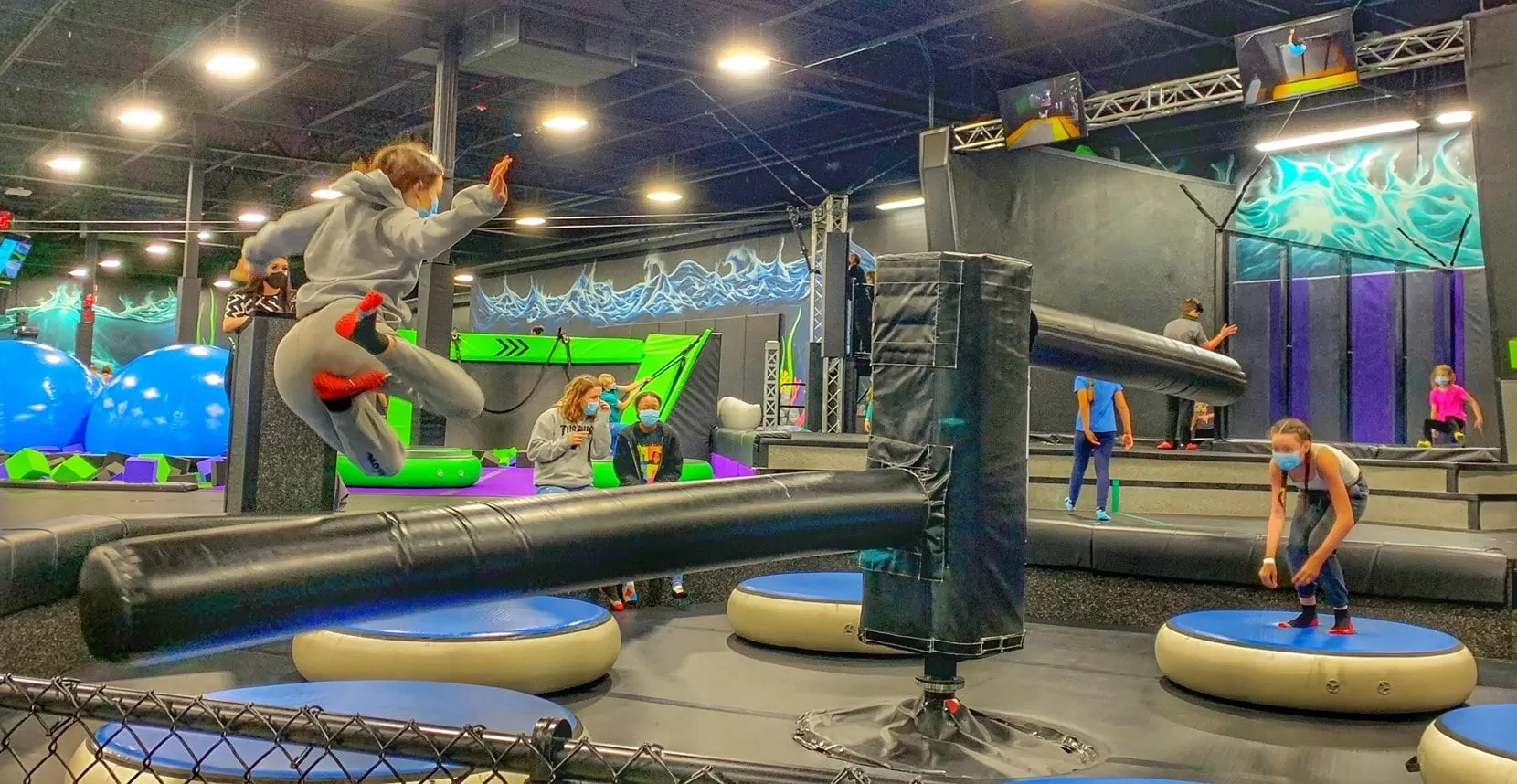 Having fun at the Defy Silverdale location!
Defy Trampoline Park – Discount Tickets & Everything You Need to Know About A Visit!
Looking to get your kids out of the house, and get some exercise too, all while having a blast? Trampoline parks are a great way to do that, and one of the most popular spots in the Puget Sound area are the Defy Trampoline Parks. They have a few locations, if you are looking for a Defy Trampoline Park. You will find a Seattle location (which is actually located in Tukwila near the Westfield mall), as well as locations in Tacoma, Olympia and Silverdale. We have spent time at most of them, and they are some of my kids favorite trampoline parks in the area.
Why My Kids Love the Defy Trampoline Parks:
Here are a few reasons that my kids seem to prefer Defy over many of the other parks –
They are good for all ages (this is particularly nice for families that have kids across different age groups). While I do think that elementary ages are the sweet spots for these parks, Defy does offer events that younger kids and teens love as well!
Although I think that elementary age is the sweet spot, this location has more events that seem to appeal to older kids too
I recently took my kids out to another local trampoline park, that online looked like it offered so many things to do. I was excited to take my teens, as the website advertised a ton of attractions that seemed a bit more than other trampoline parks. However, after paying for 2 hour passes online and driving 45 minutes in traffic we got there just to find most of the things were shut down. There were just a few things the kids could enjoy…and so we did not even stay the full 2 hours. We made it one hour and it was time to go. I have never run into this experience at the Defy parks (and we have visited many times). I do appreciate the consistency of this spot – I know what to expect, and it is pretty consistent in maintaining that experience for each visit.
Facilities are kept fairly clean, and there is plenty of room for parents to sit while waiting (unless you are jumping too!). Parking is free, and there are vending machines available for drinks and snacks as well as free lockers. Some locations also have a snack bar.
Defy Trampoline Park Coupons & Discount Ticket Offers for Parks in Washington :
Defy Seattle (Tukwila) Location Discounts –
You will often find them on Groupon here. Right now there is a good deal for a 90 minute pass.
Defy Olympia Discounts –
You will often find this location on Groupon too here.
The 90 minute jump pass is on sale for $20, (you'll need to pick the date) but use promo code SAVE to drop the price down to $15
Get a Basic Party Package for Up to 10 People, on sale for $245. Use promo code SAVE to drop the price down to $196! It includes:

10 people maximum (Jump passes for all guests)
60 minute private room rental included
60 minute jump time
Can be used any day- advanced reservation required
$50 Fee for Outside Food (Customers can bring in their own food)
Defy Tacoma Discounts – 
They just recently opened the Tacoma Defy location, and there are not currently any discounts we could find. We will update here when we see those become available.
Defy Trampoline park coupon codes –
Use 10BDAYWEEK to get 10% off of birthday party celebrations for up to 10 kids on parties booked Monday – Thursday.
Consider a monthly pass to save if you think you will visit regularly. These will pay for themselves if you visit more than once a month.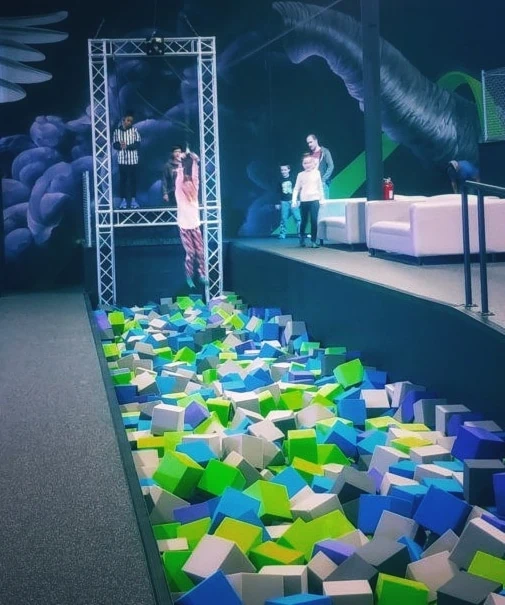 Tips for Visiting Defy Trampoline Parks:
You will need grip socks. You can buy them for a few dollars a pair onsite. We always save ours for future visits – but my kids always seem to talk me into buying new ones too (they love to pick them out from all the options).
Call ahead to make sure there are no private events being hosted for when you want to visit.
Bring water and even some snacks if you want to save on those items.
Plan ahead on how you want to buy your tickets – to save the most (see discounts and coupons available above).
Know that even if you buy tickets, you still have to stand inline to check in – so prepare for that when planning your visit. Weekend lines can get long.
Complete a waiver online ahead of time for everyone in your party who is jumping. This will save you time at check-in.
If you want to avoid big crowds and birthday parties, plan your visit during the weekdays. Weekends can get pretty packed, and alot more chaotic here.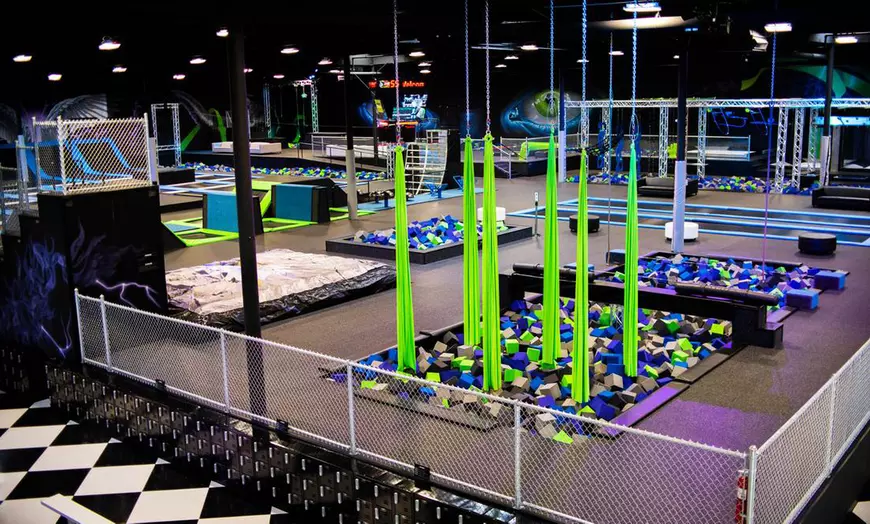 What to Expect to Find at a Defy Trampoline Park:
Each Defy park is going to be a bit different, but so far they have all been fun. The Seattle location has 35 trampolines, ninja warrior–style course, stunt fall, parkour inspired obstacle courses, extreme dodgeball, and more – so lots for all ages to enjoy.
So while my kids love to jump on trampolines, there is plenty to keep them organized. Speaking of trampolines, they do have a few in more enclosed areas that will make you jump crazy high. The kids love these as they can jump off walls, and go super high (they scare me sometimes).
Here is an example of some of the attractions you will find at the Seattle Defy Trampoline Park – 
Ninja Warrior Obstacles: Release your inner ninja on obstacles that will test your balance, agility and other ninja skills.
Extreme Dodgeball: An arena built with trampolines lining the walls and ground that elevates the classic gym class game to new heights.
Trapeze: Get ready to FLY into one of our foam pits after soaring off one of our trapeze bars.
Supertramps: Ready for Some Serious Bounce? Try wall walking and flipping on one of our huge Super Tramps.
Supervision – 
In general we have found the supervision here to be pretty good. The area with all the attractions is enclosed but you can access to watch your kids (they give you a special bracelet that lets them know you are observing) or there are seating area outside too. They do have employees in there monitoring too.
We have only run into one situation during our visits, where a grown man was pegging little girls pretty hard in the dodgeball pit – so I do recommend staying on site in case your kids need you there to intervene…but in general we have found the supervision here to be pretty good.
Cleanliness – 
In general my kids have had a wonderful time at Defy. In terms of cleanliness I have had some mixed experiences with this. Mostly it has been nice and clean. There has been a weekend visit or two where it was packed, and garbage cans where overflowing and stuff on the floor – but generally speaking we have found it clean. You do have kids running into bathroom floors in their grip socks, then back out on the trampolines. So you kind of have to be a bit relaxed about this stuff at a trampoline park, to enjoy it.
Plus find more ideas on things to do for families in the Northwest here too!