Entertainment Book Sale – Digital Memberships for $2.99 a Month!
This post may contain affiliate links and I may be compensated for this post. Please read our disclosure policy here.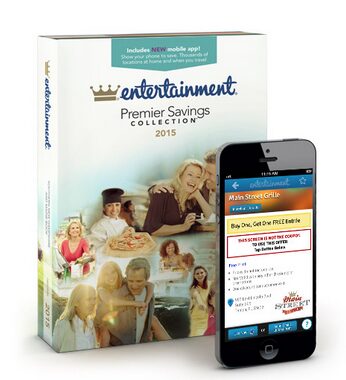 Entertainment Book Sale – Digital Memberships for $2.99 a Month!
If you have been thinking about getting the Entertainment book, find Digital Memberships for just $2.99 a Month! 
Digital subscription, which includes over 75,000 coupons all conveniently accessed on their mobile app and online. This is great for traveling and coupons are added all the time!
Entertainment Books are full of coupons that will help you save on everything from eating out to attractions and shopping in your area. We find they can pay themselves off in one use often, and definitely by the second use, so they are a great deal at this price. 
If you are planning a trip to Disneyland or some other location this upcoming year, you might want to consider buying one for your home area, as well as the vacation destination, so you can save on eating out and entertainment while on vacation too.
I love the digital coupons through the Mobile App – if you have your phone settings to show notifications, it will actually notify you any time you are near a location where there is a coupon too!  See more about that below!
For those of you in the Northwest – here are the book options:
Seattle, Puget Sound & Spokane
  Portland, Eugene & Salem, Oregon
Popular Vacation Destinations:
Hawaii
Orange County, CA
Central Florida – Tampa Bay & Orlando
Why to Buy an Entertainment Book:
This Entertainment Book Sale is a wonderful opportunity for those in the Northwest as there are multiple books that will work for the different areas (especially around the Puget Sound area). In previous years, I have bought both the South Sound book (for my area) as well as the main Seattle book, just to have access to the BOGO coupons for specific attractions where I wanted to save.
In addition to saving locally, we have heard from many readers who love to buy them for any upcoming vacations they have planned to major cities (they purchase an Entertainment book for their travel destination to help save on attractions and restaurants while on vacations. This is one of our tips in our Disneyland savings series, and you will most certainly make your purchase price back in no time at all)!
Entertainment books are great ways to save locally on your favorite restaurants, grocery stores, movies and more. Plus, you can also get digital access with your purchase.   These books usually sell for $35. This includes both online & mobile coupons! Great ways to save on a staycation or if you're heading out on a vacation  – buy a book in advance for the vacation location!
Mobile App/ Online Coupons:
And don't forget, that Entertainment.com now has a Mobile App to get your coupons that way too, if you buy the book. I bought the Entertainment book with one of the sales & immediately I received an email with information about using the Mobile App right away to take advantage of discounts, which was great, so that I didn't have to wait for the book to be shipped. (Just make sure you write down your confirmation code when you make your order or print it off as you will need that to set it up.)

If you turn on the notifications, it will even notify you when you are close to locations that offer Entertainment coupons, which is really cool, as I didn't even know I was near a restaurant with coupons when we were at the mall, so we were able to save with that BOGO coupon.
We've bought Entertainment books for a number of years and even just using a few of the coupons, you'll get back what you paid!
Northwest Coupons:
I buy one every year & here are the coupons you'll find in the WA book:
Woodland Park Zoo Admission
Pacific Science Museum Admission
Pioneer Farm & OHOP Native American Village
Seattle Aquarium
Jim's U-Fish at Old McDebbie's Farm
You can check out their website to see the types of discounts you'll find – just find the category on the side of the types of coupons you're interested in (sporting events, zoos/aquariums, museums, etc) & you'll see some examples of where they offer coupons. It's a great way to save on places that rarely have discounts.
Save
Save
Save
Save
Save
Save
Save
Save