iFly Seattle Review & Ways To Save on iFly – Discount Tickets Available!
iFly Seattle Review & Ways To Save on iFly – Discount Tickets Available!
Looking for discount tickets for iFly Seattle? We share ways to save on iFly admission, plus a review of our visit there (for kids and adults) here.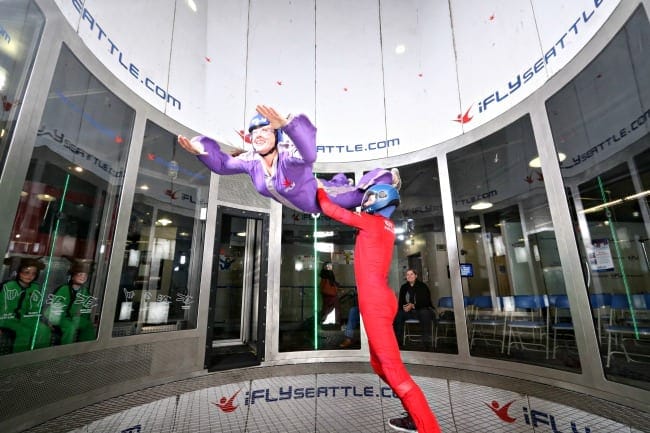 iFly Seattle – Ways to Save + Review!
If you have been wanting to try out iFly Seattle (which is actually in Tukwila, near the Westfield Mall), we found some great savings offers currently available. Here are the current deals available.
Current Packages Available for iFly Seattle:
Groupon has a deal for two flights for one person for $78 (making them $39 per flight) if you want to do more. You can find that offer and details on that here.
iFly also has a discount available on Goldstar right now too. This is a good way to save some on the cost.
Goldstar.com is offering iFly Seattle discount tickets right now too, with a two flight package being $112 after fees (so $56 per ticket).  This is located in Tukwila/Southcenter area and it is an indoor skydiving with a vertical wind tunnel. This is good Mondays – Fridays thru December 31, 2019 (so you can't use it on weekends). You will need to reserve in advance.
Costco sometimes carries discount cards in their gift card section as well, so let us know if you see those at your local Costco.
More info about iFly in Seattle:
If you're looking for some adventure, indoor skydiving is your ticket! iFly in Tukwila, is one way that the average person can experience a taste of Sky Diving in a safe environment. One of my kids has been wanting to go for quite some time now, so we finally took her this past week. She loved it!
Its not a cheap activity, but we do have some ideas on ways to save below. All together the experience takes around an hour, but that is waiting, learning, suiting up and then fly time. The time you spend in the wind tunnel is just a few minutes (two one minute turns of flying time is what we had).
They provide all of the gear you need to fly (even shoes if you need them), so there is nothing special you need to do in terms of dressing for the event (although I do recommend bringing your own tennis shoes if your not comfortable wearing others). You will want to make a reservation, then when you arrive you get to watch the instructors doing some tricks in the wind tunnel (if you have some wait time) and then go through a brief training video before your flight time. You will need to remove all your jewelry, etc. too (they do have lockers there you can use to store items).
When you are flying, on your last turn they will ask you if you want to go high. If you choose to, the instructor will take you up in the wind tunnel (this is an extra fee to do this, it was $10 at the time of our visit, so be sure to consider the extra cost ahead of time). One of my kids did this, and she thought it was awesome. I did it also (the instructor takes you up), and it was fun, but it could easily be skipped if you want to save the money.
You can also purchase videos and photos for extra fees at the end of your visit too (they snap a number of photos, and take videos of you while you are in the wind tunnel), but be prepared to pay extra for those unless they are part of your package.
Ways to Save at iFly Seattle (Tukwila Location) Summary:
Goldstar.com is offering iFly Seattle discount tickets right now, with prices ranging from $49 – $95 (Reg $69.95 – $127.95).  This is located in Tukwila/Southcenter area and it is an indoor skydiving with a vertical wind tunnel. You will need to reserve in advance.
iFly Discount Gift Cards from Costco. All of the gear and instruction you need is provided for 2 one minute flights and a video of the experience!  At Costco, the package is $48.99/person the last time we found them.
iFly Coupons (Seattle location) – Once you have already flown with iFly, they do offer a discounted return package (because you wont have to go through the class again). The discount price is $49.99 for two one minute flights plus gear, so the Costco deal is still better if you can get that one.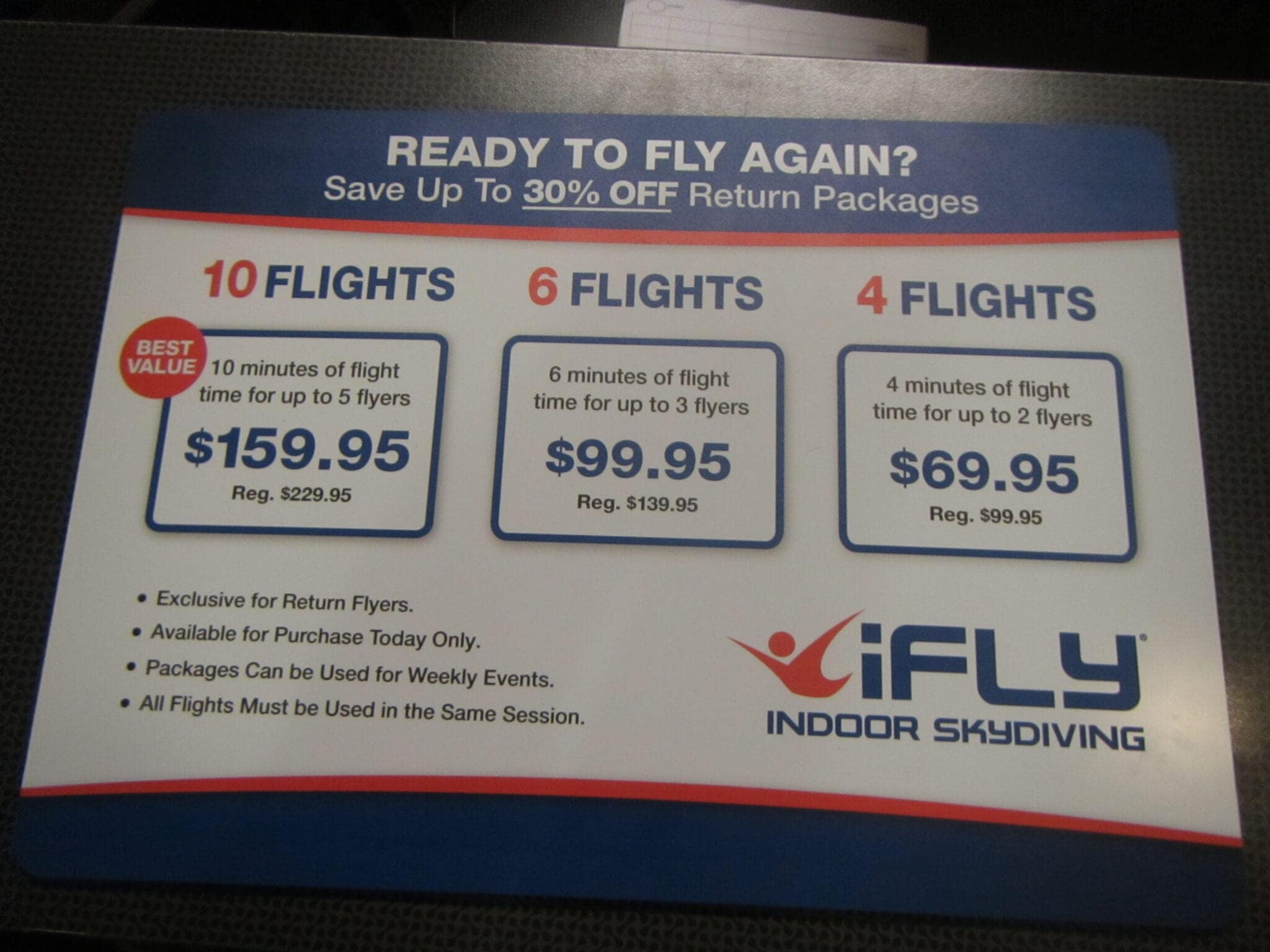 The day of your flight you can book discounted rates for future flights – but this offer is only made the day of your current flight, so you will need to be prepared to buy this one on site for the discount. If you loved your session, then this is a way to save on future flights.
This is my middle child. She loves adventure, and roller coasters. She had a blast at iFly. She cannot wait to go back one day. She got it down right away, and was able to fly pretty high on her own. She nailed it, and loved every minute of her flying time in the wind tunnel. Since her younger sister did not like it as much, they allowed her to take her sisters second turn (rather then forfeiting that time). By her third turn she was able to turn herself in circles both ways, and was really loving life in the wind tunnel.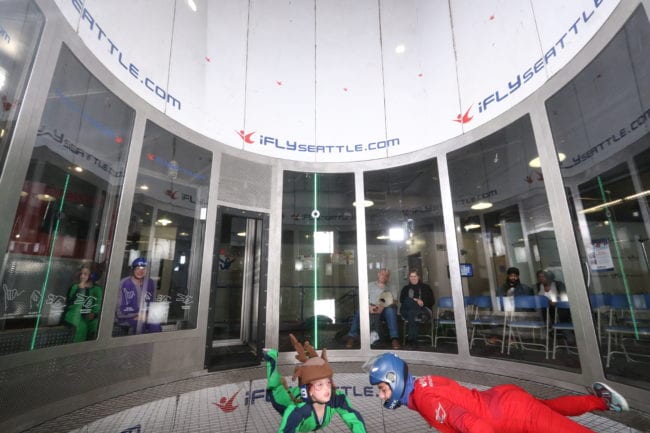 If you have a kiddo who is apprehensive about trying it, I can tell you the instructors were great with my kids. My youngest was not sure if she was going to like it or not (she does not like roller coasters, etc). You are suppose to fall into the wind tunnel with the air blowing, but because of her apprehension, the instructor started with the wind super low and started her on the net. The wind blowing in her face made her feel like she could not breathe (she was able to, she just panicked), which scared her, so they got her a special helmet to wear that would cover her face. By then, she had decided she just did not want to do it anymore, so the instructor allowed her sister to use her time, so there was no loss in turns. I was very impressed with how they dealt with my young kids. When I asked, they said they had seen kids in there as young as 3! The same instructor was very careful with my youngest, who expressed fear, and then at the same time noticed how much my other daughter loved it and allowed her a little bit more adventure. I appreciated the time he took to make my kids comfortable more then anything else about this experience!
Disclosure:  iFly provided us the flight experience to see how the process worked. All thoughts and opinions are 100% my own.