Drive In Movies This Summer In the Pacific Northwest
Enumclaw Expo Drive In Movie
Drive In Movies This Summer In the Pacific Northwest
While many movie theaters are still limited capacity or not showing as many movies, drive in theaters are back again this summer, although there are not quite as many options for the carload prices, but instead they are offering per person prices.
If you are looking for fun ways to get out and see a movie together as a family, we have a big list of current spots you can go to, and enjoy a drive in movie. Some of these are pop-up drive in movie theaters at various locations throughout the Northwest. We have also included a handful of permanent drive in movie theaters still in existence.
If you know of other drive in movies around the Northwest happening this year, let us know and we will add it to the list!
Cost-Based Drive In Movie Options
Existing Drive In Theaters with Ongoing Movie Options:
Be sure to check websites for current movie showings, prices and information about being open or closed and special requirements to attend (like making reservations ahead, etc).
The drive-in movie theaters are now charging a per person price, but they do have newer releases, too.
Washington:
Wheel In Movie Drive In Theater – Port Townsend, WA – $9/person. Seniors & 12 & under are $7 & 5 & under are free.
Blue Fox Drive In Theater – Oak Harbor, Whidbey Island WA – Movies cost different prices whether you pay by cash or card. With cash, adults (11 & up) are $6.50/ea & Child 5-10 are $1 (4 & under free). With card, adults (11 & up) are $7, child 5-10 – $1.50 & 4 & under: free.
Skyline Drive In Theater – Shelton, WA -$8/person for ages 12 & up, $3 for ages 6-11 & 5 & under are free
Rodeo Drive In Movies – Bremerton, WA. General admission is now $10/person, seniors 55 & up $7, kids 12 & under $7 & kids under 5 are free.
Auto View Drive In Theater – Colville, WA. Adults are $7/ea & kids 11 & under are $3. Sundays are carload night for $15/car
Neptune Drive In Theater – Long Beach, WA – They offer in theater & drive-in options. Movies are $6.50/person  (2 & younger are free)
Oregon:
99W Drive-In Theater – Newberg, OR – Admission is $7/person for adults, $6 for kids 6-11 & seniors are $5.
M-F Drive in – Milton-Freewater, OR – You pay per person here – $7 for general admission and $2 per child 11 & under.
La Grande Drive in – La Grande, OR – Movies are $7/person, free for 5 & under
Special Event / Pop Up Drive In Movies: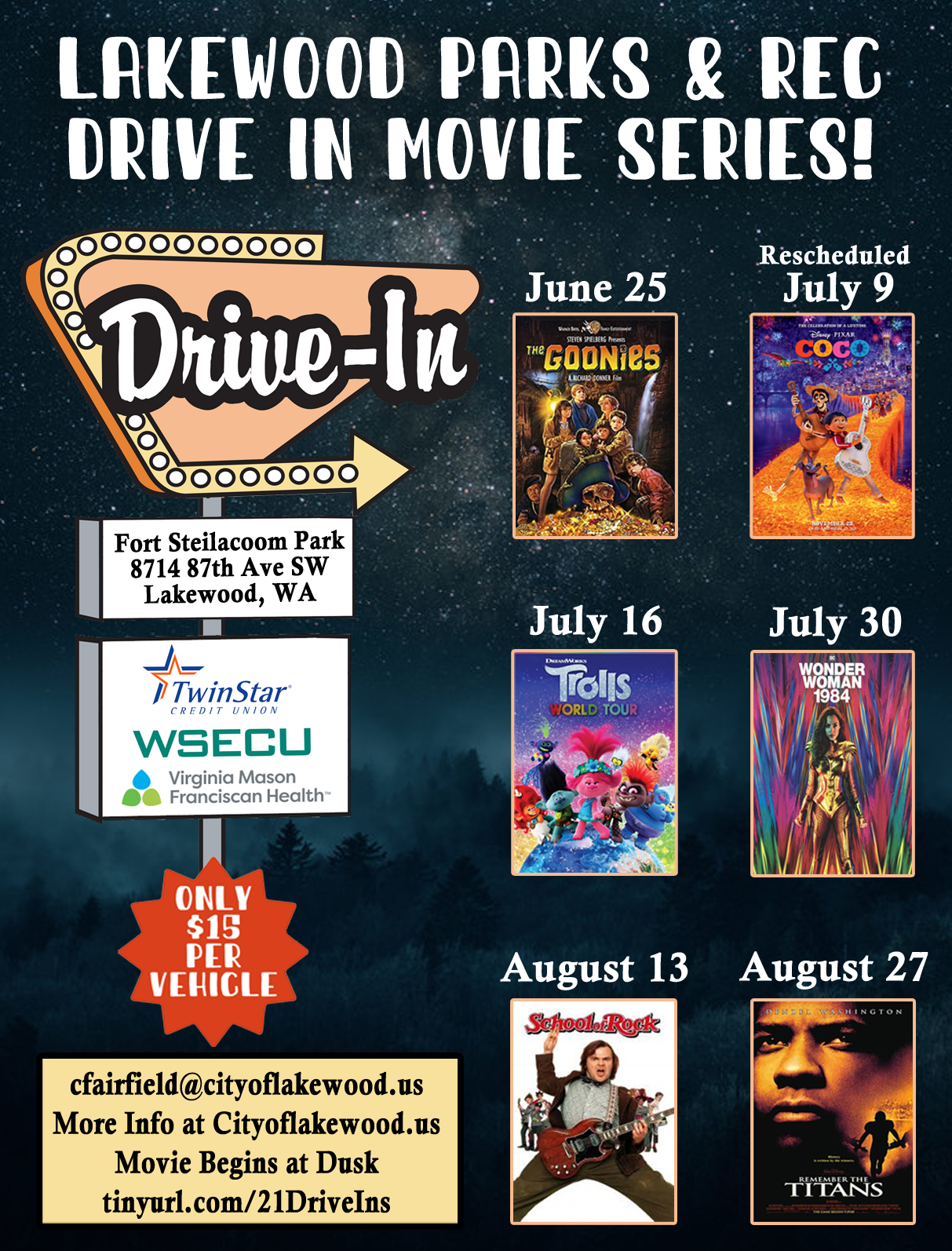 Fort Steilacoom Park Drive In Movies – Lakewood, WA
The City of Lakewood, Parks & Recreation, is offering drive-in movies at Fort Steilacoom Park in Lakewood. These are $15 per carload & they have several dates planned throughout the summer. The lot opens at 7pm & movies begin at 8:30pm. This event is held rain or shine, no refunds.
The Lakewood Farmer's Market is also being held beforehand from 2 – 6:30pm, so come early to grab some goodies & dinner there.
Here are the dates:
June 25 – The Goonies
July 9 – Coco
July 16 – Trolls World Tour
July 30 – Wonder Woman 1984
Aug 13 – School of Rock
Aug 27 – Remember the Titans
Mount Vernon Drive-In Movie Nights – Mount Vernon, WA
Mount Vernon is offering several drive-in movie nights on July 2 & Aug 6, 2021.  The drive-in movie will take place at Skagit Valley College. The movie starts at 9pm & parking will begin at 7:30pm. On August 6th, they will be showing the movie, Coco, in Spanish. This is a totally free event.
LeMay Car Museum – Tacoma, WA
The LeMay Car Museum in Tacoma is back again with their popular drive-in movies on the Haub Family Field.  These are totally FREE (although do not include admission to the car museum), although donations are accepted & greatly appreciated. You can either watch from the comfort of your car or from a blanket or chair, to view the 40 ft outdoor screen.
Field access for parking and tailgating for the show starts at 5:00pm, with showtime at dusk (around 9pm). First come first served, no pre-registration available so make sure to arrive early to reserve your spot! More details here!
Here is the schedule:
July 10 – Rush Hour (1998)
July 24 – Jumanji: The Next Level
August 7 – Raya and the Last Dragon
August 28 – Karate Kid
New Life Church will be offering Friday night movie nights & they are totally free movies, too! Every Friday night from now (started June 4th) to August 27th! They have 2 different movies & 2 different showtimes so that all ages can enjoy these movies!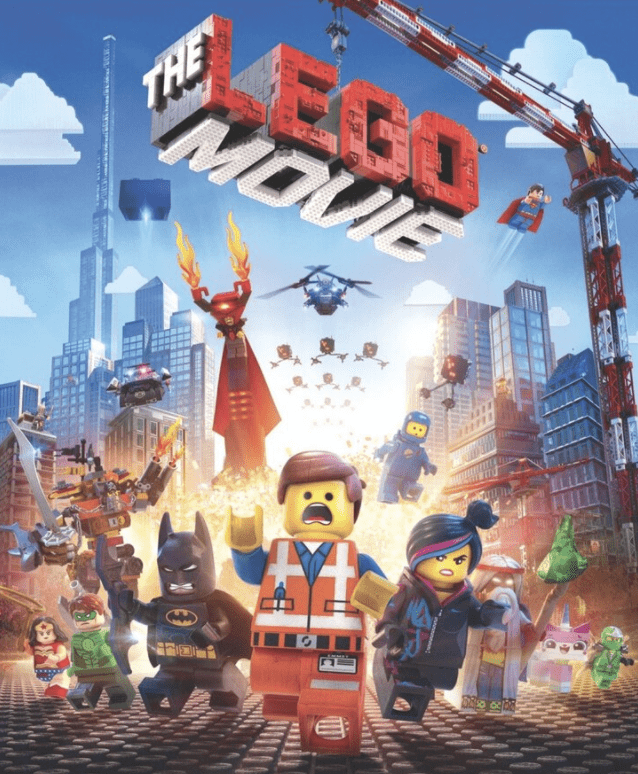 The Vasa Park & Resort at Lake Sammamish is offering drive-in movies again this summer. These are free, but donation-based (to support the costs to provide this & provide future programs).
The movies start on June 19th & are currently scheduled through end of July (check back each month, they only share movies one month at a time). You will want to reserve your spot online ahead of time.
Tuesdays – Kids Night Schedule
6/29 – The Lego Movie (PG)
7/6 Spy Kids (PG)
7/13 Holes (PG)
7/20 Jumanji '95 (PG)
7/27 Bug's Life (G)
Fridays & Saturdays – Schedule
7/4 National Treasure (PG)
7/9 Mamma Mia 2 (PG-13)
7/30 50 First Dates (PG-13)
King County will host the BECU Drive-in Movies at Marymoor Park summer series starting June 8, 2021 and running every Wednesday and Thursday through the summer. Tickets are $30 per car load and food trucks will be on hand for purchases. Find a list of movies that will play here. 
Tickets are selling very fast, though, so the early June dates are already sold out – the first available date is June 30th to purchase online. I'd recommend purchasing these quickly.

The Enumclaw Expo Center is offering Drive in Movies hosted this summer. Cost is $25 per car load & tickets must be pre-purchased online only – limited availability. You can have as many people in your car as there are seatbelts. There will be a few food trucks on site.
The first movie is June 18, 2021, showing the movie Scoob – movie starts at 9:35pm (gates open at 7:35pm). At this time, there are not any other movies listed, but keep checking back for more during the summer.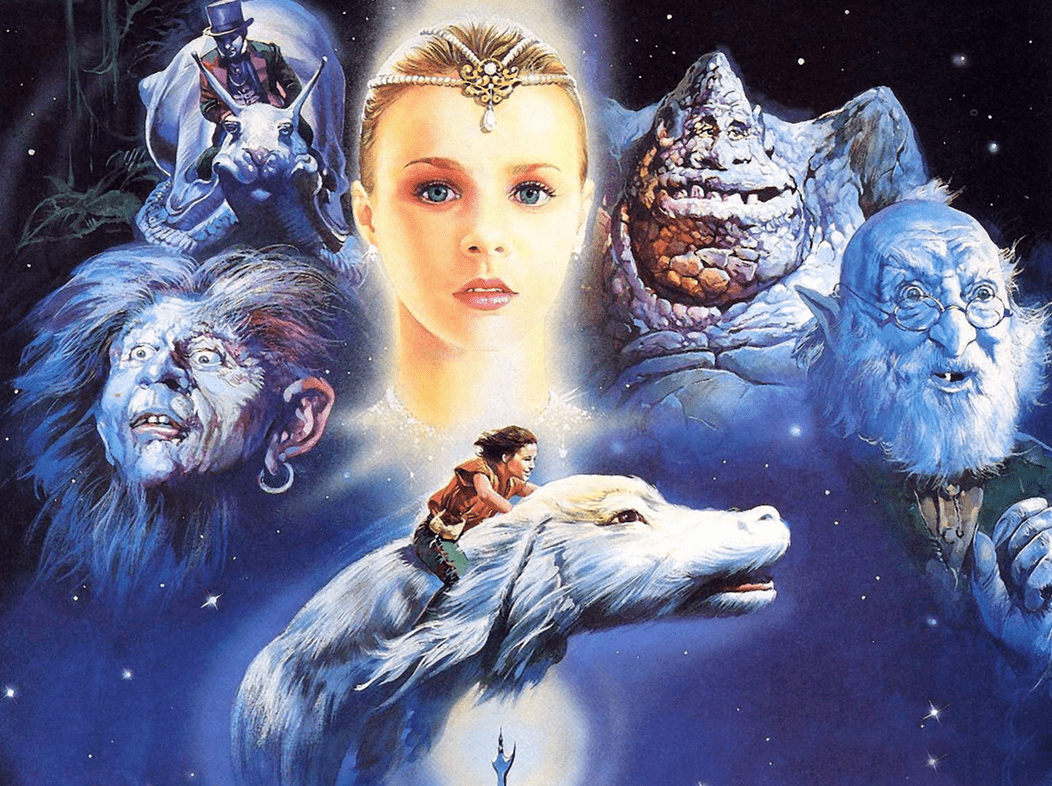 The North Bend Downtown Foundation will be presenting a Drive In movie again this year at Meadowbrook Farm. They will feature The Neverending Story on Thursday July 1st. Entry begins at 8pm & the movie starts at 9:30pm. (I don't see any other movies on the schedule right now, but keep checking back as they might have more)

Friday, July 30, 2021
Lea Hill Park, 31693 124th Ave SE

9:10 PM movie: Onward (PG)
Friday, August 6, 2021
Sunset Park, 1420 69th Street SE

9:00 PM movie: The Sandlot (PG)
Friday, August 13, 2021
Les Gove Park, 910 Ninth Street SE

9:00 PM movie: The Goonies (PG)