Summer Outdoor Movies – Movies In the Park & More for Families in the Northwest
This post may contain affiliate links and I may be compensated for this post. Please read our disclosure policy here.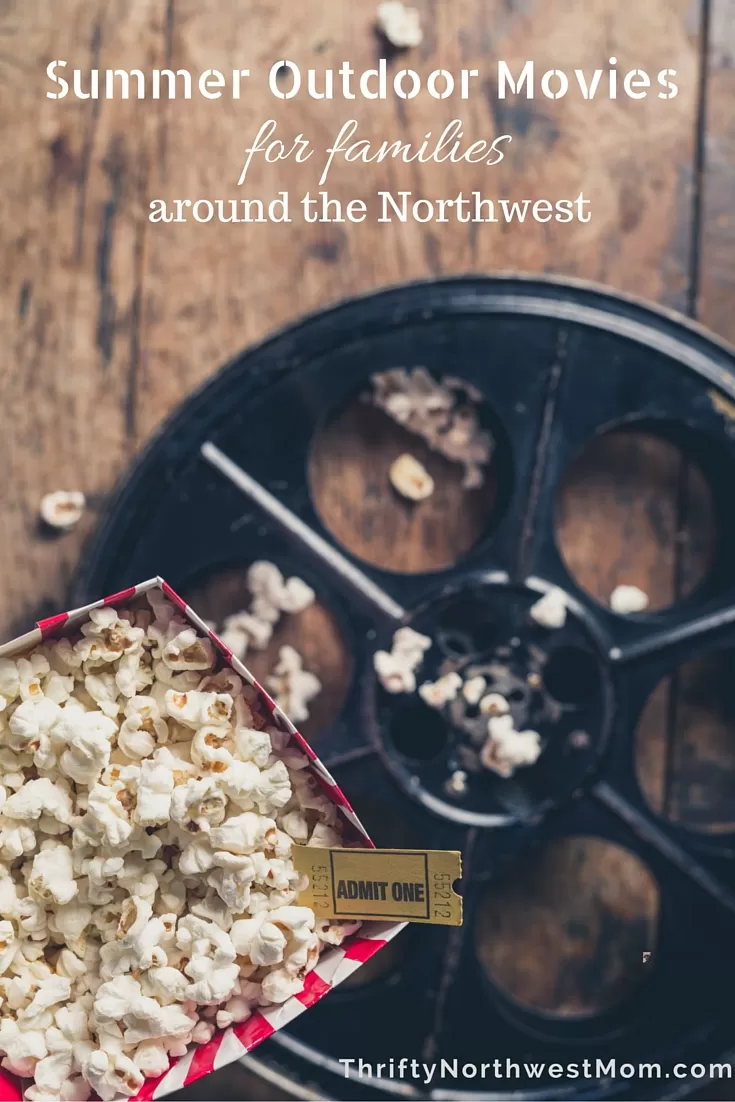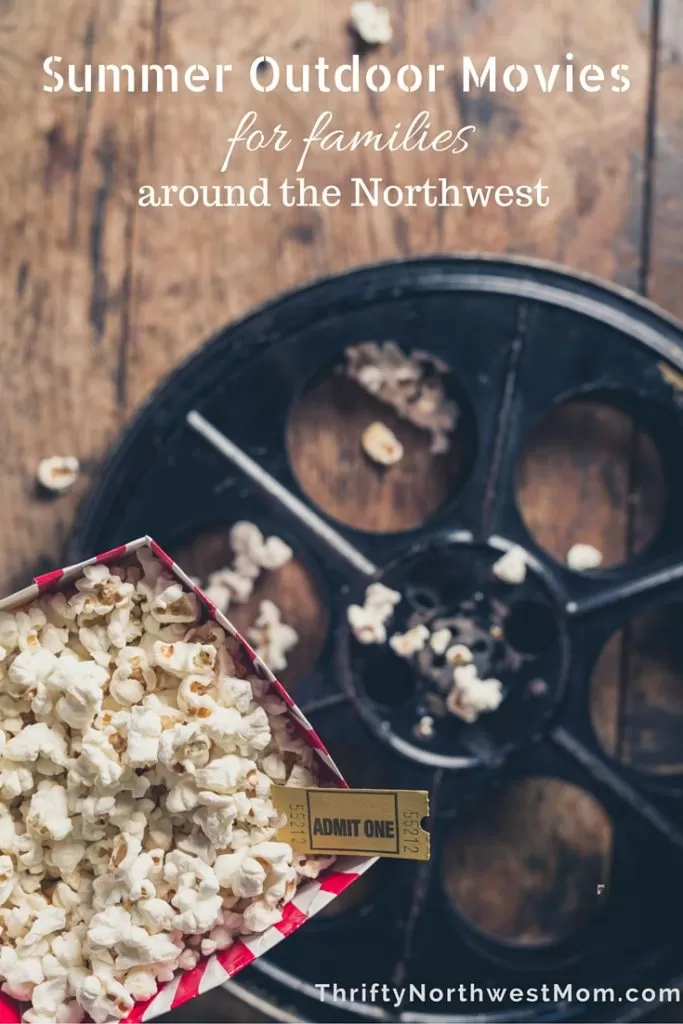 Summer Outdoor Movies – Movies In the Park & More for Families in the Northwest
Nothing says summer like watching a movie under the stars! Here is a list of family-friendly movies in the park, and other locations to catch outdoors this summer in the Northwest (this list is current for Summer 2023). Be sure to bring your own chairs and blankets and your own snacks, too! Some locations will have concessions on hand. Many of these events include live entertainment or kids activities before the show starts.
This is not a comprehensive list as so many towns offer movies in the park, so make sure to check out your town's website or parks & recreation site to see if there are outdoor movies provided. This is just a variety of movies featured all around the western Northwest.
Don't forget to check out our BIG list of drive-in movies, too! These are also outdoor movies, but set up like the old fashioned drive-in movies.
In addition to all the great outdoor movie opportunities we have listed below, we also have a couple more movie deals you might want to check out for the summer to keep kids entertained too:
Summer Outdoor Movies in the Park & Other Locations around the Puget Sound:
North Puget Sound area: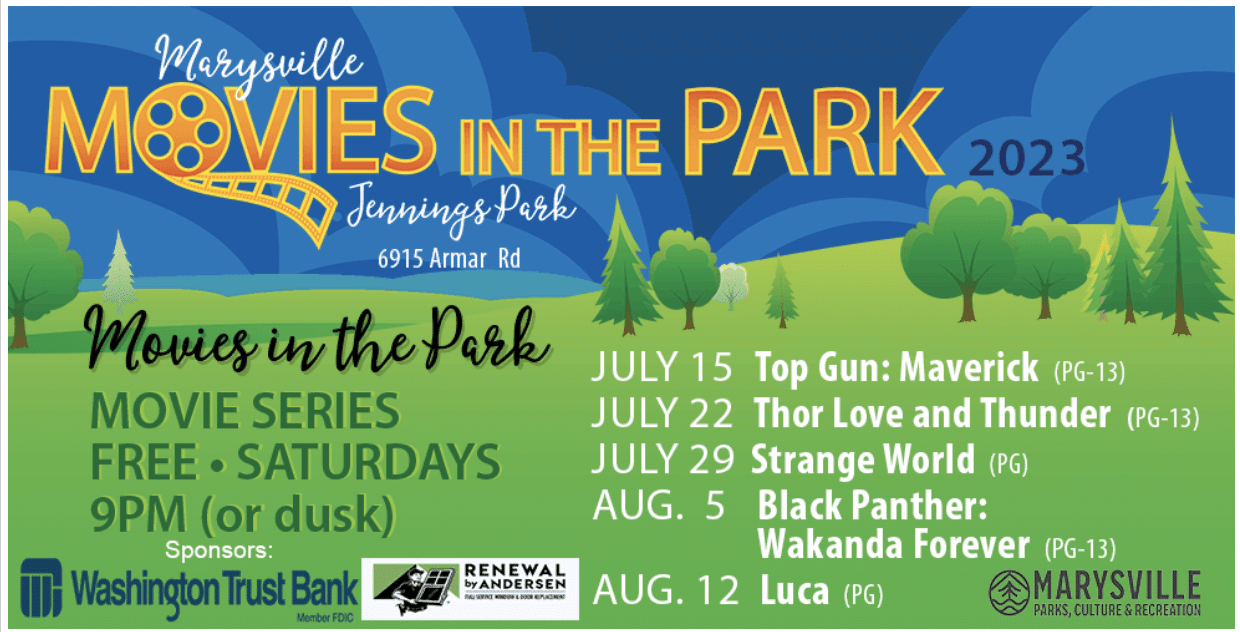 Marysville – Popcorn in the Park – 9pm  Saturday nights in July & August at Jennings Memorial Park. Free admission to movies in the park.
July 15 – Top Gun: Maverick
July 22nd – Thor Love & Thunder
July 29 – Strange World
Aug 5th – Black Panther: Wakonda Forever
Aug 12th – Luca
Everett's Sail In Cinema – Friday nights July 21 – August 25, 2023, at the Port of Everett's Boxcar Park for the 8th annual Sail-In Cinema! The Port of Everett's Sail-in Cinema is the only waterfront movie series in Snohomish County, offering free, family-friendly movies.
July 21: 9:15 p.m. – Lyle, Lyle Crocodile (PG)
July 28: 9:10 p.m. – Top Gun: Maverick (PG-13)
August 4: 9:00 p.m. – The Goonies (PG)
August 11: 8:45 p.m. – Lightyear (PG)
August 18: 8:35 p.m. – Clueless (PG-13)
August 25: 8:20 p.m. – Fantastic Beasts (2016) (PG)
Greater Seattle & Eastside area: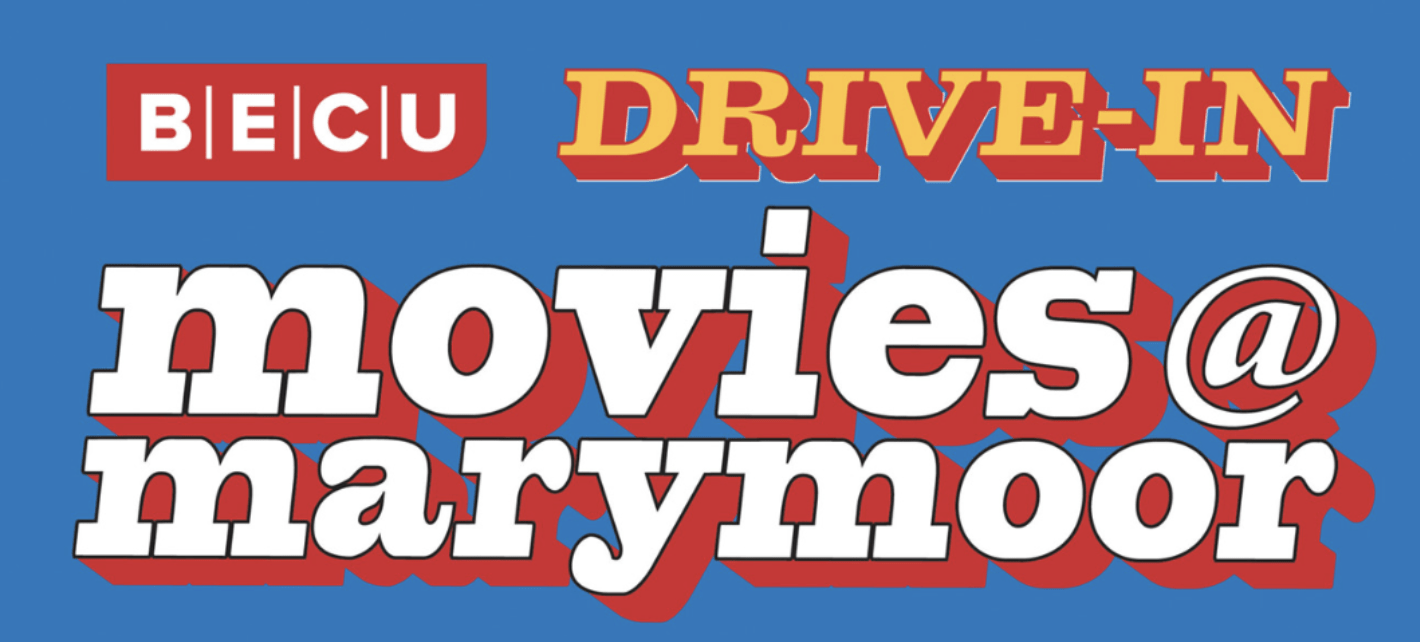 King County will host the BECU Drive-in Movies at Marymoor Park summer series starting Thursday, July 6th, 2023 and running either Wednesday or Thursday nights during the summer. Tickets are $10/person (5 & under free) and food trucks will be on hand for purchases. Find a list of movies that will play here. 
Tickets often sell very fast, though, so buy your tickets early! They always sell out early!
Here's a list of the movies showing this summer:
Thurs July 6th – Grease
Wed July 12th – Everything Everywhere All at Once
Wednesday July 19th – Monsters Inc
Wed July 26th – Top Gun: Maverick
Wed Aug 2nd – The Goonies
Wed Aug 9th – Black Panther: Wakonda Forever
Thurs Aug 17th – UP
Wed Aug 23rd – The Princess Bride
Seattle – Movies at the Mural at Seattle Center – 9:00pm (or dusk) on  Fridays in late July & August – FREE. Catch a movie on a giant 40-foot screen right below the Space Needle. Bonus, they'll be showing a short film prior to each movie screening.
July 28th – The Princess Bride
Aug 4th – Clueless
Aug 11th – Jaws
Aug 18th – Dreamgirls
Aug 25th – Black Panther: Wakonda Forever
Seattle Freeway Park – Movies in August & beginning of September. Looks like these open at 6:30pm (the specific movies are not listed).  They will take place on August 4, 11, 18, 25 & Sept 8th. Find the info here
Stone House Cafe – Rainier Ave/Seattle – Thurs 6/29. Free Drive-in Movie night (movie to be announced)
Bellevue Summer Outdoor Movies in the Park – Last year they offered movies in the Downtown Park on Tuesday evenings. They have not updated with any 2023 movies yet, but keep checking to see if they will offer this
South Puget Sound area:
Summer Bash + Outdoor Movies in August with Tacoma Metro Parks – These are taking place on August 5, 19th & 25th at various Tacoma metro parks (Stewart Heights, Star Center & the first location is not listed for the 5th). Check out their website for more info. In addition to movies, you will find a variety of activities including inflatable slide, games, entertainment, crafts, food truck, outdoor movie and more. Movie begins at dusk. Free admission.
Covington Parks & Rec Outdoor Movies in the Park –  these will take place Fridays at the end of July & August. Located at the Covington Community Park Stage.
July 28 – 8:45 p.m. Family Night: Puss in Boots The Last Wish
August 4 – 8:45 p.m. Teen Night: Thor Love and Thunder
August 11 – 8:30 p.m. Date Night: Top Gun Maverick
August 18 – 8 p.m. Throwback: The Sandlot
August 25 – 8 p.m. Family Night: The Super Mario Bros. Movie
Friday Night Flicks in Auburn at Lea Hill Park – Blockbuster movies viewed outdoors on a 50′ inflatable movie screen will make Friday nights in Auburn a real treat for the whole family!
Fri July 29th – Lea Hill Park – Sing
Fri Aug 5th – Sunset park – Encanto
Fri Aug 12th – Les Gove Park – Remember the Titans (also part of a Fun Run & concert)
Wild Waves also hosts Dive In Movies – These happen on Thursday nights through the summer from 5-7pm. You do need a Wild Waves ticket to get admission to these. Find current coupons and discounts for Wild Waves here.
Float in the wave pool or kick back in a lounge chair for weekly movie nights on our gigantic LED screen! Movies are rated G or PG. Keep an eye out for special themed movie nights with games, costume contests, and prize giveaways.
Find the info on the Dive In movies here!
June 22 – The Lion King
June 29 – Puss in Boots: The Last Wish
July 6 – Encanto
July 13 – Wall-E
July 20 – Minions: Rise of Gru
July 27 – Sonic the Hedgehog 2
August 3 – Luca
August 10 – Monsters, Inc.
August 17 – Lyle, Lyle Crocodile
August  24 – Super Mario Bros. Movie
August 31 – DC League of Super Pets
Portland Area:
Lake Oswego – Movies in the Park – Thursdays at dusk (start around 7pm); Millennium Plaza Park. Popcorn & other treats available for purchase.
July 20 at Westlake Park – Minions the Rise of Gru
July 27 at Millennium Plaza Park – Turning Red
August 3 at Foothills Park – Puss in Boots: The Last Wish
Portland – Movies in the Park – There are movies in various parks around the city almost every night in the summer on Thursdays July 13th through September 2. Make sure to check out the schedule to see when there will be an outdoor movie at a park near you.
Portland – Flicks on the Bricks – Pioneer Courthouse Square – Friday July 21st – Sunday July 23rd  (this may be more of an adult location just due to safety concerns around this area of the city)
Tigard – Movies in the Park – these take place at different parks around the city. Activities start at 7pm. Movies start at dusk. There will be free popcorn.
July 8 –Dirksen Nature Park – Minions: Rise of Gru
August 11 – Cook Park – Back to the Future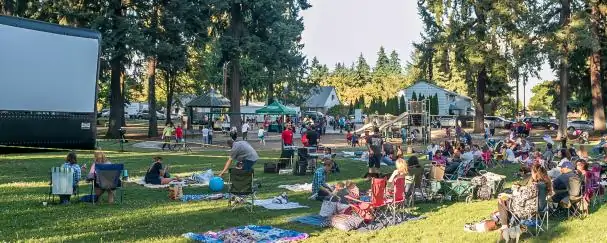 Vancouver – Summer Movie Series – In different locations on Friday nights. These take place at park locations around the city.
Make sure to check out more ideas for family fun around the Pacific Northwest this summer::