Saving Money at the Ballpark – Seattle Mariners Discounts and More!
This post may contain affiliate links and I may be compensated for this post. Please read our disclosure policy here.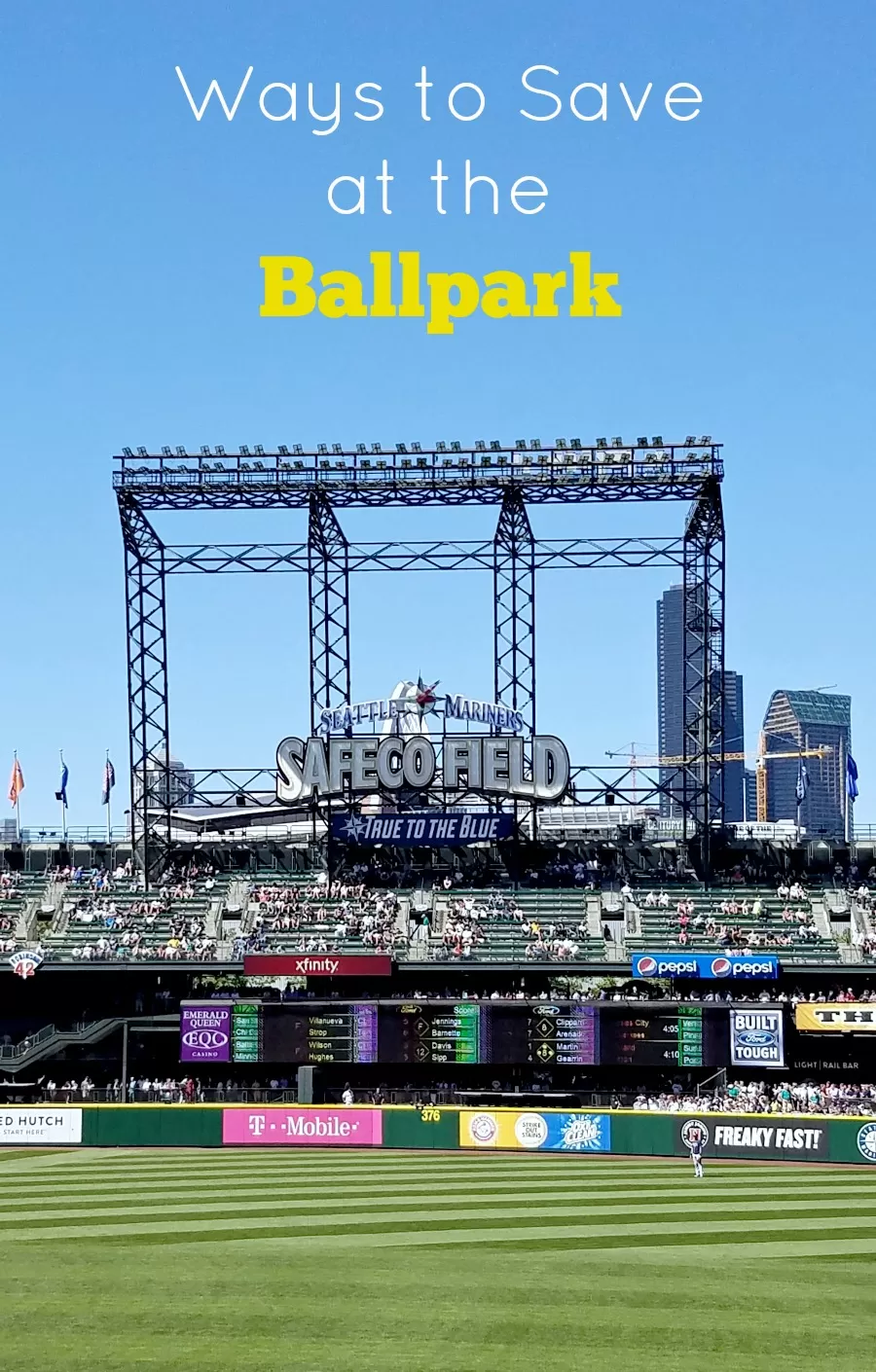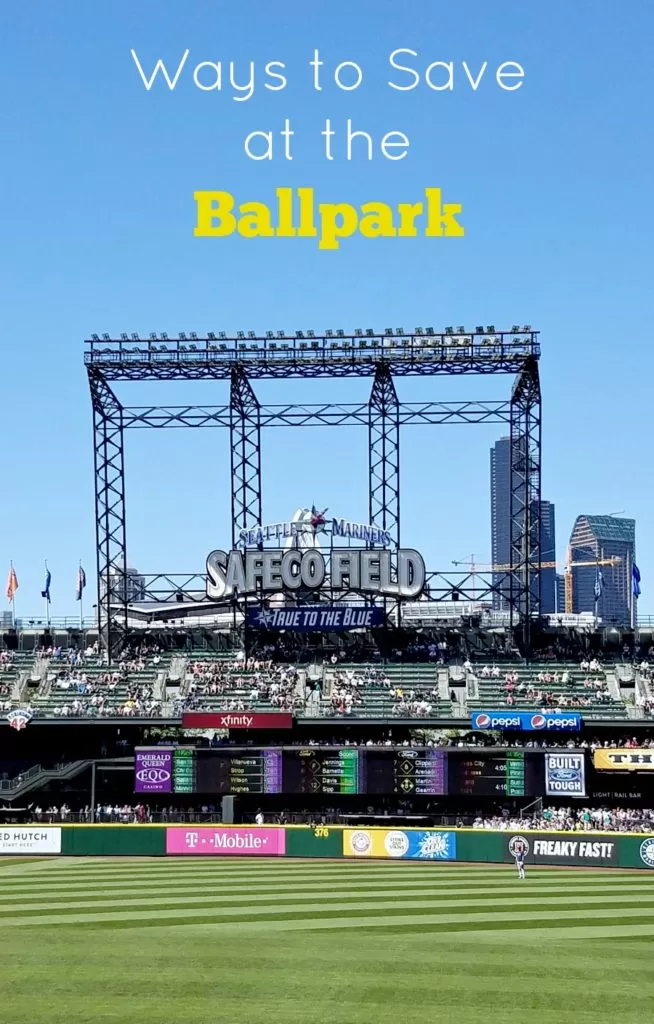 Saving Money at the Ballpark & Tips for Saving at Mariners Games
Do you love to watch baseball in person? Enjoying a baseball game on a beautiful spring or summer day is a favorite of many people, but the price to attend a game after paying for your ticket, parking, food, drink & more, can often be too high for many to make it work with your budget.
We are sharing some of our favorite tips for making baseball games more affordable and finding ways to save on tickets, food, drink, parking & more!
Look for discounts or specials on tickets 
If you want to head to a major league baseball game this season, but the ticket prices are steep, here are a few tips to try when looking for discounts on tickets. First of all, it's all about timing & the teams playing. Certain opposing teams are just very popular and will always cost more for tickets than other teams as they know they will draw a crowd so can sell more tickets.
Timing is also a key factor in determining the cost of tickets as the weekday games are going to be harder for them to sell tickets than the weekend games, so you typically will find cheaper tickets for weekday games.
If you are military, retired, reserve or a veteran, you can frequently get discounted tickets to the games. Make sure to check out the team's website's special promotions area to see what discounts they offer for military & veterans. For the Seattle Mariners, they offer discounts on Sunday – Thursday games with $5 off select view level seats and $10 off select main level seats. Plus, you can also get an extra 10% off merchandise in the team store (20% off on Tuesdays).
Group tickets are also a great way to save on tickets to ball games. If you have a group of family & friends (20 or more), you can get discounted tickets to many stadiums. Or take advantage of special promotions for students and teachers.  The Seattle Mariners have several fun events with discounted tickets & often meal packages such as Teacher Appreciation Night (coming up June 24, 2016 with discounted tickets), DECA Day, Weather Education Day & more. My husband takes his club members to Weather Education Day every year (& my girls and I tag along as I chaperone) and this is a great way to attend an educational, fun hour long event with local metereologists Steve Pool & the King5 weather team. Plus, you can get a hot dog lunch included with the deal. The tickets are a great deal, too. This year, we sat in the main level seating with great seats, which included the Weather Education event & the lunch (hot dog, chips & drink)  – all for $35 (just the seats alone were $49 for the day we went to the game).
Lastly, there are discount ticket sites such as ScoreBig.com where you can buy discounted tickets for baseball games. I have not purchased tickets through them before, but I have heard that they seem to be a reputable place to buy reasonably priced tickets. Occasionally, we may also see discount ticket offers on sites such as Groupon and Living Social, too.
I just found today that there are discount Mariners tickets on Travelzoo, too. You can get rare discounts on suites, view level & main level seats. I'm sure this is the case for many baseball teams around the country, so check out Travelzoo for your area.
More Mariners ticket promos::
BECU Family Nights – if you are a member of Boeing Employee Credit Union (BECU) they offer special discounted rates on select dates
College Student Discounts – College students can get ticket as low as $12 – $15 the day of the game
Senior Discount – get 10% off ticket prices if you are 60 or older
Grand Slam Family Pack Ticket Specials – includes your ticket, hot dog & drink at a special discount price. You must purchase at least 4 tickets
$5 Bleacher Seats – thanks to a reader tip, she said that Monday – Thursday games frequently have $5 bleacher seats in the outfield (depending on who they are playing). You'll just need to check different dates for those outfield sections to see what's available.
Don't pay for Water at the Ballpark –
Bring your own reusable water bottle or if you forget, buy a $1 water bottle outside of the stadium & empty it before going in. No liquid is allowed to be brought in thru security into the ballpark; however, you can bring empty bottles in. On a hot day at the ballpark, you will most definitely want to keep a water bottle nearby to quench your thirst.  It will save you quite a bit of money as I saw water bottles in the stadium for $5/bottle and drinks are more than that, so it could really rack up during a long, warm game.
Save Money on Food by Eating Outside the Ballpark or Bring Your Own –
I know, I know….for many, half the fun of going to a major league baseball game is enjoying all of that delicious baseball food! So, if that's really important to you, then try these other money-saving tips & budget a set amount you will spend on food.  But, if you want to enjoy fun baseball food, but not pay the super high rates you'll find inside the ballpark, then check the vendors outside the stadium before you enter. Whenever we have gone to a game, there are always plenty of vendors selling everything from hot dogs, Cracker jacks & peanuts (both my husband's required baseball foods), sub sandwiches & much more all around the stadium.
If you really want to save, the majority of ballparks will allow you to bring in your own food, so you could pack a lunch and snacks & be totally set on food, so you wouldn't have to buy anything except maybe a small splurge snack for the kids (it was so warm that we got the kids each an ice cream to cool them off). Or hit up a local sandwich shop on your way to the game and bring that in with you to eat at the game.
At the Mariners game, they do have picnic tables on the upper deck near the Junior Mariners kids area, which offers a fantastic view of downtown Seattle, the Puget Sound & the Olympic mountains while you eat your lunch, so it's a great way to enjoy your lunch without paying the high prices for ballpark food.
Save on Parking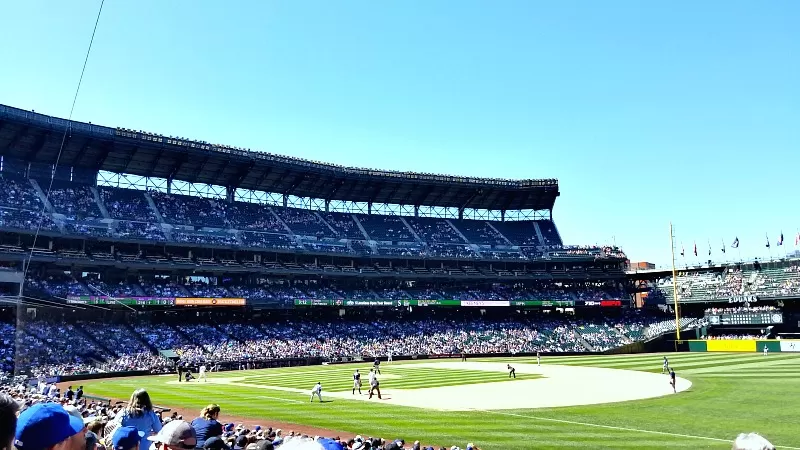 As with any event, the closer you want to park to the stadium, the more expensive it will be, with the parking garages charging quite a premium. If you want to save, the earlier you can get to the game, the better to find cheaper parking. And when I say early, I mean, arrive closer to when the ballpark will open (or even earlier), not when the game will start as people do get there early to tailgate before games or they will want to be there when the doors open to hang out & watch the pitching practice.  Most stadiums will have areas around the stadium where you can find reduced prices for parking lots or even better, find street parking.
Many cities may also offer free on-street parking on certain days of the week, often Sundays. In Seattle, Seattle on-street parking is free on Sundays as well as a few other special days of the year. You can check the schedule ahead of time to see if it might be a free parking day on the day you'll attend a game.
In Seattle, you may have to walk a ways to find parking, but if you do get there early, it is possible to find free parking. Or you can find reduced parking lots as low as $5 for the game (compared to $25 – $40 for the parking lots near the stadium).
Another great resource to find free or lower priced parking is to check the website, Parkopedia. They offer parking information for over 6000 towns, so this would be a great resource for any area where you'll be attending a game. You can even search specific areas of the city, such as searching SODO Seattle to see the area around the stadium specifically to look for lower cost options.
For Seattle specifically, you can also check out the Downtown Seattle app to look at the parking costs for different areas. I noticed that they do not show parking rates for areas south of the stadium, but there are some lots north of the two stadiums to check out & compare prices.
Our preferred method of attending baseball games now is to take public transportation. It is not always the most frugal option as we could find cheaper parking since we do have to pay for each of us to ride, but the convenience is totally worth it to us in this case. Not having to deal with Seattle traffic, especially after a game ends is well worth the cost, so sometimes you have to factor in time + stress over the few dollars extra you might spend when considering using public transportation versus parking for a ball game.
We took the Sounder train & paid for a day pass.  We met the Sounder in Tacoma & didn't have to pay for parking in their parking lot right across the street from Freighthouse Square. We then paid $5/ea way for the adults and the kids were $3.50/ea way. So, it was $27 for all 4 of us to go up & back to the stadium on the Sounder. However, when you factor in the cost of parking, gas to get up there & back & the time spent in traffic driving to or from the game, this might be an appealing option for you, too. The Seattle light rail system is also another option that might work for you, too. This is cheaper as it varies from $2.25 – $3 per trip. Even if you don't live near a light rail station, just head to the nearest station & leave your car in the parking lot to head to the game. The parking lots should be free to park for the day.
When you ride the Sounder or Light Rail train, you will get dropped off at Union Station, which is just a few blocks away from Safeco Field. You get to pass by CenturyLink field, which is always fun for photo ops, then walk towards the field, where all the street vendors are lined up with snacks, food & drinks for the ball game so you can stock up before you enter!
Go to a Minor League Baseball Game 
If you really love baseball & want to take your whole family, but it's just too pricey even after these tips we've mentioned, minor league baseball games are still just as fun & you can often get better seats to see the game up close. There are almost 250 minor league teams, so there is sure to be a team close to your area.  They frequently move players down to the minor league at times during the regular season, too, if they need some extra work in some areas or have been on the injured list & need to work up to heading back to the team.  So this is a great time to likely see some major league players but for half the price of what you'd pay at the major league games for not only tickets, but food & more. Make sure to check out the Ticket promotions as they often have some awesome package deals for tickets, food, and more for fantastic prices.
Groupon and Living Social are also websites to check for discounts, as we have frequently seen discount package deals available on these sites, especially for weekday games.
At the local Tacoma Rainiers game, they have several package deals on their site that are definitely worth checking out. The Little Caesars Family Meal Deal available on select nights is just $44, which includes 4 reserved seat tickets, 4 ballpark meals, 4 Rainiers hats, 2 free youth passes to the Museum of Glass & 2 free youth /tot passes to the Point Defiance Zoo or Northwest Trek. Plus you'll also get 2 Hot 'n Ready pizzas & 2 orders of Crazy bread at Little Caesar's locations. That is a fantastic deal! Another package I found worth checking out is the Chick Fil promo which is also $44 & will get you 4 reserved seats to the game, 4 ballpark meals, and 4 Chick-Fil-A meals to use at the Tacoma restaurant.
These are just a few ways to save when you head to the ballpark to enjoy a baseball game! What are ways that you save when you go to the ballpark?