Norpoint Park & Sprayground Review (Zipline, Playgrounds & More)!
This post may contain affiliate links and I may be compensated for this post. Please read our disclosure policy here.

The Pacific Northwest is filled with many opportunities to get your kids out and active on a budget. At the top of that list are the many parks we have throughout the Northwest. These include National Parks, State Parks, Neighborhood Parks, Water Parks, Lakes, Skate Parks and more! Lets face it though, not all parks are created equal. Not every family is looking for the same thing in a park outing, and different parks appeal to different ages. Some are all day outings, and some are perfect for a short outing.
We will be providing you with a series of park reviews, so you will have some more detailed info when planning a day of frugal park fun for your family. We would also love to hear your thoughts and opinions on these parks. Please comment below with your review, additional tips, or anything else you want to add. If you have requests for additional parks that you would like to see reviews on please email us at [email protected] We are always looking for new ideas!
We also post a weekly Frugal Family Fun roundup, of each weeks best and most affordable entertainment and event options for families. Be sure to check that out for more ideas on what to do on a budget!
You can find a full page of park reviews around the Northwest here.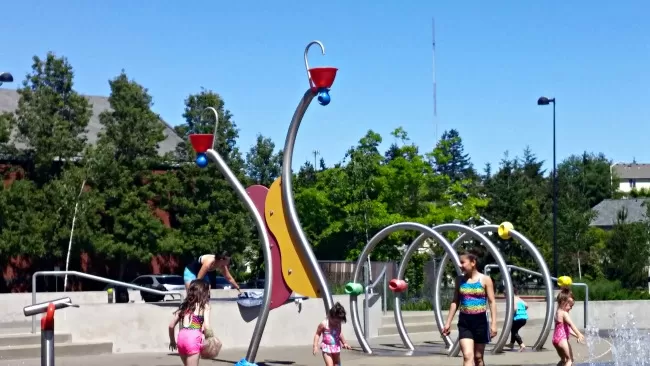 Spraypark
Highlights: (Favorite aspects of the park)
This park has a great spray park. I loved it because it did not get overly crowded, and so the kids were able to play and have fun in the water, without it being packed with kids like some spray parks get in the summer. I also loved that there were some spots to sit in the shade (be sure to bring your own blanket)!
It includes: 
Spray Park (hours here)
Playgrounds (toddler playground and one for bigger kids too)
Zip Line
Skate Park
Large Grass Field Area
Things To Know: (fees, parking availability, are there bathroom facilities, what to bring)
There is plenty of parking, but it might be a short walk, If you have packed a picnic or have other supplies to carry in, there is a circular drive that you can stop out and and upload your vehicle, then park after that. Parking is free.
There are public restrooms, but they are limited so there can be lines during busy times.
Bring a blanket to sit on, as there are many grassy areas you can camp out at, or there are a handful of tables (no shade) to use too.
They offer a free Summer Movie and Bash in August!
Recommended for ages: 
This park is great for a variety of ages (preschool through all school age kids is probably ideal).  There is a toddler area for the play park, as well as a bigger play area in the park for older kids.
The spray park was fun for all ages too. We had kids from 3 to 12 with us, and they all had a blast!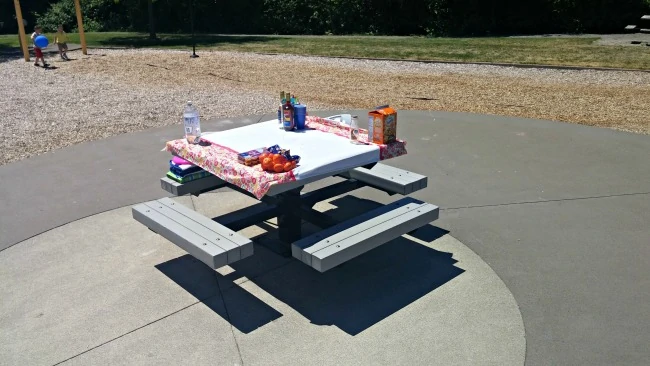 Recommended eating spots nearby:
There is nothing right at the park, so I would recommend bringing a picnic to this spot. There are tables to use, or there is also plenty of grass space so you can lay out a blanket and enjoy a picnic.
We brought some snacks and a cooler with supplies to make Italian Sodas for the kids on our recent trip, and they loved that!
Location:
North Tacoma
4818 Nassau Ave. N.E.
Tacoma, WA 98422
Zip Line for the kids to play on
Review:
My kids loved this park for a few reasons. Firstly, the spray park was fun! Secondly, it has a Zip Line for the kids (we go to one other local park in Kent just for the zip line, so when my kids discovered a park with a zip line and a spray park, they were hooked!).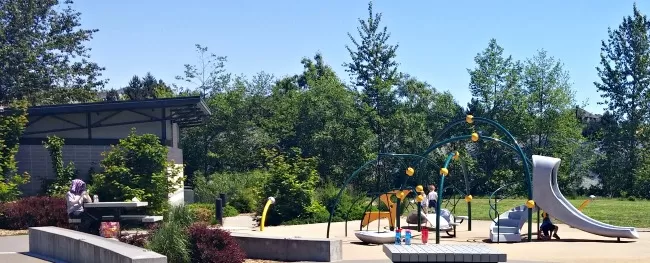 Toddler playground and bathroom facility
In addition to those two big highlights, there is also a fun playground (one for toddlers and one for school age kids). Besides the main play structures, there is also a swing set and one of those discs that spins around.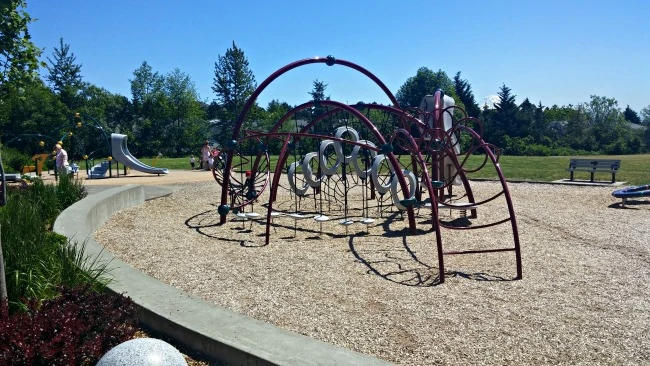 Main playground area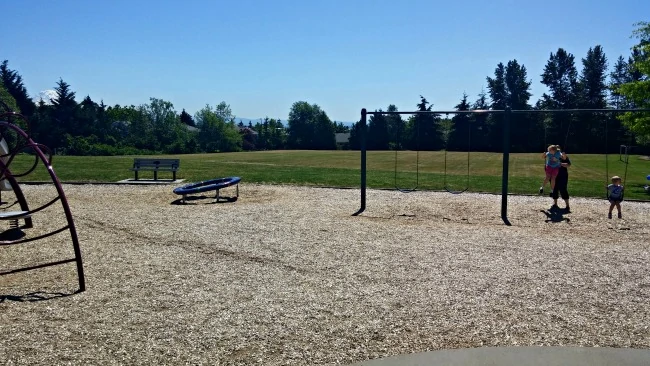 Field, swings and more!
There is also a very large grass area for them to play frisbee or tag or other fun games that require more space (and a trail that walks around it if you want to get some exercise).
The spray park is shown at the top. The only thing I did not love about the spray park is that it is right next to the street (just a drive through, so not a busy street at all), but it did make me feel like I had to sit up near it to keep an eye on the younger kids. There is a wall to sit on, and tables around, but other then that position of it the kids really had fun in it.
All in all, it was a great day at this park for all of us (from moms down to our kids). There is plenty to keep the kids busy, a few shade spots to keep mom comfortable, and enough room for everyone to move around.
Additional Tips: (are there BBQ pits onsite, rental facilities, etc.)
It is located adjacent to the Norpoint Community Center (with indoor pool).
Check out the Norpoint Park website here for more details.