10 Things to Do in Ellensburg WA + Where to Stay & Eat!
This post may contain affiliate links and I may be compensated for this post. Please read our disclosure policy here.
10 Things to Do in Ellensburg + Where to Stay & Eat
Many of you may have seen Ellensburg on your drive down interstate 90 but how many of you have stopped to visit this centrally located town. It is home to Central Washington University, a popular, mid-sized state college, but there is so much more to Ellensburg than just being a college town. It is also home to the largest rodeo in the state as well, but there's plenty to see & do beyond CWU & the rodeo.
Ellensburg is actually a prime destination because of its proximity to so much outdoor recreation, but yet the prices for lodging, food, etc are not as high as you might find at places like Suncadia, Leavenworth, etc.
We headed to Ellensburg to not only tour CWU, but also to check out the winter outdoor recreation possibilities. But we were pleasantly surprised by the town, too, with the delicious restaurants, shops & eclectic options to check out when visiting.
Where is Ellensburg WA?
Ellensburg is located along the Yakima River in the Kittitas Valley. It is just east of the Central Cascades right along Interstate 90.   It's actually right in the center point of the state as there is a marker/plaque right near Central Washington University showing the exact central point.From Ellensburg to Seattle is less than 2 hours, which is the case for most Puget Sound areas.
That makes it so convenient as a destination as it is close to so many outdoor adventure areas, both close to the town & within an hour of the town. It is an hour or less to Snoqualmie Pass and the Roslyn & Cle Elum areas are nearby, which also have a ton of outdoor opportunities. Plus, it's near Highway 97 which takes you to Blewett Pass & on the way to Leavenworth & Wenatchee.
How to Pack & Weather – Ellensburg
Ellensburg WA weather is much more sunny & less rain than the western part of the state, similar to the rest of central & eastern WA. They get about 9 inches on average of rain a year.  In the winter, you'll find a cold & snowy climate, as it does snow more often there. And in the summertime, it's more of a dry, hot climate, although not as hot as the rest of eastern WA, because of its proximity to the mountains. I find that even though the weather can be similar to most of Eastern WA, it is a bit more mild because of its proximity to the mountains, which makes it ideal for outdoor adventures when you can escape some of the heat in the mountains.
For packing, layers really are the best in the winter, especially if you'll be adventuring outdoors. Make sure to bring plenty of warm layers if you're headed to the mountains. And in the summer, pack those hiking boots & swimsuits as there are plenty of lakes & rivers to take a dip or go river rafting and some great hiking trails around the area.
Things to Do in Ellensburg WA
Visiting Central Washington University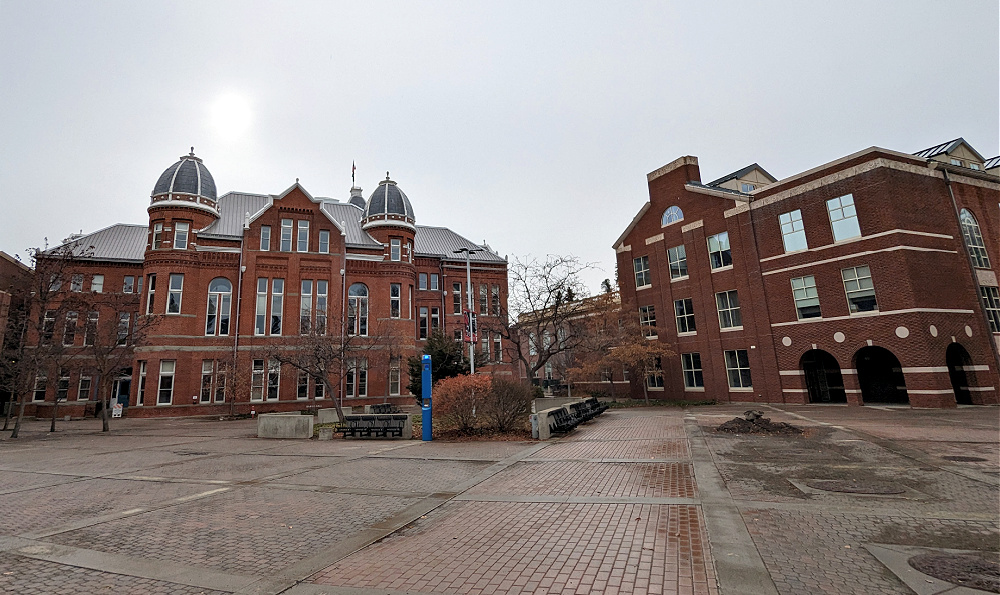 The main reason we headed to Ellensburg recently was to visit Central Washington University (CWU), which my daughter wanted to tour as a school she's interested in for college. Central is a popular public state college as it's around 2 hours or less from most areas in the Puget Sound and is centrally located to other areas of the state, too. It's a mid-size school, with enrollment around 10,000 and it has a variety of majors.
You can schedule tours for weekday or weekend visits which last around an hour to an hour & a half. But even if you are not interested in looking at colleges, there are definitely benefits to visiting a college town for activities. My husband and younger daughter checked out a free public planetarium show put on by the CWU Astronomy Club. You can also attend concerts by the music department such as a jazz concert, orchestra & choir concerts.
You can also visit the Japanese Gardens on campus at CWU if you want a beautiful & relaxing setting to to walk around (it was not open when we were there, but I'm sure it's open during warmer months)
Dick & Jane's Spot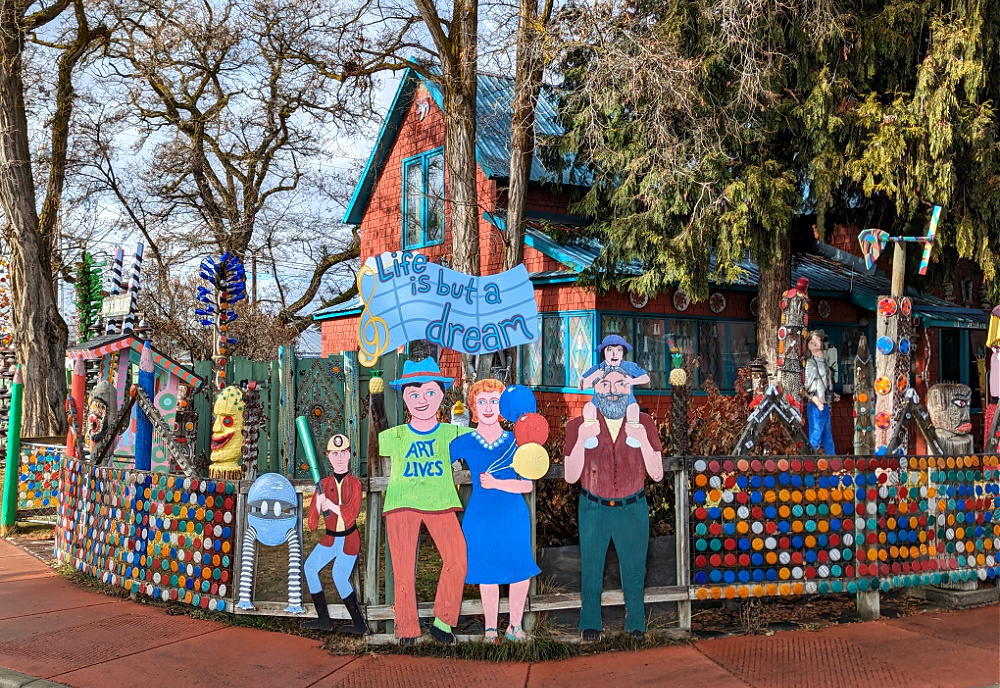 At the south end of downtown Ellensburg, you'll find the most unique outdoor art displayed in a private home's yard called Dick & Jane's Spot. This is such an eclectic combination of art, 10,000+ bottle caps, thousands of reflector pieces & numerous art sculptures. Most of the art was made by Dick & Jane, the owners of the home, but they also have added art from other artists as well.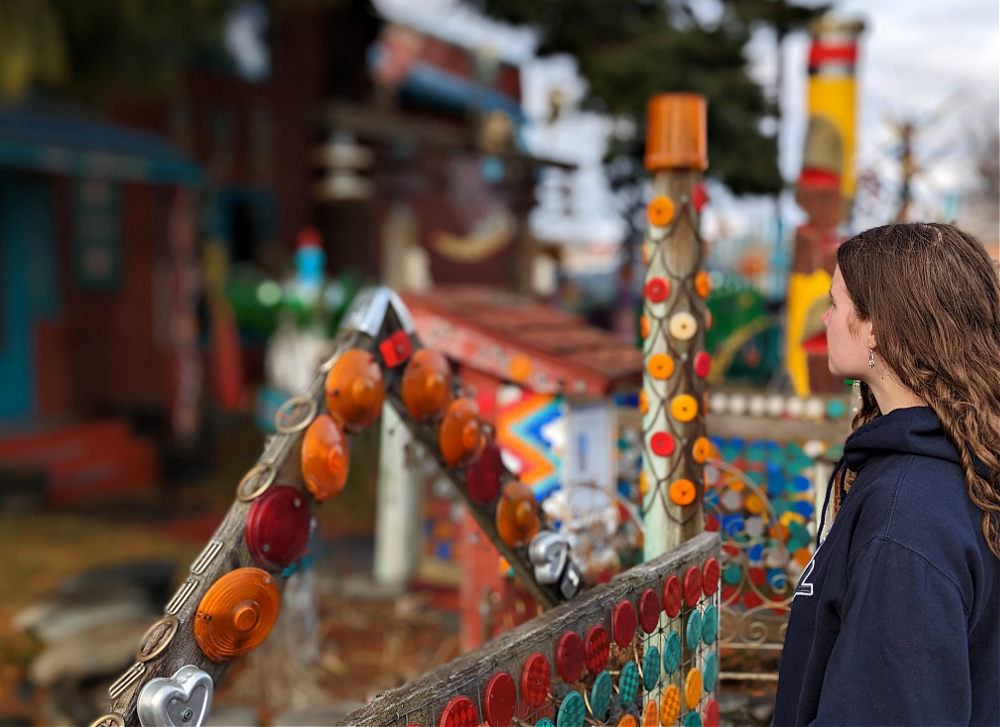 If you have teens, they will love this opportunity for selfies in front of this spot. Just make sure to stay on the sidewalk to view all of the art (don't go in the gates or on the grounds of the home).
Ellensburg Rodeo & Rodeo Viewpoint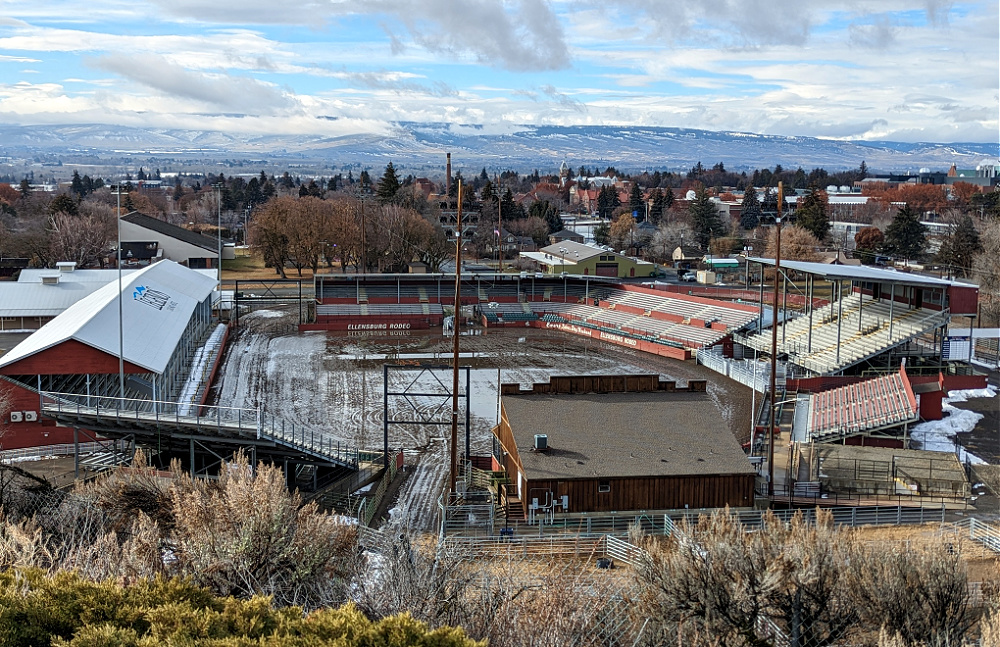 The most popular yearly event in Ellensburg is the Ellensburg Rodeo, 100 years old this year. It's one of the Top 10 professional rodeos in the US & has over 600 contestants. It is the largest rodeo in Washington state & held every Labor Day weekend.
If you want to learn more about the rodeo, they have a Rodeo Hall of Fame Museum , with free admission, which is now part of the Clymer Museum & Western Culture & Art Center. It would be a great way to learn more about the history of the Ellensburg Rodeo & what the rodeo has meant to the town.
If you want to get a peek at what the rodeo arena looks like,  check out Reed Park which sits on a hill overlooking the Ellensburg Fairgrounds. It is also a nice viewpoint for the city.
Irene Rinehart Riverfront Park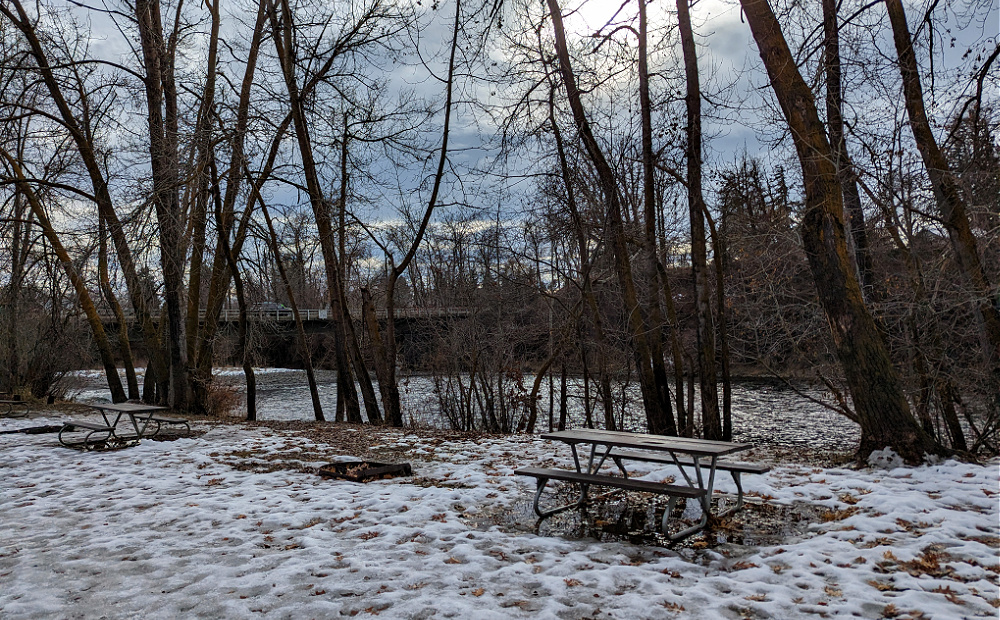 The Irene Rinehart Riverfront Park is 115 acres along the Yakima River with 2 miles of easy trails for families to check out and a small wooden footbridge over the river. There is also a large play area, volleyball court, picnic shelter & BBQ grills, as well as areas to swim & fish.  It's just minutes off I90 & on the other side of the highway from downtown Ellensburg, but very close. It's a nice place to get away & take some leisurely strolls by the river or creeks. There is also an off-leash dog park. Only one of the parking areas is accessible in the winter, though.
Ellensburg Murals & Sculptures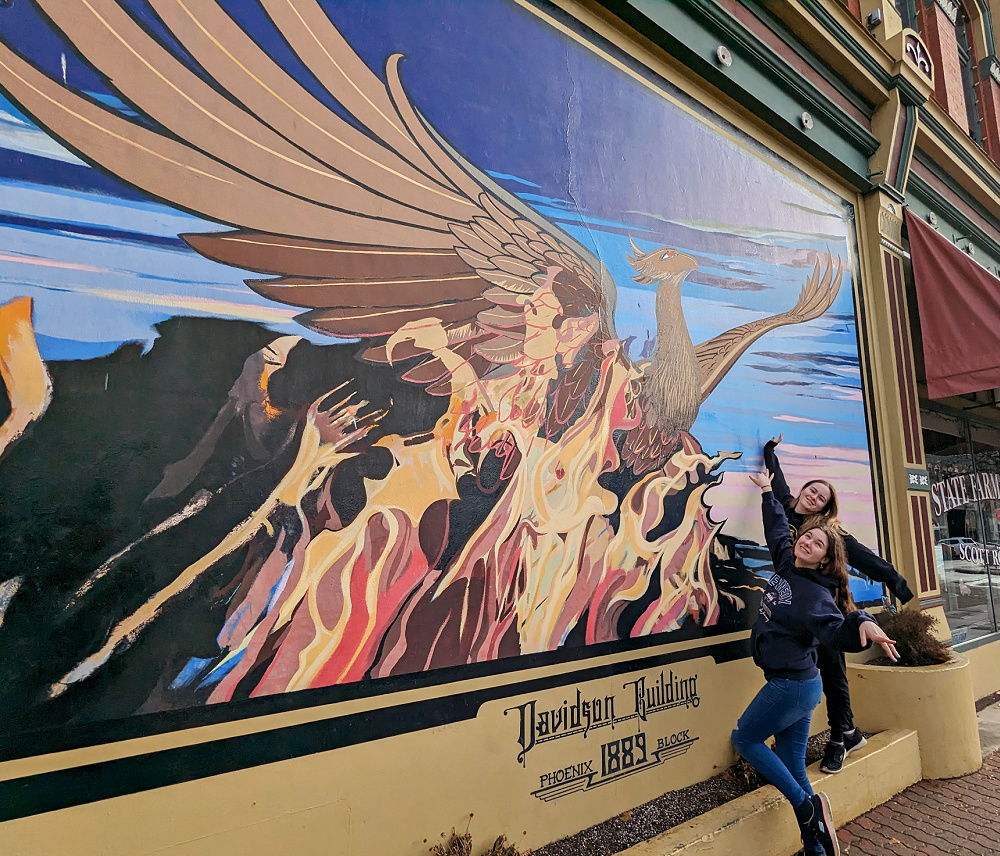 Downtown Ellensburg has some unique art murals & sculptures around town, which are fun to find & take photos in front of them. The Phoenix Rising mural is right next to The Pearl restaurant in the heart of downtown and is a popular photo opp. Right across the street from the mural, you will also find the Ellensburg Bull statue. There is also a Kitt Coyote statue in town as well as other fun murals showing the history of the town.
Ellensburg Shopping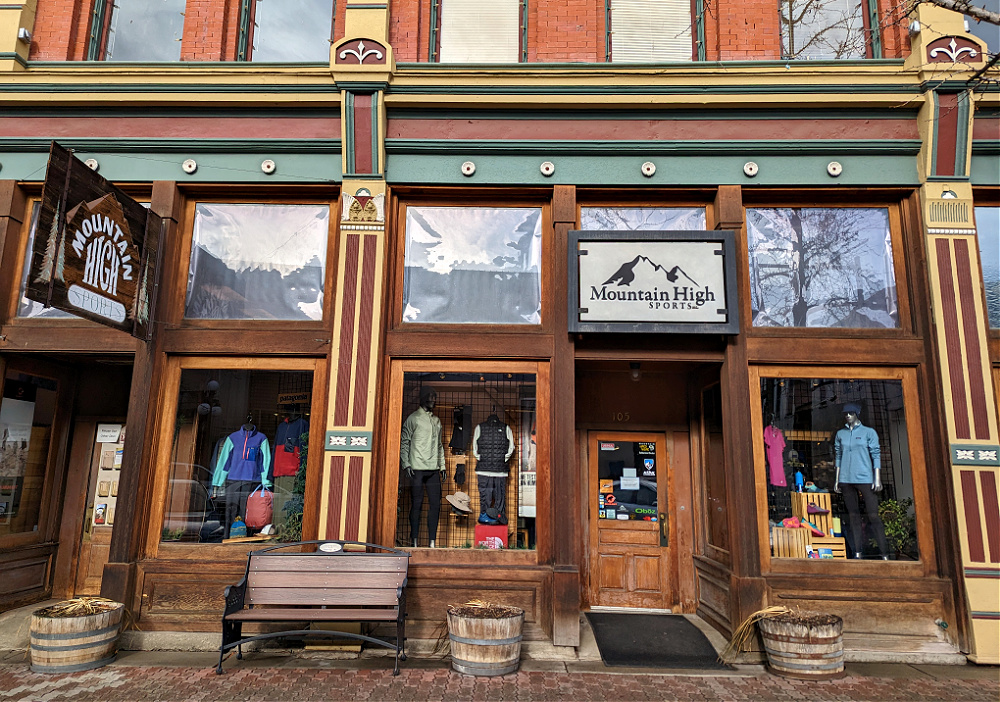 There are a variety of shops around Ellensburg to check out when you're visiting. Red's Fly Shop is quite a popular spot for fishermen as they are a world leader in fly fishing commerce & have extensive fly fishing knowledge, guided services & more. Another popular store for outdoor adventures is the Mountain High Sports store, which offers outdoor gear, apparel & footwear.
If you love vinyls, check out Old Skool which has quite a collection of records & CD's, vintage clothing, posters & more. There's also Central City Comics store, another popular spot that teens would love in addition to the Old Skool store.
Ellensburg Museums
There are several notable museums to visit to learn more about Ellensburg history when you're visiting the town. The Kittitas County Historical Museum has free admission & 9000 square feet of exhibits to learn all about the history of the town & valley. You can also visit the Clymer Museum + Rodeo Hall of Fame museum like we noted earlier. This is also free admission & it showcases the art, culture & western history of the town, in addition to the rodeo history for the town.  Find more Ellensburg museums here.
The Gallery One art museum in Ellensburg features not only beautiful art to check out, but they also offer both adult /teen & youth classes – you'll find everything from clay throwing nights, jute twine baskets, clay luminaries, watercolor painting & more.
Wild Horse Wind & Solar Facility
The Wild Horse Wind & Solar Facility operated by Puget Sound Energy is located 16 miles east of Ellensburg. If you've ever driven I90, then you've seen the huge wind turbines (look like massive windmills) along the hills of Ellensburg. The wind turbines at Wild Horse can generate up to 273 megawatts (MW) of electricity. And the solar array (one of the PNW's largest) can generate up to 502 kilowatts of electricity.
They offer free guided 60 minute walking tours or self-guided tours of the facility so you can get a look at the facility's 149 wind turbines and learn more about wind & solar technology. Closed toe shoes are required as this is a walking tour outside along the ridge (dress warm enough for the windy weather). The walking tour will explore the solar array, wind turbine blade, turbine generator & gearbox & look inside the base of an active wind turbine.  The facility is open from April 1 – October 31. The tours depart at 10 & 2pm daily.
Blewett Pass Sno Park 
If you love heading to the snow, it took just 35 minutes from our hotel to Blewett Pass, so this is a very close destination for accessing the snowy weather quickly in the winter. The Blewett Pass Sno Park is a popular sno park for snowmobiling (there are over 70 miles of groomed snowmobile trails  – wow!) . But it also offers 57 miles of marked ungroomed cross-country skiing & snowshoe trails. Bonus – we found an amazing sledding hill right next to the big parking lot, too!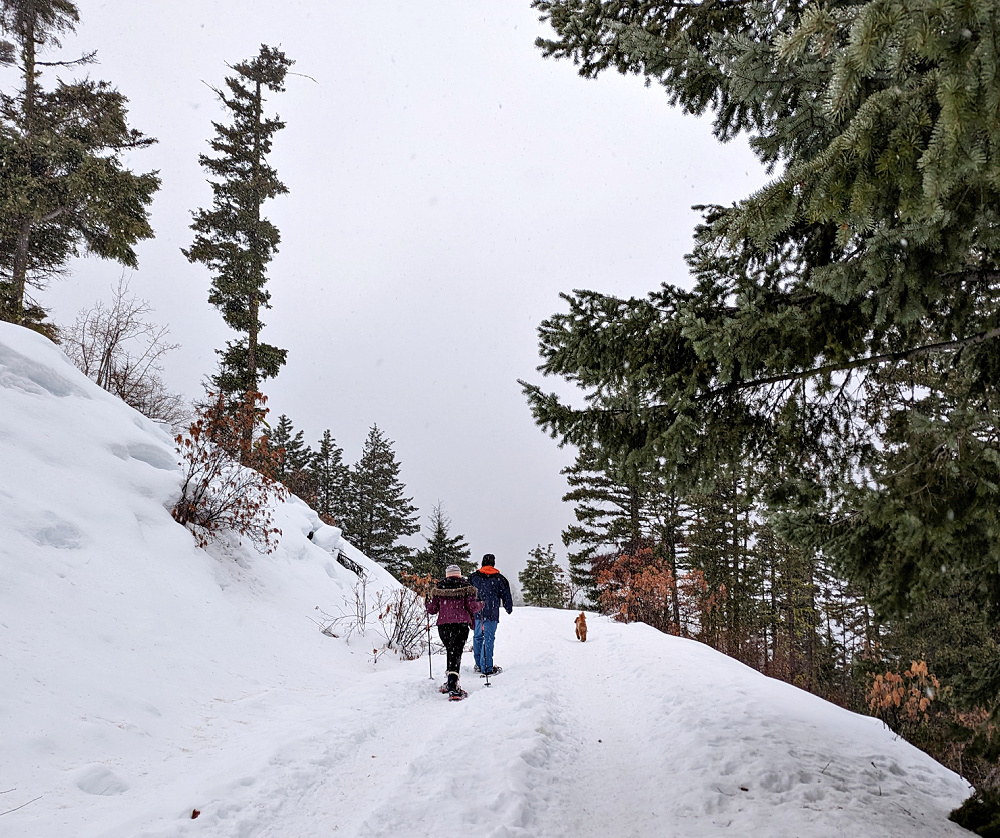 We headed out to Blewett Pass to try the Wenatchee Crest Snowshoe trail & it was a perfect beginner snowshoe trail. It's up to 6 miles but you can go any distance you'd like – just turn around when you're ready & the elevation gain is 400 ft total for the trail. You'll first walk thru the woods & then you'll get to the ridge & if it's a nice day, you'll have beautiful views of the mtns & valley below. It was a cloudy day for us, but still a beautiful trail.
And when we headed back to our car in the parking lot, we discovered an awesome sledding hill on the right side of the parking lot (on the south side). Nice big hills & out of the way of the snowmobilers, but our girls were excited we had brought our sleds with us!
This is a small parking area both on the north & south side of the pass, with approximately 30 parking spaces, so just be prepared to get there early or later in the day in case the parking area is full. You'll also need a Sno Park pass to park in these spots.
Outdoor Recreation around Ellensburg
Whether it's summer, winter or any season, there are plenty of outdoor experiences around Ellensburg. You'll find everything from fly fishing for rainbow & cutthroat trout to hiking to river rafting the Yakima, Cle Elum or Wenatchee rivers to rock hounding, as people search for the elusive Ellensburg Blue Agate. The Yakima river & canyon area is one of the most popular fly fishing areas in the state.
You'll find a variety of hikes including Umtanum Creek Canyon which starts with a suspension bridge across the river & you may even see bighorn sheep along the hike.  The popular Red Top Lookout hike, an easy family-friendly hike to a lookout, is just 45 minutes from Ellensburg near Cle Elum.
Ellensburg Hotels
If you are looking for hotels in Ellensburg WA, you'll find most of the hotels line the I90 highway area, but there is one that is downtown if you want to be close to the town, university & all of the restaurants.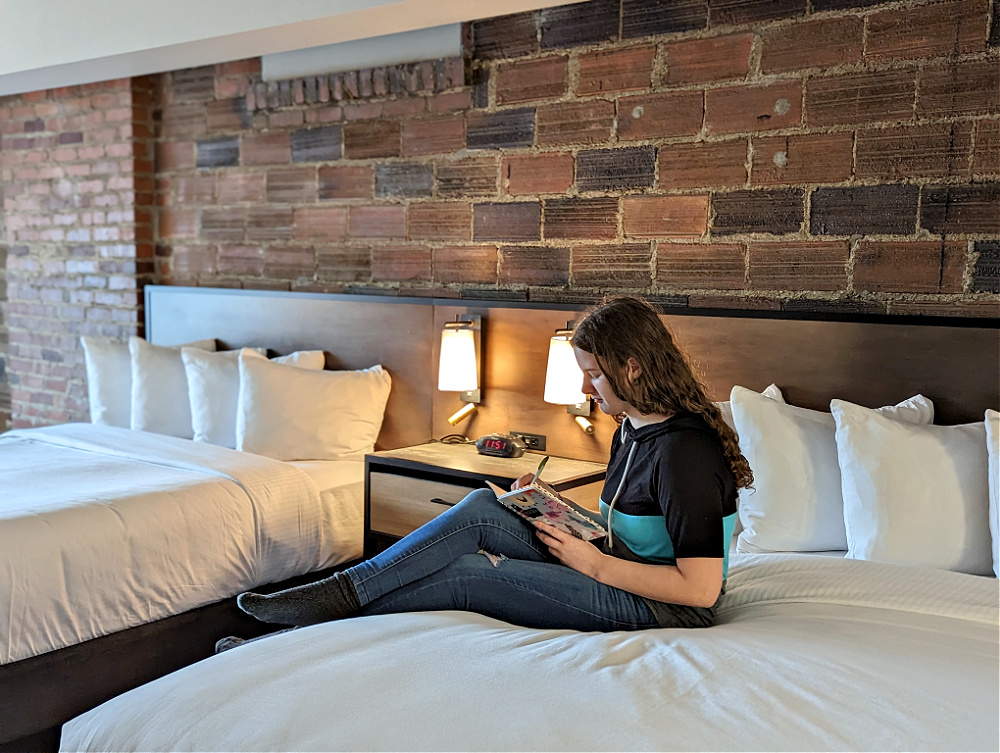 Hotel Windrow – If you are looking for the most centralized location for your stay in Ellensburg, the best option is the Hotel Windrow hotel right in the heart of downtown Ellensburg.  We walked to almost all of the restaurants we ate at for our weekend stay & loved being close to the shops & museums, too. It was also just 5 minute from the Central Washington University (CWU) campus, which we toured with our daughter.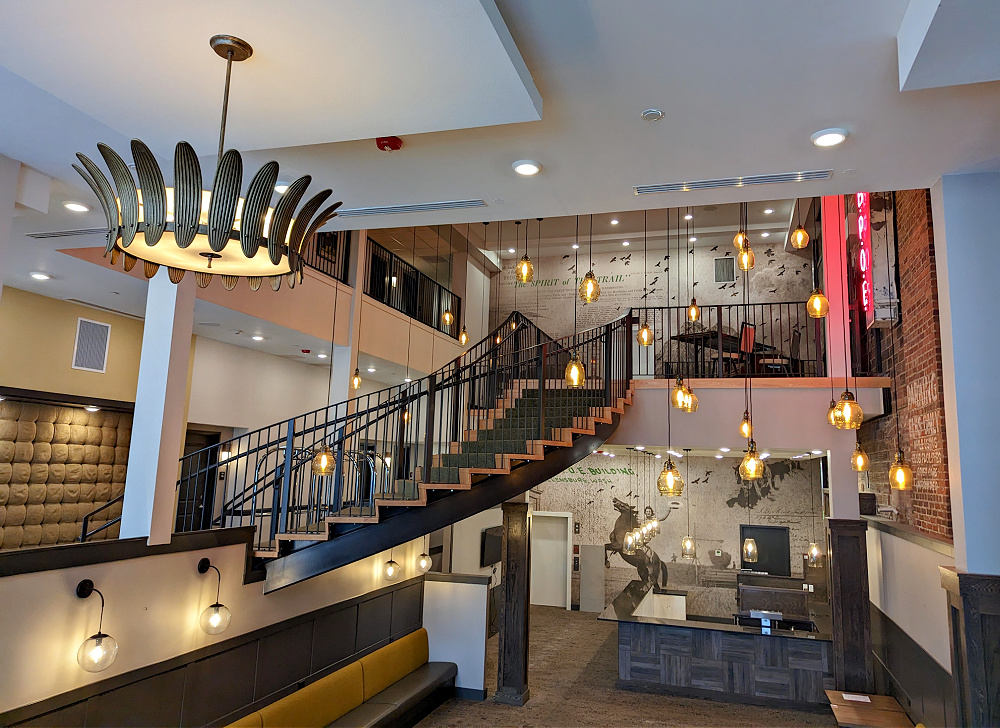 Not only is the location so central, but it is a fun, boutique hotel which retains some of the historic charm of the Elks building it was built in, but also has many modern decor & amenities, too. Plus, it's dog-friendly, which was a huge bonus for us!  Make sure to check out our complete Hotel Windrow review as that would definitely be our top pick for hotels in Ellensburg Washington.
Best Western Plus Ellensburg – this hotel includes an indoor pool, spa, and a free full breakfast. It is dog-friendly as well. It's on the south side of Ellensburg, closer to I90
Holiday Inn Express Ellensburg – this hotel includes an indoor pool, free breakfast, fitness center & it is dog friendly.  It's on the south end of town & near I90
Hampton Inn Ellensburg – this hotel includes an indoor pool, free breakfast,  fitness center, business center & it's dog-friendly. It's on the north end of town near I90
Econo Lodge Ellensburg – this hotel includes a continental breakfast, free wifi, guest laundry facilities & it's dog friendly. It's on the north end of town near I90
Red Lion Ellensburg – this hotel includes a free continental breakfast, indoor pool, it's pet friendly. Located south of downtown Ellensburg
Ellensburg KOA –  If you're looking for RV camping, the Ellensburg KOA is right off I90 for convenience.  Not only do they offer campground spots, but they also have riverfront teepees and cabins to rent, too. They are located right on the river & have a pool, fishing, basketball, bike rentals & more.
Find more hotels in Ellensburg Washington here!
Ellensburg Restaurants
We were definitely impressed with the restaurants in Ellensburg, especially considering it's a small town, but they had some fantastic options for dining around the downtown area.
Winegars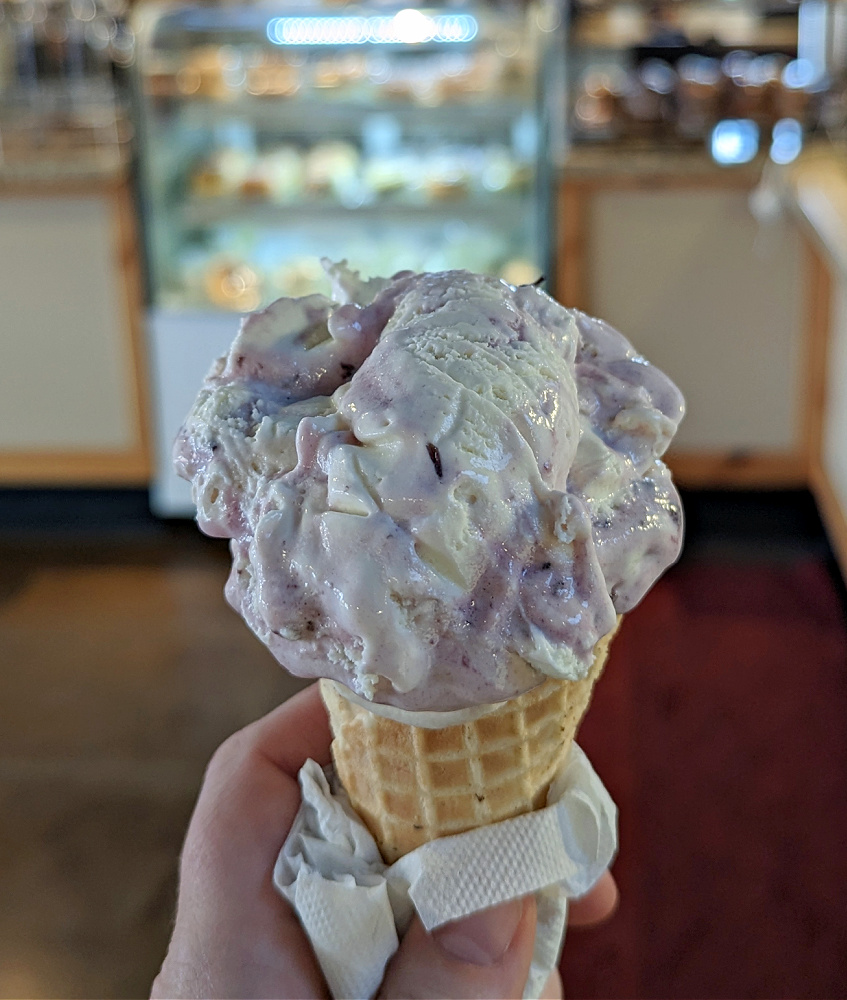 The number one recommendation when we asked readers in our Facebook group for the best Ellensburg food options was Winegars for ice cream! Whether you went to Central Washington University, lived in Ellensburg or just travel through Ellensburg frequently, this is always the most recommended place to visit for good reason!
They've been making small batch ice cream in town for over 30 years & they have such a nice variety of flavors and creamy, delicious ice cream. Flavors such as Lavender Salted Caramel, Kookie Kayla (Peanut butter ice cream with a sea salt cookie fudge swirl), & Banana Cream Pie are a few of the unique flavors.  They also have a coffee shop & some breakfast options as well.  
Ellensburg Pasta Company
We visited the Ellensburg Pasta Company restaurant on our first night in downtown Ellensburg & it was a hit with the whole family. Originally a gas station years ago, the building was repurposed into this delicious eatery just a block away from our hotel, the Hotel Windrow. We loved that there were so many options on the menu – not just Italian specialities, but also steak & seafood, too. For those with allergies, there is an extensive gluten free & dairy free menu as well. There are lighter, healthier options to choose from as well in a separate menu section.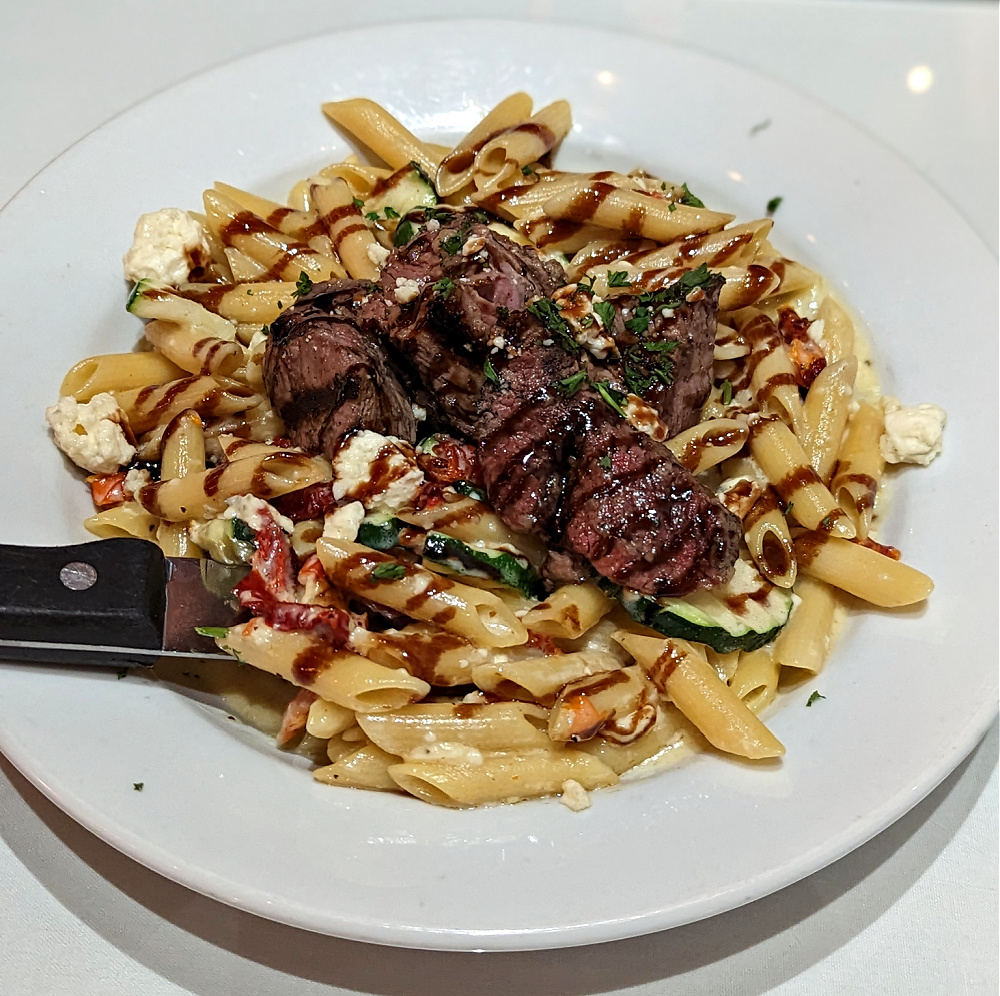 My husband always asks what is a restaurant's signature dish & they suggested the Steak Gorgonzola, which he ordered. This dish was incredible with the combination of flavors & the steak was so tender. It is Beef tenderloin & penne pasta with gorgonzola cream sauce, sun-dried tomatoes & zucchini, with a drizzle of balsamic glaze. The gorgonzola was not too strong, just the perfect combination! Definitely the dish to order here!
Try the Salted Caramel cheesecake if you decide to splurge for dessert!
The Early Bird Eatery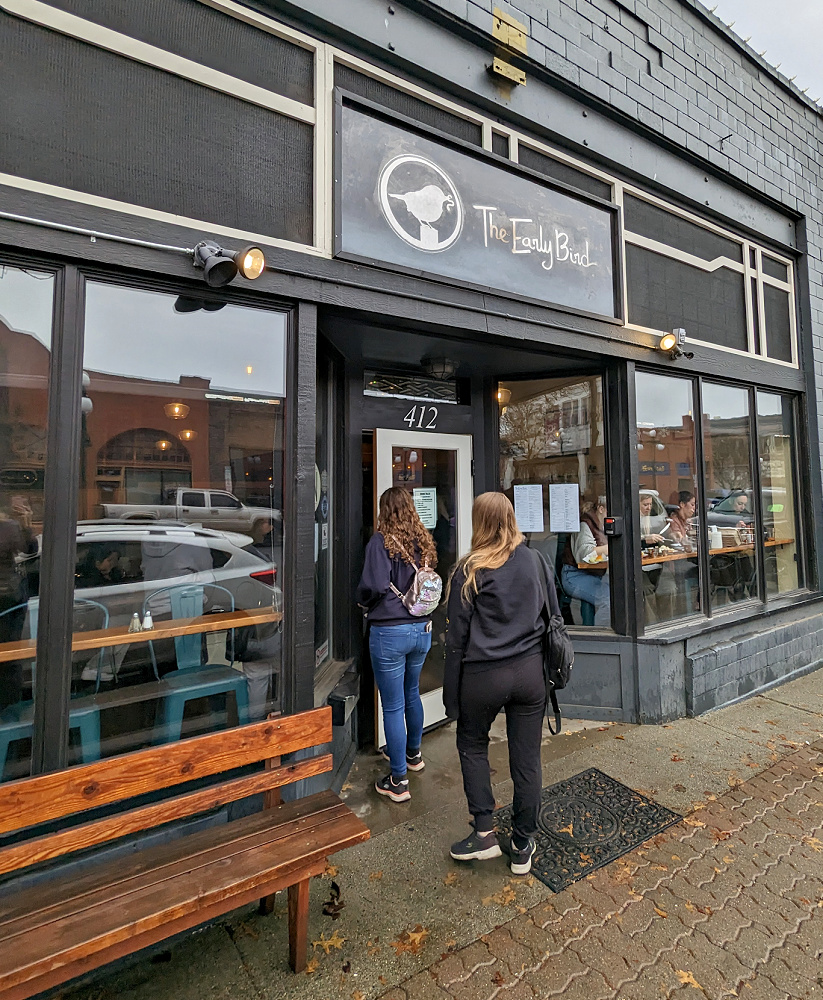 The Early Bird Eatery was also just a block the other direction from our hotel. We had walked by it our first morning & there were lines of people inside so we checked out the menu online & knew we had to come back the next day. It's definitely a very popular restaurant with a small seating area inside (there's a larger area for seating when it's warmer outside), so be prepared for a possible wait on the weekend. But it's absolutely worth it – the menu is extensive and they offer so many unique breakfast options. We had a hard time deciding what to order because there were so many fun menu possibilities to try.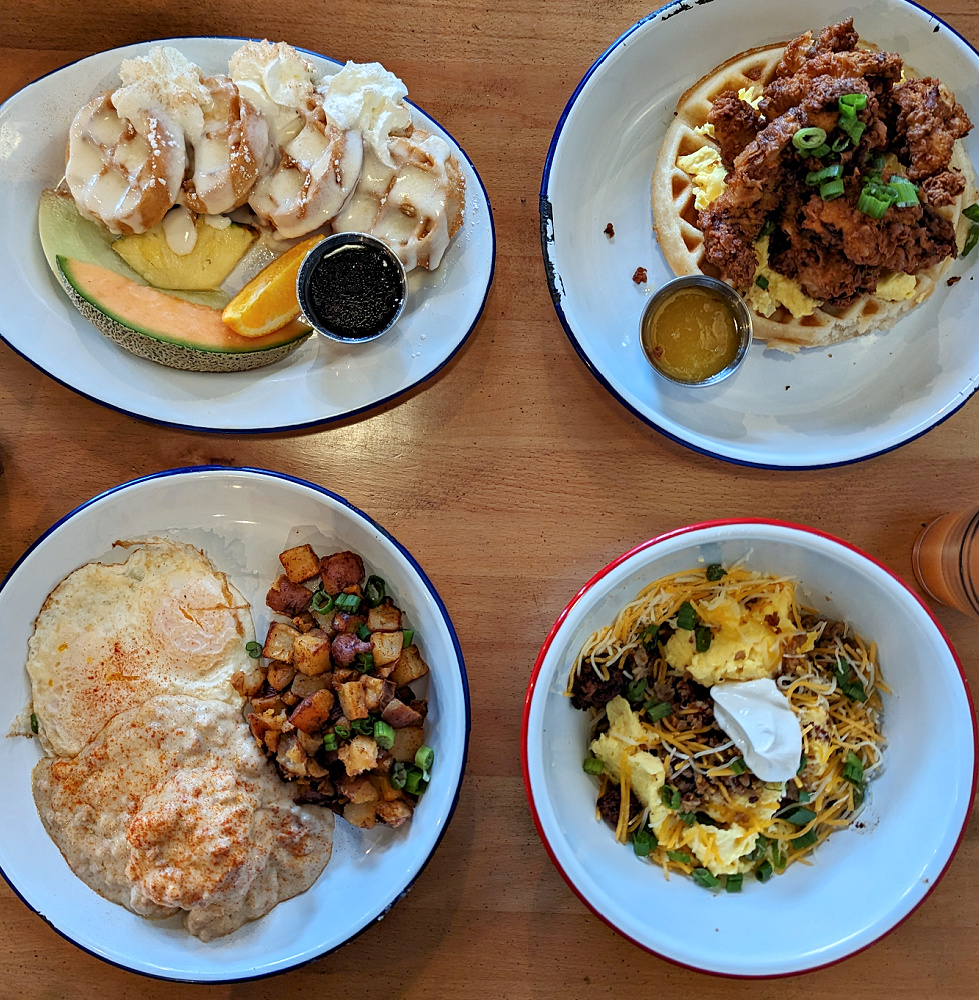 The Churro waffle was a hit with my daughter as she definitely has a sweet tooth – a delicious combo of cinnamon sugar, sweet cream cheese,  powdered sugar & whipped cream. My other daughter loved the Chicken & Waffles, while my husband enjoyed his biscuits & gravy.  My scramble bowl was the perfect blend of eggs, potatoes, sausage, bacon & more. They have some fun shareable items, too, such as monkey bread, breakfast poutine, & a breakfast charcuterie option if you want something to share as a group.
Put this on your list for your next visit to Ellensburg & even if you're driving thru the area, it's definitely worth making a stop to visit!
Cornerstone Pie 
If you're looking for a great Ellensburg pizza restaurant, the Cornerstone Pie restaurant is also right in downtown Ellensburg, within walking distance of where we stayed. They offered delicious fire-roasted pizzas, fresh ingredients and some creative options for pizzas as well as a variety of unique salads, too (like Orange Chicken Avocado salad). You can get personal size pizzas or split a full size pizza. They also offer gluten free pizzas as well.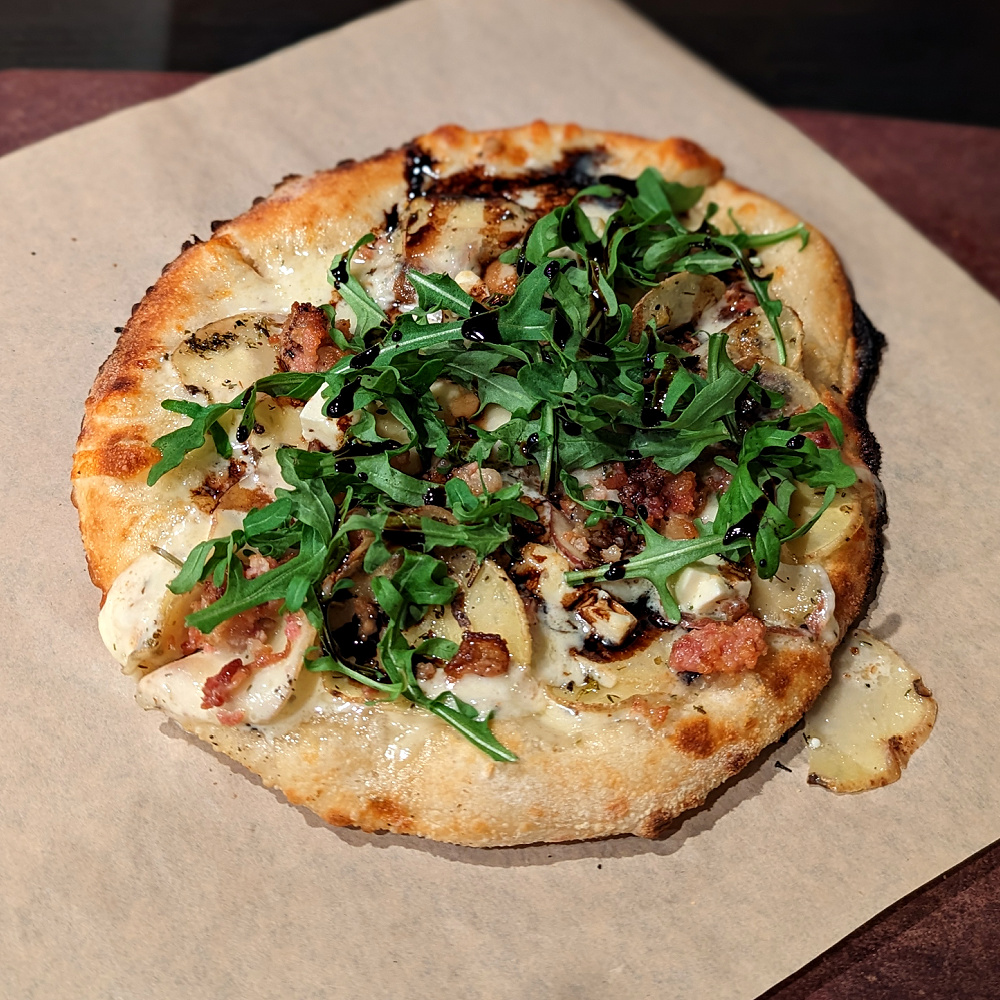 I loved the Potato Arugula pizza, such an interesting & delicious combination of Yukon gold & red potatoes with roasted garlic cream sauce, feta cheese, bacon & fresh arugula & drizzled with honey balsamic reduction glaze. Amazing! A few other creative flavors for pizza include Carolina Pulled Pork, Black & Bleu Steak, Salmon Caper & more.
Palace Cafe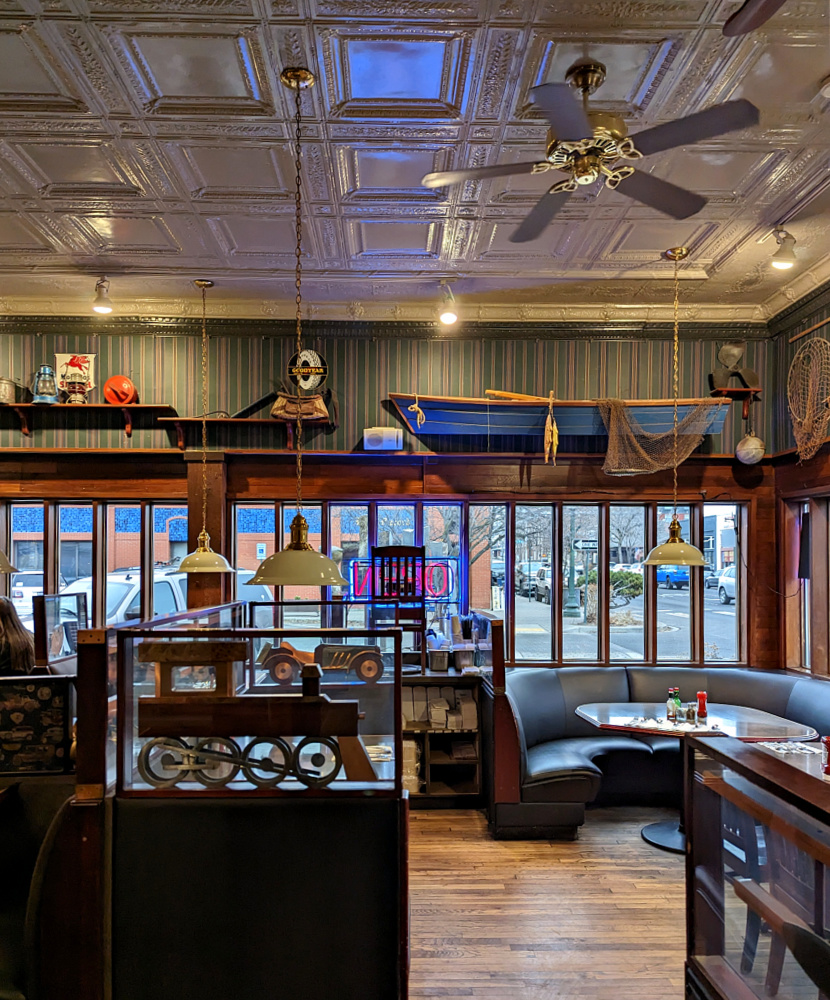 The Palace Cafe has been a staple in the town of Ellensburg for over 100 years as it first opened in 1892. It's filled with history throughout the restaurant so it's fun to eat there & look around at all of the pictures & memorabilia. They serve breakfast, lunch & dinner with a wide variety of options for any of the meals. We headed there for breakfast & the food was good & the portions were hearty. Plenty of options to choose from, so that everyone can find something they like! For lunch & dinner, you'll find everything from burgers & sandwiches to steak, prime rib & chicken fried steak for good comfort food.
Red Horse Diner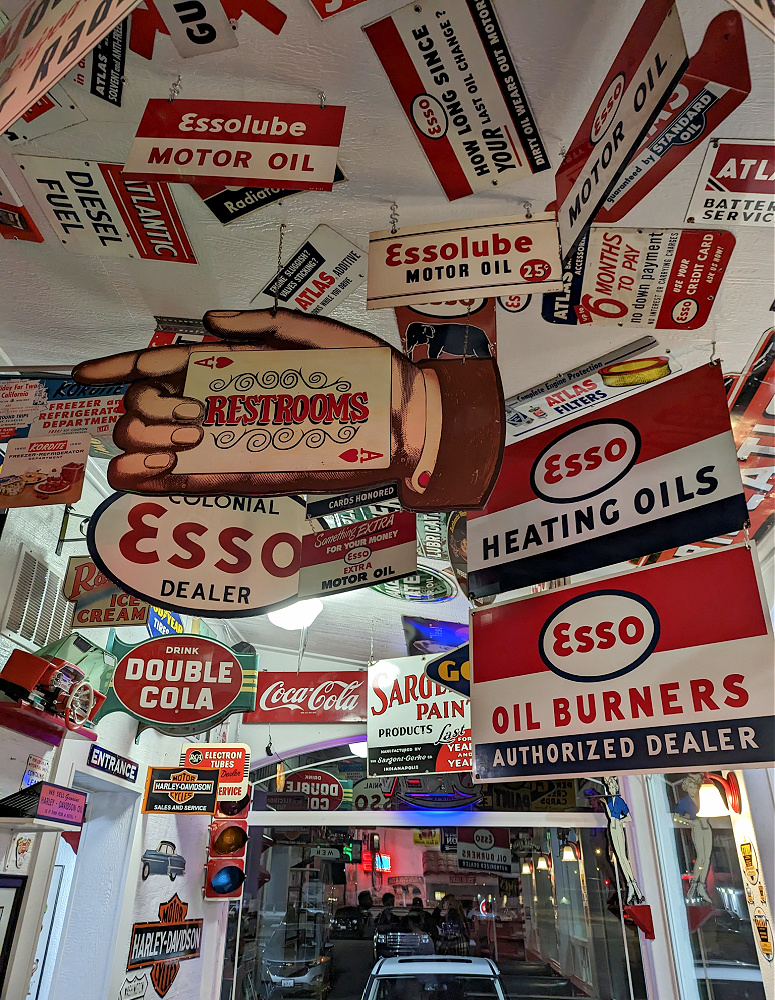 The Red Horse Diner is a place we frequently stop at when we're driving thru Ellensburg (Ellensburg is a great spot to stop for a break for a meal when driving I90) & this is such a fun stop as it's a 50's style diner (formerly a gas station) with plenty of vintage memorabilia all around the restaurant. They serve your typical diner food for breakfast, lunch & dinner with large portions, crispy fries, and great milkshakes.
We stopped here last summer and found that they even have a back patio area where they had live music, which was so fun and a relaxed setting. You can sit in the restaurant or grab your food to go if you're in a hurry, but this definitely always beats your typical chain restaurant fast food. We even were able to order by phone & pick up to go when we've been in a hurry & didn't have time to wait.
More Restaurants in Ellensburg to Try
Here are a few more options of restaurants that are popular in Ellensburg – let us know if you have tried any of these::
The Pearl – steak, seafood, pasta, burgers, sandwiches & more. Located right in the heart of downtown Ellensburg, known  for delicious food & cocktails
The Porch – quite an extensive menu of steak, seafood, pasta, burgers, sandwiches, flatbreads & more
D&M Coffee – small batch, artisan roasted coffee – these are the same owners of Cornerstone Pie pizza restaurant. Known for the best coffee in Ellensburg
More Things to Do Around Ellensburg Area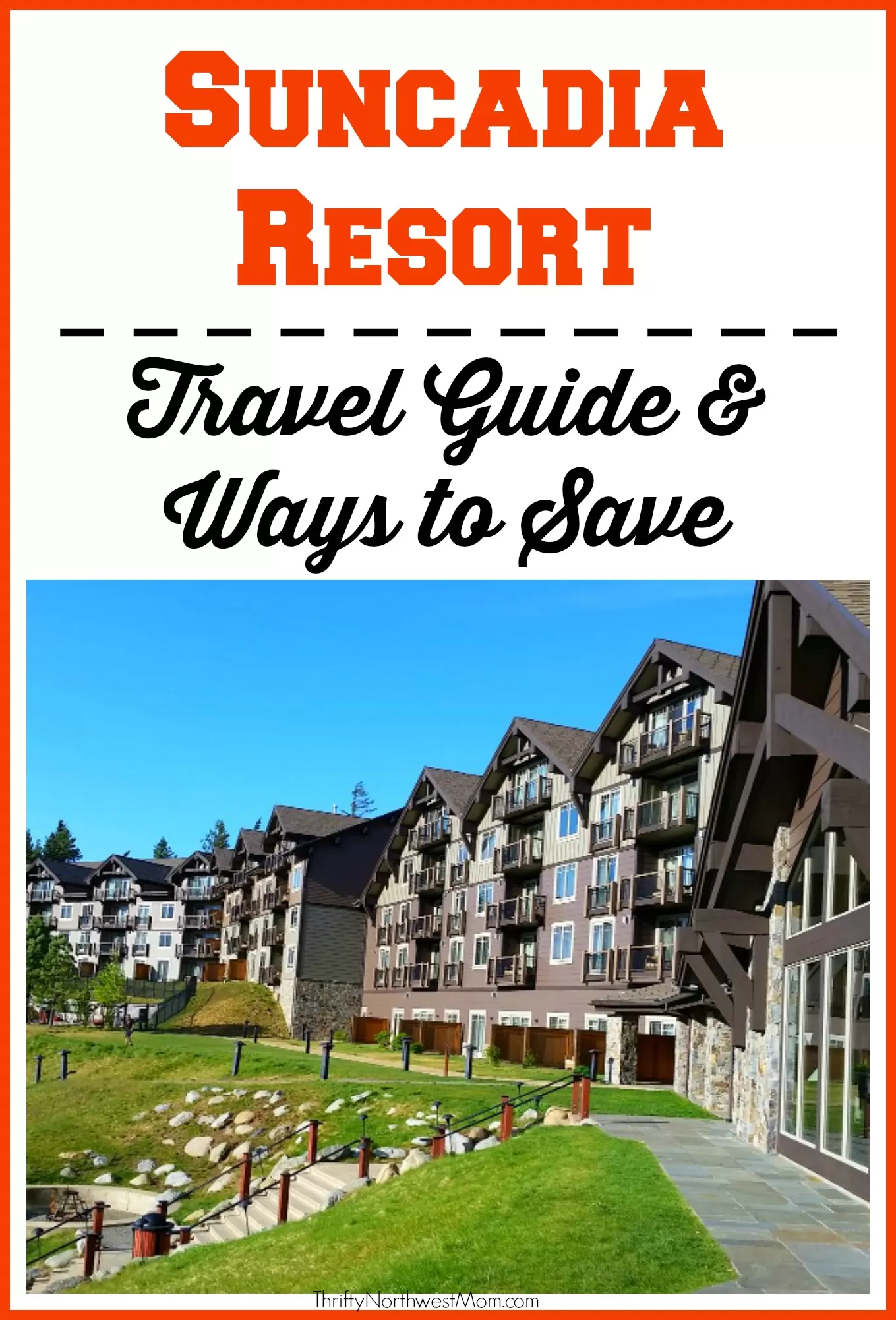 Suncadia & Things to do around Cle Elum & Roslyn