Great Wolf Lodge Washington – Tips To Save The Most During Your Stay!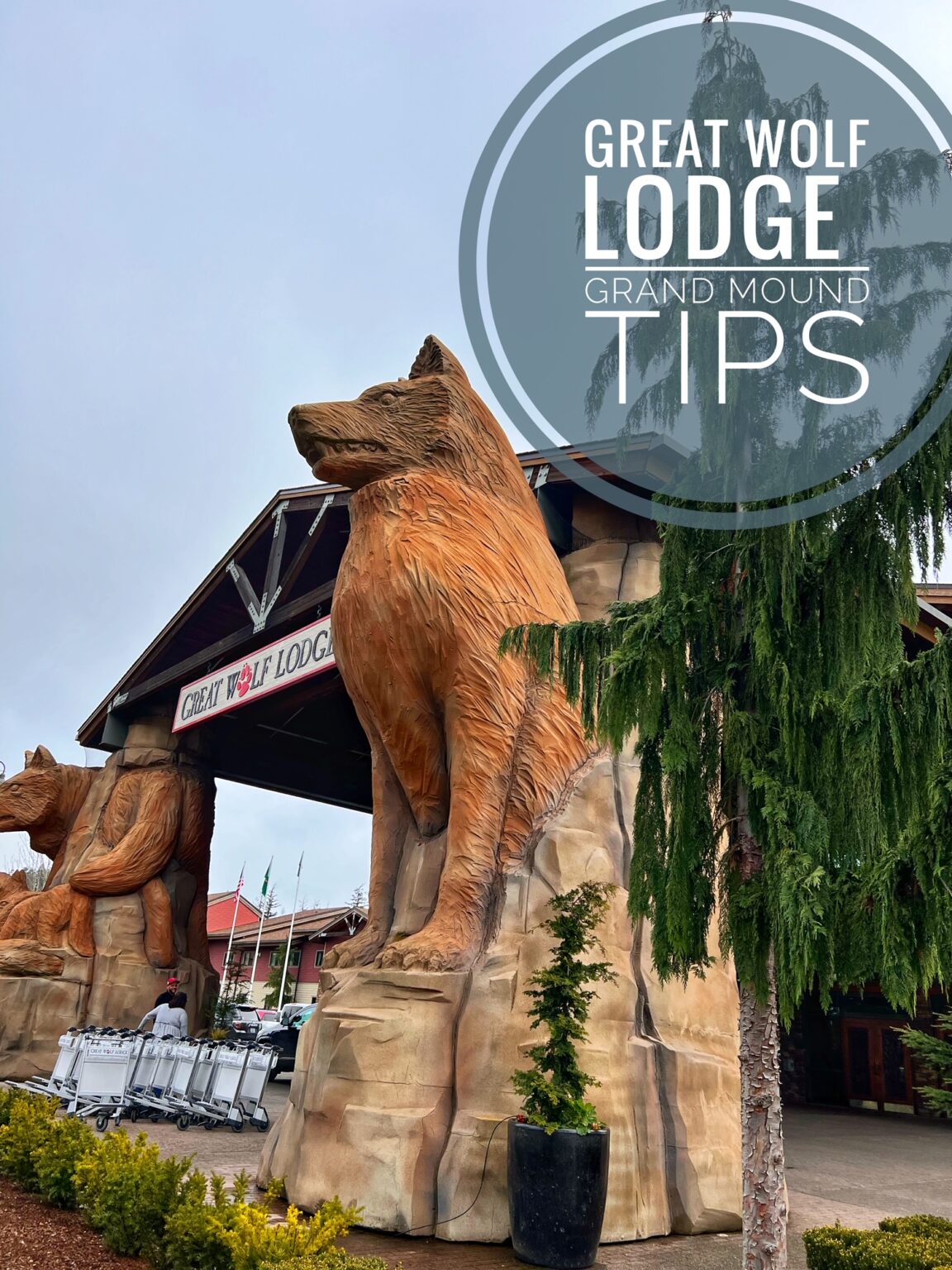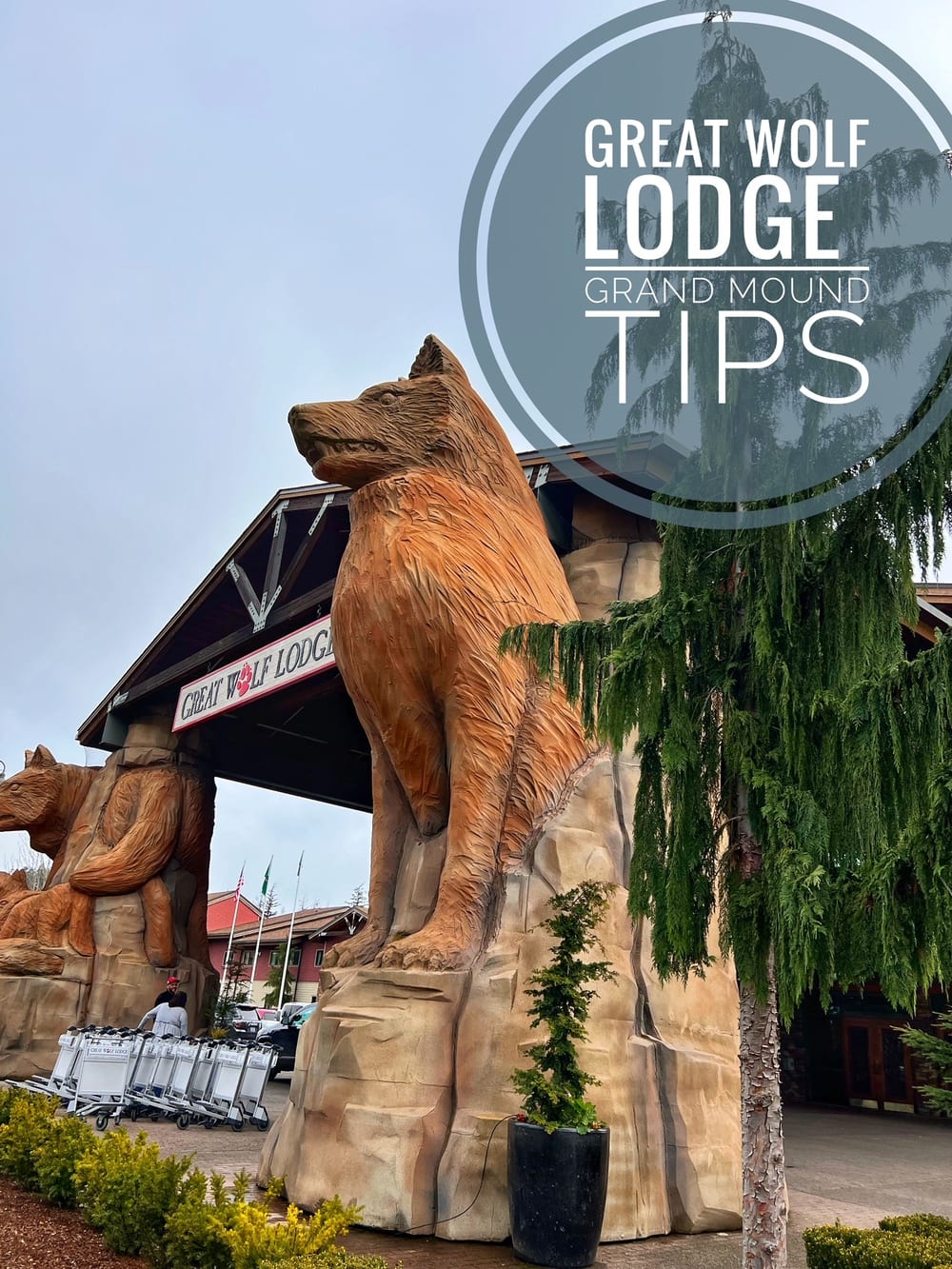 Great Wolf Lodge Washington – Tips To Save The Most During Your Stay!
(Updated for 2022)
We have done many stays at the Great Wolf Lodge Washington location (Great Wolf Lodge Grand Mound). This is also the same location you would choose if you are looking for a Great Wolf Lodge Oregon location, closest to the Portland and surrounding areas. I looked up my reservation history the other day, and we have done over a dozen stays over the years, with our kids from toddler years through the teens. We have picked up some Great Wolf Lodge Tips on how to save the most at the Grand Mound location, over the years that we want to share with you.
These tips will help you save once you are onsite. However, if you are still looking for tips on how to save on the room check out these articles, before getting into the details on how to save, and tips to make your stay the best once you are at the resort.
If you are looking for a deal on rooms at Great Wolf Lodge, check out these two articles:
Over the years, we have stayed in all of their room options – as well as during each season, If you are looking for tips on how to get a great room rate, we share these tips here:
Great Wolf Lodge can be a very expensive getaway (even for just a one night stay), but with some careful planning you can save quite a bit. You could go for the price of the room and gas, if you brought your own food from home, and kept the entertainment to the free options (like the waterpark, and clock tower story time, etc). If you prefer to do all the extra things the lodge has to offer too, then we have some tips on how you can save money on those options as well.
Here are some Great Wolf Lodge Tips for money savings at the Great Wolf Lodge Washington location, in Grand Mound, Wa., that we picked up while staying there.
General Savings Great Wolf Lodge Tips For Saving Money During Your Stay:

Buy Discounted Great Wolf Lodge Gift Certificates to save on eating and entertainment costs at the Lodge.
There are a couple of ways you can find discount gift certificate savings from time to time.
Purchase a discounted Great Wolf Lodge Gift Card when they are available. From time to time, Great Wolf Lodge has sold discounted Great Wolf Lodge Gift cards. If you can get in on one of those promotions, you can not only use these to book rooms, but also onsite for the restaurants and activities too. Here is an example of promotions we have seen pop up in the past (check here to see if any are available)
Get a $100 eGift Certificate for $80
Get a $200 eGift Certificate for $160
Get a $300 eGfit Certifciate for $240
Get a $500 eGift Certificate for $400
Maximize your time at the Lodge, by going early on check in day, and staying late on check out day.
Great Wolf Lodge rooms can seem pricey, but if you factor in the fact that that water park entrance is included, some of their promotional deals can be a great deal for a family getaway. Plus, because of the time they allow you to use the waterpark on check in and check out days, you can really make it a two day trip but only pay for one night. Just be prepared to get there by 1 pm the first day, and plan to stay at the resort for most of the day on check out day to really maximize your time (you will have to check out of your room by 11am though)!
They do often offer you a late checkout time of 2pm for an additional $59.99. This could be a more cost effective alternative to booking a second night, if you want to have access to a room for much of the second day of play, but not actually pay to stay over.
Be sure to provide your email address and cell phone number (and allow them to text you promotions) when you check in.
I provided my email and got coupons sent to me ahead of time. I have heard of other folks getting coupons texted to them ahead of time as well!
Check for Upgrade Options.
If you find a great deal (like a family suite for $99) book it! You can always decide to upgrade once you are at the hotel for a fee, if there is room (and there often is). This way you can take advantage of the deal, but if you were hoping for a suite you can often upgrade for a fee (we have upgraded to room with balcony on it for $13, and a kids camp suite for an extra $35 during past stays for example). This is not a guaranteed option, but it is a good tactic to use if you do not mind staying in the smaller room if the upgrade option does not work out for you.
Get FREE wolf ears at check in for each person in your party. These are a great way to save on mementos – give your kids these when they ask for something from one of the stores!
Not so much a money saving tip – but the elevators can get crowded. They have elevators and stair wells on the far side of each hotel hallway too that are much less crowded. We liked to use those, and then walk the hallway on the floor we were getting off on (usually 1 or 2) and avoid the longer elevator wait times.
Consider booking a bigger room with another family. For example, the room we booked through a recent special was $200 and slept 7.  A family of 3 and one of 4 could book this room together, and you would each only have to pay $100 plus taxes per night. That is less then what it would cost for you to each book the smaller room individually (this is just an example based on the rates we booked, but it will almost always be cheaper for two families to split a rooms cost vs. getting one by yourself).
HOW LONG TO STAY:
You can easily get away with only booking one night at the lodge, if you want to keep your costs down. That is because you can check in at 1 pm, and get access to all the resort has to offer that day, as well as the full day of fun on checkout day (until 9pm). If you check in before 4 pm, they do not guarantee that your room will be ready, but they do give you a bracelet which allows you to access the waterpark and the rest of the resort, then they call you as soon as your room is available (and will store your luggage for you). Once they call you, you simply head to your room – you don't have to go back to the front desk or anything else.
On checkout day, you will have to be out of your room by 11 am, but your bracelets will allow you access to all resort amenities until 9 pm that night. We were offered a late checkout option for $59 after we booked (late checkout is 2 pm) if you want to have access to your room later in the day. We find its just as easy to get out of the room by 11 am though, and save that $59! What works best for us is to be packed up and ready to check out at 11 (its express checkout so you do not have to do anything but be out of the room by that time). We then stored our bags in the car, and kept a day bag with us to store in a locker, and that was the most affordable way we found to enjoy two days of play for one nights stay price.
They do often offer discounted rates if you book 2+ nights too, so check what the current offers are for that to determine what works best for your family.
SAVE ON FOOD AT GREAT WOLF LODGE: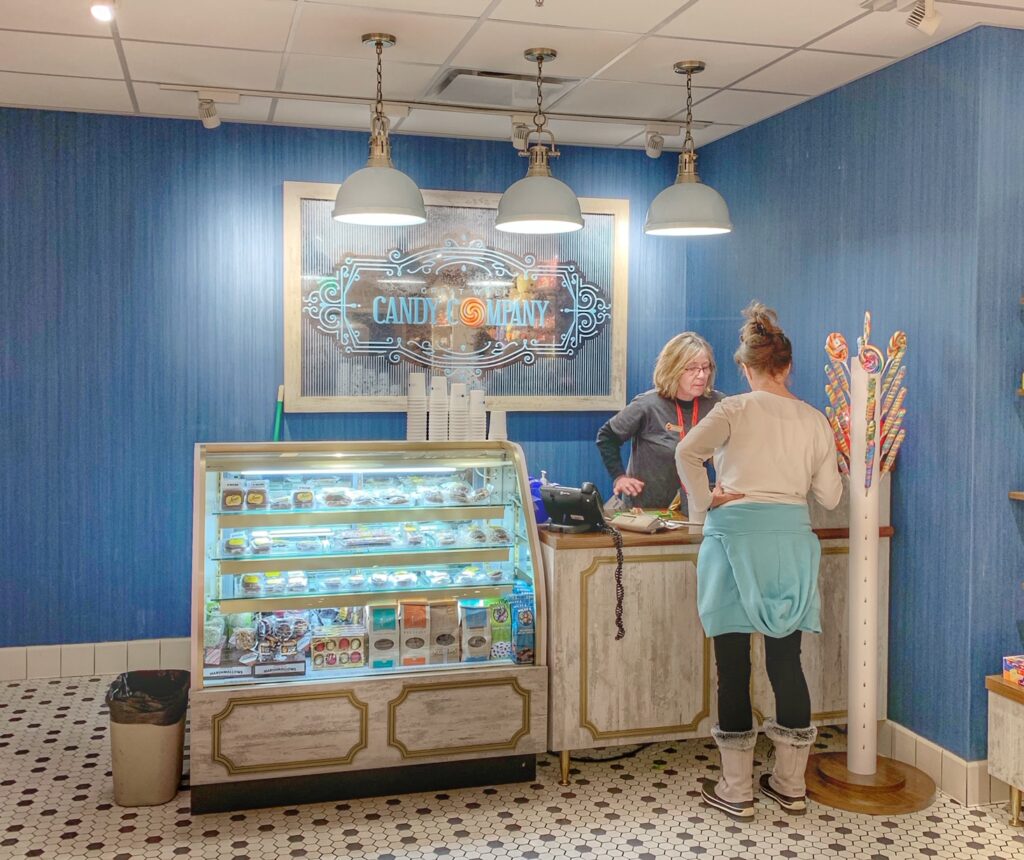 Personally, I am not a big fan of the food at Great Wolf. I think it is overpriced for the quality (although I love the ambiance of the Lodge Wood Fired Grill, I have yet to get a meal I really enjoyed there ), but my kids still love to go out to eat on vacation, so here are some things we do to control our food costs.
1) Bring your own food. This will be the cheapest way to go! The rooms do have mini fridges and microwaves as well as a table to eat at if you choose. I talked to some families who like to bring a crock pot with them and cook an easy meal that way. There is also a small (2 cup) coffee pot in the room.
Even if you like to eat out, I do recommend that you consider bringing your own beverages and snacks. With the water park and all of the other fun, the kids can get thirsty and drinks and snacks at Great Wolf Lodge will add up outside of meal time. They did have a refillable mug for $12.50 for the day, but still not a great deal.

2) Our FAVORITE place to eat at Great Wolf Lodge in Ground Mound, is the Burger Claim (check out their menu ahead of time, to plan your budget).  It is a restaurant in the parking lot of the lodge, but separate from the lodge.  If you walk through the conference area of the lodge, you can go out the side door of the building and it is just a short walk outside.  Their prices are very affordable ($5.99 for kids meals) and food was all cooked there (burgers never frozen, hand dipped shakes, fries cut up there – you can get sweet potato or regular fries, etc.). Sign up for their emails ahead of time, to get more discount offers too.
Its also a great spot to get your ice cream treats if the kids are asking for those. An ice cream sundae here will cost quite a bit less then it will at GWL.
3) Save Money Eating in the Lodge with these tips: 
Get one of their family pizzas to split.  We usually do pizza for lunch one day, to save – as it goes around. You can take the pizzas in the water park, or to your room, or finding seating around the Lodge to enjoy it. You can check out their pizza prices here, but a large pizza will usually run you under $20 and you can get pizza by the slice for $3.99 (and it was a big piece….really felt more like 2 pieces to me) Plus, there is a coupon here for buy one get one 50% off pizzas to save even more.
If you do want to eat onsite, consider buying it ahead of time online to save more. For example, if you want to do the breakfast buffet, you will save by purchasing it online, verses paying when you get there. Find all of their dining packages here.
4) Convenience Store in Parking Lot. There is also a store right next to Burger Claim, with your typical convenience store prices, if you are in need of drinks or snacks. They are not cheap, but will cost you less then GWL on many items.
4) There is a Starbucks on site, but it has the typical tourist location prices. You can use the coffee pot in your room, or head to the convenience store for your coffee, but this is the most convenient spot for a latte around.
6) Use Coupons if available! Great Wolf Lodge often times will offer printable coupons (examples in the past include buy one get 50% off second Pizza, etc).
SAVE ON EXTRA ENTERTAINMENT COSTS AT GREAT WOLF LODGE: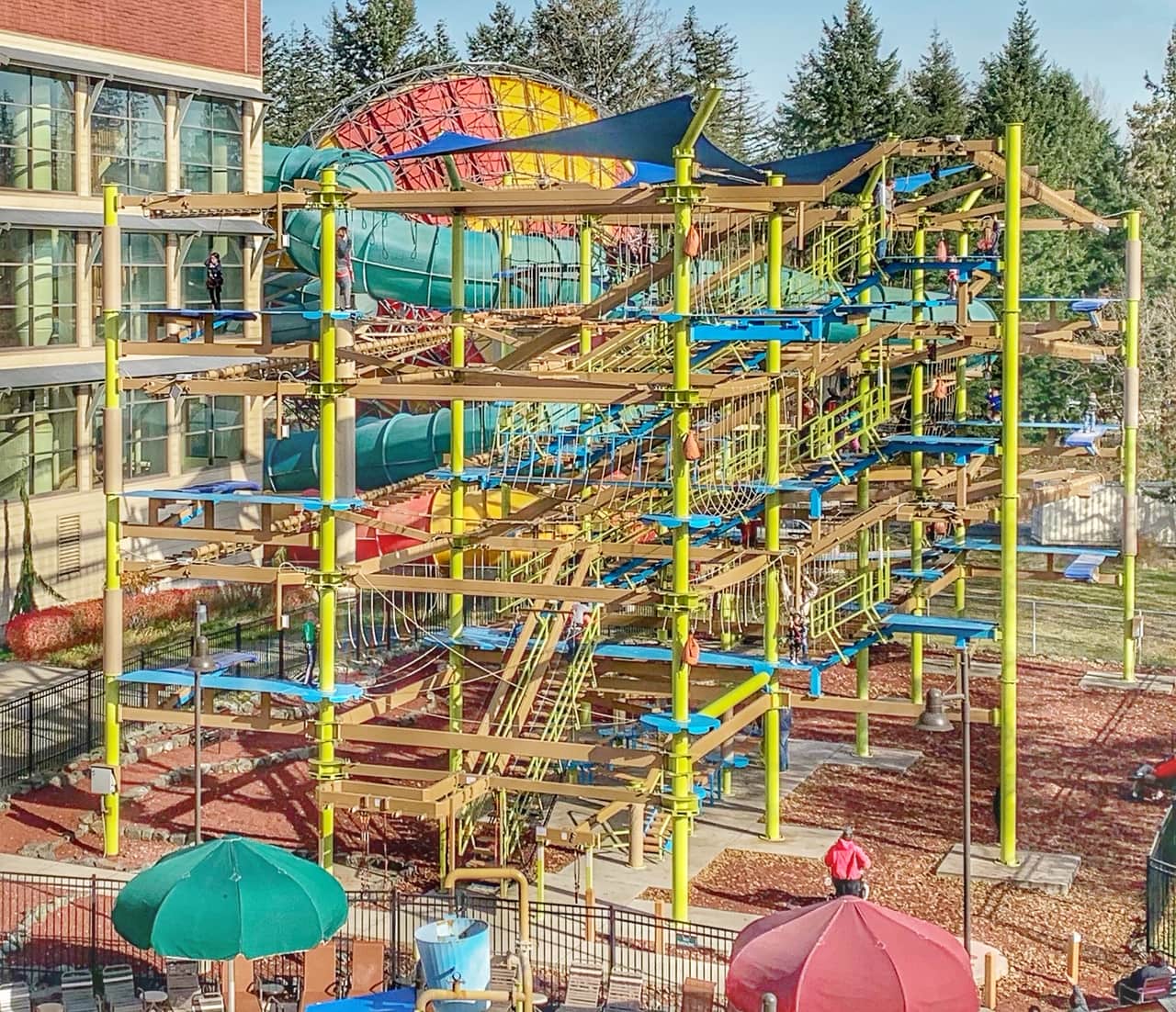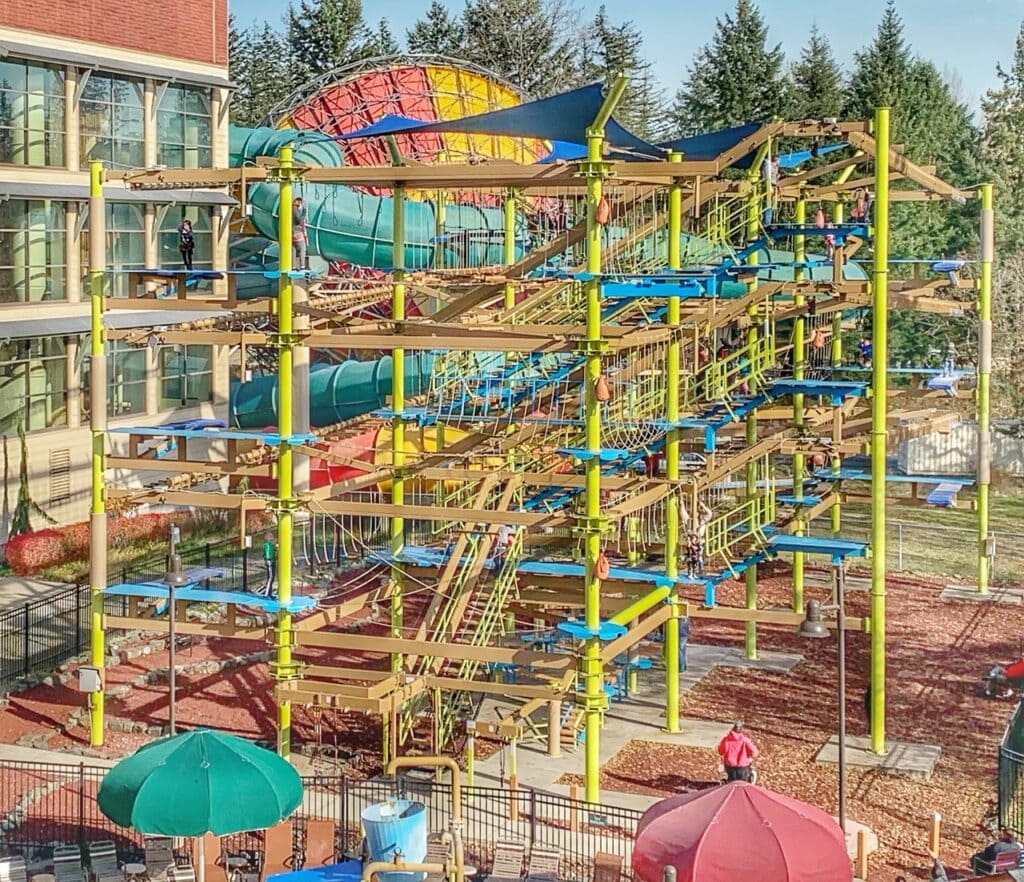 The waterpark is free with your stay, but as much as we enjoyed it we did not want to spend all of our time there.  Here are some other great ways to keep the kids happy.
Enjoy the Free Activities
Between the waterpark and scheduled activities that are free (like dance parties in the evenings), you can enjoy your stay without paying for the activities that will cost extra (like the rope course, arcade etc). If you do plan to stick to the free activities only, set those expectations with your kids before you go, so they are prepared and you do not have to say no to everything
If you do want to enjoy some of the paid activities, consider buying online ahead of time to save a little bit. You can buy package attraction packages here if you want to spend the extra.
Start by checking out Groupon for any current savings they might have available for extra activities at Great Wolf Lodge. For example, right now they currently have two spa deals available for Great Wolf Lodge if you wanted to enjoy those, but save more then you would if you paid onsite.
Get Great Wolf Lodge Coupons here. When we booked our recent stay GWL sent us this page of coupons good to use at the Ground Mound Great Wolf Lodge location! If you provide them your email, they generally follow up the confirmation email with a welcome email that has a link to current coupons at the bottom of it – so be sure to share your email address when reserving your room! Our coupons where good for various entertainment/shopping options and dining options. Find current Great Wolf Lodge Coupons here.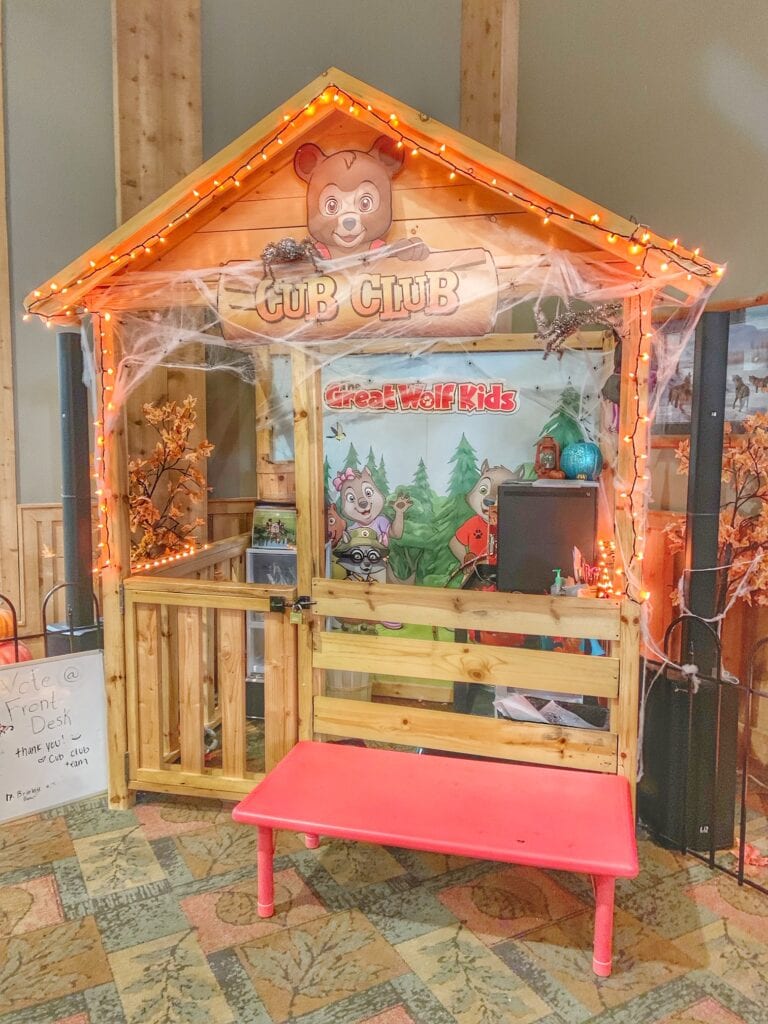 The Cub Club for little ones.  This is a roaming club, but we seem to always find them in the back corner of the main lobby area. This was a great place to go hang out with toddler and preschool age kids.  There are many activities you can do for free there.  We loved the arts and crafts table, there were stickers, foam pieces  scissors, glue, tattoos and more for the kids to design with for free. This last visit they made free balloon animals for the kids, so look for them in the lobby.
Board games at the front desk.  These were fun to use hanging out in the lobby with a pizza, or take back to your room.  Free and a nice way to unwind with your family. Check out the tables out by the conference part of the hotel, to get away from the heavy crowds and noise of the lobby, if you do not want to go back to your room yet.
Book around the events schedule seasonally at the hotel. We were there during the Halloween celebration one year, so the kids got to dress up and do a free trick or treat trail (bring your own costume; they sell them but they are expensive).  They also had other activities like a kids disco time that was free (the dance parties are generally held on Friday and Saturday nights, bingo in the afternoon and more.  We have also visited during the Christmas season, so the kids were able to get photos with Santa, and enjoy an evening snow show in the Lobby, etc. There is an outdoor ropes course and activities that are open seasonally as well.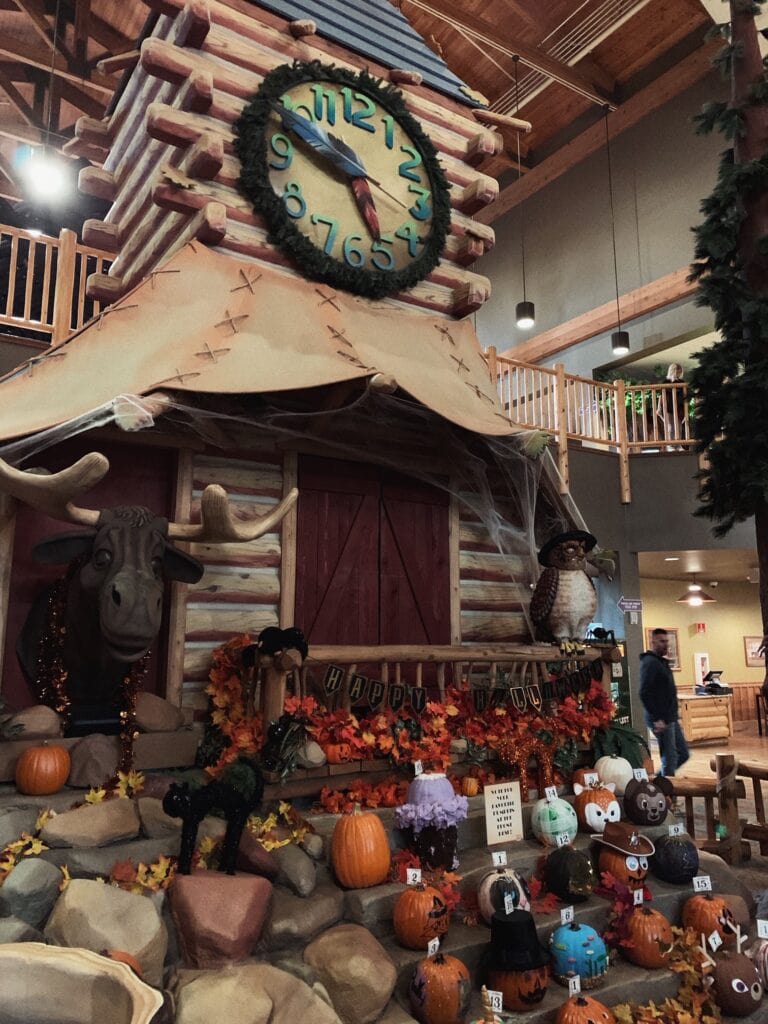 They also have Story Time in the Lobby, check the schedule when you check in for current times. The kids can come in PJs. You can go down in the morning for a wolf walk too. They will provide you a schedule of the free activities during your stay when you check in.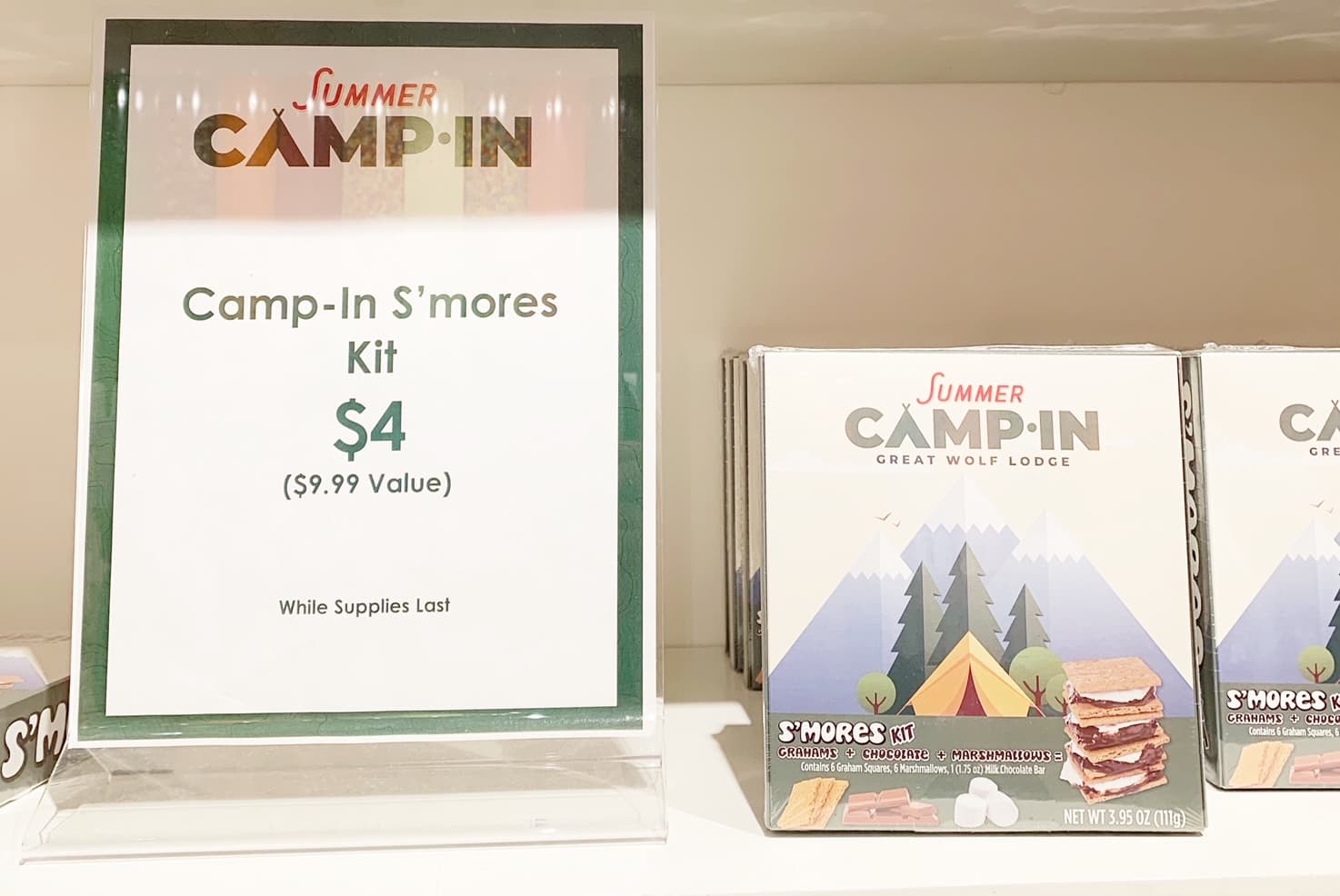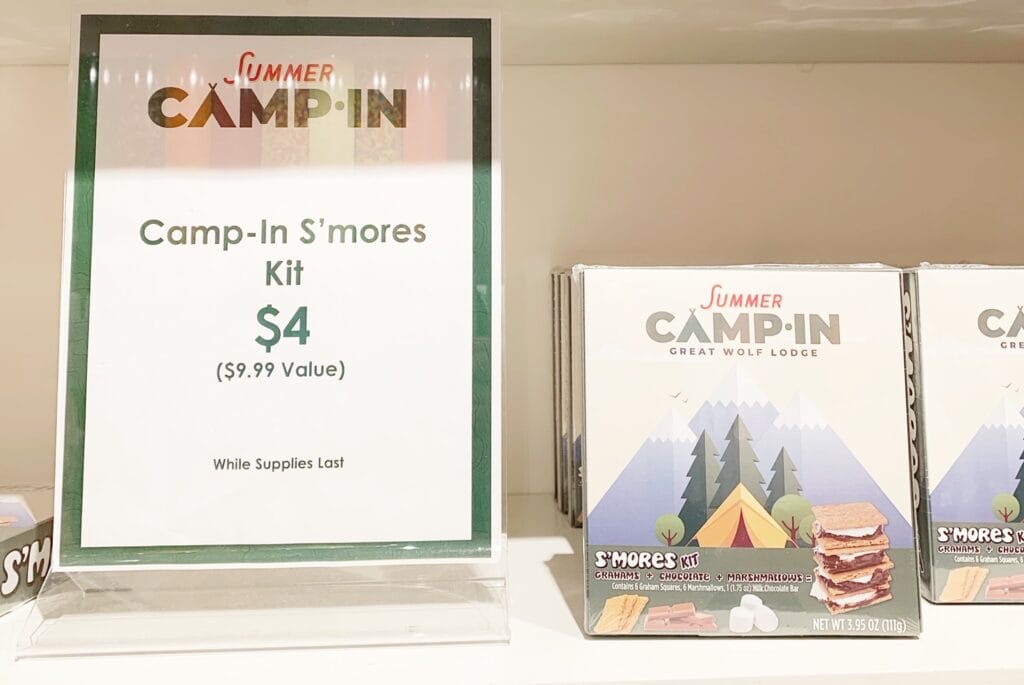 Check in the stores for any in-store savings opps. We found these $4 Smores Kits during our visit in the candy store, and thought that was a fun deal (make them in the microwave in your room).
6) Book a Package. If you plan to do more then one activity, consider booking them as a package. You will save over the retail cost of each activity, if you book them as a bundle. They should send you your current bundle options after you book in the welcome email we have referred to above. If you would not otherwise buy everything in the package, it is just sucking you into paying more though – so consider that.

7) Glow In the Dark Putt Putt Golf. This game was $6 per person, and it was a small course, but we found it to be one of the most affordable family activities that had a fee associated with it. During our most recent visit it was a little bit chaotic in there, as people had figured out how to take the balls for free out of the last hole. I was not comfortable taking the balls, so went to the arcade counter to pay for our game, and they ended up giving us balls for free (I think probably because it looked like nobody else was paying). I imagine they might change this soon, but I would go ask how much the golf costs at the arcade counter, verses buying the balls out of the vending machines.
The course is not huge, but if its not crowded you can ask at the desk if you can skip the last hole to play a second round (ask before you head over, as the course is across from where you get the clubs). It seemed to be one of the less crowded activities while we were there.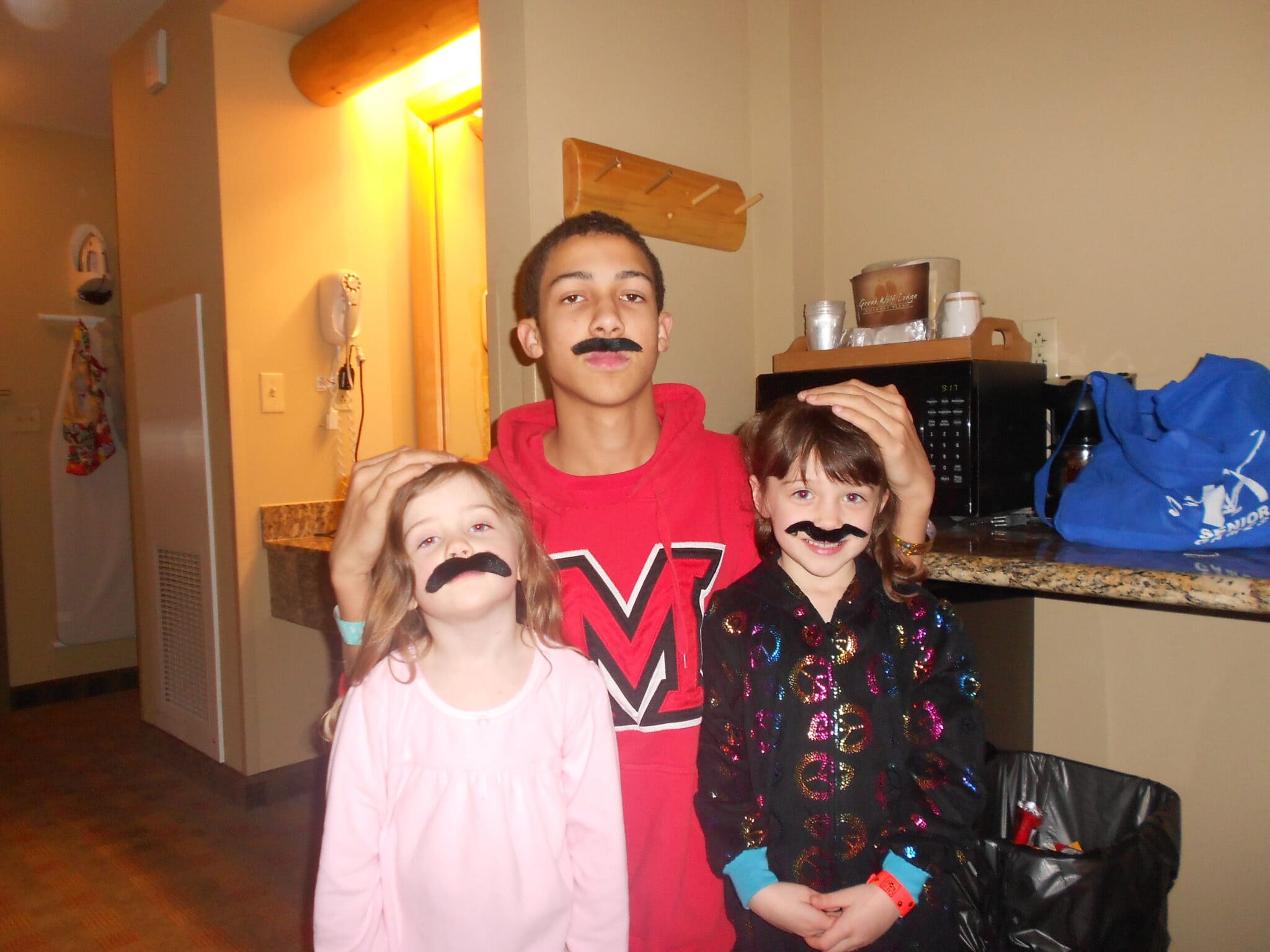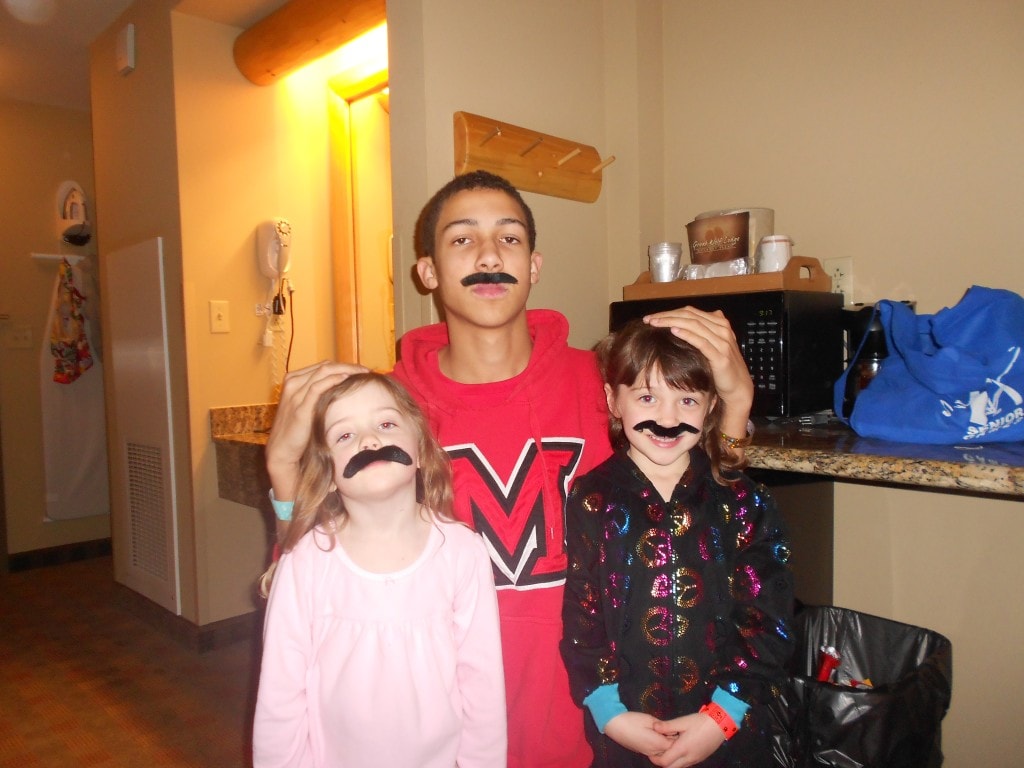 Last tip of the day – Bring Mustaches! Amazing how much fun the kids can have with a small prop like a fake mustache :)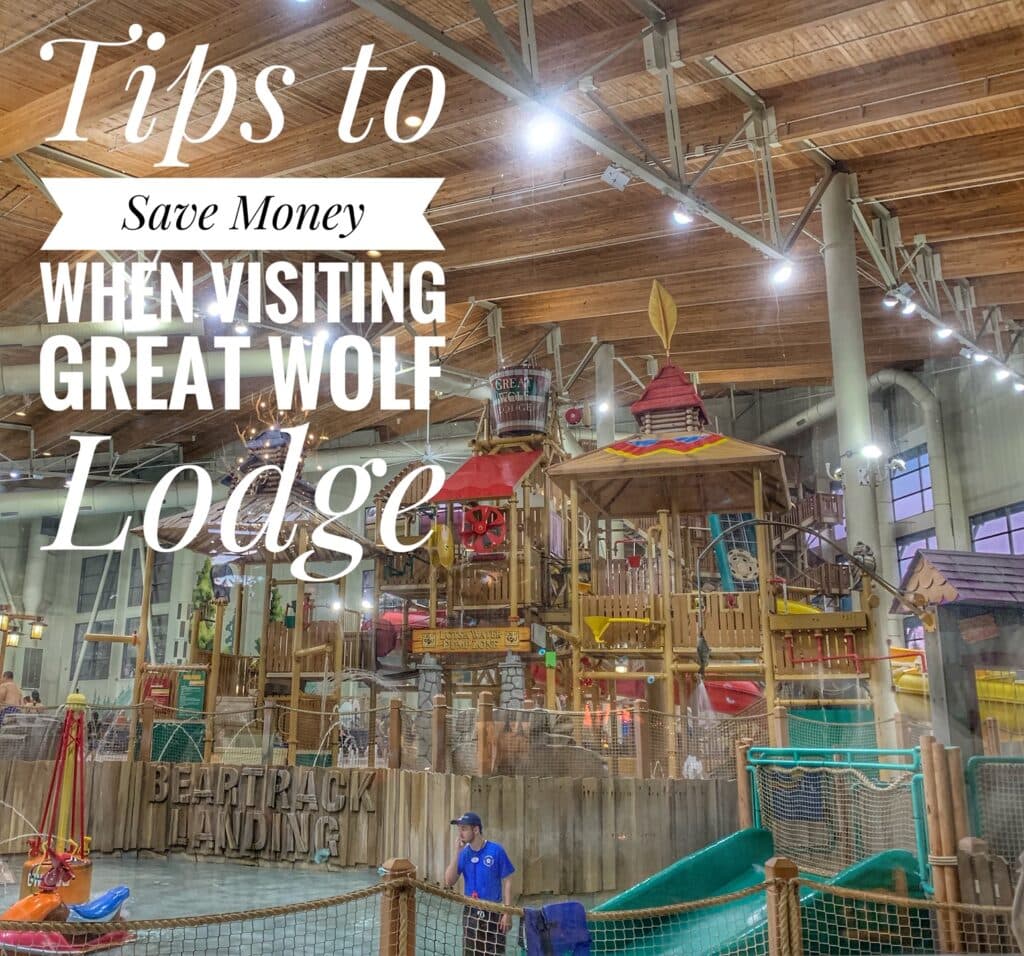 In addition to the promo code deals post we mention above, be sure to check out our post with tips on saving on your room here.