Valentine's Day Gnomes (Perfect For Teachers Gifts, Decor & More)!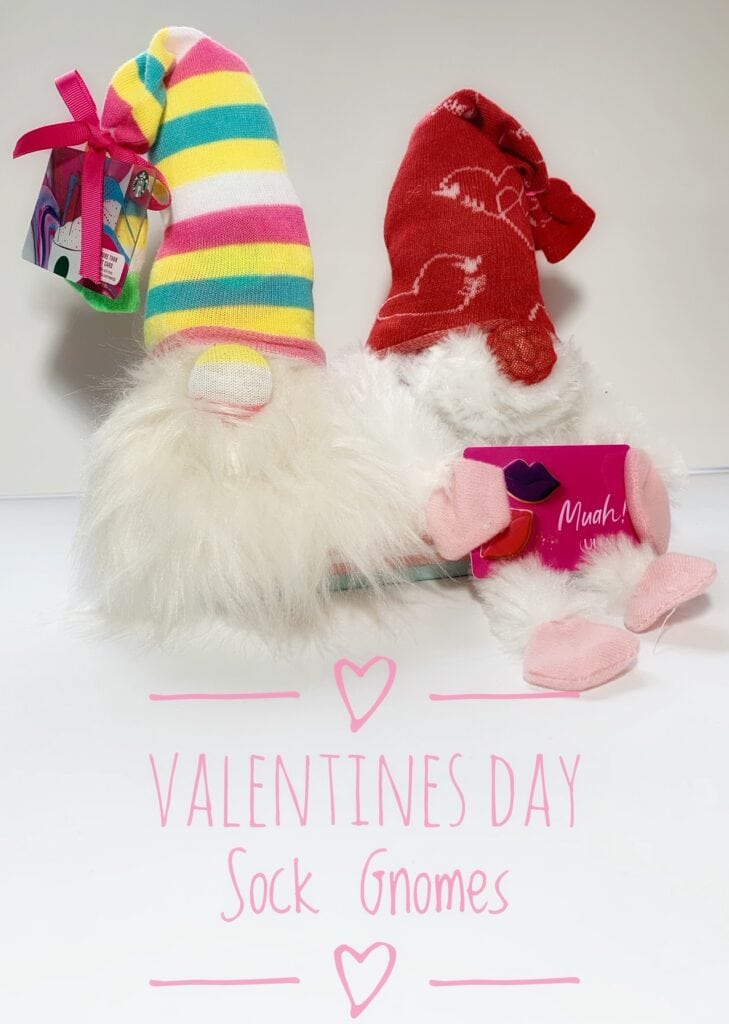 Valentine's Day Gnomes
Perfect For Teachers Gifts & More!
These DIY Valentine's Day Gnomes are popular right now, and fun for all seasons. These Valentines Day Gnomes are perfect to use for gifting gift cards or Valentines treats to teachers, or anyone else – as well as for home decor. We made our Valentine sock gnomes with mostly items that we picked up at the Dollar store, for as little as $3 per sock gnome! We share a couple of different ideas on how to make really simple DIY Sock Gnomes here, for the perfect Valentine's day project.
These are the two versions we made this time, with Dollar Store socks. We used rice in one, and beans in the other, and I prefer the rice over the beans (alot) because I could see the beans through the sock. However, if you already have a bag of beans on hand, it still makes a cute gnome.
The red one we made with a sock, and a $1 plush monkey (deconstructed it and re-used the pieces for the gnome). This is the most affordable way to do it.
For the second version, we used faux fur and filler instead, so it does not have arms and legs – but it is my favorite version out of the two. It does not cost much more (I got 1/8 piece at a fabric store for just over $1, and it will make a handful of gnomes). You also get a pair of socks for $1, and a bag of rice makes two of them (for $1) so if you are making two gnomes, this ends up being the more affordable route.
The one with arms and legs will hold a gift card, but you can still use the other version to give gift cards by attaching it to the hat.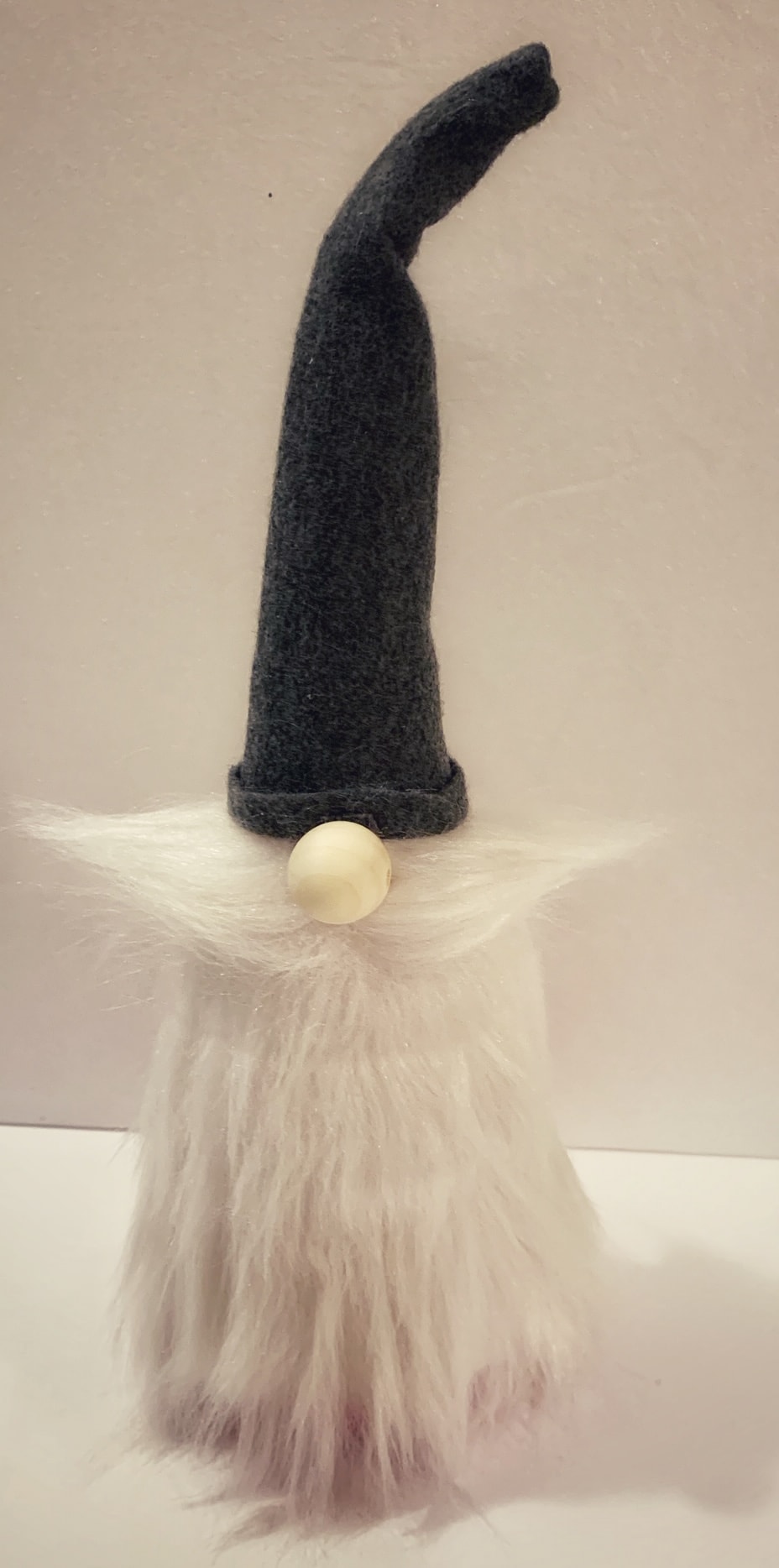 We also have this post on 5 DIY No Sew Gnomes here, and you could theme these versions for Valentines Day as well by using a Valentine looking sock on the top, and leaving the bell off.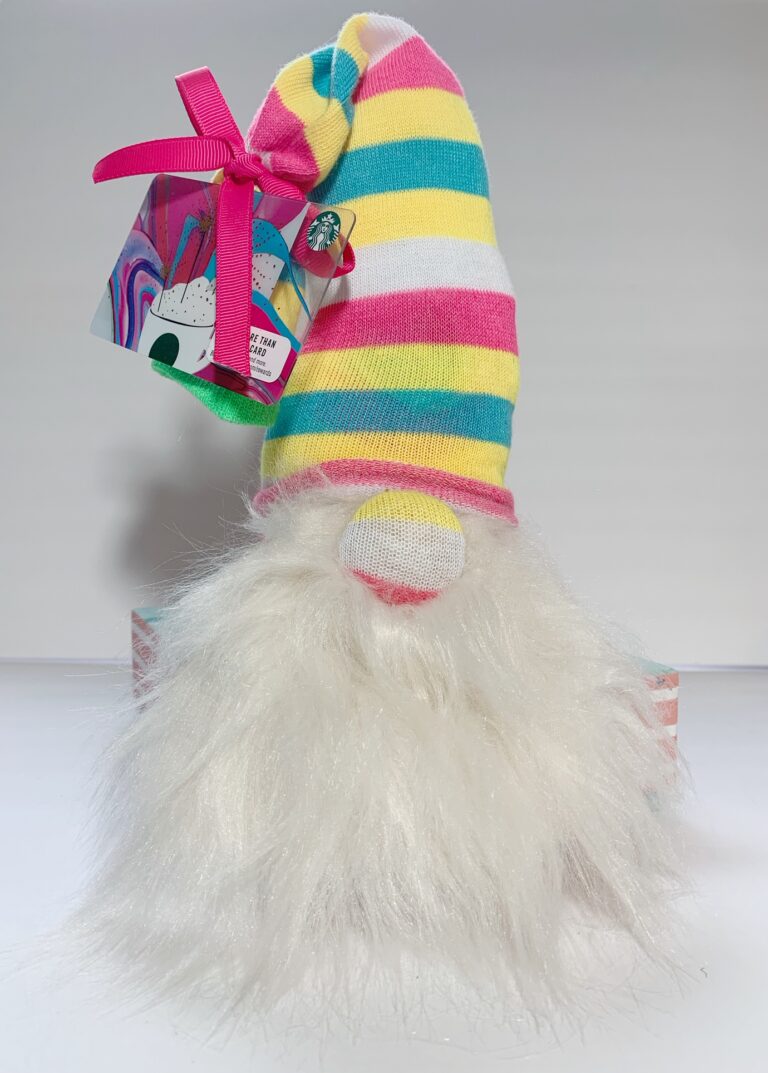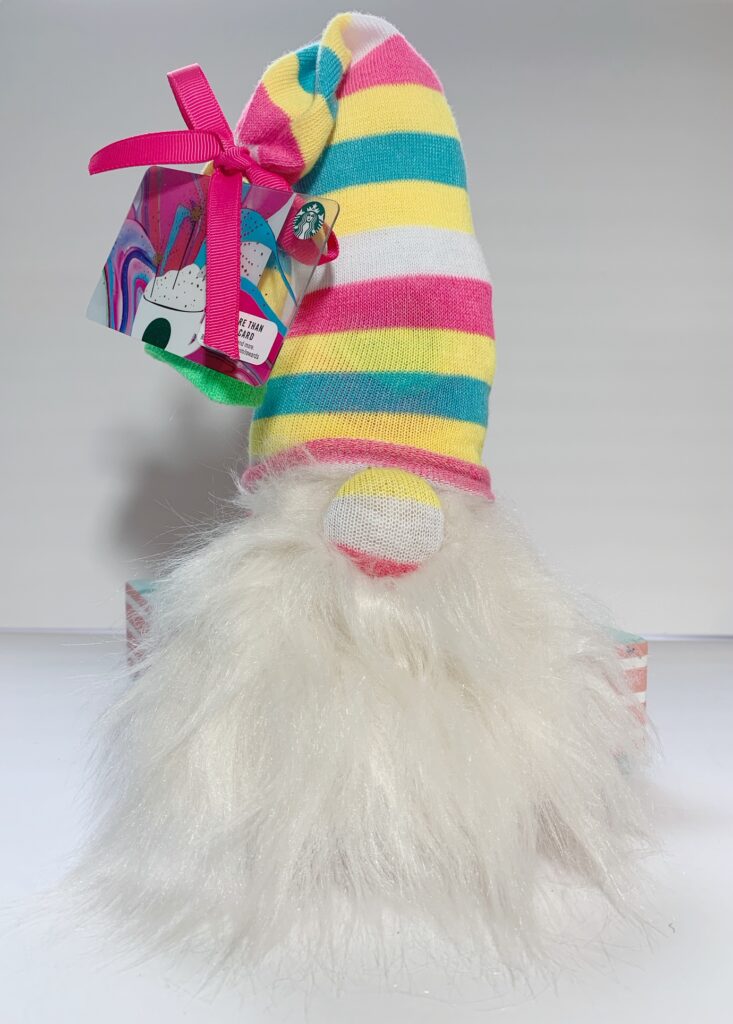 First Version of this simple Valentines Gnome: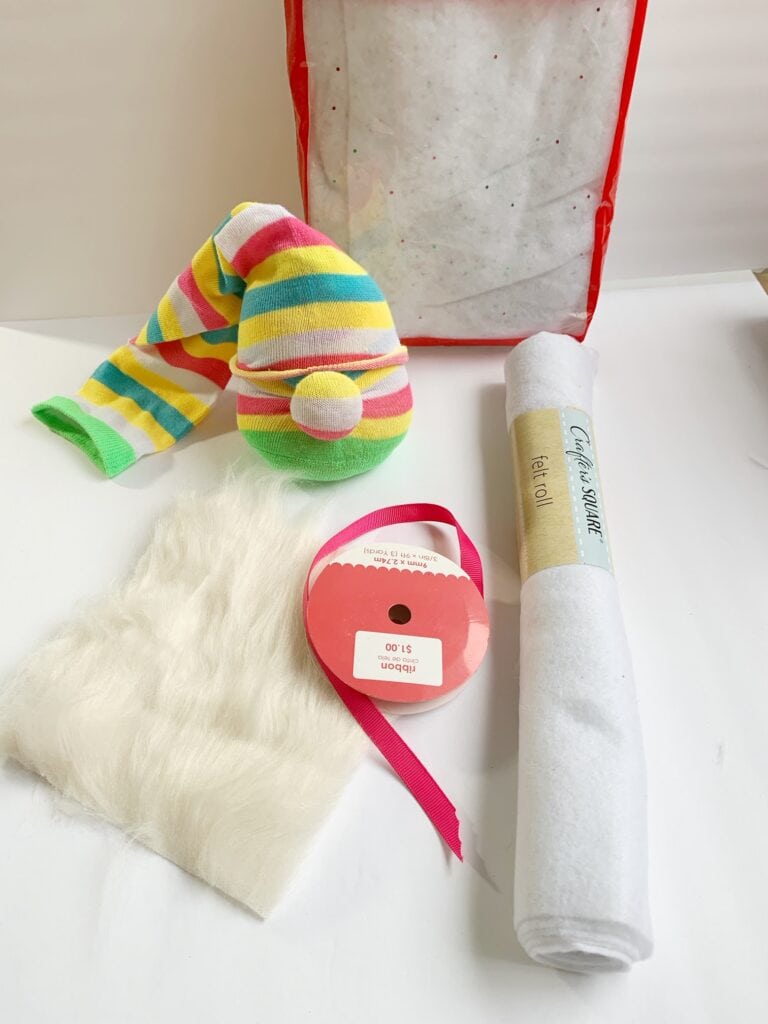 Supplies Needed for these Valentine's Day Gnomes: 
1 pair of socks – $1 at Dollar Tree (you can also buy them online in bulk too)
1 furry monkey – $1 at Dollar Tree
1 bag of rice or beans (I prefer rice – I think it looks nicer) – $1 at Dollar Tree
Faux Fur (this I had to go to fabric store for, but did not pay much over $1 for it – you can also find it online for larger quantities if you want to make more)
Filler (I got some from the Dollar store – but if you already have some on hand use that).
Hot glue
Small rubber bands
Optional – if you want to make arms and legs you can buy felt to roll them and make them with
Optional – ribbon, to tie off the hat (you use a rubber band to do this, so the ribbon is just decorative).
How to make this version of the sock gnome: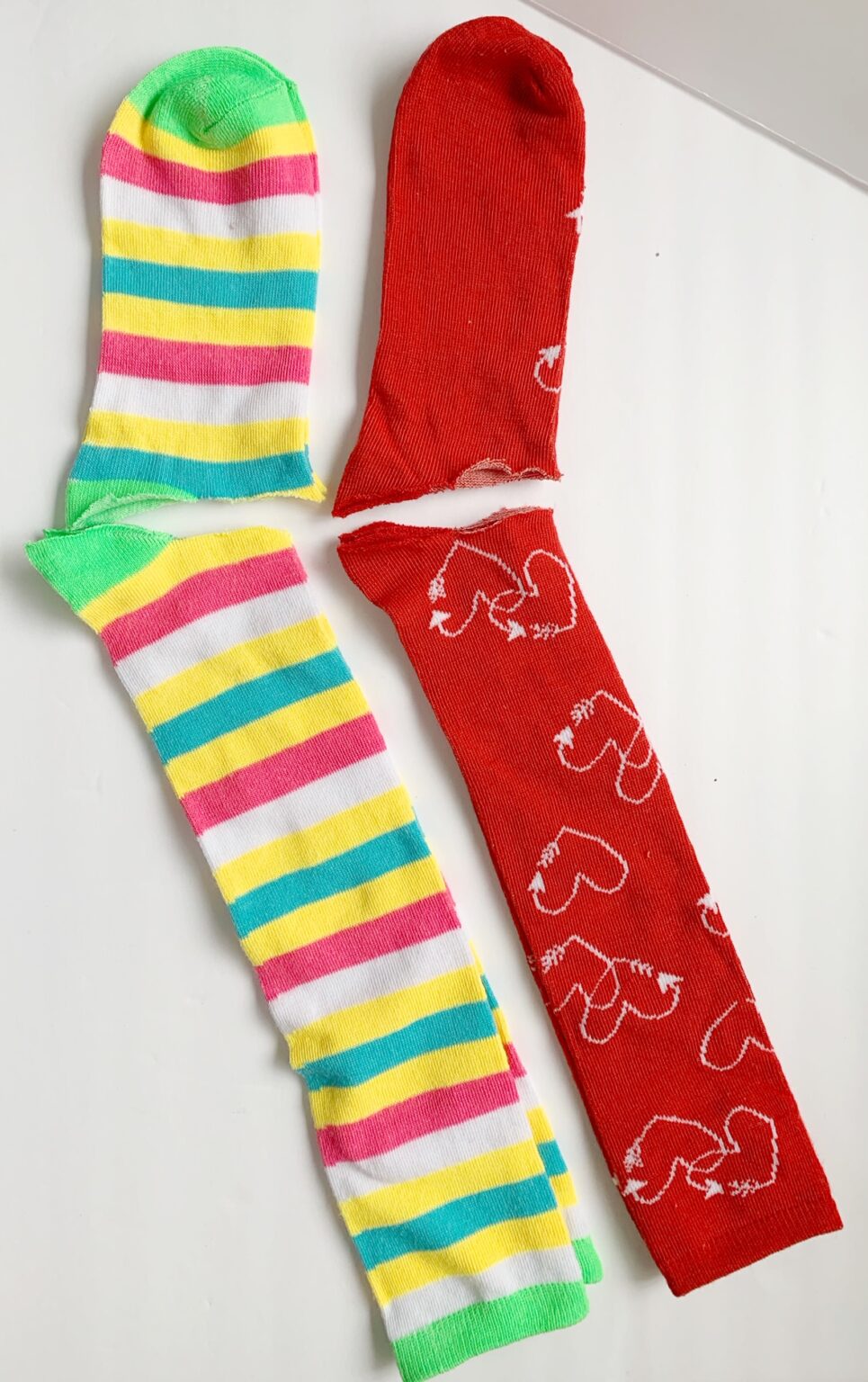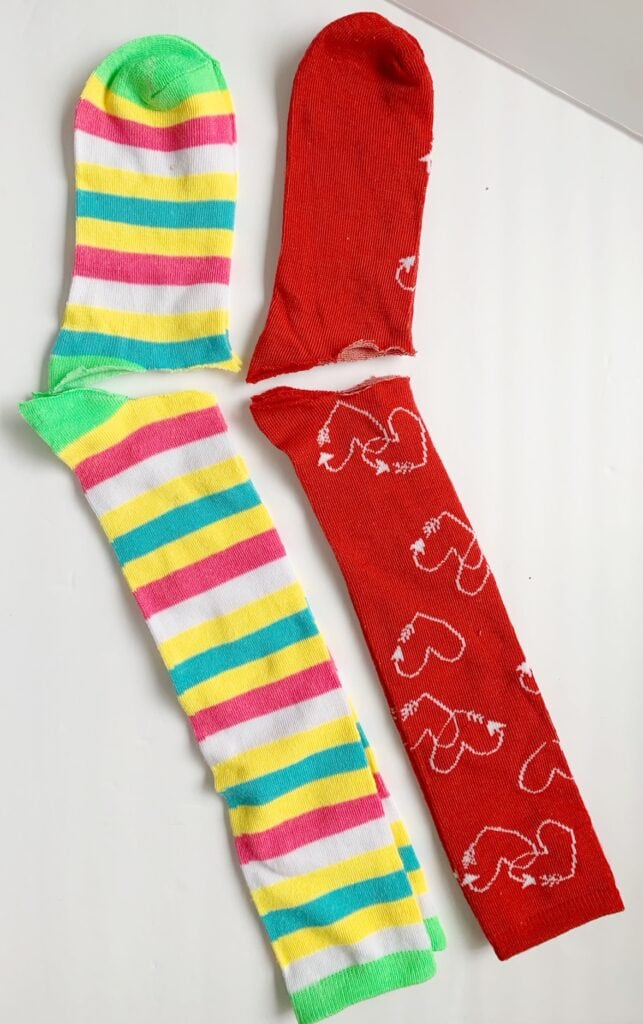 To make this project, take your pair of Dollar Store socks and cut them at the heel.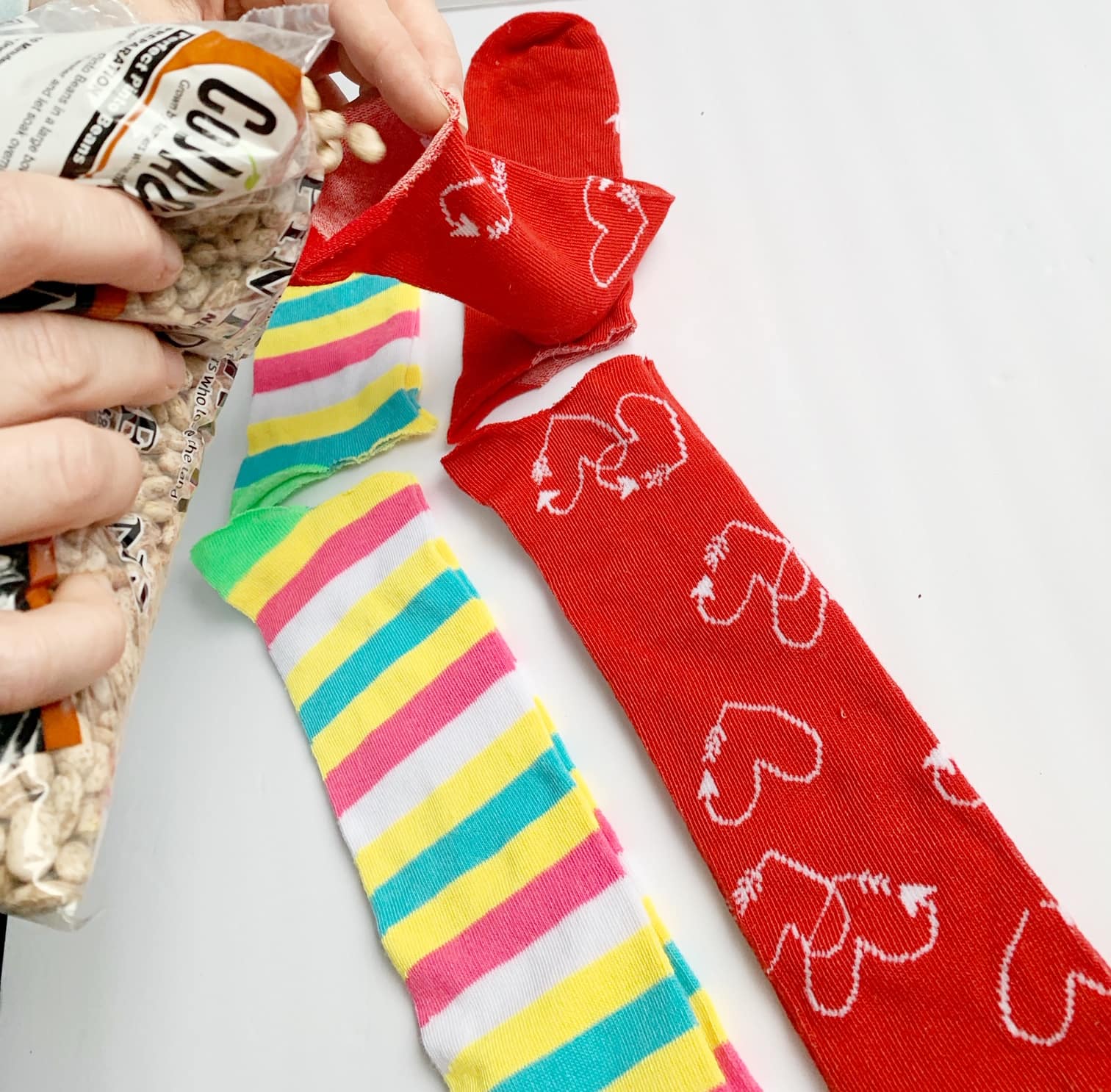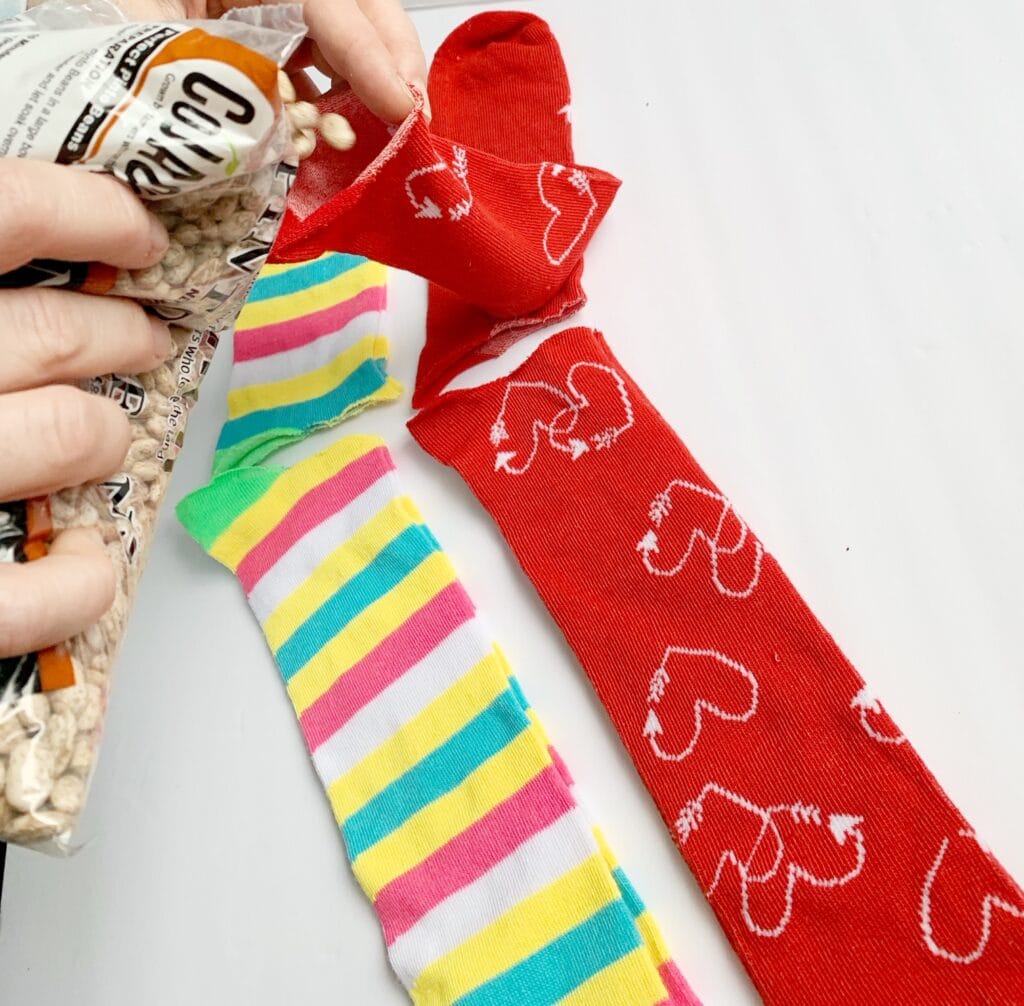 Next you will fill the foot part of the sock with rice or beans, and secure the top with a rubber band.
You will then make a nose by squeezing together a little circle of the rice or beans, about 1/2 way down your sock that is filled, and wrapping one of your small rubber bands around that.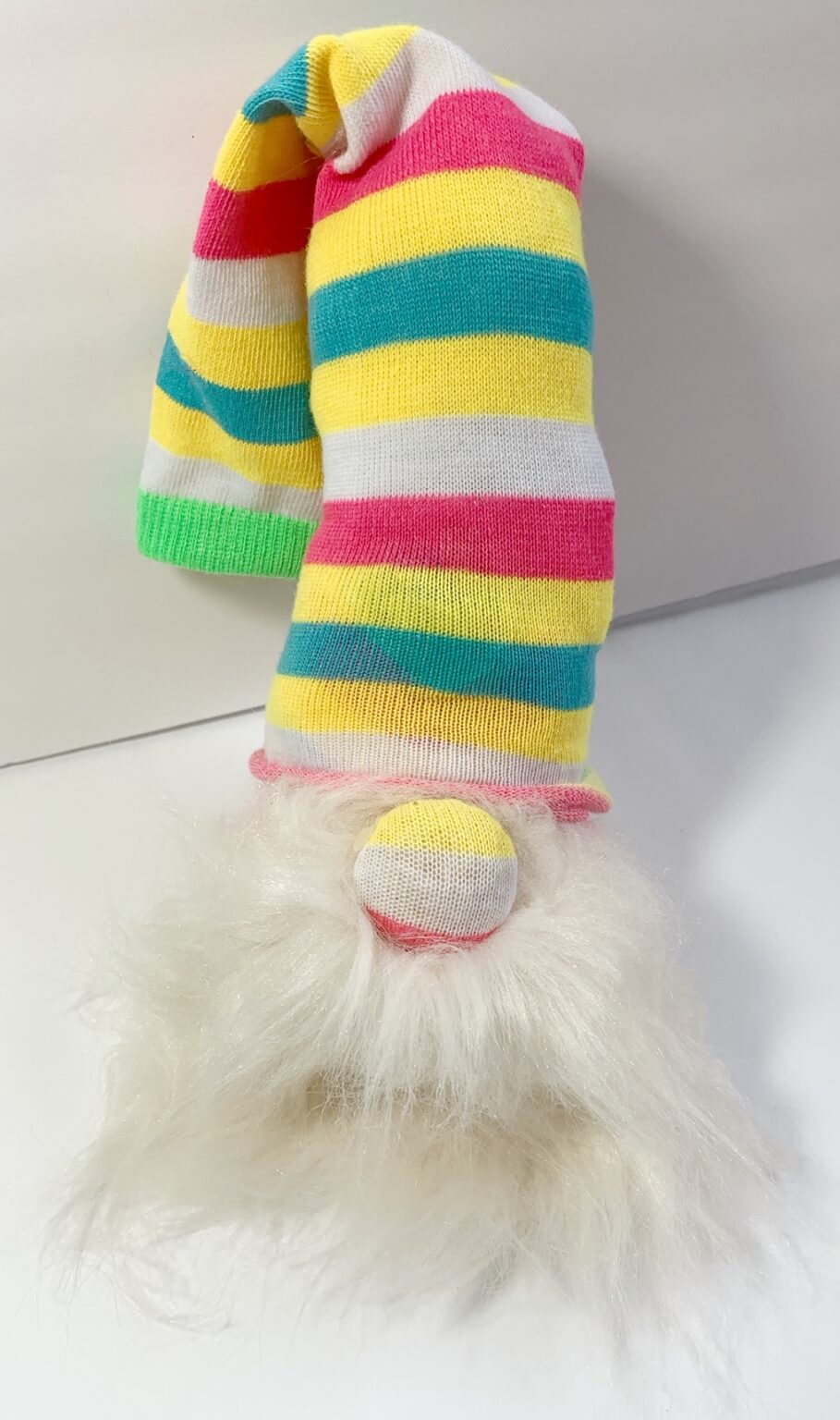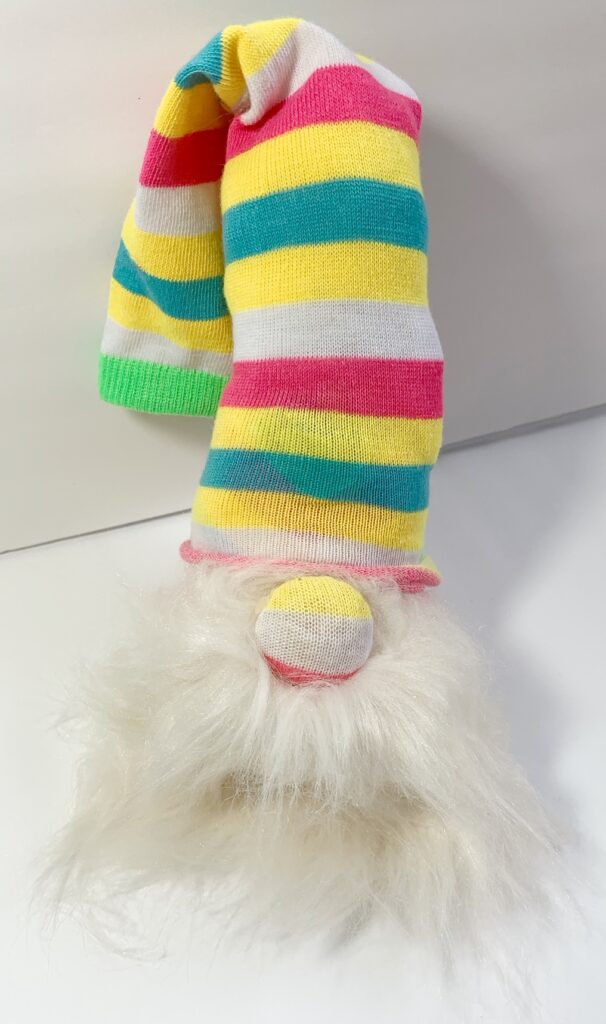 Now you are going to add your faux fur to your sock gnome. Cut a square piece (about 3 in. x 3 in – you can start bigger and trim down afterwards if you want). I usually eyeball the size depending on how full I filled my sock. Attack the faux fur beard by gluing one corner of the square at the top of one side of the nose, then wrap the other corner around, and glue that at the top.
Now you can trim down your beard if needed, before securing with more hot glue.
Take a little bit of the filler, and add that to the remaining part of your sock (leg part), and use the cut side to pull down over the the top of the gnome head. Adjust the filler until it looks like you would want it to look. You will want the sown part of the sock to be at the top (not around the face).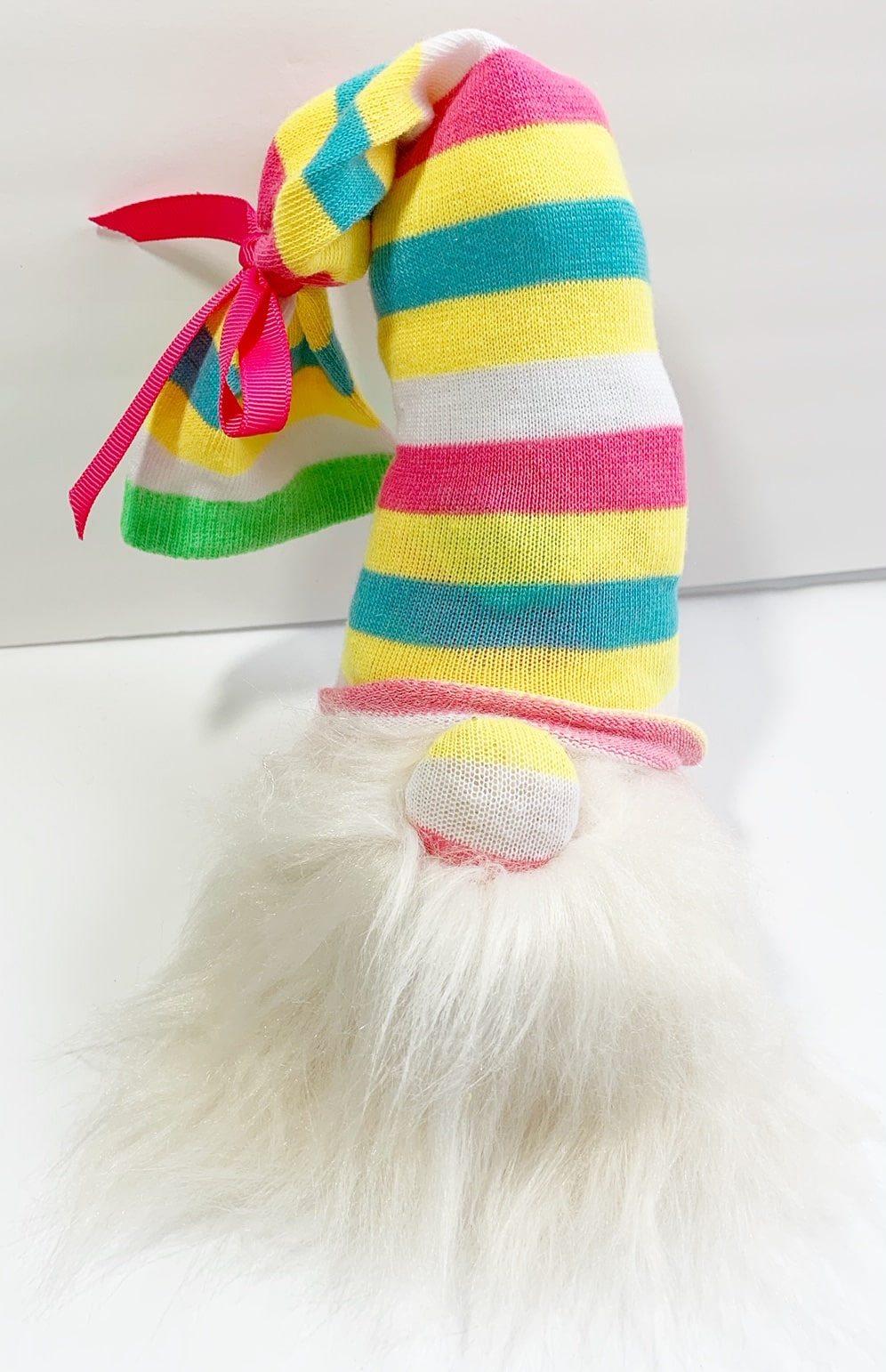 Once you like the look of how the hat part of your sock is, add the rubber band about an inch in from the end, and bend it over to create the hat look. Embellish with a ribbon if you want.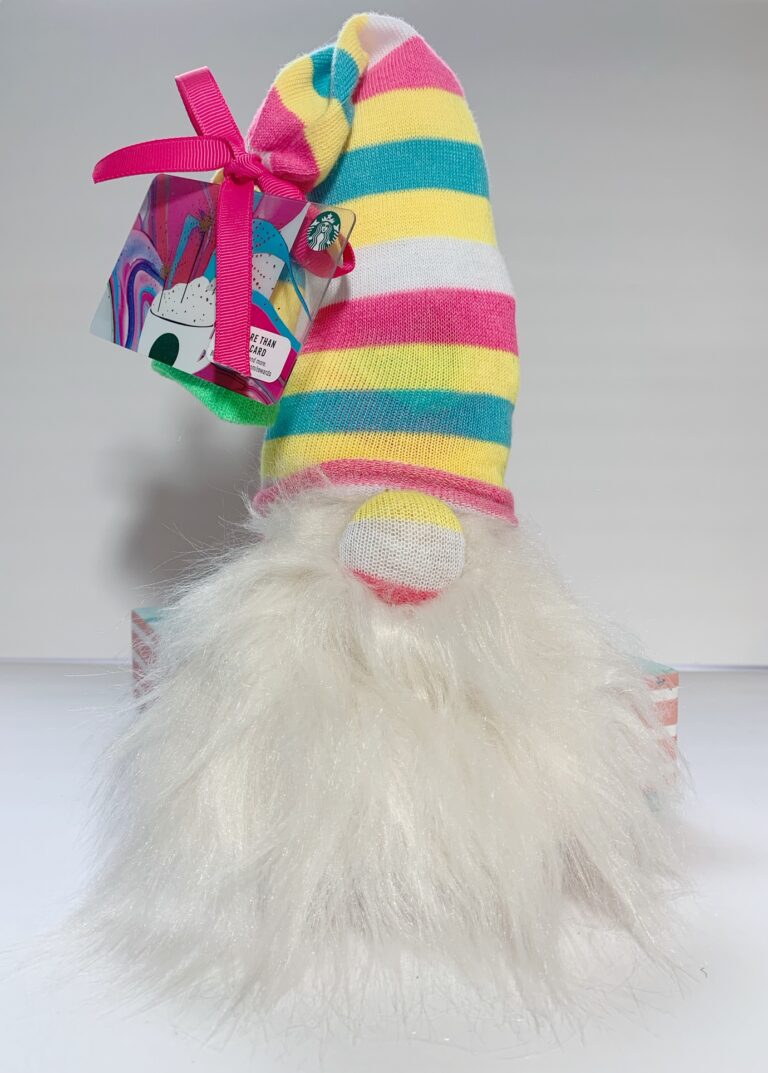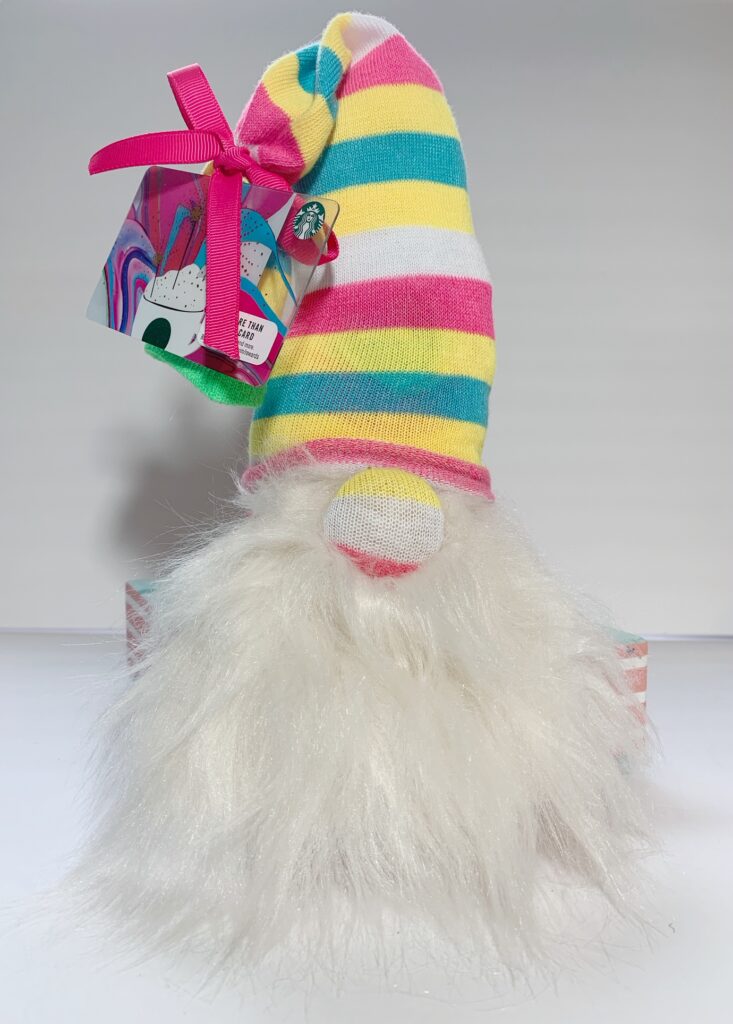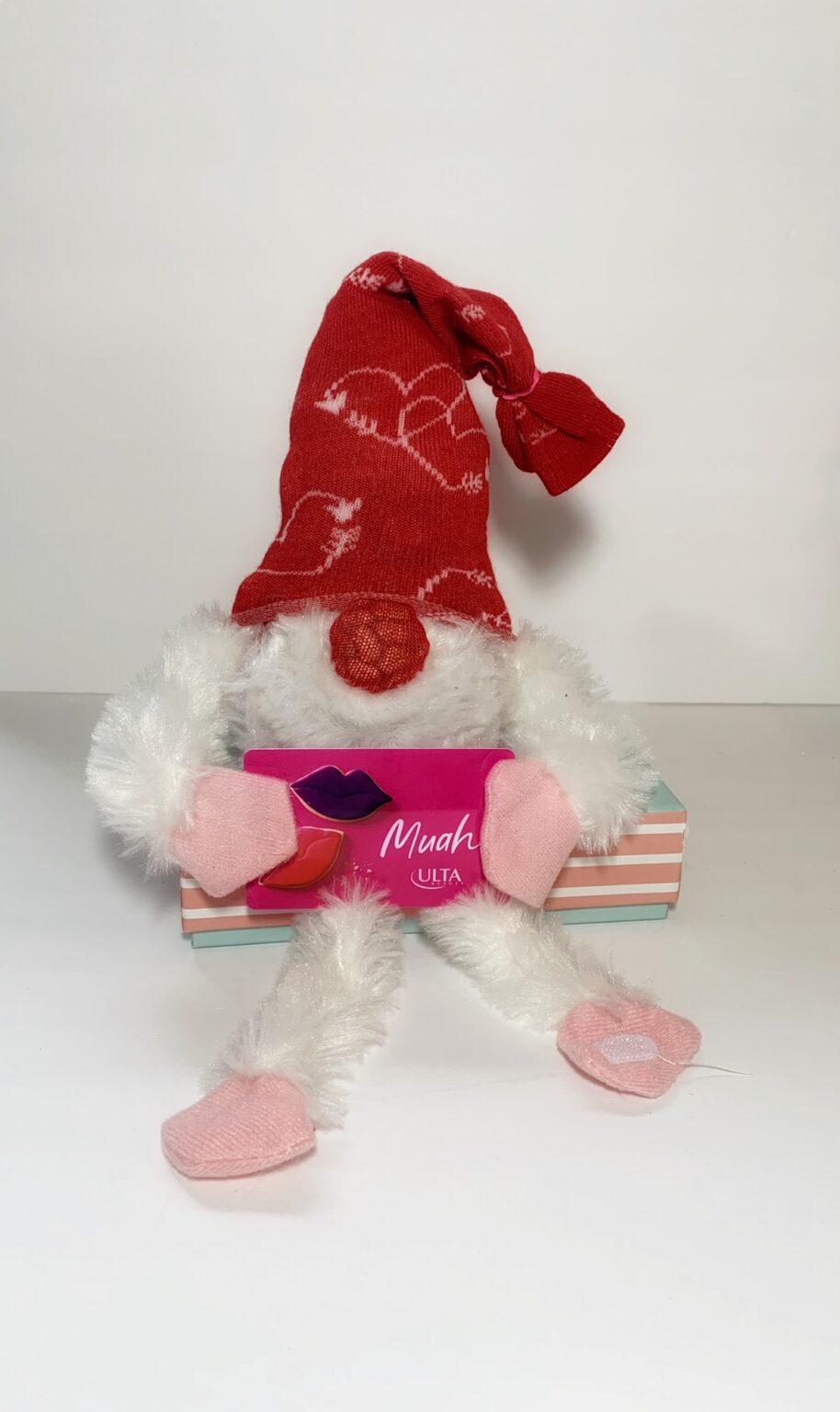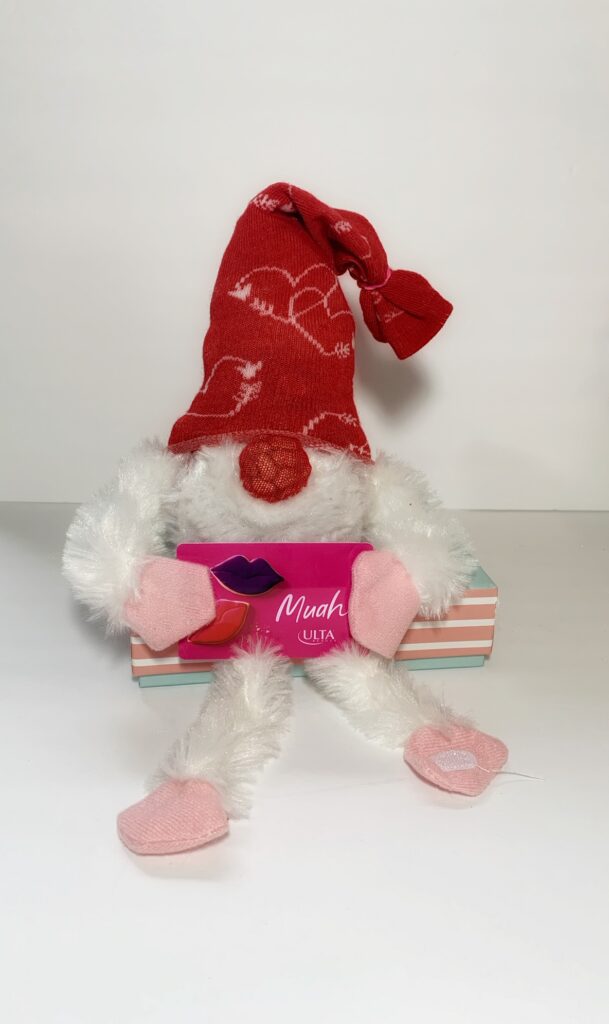 $3 Version Using Dollar Tree Items
This version is so easy, and only requires 3 items (plus glue gun). To be honest, I do not think it turned out as cute as the other ones, but for $3, it is a fun and simple project that you can use to gift a gift card or Valentines treats that will be much more unique then just using a card!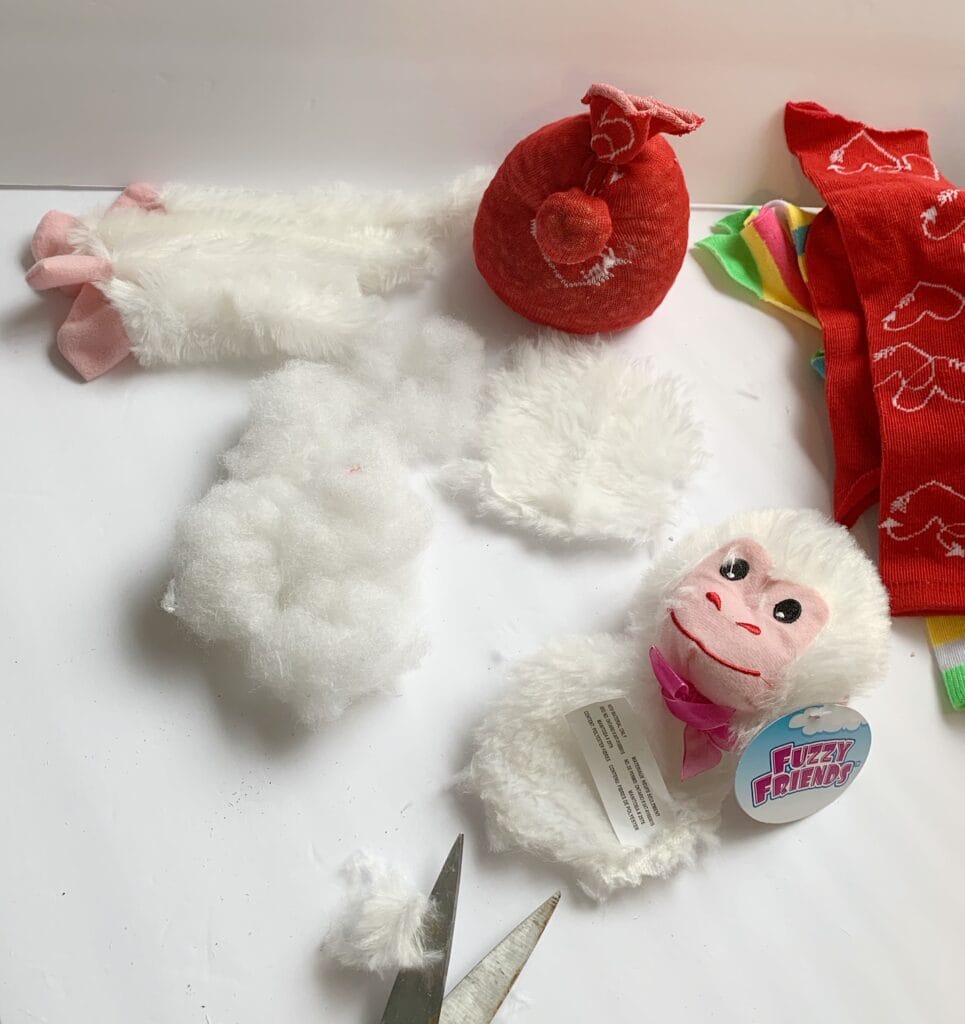 Supplies Needed: 
1 pair of socks – $1 at Dollar Tree
1 furry monkey – $1 at Dollar Tree
1 bag of rice or beans (I prefer rice – I think it looks nicer) – $1 at Dollar Tree
Hot glue
Small rubber bands
(I had hot glue and small rubber bands at home in my craft room, so this version cost me $3. It might cost you a bit more if you do not have any of the supplies to work with).
How to make this version of the sock gnome:
You could of course just use the monkey for $1, but this is a fun way to make these popular gnomes for just a few dollars.
This version is going to work just like the first one to make the gnome head. There are just a few differences in this process.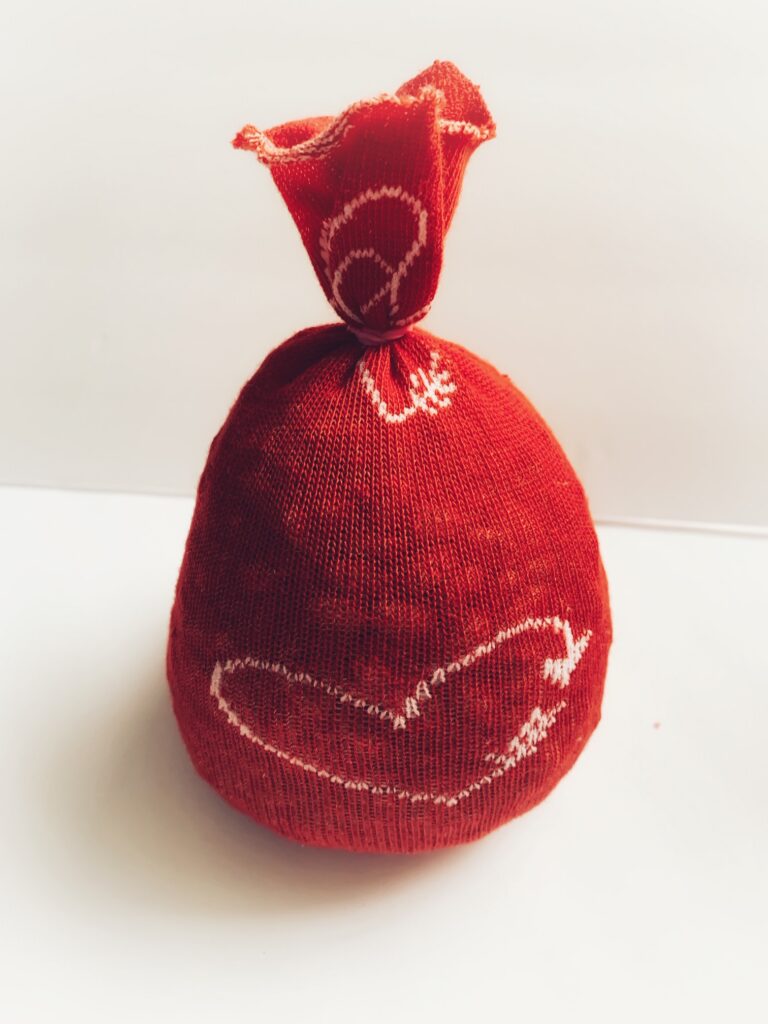 Fill the foot part of the sock with rice or beans and secure the top with a rubber band.
Create the nose as discussed above.
Then you will cut the arms and legs off the monkey and set aside (you will glue these to your gnome shortly).
You will also cute the gnome body along the seams. You will be using the fur for the gnome beard, and the stuffing for the gnome hat.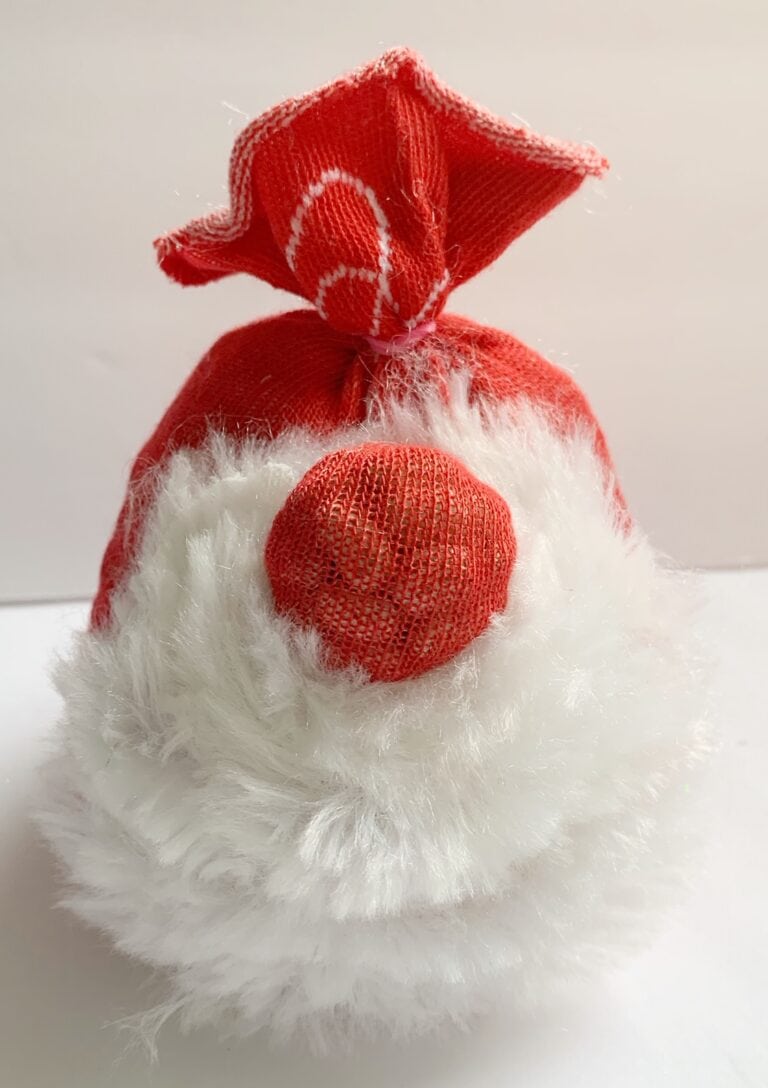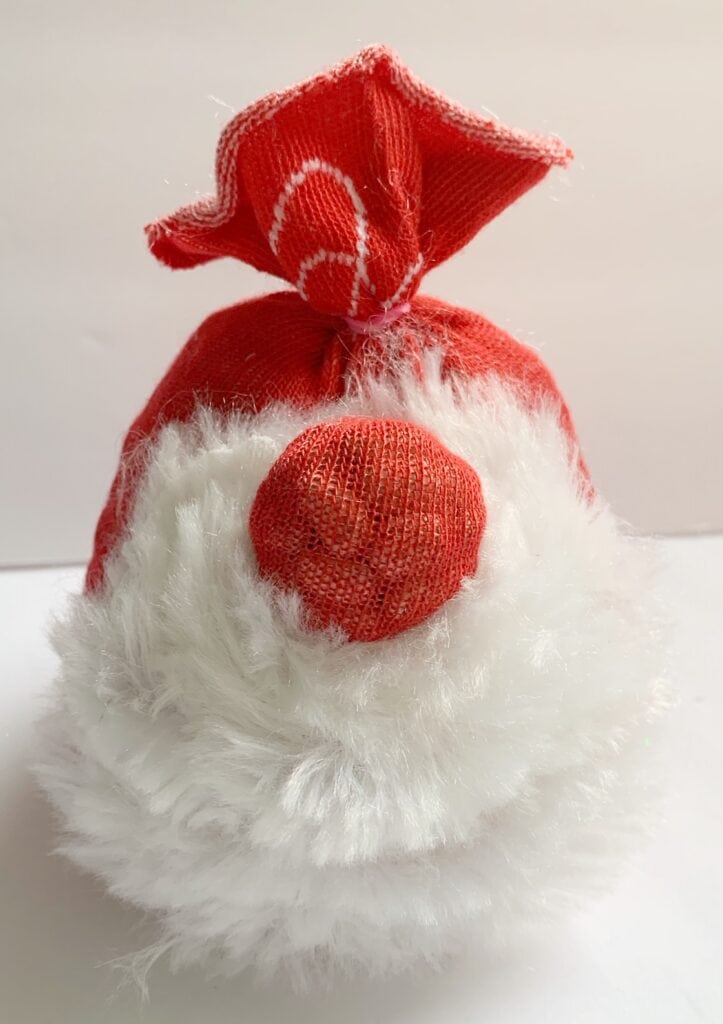 Now you will use the body fur part of the monkey to create the beard on this gnome. Glue just like described above.
Use the filler from the monkey to stuff the hat, and add it just like described above.
Now you will add arms to each side of your gnome, the legs to the bottom, by attaching them all with hot glue.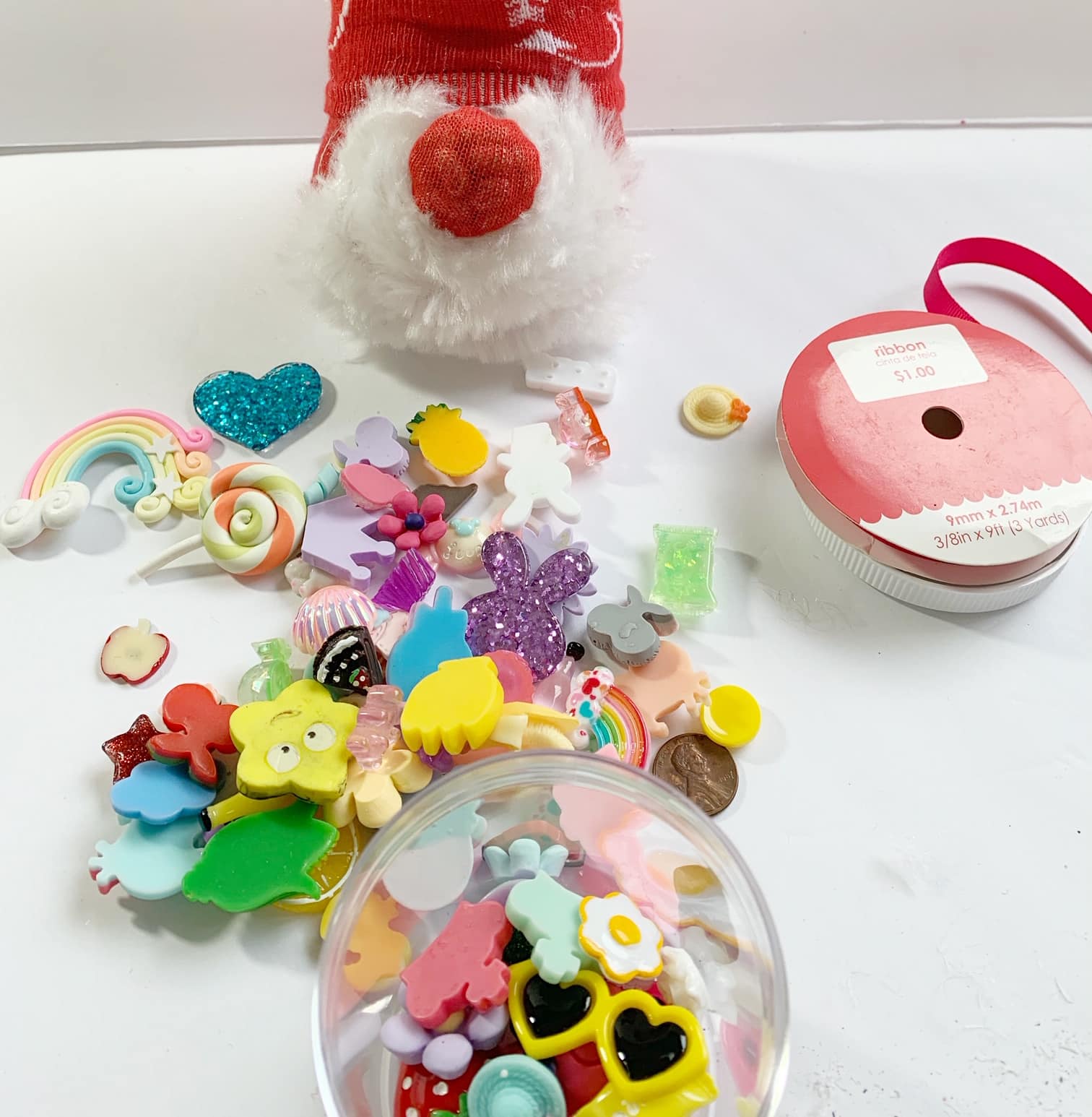 I had some charms left over from one of my kids slime making spree, and these are fun to glue on to the hat too if you have anything fun like this. It is completely optional, just another embellishment.
To add the gift cards to the gnomes, either use double stick tape or a tiny dot of hot glue on both sides of the gift card for the one with arms, and then attach to each hand. If you did the gnome with no arms, add a dot of hot glue to the back of the gift card, and add it to the hat where you put some ribbon.
More Articles You Might Like: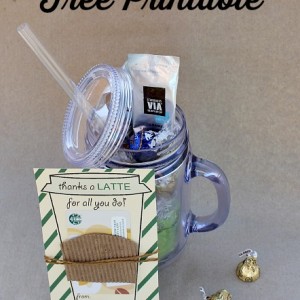 Thanks A Latte Free Printable to use for Teacher Gift!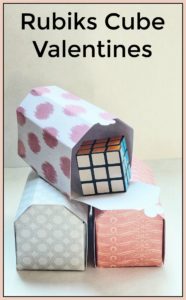 Rubiks Cubes for Class Valentines – No Candy Alternative!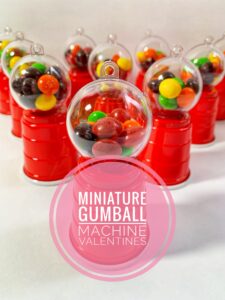 DIY Bubble Gum Machines (Perfect for Valentines Parties)!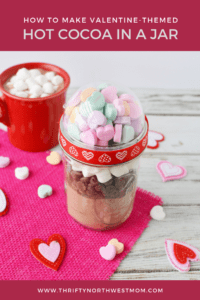 Valentine Hot Cocoa Mix in a Jar – Affordable & Unique Valentine's Gift!