DIY Bubble Gum Machines (Perfect for Valentines Parties)!

DIY Gumball Machines (Perfect for Valentines Parties)!
We love to make DIY Gumball Machines, and you can make them in so many shapes. We have made miniature ones for class parties, larger ones for the kids to use, and everything in between! You can not only make them in multiple sizes, but you can fill them with lots of different things too. These are great for birthday parties, Valentines Day gift, Easter baskets, baby showers or just because! My kids have been begging for a bubble gum machine, and they had a blast making these. The key is to shop for shapes (and in various colors too if you're throwing a theme party).
You can even make them as DIY Ornaments for your Christmas tree too. If you want to do them as ornaments you can use small beads  instead of real candy.
I used these sprinkle confetti and mini pom poms to make these Bubble Gum Machine DIY Christmas Tree Ornaments.

You can find many of the supplies needed at your local Dollar Store, but you can also use items you may even have on hand. While we have made many of these fun homemade versions shown below, and they worked great, we decided to do this miniature sized ones for the class Valentines Day party this year. They were so simple to make, affordable, and turned out so cute.  We will show you how to make the miniature versions first, and then check below for much larger size options too.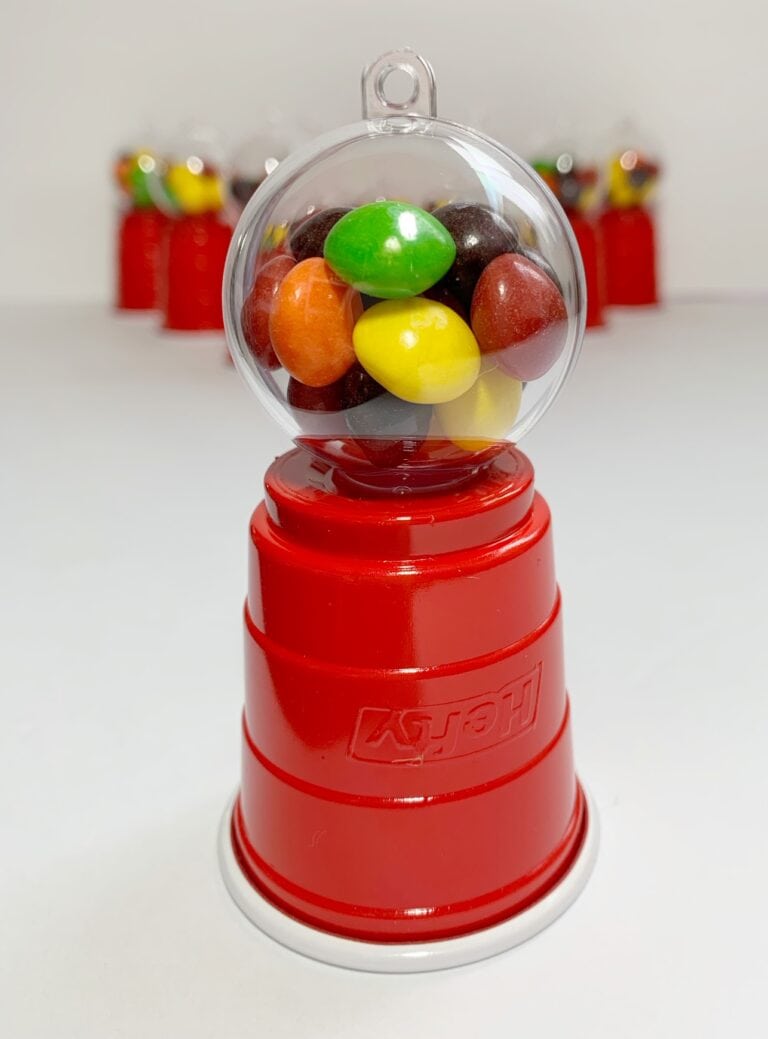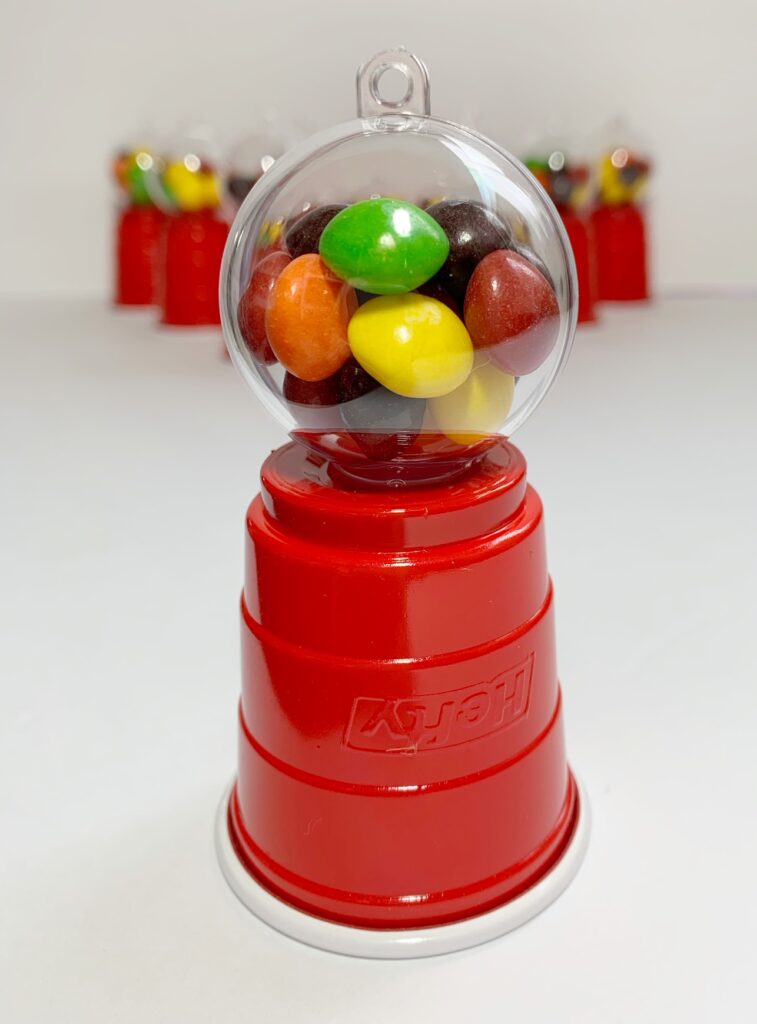 Miniature Gumball Machines, Perfect for Class Parties
These miniature versions are made out of little silo red cup shot glasses, and small plastic ornament balls. Be sure to get the plastic ones, as I accidentally got the glass ones one time, and those were a disaster (the glass is so thin that they all broke and made a huge mess).
You can fill them with any kind of candy that replicates gumballs. You can also fill them with beads, or if you want a non candy version, get the small toys that come out of the quarter machines, and use those (instead of plastic ornament balls filled with candy).

Ingredients Needed: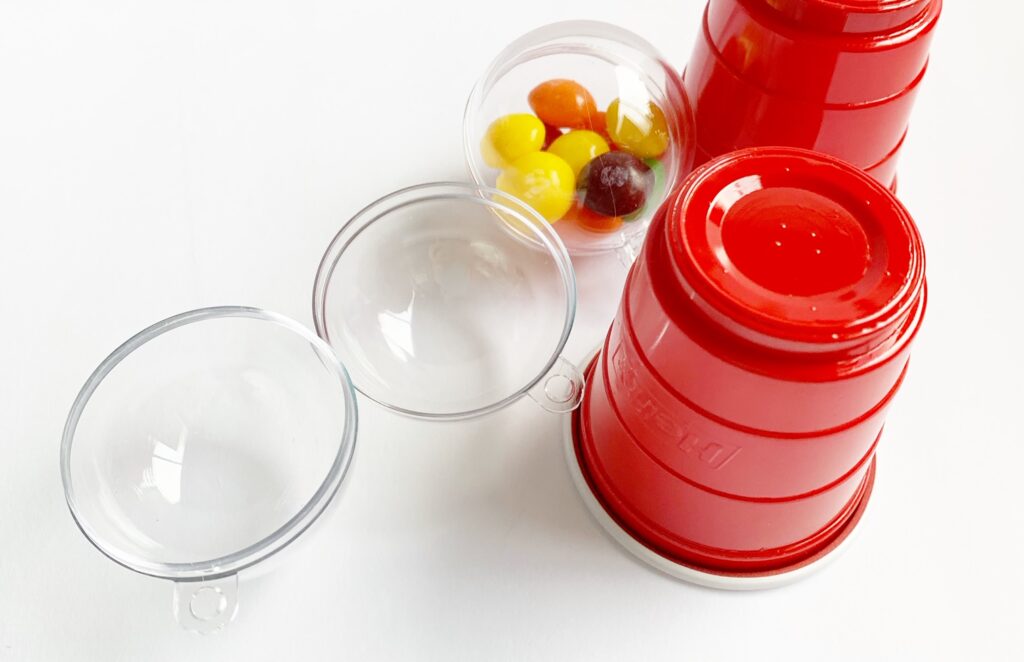 Note …
We used the small plastic ornaments that come in halves and you put them together. I have used the kind that the silver piece comes off the top in the past, but sometimes there is irregularity to the openings and not all of them let candy the size of Skittles fit in – so we had alot of waste with those. You could use a smaller candy like Nerds, and you would not have an issue if you do that. The pro side of using that style is that the tops pull off for the kids to get the candy out. With this version that I have used here, the kids will have to pull the ball off the shot cup to open it for the candy (so it is not re-usable – and you will want to go light with the hot glue).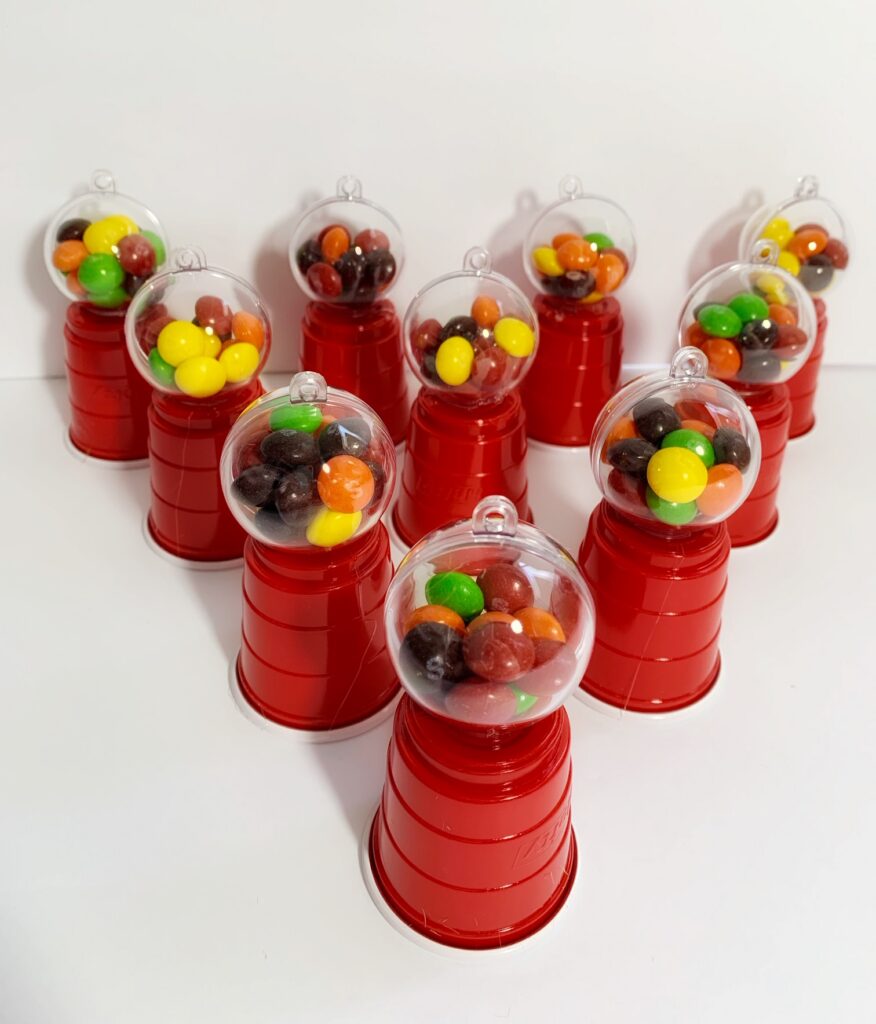 How to Make These Gumball Machines:
Start by warming up your glue gun, and filling all of the balls with your candy, or whatever you have chosen to fill them with.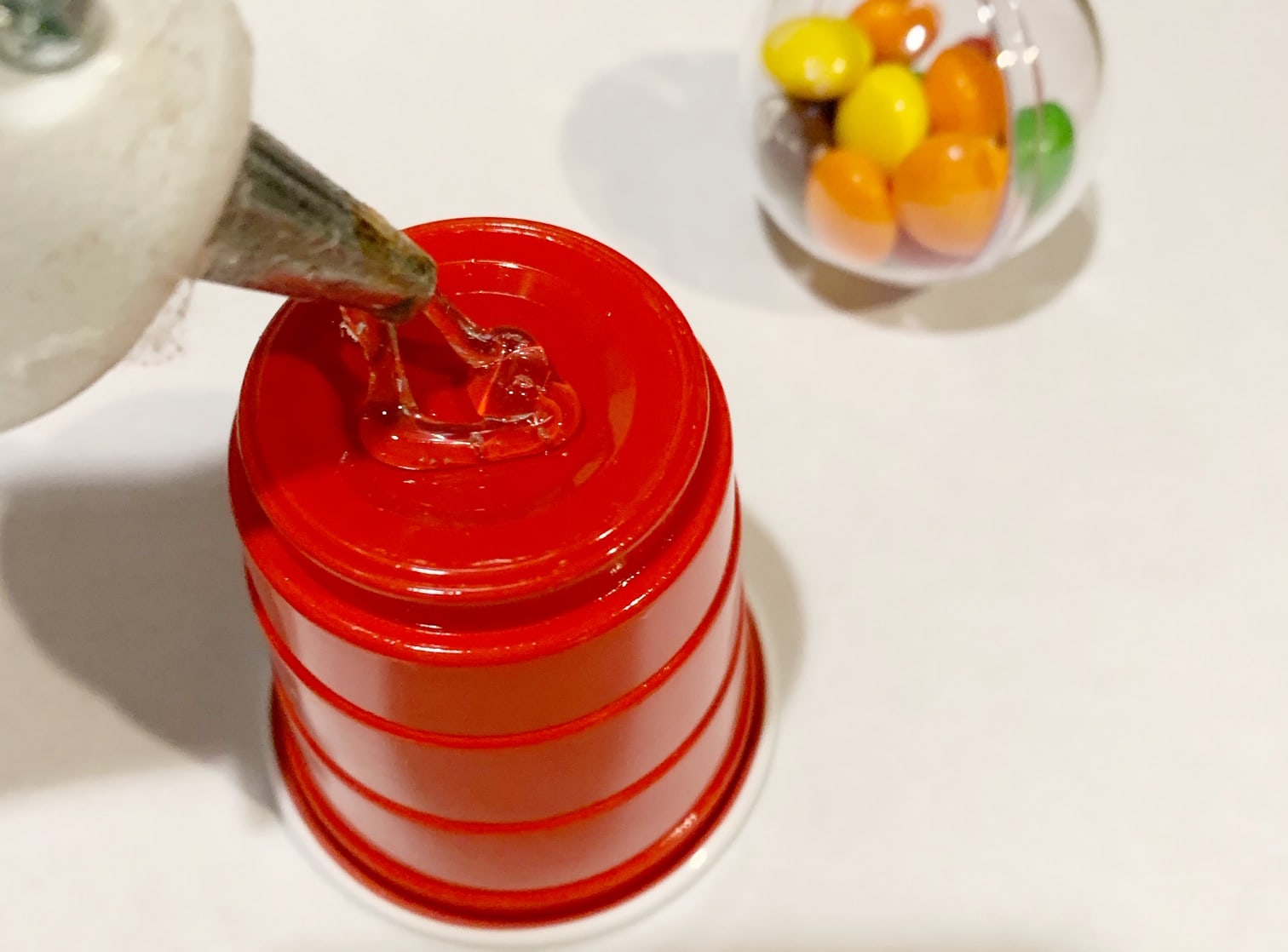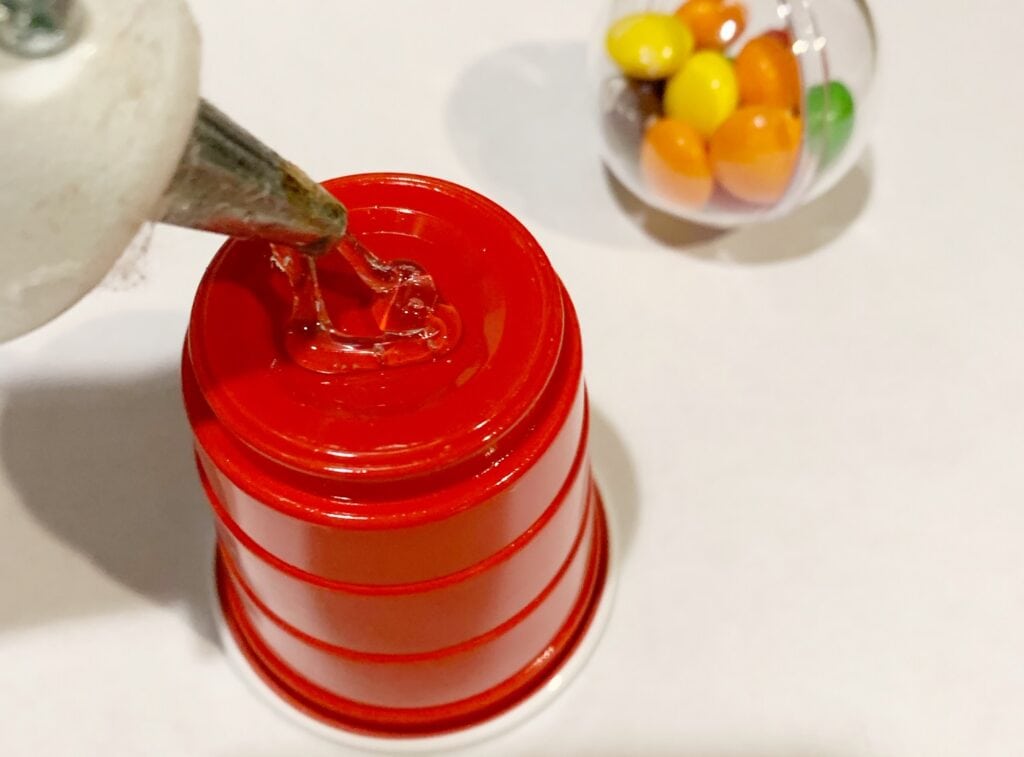 Turn your little red shot glasses over, upside down, and add a small dab of hot glue with a low heat glue gun.
You will want to make sure you are using a low heat gun for these, so it does not melt through the plastic, and so the balls will easily pop back off for the kids to get the candy out.
I suggest doing one, and letting it set, then trying to get the ball off of the top, to make sure you are not using too much glue and the kids can easily get at the candy, before doing them all.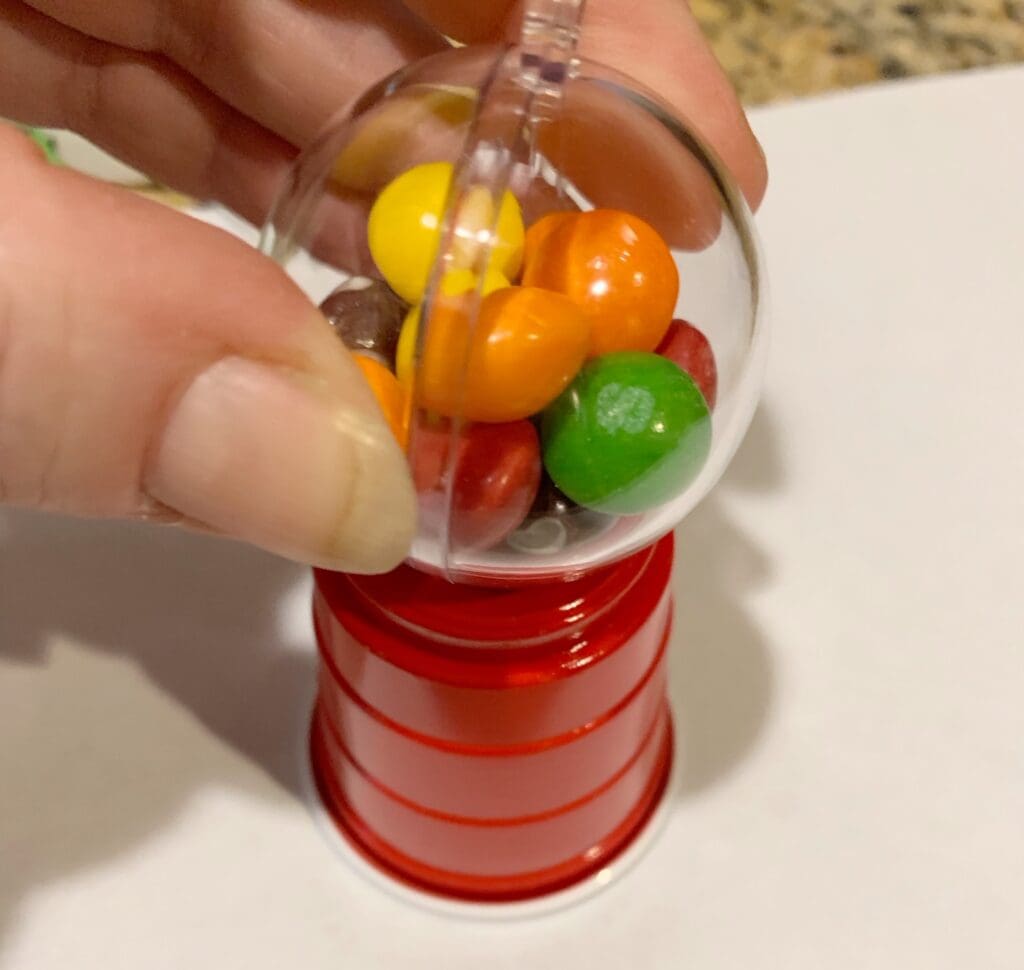 Set the balls on top of your dab of glue, with the hole part facing up, and centered in the middle of the cup.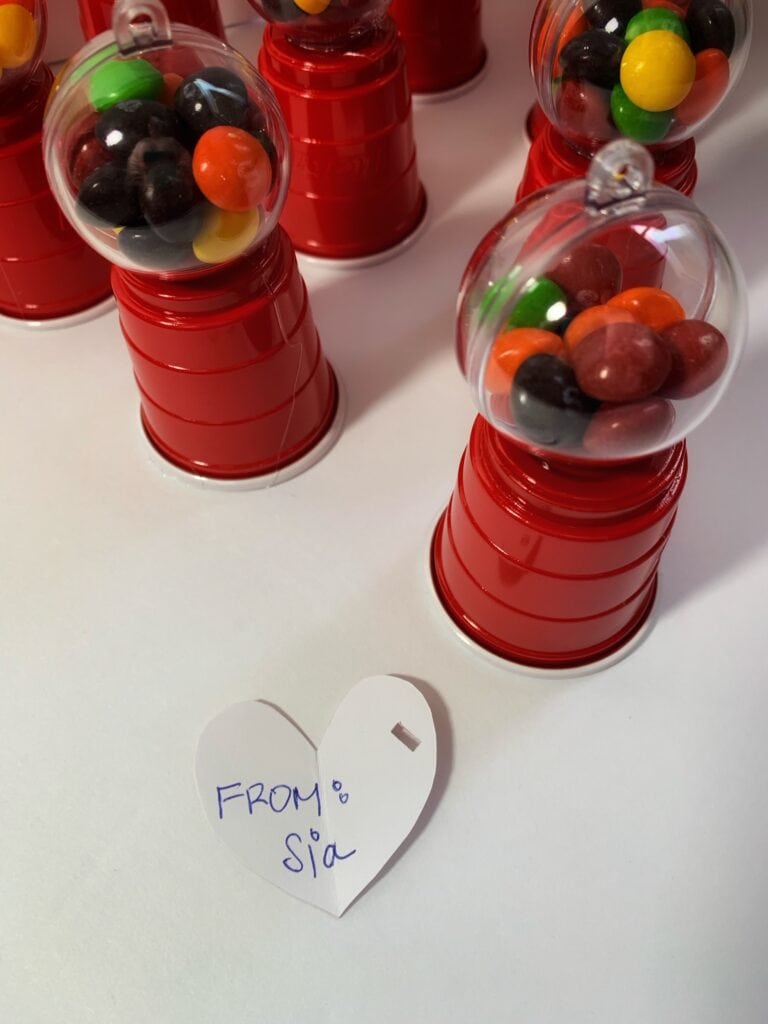 Now you can add small gift cards if you want too. They are cute without the gift cards, to just hand out as is, if you do not want to go to the extra work.
I just cut little hearts out of pink paper, but you can use anything you want. We do have a free printable for an "I Chews You" card that could be really cute with these here, if you want to use those too.
Once you have decided on your card, sign it, and attach by punching a hole in the card and using some thin twine or ribbon to thread it through the top of the ball and the hole you punched, then tie it off.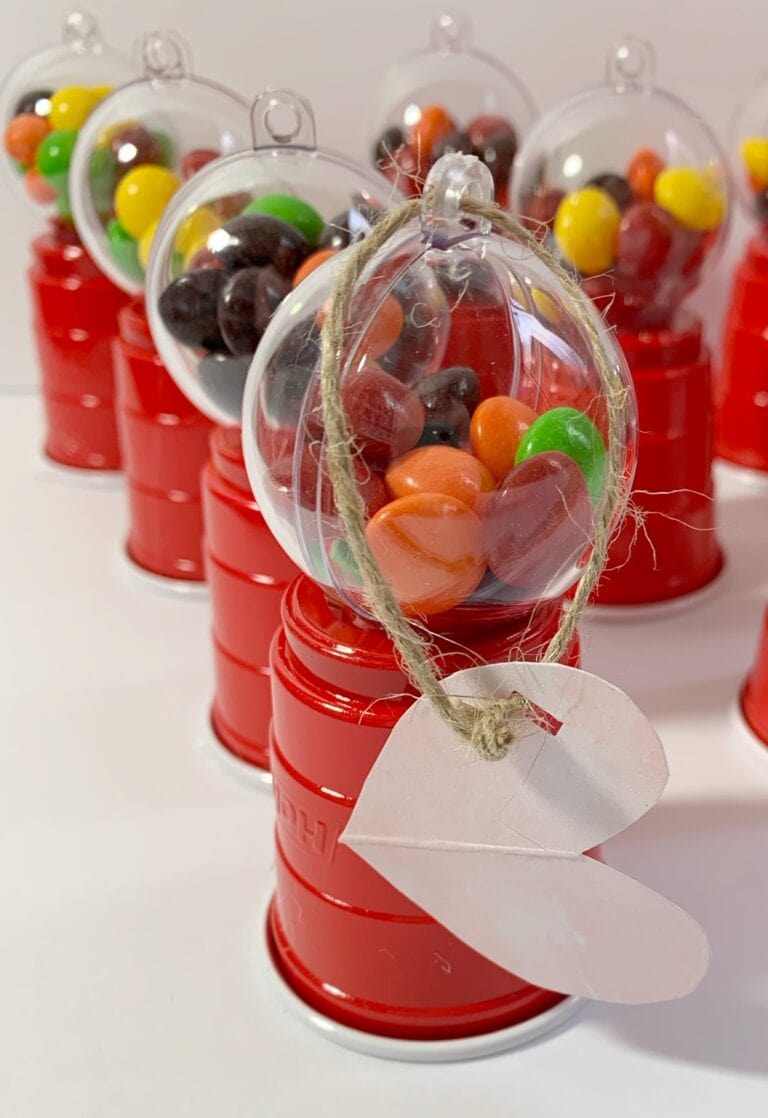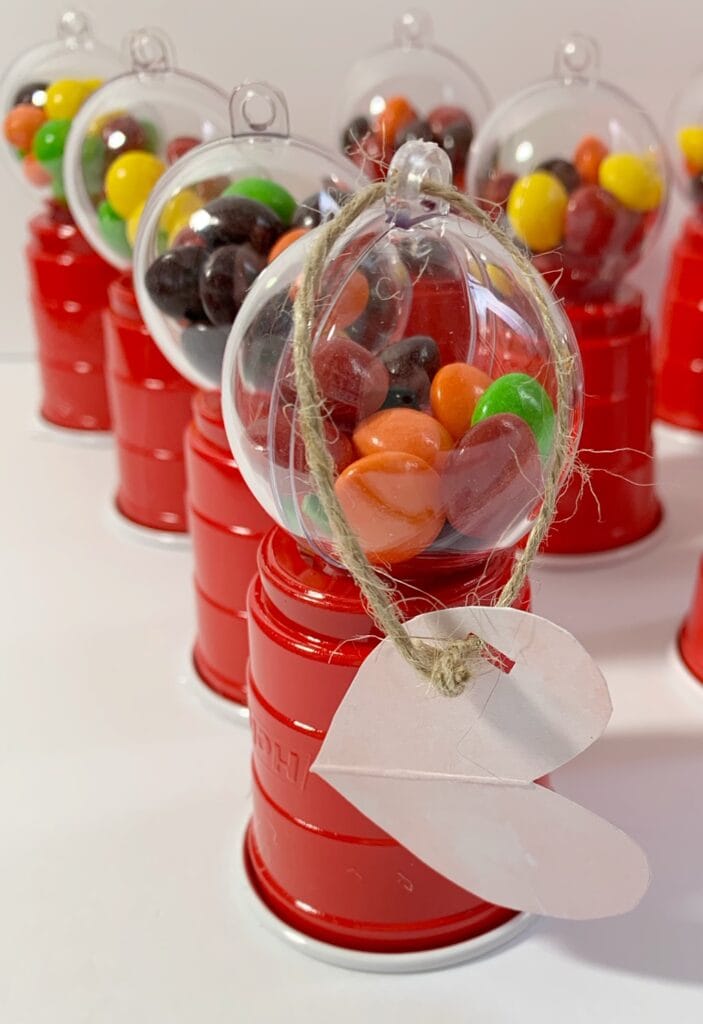 These are really very simple to make, but your childs class, or whatever party you are making them for, they are going to love them!
If you want to make some of the larger gumball machines, we show you how to do those here.
Some Suggested Materials to Use for the Gumball Machine: 
Round plastic bottles (ex: Aqua Water, or coke bottles if you can find the round variety). You could also use the single serve Martinelli apple juice bottles, but they are glass).
Small Mason Jelly Jars (this pack of 12 mason jelly jars would work well if you are making more then one)
Small semi- round jars we found at Ikea (shown below)
Small Glass fish bowls found at the dollar store (you will need to use a small plate, or bottom to a terracotta pot to cover the opening if you choose to use these)
Ideas for the base:
Terracotta pots
Small metal pales
Red plastic cups (really, any plastic cup that fits the shape, and size you are looking for)
Thick Candle Sticks (if you have one that is thick enough to fit one of the jars on top)
If your using them for a party, or want to give as a gift you can get 60 of these dissolvable labels These are great because they would stick well for a party, but you could remove them and reuse your jars afterwards too.
To fill your machines, I found 5 oz bags of gumballs at the dollar store. You can also buy in bulk here on Amazon, or check the bulk bins at Winco too.  This time of the year, you could also use the little candy hearts that are out instead of gum.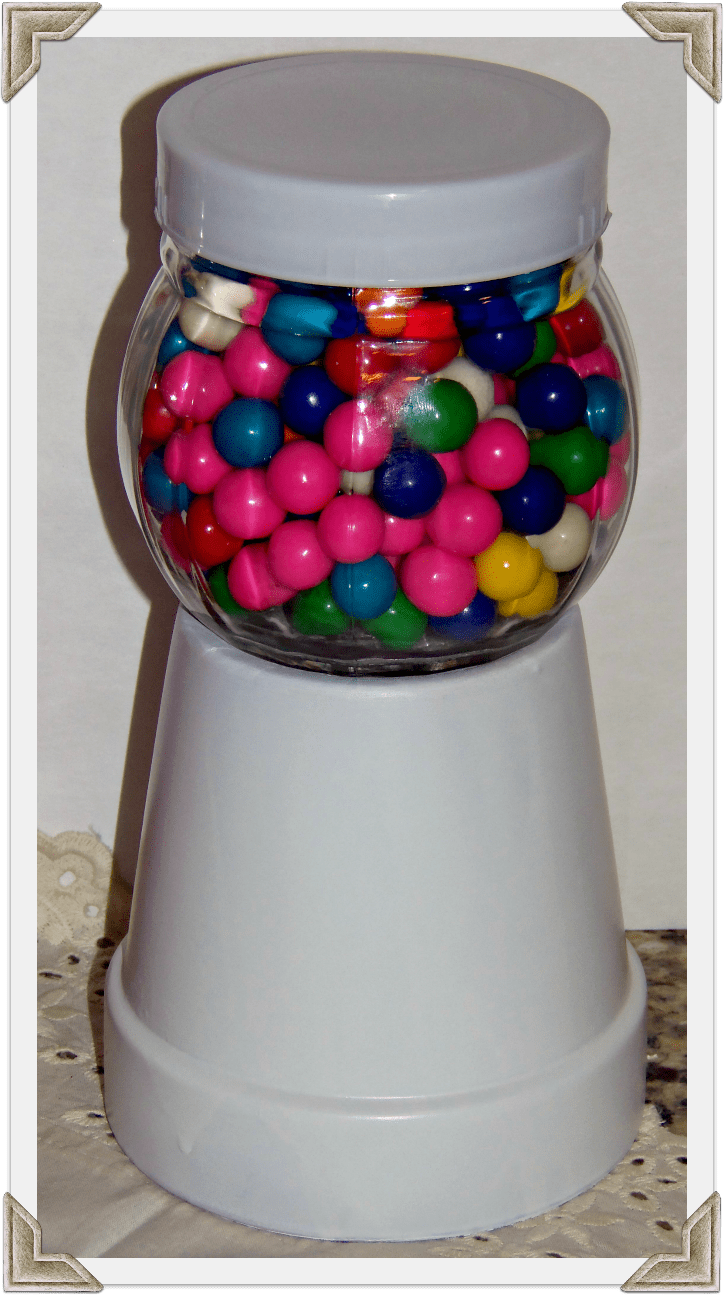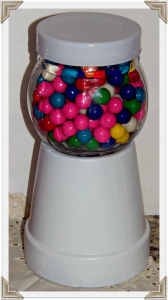 Here are a couple of ideas to inspire you:
This DIY Bubble Gum Machine was made with a Terracotta pot, and a jar from the dollar store (total was $2 before gum, glue and paint). I found the jar with the white lid as is at the Dollar Store, and painted the terracotta pot white to match. Once everything was painted, I used a large hot glue gun to adhere the jar to the upside down painted pot. You could also use an apoxy glue or gorilla glue for a stronger hold.
What I love about this one is that I can set it out on the coffee table, and it's easy for folks to get in and out of to enjoy the gum. Because its larger, it makes a nice centerpiece.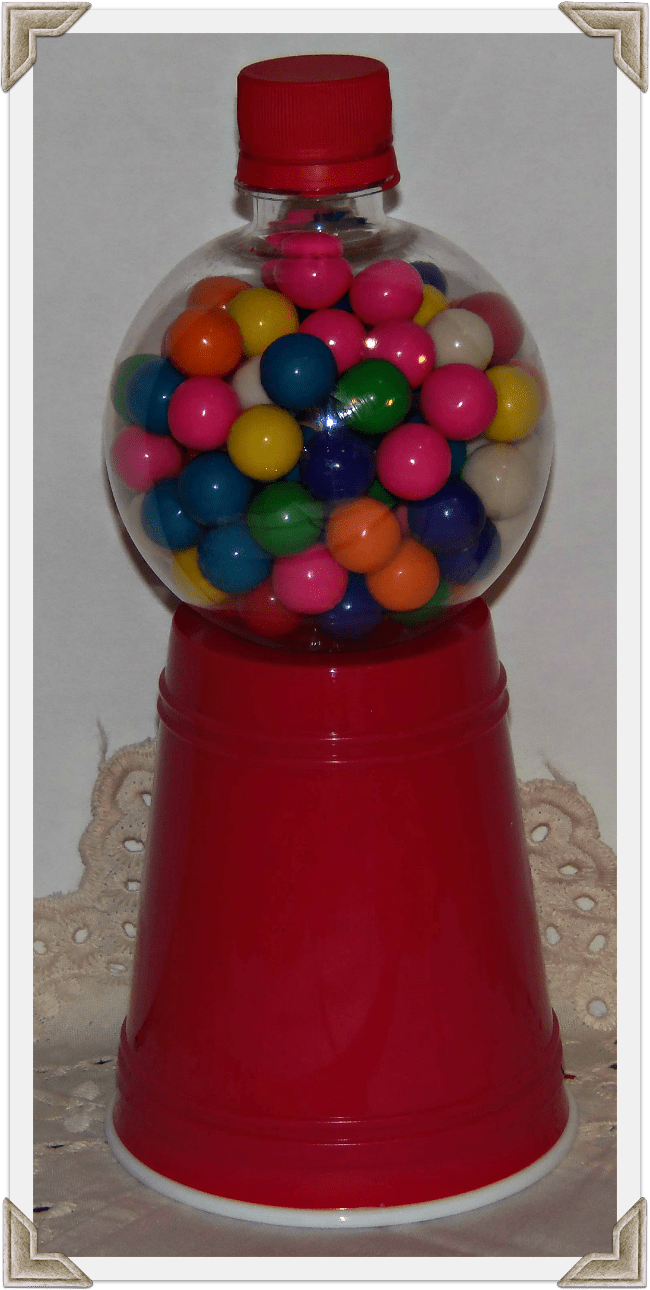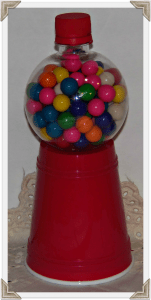 This is my favorite kid friendly homemade bubble gum machine. Its all plastic, so perfect for kids to help make or for kids parties. This one would also be fun to use to hand out as valentines at school parties (with the printable below).
To make this version I used an aqua water bottle, and red plastic cup. I find these aqua bottles at my local grocery stores for $1 ea (see image below with supplies to see what it will look like on the shelves). They come in characters like Frozen, or Cars, etc. You can pour the flavored waters into a pitcher and let your family enjoy those, then wash out the round bottles and remove labels (I used a blow dryer to thoroughly dry out the inside). Once the bottle is clean, paint the top red, and let it dry. You can then use some hot glue to attach the round bottle to an upside down red cup. Fill with gum, and screw the lid back on and its ready for the kiddos to enjoy!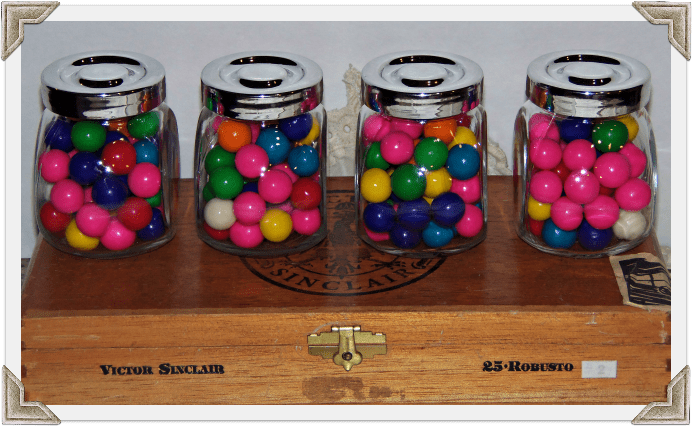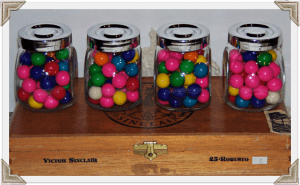 I found this set of 4 jars for $3.49 at Ikea. That makes them just $.87 ea. You could get the labels mentioned below and put a kids name on each label for an easy party favor. The other thing I like about these ones is that they take less then a 5oz bag of gum to fill. These ones cost approximately $1.50 ea with gum inside of them. That price makes them a fun party favor for birthday parties, baby showers, weddings and more.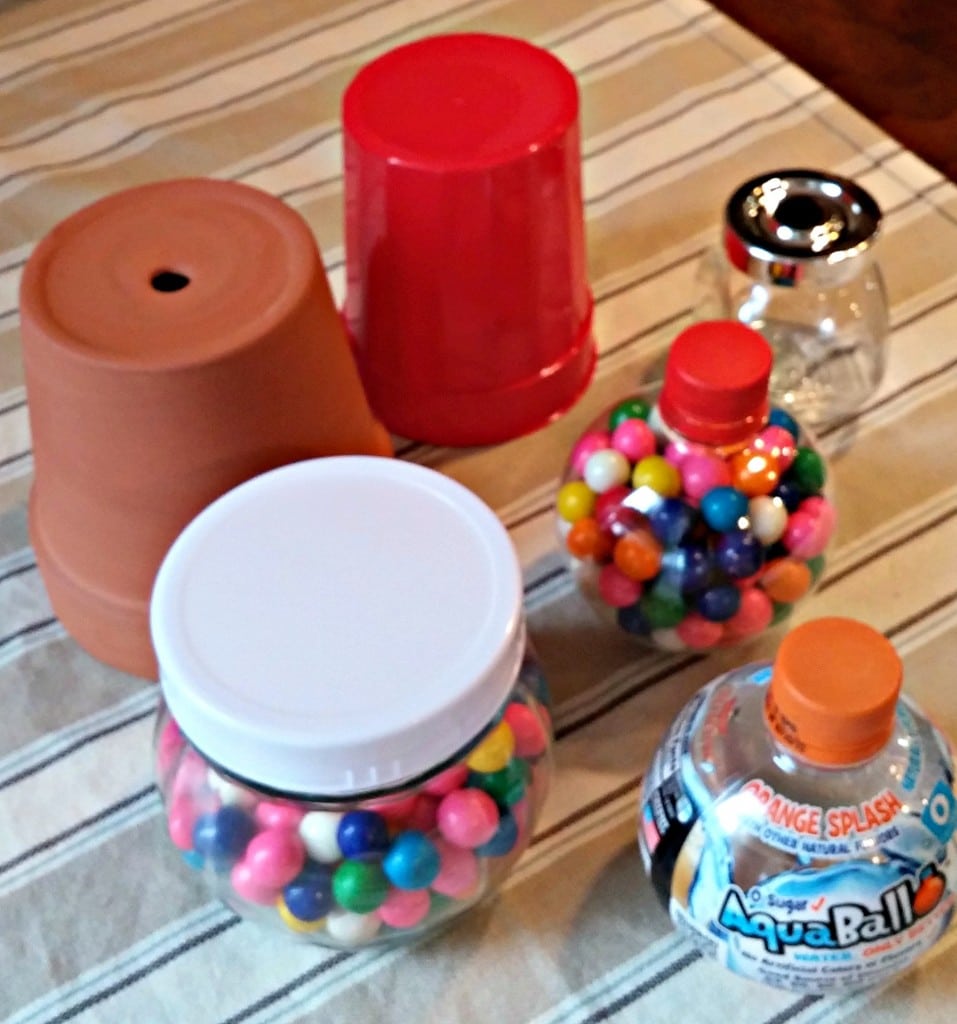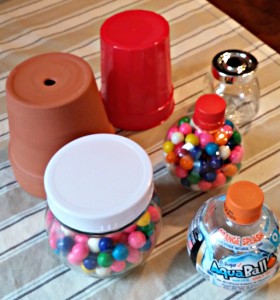 (Here are the supplies we used for the gum machines posted above: terracotta pot, and round jar or aqua ball and red plastic cup)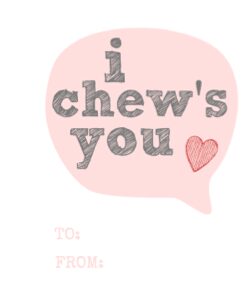 If you want to use them for Valentines Day, you can use this FREE Printable Valentines Card "I Chews You" to hang over them!
More articles you might be interested in:
Popcorn Bar – Perfect for Many Occasions (Easy On the Budget Too)!