Valentines Day Free Printable Card – "I Chew's You" + Where to Buy Valentine Supplies!
This post may contain affiliate links and I may be compensated for this post. Please read our disclosure policy here.

Valentine's Day Free Printable Card – I Chew's You
Here is a fun and affordable Valentines Day FREE printable card option we want to share with you . I love the sentiment of the "I Chew's You" saying and the best part about this printable is it can be used with so many different options of candy or gum. You can really keep this low-cost by choosing candy that is inexpensive such as the bags of gum from the dollar store or tootsie roll or gummy bear candies in the bulk bins.  There are often many coupons available for packs of gum as well, so you may already have this in your stockpile to use with these Valentine cards.
It would be a fun Valentine to leave for your spouse in the morning on Valentine's Day, too! Let us know if you have any other fun ideas to pair up with this printable card.
Make sure to check out our tip below for a great resource for Valentine party & craft supplies at PaperMart.com too.
A few different options of candies:
Tootsie Rolls
Gumballs
Any gummy candies
Salt water taffy – this was my daughter's favorite – Winco has Valentine taffy right now
Pack of gum or individual pieces of gum  – the Dollar Tree is a great option for bags of gum
Laffy Taffy
Free "I Chew's You" printable: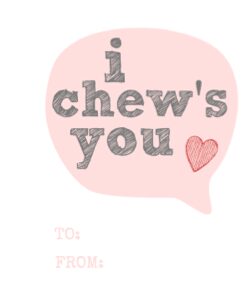 Items Needed:
Chewy Candy or gum
Clear Bag – Use a clear cellophane bag (or a regular plastic sandwich baggie could also be used in a pinch too). Check out Paper Mart's selection of Valentine's bags for a unique spin on the bags too
Cardstock – to print your printable on & make it sturdier
Ribbon – to tie it all up (see a variety of Valentine ribbon from Paper Mart)
Directions::
Print off the "I Chew's You" printable on card stock
Cut out your Valentine printables & use a small hole punch to put a hole in one of the top corners (I also put a layer of black cardstock in the back just to make it stand out more)
Tie it all together with ribbon
This is a fun last-minute Valentine idea where you can pull together any fun chewy candies that you have & create a unique Valentine's card for kids or adults.
Where to Buy Valentine's Day Supplies:
If you're looking for a good resource for purchasing supplies for this Valentine's Day printable, Papermart.com is a great source for holiday craft, packaging & party supplies. Paper Mart started almost 100 years ago in a small, Los Angeles garage, then changed to a catalog company & now they are the largest discount packaging supply company in the United States.
Here are the types of products you can purchase from Paper Mart:
Holiday craft & party supplies
Gift boxes & bags
Ribbons & Bows
Tissue Paper
Gift Wrap
Containers
Craft Supplies
And more….
Here are a few products you could use when making these I Chew's You printable Valentine's for a unique spin on the idea:
Red Sheer Heart Satin Bag – these would be so cute to use instead of the clear bag for a nice little keepsake bag with your Valentine's printable card & candy
The Red Sheer Heart Satin Bag is a lovely favor pouch with a see-through organza fabric window bordered with a white heart appliqué. The gorgeous red satin fabric is soft, lustrous and perfect for Valentine's Day or wedding packaging. It is topped with a smooth satin drawstring to keep contents secure.
Heart Pattern Plastic Wire Handle Boxes – these are darling little boxes to use for your candies & attach your printable to the handle with the ribbon.
Heavy translucent plastic boxes with heart patterns.
Organza Heart Bags – these are another fun little keepsake bag you could use with the candy and no extra ribbon needed with these bags. Just attach the printable card right to the satin pull ribbon.
The Organza Heart Bags are shaped just like little hearts. They take shape when they are filled with contents. Next tighten the double pull satin ribbon and you get the heart shape. Since it is sheer it shows off the contents beautifully. The measurements include the ruffle on top of the ribbon. Below the ribbon the measurements are 2 inch x 2 inch. Great for Valentine's Day, weddings and anniversary celebrations.