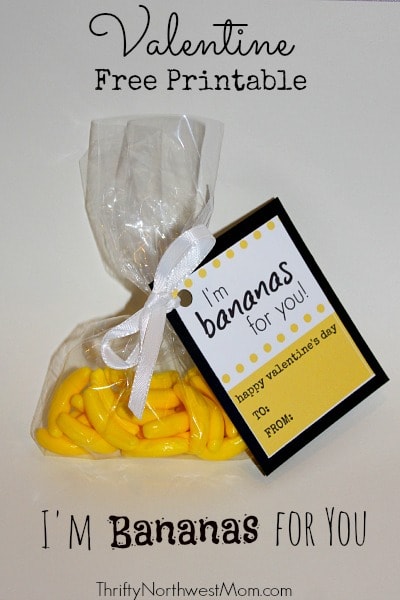 Free Printable Valentine Card – "I'm Bananas for You"
We've been sharing FREE Valentine's Card printables this week and this printable is a fun one as it's different than many of the typical card sayings.
If you're using this with younger kids  you could actually use real bananas as a fun playdate treat. Otherwise, you can use the candy bananas for a yummy treat. I'm sure they have the banana candy at party stores or other stores, but I was at Winco checking out all the other Valentine candy and they didn't have the banana candy by itself, so I just use the bag of candy fruit runts & separated out the bananas.  
Free "I'm Bananas for You" printable:
Items Needed:

 Candy (or real) bananas 
Plastic Bag – you could just use a regular plastic sandwich baggie(non-resealable). I had some bags leftover from a previous project from Michaels. You can buy these with a printable/mobile coupon from Michaels
Cardstock – to print your printable on & make it sturdier
Ribbon – to tie it all up
Directions::
Print off the "I'm Bananas for You" printable on card stock
Cut out your Valentine printables & use a small hole punch to put a hole in one of the top corners (I also put a layer of black cardstock in the back just to make it stand out more)
Tie it all together with ribbon
Once again, another easy Valentine card to make with your kids, with a unique twist on the typical  Valentine's candy.
Find more Valentine's Day recipes, deals, crafts & more we've shared.
Plus, make sure to check out our other FREE Valentine's Day Card Printables::