Santa Cruz Boardwalk – Wonderful Family Vacation!

Santa Cruz Boardwalk – Wonderful Family Vacation!
If you are looking for that perfect mix of beach vacation, amusement park fun, and that laid back town vibe, Santa Cruz might be just the spot for you. My family loves Santa Cruz, and we stop by for at least one night (preferably more) each time we head down the California coast. It is one of our favorite California destinations.
I have taken my kids there a number of times now, and they have loved it at every age (toddlers through teens). There are all kinds of things to do in the area, and you can do most of it in the same day. I love that you can enjoy the carnival games and amusement park rides on the Santa Cruz Boardwalk, and in the same day be lounging on the beach or body surfing the oceans waves – only steps away from the each other!
Santa Cruz in on California's central coast, and we often build it into a road trip to Disneyland or down the Oregon and California coasts. Even then, it stands out for our family among many of the stops, and we always look forward to our stay in Santa Cruz.
Things To Do In Santa Cruz:
The Santa Cruz Boardwalk & Pier is a highlight of the area –
We love the Santa Cruz Boardwalk, and one of the best things is that it is completely free to enter! I love that I do not have to pay just to get in and walk around.
In general, we find this to be a really affordable vacation as far as theme park vacations go. Plus, there are many things to do beyond the boardwalk. The boardwalk though, is a highlight of all of our trips to Santa Cruz, so I highly suggest not skipping this gem.

Rides, foods and games will cost you (we share discounts on those below), but you do not have to pay an admission fee just to enter like many other amusement parks. In the summer time you will even find free movies and concerts here to enjoy! Although it is possible to find free parking, it can be a hassle so I usually break down and pay for parking in one of the paid parking lots, so plan ahead for that cost.
There are both bigger rides for the adventure seekers, as well as calmer rides for smaller ones.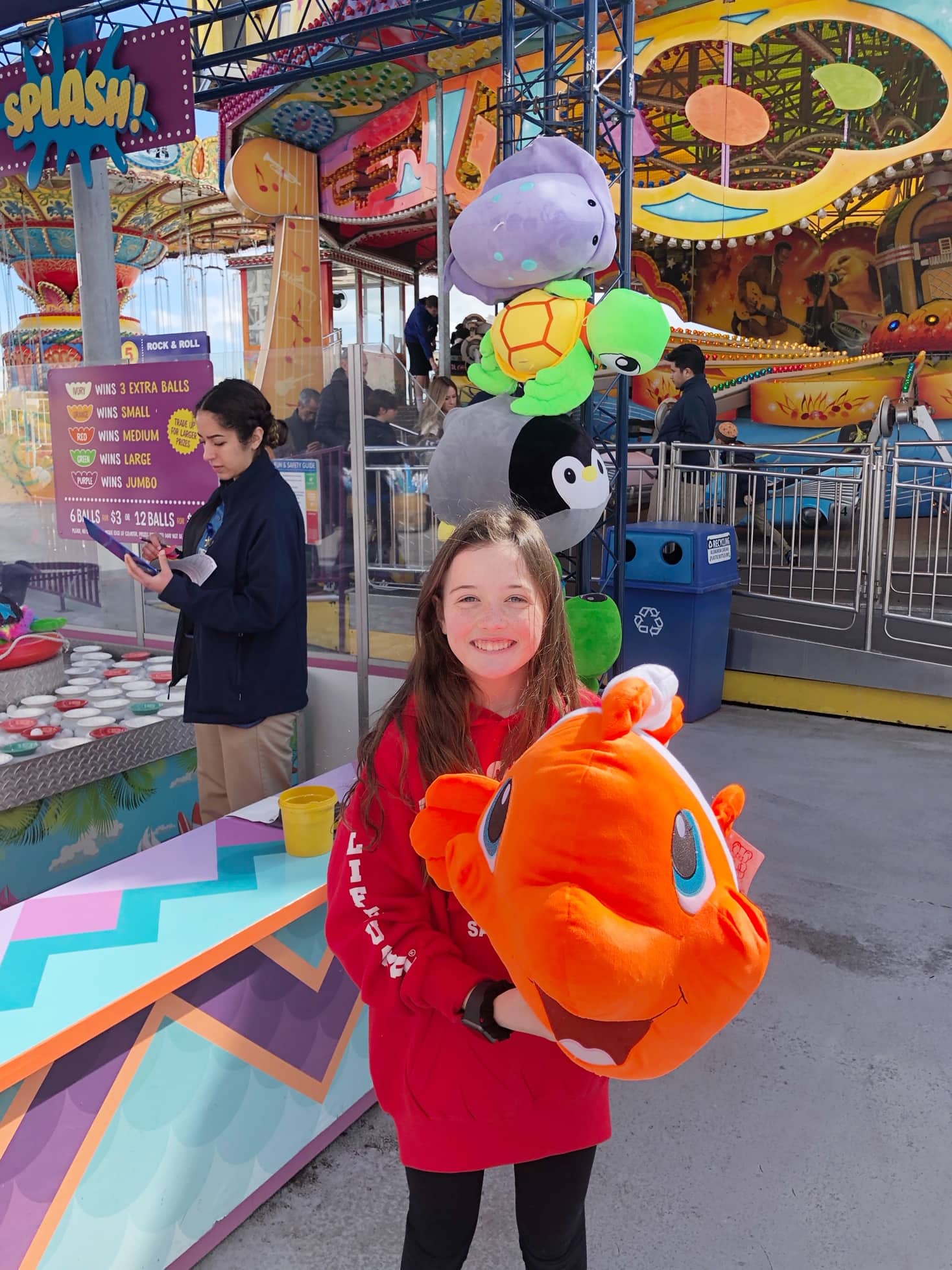 My girls love the carnival games on the boardwalk. You can use the points cards for either games or rides, and they usually win quite a few stuffed animals to pack home! There are many options for carnival games, and you will find something for everyone who loves to play.
Santa Cruz Beaches –
Beaches are also lots of fun in this area. We have enjoyed a few of them. One, is the beach the pier is built on, so you can have beach fun and amusement park fun, all in the same day!
You can purchase boogie boards in the shops on the boardwalk, and use those to get some body surfing in. Be careful though, the waves here can get rough (my kids got a pounding one year that caused a few tears).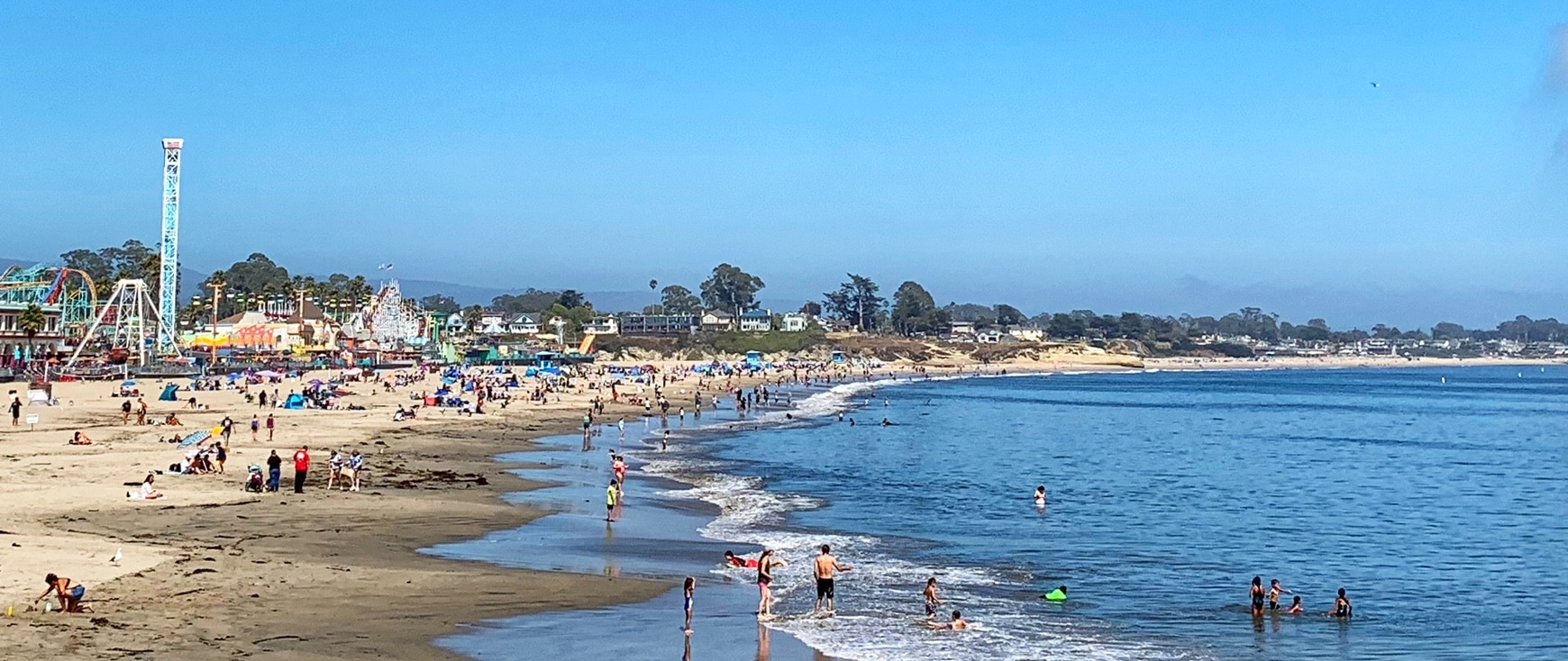 There are volleyball courts in the sand, fun in the water, or just relax laying out on the sandy beach. Best part is that kids can enjoy the best of both worlds – the boardwalk fun and some swim time.
In addition to the beach right on the boardwalk that we always take a day to enjoy, there are also a number of other beautiful beaches nearby to spend a full day at. Find a list of those here.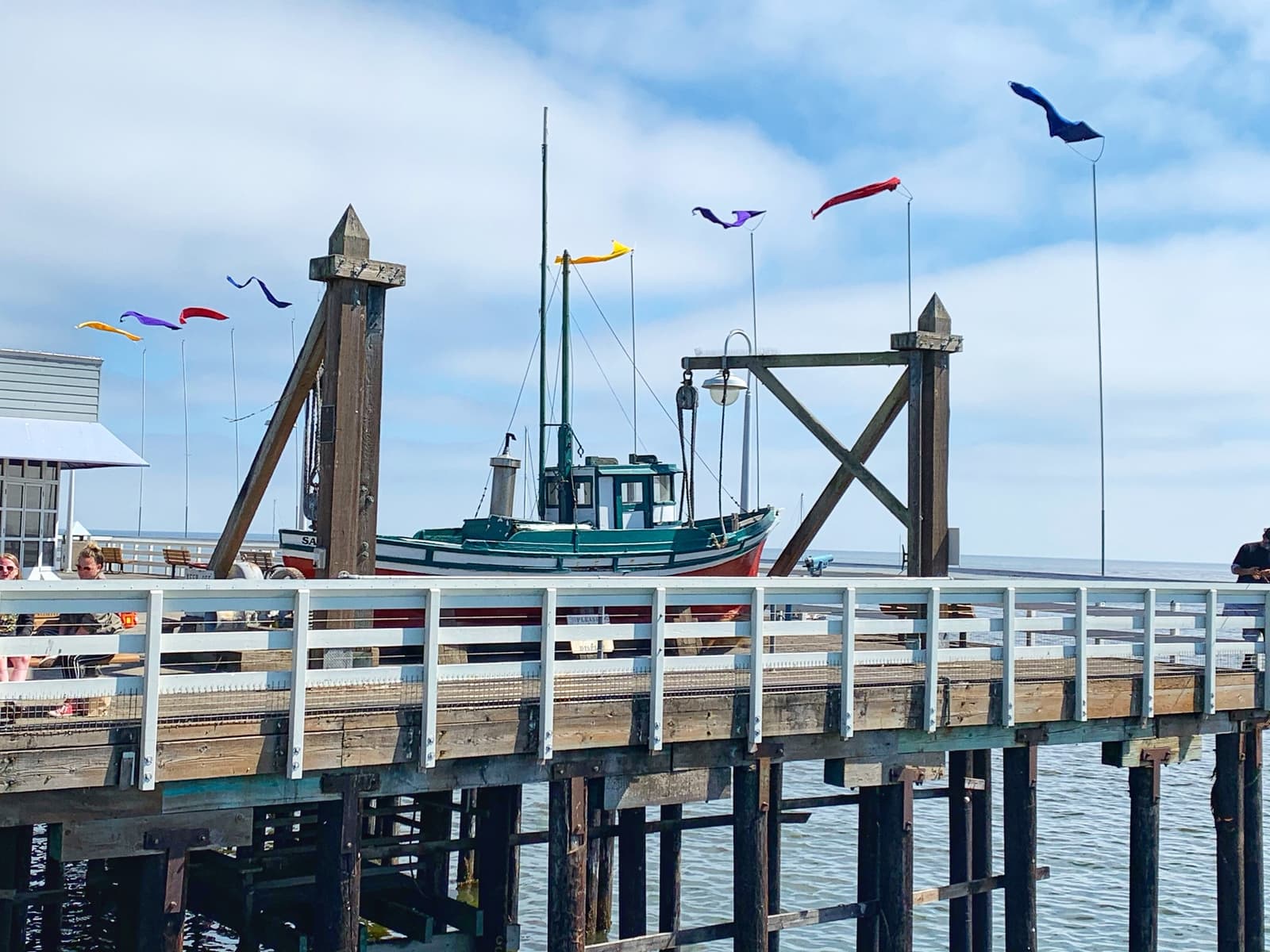 Check out the Santa Cruz Warf
The Santa Cruz Warf is in walking distance from the boardwalk, and is a nice place to get away for more restaurant and shopping options. I found a Santa Cruz Sweatshirt over here for $20 (vs the higher prices I was finding on the pier). I also grabbed a delicious (and huge) bowl of chowder for around $7, so it is a nice additional option to the more crowded spots you will find on the boardwalk.
We also saw a number of kayakers in the area, so that is another option if you are looking for things to do.
Explore the Outdoors (Redwoods and All!) –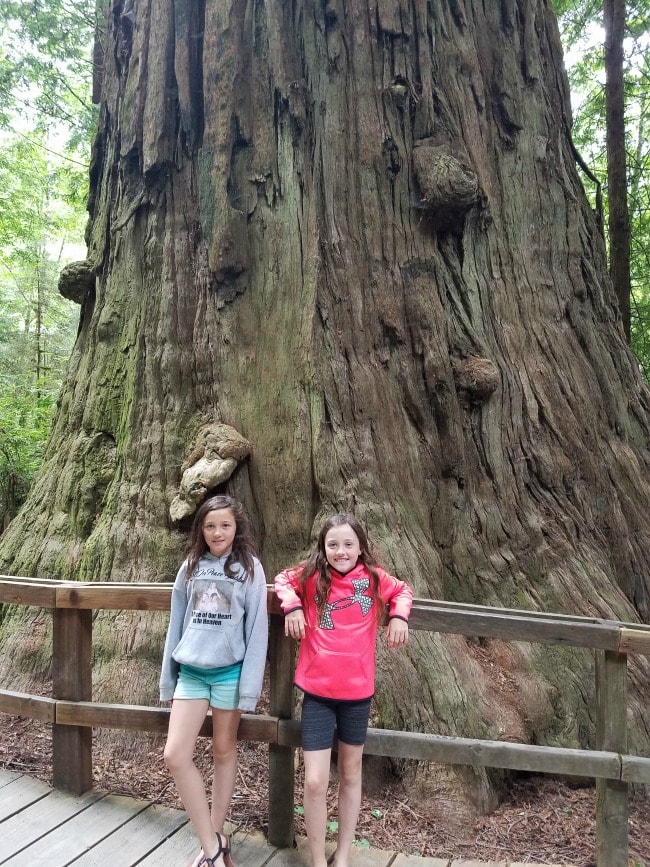 The Santa Cruz area offers many beautiful outdoor areas to explore. Did you know you can even enjoy the Redwoods in this area. Plus, California State Parks offer free parking on the second Saturday of every month!
You might even consider taking a train ride to explore the redwoods through the Santa Cruz Mountains!
More Day Trip Ideas From Santa Cruz –
If you are using Santa Cruz as your base camp for your vacation, there are a handful of day trips we love to take (or work them into a road trip schedule). Here are a couple of our favorites: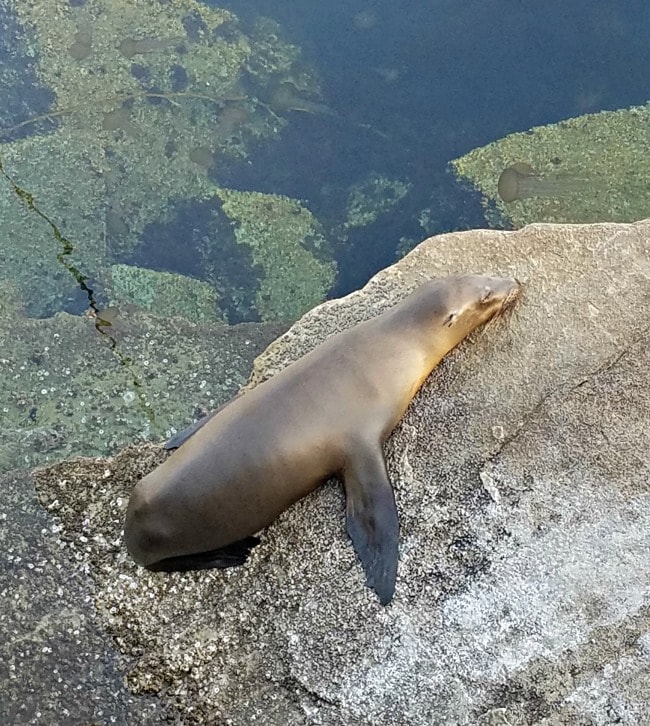 In addition to the Redwoods, there are a number of wonderful day trips in the area too. A couple of our favorite include the following (but pull up a map and decide what your favorite stops along this beautiful strip of coastline would be)!
Monterey is about a 45 minute drive from Santa Cruz, and you can visit the famous aquarium there, head to the Coast Guard Pier for free seal watching, enjoy Fishermans Warf, Cannery Bay, and do the 17 mile drive and much more.
The San Francisco area is just an hour and half away, so you could plan a day trip there too, if you are using Santa Cruz as a base camp.
Where to Stay – Santa Cruz Hotels + More Options:
Santa Cruz is full of options for all budgets in terms of where to stay. You can do everything from camp, to stay in nice hotels. There are ample motel and Airbnb options available in the area too.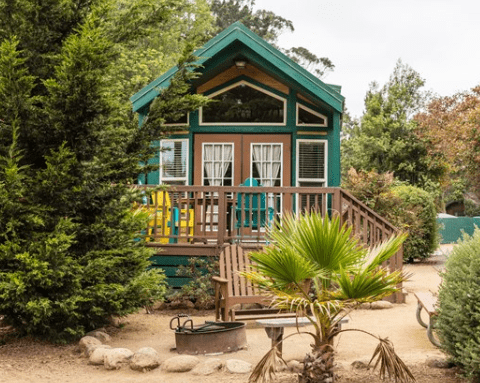 Photo Credit – KOA
We have stayed at a handful of different spots in the area. If you want to stay directly in Santa Cruz, we love renting a cabin at the Santa Cruz KOA. We splurged and got a cabin with a sleeping loft for the kids, and loved our stay. The KOA site offered many amenities like bike rentals, jumping pad, putt putt golf and swimming to name a few. We had our own fire pit, and outdoor deck to enjoy the coffee in the morning and smores in the evening. It also has its own kitchen, so we were able to save on food by cooking in many nights. It is a short drive from the beaches and boardwalk (you can technically walk to a beach on old railroad tracks, but it was a long walk and we always drove). We do go into more details on renting a cabin vs hotel room here too.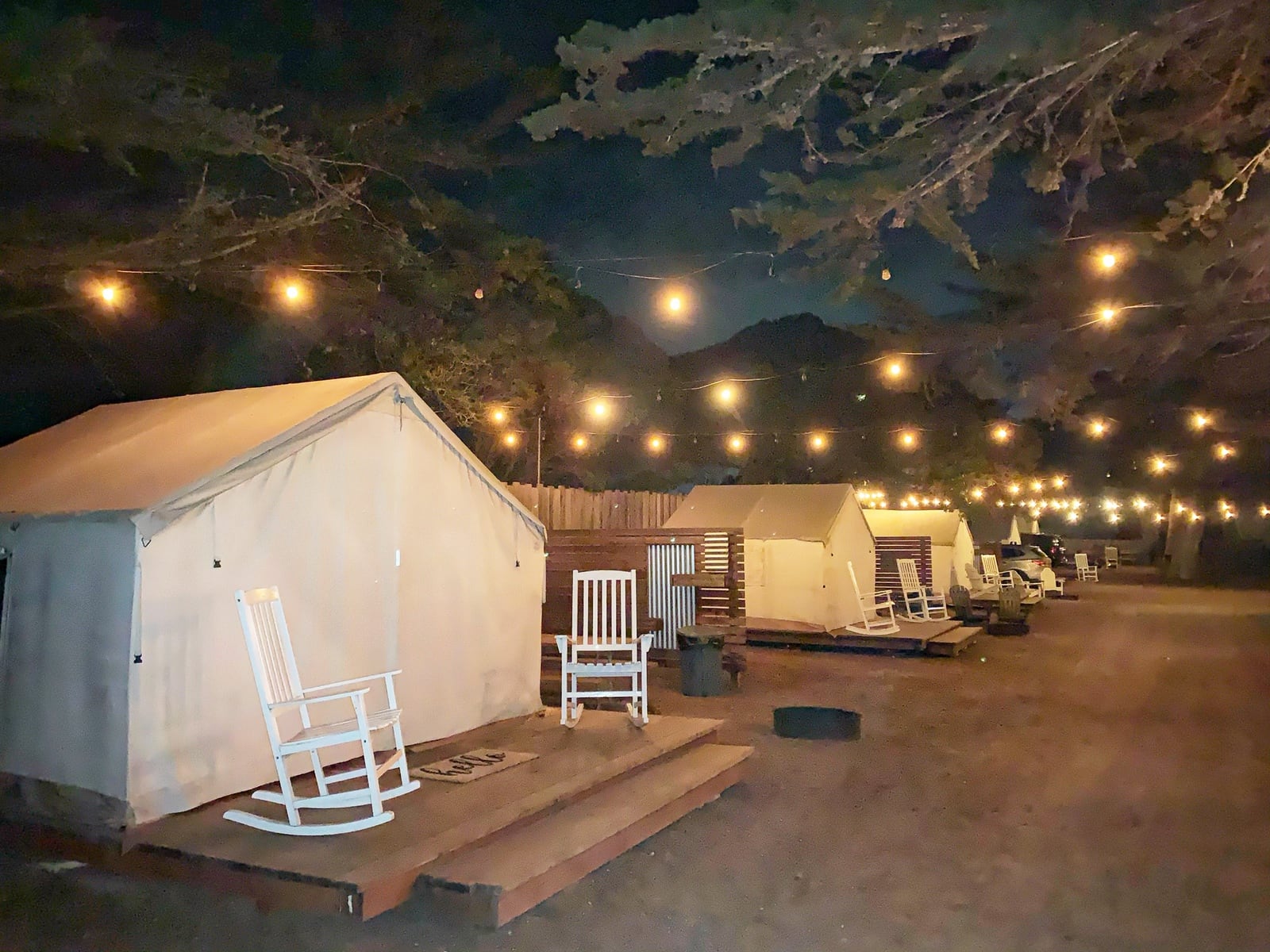 This year, we made Monterey our home base, so we could spend a day in Santa Cruz, as well as explore more areas on the Coast line. We stayed at the Marina Dunes RV resort, and loved our stay there. This is a fun option if you want to do more of that central coast line.
If your looking for something right on one of the beaches, Dream Inn Santa Cruz is a great option. It sits beach front, and is about a 10 minute walk from the boardwalk.  The Carousel Beach Inn is a bit more affordable, and is also beachfront with themed rooms.
If you are looking for the most affordable options, camping at a state park in the area may be your best bet. We also have this list of free camp sites in California if you really want to try to stretch your dollars.
Check out Capitola, especially if you get one of those beautiful beach front spots. Capitola is known for its brightly covered rows of Venetian inspired beach bungalows, and the beach area is beautiful. It is about 10 minutes away from the Santa Cruz area, so makes another great option.
We did also stay at the Marriott Fairfield Capitola one year, and thought it was a very family friendly option too. It is up in town, so no beach view, but does have a pool and all of their rooms are suites (extra room for the family to spread out), and they offer free breakfast. If you can find a deal on this option, and do not mind being up in town it was a comfortable stay.
What to Eat:
Santa Cruz is packed with great options on where to eat. When we rented the cabin, we loved to visit the Farmers Market and cook at home some days. When eating out, here are a few ideas to enjoy.
Eat on the boardwalk. They have some delicious options if you like fair kinds of foods.
If you want great local, fresh and affordable Mexican food, Las Palmas Taco Bar has been serving the area since 1975, and for good reason – it is delicious!
If you want to eat on the beach, check out Zeldas on the beach in the Capitola area. They have more great specials like happy hour deals too.
Want a splurge meal? Consider the Shadowbrook. Not only can you expect great food, but you will also find riverfront dining, cable cars, beautiful fireplaces, and even pick up in classic cars and more!
There are also a number of options on the Warf, especially for some great chowder and more!
Discounts on Santa Cruz Boardwalk Passes:
You can buy all day bracelet passes that will give you access to unlimited rides, and you will usually save the most by purchasing them online ahead of time (but there are lots of ways to save on that, so you do not have to pay full price). Note that you have to purchase your online tickets at least one day in advance (they are not valid for same day visits).
You can also opt to buy a points card, which is a better fit if you want to play the carnival games too.
Groupon is a great place to get discounted Boardwalk Bracelets. They are not always available, but check before your trip. Last year they had an all day bracelet for $31.95 during the February timeframe.
Go on a Weekday if you are visiting during high season– The unlimited ride wristbands are only $34.95 on these days, so plan your visit around one of them to save more.
You can also look at Friday dates, as things wind down for the season. The rides will start to close during the week, but we found rates for $29.95 for some Fridays available when weekends are the only times that rides are open.
Go in the off season. We visited over Presidents Day Weekend in Feb. one year. Since it was a holiday weekend, the boardwalk was open and we got a Buy One Get One Free bracelet deal. Consider planning your trip during the off season, and save big! There will be limited open times, but you will find many cost savings.
AAA Discounts for Santa Cruz Boardwalk. If you are a AAA member, you can save
Check with your employer, many offer discounts for boardwalk wristbands too.
Have you been to Santa Cruz. What are your favorite things to do in the area?
More Articles You Might Like: