KOA Campgrounds – Staying In A Cabin As An Alternative To Hotels When You Travel!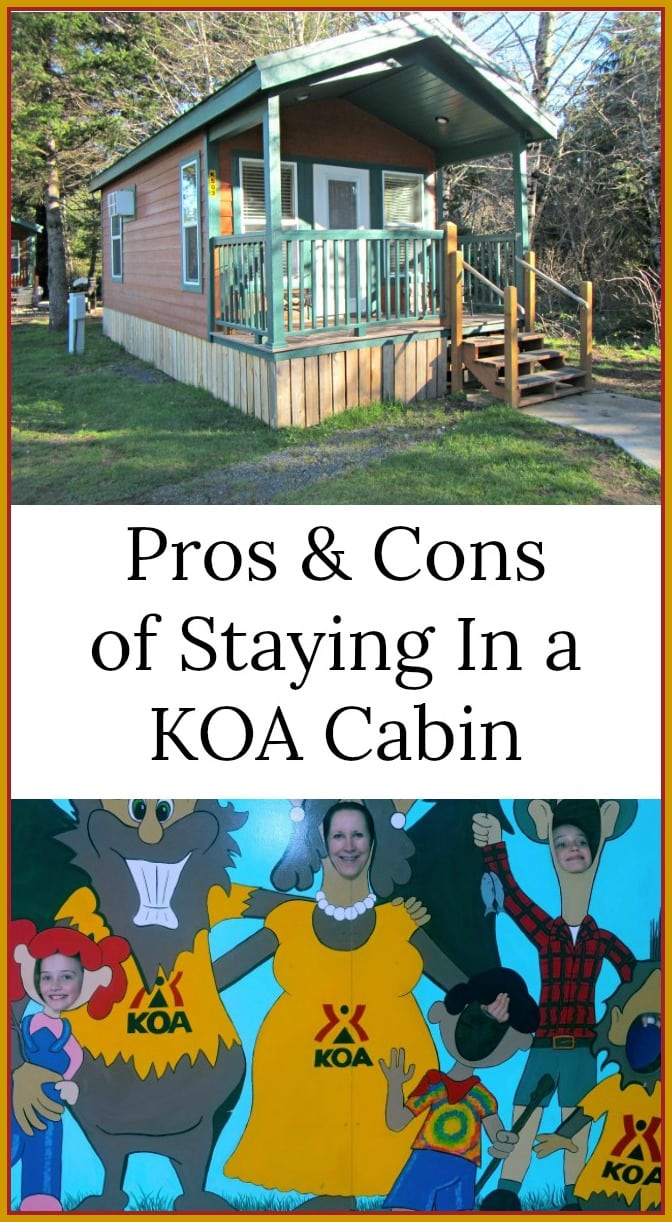 Pros & Cons of Staying At a KOA (can be a good alternative to hotels for families)!
We recently took a month long venture through Oregon and California, and stayed at a handful of KOA's along the way. While we found that KOA's can really vary by location, some of our very favorite parts of that vacation were staying in a couple of the KOA Cabins (verses hotels). We staggered our stays between both, and they were a nice break that often times offered us more room and amenities (again, depending on location).
KOA campgrounds offer overnight stay options for those that want to tent camp, bring their RV, and those that want to stay in cabins too. We are focusing on the cabin aspect in this article, as an alternative to hotel stays.
KOA's are not the only ones who offer these types of accommodations. You can often search RV resorts, or cabins in the area that you want to travel and find more options along these lines.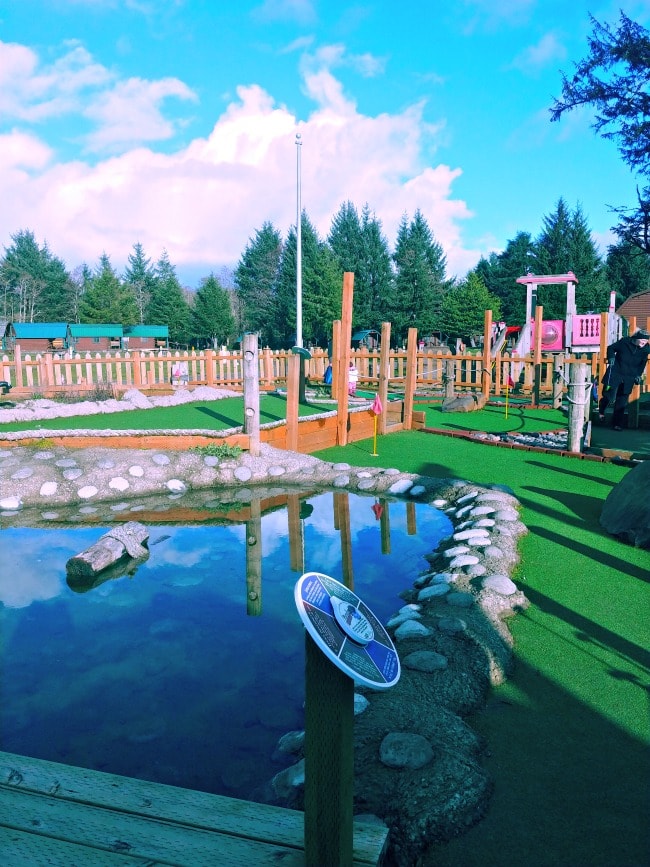 Some things to know about staying at KOA's in general:
Most KOA's are located outside of town (some can be a bit remote). For example, the KOA in Warrenton that we stayed out, comes up in searches for KOA Seaside. Warrenton is actually around 15 miles from Seaside. It is not a bad drive, and there is often plenty to do on the KOA grounds, but it is important to know that you most likely will be staying 10 to 15 minutes from the main city area, and make sure that works for your travel style.
Not all KOA's are created equal! There are actually different categories of KOA campgrounds: KOA Journey, KOA Holiday and KOA Resort. We will break down what each of these mean below, but there can even be lots of variance between these sites, so your best bet is to check it out online, and be sure to Google reviews, to get a good idea of what the location you are interested in might be like.
KOA Kampgrounds – some of the KOA sites simply go by the title Kampgrounds. We found these ones where often smaller, and had simple amenities. We enjoyed some of these stays too, so do not let that scare you off, just be sure to check out reviews to see if its a good fit for you.
The KOA Journeys are another basic option. These are often located near highways, and are more geared towards folks who are traveling through and need an overnight spot. They will have fewer amenities then the Holiday or Resort locations, but can still offer much for families to enjoy.
The KOA Holidays are the next level up. These offer more amenities and things to do for the family. They will often be a bit larger too, so more sites to book.
The KOA Resorts are at the top of the list, and these have always been fun for our family so far! These ones will often cost more, and may have a nightly resort fee added on. In popular travel areas, they can cost as much as staying at a resort (San Diego for example) and can book up far in advance of your stay dates. These often have nicer pools, jumpy pillows, sometimes restaurants and game rooms, stores, and special activities (like bike rentals, outdoor movies, etc.).  They may also offer more premium cabin options too.
Regardless of the title of the campground, there can still be great variance (for example one Journey Kampground may not have a pool, but have a lake with boat rentals, while a regular Kampground may offer a family pool). At the end of the day, check out the specific locations website to see the list of things to do that they offer, and check up on the reviews of the site. We learned quite a bit about KOAs we were looking at by checking out reviews prior to staying.
Not all KOA accommodations on the campground are created equal. If you have your own RV or tent, and are planning on camping you may notice a difference in actual quality of sites (resorts do offer premium tent sites, more pull through sites for RVs, better shade, and those kinds of things). There is also a big difference in the quality of different cabins (and they are priced accordingly). Even among the same cabin style there can be differences in location. For example, in some locations the basic cabin will include heat and or air conditioning, but in others it will not. We did have to cancel one location because they had a heat wave, and the cabin we booked had no air conditioning.
It is also important to note that some cabins included linens (bedding and towels), while others require you to bring your own. Those are all factors you will want to consider when booking your stay.
Pay attention to extra fees! This one is important, because there was a time or two that we thought we booked a great deal, but after the extra fees it was not such a great deal. Sometimes we got away with no extra fees too, so you need to pay attention to all the fine print when reserving to know what your real cost will be.
For example:
Some locations will charge you extra for kids – even if the cabin you are booking provides accommodations for 6 people (for example, you may only be paying for 2 adults when you reserve online, and they will charge you extra for the kids when you get there).
Some locations have an extra nightly resort fee (these ones often have lots of extra amenities).
Other examples of extra fees include pet fees, and extra vehicle fees, etc.
It is important to look around and compare prices. Although they can offer great deals, staying at a KOA will not always save you money over a traditional hotel stay. We stayed in a few locations where we could have gotten a better deal, but we booked for other reasons (for example, a cabin with a loft space, so the kids would have their own space and we could have ours. Plus we liked the amenities that the KOA in that area offered.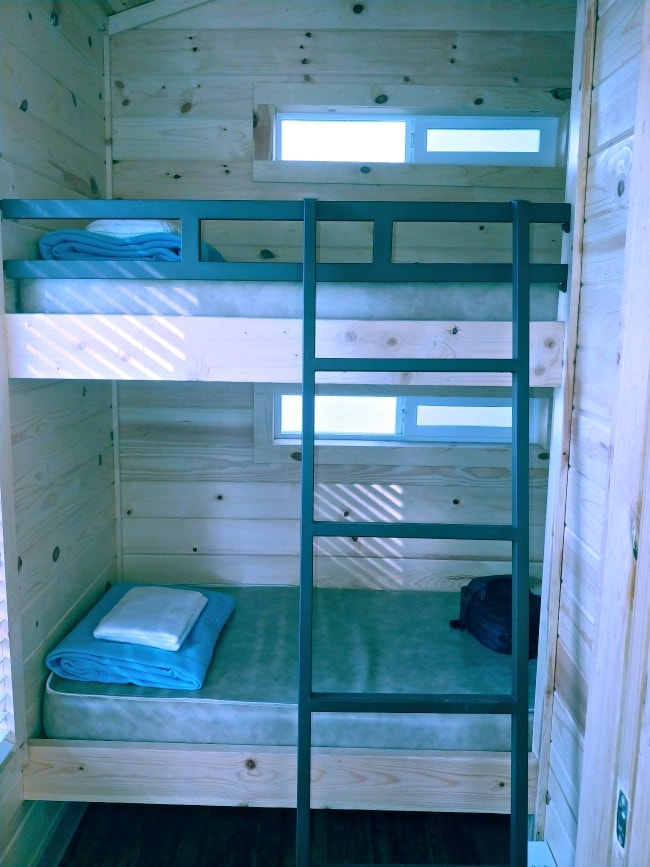 What we love about staying at KOA's:
Extra room for the family versus the hotel rooms we stayed in.
That feeling of being in the outdoors, light and bright cabin spaces, decks to relax on, fire pits to roast smores at, etc.
The extra things to do at some locations. It made it so we could often plan a down day, just staying at the KOA, but there was still plenty for the kids to enjoy.
They are often a great home base if you want to explore multiple attractions or sites in an area you are visiting.
There is generally a store right onsite. This is convenient if you want to build a fire or make s'mores, and do not want to have to pack all of those things with you.
Many cabin options provide linens, so you can get that camping feel even if you flew into a destination, or do not want to pack sleeping bags, etc.
It can be a more affordable option (it is not always, depending on what and where you stay though), and they provide lodging options for different price ranges (ie camping, RVs, Rustic Cabins, and fully equipped cabins)
What we don't love about staying at KOA's
Cancellation policy (pay attention to these, they are not always very flexible)
Extra fees (especially when they want you to pay extra for kids when you book a cabin that sleeps more then you have in your party)
Location in some instances (that they sit further away from the popular tourist areas most often)
Ways to save staying at KOA's:
KOA Rewards program – This is a card you have to pay for, so this will not make sense for everyone. The cost of the card is $30, and you will save 10% off your stays. We found that it generally covers the cost of tax. We were able to recoup our cost from two stays, and since we had more than two stays booked for the summer, it made sense for us to get it.  You will also get a free night of camping during Value Kard Rewards Appreciation Weekend at participating KOAs. This is a buy one get one free night offer for a specific weekend in September. You will want to make sure that you will either use the free night, or you have enough stays planned to recoup your $30 investment for this one to make sense for your family.
Reserve online to save 5% ahead of time – the other thing about this that is nice is that you can then manage your trips online, so it is easy to keep track of.
Check out other booking sites they may advertise through (and use their discount programs). For example, we found KOA cabins on the Glamping Hub site. They are not advertised as KOA cabins, but we were able to figure it out by the location, cabins and amenities. You can compare prices to see if they might offer a lower deal or not. Be sure you check both sites though, because often the KOA site will list the lowest price.
Stay during the off season – many sites offer discounts and lower rates during their off seasons, and then will raise rates during their peak season. The downside to this strategy is that sometime different amenities will be closed during this time. For example, we recently stayed at a KOA resort that had two pools (one outdoor and one indoor) and a restaurant among other things. We got a great rate, but the restaurant is closed seasonally, along with the outdoor pool, and the indoor pool was closed for repairs. You can call the KOA prior to booking to find out what might be closed during your stay dates.
Get on their email list, so you are notified of savings opportunities. We recently received an email offering $25 off per night at one of our favorite locations if we book during the Spring.
Stay when they offer Special Weekend rates:
Care Camps Weekend – these are in May, and if you pay for one night you get the second for $12
Fathers day weekend – Kids stay free this weekend
VKR Appreciation Week – You will need to be a rewards member, and then you can stay one night and get one free this weekend in September
Have  you stayed at a KOA before, or similar camping resort? What are your thoughts?
Other articles you might be interested in:
Using Glamping Hub to book tree houses, yurts and other fun places to stay!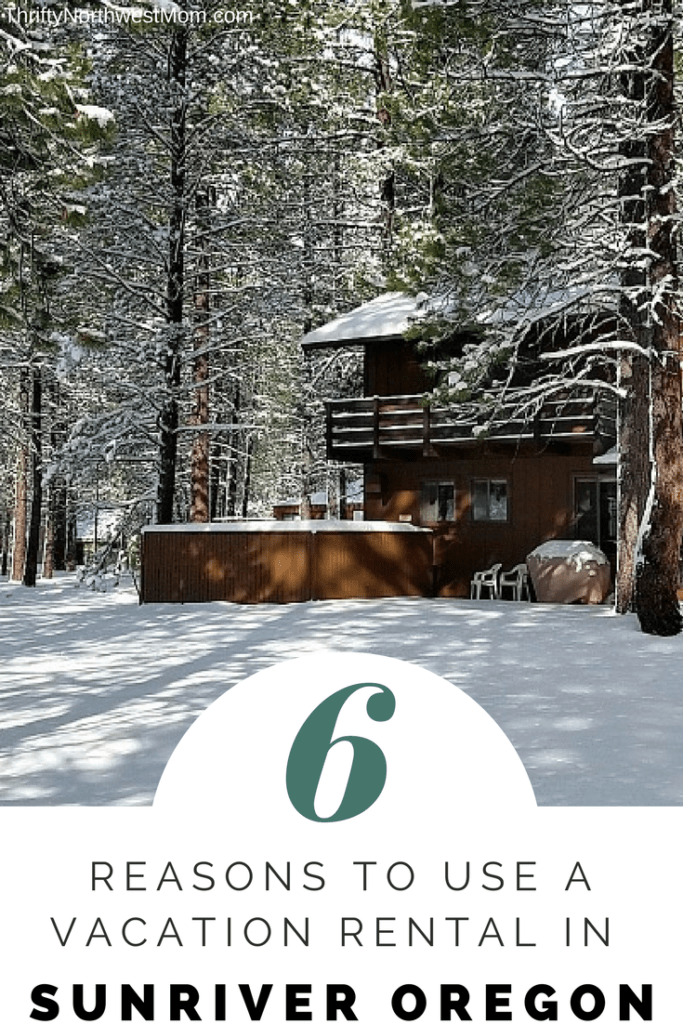 6 Reasons to use a Vacation Rental (and booking with HomeAway)