How To Make Homemade Pizza – Tips To Save On Great Tasting Pizza!
This post may contain affiliate links and I may be compensated for this post. Please read our disclosure policy here.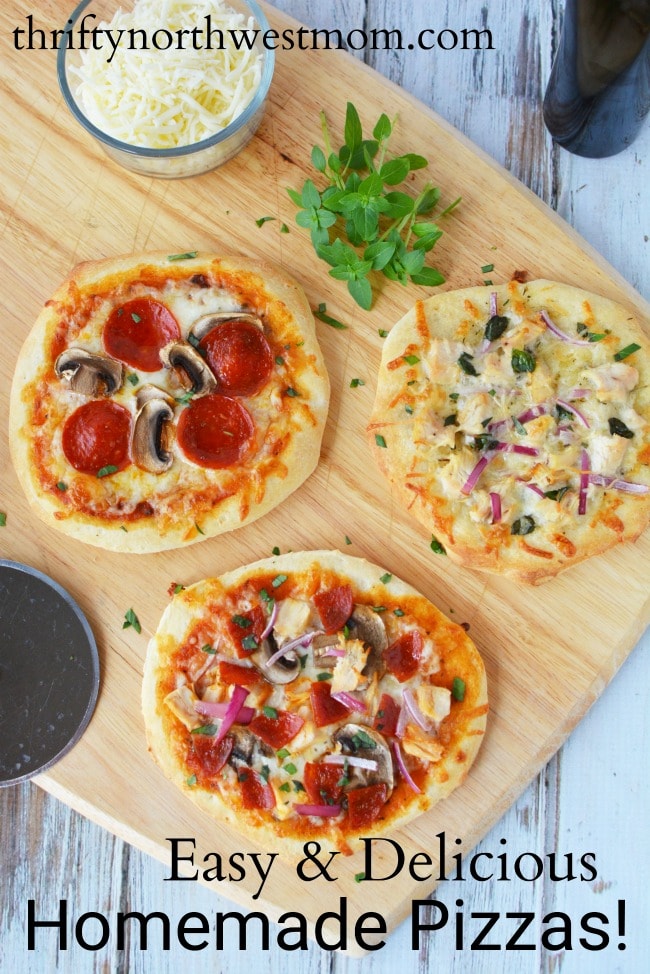 Easy Pizza Recipes – You Don't Have to Make EVERYTHING From Scratch!
My family loves pizza, and making homemade pizzas is a super way to use up leftovers! Plus, its an easy weeknight meal when you do not want to have to cook a big meal, or great for parties when your trying to feed a larger crew on a budget. I have a few tips on how we make homemade pizzas for everyone, that are affordable and simple to make.
Pizza can be a great weeknight option, as they are quick to make. They also are fun for entertaining. My kids love to make their own, so you can set out a toppings bar, and let everyone make their own personal pizzas (less work for you too).
The most time consuming part of making pizza at home can be the crust. Either it can take awhile to make, or buying many pre-made pizza crusts in the store can be expensive. Here are a couple of options my family uses, that are quick, affordable and most importantly they taste good! If you need a pizza pan, you can find all kinds of sizes here.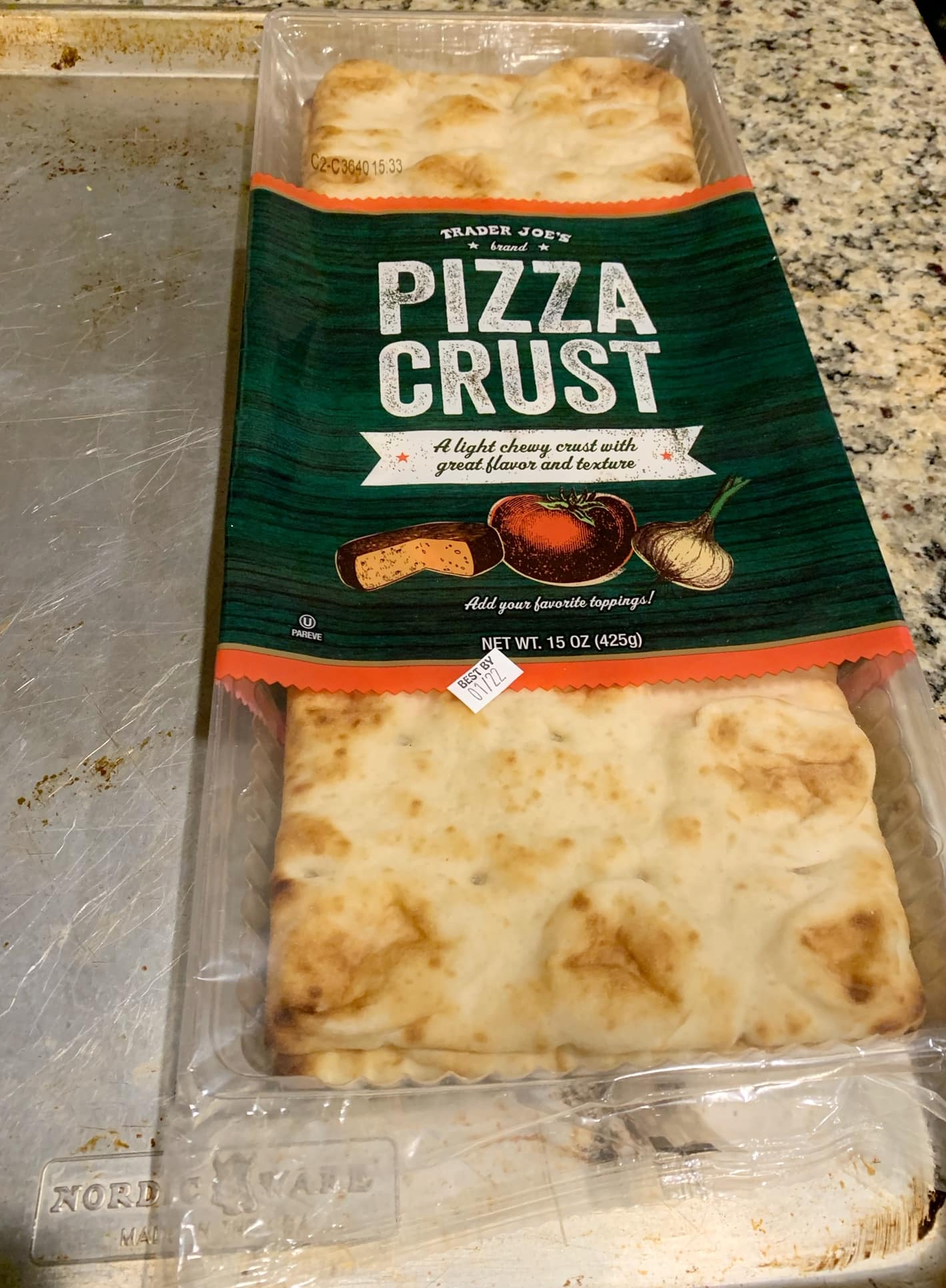 Pizza Crust (Affordable and Easy Options):
There are a handful of crust options that will not require you to make the dough completely from scratch (although if you are good at that, then that is always the tastiest). Here are some of the shortcuts we like to use for pizza dough.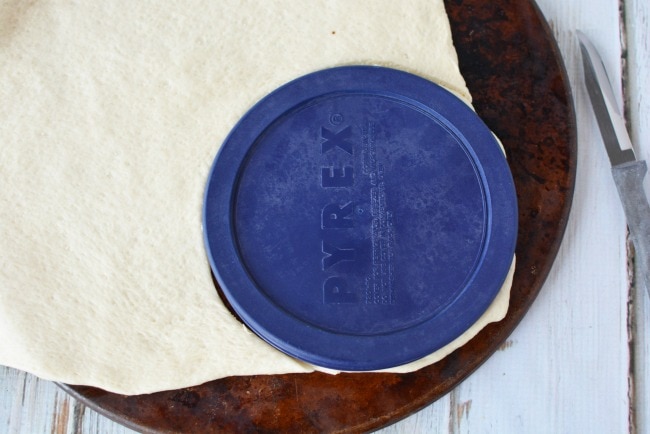 You can use any kind of pizza dough you find in the refrigerated section (or freezer section, and then thaw).  We simple use the lid to our pyrex bowls (but any round lid should do), to cut out personalized size pizzas.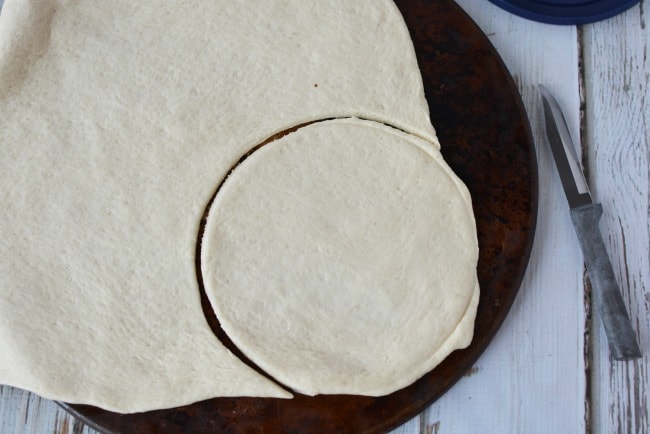 Just press the lid down and cut around it, and it will give you the perfect size personal pizzas.
I love to do the smaller pizzas, as everyone can decide what they want on their pizza individually. Other affordable pizza crust options include –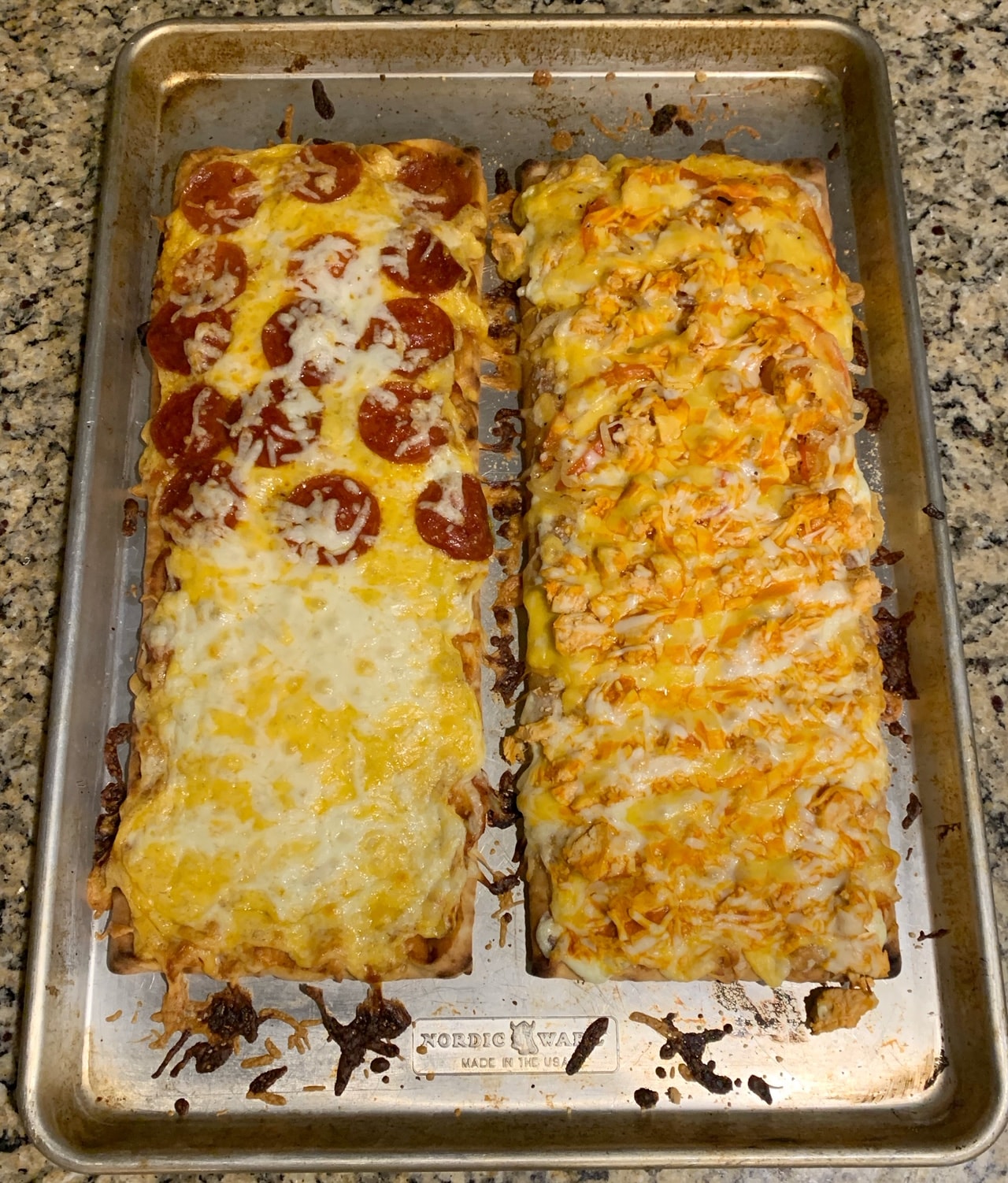 Trader Joes Pizza Crust – They have a few I love
I recently discovered these packages with already made pizza crust, in rectangles. It is only a few dollars, and you can freeze this. This is one of my new favorites, as I can make 4 different kinds of pizzas on two crusts, and keep everyone happy. They tasted good, and I love that I can have something on hand in the freezer to quickly make a pizza everyone will like.
They also sell pizza dough that is only $1.19 (one of the best deals around on pizza crust)! This dough is so budget friendly, and makes what I would consider a medium size pizza. I like to grab a couple packages of this dough to make a few pizzas and put out for the family. Plus, they have three different kinds you can choose from – regular (plain), garlic herb and whole wheat. Did you know you can freeze pizza dough too, so this is a great option to buy and keep in your freezer for later.
Use the Grecian Delight Pitas – these are one of my go to pizza crust options for busy nights. I really like the way they taste, and they are really easy to freeze so you can take out just the number you want to make for the evening. They are not a raw dough, so they are also really easy for kids to add toppings too. I buy my bags at Costco and divide them into three servings and Freeze (then just pull them out of the freezer on the day you want to use them!).
Rhodes Frozen Rolls – I generally take out three of the rolls per personal size pizza, or two of the texas rolls or one loaf of bread for a larger size pizza (although their recipes call for half that). Put them out to thaw, and once they are thawed you can stretch them out like pizza dough. You will want to spray the pan or dish you are cooking with to make sure it does not stick to the bottom. I have some personal size deep dishes that I like to make the Rhodes rolls pizzas in. I find it easier to work with this dough if I have a dish I can spread it out over and press up against the sides (don't forget the cooking spray though, or they will stick and be tough to get out.
If you are looking for Gluten Free pizza crust options, Amazon is a good spot to find those at good prices.
Cost Effective Pizza Sauce Ideas –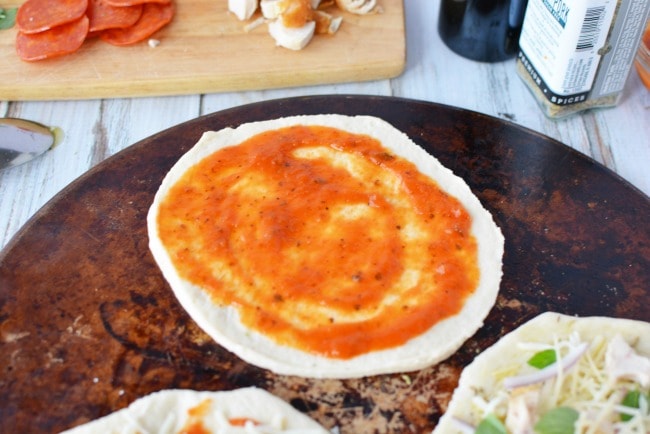 Topping Ideas for Homemade Pizzas: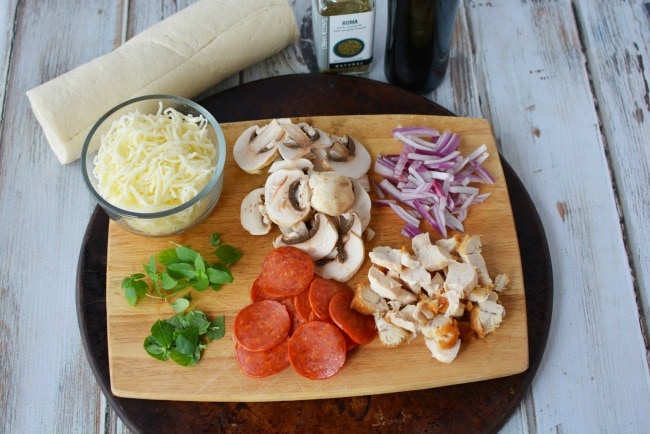 The best savings tip here is to use left overs! If you are making pizzas from scratch and have to go out and buy all of the items need (crust, sauce, cheese and various toppings) it can really add up. However, if you save leftovers that can also make great pizza toppings and freeze them, then it can be very affordable. Since toppings stretch on a pizza, it does not have to be large amounts to freeze either. If I have just a few pieces of sausage for example, I will freeze those. Once you cut them up a few pieces will stretch across a couple of personal sized pizzas.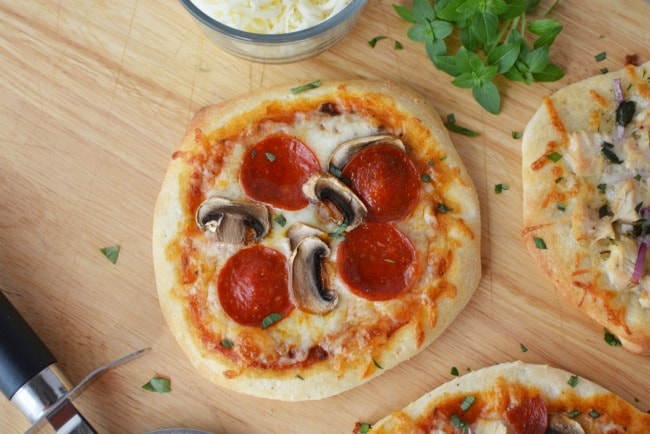 Some leftovers I love to freeze for pizza later on:
Leftover bacon from breakfast or other recipes
Leftover Sausage from breakfast or other recipes
I will also like to plan to make homemade pizzas after we have tacos. I generally have leftover diced onions, tomatoes and olives that go great on pizza! That way you can use your leftovers to make a completely different meal!
Pepperoni
Canadian Bacon
Rotisserie Chicken (If you have leftover chicken from a whole chicken meal, shred it and freeze it. There are some great recipes for gourmet pizzas made with chicken)!
Leftover Ham
Leftover Meatballs (thaw them out and crumble up over a red sauce pizza)!
Canned goods or packaged items you can buy on sale and have on hand in cupboards for pizza night: 
Pineapple
Black Olives
Roasted Red Peppers
Sundried Tomatoes (I like to buy the package at Trader Joes – its very affordable)
Artichoke Hearts
Mushrooms (although I have a strong preference for fresh sliced mushrooms)
Jalepenos
Veggies & Herbs: 
When it comes to the veggies and herbs I prefer to use most of these fresh. What I do is generally come up with recipes around items I have on hand in my fridge. Here are some ideas of ones that work well on pizzas.
Diced or sliced onions
Diced or sliced tomatoes
Bell Peppers
Mushrooms
Cilantro
Basil
Cheeses: 
The most popular cheese to use is mozzarella cheese, but I love to use the Mexican Blend of shredded cheese at home. I often have a bag of that on hand, and the kids seem to love it. Depending on the pizza recipe you are making though, there are many cheeses in addition to Mozzarella or a cheddar and white cheese blend. Here are some more ideas.
Mozzarella (or an italian blend)
Mexican Blend (Cheddar and a white cheese)
Asiago
Feta
Parmesan
How to make great Homemade Pizza: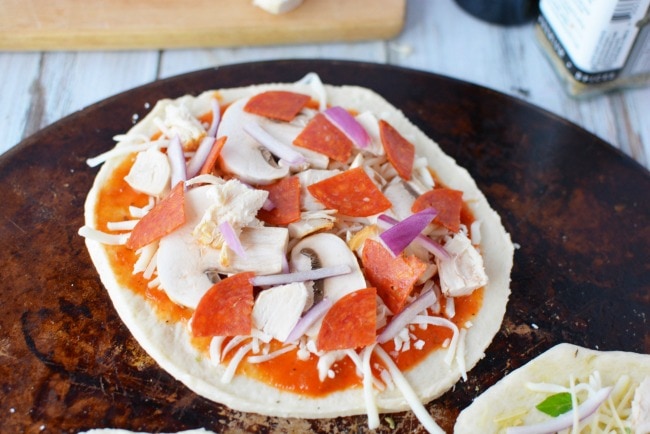 Once you have your crust ready, put it on a pizza stone or pan that is oven safe.
Add a nice dollop of sauce on top.
Then add a layer of cheese and your toppings, and then sprinkle a bit more cheese on top.
Bake at 350 for approx. 12 minutes (or per your pizza crust directions – I watch for the crust to be golden brown and cheese bubbling).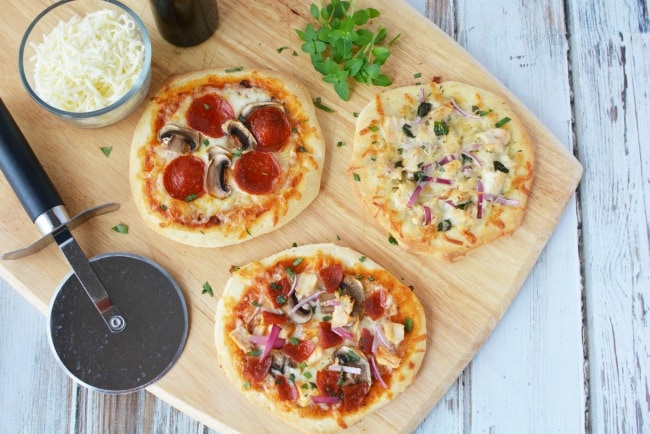 Remove from the oven, and use a pizza cutter to slice it up and serve!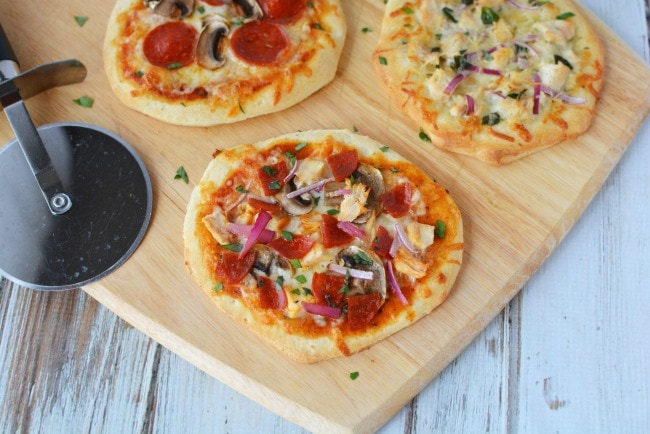 Favorite easy pizza recipes for more inspiration: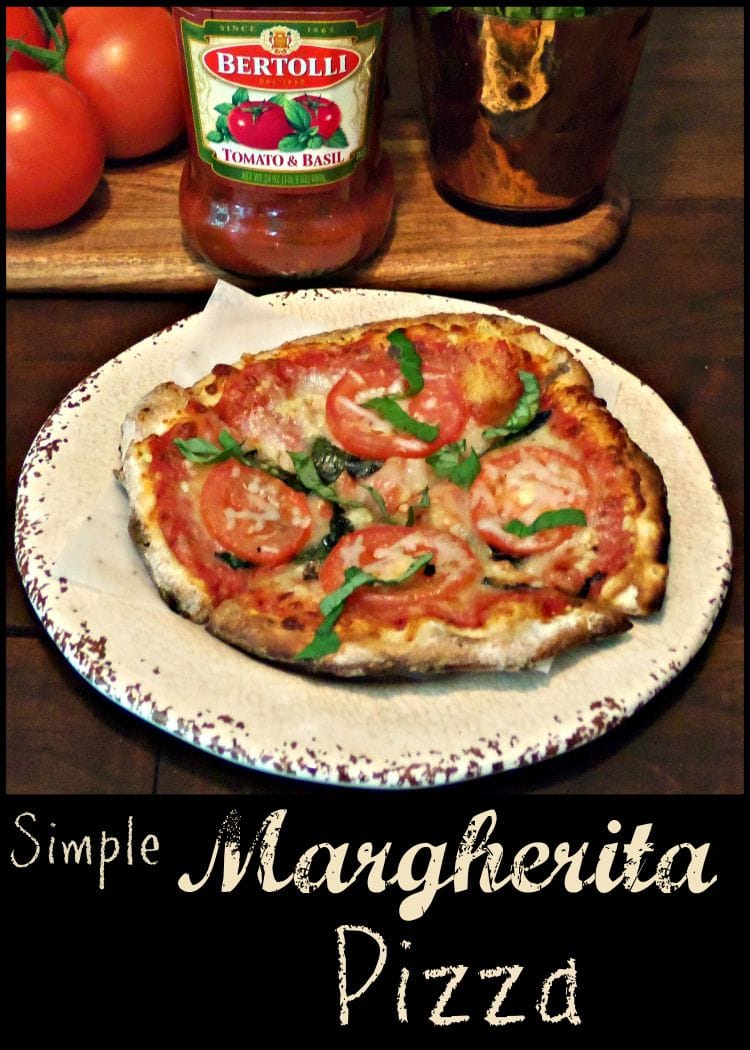 Easy Margherita Pizzas (tomato, basil and mozzarella)