Margherita Pizza Recipe – Simple Yet Packed Full of Flavor!
This post may contain affiliate links and I may be compensated for this post. Please read our disclosure policy here.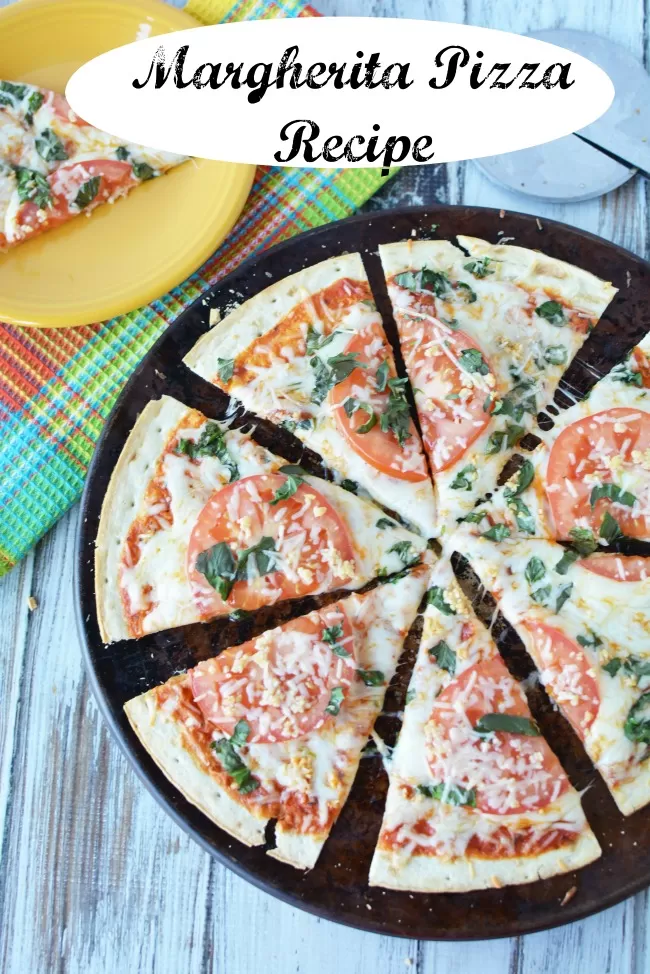 Margherita Pizza Recipe with Basil
Margherita Pizzas (Tomato, Basil and Mozzarella Cheese) are one of my favorite pizza recipes! I love it because its easy to put together, and just uses a few affordable ingredients, so it's not expensive to make. This recipe is a great one to use both on busy evenings as well as to entertain friends. Even though their are on a few ingredients, this pizza packs alot of fresh flavor. It is especially great to make if you have your own tomatoes you have grown this year.
Like many of you, weeknights can get busy at my house. There are sports practices, school events, homework, housework and so much more going on. It can be really tempting to grab dinner on the run, so I am always looking for easy and delicious recipes I can put together easily on those busy nights. My kids range in age from early elementary to high school, so with everyone running in different directions, having dinner at home is one way we use to keep us all connected during busy times.
To stick to this dinner routine, I have put together a list of simple recipes to use when I am too tired to make a big family meal, and this recipe is one of those. Personal sized homemade pizzas are a hit with the whole family at my house. I love this option for many reasons:
When the kids hear pizza they get excited for dinner
Mini pizzas can be affordable and very simple to put together when you use some shortcuts (like a jar of Bertolli® Pasta Sauce as the sauce base)!
I can make them ahead of time and cook when it's time for dinner or they take a very little time to assemble on the fly when you are prepared with the right ingredients on hand.
They save us money (and are generally healthier) than eating out
Dinner time is a tradition at my house. Ever since having kids, I have cooked the majority of our meals. Since cooking is important around our house, you can imagine that taste is also important. We do not do a lot of freezer or prepared type of foods, so we have acquired a taste for fresh tasting food. That is why I especially love the Margherita Pizza recipe. It allows me a quick go-to meal for evenings I am tired, but it does not sacrifice any of the taste of great food that has simmered in the kitchen all day.
I recently discovered Bertolli® Pasta Sauce's Taste of Italy line, and specifically their Tomato and Basil Sauce from this line at my local Kroger store. It's the perfect foundation to use to build this pizza off of. It saves time and is delicious!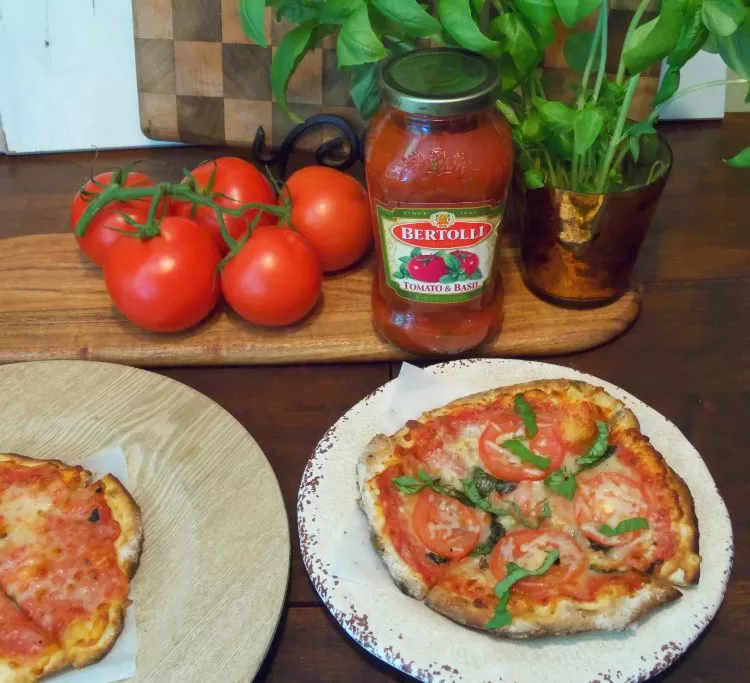 One of the reasons that I love the simplicity of the Margherita pizza recipe is that it reminds me of a more rustic style pizza that I imagine I might find if I was visiting someplace like Tuscany. I love the idea of using a thin crust with this pizza and once I sip on my favorite red wine with it, I feel like I am having a gourmet meal, and not just take out pizza. Although the flavors are simple on this pizza, they are really pronounced (the basil and garlic really stand out with each bite). I had been struggling to find a sauce I liked for this pizza that did not take away from those flavors, so when I discovered the Bertolli® Tomato and Basil sauce, it blended perfectly with the other flavors of this pizza, rather than competing with them, but you really can use any of your favorite pizza sauces with this recipe though.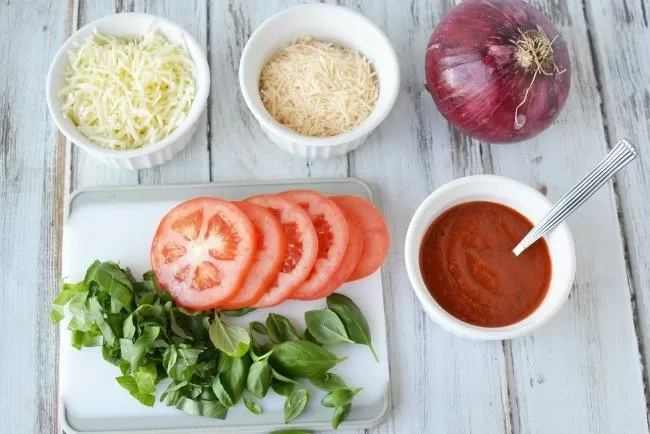 Gather your ingredients.  Check out our homemade pizza recipes post here for ideas on what crust to use.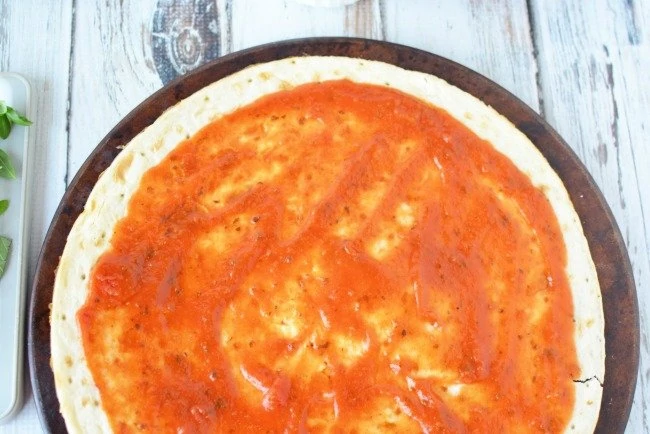 Lay your pizza crust out on a baking stone or pizza pan.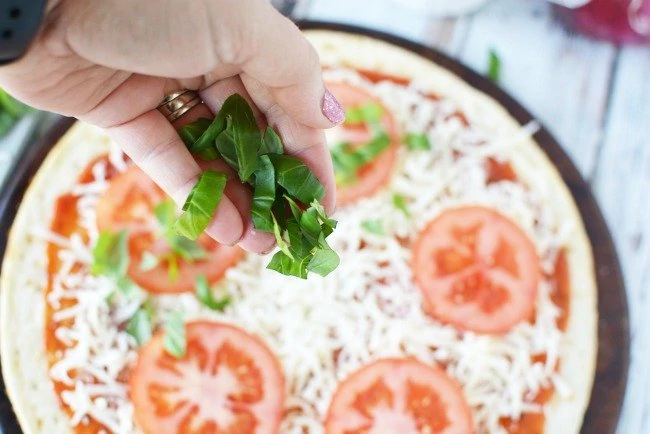 Top with the cheese, tomatoes and basil.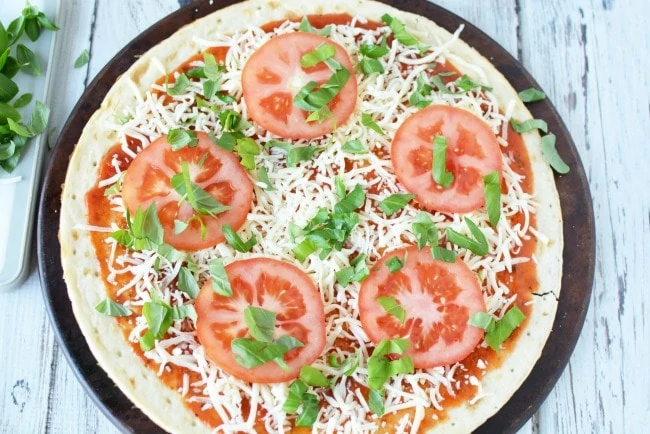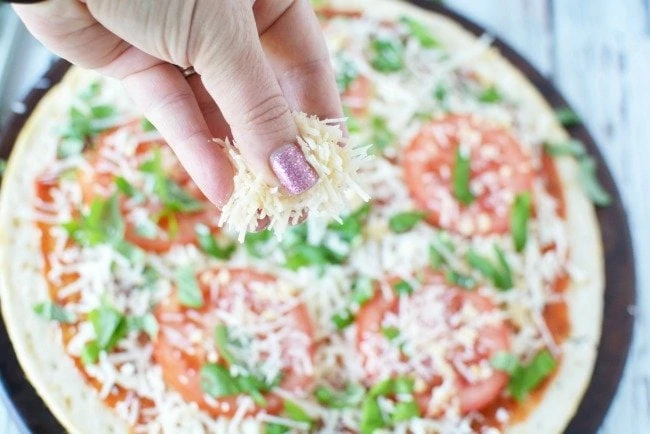 Sprinkle a top layer of Parmesan cheese on.
Its ready to bake!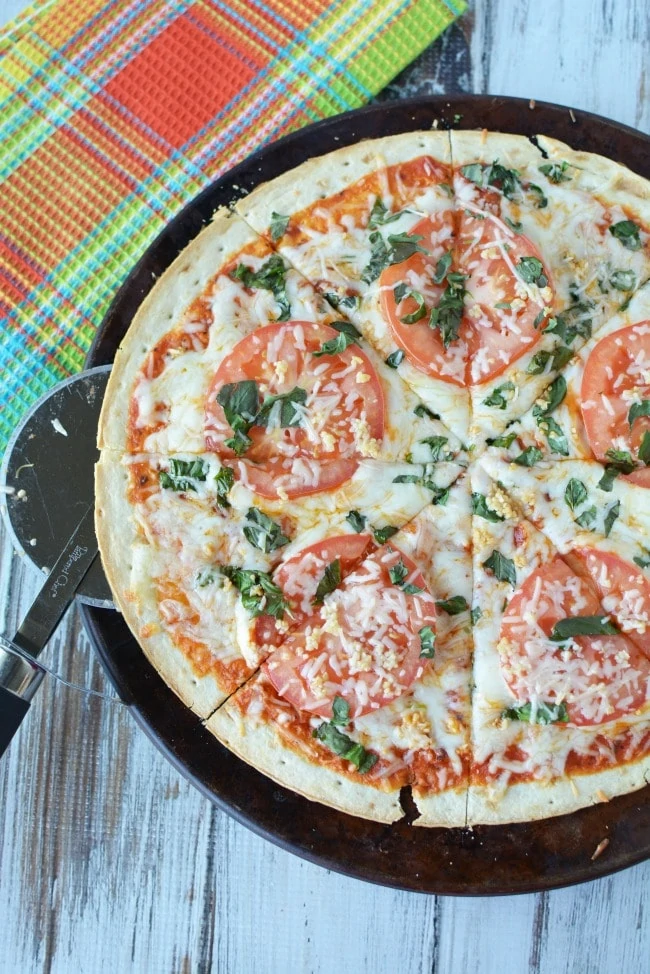 Bake at 375 for 10 to 12 minutes.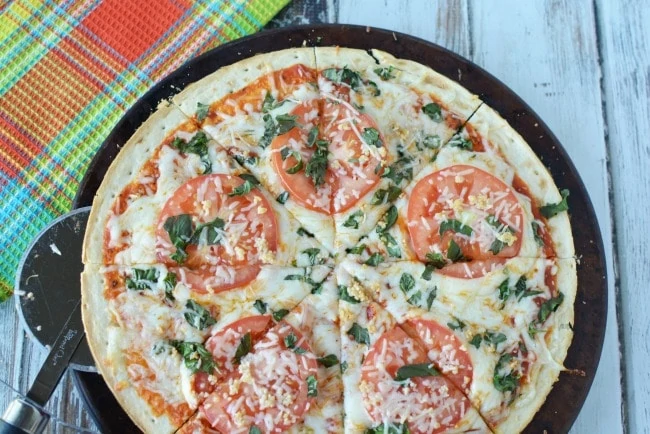 Cut it into slices and serve!
Simple Margherita Pizza Recipe:
Print
Margherita Pizza Recipe with Bertolli Pasta Sauce!
---
Description
These ingredients will make you a personal size pizza. You can triple them for larger family size pizza
---
1/4 cup

Bertolli® Tomato and Basil Pasta Sauce
Your favorite Pizza Crust

1/2

to

1

cup of Mozzarella Cheese (can use sliced fresh or shredded Mozzarella), depending on how cheesy you like your pizza)
Sliced Fresh Tomatoes (4 slices)
Fresh Basil Leaves roughly chopped (approx. three lives per mini pizza)
Fresh Diced Garlic (optional), to taste (approx. 1 tsp)
Asiago Cheese (optional), 1/4 cup
---
Instructions
Get your pizza crust laid out
Add the Bertolli® Tomato and Basil Pasta Sauce
Next add a layer of the Mozzarella Cheese
Add sliced tomatoes on top of cheese
Add basil next
Top with diced fresh garlic and Asiago cheese for additional flavors if you want
Bake according to your pizza crust directions (generally around 375 for 10-12 minutes)
Recipe Card powered by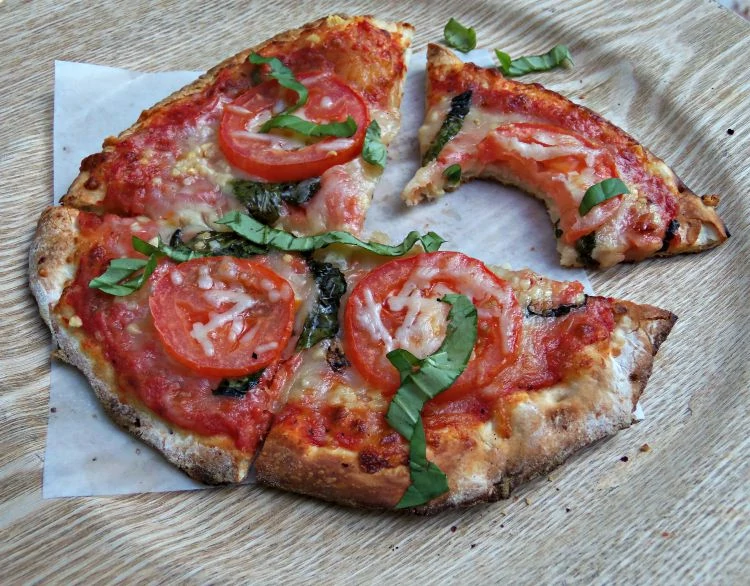 I wish I could share the smell with you. The garlic and basil have filled my kitchen with an amazing home cooked meal smell that I could not resist any longer. I had to steal a bite before I even finished taking pictures to share with you. I love this pizza as the depth of taste is amazing for the very few ingredients it requires!
If you have picky eaters, the Bertolli® sauce is perfect for many different pizza recipes, and tastes great with a simple cheese pizza too. My kids love their cheese pizza, and the flavors of this sauce blend perfectly with it, especially if you are using white cheeses (like Mozzarella and Asiago)!
More Recipes You Might Like: