Loaded Potato Skins Recipe – Easy Appetizers for Game Day Spreads!
Loaded Potato Skins Recipe
If your looking for a party pleasing recipe for your Superbowl party, these easy to make potato skins are always a hit!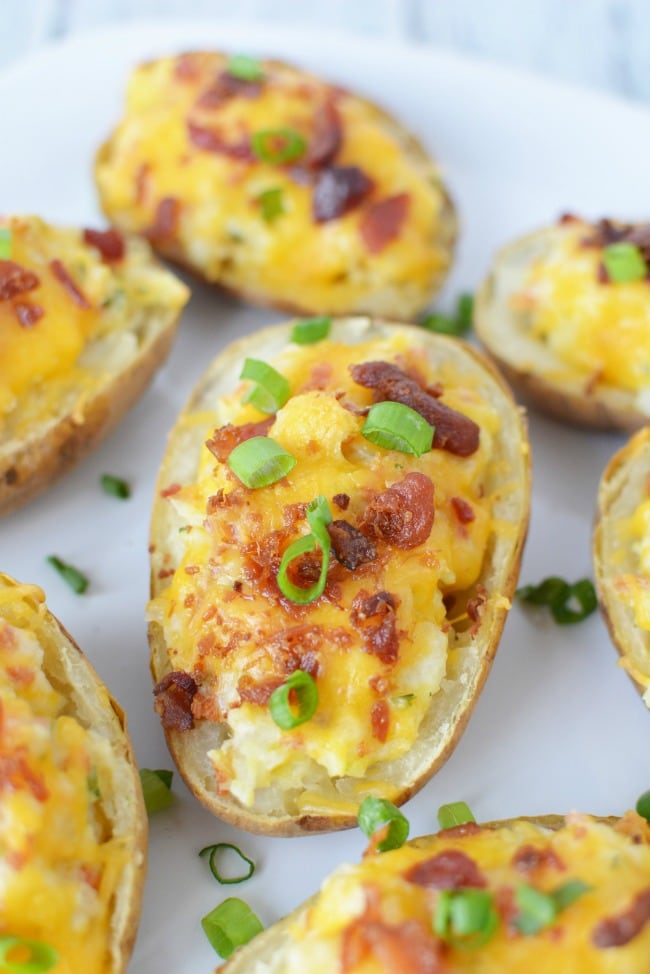 My husband loves appetizers on game days, so he can snack his way through football! These are one of his favorites, and this potato skin recipe is fairly easy. It requires a couple of steps, but you could bake the potatoes a day ahead of time, so they would be very easy to assemble and heat through on the day of the game! This makes a cheese and bacon potato skins recipe, but you could easily substitute cheeses for a more smokey flavor too.
Be sure to follow us on our 12th Man Pinterest Board too, for more recipe inspirations as well as a free printable set for your Seahawks Game Day decor, or we have this round up of 25 game day recipe ideas here too.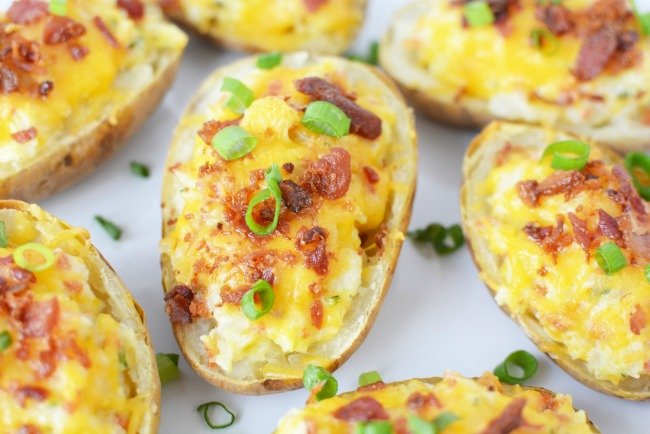 These are packed with lots of flavor, and the trick is to mix in a potato toppings to get that extra flavoring.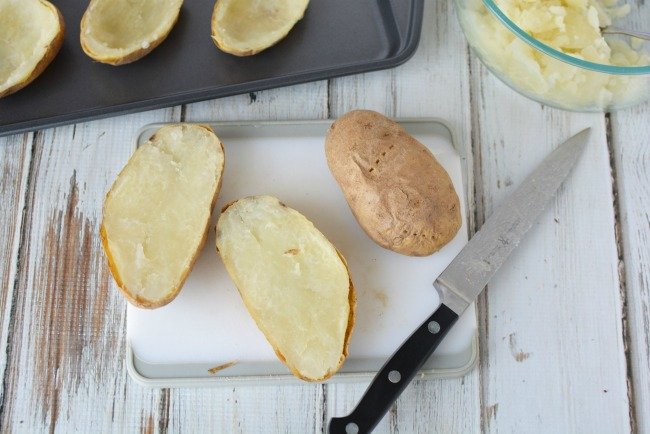 Bake your potatoes, cool and slice.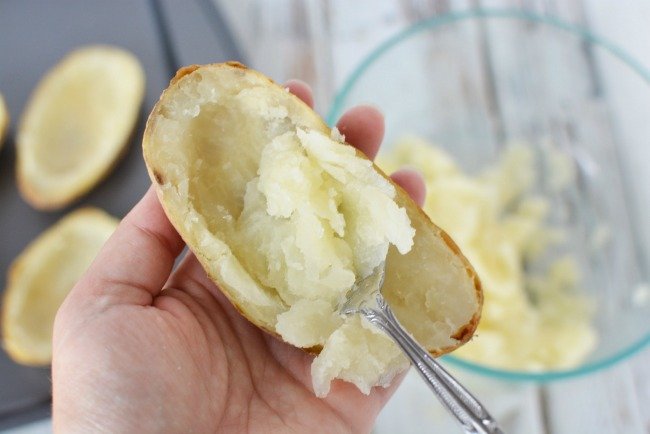 Scoop out the inside, and reserve in a bowl (you will put it back in). Be sure to leave enough around the outside, so the skins hold up.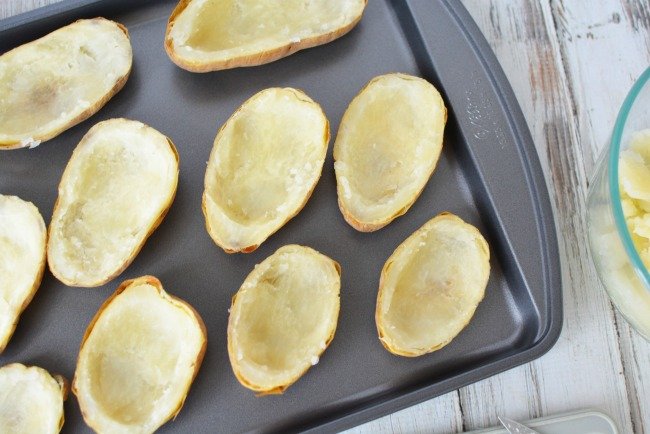 Place the potato skins on a baking tray.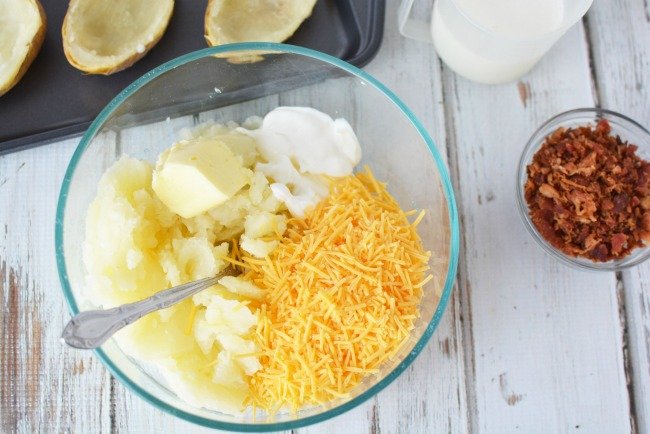 Add in the potatoes, cream, butter and cheese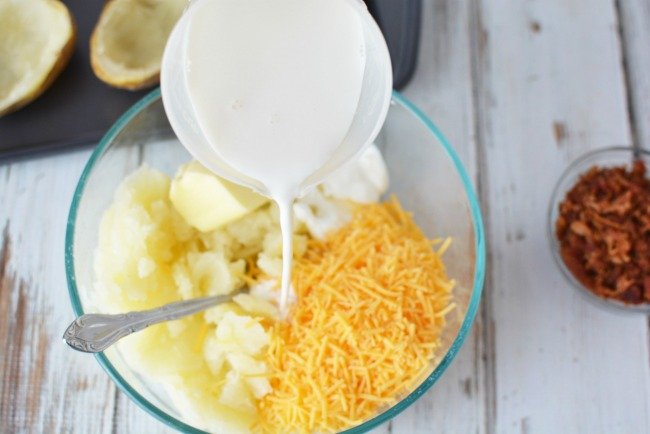 And mix it all together.
Add in the package of potato topping seasoning.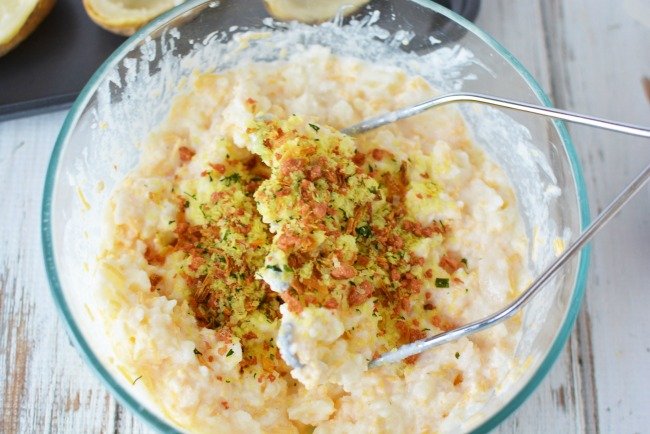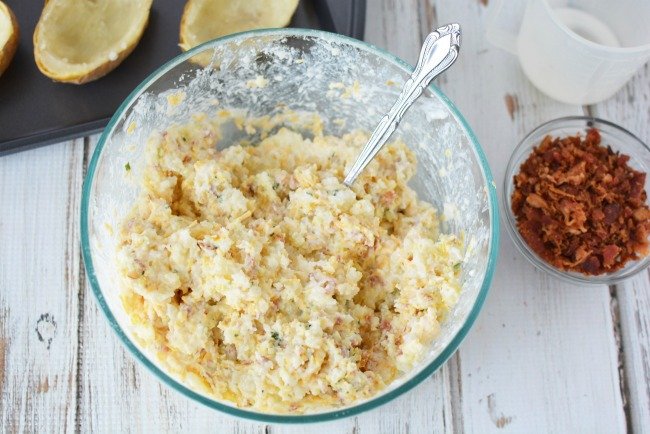 Stir up all together.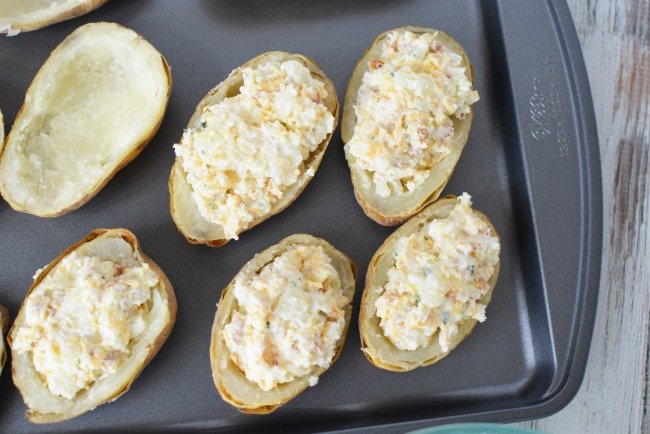 Scoop the filling into the potato skins.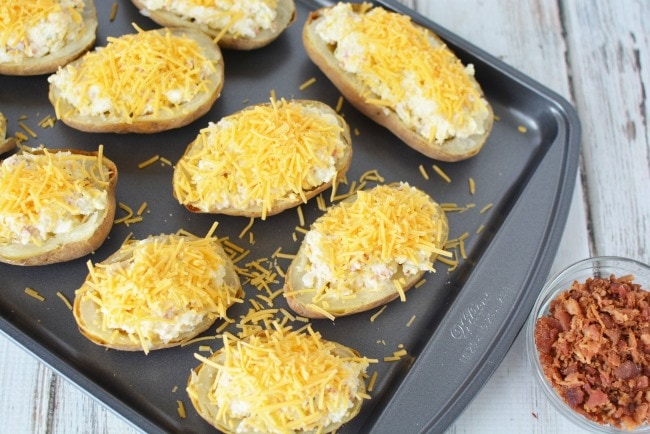 Sprinkle shredded cheddar cheese over the top.
Top with bacon bits.
Bake at 350 until warmed through, and cheese is melted.
Garnish with sliced green onions.
Serve on a platter for all to enjoy. I like to put out a bowl of sour cream so folks can add a dollop of that to their potato skin too if they want!
Here are a couple more ideas for your football party: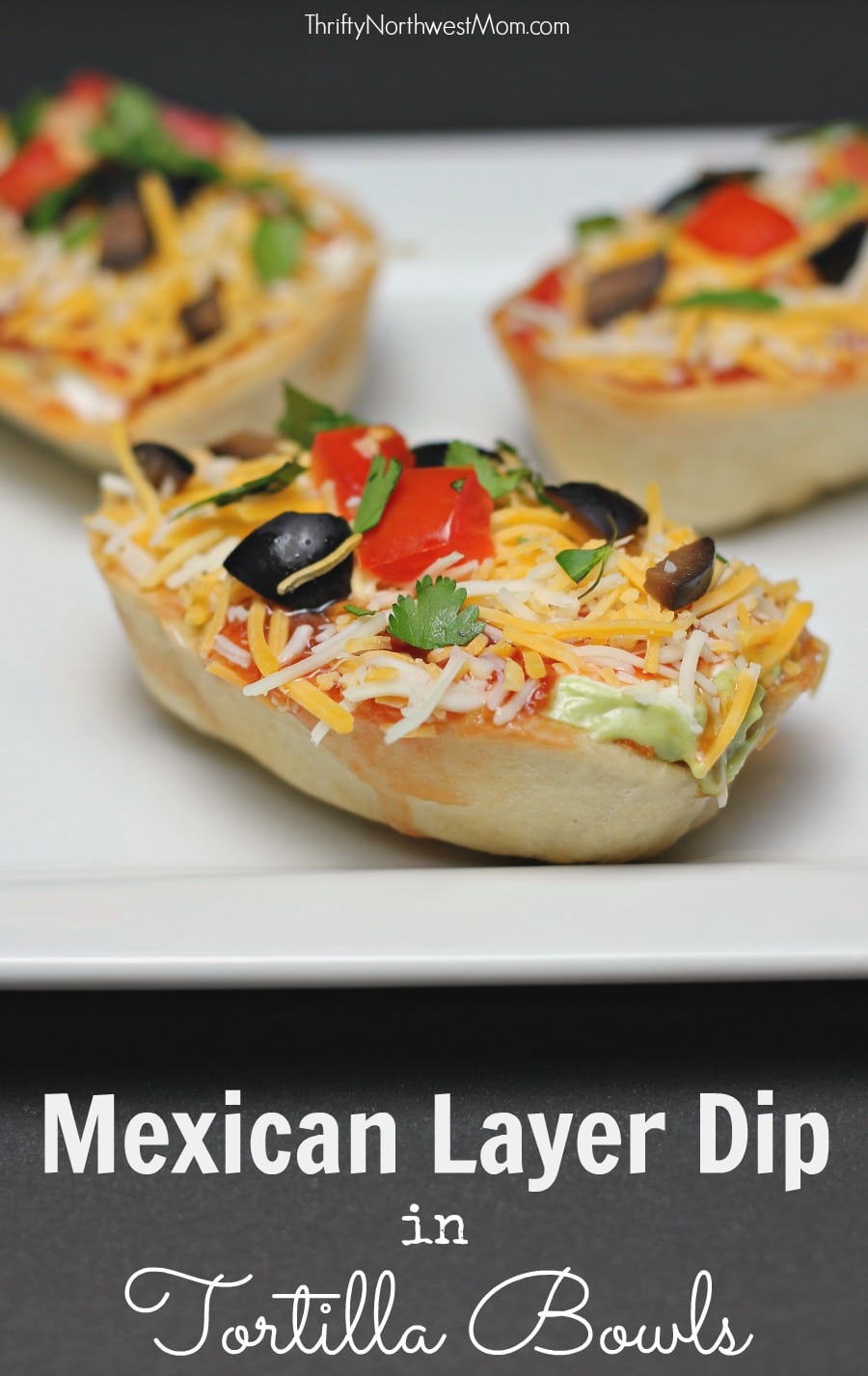 Mexican Layered Dip in Tortilla Bowls for Game Day Snack!
Simple Slow Cooker Recipe – Easy Party Meatballs – 3 Ingredients!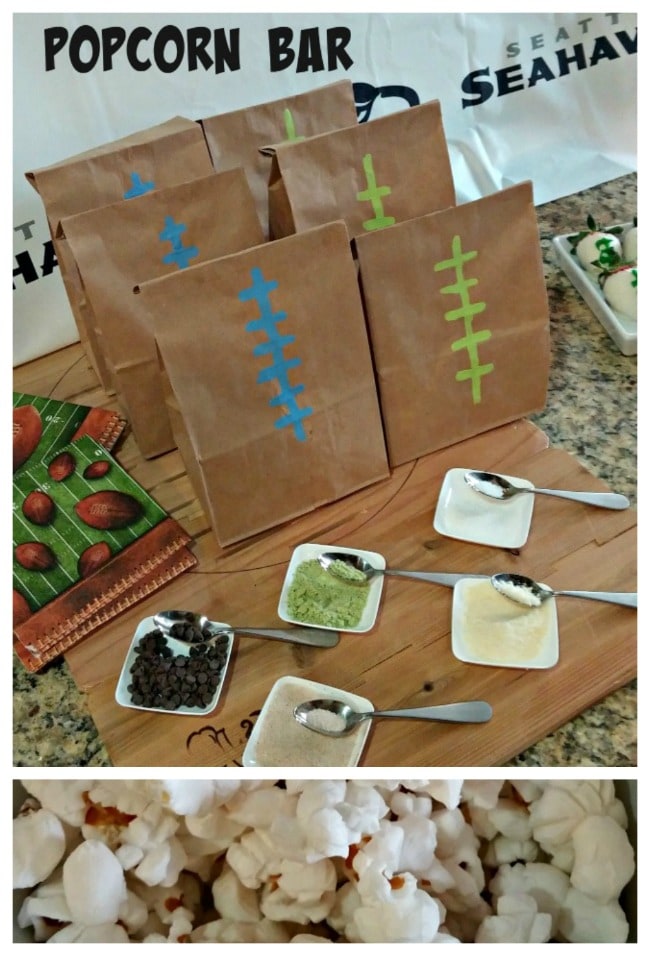 Popcorn Bar – Perfect for Many Occasions (Easy On the Budget Too)!
Print
Potato Skins Recipe – Easy Appetizers!
6

potatoes (or

1

potato for every person you are feeding)

1

package Baked Potato Topping

3 cups

shredded cheddar cheese

2

tbls butter

1/4 cup

of sour cream + more for garnish

1/2 cup

half and half (can use milk)

4

slices of cooked bacon (crumbled)
Green onions or chives for garnish
Instructions
Start by baking your potatoes at 400 degrees until they are almost tender (approx. 30 minutes). You want them to be like baked potatoes, but firm enough to cut in half and hold their shape.
Remove from the oven and let them cool enough to handle them.
Cut each potato in half, and remove the inside of each half of potato into a bowl. Leave enough potato around the skin, so that it can hold its shape (about 1/4 an inch). It will look like a mini potato bowl.
Put the potato skins on a baking tray (you will be filling them there).
Once you have all the insides of your potato skins in a bowl add the package of baked potato topping, 1 cup of the cheddar cheese, butter, sour cream and half and half.
Mix that all together well (use a potato masher if necessary to get a smooth consistency).
Scoop the potato mixture back into the potato skin shells, so that the mixture goes to the top of each skin (pat it down if necessary).
Use the remaining 2 cups of shredded cheddar cheese to top each of the potato skins off.
Top with bacon crumbles.
Put potato skins back into the 400 degree oven and cook until warmed through and cheese is melted (approx. 15 minutes).
Remove from oven, and let cool for a few minutes.
Garnish with sour cream and diced chives or green onions