Glamping Hub – Find Great Deals on NW Getaways (Tree Houses, Yurts, Cabins, Beach Front & More)!
This post may contain affiliate links and I may be compensated for this post. Please read our disclosure policy here.
Glamping Hub
Find Great Deals on NW Getaways (Tree Houses, Yurts, Cabins, Beach Front & More)!
Glamping Hub is another resource we found to get great deals on local NW getaways. Not only did we find great prices, but we also were able to find some options that were not on the traditional travel sites. It is a site that folks who are renting out their rooms, homes or cabins, etc can advertise these spaces on.  It can be a particularly good option for larger families, as you can rent a full condo or home. Suites, or adjoining rooms that larger families often need, can be pricey, so this is a great option.
We recently took a quick getaway to Seaside Oregon, for a girls weekend, and booked through Glamping Hub. We were able to find a two bedroom condo, right on the promenade and beach! It included a full kitchen, access to swimming pool and sauna, and free parking too. We paid $66 per night, plus the cleaning fee ($85 in this case, so you would divide that out over number of days stayed). If you stayed 4 nights for example, it adds an extra $21.25 per night, so still around $100 a night for all of those amenities and space. You could look for something even larger, and split that cost with another family to save even more!
Glamping Hub has this really cool PNW page, that lets you easily search for specific kinds of getaways that will work best for your family. One of my favorite things about Glamping Hub is how easy they make it to find what I would call "specialty" stays, like tree houses, boat houses, glamping canvas tents or tee pees and much more. Here are some examples of some of my families favorite finds as we were looking through options for a short getaway: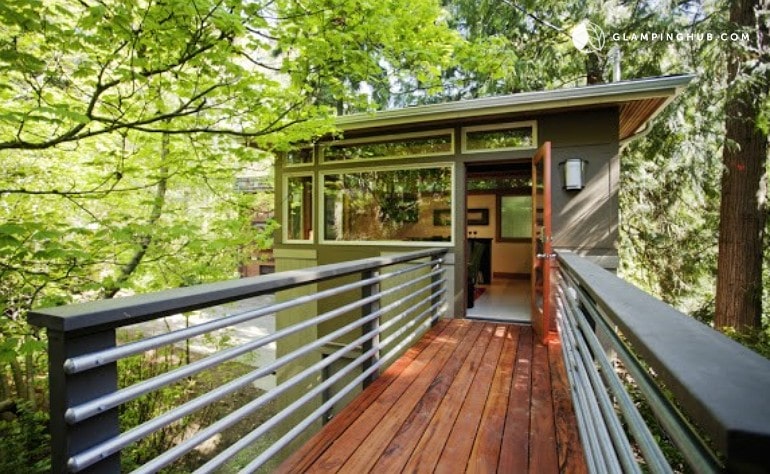 Tree houses – you can rent this beautiful tree house in the North Seattle area from $171/nt!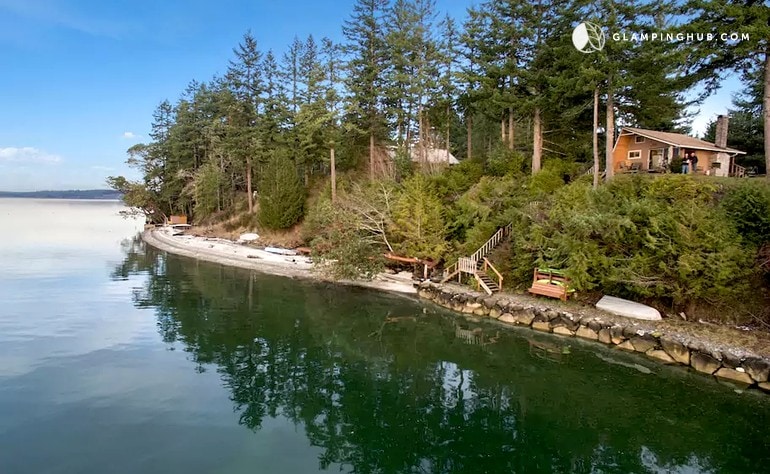 How about this Beachfront Cabin on a Private Island (near Olympia) from $128/nt!
I loved these yurts near this trout lake for as low as $85 /nt.
These are just a few examples of some of the properties they offer. There is a Pacific Northwest page here that will make it easy to find tree houses, cabins for all seasons, affordable yurts, and more.
We recently booked a stay in Seaside, Oregon through Glamping Hub, and had a good experience. We found a two bedroom, two bathroom, condo right on the promenade, with ocean front views for $66 a night. There was an $85 cleaning fee for our booking, but if your staying 4 nights for example, then it still works out to be under $100 per night. Our condo had its own kitchen, so you save quite a bit by not having to eat each meal out as well. We loved the extra space that it provided to stretch out for our family, and we will be doing a lot more of our future travels this way too.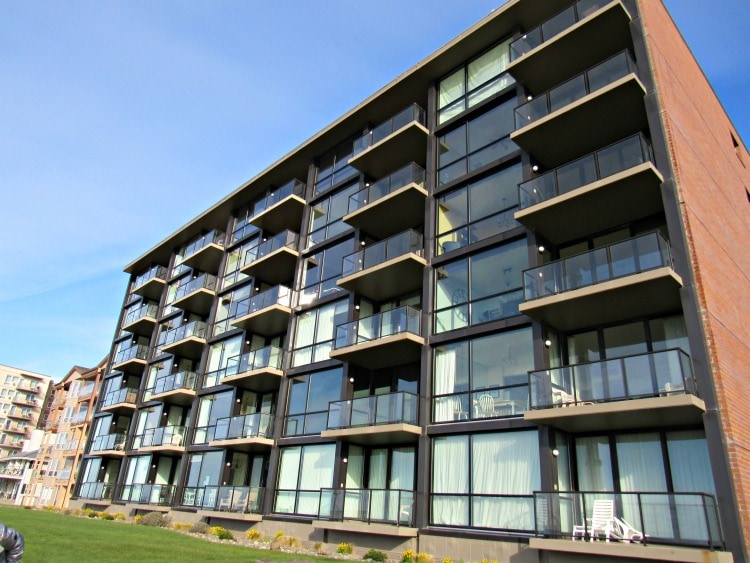 We chose to stay in one of the units at the Sand & Sea Condominiums, which were located right on the promenade, just minutes from the main strip in Seaside, and with ocean views!
Booking was easy. We headed to Glamping Hub, and put in the area we wanted to travel (Seaside, OR in our case). We found condos starting at around $65 per night, so there were some great deals. Once we chose where we wanted to stay, you request to book it. This process is slightly different then other travel sites, in that you are booking it (you enter your credit card info etc.) but you wait for the owner of the rental property to send you back a confirmation, before you have a confirmed booking. In our case, the owner of the property we booked had sent our confirmation email by the next day. They will then send you another email with all the details on how to check in for your stay. In our case, they used a management company for the condos, so we were able to send messages via email, or call the management company directly with questions. There is also a customer service number for Glamping Hub folks, but we never had to use that. Check in went smoothly for us, and we had no issues with booking or checking in. There are some locations that offer instant booking (similar to travel sites). You should see an instant booking button if that feature is available.
Here is what our rental looked like when we arrived: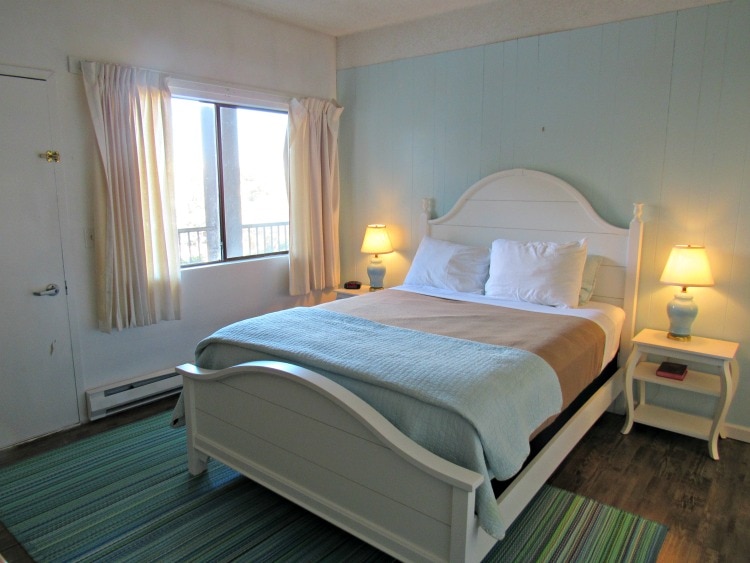 It was a two bedroom, two bathroom unit. The linens and towels are all provided, and there was plenty of closet and dresser space if you wanted to unpack and make yourself at home.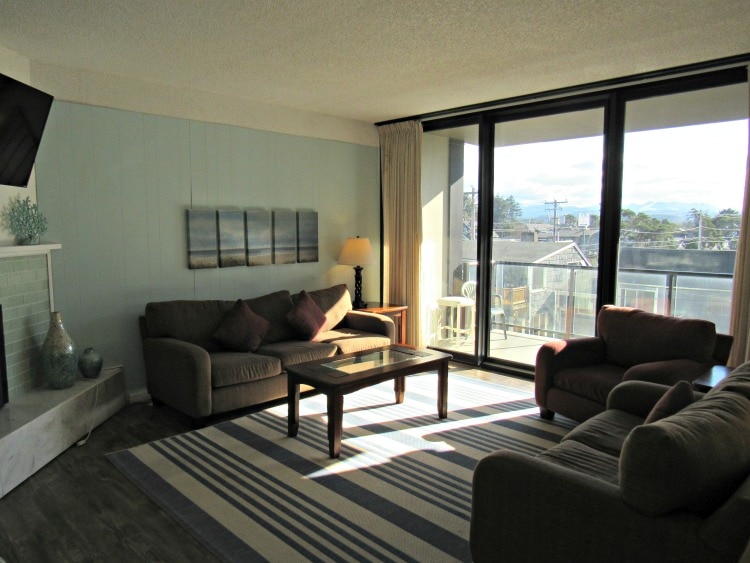 The living space was roomy as well, and there was a fireplace we enjoyed in the evenings, as well as a TV if you wanted to turn that on.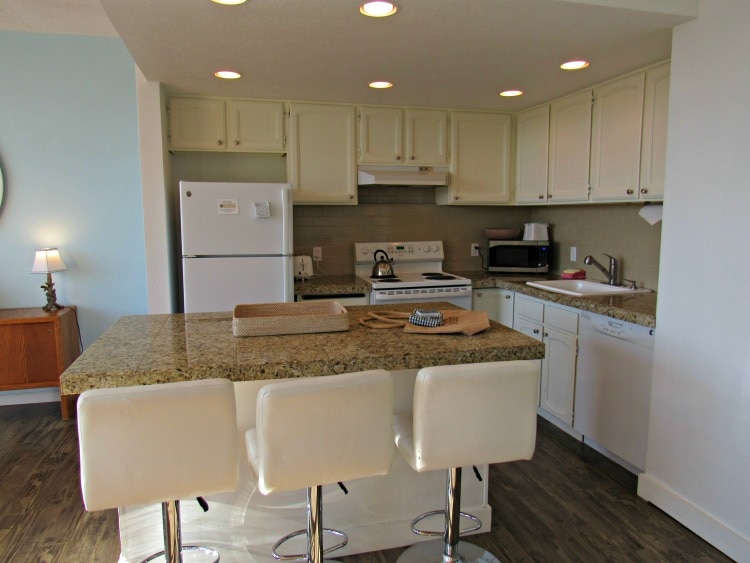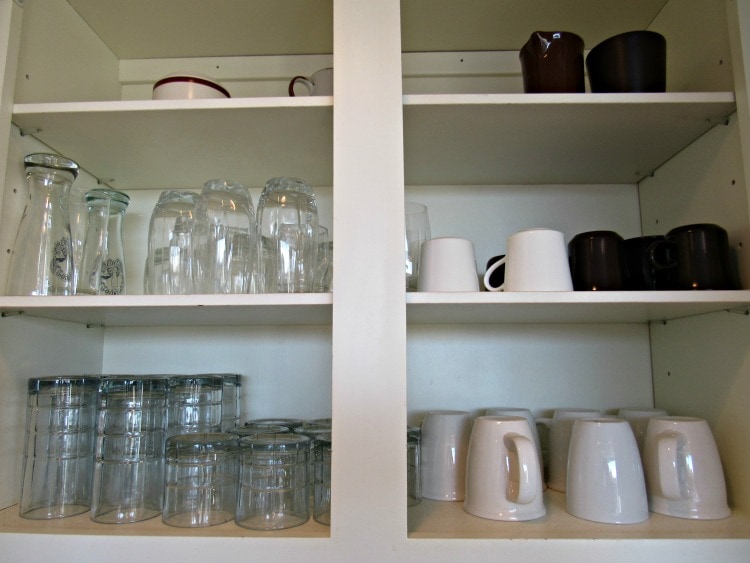 The kitchen came stocked with dishes, and utensils, as well as some pans for cooking, etc. There was a dishwasher, and appliances (as well as a Safeway nearby) if you want to do some cooking in the unit to control your food costs.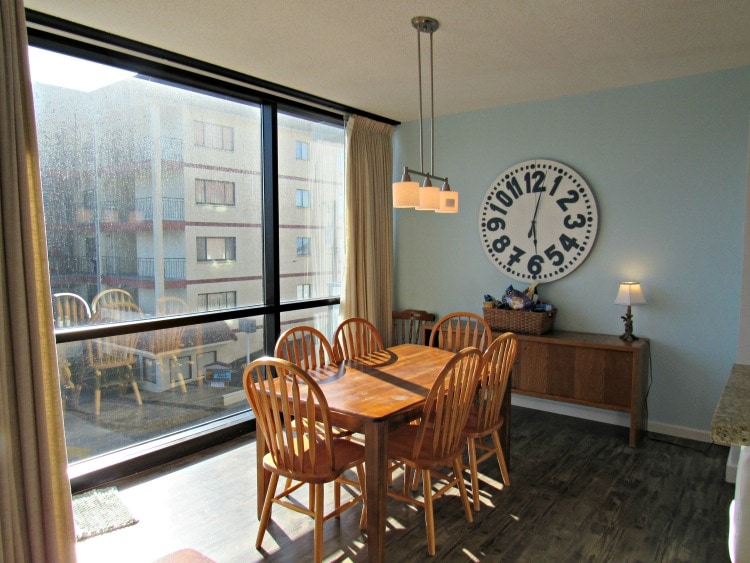 The dining area was also bright and spacious. We packed a basket of snacks and filled the fridge with drinks, so that we did not have to go to the store every time we got hungry.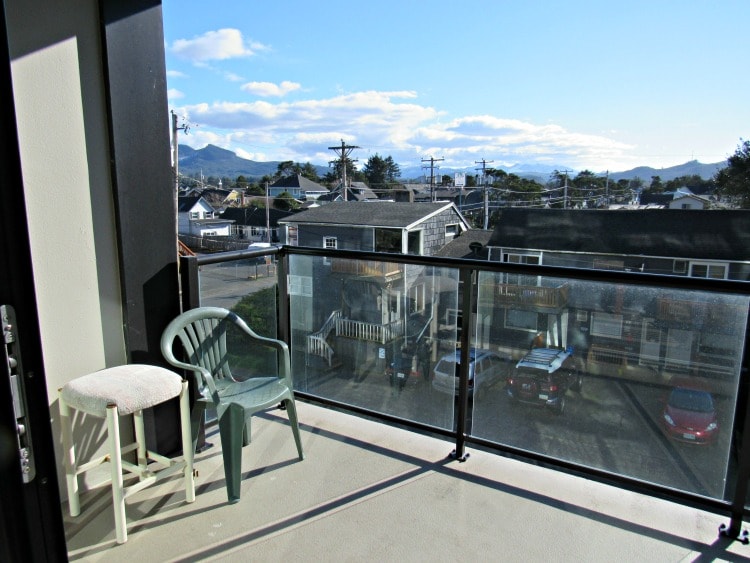 The very large deck was one of our favorite features of the unit. It had a partial view of the ocean which was so great at this price. There are other units available that have a full view of the ocean, but you do sacrifice some privacy in those if you are not up very high (folks walking by on the promenade can easily see in the living spaces of those lower units). We found the side units to be a great mix of being fairly private, and still getting the spectacular ocean view.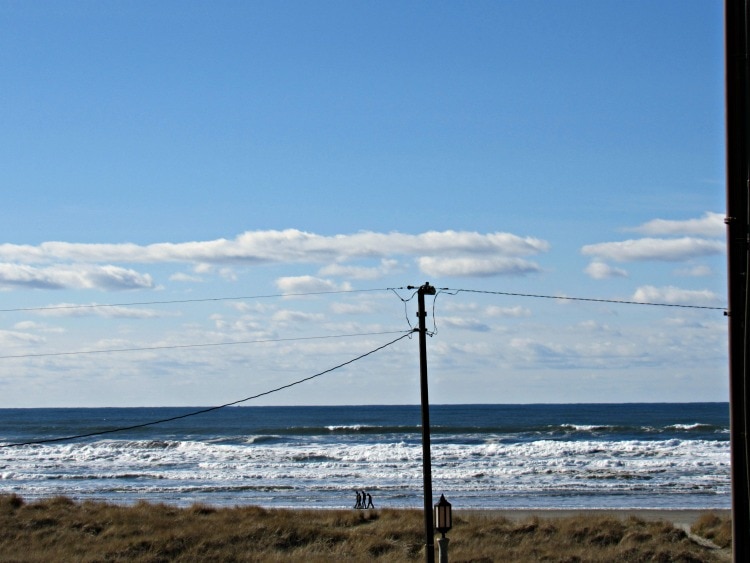 This was the ocean view from our side unit! Getting this much space, and this kind of view for the price we paid seemed like a very good deal to me.
This unit was also equipped with a washer and dryer, if you need to do some laundry during your stay. They even had a couple of boogie boards tucked in there if you are visiting when its warm enough to swim in the ocean.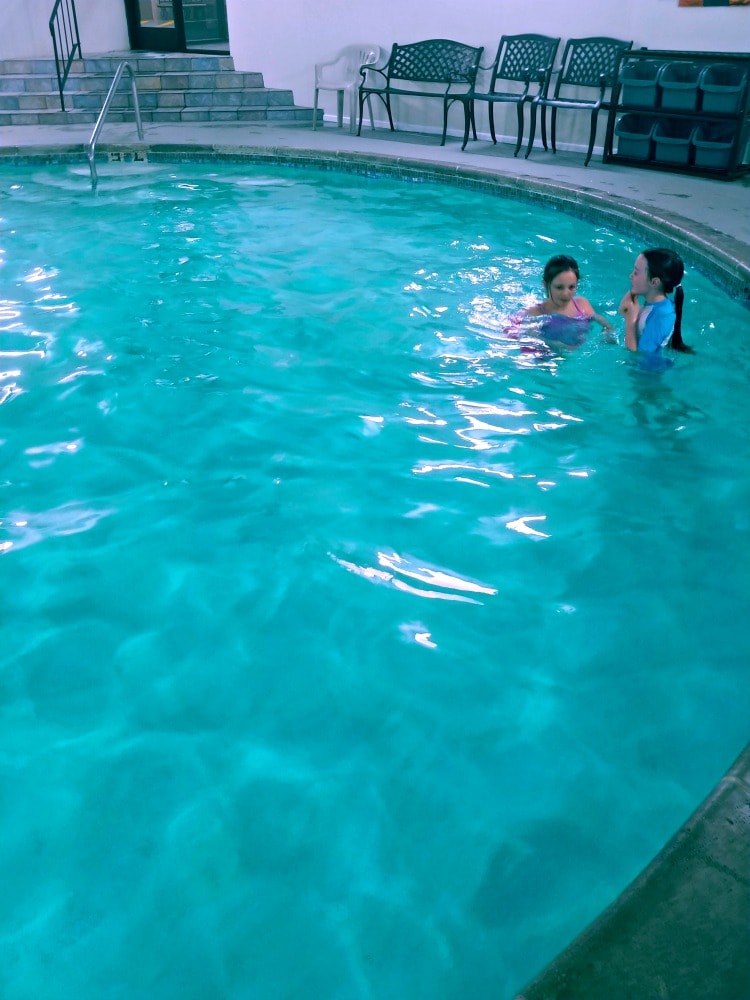 And one of the things I really liked about this spot was that although we were renting a condo unit, we had access to a shared pool. We were visiting the beach in the Winter, so an indoor pool was key to keeping the kids busy in the evenings!
The other thing I loved, is that although we were renting someones condo with all of that space, we were still right in the heart of much of what Seaside had to offer (near all the hotels). We did not have to sacrifice space for location at all.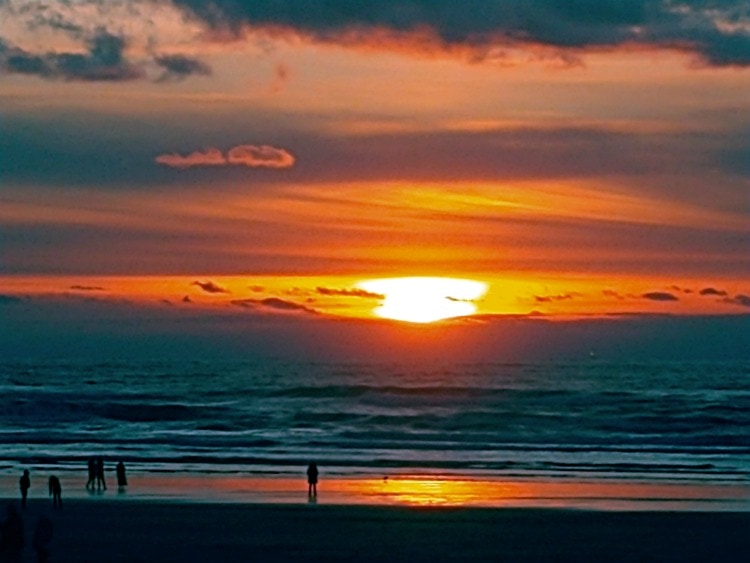 This was the sunset right out in front of the condo the first evening we were there. It was pretty spectacular.
And besides having the ocean as our front yard, we were just a very short walk away from all the shops, restaurants and many of the activities Seaside has to offer.
Things to Consider When Booking Through Glamping Hub:
Great option for larger families, and for finding unique lodging options, or something very specific (like a romantic cabin for a couples getaway)!
Pay attention to cleaning fees. Not every place has them, but many do, and so you will want to factor that into your nightly cost. That makes this a good option for when you are booking 2 or more nights generally (the more nights you book, the more nights you can divide that cleaning fee out over so it does not add as much to the nightly fee).
Although you pay a cleaning fee, the cleaning fee covers a final cleaning at the end of your stay in most cases. This means there will not be a daily cleaning in most places (like you would get in a hotel). This did not bother us, but just something to consider.
Cancellation Policies can be strict – so pay attention to that when booking. The cancellation policy depends on the property, and it can range anywhere from flexible to non-refundable (with a few tiers in-between that), so just be sure you are clear on what that is ahead of time.
Be sure to read all of the fine print for the location you select. Some of them (not many) will require you bring your own linens for example (this is mostly tent or cabin rentals, and usually a very good deal). Most provide linens, but that is just one example of why you want to read through all of the fine print prior to booking.
It may not be as easy to get an early check in as it is when you are booking a hotel, as you are booking a specific rental unit, so they do have to get that turned around after the previous person has checked out (its not like hotels, where they can just find you an open room if its available).
Not all bookings are immediate bookings. If instant bookings are available, there will be an instant booking button. If not you will have to wait for the owner to get back to you with confirmation. This is at the discretion of the property owner, so if you are booking last minute travel you might want to look for the instant booking option.
Make sure you head over to Glamping Hub here to check out what is available in the Pacific NW, and start planning your families next getaway!
More Articles You Might Be Interested In:
Find many reviews of Northwest Area Getaways here!
Check out our weekly round up of the Best NW Getaway Deals here.
Find all of our Disneyland Vacation Deals here.
Disclosure: Glamping Hub hosted our stay for the purposes of reviewing the process of booking through their site. All opinions are 100% my own.