Things To Do In Monterey Ca For Families (& Nearby)
This post may contain affiliate links and I may be compensated for this post. Please read our disclosure policy here.
Things To Do In Monterey Ca (+ Nearby Areas) For Families
If you are looking for a spot to visit that offers something for the entire family, Monterey California is a great option. The entire Central Coast of California is packed full of wonderful spots for families to enjoy, but Monterey certainly is a highlight. We have put together a big list of things to do in Monterey Ca. to help you plan for your next trip to this area.
The California Coast has long been a family favorite for us to getaway to, and enjoy the beauty of the area. We are particularly in love with the Monterey county area, and wanted to share some of our favorite things to do in Monterey Ca. and surrounding areas for families. You will find beautiful beaches, quaint towns, plenty of outdoor activities, tasty food and so much more to explore in this area. One of my favorite parts is just the pace of life when I am here. There is plenty to do, but also so many nice spots to just slow down, relax and really feel like you are on vacation.
We have visited Monterey over the course of a handful of vacations, and it really took me a couple of visits to explore the area. There is just so much to do. The kids have visited from their pre-school years through tweens and teen years too. This past summer, I packed up an SUV full of teens, and we headed down to the Monterey area to stay in this beautiful cabin cottage, with beach access, and enjoyed a wonderful week there. Here are some of the things we have found we enjoy to do in this area over the years.
Spend a Day (or More) Exploring Cannery Row Monterey
One of our first stops when we visit Monterey, is Cannery Row. It is packed full of fun, there is just so much to do in this area, and for all ages. We find it one of the most exciting spots in Monterey in terms of multiple things to do.
Cannery Row has many shops, restaurants and activities for families to enjoy. There is also a beach, and miles of biking trails directly in this area. We spent two days here, and felt like that was perfect for our trip, but you could do more if you like.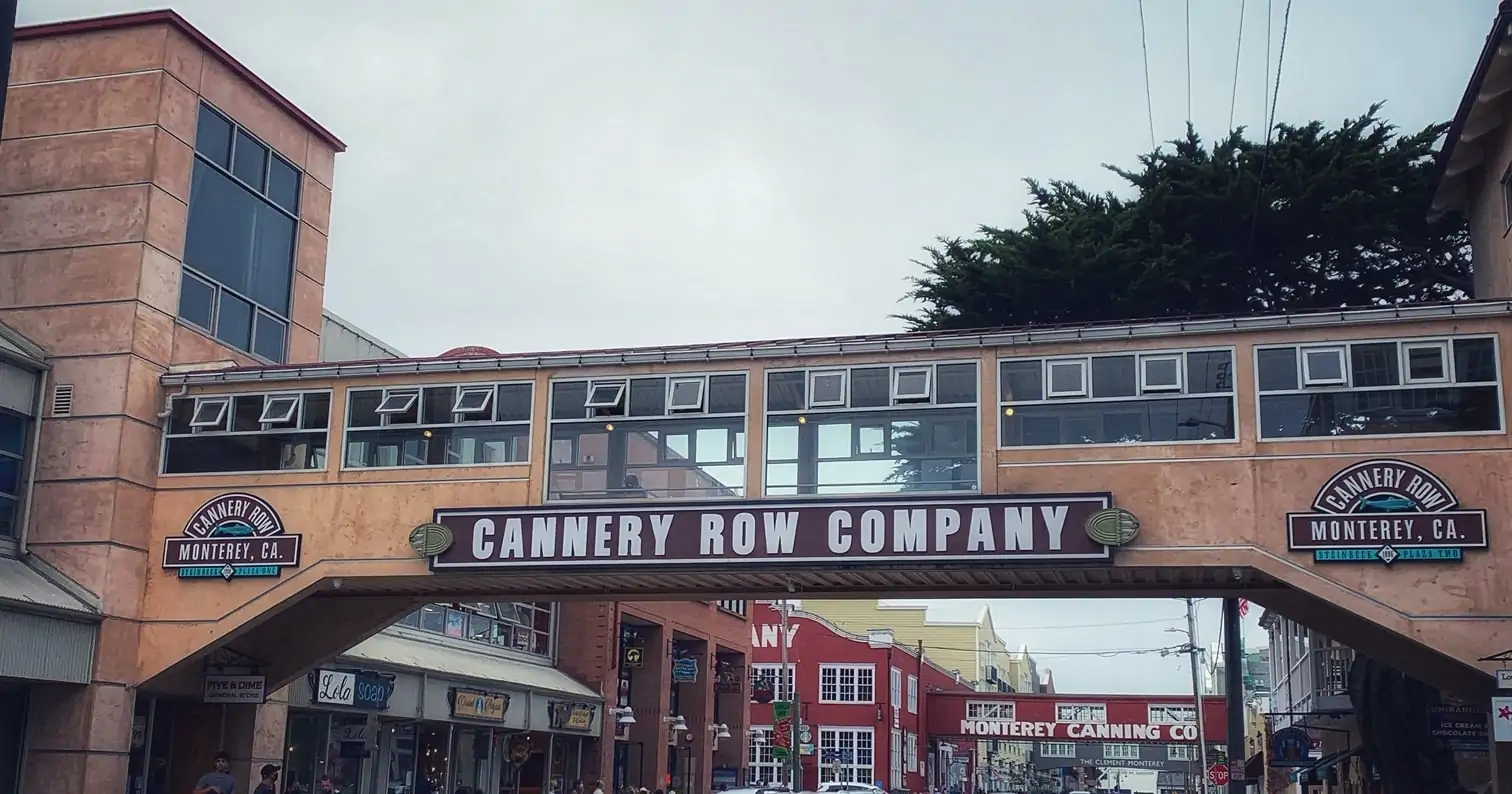 Cannery Row is a waterfront street, packed with various stores, restaurants and attractions to enjoy. Not only that but you can enjoy water activities, as well as other rental options to enjoy while you are in town too. It borders Pacific Grove, which has a beautiful beach, so you can combine a visit to both areas (we talk more about Pacific Grove below).
One of the most well know attractions in the area is the 20,000-square-foot Monterey Bay Aquarium. In addition to the aquarium, there are many other fun and quirky beach town attractions for families to enjoy.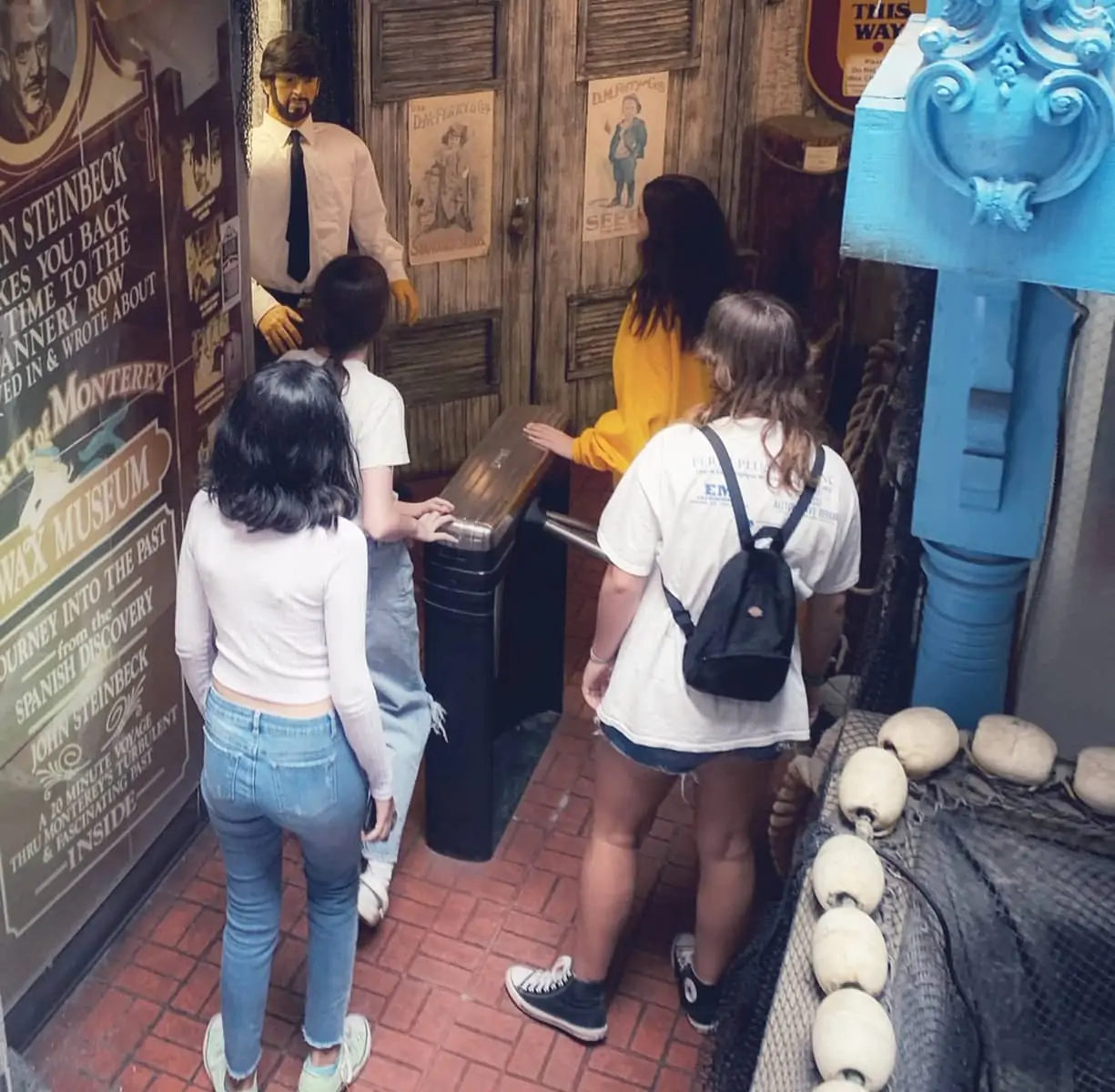 You will find lots of little "kitchy" beach attractions throughout the town, like an old Wax Museum. Wax museums remind me of beach vacations from when I was a kid, so I always make my kids go (thinking I will be making memories with them). Truth be told, the kids where not super impressed with this one (and rightly so). It is very old and pretty small (my crew made it through in like 15 minutes). If you really like history you might like this one (as you can sit and listen to the history of each display orated here), but my crew was not patient enough to sit through the full spiels, so it is a bit pricey for what you see in there. I am a sucker for wax museums though, so if I was not chasing kids I probably would have enjoyed it myself.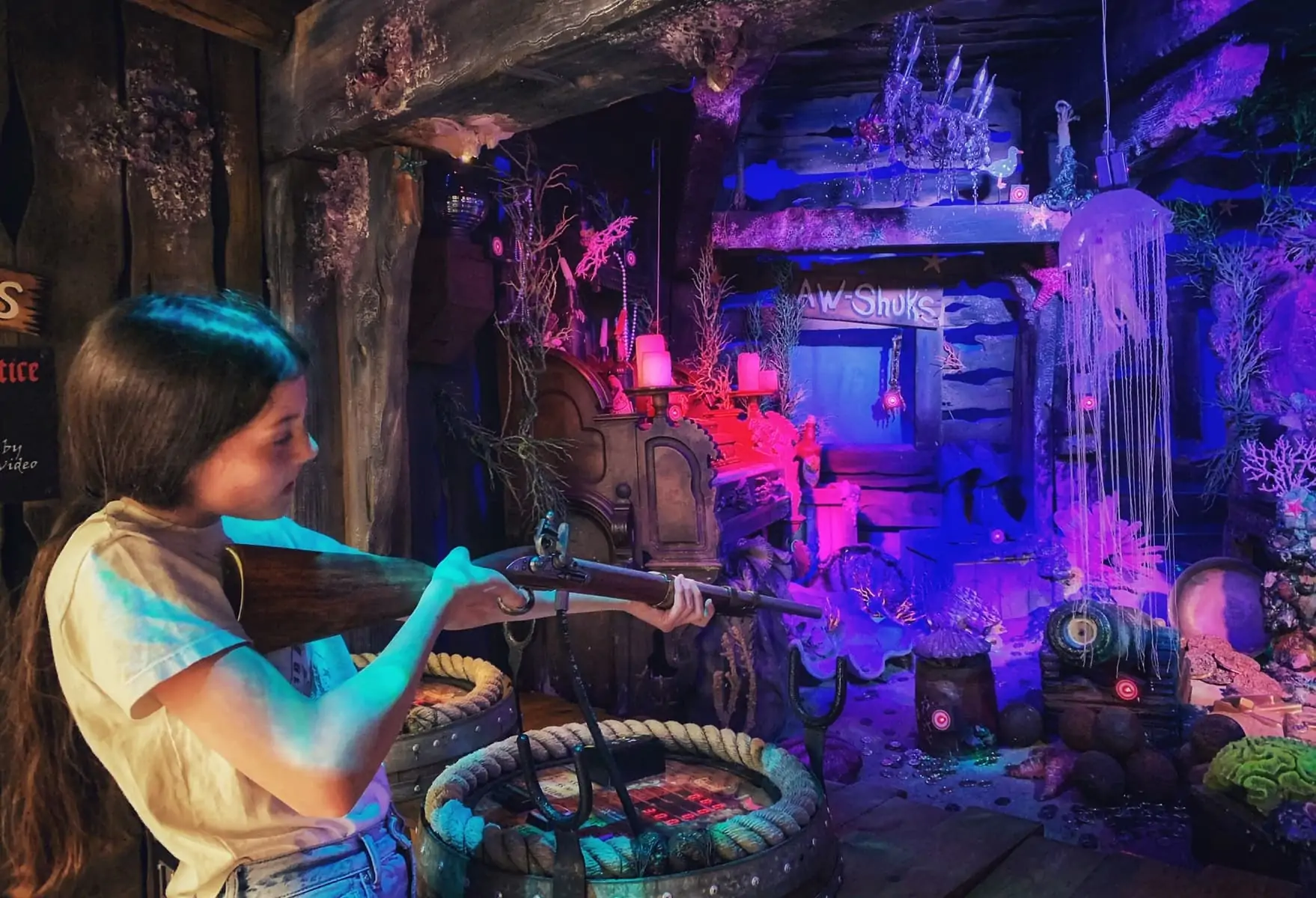 Meander through some of the alleys and shopping centers, and you will find lots of small spots of fun things to do. We found tons of fun activities and spots for snacks and shopping down some of the alleyways, or in larger shopping areas. This shooting range was sitting above the wax museum, for a little fun for the kids.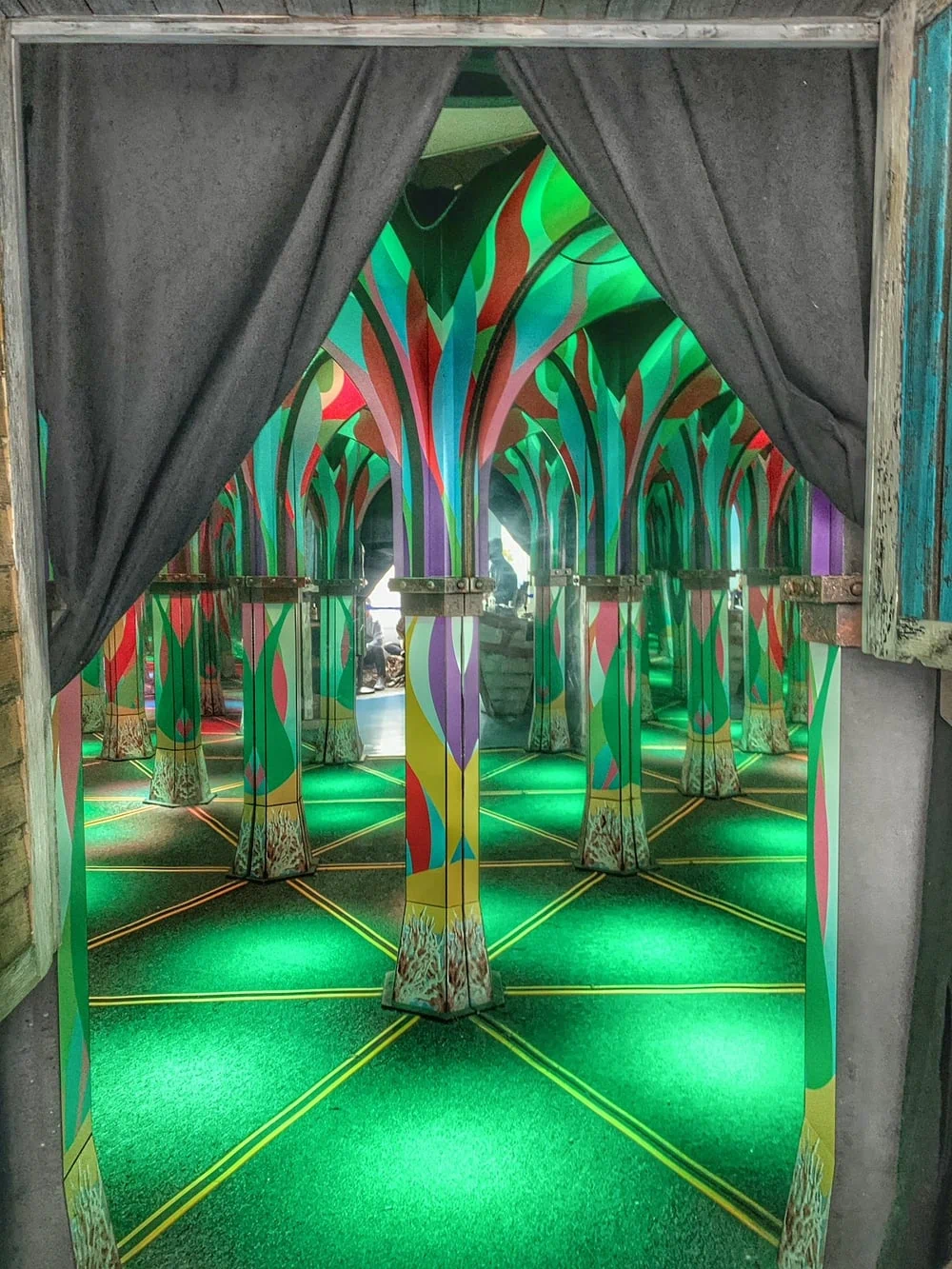 You will also find a mirror maze, laser maze challenge, black light putt putt golf, arcade, ice cream (at the dippin dots store or Ghirardelli's) and much more!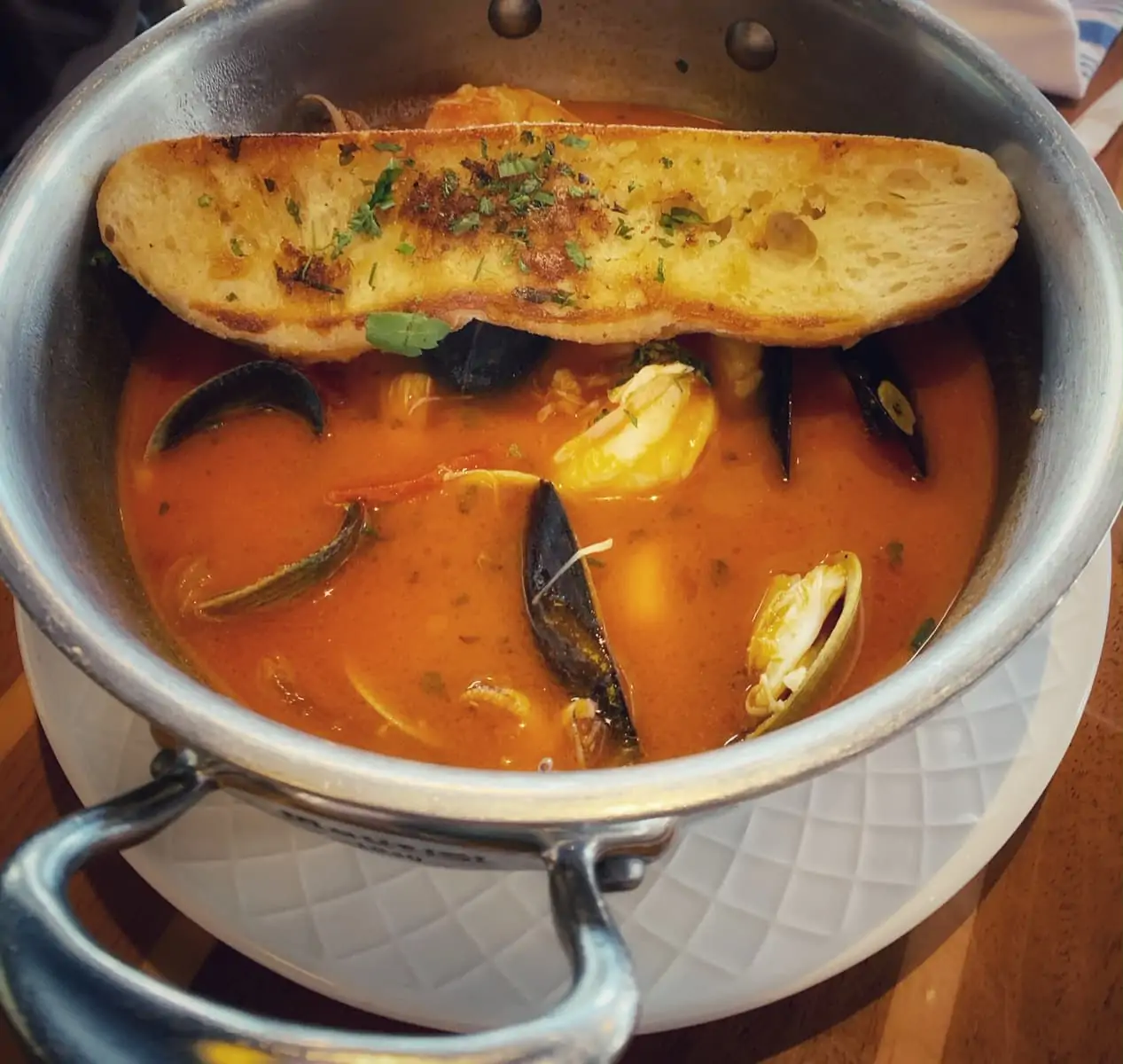 There are so many options for places to eat in Monterey, from grab and go to fine dining. We enjoyed some waterfront lunches during our stay. Enjoying the restaurants of Monterey is always a big highlight of our trips to this area.
Enjoy the Monterey Bay Coastal Recreation Trail
The Monterey Bay Coastal Recreation Trail is a two lane 18 mile, mostly paved trail, that stretches from North of Pacific Grove to Fisherman's Warf area. You can walk it, or rent bikes (or e-bikes) to explore it. We spent a day doing the full trail, and making lots of stops along the way, and loved that day.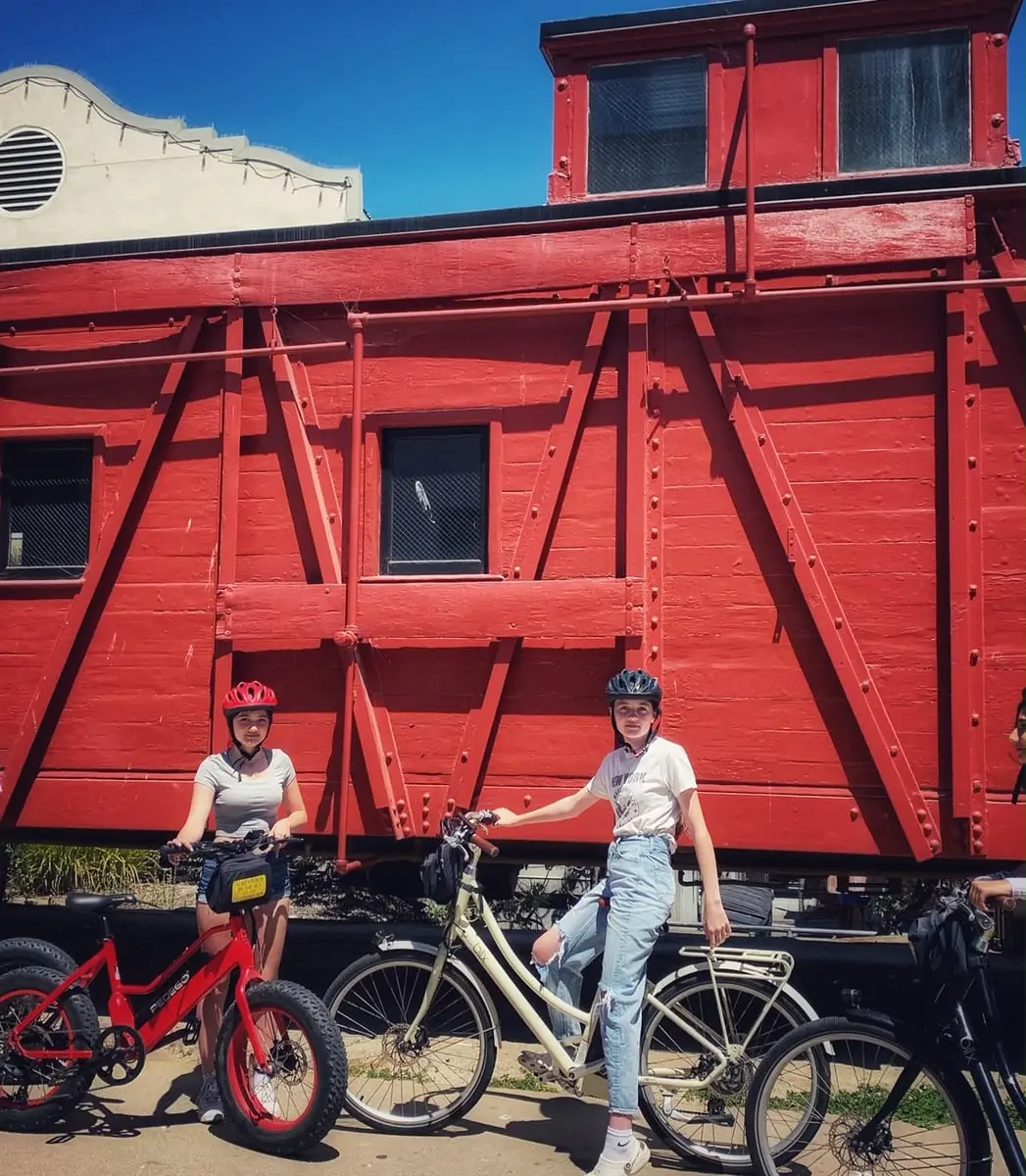 Bike Ride – E-bikes, 4-wheel bikes or regular bikes
We chose to rent e-bikes to explore the trail, and it was one of my favorite days in Monterey. I had no idea how magical riding down the coast of Central California on an E-bike would be – it was an unexpected treat during our trip. The kids talked me into doing this with them, and boy am I glad they did.
The e-bikes where fun, the trail is easy to ride, and there are plenty of fun stops along the way. They will provide you a map of different trails or routes to go in the area, or you can book a guided tour as well too. Kids do need to be 15 or older, but they also offer non motorized bikes for all ages if that works better for your family. They also offer the 4 wheel bikes, that seat 4, if that sounds like more fun to you too.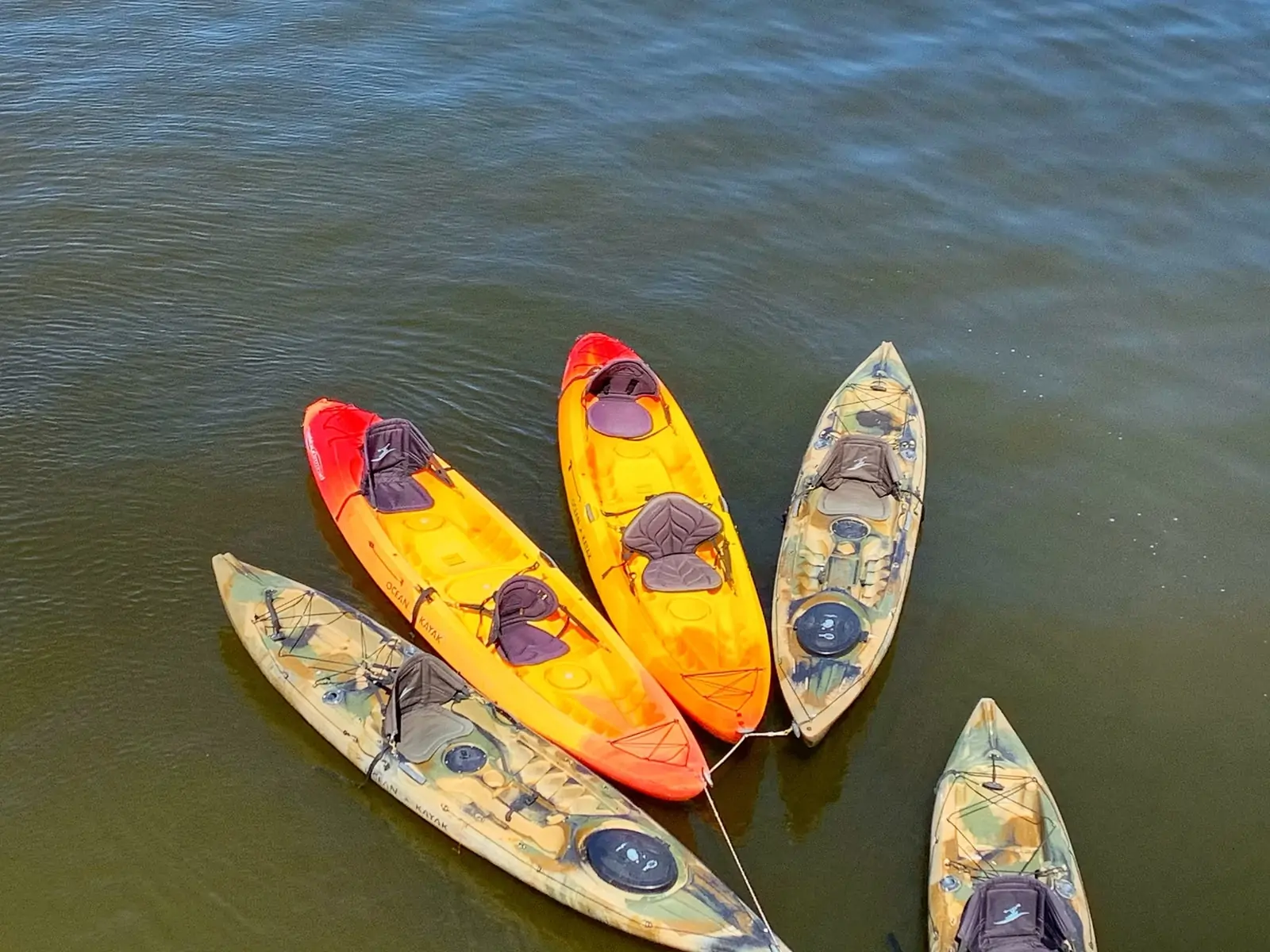 More Things to Do in Monterey Ca.
Canoes, Kayaks & SUP Rentals – there are a number of spots you can rent these in the area, and it makes for a fun and reasonably priced excursion for the entire family. Adventures By The Sea is a popular spot to rent in the area.
Mini Cars – My kids really wanted to rent these, but you have to be at least 16 (with a license) to drive, or they can ride in the passenger seat (which did not interest my crew). so we had to put this one off for a future trip. It is a splurge activity, but if its something your crew would like you can find more info about rentals for these here.
Skim Boarding – Skim boarding is so fun for kids (like surfing but along the wet sand shores of the beach). It is also a really affordable way to spend the day, as you just pay to rent the boards and then you are off having fun. Find rentals here (and then ask the rental spot for best locations to use the boards for the time of the year you are visiting).
Visit the Aquarium – The Monterey Bay Aquarium is world famous, and is a great one to add to your must visit list if you are in the area. If you love a great aquarium, you will not be disappointed with this one. It can get very busy on weekends in the summer though, so if you are able to I recommend planning a weekday visit.
Check out the seals a the Coast Guard Pier – this is a great spot to see wildlife for free! The pier is often a spot you will see lots of sea lions and otters playing and sitting around. We have also seen some seals on our visit, and love taking a stroll down here.
Old Fishermans Warf – check out the things you can do over at Old Fishermans Warf here.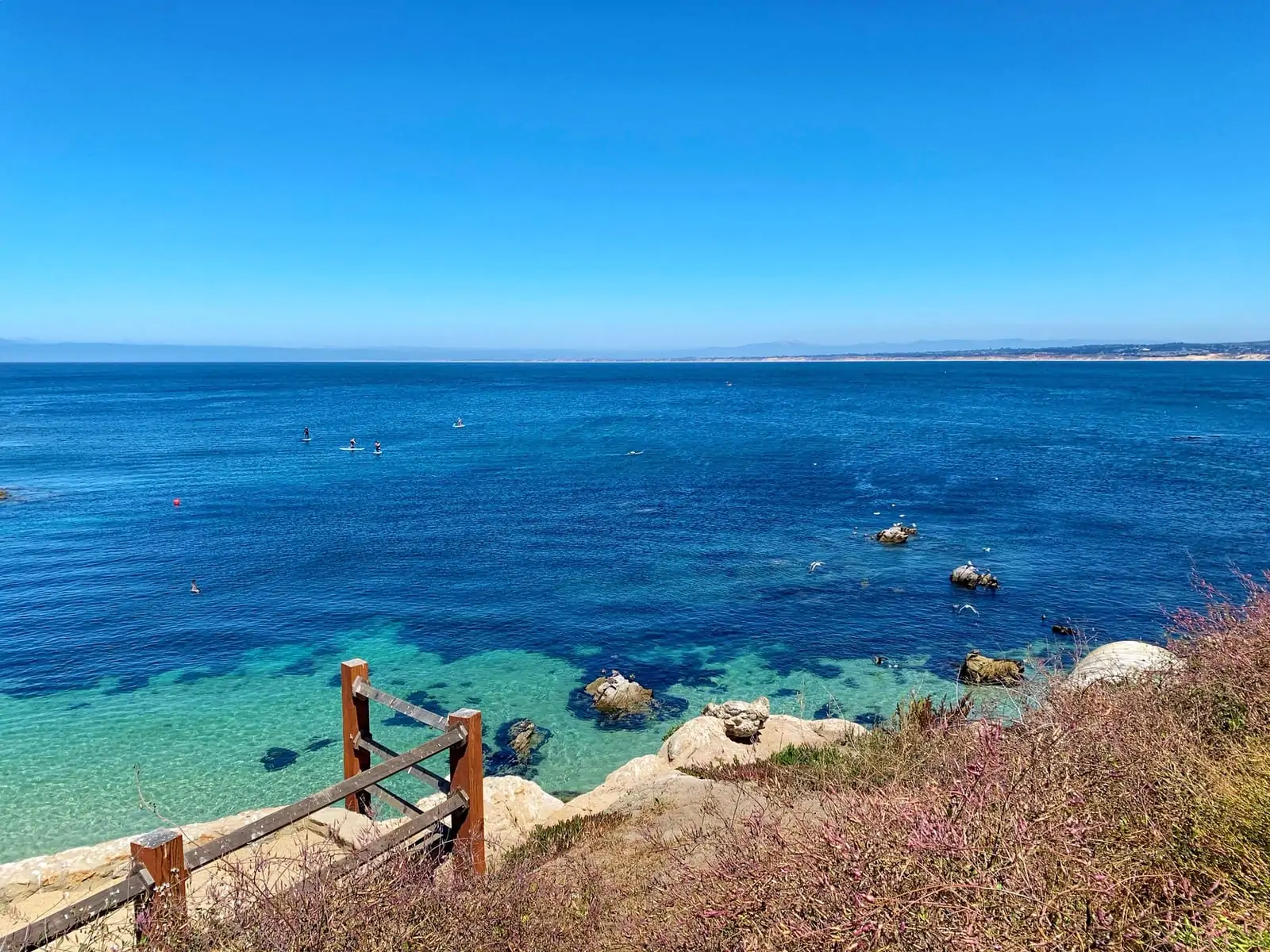 Beaches to Enjoy In the Area –
Beaches in Monterey and Monterey County are beautiful. A couple of things to mention though, as you plan a beach visit. Although the weather here looks gorgeous it can often be chilly (even mid summer) and the water is cold too. It can also be windy, so pack and dress accordingly. Also, many of the beaches in this area are not very safe to swim in, so be sure to do your research ahead of time if want you want to do is swim.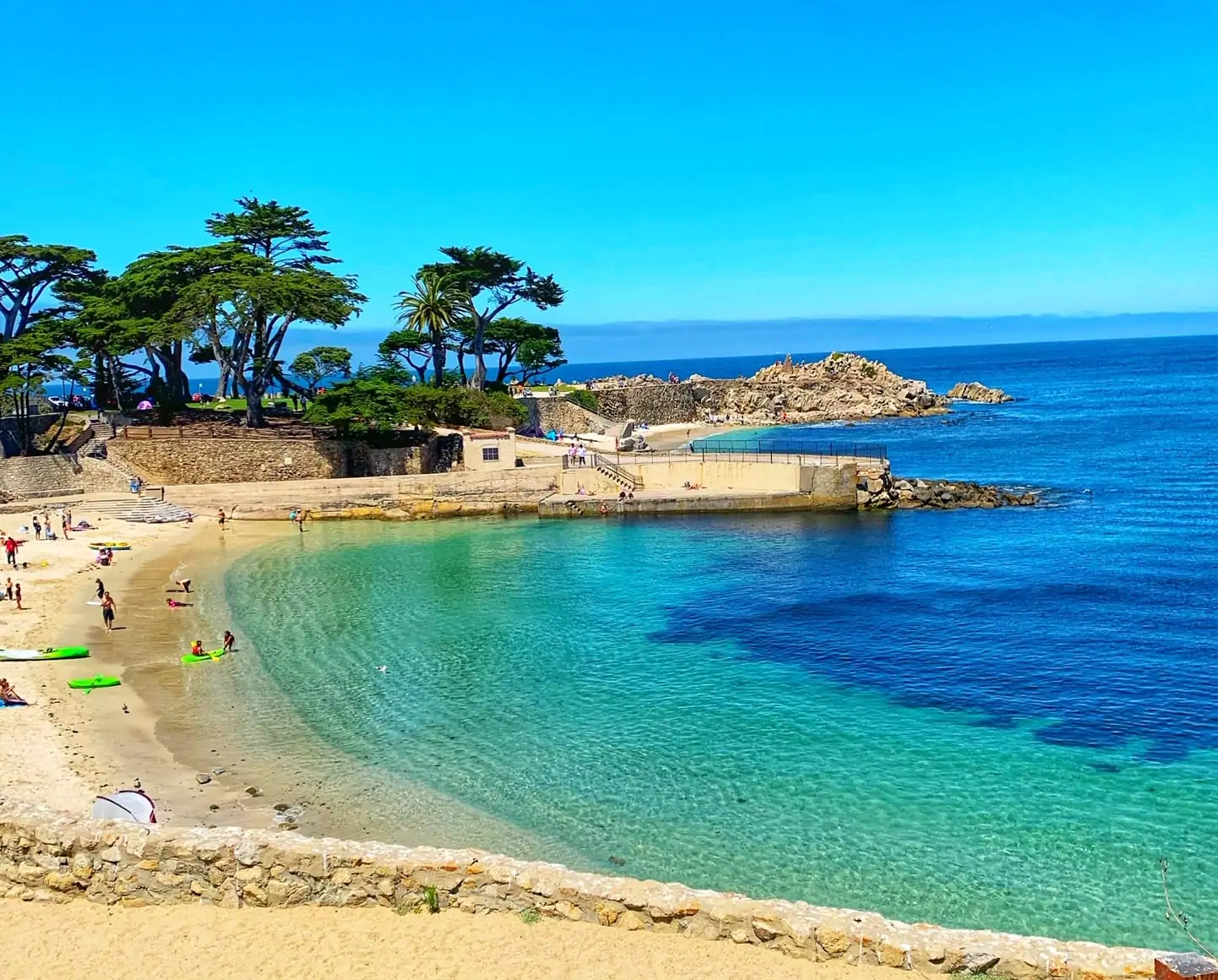 Pacific Grove
Pacific Grove is a historic town that borders Monterey and has some beautiful coastlines to enjoy. They had one of the best swimming beaches we saw, if you have little ones and want some protection from the waves, at Lovers Point Beach and Park. You may also want to check out Asilomar Beach and state park. This is where you can also find beautiful sunrises over the water, if you are looking for a spot to watch those.
If you are looking for a swimming beach, Monterey City Beach near the Warf is also another option. I did not find it as pretty here (and it can get crowded) but it is a popular option.
Del Monte Beach
What I love about the Del Monte Beach is the boardwalk trail through the dunes. You will find surfers, families, locals and tourists at this popular area beach.
Marina State Beach
We stayed at the Marina RV Park, which gave us walking access to this beach. It was beautiful, but is not a swimming beach. It is however a protected area, and a great spot to enjoy walks on the beach.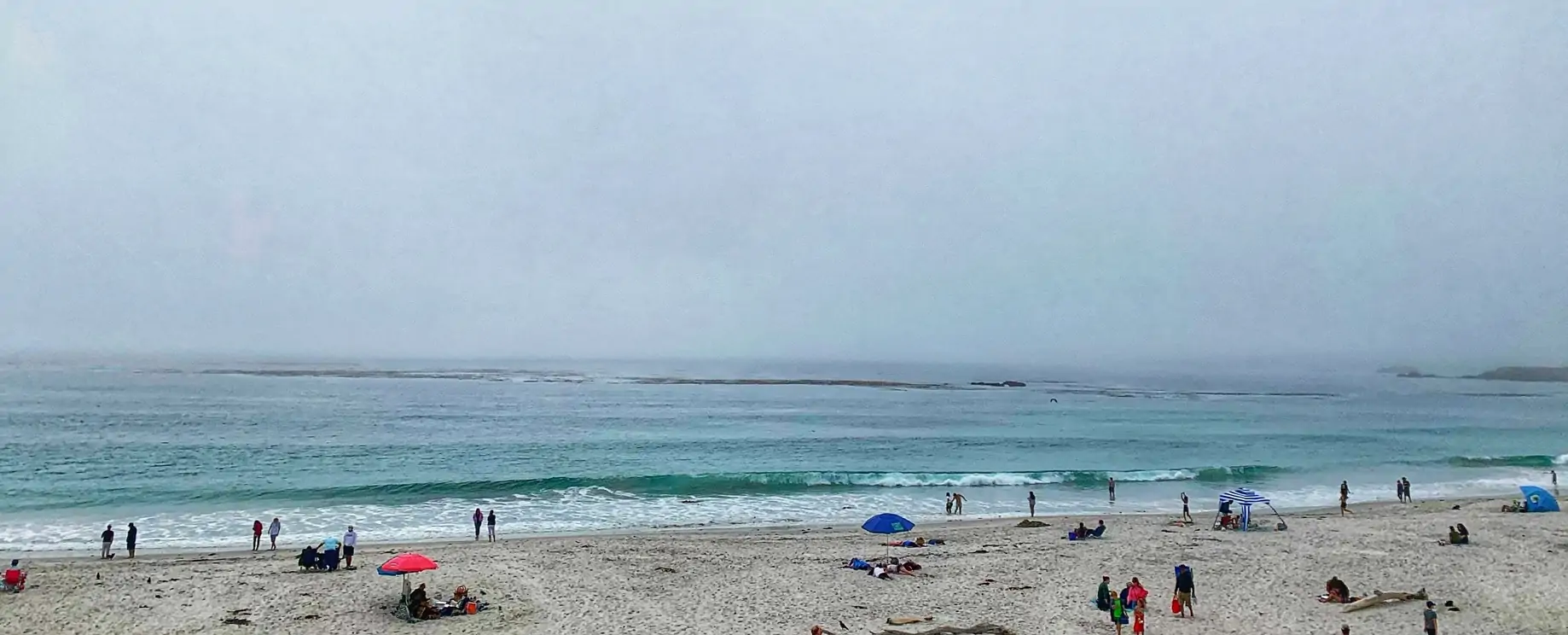 A little beyond Monterey, but in Monterey County you will also find a popular beach in Caramel by the Sea.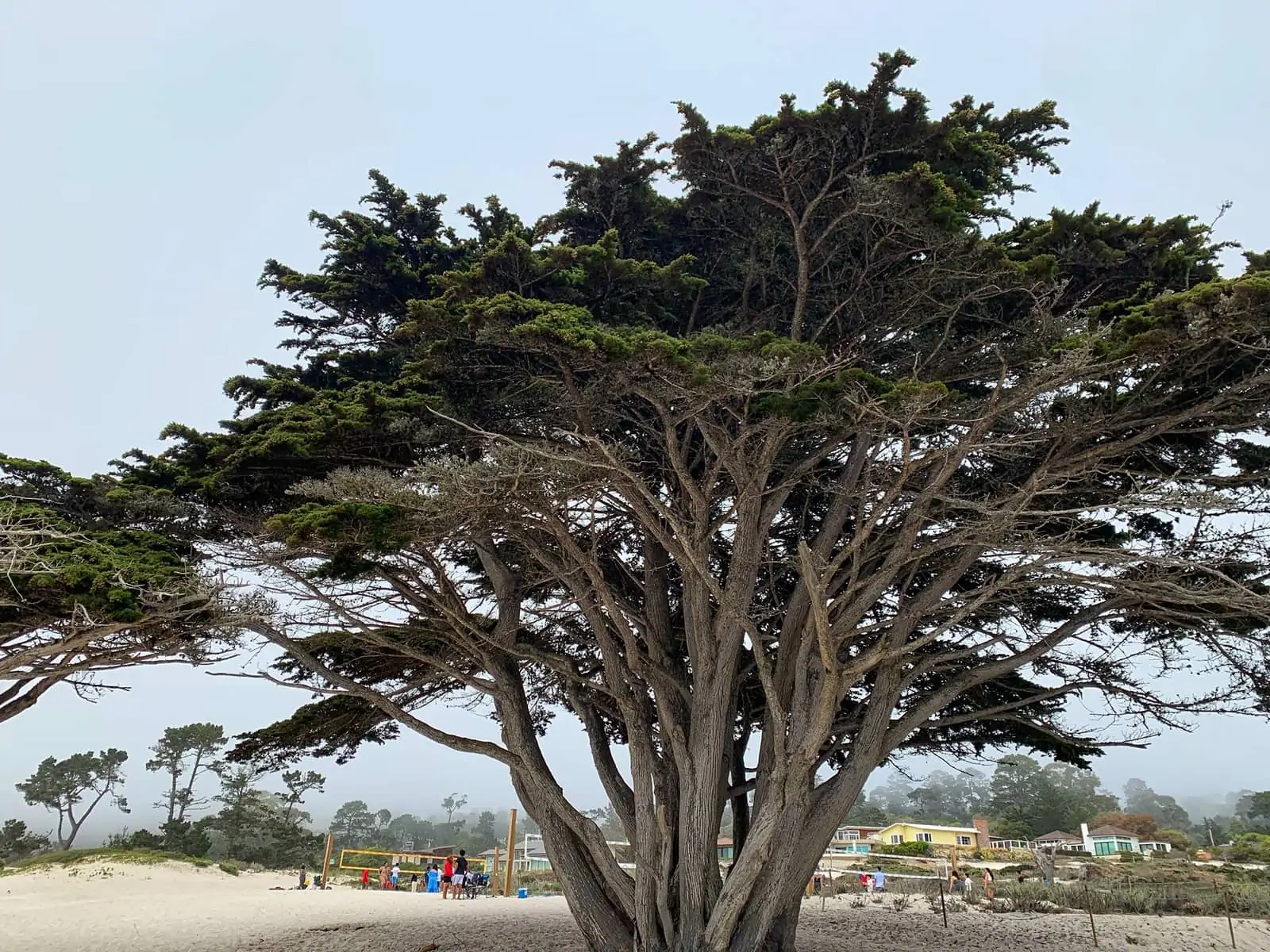 Find more information about other beaches in the area here too.
More Things to Do On The Central California Coast – Near Monterey:
There are so many things to do in the Central California Coast area, but here are some more of our favorites located close enough to Monterey to enjoy easily.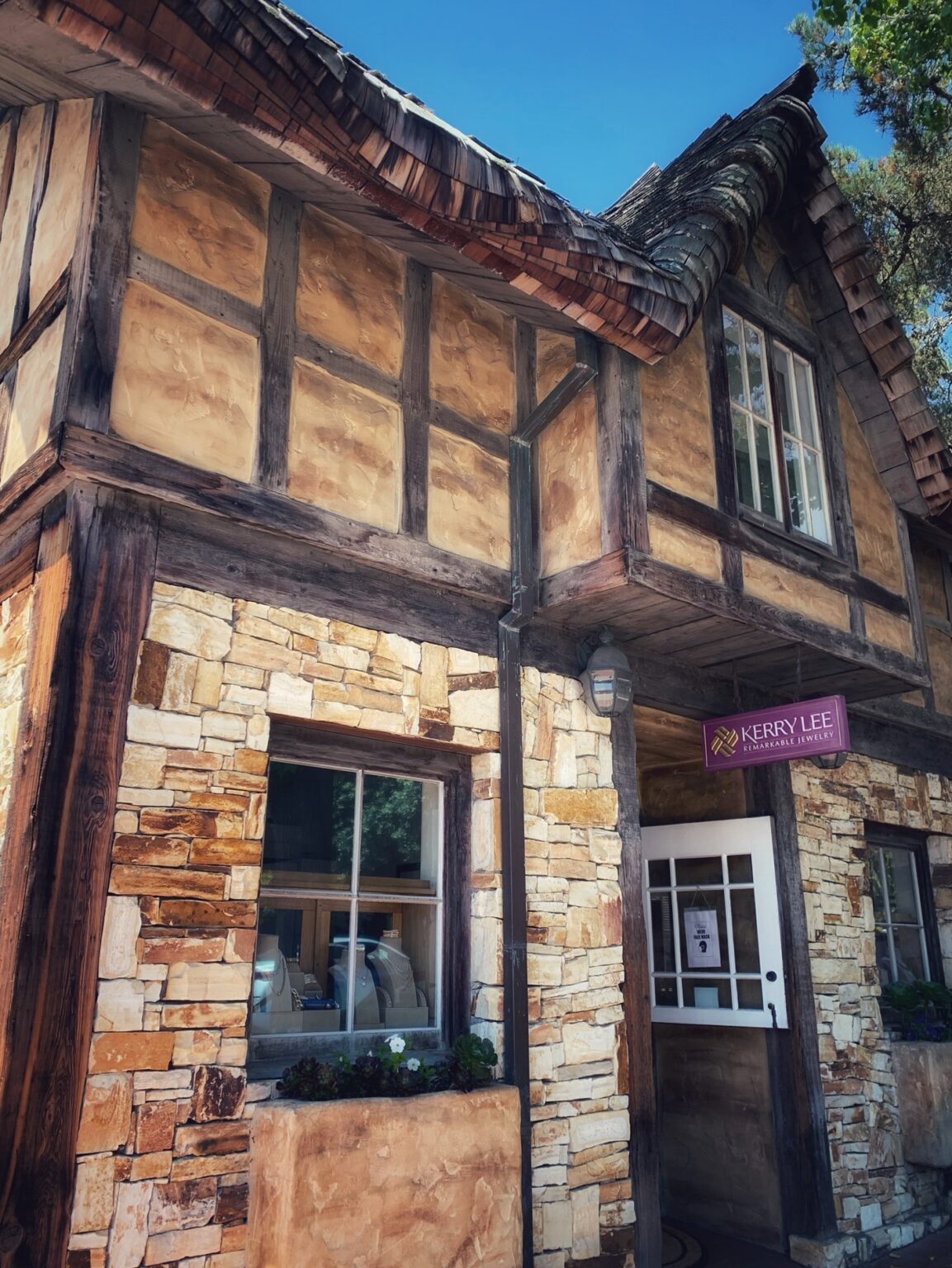 Carmel by the Sea
Caramel by the Sea is in Monterey County and makes for a really easy day trip to explore. It is a quaint little town with some fantastic restaurants, lots of shops, and beach access too. It is almost like visiting a fairytale village, and will be a stop you will remember for sure.
My favorite thing to do in this town was eat. The restaurant options were really great – so be sure to save your appetite for this stop.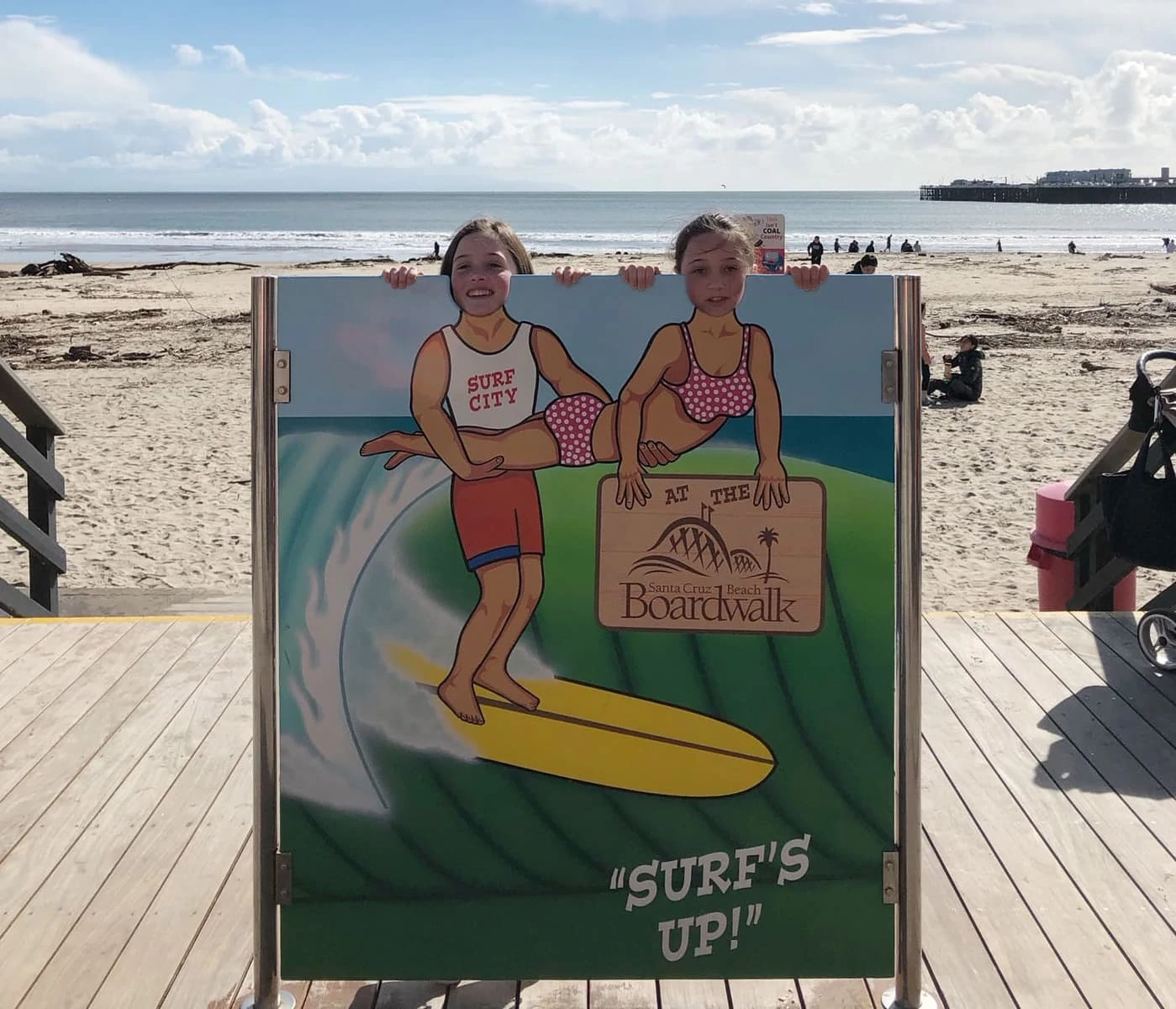 Santa Cruz was about a 40 minute trip for us from where we were staying, but my kids love it here, and it was a great days outing for the family. We have a full review of things to do in the Santa Cruz area here, if you want to build a stop into your trip here too.
Drive or bike it. This drive is famous for its beauty, and a wonderful way to spend a day.
Where to Stay In Monterey?
There are so many great options, in terms of where to stay in Monterey, or nearby. You will find everything from fancy, high end hotels, to camping and glamping options.
On our most recent trip. we stayed in this wonderful cottage, at the Marina Dunes RV Resort. I loved it, because it was right off of Highway 1, so we had easy access to many of the locations listed above. There was also a walking trail to the Marina Dunes beach, which is a beautiful sanctuary beach area on the coast, so it felt like a mix of the best of all worlds here to us. You can find our full review here, to see if it might be a good fit for your family too.
Did we miss any of your favorite things to do in Monterey Ca.? We would love to hear your favorites too.
More Areas To Explore: