Marina Dunes RV Park on The California Coast – Beautiful!
This post may contain affiliate links and I may be compensated for this post. Please read our disclosure policy here.

Marina Dunes RV Park on The California Coast – Beautiful!
If you are looking for a gorgeous spot to stay on the California Coastline, the Marina Dunes RV Resort is one to consider. They offer cabins, glamping and RV spots to choose from, so a little something for most people and many budgets. This location has beach access in walking distance, it is central to many other spots to explore, and is quiet and clean. We loved our time spent at the Marina Dunes RV Park!
Marina Dunes is a summer-focused destination campground that can be booked on RVontheGo.com. They have more than 40 summer-focused campgrounds across the country, that offer great destinations for families to get away, and this one specifically was wonderful. Many of these campgrounds are open seasonally, and all focus on providing family-friendly camping with amenities like swimming pools, hiking trails, sports courts, mini golf and more. Here is more details on what you can expect to find at the Marina Dunes location on the Central California Coast./p>
Follow them on their Facebook page, to get current updates, information and deals about staying here.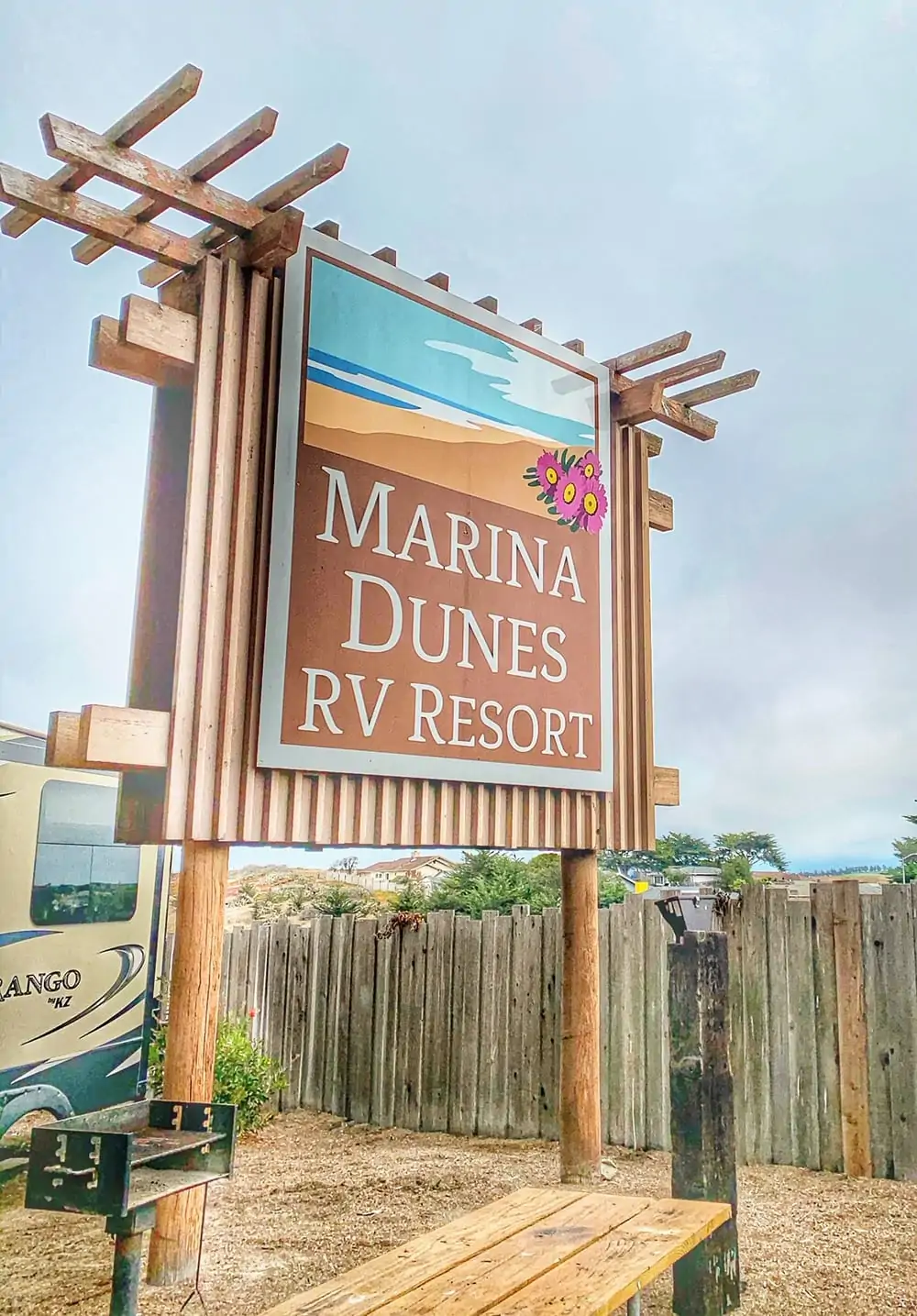 I spent some time at this RV park this summer with my teens and their friends. It was amazing to get outdoors and explore the beaches and coastal town, but it felt like returning home each night when we came back. I really enjoyed this spot! If you are looking for something that is clean, quiet, and central to so many things along the coast – this might be your spot too. It really was a place I was able to rest and recharge – with great access to the beauty of nature here – yet, there were many fun things to do to keep us busy too. It really was the best of both worlds for me and my family.
This resort does sit right off of Highway 1. This was a plus for us, as we had easy on and off access to so many places we want to explore. It does mean you will hear some traffic noise on one side of you though. It did not bother us, and we loved the convenience of having easy access to get around, so that is important to know.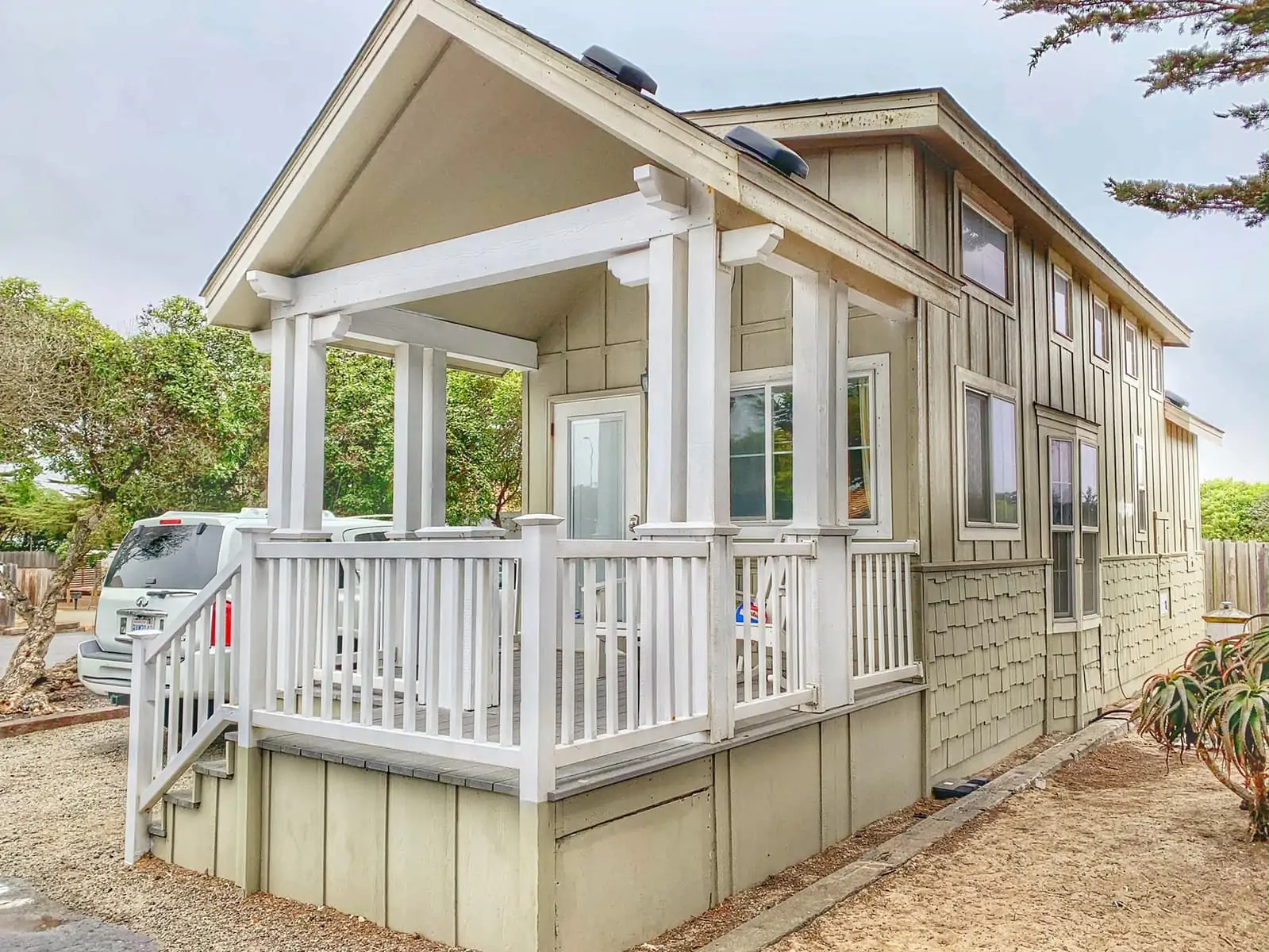 We stayed in one of their cottages, as I do not have an RV. The RV spots looked clean, and well kept too (and we talked to some folks staying in those who really liked this park).
I tend to prefer cottages or cabins over hotel rooms for a few reasons. I love to have outdoor areas to enjoy our vacation in. I generally start each day with a cup of coffee on my porch, or backyard area, and end each day with a glass of wine in the same way. It is a great way to ease into the day, and unwind from a busy day of exploring. I also love that everyone has their own spaces in these kinds of spots, vs our beds right next to each other. Traveling with teens makes this especially important to me now. And having our own kitchen saves me to much money and stress when feeding my crew on vacation. It does not mean we do not enjoy nice meals out, it just means we can pick and choose what those are, rather then having to trek out for EVERY.SINGLE.MEAL!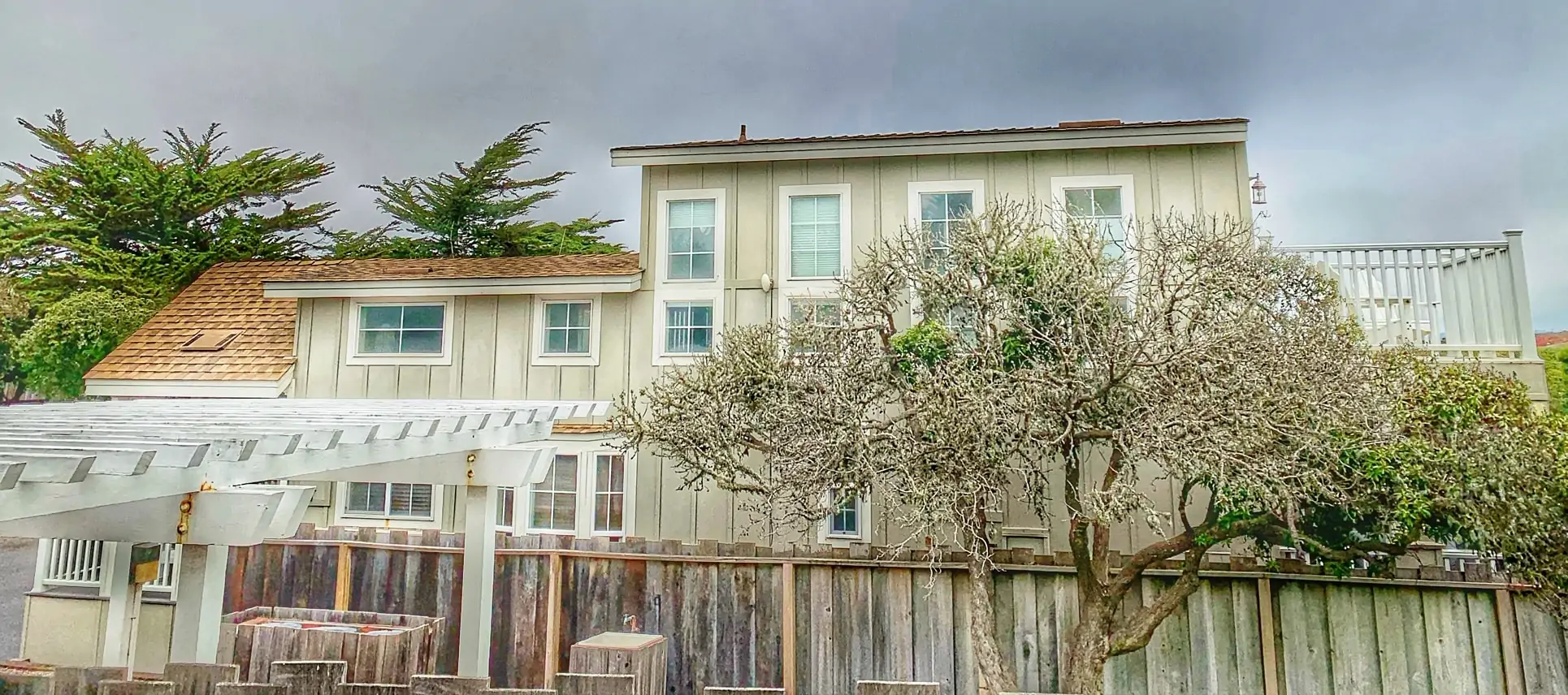 This location offers two different cottages. Here is a picture of our neighboring cottage as well.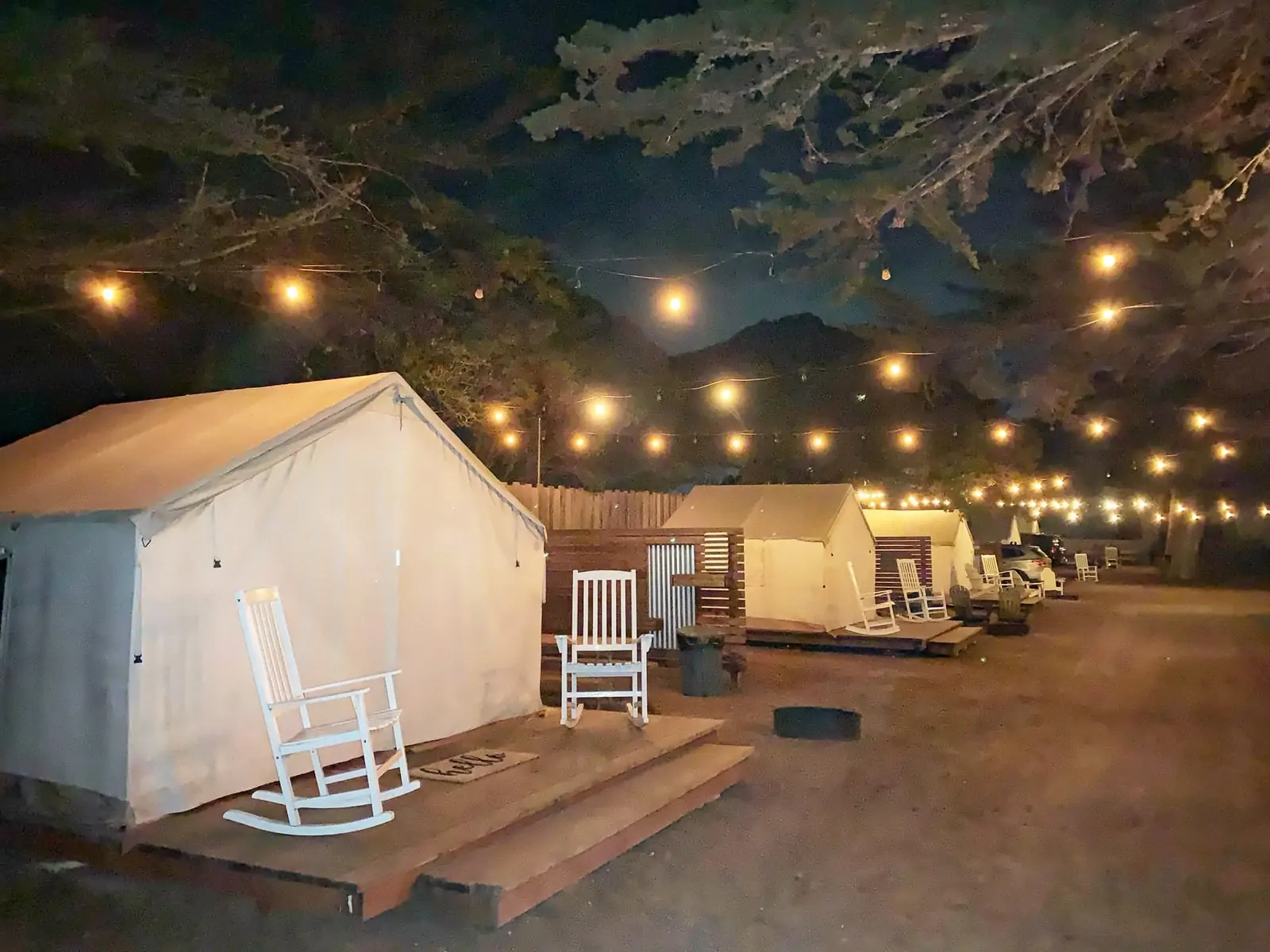 If you have been wanting to try glamping, they also offer canvas tents with beds, linens and more – that light up so romantically at night. This would be a fun option for couples!
Our cabin glowed at night time too. I loved this ambiance, as we were usually out being active all day long, and it felt great to come back to our own spot to relax each evening. As much fun as we had exploring the California coastline, one of my favorite memories was coming back to our cottage to unwind for the evening.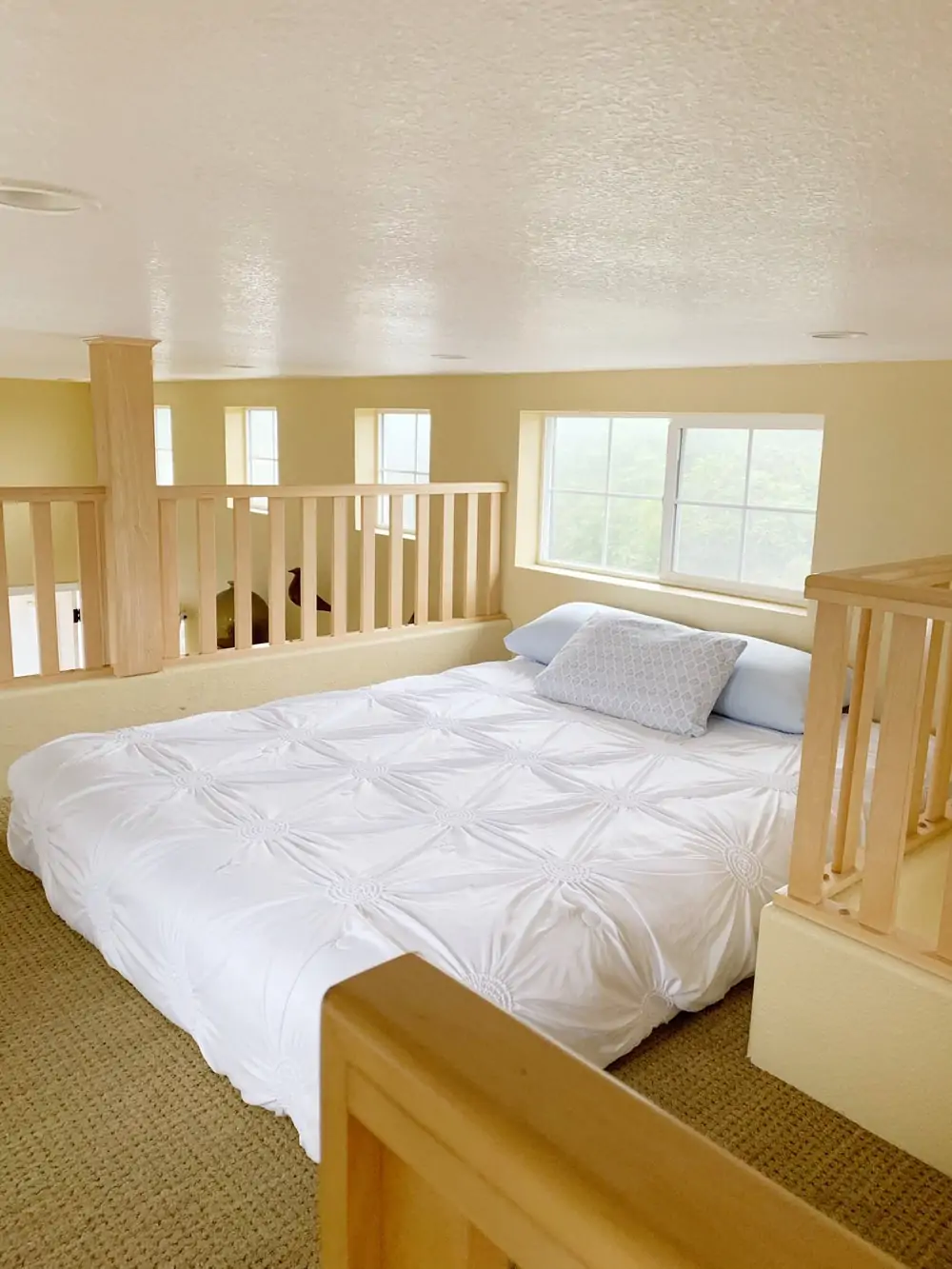 The cottage comes with a sleeping loft and bedroom. This makes it a great option for families. There is a double bed up in the sleeping loft, and my kids always love staying in a loft area. Linens are all included too, so no need to pack anything  you would not pack for a hotel stay.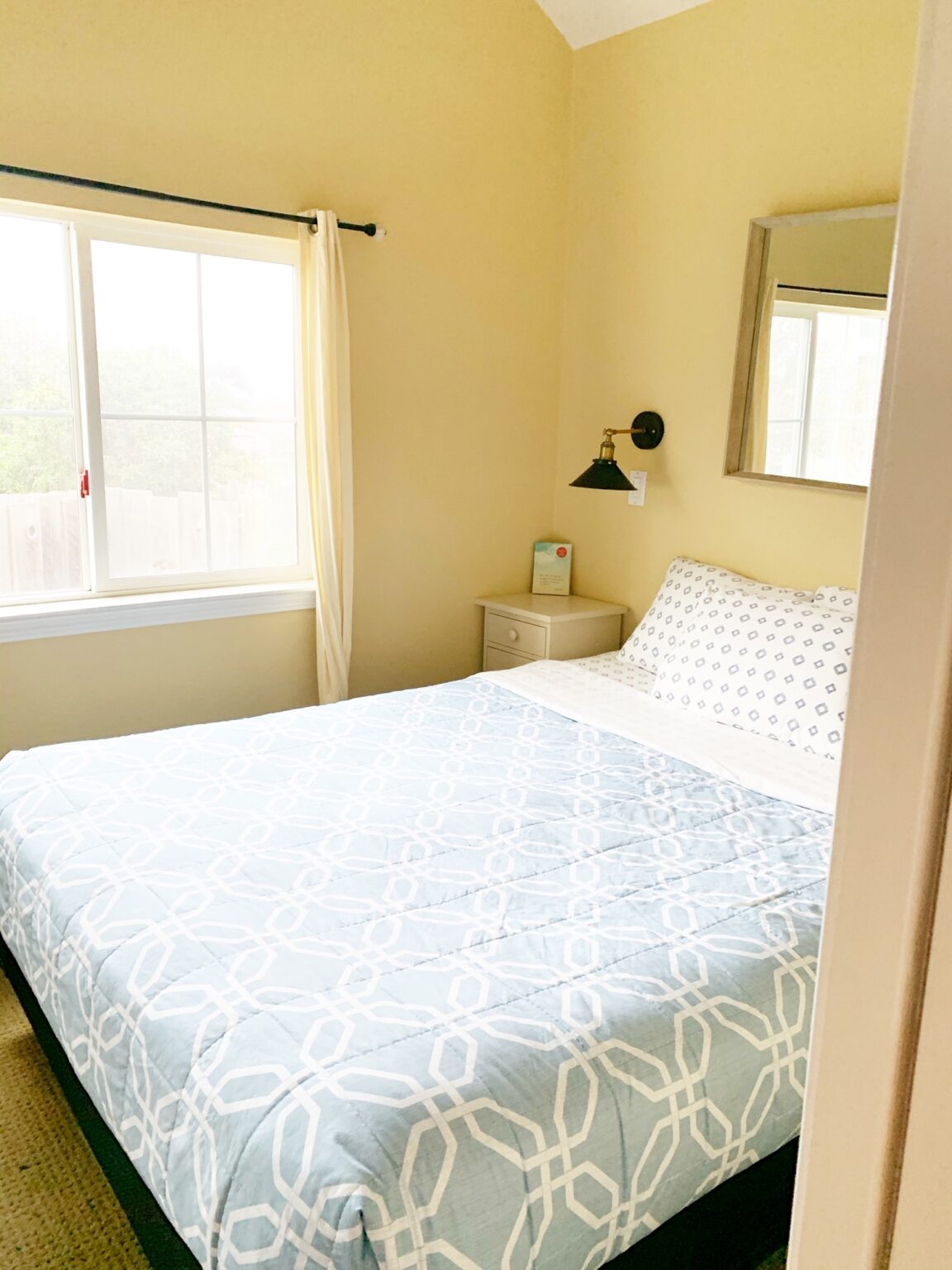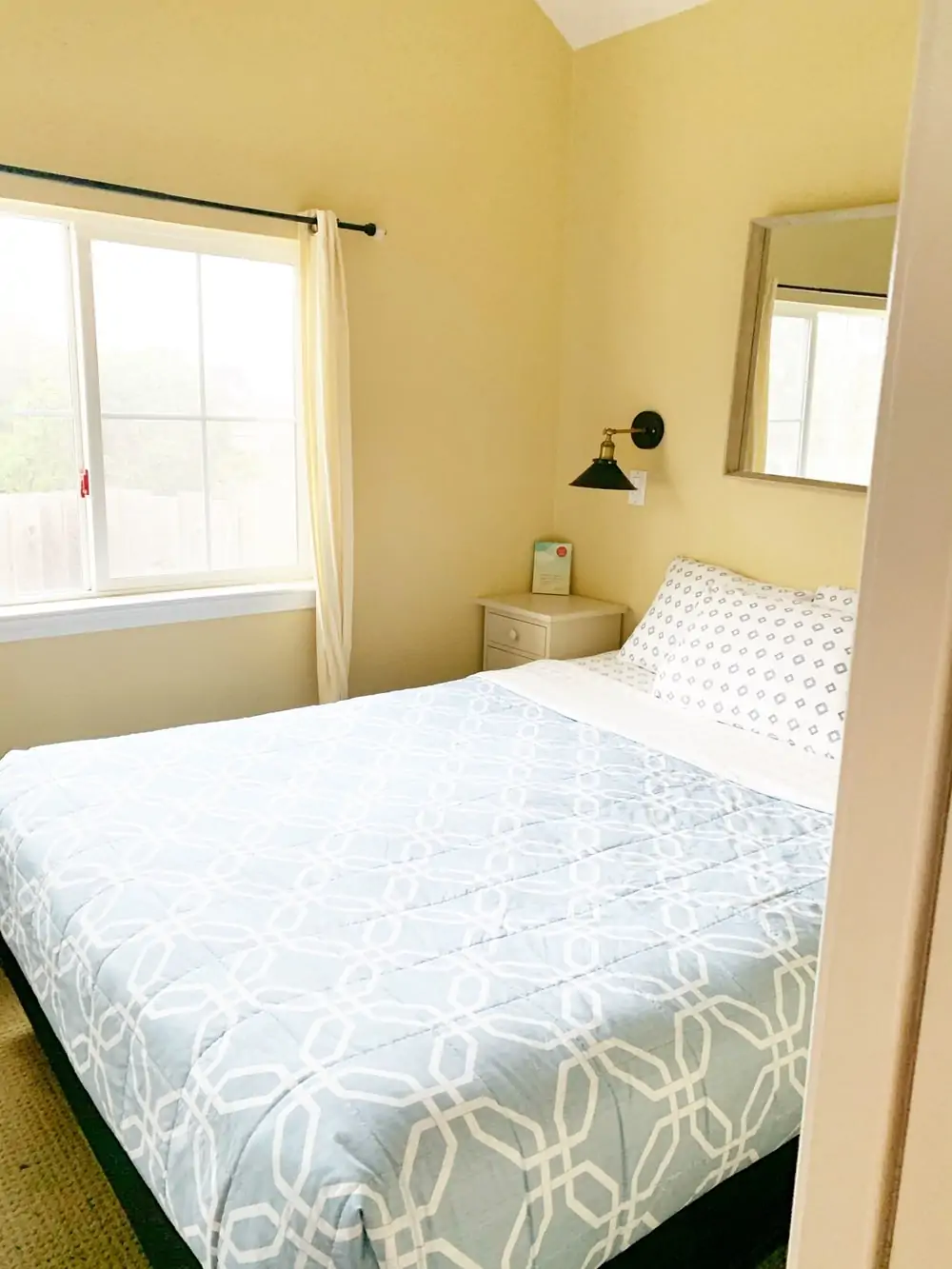 Here is the main bedroom area. It had lots of closet space to put your bags too. There is also a full bath, and kitchen in this unit.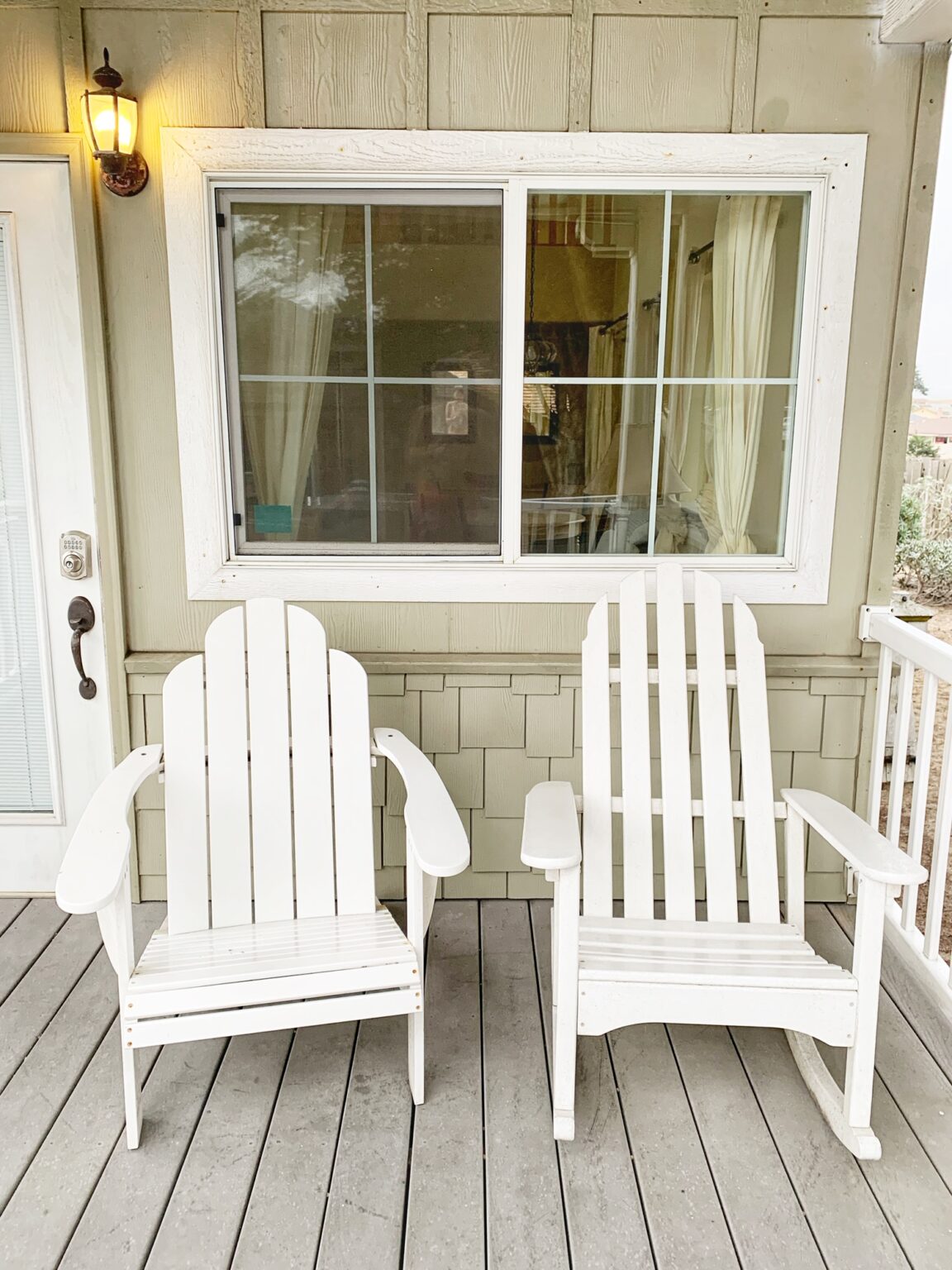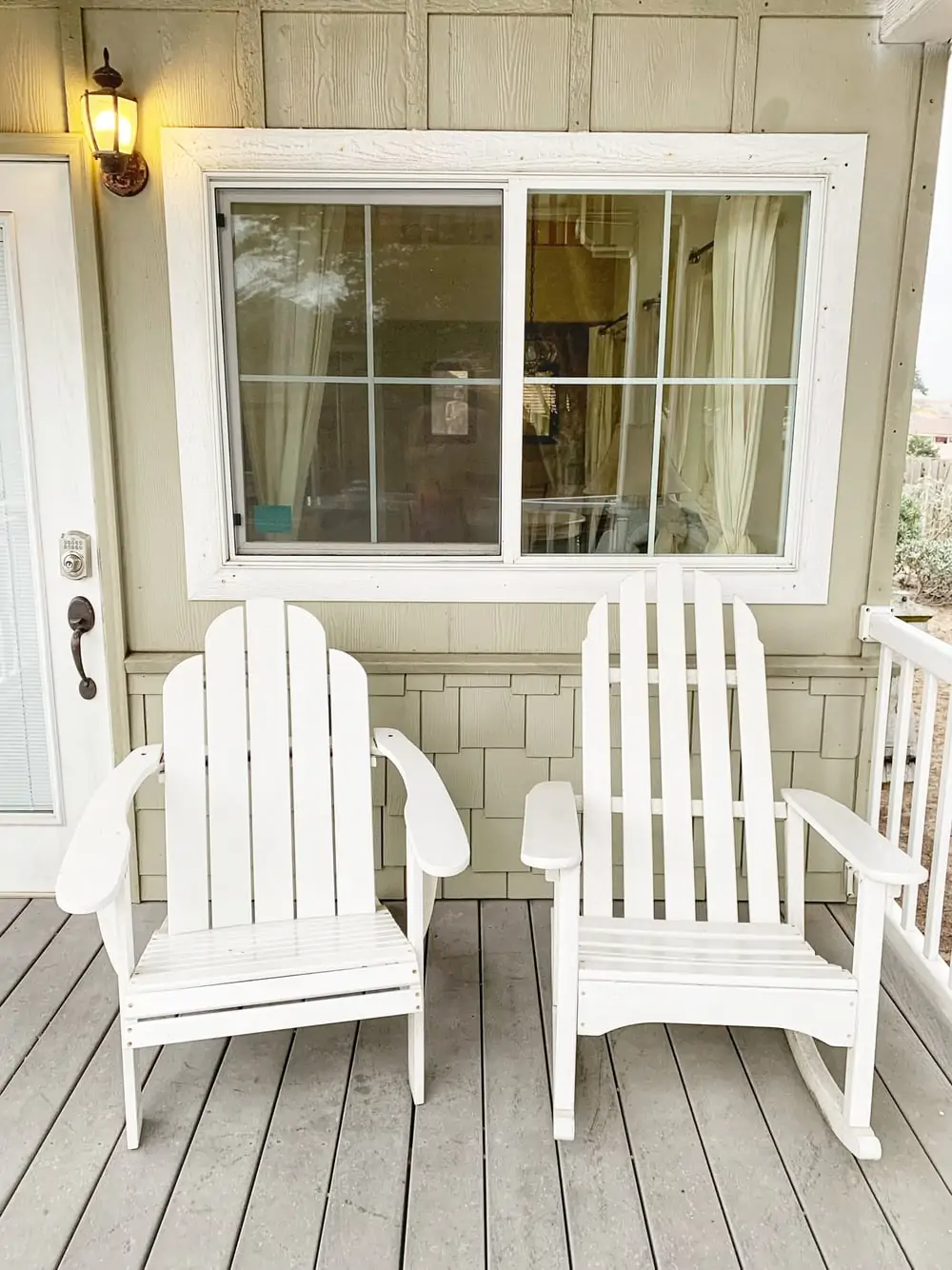 There are two private outdoor areas I loved, that only you have access too. The front porch gives you an area to sit, and visit with neighbors. We met a few other campers hanging out here.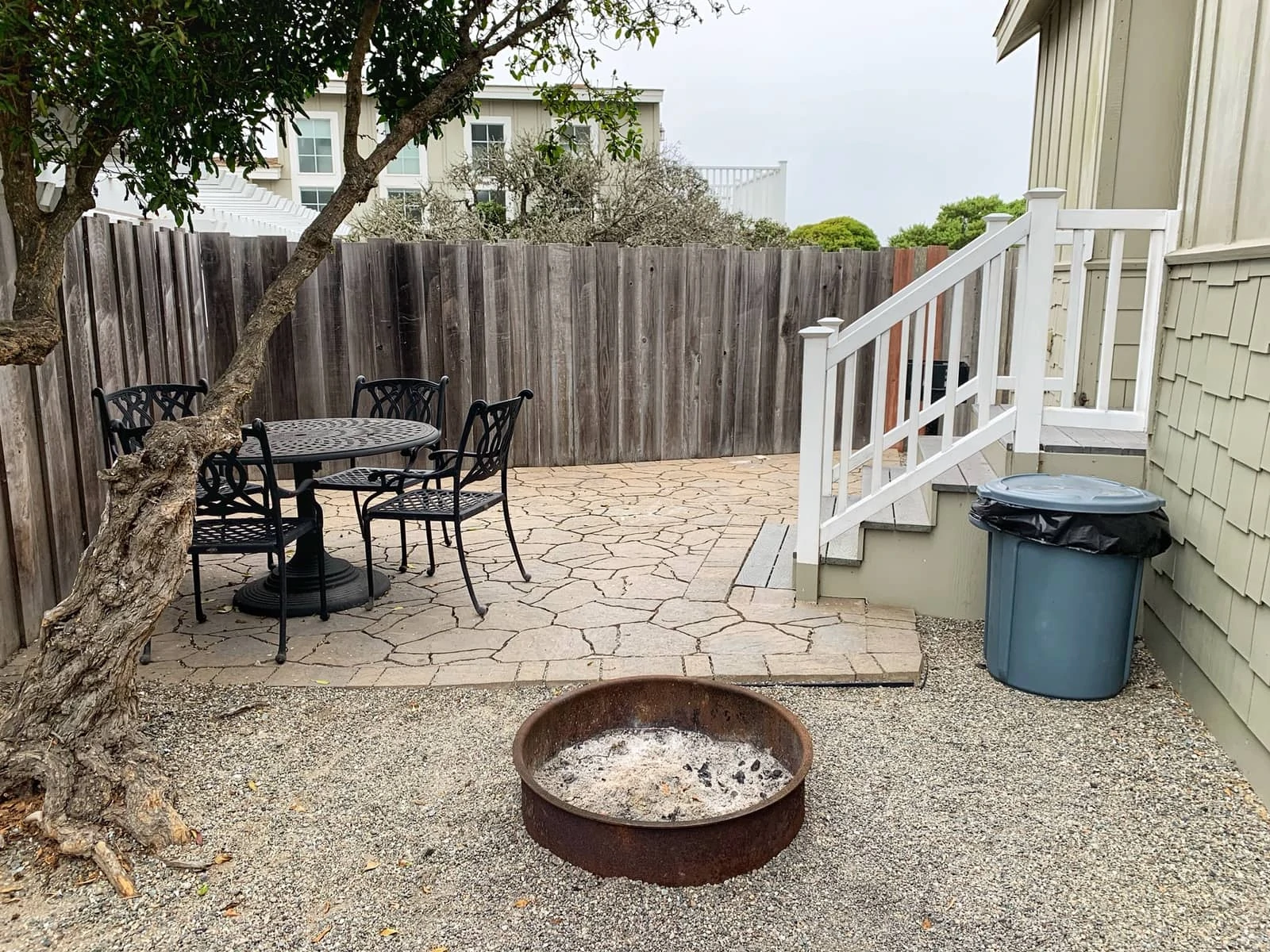 You also have your own little side yard in this unit, that provides lots of privacy if you just want to relax outdoors. Besides the table, there is also a fire pit and BBQ pit if you want to use those.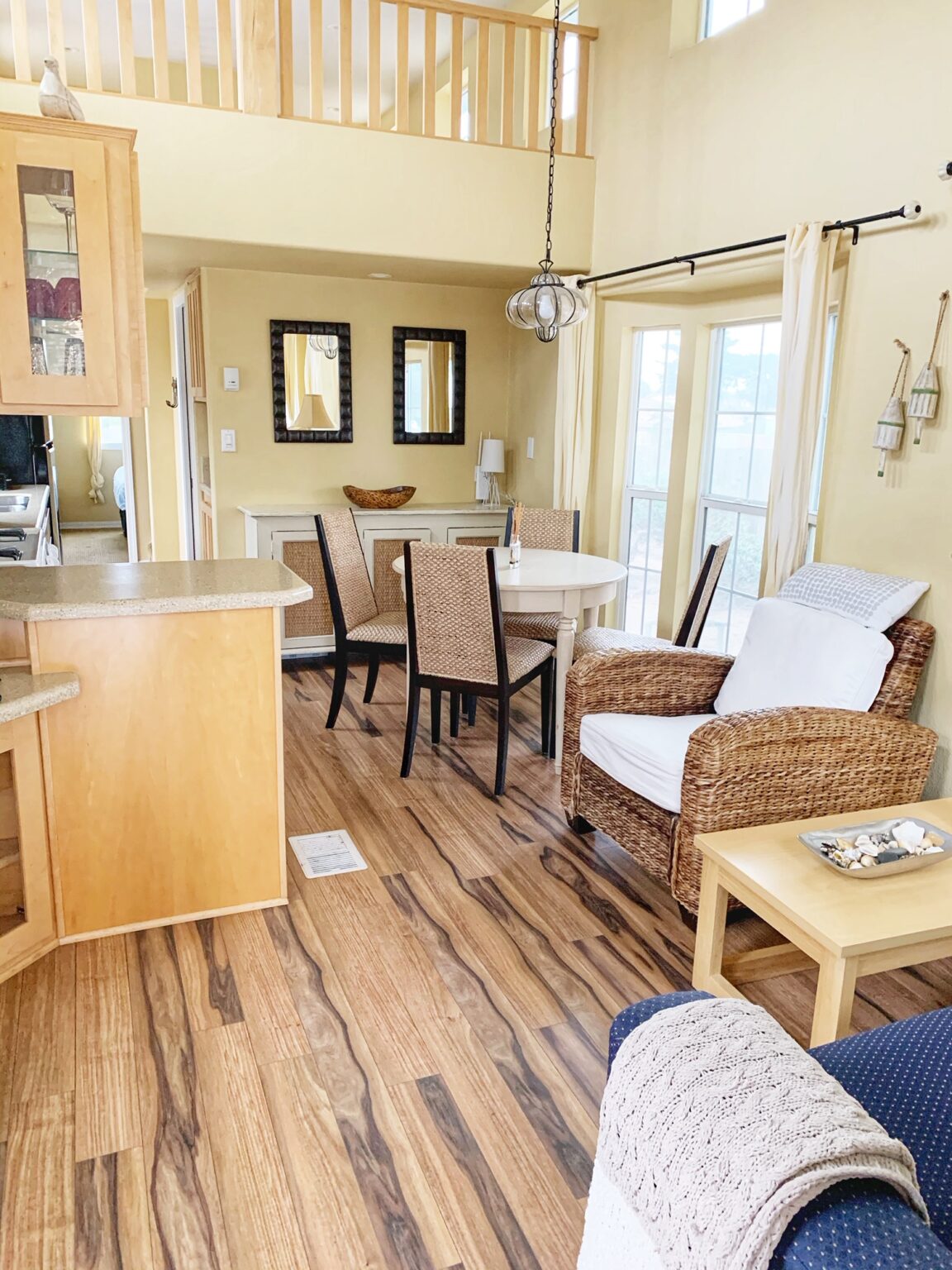 The main living space is spacious and comfortable, with the kitchen, kitchen table and couch (tv too if you want to turn that on). I love that I have all of the comforts of home in these spaces, to enjoy our vacation from.
Amenities Available at the Marina Dunes RV Park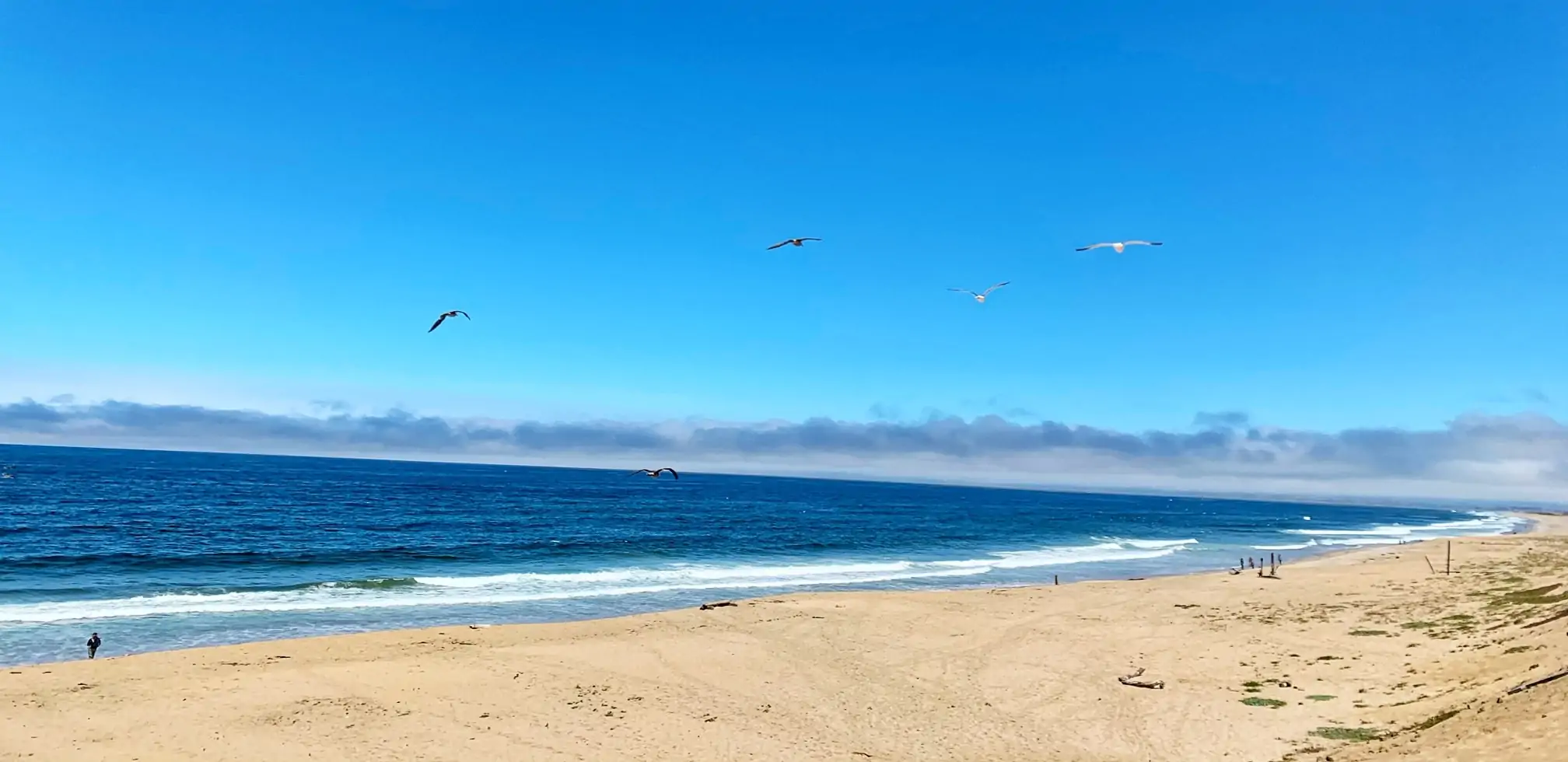 The best part of staying in this location for me, was the proximity to the beach. You have direct access to the Marina Dunes State Park (Beach & Preserves), and it is beautiful. This is not a swimming beach (waves can be pretty rough), but it is a beautiful beach with so much to see and explore.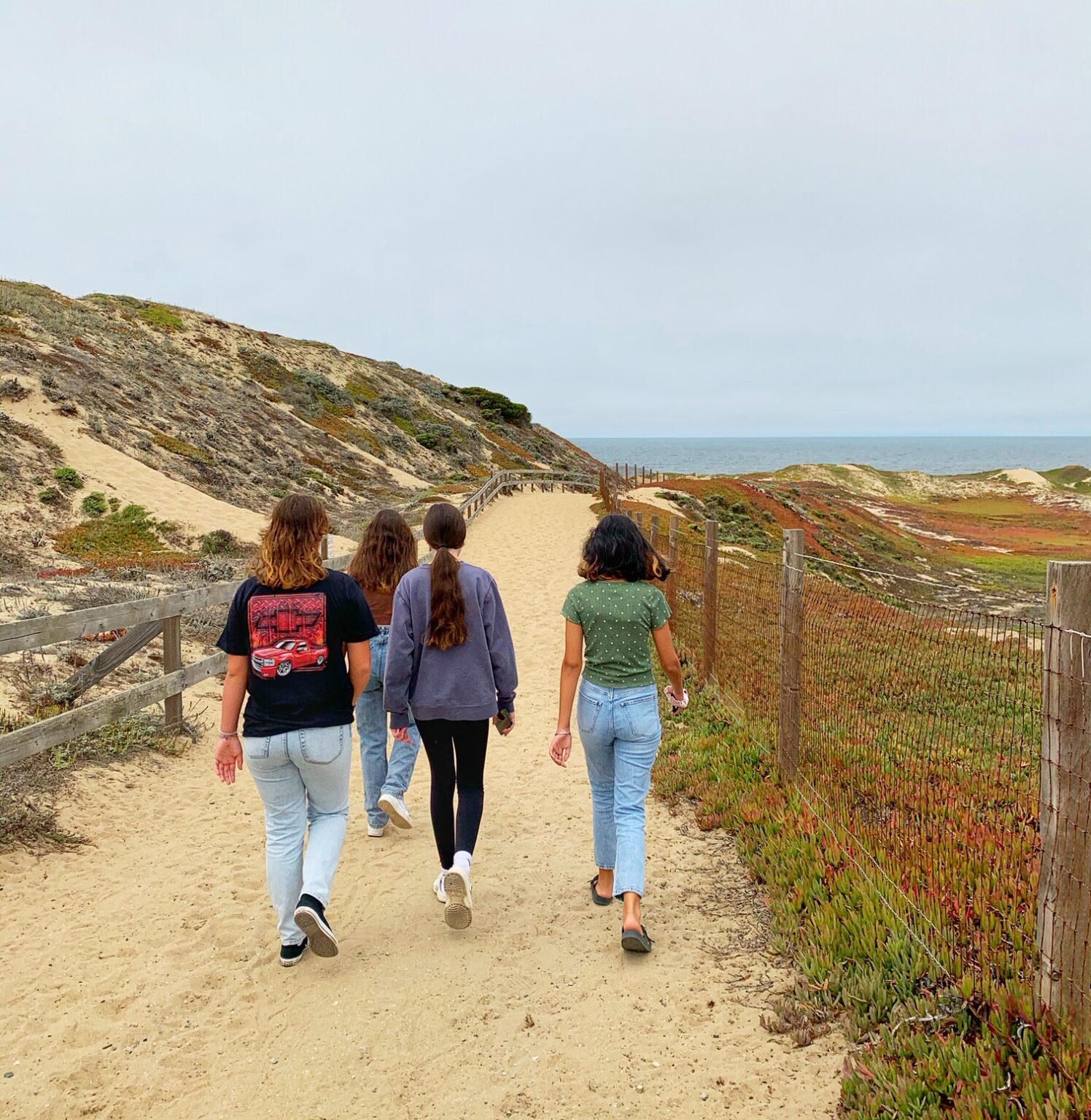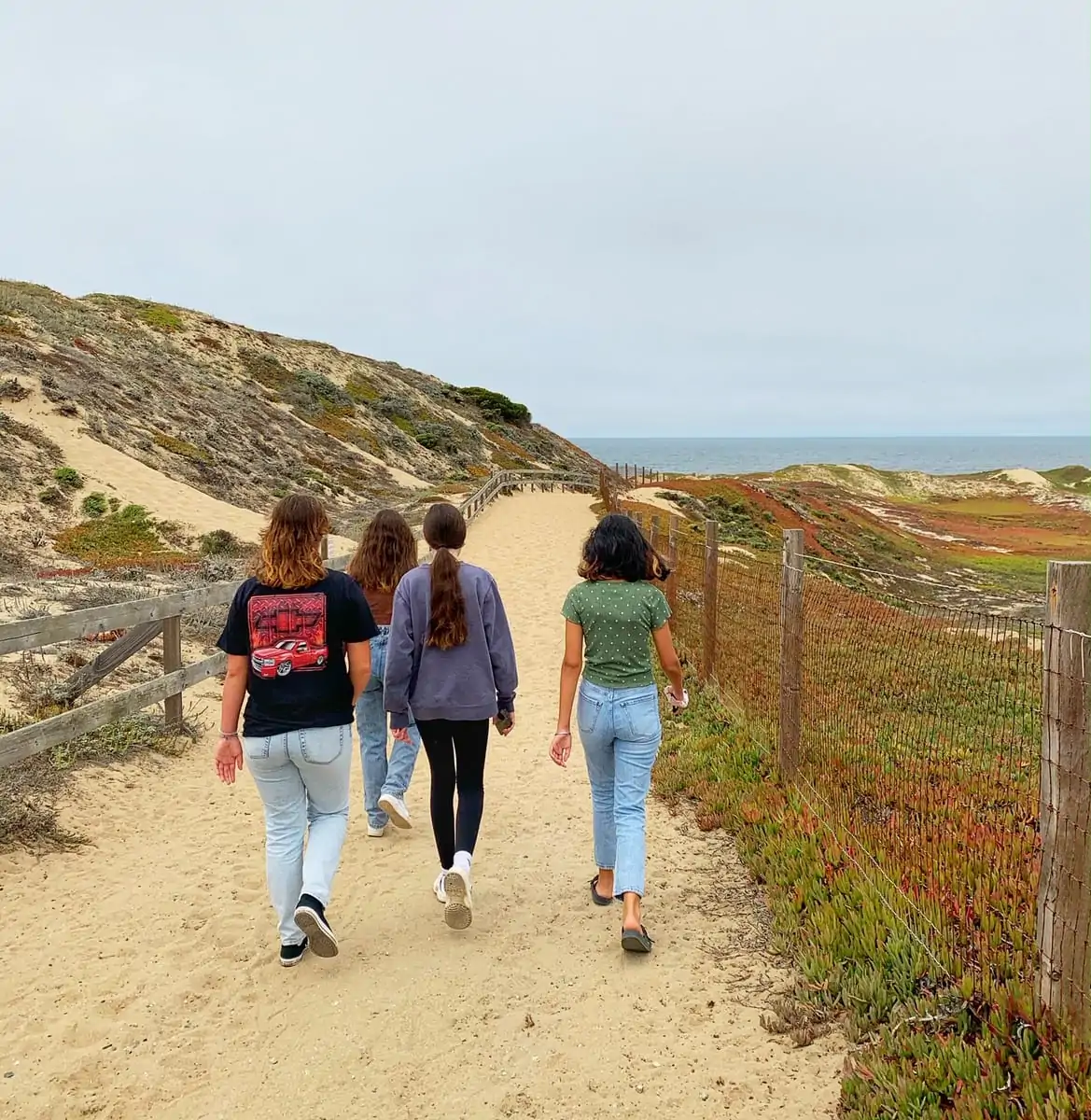 It is a little bit of a walk to the beach (which I really enjoyed, but want you to be prepared for it). There is a well defined walking path right outside of the park exit. This path will take you directly from the park to the beach and coastline.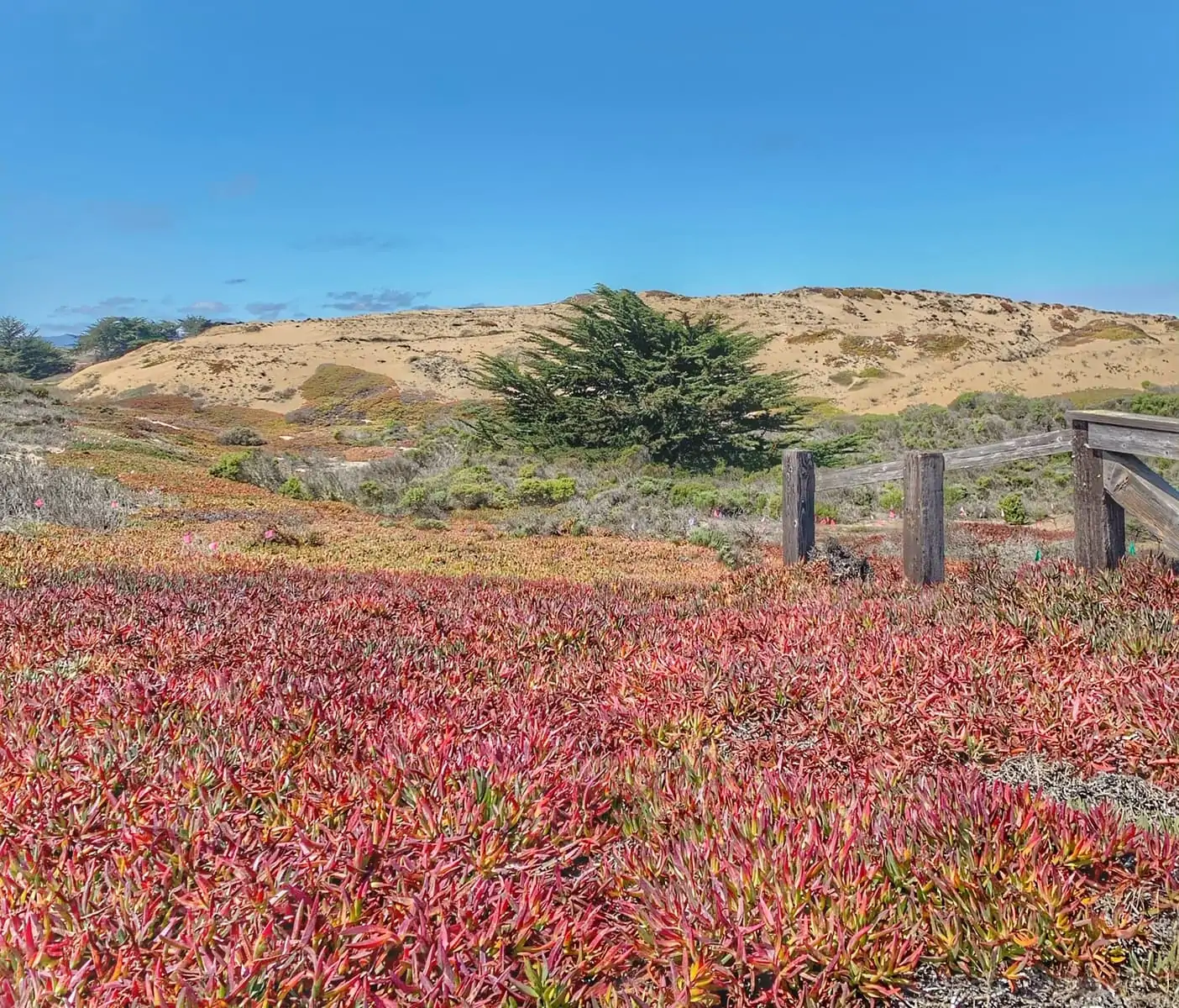 It is a natural preserve, so there are some protected lands in the area. One thing I loved was the plant life in the area. It might be a little different then you usually see on your way to the beach, but how beautiful are all of these colors against the sand!
We did see some folks bringing their sand surf boards, to enjoy some of the sand dunes by doing some sand surfing. We did not get the chance to enjoy that this trip, but have done that in the past, and my teens loved it!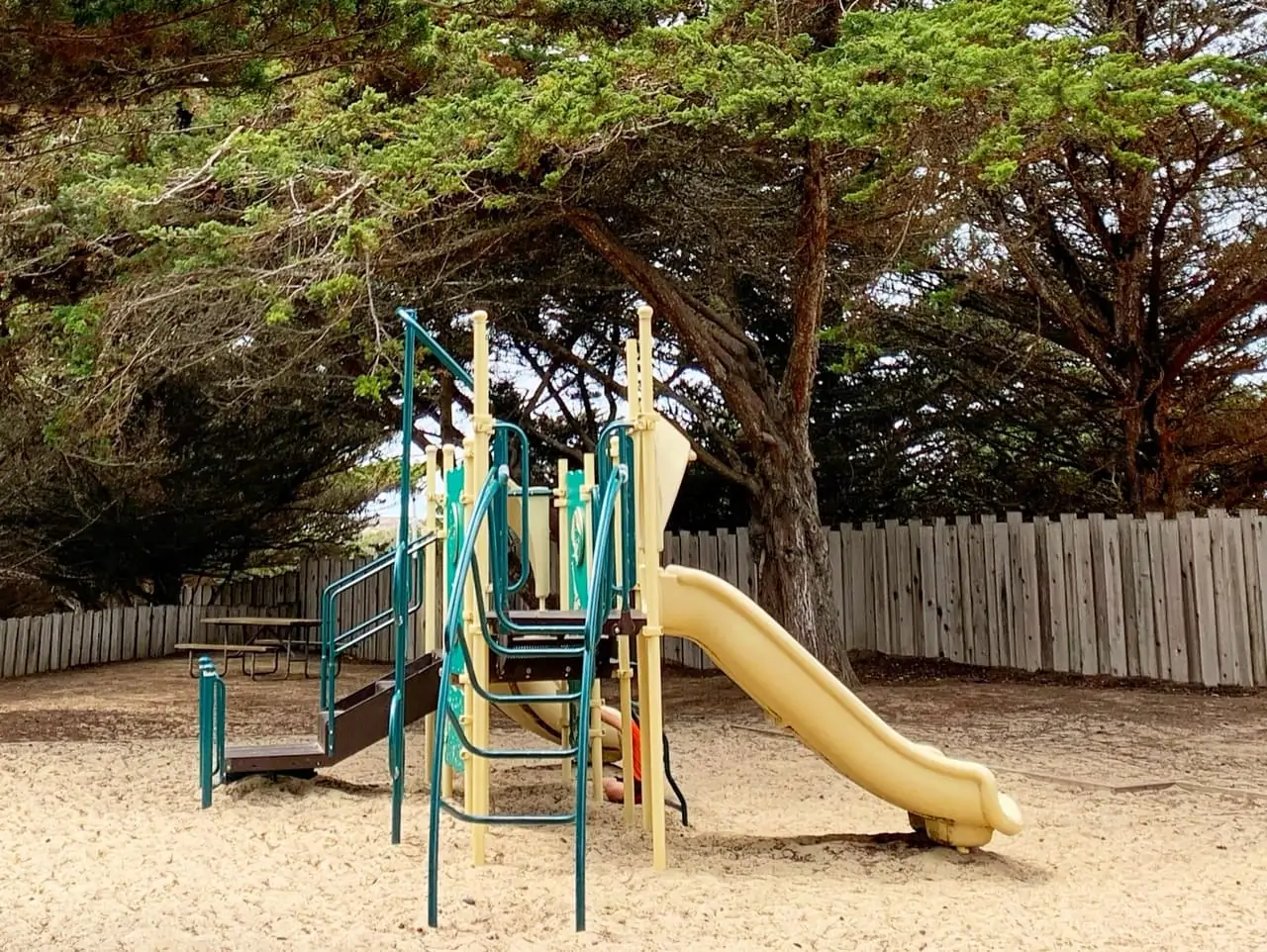 There is a small and clean playground on site, that younger kids can enjoy.
There is also a game room that includes a pool table, as well as a number of board games and communal area you can hang out at. It was open until 10pm, and my teens loved to end their days over here playing some pool before they had to come in for the evening.
The sand volleyball court was well maintained, and a spot my crew used daily. It was so nice to have a few spots I felt good about letting the kids wander off and enjoy themselves. They loved it too – and lots of great memories where made here. 
There is a small store onsite in the area you check in. However, you will want to call ahead of time to confirm when they will be open during these times right now (as there hours really vary right now). No worries though, there is a Walmart just a few minutes up the street (you could even walk there if you do not mind a longer walk). We found that so convenient, as we were able to grab all the supplies we needed so easily (and at great prices)! There is a gas station right next to the Walmart too, so you will find everything you need for a great vacation right in this area.
What To Do In The Area –
I am a huge fan of the Central California Coast area. There are so many wonderful things to explore in this area. Too many to actually outline here, but here are some highlights from our favorites.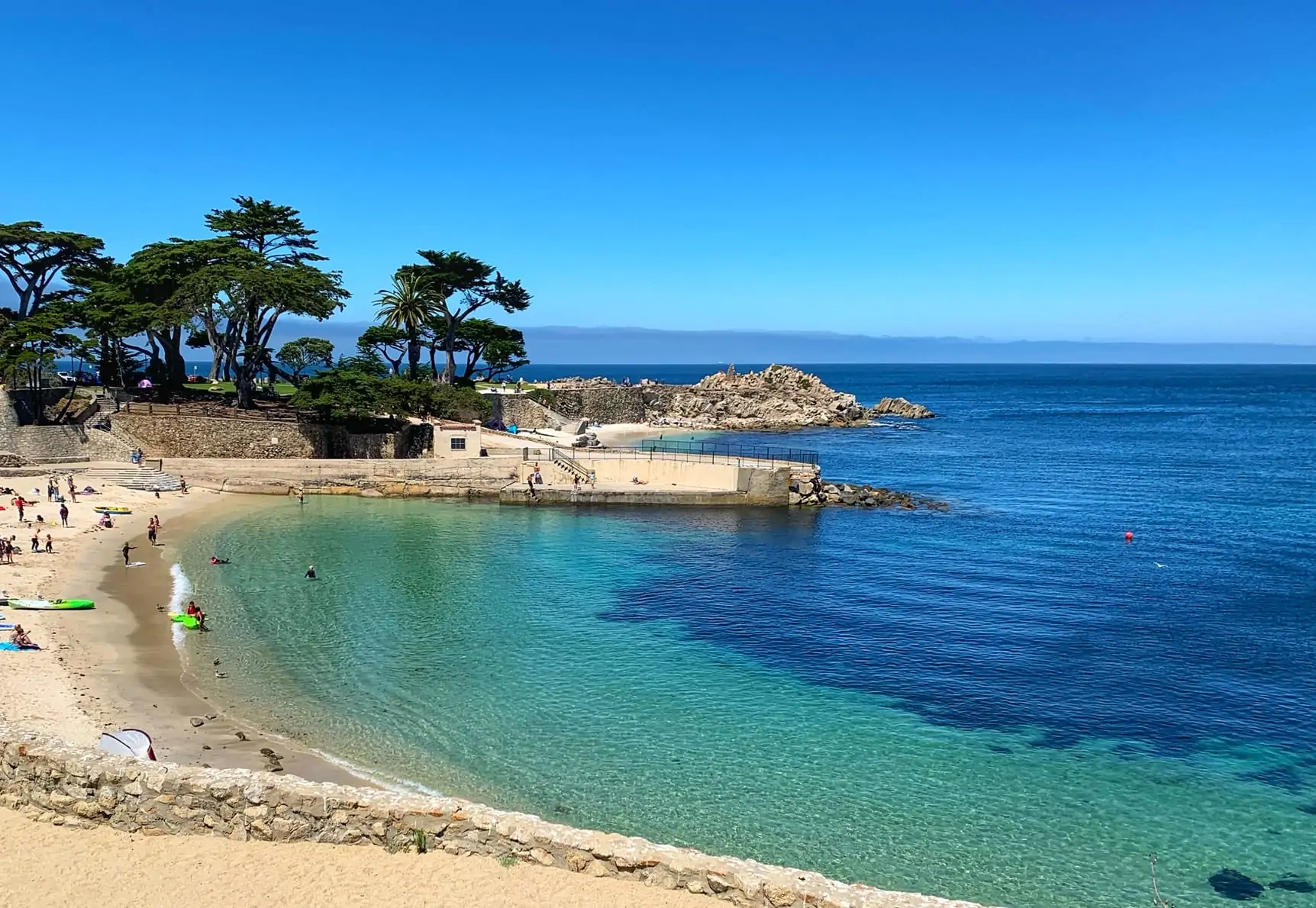 Enjoy a Day at the Beach
In addition to the Marina Dunes Reserve in walking distance from Marina Dunes Park, you will find many swimmable beaches, and water activities in the area. There is everything from canoeing to paddle boarding, skim boarding, body surfing and many other water activities available around here.
If you have younger kids, you may want to head over to the Lovers Point Park, where you will find protected coves they can more safely swim in.
Monterey has many wonderful areas to explore. It is a very short trip from the Marina Dunes RV Park. A few highlights included: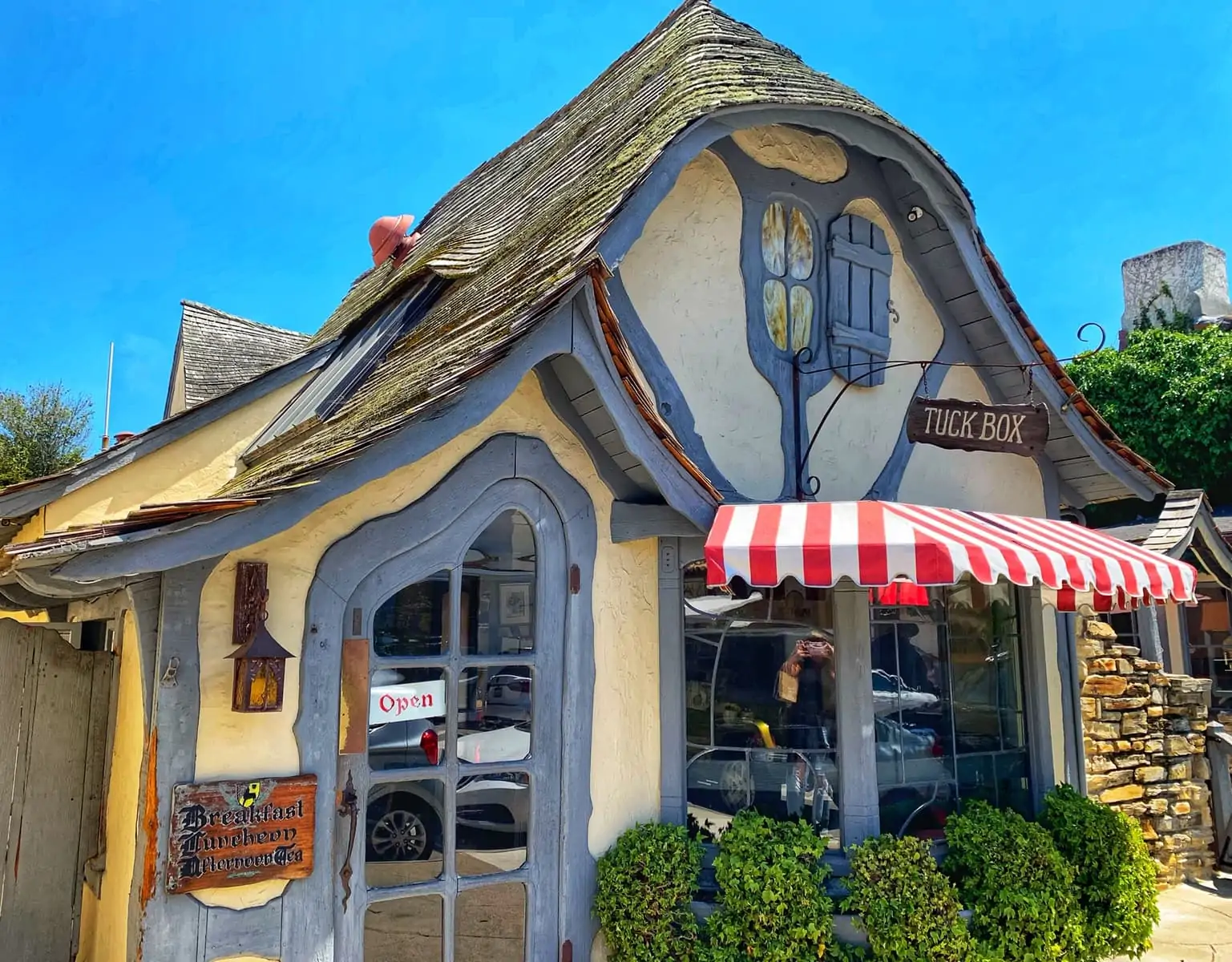 A Day In Carmel By The Sea
Caramel By The Sea is the quaintest little town, with access to a beautiful beach, shopping and amazing restaurant options. Plus, it is easily accessible from the Marina Dunes RV Park!
This spot has been a long time favorite for my family. If we are anywhere near it, we have to spend some time here. It is so much fun for all ages, and offers amusement park fun and beach fun, both in the same place. It is about a 40 minute trip from Marina Dunes RV Park (depending on traffic), and you are driving on Highway 1 (we found it a really easy trip).
Find our full review of what to see and do in this area here.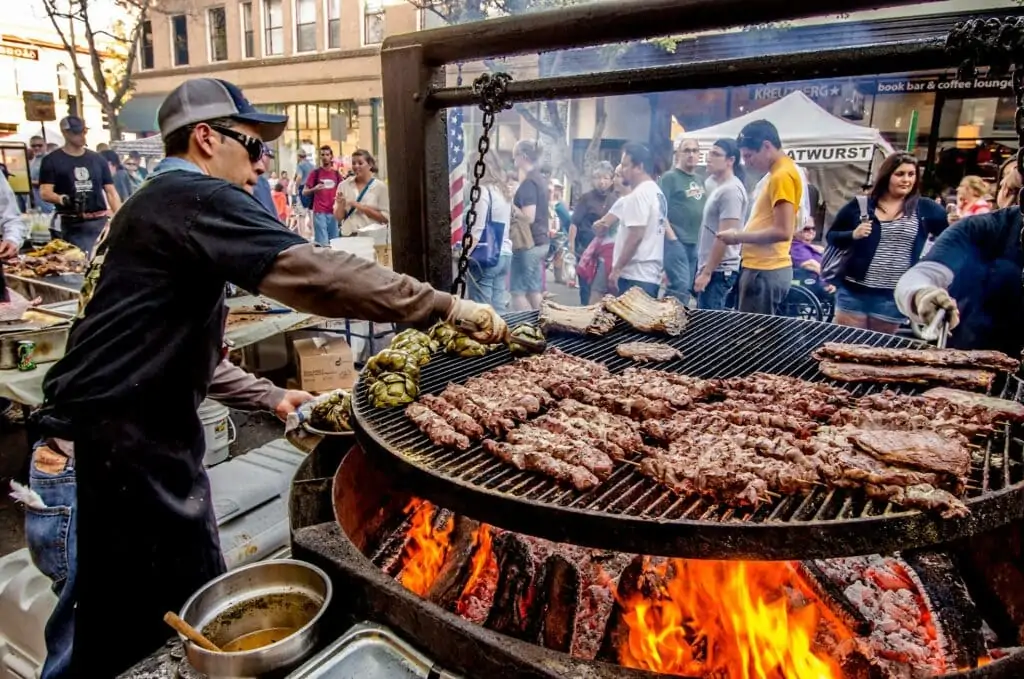 Head a little further South to San Luis Obispo and Pismo Beach area. San Luis Obispo is about a 2.5 hour trip from the Monterey area, but it is such a fun town if you are wanting to extend your vacation down the coast. The food is great, some beautiful hiking, great shopping and other tourists attractions are in the area as well. Great beaches are near the area, and there are some really great tourist attractions to stop and see on the way down too, like:
Elephant Seals
Hearst Castle
Solvang – a Danish village nestled in the Santa Ynez Valley
Cambria
Big Sur & Bixby Bridge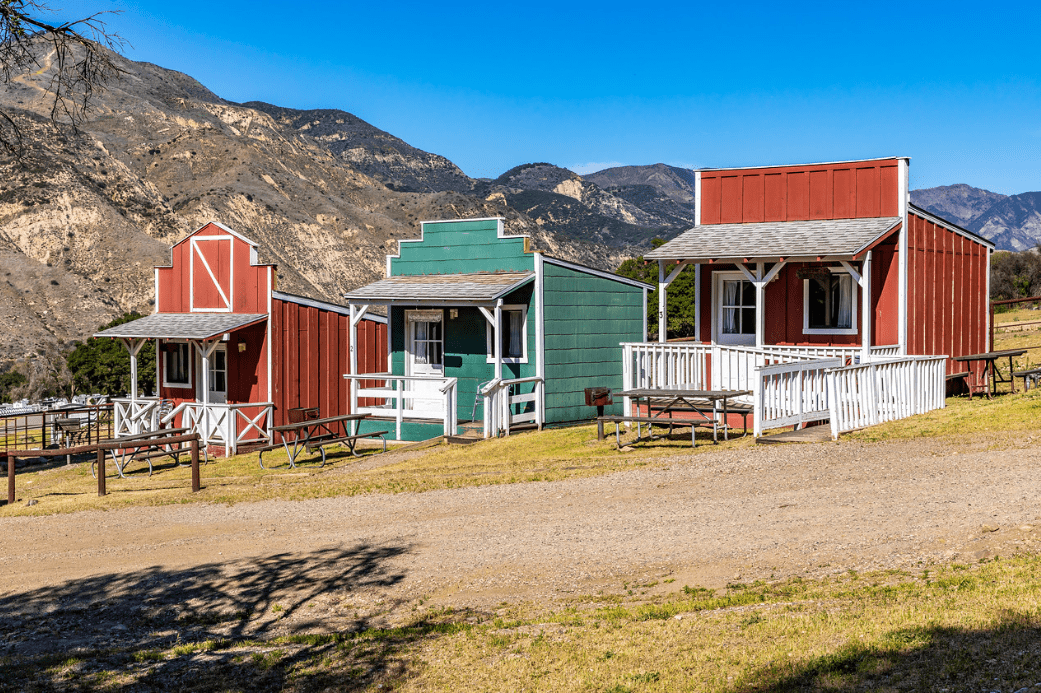 If you want to continue further down the California coast, consider a final stay in Santa Barbara, at the Rancho Oso RV Park. This spot has plenty to do for families, and is a short trip into all of the areas in Santa Barbara you might want to visit.
There are many rental options at this park, for all budget types. They have teepee's and covered wagon options that will be similar to camping (only without the set up) for some really great rates – or stay in a fully equipped tiny house or cabin, as an alternative to a hotel room. Find all of the details on their options here (under Santa Barbara stays).
Find current rates and information on the Marina Dunes RV Park here. If you are looking for the perfect blend of beach access, a quiet and clean park, and lots to do in the area – this is the spot!
Find More Tiny House, Cabin and Glamping Locations That We Love: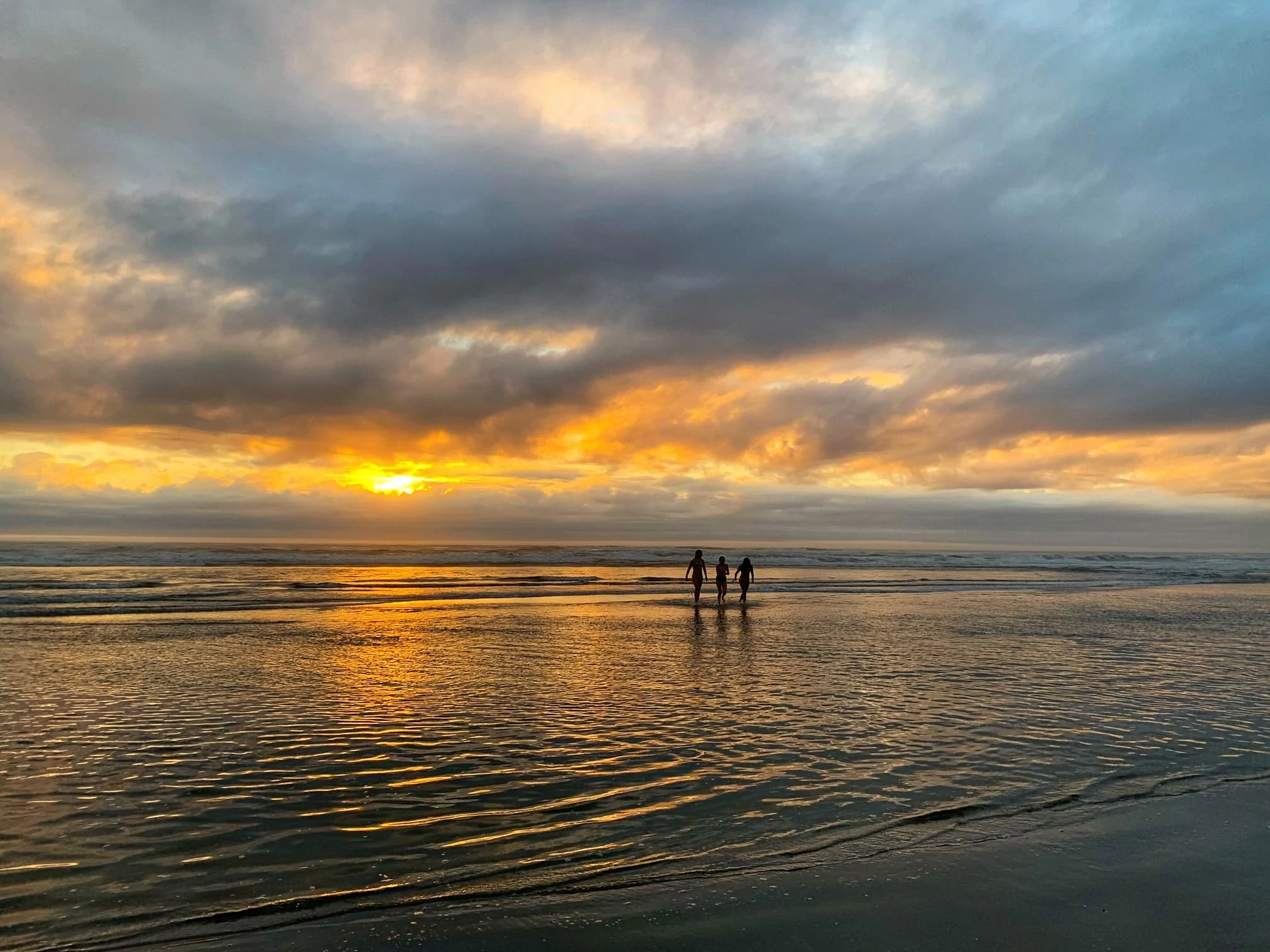 Whalers Resort on the Oregon Coast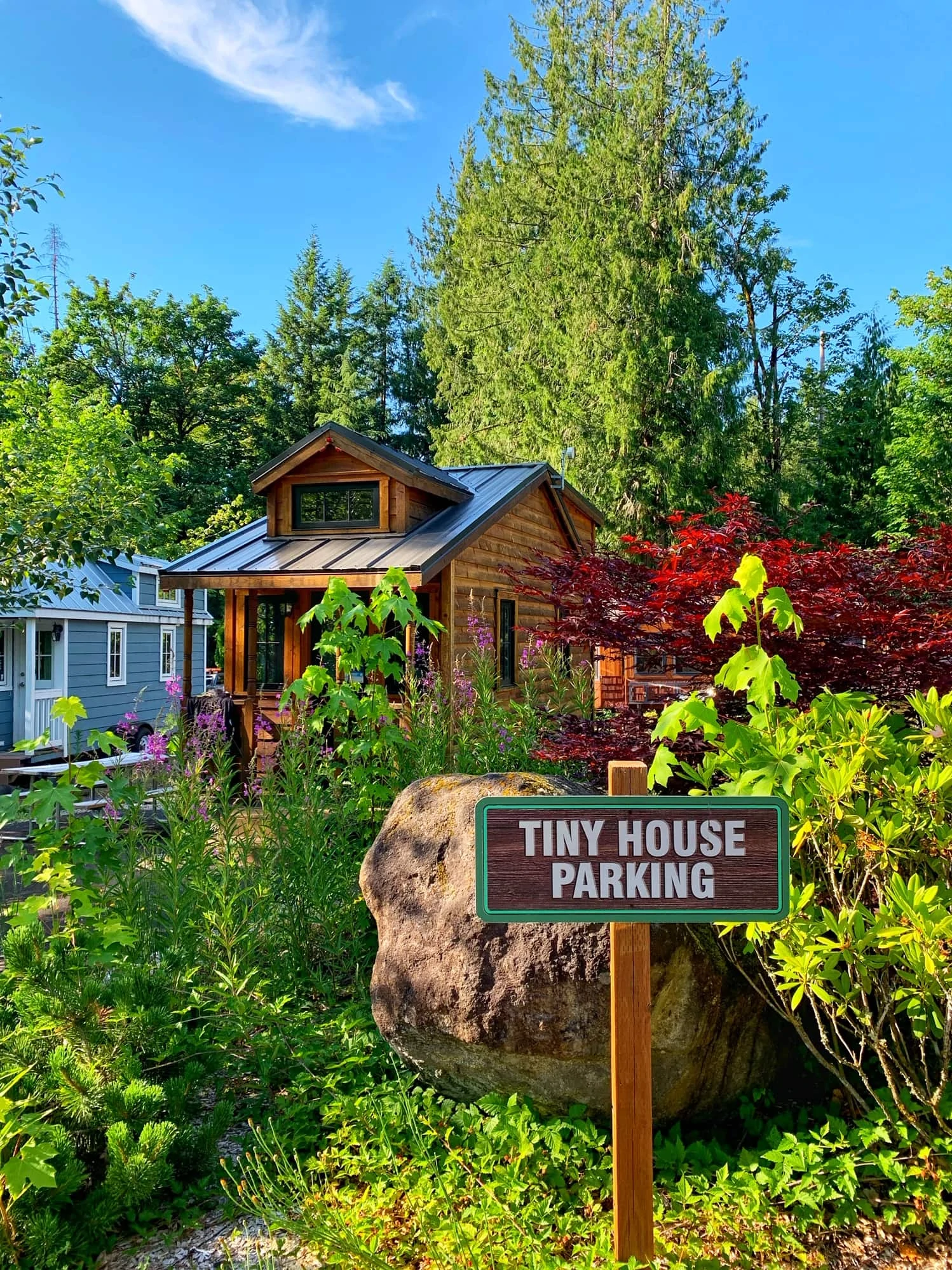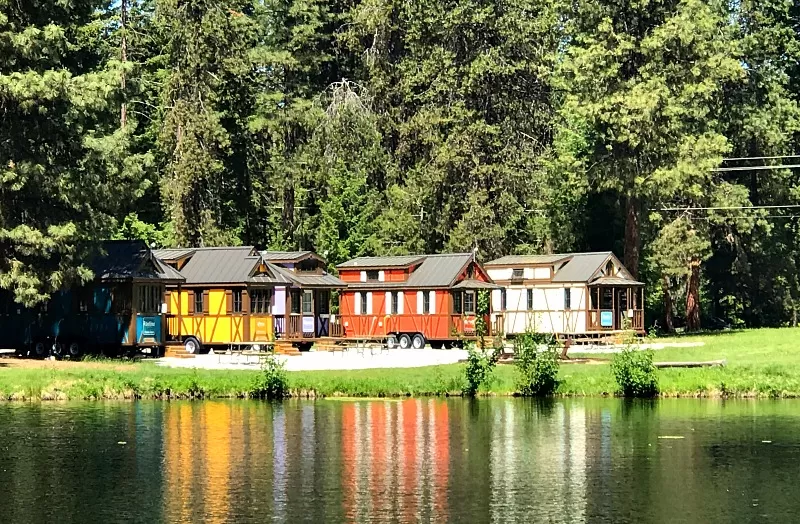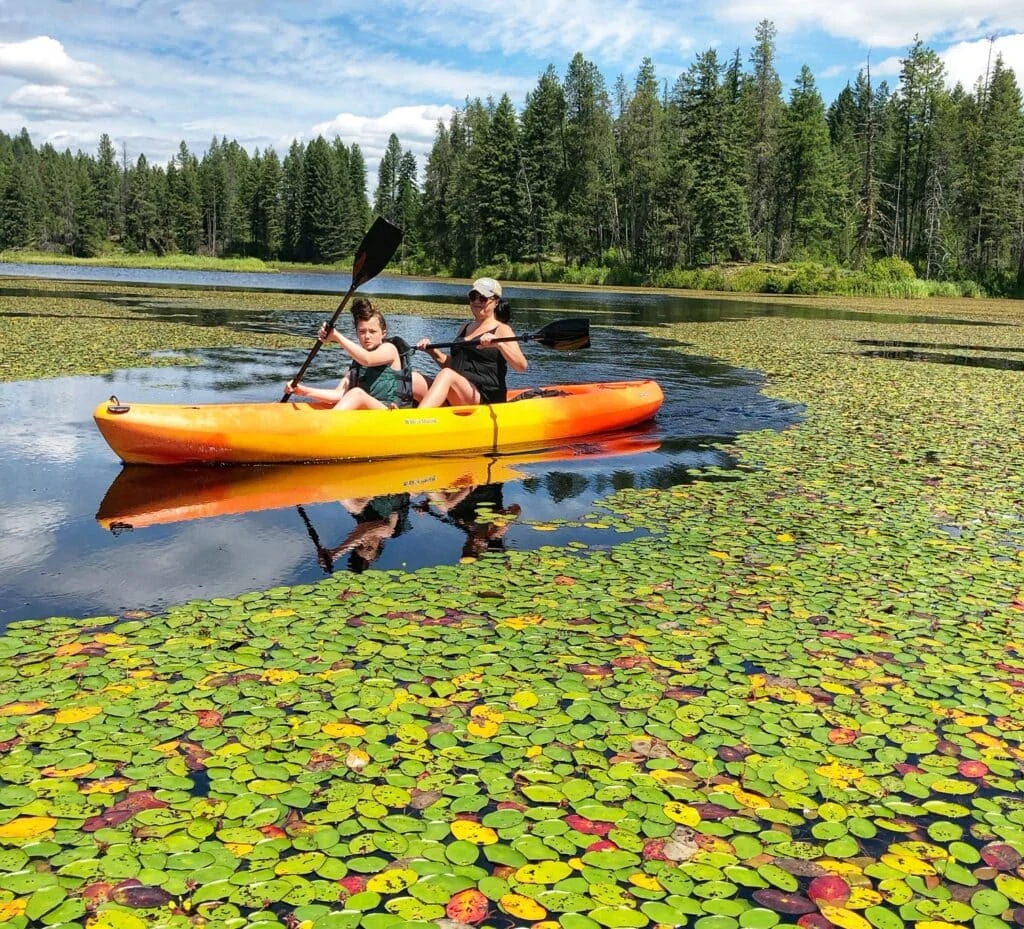 Newport Washington, Lakeside Location
Disclosure: Petite Retreats hosted our stay so we could review it & share our experiences. All opinions are my own. See our disclosure policy for more details.