Cabins at Little Diamond Lake, Wa – Perfect Mix of Nature + Theme Park Fun!
This post may contain affiliate links and I may be compensated for this post. Please read our disclosure policy here.
The cabins at Little Diamond Lake (a Petite Retreat and Thousand Trails campground) are North of Spokane, and close enough to use as a base camp for Silverwood vacations too. It is the best of both worlds, nature and the beauty of the lake, as well as time in the city or enjoying Silverwood Theme Park and Waterpark!  Petite Retreat hosted our stay, so we could share about the campground here. 
Cabins at Little Diamond Lake, Wa – Perfect Mix of Nature + Theme Park Fun!             
#Getoutandcamp
We recently stayed at the Little Diamond Lake, Wa campground through Thousand Trails, and had a really amazing time! You can find this wonderful cabin, as well as many other great cabins, tiny houses, yurts and other fun ways to enjoy a glamping adventure on the Petite Retreat site here too.
Little Diamond Lake RV Campground is positioned perfect, for a stay between Spokane and Athol, Id (where Silverwood is located). They have a few new cabins, and we stayed in one of those, and had a super glamping experience that we thought some of you might enjoy too. It was a quick four day getaway, but you could enjoy it for longer if you want to. We loved every minute of this stay, and hope to do it again in the future. It was four days of refreshment from real life, and I certainly could have used a couple more if you want to consider a longer stay.
Here we will provide a review of the campground, as well as the four day itinerary we used, for a fun and affordable vacation at Little Diamond Lake. You can take what works for your family, and make adjustments where needed to suit your families vacation style.
We planned a mid-week (to miss the crowds) vacation. I find 4 days is perfect for this kind of getaway. If you want more, there is plenty more to do, but if you are looking for a short getaway that is going to feel like you really got away for awhile, this is the one! You can do this anytime of the week, but a Sun.- Wed. stay can really save you.
You can check out a video tour of the cabin here, to see if the size and accommodations will work for your family. It was perfect for mine! This particular trip was a girls trip, so I did appreciate the extra safety features of having a deadbolt to lock at night when it was time to turn in for the evening.
Staying in a Cabin –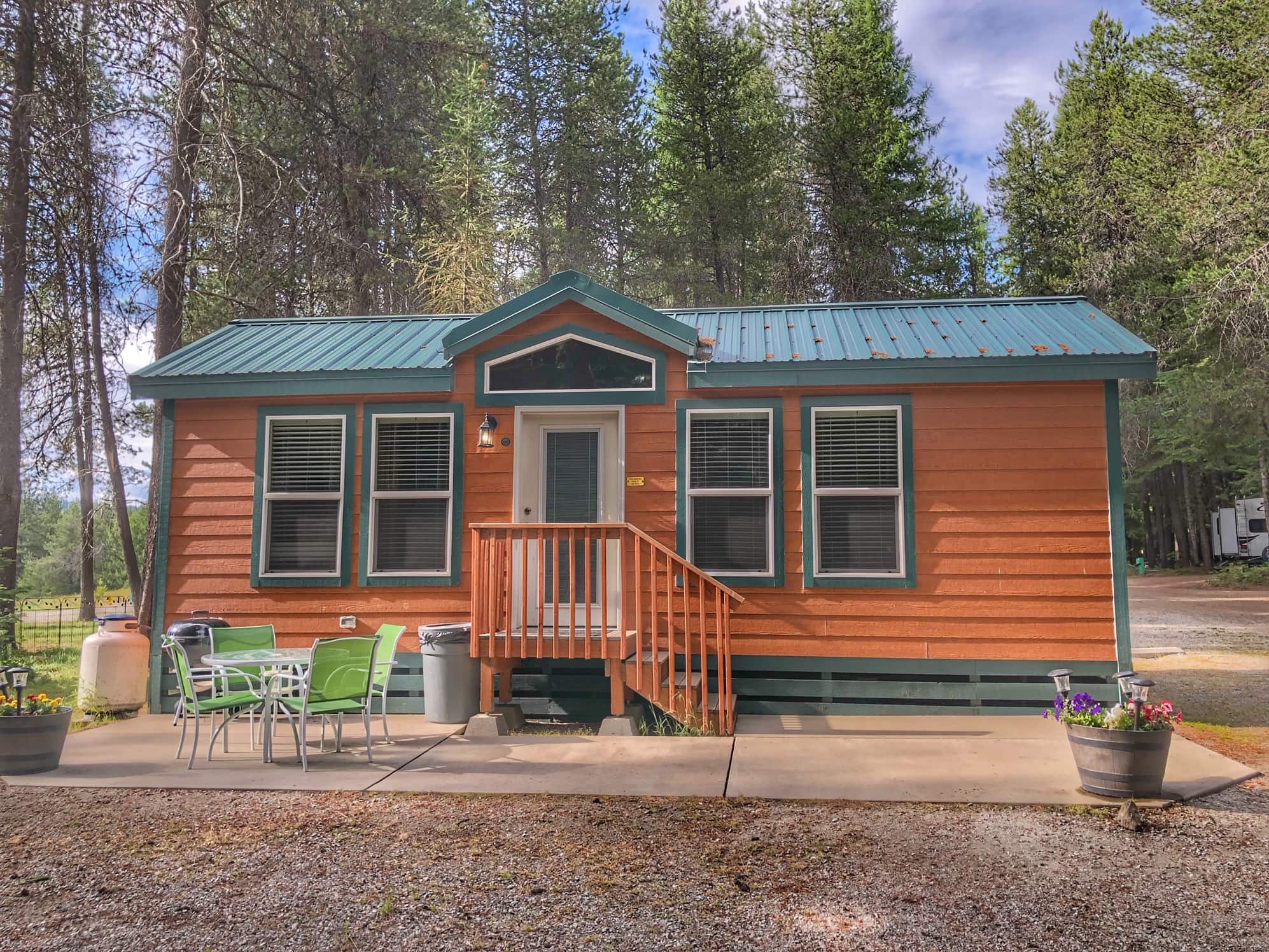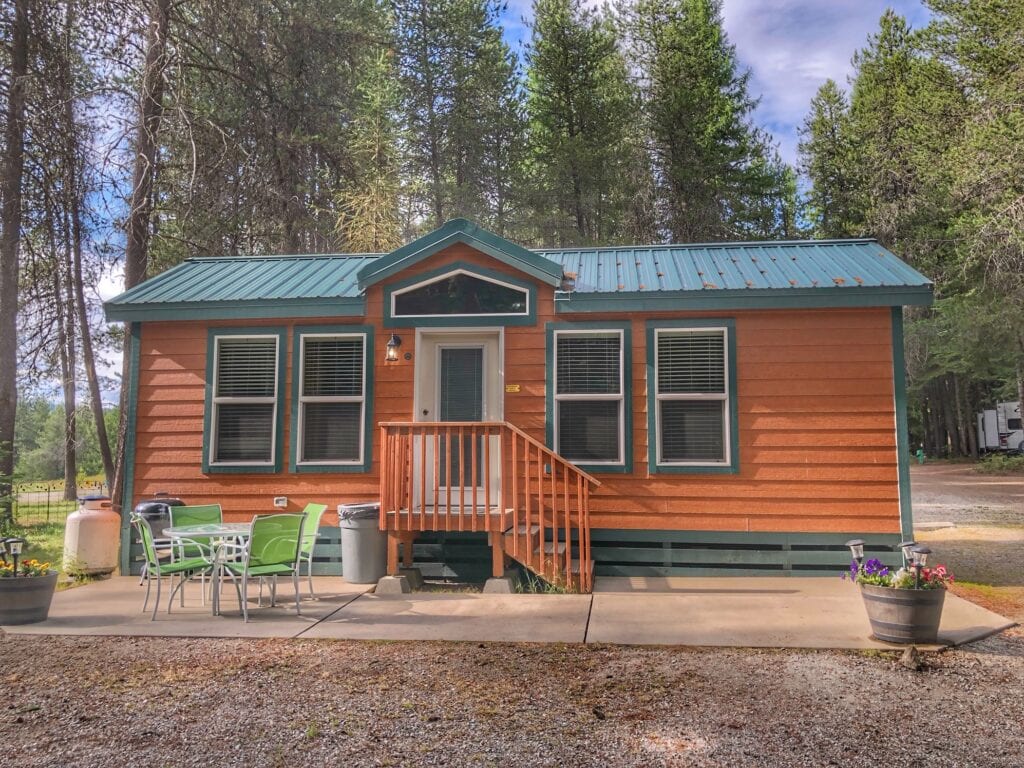 The cabin itself was super comfortable. I often prefer a cabin over a hotel room, in that I feel like we have more space to spread out, and I love the outdoor spaces we can enjoy throughout the day too. We stayed in a cottage deluxe cabin, and it sleeps six.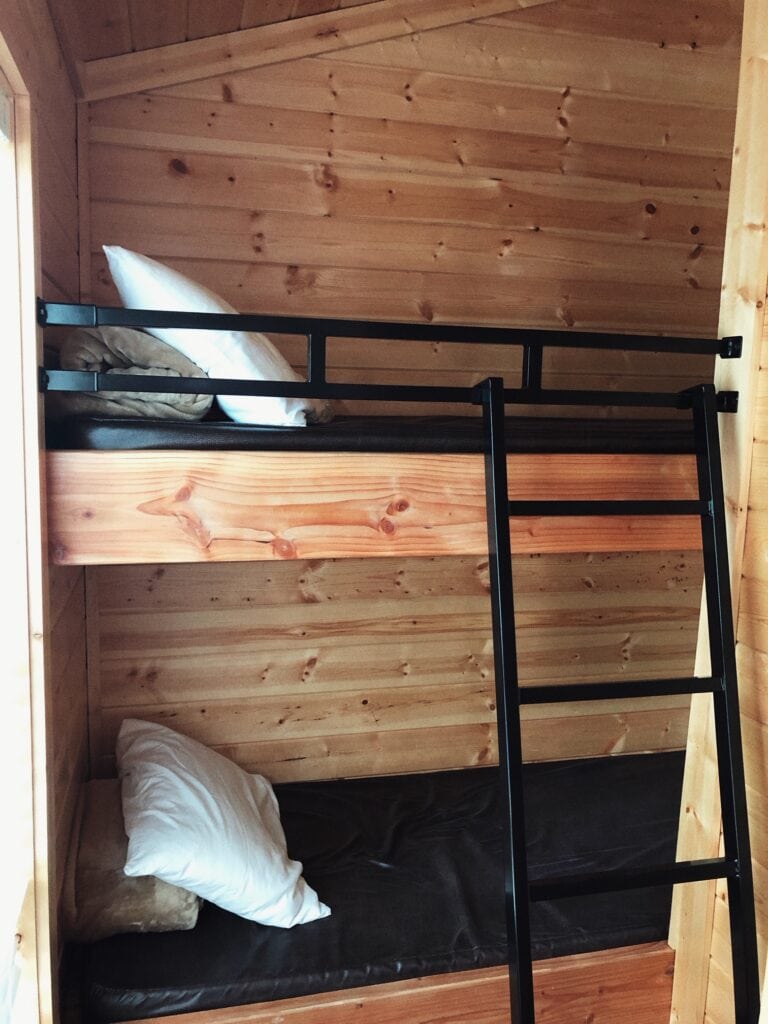 There is this cute bunk room that my kids love. They have their own space, and I find it much easier to contain messes and let everyone have a spot where they can keep their own things, and relax in.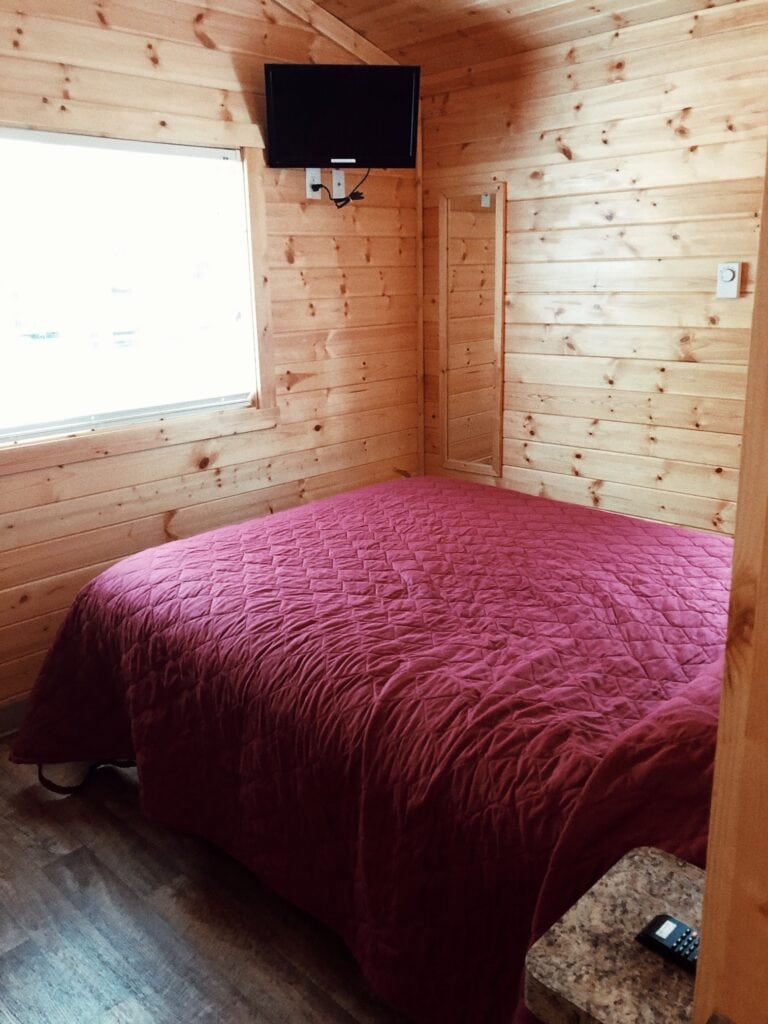 There was a separate room off the back of the cabin with a comfortable queen bed. There was a TV and space to hang your clothing, and store suit cases too. The cabins come with all their own linens, so no need to pack anything more then you would for a hotel room.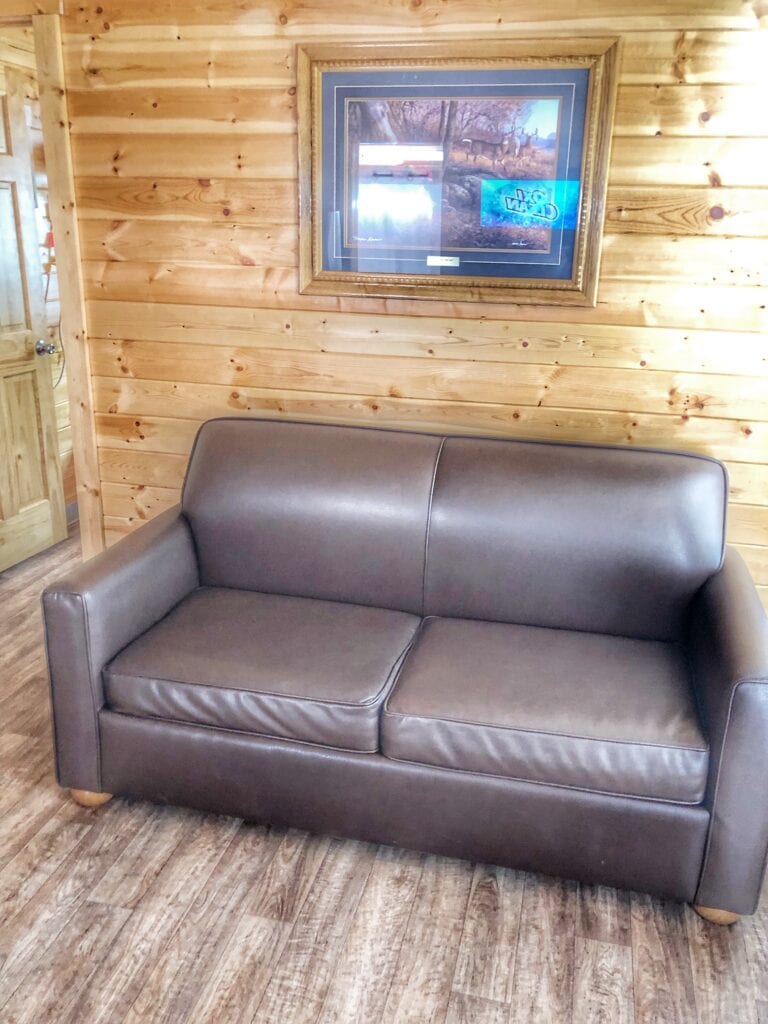 The cabin also has its own living room /dining/ kitchen space in the main area of the cabin. The couch in that space folds out and acts as a hide-a-bed if you need the extra sleeping space. I slept on it one night, and while it was not nearly as comfortable as the bed in the room, it did work as extra sleeping space. I think it would best be used for more kids if you are traveling with those.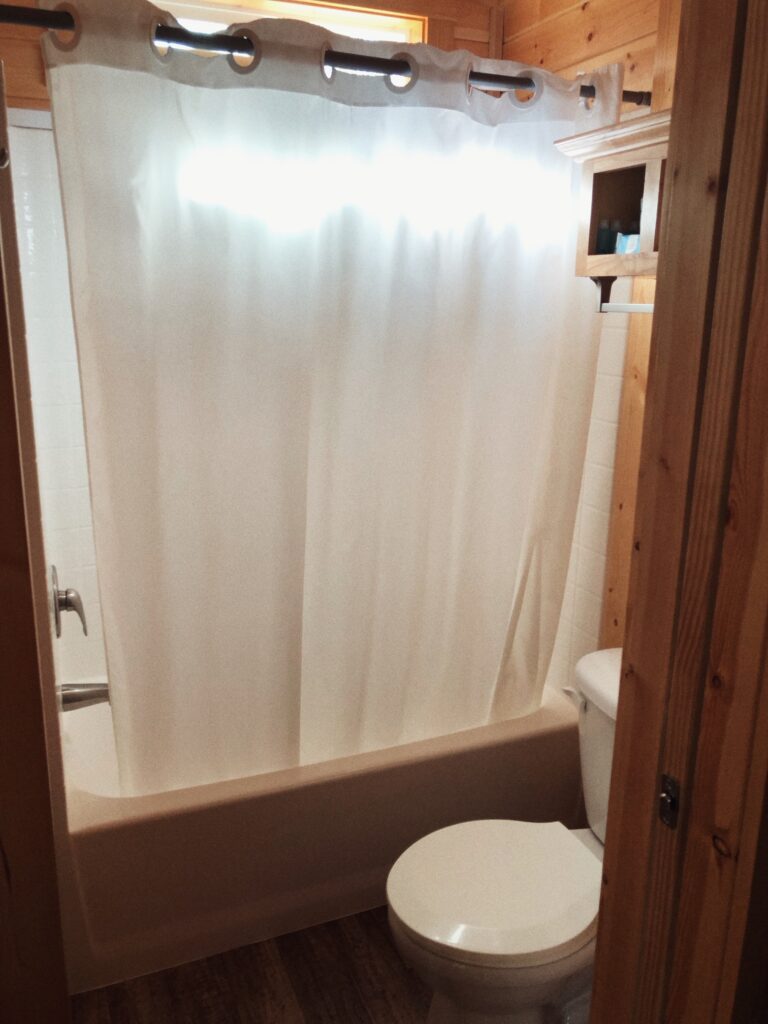 As much as I love to camp, my family is a little spoiled, and they like to have their own bathroom to access in the night. The cabins are a perfect compromise of making me feel like I am enjoying the outdoors, and providing the family with some of the conveniences they like. This cabin had a full bath (with bathtub/shower combo). It also comes equipped with towels, wash clothes and even some small toiletries.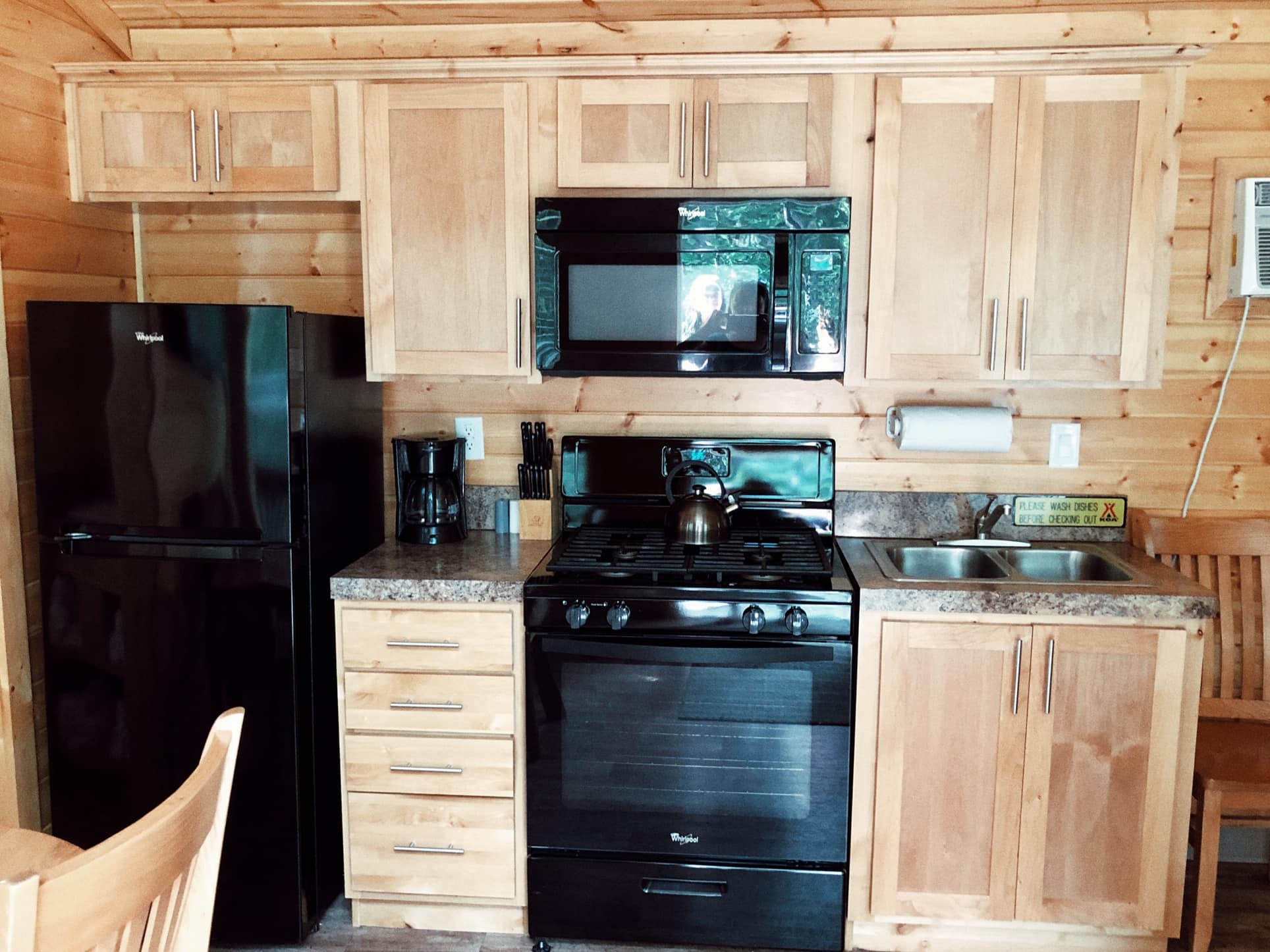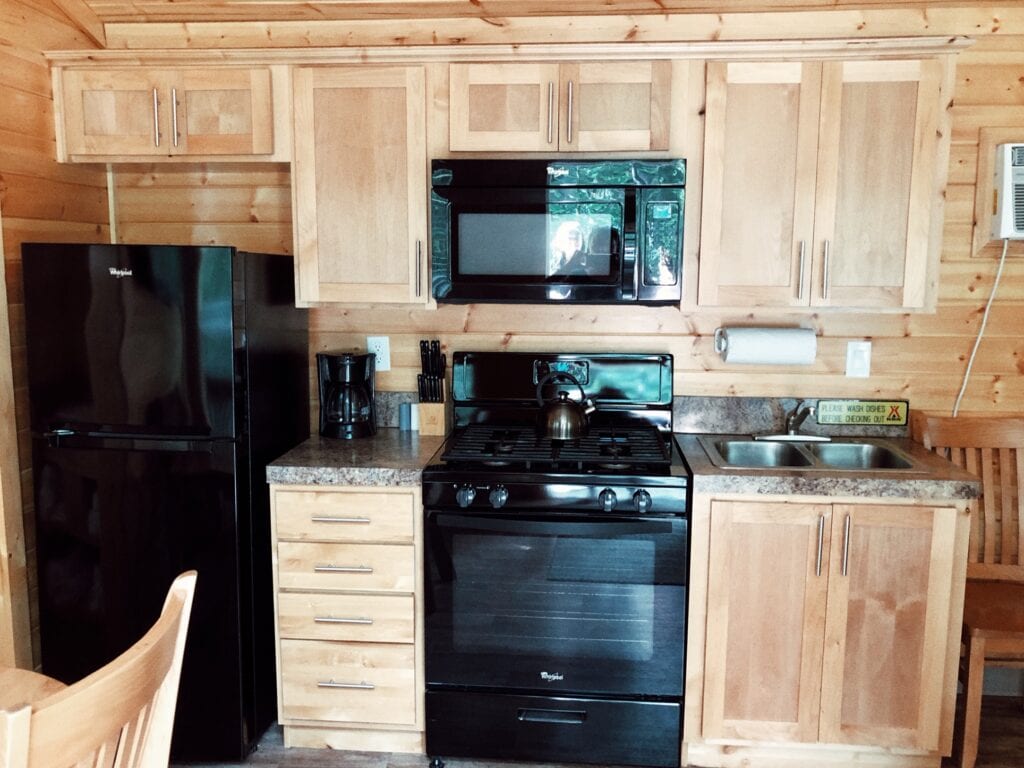 You have many cooking options in the cabins. You have a full kitchen with stove and microwave, as well as a BBQ outside, and fire pit. I find that we are able to save lots on food when staying in a cabin, as I just use you regular grocery shopping budget and plan food for our stay to eat here (verses going out for each meal).  The kitchen comes fully stocked with most things you would need to prepare food (utensils, plates, cups, garbage bags, coffee filters and more). It really is super convenient!
There is a Safeway in Newport (about a 15 to 20 minute drive from campsite), so you can come prepared with groceries, or head into town there to shop.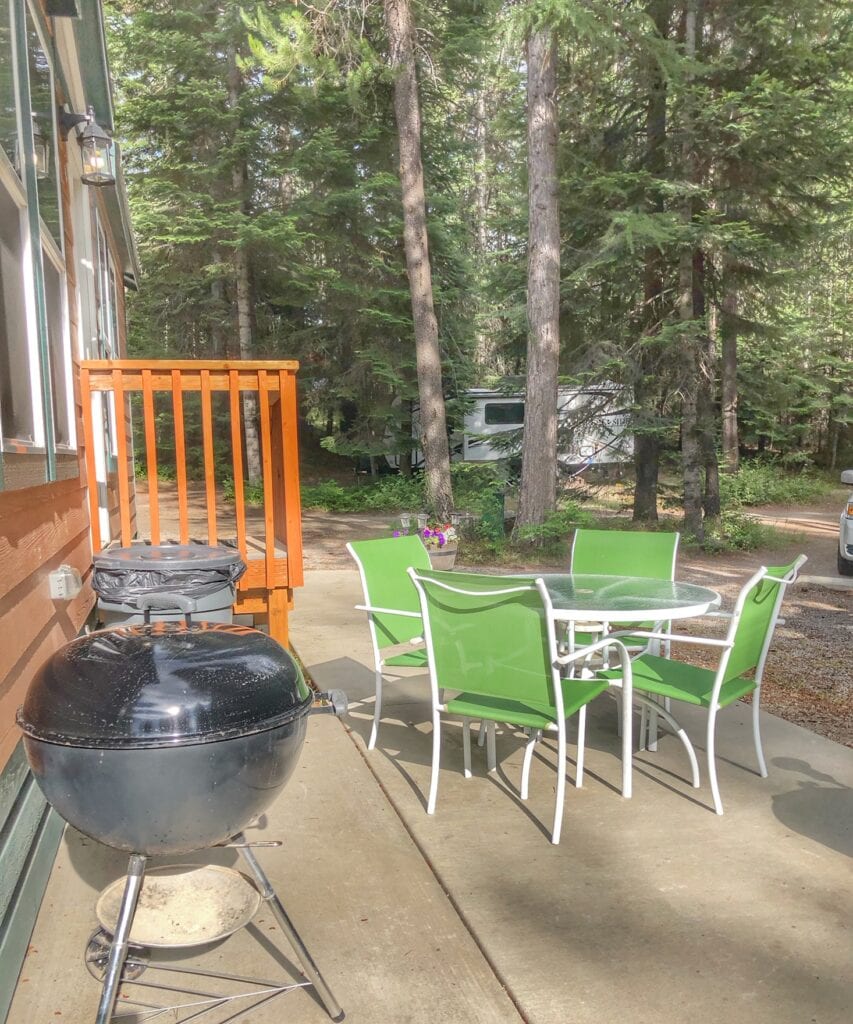 Here is the BBQ area. You will need to bring your own briquettes (or buy in the store) if you want to use this. There are dining spaces both indoors and outdoors (we almost always ate outdoors, another benefit of staying in a cabin).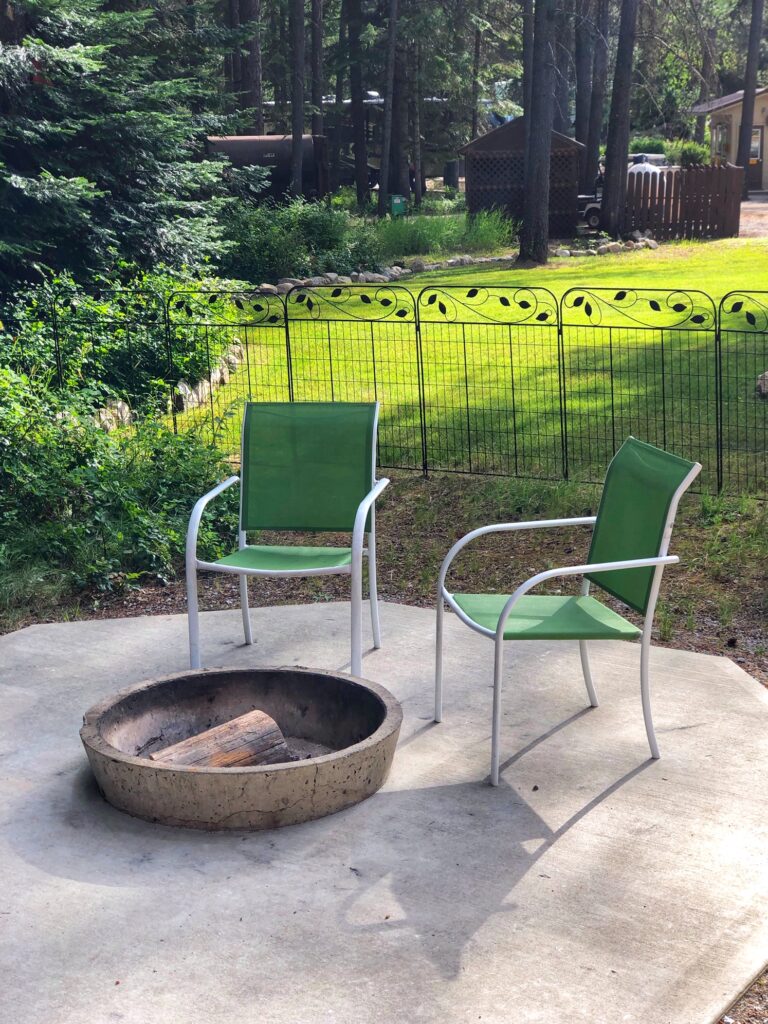 We also had a beautiful fire pit area that we used each evening. You can bring your own fire making supplies, or purchase bundles of wood onsite for $7 a bundle (we could stretch one bundle for two nights, depending on how early you start your fire). We spent quite a bit of time relaxing out here.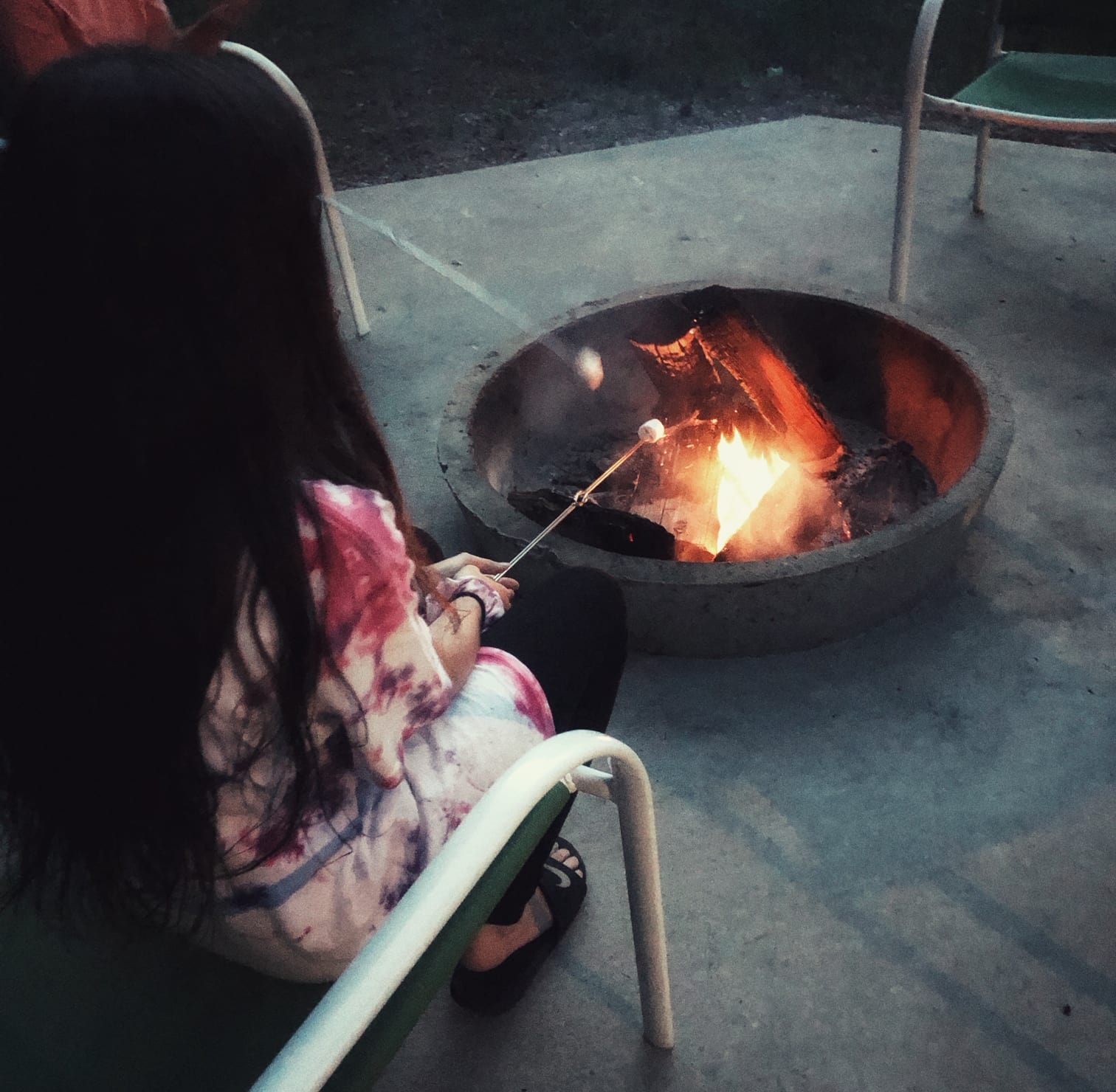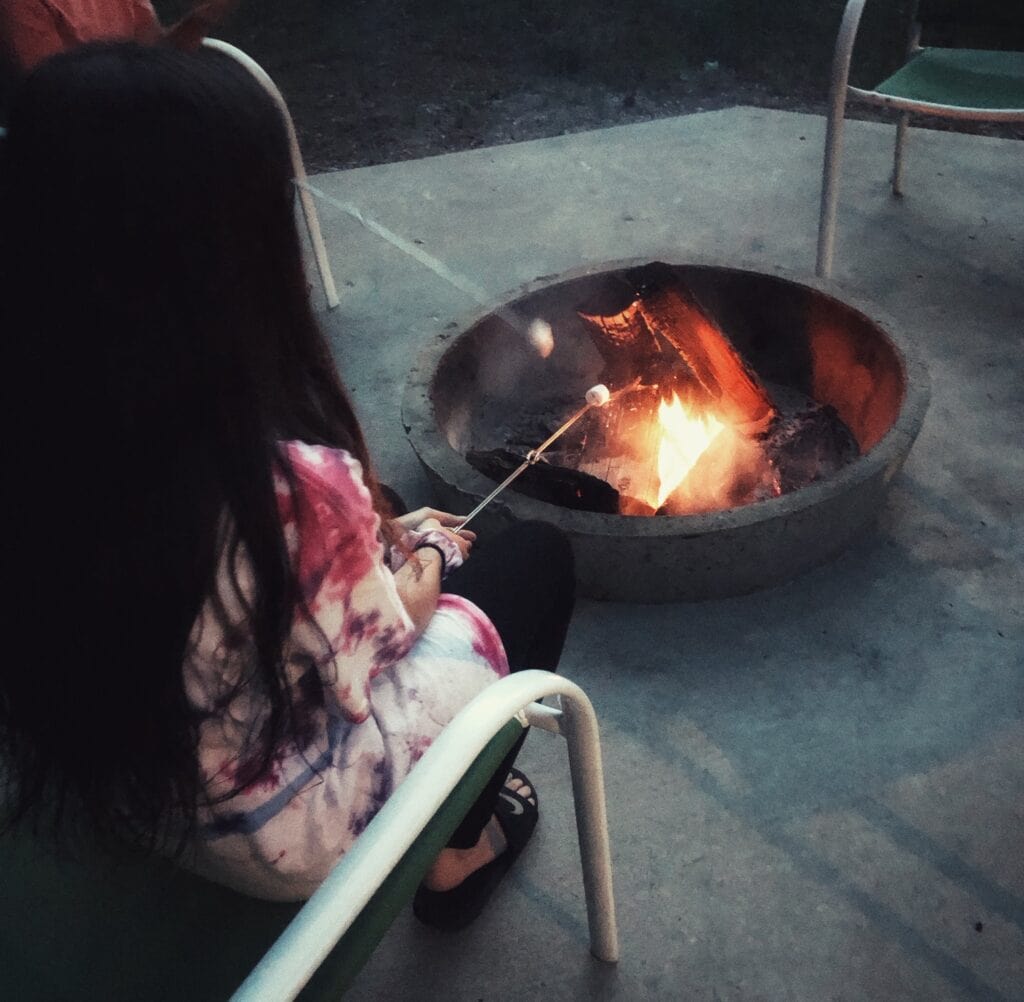 Two of my favorite things about staying in a cabin for vacation are ending each night making smores and sitting around the crackling fire until bed time.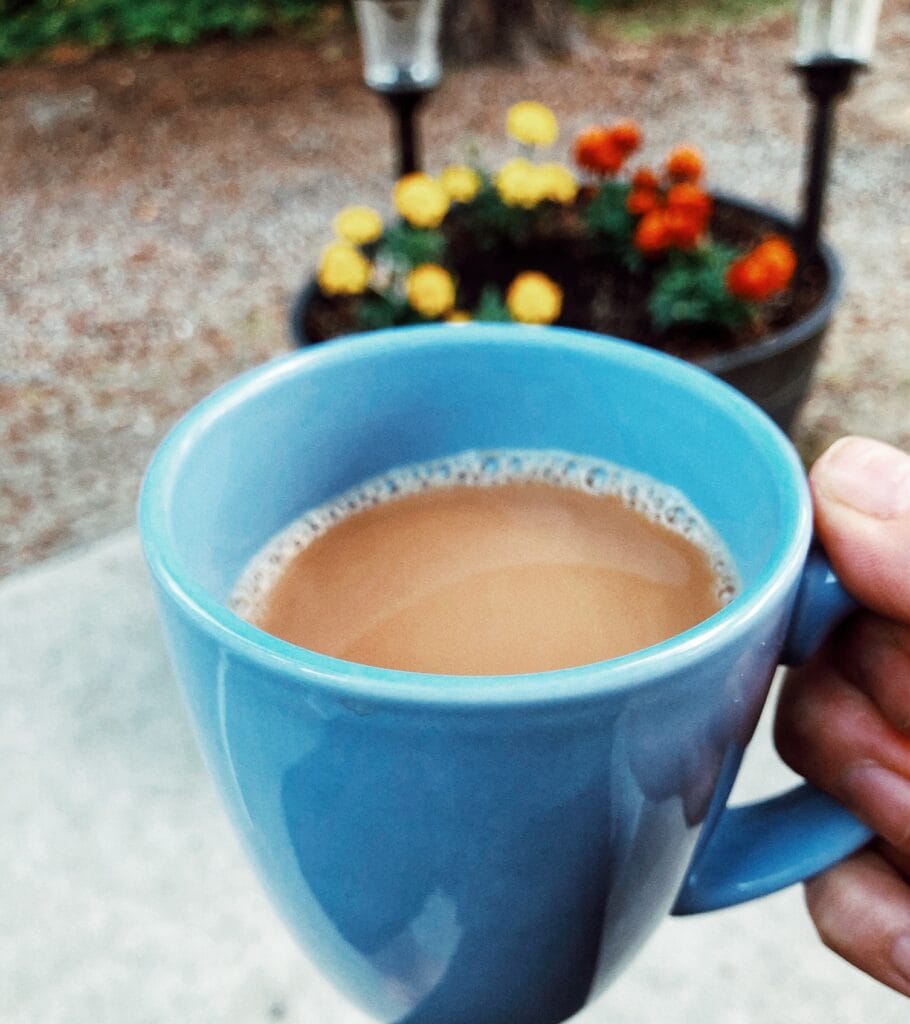 And easing into each morning to the sound of birds and the view of beautiful trees, over a cup of coffee! Those two things alone make me feel like I am on vacation, before we have done anything else. There were also little chipmunks scurrying throughout the campground. Between the birds and the those, I really enjoyed the wildlife. I also had a few mornings where I was able to drink my cup of coffee while an Eagle flew overhead, and that was just awesome!
Things to Do at the Campground –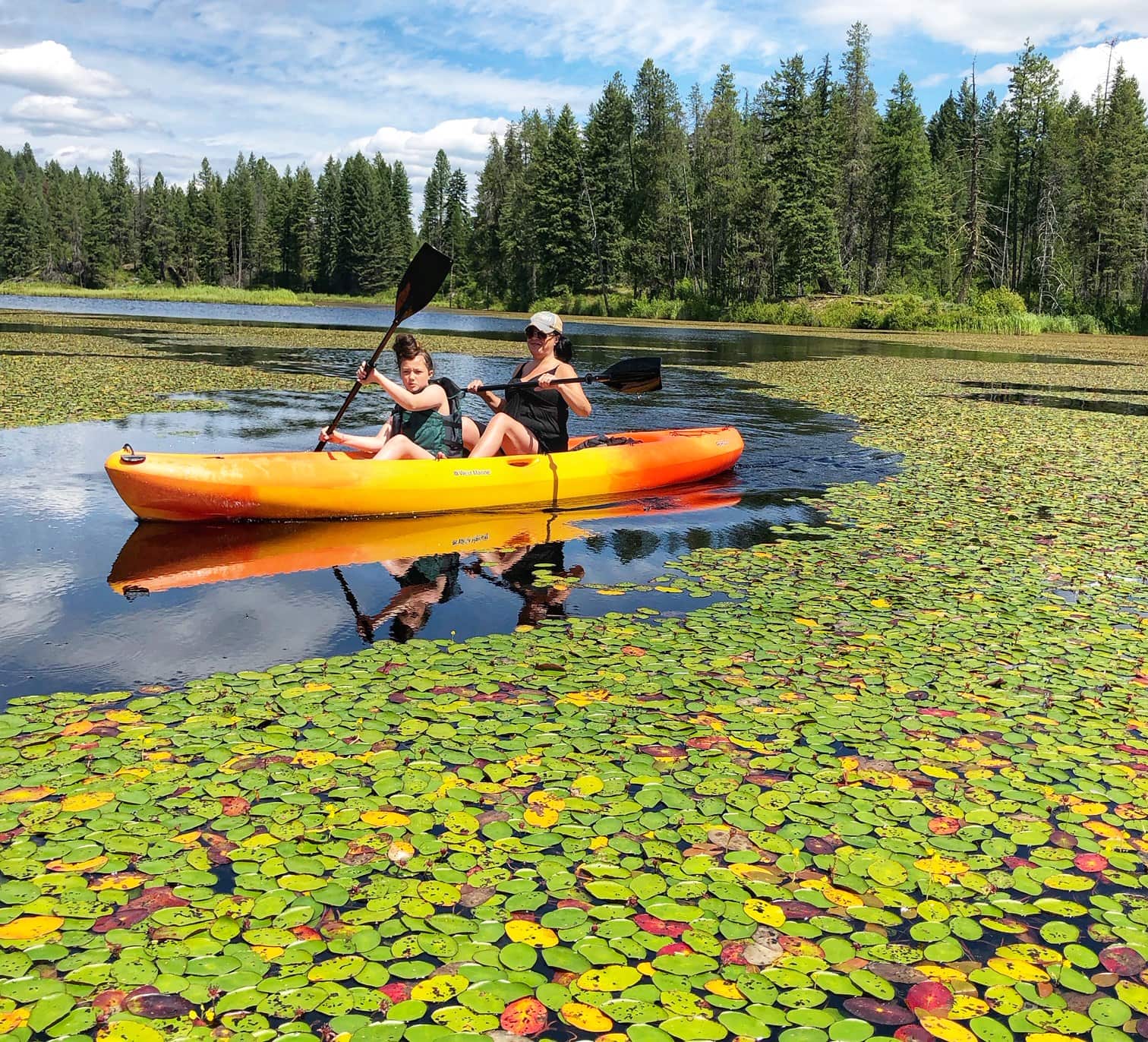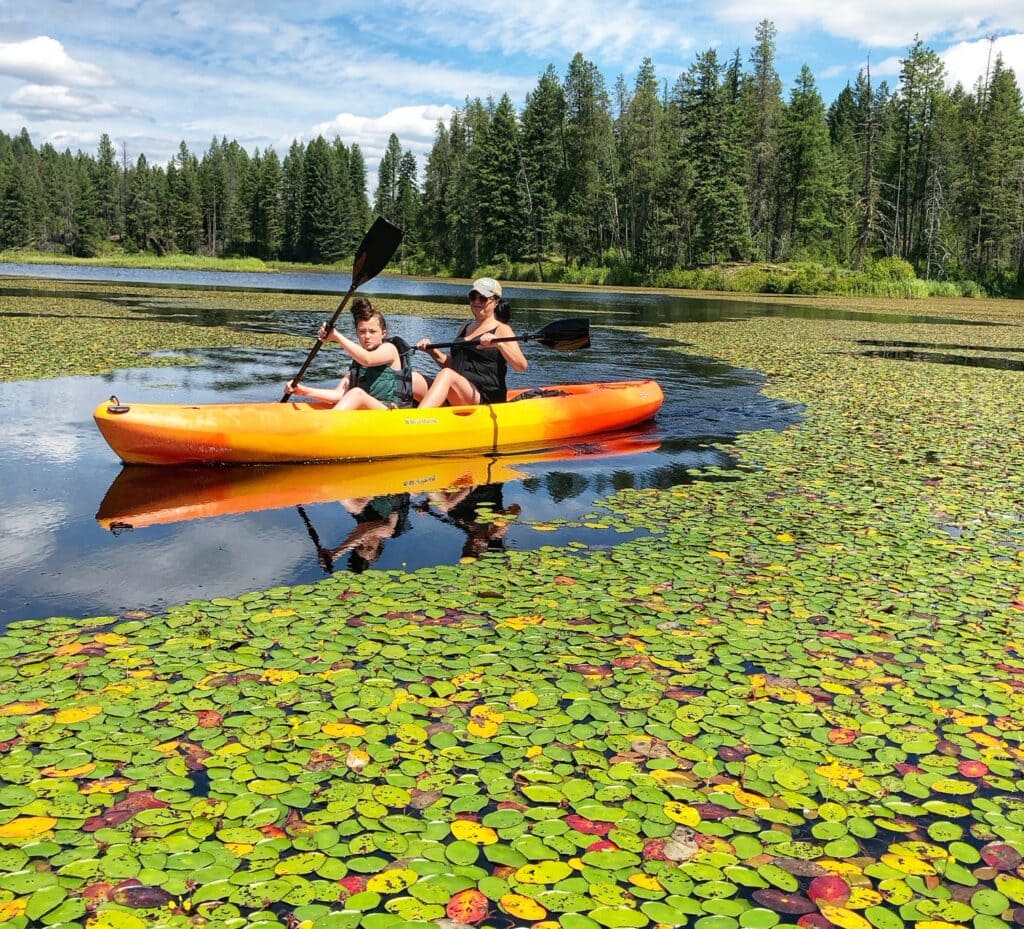 Little Diamond Lake is gorgeous, and they make it so easy to get out and enjoy the lake by providing boat rentals. You can swim in the lake, fish off the lake, paddle board and kayak through the lake and much more. The lake is surrounded by beautiful trees, and we spotted lots of wildlife in the area (like Eagles overhead and turtles and fish in the lake as we paddled)!
There is a hiking trail around the lake as well, if you want to get out and do some hiking.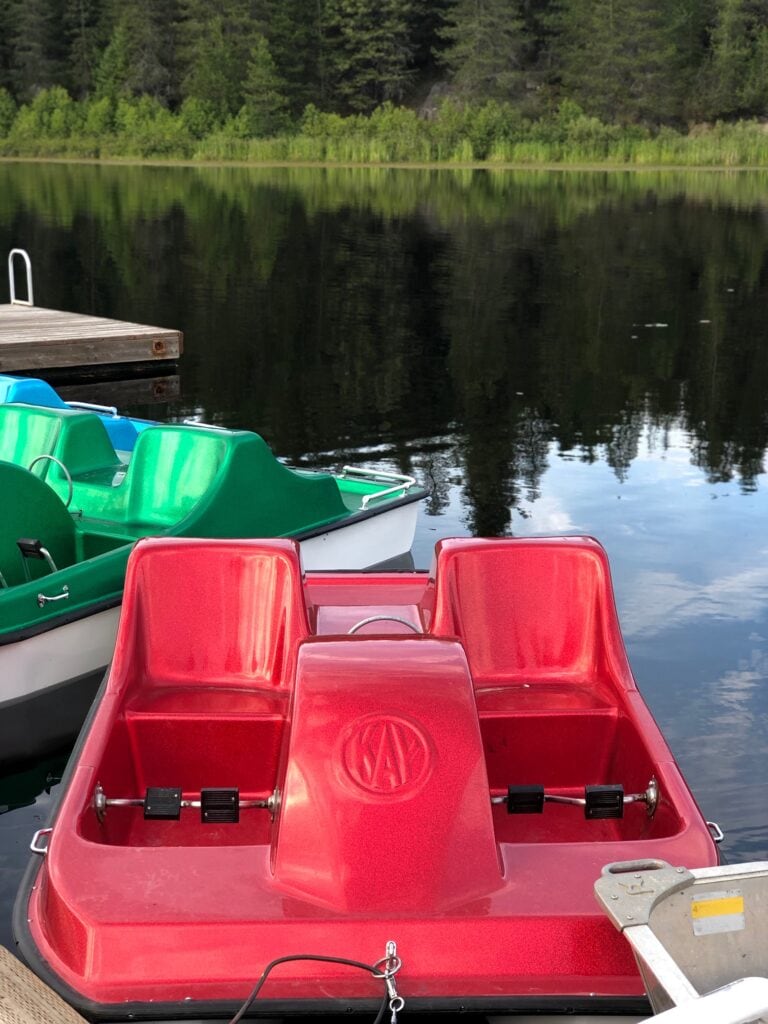 You can rent many types of boats directly from the campground (and they provide complimentary life jacket use too if you do not have your own). We found the rentals to be very affordable at $4 pp per hour. There were kayaks, paddle boats, fishing boats, pontoons and canoes. If you have your own vessel you can use that too (non-motorized). There were four of us, so two rented the paddle boat and two rented the kayak, and we enjoyed some time on both boats.
The lake area had a covered space with picnic tables if you wanted to enjoy a meal down there by the water. There is also a dock that you can fish off of if you do not want to rent a boat, as well as we saw folks fishing off the shore too. You do not need a fishing license to fish on this lake (you will for other nearby fishing spots), so it is a good way to let kids enjoy some time fishing even if you do not have a license for everyone. You can also rent fishing gear onsite if you need, and they sell bait up at the on-site store.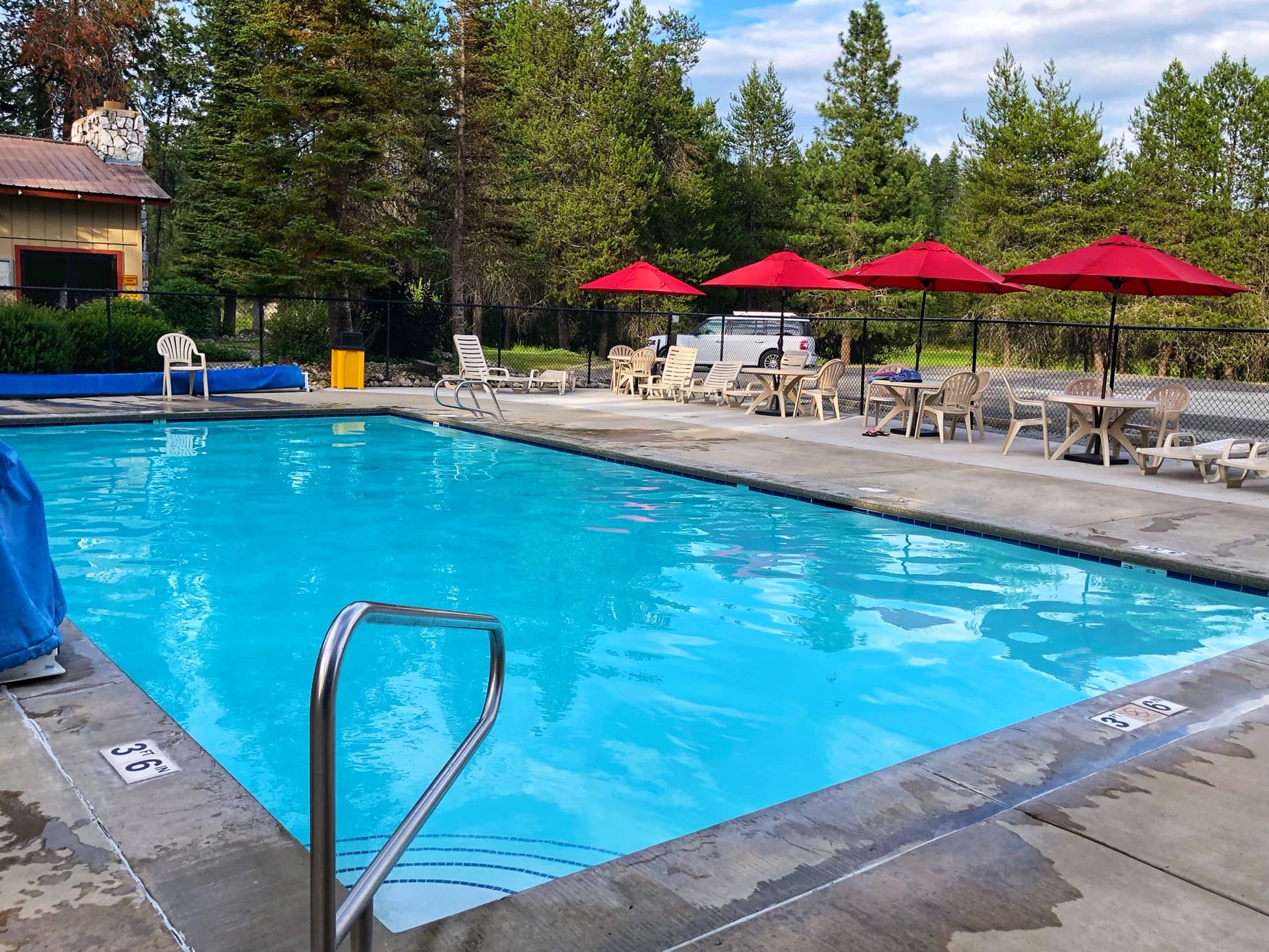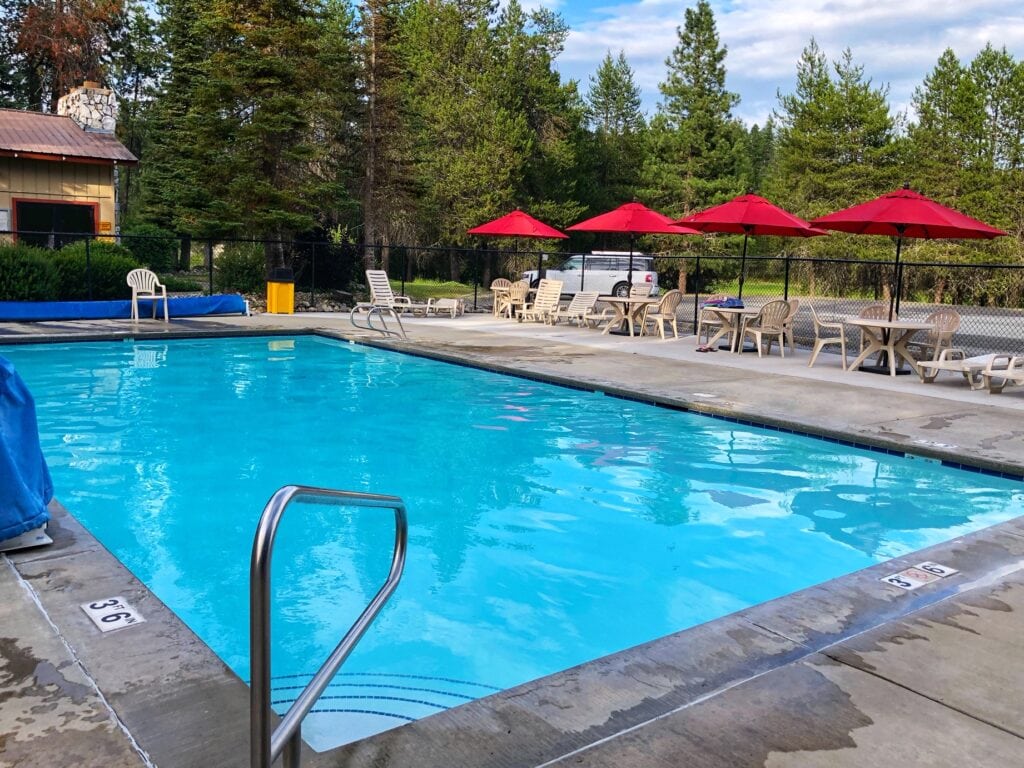 If you prefer a swimming pool to a lake they have one of those too right at the campground. You will find both an outdoor pool and an indoor hot tub up at the community center building. The pool will get crowded over the weekend, but we found it to be easy to access and there was plenty of seating (and it was not so crowded mid week). They had tables with umbrellas as well as chairs you could lay out on, and bathroom facilities right inside. My kids used the pool daily!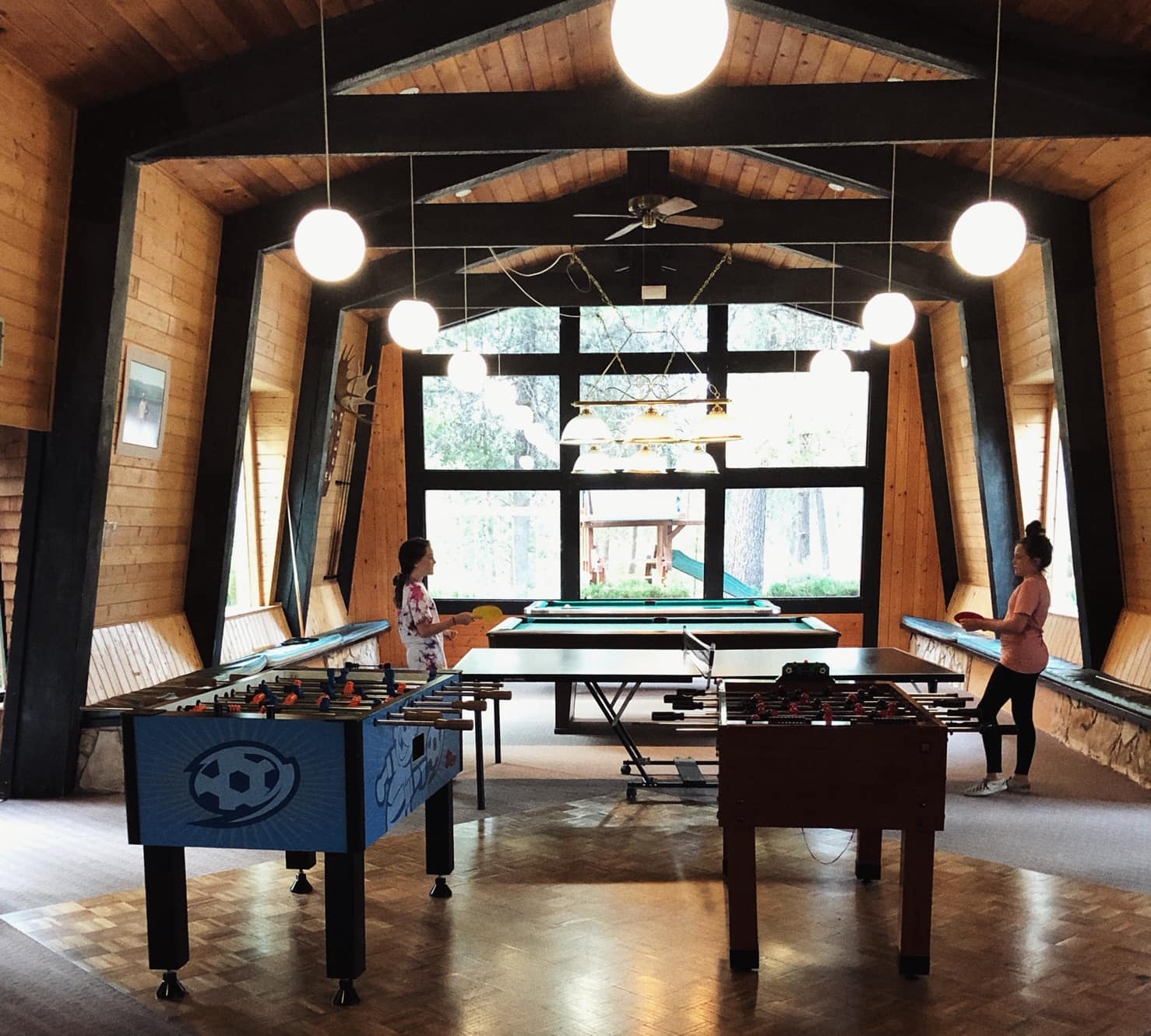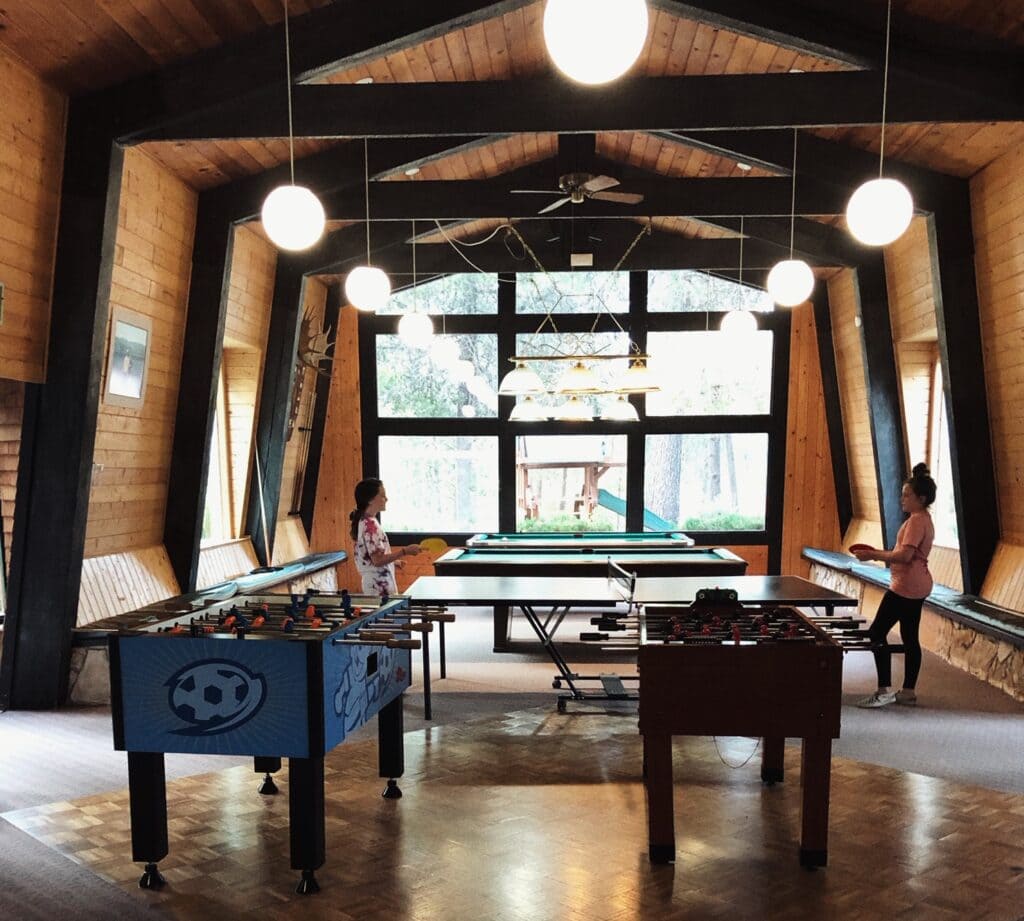 Inside the community club building are various games to keep kids busy (and moms and dads too)! We played lots of ping pong, and some foosball and pool too. They also hosted a movie night on the weekends up there, and there are books and board games you can play as well.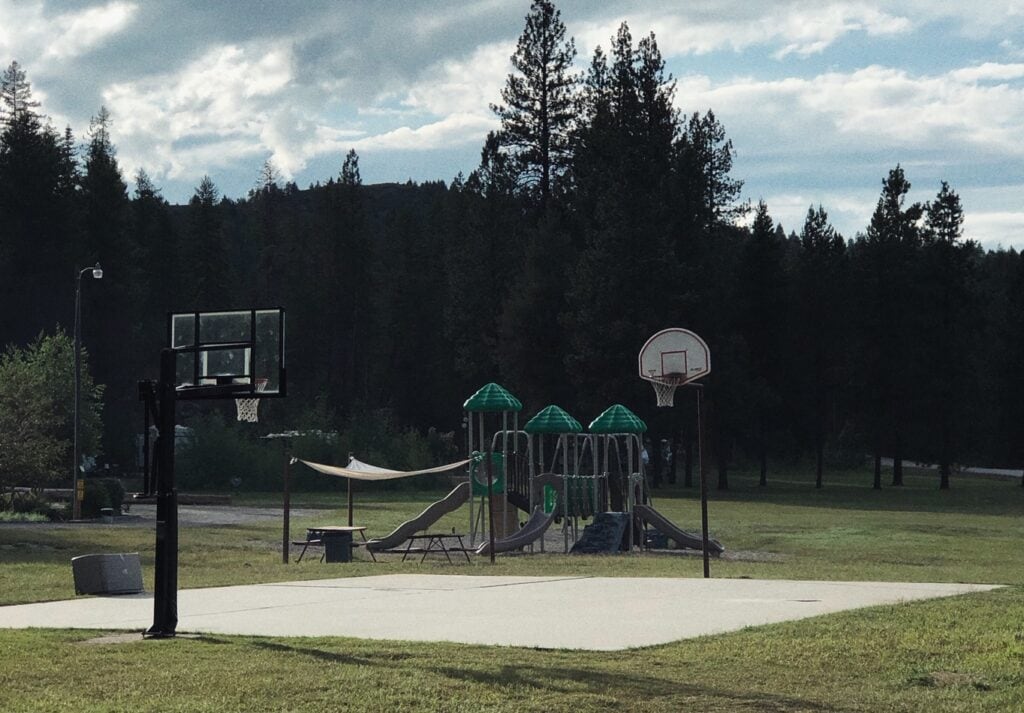 There were a couple of playgrounds. The first was right down by the office area and had a play ground and basketball court. My kids spent some time using the basketball court (one of them won a basketball at Silverwood – but they had some you could use in that grey bin too). There are also baseball fields and disk golf fields too, so lots of outdoor space for the kids to play and have fun.
There was a smaller playground up by the club house if you have younger kids.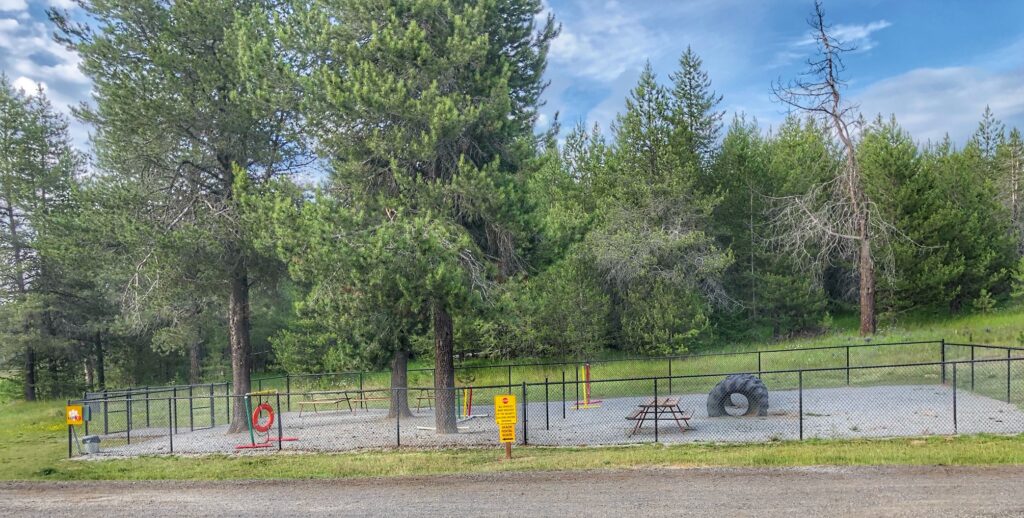 And a playground for your pets too, if you are traveling with those!
They also had this really nice horse shoe pit right out on the backside of the community center building. We kept meaning to get to a game of horse shoes, but we just ran out of time. I would add this to my list for sure on a return trip though.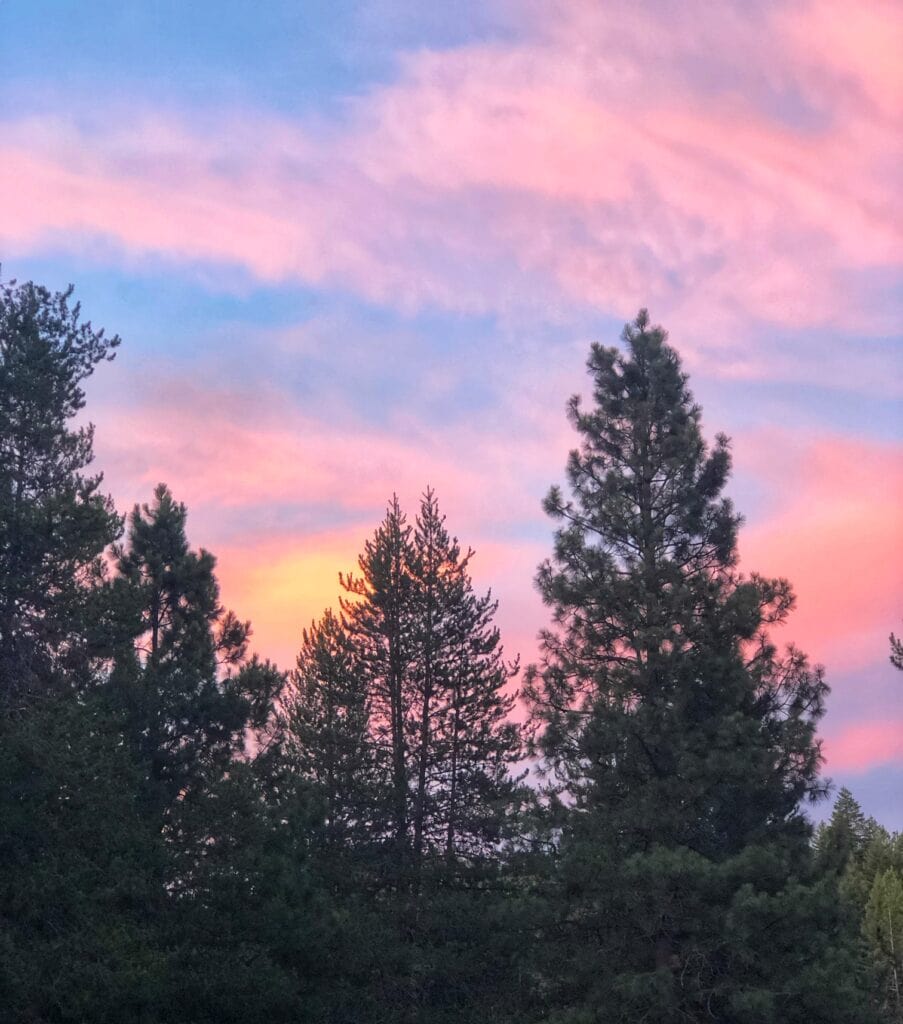 This is one of the beautiful sunsets we ended one of our days to here. They also offer various activities for kids on the weekends, like an ice cream social, arts and crafts and more.
There is so much to do at the campground itself, but if you want to turn this into a really well rounded vacation, here is what we did for four days – and thought it was a wonderful mix of staying busy but having some down time to just relax too.
The rates for the cabins can range from $128 – $180 a night depending on when you'd like to stay.
(Note – you do not need a Thousands Trail Membership to stay here, anyone can book. If you are interested in more information on how the memberships work, Jen shares more detail on that in this review here). 
4 Day Sample Itinerary for Vacation from Puget Sound area to Little Diamond Lake RV Campground: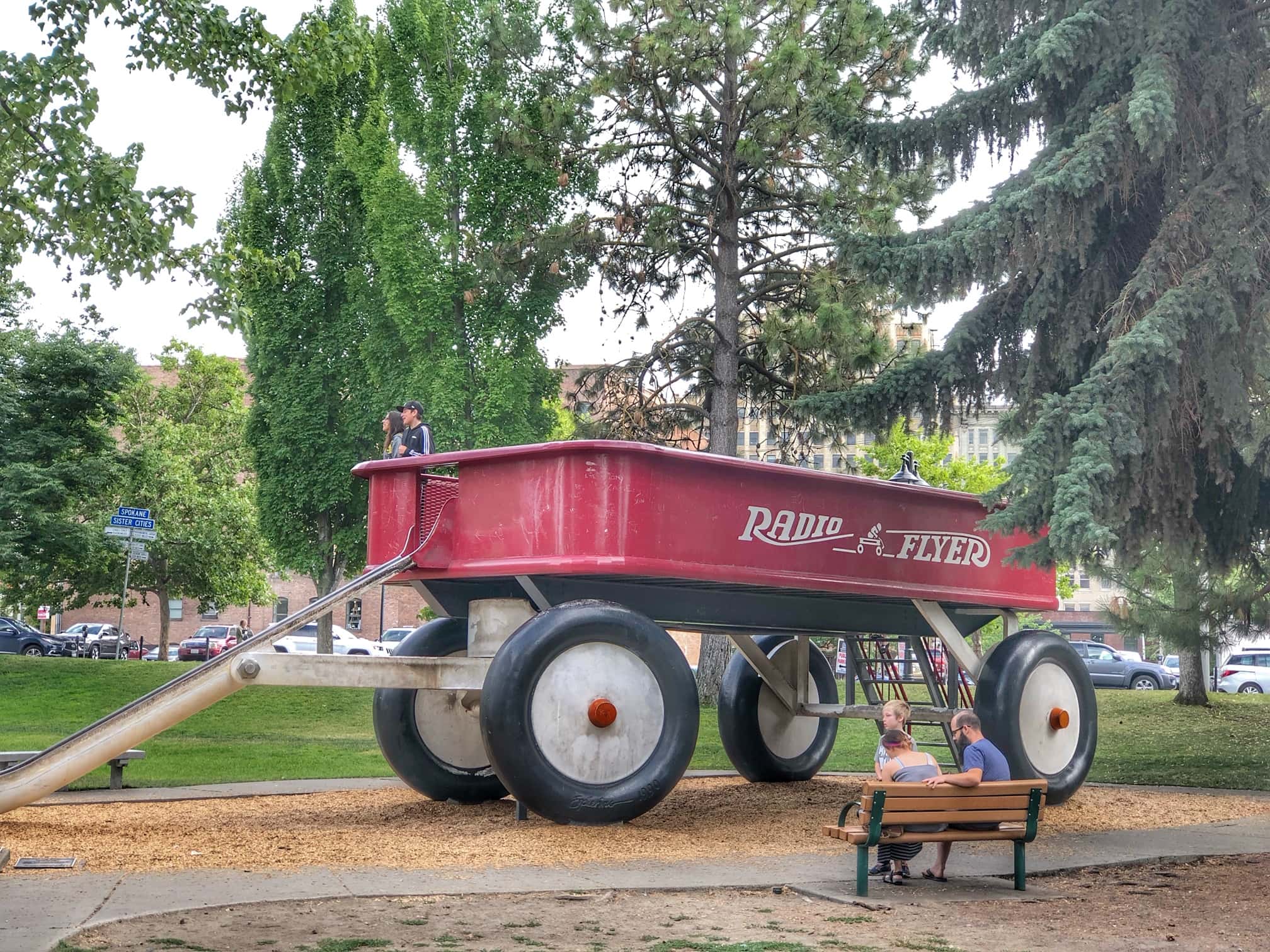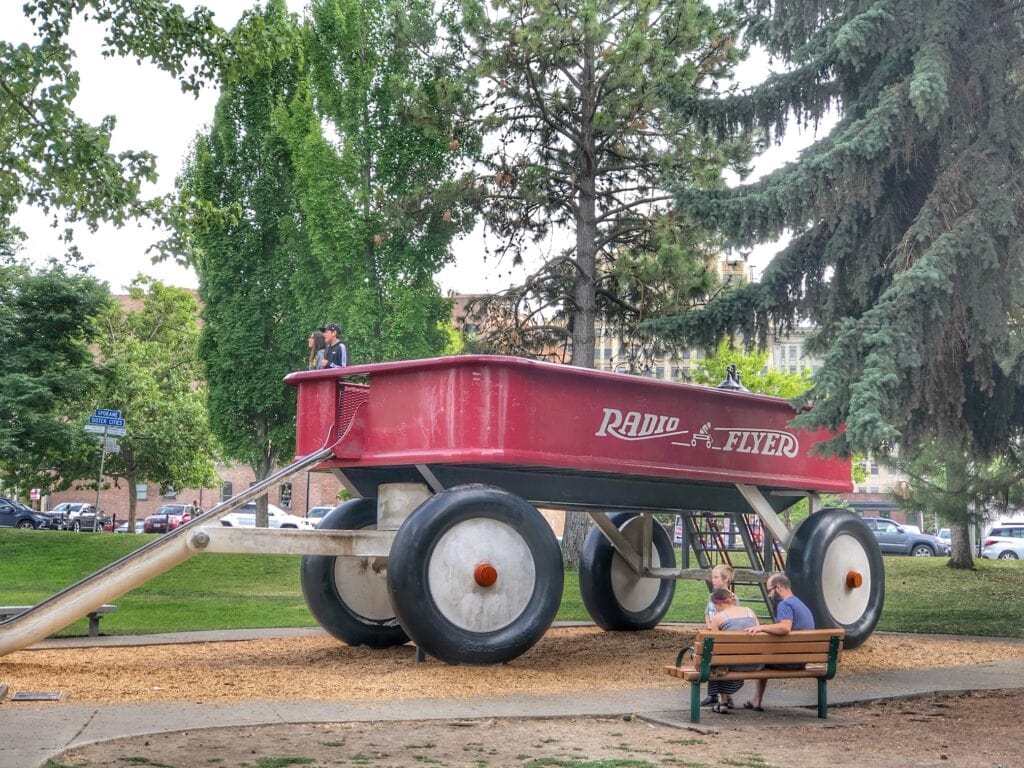 Leave Puget Sound area around 9am (approximately 4.5 hour trip to Spokane). Arrive in the Spokane area around 1:30 am to 2pm (depending on how many stops you make). Stop off at the Spokane Riverfront Park to let the kids enjoy some of the fun that is available there. The Spokane Riverfront Park is the site of the 1974 World Expo Fair, and it still retains some of the charm from that. There are a number of activities to enjoy (like trampoline fun, spray park, roller skating, gondolas and more), or you can just enjoy the walking paths and waterfall you will find at the park.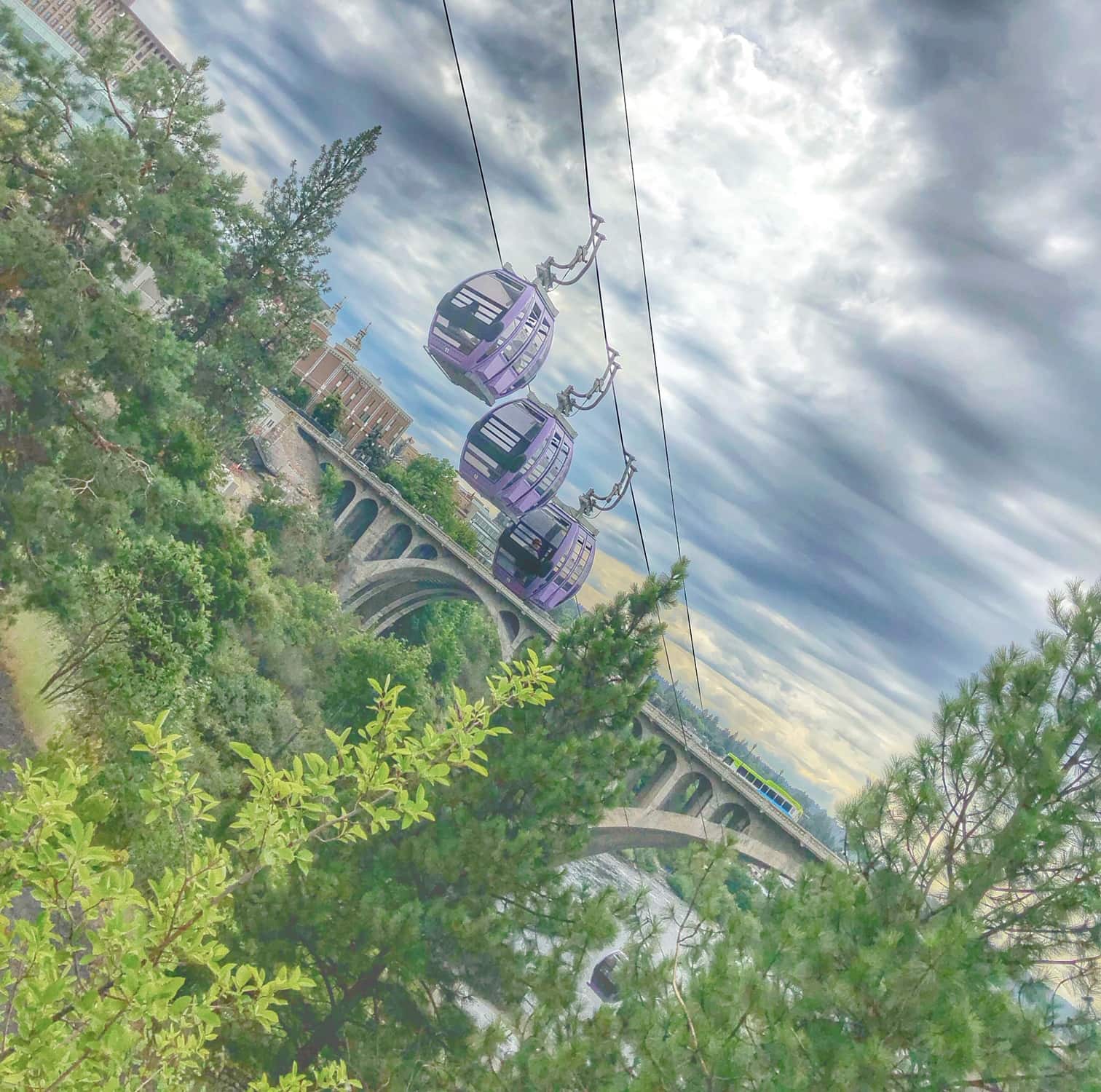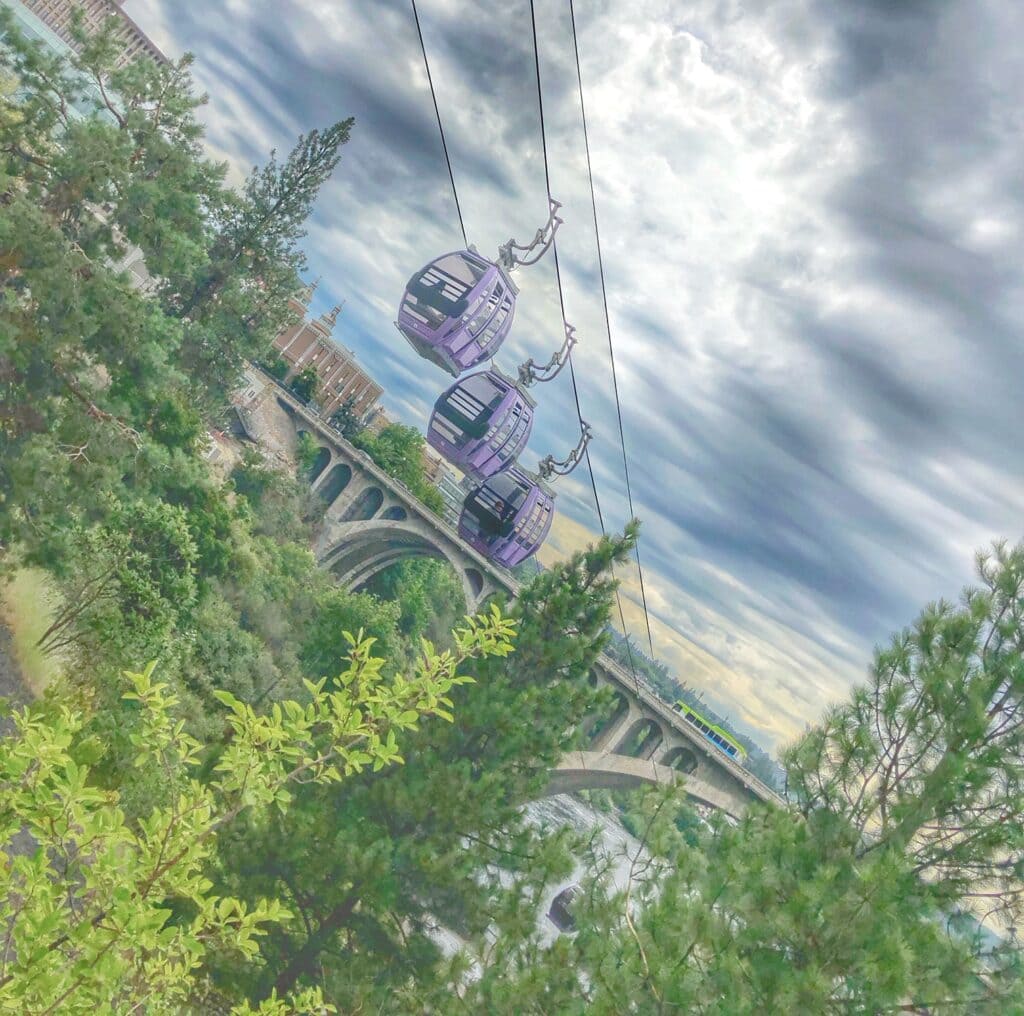 If you want to really save money, plan your trip so that you are visiting the Riverfront Park on a Sunday. That is a day they offer some of the activities for free (like roller skating, or scooters).
Day Two –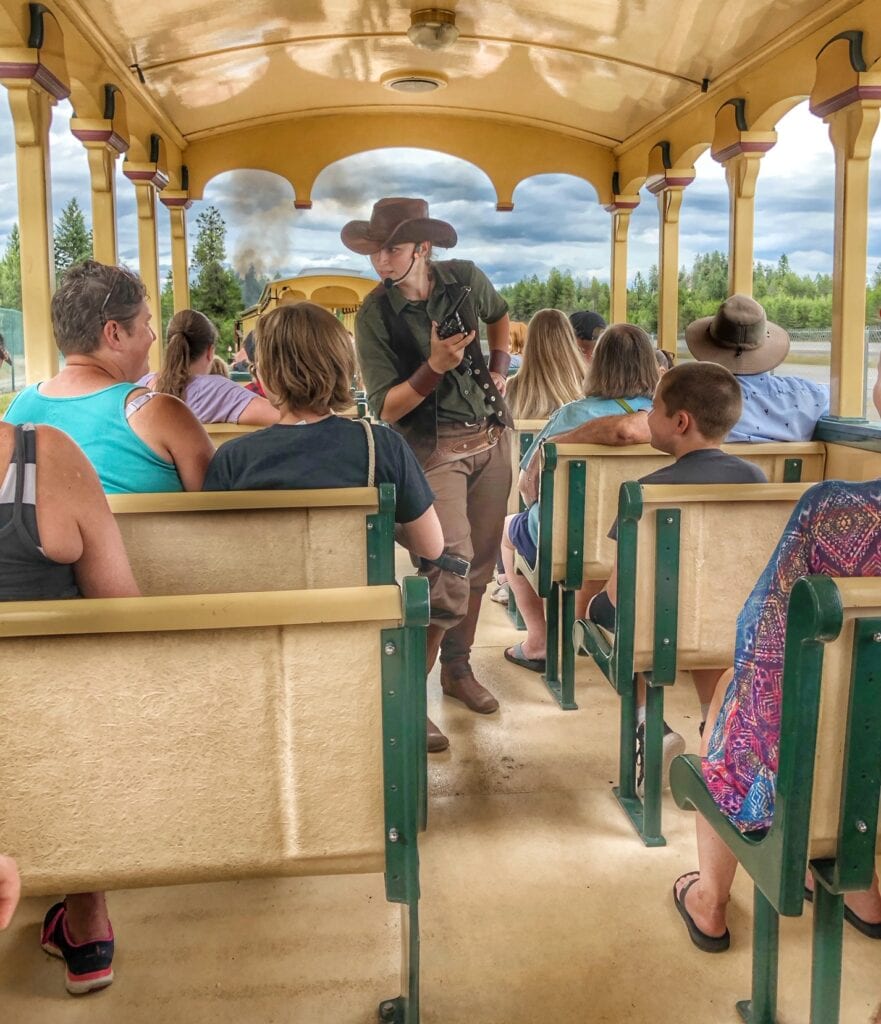 Enjoy the day at Silverwood Theme Park and Boulder Beach Waterpark. It is around a 40 minute to 1 hr drive from the park, but it is an easy drive and feels much shorter then many drives I have done in traffic in the Seattle area. Plus the park opens later and closes earlier then most theme parks, so it allows for plenty of time to get there.
You can read our full review of visiting Silverwood here, packed full of tips to help you plan your visit.
We had a great day at Silverwood, and loved returning back to the cabin for a cozy rest afterwards.
Day Three –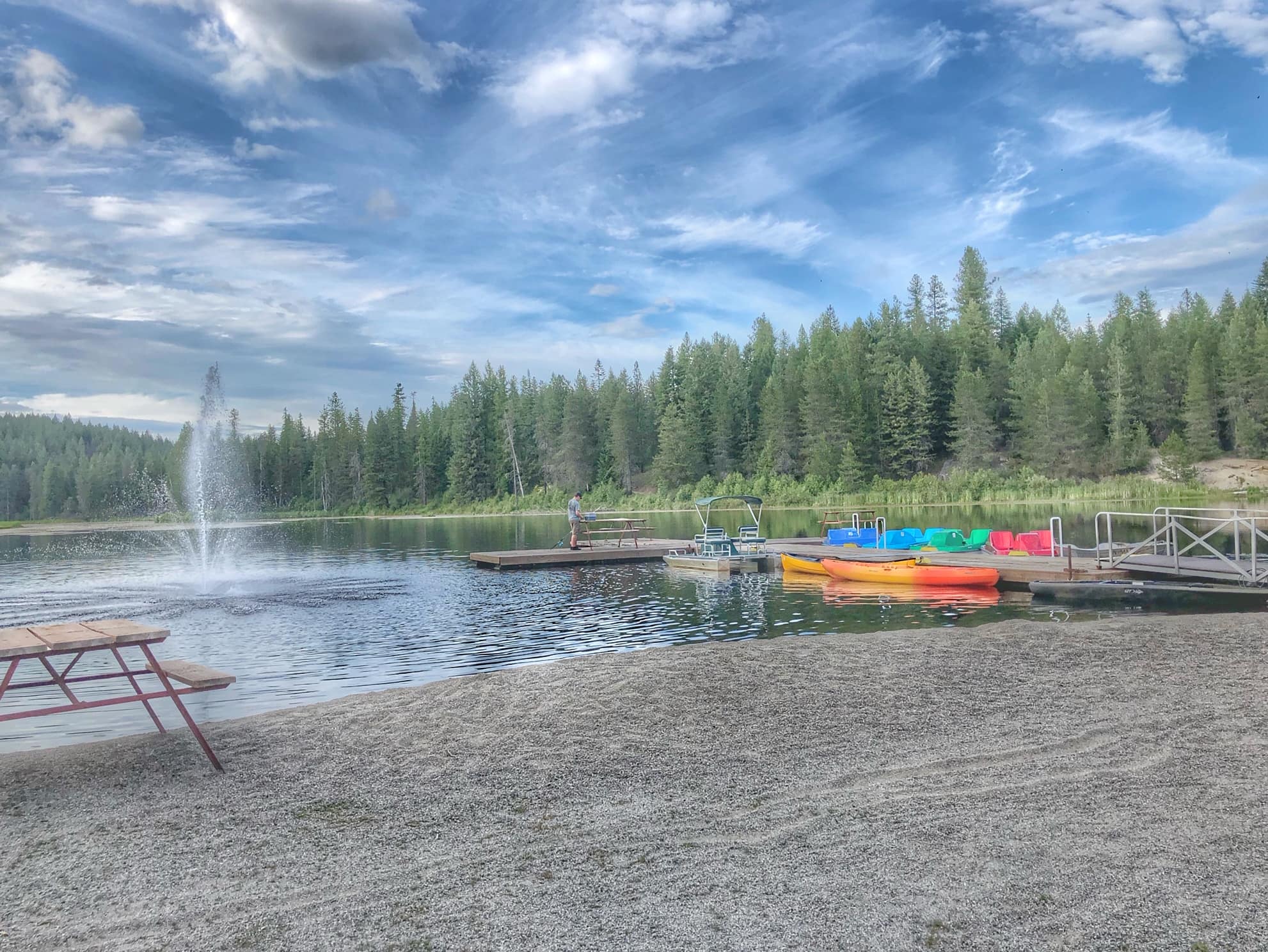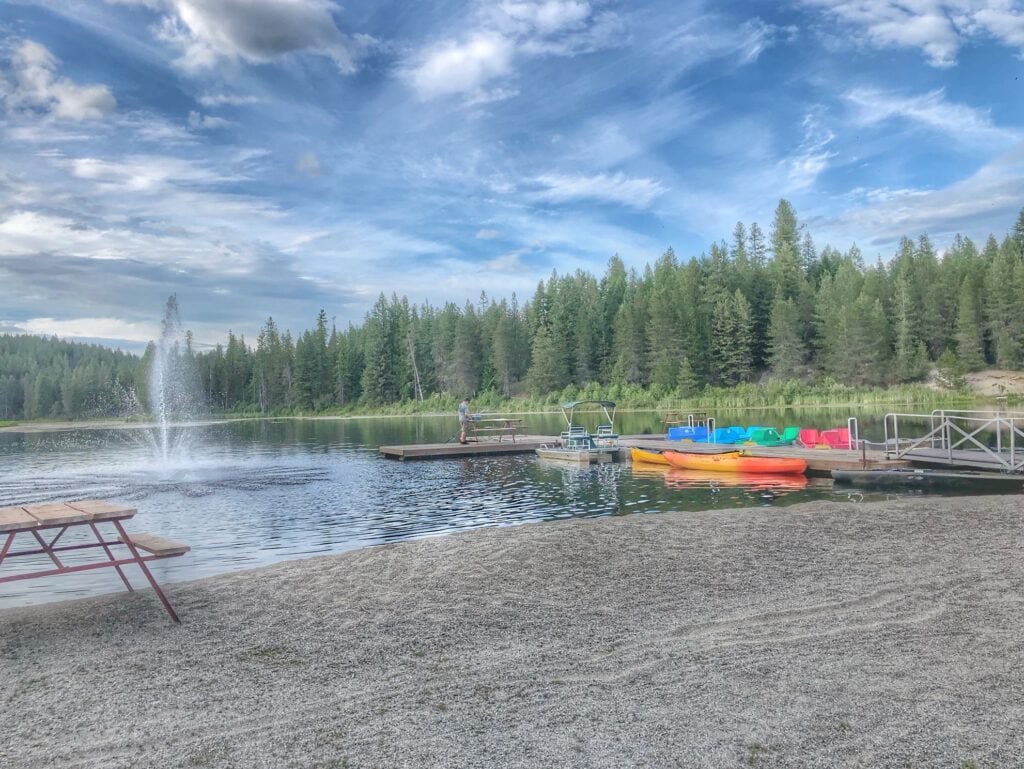 Relax and enjoy the campground this day! It was so nice to wake up this morning, with no big agenda except to relax and play when we wanted to, and rest when we wanted to. We enjoyed a leisurely morning at the cabin site to start with. About mid morning we headed over to the office to book our boat rentals for the day. We rented a kayak and paddle board for an hour, and that was the perfect amount of time for the kids. After exploring the lake on boat the kids played in the lake for a bit before we moved to the swimming pool for them to swim for the afternoon.
After all that it was time for a snow cone break (they are only $1 each at the store on-site). We played basketball, foosball, ping pong and did some walking. Then during the evening they had a kids candy hunt in the baseball field at dark (make sure your kids have bug spray on for these outdoor evening events), and we ended our evening with smores around the fire and sitting by the fire until it died down. Then off to our cabin for a comfy nights sleep. It was the perfect day before getting back on the road the next morning.
Day Four –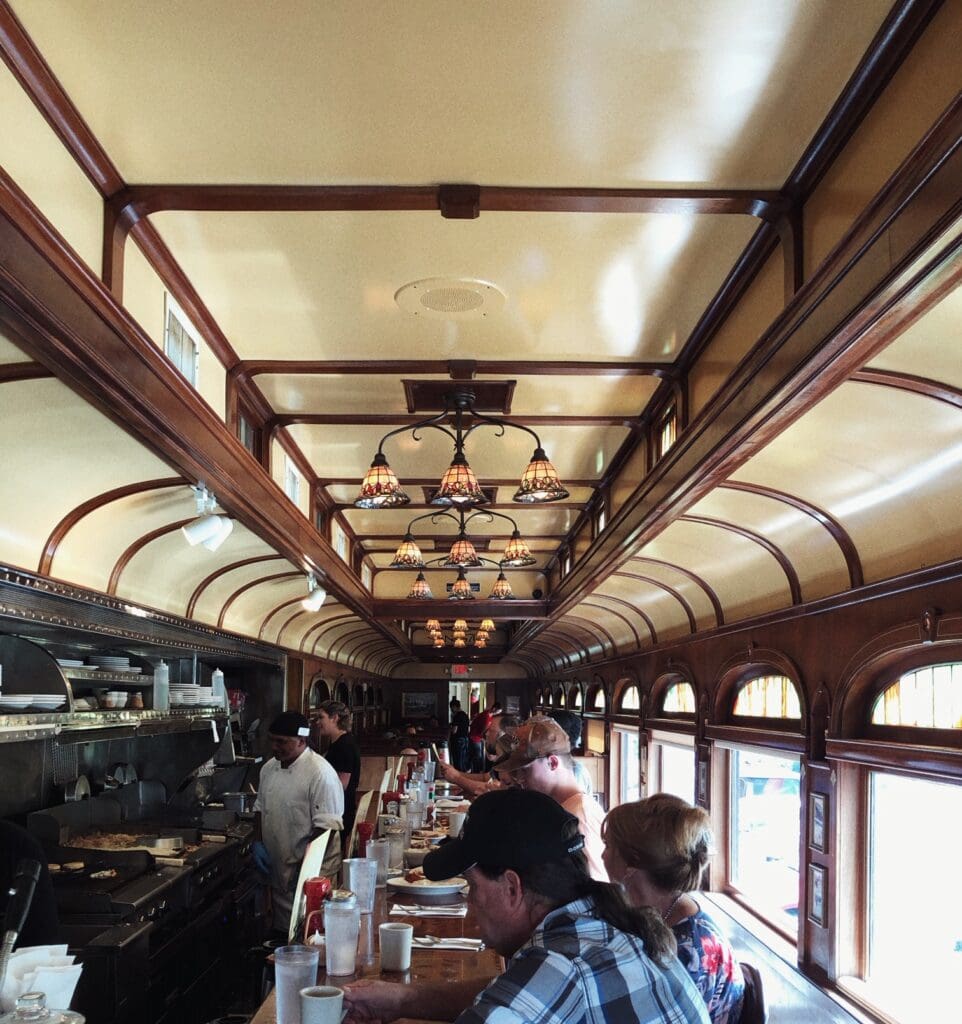 Franks Diner, set in a restored train car. The food is wonderful!
Check out of campground by 11am (that is cabin check out time). The checkout process was very easy. We skipped breakfast that morning, as a few Thrifty Northwest Mom readers had recommended Franks Diner to us, so we knew we wanted to check that spot out on our way home. It is about 30 minutes from the campsite, so we headed directly there after checkout. I am so glad we got those recommendations, what a great spot to stop for a road trip meal!
Just under 2 hours from this stop is Moses Lake. They have a city waterpark that we think is a great value for the price, called Surf & Slide, and makes for a fun stop on your way home to break the trip up and make it feel like it is still a vacation day, and not just a travel day. Moses Lake is around 2 hours and 45 minutes from the Seattle area, so if you plan your trip so you get there at 1pm, and play until 5pm, you will be home by around 8pm and the kids will hopefully be so worn out they go right to bed!
For four days, this trip really is the perfect mix of having fun, and relaxing too. And it is one of the most budget friendly vacations we have done, that packed in so much fun for the family.
If this sounds like a vacation your family will enjoy too, you can find out more about booking your stay at Little Diamond Lake, Wa campground here!
Be sure to connect with them on Social Media too, to follow current promotions, events and more!
Connect with Thousand Trails here:
Connect with Petite Retreats here:
More Petite Retreat Vacations You Might Be Interested In: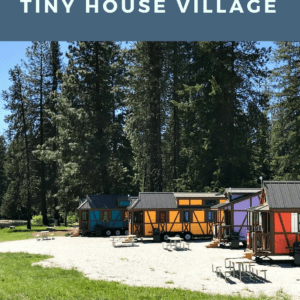 Leavenworth Tiny House Village – Petite Retreats & Thousand Trails Campground
Consider a Petite Retreat Loft Cottage for your Disney World Vacation!