Bubble Bum Inflatable Travel Booster Seat for Kids
This post may contain affiliate links and I may be compensated for this post. Please read our disclosure policy here.
Disclosure:  This post is sponsored by Bubble Bum. However, all opinions are 100% my own & this is a product we use all the time. 
Bubble Bum Inflatable Travel Booster Seat for Kids 
With summer quickly approaching, I'm sure many of you have been busy making your summer plans. If you plan on doing any flights to your vacation destination, then you might be wondering about transportation once you arrive at your destination and options for booster seats for your kids.
We have flown fairly frequently over the years with our kids over the years as we have family in Ohio & Florida and let me tell you, it is such a chore to lug around the car seats and even when they get older, you still have to carry the awkward booster seats on top of your luggage & carry-ons. And if you have a delayed flight & have to literally run across the whole airport to your next flight, you don't want to be juggling that awkward booster seat (ask me how I know?!)
Then there's the issue if you forget your carseat booster seat in your car at the parking lot of the airport – or in the car of the person who dropped you off! We had that happen when we headed to DC to visit family (left the carseat in the car of family who had just dropped us off) and had to call ahead for them to buy an inexpensive carseat for us to use while we were there and then we paid them back when we got there. Definitely an unnecessary expense and hassle, though!
When we were in Florida a few years ago visiting family, we ran into an issue when we headed to Disney & took an Uber ride home from the park. We stayed longer than the last shuttle and thought we'd just use an Uber, but had forgotten about not having a booster seat for our youngest, so she had to ride without one. Thankfully it was a short ride to the hotel, but that experience made me more aware of the issue and determined to have a backup option so we don't run into that situation again. Car safety is very important to us & even though our youngest has now passed the minimum age for WA laws, we keep them in booster seats for longer for the extra safety benefits.
We knew we needed to find a better solution when we headed to Germany for a vacation a few years ago.  Not only would it be difficult to lug around the booster seat thru all the airports & customs, but we didn't know if we'd be renting a car the whole time or also need to rely on taxis or Uber rides for part of the trip.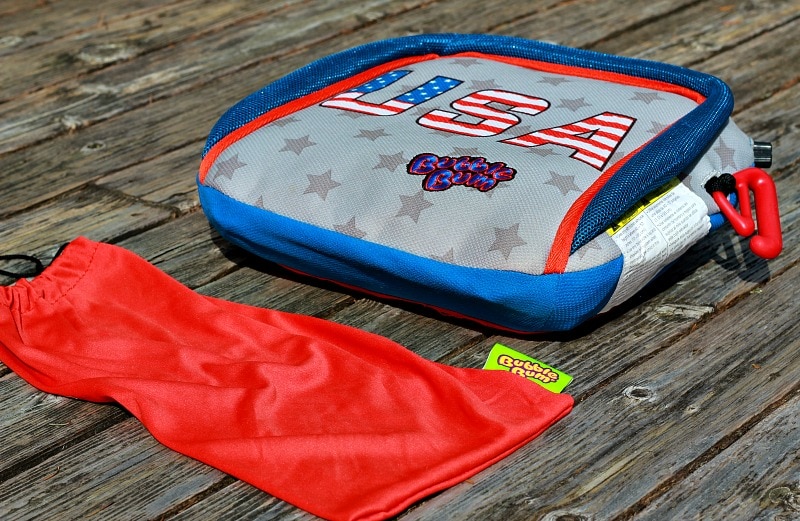 I started researching travel booster seats early in the summer to see what would work for us to bring on our trip and the overwhelming choice by family travel bloggers is the Bubble Bum Inflatable Booster Seat. I'll be honest – I was a little unsure when I heard it was inflatable as to how safe it could be. But it was chosen by the IIHS (Insurance Institute of Highway Safety) as the "Best Bet" in their booster seat evaluation for the past 6 years! Wow! That is what I needed to hear as I not only found so many rave reviews about the Bubble Bum seat online, but then to find that it was highly recommended by this car safety organization made me feel very good about choosing this as the option to use with our daughter for travel.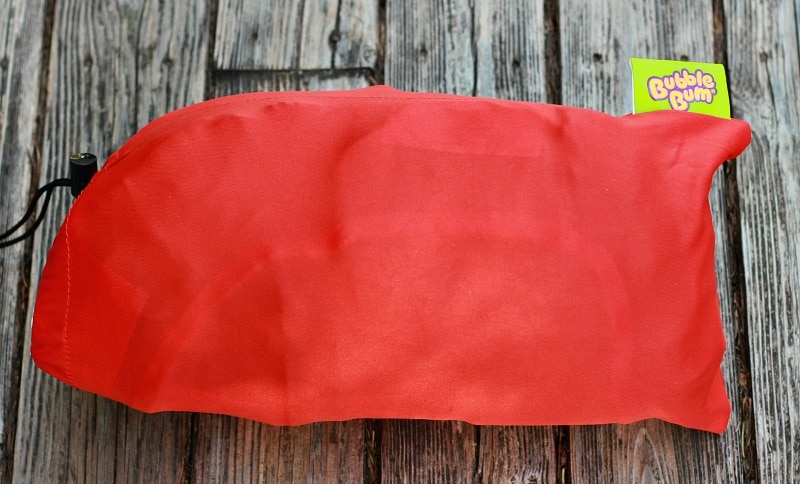 The Bubble Bum Inflatable booster is the original inflatable car booster seat, created for kids ages 4 – 11 years old, weighing 40 – 100 lbs. The Bubble Bum has just enough boost to it to keep kids from slouching down to be able to bend their knees over the seat of the car. When kids are slumping down in a car, it then makes the seatbelt slacker and can lead to an issue called "submarining" which is where the seat belt slides above the pelvis and into the abdominal area which is very dangerous if you get into an accident. This is why it's crucial that kids are properly restrained in a booster seat until they are the right height.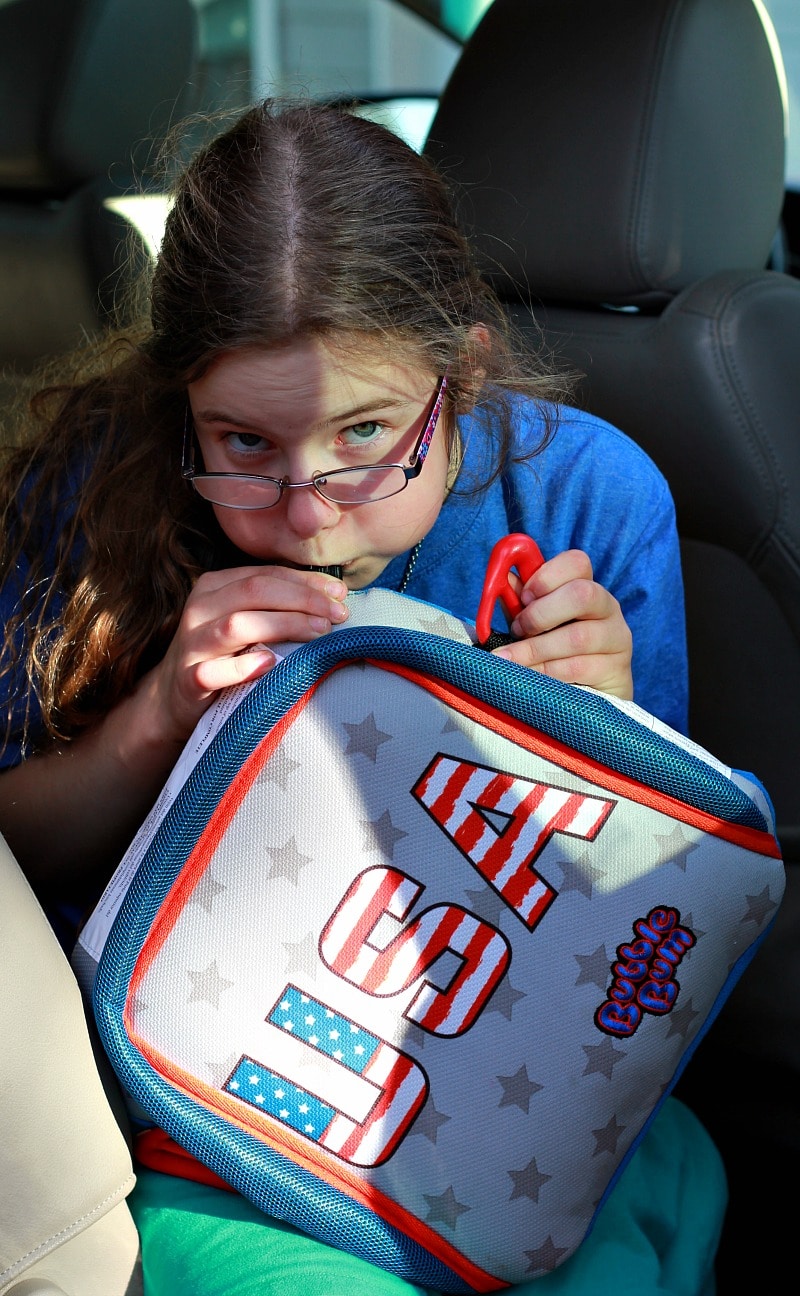 The Bubble Bum booster seat is easy to inflate or deflate (even kids can do it) and then you just have to roll it up & stash it in its carry sack. My daughter could put her seat away inside the bag & then it took up very little space in our carry-on which we were so thankful for. I'd recommend keeping it in your carry-on rather than your checked bags in case your luggage gets lost. We didn't want to take a chance on our luggage being lost for a day or two & not having the booster seat, so it easily fit into our carry-on.
The Bubble Bum booster seat includes belt positioning clips in place of arm rests which makes it possible to fit 3 boosters across the back seat of your car, minivan or SUV as seen above.
Or if you're headed to a vacation destination, you may end up with a really tiny car and need all the space you can get. We had some major car rental service issues & ended up with a tiny car even after booking a larger one, which made it very challenging traveling with our luggage as our girls had to have their carry-on suitcases between them (thankfully we rarely had to do this). A regular booster seat with the arm rests wouldn't have fit, but thankfully she had the Bubble Bum inflatable seat so she could still sit in the right position.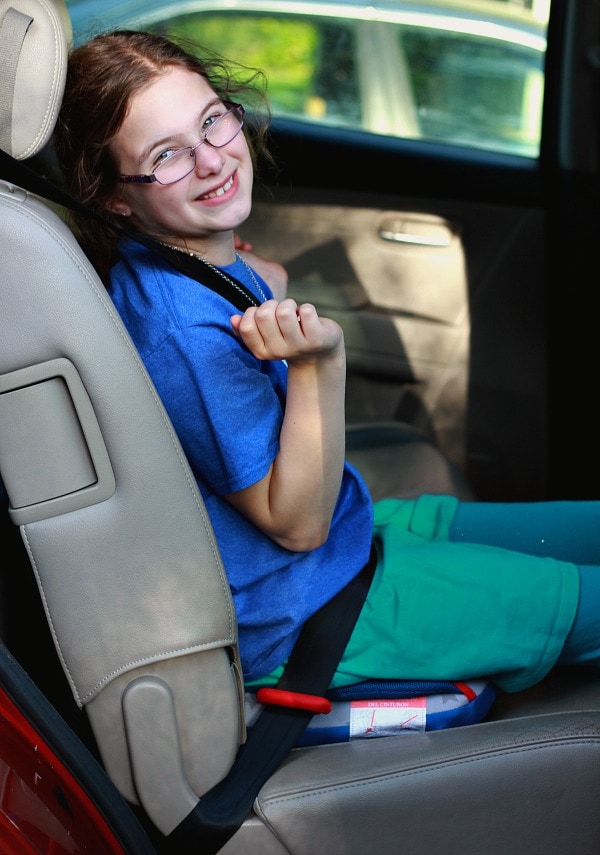 Inflatable and it can inflate & deflate within seconds
It's very compact with its own sack to keep it small & rolled up
It weighs less than a pound so you don't have to worry about the weight if you are carrying this in a backpack for a day out traveling & taking taxis/Uber rides
Perfect for carpools — parents can send the child with the booster seat to school & give it to the teacher to give to the carpool parent on the way home without taking up much space in the child's backpack (or give it directly to the parent, but they don't have to worry about it taking up space)
Keep one stored in the car for unexpected times — this is the perfect size to keep a Bubble Bum booster seat packed away in the back of your car. We frequently take home kids after school so I am going to keep this in my car so we always have a backup booster seat.
It's comfortable! This is of course the most important to your child & we want our kids to be happy in the car – my daughter rode in the car with this seat for a week during our big trip (& then various day trips this past year too) & she loved it. The first hour or so she wasn't quite sure about it because it feels so different as it does wiggle a little (unlike her hard booster seat at home) but then she got used to the feeling & said she loved it!
Have you tried a Bubble Bum Inflatable Booster Seat? If not, head to Amazon to find a Bubble Bum booster seat before you head out on your next flight or to keep in your car for carpool days!