Riverfront Park Spokane – Lots For Families To Do!
This post may contain affiliate links and I may be compensated for this post. Please read our disclosure policy here.
Riverfront Park Spokane – Lots For Families To Do!
If you are heading to Spokane, and want something fun to do with the family, consider spending some time at the Riverfront Park. There is something to do for all ages, and much of it is free! You can make a quick visit (an hour or so) or spend a full day in the area enjoying the park, a meal and can even do some shopping at the mall across the street.
And if you want to make it an overnight trip, check out our favorite Spokane hotels perfect for families here. A couple are even in walking distance from the Riverfront Park, making it super easy to enjoy this fun area.
The Spokane Riverfront Park has a rich history, as it was originally created as a Worlds Fair location, and it had rides and more back in the day. The first time I visited with my kids, there were still some of the rides you could get on. In recent years it has gone through some major redesigns. In the process they have taken away some of the older parts, and created some exciting new ones. Here are some of the attractions you can expect to find at the Spokane Riverfront Park.
One final tip, before sharing the details of many of the attractions. These spots can open and close for various reasons throughout the year, so be sure to check their website for any current closers or schedules, before planning your trip.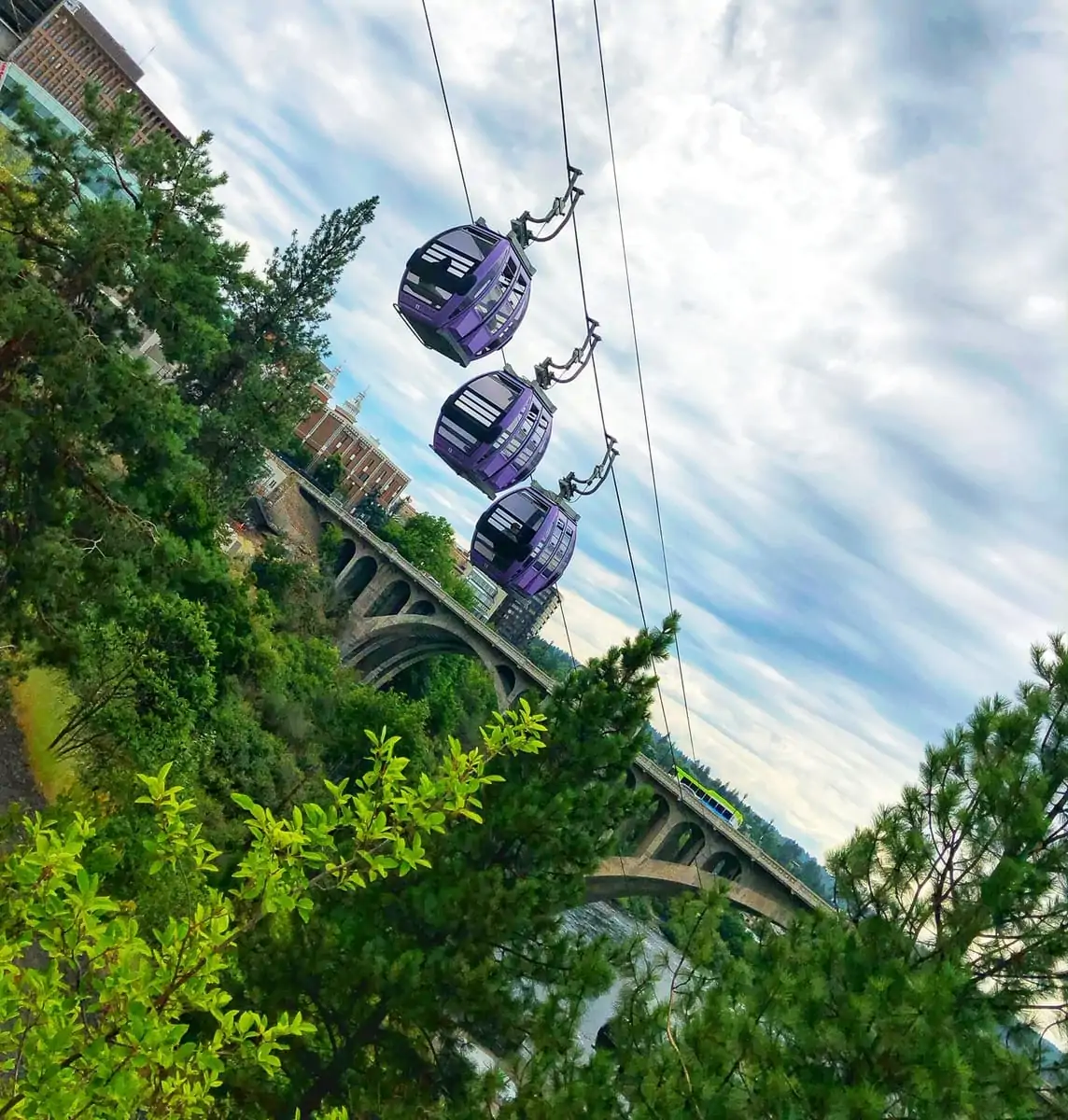 The Gondola over the Falls
This is a major attraction here, and I think it is worth doing at least once. It is not a super long gondola ride, but it is beautiful to go out over the falls and back. If you do not want to pay for this ride, there are some beautiful viewing areas where you can take in both the falls and watch to Gondola.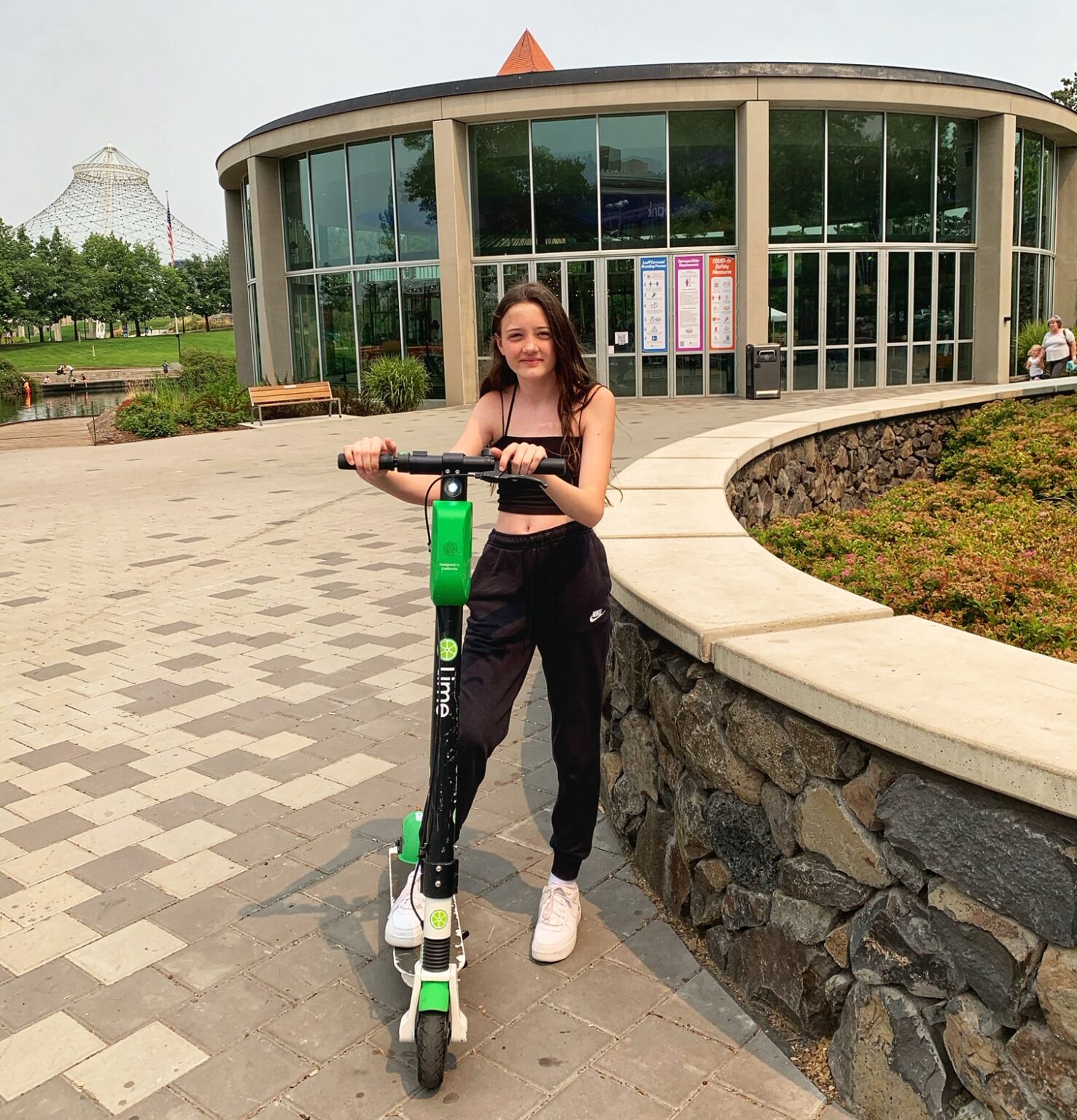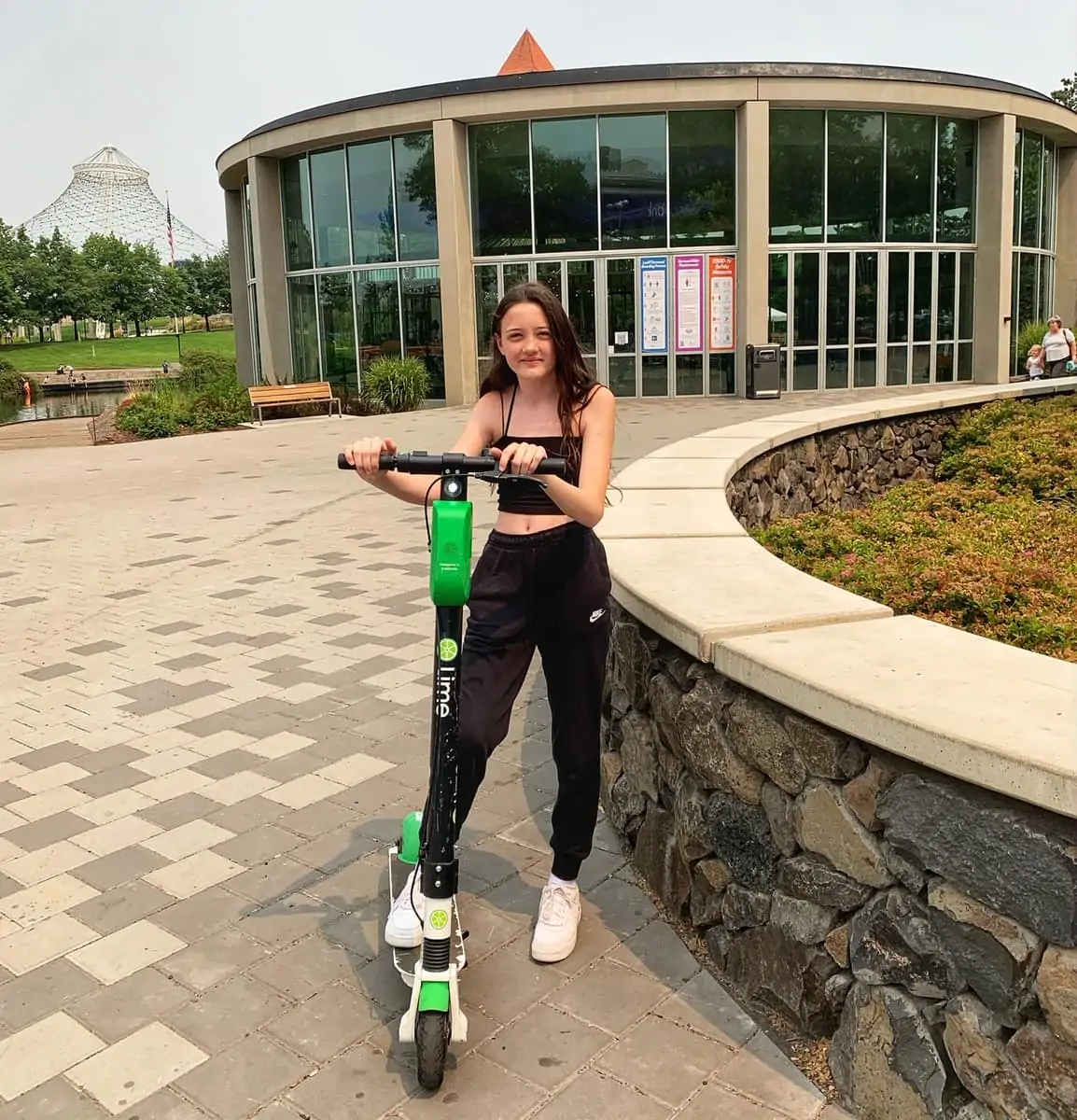 Renting Lime Scooters to Race Around the Park!
This activity is most fun for tweens and teens I think. It was the thing my teens where most excited about (and unfortunately I think it was the most expensive thing in the park to do as well).
Now, you have to be careful on these as they can add up. You will need to download the LIME app on your phone, and sign up there. I recommend that if you are going to use them for more then 45 minutes you do the all day fee. It ran me around $23 per kid for one hour, so the all day fee of $17 would be a better deal. The visitors center onsite told me most rides average out to $15, so that means they are riding less then an hour – but I had to make my kids get off at an hour (they could have kept riding)! You can get $5 of free rider time with referral code RSWE762
Take a Carousel Ride
Behind my daughter is a round building, and that is where you will find the Carousel, to enjoy year round.
Roller Skate at the Numerica Skate Ribbon (or Ice Skate In the Winter)
It is free to skate here, if you bring your own skates or non-motorized scooter. Helmets are required. All equipment can also be rented on site for a fee as well.
This is a fun ribbon shaped enclosed area that kids or families can enjoy some skate time at. It is right at the entrance of the park, so easy to access, and you can purchase refreshments in that attached building too.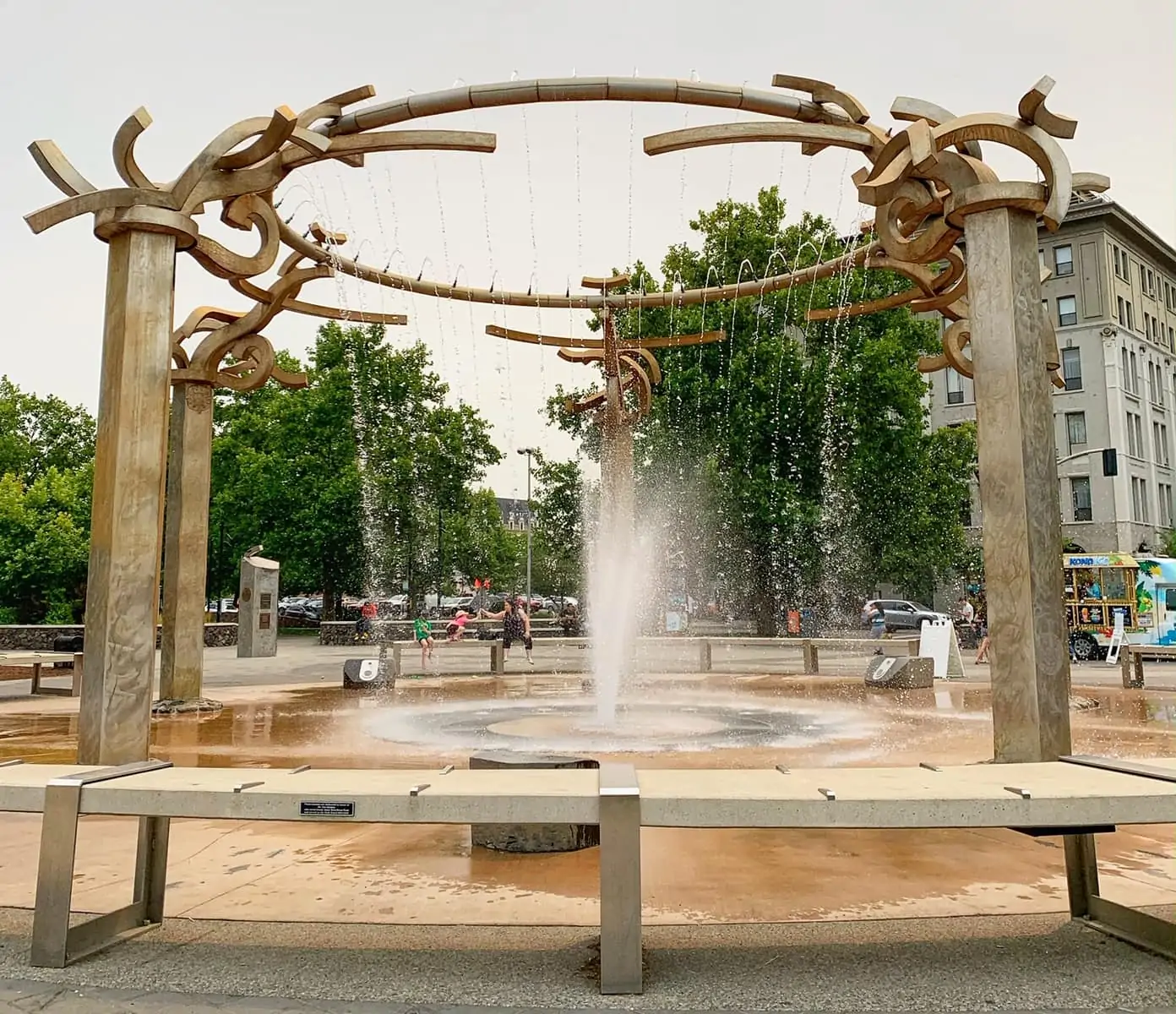 Play at the Spray Park to Cool Off
We saw lots of younger kids running through here and having a blast. Be careful though, it can get slippery and we saw a couple of falls during our visit. It sits at the front of the park, so has easy access, and there are refreshments nearby if you need something to cool off with as well. There is seating all around the spray park for parents to sit and keep an easy eye on kids.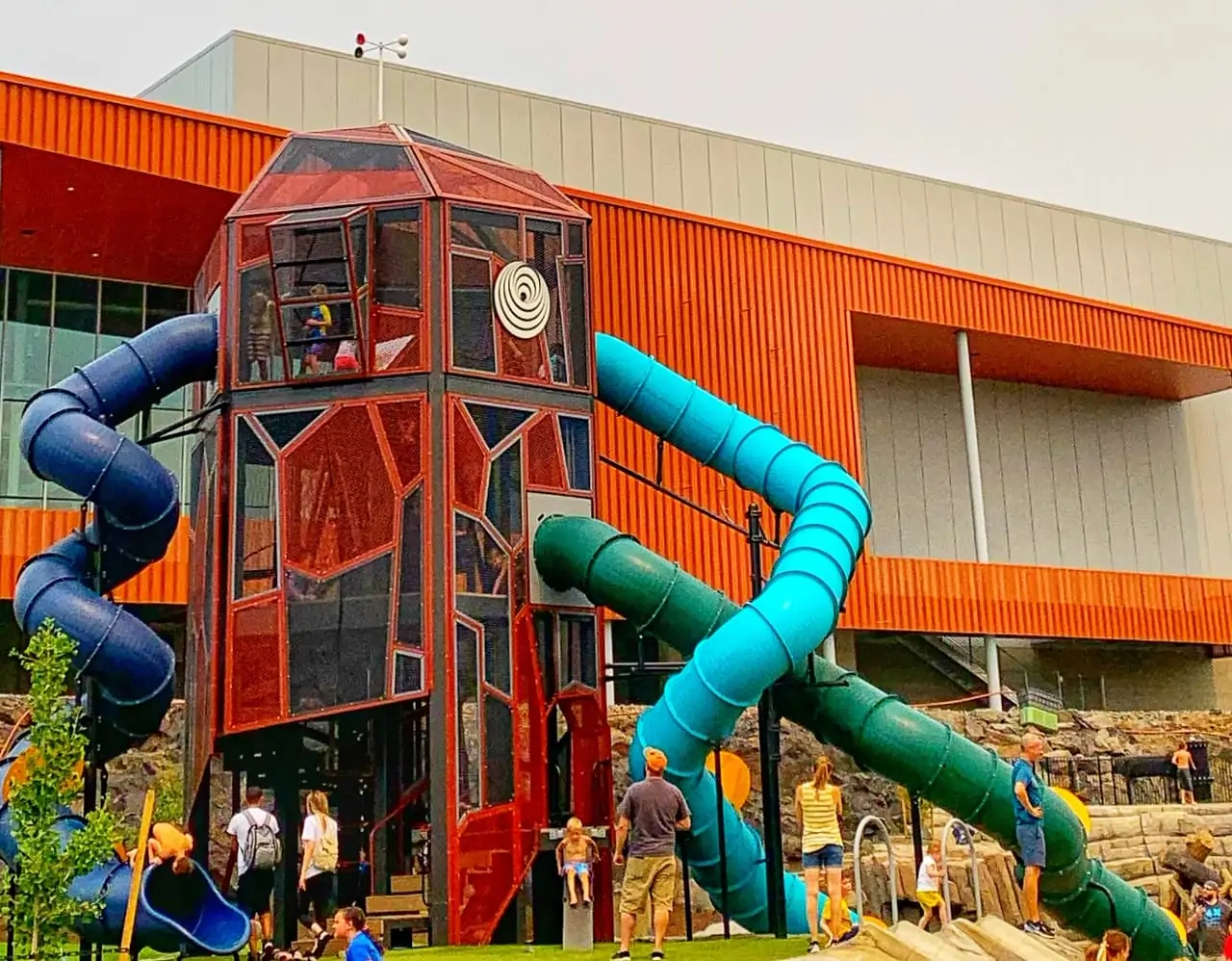 Enjoy Time at the Park – There is More Than One!
If you have little ones who love a great park, then this is a must visit. They have so many areas for kids to play, and enjoy really cool playgrounds. This is like playground heaven.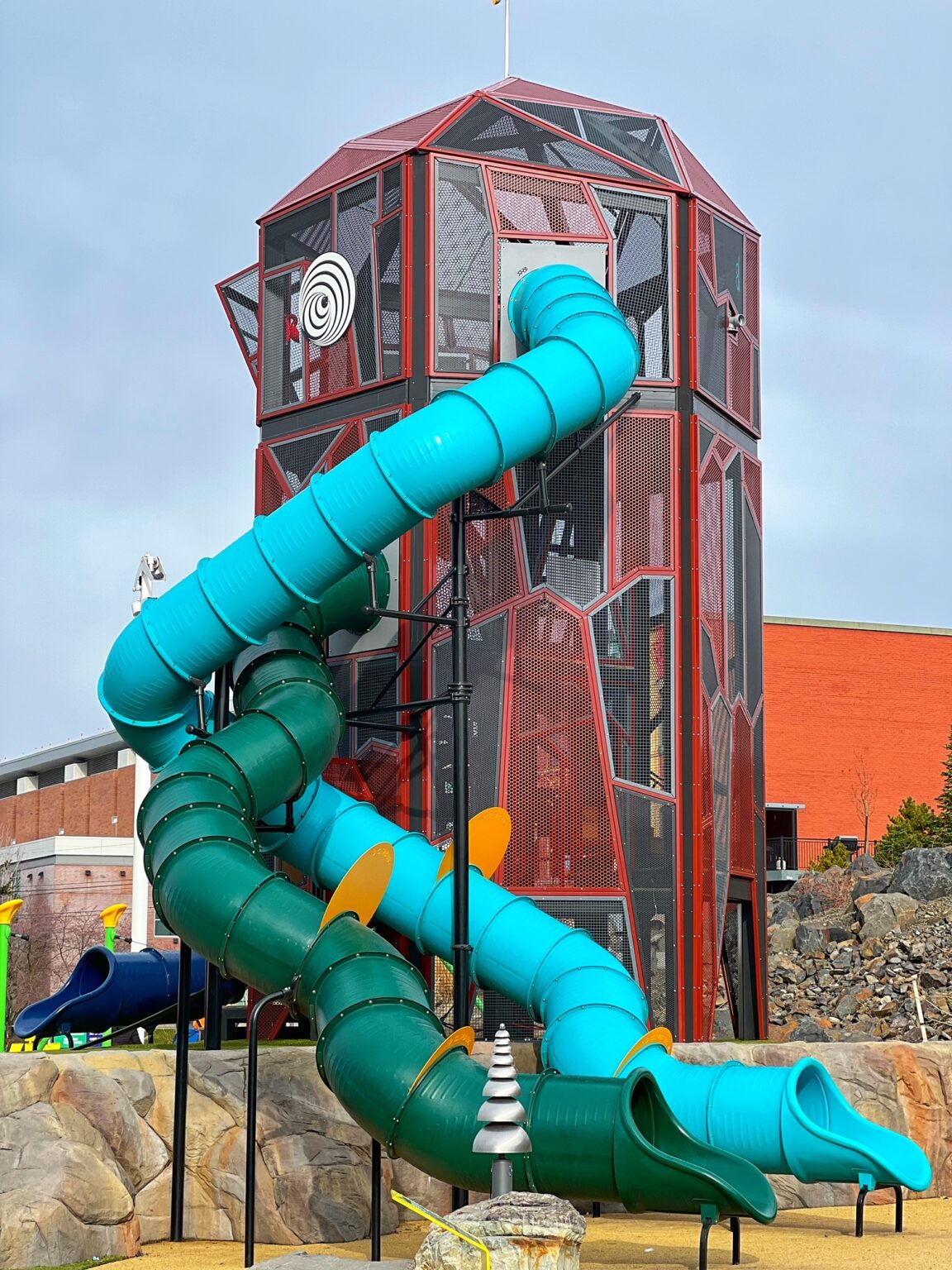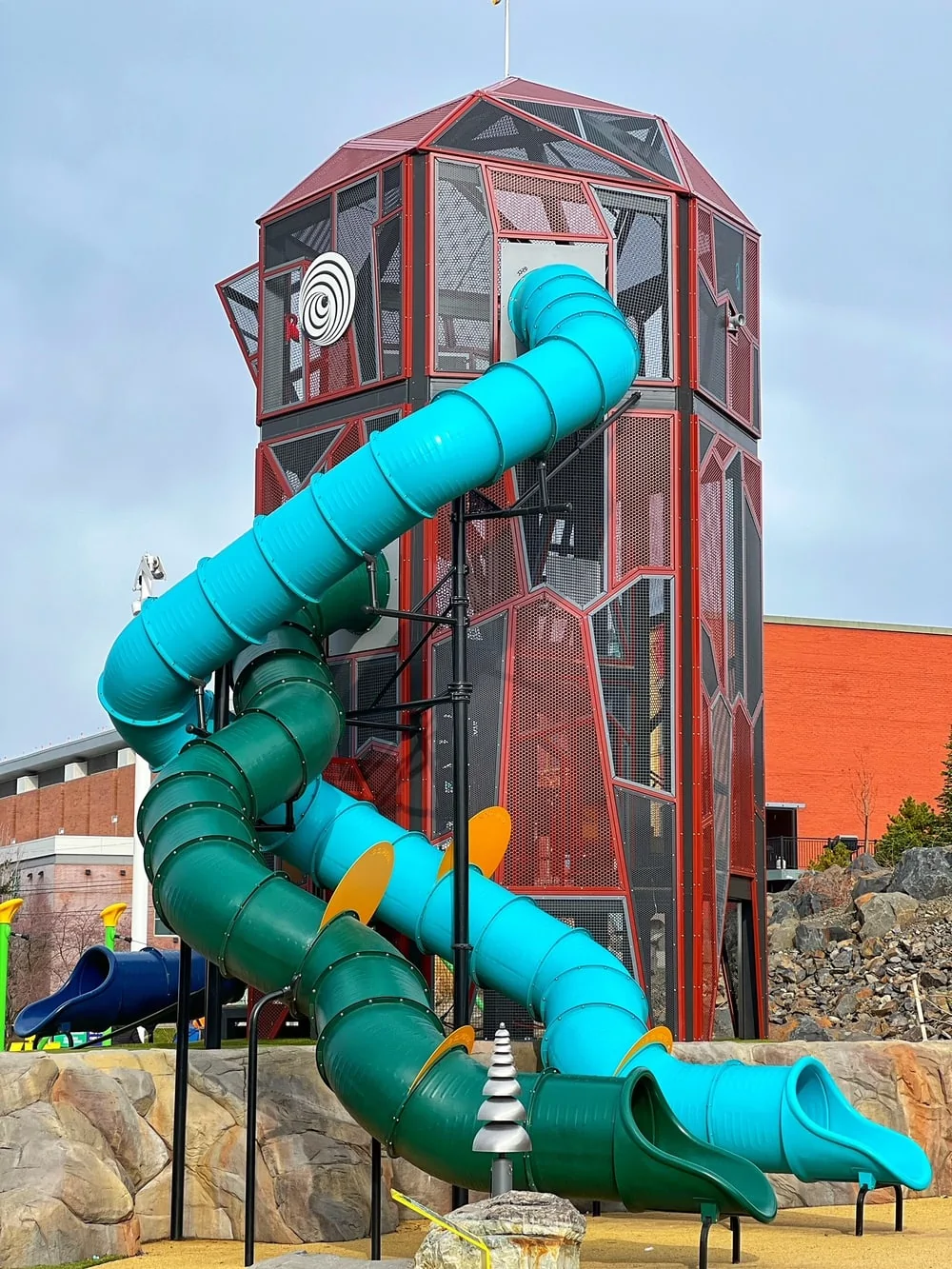 The Ice Age Playground:
The Ice Age playground is the newest playground added to the park, and is pictured above. You can expect to find cool 3 story clock tower slides, a splash pad, fossil digs, a full court basketball court, bbq areas and much more. This park would be the first one on my list to visit if I had kids that were still in the park playing age.
Take a Slide Down the Big Red Wagon
The Big Red Wagon Park is one of my favorite areas of the Spokane Riverfront Park. I know kids these days love all the cool new parks being build, but this one remains an icon in my opinion. This area houses the world's largest Radio Flyer wagon, that kids can climb up and slide down. It is also a super cool photo opp spot!
Providence Playscape – All Inclusive Playground
Up closer to the main entrance of the park, is the Providence Playscape, an all inclusive playground. This playground aims to provide something for everyone, including:
"sensory-rich, age appropriate, and multi-generational social play for all
developmentally balanced, dynamic activities to promote physical activity and gross motor development skills
cross-over benefits to a variety of user groups: Autism/ADHA/Downs/Mobility and Cognitive disabilities"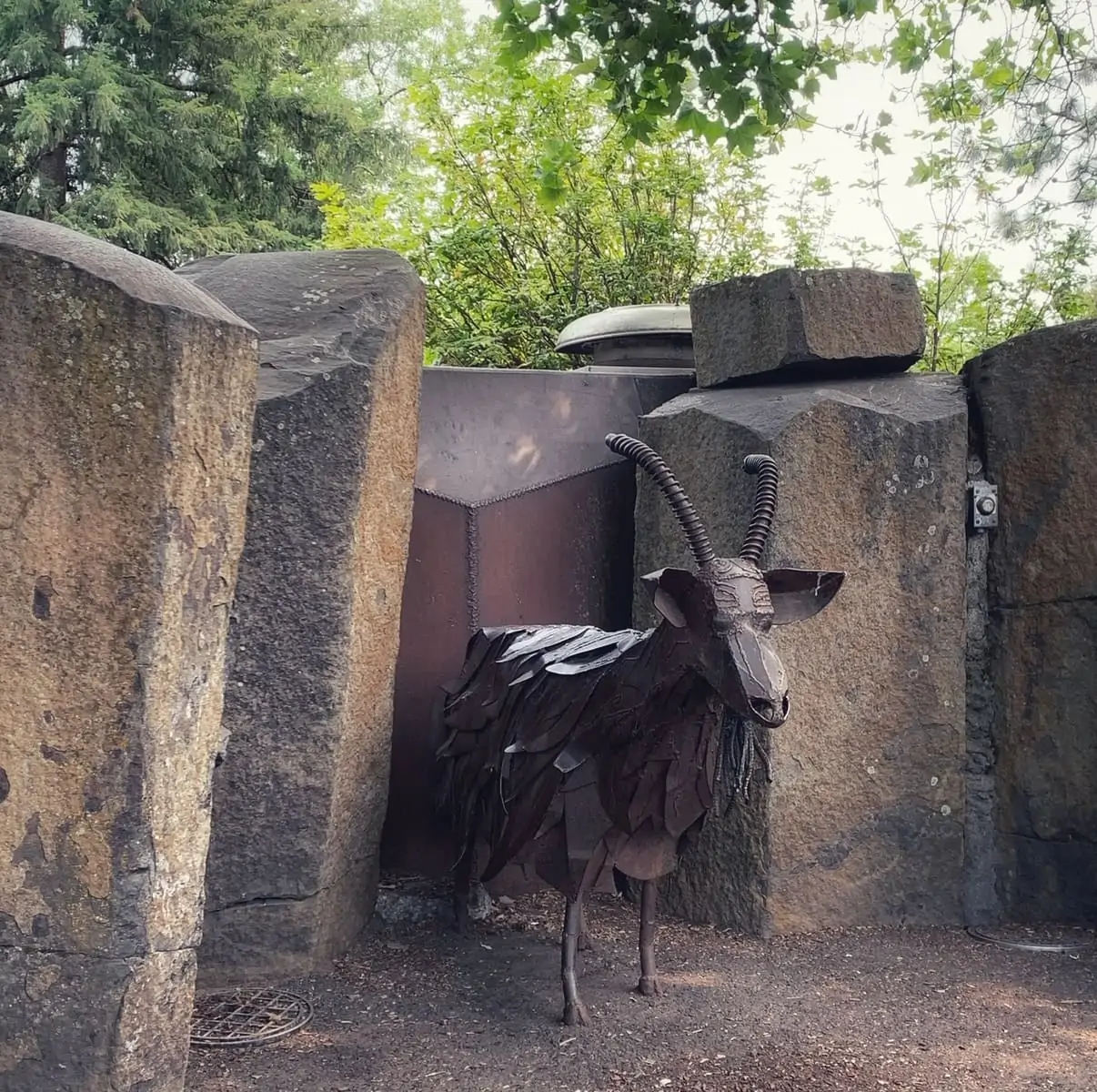 Feed Your Garbage to the Garbage Eating Goat!
The garbage eating goat has been in the Spokane Riverfront Park since 1974, as an original part of the Worlds Fair. That alone makes it worth visiting! The way the metal garbage eating goat sculpture works is that you feed it your garbage, and it eats it. It has a vacuum inside that allows the goat to "eat" small pieces of garbage, and is a much cooler way to get rid of trash then just throwing it in a garbage can. Younger kids will really get a kick out of this one.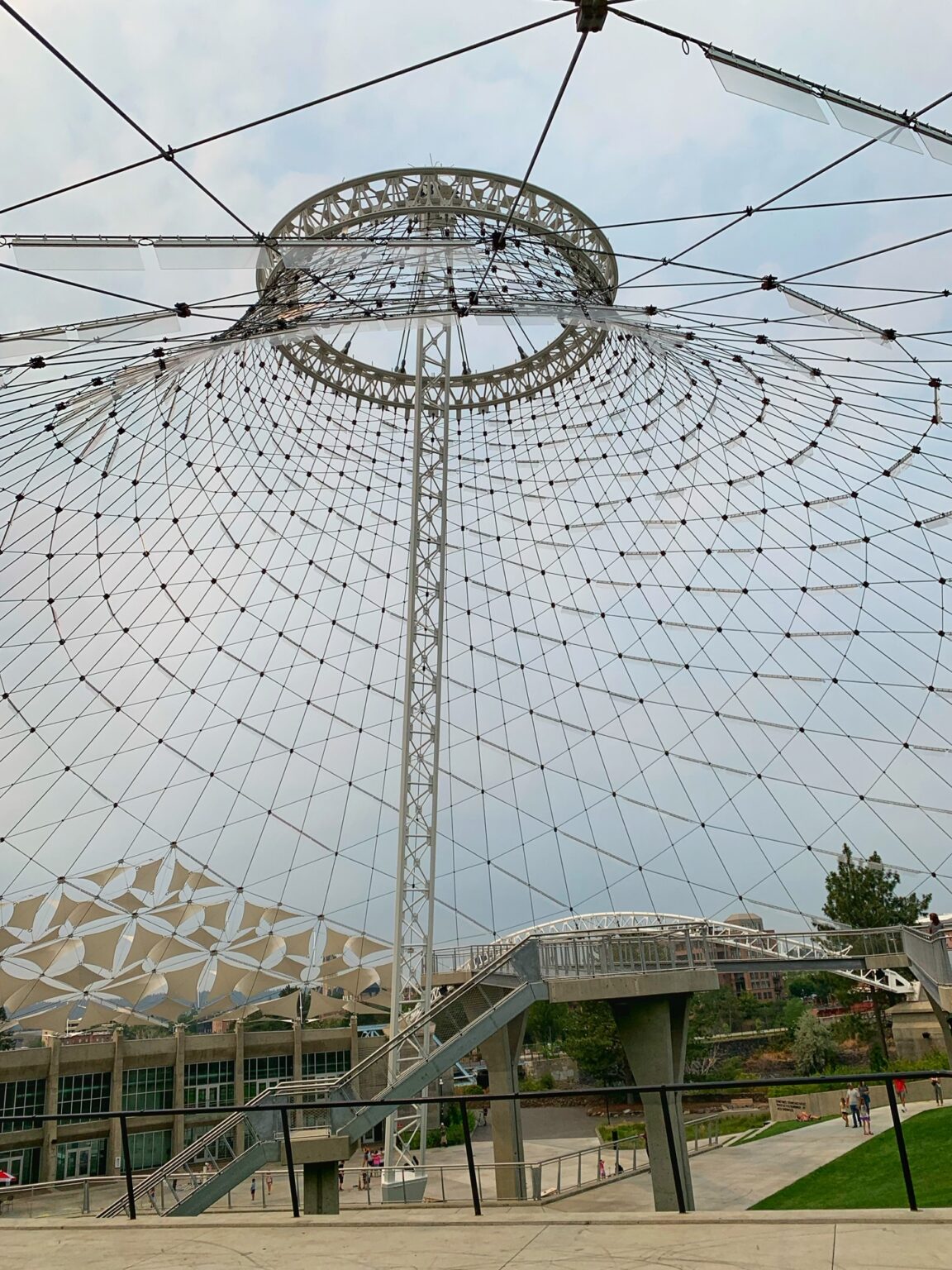 Enjoy FREE Light Shows at the Pavilion, Concerts and More Events!
The pavilion has been reimagined, but it is part of the original Worlds Fair! Current you can enjoy Free Light Show Every Friday, Saturday and Sunday (be sure to check the website to see if they are running during the dates you plan to visit, as well as for current schedules). You can also find a schedule of current concerts planned for the pavilion here too.
When we visited we saw lots of people enjoy a mid day break or lunch on the grassy areas here as well.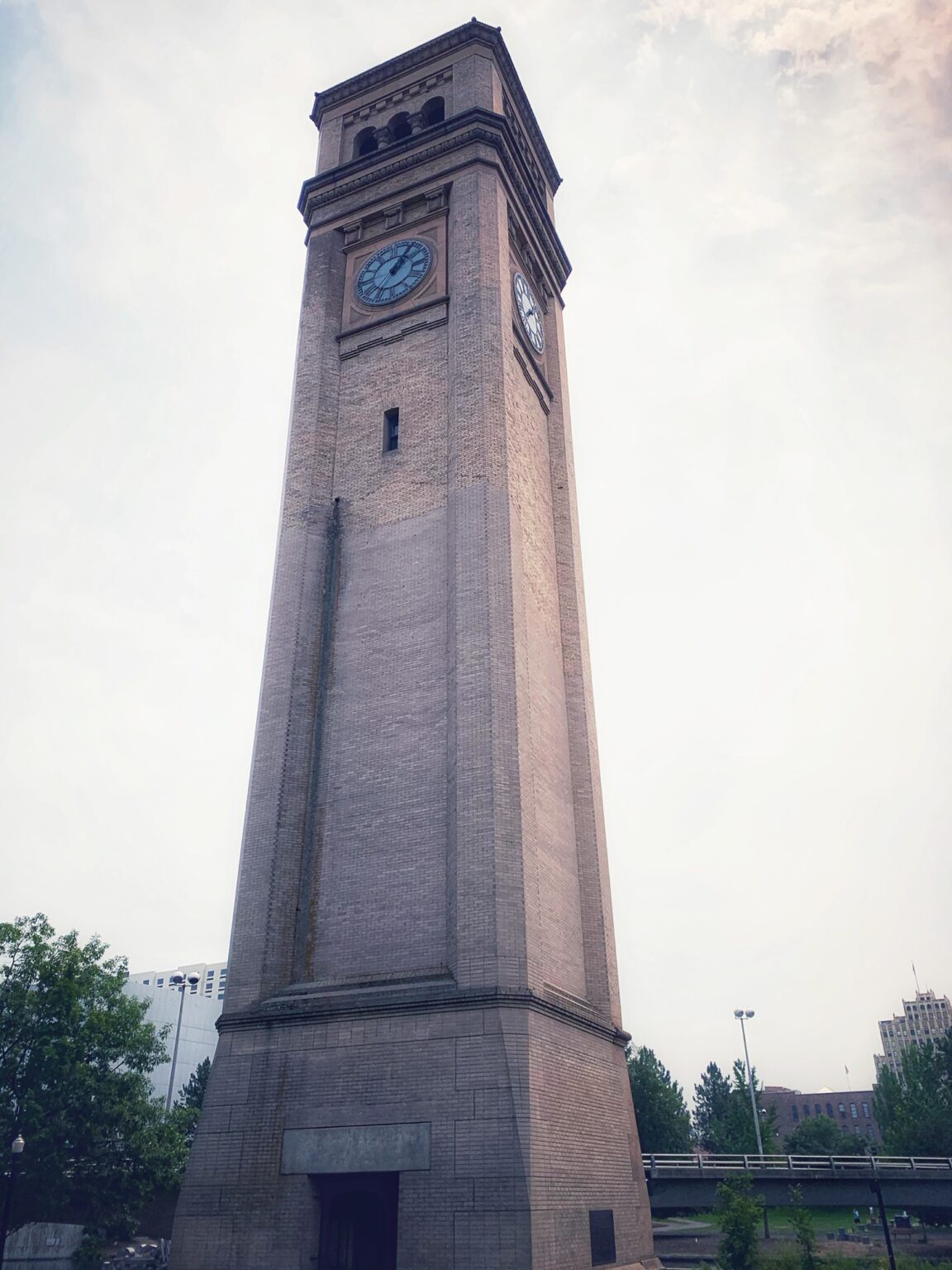 Admire the Giant Clock Tower
This is another one of the relics still in place from the original Worlds Fair in 1974. It is a great spot to get an iconic photo while at the park. If you enjoy history, you can learn more about its historical significance here.
Enjoy Miles of Walking Trails
If after all of that you are still looking for things to do, then you can hit a nearby restaurant or cross the street and do some shopping at the Mall there. There was also a shaved ice truck there, when we visited, that the kids enjoyed after riding scooters.
You can also find a number of scavenger hunts to do for the Spokane area (just google Spokane Scavenger Hunt), and many include the Riverfront park as part of the route.
You will also find seasonal events, like movies in the park, food trucks and more. Roller Skating turns to Ice Skating in the winter as well. Find current happenings at the park here.
The border of the Idaho Panhandle (Northern Idaho) is about 30 minutes away too. You can find things to do in nearby Idaho here too: