5 Spokane Hotels That Make Great Family Friendly Options
This post may contain affiliate links and I may be compensated for this post. Please read our disclosure policy here.

5 Spokane Hotels That Make Great Family Friendly Options
Spokane is a beautiful city, and offers more than you might expect for family vacations. If you are considering spending some time there to enjoy the beautiful Riverfront park, or for any other reason, here are some family friendly hotels in Spokane to consider.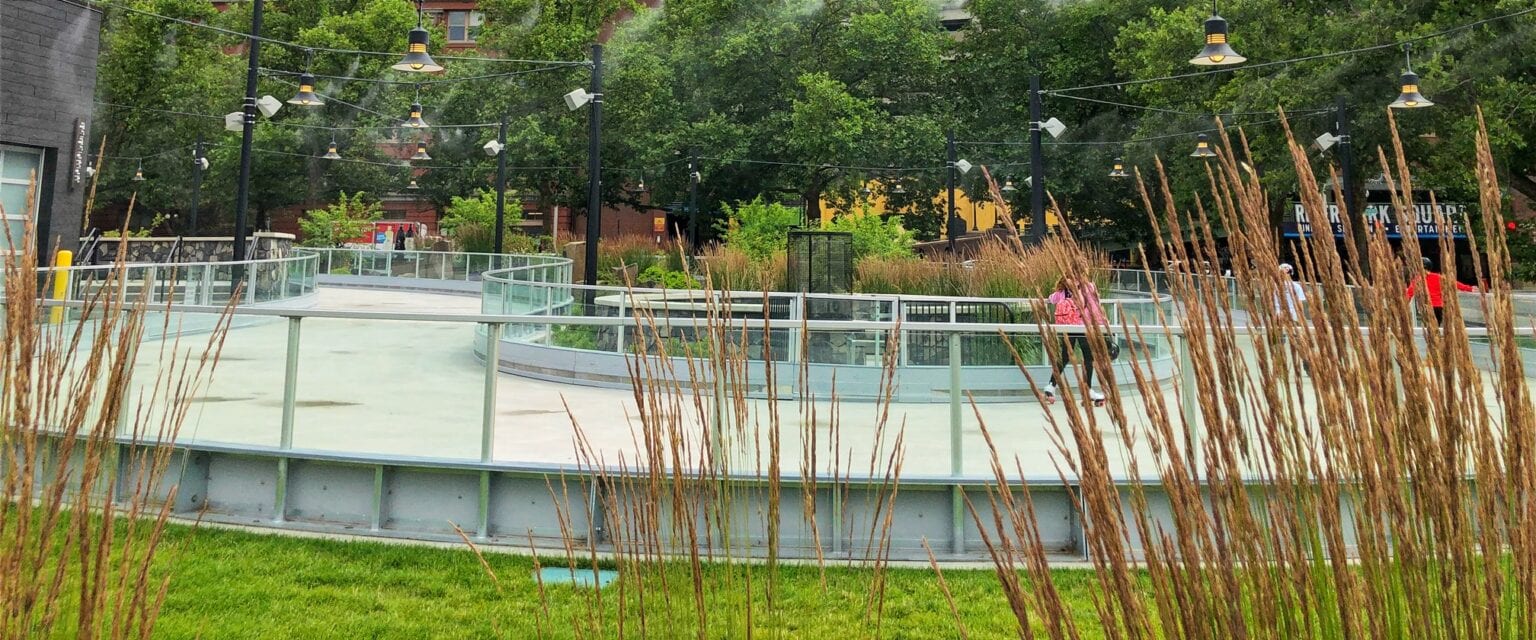 Roller rink in the summer, ice rink in the winter at the park!
The beautiful riverfront park offers a days worth of fun for families. You will find gondola rides over the Spokane falls, miles of walking trails (or rent a green bike) to explore. A giant red wagon slide, outdoor roller rink, trampoline fun, spray park and carousel are just a few other activities you can enjoy here too.
Head up to Franks Diner, for an amazing breakfast or lunch in a train car (prepare for a wait, it is a popular spot), or use your stay in Spokane for launching grounds for a Silverwood Theme park vacation. These are just a couple of ideas of fun things to do in Spokane, and reasons to stay overnight for a night (or more) for a great family getaway, or couples getaway.
Some things we love about visiting the Spokane area for a family fun vacation
Now that we have shared some fun things to do in Spokane, you might be wondering where you should stay. Here are some of our favorite hotels in the area, to give you a few ideas of spots that are sure to be a hit for your family.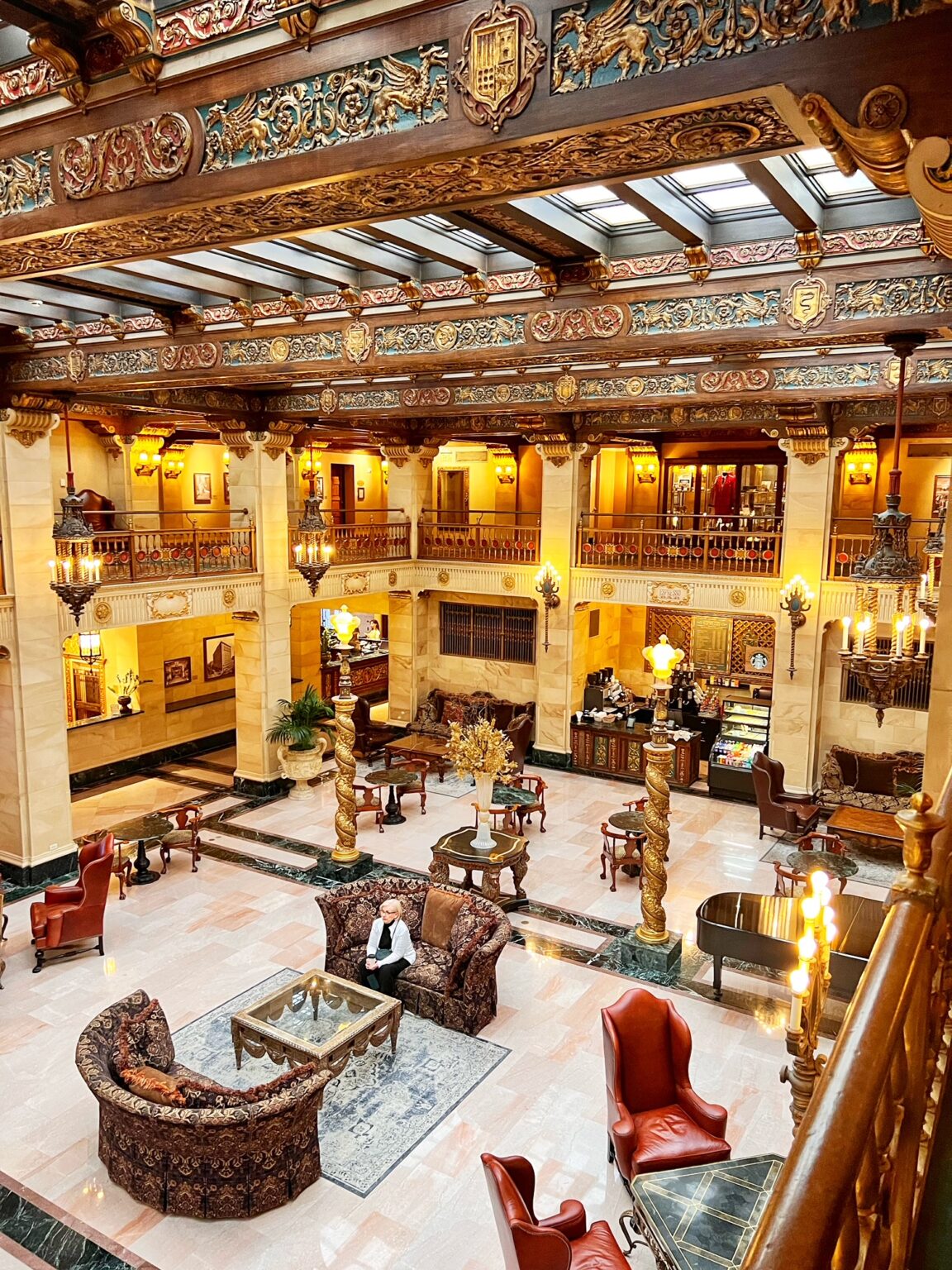 1 – The Davenport Collection of Hotels – Specifically the Centennial Hotel, on the Spokane Riverfront
The Davenport hotel has long been one of the most recommended hotels in the Spokane area, and is in the heart of downtown. When most people mention the Davenport, they are referring to the Historic Davenport.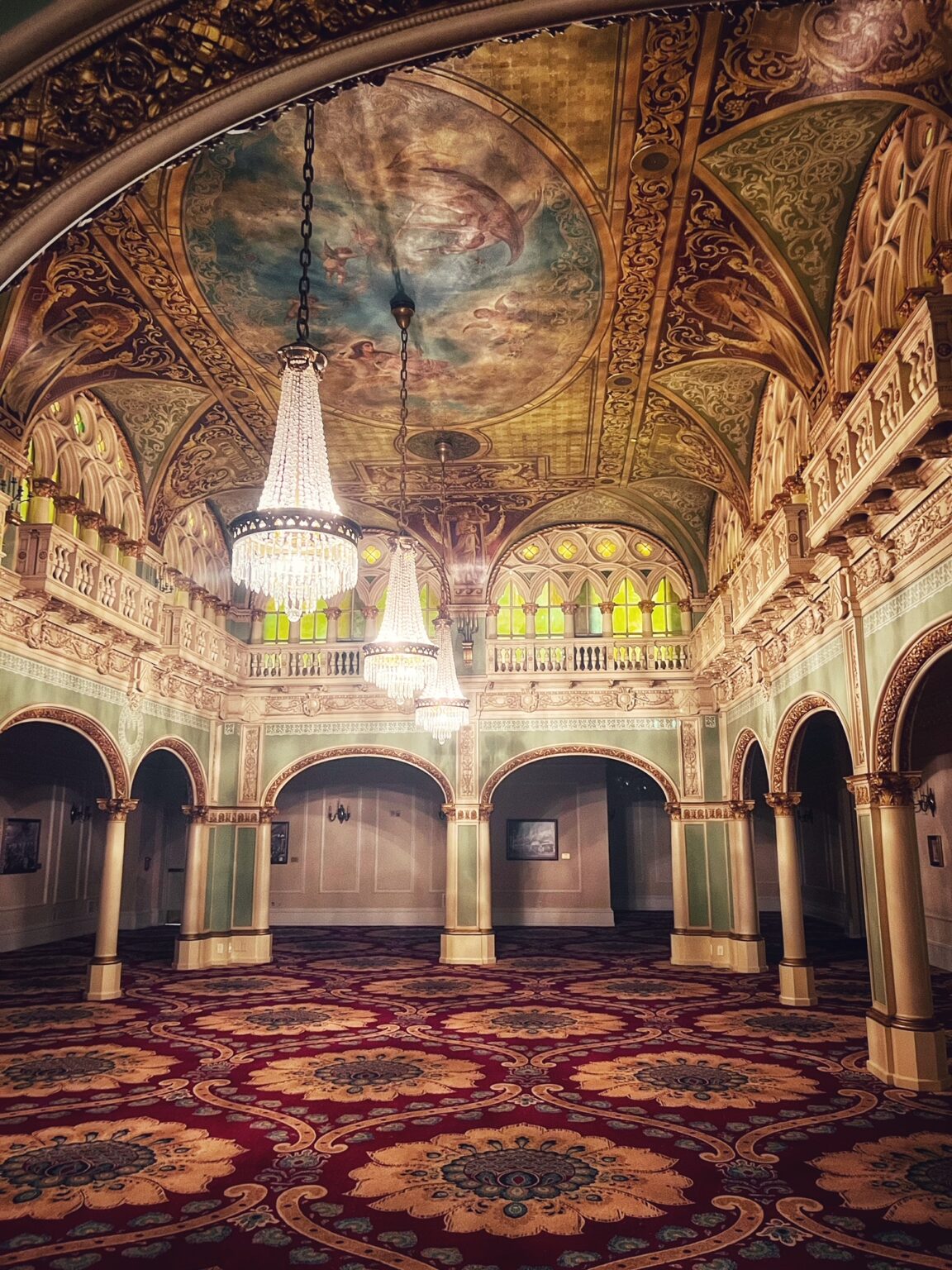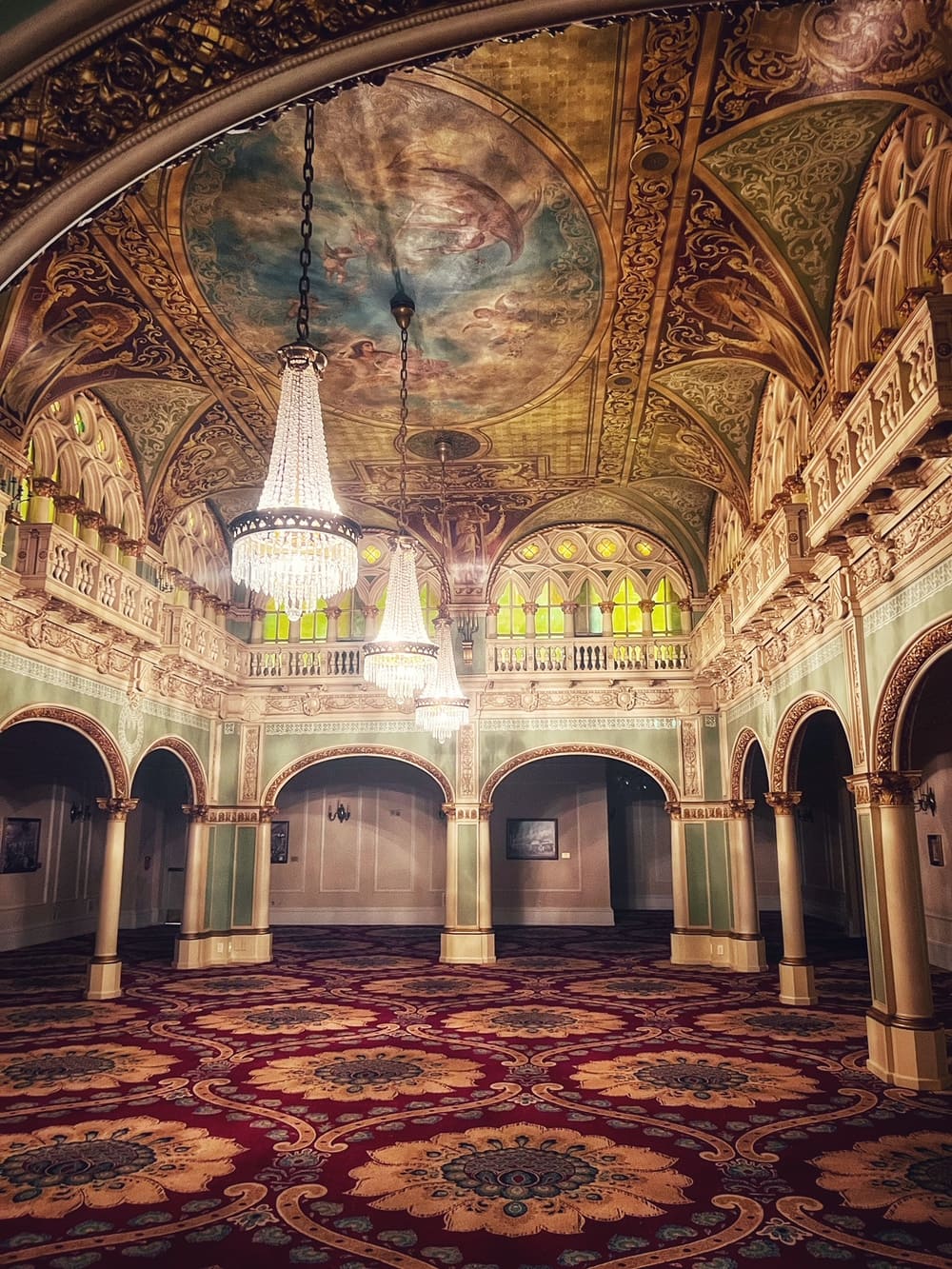 It is both historical and ornately decorated, and worth a stay if it is in your budget. But it is not the only great option for families in the Spokane area. They have added a handful of hotels to the Davenport line in recent years, so there are more options.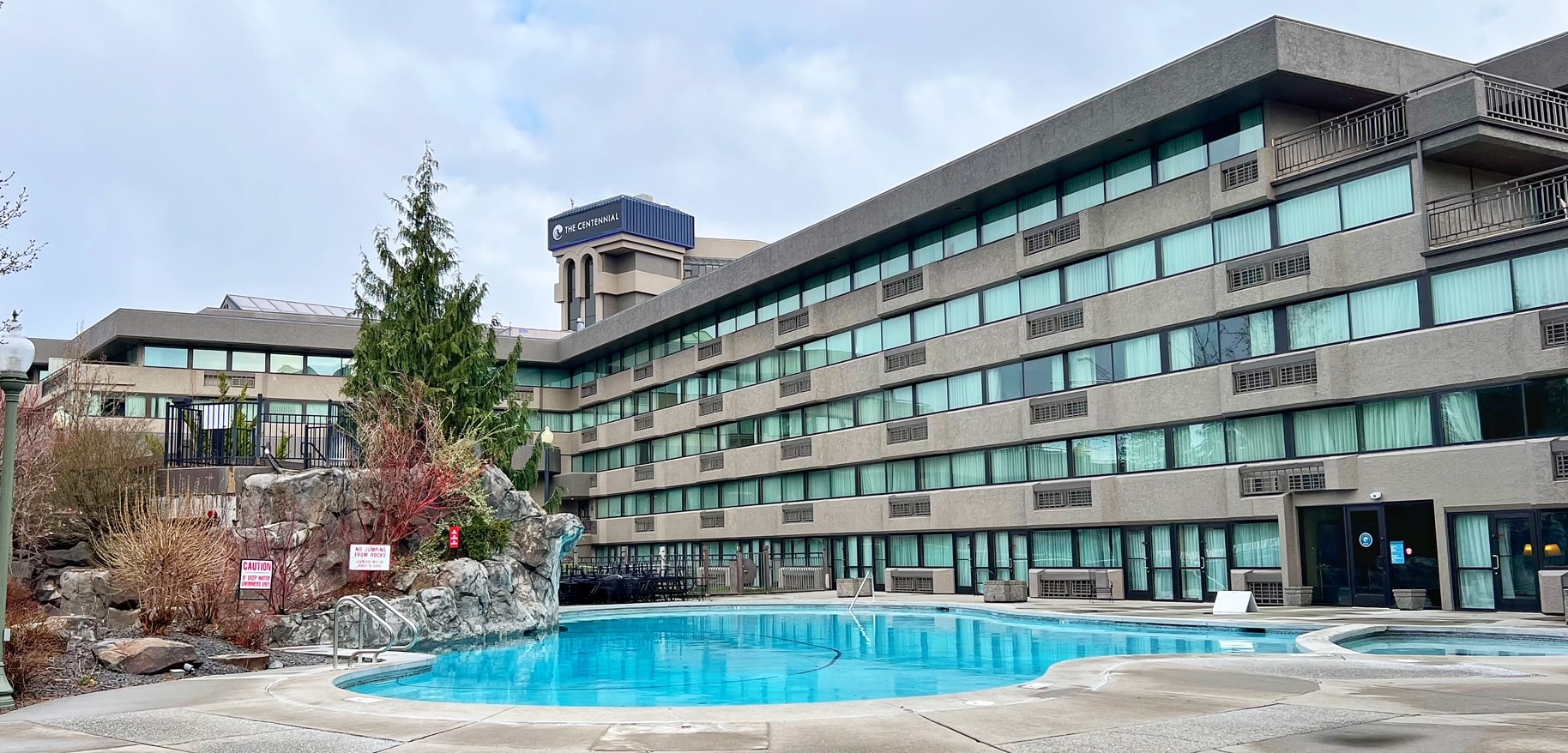 More recently, they have bought up some other hotels in the area and there is now an entire Davenport Collection of hotels in Spokane. One of our favorites for family is the Centennial Hotel on the Spokane Riverfront. It used to be the Red Lion Hotel, then the Spokane RL (still part of the Red Lion Family) and now the Centennial, part of the Davenport family.
We have not stayed in this spot for a few years now, but we loved it when we did. I did stop in to check it out when we were in the area just over a year ago, and it looks like they have made some nice upgrades to the space.
Some things we loved about staying here as a family include:
It sits right on the Riverfront, and you have easy access right outside your hotel to the Spokane Riverfront Park – which is full of lots of fun things to do for families! You will find a giant red wagon, roller blading in the summer, or ice skating in the winter, gondola rides over the falls, spray parks and much more!
This hotel also has a fun outdoor pool that kids will love. It used to have a small water slide that goes into the pool, but it looks like that has been removed. It still is a heated outdoor pool, with some rock landscaping around it to enjoy.
It is affordable, we found rooms starting at under $100 many times when looking.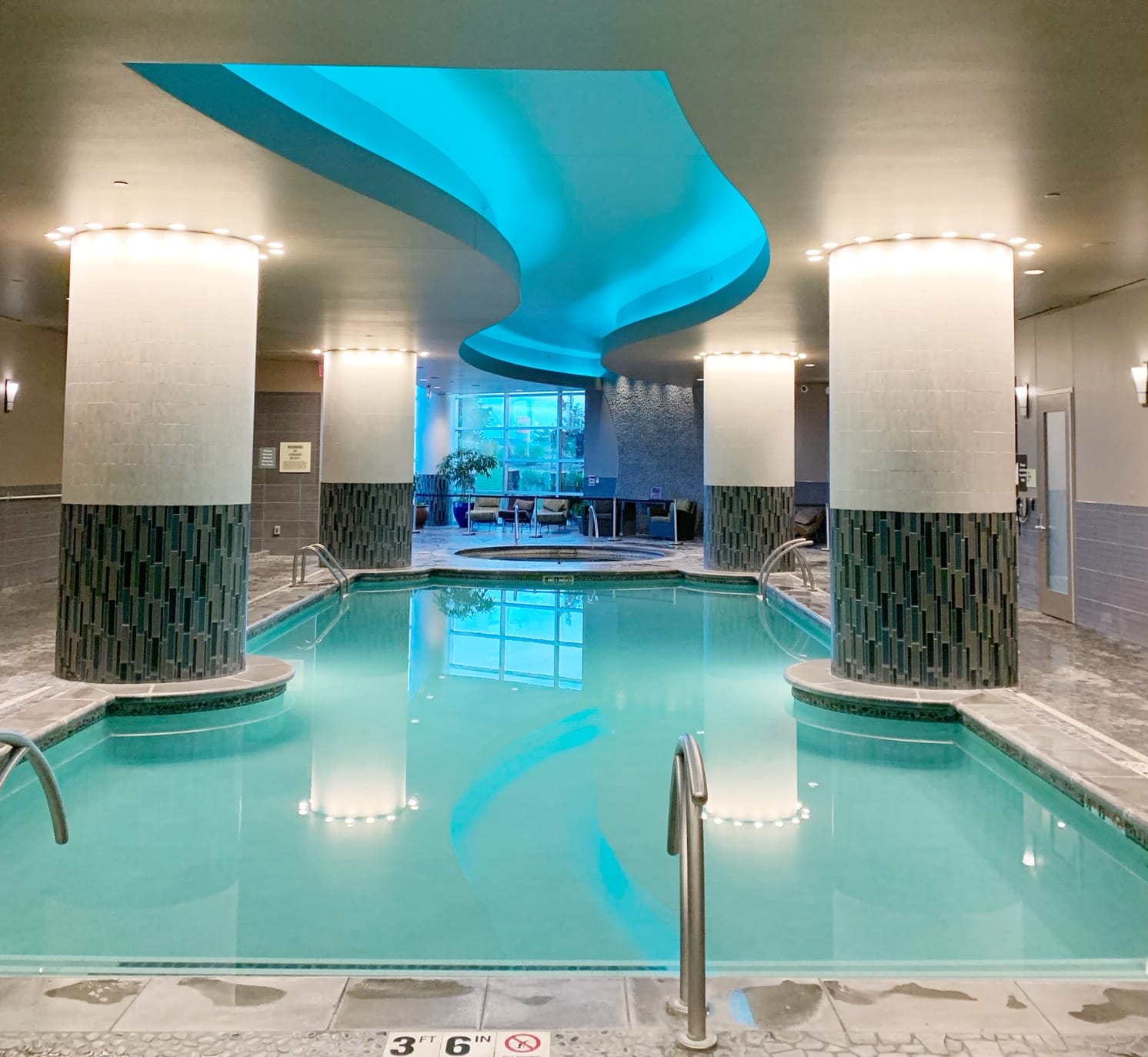 The Pool area at Northern Quest Casino Resort
This spot is a bit of a splurge, and is just a short drive from the downtown area. There are a couple of options that might be fun for families. You can rent rooms, but they also have an RV park in walking distance (and a shuttle moves between the RV park and Casino /Resort area. So your options to stay as a family include:
RV spots, if you have an RV
Cottages (1 and 2 bedroom cottage options at the RV park if you do not have an RV)
Stay in the hotel (standard rooms sleep 4 or less)
The draw for us was the pool. It was beautiful (both the pool and Jacuzzi area). There was no seating in there when we visited, but my kids loved the pool. Although it was a wonderful relaxing spot, be sure to note the pool hours. They were more limited than many hotels we have visited (family hours were from 3pm to 7pm during our visit) so make sure those work for you. If you stay at the RV park, they also have an outdoor pool you will have access too.
Dining was another fun option here. You could choose from full service dining at the Noodle House, or Steakhouse, or head to the food court to select from Fat Burgers, Quodoba and Ben and Jerrys Ice Cream. So there is something for all budgets in the hotel. While it was closed during our visit, they also offer a Movie and Dining Experience at M&D usually – where you can sit down for a nice dinner and watch a movie at the same time. If you want something a little more active, they have a Top Golf facility and bar and grille too!
In addition to the beautiful pool area, there is a game room for the kids. Both of my girls hit a 1000 pt jackpot on the games during our stay, and won some fun prizes as a result. If you have kids 12 and under, there is also an activity center that they can play at, that is adjacent to the game room, for an hourly fee.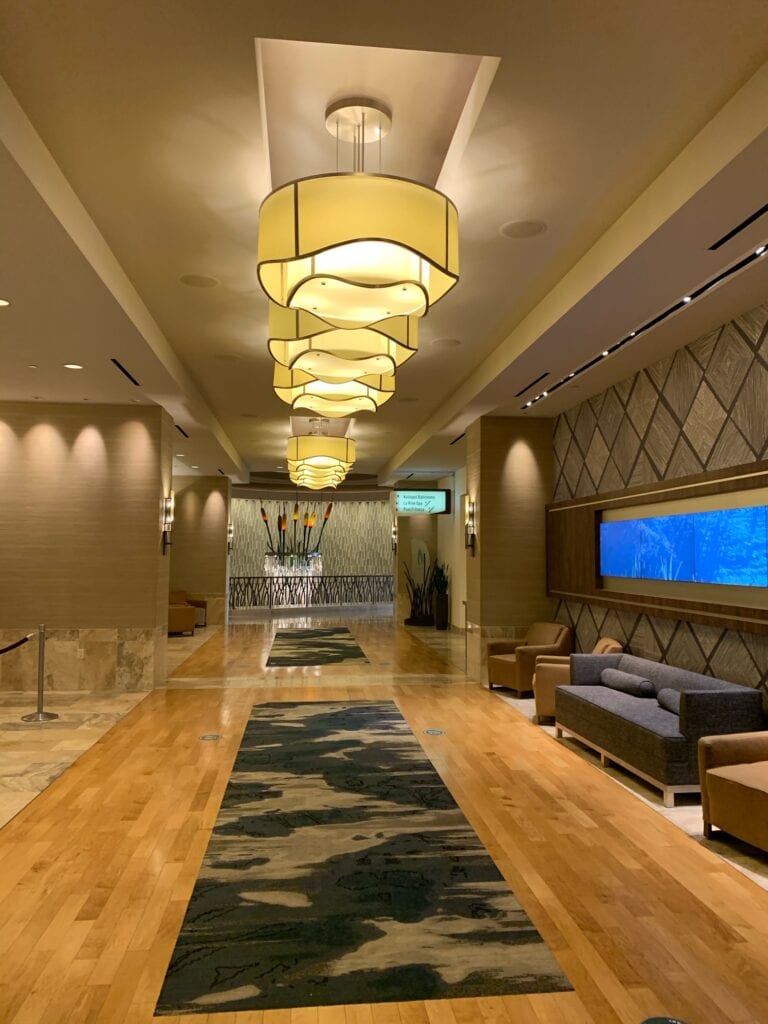 The hotel is separate from the Casino area, so you could enjoy it without ever entering the casino. Most of the restaurants are accessed through the casino though (but you can walk outside and enter via the outdoor doors, verses walking through the casino too.
It has earned a 4 star diamond rating each year from 2015 onward (some earlier too), so it is a top notch spot if you want luxury, amenities and lots to do for all ages.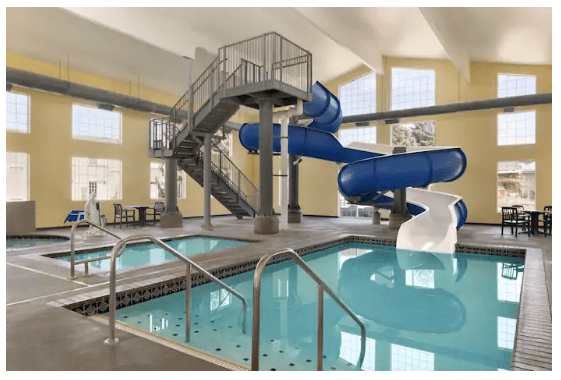 Photo Credit Ramada Spokane
3- Ramada by Wyndham, A Spokane Airport Hotels Option
This spot first came to our attention via reader recommendations. It looks like a great budget friendly option, and has a water slide in their pool area. We have never visited ourselves, but have heard from a number of you that your kids loved the water slide option.
This hotel is located near the Spokane airport, so you will need to drive into the downtown area, but it is a short drive. Free breakfast is included, and they have recently added some firepits to the grounds as well that would be perfect for a night of smores. Reviews look good, and site how clean the facility is, so that is a plus too. If you are looking for a great budget friendly option, with things for the kids to do, this is one spot to consider for sure.
Two most family friendly features are that it may be the most budget friendly, and it offers water slides for kids to enjoy.
4- The Ruby River Hotel, Spokane
The Ruby River Hotel also sits along the Spokane Riverfront park, like the Centennial Hotel we mention above, but this one will be a little more budget friendly – as well as a little more relaxed. If you are looking to the Riverfront park access for a better rate this is a good option. Some things we love about this option:
They boast two outdoor seasonal pools, overlooking the river, for guests to use (and a third is on the way)
Use complimentary hotel bikes, to wander the trails at the Riverfront park
Corn Row games in an outdoor area for the family to enjoy
Restaurant options also boarding the river
We stayed here one year on our way to Silverwood. This spot was very family friendly, with an indoor pool, sport courts to play on, large suite size rooms for families, and easy access to the river for beautiful sunsets and daily walks, and breakfast included. There are even a number of restaurants within walking distance that you can take the family too.
It is further outside of the downtown Spokane area, but a nice option if you want to head over the border into Idaho, as well as enjoying some of the Spokane attractions too.
We loved taking walks along the Centennial Trail that runs along the Spokane River each day of our stay. They are also located near the Spokane Valley Mall if you need to get some shopping in.
One of the things we loved about this spot, is that each suite not only provides extra room for families, but also has a in room kitchenette, which will help you save on food costs (eat in rather that out for all of your meals to save some). They will even help with your shopping – ask at the front desk about those options.
We mention the free daily breakfast above, but they also offer a Residence Mix with drinks and snacks available Monday-Wednesday nights 6:00PM – 7:30PM (some nights you can even get pizza and beer during this time)!
Bonus Ideas: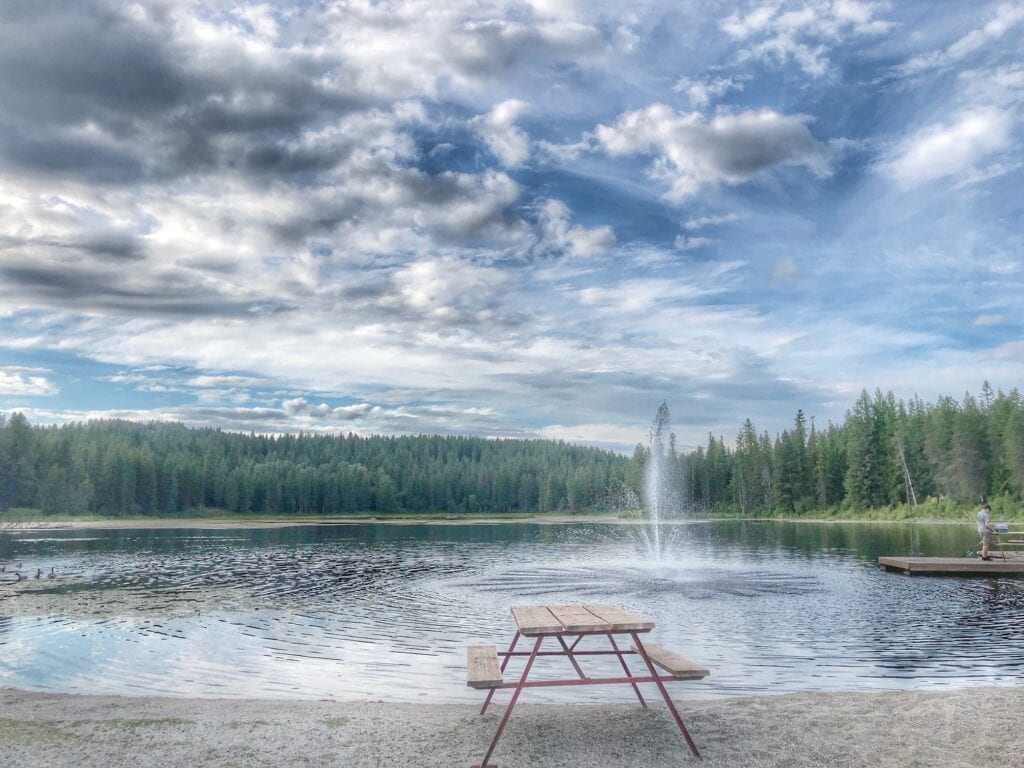 Rent a Cabin at Diamond Lake – about 40 minutes North of Spokane
We loved staying in a cabin at this campground. We stopped in Spokane on our way too the campground to enjoy the Riverfront Park, and then stopped at Franks diner on our way back for a meal before heading out of town. We loved getting out a bit more remote, but also stopping to enjoy the city too. You can find our full review of this campground here, with all of the amenities included.
Do you have a favorite spot in the Spokane area, not included on our list? We would love to hear about it!