Silverwood Theme Park – Review + Tips For Visiting (Idaho Theme Park)
This post may contain affiliate links and I may be compensated for this post. Please read our disclosure policy here.

Silverwood Theme Park, Idaho Wa. – Review + Tips
Idaho Theme Park
Do you love theme park vacations, and looking for an Idaho Theme Park? If so, you will want to consider Silverwood Theme Park if you have not already visited. It is a wonderful getaway that will cost you MUCH less than Disneyland, but offers great family fun, shorter lines, and there are a number of other things you can do in Northern Idaho beyond just the theme park. My family first discovered Silverwood, Idaho, when our kids were much younger, and we have visited a number of times since and always have a wonderful time.
Update for current times (rest of review is below):
There have been some changes at Silverwood Theme Parks in recent seasons, in response to the COVID concerns, that I wanted to share here briefly, so you are aware of how things will work for this year if you are planning a visit. The most significant change is that you will need to purchase your ticket for a specific day or days that you plan to visit (there are a few tickets that allow some flexibility but will cost a bit more – we share more about that in our Silverwood Tickets Post here).
We visited early last season, and the park was exceptionally clean. I always find Silverwood to be a clean amusement park, but it was really clean during our mid June visit. We also experienced plenty of open space to move around in (not sure if that will change as the weather improves) but we had no issues at all during this years visit with spacing.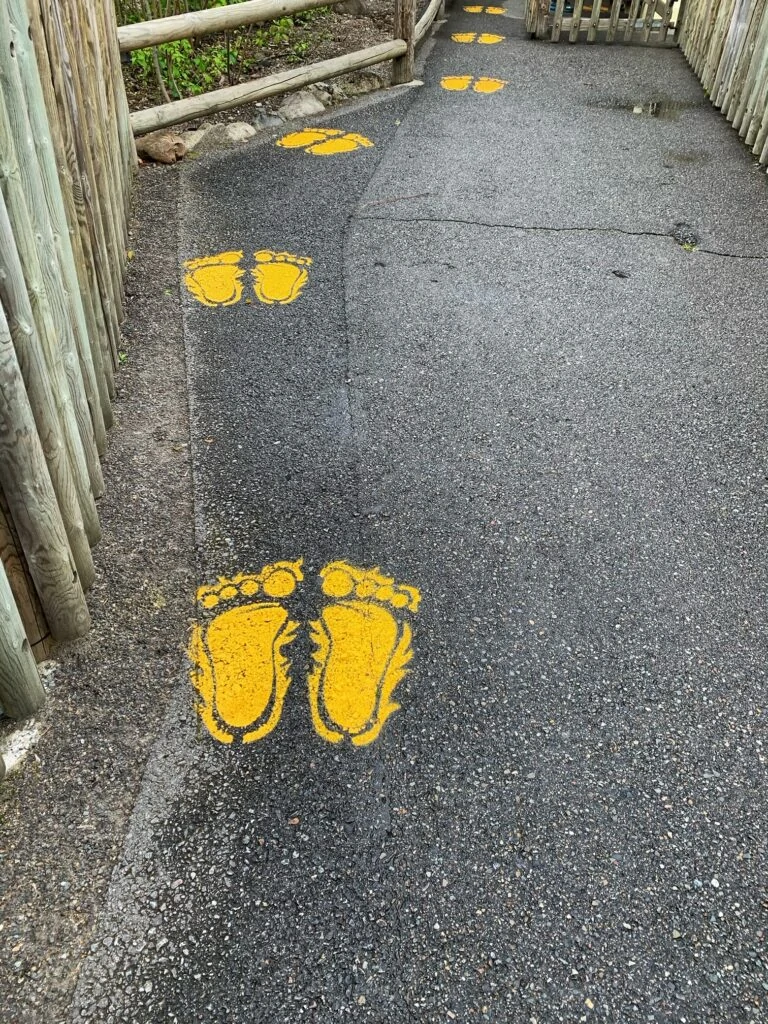 They have also made some tasteful changes to the park to help folks keep 6 ft apart in lines. There are these cute feet stamped for attraction and food lines, to help you know where to stand in line to keep distance.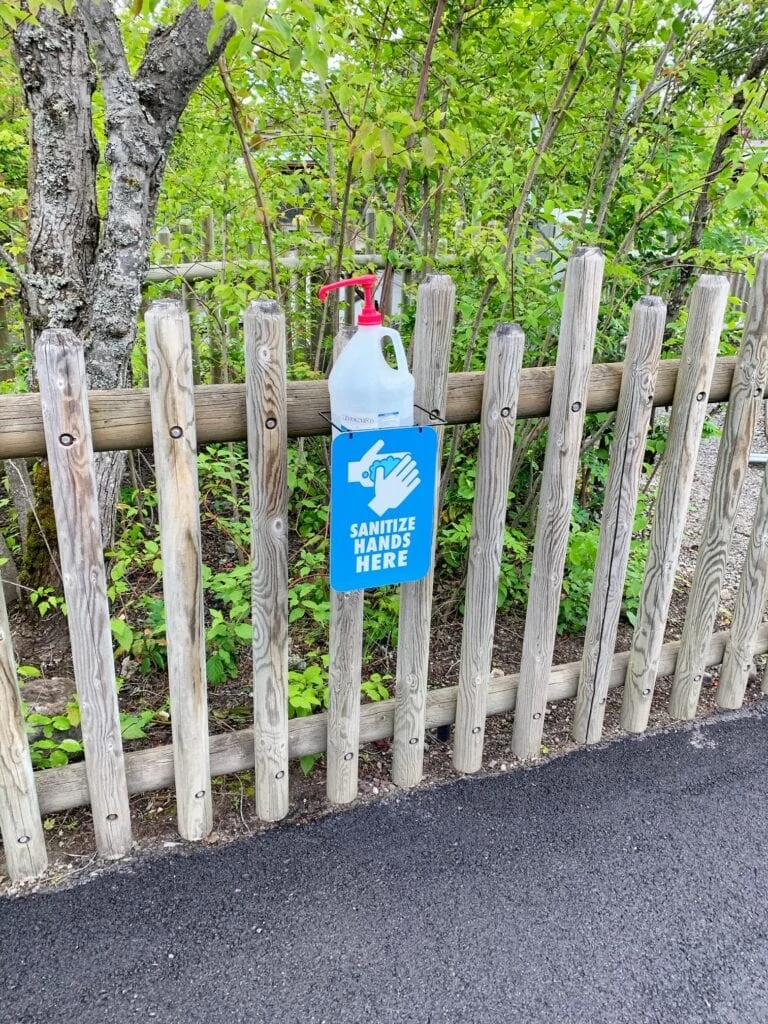 In addition we found hand sensitization stations all over the park for easy access.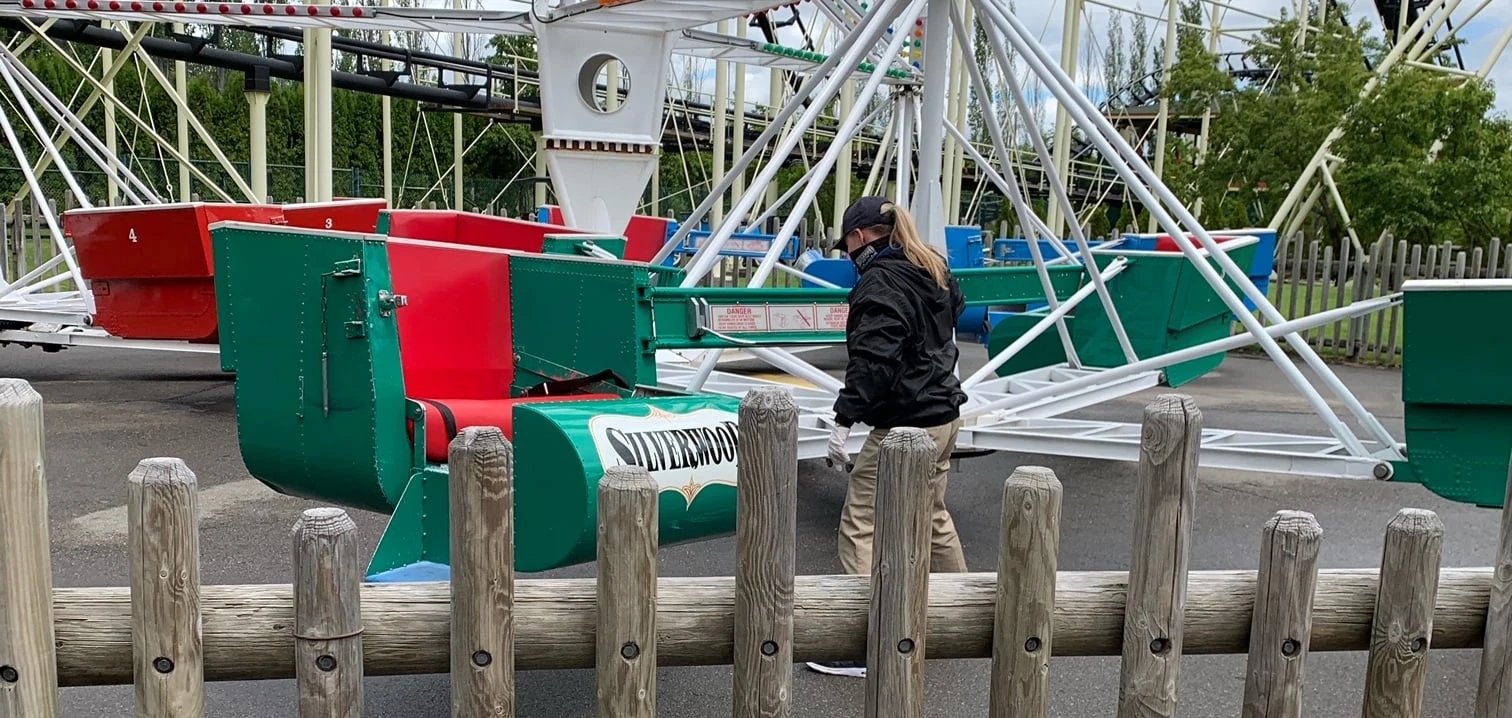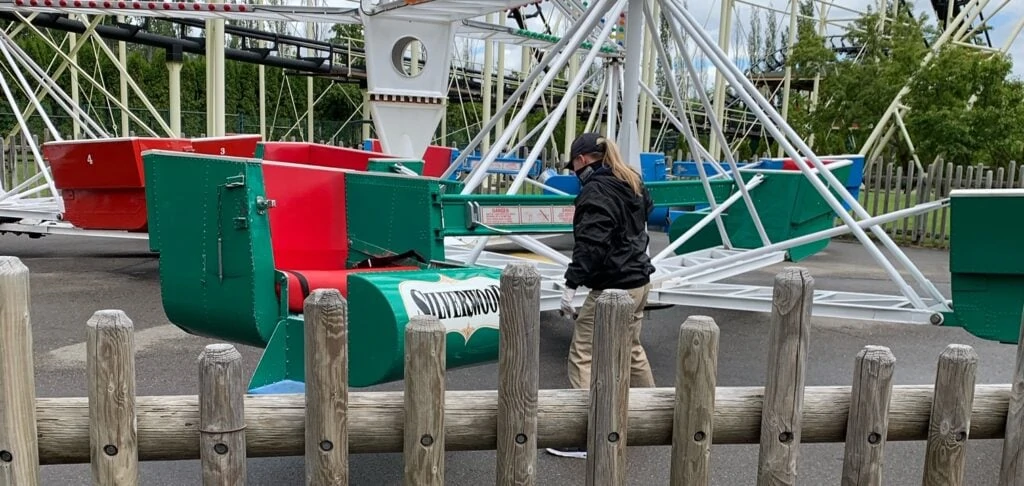 And the employees wiped the rides down after each use. This will require a little extra patience in line, but the lines where short when we visited so no real inconvenience during our trip.  You will also find all of the employees wearing masks. You can read about all of the changes they have made in response to the Coronoavirus here.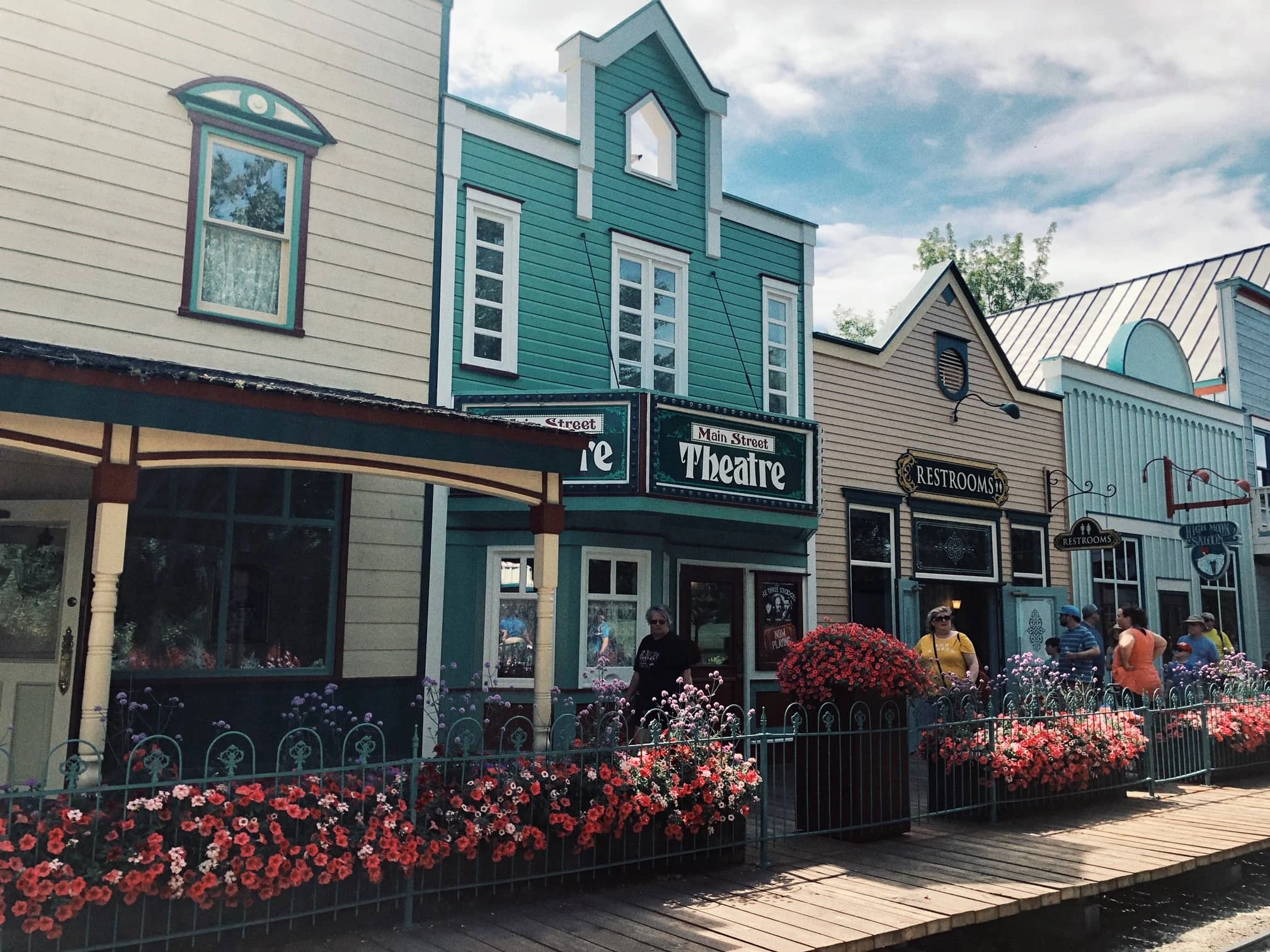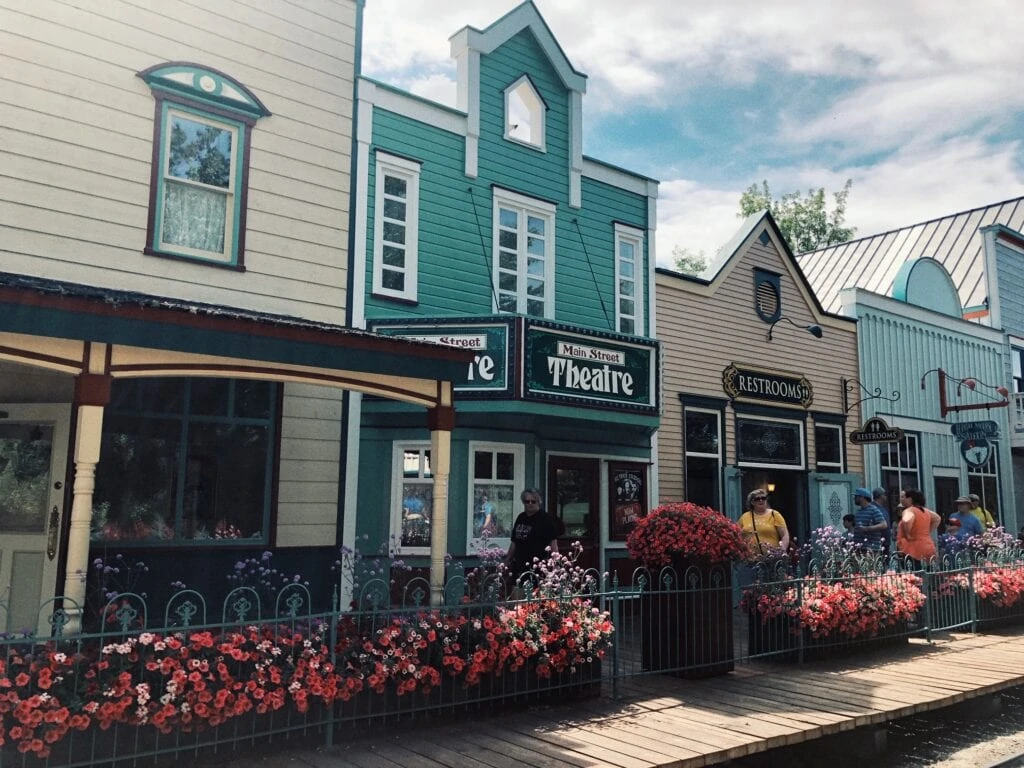 The park is themed after the Wild West and does a nice job of carrying the theme throughout the park. It is a combination of a theme park section and then their waterpark, called Boulder Beach. One price gets you into both parks for the day.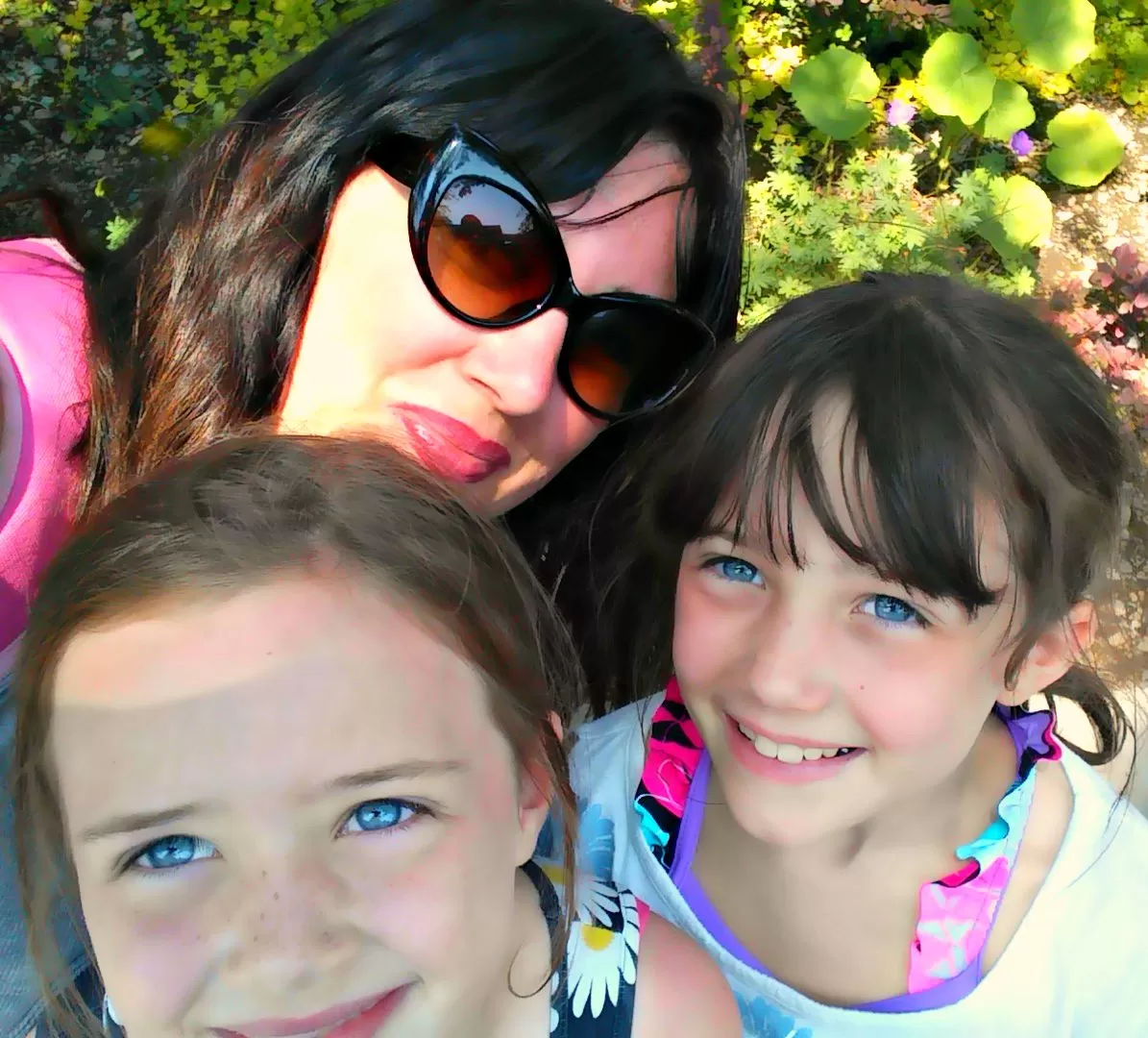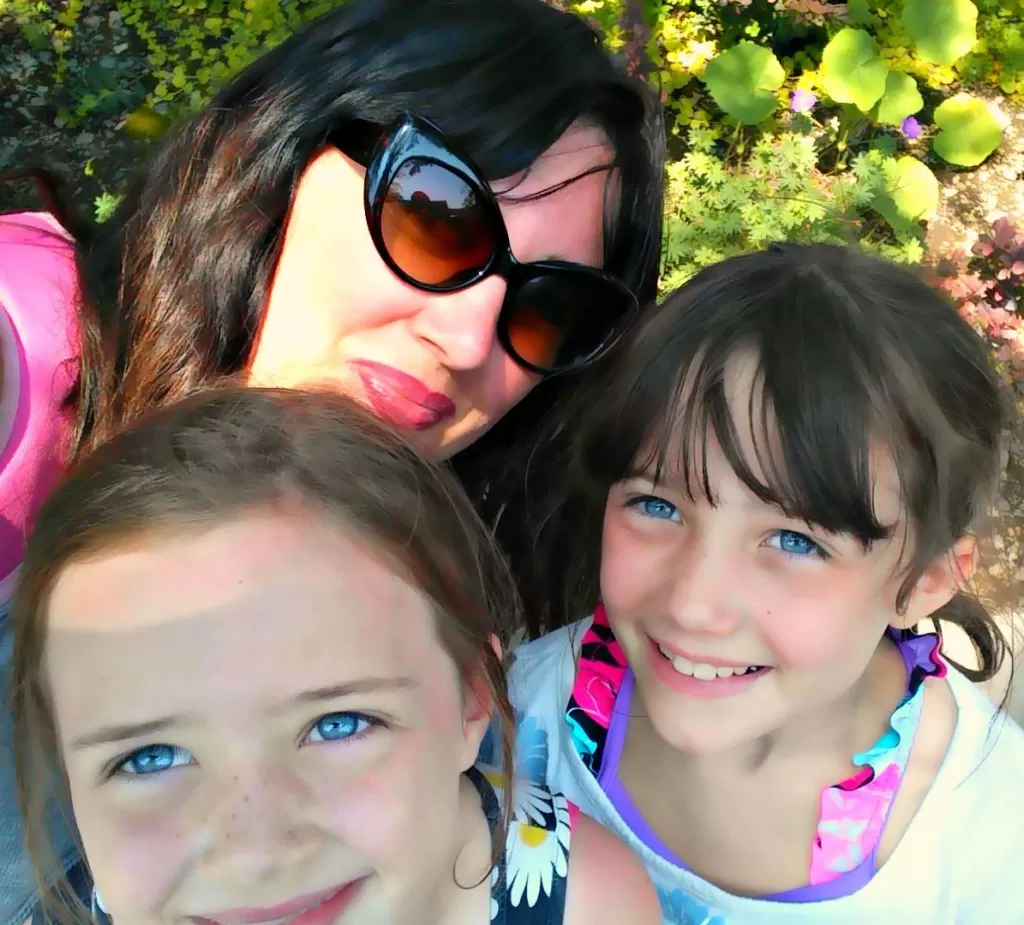 Silverwood always makes for a fun family vacation!
Silverwood Theme Park makes a great family get-away option for a couple of reasons:
It's close enough to drive to from Seattle and Portland areas (not a short drive, but can be done in around 5 and half hours).
There is fun for all ages. It's a great vacation option if you have kids of multiple age ranges, as there is something for everyone to do.
Affordable for a vacation if you plan carefully. Especially for a Theme Park vacation!
There is water park fun, as well as theme park fun.
Northern Idaho is a beautiful backdrop, and there are many more outdoor activities to plan into your vacation.
Its an easy short vacation (we usually take 4 days out of the week to head over).
Food in the park is as affordable as outside of the park.
You can do the entire park in one day (but we prefer 2 day tickets for more time at waterpark).

You will find fun Western themes throughout the park!
Be sure to check out our these posts when planning your vacation too: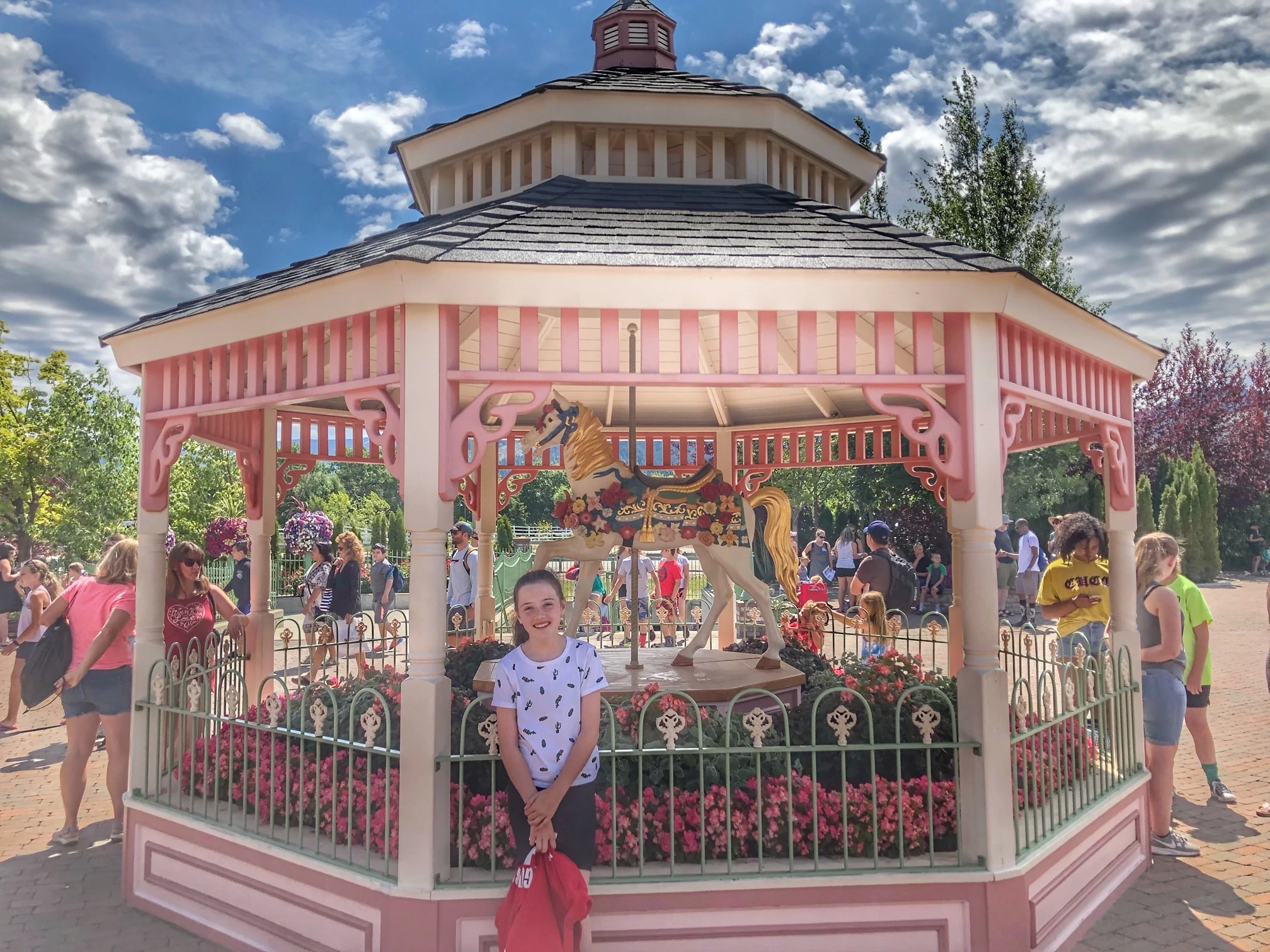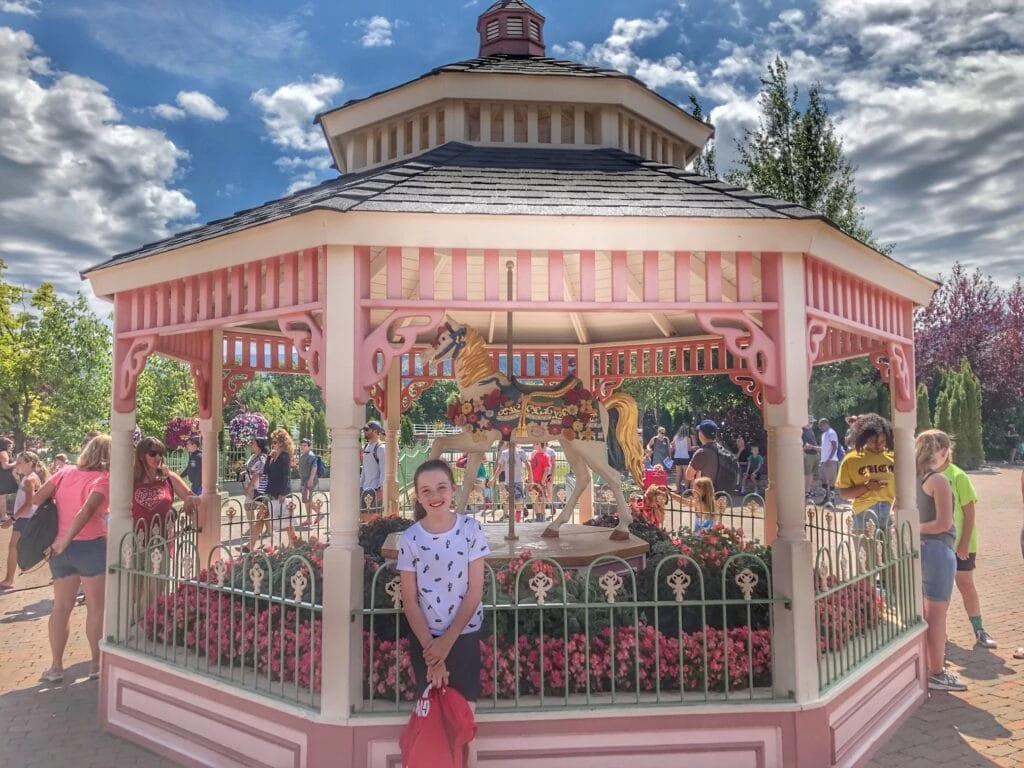 Overview of Silverwood Theme Park:
When planning a trip to Silverwood, the first thing you will want to decide (besides where to stay) is how long to visit the park. In my experience the park can be done in one day, but that leaves you just a couple of hours to spend at the waterpark. My preference is to go for two days, so we can take long waterpark breaks during the day. This will also depend on what else you have planned for your trip, too, and how much theme park time you want for your family. Families with younger kids might take a little longer to make it through the park, and want to leave earlier.

Silverwood runs on more limited hours then places like Disneyland, so there are no early mornings. You can get up and have a nice leisurely morning where you are staying, and still get to the park on time. It also means you can stay a bit further away if you want to, and still make it to the park by opening. It also closes earlier, so you will have limited night time hours.
I prefer to go during the week as there are no big crowds. I have never been to Silverwood where it has been too crowded, but it is still really nice to enjoy the park during the week – as we had very little wait time in lines to enjoy the attractions. The downside is that there are extended hours on the weekends, so if you want that extra couple of hours to be in the park, you will want to plan a weekend visit.
Parking at Silverwood will cost you $5 per day, so not a bad price if you need to do that (update for 2020 – parking was free during our June visit, not sure if that will change as the park gets busier or not).
You can rent lockers at Silverwood, and hold a backpack. We found it easier to store things in our car and go back to get them when needed.
Eating at Silverwood:
I find that feeding your family on a Silverwood vacation does not cost me anymore then feeding them outside of the park (if we were to go out to eat). You can bring your own food and eat outside the park or there are some great (and affordable) options to eat inside the park.

Park like grass area you can eat your own food on (at picnic tables or on the grass). It's a short walk out from the park in front of the parking lot area.
Bring Your Own Food –
The most frugal option is to use your regular grocery budget and eat your own food! Right next to the parking lot (and not a far walk from the park) is this picnic area. You are able to go in and out of the park with a stamp, so you can pack a cooler in your car and come out and enjoy a picnic lunch. You can even bring small table top grills if you want.

Drinks in the Park – 
(Update for 2020 – they are still refilling the souvenir cups, but the beer cups are one time use only for this year.)
By far, the best deal you will find are these refillable Souvenir cups for $9.94. Buy the cup when you enter the park and you can get free refills all day long. You can even get non-alcoholic slushies in them for $0.99 (great price for a treat)! Plus, if you are coming back for a second day, you bring them back and get $0.99 refills all day on days after your initial purchase date. They have a bar code on them that they scan to see if you purchased the cup that day, so no need to hold onto receipts for your free refills anymore.
Plus, the kids can keep them as a souvenir afterwards (just don't run them through the dishwasher or they will melt). They do have a handle on them so you can attach to your backpack when not using them. You can carry these into all the restaurants with you too for refills, so once you have one you are set for beverages for the day.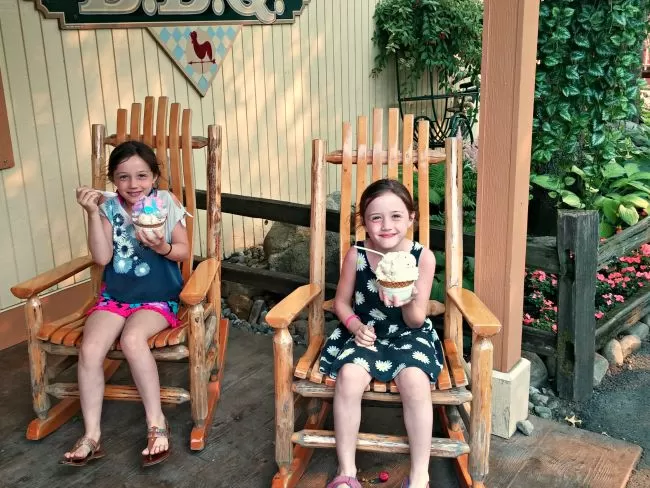 Snack Tips – 
The ice cream cones  at the Creamery were huge! My kids started eating them so quickly I did not get a picture of the full size, but they were HUGE. The kids cones were $2.99 ea (shown in top picture) and were still a very generous size (and include two scoops, so they can pick two different kinds of ice cream). This is about the best ice cream deal around!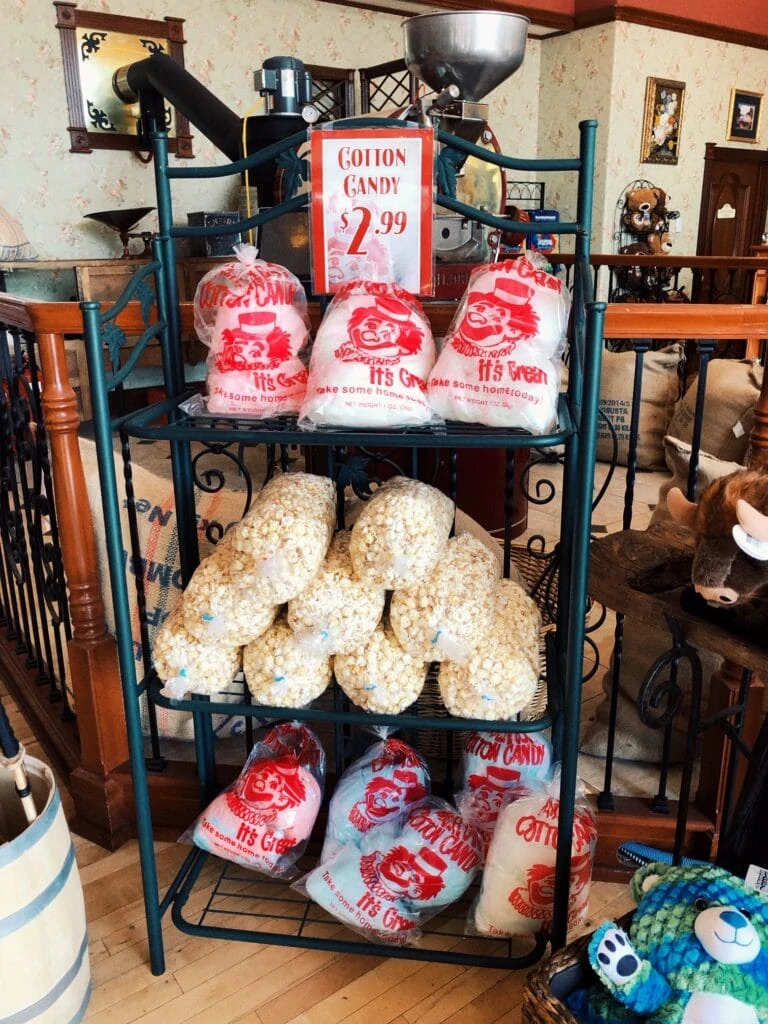 Snacks are a super deal at Silverwood (compared to other tourist locations). Get a bag of popcorn or cotton candy for $2.99 (easily sharable). They even sell these on the train ride, and you can find them at the candy store and other locations throughout the park.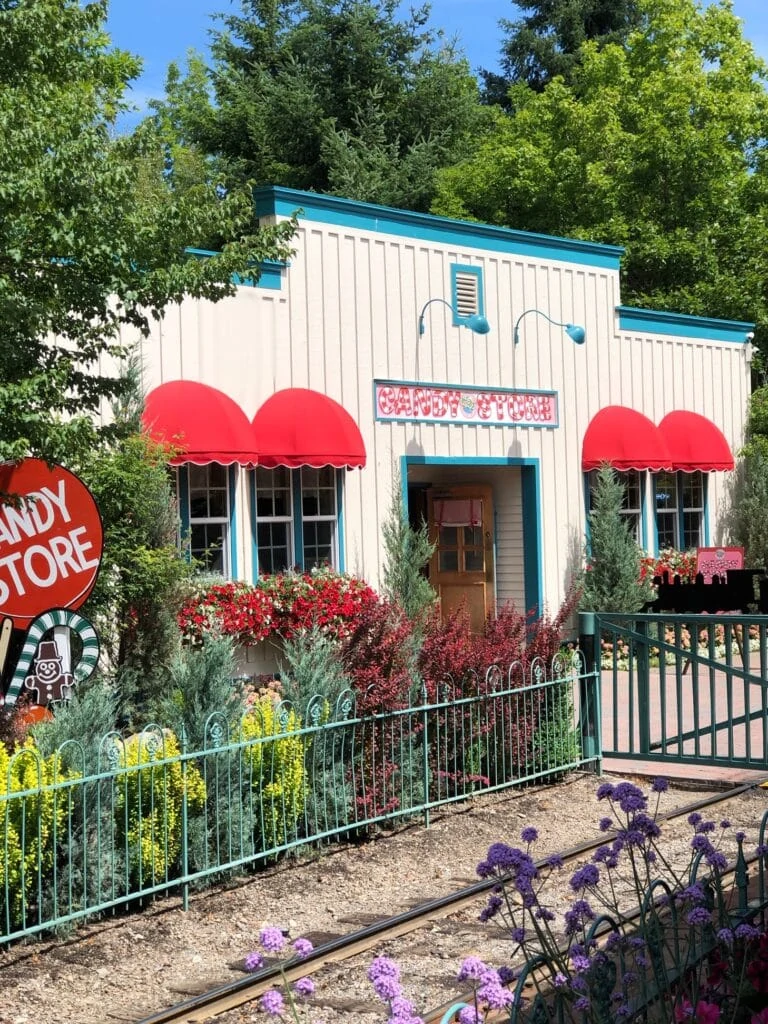 The candy store is a fun stop for kids, and we found options for as low as $1 (licorice ropes are $1.50)!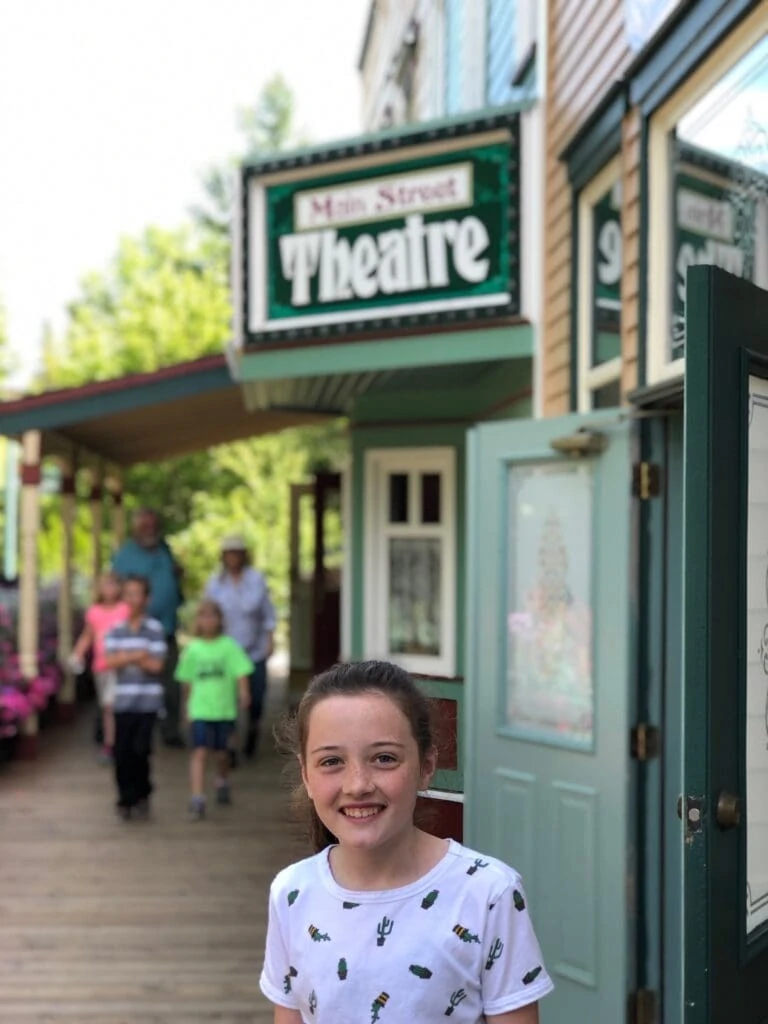 If you want an affordable snack and a way to get away from the crowds in a cool spot mid day, head to the movie theater on main street. We had our refillable soda and ordered a popcorn to share. We then went into the movie theater to watch the old black and white movies and share the soda and popcorn. We were the only ones in the air conditioned theater, so it was a nice break from the heat and crowds and since we had already paid for the soda, it was only $3.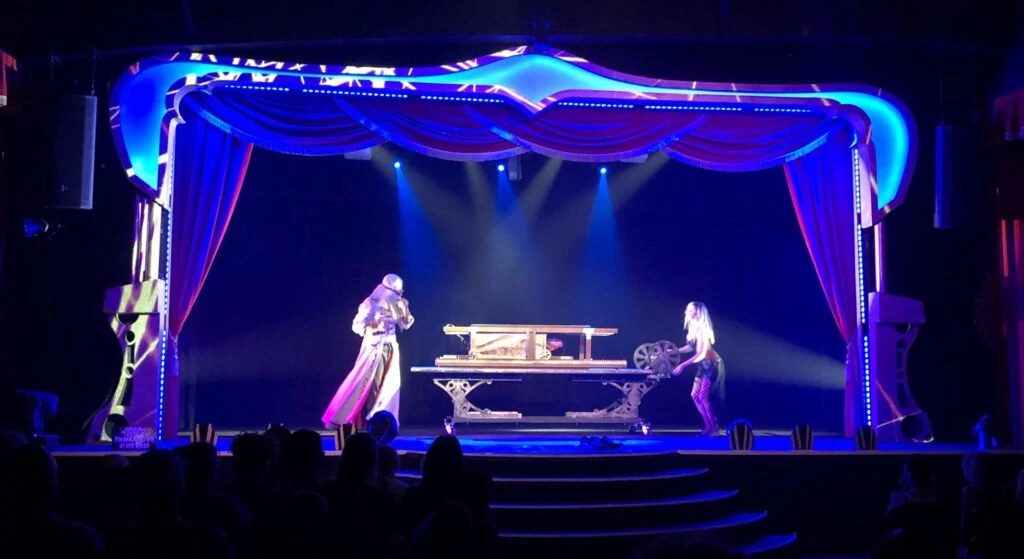 Meals In The Park –
Another park favorite for us is to visit the Pizzeria for the Illusions show and order the Family Special ($24.99 for a large pizza, breadsticks, and 4 sodas this year). We already had our soda cups so we opted for a large pizza that fed four of us for around $20. If you are ordering food, you will want to get here early, as it will fill up. I recommend getting there at least 30 minutes before show time, to order and get settled. There is a pre-show, so this usually works out great.
You do not have to order food to see the show (there is other seating options available). It is a high quality show and I highly recommend it. When we were there this last time, they mentioned many of the awards they have won recently. It is very well done, and a great way to combine entertainment and food.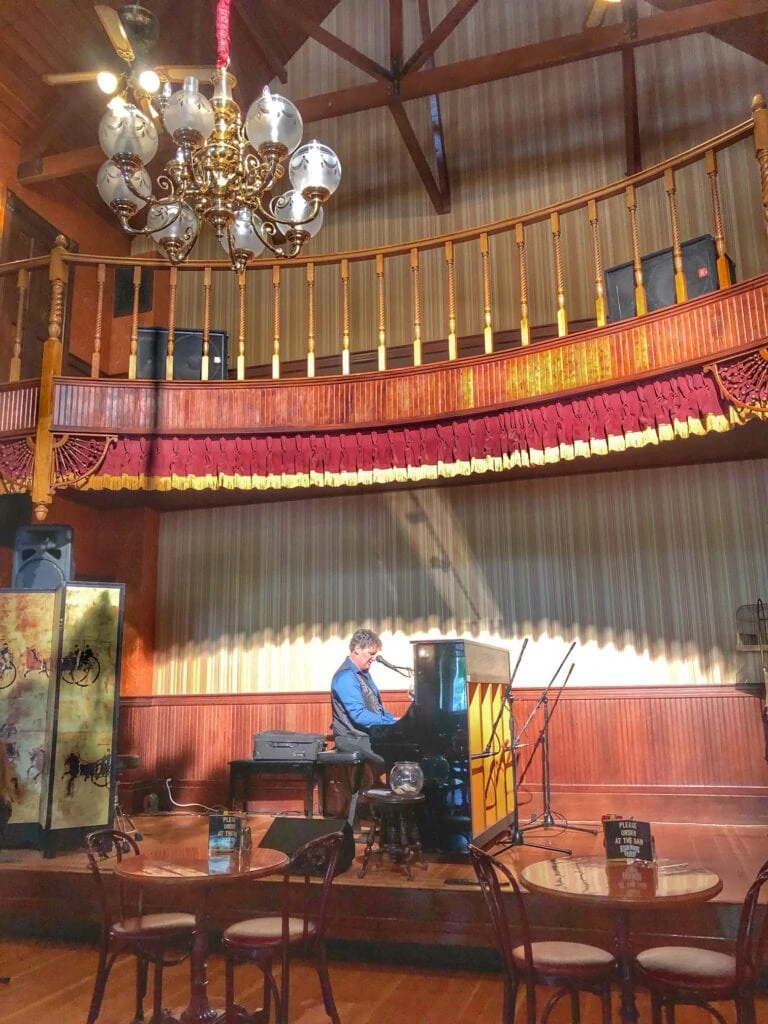 Another spot my crew loves is the Saloon on main street. There is often some live entertainment in there while you dine. I like to plan our meal so that we can order and eat, with a little time to catch the train ride after (it is also on main street, so just makes it so easy). It runs on the hour, so you will want to get to the Saloon and hour to 45 minutes ahead of time if you want to do that too.

The meal sizes are very generous and we usually share them. This is the sandwich option at the Saloon. I also got an order of chicken strips and fries for $7.99, and it fed me at my two girls, so we were able to really save by sharing meals too.
There are a number of different options throughout the park at walk up counters too, or there is a fun Italian spot on Main street if you want a nicer sit down dining experience too.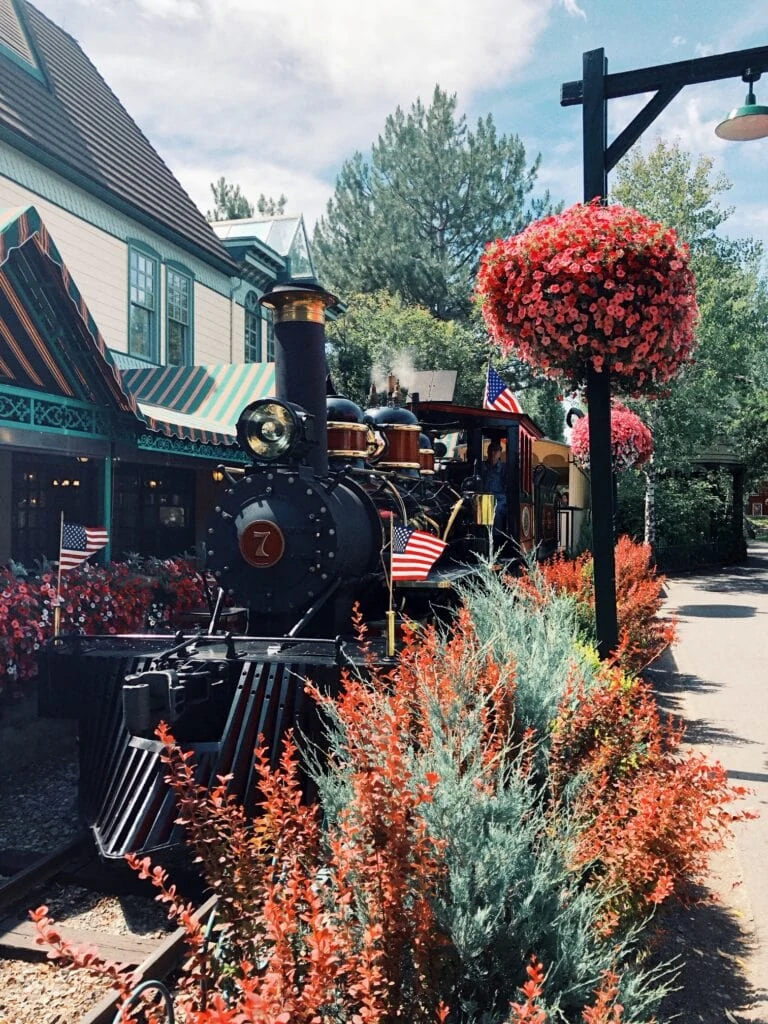 More Entertainment Options at Silverwood:
In addition to the shows we mention above, that you can enjoy while eating, there are a couple of other entertainment options in the park. One of our favorites is the train ride. It takes off from Main Street on the hour, and is such a great break in the day to enjoy a fun skit as well as relaxing ride.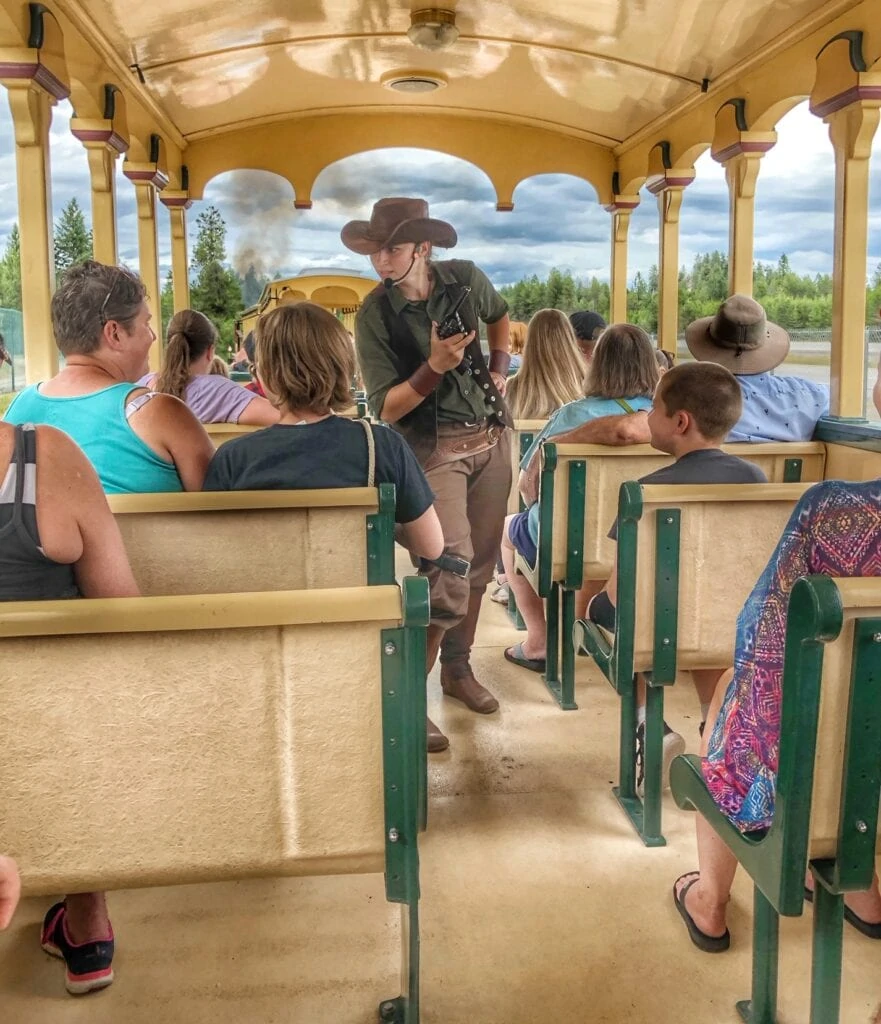 The ride is narrated, and done really well. If you want the best view of the skit, sit on the right hand side of the train (and I prefer the car just behind the open car – I think it is the third one back)? I never miss taking the train on one of our visits. Love this show too.
There is even a carnival game section, and an arcade that still takes quarters if your kids like those kinds of things, in addition to rides. And if you have younger kids with you their is a fun fort they can run through over in the Kiddie Rides section of the park.
Rides at Silverwood: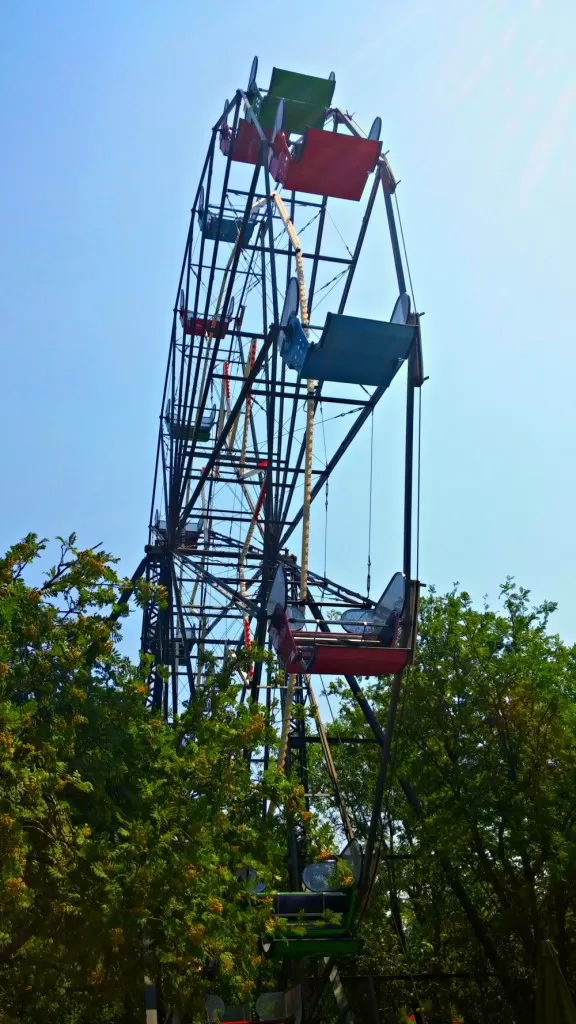 Silverwood Theme Park has both a theme park and a water park, all accessible to you, once you pay the one admission price to enjoy it all. On the theme park side you will find rides for all ages. There is a section with thrill rides (like the Aftershock, Silverwood's biggest thrill ride) that is perfect for teens and tweens seeking more adventure. There are also plenty of rides for young children to enjoy as well.
We always start our trip out on the Theme Park side (just a personal preference). We do some rides while we are dry, then hit the water park for the afternoon heat, and then back over to end our evening at the theme park after the waterpark has closed.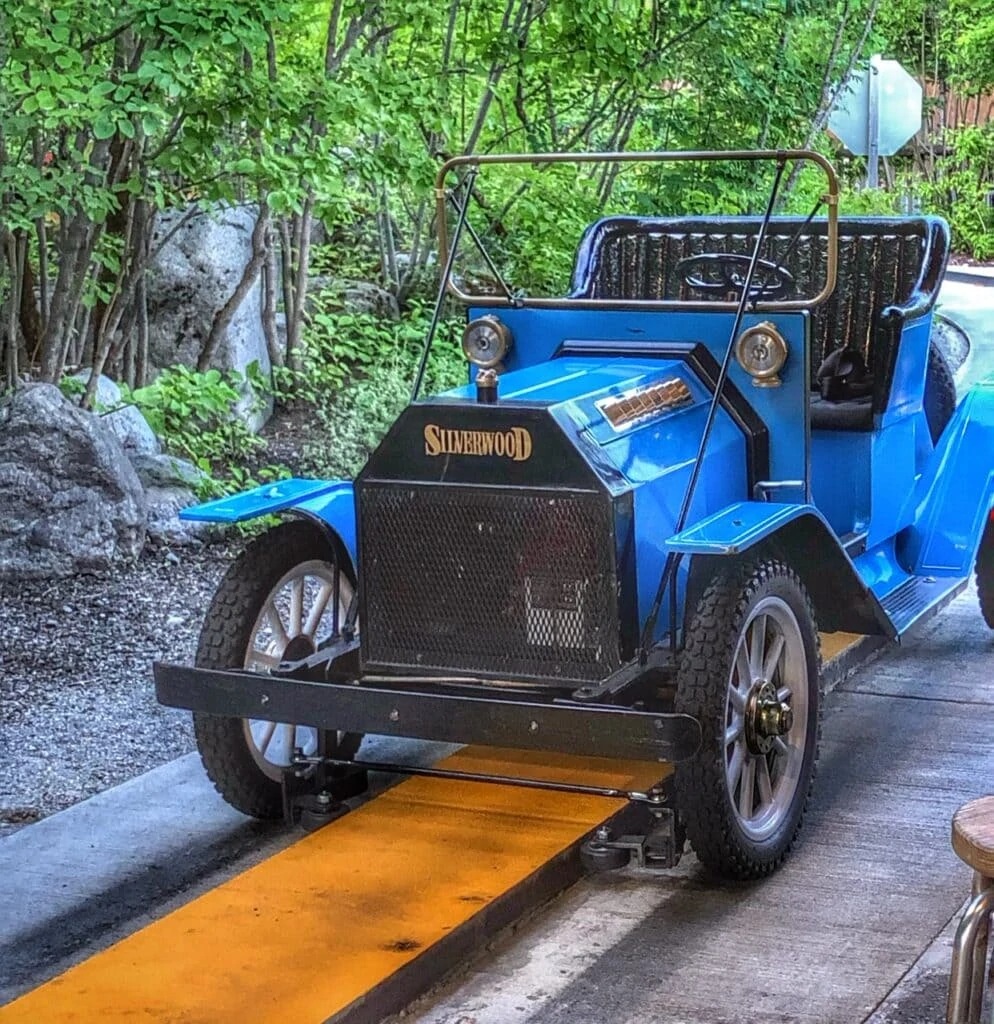 There is an entire kiddie section of rides for younger kids, but there are also some classics for all ages (like driving one of these old fashioned cars – we never miss the opportunity to take a leisurely drive in one)!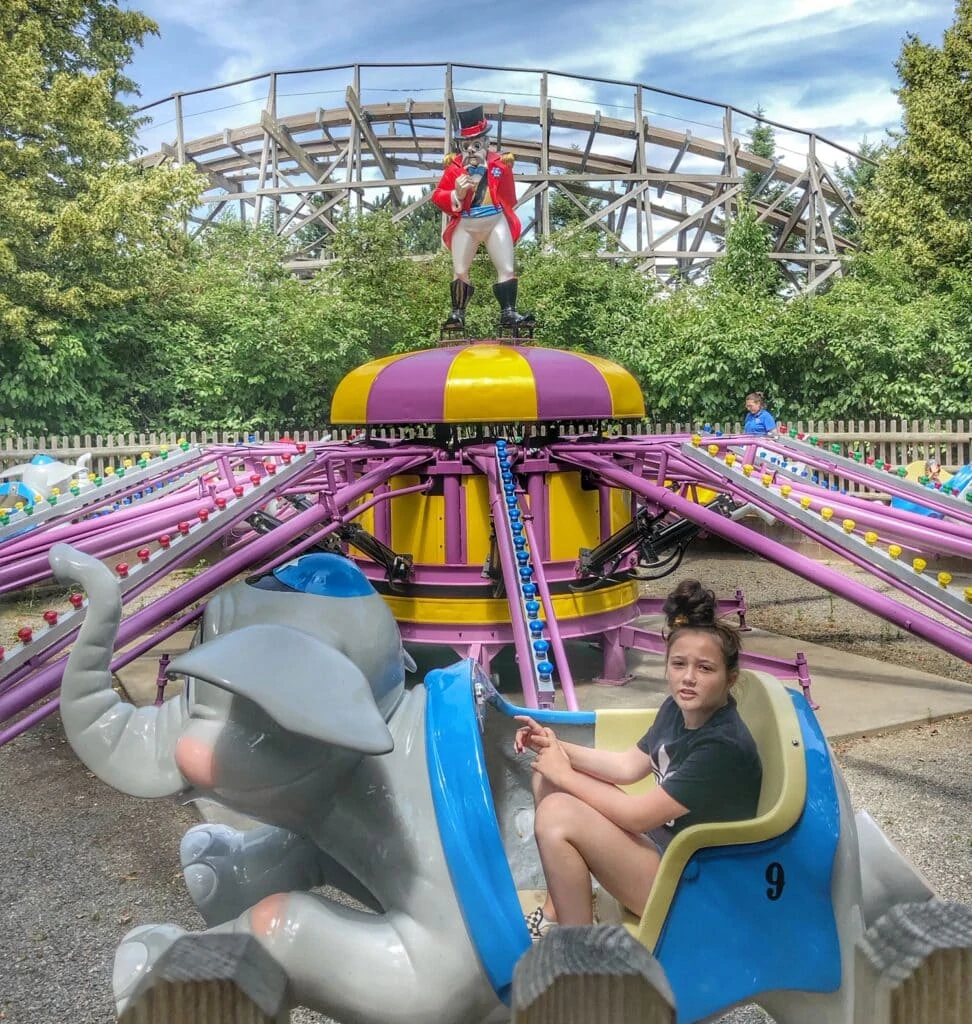 This is their Elephant ride, similar to the one you will find at Disneyland. They actually bought this one from Disneyland years ago! I love this, as my girls have always loved this ride and the line at Disneyland is CRAZY…but at Silverwood we can generally walk right up to the ride with little to no line!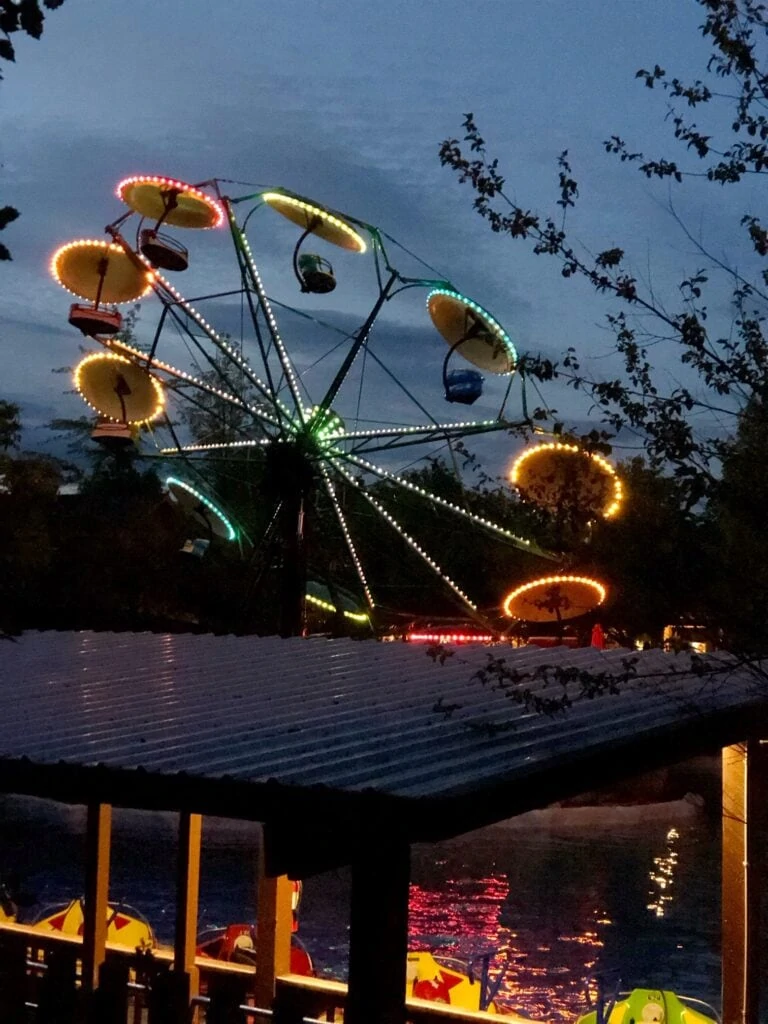 And if you stay into the evening the lights on the rides, with the warm breeze of an Idaho summer, make for a magical end to the night.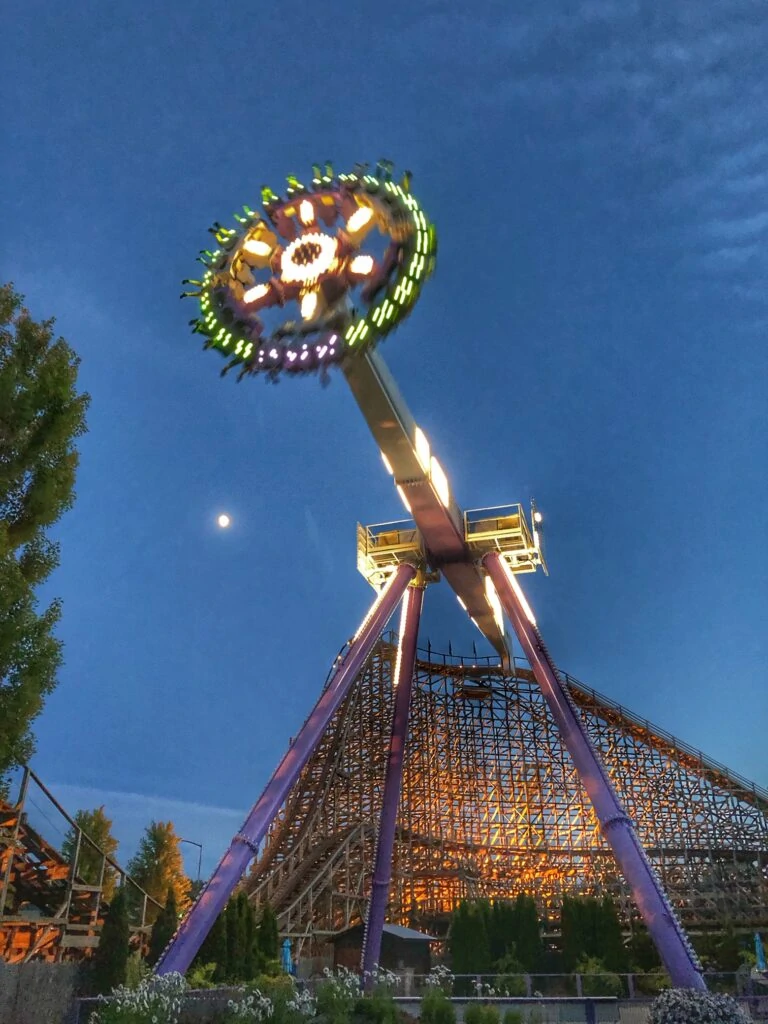 There are many great rides for everyone too. There are roller coasters, a river rafting ride (yes you will get soaked), log ride, carnival area and more.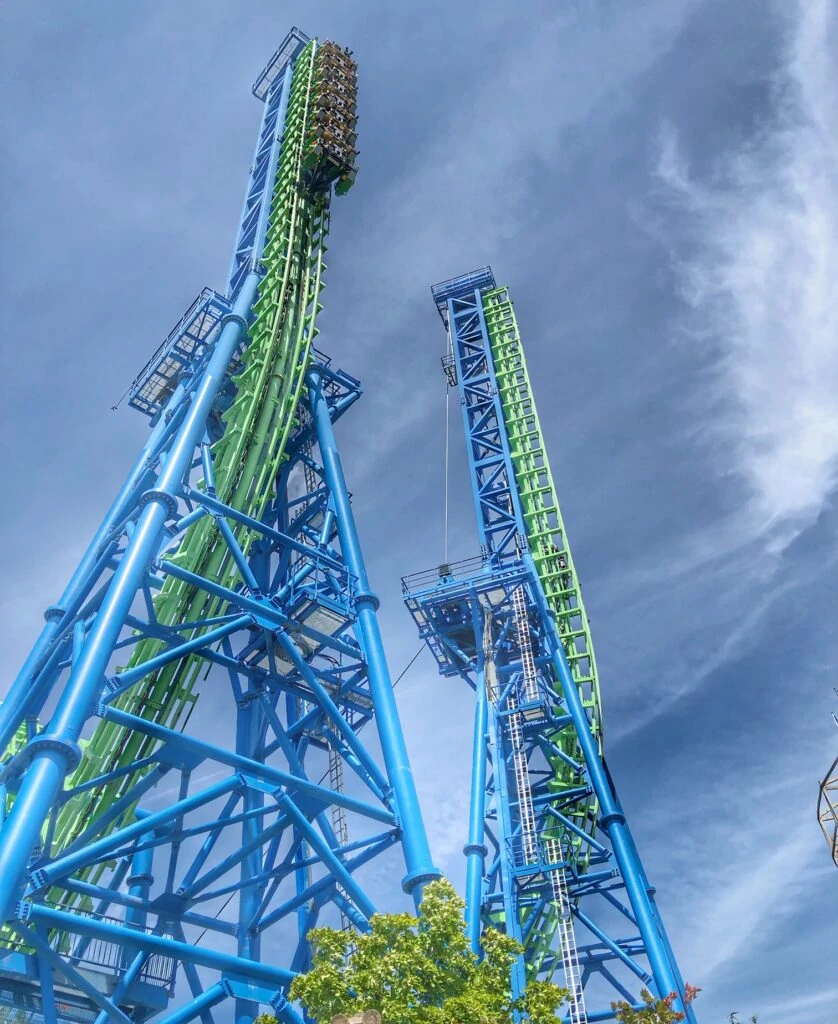 Aftershock Silverwood
The Aftershock is my adventure seeker child's favorite ride. We saw the teens getting off and running right back on this one. It is a highlight for sure! We have been to a number of theme parks, and one of my kiddos rates this as her favorite ride at all of them!
Silverwood Water Park : Boulder Beach Water Park 
The Silverwood water park is called Boulder Beach. It opens seasonally, in the summers, and runs off more limited hours then the theme park side. For this reason you will want to plan ahead when you want to spend time over there before it closes. You can then easily move back over to the theme park to enjoy the rest of the evening.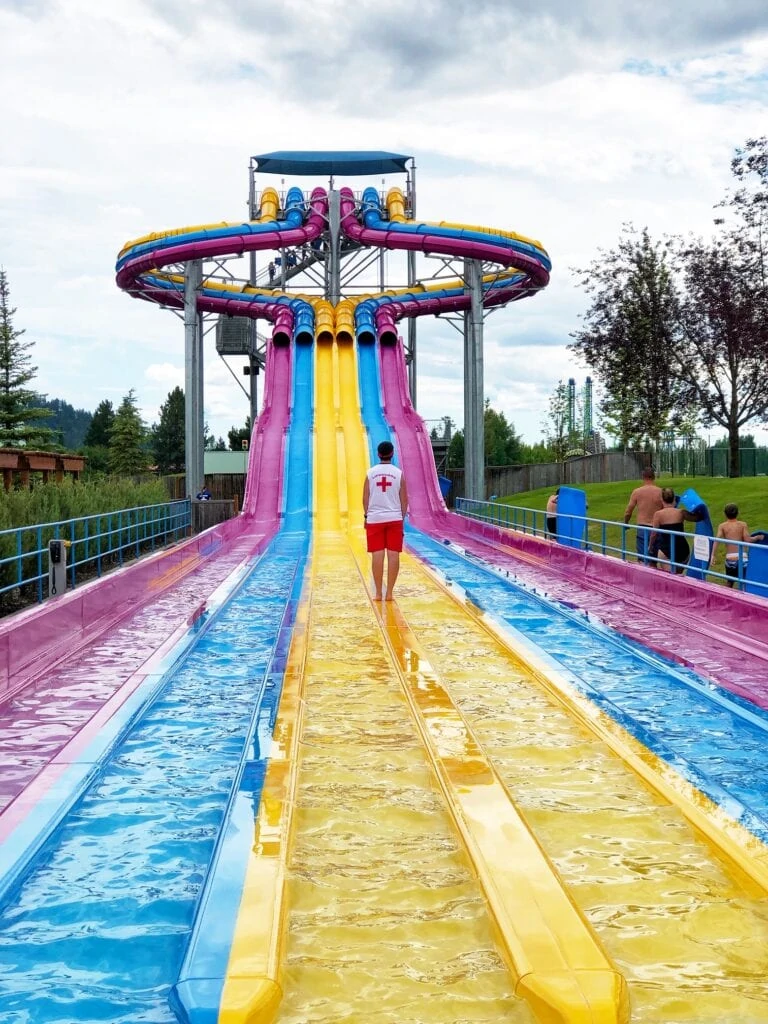 There are lots of great attractions over here, like  a lazy river, a number of slide attractions, two wave pools, a kiddie area and lots of chairs and grassy areas to relax in. They also have some walk up restaurants and changing rooms.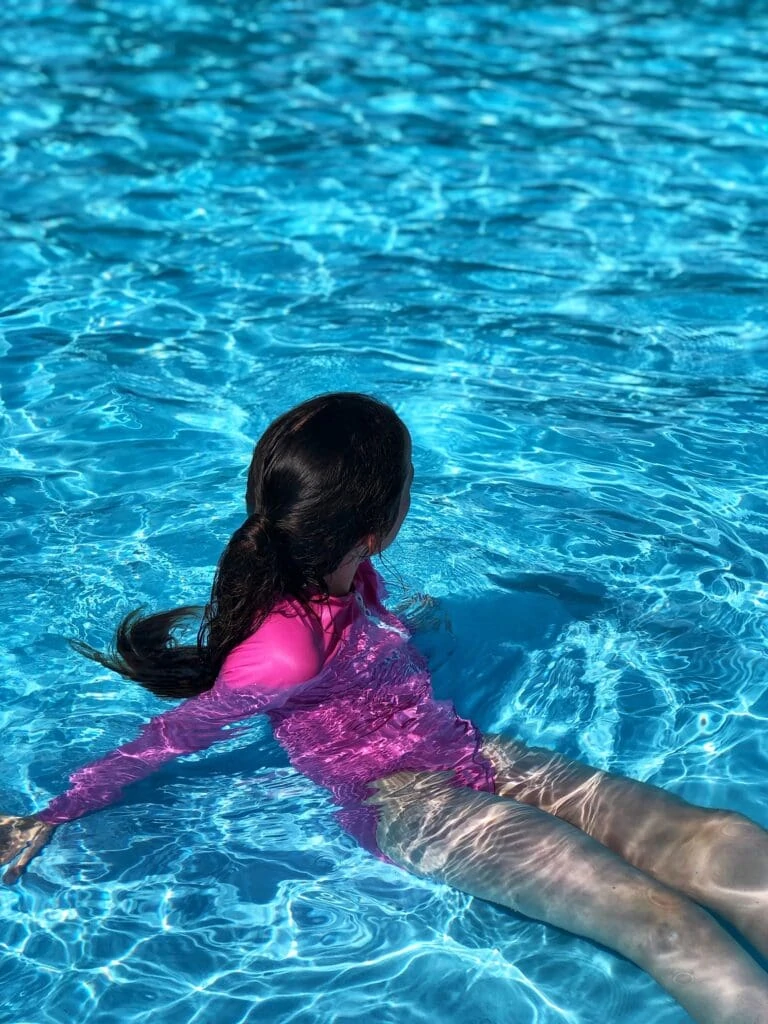 The water park is again set up great for both big and little kids. For the big kids there are many large slides, a lazy river, two wave pools and the raptor (green slide that you go down in a raft with a group of people), racing slides. chute slides and more.
You can rent cabanas that line the wave pools for an additional fee per day. If you want to do that you will want to look into it early. They are often all rented out by mid day.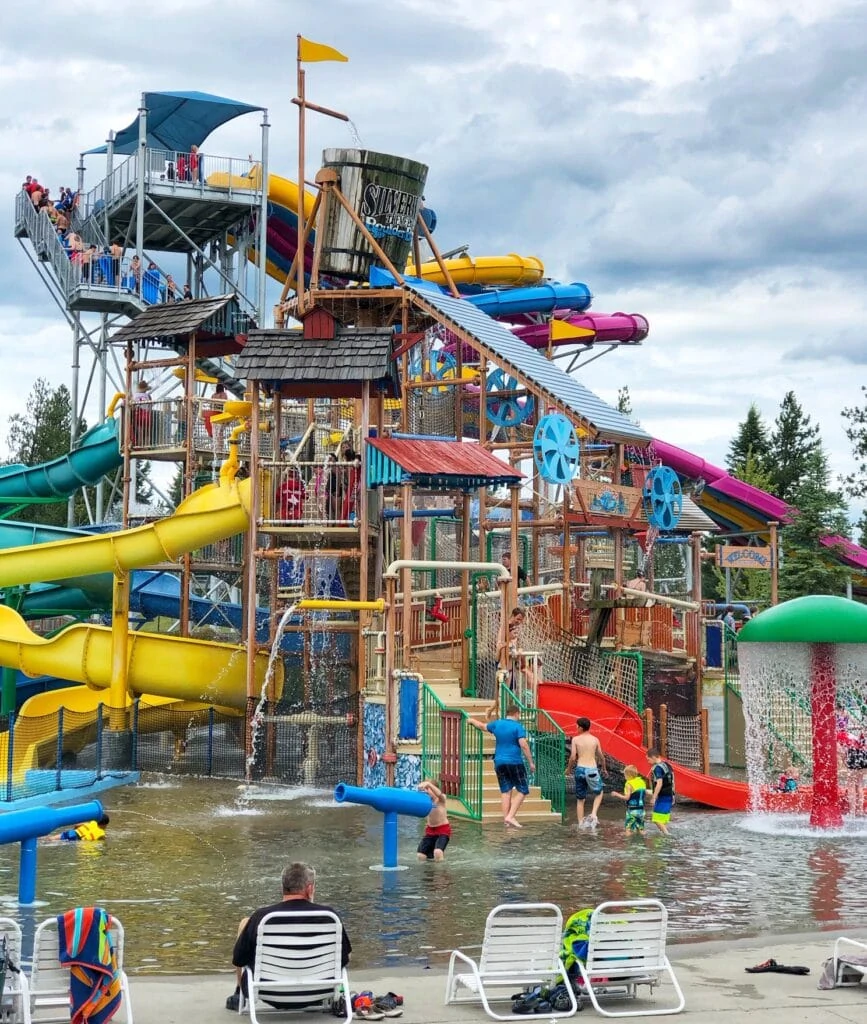 For the younger crowd there is a toddler spray park and then a larger toddler area with slides, water guns and much more (and lots of seating around for parents too).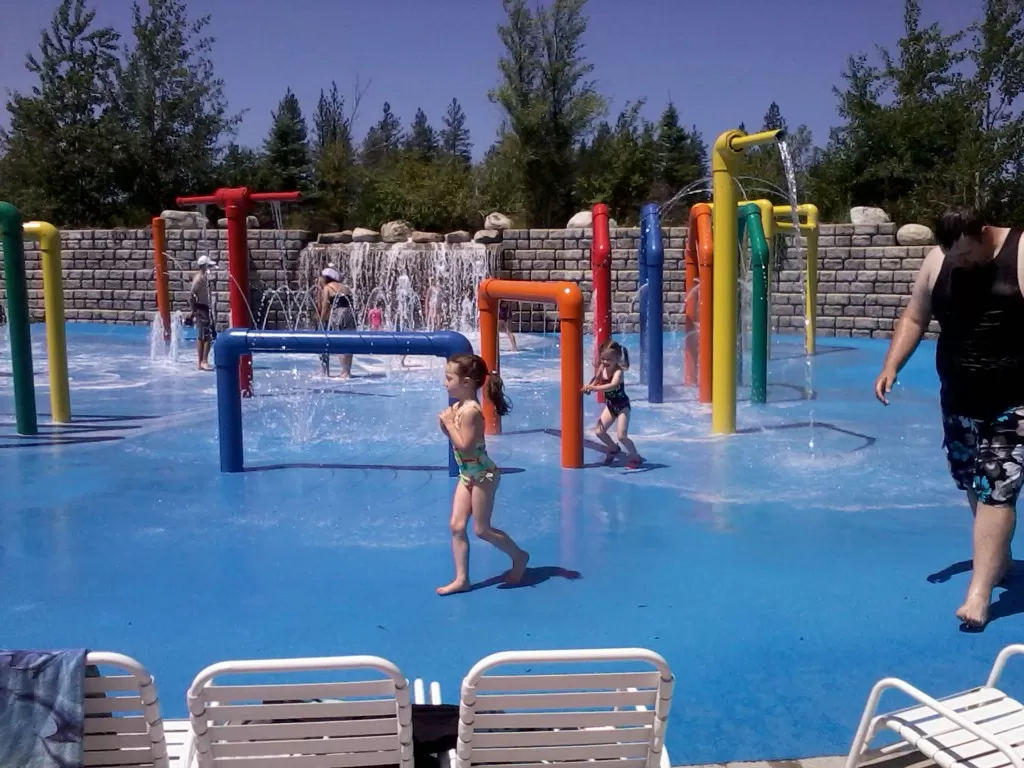 One tip we have is to head back to the toddler spray park (all the way at the back of the park by the raptor). Its usually easier to find seats back there, and there is even a covered area with picnic tables if you get there early enough). We found it to be a bit less crazy then the rest of the park, and a good spot to gather everyone together before we all went our own way.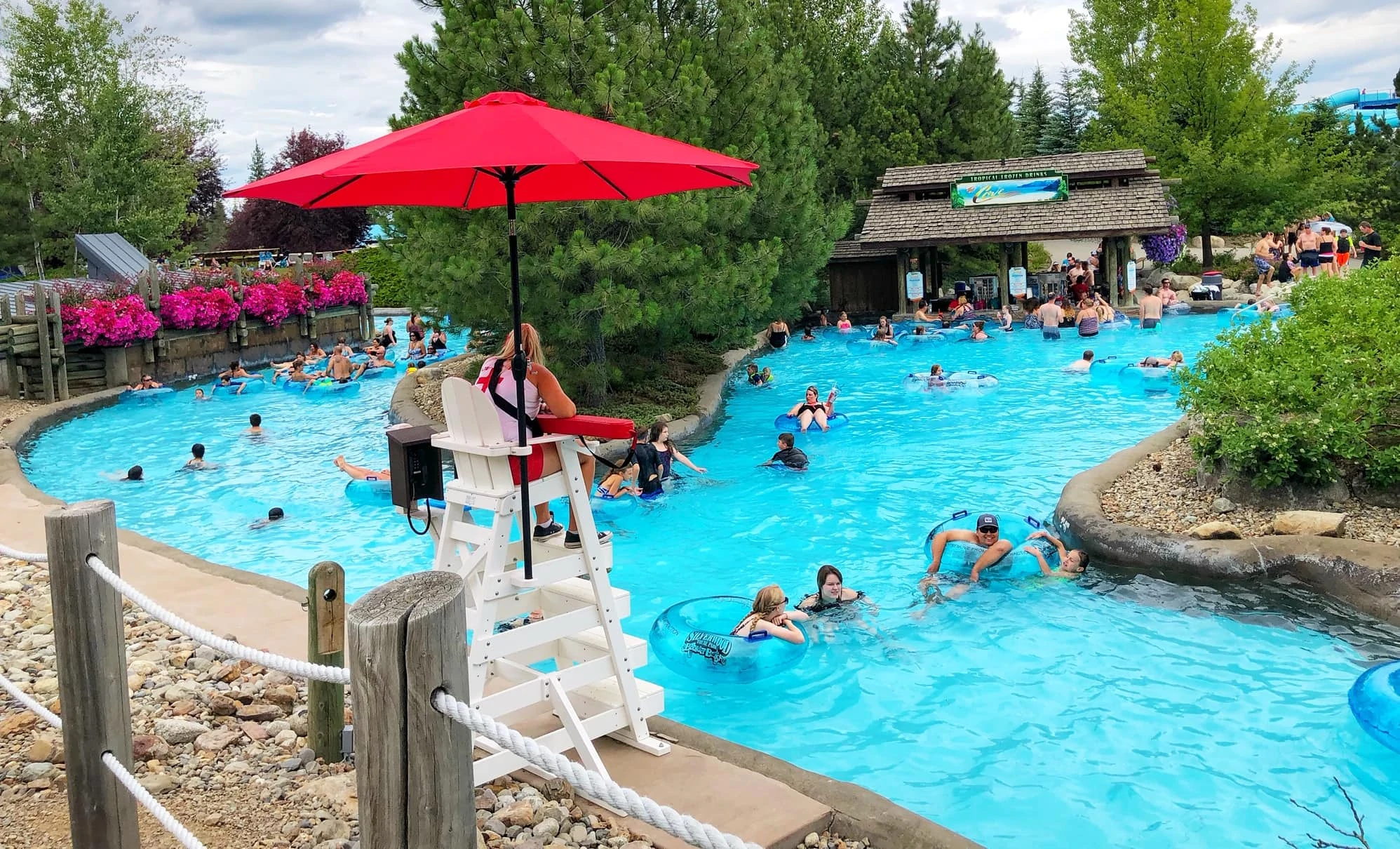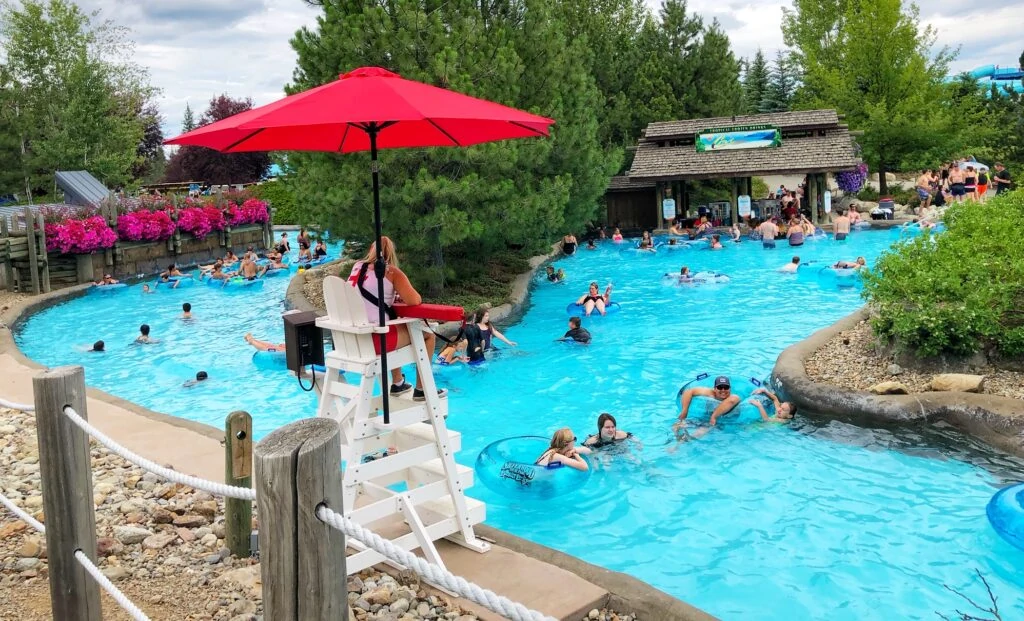 In addition to the water attractions, there are swim up bars to get something to drink in the lazy river area. There are tubes available to rent there as well.
You can find more details on the attractions available, and hours for when you will be visiting at the Silverwood website.
One of the things I love about Silverwood is how clean the grounds are, and it's so well themed with beautiful gardens, lots of spots to rest (they even had water mists you could walk under on the hot days we were there). All of these things make it not only a fun theme park getaway, but I do not leave Silverwood as exhausted as I do other parks I have visited. It really is kept up well, and beautiful!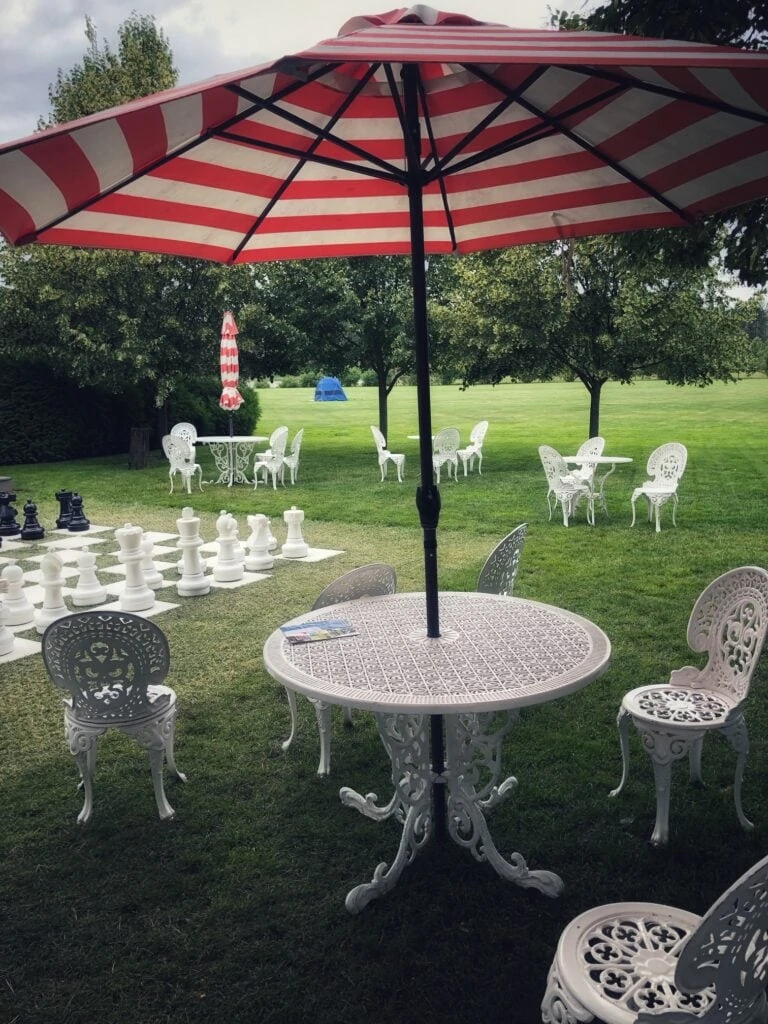 In general, my entire family loves to vacation at Silverwood, from mom and dad down to all of our kids. It's not too hectic, but plenty to do at the same time. We find it a great, and more importantly affordable, option to visiting the larger theme parks located in other states.
Places To Stay While Visiting Silverwood Idaho:
Silverwood has a campground right on site, if you want to stay in the closest possible location. We have stayed here, as well as a number of other camping spots in the area, and have reviews of them here to help you determine the best fit for your family.
Rent a cabin near Silverwood. This is one of my families favorite ways to stay when visiting Silverwood. I love it because it is the perfect mix between enjoying the outdoors and the comforts of a hotel room (I actually find it more comfortable then many hotel rooms, as everyone has their own spot to hang out). You can read our full review of staying in the Thousand Trails Cabin here.
Hotels near Silverwood –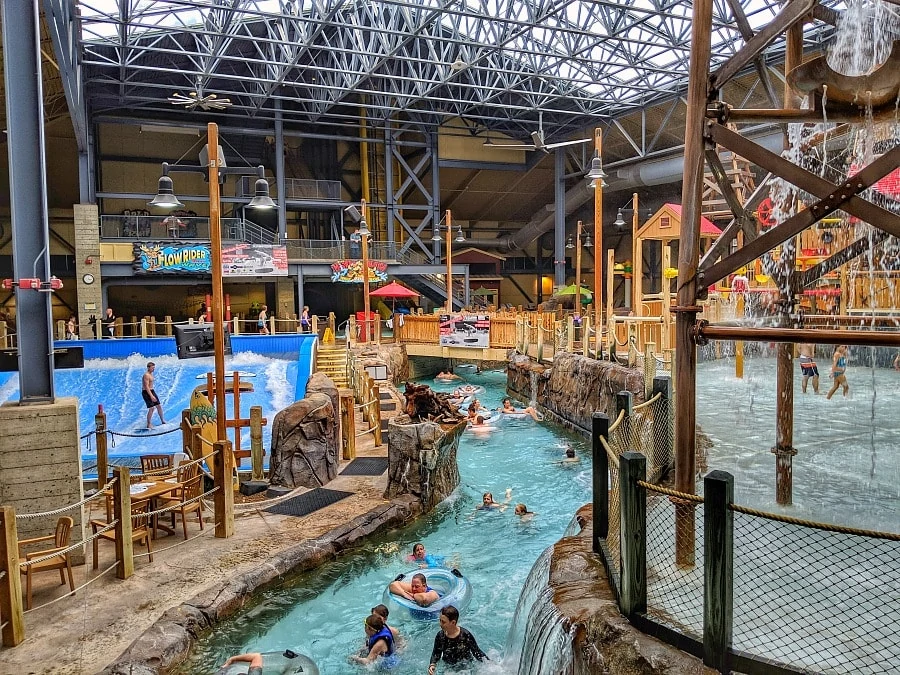 If you want a real splurge for your vacation, consider staying at Silver Mountain Resort. You will have your own waterpark at the hotel, plus many other fun things to do when you are not at the park! We have a full review of this resort here.
The Couer D' Alene resort is another upper scale spot with an infinity pool, putting course and more.
Triple Play Resort (and Hotel) is one of the closest hotels to the park, and also has a water park and family fun center to keep families entertained for their full stay. Find a full review of this spot here.
Do you vacation in Silverwood / Lake Coeur d'Alene? What are your favorite travel tips for this area? 

Other posts you might be interested in:
Disclaimer – Silverwood provided my family park passes for this review. All opinions are strictly my own!