Silverwood Theme Park Vacation
Do you love theme park vacations? If so, you will want to consider Silverwood Theme Park if you have not already visited. Its a wonderful getaway that will cost you MUCH less then Disneyland, but offers great family fun, shorter lines, and there are a number of other things you can do in Northern Idaho beyond just the theme park. My family first discovered Silverwood when our kids were much younger, and we have been visiting every couple of years ever since.
Silverwood Theme Park makes a great family get-a-way option for a couple of reasons:
Its close enough to drive to from Seattle and Portland areas (not a short drive, but can be done in around 5 and half hours).
There is fun for all ages. Its a great vacation option if you have kids of multiple age ranges, as there is something for everyone to do.
Affordable for a vacation if you plan carefully. Especially for a Theme Park vacation!
There is water park fun, as well as theme park fun.
Northern Idaho is a beautiful backdrop, and there are many more outdoor activities to plan into your vacation.
Its an easy short vacation (we usually take 4 days out of the week to head over).
Be sure to check out our these posts when planning your vacation too:
You could plan a vacation to Silverwood Park for a budget as low as $500 (for a family of 5) if you plan carefully. We cannot even get our tickets to Disneyland for this price, so its a wonderful alternative.
Sample budget breakdown based on our trip is:
Gas $120 RT (took us one tank there and one back, and a little extra to drive around while in Idaho)
Campground (4 days/3 nights) – as low as $69 if staying in State Park (with tax) or $90 + tax if staying at Silverwood
1 day of park tickets – $123.96 (price you can get if you stay at Silverwood camp ground – see below for more discount ticket ideas)
Food/Entertainment – $150 (we went shopping at the Walmart in town for food to cook at the campsite, and purchased some treats and drinks in the park).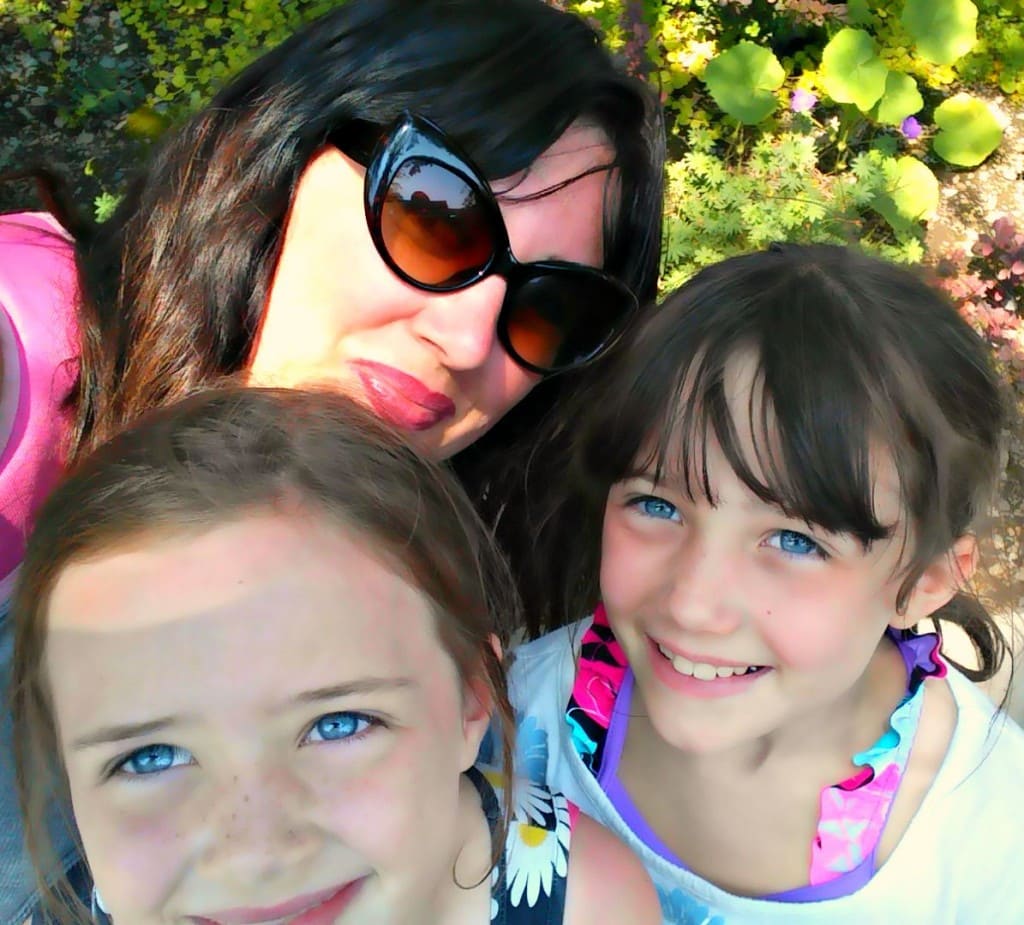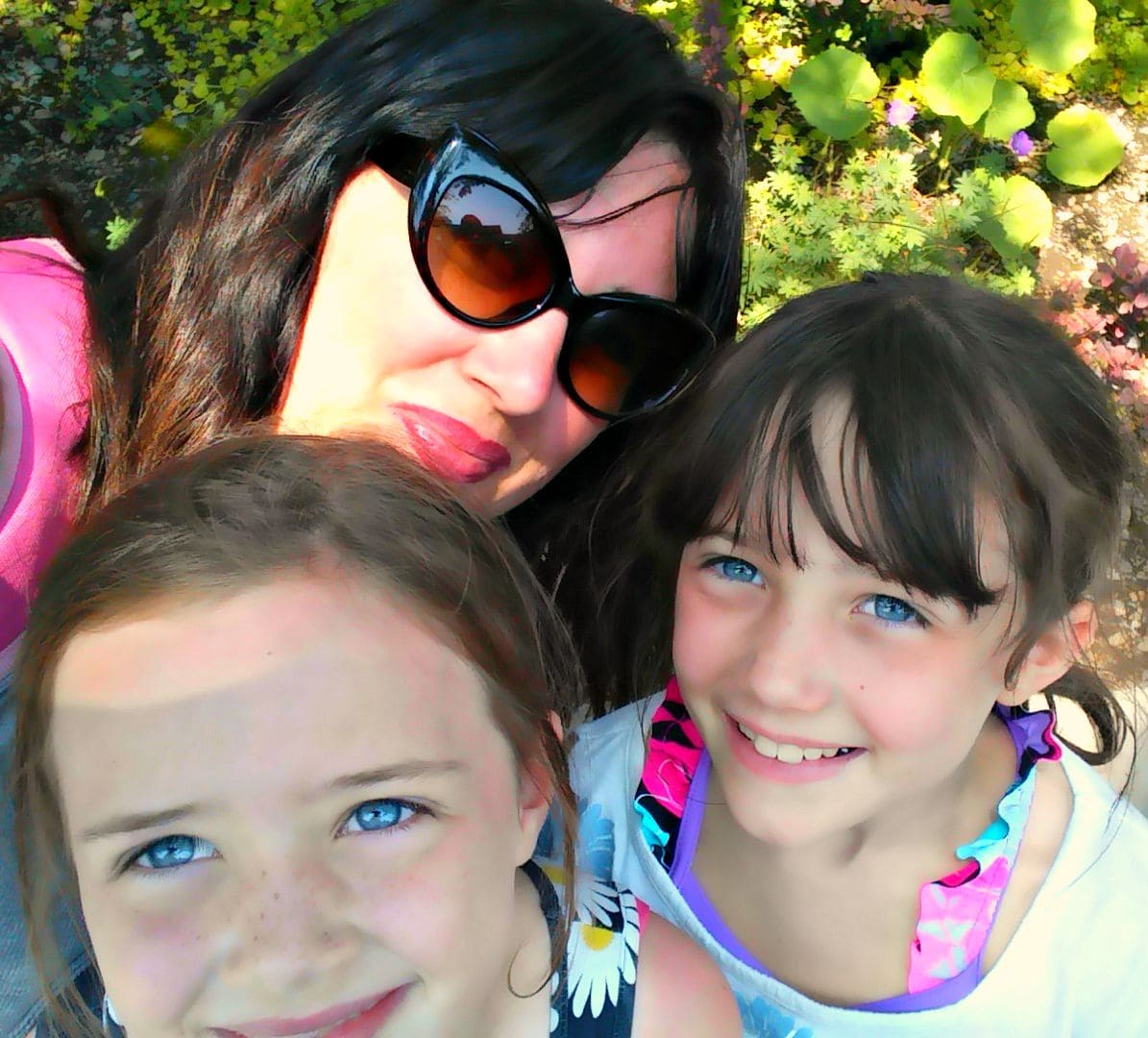 Silverwood always makes for a fun family vacation!
Getting There:
It took us one tank of gas to get there, and one tank of gas to get home. With gas prices like they are, we spent just over $100 on fuel. Not a bad price for transportation for a theme park vacation for a family of five! The drive is about 5 and half hour drive.
We left at 8am and were checked into our campsite getting ready to set up by 2pm. Some trips we start by heading to Spokane for the first night and enjoy the Riverfront park first, and then heading to Silverwood the next day
Eating:
Feeding your family on a Silverwood vacation includes eating in the park, and out of the park. The most frugal option is to use your regular grocery budget and eat your own food! This is what we did for our out of the park time (we cooked over the fire at our camp spot with groceries we packed from home and some we picked up at the local Walmart).
Park like grass area you can eat your own food on (at picnic tables or on the grass). Its a short walk out from the park, in front of the parking lot area.
Bring Your Own Food – 
We chose to visit the park for 2 days, but if you are on a tight budget you could do one day and spend another free day at Lake Coeur d'Alene. The first day we ate in the park. The second day we packed a lunch in the cooler (you will have to leave the park to eat your own food, they do not allow food and drink in), and then returned to the park for an ice cream snack (we ate at the Ice Creamery two days in a row!). I like to eat out, so was not looking forward to heading out of the park for lunch, but ended up really enjoying the break. We enjoyed a peaceful lunch, and some time to just sit and relax, and were refreshed when we headed back to the park. There are picnic tables that border the Silverwood Campground that you could use to bring a picnic from your car out to, if you want a table setting.
Snack Tips – 
The ice cream cones  at the Creamery were huge! My kids started eating them so quickly I did not get a picture of the full size, but they were HUGE. The adult cones or bowls (shown in picture above) were $4.79, and you could get more then one flavor. These are easily big enough for two people to share. The kids cones were $2.99 ea (shown in top picture) and were still a very generous size.  I let the kids get their own large ones this year, but you could let two kids each pick a flavor and get two spoons, and they would both have a sizable snack for under $5 if they share one!
I highly recommend buying the refillable sodas (comes to around $8.49 for the jug or $1 less if you buy with a meal). You can refill it for free all day long on the day you purchase it, and for $.99 per refill on the second day. We were there during exceptionally hot weather so it was well worth it to purchase one on the first day of our trip just to stay hydrated easily.
You can find the Theater I mention below, or the saloon (with entertainment) and other spots to eat on Main Street pictured above.
If you want an affordable snack, and way to get away from the crowds in a cool spot mid day, head to the movie theater on main street. We had our refillable soda, and ordered a popcorn for a couple of bucks. We then went into the movie theater to watch the old black and white movies and share the soda and popcorn. We were the only ones in the air conditioned theater, so it was a nice break from the heat and crowds.
Meals In The Park –
Another park favorite for us is to visit the Pizzeria for the Illusions show and order the Family Special ($24.99 for a large pizza, breadsticks, and 4 sodas this year). We think its a great deal because you can eat while watching the show (or you can go watch the show for completely free without ordering food too). It gets crowded so you will want to get their early.
If your looking for a quiet spot to get away and take a break, stop in at the Coffee shop at the front of the park. Its right inside the tickets gates, and since most people are deeper in the park it seems to never have large crowds and there is plenty of seating and air conditioning to take a break.
Tips for Eating Outside The Park – 
We subscribed to Groupon and Living Social for Spokane/Coeur D'Alene ahead of time to watch for deals on restaurants over there.  There are many restaurants to choose from (like Olive Garden and other chain restaurants) between Couer D'Alene and the Silverwood area, so you could bring a coupon for one of those and do something along those lines (or check the local zip code on Restaurant.com before you leave to see if they have any restaurants you want to eat at).
There is also a Costco in Coeur d'Alene you could stop at their food bar, or a Burger King on the way up that has $1.49 kids meals too. There is also a Walmart, Fred Meyer and other shopping options in the area if you prefer to wait to get your groceries over there.
Activities:
The highlight of our vacation was visiting Silverwood Theme Park! My family always has a great time here. Silverwood has both a theme park and a water park, all accessible to you, once you pay the one admission price.
Theme Park –
We always start our trip out on the Theme Park side (just a personal preference). The teens seem to like to spend more time at the waterpark, and my younger kids like the theme park better. There is a great section for young kids with lots of rides for them to choose from, and a tree house to play in if mom or dad needs a break.
This is their Elephant ride, similar to the one you will find at Disneyland. They actually bought this one from Disneyland years ago! I love this, as my girls have always loved this ride and the line at Disneyland is CRAZY…but at Silverwood we can generally walk right up to the ride with little to no line!
For the big kids there are many great roller coasters, a river rafting ride (yes you will get soaked), log ride, carnival area and more. Its all set in an old west theme, which is fun.
We love to take a break by getting on the train from main street. It runs on the hour, but you will want to board early to get seats. Its about a 30 minute excursion, including some entertainment, so its a nice opportunity to sit down for awhile with the family.
Water Park –
The water park is again set up great for both big and little kids. For the big kids there are many large slides, a lazy river, two wave pools and the raptor (green slide that you go down in a raft with a group of people). For the little kids there is a toddler spray park (above) and then a larger toddler area with slides, water guns and much more (below).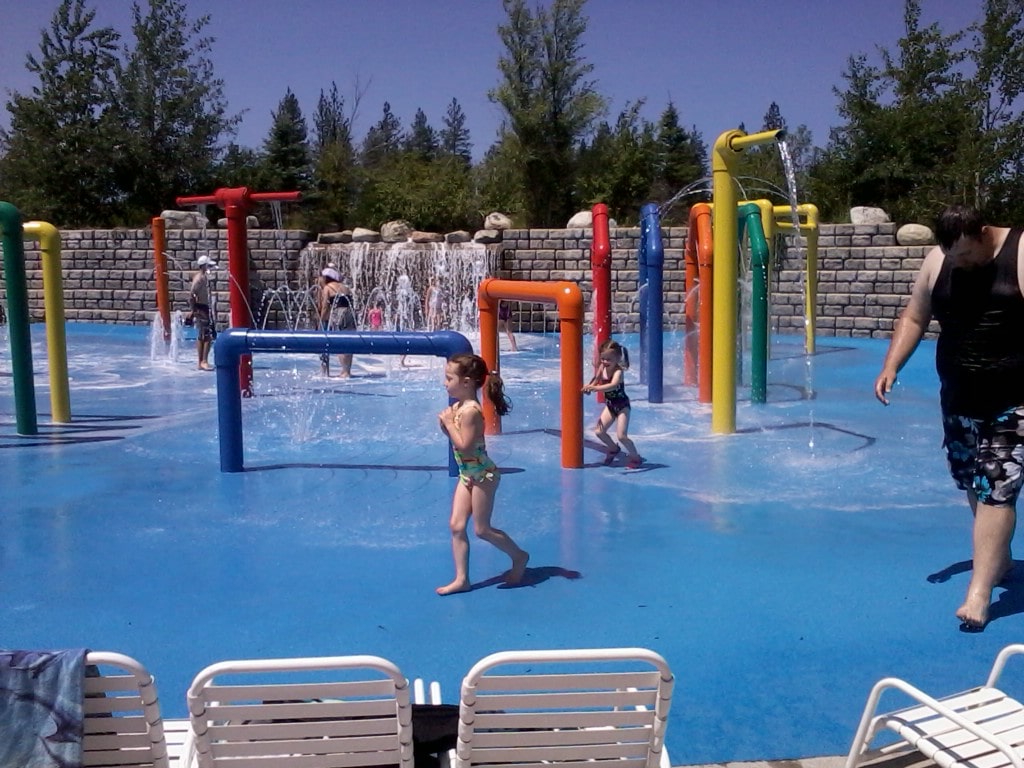 One tip we have is to head back to the toddler spray park (all the way at the back of the park by the raptor). Its usually easier to find seats back there, and there is even a covered area with picnic tables if you get there early enough). We found it to be a bit less crazy then the rest of the park, and a good spot to gather everyone together before we all went our own way.
There are plenty of big kid slides and activities. My teen spends most of his time in the waterpark.
The whole family love the TWO wave pools, and the teens loved the bigger slides
In addition to the waterslides and kids areas, there is a lazy river, and two wave pools, as well as swim up bars to get something to drink in the lazy river area. There are tubes available to rent, lockers to store your stuff ($5 for regular size, or $7 for family locker), bathrooms to change in and places to eat and drink. It does close a few hours earlier then the theme park side, and the theme park are can get crowded after that time, so plan accordingly.
You can find more details on the attractions available, and hours for when you will be visiting at the Silverwood website.
One of the things I love about Silverwood is how clean the grounds are, and its so well themed with beautiful gardens, lots of spots to rest (they even had water mists you could walk under on the hot days we were there). All of these things make it not only a fun theme park getaway, but I do not leave Silverwood as exhausted as I do other parks I have visited. It really is kept up well, and beautiful!
In general, my entire family loves to vacation at Silverwood, from mom and dad down to our youngest, teen, and everyone in between. Its not too hectic, but plenty to do at the same time. We find it a great, and more importantly affordable, option to visiting the larger Theme Parks located in other states.
Do you vacation in Silverwood / Lake Coeur d'Alene? What are your favorite travel tips for this area? 
Other posts you might be interested in:
Disclaimer – Silverwood did provide my family and I free passes to check the park, as well as a camping site to stay in. Idaho Tourism provided a stay at the Days Inn to be able to check that option out for families looking for budget friendly options. All opinions are strictly my own!