Silverwood Camping & Hotels Near Silverwood!
This post may contain affiliate links and I may be compensated for this post. Please read our disclosure policy here.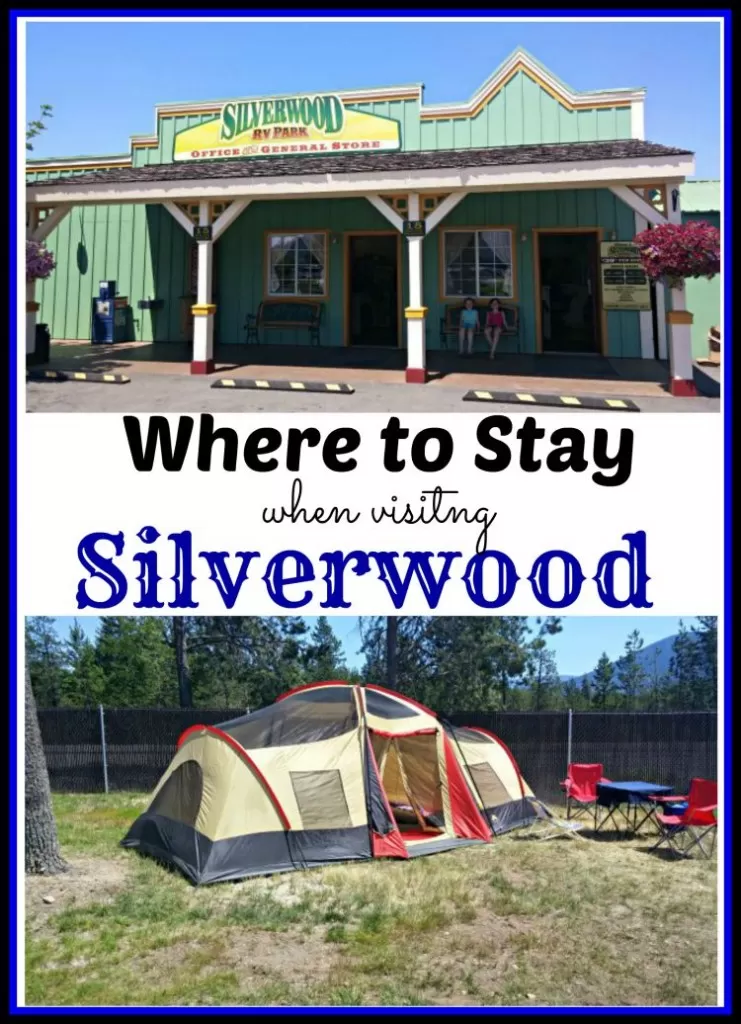 Silverwood Camping & Hotels Near Silverwood!
There are many budget friendly options  for a family getaway to Silverwood! These include tent camping, RV parks, hotels and motels, and more! We generally choose to camp every year, to keep our visit as budget friendly as possible. It can be tough to decide where to stay when visiting Silverwood if you have not been to the area before. We have done a handful of trips to Silverwood, and wanted to share some insights on spots to stay.
We have stayed at a handful of places over the years, and share some experiences below, include Silverwood Camping options, as well as some of our favorite hotels near Silverwood.
You will also find a list of options to check out if you're trying to decide where to stay here:
Silverwood Theme Park Lodging Resources Page – Find hotels near Silverwood on their site, or stay right on site at their RV park (see review below from our stay)
Some Ideas on Places to Stay When Visiting Silverwood
Silverwood Camping Options:
Camping is our favorite way to visit Silverwood. Well, actually glamping is our new favorite way, but we have tent camped on many trips in the past and it is the most affordable option. If you have an RV, that would make it even more comfortable.  The reason we prefer camping for this area is that: a) it makes the vacation very budget friendly (most affordable theme park vacation I have taken) and b) the weather is so nice in the summer, and the area beautiful. Here are a couple of our preferred spots when visiting Silverwood.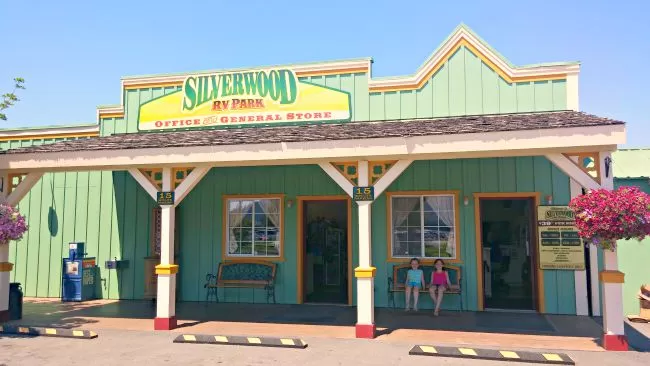 The General Store at Silverwood Campground
We have stayed at the Silverwood Campground & RV Park twice now. It's the most convenient spot in terms of location. You can simply walk right into the park from your campground…no driving or parking fees!
The majority of this campground is for RVs, but they have recently expanded their tent sites available so there are now more options.  In past years, the tent sites were only at the very back of the park, but this year we got one right up front, which saved us lots of walking time! It is not my preferred spot for tent camping, I think it is better suited for RVs, but it is an option if being super close is the most important to you.
There are a couple of things to know about the Silverwood Campground when deciding if its a good spot for your family to stay: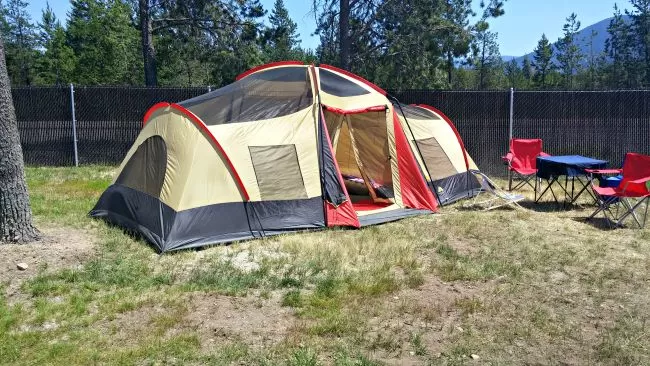 Our tent site at Silverwood (we stayed in number 1, and it was one of the bigger sites for tents)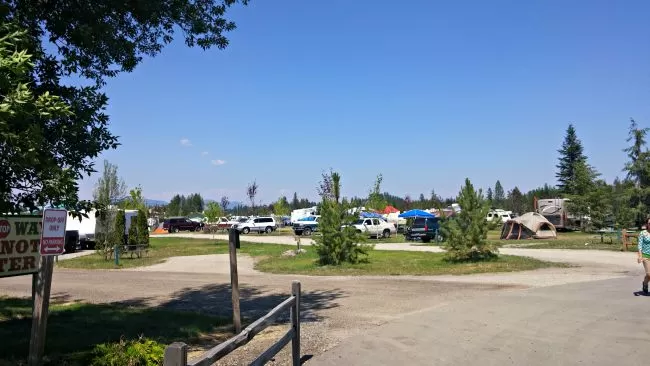 Looking into the campground from the parking circle area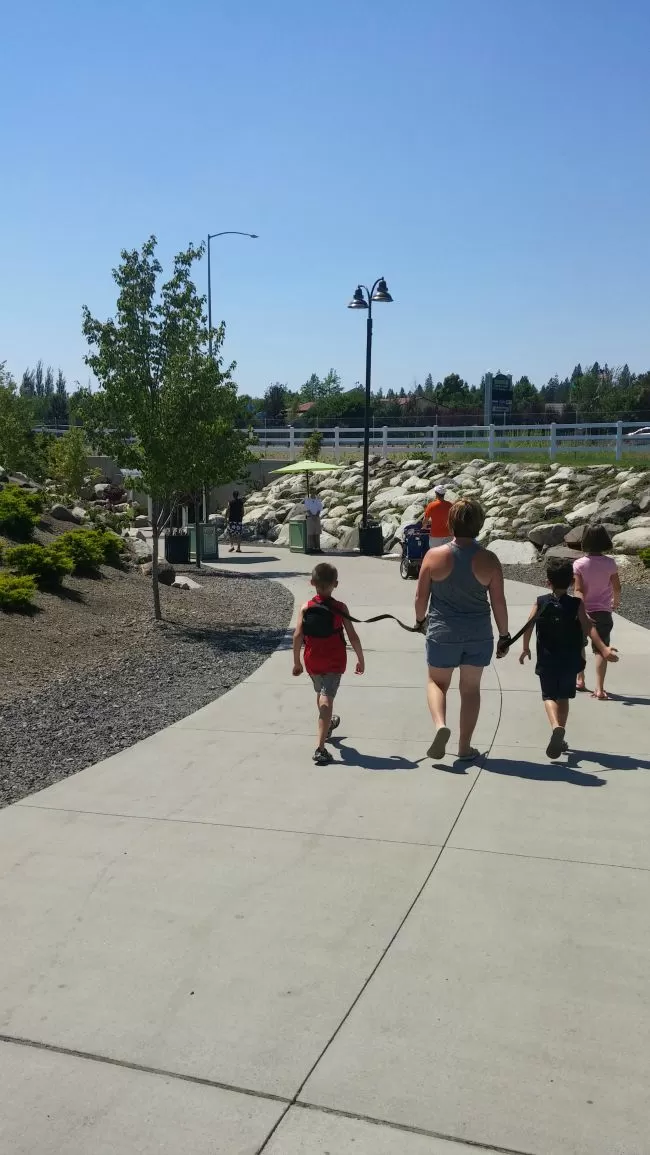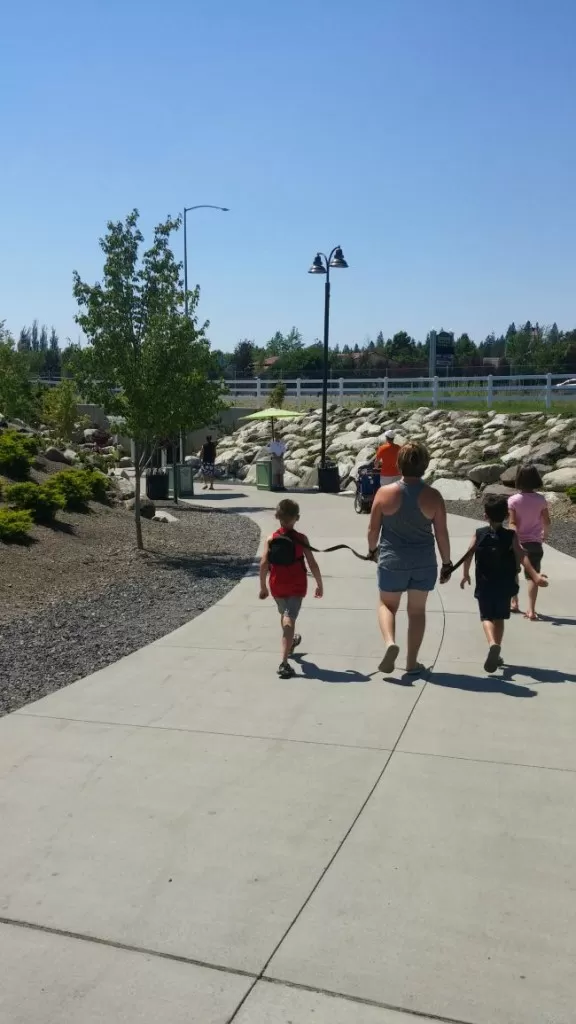 Easy walk from Silverwood RV park to the Theme Park (walk down through a tunnel and up the stairs (or ramp) and you're at the front gates!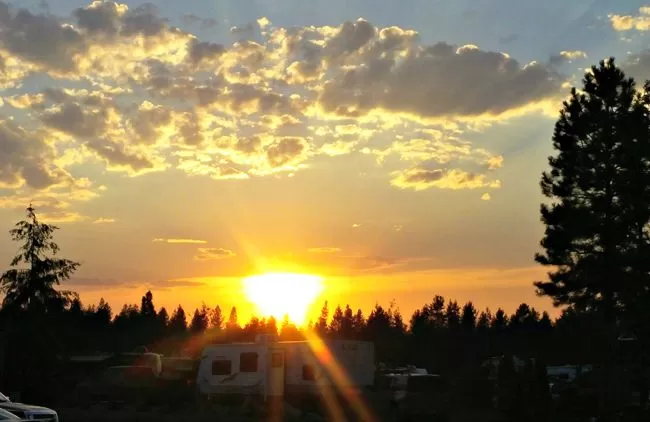 We had some beautiful sunsets at the Silverwood campground!
Pros
Proximity to the park. You can walk back and forth between campground and the Silverwood Theme Park, which can be very convenient. It saves you parking fees, plus you can easily leave the park and come back for lunch or dinner, saving money on food (or if you have young kids, come back for nap time). We found this to be particularly useful, as our kids span across different age groups. We made one trip when we had toddlers and teens, and this allowed the bigger kids to enjoy the park longer rather then having to come home early when the little ones got tired.
Discount for park tickets! Not only will you save on parking, but you also can get a discount on park tickets. See below for details.
There is also a convenience store right on site at Silverwood that you can get everything from Lattes in the morning to basic camp supplies.  My kids loved having a little store to walk to when we were not in the park. It also came in very handy to be able to stock up on ice on those hot days.
Cons
No Fires allowed at this campground.  Fires are my favorite part of the end of an evening when camping, and it also means you have to carry some kind of cook stove with you if you want to eat at your site
Not much shade.  This probably won't bother you if you're in an RV, but something to consider if you are in a tent. I do find that the Silverwood park is best for RV campers, but it is not my favorite place to tent camp.
No swimming pool (if you are spending time at the Boulder Beach water park, this might not be as big of a deal for you)
Noise. This park sits right on the highway so there is the noise from the road. It did not bother me much, but it something to take into consideration when planning your trip.
All in all, the benefit of this park is that you are in walking distance to Silverwood. If that is the primary focus of your vacation, it might be a good option for your family. If you want to explore other things in the area, and have more amenities, here are a few more options.
Our campsite at Farrugut State Park before setting up the tent
Outside of the convenience that Silverwood Camground offers, Farrugut State Park was our favorite spot to tent camp at near Silverwood. I just loved the beauty of the campsite here (and the coolness the shade offered). Plus, there are many activities for the kids on the campground itself that made us look forward to spending time there outside of the park.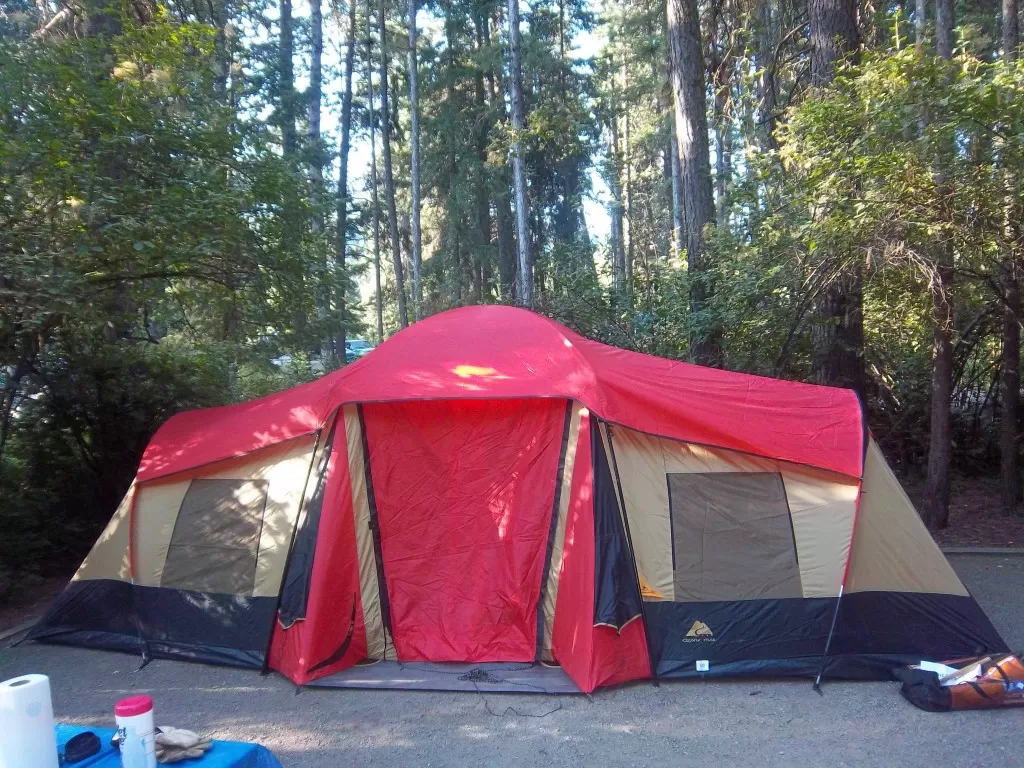 Campsite easily held our three room tent, and provided nice shade!
This campground is huge and there is plenty to do including trails, some scheduled shows in the summer, play grounds for the kids, day use are with larger park, swimming lake, 3 frisbee disk fields and more.  The camp sites were very nice, and shower and bathroom facilities nice too.  There is ice and firewood available on site, but other then that you will want to have the rest of your supplies with you.  It is about an 8 minute drive to Silverwood's parking lot (which is the same location as the Silverwood RV park, so you are not adding much time to your commute to Silverwood when you stay here).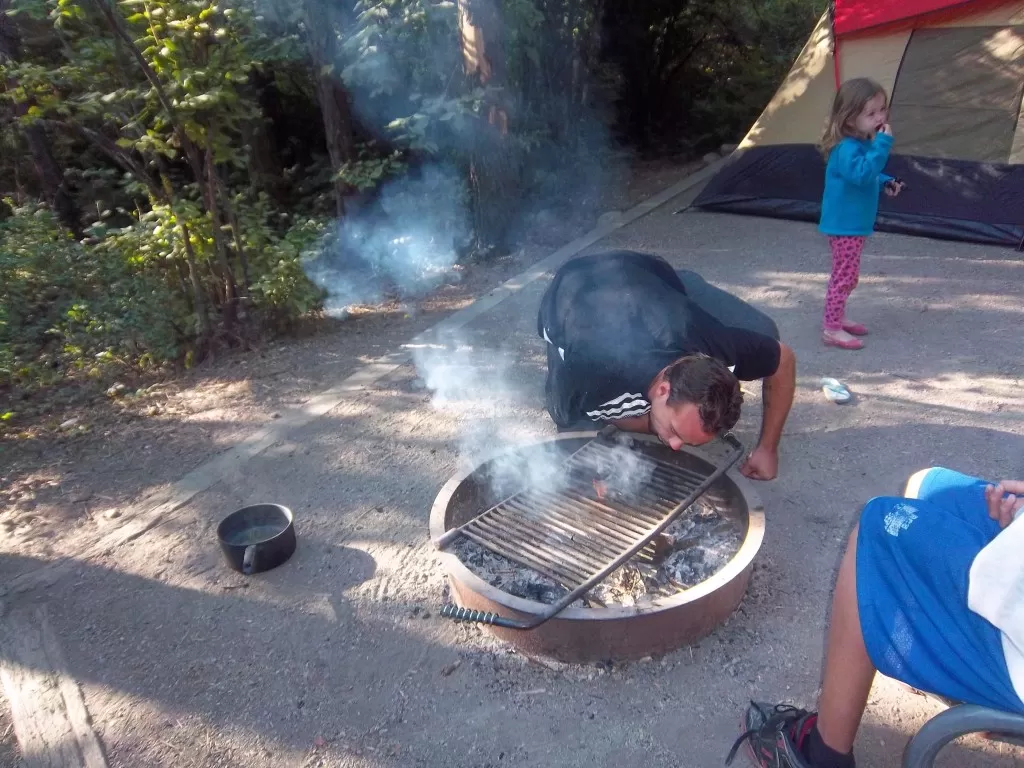 Great fire pits at Farrugut. My husband is getting it ready for coffee in the morning!
There is a firepit in each camp site with a built in grill top to cook on.  Very convenient.  Grounds were clean, and quiet in the evening.  I loved camping here, and since Silverwood does not even open until 11:00 am its nice to have something to do in the morning with the kids. It cost us $29 for a campsite after taxes and fees (per night).
The one thing you will want to consider with this campground is that it is very popular. It can book up early. I recommend making your reservations ahead of time to make sure you can get a spot!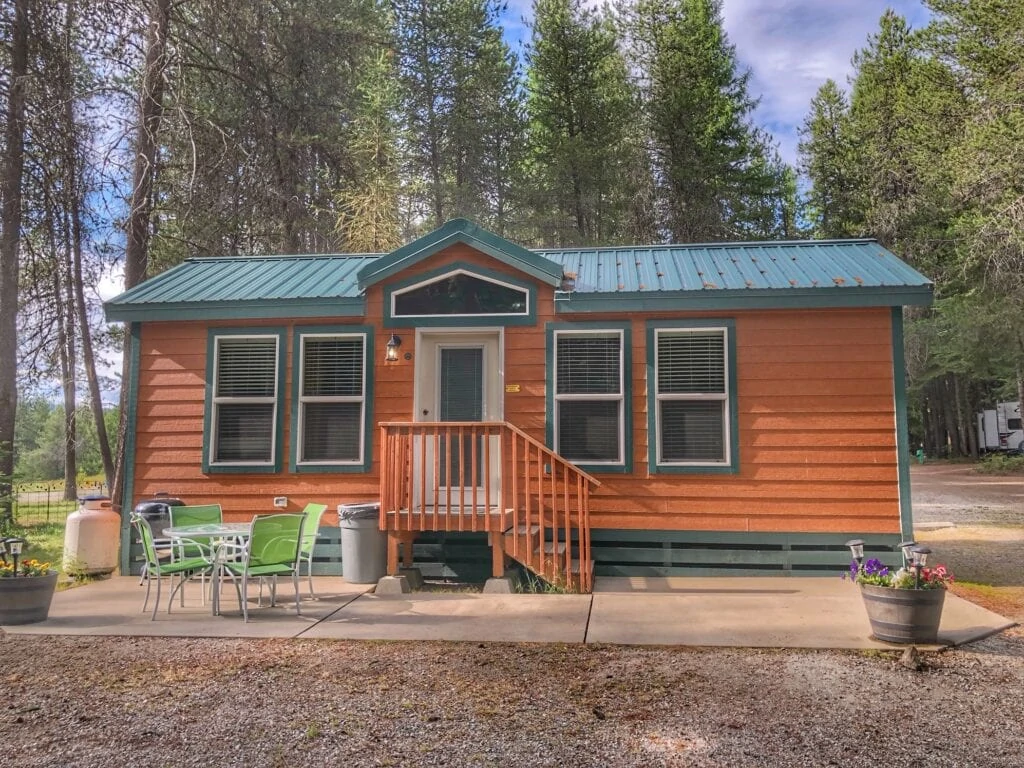 We recently stayed at this campground in a cabin and just loved this stay. This is my favorite spot for glamping and it made for a really nice vacation.  It is a little bit longer of a drive into Silverwood (about 50 minutes to an hour) but it was an easy drive and we did not mind it at all.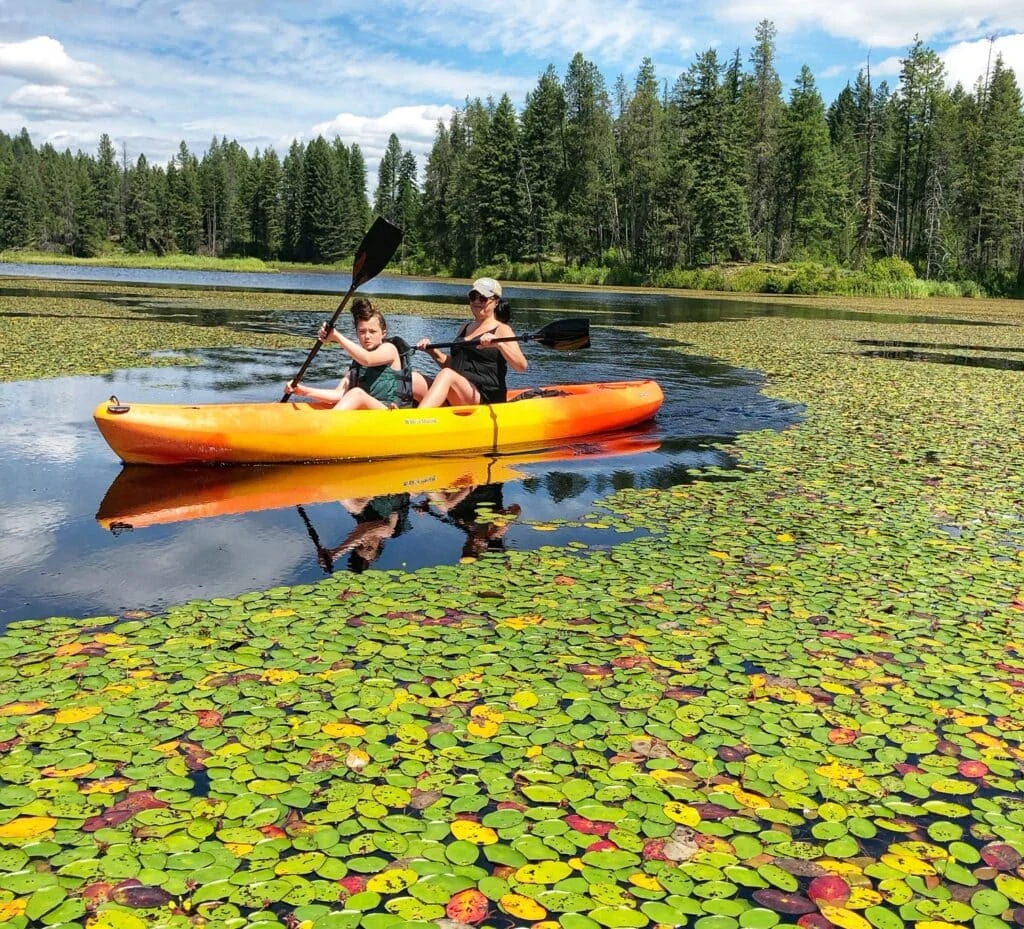 This one let us enjoy a stay in between Silverwood and the Spokane Riverfront park, and have lots of fun at the campground taking boats out on the lake, and swimming on some down days. We loved our stay here, and you can find a full review of what is offered at this campground here.
Free Camping: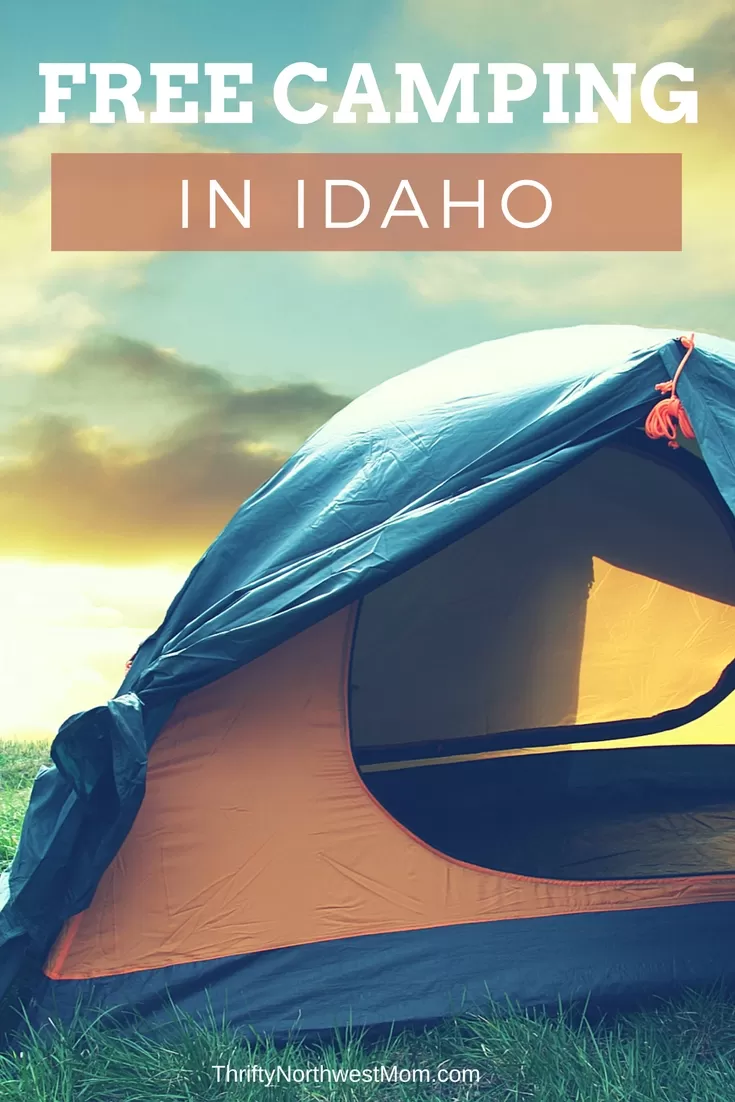 If you really want to save the most, check out our list of free camping spots in Idaho here.
Resorts / Hotels Near Silverwood (Our Favorite Picks) –
There are a number of hotels and motels in the area. Silverwood opens later, so there is plenty of time in the morning to stay offsite and still easily get to the park at opening. Here are a few options to consider in the area that we have enjoyed.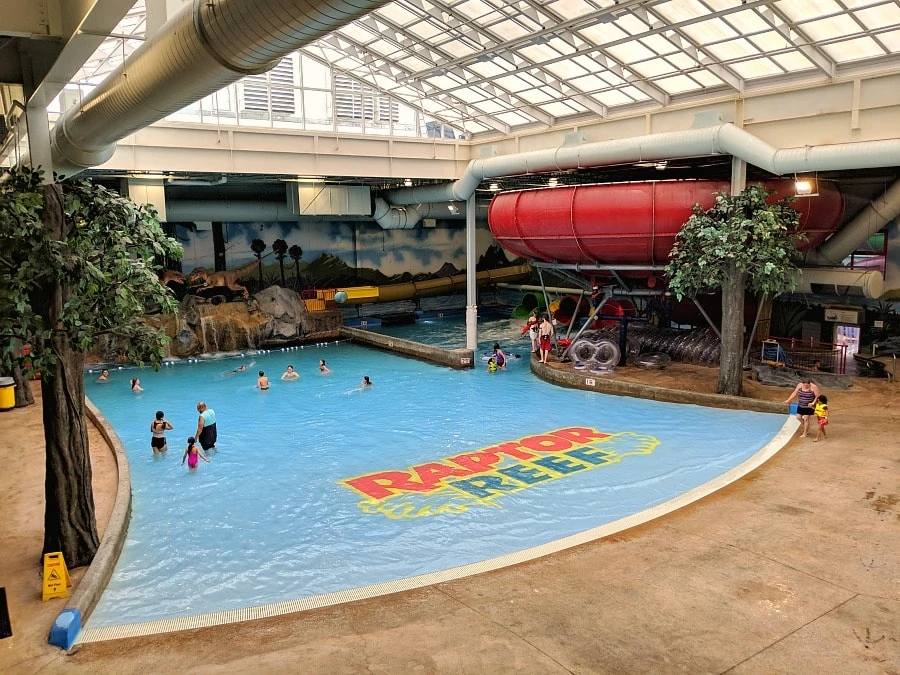 Triple Play is not too far from Silverwood and is a destination in itself, if you do not want to miss out on fun after the park closes. The hotel is a Holiday Inn, and enjoying the attractions here will cost extra, but it is a great mix of convenience and lots of family fun. It has a waterpark and many other family fun activities (like go karts, and putt putt, etc) We have a full review on this spot here as well, if you are looking for something along these lines.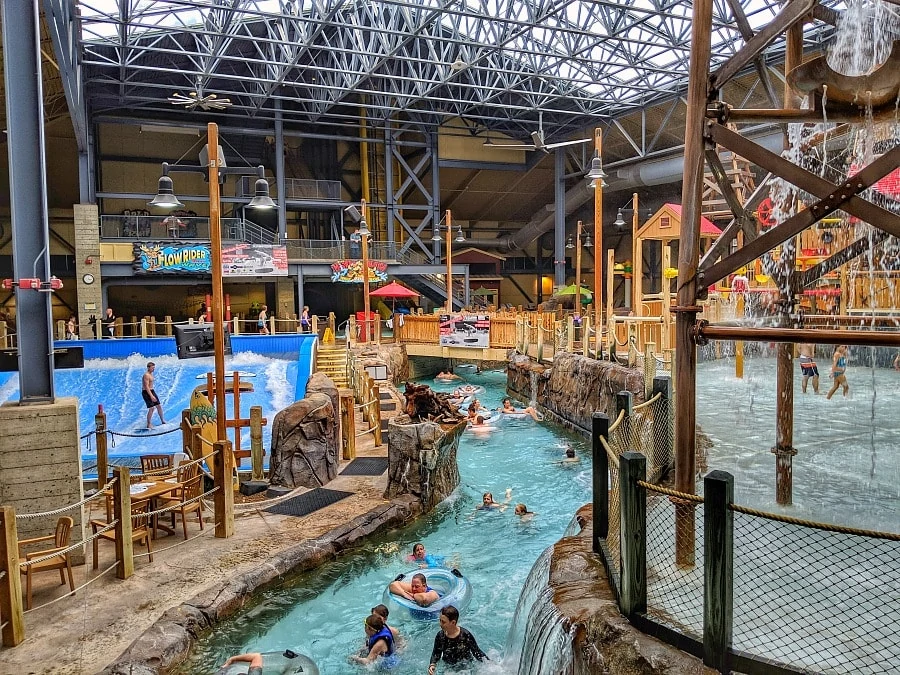 Silver Mountain Resort is a great spot to consider, if you want to make this a special vacation. They are in Kellogg Idaho, so just a bit further out, but reasonable, especially considering all they offer. You can enjoy their indoor waterpark, or take a Gondola ride up the mountain for the day when you are not at the park too. Read our full review of this resort here.
They will offer Silverwood packages from time to time in their family package section. There are many high end amenities here, but it is also located adjacent to the Lake Coeur d'Alene park. We spent a free afternoon here with our kids and loved it. There are two swimming areas and a kids wading area that looks like a small creek/pond. There is also a castle themed park, play fields and more to enjoy, as well as Knob Hill near by. If you like higher end hotels, this is a good option as you could visit the theme park but also enjoy everything that the Coeur d'Alene area has to offer.
Other posts to check out include: