Road Trip Games & Other Activities To Keep Kids Occupied While You Travel!
This post may contain affiliate links and I may be compensated for this post. Please read our disclosure policy here.

Road Trip Games & Other Activities To Keep Kids Occupied While You Travel!
Do you have a road trip planned for the summer or any other time of the year and you are looking for games to play on a road trip, to keep your kids busy while you travel? We have a big list of road trip games and more activities that should fit the bill for many families.
Electronics are always easy to fall back on, but I like to travel with a full bag of tricks to keep the kids occupied (so I do not have to keep hearing "how long until we get there")! Here are some ideas that include electronics, as well as many that let the kids put those away and still have fun.
There are the old stand by road trip games (like the ABC game, or how many state license plates can you find), but there are so many other options too. I have done many road trips throughout my life, including one across country for three months, and more recently, touring California with the kids for a full month in our van. Here are some of the tips and tricks I have learned traveling with my own kids, across multiple age spans – for short trips and long trips – to keep them entertained along the way.
One of the things I like to do is to let the kids pack what we call a "car bag". This is a small backpack with their favorite things in it. For example, I have one child who loves to draw and likes to solve Rubiks cubes. So in her bag, she will have a sketch pad and pencil, and Rubiks cube, plus other items that my other child will not have in her bag. I always encourage them to each pick out one book to bring for the trip too. In addition to these personalized items, here are some other things I have packed for the kids on road trips over the years that worked well.
This is a mix of good old fashioned games, activities the kids can access via electronics, and non- electronic based activities (and sorted by age range). These are activities that have actually worked to keep my kids occupied and make the travel part of the trip fun for them too. I hope some may inspire your family as well.
All Ages –
Audio Books to listen to during your road trip
Audio Books are a favorite for both short and long trips. I always have my kids download a book or two (this also works great for air travel). Downloading the books is key here, as internet can often be spotty when you travel. Everyone can pick their own books and then using headphones is key here too. If the entire family likes the same book, then you can play that out loud for part of the trip and listen together as a family. This is a great activity when you want some down time or quiet time (maybe after you have played some of these other games). At other times, they can use their headphones to listen to their picks.
You can sign up for a free 30 day trial of Audible here, that includes two free audio book downloads too. Sign up during the month that you will be traveling and boom – you have a couple of free audiobooks for your trip! If you are looking for audiobook recommendations for your trip, check out our list of recommendations for Kids Audiobooks here, or 30+ popular audio books here.
This game is fun for the entire family. You can alter the rules slightly by reading the cards out loud, and then even the driver can participate. Another thing that I love about this game is that it keeps kids looking outside the car and taking in the environment they are passing through. Plus, it creates lots of laughs to remember. There are cards that have various items on them (like cow, motorcycle, hospital, etc). Then whoever spots that item first gets a point. You can find the game here, or you could even prepare your own version of the game if you wanted to, ahead of time.
The Quiet Game
If it has been a long drive, and lots of noise, and you just need some peace and quiet, play the Quiet Game! The trick here is to make it feel like a fun game for the kids and not punishment. I like to do this by awarding the winner an actual prize. That seems to motivate my kids to win, and I consider that a win for the entire car. When the kids were younger, I would have a couple of small items on hand from the Dollar Store. Now I keep things like packs of gum (or whatever your kids like best) for prizes.
Preschool Kids to Early Elementary
Amazon Unlimited Free Trial – if you are looking for programs for kids to use on electronics, where you can easily set parental controls, Amazon Unlimited is a great option. I love to use the free trials during periods where I will be traveling with the kids, as it makes for great free entertainment options! This one is a full month free trial, so that makes it convenient for most vacation lengths. You will want to sign up a few days before your trip and download some of the things kids will like to play on the road if you will not have access to internet.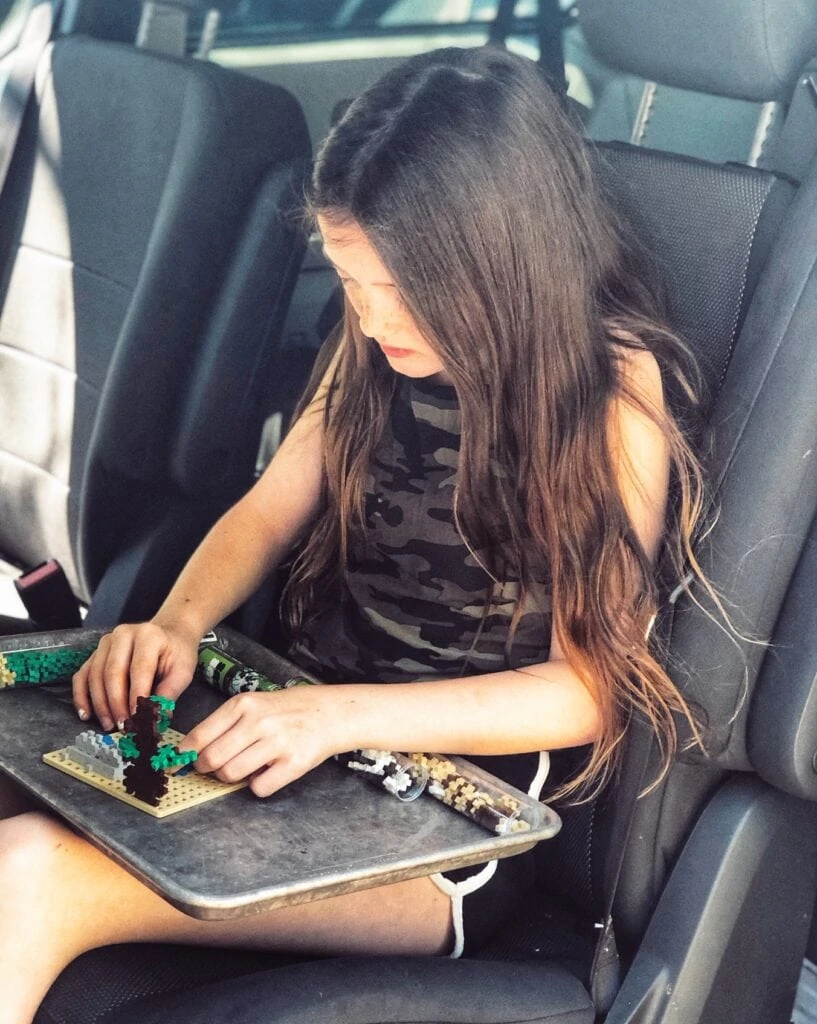 So many kids love building and these Plus Plus Building Toys are perfect for travel for a couple of reasons.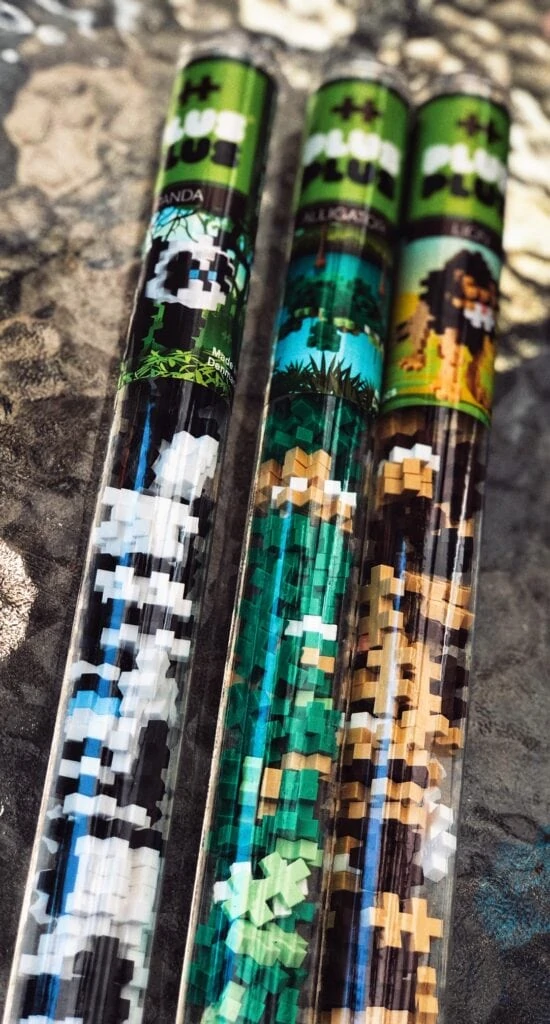 First of all, they come in these tubes that are really easy to pack without taking up much space. Secondly, they are small enough that the kids can play with them on their lap or in a hotel room, again, without taking up too much space. Find them here.
Pro Tip: I like to keep a baking tray for each kid in the car. It can double as a building tray or a writing surface for kids, and they can play with magnetic toys on them too. Plus, they are durable (tough to break these) and you can nest them and store easily under the seats.
Sticker Books (Reusable, Paint By Sticker and Magnetic Sets & More) –
These are great activities to pack as you can often find them for just a few dollars each and they are generally thin books, so they pack really easy.
The reusable sticker books are great for younger kids (they can peel and stick stickers to make a scene and then do it all over again). Melissa and Doug has some nice big ones, that fit on laps and they can create fun scenes (and you can usually find them for under $5).
The paint by sticker books are great if your kids like crafts, but you do not want the mess in the car. These ones are also good for younger kids.
These magnetic sets are fun for kids to, and come in everything from different figures that have a magnetic background, games and puzzles, and the infamous license plate game, so kids can play with these right in the tin they come with (although I like to bring the metal baking dishes I mention above and let the kids have more room to play).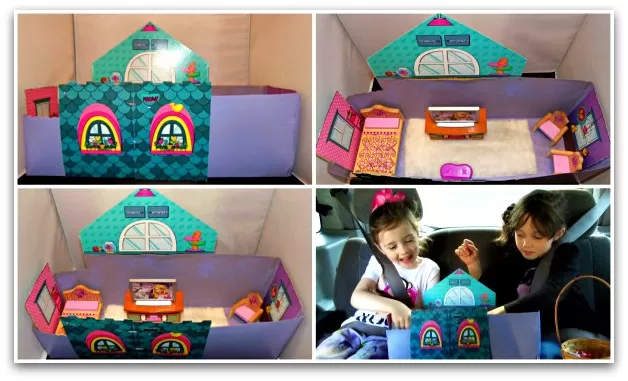 We made this doll house out of a used cardboard box from a pack of soda cans, and some duck tape and decorative paper or chip board. Grab a few pieces of furniture to put in side for little ones and some dolls to play with, and they are all set to play right on their lap.
You can use the same concept to make a race track for your kiddos to play with their matchbox cars with too, using this road tape.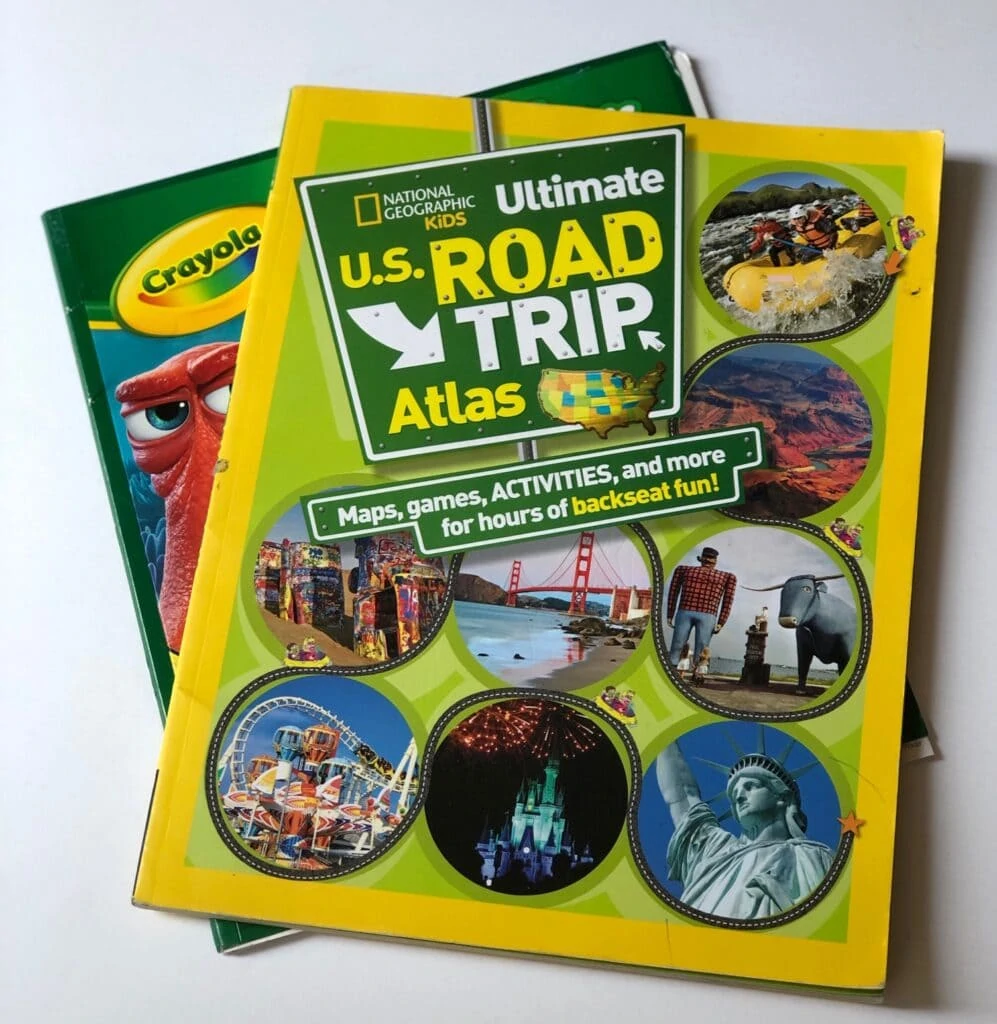 Road Trip Journals & Activity Books that are Themed for Road Trips –
There are a number of activity books that will keep kids busy, and some of them are designed to keep kids engaged in the road trip itself. Those are my favorite kinds, because they keep the kids more involved in the travel process, and learning while traveling. Here are some of our favorites.
National Geographic Kids Ultimate U.S. Road Trip Atlas: Maps, Games, Activities, and More for Hours of Backseat Fun, is one of my favorite for the kids in terms of activity books.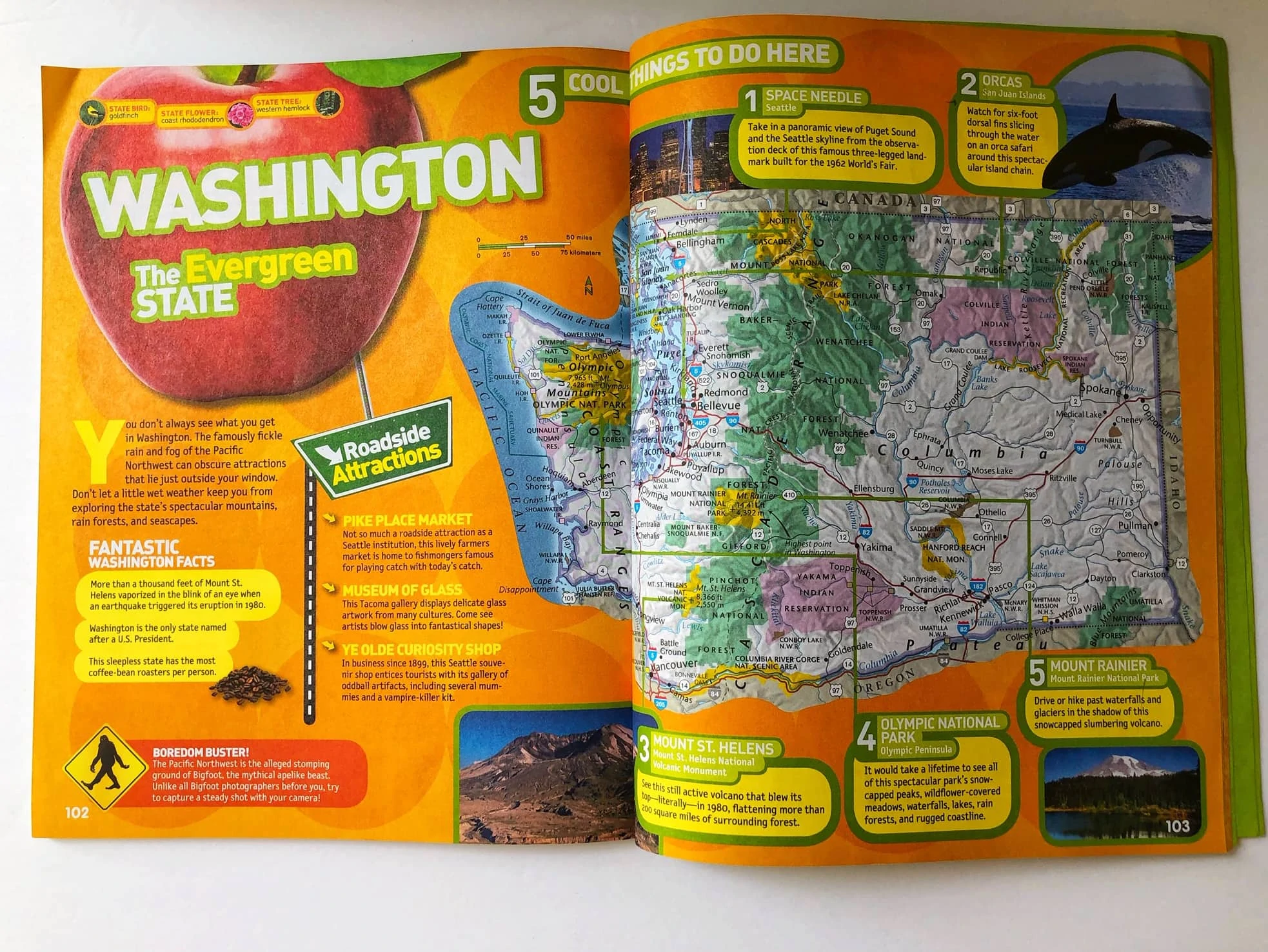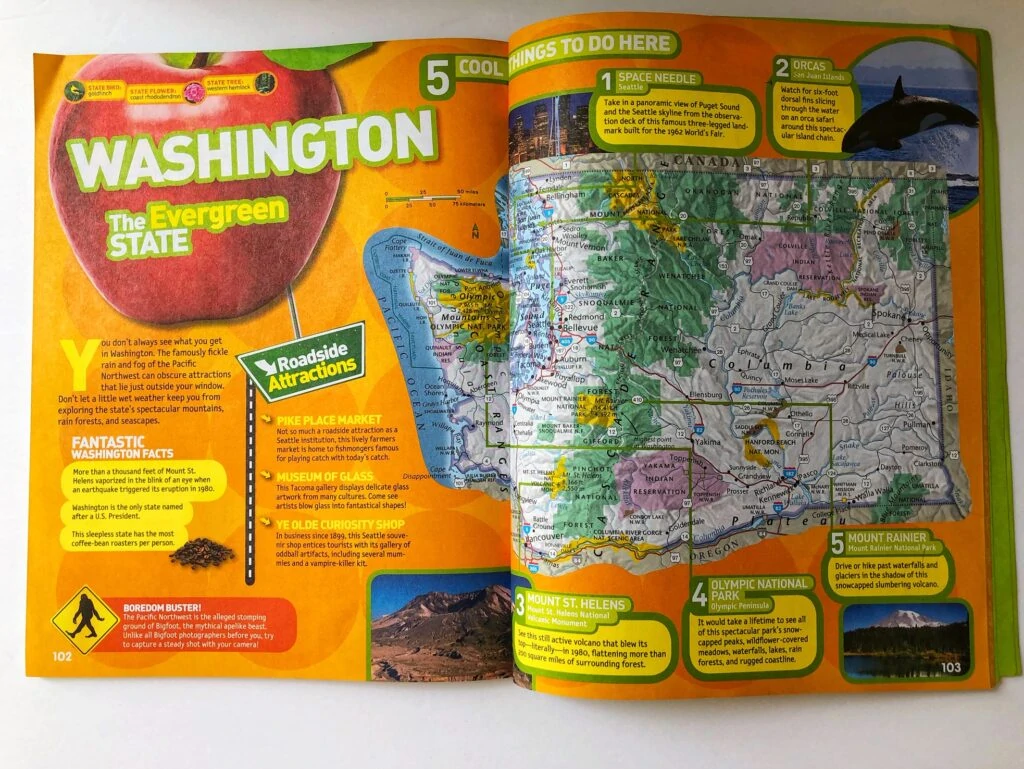 This one is awesome. It is one I got for my kids (and I think you only need one per car) and we are able to reuse it across different trips, depending on where we travel. It is packed with a map and some facts and highlights about each state for the first part of the book (like the Washington one I show from our book above). Then the back has a few fun road trip games the kids can play (like a scavenger hunt, license plate game and more)!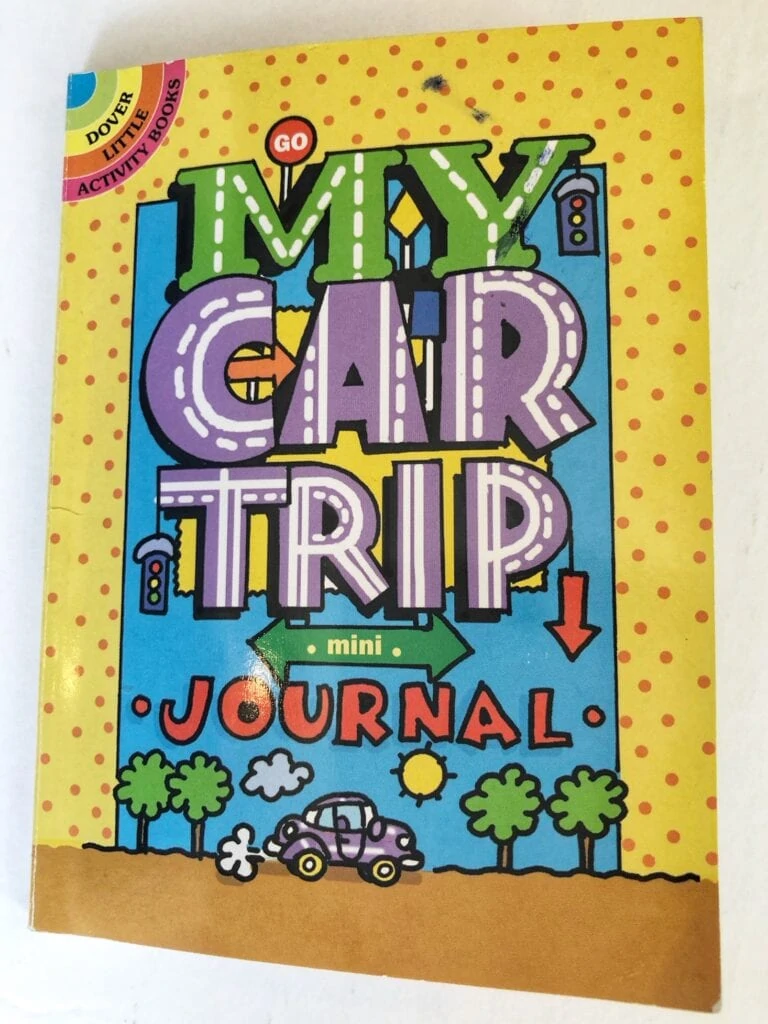 This small Car Trip Journal is perfect for young kids to keep track of their trip (they need to be able to write), and you can usually grab one for under $2!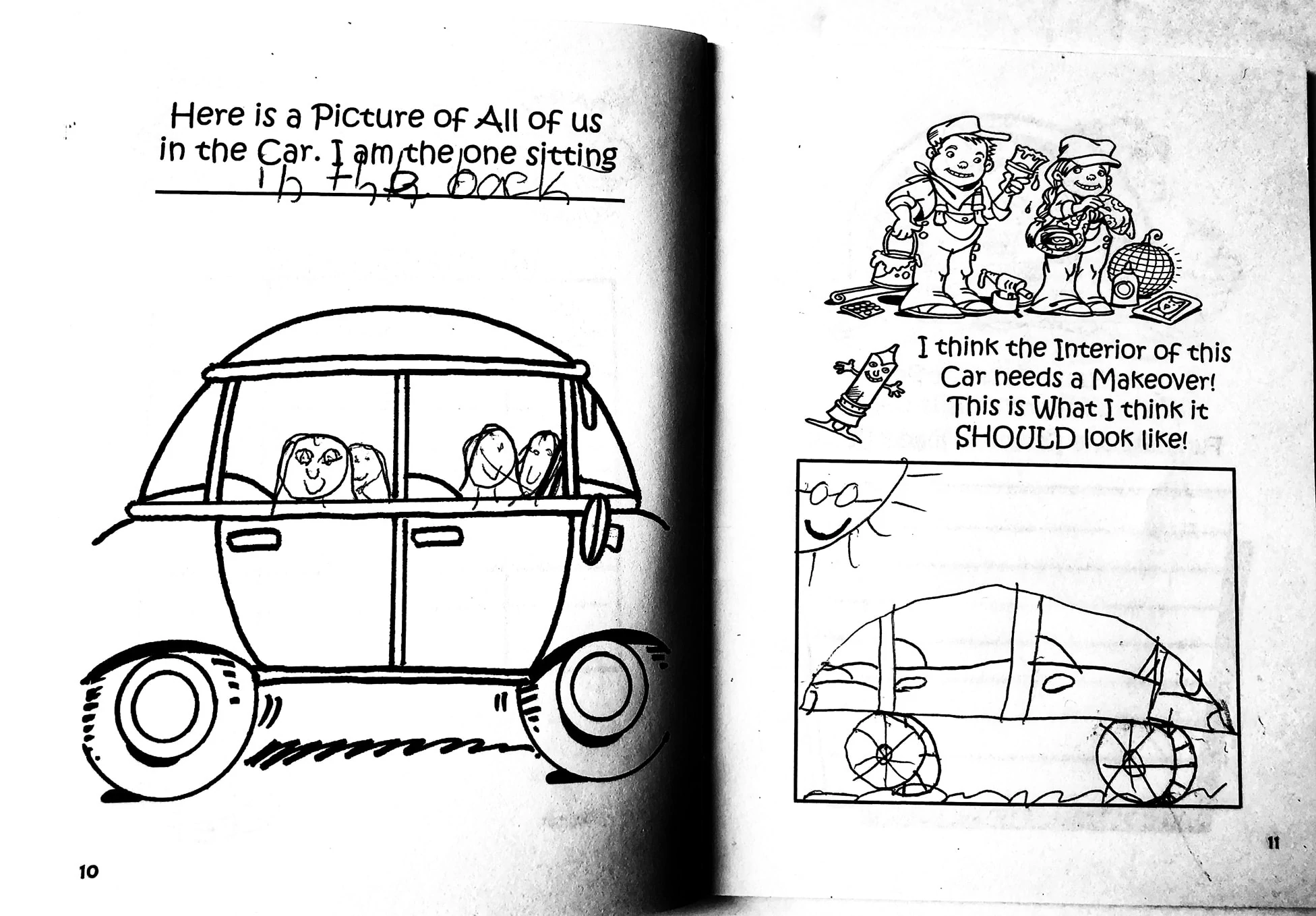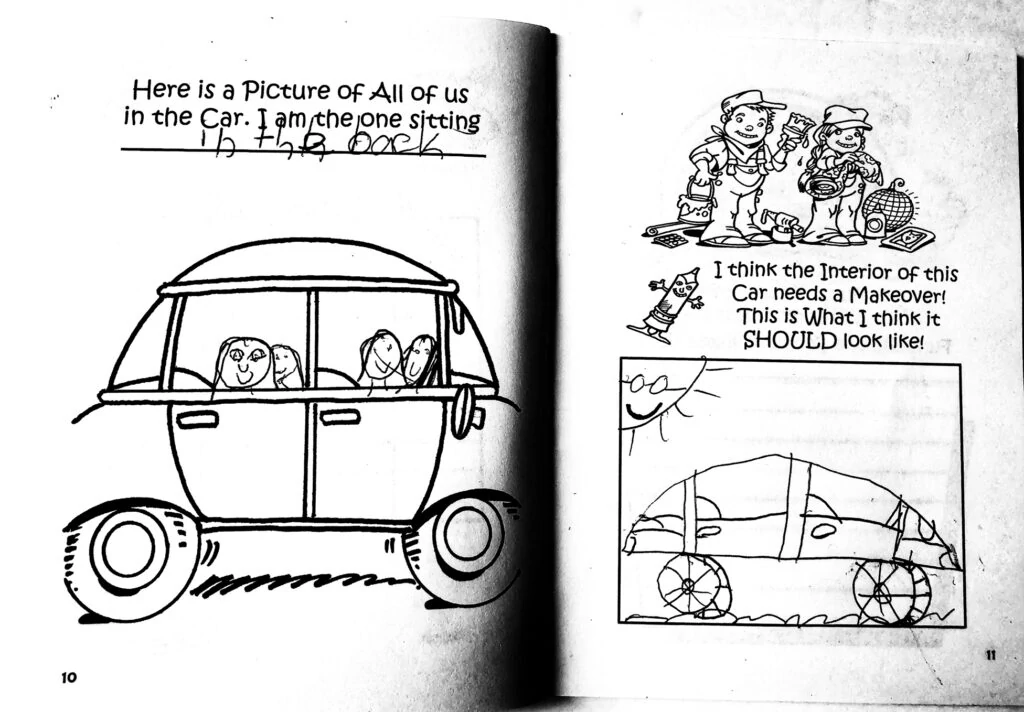 You can see above how one of my girls was using a couple of the drawing pages in her journal when she was younger, to remember one of our road trips with! Find them here.
Here are a couple of road trip journal options for kids who are a bit older too.
These are awesome because not only do they help keep kids busy on the trip, but act as a great memento after the trip too.
DIY Activity Binders for Road Trips –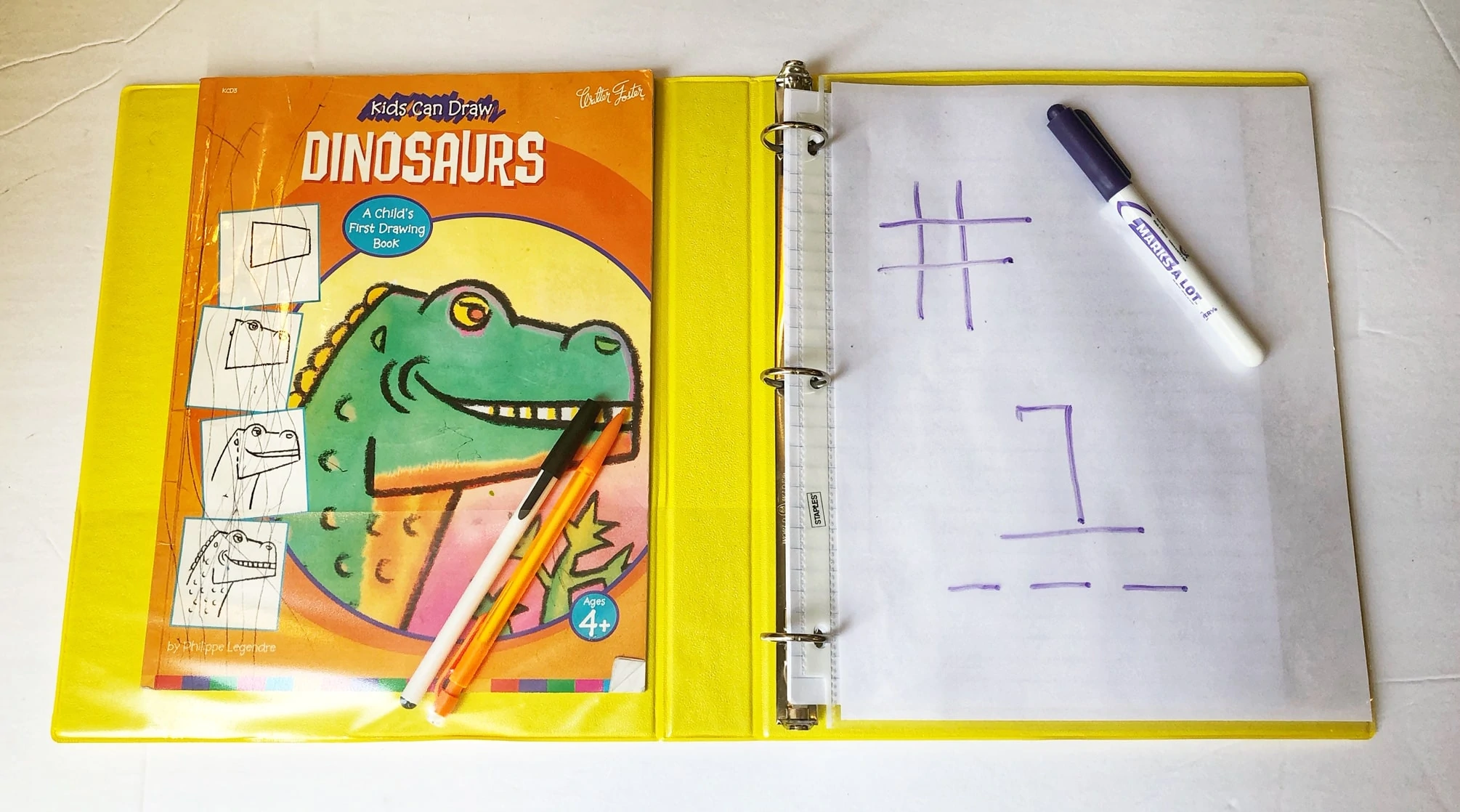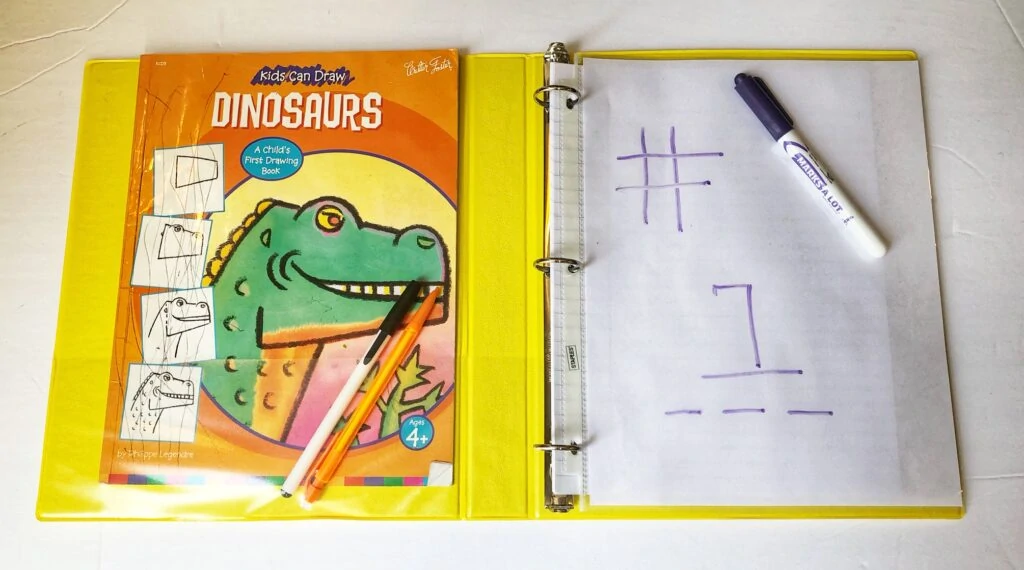 These are really easy to make. You will need a three ring binder, and ideally a laminator (but you can use plastic page covers where you insert a blank sheet of paper in them too). Start by just laminating a few pieces of plain white paper, and hole punching them to add to the binder (or use the page insert covers). These can act as dry erase pages for kids to play games of tic tac toe, or hangman on – or simply draw. Make sure to pack them a couple of dry erase markers or crayons and an eraser to use with this. Then you can either print free coloring pages and mad libs online, or go to your dollar store and grab a few puzzle and coloring books, and punch holes in those to add to your child's binder.
Road Trip Activities for Tweens & Teens –
Here are a few ideas that my tweens and teens like, and are perfect for long car rides.
This is a fun journal full of activities that encourage the creative process, and are fun for kids, and my tween loved it. You get to draw outside of the line, put dirt on your book, rip things and so much more!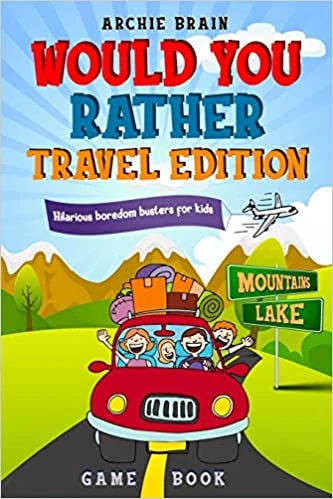 Ok, this one is bound to drive us parents a little crazy, but what tween or teen does not love to play the would you rather game? This one can keep my kids busy for hours.
If you have kids who like to stay busy with activities, or love art, this is a nice one to pack (no paint, pen or clay mess that lots of crafts for older kids need). This is just paper, but can keep them busy for hours. Its perfect for boys and girls, as you can make just about anything you want with Origami.
Brain Teasers
These ones are actually fun for the entire family to play (so they could fit under all ages too) but they are great for the Tween age range. We play with the kids, and they love when we get involved too. It is a great opportunity to stay connected as a family, even during the travel times. We have had more laughs and created great memories trying to solve these puzzles. The way we generally do it is to have one person google and ask the brain teaser questions, and everyone else tries to solve. Then we pass it around so everyone has a chance to ask the question, and everyone has the chance to answer.
If you do not want to have to worry about internet access to google them, you can either download ahead of time, or use a book like the one shown above.
Teens especially love to have their music to listen to on trips. You can sign up for this free Amazon Music trial ahead of your trip, and have them download songs you guys have approved of together, and make a road trip playlist. The free trial is good for a month, so should provide your teen free music for length of most trips.

Found these Adult coloring books from the Dollar Store!
Adult Coloring Books from the Dollar Store
I like to grab a couple of these coloring books, and can usually find them at the Dollar store. They can be pricey other spots, and since the books can get a little wear and tear on them on longer road trips, the Dollar spot is a great spot to grab something to color on the road with.
Incent Them To Act As Your Trips Assistant Photographers
I like to keep my kids looking around at their surroundings as we travel and one way I do that is to get them to take pictures. If your kids have phones they can use those, or you can get them disposable cameras for the trip, too. You can get them excited by this process by letting them know they can each make their own photo book after the trip (you can use these free photo book offers too). This is one thing that has worked well for my kids as they get older and sometimes they get some of the best photos for our trips. I love that it teaches them to look for the beauty in their surroundings wherever we are.
You can get travel sized versions of many of your favorite games these days (like Yahtzee, Uno, Scrabble etc). These kinds of things just ended up with game pieces all over the car when the kids where younger, but as they have gotten older these work well. We use the baking sheets I mention above as a surface for them to play the games in the car. These are also nice to have on hand to play once you get to your destination, or for overnight stays in hotels or campgrounds on your way too.
And last but not least, Classic Road Trip Games –
The Licence Plate Game
I have played this one since I was a little girl, and played with my own kids across all ages. The idea here is to see how many license plates you can find across different states. The person who finds the most wins.
You can play without purchasing anything (just keep track on a piece of paper). I do usually grab this book though (for the price it just makes it so simple) and let the kids use this to keep track. You can see the book that I got for my kids to use here.
The ABC game
I have been playing this one since I was little, and it is perfect to keep kids occupied, and requires nothing but some observation skills. You start with A, and you have to find it someplace outside the car (like on a road sign, business sign, another cars license plate, etc). You call it out loud when you see it, and the first person to find the entire alphabet wins!
Tell Stories of When You Where a Kid
My kids always want to hear stories from when I was growing up (all the bad things I did especially – the scrubbed version of course – ha!). But I do find road trips a great opportunity to connect with my kids if I take the time to purposefully communicate with them. They don't want lectures or overt life lessons on vacation, but I can get away with throwing a little life lesson in here and there when I share stories of my life growing up.
And one last thing I like to do when preparing for road trips with kids, is to do a quick bit of research on what stops are along the path we are taking, in case we need a little bit of fun time to break up the ride. For example, when traveling down the 1-5 between Seattle and Portland, we might take a 20 minute stop at the Nisqually Wildlife refuge for a quick walk to stretch our legs or check out  Tumwater Falls. The key is to find spots that are right off the highway, or roads you are traveling, so there is not a lot of drive time to and from the spot.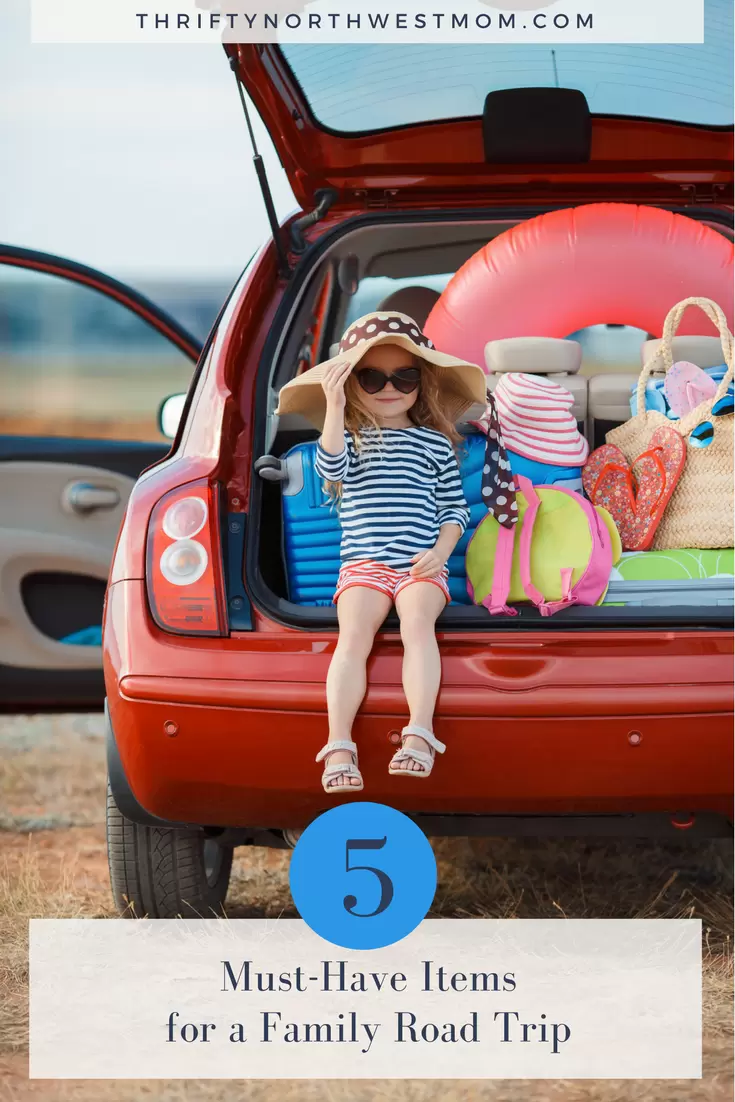 Before you take off on your road trip, be sure to check out our article on 5 Must Have Items for Road Trips here too!
Be sure to check out our Travel Page here too for ideas on where to go for your next road trip.