5 Must-Have Items for a Family Road Trip
This post may contain affiliate links and I may be compensated for this post. Please read our disclosure policy here.
Here are 5 must-have items for a family road trip so you're prepared for anything & everything that comes your way!

5 Must-Have Items for a Family Road Trip
Road trips are a classic summer experience for families and the key to having a successful road trip with your family is being prepared.  Thinking through the places you will visit & what you will need during all parts of your trip, as well as planning for emergencies will definitely keep things running much more smoothly during your trip. We are sharing 5 of our must-have items for a family road trip to keep things running smoothly & enjoyable on your trip.
5 Must-Have Items:
1) Portable Jump Starter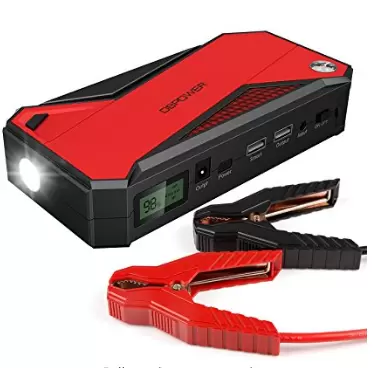 The Portable Jump Starter is a multi-use, compact device that you will be so thankful to have on road trips and it can fit right in your glove box. My husband bought this for us to have a portable jump starter, as it can jump start your vehicle on its own without needing another vehicle to connect to. Something that is definitely important if you are a family that likes to explore like us & are frequently heading up to the mountains for hikes or hidden away beaches. No more worrying about finding someone who can give you a jump if your battery dies.
But, more than just using this as a jump starter, you can also use this device as a portable battery to charge your smartphones, tablets, and even a laptop (depending on the device you choose). If you have multiple devices that need to be charged in the car on a road trip, it is so nice to have this as a backup charger. We carry portable chargers in our backpacks/purse, but somehow I always forget to charge those after using them once on trips (whoops!), so it's so nice to have this as an option, especially for emergencies.
We found our portable jump starter at Costco, but Amazon has a number of devices that are similar to ours and get good ratings.
2. GPS or Atlas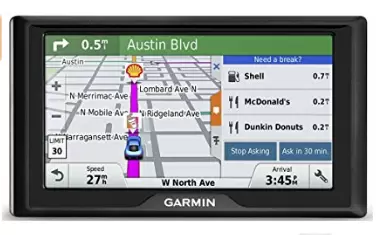 Now I know that you're wondering about why I included a GPS on my list of must-have items as most everyone has a smartphone these days which means you can use Google Maps or another navigation app to give you directions on your trip. However, if you plan to do any exploring off the main highways or heading up to the mountains, especially exploring the mountains in Canada (Canada's National Parks are free thru 2017 – great chance to explore the area), then there is a good chance you will lose cell phone coverage. Your smartphone GPS will continue to direct you, but if you need to change the route at any point (to go visit a new location, road work requiring a different route, etc), then this is where you will run into issues as you will not have cell coverage to make any changes. There have been numerous times we have lost cell coverage, especially exploring in the mountains,  and we are now so thankful for having a GPS in the vehicle to redirect us to a new location. These GPS devices rely on satellite and not cell phone towers to power the navigation. We like the Garmin Nuvi but there are a variety of different GPS for the car options.
If you do not want to spend the money on a GPS, make sure to always carry paper maps for any location you might be traveling to, so that you're not relying exclusively on your cell phone & always have a backup for emergencies. You could have a national atlas, especially if you are doing a multi-state road trip or get a state map for each state you will be visiting on your road trip & I'd recommend a state atlas for your own state, which will have much more detailed information about all the forest service roads in the mountains and more. I know in the age of smartphones, many people have gotten rid of paper maps or GPS, but you never know when you will lose coverage or your phone battery could die, so always bring backup for navigation.
3) Insulated Reusable Water Bottle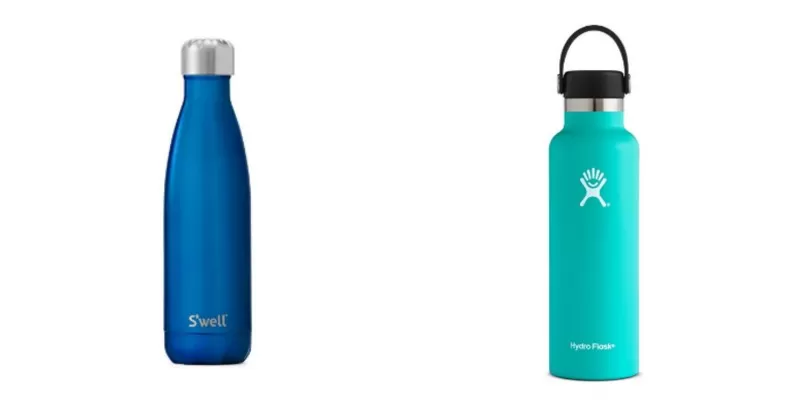 My husband and I are so picky about reusable water bottles and we have learned to spend a bit more to get the high-quality reusable, insulated water bottles that actually keep things cold for 24 hours or longer. These are imperative to us for not only the driving portion of a road trip, but for any adventures you will be doing while on your road trip. If the water is not consistently cold, our family just will not drink nearly as much water, so it is key to find water bottles that work well.
We have tested many, many water bottles & now have 2 favorites for keeping the water cold even in the warmest conditions: the Hydroflask and Swell bottles. These bottles have been put to the test by us as we used the Swell bottle for two weeks in south Florida two years ago (including days at Disney World) and my husband put the Hydroflask to use in Costa Rica for 10 days in the summer. The water consistently stayed cold for over 24 hours even in the extreme heat & humidity. thanks to their double wall insulation.  These are an investment for us to have several of these, but the quality & durability can't be beat and they are still working well several years later.
4) Melissa & Doug Sticker Books & Games
We have taken long road trips with our girls since they were babies (we drove from WA to Lake Tahoe, CA when our youngest was just 1 1/2) and we have rarely used electronics in the car with them on these trips, even as they've gotten older. That's just a personal preference as we wanted them to experience the fun of road trips like we used to take with our families, but that has meant finding a number of activities to keep in their travel backpacks to keep them busy as well as your classic road trip games (I Spy, License Plate game, Alphabet game, etc), audiobooks for the family to listen to & more. Melissa & Doug has offered the best options for road trip activities that we have found over the years.
Here are a few of our favorite Melissa & Doug road trip games & activities:

Melissa & Doug Reusable Sticker Pad – these are our top favorite activity for my girls on road trips as they've grown up. We would bring along one of these sticker pads for each of them plus a regular notebook (get them super cheap during back to school sales) and crayons or colored pencils  and they would have a blast filling their notebook with their sticker creations.
Melissa & Doug Flip to Win Set – Hangman & Memory game and Melissa & Doug Flip to Win Travel Bingo Game (2 boards) –  what I love about these games is that they are wooden boards that are completely self-contained & no chance of missing pieces as they are all attached by a bungee hinge design. Plus they are very durable.
Melissa & Doug Reusable Wipe Off Dry Erase Travel Activity Pad Game – these reusable wipe-off dry erase boards are filled with lots of activities that kids can play & then wipe it off & the next kid can try it
5) Usborne Activity Cards –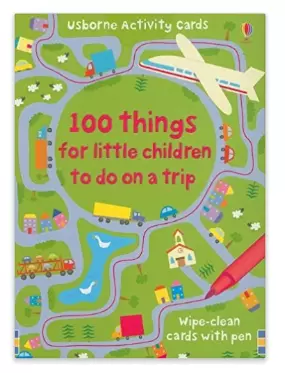 Another fun activity that has provided a lot of enjoyment for my girls are the Usborne activity cards. They have specific road trip cards or other fun card sets like 50 Brain Games, Animal Doodles, 50 Things to Draw & Paint & more. These do come with a dry-erase pen & you can keep extras in a plastic baggie so each child can use a pen & go thru the cards. Another idea is to put one hole punch thru the top of all of them & then attach with a metal ring so they are all attached (great way to keep from losing any) & they can flip through them as they work on them.
What are your must-have, favorite items to bring on a family road trip? 
We also have paired up with several other Northwest bloggers who are sharing their 5 favorite items to pack on a road trip!
Check them out here:
I love getting inspiration from others, so we hope these posts are a helpful resource for you as you plan and pack for your next road trip!