Audio Books Rental – 30+ Popular Audiobooks for Audible For The Entire Family
This post may contain affiliate links and I may be compensated for this post. Please read our disclosure policy here.
Check out this list of the 30+ popular audiobooks on Audible for the whole family. This list of audio books rental is updated regularly with listens for adults, teens & kids, perfect for road trips, long commutes, exercising or chores.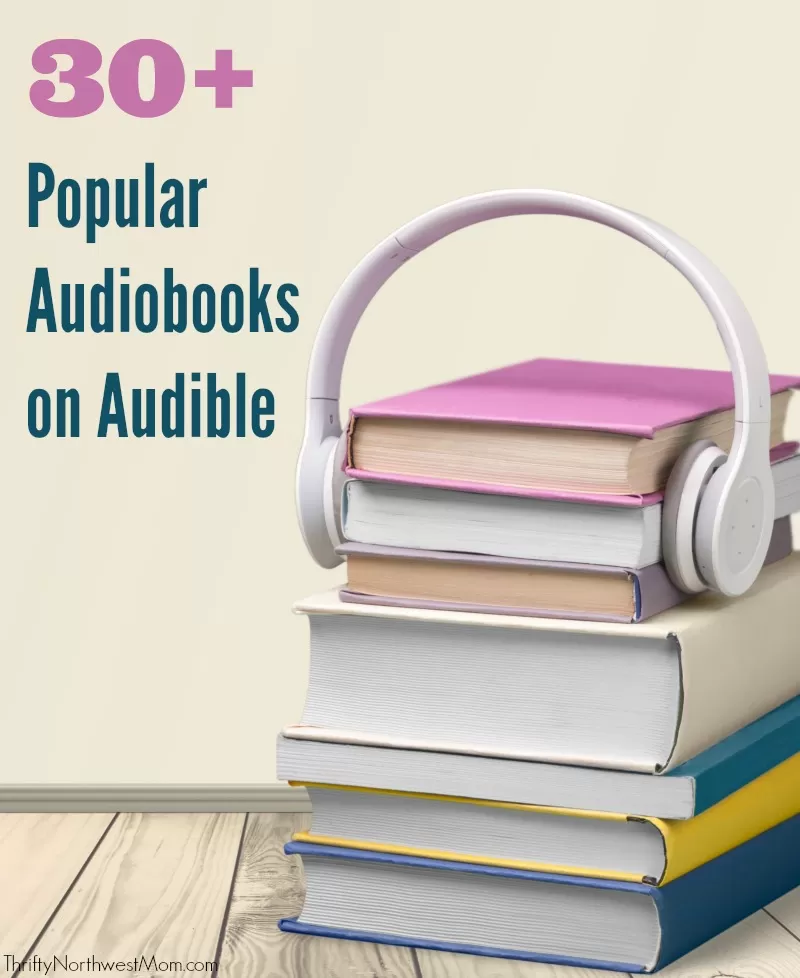 Audio Books Rental – 30+ Popular Audiobooks on Audible!
Reading anywhere is so much easier with audiobooks. If you are traveling or just looking for convenient reading, Audible gives you the option of listening to all of your favorite books from anywhere! Audiobooks are also a great option to listen to when you are exercising or if you are working around the house cleaning, to give you something interesting to listen to while you are doing those chores that usually seem like they take forever.
As a busy work-at-home mom, I am always feeling like there are never enough hours in the day to do something that I enjoy like reading my favorite books, so this would be a great way to multi-task – get something accomplished while enjoying a new book!
As a family, audiobooks can be a great way to work your way through some favorite book series at a much faster rate than reading them aloud, especially if you will be on a long road trip together or if you have a longer daily commute. You'll find favorite series such as Chronicles of Narnia, Harry Potter, Ramona Quimby & more.
If you are interested in listening to more audiobooks on a regular basis, you'll want to check out an  Audible membership on Amazon.  You can get a 30 day FREE Trail for Audible  to try out to see how you like using audiobooks. You can cancel at any time during the trial if you feel it's not for you.
Includes two free audiobooks with your free trial
Choose from 150,000+ best sellers, new releases sci-fi, romances, mysteries, classics, and more
After 30 days, get 1 book credit each month for $14.95/month – can be used on any book regardless of price
Cancel easily anytime. Your books are yours to keep, even if you cancel (one review did say to be sure to cancel one day before subscription renews, if you want to go this route)
When you use Audible, you will not only get the 1 book credit a month, you can also access any of the discounted offers available. They offer promotions such as 2 for 1 where you get 2 books for 1 credit, 30% off audiobooks, daily deals which can range from $1.95 – $3.95 for audiobooks & more.  Find out more information about the  Audible membership.
We have put together a roundup of some of the most popular audiobooks found on Audible right now to give you an idea of the types of books you will find! There are so many options with over 150,000 audiobooks to choose from with Audible and so many awesome new releases.
Kids/ Family Books Audio Books Rental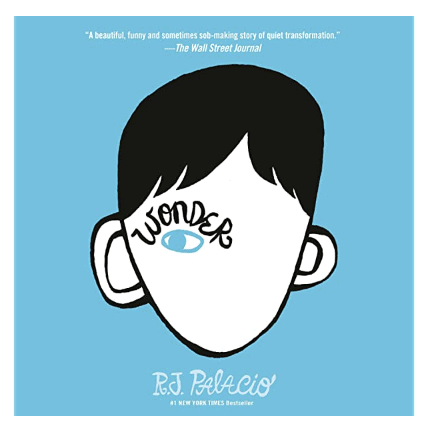 Wonder – by RJ Palacio – #1 NEW YORK TIMES BESTSELLER Millions of people have fallen in love with Auggie Pullman, an ordinary boy with an extraordinary face—who shows us that kindness brings us together no matter how far apart we are. Listen to the book that inspired the Choose Kind movement, a major motion picture, and the critically acclaimed graphic novel White Bird.
Stories of Jedi & Sith – by Todd Haberkorn – Just in time to celebrate the highly-anticipated re-match between Obi-Wan Kenobi and Darth Vader in the Disney+ forthcoming event Obi-Wan Kenobi, here are ten original stories about the the valiant Jedi and the evil Sith. Larger-than-life characters clash in epic lightsaber battles that will appeal to young listeners and to the young Star Wars fan in all of us!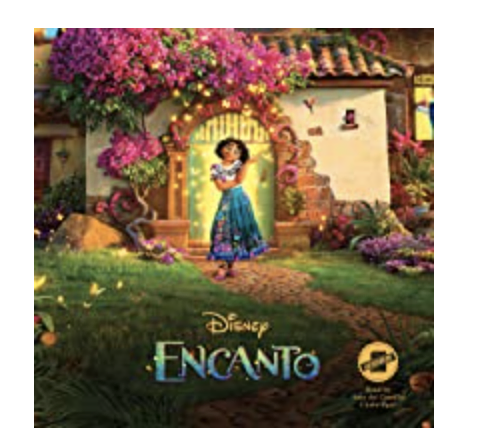 Encanto – by Disney – Disney's Encanto is the tale of an extraordinary family that lives hidden in the mountains of Colombia in a wondrous, charmed place called an Encanto. Everyone in the Madrigal family has a unique gift, ranging from super strength to the power to heal. Everyone except Mirabel.
But when the magic surrounding the Encanto is in danger, Mirabel decides she might just be her exceptional family's last hope. Encanto: The Junior Novelization retells the vibrant story!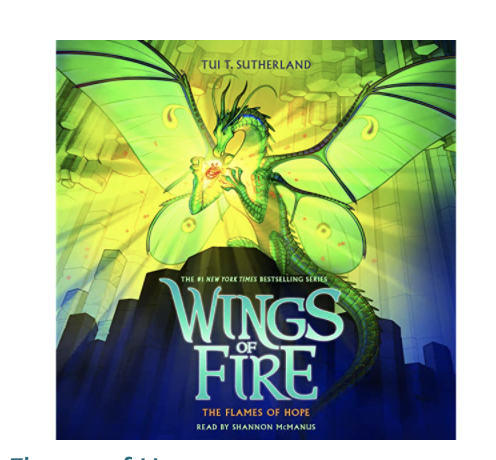 Wings of Fire – The Flames of Hope – In the last installment of the third arc of the Wings of Fire series, tensions are higher than ever as we prepare for a fight for the survival of all dragonkind!
Before the Batman: An Original Movie Novel – Before The Batman: An Original Movie Novel – An exciting new story inspired by the all-new motion picture The Batman, which swings into theaters in theaters on March 4, 2022!
Star Wars: The High Republic Mission to Disaster – Justina Ireland – Centuries before the events of Star Wars: The Phantom Menace, in the era of the glorious High Republic, the Jedi are the guardians of peace and justice in the galaxy! Jedi Knight prodigy Vernestra Rwoh and her Padawan Imri Cantaros find themselves – and their friends – in over their heads when they come face to face with the nefarious Nihil!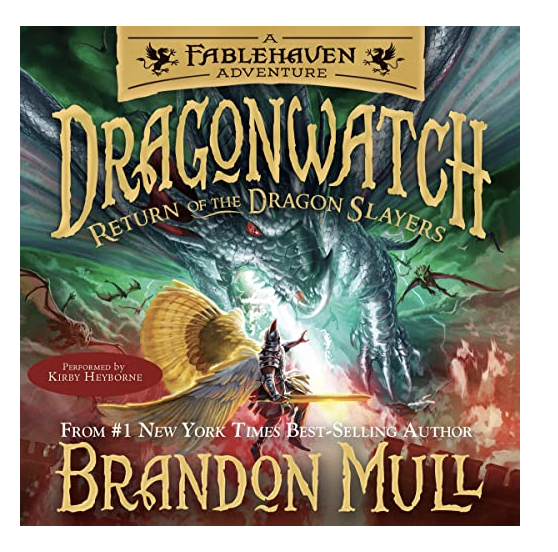 Return of the Dragon Slayers: Dragonwatch, Book 5 – Brandon Mull – In this fifth and final volume of Dragonwatch, our heroes make their last stand at the hidden Kingdom of Selona. For the defenders of light to stand a chance, the legendary dragon slayers must arise, lost secrets must be uncovered, and ancient powers must awaken. Get ready for the gripping, revelatory, and unforeseen conclusion to the epic 10-volume New York Times best-selling Fablehaven and Dragonwatch series.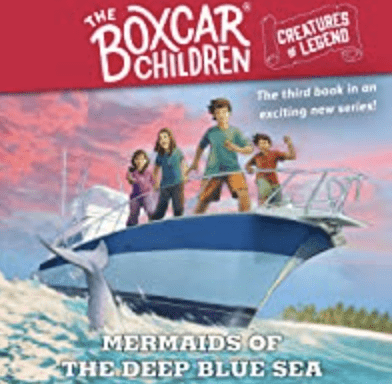 Boxcar Children: Mermaids of the Deep Blue Sea – by Gertrude Chandler Warner – The Aldens have joined Dr. Iris Perez as she investigates legendary creatures around the world. In this adventure, the children investigate what might be living in the deep trench off the coast of Puerto Rico. From manatees to mermaids to sea monsters, creatures of the sea have been attracting tourists to the area for years. But when a man on a nearby island goes missing, it's up to the Aldens to sort out fact from fiction.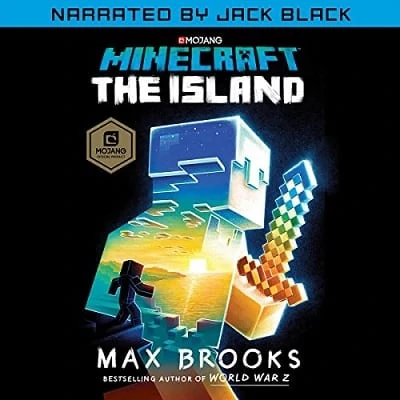 Minecraft: The Island (Narrated by Jack Black): An Official Minecraft Novel – Washed up on a beach, the lone castaway looks around the shore. Where am I? Who am I? And why is everything made of blocks?
Teen/ Young Adult Audio Books Rental
Cytonic: Skyward, Book 3 – Brandon Sanderson – From the number one New York Times best-selling author of the Reckoners series, the Mistborn trilogy, and the Stormlight Archive comes the third book in an epic series about a girl who will travel beyond the stars to save the world she loves from destruction.

A Court of Thorns and Roses – When 19-year-old huntress Feyre kills a wolf in the woods, a beast-like creature arrives to demand retribution for it.

The Hobbit – Bilbo Baggins is a hobbit who enjoys a comfortable, unambitious life, rarely travelling further than the pantry of his hobbit-hole in Bag End.

Maze Runner, Book 1 – When Thomas wakes up in the lift, the only thing he can remember is his name. He's surrounded by strangers—boys whose memories are also gone.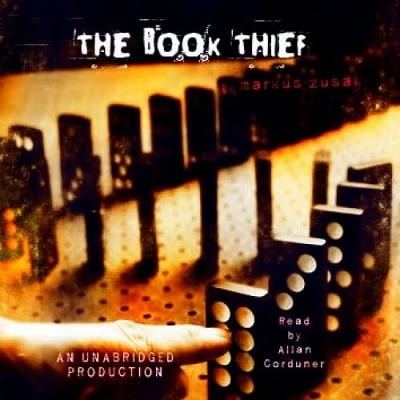 The Book Thief – When Death has a story to tell, you listen. It is 1939. Nazi Germany. The country is holding its breath. Death has never been busier, and will become busier still.
Adult Fiction Audio Books Rental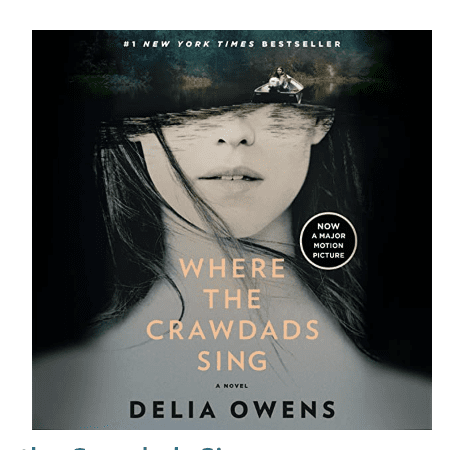 Where the Crawdads Sing – this is coming out as a movie here this month in July, so perfect time to listen to this book if you haven't read it yet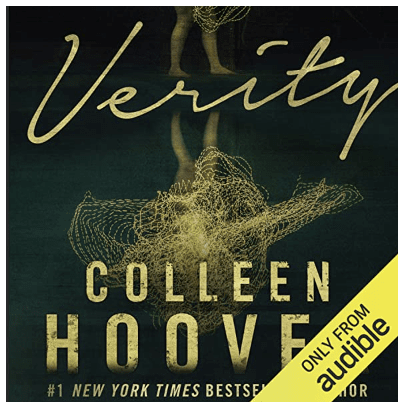 Verity – Colleen Hoover – A number-one best seller in several categories with over 14,000 five-star ratings on Goodreads.
Run, Rose, Run – Dolly Parton & James Patterson – From America's most beloved superstar and its greatest storyteller – a thriller about a young singer-songwriter on the rise and on the run, and determined to do whatever it takes to survive.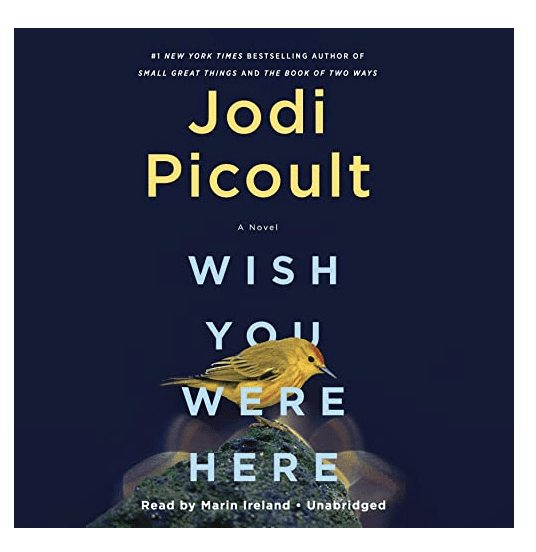 Wish you were Here – Jodi Piccoult – From the number one New York Times best-selling author of Small Great Things and The Book of Two Ways comes "a powerfully evocative story of resilience and the triumph of the human spirit" (Taylor Jenkins Reid, author of Malibu Rising).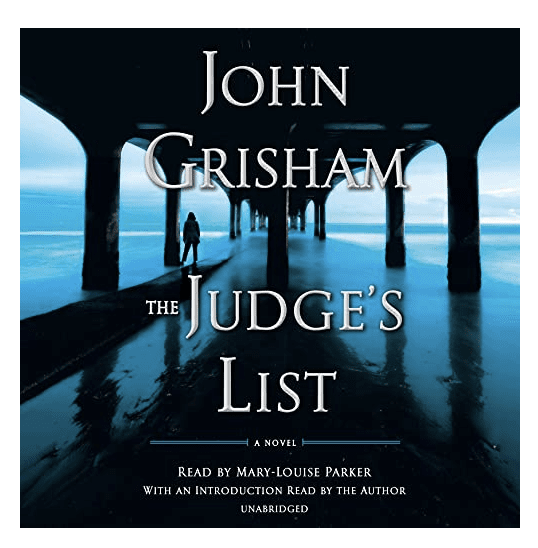 The Judge's List – John Grisham – Number one New York Times Best Seller  Nonstop suspense from the number one New York Times best-selling author: Investigator Lacy Stoltz follows the trail of a serial killer, and closes in on a shocking suspect — a sitting judge. 
The Maid: A novel – by Nita Prose – A Clue-like locked-room mystery and a heartwarming journey of the spirit, The Maid explores what it means to be the same as everyone else and yet entirely different – and reveals that all mysteries can be solved through connection to the human heart.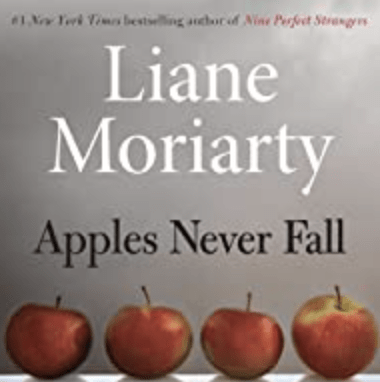 Apples Never Fall – by Liane Moriarty. From Liane Moriarty, the number-one New York Times best-selling author of Big Little Lies and Nine Perfect Strangers, comes Apples Never Fall, an audiobook that looks at marriage, siblings, and how the people we love the most can hurt us the deepest.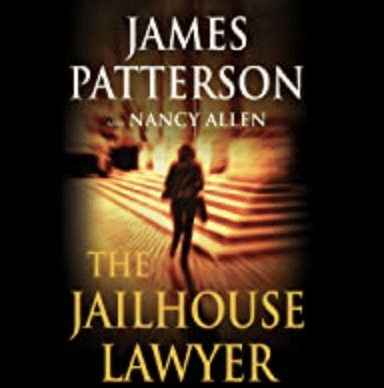 The Jailhouse Lawyer – by James Patterson – From James Patterson, the world's number one best-selling author: A young lawyer takes on the judge who is destroying her hometown – and ends up in jail herself.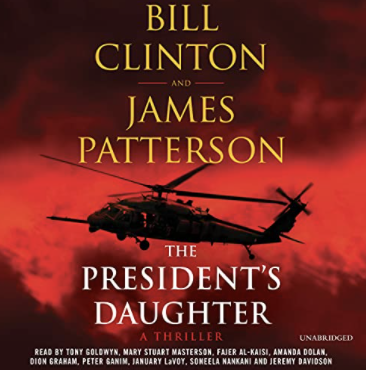 The President's Daughter – by President Bill Clinton & James Patterson – Matthew Keating, a one-time Navy SEAL – and a past president – has always defended his family as staunchly as he has his country. Now those defenses are under attack. A madman abducts Keating's teenage daughter, Melanie – turning every parent's deepest fear into a matter of national security. As the world watches in real time, Keating embarks on a one-man special-ops mission that tests his strengths: as a leader, a warrior, and a father.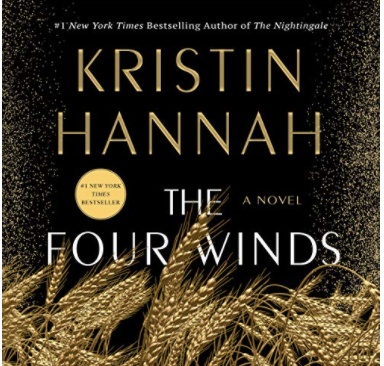 The Four Winds – by Kristin Hannah – From the number-one best-selling author of The Nightingale and The Great Alone comes a powerful American epic about love and heroism and hope, set during the Great Depression, a time when the country was in crisis and at war with itself, when millions were out of work and even the land seemed to have turned against them.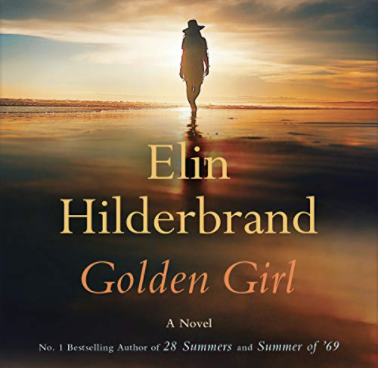 The Golden Girl – by Elin Hilderbrand – this author always has books that make great beach reads!
With all of Elin's trademark beach scenes, mouth-watering meals, and picture-perfect homes, plus a heartfelt message – the people we lose never really leave us – Golden Girl is a beach book unlike any other.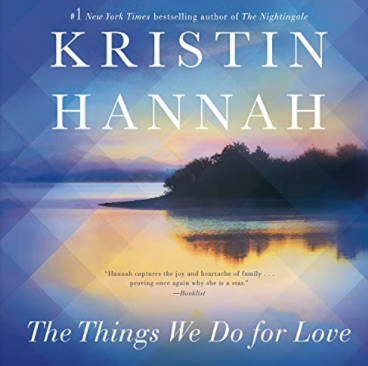 The Things We Do for Love – by Kristin Hannah (just released 6/15/21)
Years of trying unsuccessfully to conceive a child have broken more than Angie DeSaria's heart. Following a painful divorce, she moves back to her small Pacific Northwest hometown and takes over management of her family's restaurant. In West End, where life rises and falls like the tides, Angie's fortunes will drastically change yet again when she meets and befriends a troubled young woman.
Angie hires Lauren Ribido because she sees something special in the seventeen-year-old. They quickly form a deep bond, and when Lauren is abandoned by her mother, Angie offers the girl a place to stay. But nothing could have prepared Angie for the far-reaching repercussions of this act of kindness. Together, these two women – one who longs for a child and the other who longs for a mother's love – will be tested in ways that neither could have imagined.

The Stand – This is the way the world ends: with a nanosecond of computer error in a Defense Department laboratory and a million casual contacts that form the links in a chain letter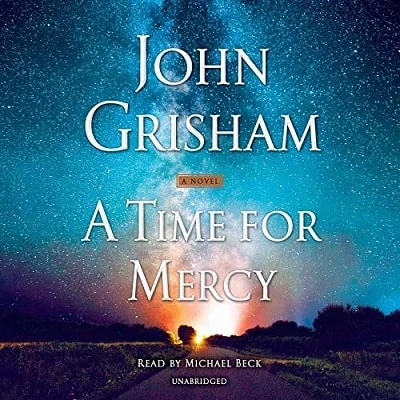 A Time for Mercy: A Jack Brigance Novel – Clanton, Mississippi. 1990. Jake Brigance finds himself embroiled in a deeply divisive trial when the court appoints him attorney for Drew Gamble, a timid 16-year-old boy
Adult Non-Fiction Audio Books Rental

Forgiving what you can't forget – By Lysa TerKeurst  – Have you ever felt stuck in a cycle of unresolved pain, playing offenses over and over in your mind? You know you can't go on living like this, but you don't know what to do next. Lysa TerKeurst has wrestled through this journey. But in surprising ways, she's discovered how to let go of bound-up resentment and overcome the resistance to forgiving people who aren't willing to make things right.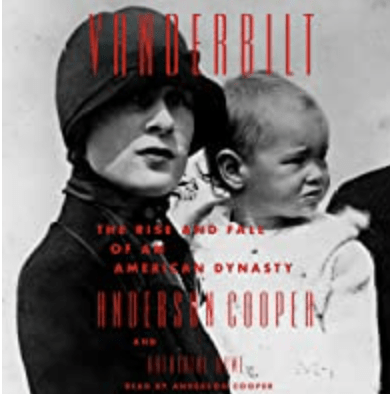 Vanderbilt: The Rise & Fall of an American Dynasty – By Anderson Cooper
You got anything stronger – by Gabrielle Union – New York Times best-selling author and journalist Anderson Cooper teams with New York Times best-selling historian and novelist Katherine Howe to chronicle the rise and fall of a legendary American dynasty – his mother's family, the Vanderbilts.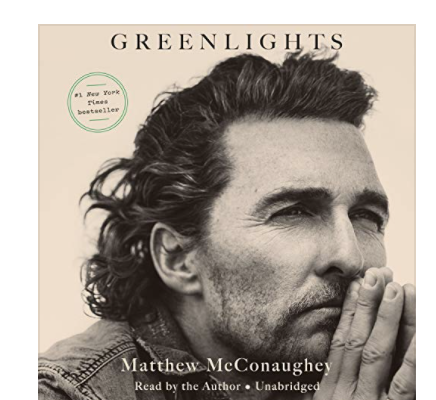 Greenlights – by Matthew McConaughey – From the Academy Award-winning actor, an unconventional memoir filled with raucous stories, outlaw wisdom, and lessons learned the hard way about living with greater satisfaction. This is a #1 New York Times bestseller.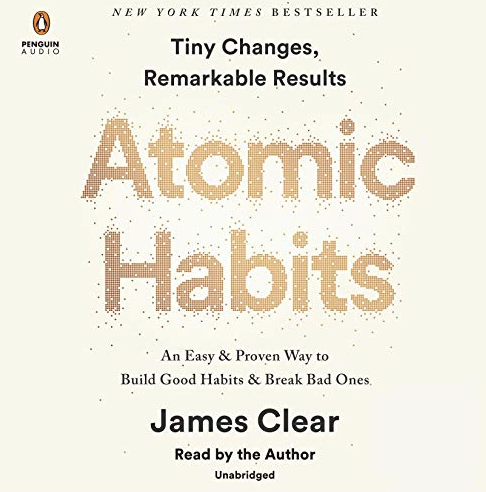 Atomic Habits – by James Clear
No matter your goals, Atomic Habits offers a proven framework for improving – every day. James Clear, one of the world's leading experts on habit formation, reveals practical strategies that will teach you exactly how to form good habits, break bad ones, and master the tiny behaviors that lead to remarkable results.
If you're having trouble changing your habits, the problem isn't you. The problem is your system. Bad habits repeat themselves again and again not because you don't want to change, but because you have the wrong system for change. You do not rise to the level of your goals. You fall to the level of your systems. Here, you'll get a proven system that can take you to new heights.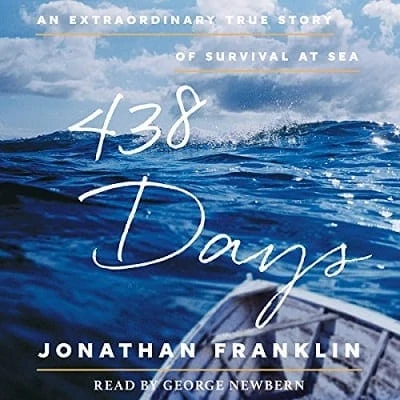 438 Days: An Extraordinary True Story of Survival at Sea – 438 Days is the miraculous account of the man who survived alone and adrift at sea longer than anyone in recorded history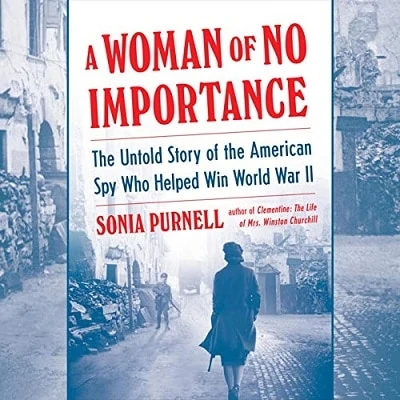 A Woman of No Importance: The Untold Story of the American Spy Who Helped Win World War II – The target in their sights was Virginia Hall, a Baltimore socialite who talked her way into Special Operations Executive, the spy organization dubbed Winston Churchill's "Ministry of Ungentlemanly Warfare."

Hillbilly Elegy: A Memoir of a Family and Culture in Crisis – Hillbilly Elegy is a passionate and personal analysis of a culture in crisis – that of white working-class Americans.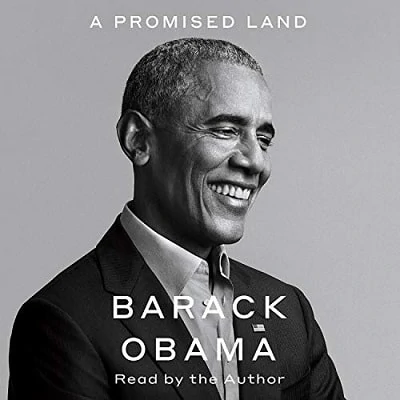 A Promised Land – In the stirring, highly anticipated first volume of his presidential memoirs, Barack Obama tells the story of his improbable odyssey from young man searching for his identity to leader of the free world
Biography Audio Books Rental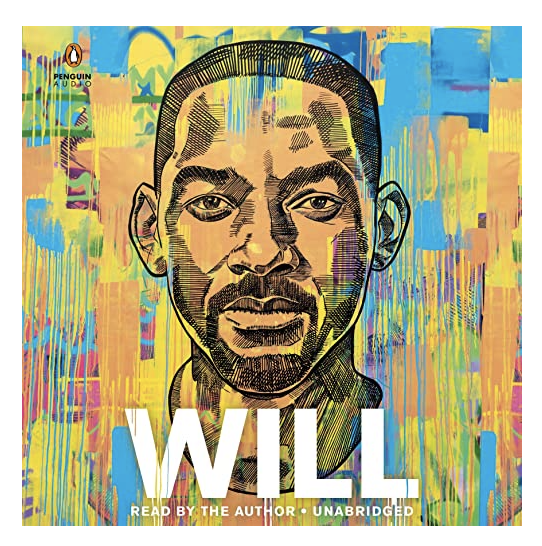 Will – by Will Smith – One of the most dynamic and globally recognized entertainment forces of our time opens up fully about his life, in a brave and inspiring book that traces his learning curve to a place where outer success, inner happiness, and human connection are aligned. Along the way, Will tells the story in full of one of the most amazing rides through the worlds of music and film that anyone has ever had.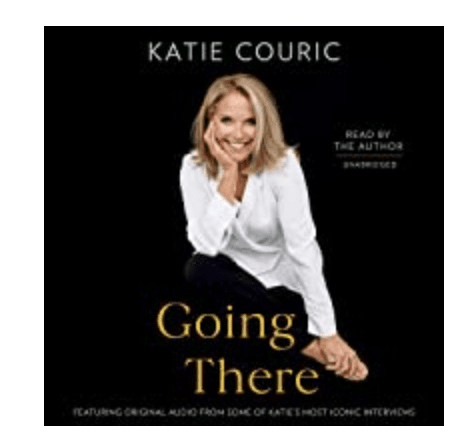 Going There – by Katie Couric – Heartbreaking, hilarious, and brutally honest, Going There is the deeply personal life story of a girl next door turned household name.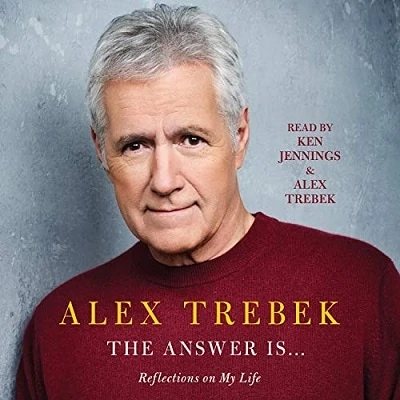 The Answer Is…: Reflections on My Life – For over three decades, Trebek had resisted countless appeals to write a book about his life. Yet he was moved so much by all the goodwill, he felt compelled to finally share his story.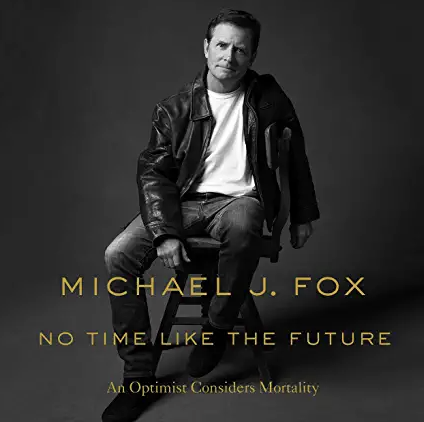 No Time like the Future – by Michael J Fox
A moving account of resilience, hope, fear and mortality, and how these things resonate in our lives, by actor and advocate Michael J. Fox. This audiobook is read by Michael J Fox.
Inspirational Reads Audio Books Rental
Atlas of the Heart – by Brene Brown – In her latest book, five-time number one New York Times best-selling author Dr. Brené Brown writes, "If we want to find the way back to ourselves and one another, we need language and the grounded confidence to both tell our stories and to be stewards of the stories that we hear. This is the framework for meaningful connection."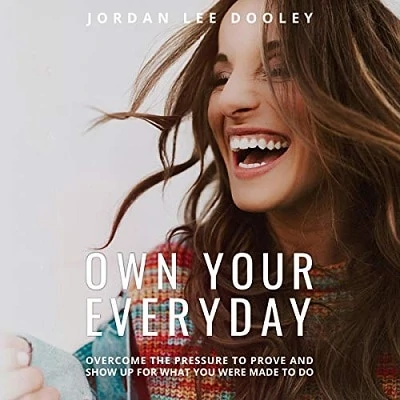 Own Your Everyday: Overcome the Pressure to Prove and Show Up for What You Were Made to Do – Does it ever seem like you still have to find your purpose or that you're stuck with "unfigured-out dreams"? Do you feel the pressure to prove yourself or worry about what others will think? You are not the…

When Things Fall Apart: Heart Advice for Difficult Times – How can we live our lives when everything seems to fall apart – when we are continually overcome by fear, anxiety, and pain? The answer, Pema Chödrön suggests, might be just the opposite of what…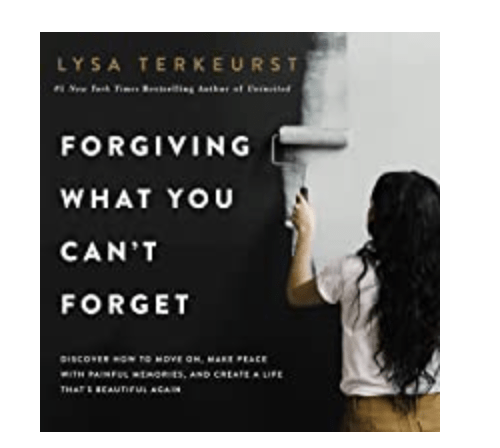 Forgiving What You Can't Forget – Discover How to Move On, Make Peace with Painful Memories & Create a Life that's Beautiful Again by Lysa Terkeurst
Have you ever felt stuck in a cycle of unresolved pain, playing offenses over and over in your mind? You know you can't go on living like this, but you don't know what to do next. Lysa TerKeurst has wrestled through this journey. But in surprising ways, she's discovered how to let go of bound-up resentment and overcome the resistance to forgiving people who aren't willing to make things right.