Check out this list of the 30+ popular audiobooks on Audible for the whole family. This list of audio books rental is updated regularly with listens for adults, teens & kids, perfect for road trips, long commutes, exercising or chores.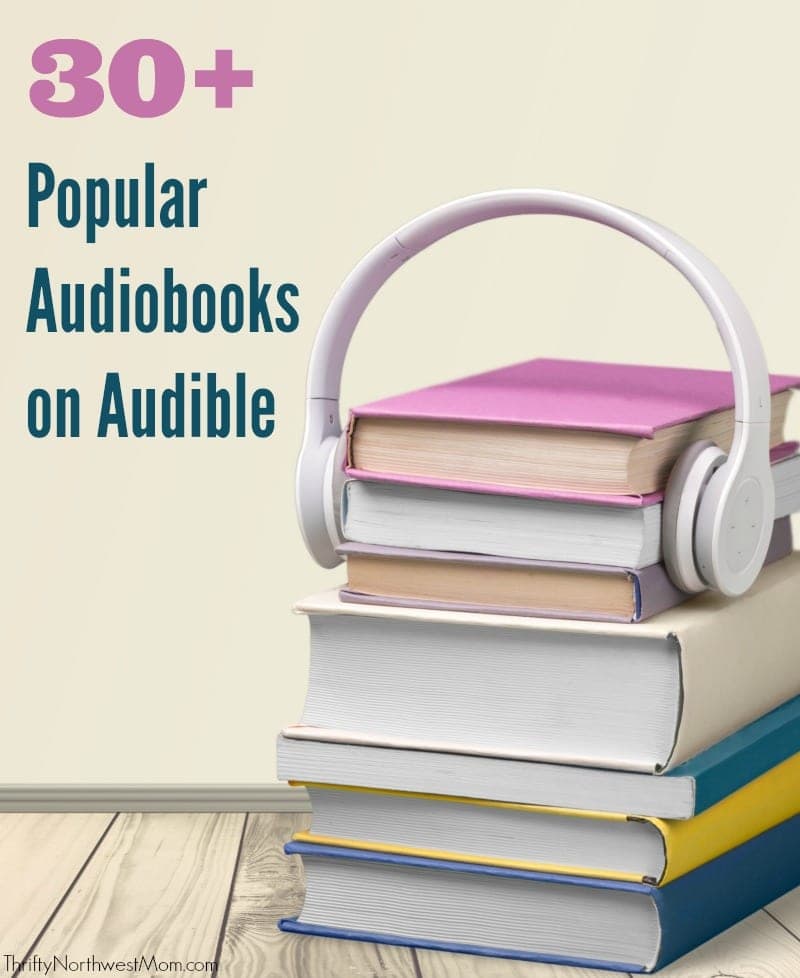 Audio Books Rental – 30+ Popular Audiobooks on Audible!
Reading anywhere is so much easier with audiobooks. If you are traveling or just looking for convenient reading, Audible gives you the option of listening to all of your favorite books from anywhere! Audiobooks are also a great option to listen to when you are exercising or if you are working around the house cleaning, to give you something interesting to listen to while you are doing those chores that usually seem like they take forever.  As a busy work-at-home mom, I am always feeling like there are never enough hours in the day to do something that I enjoy like reading my favorite books, so this would be a great way to multi-task – get something accomplished while enjoying a new book!
As a family, audiobooks can be a great way to work your way through some favorite book series at a much faster rate than reading them aloud, especially if you will be on a long road trip together or if you have a longer daily commute. You'll find favorite series such as Chronicles of Narnia, Harry Potter, Ramona Quimby & more.
If you are interested in listening to more audiobooks on a regular basis, you'll want to check out an  Audible membership on Amazon.  You can get a 30 day FREE Trail for Audible  to try out to see how you like using audiobooks. You can cancel at any time during the trial if you feel it's not for you.
Includes two free audiobooks with your free trial
Choose from 150,000+ best sellers, new releases sci-fi, romances, mysteries, classics, and more
After 30 days, get 1 book credit each month for $14.95/month – can be used on any book regardless of price
Cancel easily anytime. Your books are yours to keep, even if you cancel (one review did say to be sure to cancel one day before subscription renews, if you want to go this route)
When you use Audible, you will not only get the 1 book credit a month, you can also access any of the discounted offers available. They offer promotions such as 2 for 1 where you get 2 books for 1 credit, 30% off audiobooks, daily deals which can range from $1.95 – $3.95 for audiobooks & more.  Find out more information about the  Audible membership.
We have put together a roundup of some of the most popular audiobooks found on Audible right now to give you an idea of the types of books you will find! There are so many options with over 150,000 audiobooks to choose from with Audible and so many awesome new releases.
Kids/ Family Books Audio Books Rental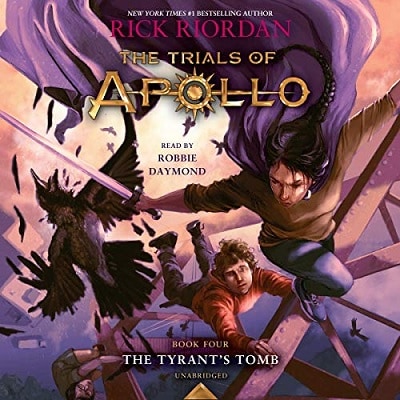 The Tyrant's Tomb: The Trials of Apollo Series, Book 4 – It's not easy being Apollo, especially when you've been turned into a human and banished from Olympus. On his path to restoring five ancient oracles and reclaiming his…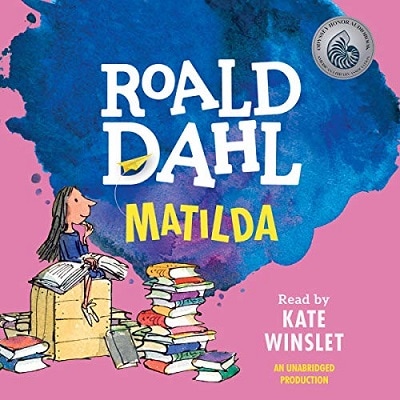 Matilda – Matilda is a sweet, exceptional young girl, but her parents think she's just a nuisance. She expects school to be different but there she has to face Miss Trunchbull, a kid-hating terror of a…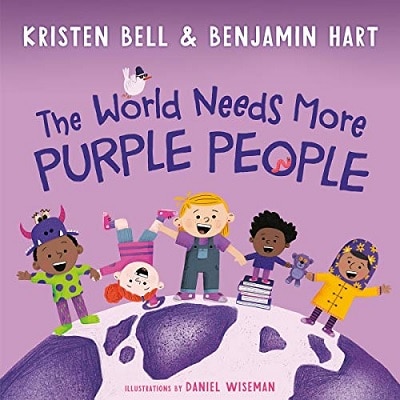 The World Needs More Purple People – a hilarious and joyous audiobook that offers a wonderful message about embracing the things that bring us together as humans. This audiobook will inspire a whole generation to…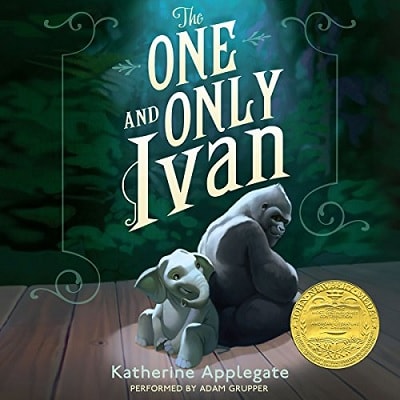 The One and Only Ivan – Having spent 27 years behind the glass walls of his enclosure in a shopping mall, Ivan has grown accustomed to humans watching him. He hardly ever thinks about his life in the jungle. Instead…

The Green Ember– Heather and Picket are extraordinary rabbits with ordinary lives until calamitous events overtake them, spilling them into a cauldron of misadventures. They discover that…
Teen/ Young Adult Audio Books Rental

Hocus Pocus and the All-New Sequel – Fans will be spellbound by a fresh retelling of the original film, followed by the all-new sequel that continues the story with the next generation of…

Life of Pi – When Pi is 16, his family emigrates from India to North America aboard a Japanese cargo ship along with their zoo animals bound for…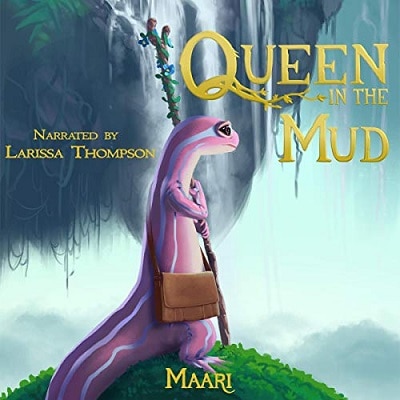 Queen in the Mud – A girl suddenly vanishes from her world and finds herself drifting in and out of consciousness in a world of pure darkness. The only insight into her precarious situation is a prompt opening before her eyes indicating that…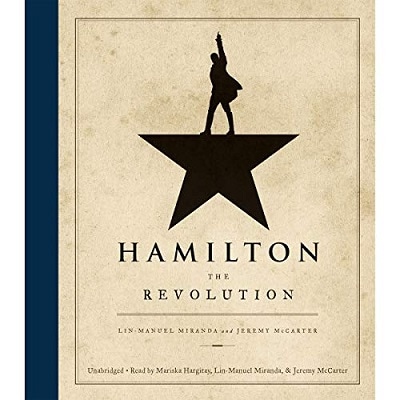 Hamilton: The Revolution – Lin-Manuel Miranda's groundbreaking musical Hamilton is as revolutionary as its subject: the poor kid from the Caribbean who fought the British, defended the Constitution, and helped to found the…
The Ballad of Songbirds & Snakes: A Hunger Games Novel
Adult Fiction Audio Books Rental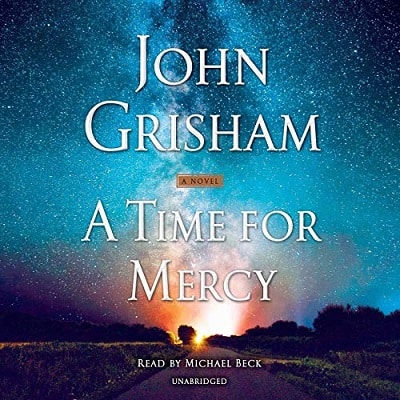 A Time for Mercy: A Jack Brigance Novel – Clanton, Mississippi. 1990. Jake Brigance finds himself embroiled in a deeply divisive trial when the court appoints him attorney for Drew Gamble, a timid 16-year-old boy accused of…

The Chronicles of Narnia Adult Box Set – This box set includes all seven titles in The Chronicles of Narnia.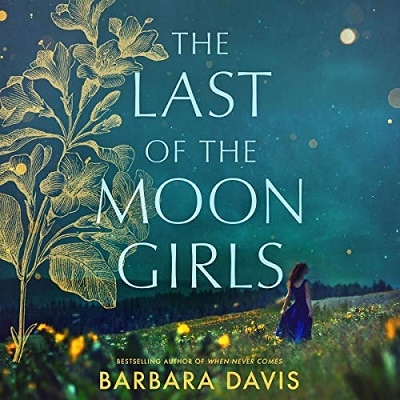 The Last of the Moon Girls – Lizzy wants nothing more than to sell the farm and return to her life in New York, until she discovers a journal Althea left for her – a Book of Remembrances meant to help Lizzy embrace her own…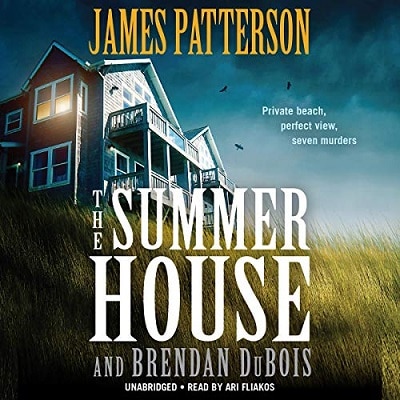 The Summer House – Once a luxurious Southern getaway on a rustic lake, then reduced to a dilapidated crash pad, the Summer House is now the grisly scene of a nighttime mass murder. Eyewitnesses point to four…

Camino Winds: Camino, Book 2– Hurricane Leo veers from its predicted course and heads straight for the island. Florida's governor orders a mandatory evacuation, and most residents board up their houses and flee to…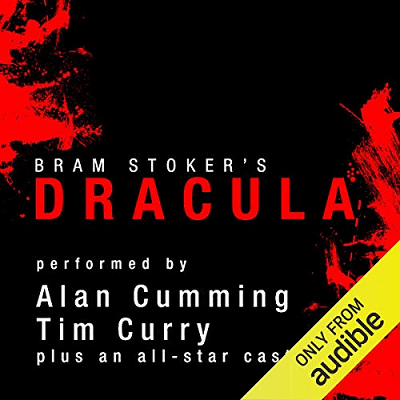 Dracula– This production of Dracula is presented by what is possibly the best assemblage of narrating talent ever for one audiobook: Emmy Award nominees Alan Cumming and Tim Curry plus an all-star cast of…
Adult Non-Fiction Audio Books Rental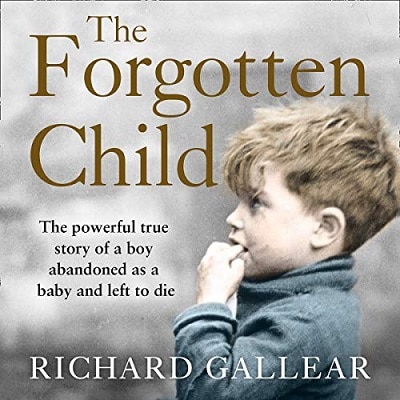 The Forgotten Child: The Powerful True Story of a Boy Abandoned as a Baby and Left to Die – It's a freezing winter's night in 1954. A baby boy, a few hours old, is left by his mother, wrapped in nothing but two sheets of newspaper and hidden amongst the undergrowth by a…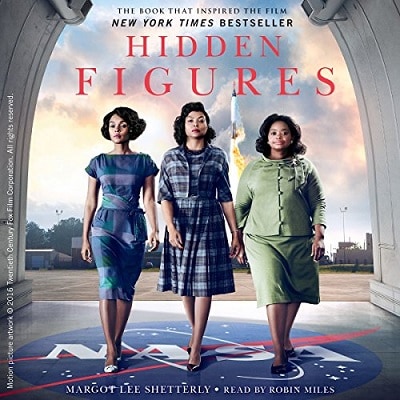 Hidden Figures – Before John Glenn orbited the Earth or Neil Armstrong walked on the moon, a group of dedicated female mathematicians known as "human computers" used pencils, slide rules, and adding…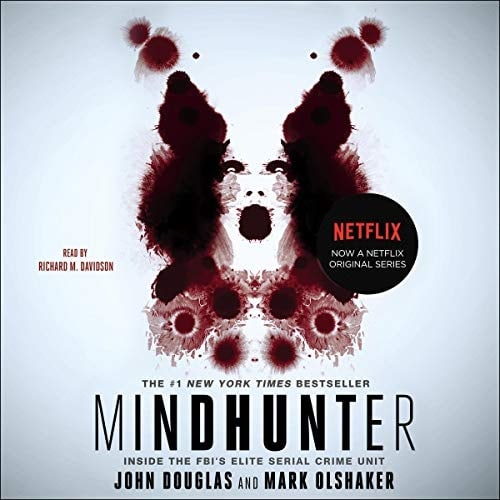 Mindhunter: Inside the FBI's Elite Serial Crime Unit – Discover the classic behind-the-scenes chronicle of John E. Douglas' 25-year career in the FBI Investigative Support Unit, where he used psychological profiling to delve into the minds of the country's most…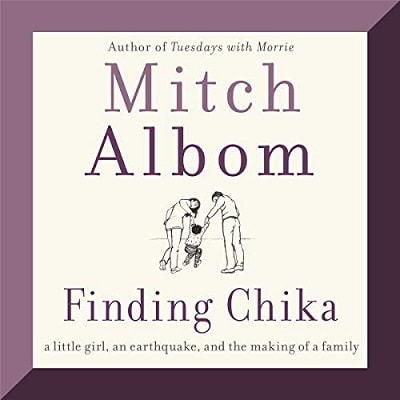 Finding Chika: A Little Girl, an Earthquake, and the Making of a Family – Chika Jeune was born three days before the devastating earthquake that decimated Haiti in 2010. She spent her infancy in a landscape of extreme poverty, and when her…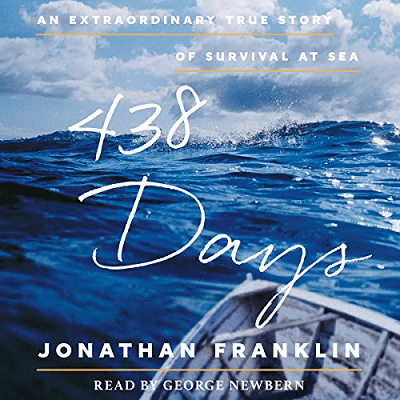 438 Days: An Extraordinary True Story of Survival at Sea – On November 17, 2012, Salvador Alvarenga left the coast of Mexico for a two-day fishing trip. A vicious storm killed his engine, and the current dragged his boat out to sea. The storm picked up and blasted him west. When he…
Biography Audio Books Rental

My Own Words – The first book from Ruth Bader Ginsburg since becoming a Supreme Court Justice in 1993 – a witty, engaging, serious, and playful collection of writings and speeches from the woman who has had a powerful and…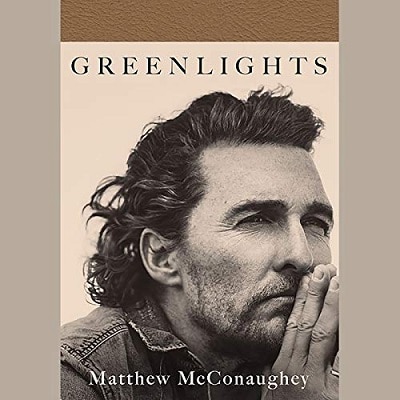 Greenlights – Unflinchingly honest and remarkably candid, Matthew McConaughey's book invites us to grapple with the lessons of his life as he did – and to see that the point was never to win, but to understand…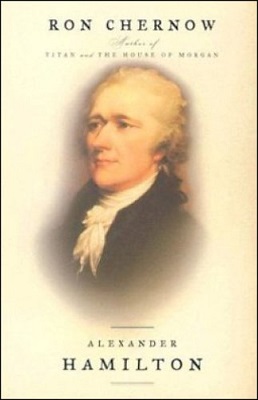 Alexander Hamilton – The inspiration for the hit Broadway musical Hamilton! In the first full-length biography of Alexander Hamilton in decades, National Book Award winner Ron Chernow tells the riveting story of a man who overcame…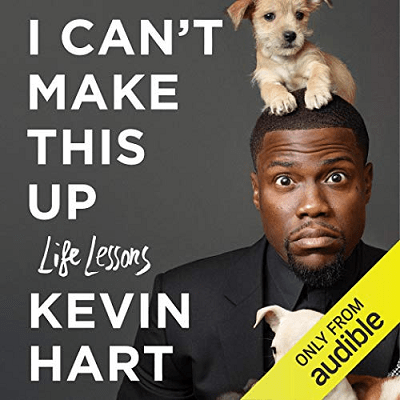 I Can't Make This Up: Life Lessons – Superstar comedian and Hollywood box-office star Kevin Hart turns his immense talent to the written word by writing some words. Some of those words include: the, a, for, above, and even even. Put them together and you have the funniest, most heartfelt, and most inspirational…
Inspirational Reads Audio Books Rental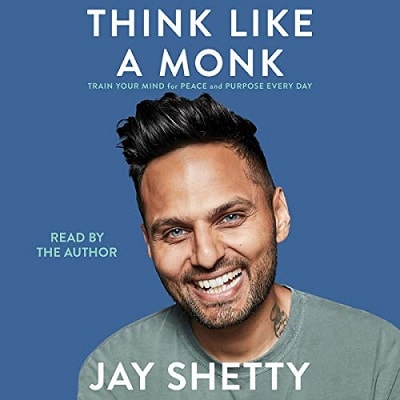 Think Like a Monk: Train Your Mind for Peace and Purpose Every Day – grew up in a family where you could become one of three things – a doctor, a lawyer, or a failure. His family was convinced he had chosen option three: Instead of attending his college graduation ceremony, he headed to…

Atomic Habits – No matter your goals, Atomic Habits offers a proven framework for improving – every day. James Clear, one of the world's leading experts on habit formation, reveals practical strategies that …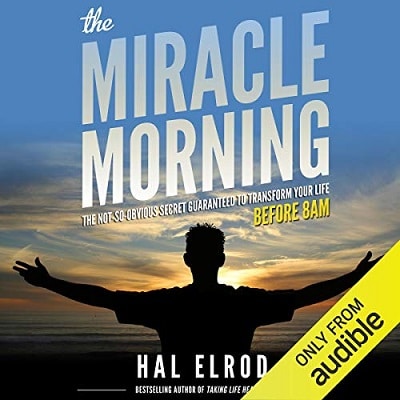 The Miracle Morning: The Not-So-Obvious Secret Guaranteed to Transform Your Life – Before 8AM – now being practiced by thousands of people around the world could perhaps be the simplest approach to creating the life you've always wanted. It's been right there in…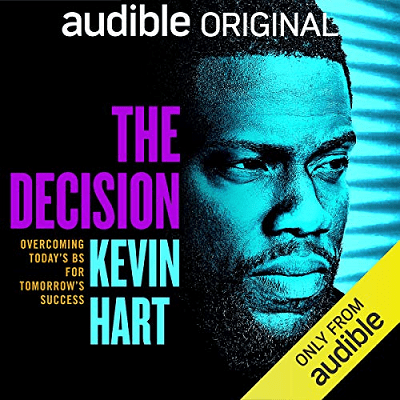 The Decision: Overcoming Today's BS for Tomorrow's Success – filled with vision and the practical steps you'll need to track and reach your goals. Join "Coach" Kevin as he puts you through the paces of what he dubs the Kevin Hart Mental Fitness Bootcamp. Learn the ins and…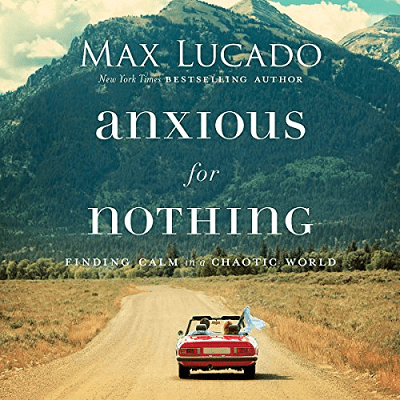 Anxious for Nothing: Finding Calm in a Chaotic World – We all encounter anxiety, but we don't have to let worry and fear control our lives. Anxious for Nothing, from New York Times best-selling author, Max Lucado, provides a roadmap for battling with and healing from…
Save
Save
Save