Audible FREE Trial for 3 Months + 3 Free Audiobooks from Premium Selection (& More)!
This post may contain affiliate links and I may be compensated for this post. Please read our disclosure policy here.

Audible FREE Trial & 3 Free Audiobooks!
Wow – this is the best deal we have seen for Audible in quite awhile. Get a 3 Month FREE trial for their premium membership right now – that is a savings of $44.85!
If you are a fan of audio books, and you have not signed up for Audible,  you do not want to miss this offer for an Audible free trial for 3 months right now. This is the best offer we have seen in quite awhile, so jump in if it interested.
They do still offer the Audible free trial for 30 days here too. 
How May Books Come with Audible Membership:
For the 3 month trial you'll get 1 credit per month to purchase any premium selection title, plus unlimited access to a growing selection of Audible Originals, audiobooks, podcasts, and more. So that is 3 free premium selections total!
Right now you can get 2 free Audible books ( 1 credit for any book + 1 Audible original of your choice) for the first month. Each month, you will get 1 credit for any book + 1 Audible original each month.
Here are all the new benefits of an Audible membership (you get all of this with the Audible Free Trial too):
1 credit good for any audiobook, regardless of price, per month
Your choice of 1 exclusive Audible Original from a fresh selection. No credits needed.
Unlimited access to audio-guided fitness and meditation programs
The New York Times, Wall Street Journal, and Washington Post delivered free to the app every day
Plus, credits don't expire for a full year, so you've got time to choose your next great audiobook.
Such a great way to get books to have with you where ever you go!
This is a great way to listen to books on the go, while you're traveling or just when you prefer to listen rather than read. The three month trial is the best trial offer we have seen for this service!
If you have ever priced Audio books before, then you know this is a really great deal. They can be super expensive, so it's a great way to try out the program first to see if you like it or at least get 2 audiobooks & other freebies if you decide it's not for you..
How Does Audible Free Trial Work & What You get with 30 day trial of Audible:
Audible now has two programs available – Audible Plus and Audible Premium Plus. Both programs offer a free trial period of 30 days, and then they will auto bill you at their standard rates after the trial period is over (unless you cancel before then). One thing I like about this free trial offer is that Amazon does send you a reminder email to let you know that the trial is about to be over.
How many free books come with the trial offer? Audible gives you 2 free books : you get two audiobooks with your free Audible trial when you sign up
Includes an Audible original
Choose from 150,000+ best sellers, new releases sci-fi, romances, mysteries, classics, and more
After 30 days, you'll get 1 book each month, $14.95/month
Exclusive Audio Fitness program (a $95 value)
Cancel easily anytime. Your books are yours to keep, even if you cancel (one review did say to be sure to cancel one day before subscription renews, if you want to go this route)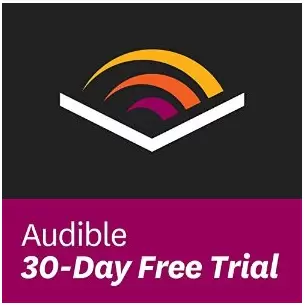 Is Audible Free With Prime (or are there extra benefits)?
Audible is not free with Prime. However Amazon Prime members do get an extra free credit, which equals one additional book, when they sign up for the membership. You can also listen to the books through any Alexa enabled devices you might have in your home.
More info on the benefits of Audible: 
Members-only savings
The largest producer of audiobook
In addition to one monthly credit good for any audiobook, you'll receive discounts on all purchases, plus access to exclusive sales
Audible Studios gets the best and brightest performers to narrate its books, including Academy, Emmy, Golden Globe, and Grammy Winners
Great Listen Guarantee
Don't like a book? No problem. Exchange it for any other with their hassle-free Great Listen Guarantee.
Sign up for an Audible free trial for 3 months here
Or, Sign up for a 30 day  Audible trial here!
Review of Audible Membership ::
I started my family off with the Audible Free Trial and ended up enjoying it so much that we kept our subscription. Initially I started to get my kids ready for a long flight and some road trips we had planned over the summer. I thought being able to have them download audio books to listen to on the trip would be fun. And it worked great. What I found was that there were books for the kids as well as us parents. They worked well to keep the kids busy when traveling, but they also liked to listen to them at home. We also found that they were good for downtime at home in the evenings, where we would listen to a book together vs watching tv. I have many friends who love to listen to the books on their commutes, too. My mom has trouble reading (her eyes get tired) so the audio books are a good option for her to enjoy books now too.
The other thing I liked about the audible membership is that your credits roll over. With Audible, 2 free books come with the membership monthly. If there are months we did not use those, then the credits rolled over and where available the next month. If I ended up not using them for a couple months, you can pause your membership, to save you some money monthly, until you're in need of new audio books.
You Might Also Like::