Things To Do In San Luis Obispo For Families!
This post may contain affiliate links and I may be compensated for this post. Please read our disclosure policy here.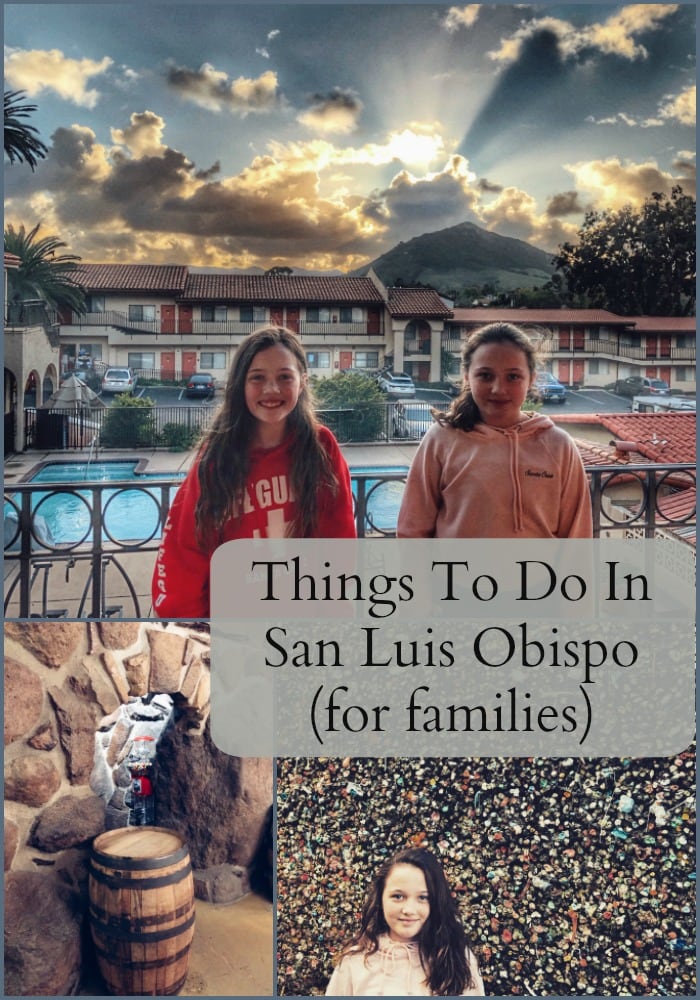 Disclosure: We were hosted by the City of SLO, to explore this beautiful town, for the purpose of sharing here!
Things To Do In San Luis Obispo For Families!
Whether you are looking for a short and relaxing getaway in California or you are looking for great road trip stops near the coast, San Luis Obispo is one spot that deserves consideration. It is a wonderful destination all on its own, but also makes a great stop if you're on a road trip (it is a nice mid-point from Northern California to Southern California).
We recently took a girls road trip to Disneyland (my girls, my mom and I) and decided to take our time getting down there and enjoy some stops along the way. One of those stops was a weekend in San Luis Obispo and we fell in love with it. It is affectionately referred to as SLO by the locals and it is a weekend trip we now treasure. We enjoyed great food and drink, beautiful mountain views and sunsets, trips to the beach, and amazing shopping. On top of that, there were outdoor adventures and quirky tours, and so much more to do. My favorite thing about visiting San Luis Obispo was that I left this vacation feeling relaxed.
San Luis Obispo is a college town, but has a very charming and sophisticated feel. There are many couples that visit for a romantic getaway or ladies who enjoy a girls' getaway. We were all girls on this trip, but enjoyed it as a family visit. It was part of a larger road trip we did with grandma and this town provided a wonderful mix of fun that was perfect for family travel.
I recommend that you download the Kick-it Points app ahead of a visit to SLO. It was started by a Cal Poly student to encourage an active and engaged community that ties businesses and consumers together. The best part is that they offer deals through the app, so you can use it to look for restaurant savings and more!
We only had a couple days in town, but could have used a couple more! Here are some of the things we discovered and enjoyed during our visit. Be sure to check out sanluisobispovacations.com for more ideas too.
Things To Do In San Luis Obispo ::
One thing that I loved about San Luis Obispo, is that you are surrounded by so much outdoor beauty, yet there are plenty or restaurants and shops to get out and explore as well. Here are some of our favorites.

Walking tour of the Madonna Inn & Day At Their Pool & Spa
The Madonna Inn is a family owned Inn, full of quirky design and lots of amenities. You will want to be sure to stop in and visit, even if you do not stay there. You can do a walking tour of the property, as well as dine in one of their restaurants, and do some shopping! This spot is full of history, as well as being a kind of novelty stop. You can tell that it has been lovingly maintained and you just won't find another spot like it. I was told by more than one person that you have to check out the men's bathroom in the restaurant (I guess it looks like a cave), but I did not have the nerve to do it. If you enjoy a spa service with them of $85+, you can also use their pool for the day, so if you are not staying at the Inn and want to enjoy this beautiful pool, that is another way to do it!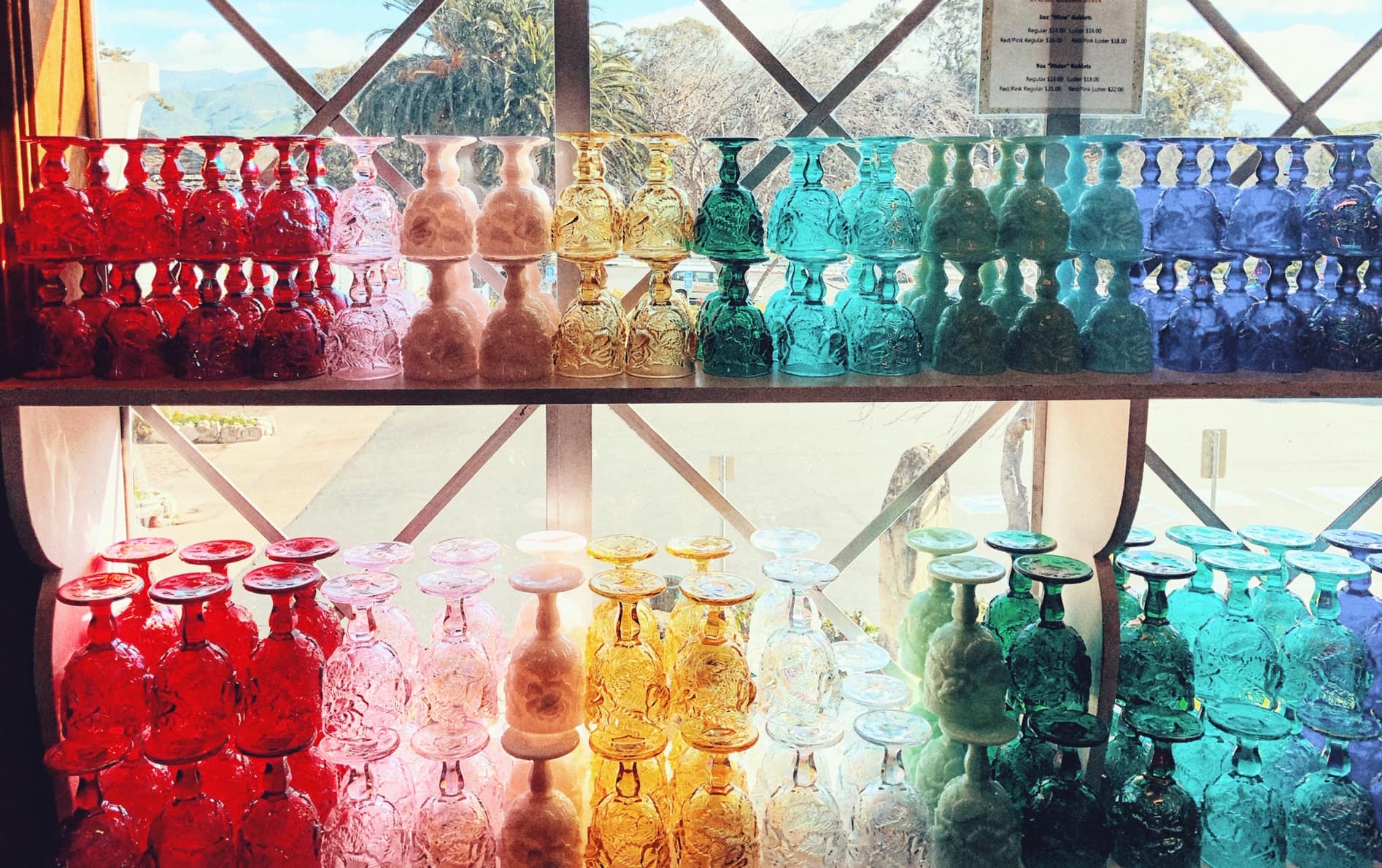 You will want to be sure to stop in at one of their gift shops and check out these beautiful goblets they sell (we discovered them while eating breakfast at the restaurant and my girls fell in love with them). We grabbed a couple glasses for souvenirs ourselves. They were so beautiful we could not pass them up.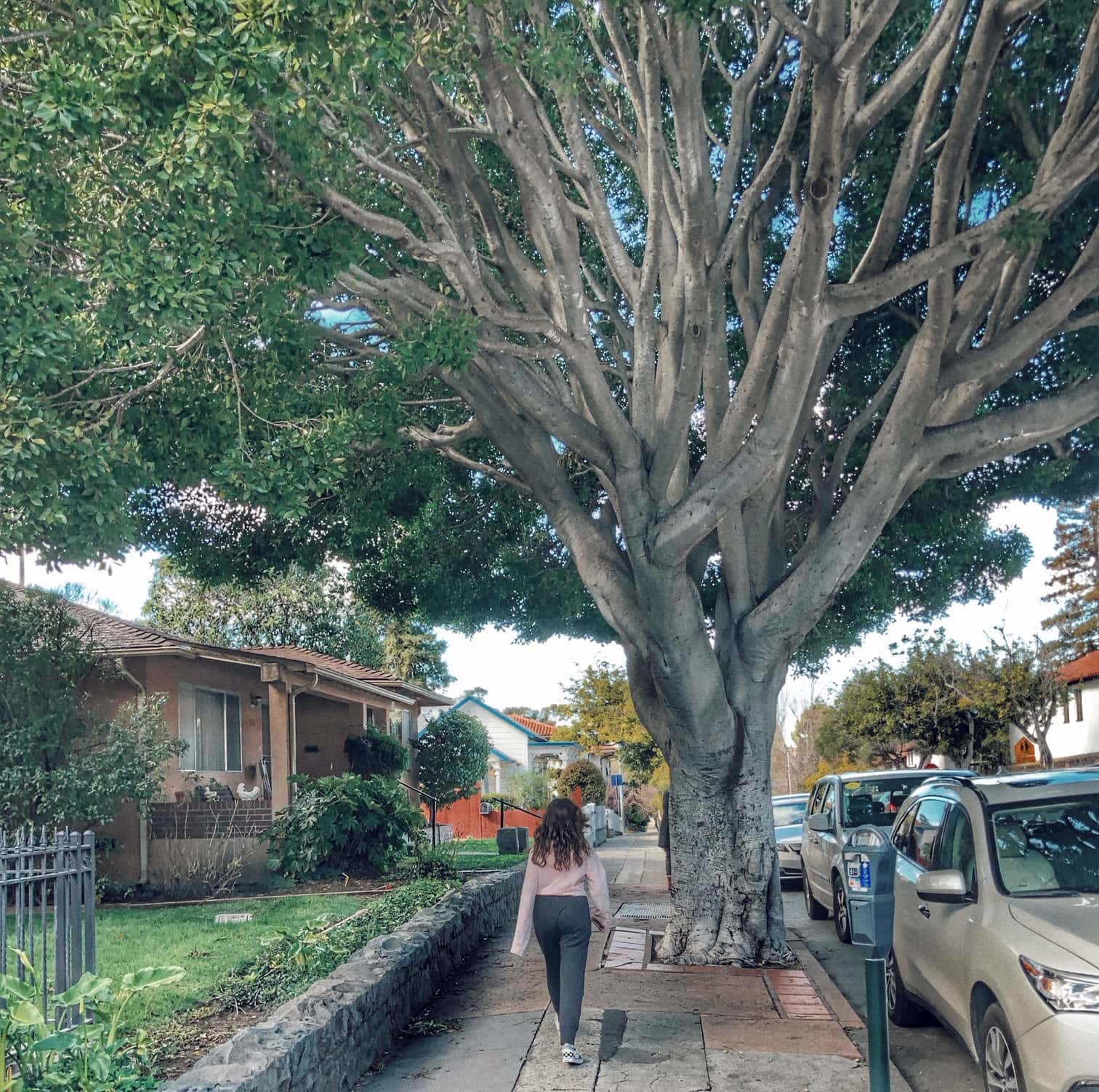 Explore downtown & Stop at Bubble Gum Alley
Downtown San Luis Obispo is a great walking city. We found plenty of parking on the street (bring your quarters) or there were a few parking garages as well. There are some novelty stops (like the Gum Alley), plenty of shops of every kind to explore (specialty soda shops, clothing shops, home decor and so much more), as well as creeks to explore, restaurants galore, and so much more.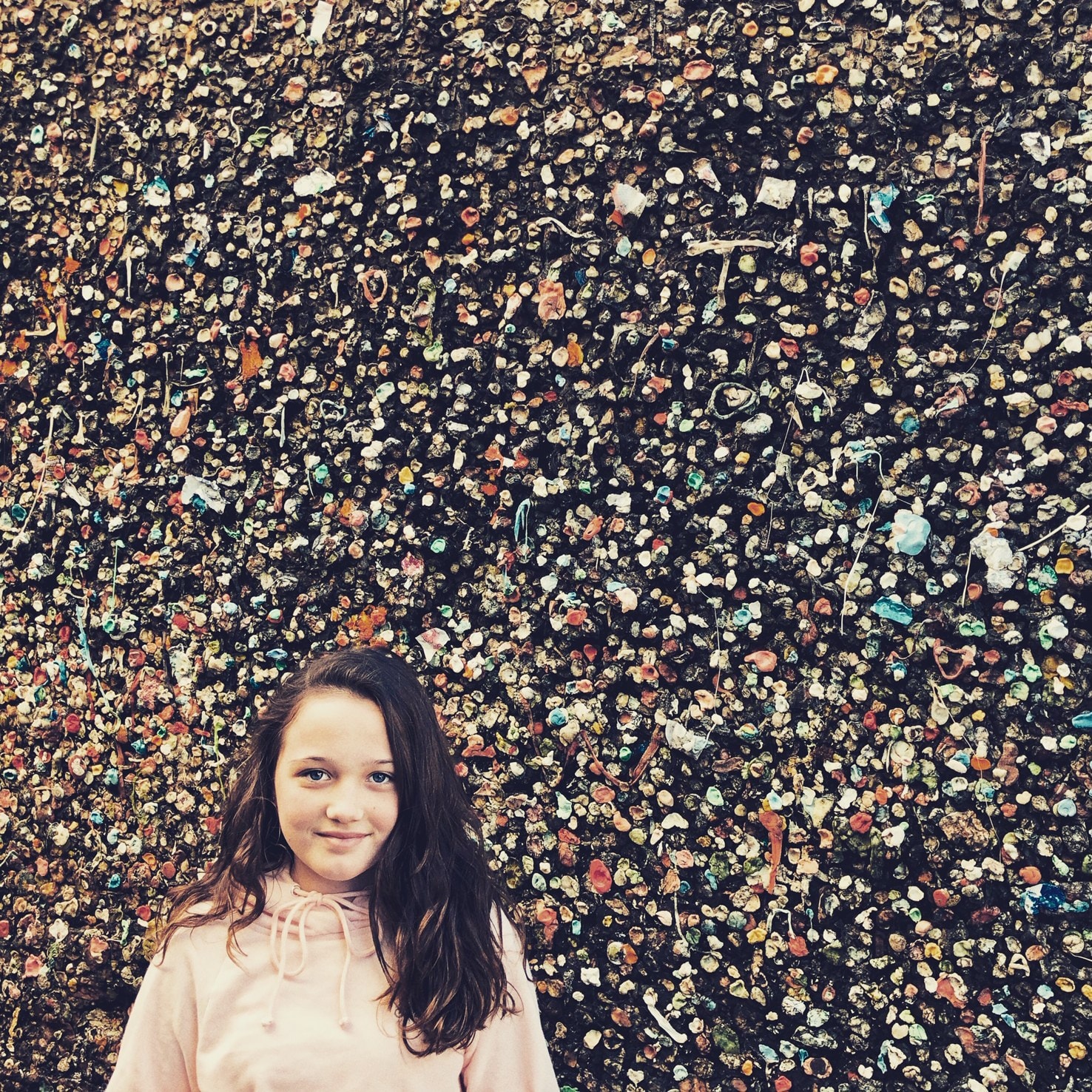 They have their own Bubble Gum Alley as well. I had no idea there was another one of these outside of the Seattle area, so it was fun to discover this spot (and yes, we witnessed folks adding their chewed gum to the wall while we where there!).
We fell in love with this Rocket Fizz shop in downtown SLO. It was filled with novelty candies and sodas. We got a sour apple soda and birthday cake soda. The kids loved them both as a fun treat.
If you want to explore more beyond the shops, be sure to take some time to meander down to the San Luis Creek . For those interested in history, this creek was the Mission's earliest source of water! You can access it at many points in the downtown area (we did from behind Old San Luis BBQ). It is a beautiful nature spot right in the middle of town.

Hiking
There are many outdoor hiking adventures you can enjoy as a family. We took the the 1.5-mile Lemon Grove Loop Trail or, if you are feeling ambitious, the four-mile main trail stays left. We accessed this hike from the Madonna Inn (there is a paved walking trail you can take over to it, which we did after a wonderful breakfast at the Inn). It was a great way to walk off breakfast. The trail also has it's own parking lot if you prefer to just head there. From this hike, you have fantastic views of the San Luis Obispo area and the way the sun hits the mountain is so beautiful. We really enjoyed this time out in nature and found it a fairly easy hike (did it with my elementary age kids). It's also pet friendly  (we ran into many folks with their dogs on the trail). This was one of many outdoor hikes in the area.  You can find an inter-active trail map here to see where you might want to explore on your trip.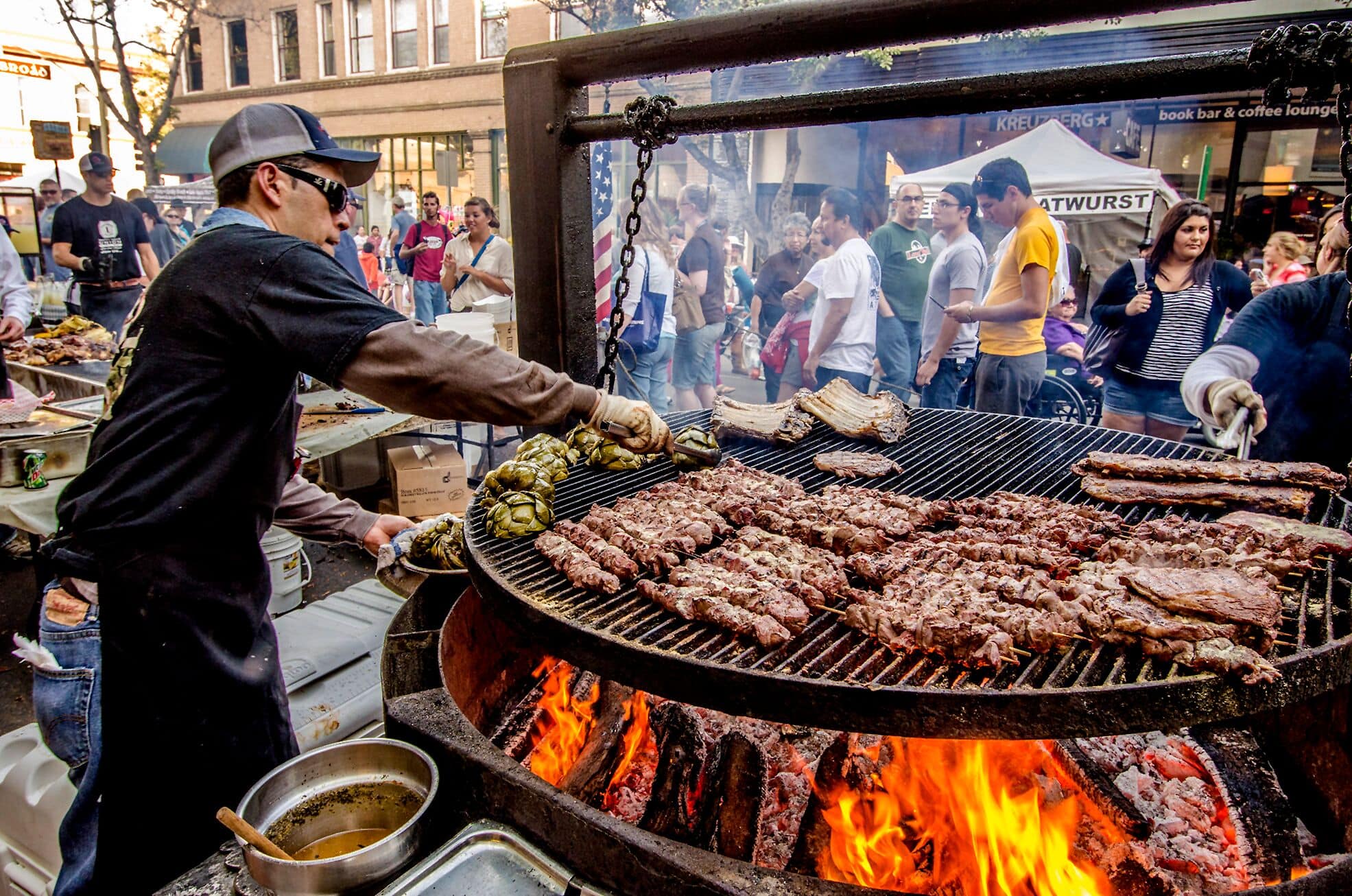 Photo Credit:  San Luis Obispo Chamber of Commerce
Weekly Outdoor Market
SLO has a wonderful Farmers Market each Thursday evening in the heart of their downtown area (it spans a 5 block area down Higuera Street!) from 6pm to 9pm. If you miss the Thursday market, there is also a Saturday morning market at Madonna Plaza Shopping Center. This is a great opportunity to try local favorite food and drink options, as well as get some shopping done.
You will also find family friendly entertainment and much more here. It is one of the only evening Farmers Markets I have heard of and what a fun way to spend a night out with the family!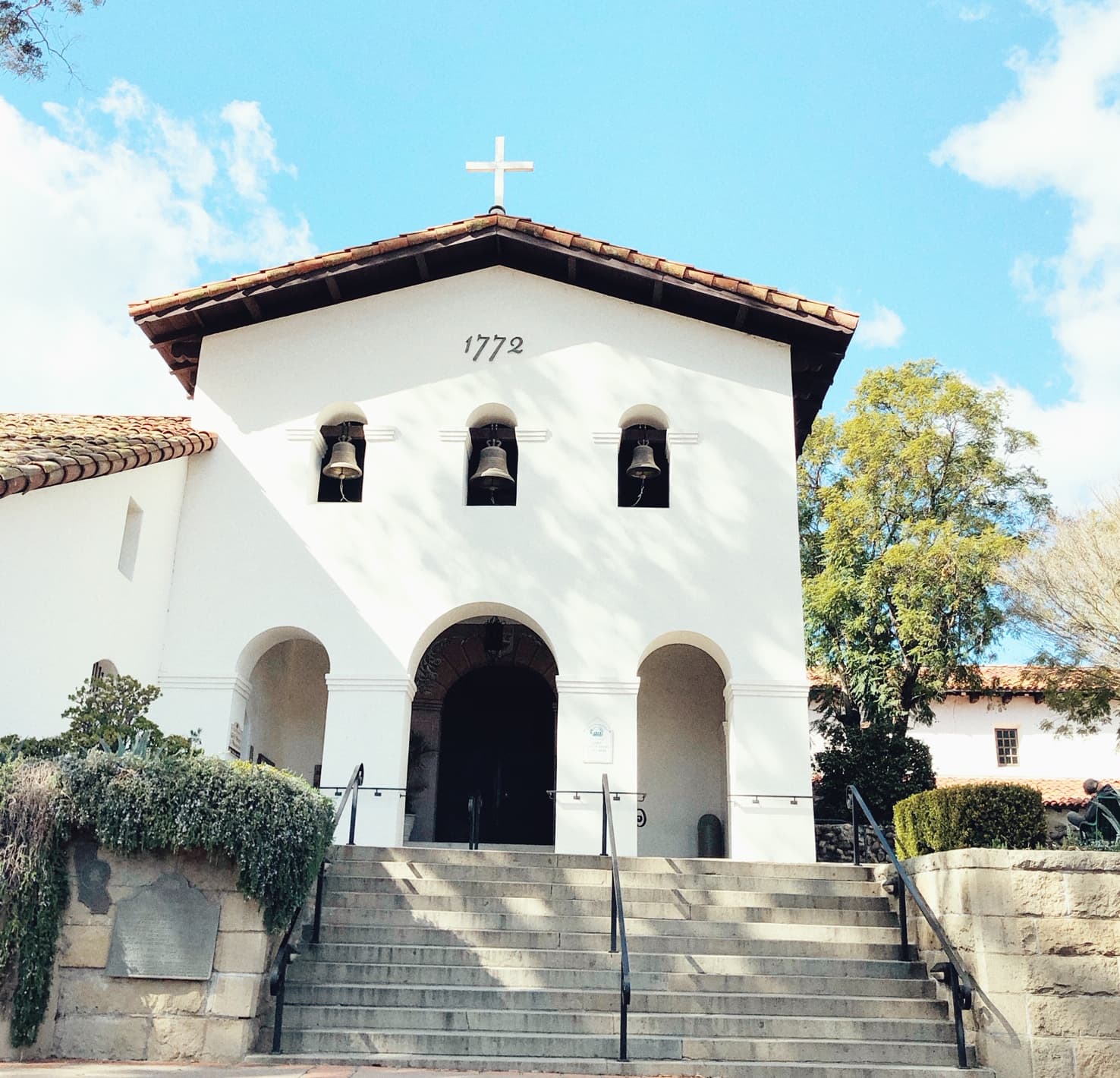 Walking Tours & San Luis Obispo Mission & Explore the History of SLO
In addition to exploring the downtown area to shop and eat, SLO has lots of history for the area, and you will find some great historical sites to explore either right in town, or nearby. You can download a walking tour map here and explore at your own pace. If you enjoy history you will want to be sure to stop in at the Mission San Luis Obispo de Tolosa, which has been standing since 1772, when the Spaniards decided to make it home, in what is now consider downtown San Luis Obispo. To this day, the Mission San Luis Obispo de Tolosa remains a working parish church. This is another spot that you can access the San Luis Creek that we mentioned above.
This is also the area of town where you will find many of the local festivals happening, if you visit during one of these times. They offer free daily tours of the Mission as well, so you can enjoy that with your family.
Next to the Mission is the History Museum, which is also free to explore yourself, or you can reserve a docent to do a tour with your family.
There are a number of museums to explore in the area, and most of them are free! Find a listing of the all here.
Spend a Day at the Beach

There are a number of beaches near San Luis Obispo that you can enjoy as nearby day trips. We stopped at Pismo beach on our way out of SLO, as it was a short 10 minute drive on our way South. There is a boardwalk to enjoy, as well as beautiful beaches, restaurants, rentals and more.

In addition to Pismo beach, Avila beach is also nearby, and offers a fun day for families. You can even ride bikes to this beach from the downtown SLO area, via the Bob Jones Trail. Here you will also find the Central Coast Aquarium, and so much more to do.
San Simeon beach is directly off Highway 1. It's absolutely gorgeous up there and is near Hearst Castle as well as a beach full of very entertaining elephant seals! If you have kids they will be sure to get a kick out of watching the elephant seals perform.
San Luis Obispo Travel Deals ::
Current promotions for travel to San Luis Obispo:
Winter may have arrived, but that shouldn't keep you from a relaxing getaway. Book two consecutive nights at a San Luis Obispo lodging property of your choice, and we'll throw in a $100 cash for you to spend however you choose. Cozy up at a warm café or wine bar, make new friends at several local craft breweries, indulge in award-winning cuisine, shop our charming downtown, or catch a live show. We hope to see you soon
To qualify & redeem:
STEP 1 – Starting on January 1, 2020 book at least a two-night stay at one of San Luis Obispo's qualified lodging properties between January 1 – March 31, 2020.
STEP 2 – Forward your new booking confirmation email to [email protected] to see if you are one of the first 750 people to qualify! Make sure to check blackout dates and the rules & regulations prior to sending in your entry.
STEP 3 – Arrive in San Luis Obispo and head to the Visitor Center where you'll receive $100 cash to spend how you choose!
Valid on new bookings only for travel dates between January 1, 2020 – March 31, 2020

Bookings made before the promotion start date of January 1st, 2020 will not qualify
Entry must be sent prior to check-in date; entries upon arrival will not be accepted

A valid entry must be an original emailed booking confirmation sent from the property or booking site forwarded to 

[email protected]

 to qualify; receipts, statements, itinerary reminders, screenshots, attachments, or partially copied and pasted reservations will not be accepted as an entry.
One (1) entry per qualified booking confirmation number. Three (3) redemptions maximum

A two night stay minimum must be under the same confirmation number; combined one-night stays at different properties or dates will not qualify
Changes to an already qualified entry will need to be sent in as a new entry. Entries will be qualified in the order they are received
Entries cannot be combined with others to qualify.

Lost or stolen cash will not be refunded. Cash will not be mailed and must be picked up in person during the time of your qualified stay at the San Luis Obispo Chamber of Commerce Visitor Center, 895 Monterey St, San Luis Obispo, CA 93401
Offer limited to first 750 reservations to claim.
Qualified entries are not transferable and cannot be combined with any other offer(s).
Some exclusions, including blackout dates of January 18-19 and February 15-16 apply.
San Luis Obispo Hotels to Consider for Your Stay ::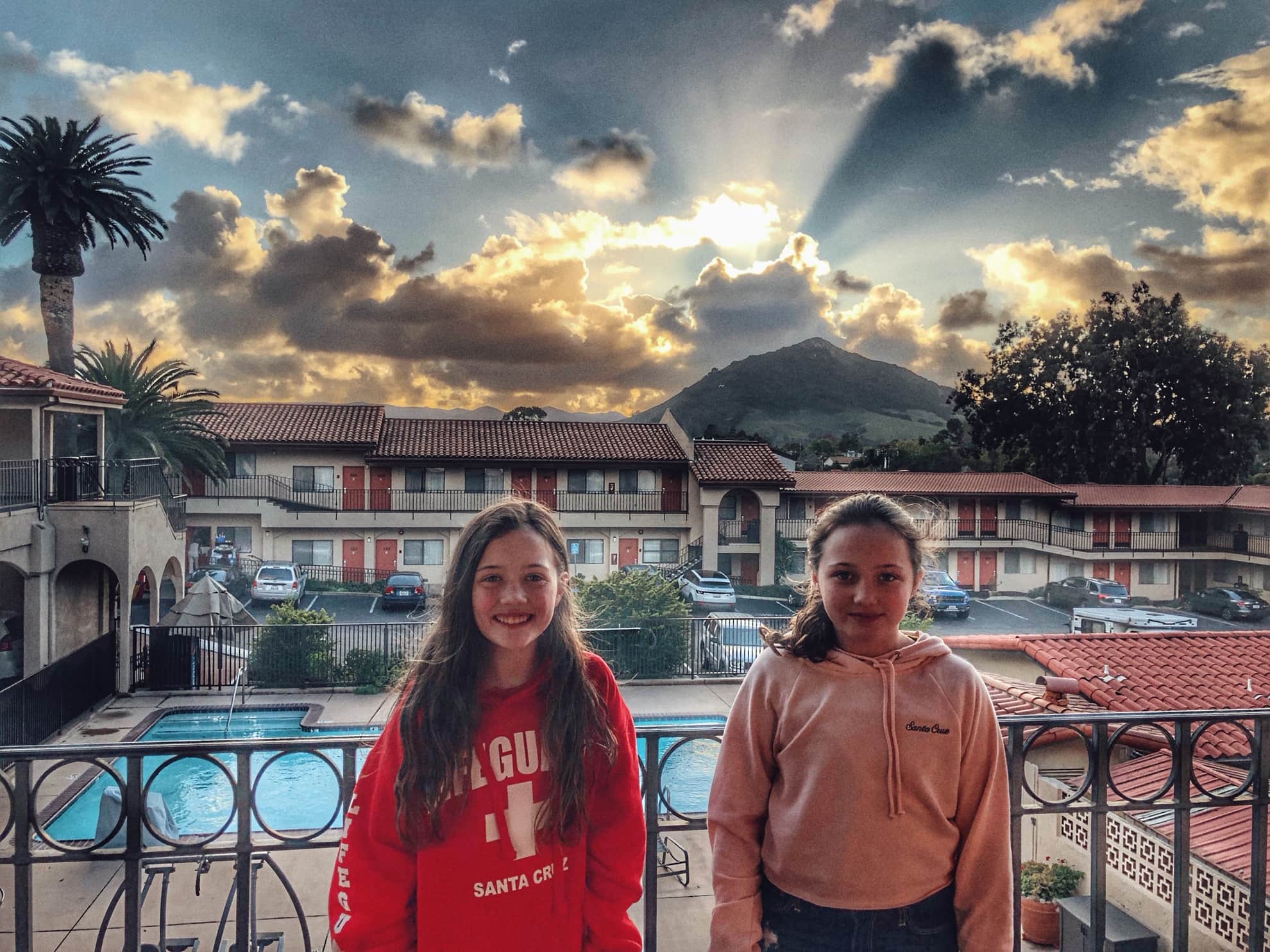 Our view from the Sand Inn & Suites – it was wonderful to wake up to and watch the sun set from in the evenings!
One thing that is really nice about this area, is that you are so close to the ocean, in a quaint town, yet there are many very affordable accommodations. We were looking for something budget friendly for our stay. SLO offers everything from boutique hotel stays, to hipster spots, and historical inns. For this vacation, we stayed at the Sand Inn & Suites, in a suite. This offered us plenty of room with the kids, and beautiful views of the mountains and sunsets, all on a budget.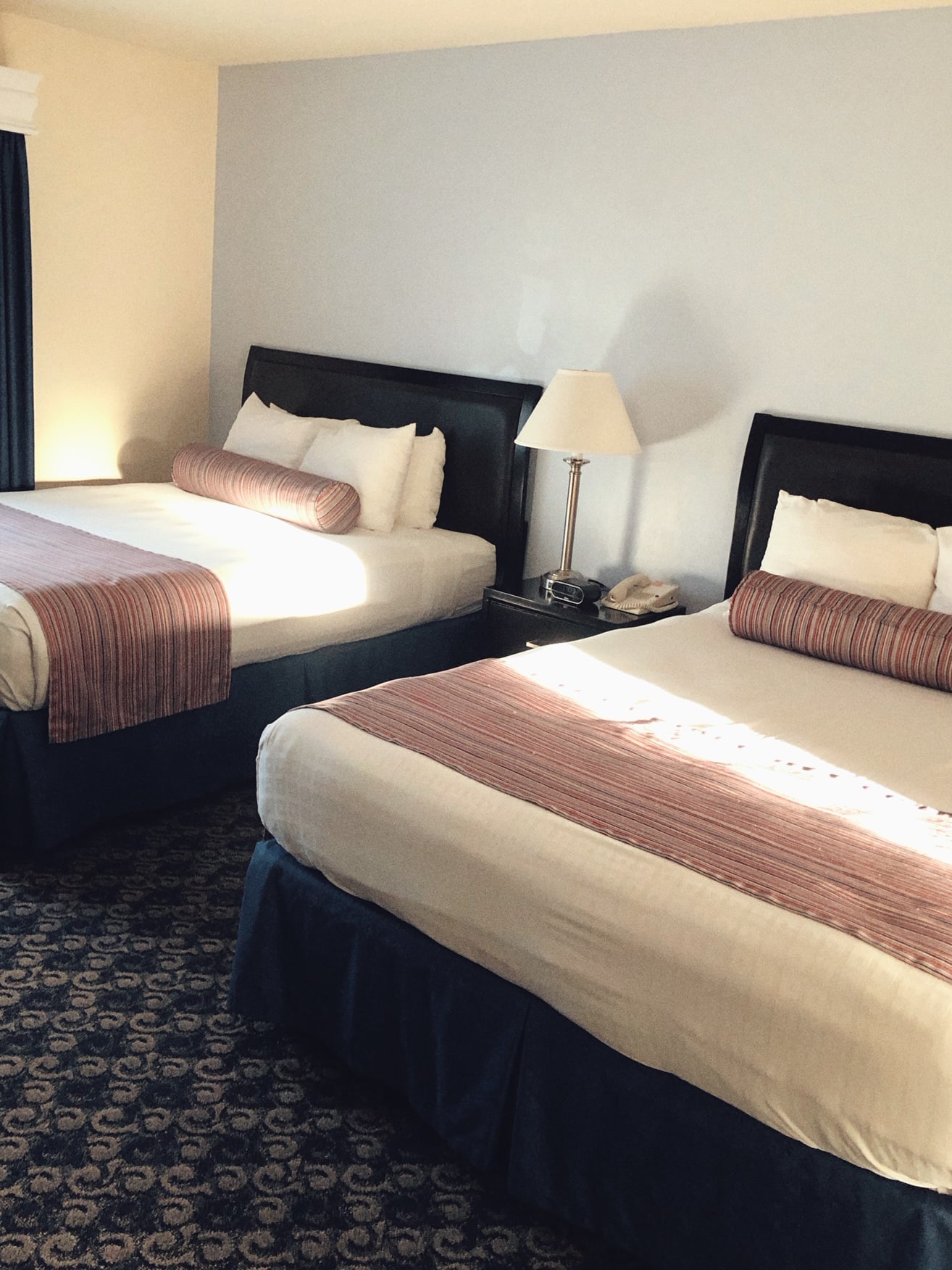 The Suite came with two queen beds in one room and there was a pull out coach the kids could sleep on in the front room. It was basic accommodations, but everything was clean and free breakfast is included daily. The views from our room were gorgeous and there is a pool and hot tub we enjoyed daily. If you're looking for a nice clean spot to stay on a budget, and room to spread out for a family, this spot meets all those requirements. Service was great too.

Boutique hotel in downtown area
If you're looking for something unique to the area, you might consider the quirky, and well-known Madonna Inn that we mentioned above. There are also locations right in the downtown area, if you want to walk to all the shops or you can stay over on the coast and drive in. There is something for all budgets and travel styles. Find many more affordable accommodation options right in the San Luis Obispo area here too.
Some of Our Favorite San Luis Obispo Restaurants ::
I loved the food in SLO. I mean, I really enjoyed it! There were so many choices, but here are some of our favorites. We were traveling with kids and all of the spots listed below were very family friendly.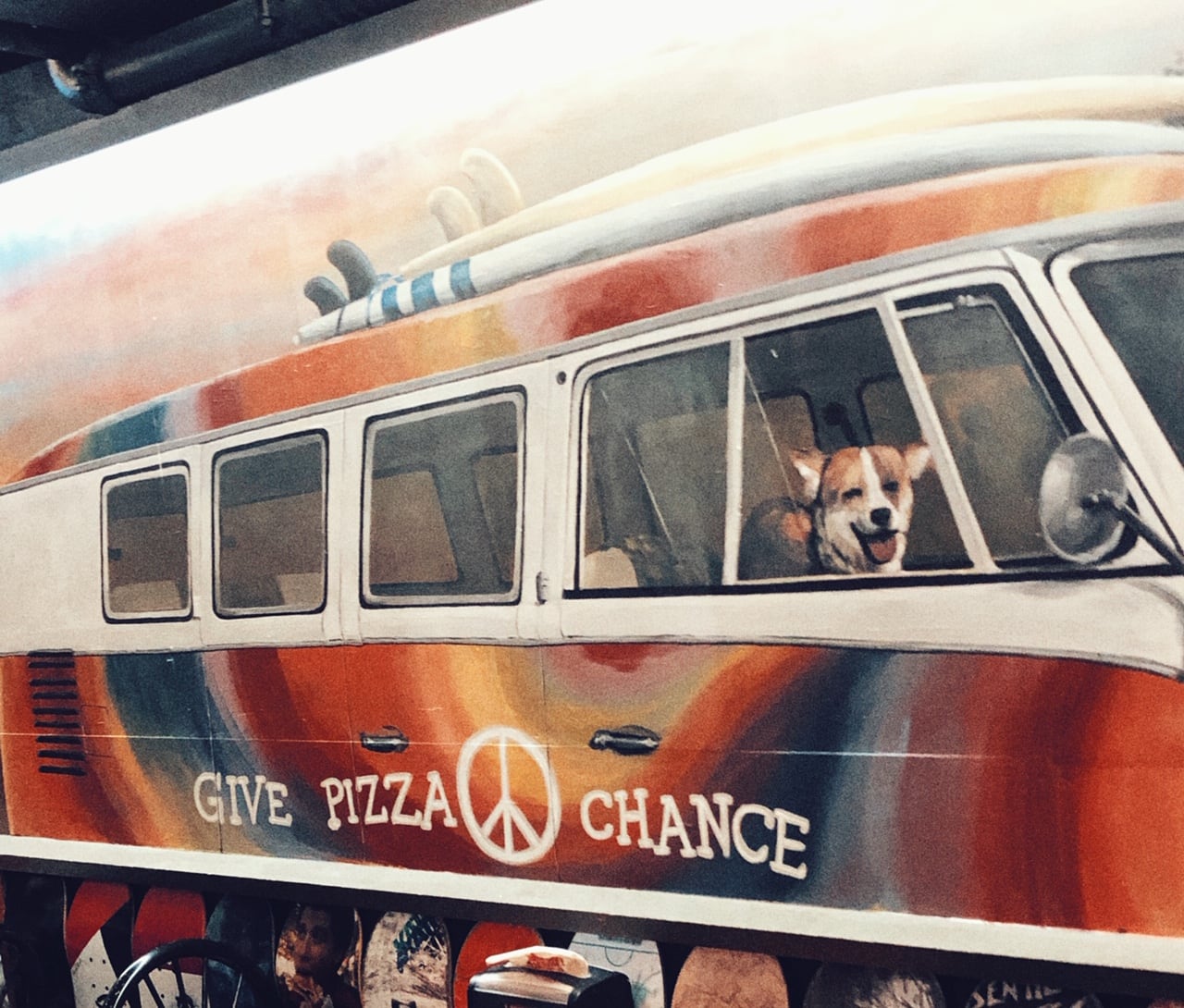 Woodstock Pizza
Woodstock Pizza is where we ate the first night and I highly recommend this spot to families (or really anyone who loves pizza and salad). My mouth is still watering thinking about the food we ate here. I loved this spot. It was casual, yet decorated so fun. It had that SLO vibe, and the food was really amazing.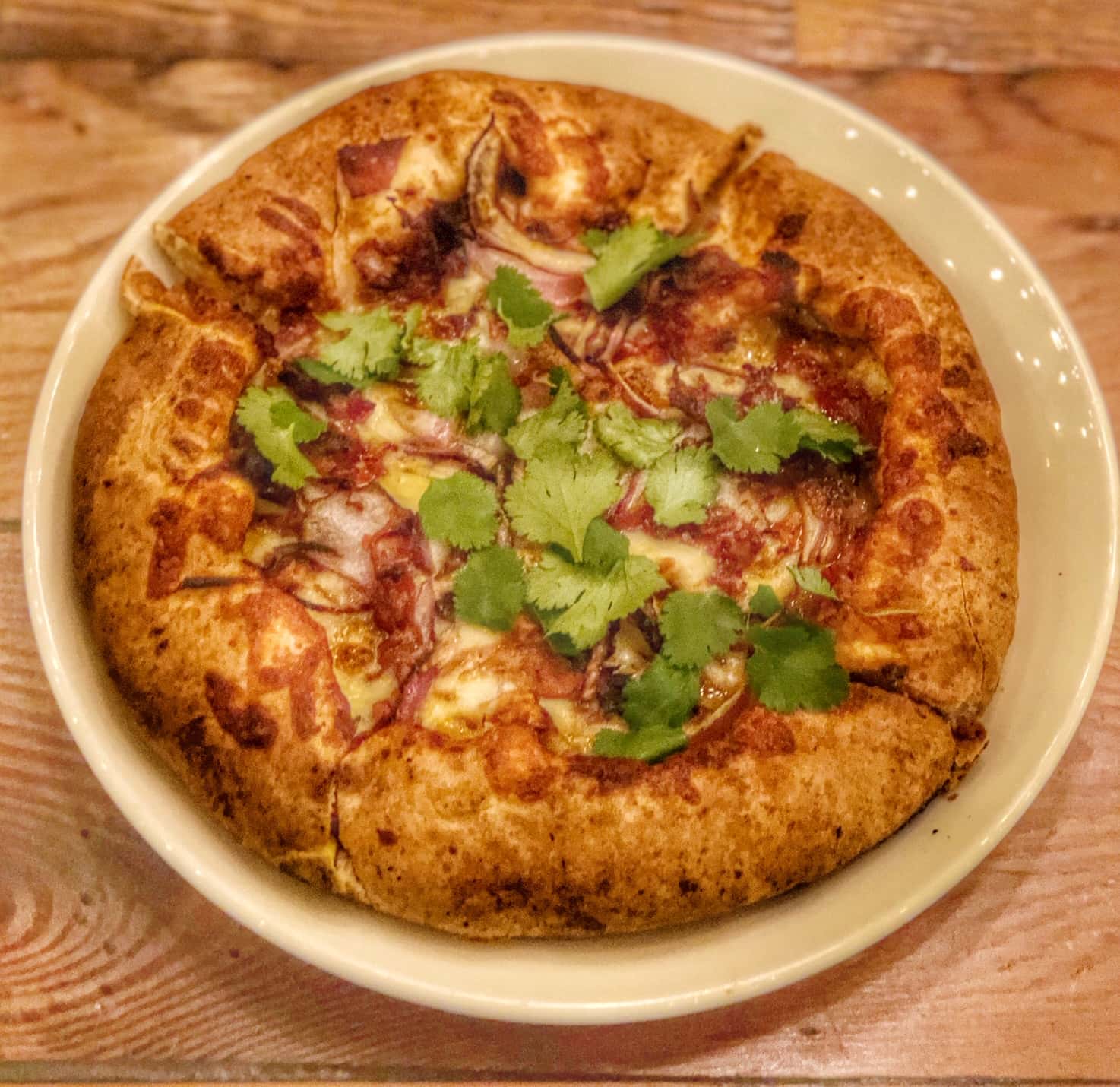 They use organic ingredients, and you could taste the difference. We all started off with a salad (which every single one of us loved) and then ordered a personal sized pizza. You customize your pizza by starting with a regular or whole wheat crust (they have a Gluten free option too), and then pick one of their fun sauces. My kids got the usual (cheese or pepperoni) and they loved theirs, but I got the Carnita pizza on whole wheat crust with Sriracha sauce, and I am still drooling over how delicious it was! One of my favorite all-time pizzas. We loved the food so much, we each ate our own personal size pizza (they are around $8 each, so a great bargain) but you could order one for the family to share too. Hands down, this is  one of my favorite pizza spots. I was only sorry we did not have enough time to eat here again.
The goblets at the Madonna Inn that we mentioned above. My girls loved drinking out of these!
Breakfast at the Madonna Inn
We started the next morning off with breakfast at the Madonna Inn. Not only was the ambiance of this place very cool, the food was great, and you can kick off your day with a self guided tour of the Inn after breakfast, and then do the adjacent hike up the mountain to work off your meal.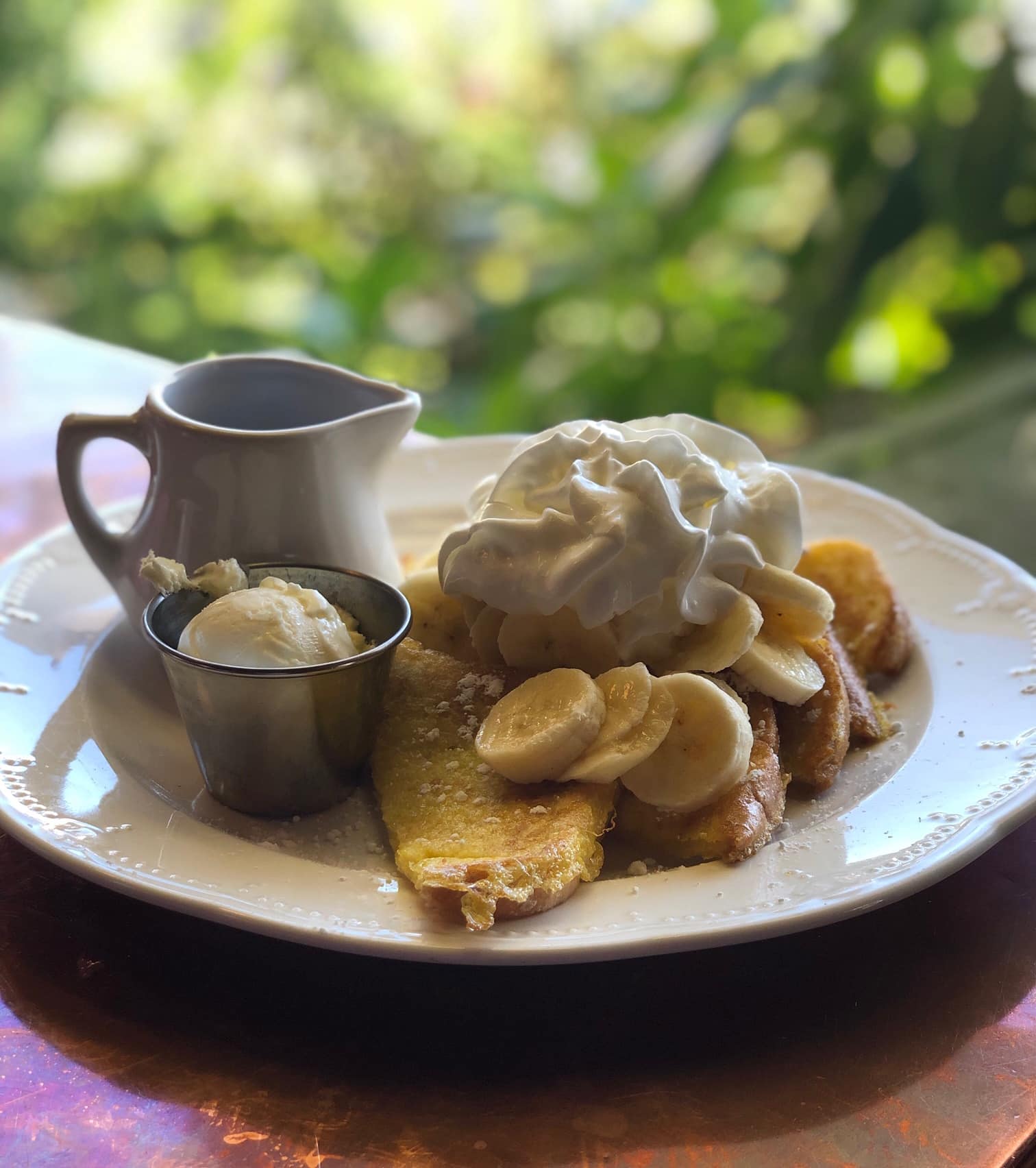 I had a veggie omelet, and the kids had french toast with bananas. Their meal was pretty decadent and mine was fresh and light. There were many classic breakfast options and all looked great. This spot was buzzing with people when we got there, so I would recommend calling ahead to see if you can make reservations. Although it was clearly a local favorite, and busy, the service was great, setting was so fun, and food was delicious. It was the perfect way to kick off our first full day in town.

This is the restaurant at the Madonna Inn decorated for February!
We ate breakfast in the Copper Cafe, but you could come back in the evening for a special dinner out in their main restaurant. They decorate it seasonally and it is something to see. They also offer entertainment in the evenings on certain days and there is wine tasting in the cellar if you want to try something like that.
Lunch at the Lincoln Market & Deli
The sandwiches we had at the Lincoln Market Deli, were hands down some of the best I have had. Apparently, we are not the only ones to feel this way, as this place stays pretty busy. Looks like it is a local favorite and for good reason. It is definitely worth at least one stop here while you are in town.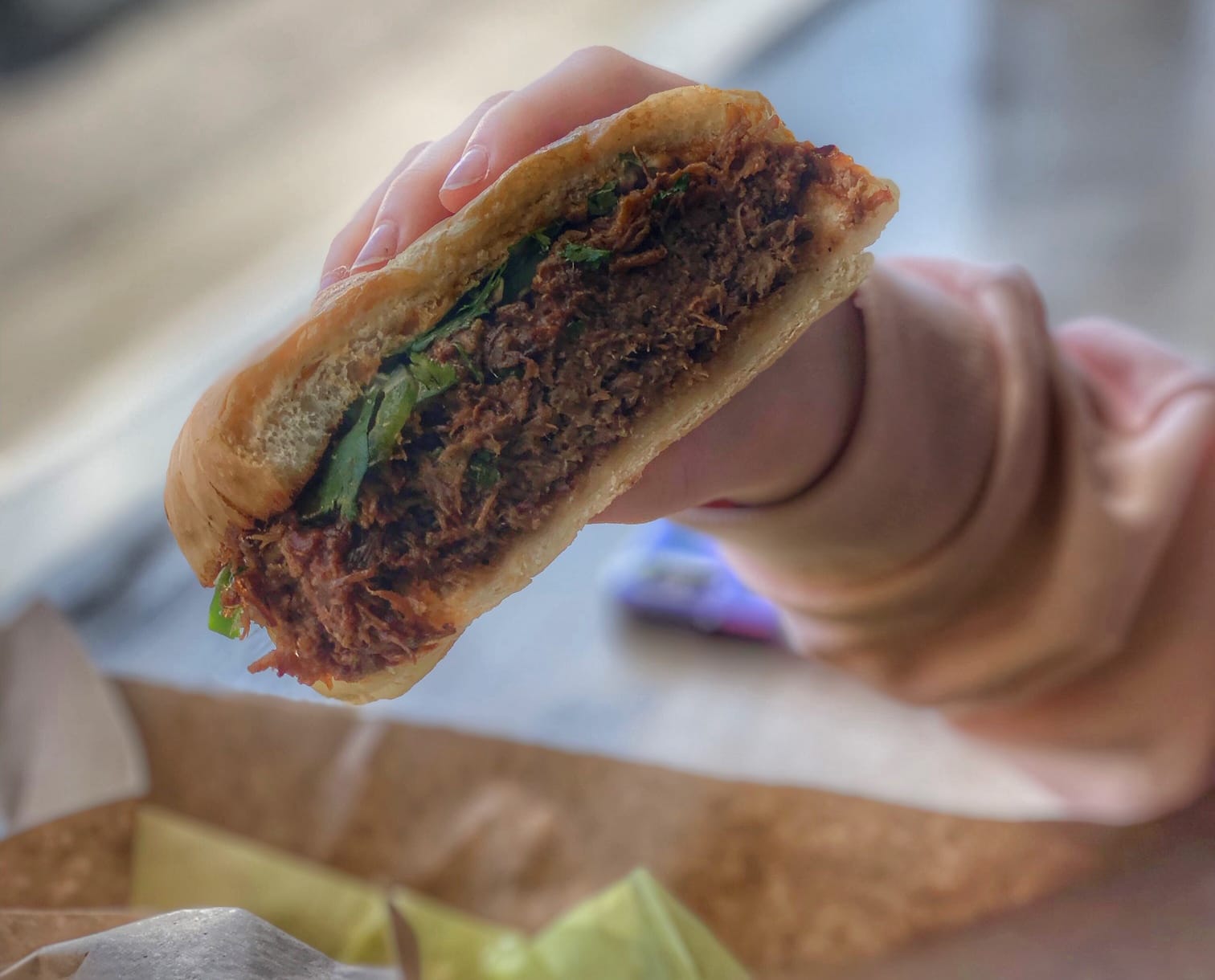 It is a casual spot (you fill out a card for the sandwich you want and then get in line to pay for it). You seat yourself and they call out your name when your sandwich is ready. Prices are fair and the food is delicious!
In addition to being a restaurant, it is also a store. You can pick up a bottle of wine to take with you or to enjoy with your lunch, along with many other options. There are also many locally-made items you can grab to take home with you. I did see many folks picking up orders to go, so this would make the perfect stop to grab lunch to go on your way out to the beach.
There was indoor and outdoor seating here, as well as many things to entertain the kids with (pinball machines in the back, we saw kids running around with buckets of chalk outside, and it just had a really laid back vibe in general). This spot is a "must stop at place" in my opinion!
Old San Luis BBQ
Looking for an evening where both parents and kids can relax? Check out the Old San Luis BBQ. This is another casual spot with delicious food, and you will smell it a few blocks away (the BBQ aromas will guide you to this spot). If you go during the day, the creek is right behind it, but it is also a fun way to unwind in the evenings as a family. There is something for kids and parents to enjoy alike.
You order your food at the window in front and seat yourself inside. It has standard BBQ fare options (the steak salad was delicious, if you love a good salad).

My kids loved it because there were shelves full of games for them to play while we hung out there.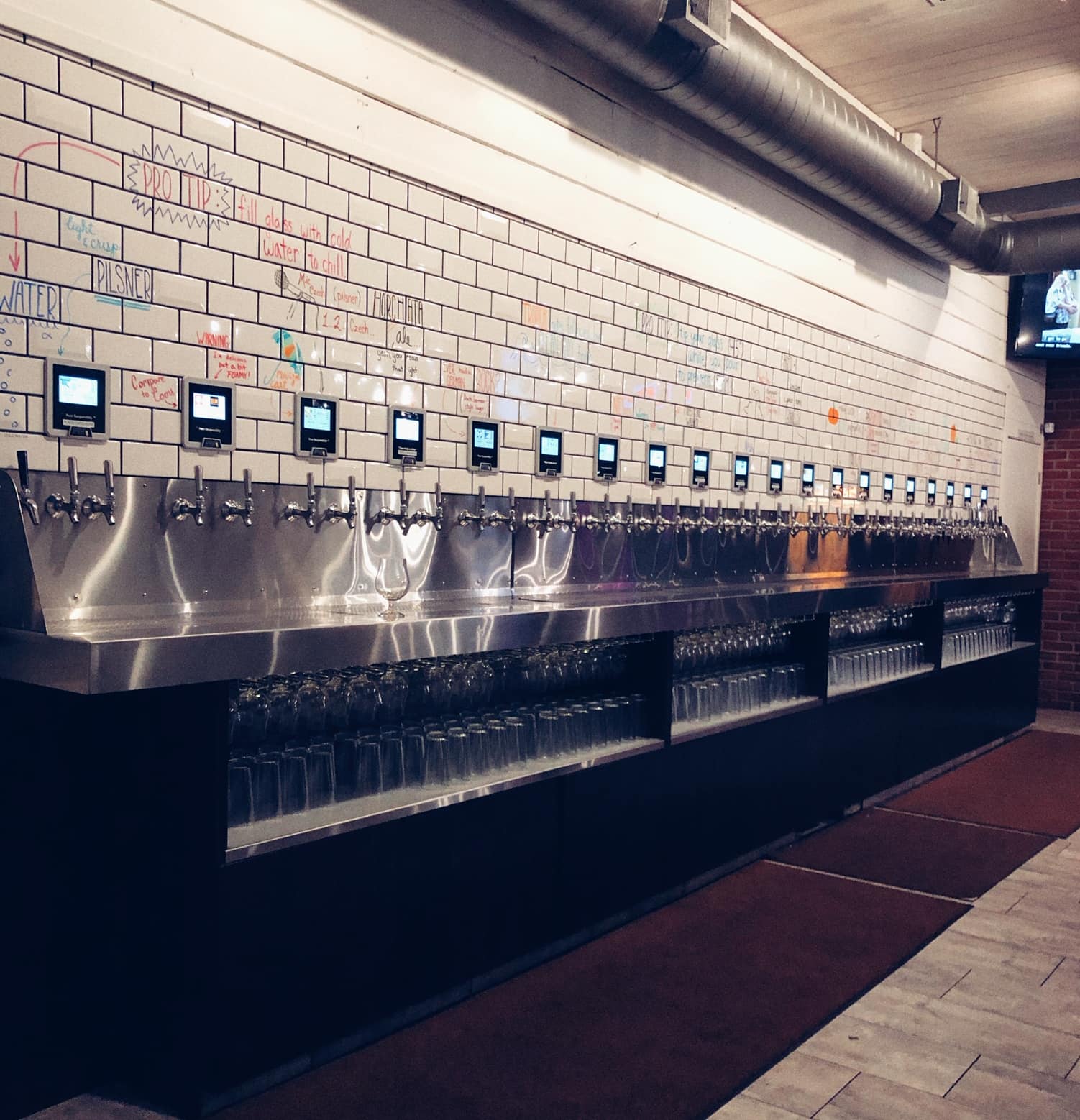 The adults enjoyed a beer sampling that was set up in a way I had not experienced before, but thought was really cool. You buy a card (you will have to leave your credit card for this, so be prepared for that) that you can scan and fill your cup with any of their available micro brews or wines. It charges you by the ounce, so  you can try any that you want, before deciding on what you want to fill your cup with.

I settled on a seasonal porter that I loved. They had ciders, pumpkin ales, and so many more choices it was hard to settle on just one. This was the perfect place to end our weekend in SLO, relaxing and enjoying ourselves at the same time.
I look forward to when I can head back with my family and spend more time here. It really is full of beauty, great food and drink, and the beautiful sunshine I hope to see in this area of the country. The sunsets over the mountains were spectacular, we could get to the beach easily, and all in all it was a wonderful girls'/ family trip for us!
If you are considering a visit, be sure to check out sanluisobispovacations.com. You will be able to build your own personalized itinerary for the things you want to see and do on your trip to SLO. You will not be disappointed!