Blessing Bags – Keep on Hand for those in Need or Donate + FREE Printable Checklist & Encouragement Cards
This post may contain affiliate links and I may be compensated for this post. Please read our disclosure policy here.
Pack a Blessing Bag to give to people in need – we've got a free printable checklist & free encouragement cards plus a list of all the items to include in your bag to give to people who are homeless, in shelters and more.
Blessing Bags – Helping those in Need +
Free Printable Checklist + Encouragement Cards
In the past, we have shared a list of ways that you can give back to the community you live in & how to get kids involved and one of the ways we mentioned was to create Blessing Bag kits to hand out to those in need or to give to homeless shelters. We have made it even easier for you to put together Blessing Bags using this FREE printable Blessing Bag checklist too.
This is a very real, tangible way to help in a situation where you find someone who is in need and you really feel like you want to do something but are unsure of exactly what to do.  Handing out a Blessing Bag to someone gives you a very real way to meet their immediate needs by providing them with some basic supplies such as toiletries, water, food and warmth.
Blessing Bags are great to keep on hand in your car, so if you are in a situation where you find someone in need, you have the bag right there to hand to them.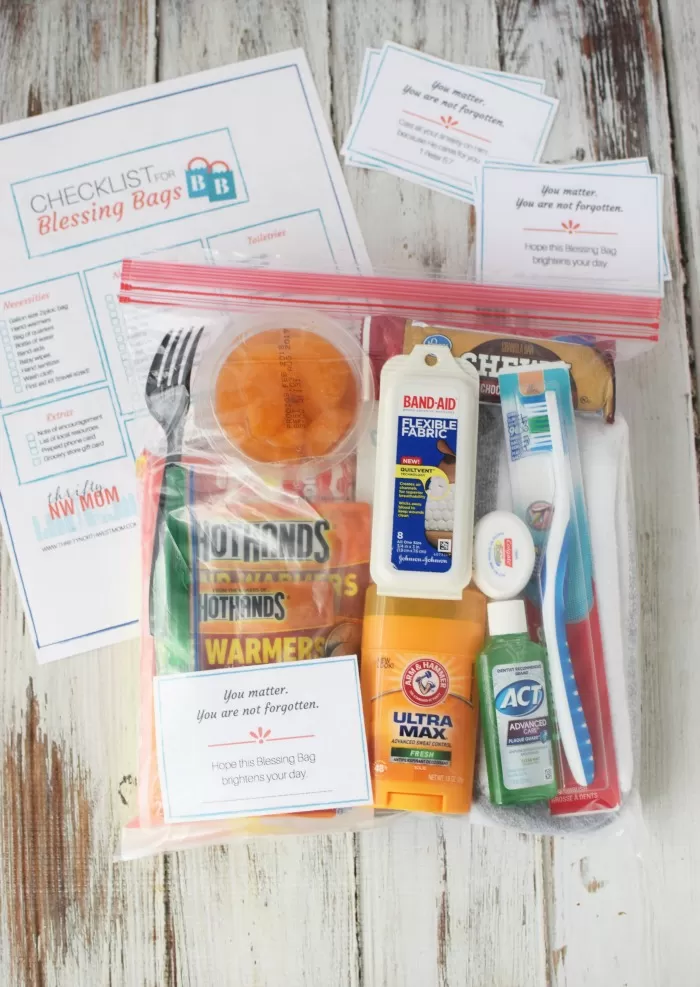 This is a way to demonstrate and teach your kids the act of giving in the face of a need instead of just driving by or walking away without responding.
The Blessing Bag kits are also very helpful to donate to homeless shelters (see our list of Northwest homeless shelters, food banks & more) & other organizations working with the homeless. They can pass these out after they provide a meal so that the men & women can have some new supplies to add to their backpacks. They stack easily in boxes so you can store quite a few in an area to keep them stocked & ready to hand out to those who need them.
Many of these items can be found at significant discounts when you use coupons & follow the sales as well as shop clearance sections, too. I keep a box in my closet to put these items in as I find them on clearance or with coupons & then when we're ready to make the bags, we've already got quite a few items. Get your kids involved in picking out items for the Blessing Bags & then they can help you stuff the bags & get an assembly line style going at home.  Teaching kids about helping people in need in real, tangible ways is an invaluable lesson!
Watch this Video to Find out what to Include:
Watch this short video on YouTube to see how easy it is to put together a Blessing Bag!
Items to Include in Blessing Bag Kit: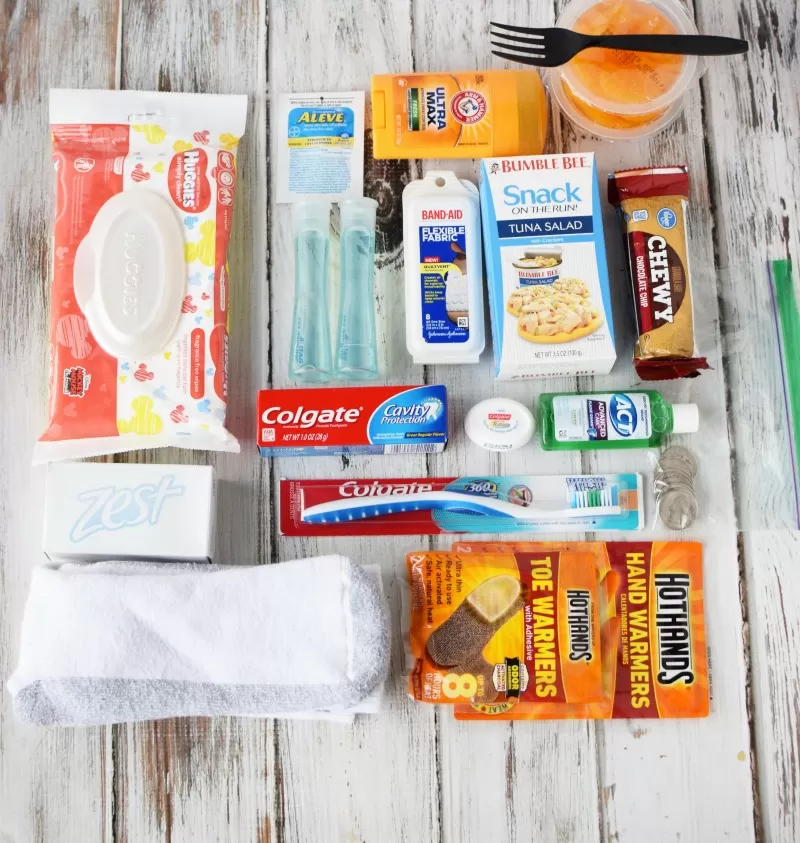 **Get a FREE printable Blessing Bag checklist to print off & bring with you to the store with a list of all these items! Plus, a free printable note of encouragement that you can sign or customize with your own note.
Gallon Size Ziploc Bag – This is key for several reasons:
Helps to keep everything together & in one place so they can easily access the supplies in their bags/backpacks
Keeps the items from spilling/leaking onto their personal items in their bags
The bags can later be used for other storage options within their bags – storing toiletries, snacks, etc
Hand-Warmers – we put a couple packs in, especially during the winter, but even for those chilly evenings in the spring/summer/fall these would be very welcome. We buy a pack of 40 at Costco  for around $15 ($.38/pk) & then we have these on hand for blessing bags as well as camping, winter sports, etc.
Bag of Quarters – These are nice to include for washing clothes at the laundromat (we just put them in a snack-size Ziploc bag to keep them contained in a smaller area
Bottle of Water – Mini water bottles work great so they don't take up too much space or if you can fit a regular size water bottle
Band-Aids – these are something that may often be needed but may not be something they would be able to spend money on or think about having.
Baby Wipes – a small pack of baby wipes would be a great one to include to help with feeling clean & fresh
Hand Sanitizer – another great option to help them feel cleaner
Wash Cloth – buy an inexpensive wash cloth to include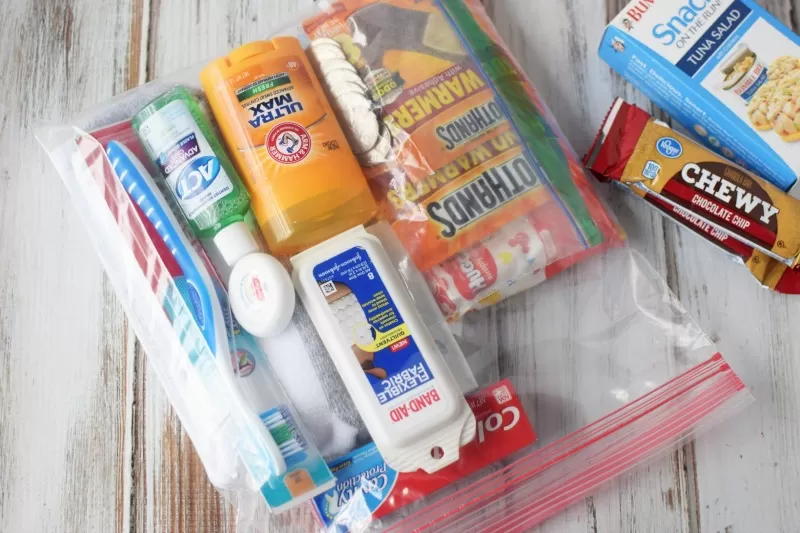 Toiletries:
*If you have a lot of items to include in your bags, travel-size toiletries work great
Toothbrush
Toothpaste (travel size if you have a lot of items to put into your bag)
Floss
Soap (we bring home soaps from hotels if we don't end up using all of them)
Deodorant
Shampoo/conditioner (these are also great products to save from hotels if you don't use them as they're the perfect size for these bags)
Comb
Personal hygiene items if you're making a kit for a woman (tampons, pantiliners, pads, etc)
Sunscreen (depending on time of year)
Chapstick
Personal Items:
New Socks
New Underwear
Inexpensive gloves
 Non-Perishable Foods:
Granola Bars
Energy Bars
Tuna/cracker packs
Trail mix
Raisins
Peanuts
Fruit cup/ applesauce cup (& include a spoon)
Gum/hard candy
Hot Cocoa/Spiced Cider Mixes or on-the-go coffee mixes
Free Printable Checklist: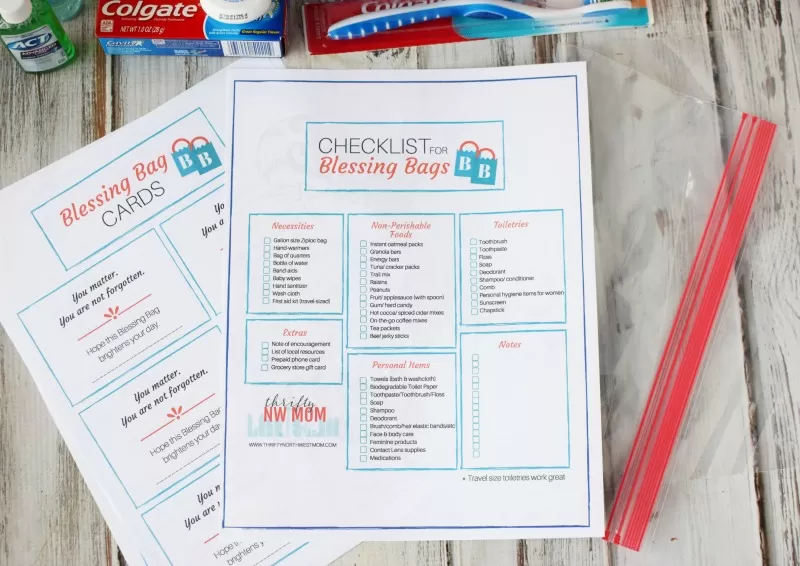 To make this easier when you head to the store to get your supplies, we have created a FREE printable checklist for Blessing Bags. This will help you to know what you need & organize better when you're shopping at the store.
Free Printable Encouragement Cards:
If you'd like to include a note of encouragement inside your blessing bag – we have two options for you to print off & include::
Version #1 without Bible Verse:
You Matter.
You are not forgotten.
Hope this Blessing Bag brightens your day.
You Matter.
You are not forgotten.
Cast all your anxiety on Him because he cares for you. 1 Peter 5:7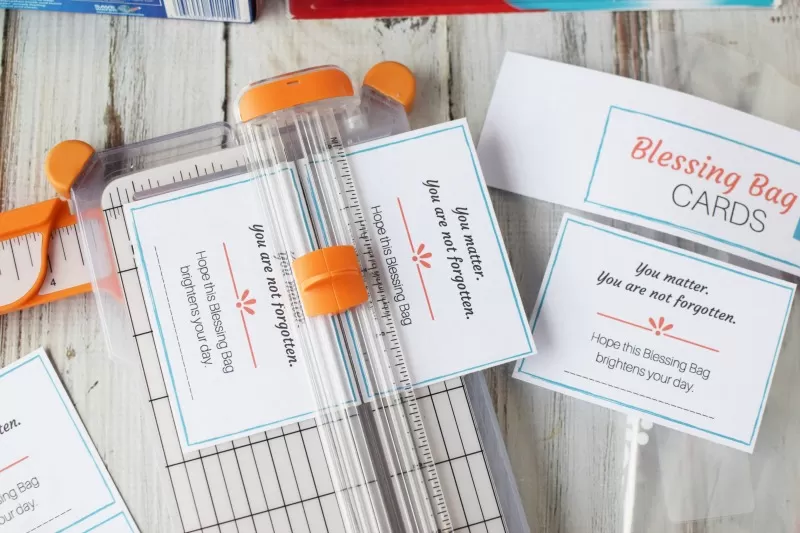 Blessing Bag Stuffing Parties:
A fun idea is to have a bag stuffing activity at a party or group meeting if you're looking for a community outreach project. Gather a group together & create a list of items needed for people to purchase ahead of time.  Then everyone picks one or a few items  to bring – by buying in bulk just one or two items, they can save more money than buying all the individual items. Set out a few tables & create an assembly line to assemble the bags quickly. These are a great way to add a service/community aspect to a get-together, especially around the holidays or if you're looking for a project for a group or meeting as they're very easy to organize & quick to put together. Participants can then either take a few bags to keep on hand in their vehicles or donate them all to a homeless shelter or organization.
Have you ever created a Blessing Bag – any other items you'd include in these bags?
Make sure to check out our Blessing Bag Meals as well as another option which would be great to pass out to those in need or leave on a doorstep of a family who may be struggling.