Universal Yums Reviews – Snacks from Around the World Box!
Universal Yums Reviews – Snacks from Around the World Subscription Box
Our whole family gets excited when this box arrives on our doorstep – the Universal Yum subscription box is a snack subscription box with a twist! Each month in your box, you will receive sweet & savory snacks from a different country. It's such a fun way to learn about a new country & explore the different kinds of snacks you might find in that country. They always have a great mix between savory snack mixes & sweet desserts & candies, too.
Make sure to check out our Universal Yums reviews at the bottom of the post, too, to see all the different varieties of treats & snacks we have gotten in our boxes.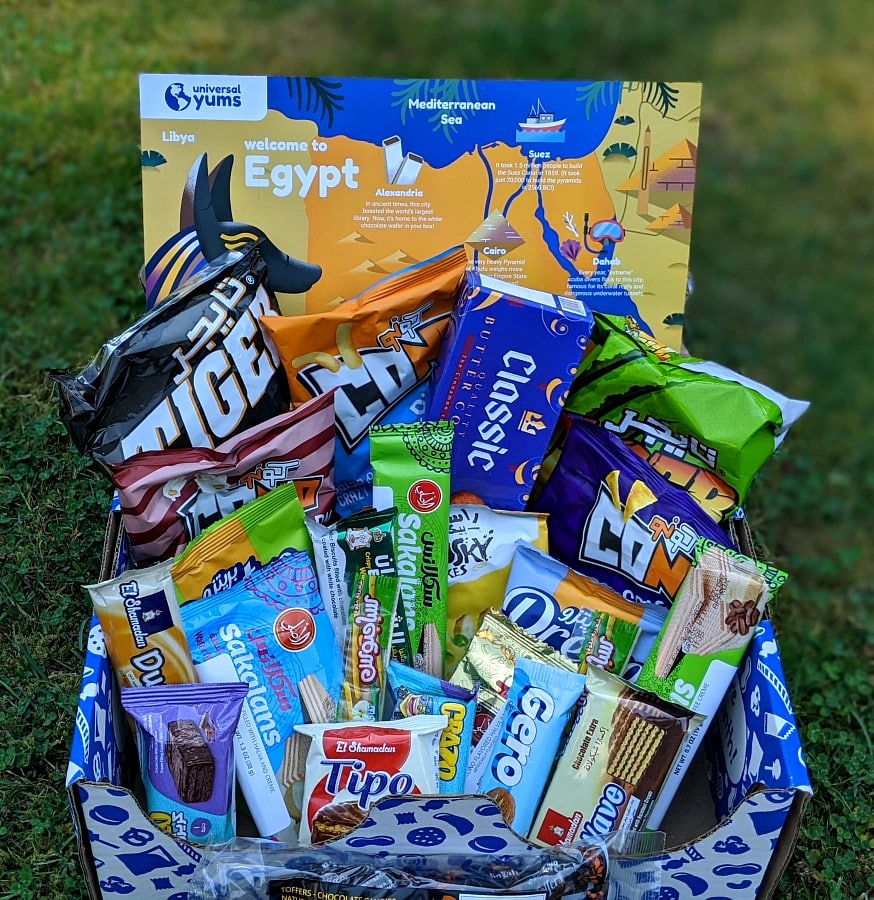 If you are looking for more ideas to supplement remote learning at home or if you are homeschooling at home for the first time (or for years), the Universal Yum Subscription Box  is such a fun way to work on geography. We love for our girls to learn about different countries & cultures & while travel out of the country is not an option right now, this is such a great way for us to still "explore" other countries through trying out some of their favorite snack & treat options.
My husband has actually been purchasing these boxes for a year as he is a high school teacher & he has a travel and culture club for his high school. The goal is to introduce the students to new cultures & learn more about other countries, as well as travel & explore their local area. So, this was a fun activity for them to receive these boxes & share them between the club members so they could get an opportunity to see what types of food and flavors are offered in these different countries.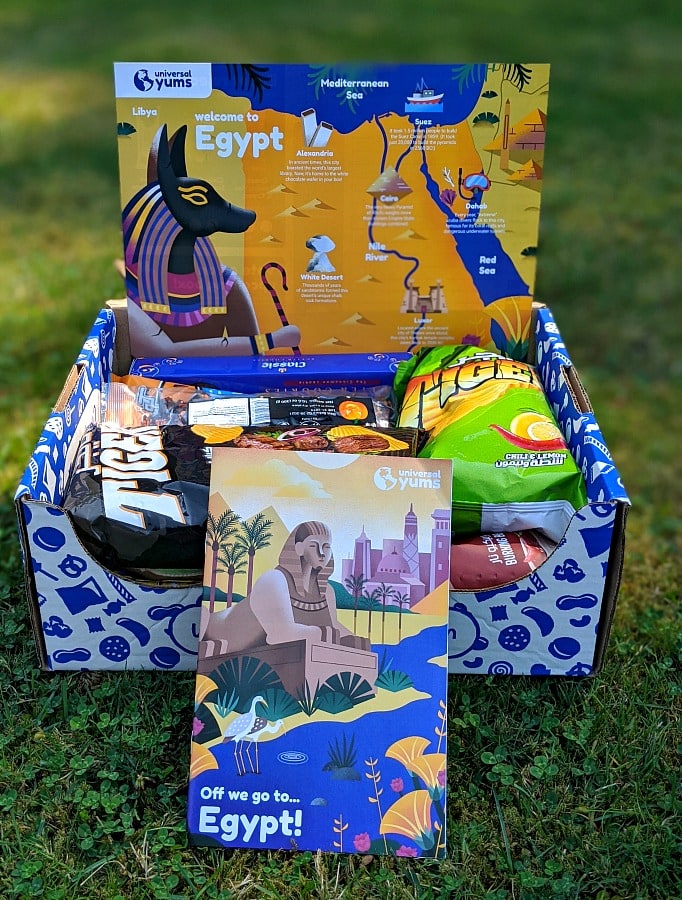 My husband has enjoyed the Universal Yum boxes so much for sharing with his students as a fun way to learn about the countries, that we are now buying these for our own family. We are homeschooling our girls & I wanted to teach them some world geography this year, so I thought this would be a great option to include for our units. We can let the box dictate which country we study & then we can find books, DVD's or movies about the country, maybe a craft or game that would be something they would make or play in that country, as just a few ideas I am thinking about for our geography lessons.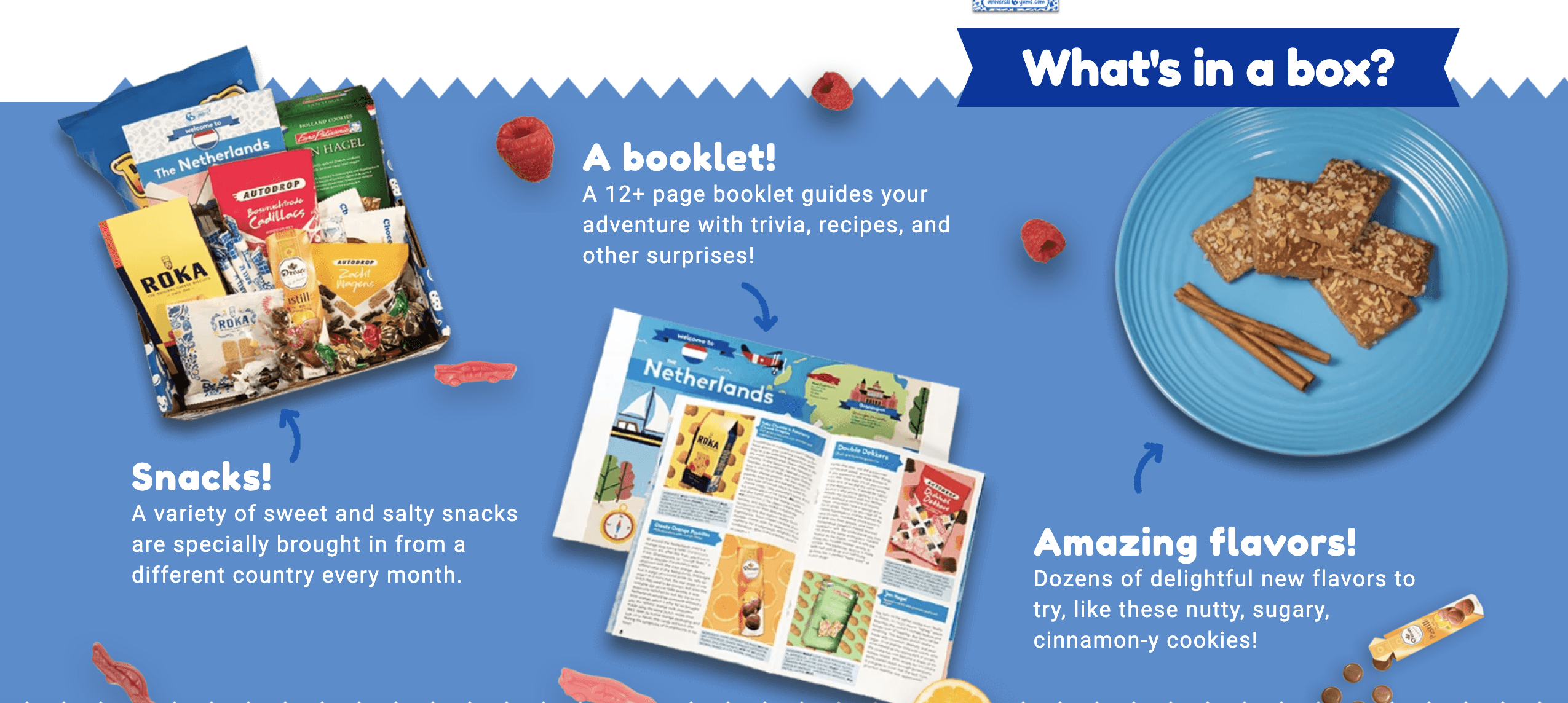 What I love about these boxes is that they are not just sending you the box of snack & treats, but they also provide you with a booklet with facts & information about the country in an easy to read format & details about all of the snacks in your box.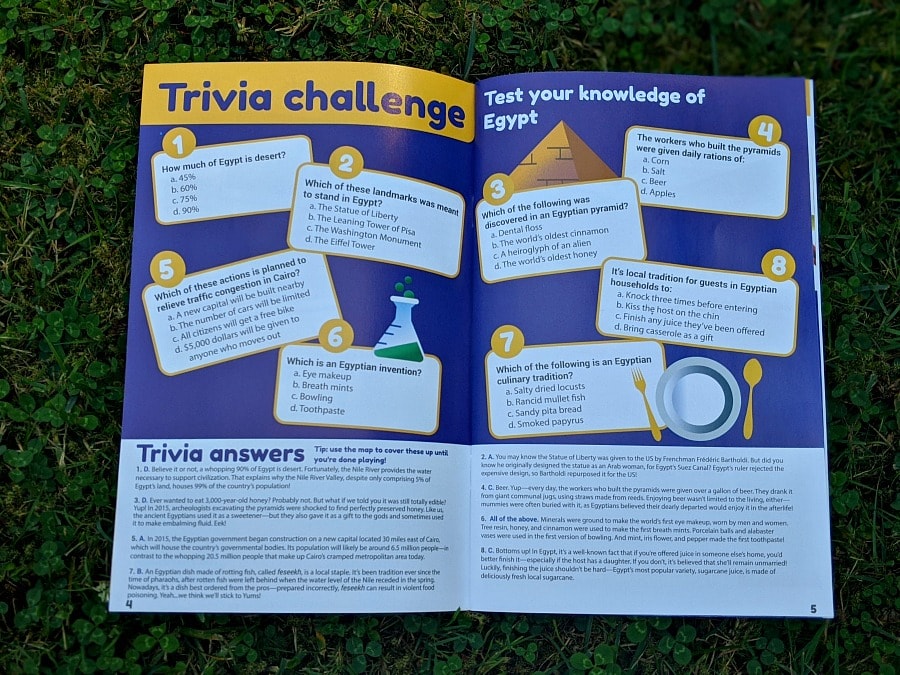 The booklet includes trivia questions or games, as well as specific information and history about each & every snack in the box. We love to open these boxes with friends, so we always read about the snacks out loud so that we all understand more about why it was included in the box for that country & any fun facts about the snack before we take turns trying each one.
Box Options:
There are several options for Universal Yum boxes depending on how many snacks you want in your box & the price. (these prices are current in Aug 2021)
Yum Box  – 5 –  7 snacks in every box  ($15/box unless you pre-pay the year then it will be lower)
Yum Yum Box  – 10 – 12 snacks in every box ( $25/box)
Super Yum Box – 18 – 20 snacks in every box ($38/box)
How to Purchase a Box: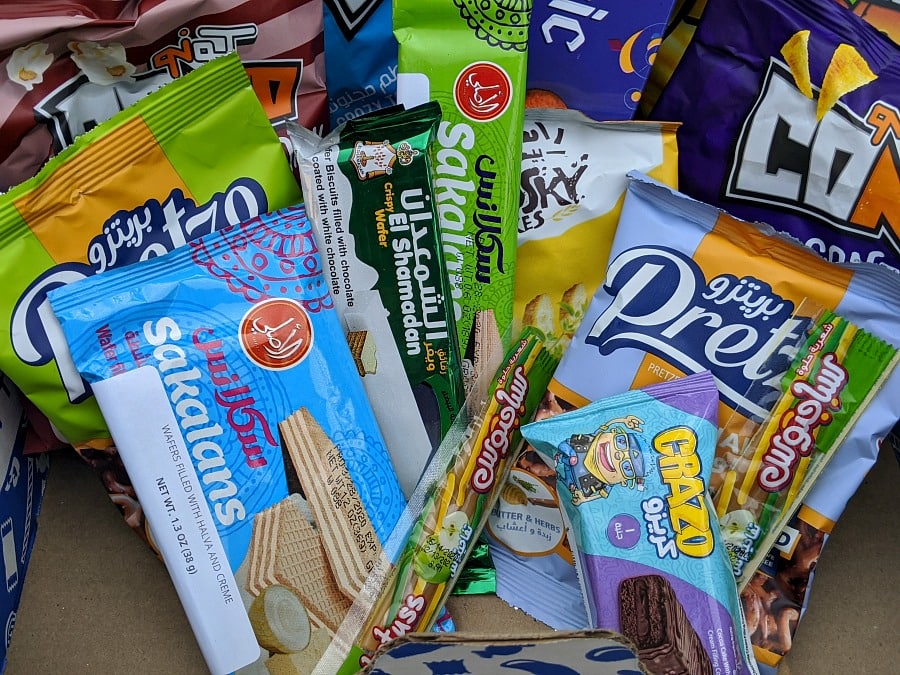 There are several different options for purchasing a Universal Yums box.
Month to Month  – this is a subscription box, so you will be charged for your first box immediately & then on the 1st of each month for your box that month. You can cancel at any time by logging in to your account & clicking "cancel" . It's that simple. You are not committed to a certain amount of time. Just cancel before the 1st of the month if you don't want to pay & receive that next month's box. The monthly Universal Yum box typically are shipped between the 8th – 15th of the month, so we often get it later in the month (it should take around a week to arrive).
Annual Subscription – you can choose to pay for an annual subscription which will save you a few dollars if you know you want to do a subscription for the whole year. This is a good idea if you are doing it for a homeschool / remote learning option to learn world geography.
Purchase a gift – you can have a gift box sent to someone to try out a box (when you sign up, right now they are offering the choice of two boxes, too, so you will know which box will arrive). You just pay up front for the box & are not signed up for a subscription. This is also an option if you would prefer to just sign up for one box yourself, but without committing to a subscription.
(These are all the Super Yums size boxes)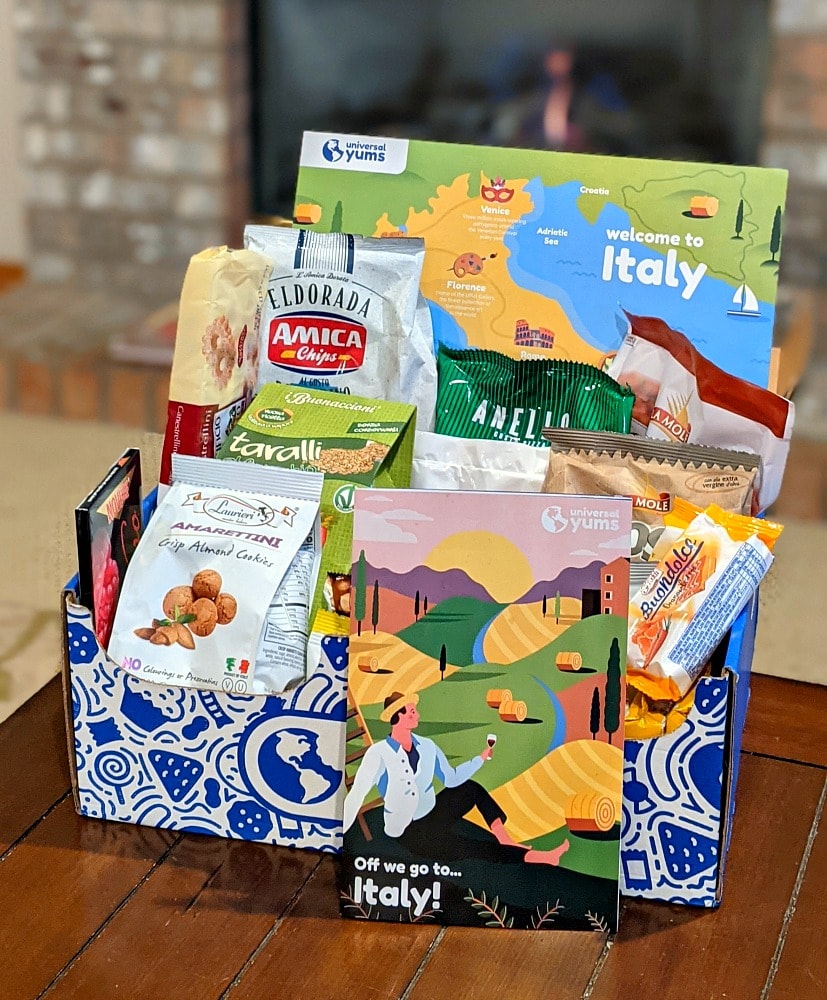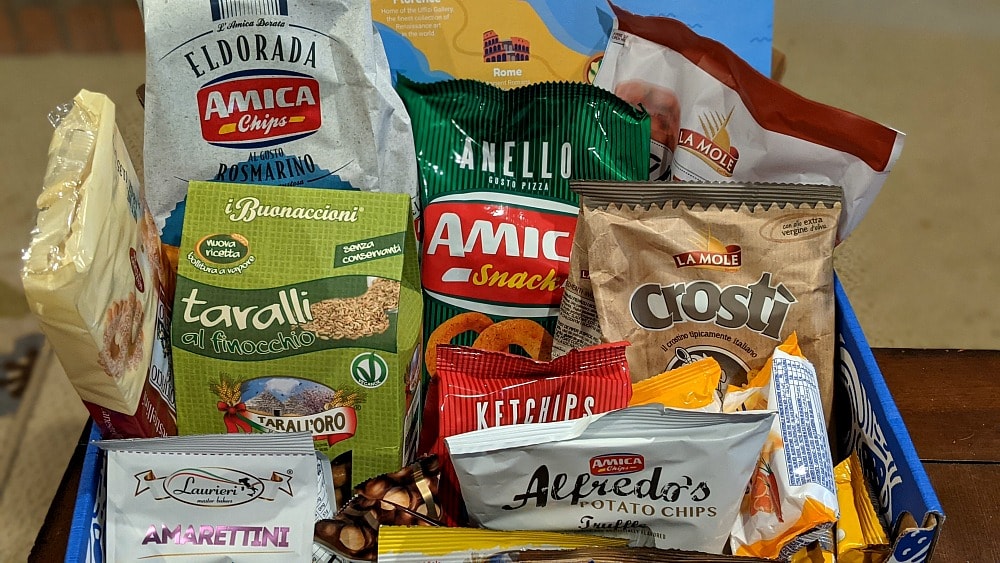 This is the December 2020 box from Italy – so many yummy treats & snacks in this one!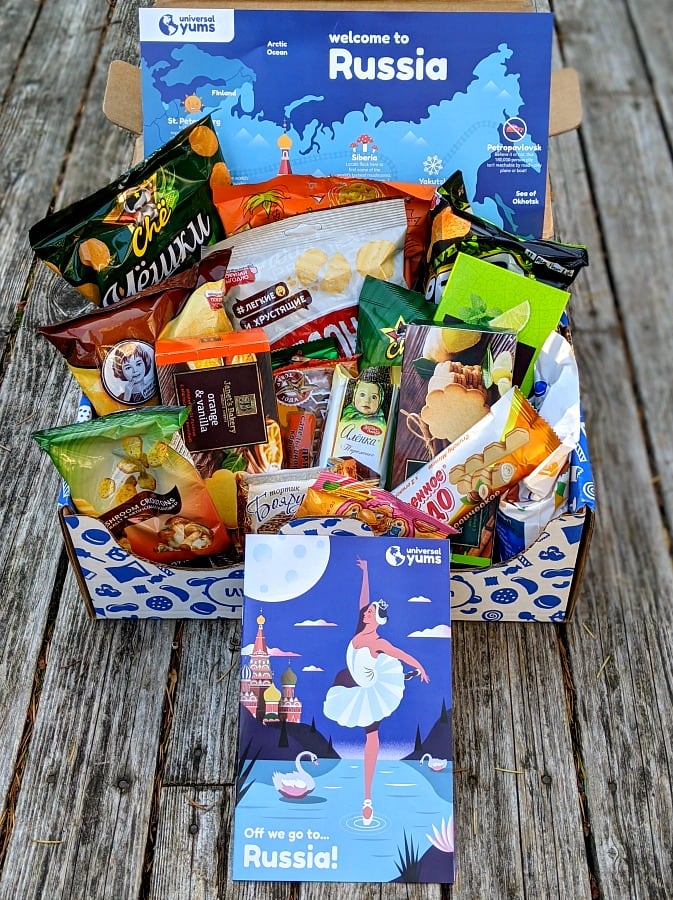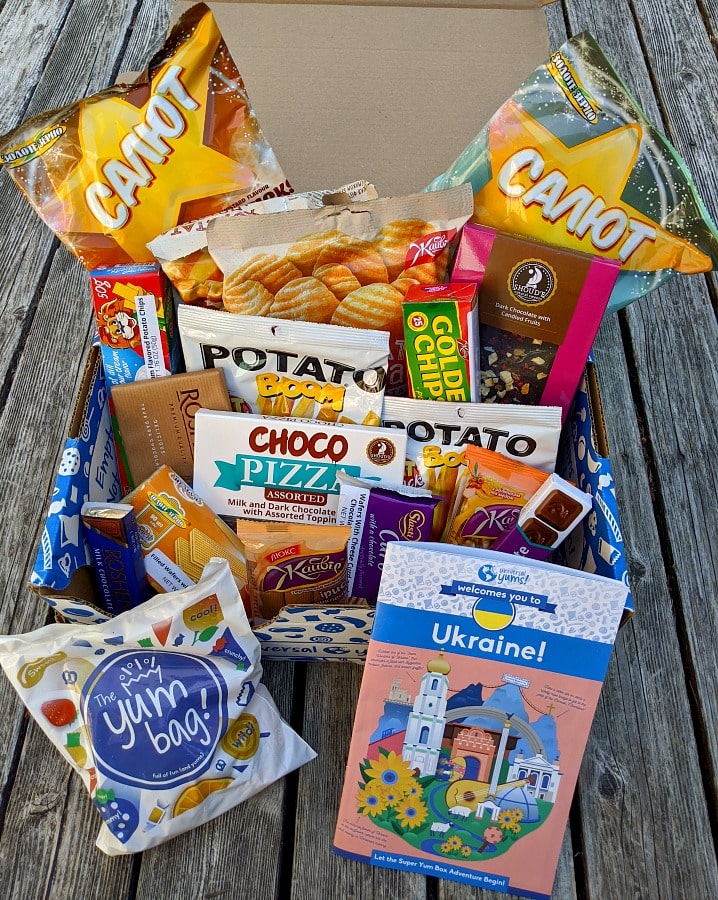 This box is from the Ukraine (they had a box from Russia last fall too). We enjoyed opening this box & trying out the snacks with our friend & his family who is originally from Ukraine.  Fun to reminisce with him about all the interesting & unique flavors in the box that were similar to some Ukrainian dishes (like Meat Jelly Flavored Potato Chips!) There was a lot of different chocolate options in this box, too! Yum!
Oh this box was so good from the Philippines! There were so many good sweet treats especially from this box, which I loved. :) The extra Yum bag is always filled with a variety of hard candies that are from that country.
Have you tried a Snack Subscription box before – what did you think?
Find more Subscription boxes here: