Monthly Subscription Boxes for Kids – Makes Learning At Home Fun!

Monthly Subscription Boxes for Kids – Makes Learning At Home Fun!
With so many kids in remote learning plans this year, we thought there might be other parents out there like us, who would be interested in these monthly subscription boxes for kids, that help make learning fun. I love them for my kids because:
They make learning fun for kids. My kids love to do these projects, and I don't think they even realize they are learning most of the time – they are just having fun with them.
They come all put together, so you do not have to go through the process of buying all the supplies for the various projects (convenience)!
Depending on the age of your child, and the subscription program, many of them are self directed. Meaning they are a great option to keep kids busy, without alot of supervision required on your part (in case your hands are full too).
My kids love getting things in the mail!
Click here to discover 100's of kids subscription boxes.
Here is a round up of some of the best subscription boxes for kids, and most are pretty affordable!
Craft /Building / Art Subscription Boxes for Kids :
These are subscription boxes, or craft subscription boxes for kids are great options for those who love arts, crafts and building. There are general options, as well as ones that specific to a certain type of arts or crafts. Some of our favorite picks are (plus find more then just our picks here to shop 100's of subscription boxes!).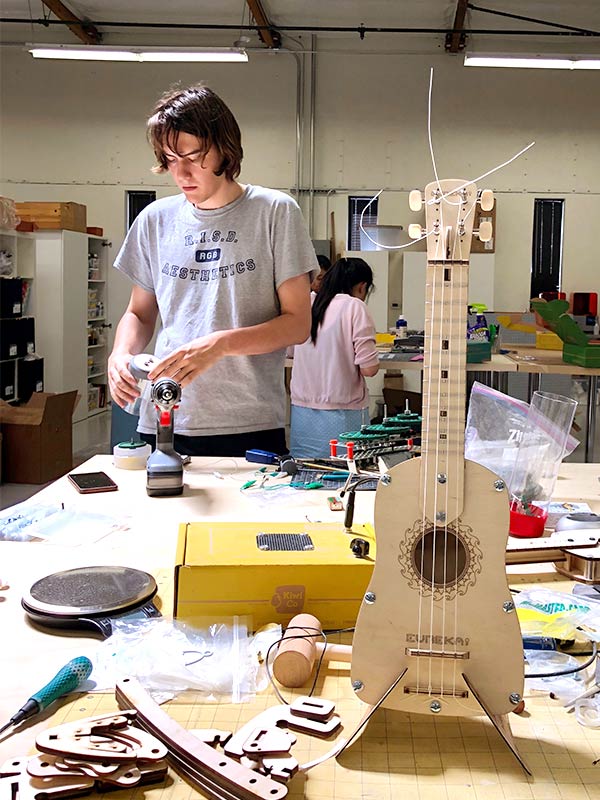 Age – Boxes geared at kids of varying ages – you choose their age category and style of box.
Cost – They start at $18 per month, but often run promotions for discounted first month, or annual memberships. You can also shop for items, vs subscribing. 
KiwiCo is a company that offers subscription boxes for kids as well as other STEAM products that help kids learn while having fun that you can use for FREE, or purchase kits that are not part of the subscription plan to. We do keep share all of the current promotional codes here, as well as information on how to access their free projects here.
We have personally subscribed to Kiwi Crates for our kids, and have really enjoyed it (especially during the elementary aged years). I also love to use the boxes as gifts for kids for birthdays and Christmas donations etc.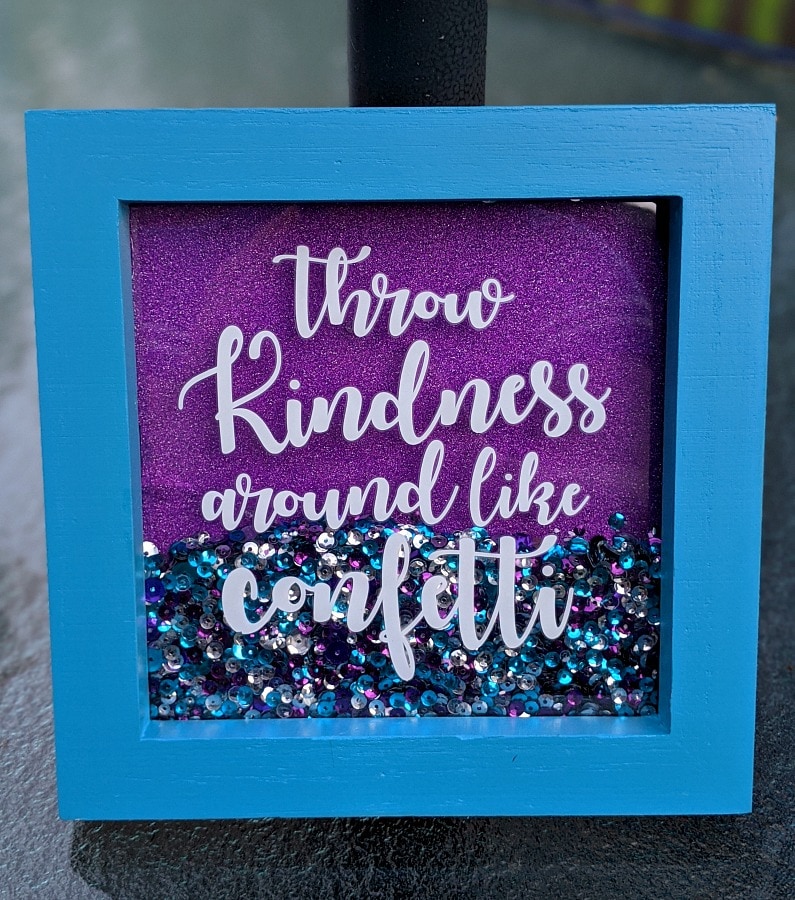 Age – Designed for ages 7-12
Cost – Special promotions available, get first two kits for just $9.93 shipped total (under $5 per kit)!
If your kids like crafts, or woodworking, here are two super offers to get them started on these project boxes. This is another one we have used personally, and really enjoy. The kits come with everything kids need to make great craft projects, or woodworking projects.
Annies Girls Club offers a variety of craft kits sent to you monthly, that come with all the supplies kids need to do fun crafts. We have a review of how that process works here, plus a promo code that will let you get your first box for 50% off – just $9.99.
Annies Young Woodworkers Club runs the same way, only they send woodworking projects for those who love to build. We also have a 50% off promo code for that and review here too.
We have tried both of these programs and are big fans. They even have adult kits if you mom and dad want their own.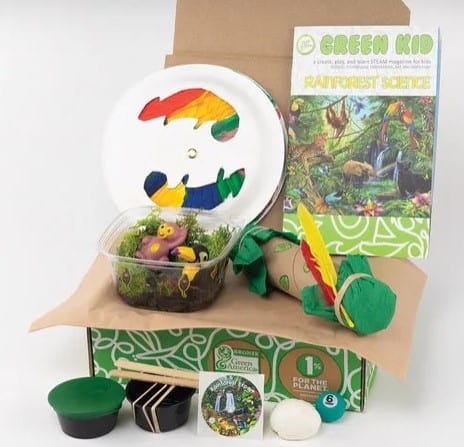 Ages – Discovery boxes for kids ages 5-10+ or Junior boxes for kids ages 2-5.
Cost – Start at $29.95 (can get 10% off or $10 off one box with current promotions). You can also shop for items, vs subscribing.
Green Kids Craft offers monthly themed boxes, that arrive filled with 4-6 Science and Art projects plus a 12-page magazine. These are nice as they include multiple activities per box.
You can do a one month subscription, if you want to try it out first, or buy a single box from their shop section. You will get better pricing on the longer subscriptions (and can cancel at any time), but it is nice to have that added option. This is a quality box, and one that combines learning and fun for kids nicely.
Join today, and save 10% on any new subscription. Plus, if you provide your email, you can save $10 on your first box.
Age –  for children ages 6+
Cost – $25 per month (but $5 off first box with promo code ILOVECLAY
If your kids are interested in pottery, this one is fun. Each box includes complete step-by-step art lesson guide book & video tutorial, clay tools, paint supplies, project accessories, and enough air dry clay for two sculptures. These are fun, screen-free activities kids will love.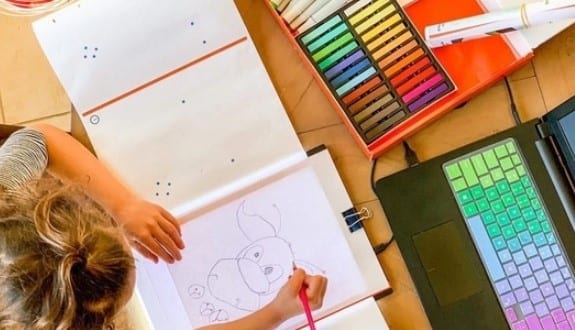 Age – Level one Kits for 4-7 and Level two for 8-10
Cost – Guide Dots starter kits covers the first three months of instruction at a cost of $30 per month. After the purchase of the initial bundle monthly rates vary between $15 and $20 depending on the subscription duration (3, 6 and 12 month). 
Are your kids constantly drawing and want to take their hobby to the next level? Guide Dots is a curriculum designed to teach kids to draw. The subscription combines strategically placed dots and online instruction to get kids making frame-worthy masterpieces. No matter which subscription you choose, you will receive the Guide Dots Starter Kit that delivers an array of full-size teacher-tested art supplies that sets your child up for success.
Technology & Sciences Subscription Boxes for kids – 
Age –  6 – 12
Cost – $24.95 per box
If you have kids who are interested in coding, this is the one for them. Voted #1 STEM box for kids: Bitsbox is a crazyfun subscription box that teaches kids how to code! Bitsbox delivers coding projects that teach kids to make video games, greeting cards, simulations, and more. Kids start by coding from examples and progress quickly to inventing their own apps!
My kids built a light system for their room with one of the Bit Boxes, it was super cool.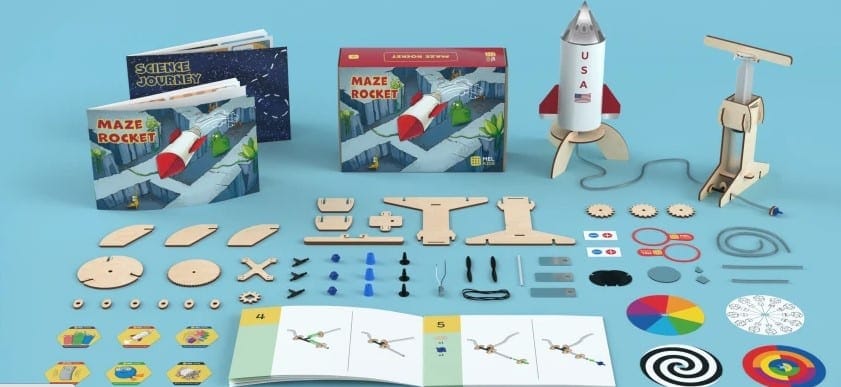 Age –  5-9+
Cost – Get your first month for FREE (pay $0.99 shipping) and boxes are $34 a month.
Mel Science Kits offer a number of different types of fun science projects for kids, and most come with 3-4 experiments per month! If you want your kids to learn more about science, and have fun doing it – this is the kit for them.
Grab your free box here, or learn more about Mel Science Kits here.
Geography / Travel Subscription Boxes For Kids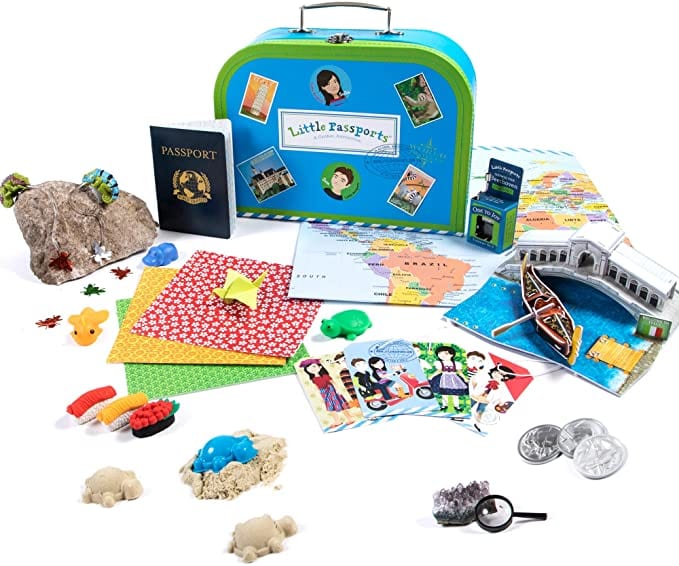 Age – 3 – 12, depending on what kit you subscribe to
Cost – Starting at $19.50 for first box
This is such a fun kit to help kids start exploring and learning about the world around them, right from home.
In the first package you'll receive the signature blue suitcase, your very own passport and wall-sized world map, an exclusive collectible Country Coin and coin board, three soft animal squishies, and a welcome letter from new pen pals Sam & Sofia.

Little Passports packages are designed in conjunction with professional educators, PhDs, and award-winning writers and designers.
You will find the first box for all the different ages of Little Passports boxes marked down here.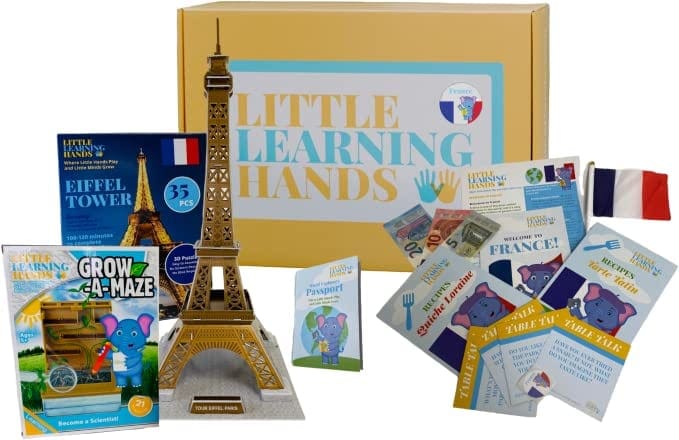 Age – 6-12
Cost – $24.95 for first box, $39.95 after
Help children foster a genuine respect for others, and help them feel connected to people whose lifestyle, culture, language, food or family structure may be different from their own. Little Global Citizens is a subscription service (send one time, every two months or every other month for a year) that sends an expertly designed, education-based box to kids (aged 4 to 10) to bring a new country and its culture to life. Each box is filled with items from that country including authentic guides, crafts, screen-free activities (games and puzzles), language skills, recipes, a story book and more! Countries are picked to highlight various cultural events relevant in that country. Past boxes included China, India, Kenya and Jamaica. Little Global Citizens offers something that goes beyond a book. It's a fun way to engage children's senses in a different way to learn about other people.
Kids Cooking Subscription Boxes – 
I love these ones, as you can consider this part of your monthly food budget too, but kids learn how to cook, and with many of these kits they learn much more then just cooking (like exploring the world in general through food).
Looking for food and snack subscription boxes? Click here to find the perfect one for you!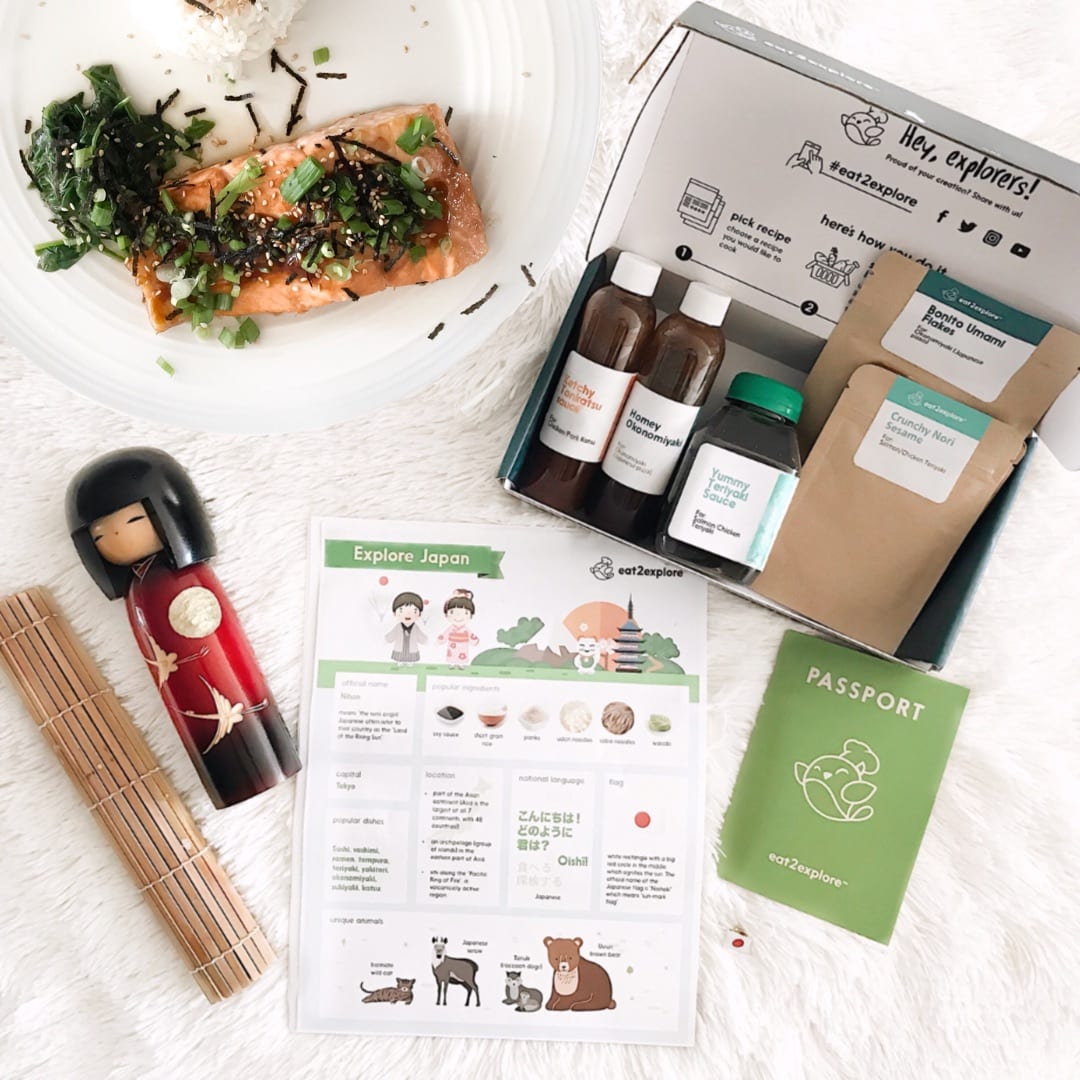 Ages – Good for a variety of ages, but may require adult supervision.
Price -Starting at $24.95. Get 15% off your order with promo code NEW15
Try different foods from around the world like arroz con pollo or beef shawarma with your aspiring chef thanks to eat2explore. Kids will gain a mindset of respectful understanding and appreciate that people have similarities and differences while learning life skills in the kitchen. eat2explore's subscription box service brings the food of different countries (18 countries/regions like Italy, Mexico, Greece, etc.) straight to your kitchen table. It provides tools for families to cook together, learn and dine on different cuisines and cultures. Once kids are done exploring the country, they'll love they can track their "travels" with a sticker on their eat2explore passport and collect country flag pins. The boxes can be purchased one box at a time, or through a monthly subscription. eat2explore provides three easy-follow-recipes and a shopping list to purchase proteins and vegetables of your choice, as well as including hard-to-find spices and sauces.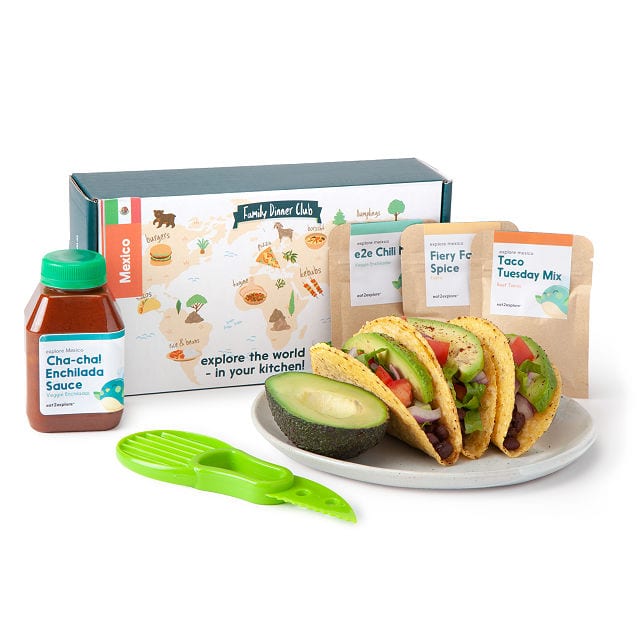 Ages – Cooking projects geared at younger kids with adult supervision.
Price – $25 (get $5 off when you sign up for their emails)
This is  another fun box that combines learning to cook with exploring the world around us!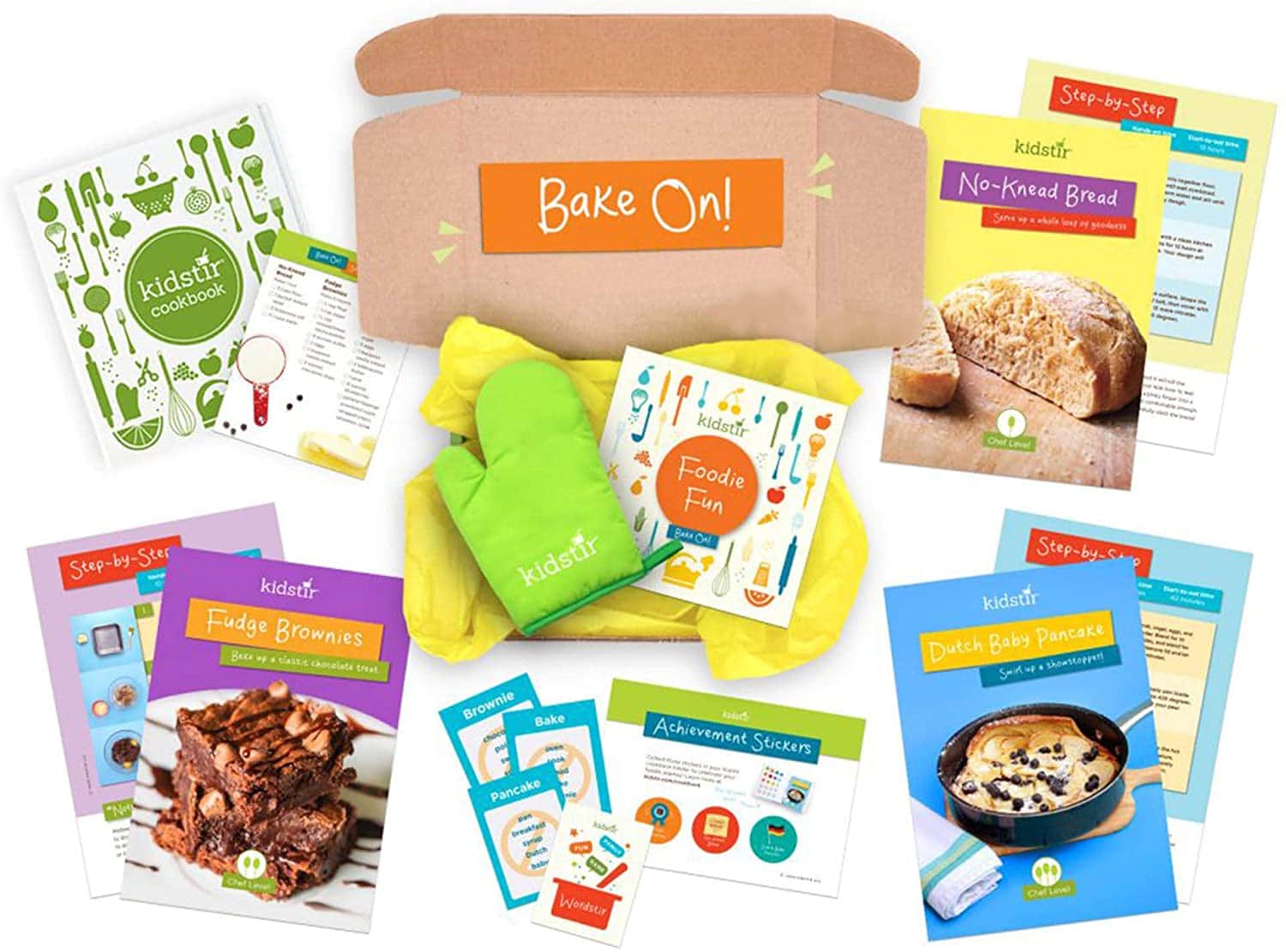 Ages – Cooking projects geared at younger kids with adult supervision.
Price – Get your first box for just $11.99!
Fun Monthly Recipes, Cool Tools, Creative Ideas for your Child to Learn Cooking and Baking.
Book Subscription Boxes for Kids –
Highlights Top Secret Adventures Subscription Box
The reviews on the Highlights Top Secret Adventures Subscription Box look great, and right now it is just $7.50 (reg. $14.99) for your first month. It will auto-renew at $14.99/month unless you cancel.  The magazine is so popular, that the subscription boxes are bound to be great too. Here is what you will find inside these:
Your first mystery kit also includes a world map and a secret agent passport with visa stickers.
Kids ages 7 and up will love the puzzle-solving fun that teaches geography, encourages problem-solving, and inspires interest in world cultures while building self-confidence and a sense of accomplishment.
Each mystery kit is a kid's world travel guide, puzzle challenge and detective game in one. Receive a mission assignment letter, puzzle book, country guide book, collectible villain cards and a storage portfolio every month.
Kids use what they learn in the fact-filled country guide book to fill in the puzzles in the puzzle book. Then they use clues from the puzzles to solve the final mystery. So many kinds of fun!
The variety of puzzles includes Hidden Pictures scenes, quizzes, mazes, word searches, secret codes and more, all with even more information about the host country. Your kids will learn so much!
OwlCrate Jr.
Spark a lifetime love of reading with OwlCrate Jr.'s monthly subscription box for kids ages 8-12. What's really cool about OwlCrate is that subscribers get more than just a book—they get a whole themed experience including 4-6 goodies, a hardcover book, at least one usable item or activity to encourage creativity, imagination and exploration,  plus an exclusive letter from the author and a collectible monthly sticker. Each monthly box is curated for kids of all genders and the books are published within 45 days of ship date. The books are either standalone stories or the first in a new series. Past themes included Code Breakers, Bump in the Night, Rebels & Rulebreakers and more! Available for one time box, three or six month subscriptions. Starting at $27.99
Play / Learn / General Subscription Boxes

Finders Seekers Mysteries – $30
Escape Room Box – 
Every month includes a new fun puzzle and adventure to help you solve a mystery from the comfort of your own living room.
Explore a new city and culture while you try to decipher the clues. New city each month!
Family-friendly, great for children ages 10+
Each puzzle includes clues in case you get stuck and our team is able to assist from our growing Facebook group community!
Takes approximately 2-4 hours to complete each puzzle, however each month's puzzle may vary!

Deadbolt Mystery Society – $24.99Shop the best geek and gaming subscription boxes for nerds and gamers.
Every month subscribers receive a new stand-alone case file with everything needed to close the case & SOLVE THE MYSTERY! Give the gift of quality time!The Deadbolt Mystery Society Monthly Box
Stand-alone stories that don't require other boxes to complete. Start and stop each mystery at any point.
Interactive, online components that bring each story to life (Requires a QR code reader on a smartphone, tablet, or laptop and Internet access)
Great gift for friends and family who love mysteries and puzzle-solving (recommended for age 13+)
Crack the case alone or with a group of up to 4 people.
Brought to you by the creative minds behind Deadbolt Escape Rooms!
Pickup Sports– Youth sports programs will look a lot different this fall, but thankfully a mompreneur came up with an alternative for young aspiring athletes. Pickup Sports is an at-home learning system that allows kids between 3-6 years old to try new sports. Starter boxes include age-appropriate equipment, access to weekly live virtual coaching with parent-child games, and expert-created curriculum based on years of research. Available sports include basketball, flag football, soccer, tennis, baseball & softball, and volleyball. Starter boxes are currently priced at $45. Best part—for every box purchased, the company donates one to kids with limited access. https://pickupsports.co/
If you are looking for more ideas for Subscription boxes for kids, find a huge round up of ideas here.
Let us know if your family has a favorite learning subscription box that your kids love!