Bright Cellars Wine – 60% off First box – 5 Bottles for $30 + S/H
This post may contain affiliate links and I may be compensated for this post. Please read our disclosure policy here.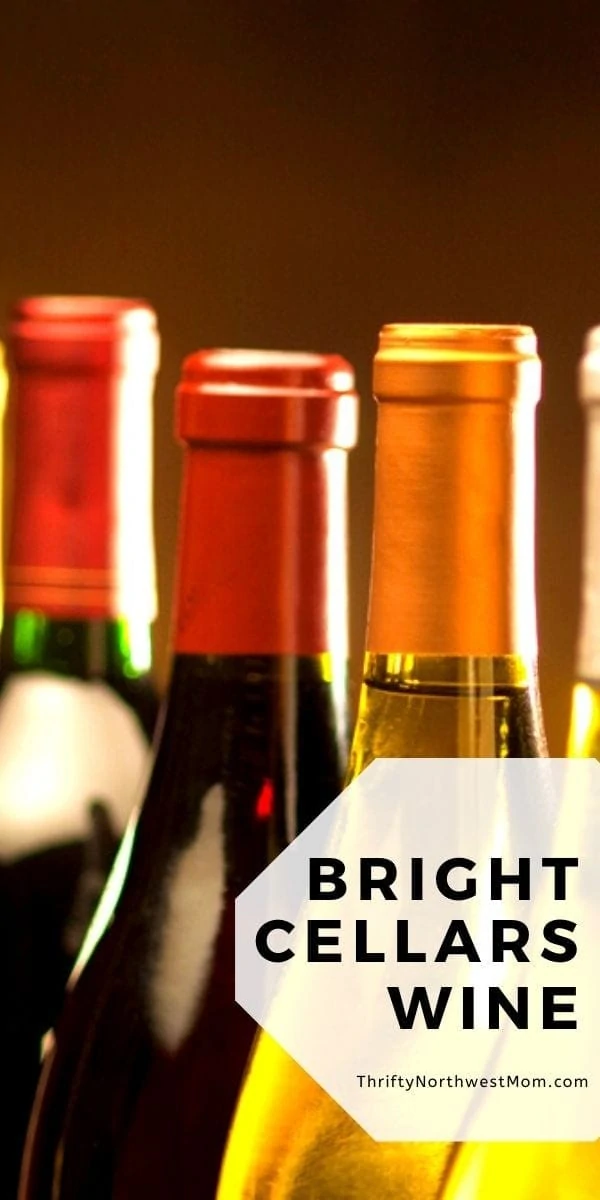 Bright Cellars Wine 
Bright Cellars is a monthly wine delivery subscription service for you to check out as a great way to test out new wines from the comfort of your home at reasonable prices. The goal of Bright Cellars is to help you discover new wines & expand your palate with trying new wines. Since buying new wines can be daunting & intimidating if you have tended to stick with the same wine brands or variety, their goal is to help you refine your tastes as you try new wine.
The initial way they will do this is by asking you a variety of questions in a quick quiz to find out your  taste preferences. This will create a taste profile for you. But after you have bought your initial wines from them, they will use the information that you provide to them with your ratings about what you liked or didn't like about each wine. This will personalize your selections further, so that it becomes more refined to finding the perfect wines for you. They want to provide you with wine education to help you learn more about the wines you are trying.
How does Bright Cellars work?

I tried the quiz & then it picked 4 wines for me. It showed the "Bright Points" rating – the closer to 100, the better the match for you! They look at 18 different attributes compared to your preferences to come up with the ratings.
Your wine selection guide will give you information about where the wine is from, information about what to expect about the flavors & more. When they send the wine to you, they will also give you information about what type of food to serve with your wine, what temperature to keep the wine, and more educational information to teach you more about the wines you are trying.
You will also have the option to try a different variety of wine – for example, above they picked a Merlot, but if I know that I don't want to try Merlots, they have the option to click on "Don't Like Merlot" & then you can choose a different variety they will pick for you. So, remember, every wine that you rate, will improve your future wines as they get to know your palate & favorite preferences with wine.
When they send the wines, if you decide you do not like the wine at all, they will send a replacement. They don't want you to end up with a bottle you do not like, so they will work hard to make sure you are happy (& that is good feedback for them to know for your taste profile which wines you do not like so they can further refine your wine taste & send you wines that you will enjoy).
How much does it cost?
You will receive 4 wines in your monthly subscription box – the cost for the 4 wines is $80/month or $20/bottle. You can skip a month at any time & it's very easy to cancel Bright Cellars online if you decide at any time that you are no longer interested in the subscription box.
If you only drink wine occasionally, you can also change your subscription to just bi-monthly or even quarterly, too, if you prefer not to do the monthly subscription.
Bright Cellars Discounts & Promo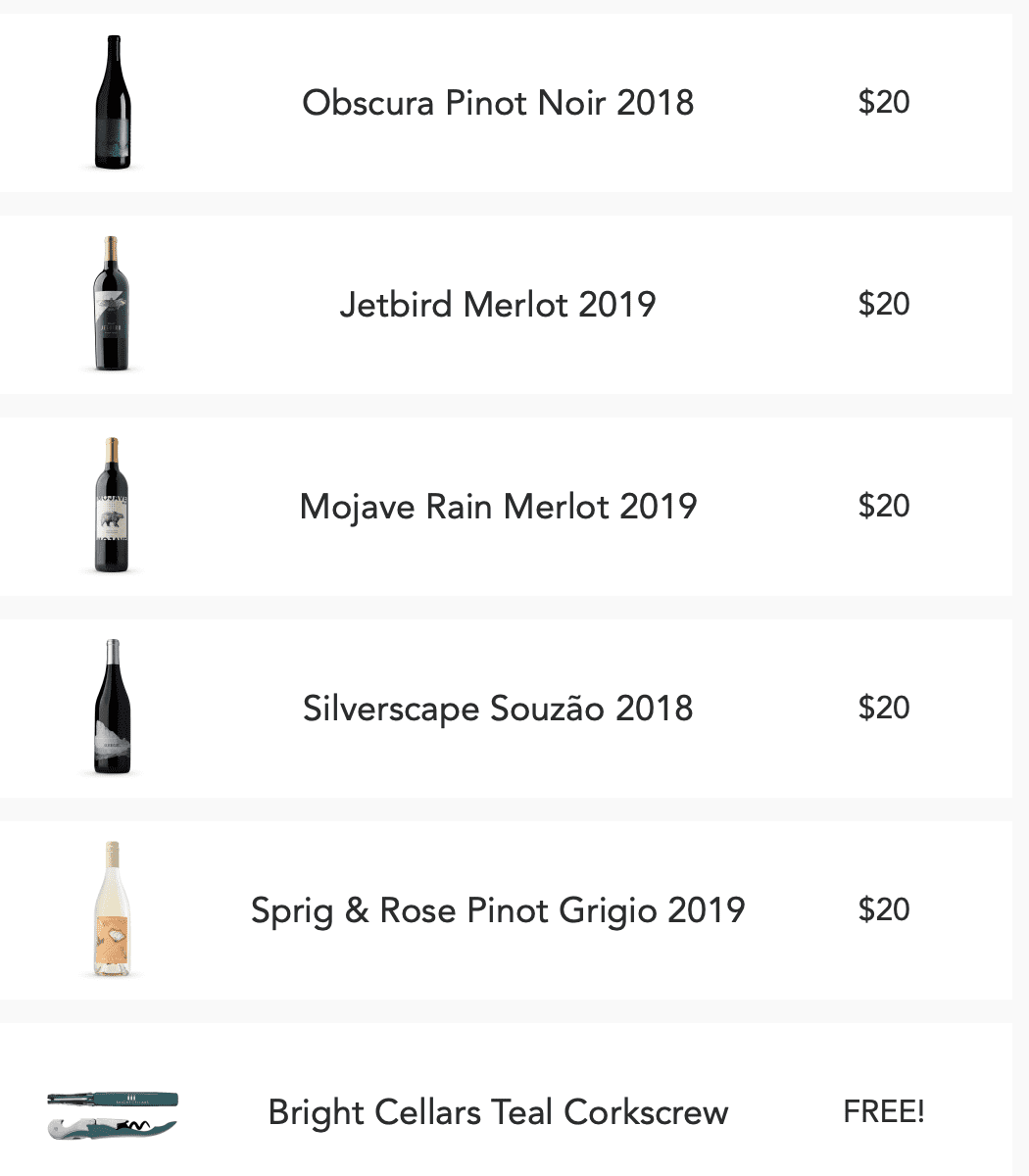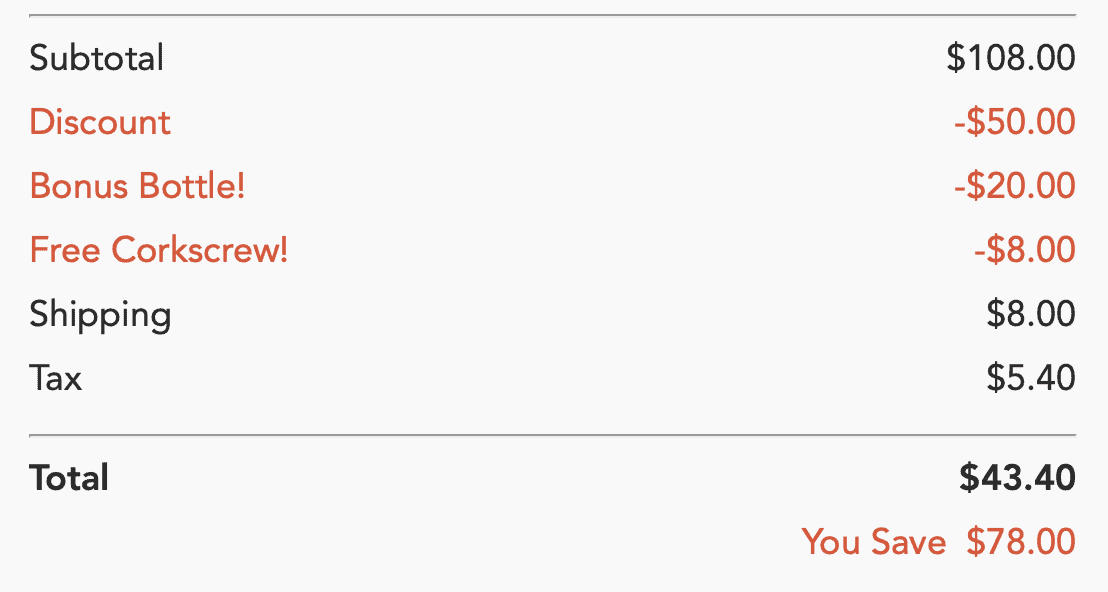 Right now there is a special promo to get 60% off your first box + a free bottle , so that's 5 bottles. Plus, you will also get a free corkscrew. So that's 5 bottles + corkscrew for 60% off, which is $30 + shipping/tax. For me, that worked out to $38  (+tax) for 5 bottles of wine + corkscrew. Or $7.60/bottle for your first box! Now that's a great way to try out some new wines!
No promo code is needed – just head on over to the website & the discount should show at checkout.