Whalers Rest RV & Camping Resort – Stay In A Cabin with Ocean Access on the Oregon Coast!
This post may contain affiliate links and I may be compensated for this post. Please read our disclosure policy here.

Whalers Rest RV & Camping Resort – Stay In A Cabin with Ocean Access on the Oregon Coast!
There is nothing like a stay on the Oregon Coast to help me relax and unwind. I love to camp, but I also do not love all the work that comes with setting up and tearing down campgrounds for a family stay when I am on vacation. My perfect solution? Renting a cabin in a campground! I love this option as I can enjoy the feeling of having access to lots of outdoor activities, but still lock my doors at night and turn up the heat if needed. We even had a dishwasher and bathtub on this stay! One very fun spot is called Whalers Rest RV & Camping Resort down near Newport. Our stay here was fantastic.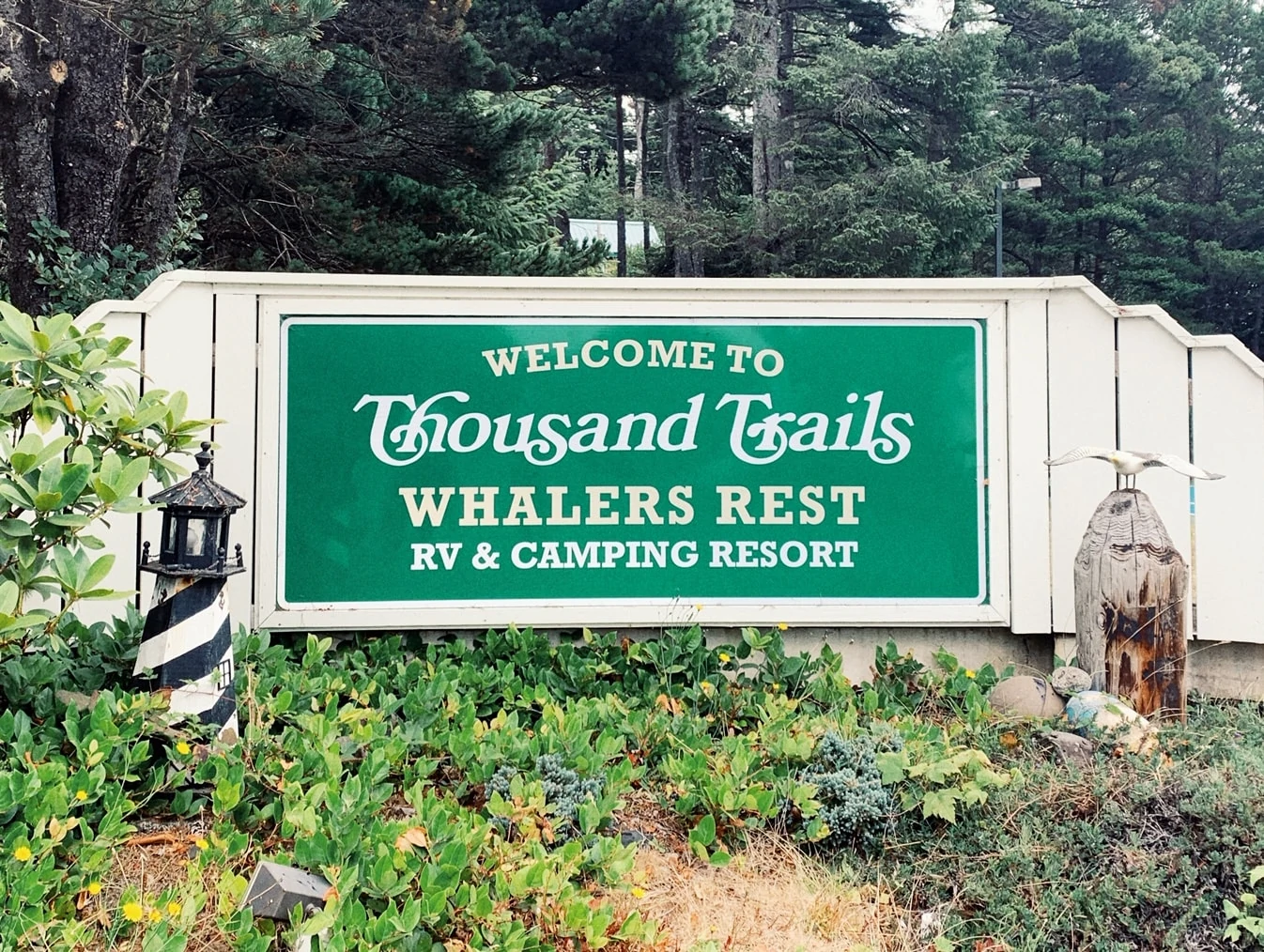 For this stay we chose Whalers Rest RV & Camping Resort in South Beach Oregon, which sits just south of Newport, Oregon. I loved this stay, as we had the relaxing feeling of  being in a campground, but still had access to plenty of amenities, as well as having a fun coastal city just a few minutes drive down the road.
Location & Amenities of Whalers Rest RV & Camping Resort
Whalers Resort is located in South Beach, Oregon, just a few minutes south of Newport Oregon, and north of the Yachats and Florence areas of the Central Oregon Coast. It makes a perfect stop for a trip up or down the Oregon coast, or as a single destination all on its own!
This resort offers cabins, RV sites and camping sites, so something for most budgets. It is also packed full of amenities. Our favorite perk of this area is that it is in walking distance to a beautiful ocean beach.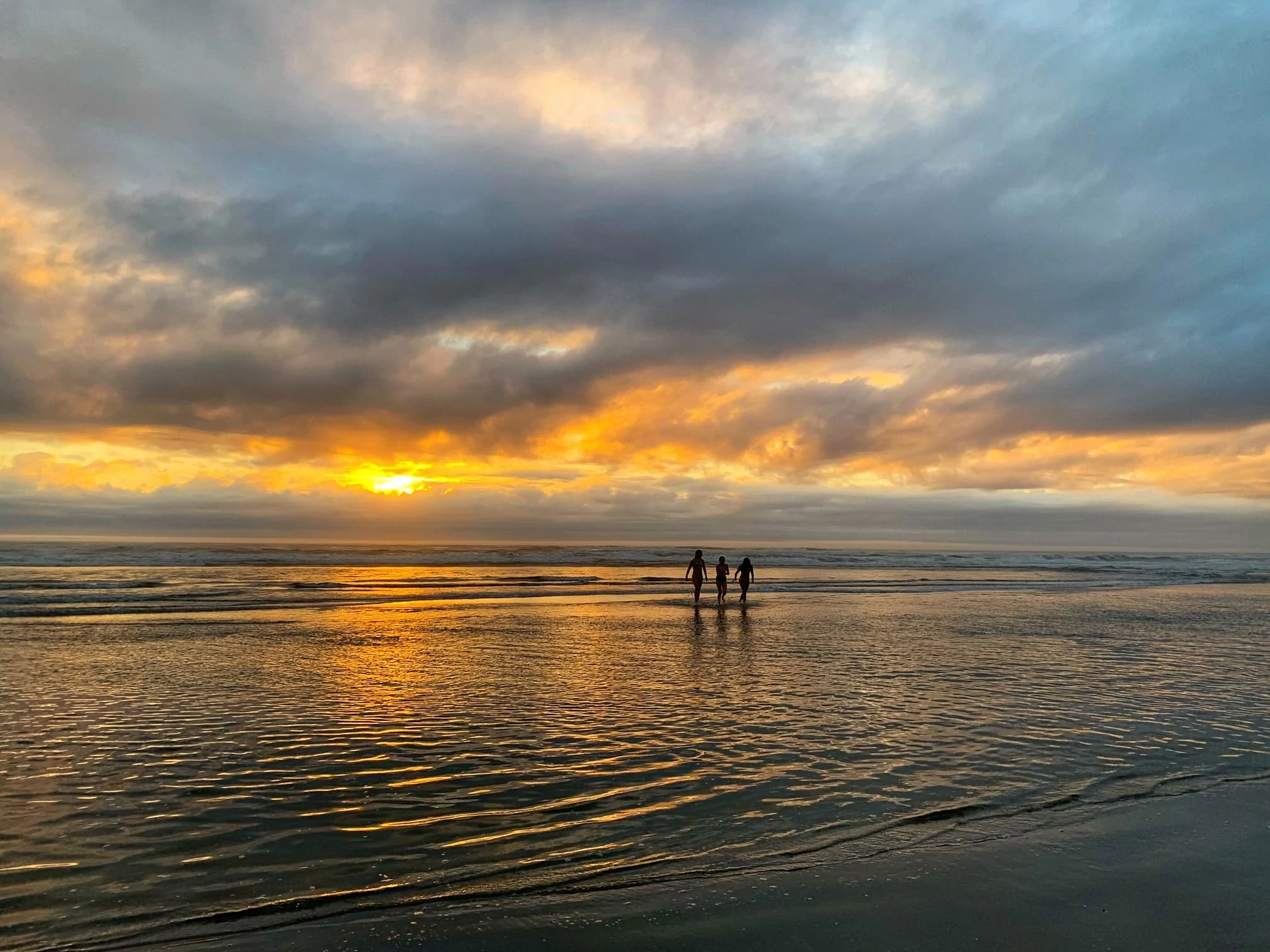 Lost Creek Beach
We loved having access to a a beautiful stretch of sandy beach and the ocean, that we could walk too! We body surfed on boogy boards during the day, and enjoyed sunsets in the evening. You could drive to this spot too, as you will have to cross the highway if you walk – but either way it was super convenient access.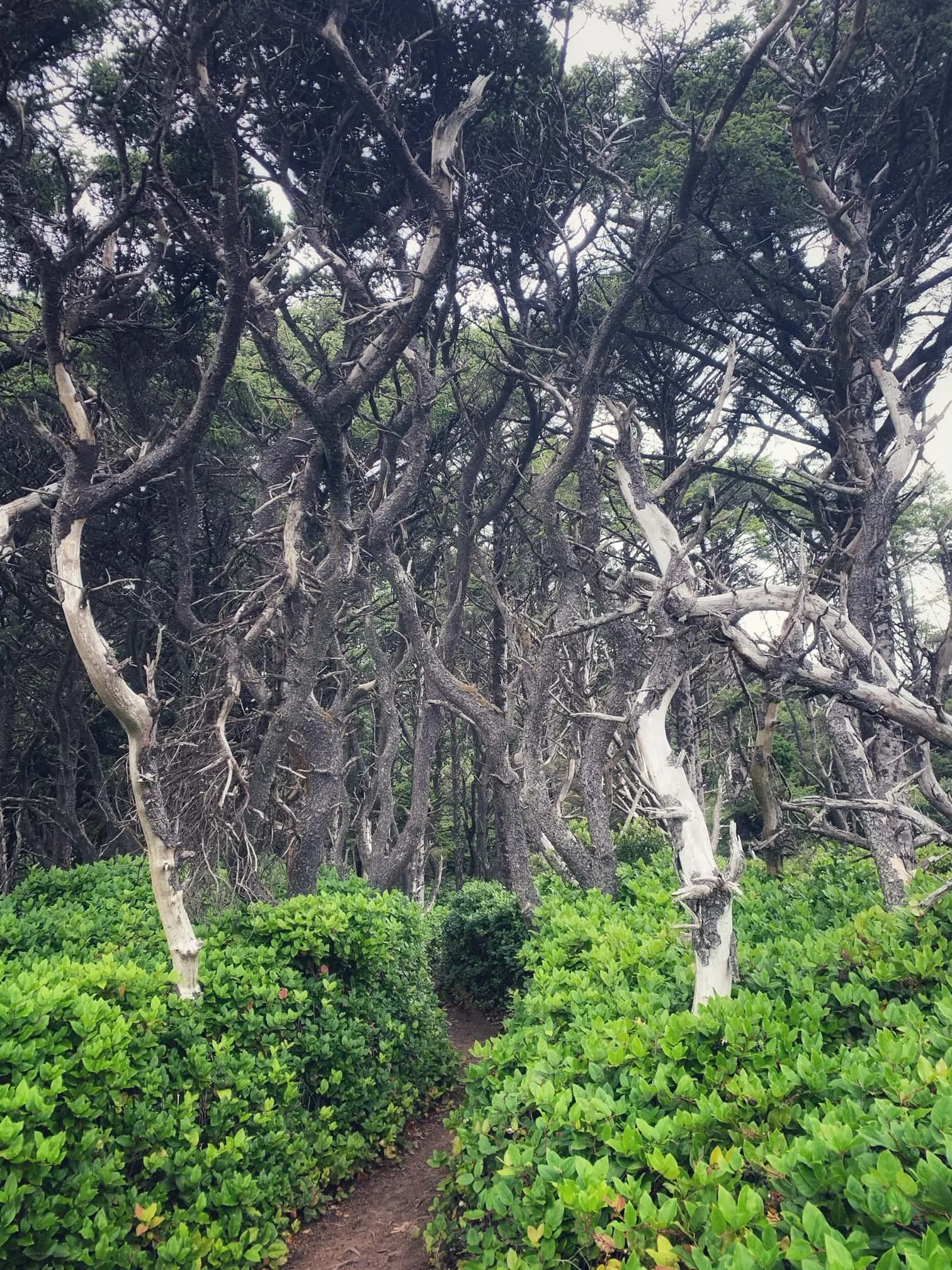 If you want to walk, you will go through the campground to this easy walking trail. It does come out at highway 101, and you will have to cross the highway. This was not ideal, but did not end up being a big deal once we tried it. We never had to wait more than a few minutes for the highway to be clear enough to cross. I would not let me kids do it by themselves, but I never found it to be difficult when I was with them.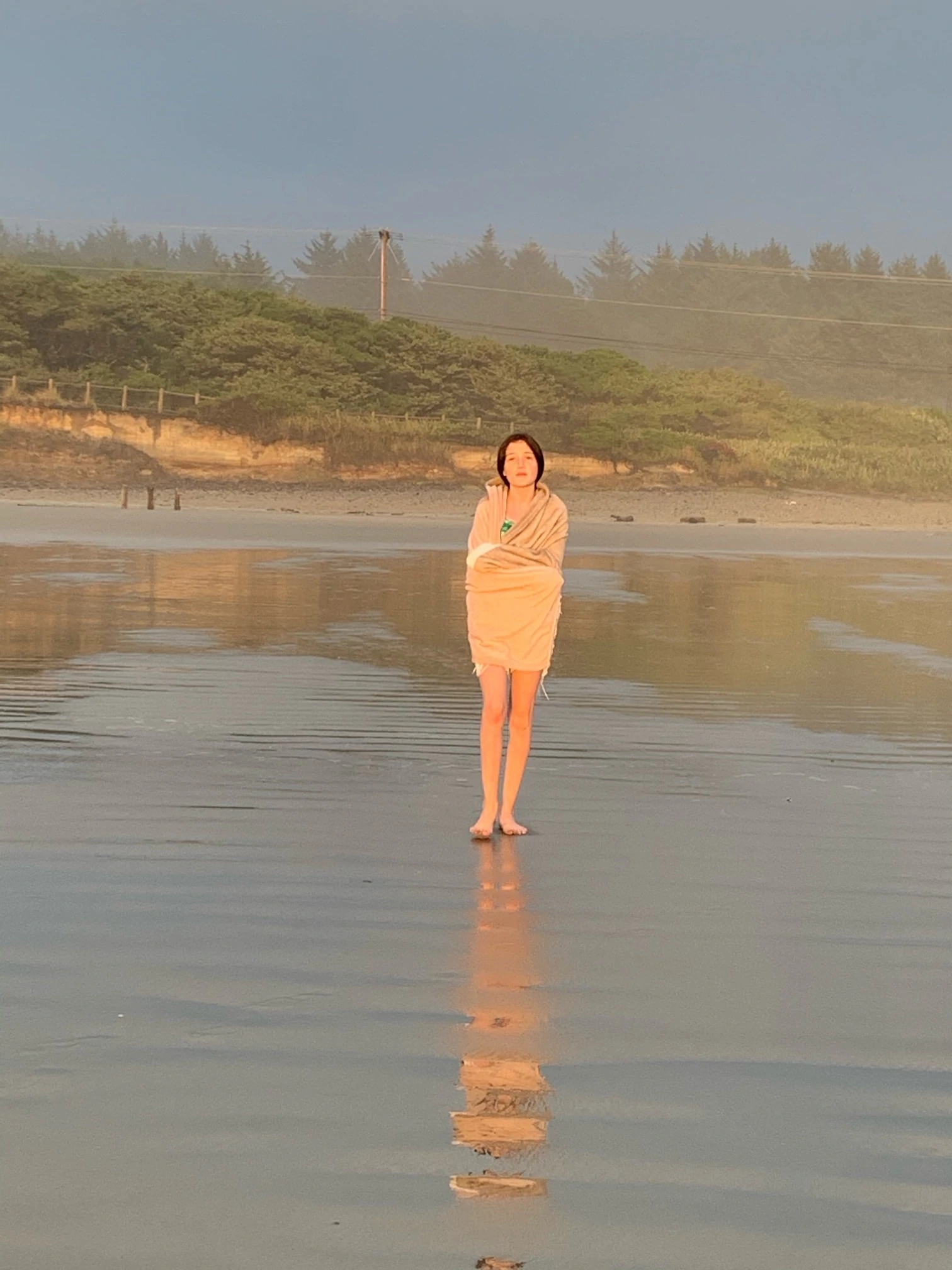 The lighting in the afternoon at this beach was magical. The sun would come and illuminate the beach. I loved this time of the day on the beach!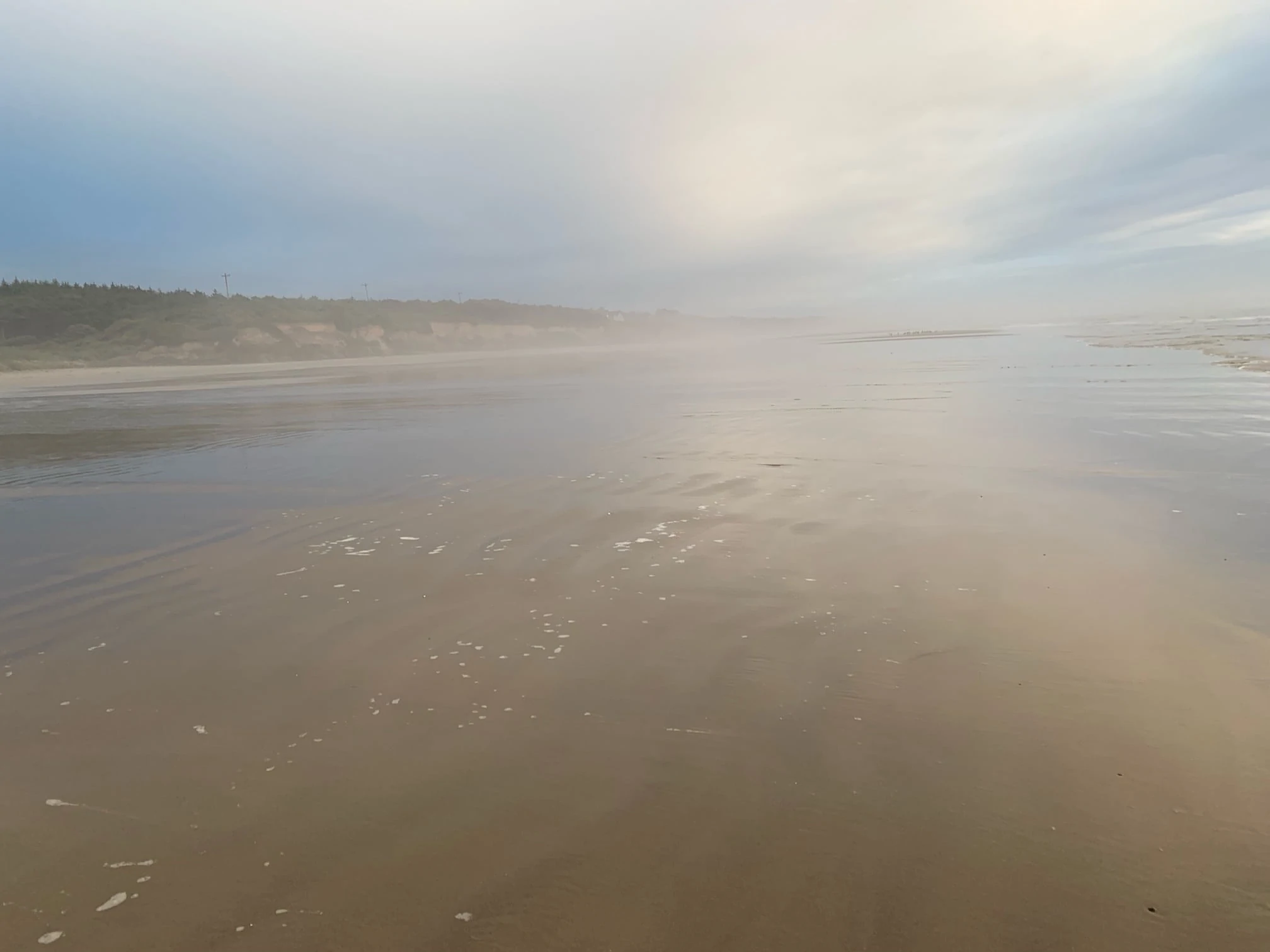 The beach stretched on for miles on both sides, and we never had an issue finding a spot to hang out over here. It was gorgeous on both sunny days and foggy days.
The favorite thing for my kids was body surfing. We brought some boogy boards, and there were enough waves here for them to really enjoy playing on them.
Another thing that I loved about this spot, is that there where all the lots of activities that the kids could do right in the campground (see note above about needing to bring your own gear during COVID). This made it an ideal spot where we could hang out for the day, or head out and explore nearby areas, but come home to lots to do too.
The campground itself was full of amenities to enjoy. There was:
Putt Putt Golf
A sand volleyball court
A basketball half court
Tennis courts
Ping Pong Table
Horseshoe pits
Indoor Swimming Pool (closed for COVID)
Indoor Spa (closed for COVID)
Onsite store where you can purchase ice, firewood and more.
Note – internet was spotty here. I actually enjoyed that, as it kept my kids off their phones for much of the time. If you need better access, you can go to the clubhouses, and we were able to get access to much better internet connections there.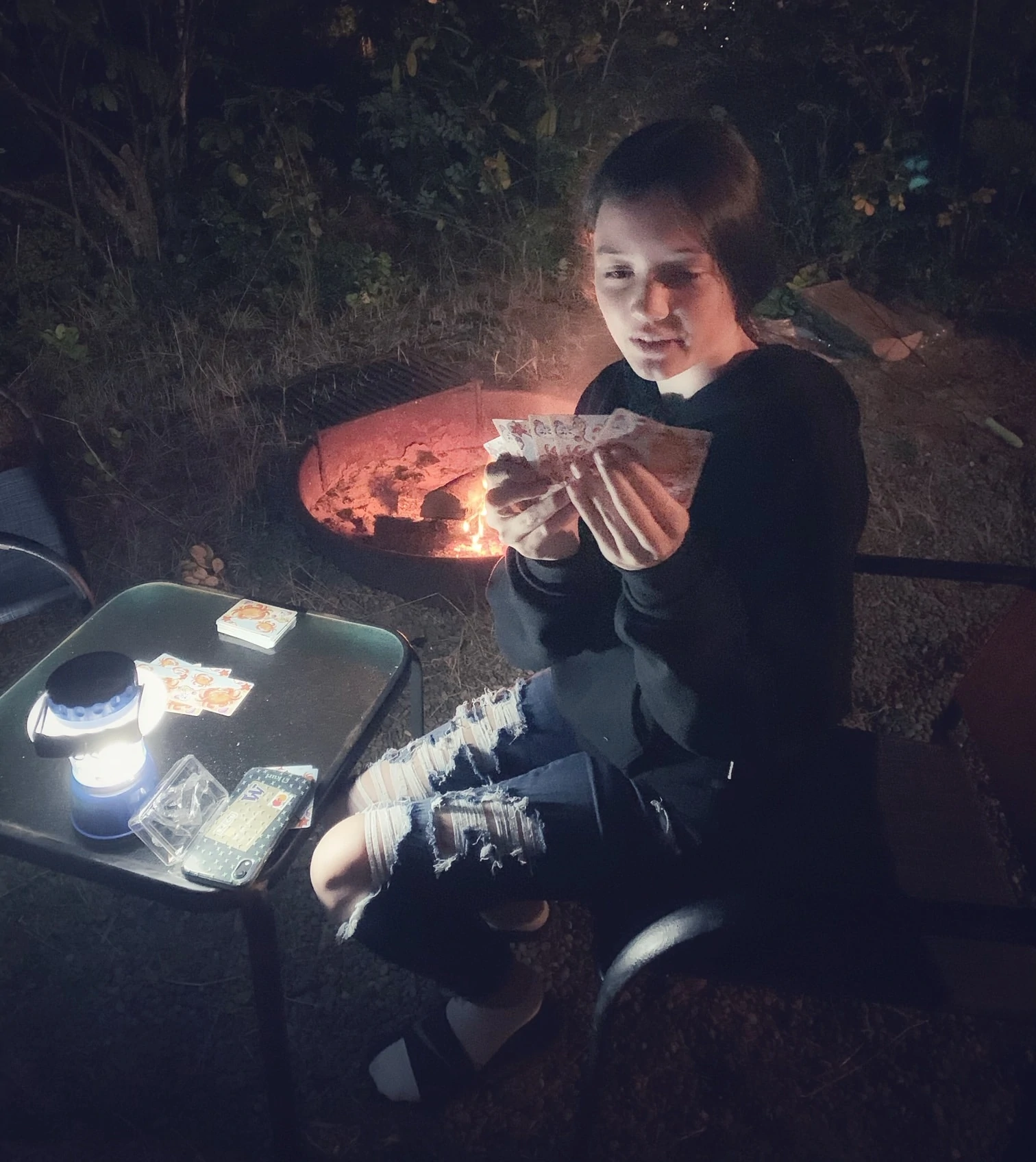 We often ended our evenings with a game and smores around the fire. You can buy firewood bundles right on sight (note that they are only accepting credit cards at this time, unless you can provide exact change). They will even deliver the bundles right to your cabin for you – so it made making an evening fire so easy for us ladies!
The area itself is nice, and the campgrounds large. My mom and I would get up in the morning and go on a stroll with our coffee while the kids where still sleeping. It was the perfect way to start each day.
Cabin Stays At Whalers Rest RV & Camping Resort
Whalers had more cabin options than most campgrounds we have visited, so it is a great spot to consider renting a cabin as you will have a higher likelihood of finding them available on your desired dates. They also had many different models to choose from, and most of them looked fairly new too.
One thing you will want to note about booking a cabin at Whalers resort, is that you may need to call them if you do not see the style you want available online. It sounds like they are in the process of updating that information online, so you may not see a full inventory of options there yet. You can start by checking out their website here, but if you do not see the style you are looking for then give them a call directly to ask about availability options for cabins.
If you are looking for other similar cabin options, but in other areas, check out:
We stayed in a loft cabin, and here is a video tour of our cabin. When we first arrived it was raining (more of an ocean mist than a down pour), which made coming into a warm and cozy cabin even nicer. It was sunny for the rest of our trip, but the cabin is an ideal spot to stay for any kind of weather.
The loft cabin sleeps 6, and it is an ideal arrangement for our family, as the kids have their own space (ie containing their own mess)! There are also cabins that sleep 6 that have a bunk area and one bedroom, but my kids always prefer a loft when available. Our cabin had a bathroom (with tub/shower combo), full kitchen, bbq and much more. I always save money on what it would cost for us to eat out if we stayed in a hotel room, so I do like to factor those savings into the price of the cabin too, when considering where to stay (I can use my regular grocery shopping budget here, and then splurge on a few meals out and some ice cream or candy store stops).
You can watch the video above for a full tour, but we had a small living room and kitchen space, bedroom with closing door, bathroom, loft area for kids and storage to boot.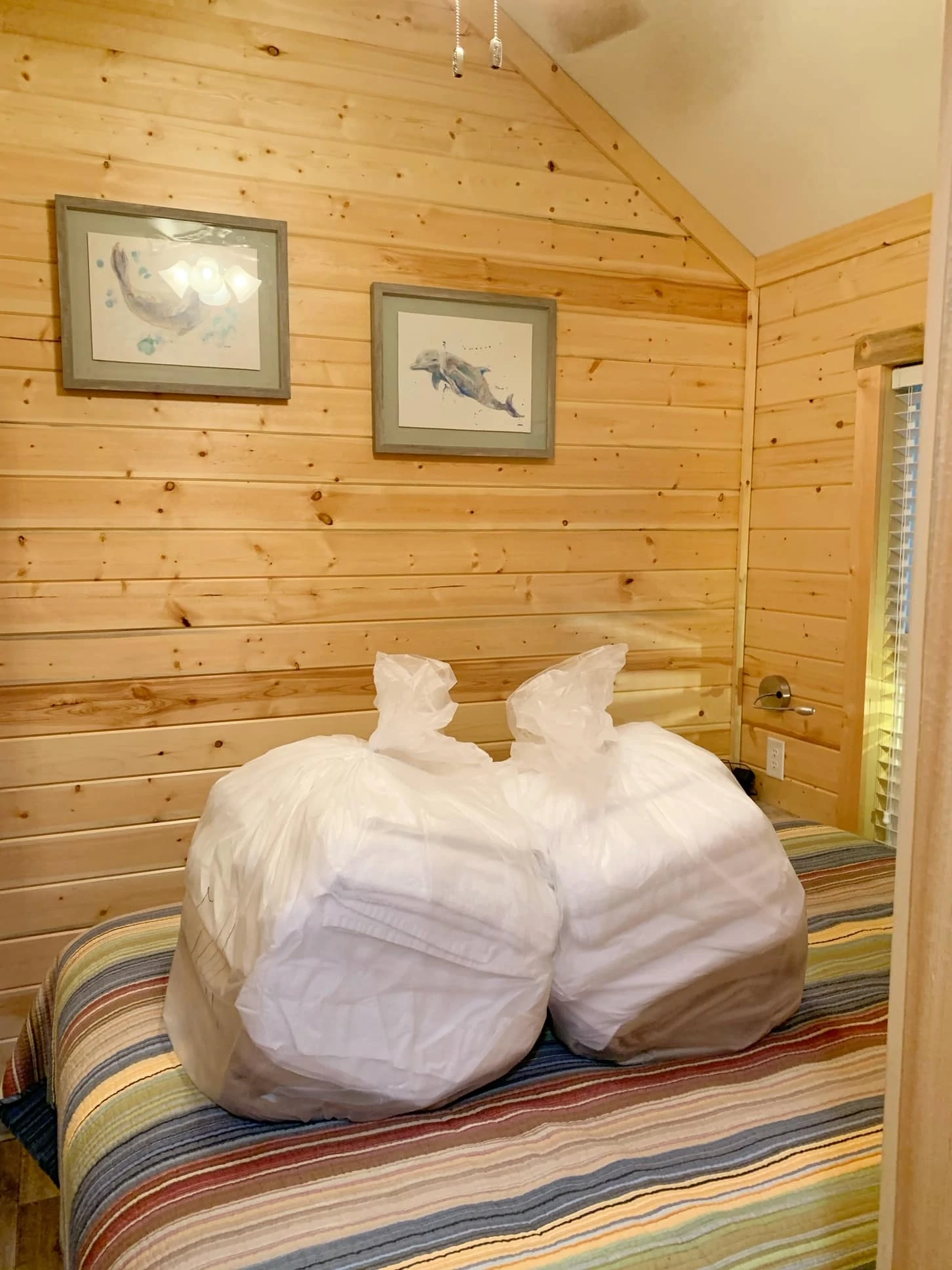 We had clean linens waiting for us on the beds, so we did not have to pack any of those kinds of items with us (our linen sets included bedding and towels). You will want to call ahead of time to confirm your cabin stay either a) includes those too or b) what your options are to have them available to you. This may vary depending on the type of cabin you book. Our cabin was also stocked with everything we needed in the kitchen as well – but that may vary cabin to cabin too, so always ask about what is included.
One of the other things I love about cabin stays, is having an outdoor space to hang out on. This was our front deck, and the spot that my mom and I loved to relax at daily. It sure beats sitting indoors on vacation, when you need a little down time.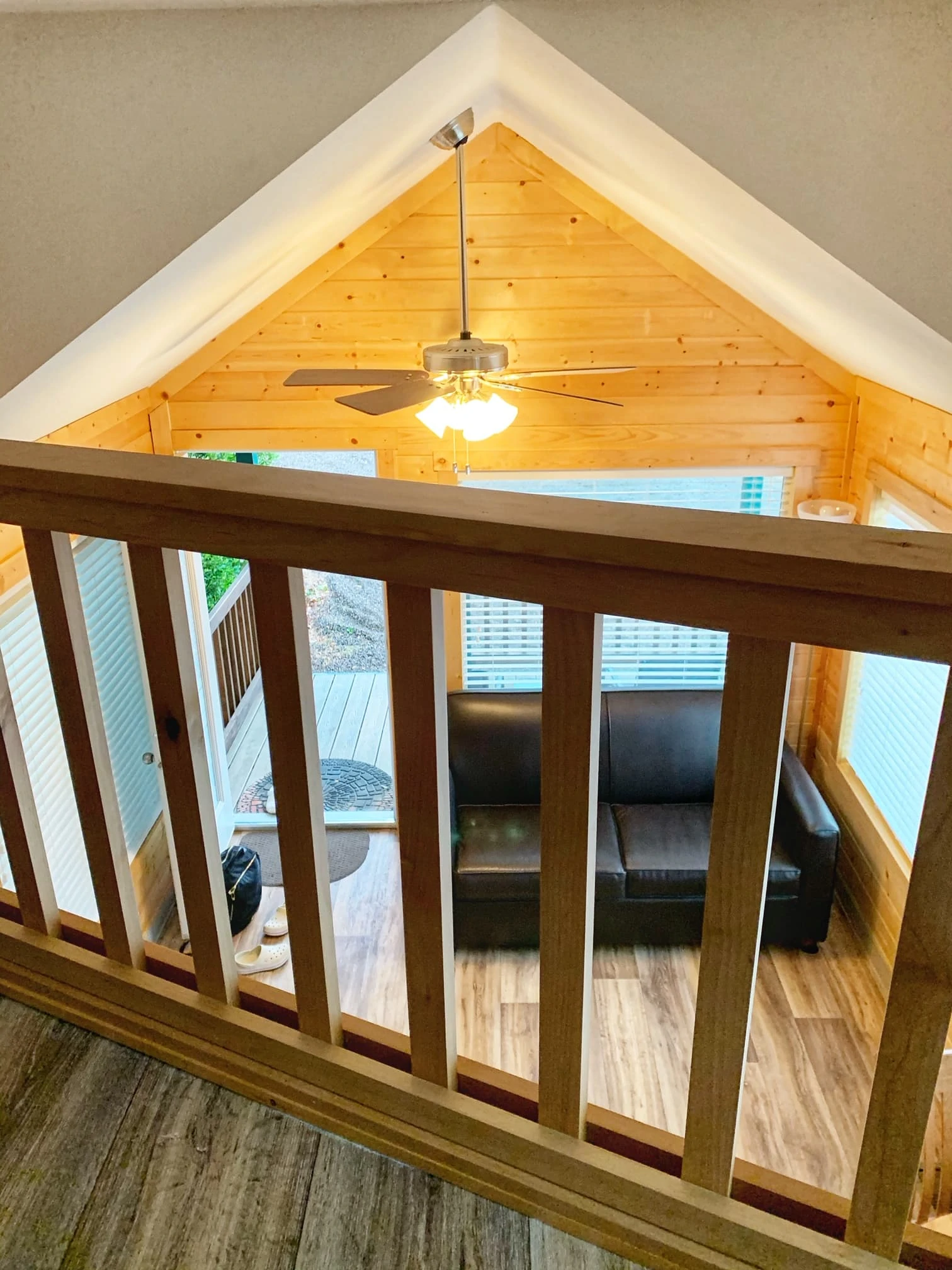 And the loft area makes the cabins super fun for kids. The cabins that have two bunks are also fun – they have a closing door on them, and sleep the same number of people – so those with younger kids might prefer that set up over a loft. My kids are old enough to run up and down stairs, so this style is ideal for us.
The Whalers Resort had more cabins available than many grounds we have visited (and most of them looked fairly new!). If you are looking for a cabin to stay in, this is a great spot to check out for that. It would be particularly nice if you are staying with another family. You can book cabins next to each other. They had a little cabin village area, as well as providing many different cabin options.
Some cabin options that are our favorites (there are more too, cabins will sleep 4-8 ppl call to see full list).
Cabin with loft area, that sleeps 6 – my families favorite (double bed in bedroom, two single beds in loft, and pull out sleeper sofa in living space)
Cabin with bunks – that sleeps 6 (double bed in bedroom, two bunks with sliding door to close space off, and pull out sleeper sofa in living space)
Studio Cabin with bunks – that sleeps 4 (double bed in main area, two bunks with sliding door to close space off)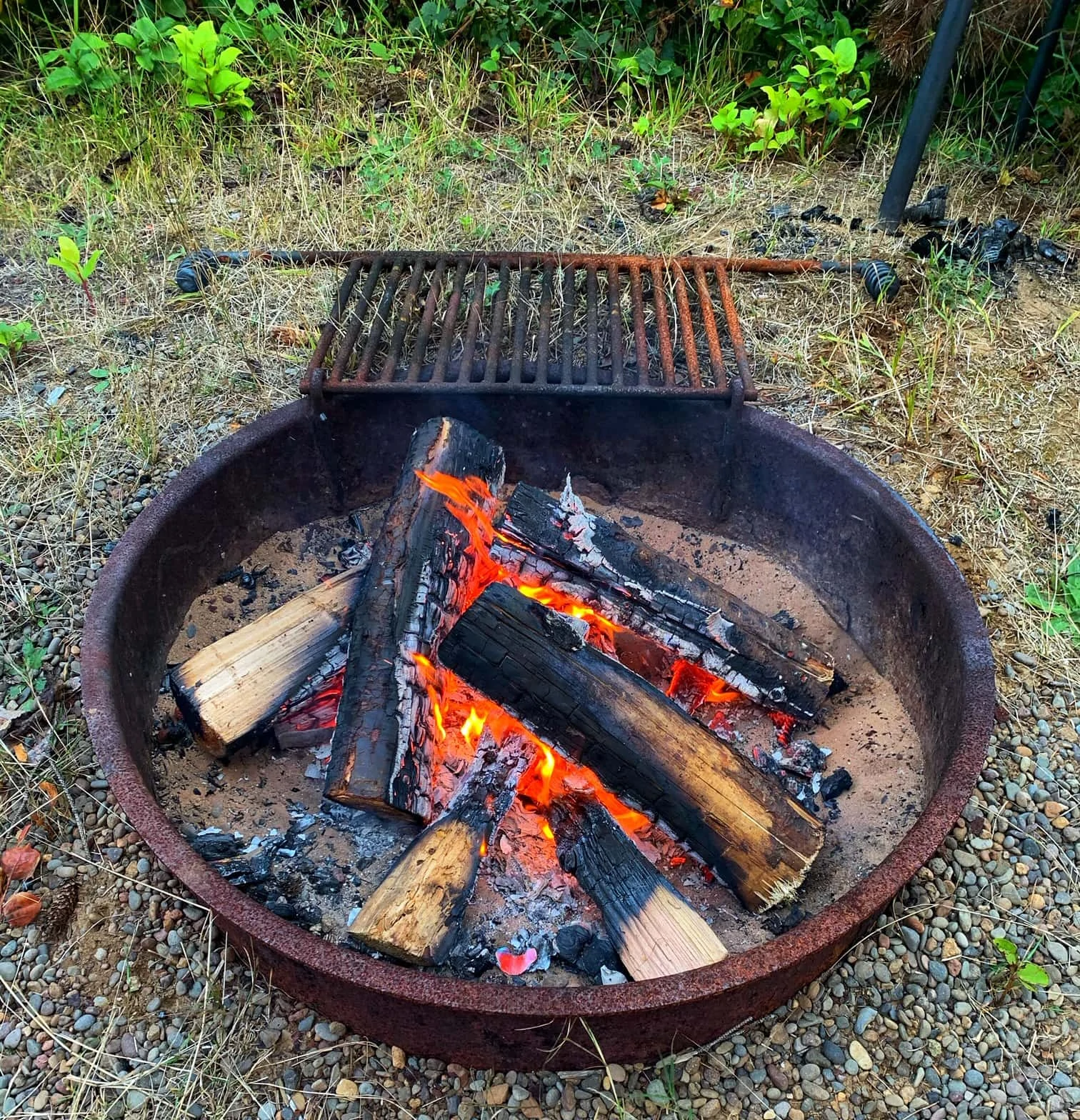 It looked like most of the cabins had an outdoor fire-pit, and BBQ grill as well for your use. We used our fire-pit almost daily, and really enjoyed that time.
What To Do In The Area
There are lots of things do in the Newport Oregon area, which is just up the road a few minutes from South Beach where the park is. You will find restaurants, shops, attractions, outdoor adventures and more here.
We took a trip down to Florence Oregon one day during our stay too, to check out the sand dunes. It was a highlight of the trip for the tweens and teens we had with us. Florence was around a 50 minute trip away, and you will pass through Yachats on your way (another fun spot to stop for a bite to eat, or hit the outdoor market and more).
In Florence you will find the popular Sea Lion caves, as well as sand surfing, dining, shopping and more.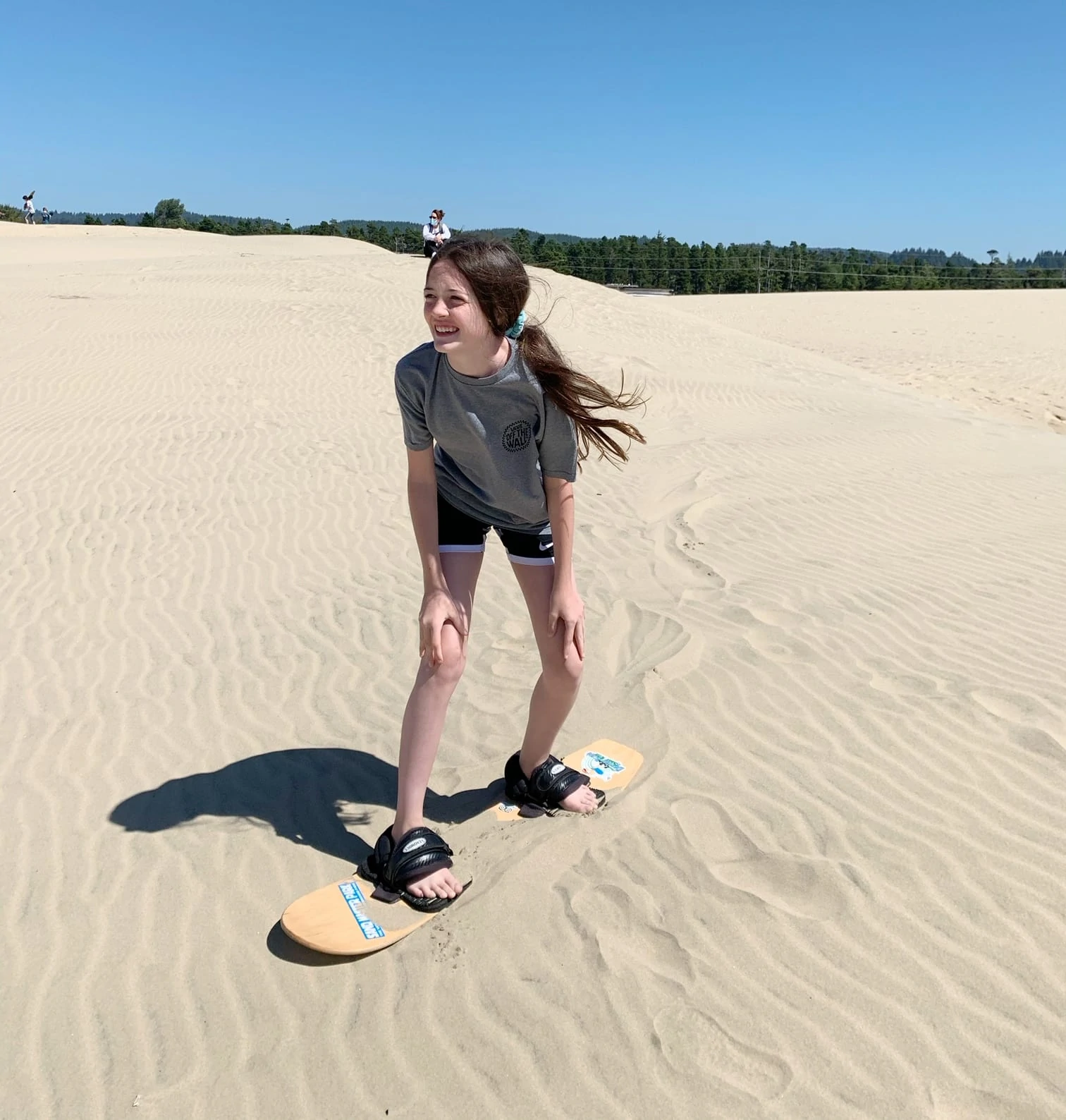 We rented boards from the Sand Master Surf Shop, in Florence – and it was one of the most affordable days of fun we had (the board rentals are good for 24 hours, so you can let the kids play on the dunes until they wear themselves out). Honestly, if you have kids (especially teens) with you – this really was a fun day. Plus the drive down was beautiful, and felt much shorter than it was due to the views along the way!
Let us know if you missed any of your favorite spots in the area! 
If you are driving down from the Washington area, here are a few more stops you might want to check out along the way: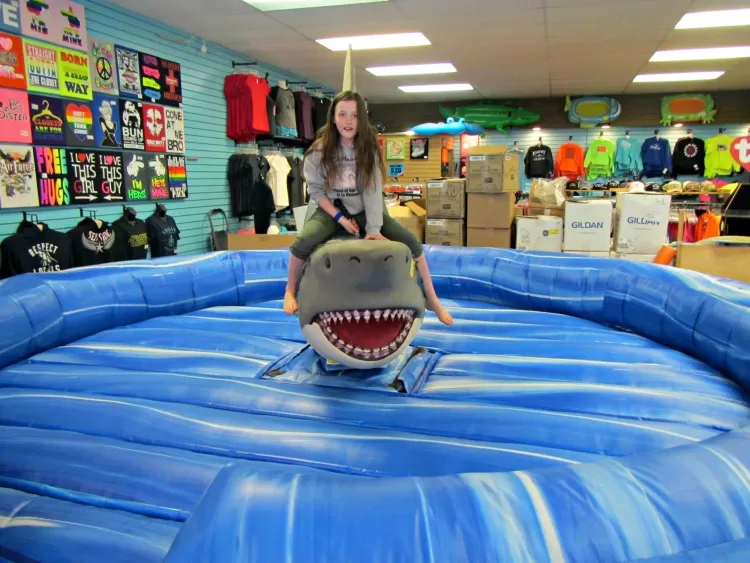 Seaside Oregon – up near the Washington border of the coast line, and lots of fun for families!
Lincoln City Oregon – this could also make a fun day trip from Whalers too!
Wings and Waves Waterpark in McMinnville, Oregon (build this in as a stop along the way)
Disclosure: We were hosted in one of the Whalers Resort Cabins to share about the campground here on Thrifty Northwest Mom. All opinions are 100% my own.