Things To Do In Newport Oregon For Families
This post may contain affiliate links and I may be compensated for this post. Please read our disclosure policy here.

Things To Do In Newport Oregon For Families
Newport Oregon, is one of my family's favorite Oregon coastal towns to visit. It is one of those towns that if you just drove through it on the popular highway 101, you might not think too much of it. However, if you were to divert a few minutes right or left off of the highway in a few spots, you will find some real treasures.
A few things that I love about Newport Oregon, are that you enjoy miles of beautiful stretches of beach, experience the quintessential small fishing town that I often think about when dreaming about Pacific Northwest coastal towns, or get a tiny feel of visiting Hollywood (via Ripleys Believe It or Not museum) all within minutes of each other.
Newport sits in between other popular areas along the Oregon coast, like Lincoln City and Yachats to name two. This means that it is perfect as a day trip that may include other stops, or as a weeks family vacation destination. We have been multiple times now, and I am never disappointed.
Quick links for your vacation
🏠 Top accommodation in Newport:
Here are some of our family's favorite things to do. Let us know if we missed any of your favorites!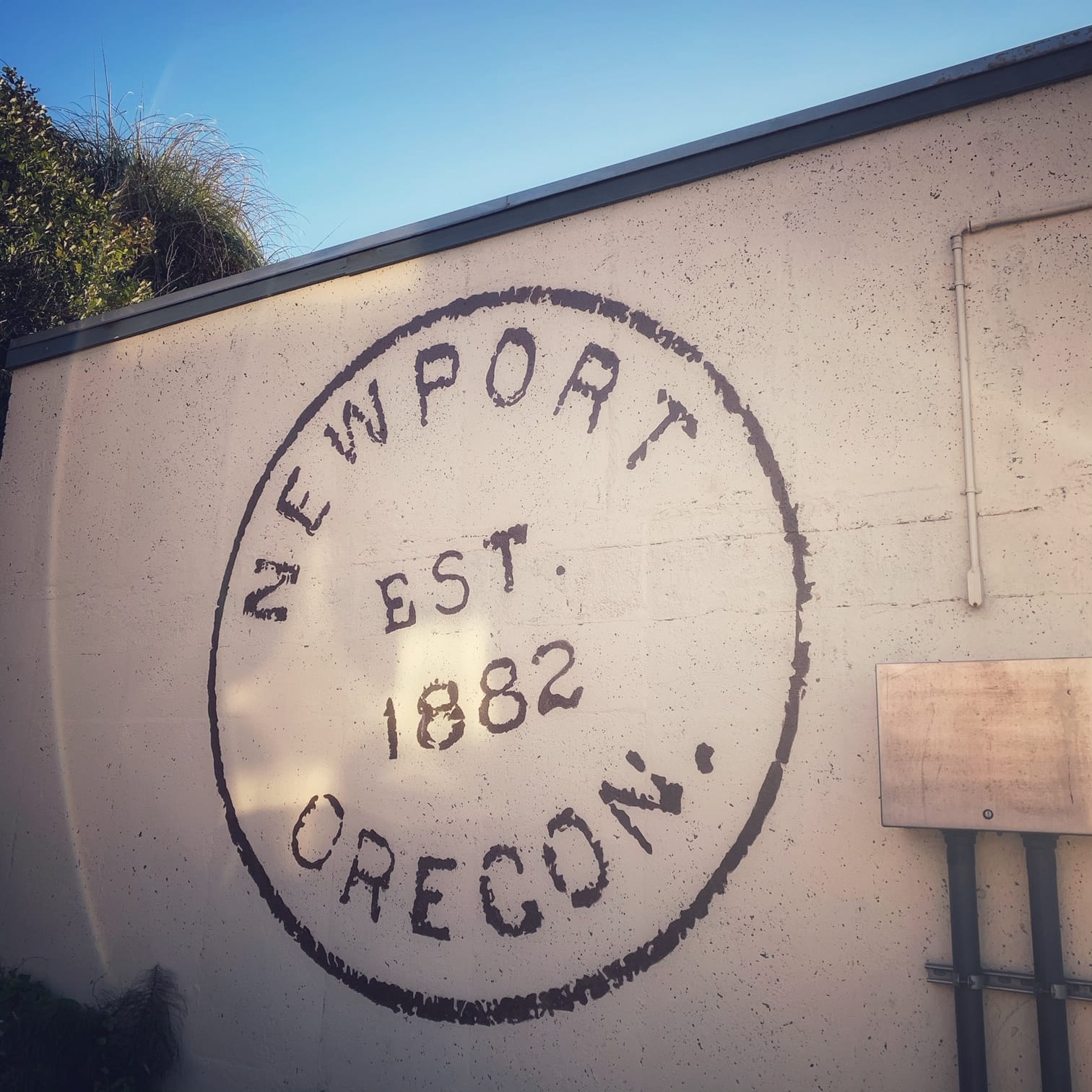 Things to Do in Newport for Families:
Newport has that relaxed beach town feel, where you can enjoy long lazy days at the beach – or fill your days with activities. The weather can be a bit unpredictable (go from foggy and drizzly, to sunny and beautiful in the summer months), but pack a swimsuit and a sweatshirt and you are ready to enjoy as much or as little time as you want, exploring this beautiful spot on the central Oregon coast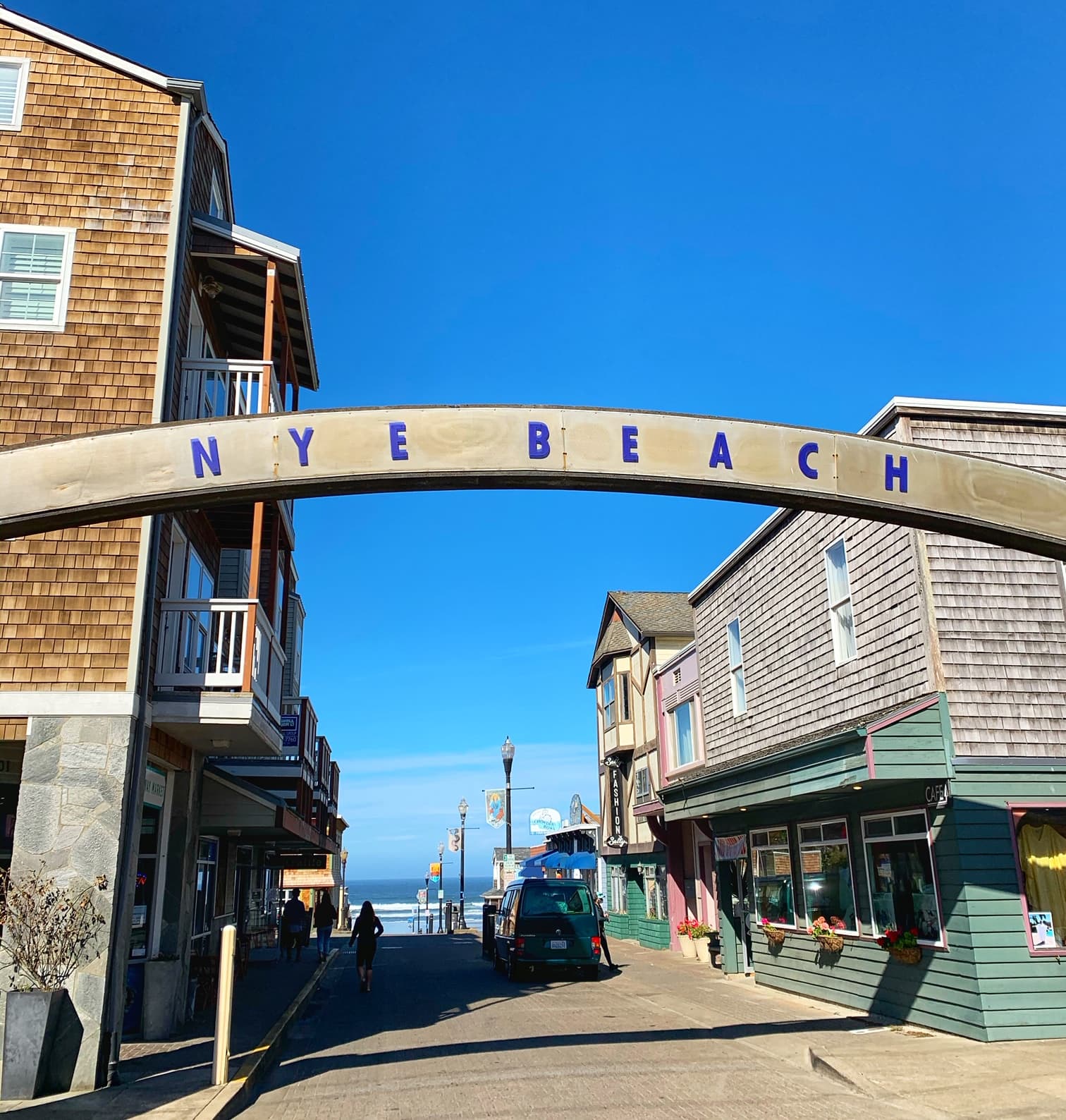 Explore Nye Beach
It took me three trips to Newport before I discovered Nye Beach – and boy was I missing out! It is just minutes off the 101, and is the perfect little beach area to enjoy a meal or do some shopping. It has now become our custom to eat dinner in this area at least once during our Newport stays, and we hit the ice cream shop almost nightly.
Nye Beach is a small stretch of a couple of blocks of shops and restaurants, and includes a public parking area and long beach front access. It has never been too overcrowded during our visits, and is a must stop and see in the area.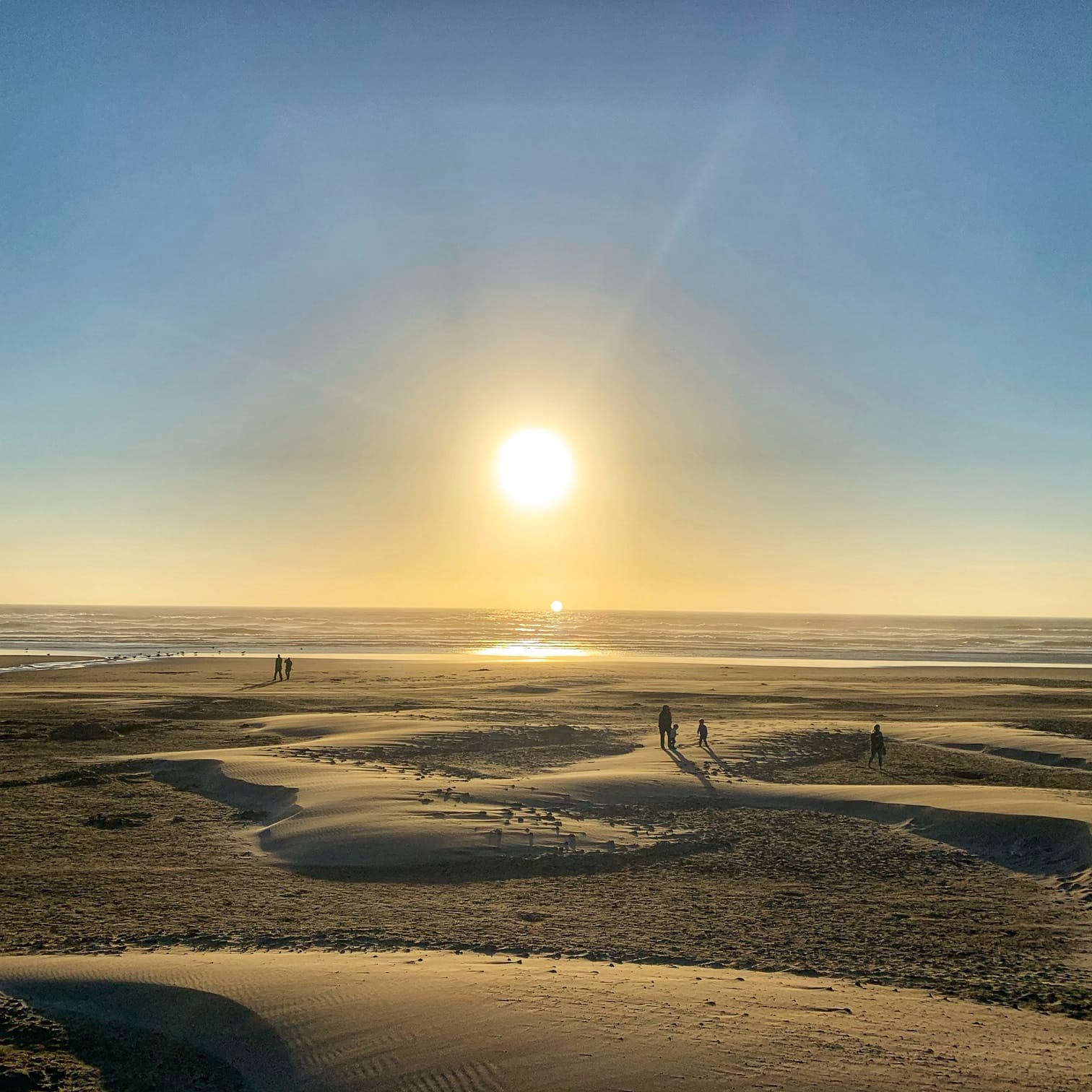 The beach at Nye Beach is full of sand hills that make it extra fun for kids to play. The sunsets there are beautiful too!
The Newport area in general is full of great beach options. This is just one. You will find miles of public access to beaches here as well as nearby areas. My kids love to body surf, and we did find multiple beaches in the area that the waves where big enough to do that – so bring your boogy boards if your kids love that as much as mine do.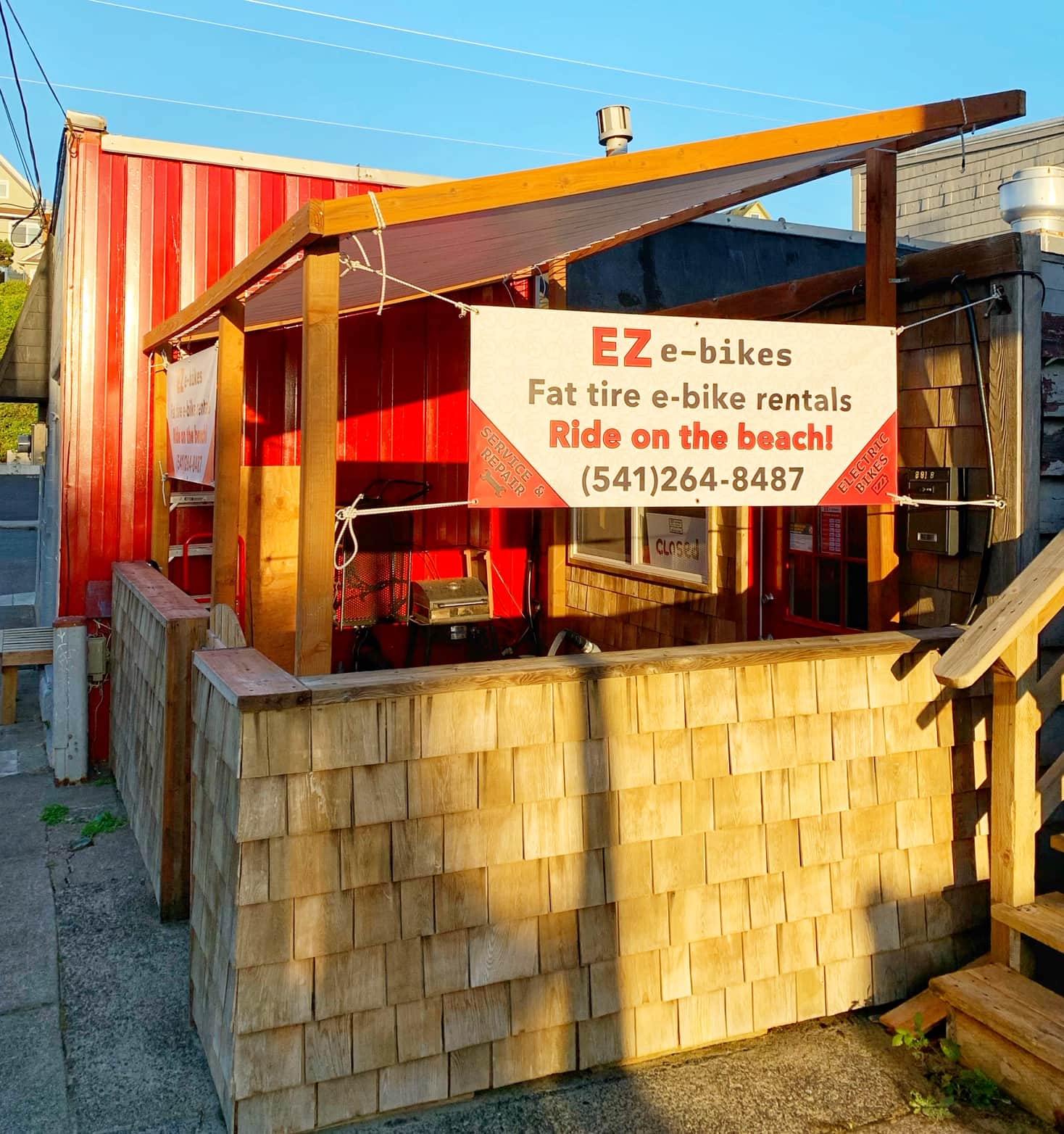 Rent a bike to ride on the beach.
Didn't bring your own bikes? No problem! You can rent fat tire electric bikes that you can walk right down to the beach with over 7 miles of beach coast to ride on. This spot is also in the Nye Beach area of town.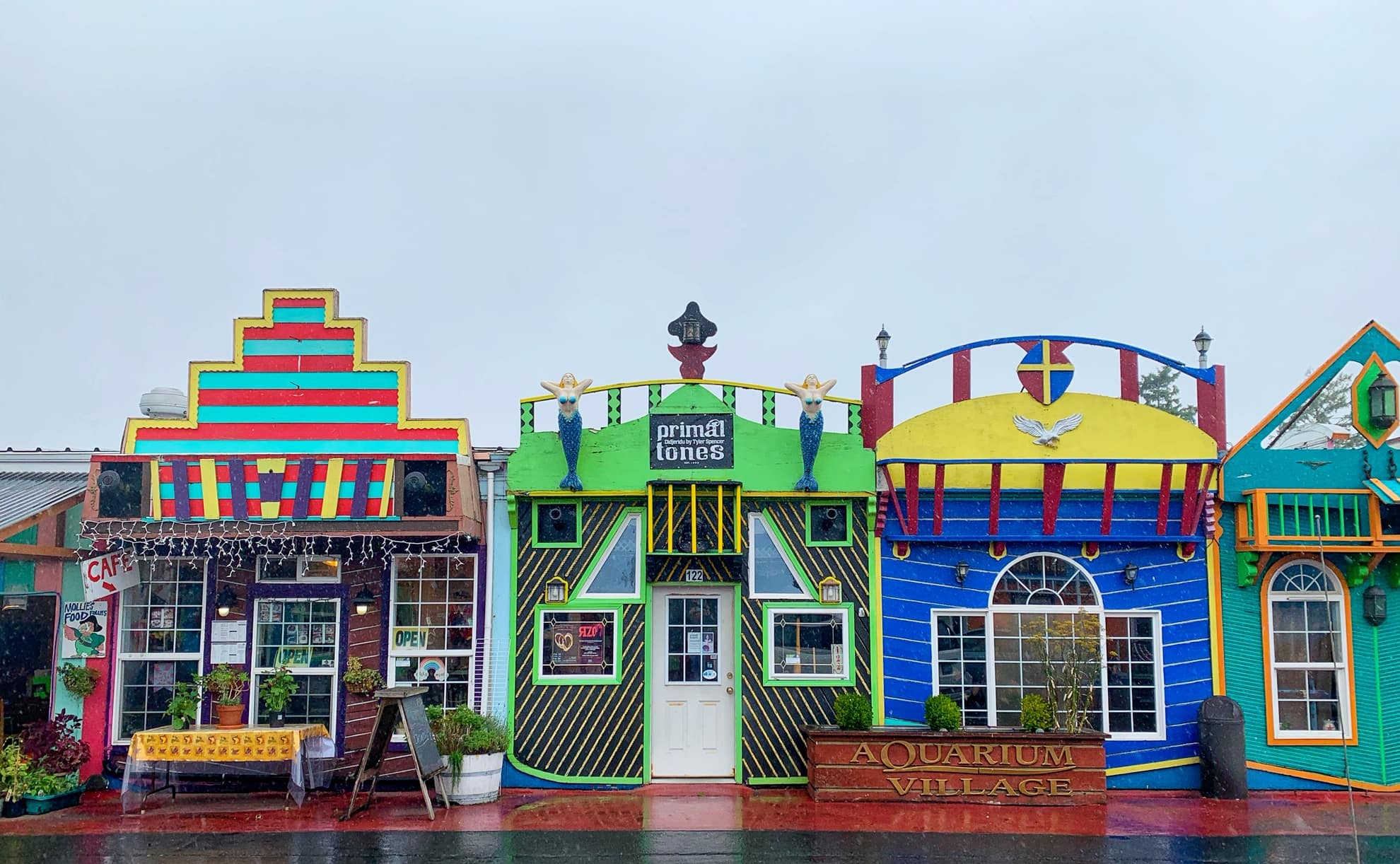 Visit the quirky shopping area at Aquarium Village
Aquarium Village has got to be one of the quirkiest shopping villages I have ever been to. You will probably either love it, or think it is a bit weird. I love this area. Others in my family find it a bit strange!  It is closed on the weekends (which is a popular time to visit Newport) so be sure to note that in your travel plans.
If you have kids who like dinosaurs or pirates, there were some pirate themed shops and dino (or some other relics) statues in a few spots around this area. You can find a list of stores and restaurants in Aquarium Village here.
There was an Escape Room in the Aquarium Village that I wanted to take the kids too, but unfortunately it was closed during our visit, but that is something to look into if you enjoy those as much as we do!
Newports Historic Bayfront
If you only have one day to spend in Newport, this is where I would recommend going.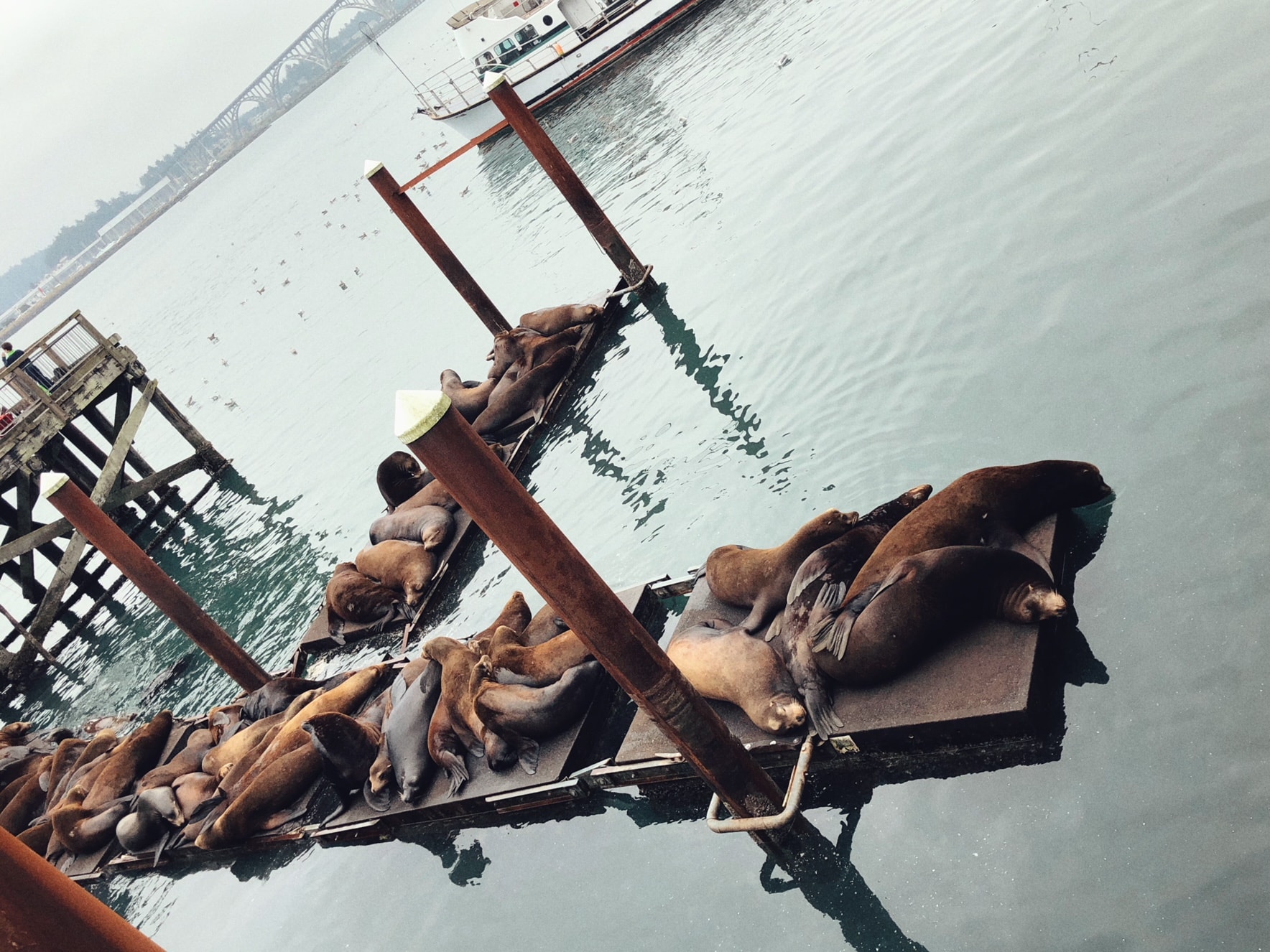 The Sea Lions in Newport
A highlight for us was to watch the Sea Lions hang out and play. They were loud (and some in our group said smelly), but we loved this adventure! We watched the Sea Lions fight for a space on the docks. It was a great NW experience! If you missed this Sea Lion Caves down in Florence, this is a great FREE alternative.
The entrance to Ripleys Believe It Or Not – the place was full of photo opps!
Find more info on Ripleys Believe it or Not in Newport here.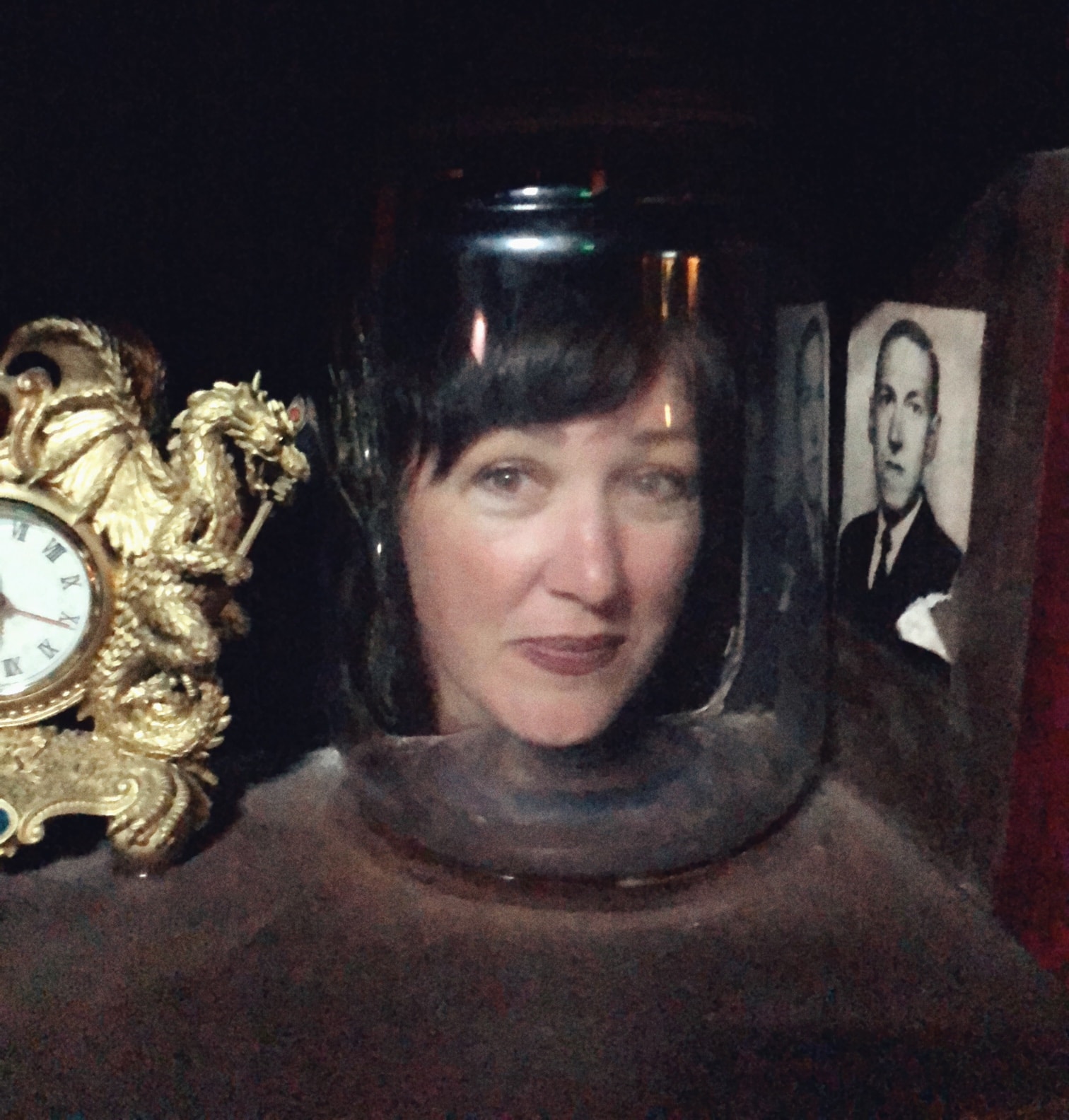 Me scaring the kids by putting my head in a jar at Ripleys!
The kids really enjoyed Ripleys Believe It Or Not, and the Wax Museum as well.  This museum has been recently renovated, but these pictures are from a previous trip (so if it is a little different now that would explain it). There was a line (but it appeared to move quickly) daily, so it still looks like a popular spot.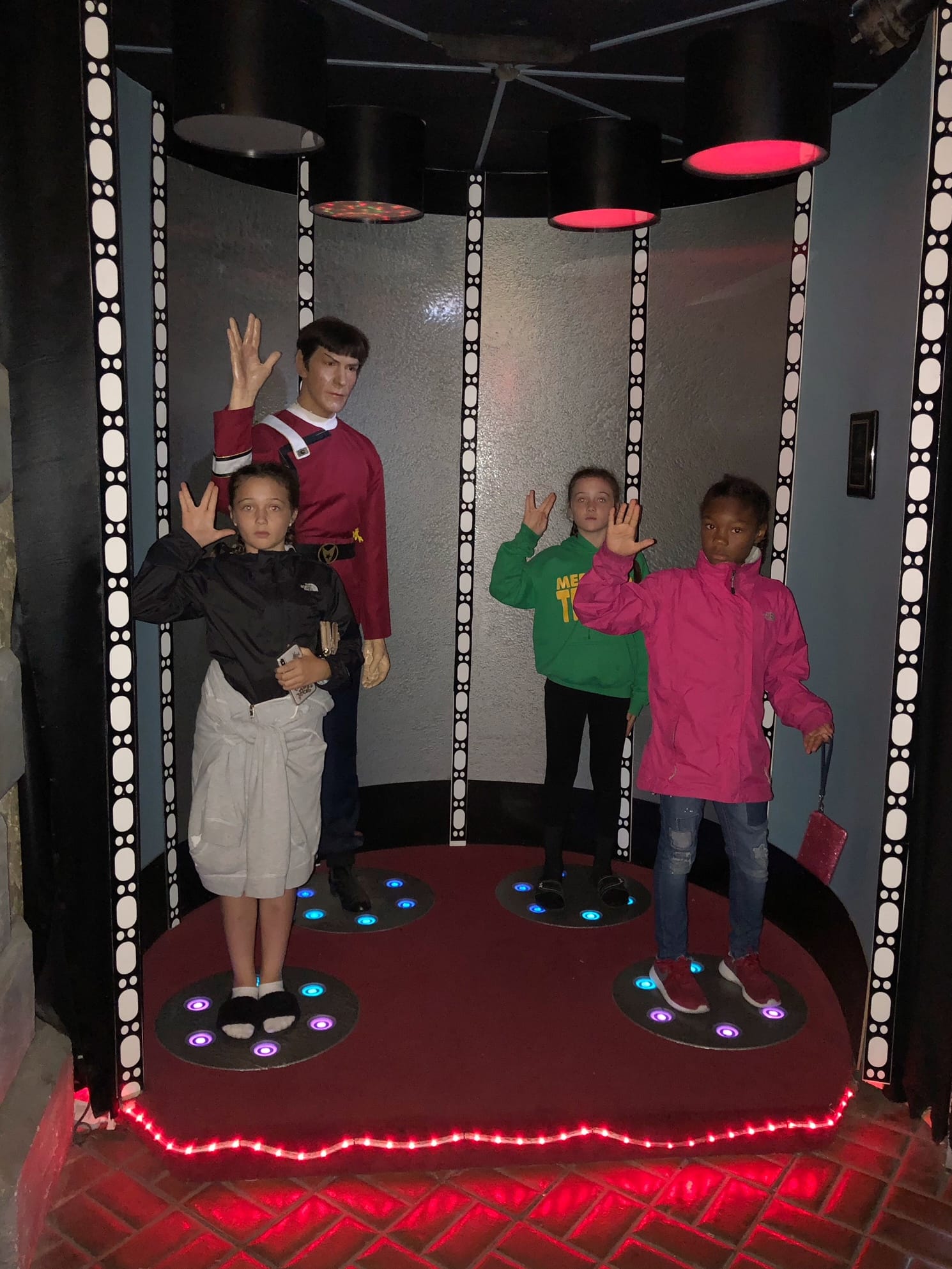 The Kids "Beaming Up" at the Wax Museum
There are lots of shops and restaurants on this strip. It is a working marina, so you can grab crab from some of the boats too. I loved the vibe of a fishing marina, and the memories it brought back for me of growing up in the Northwest, but if you do not like the smells of a working marina (ie fish), you might not like this area as much as we did.
More Ideas in Newport for Families:
Must Visit Park – Coast Park (large slide coming out of pirate ship)!
My kids have grown out of playgrounds, but if you have little ones who love a good playground you will want to check out the Coast Park in Newport. The slide coming out of the pirate ship looked fun enough, even for my tweens and teens – but sadly we were not able to fit a visit in this trip. If you go, let us know what we missed out on.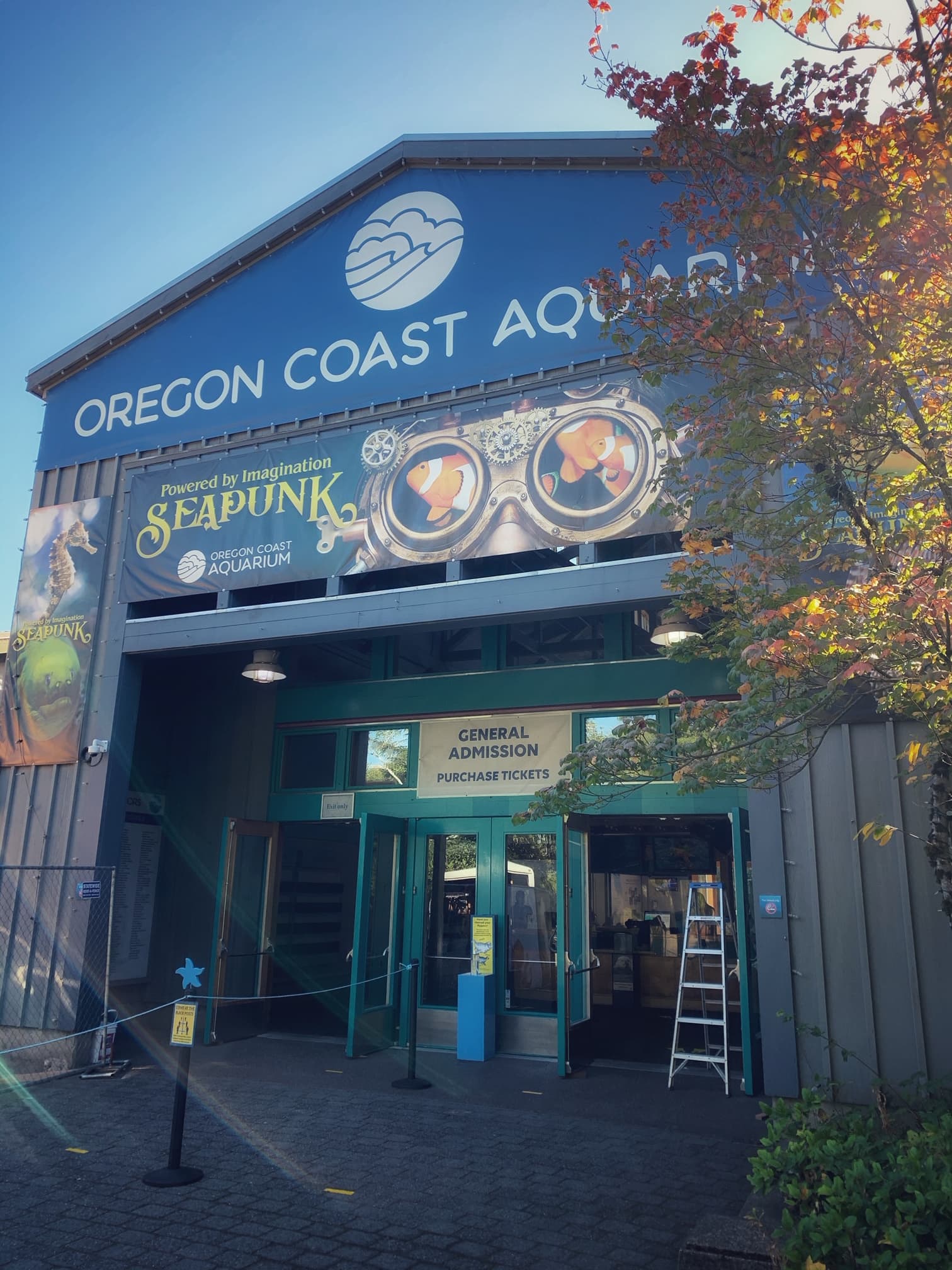 In addition to the Marina area, if your kids like sea life, there is the Oregon Coast Aquarium with a plexiglass tunnel, and is a popular aquarium destination. Be sure to buy your tickets ahead of time right now, as they are not currently selling them at the gate.
Historic Newport Bay Fishing Pier:
The Historic Newport Bay Fishing Pier is a popular destination for morning walks, and viewing the bridge. It sits under the bridge (well not directly) but is a beautiful spot, and is a free public access area. Definitely looked like a popular spot during our visit. We could hear the sea lions from this area, and smell the saltiness that always reminds me I am near the ocean.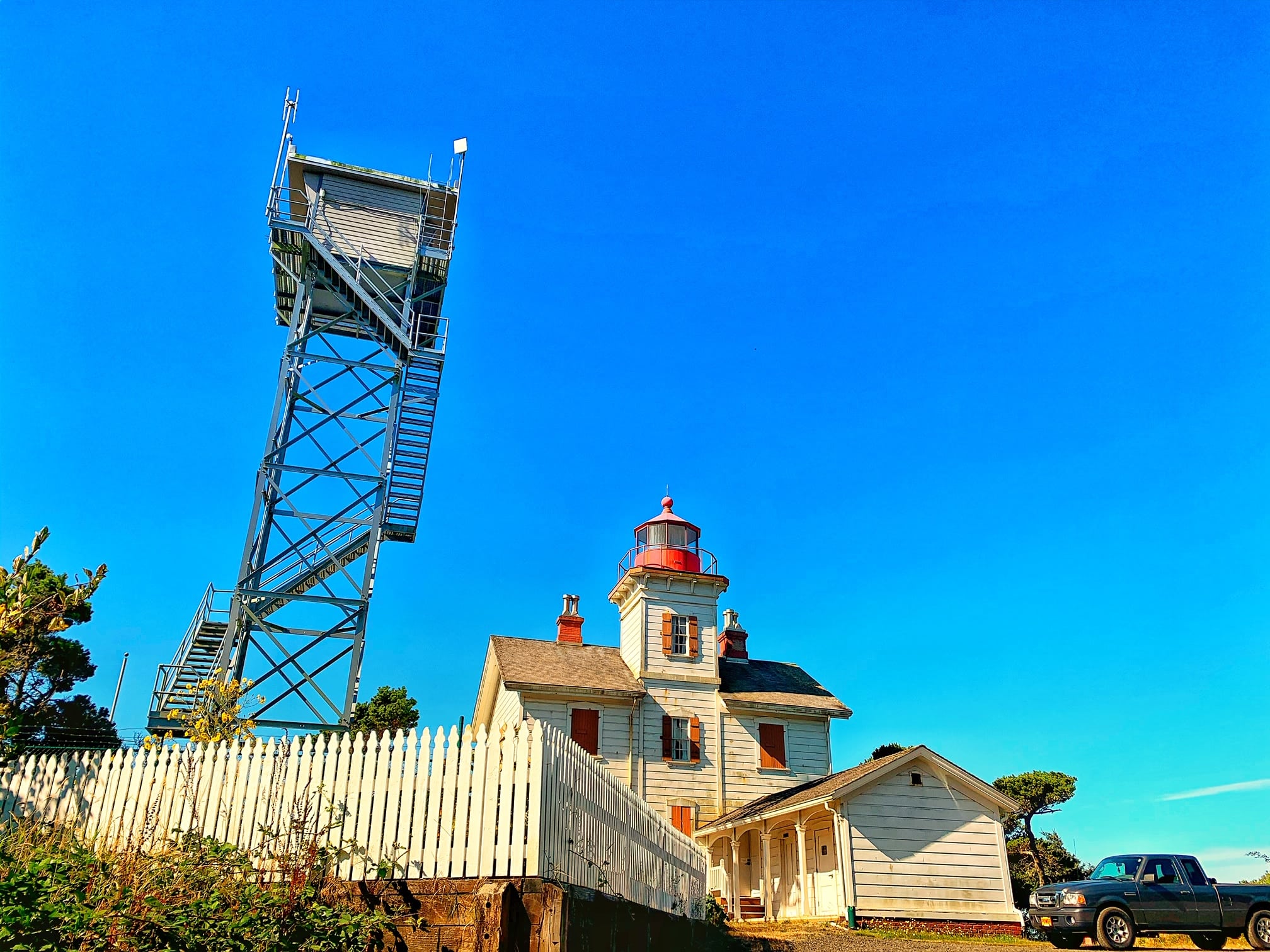 You can usually also take the kids to a Yaquina Head Lighthouse for free (however it is currently closed – be sure to check for updates on open or close status here). It takes around a half hour, and is a fun thing to do to keep you busy for a full days worth of fun in Newport! Find more details on the Yaquina Bay State park and all it has to offer here.
If you are looking for natural wonders, this is a spot you will want to add to your visit. You can explore tidepools for marine life, visit caves, waterfalls and more here.
Where to Eat In the Newport Area: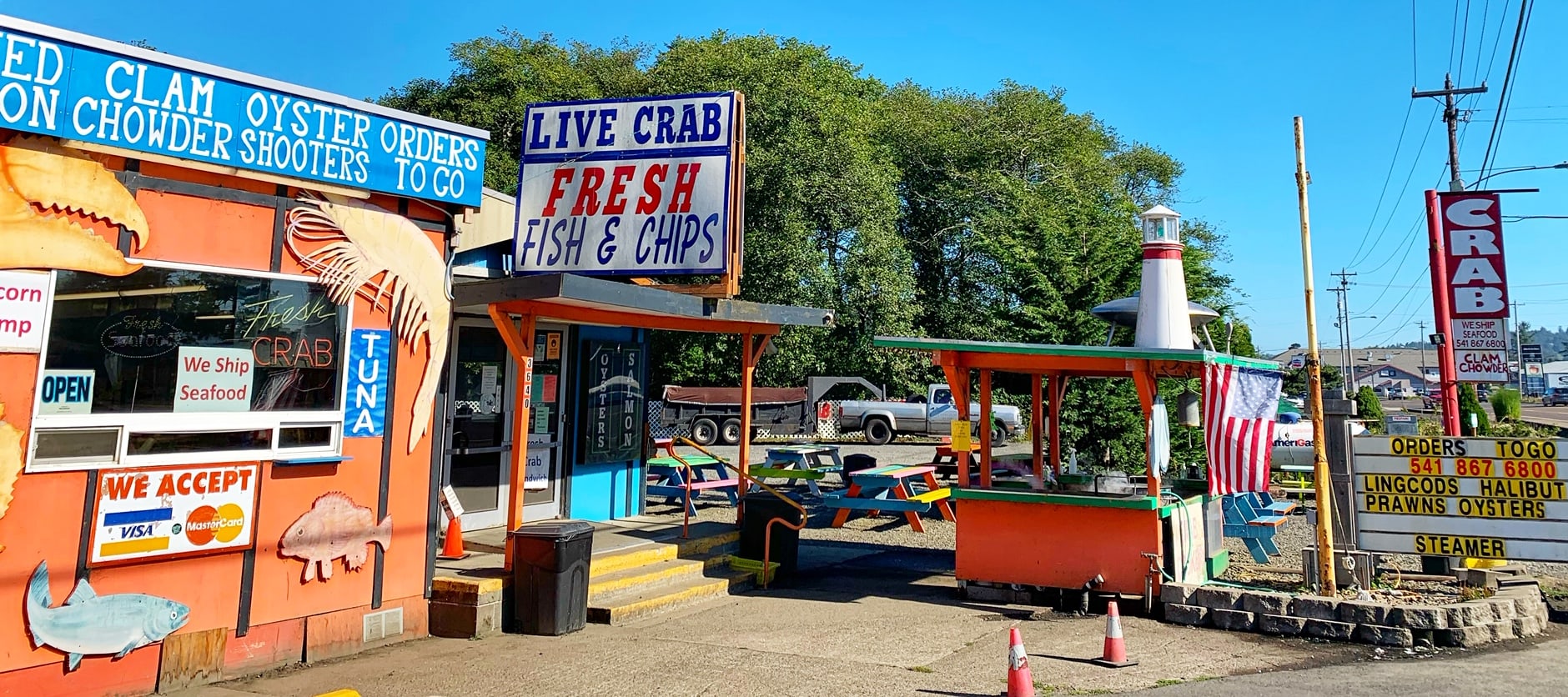 Southbeach Fish Market – Live Crab, Fish & Chips and more off Highway 101 –
This spot is on the south end of town, and right on highway 101. There was not a single day we did not see lines for this place – it looked like the most popular spot in town. We had to visit before it opened just to get a picture that was not full of people. There were outdoor picnic tables to eat at, and you could see the crab steaming in the outdoor pot daily. If you like seafood, this spot is a must stop at one!
Historic Newport Waterfront – 
The Clearwater, offers seating out on the deck right above the Sea Lions. We stopped in for a bowl of clam chowder for lunch, and I loved every minute of it. You could smell the Sea Lions and they were loud, so a couple of members of our party did ask to move inside, but most of stayed out and had a great time. The restaurant was beautiful inside and had great views as well, so it was a win win all around. Go for chowder for lunch, and that will help you stretch your budget.
Mo's
Mo's is a popular destination along this area of the Oregon Coast. There are a few in Newport, and I love their clam chowder too!
Nye Beach Area – 
If you are looking for Italian food, you smell this spot the minute you drive into the Nye beach area. We came with the intentions of eating at a different restaurant, but we were all drawn to this place by the amazing aromas coming from it! They even offer family style dinners to boot!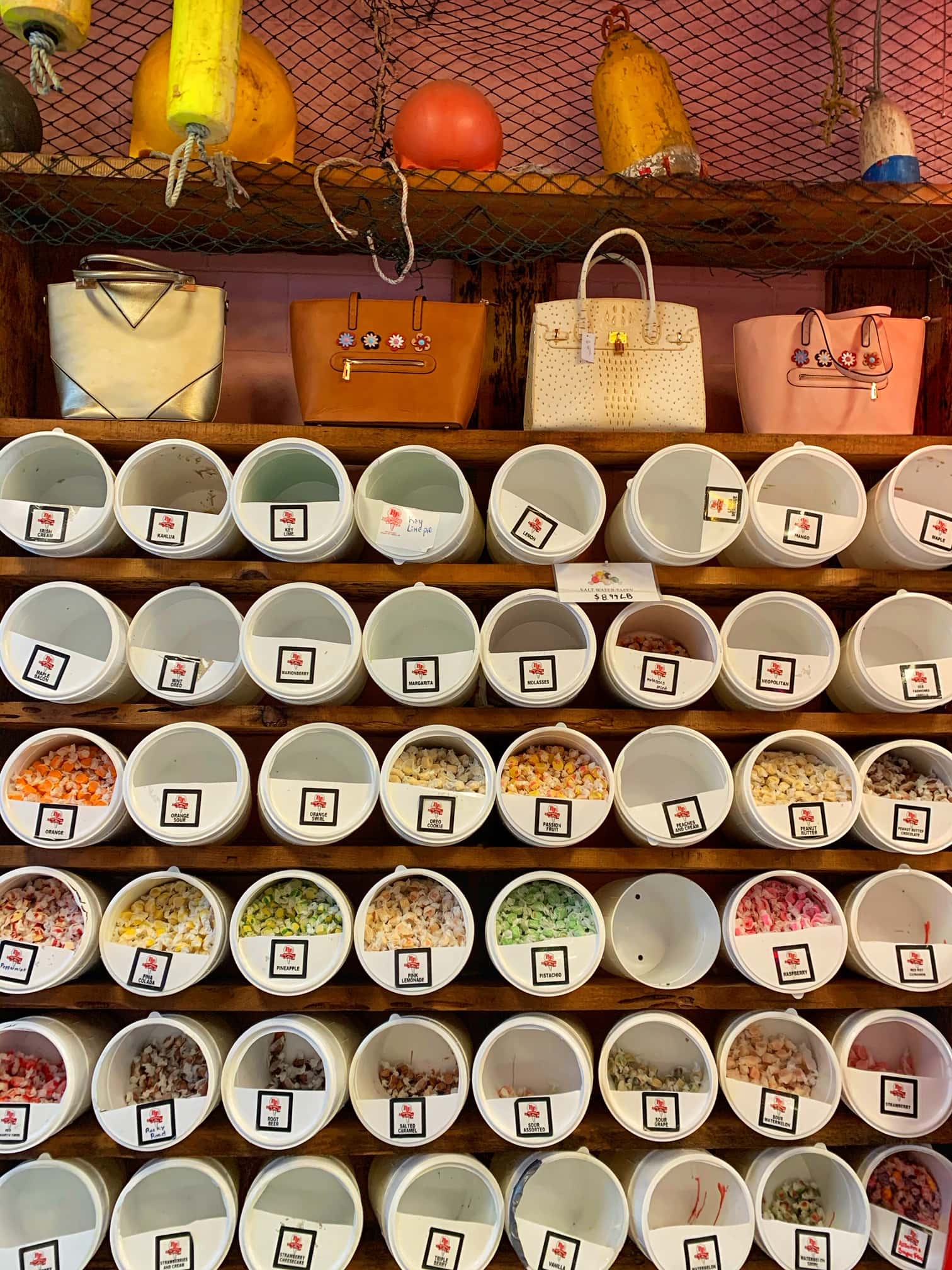 BJs Ice Cream Shop
Right across the street is BJs Ice Cream shop, where you can get ice cream, salt water taffy and other fun desserts. I loved this spot as I could get a jr two scoop for under $5 per person (which seems like a great deal when talking beach town ice cream shops)!
Where to Stay In Newport Oregon:

We stayed in a loft cabin at Whalers Resort – perfect for families! I LOVED this spot, as we had walking access to a beautiful beach, tons of amenities and it was just a few minutes drive into town. The other thing I loved about Whalers, is that it is a camp groud, but had more cabin options than I have seen at most campgrounds. That means that there is something for most budgets (camp spots, RV spots and multiple cabin options). I was traveling with my kids and mom, so we got a cabin, and I had that camping feel that I loved by the ocean, but with all the amenities I needed (locking doors, electricity, comfy beds, bathtub, kitchen and more). I really loved this spot for an ocean visit, and think it is a perfect fit for family travel. Check out our full review of this location here.
If you want to be right in town, I would suggest looking at some of the waterfront hotels, or house rentals in Nye Beach area. This way you have beach access, plus can walk or bike into town for the restaurants and shops.
What Else to Explore Along the Oregon Coast: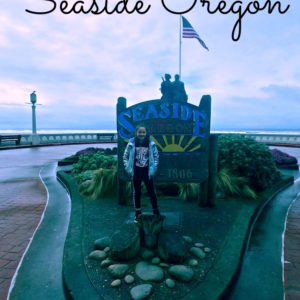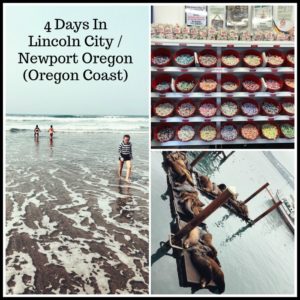 Florence, Oregon and the Sand Dunes!