Wings and Waves Waterpark Review & Deals!

Wings and Waves Waterpark Review & Deals!
*** Update – we visited prior to COVID for this review. They are currently open for 4 hour windows you have to reserve to visit. Be sure to check out their site here for current updates on hours and prices.***
We previously visit the Wings and Waves Waterpark, after we got a deal off of Get My Perks (the deal is no longer available, but we will share other ways to save below). It was a blast, and if you love water parks this is a great one to consider. It is an indoor waterpark, so it can be enjoyed year round. Here are some tips and information that we found useful when planning and enjoying our visit.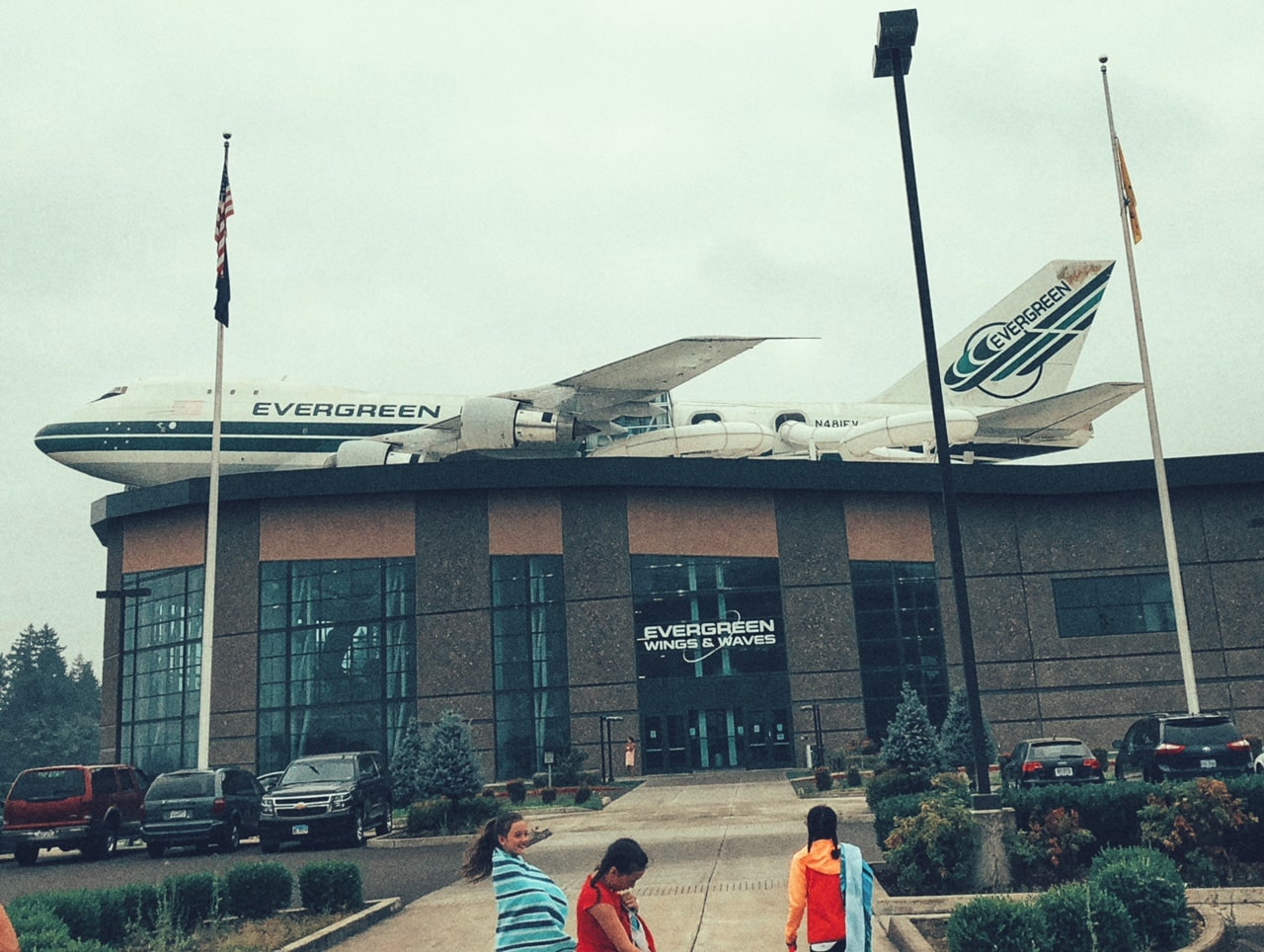 What to enjoy at Wings and Waves Waterpark?
My kids loved it (I had elementary age kids with me), as well as the adults in the party. The kids thought it took a nice second place to Great Wolf Lodge. I preferred the smaller crowds, and found it a really nice alternative.
Parking is free, and there is a large airplane fixed on top of the roof, to add to the theme.
There are a number of attractions to enjoy at this waterpark including 4 slides that sit six stories above the ground! They include the Sonic Boom, Tail Spin, Nose Dive and Mach One
The wave pool was definitely one of the highlights of the waterpark. You can enjoy it with our without the tubes they provide for use.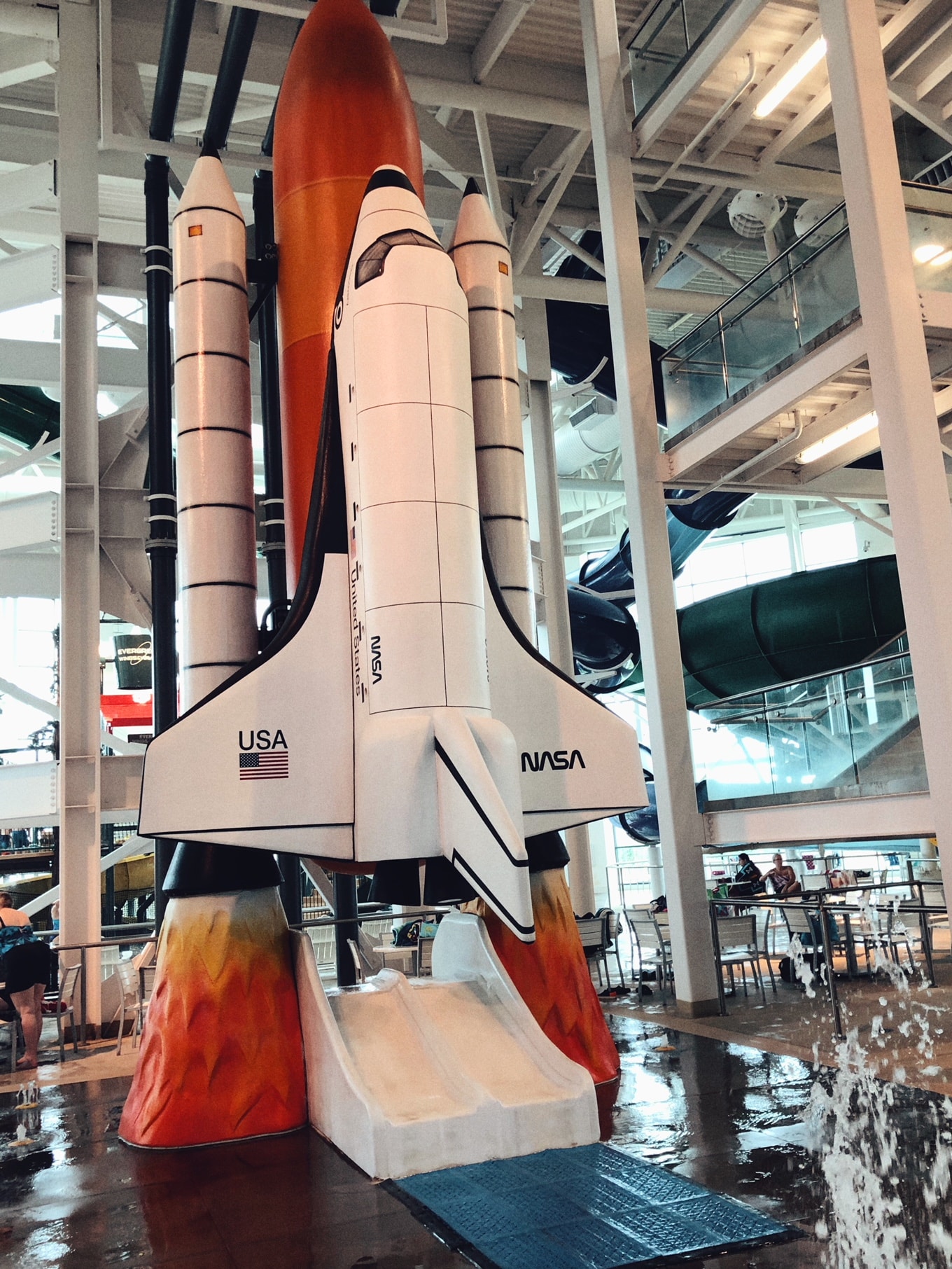 There are also some attractions for the younger crowd to enjoy, like these small slides that come out of the space ship.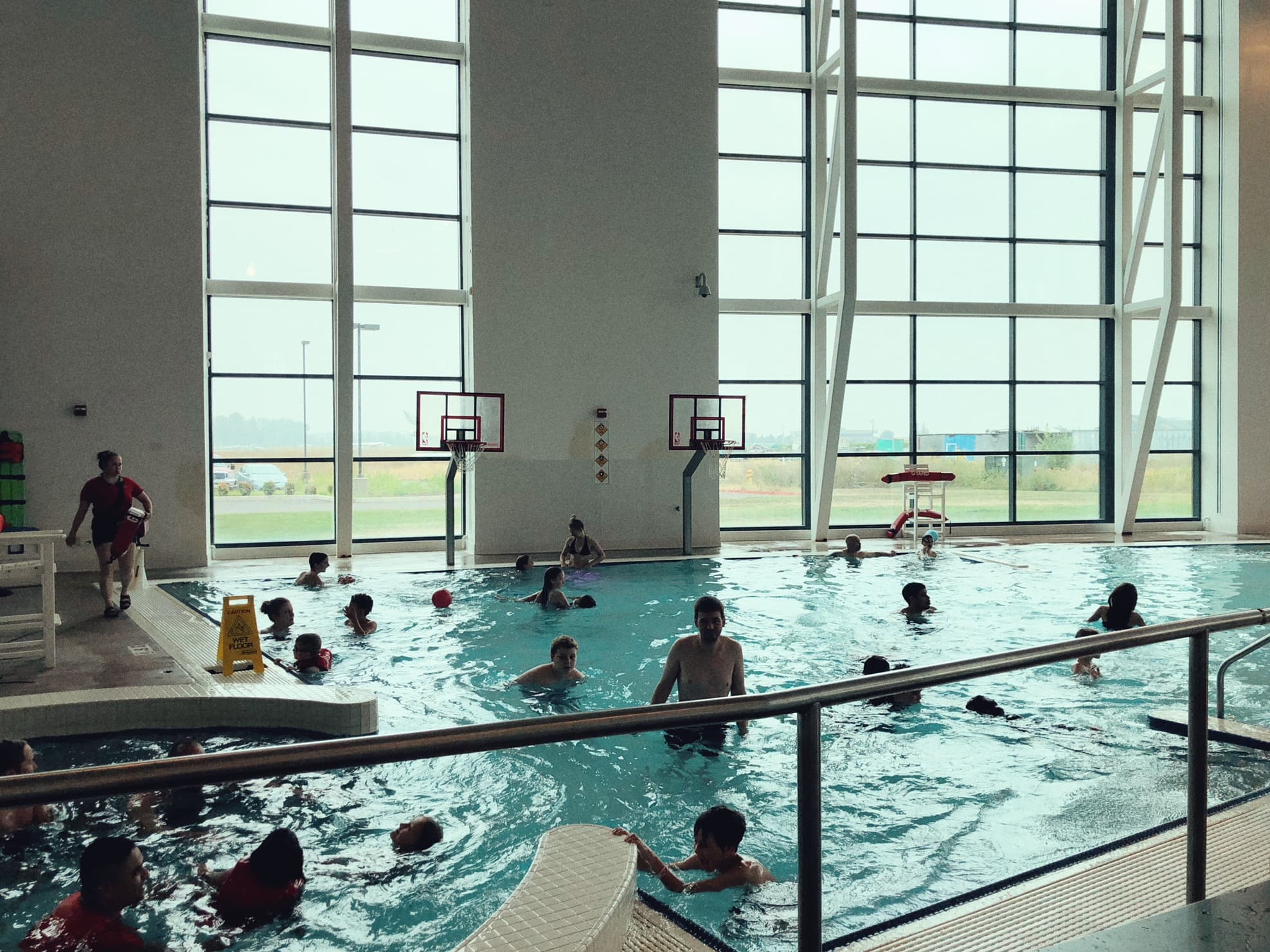 There was a nice sized pool and large hot tub if you want to swim or play some water basketball.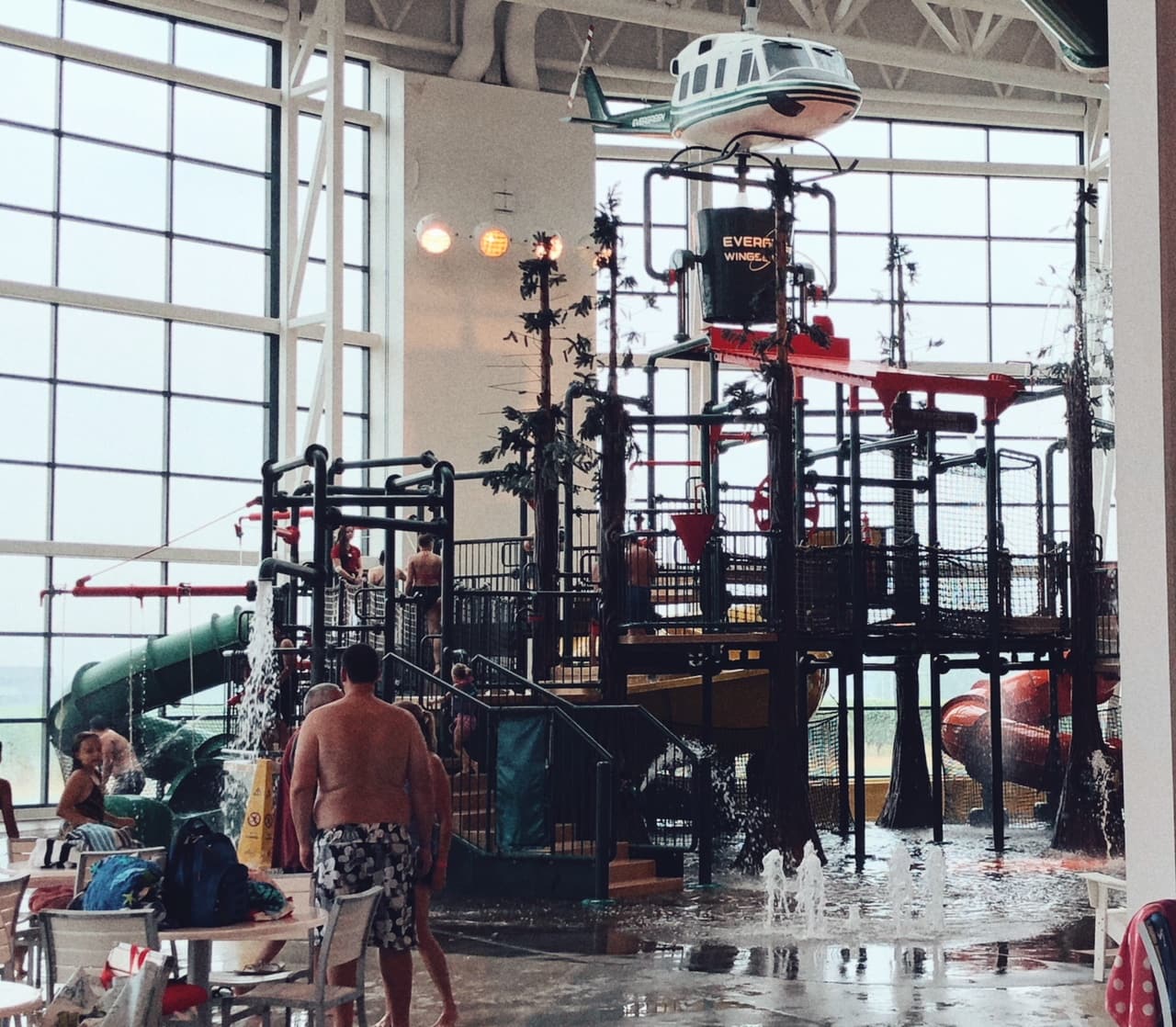 This is a kids waterplay area with some smaller slides, as well as the bucket that fills up and dumps out, and spray pad. 
There are 4 six story high slide attractions for those looking for a bigger thrill ride. My kids loved these, and spent most of their time enjoying these.  There are some height restrictions for these larger rides, so check that out ahead of time and prepare your kids so that nobody is disappointed when they get there.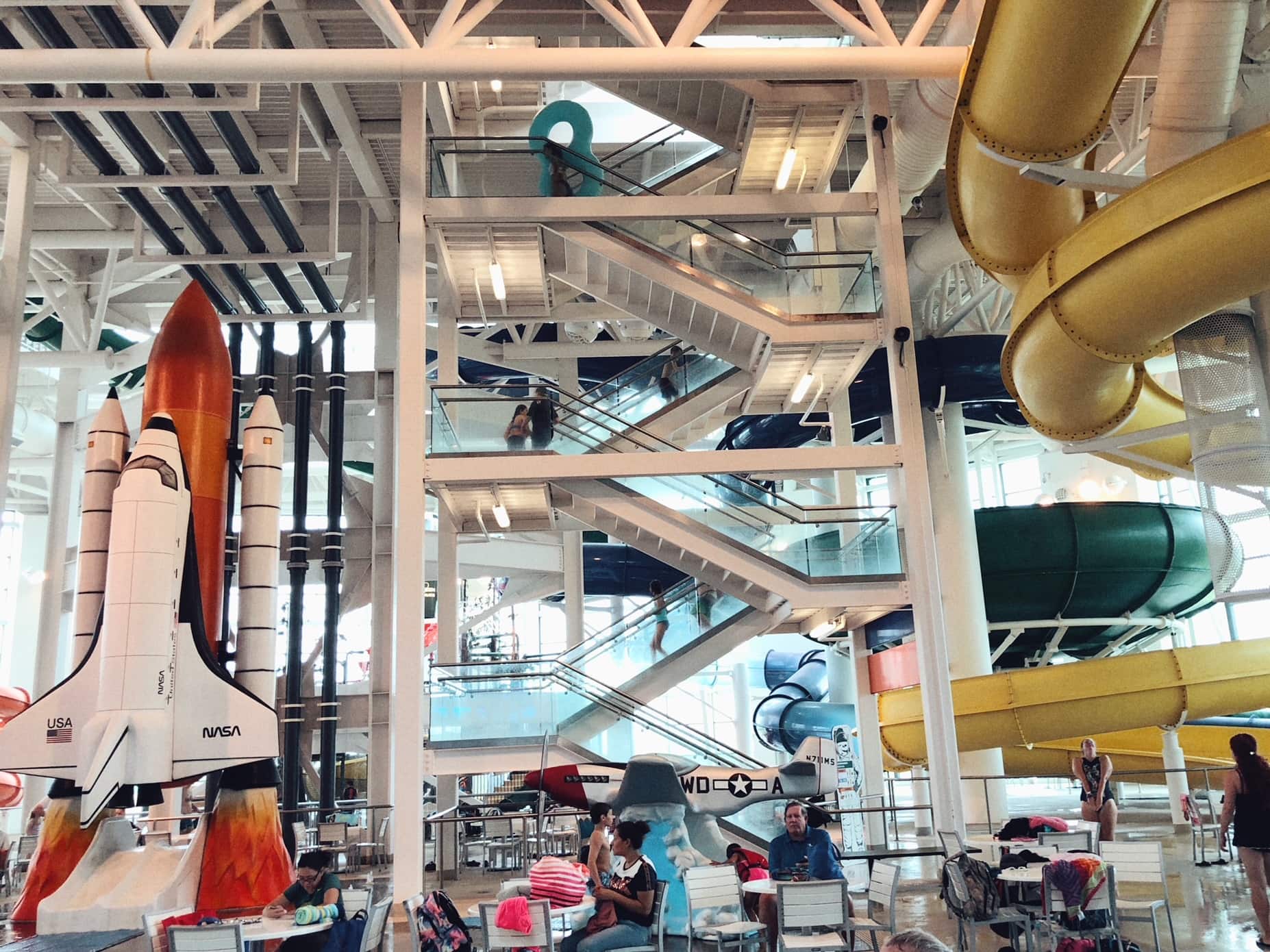 How Does Wings and Waves Compare to Great Wolf Lodge Waterpark?
This is a question that we often see pop up when we share deals on the Wings and Waves Waterpark. So here are some things to know, to help you compare the two and decide what your family wants to do.
You can get day passes to Wings and Waves waterpark, and it is not connected to a hotel. That makes this a much more affordable option, if you just want to enjoy the spot for a day trip. If you plan to add hotel costs, chances are it will still be more affordable here, then Great Wolf Lodge, but that depends on what kinds of deals you find, etc.
Both spots have fun themes (wolf lodge, vs space station), but Great Wolf Lodge is going to feel more like a vacation destination. You can check into your hotel and have multiple restaurant options on site, gift stores, game rooms, putt putt, and more in addition to the water park fun. Of course, all of that comes at added costs, but there are many options for fun outside of the waterpark too. Wings and Waves is primarily the waterpark, although there is the museum and theater too if you have fans of aviation, as well as many other things to do in the McMinnville area. Alternatively, Great Wolf Lodge also comes with larger crowds. If you would prefer thinner crowds Wings and Waves is a fun alternative.
My kids loved both parks, and said they are both well worth a visit. They did however say that they would preferred the Great Wolf Lodge waterpark. However this one has 4 six story slides, so if you are big on those kinds of attractions you may prefer this park. There is more for toddlers to do at Great Wolf Lodge, but as a parent I preferred the more relaxed feel of this park.
Ultimately it is going to come down to personal preference. I can say this water park cost me a lot less then Great Wolf Lodge, and I think both are definitely worth a visit if you like water fun.
We do share tips to save at Great Wolf Lodge here too if you decide to check them out. We also have a review of Silverwood and Wild Waves (these are summer only) if you want to compare to those spots as well.
Where is Wings and Waves Waterpark?
Wings and Waves waterpark is located in the town of McMinnville (which is a fun town to explore in and of itself). It is about 45 minutes Southwest of Portland, and it took us about that same amount of time to get there from the ocean (we coupled it onto a trip to the ocean).
Ways to Save on Admission to the Wings and Waves Waterpark:
Parking is free, so that is a nice perk to start off with.
We update this post here, when we find deals for the park. Groupon sometimes has a discount available, we have shared about here.
If you are a member of AAA you can get a 10% off your total admission purchase at the waterpark
If you do not plan to swim yourself, you can get a dry pass for $10 per person. This can help save money, if you are going just to watch the kids primarily.
Plan your visit around one of their discount times. Current promotions include:
Twilight Friday Discount – Get 50% off admission after 4pm on Fridays (note, they are open until 7pm on Fridays).
PERSONS WITH DISABILITIES: 50% off all day admission on Fridays. Caregivers get in free.
Be sure to check their website to make sure these promotions are still current.
Active Military Members get 50% off admission with ID
Military Veterans will get 10% off your admission purchase at the waterpark and up to 4 family members
Get 10% off with student ID
If you are from the Oregon area, be sure to check your local library for free passes. For example the Washington County library system offered cultural passes that you could use for the waterpark (but only from June through September, so check back for next years summer season). You will need to be a library card holder in good standing to use this offer.
Where to eat?
There is a small cafe in the waterpark if you want to eat there. It is also easy to leave and re-enter, so you could pack a picnic and leave it in your car, then there are places you could eat outside if you wanted to take a break and do that. There are also a number of great restaurants in the area, including the historic downtown center of McMinnville. We went to McMenamins, and ate up in the attic, and it was  fun meal to top off our waterpark day, and highly recommend it for a fun, quirky lunch experience.
Where to stay?
There are a handful of hotels in the area to choose from if you want to make it an overnight trip. We decided to stay out on the Oregon Coast and enjoy the ocean, and then drove over and enjoyed the waterpark for the day (it was about a 45 minute drive). You could also enjoy the Portland area and drive down if you want (about 40 minutes).
If you want to stay in the immediate area, here are some hotels nearby:
The Red Lion Inn is right down the street, and is a close spot to stay in McMinnville, and generally offers affordable rates.
Comfort Inn Suites is also close by, and is on the more affordable side too.
McMenamins Historic Hotel is in the heart of downtown McMinnville and there are lots of restaurants and shops you can walk to in this area.
You can check out Visit McMinnville here for many other options as well.
We stayed on the coast, in Lincoln City, then drove over for the day. It was about a 45 minute drive, but it was fun to combine the two vacations.
If you have a motor home in the past they have allowed you to park in the parking lot for a one night stay. You will want to be sure to call and check in for current policies, but that is a great way to save on a trip there.
Other tips?
You will need to bring your own towels (and shower supplies if you want to shower after playing in the water). Unlike Great Wolf Lodge, towels are not supplied. You can purchase them in the gift store on site, but easier to just bring them.
Some of the attractions have a height limit, so check those out here when planning for your vacation.
Life jackets are available to use on site for free.
Lockers are available onsite for a fee
If your kids love aircraft, you could add on a visit to the Evergreen Aviation Museum next door as well. We update this post with deals when available, so keep an eye on that.
Plus, there are also 3d Movies at the museum, that can be fun to check out as well!
More articles you might enjoy: